Fancy a drink at 35,000 feet? Then these are the best flights to aim for.
When flying solo, you can use an onboard bar to meet fellow passengers from First or Business Class. Or, if you're travelling in a group of two or more, this is a great spot to come and hang out, catch up, and enjoy a drink and bite to eat.
How do I get access to the onboard bar?
You can access an onboard bar if you are flying in First or Business Class.
Economy and Premium Economy passengers—even those with elite status—are not permitted to enter the onboard bar.
Which planes have onboard bars?
It's mostly Airbus A380 superjumbos that have onboard bars. However, some Airbus A330, A340 and A350 as well as Boeing 747, 777 and 787 aircraft also have them.
Ad – Scroll down to continue reading.Minimum spend, terms & conditions apply.
A ranking of the best onboard bars
Accessible to: First and Business Class passengers on A380 flights
There are two versions of this plane.
The first (and more common) one is on decade-old A380s. This two-part space on either side of the wide staircase is currently underutilised. Drinks are self-service and the layout means it is not very conducive to socialising.
However, refurbished A380s have started flying as of September 2019. If you are lucky enough to get on one of the newer planes, then you'll enjoy a better (again) two-part lounge. One side has cafe-style seating for ten people across two tables.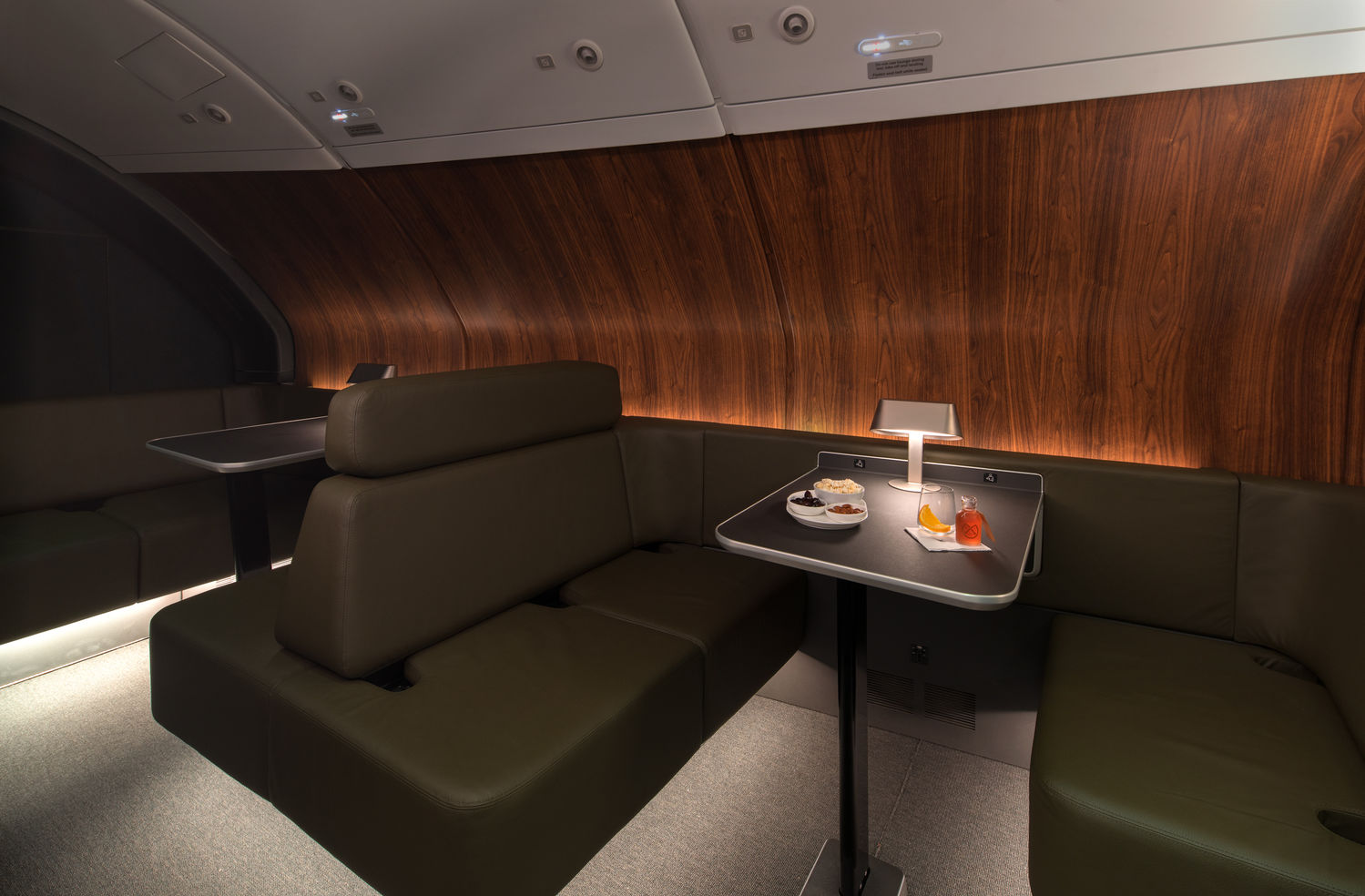 The other (smaller) side seats three people and has a self-serve minibar.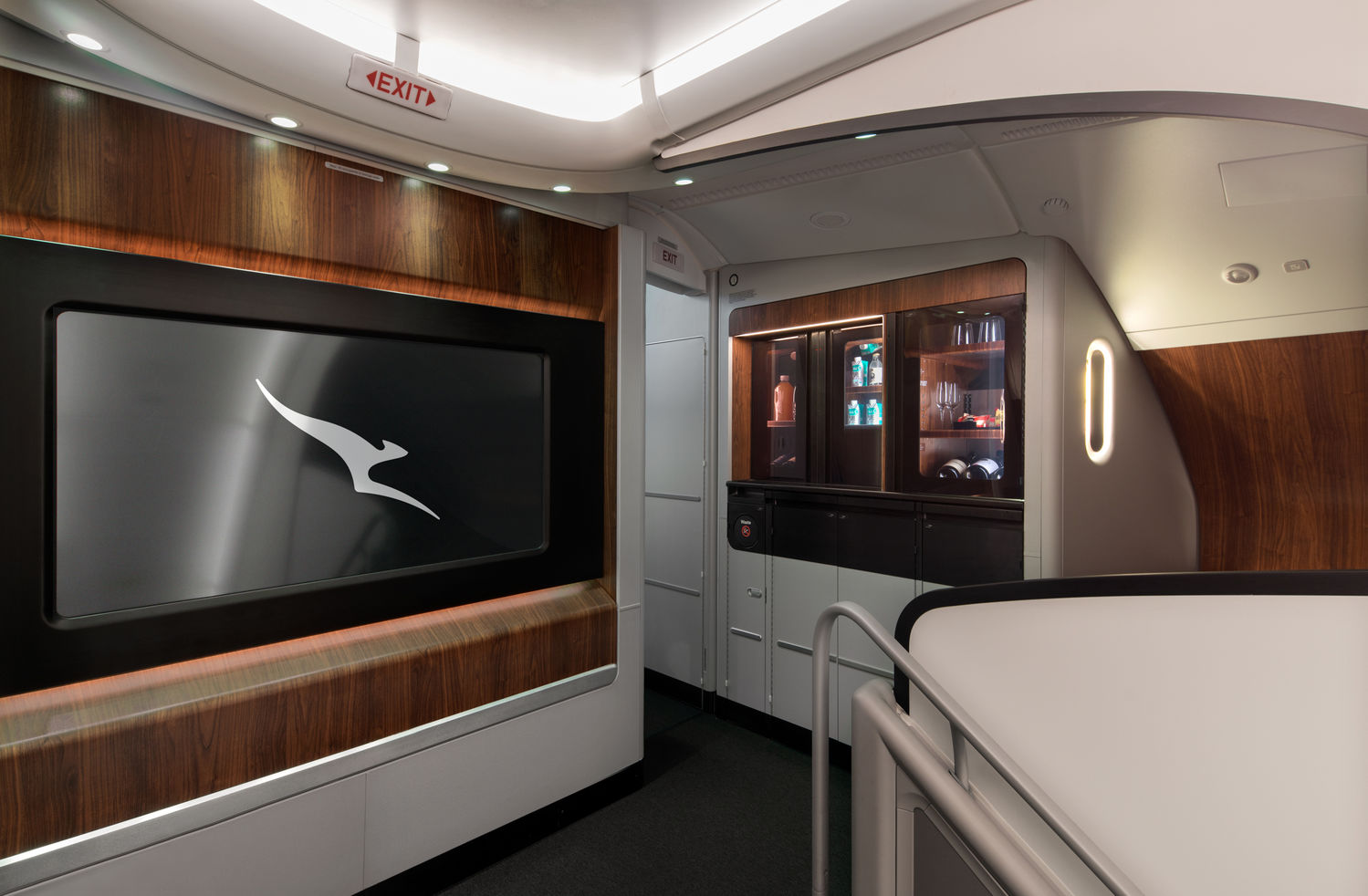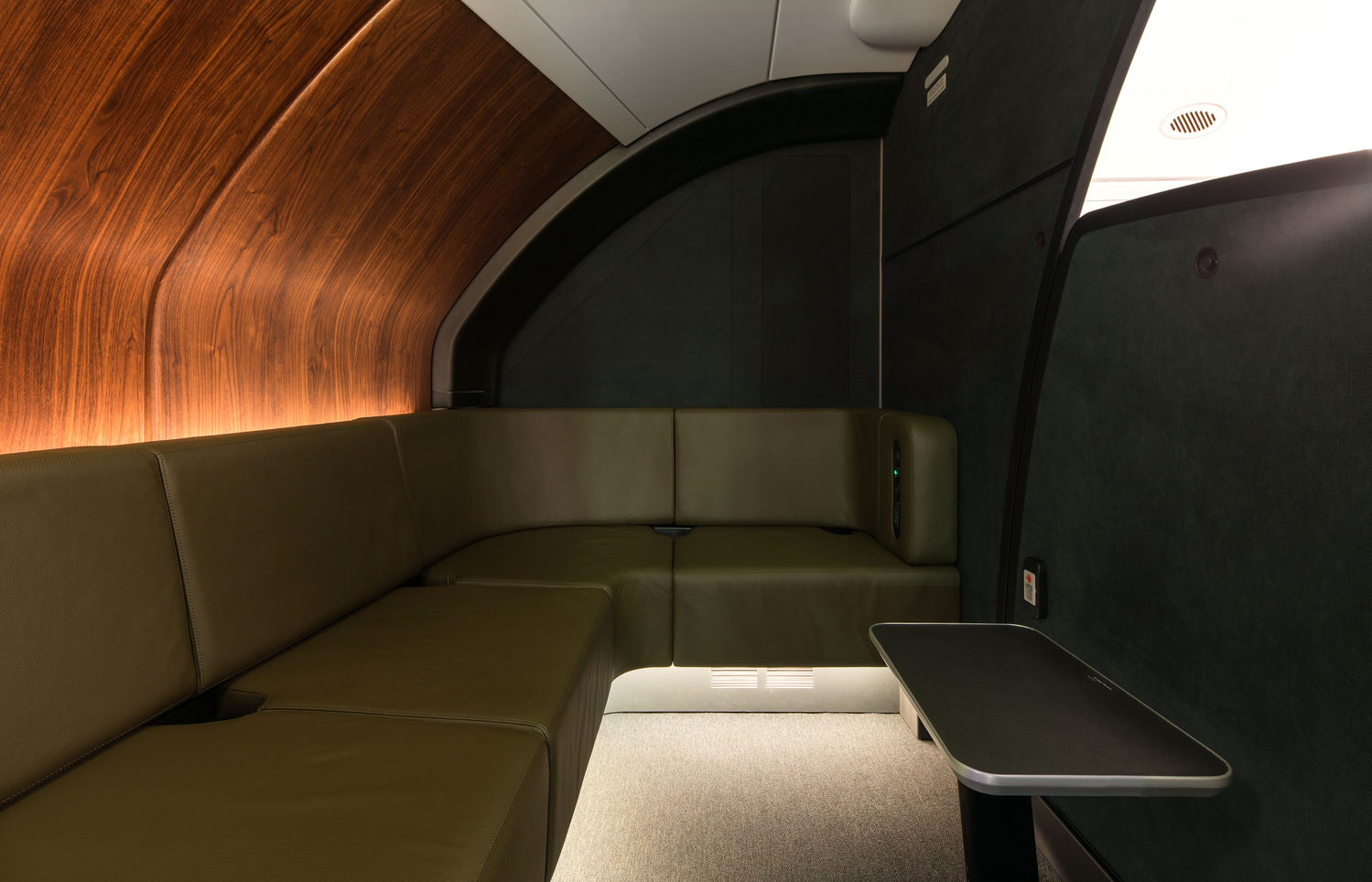 Accessible to: First and Prestige (Business) Class passengers on A380 flights
There are actually two bar spaces on this aircraft: a smaller, self-service lounge at the front of the Business Class cabin, and the Celestial Bar in the rear (pictured below).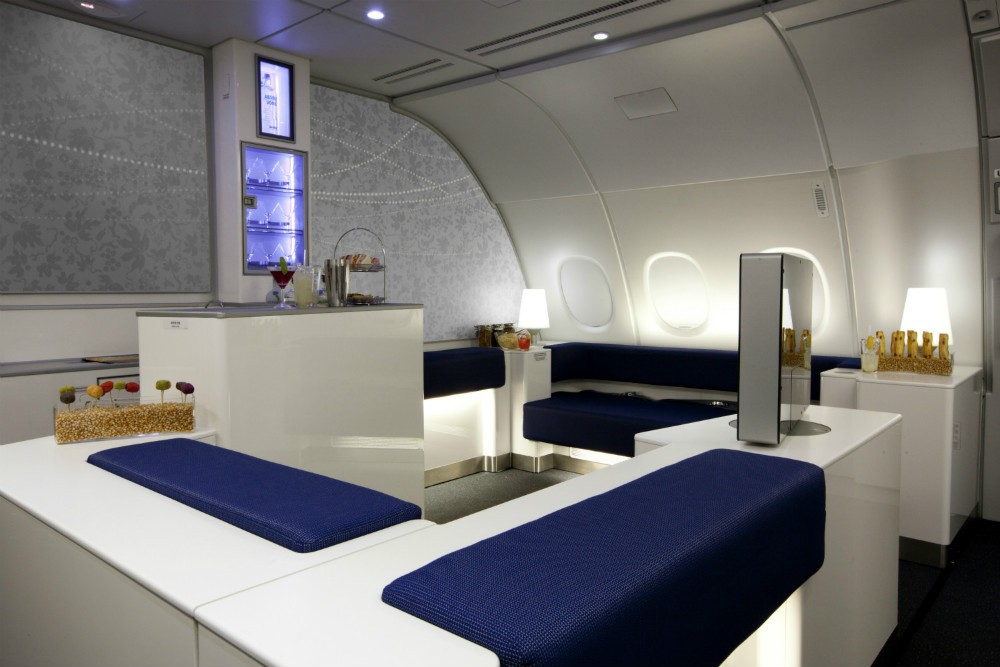 At the Celestial Bar, you'll have a flight attendant making you signature Absolut Vodka cocktails. However, if you would like a different drink, they'll have to fetch that from the galley.
There is a reasonable number of seats and some bar snacks will be provided.
Accessible to: Business Class passengers on 777 flights
Virgin Australia is the only airline operating a bar on the Boeing 777. It has seating for four people at hi-tops and two on small couches opposite the bar.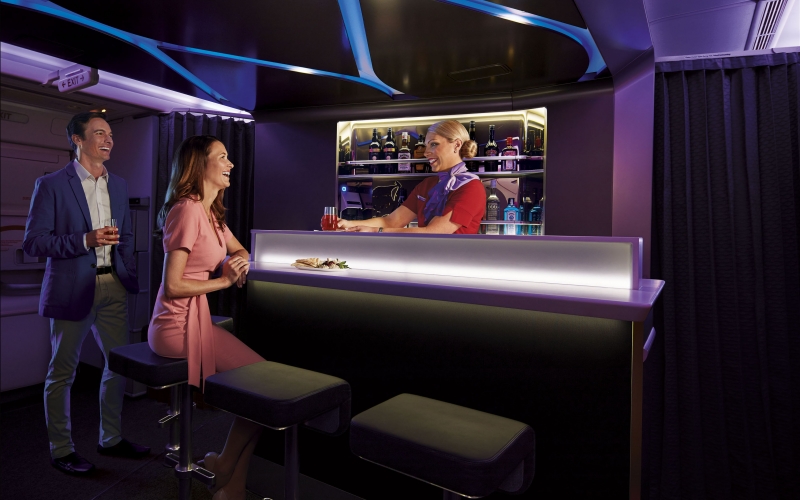 It is an attractive space with a contemporary and LED lighting. The bar opens after the main service and you'll generally find the crew manning it to be friendly and chatty.
You can expect the bar to be more utilised on daytime departures from Australia to Los Angeles, rather than the overnight flights on the way home.
Accessible to: Upper (Business) Class passengers on all flights
This London-based carrier is the only airline in the world to feature an onboard bar on all of its flights—that's the first pro.
The second is that you'll find a wide range of cocktails, champagne and chips available.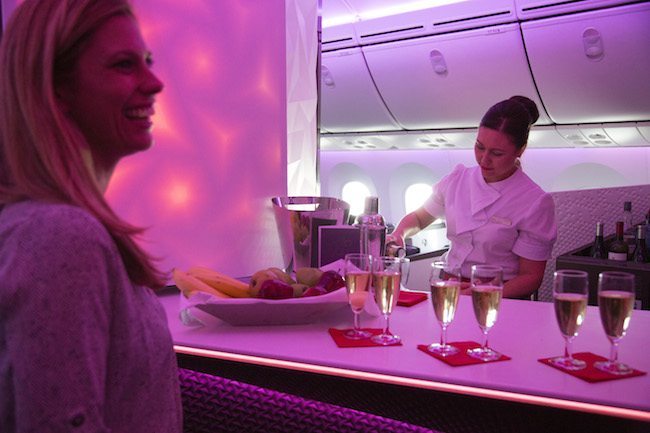 Now to the cons:
There are only four or so seats, so you may get turned away
The bar can get busy and loud during daytime flights
There is no separation wall—or even a curtain—between the bar and seats
Therefore, if you are flying Virgin Atlantic Upper Class, try to select a seat towards the front of the cabin so that you can avoid the noise from the bar in the rear.
Luckily, the airline is introducing a more secluded 'The Loft' social space on its new A350 aircraft.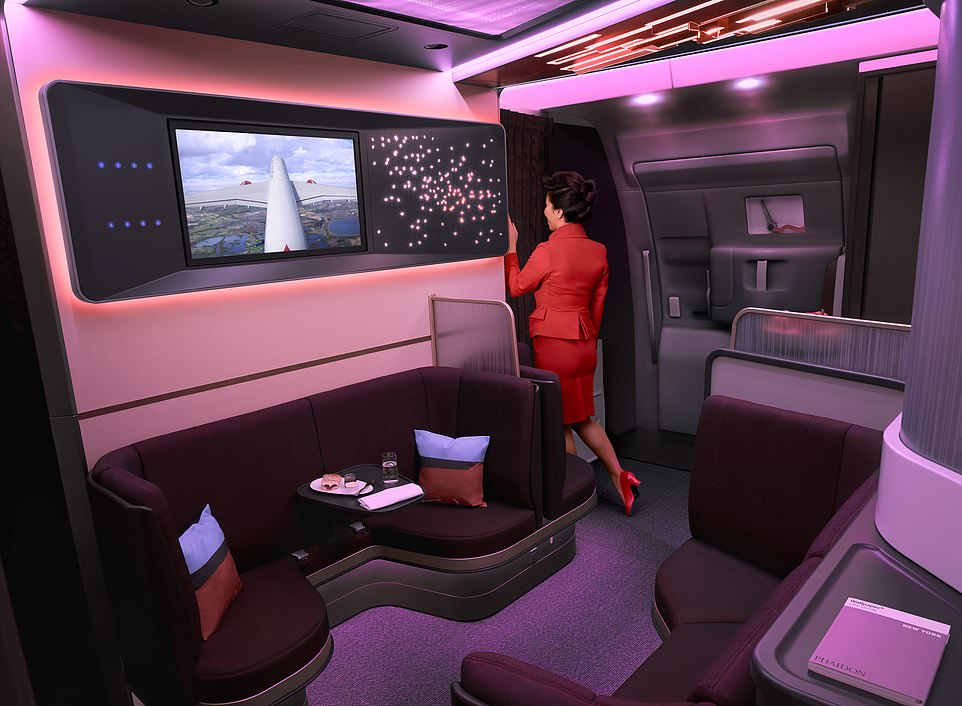 Accessible to: The Residence, First and Business Class passengers on A380 flights
In between First and Business Class, you'll find an open space with a circular table and chairs with seating for six passengers. The area is usually quite dark with no windows.
There is a large inflight entertainment screen usually tuned to live sports or news, and a fully-stocked bar with spirits, wine and champagne. Whilst this is technically a self-service bar, the crew will happily provide you with food, drinks and snacks here. You can even ask them for afternoon tea or a wine tasting!
A couple of things to note:
You can access the space as soon as you board, which you may prefer to do rather than wait in your Business Class seat
There is considerable foot traffic through this space as the cabin crew moves between the cabins
Given the amount of space they enjoy, I can't see many First Class passengers using it much unless they know people travelling in Business Class.
The area is not as big as Emirates' and is less conducive to hanging out and meeting strangers, but it is still a usable and relaxing spot to spend some time.
Accessible to: First and Business Class passengers on A380 flights
This bar is located at the rear of the upper deck and is usually well-patronised. There are two large bench seats on either side which can comfortably seat four each, and a lot of standing space if you prefer to stretch your legs.
The bar seats offer a good view outside whilst you sip on a drink or enjoy a couple of canapés.
This space is a great escape from the privacy and relative isolation of your First Class suite. Getting the blood moving in your legs again is one of the best uses of the space, in my opinion.
Accessible to: First and Business Class passengers on A380 flights
This Doha-based carrier wins due to its aesthetically-pleasing and large space. The area is located between the Business and mini Economy Class section on the upper deck of the aircraft.
It's a luxurious space with clean lines and little foot traffic from cabin crew.
Dedicated cabin crew will serve you top-shelf spirits as well as Krug champagne. Snacks on offer include canapés, sushi, muffins and cheese platters.
How likely is it that you get to experience this product? Well, it's best to do it sooner rather than later given that the airline plans to phase out this plane in the 2020s.
Australia-based travellers are most likely to find this product on flights from Sydney, Melbourne and Perth to Doha and onto London, Paris and Frankfurt.
You can check the current Qatar Airways A380 routes here.
My personal tips to enjoy the onboard bar
Use the bar upon boarding—if the airline allows it, you may as well enjoy your pre-departure beverage whilst the (usually superjumbo) aircraft takes time to be filled with up to 500 other passengers
The three big Gulf carriers (Qatar, Emirates and Etihad) may adjust the way alcohol is displayed or poured during Ramadan, but know that it is still available—you just need to ask for it
Take a book or magazine along with you if travelling alone—that way you have an excuse to park yourself for a little longer than it would take to otherwise just have a drink or snack
Summing up: which airlines have the best onboard bars?
Qatar Airways
Emirates
Etihad Airways
Virgin Atlantic
Virgin Australia
Korean Air
Qantas
What do you think? Would you change any of the rankings above?
Supplementary images courtesy respective airlines.
Which airlines have the best onboard bars?
was last modified:
March 21st, 2022
by