Flying Economy on the QantasLink Embraer E190 is a little unconventional. Even though these sectors are sold as 'Qantas' flights, they're actually run by Alliance Airlines. Passengers buy their ticket from Qantas, and still check-in at Qantas counters. But in the background, it's Alliance that owns the plane, supplies the crew and does the flying.
In the aviation industry, this is known as a 'wet lease'. These aren't flights that can also be booked directly with Alliance Airlines. These are solely for QantasLink passengers who book with Qantas itself.
Confused? To your average traveller, these differences are all designed to appear 'invisible'. It's fair to say, most probably won't even notice they're flying on another airline – and that's the whole idea. It's very different to a codeshare, where one airline cross-sells seats on a flight that's otherwise taking off anyway. Think, what Qantas does on Emirates, for instance.
To cut through all the red tape, I hop aboard a QantasLink/Alliance Airlines Embraer E190 flight from Adelaide to Brisbane to bring you this review.
Check-in and boarding
Even though this is an Alliance Airlines aircraft, check-in still takes place with Qantas as normal. This means you can use the Qantas mobile app and Qantas-branded check-in counters – as with any true 'Qantas' flight.
For this journey, I use the helpful 'T-80' trick to grab a seat further forward in the cabin. I could have selected the very front row for extra legroom, but I opt for a standard seat to review the regular experience. When online check-in opens, I use the Qantas app to get my boarding pass. It feels just like any other Qantas flight.
I'm only in Adelaide for a couple of meetings and a quick overnight stay. This means I can leave the checked bag at home and breeze through with cabin baggage only.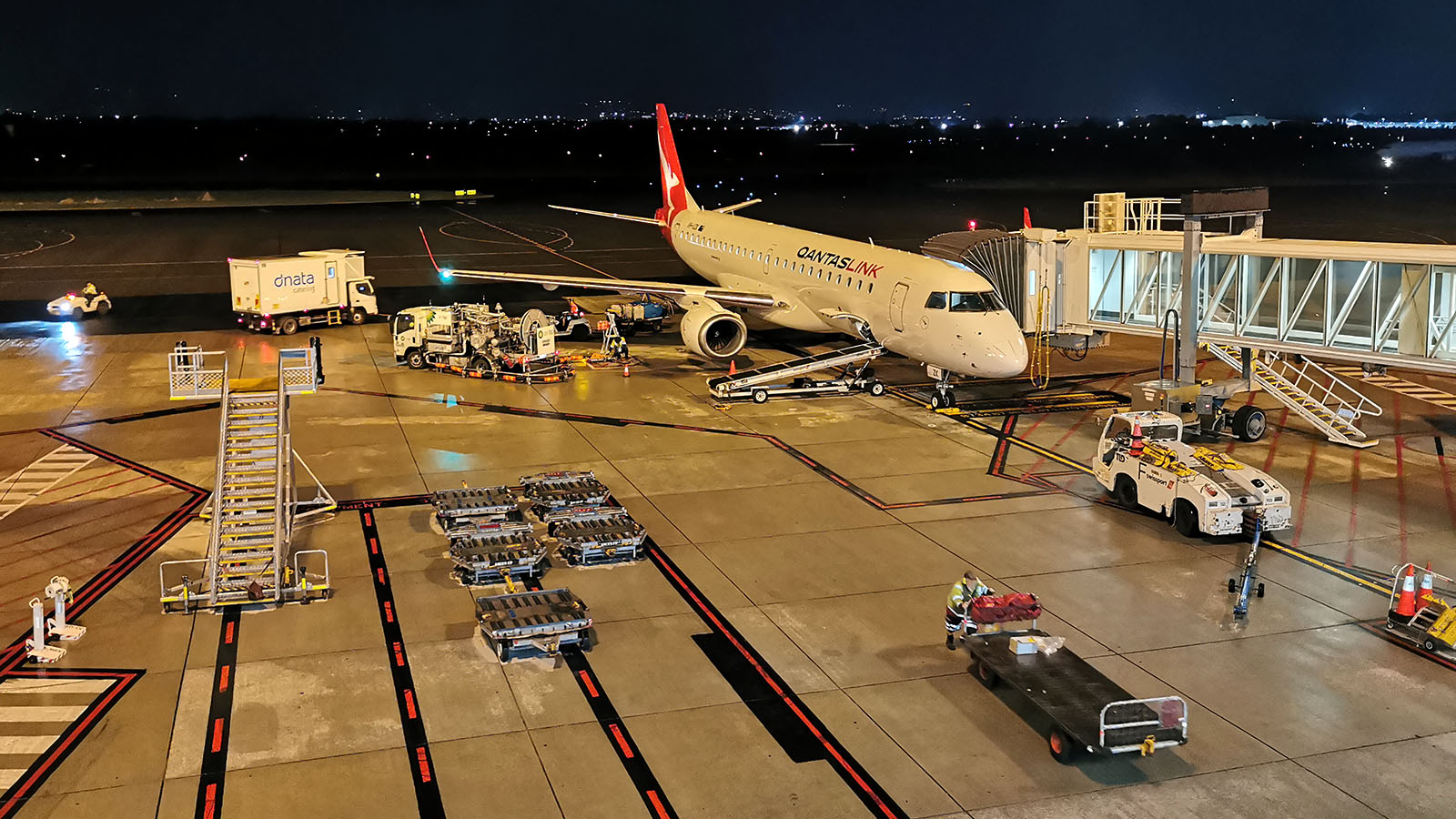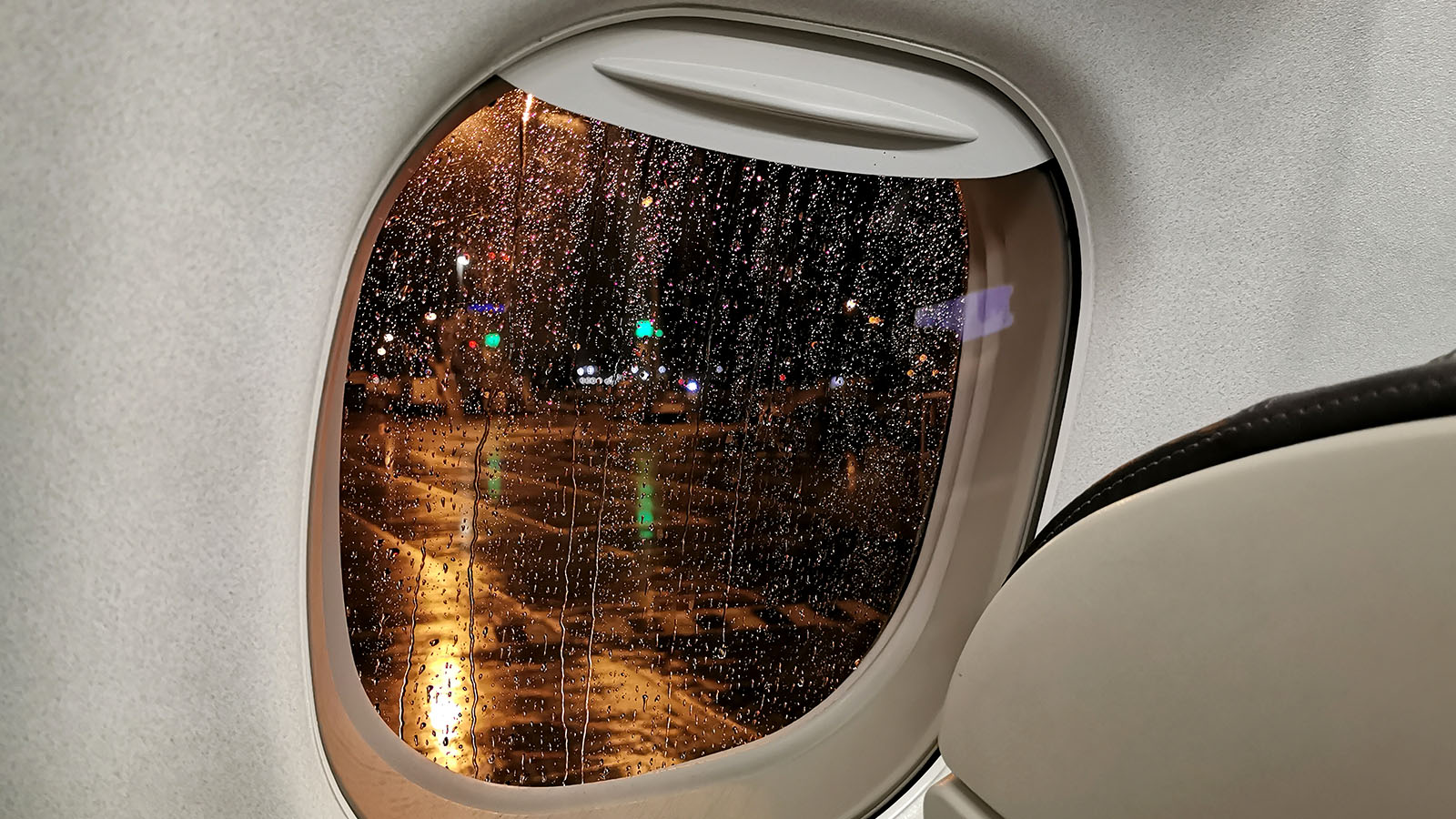 It's a rainy evening here in Adelaide, but the downpour fortunately starts only after I reach the airport terminal. With an aerobridge to the plane, I don't get a spot on me. Less fortunate, though, is the absence of priority boarding at the gate. Staff make just a single, general boarding call, and priority signage is absent. I'm already near the front – it's handy getting on first to take a few snaps. But if I'd been waiting for the call in the lounge, I'd be in a long queue.
Lounge options in Adelaide
Naturally, an Economy ticket alone doesn't get you into the lounge. But if you pair a QantasLink Embraer E190 Economy boarding pass with the right status or membership, you're sorted.
There are a couple of public lounges available to passengers on these QantasLink flights from Adelaide. Here's a quick rundown:
Qantas Club. This lounge welcomes Qantas Gold frequent flyers (and above), along with oneworld Sapphire and Emerald cardholders. It's also open to Qantas Club and American Airlines Admirals Club members. Other eligible frequent flyers from Qantas' partner airlines are welcome too – Emirates Skywards Gold (and higher), for instance. For those with an invitation-only Chairman's Lounge membership, there's a VIP lounge tucked away next door.
Rex Lounge. You may be flying with Qantas (or QantasLink – or Alliance Airlines), but that doesn't matter. Travellers with a Priority Pass card can access Adelaide's Rex Lounge. This is available regardless of which airline is operating your onward flight.
Knowing that the Rex Lounge is quite basic, I choose to visit the Qantas Club. There's a good range of substantial food – and because Adelaide doesn't yet have a Qantas Business Lounge, the options are always a cut above what you'd typically find in other capital city Qantas Club lounges.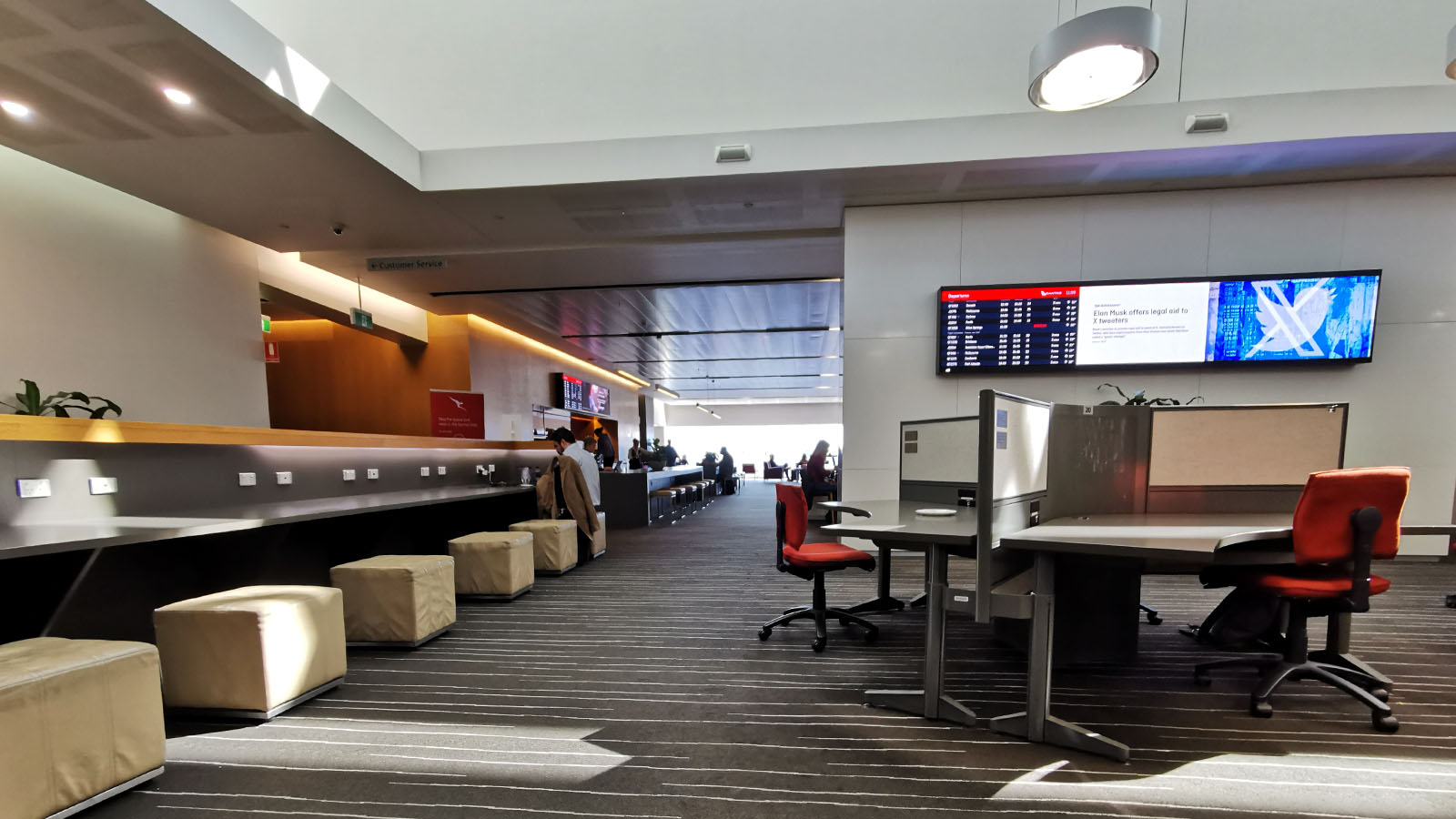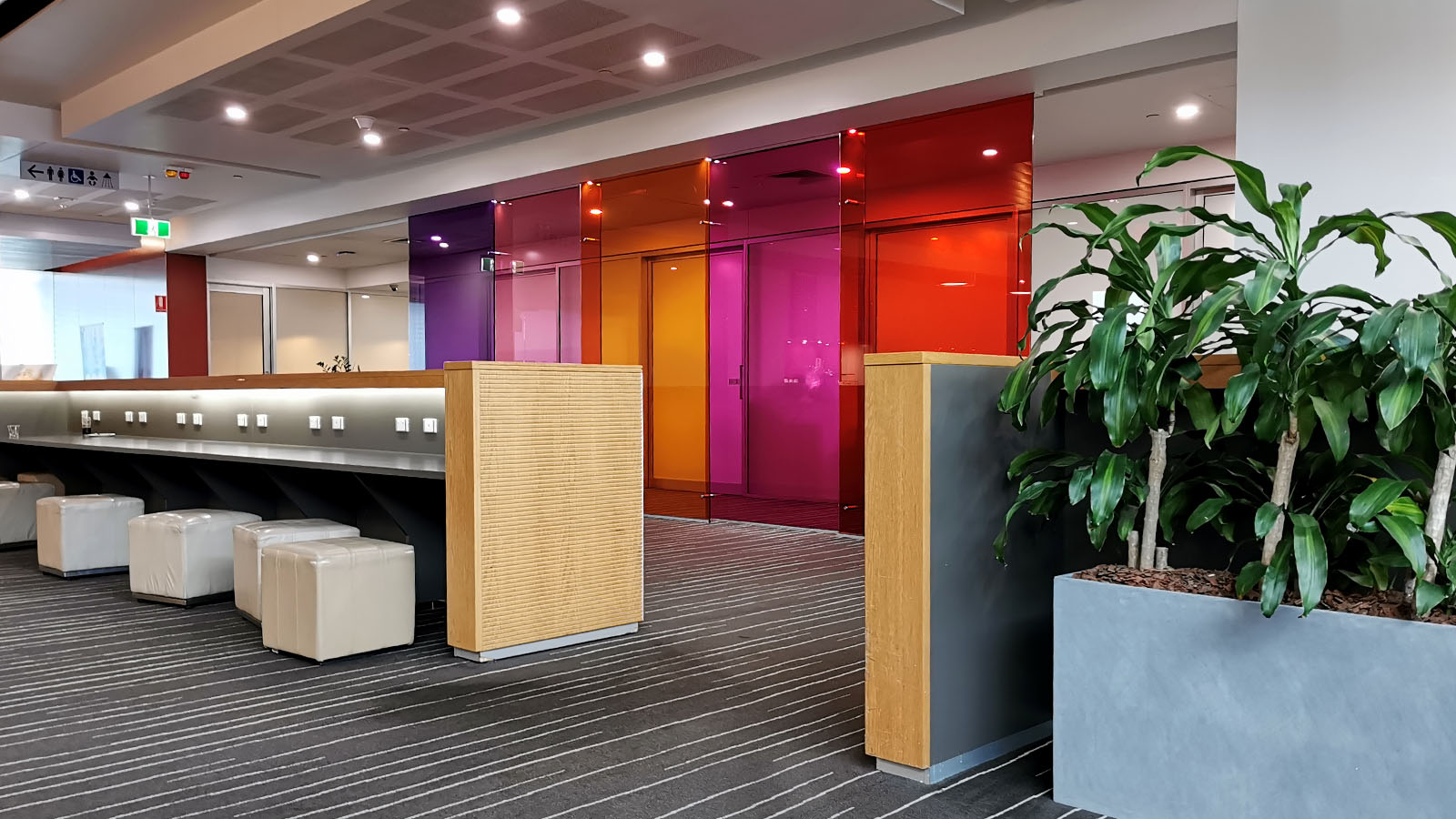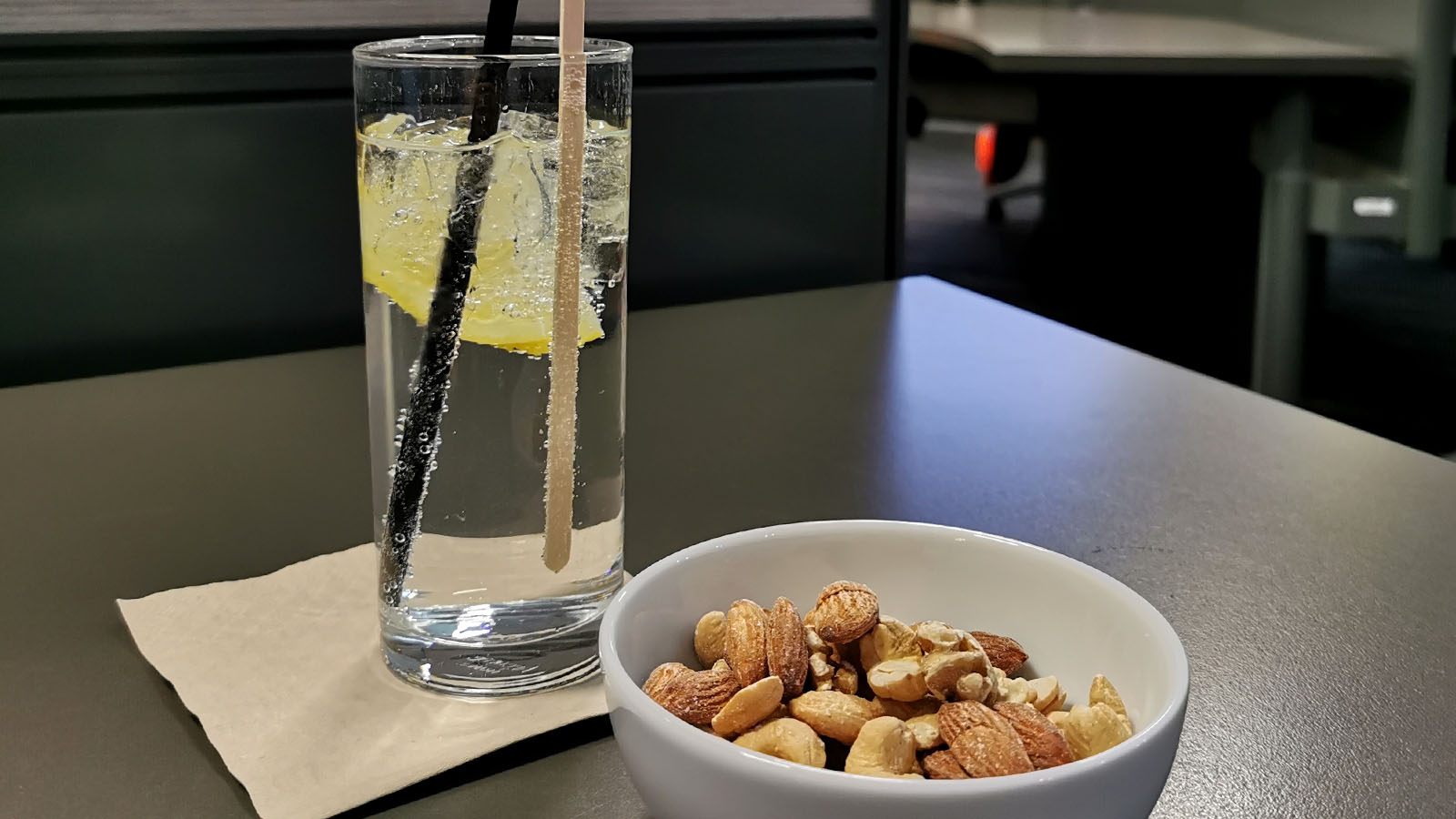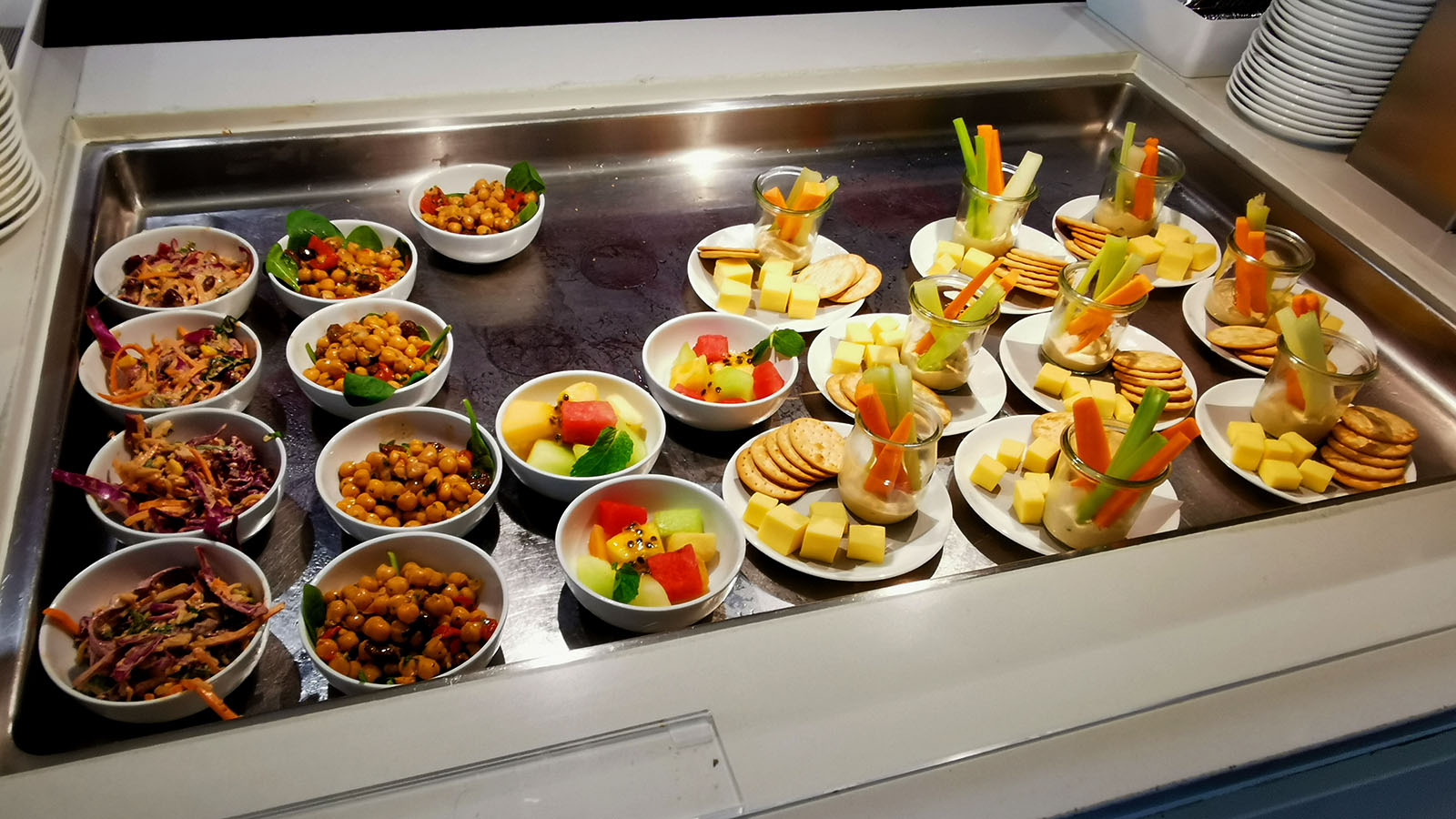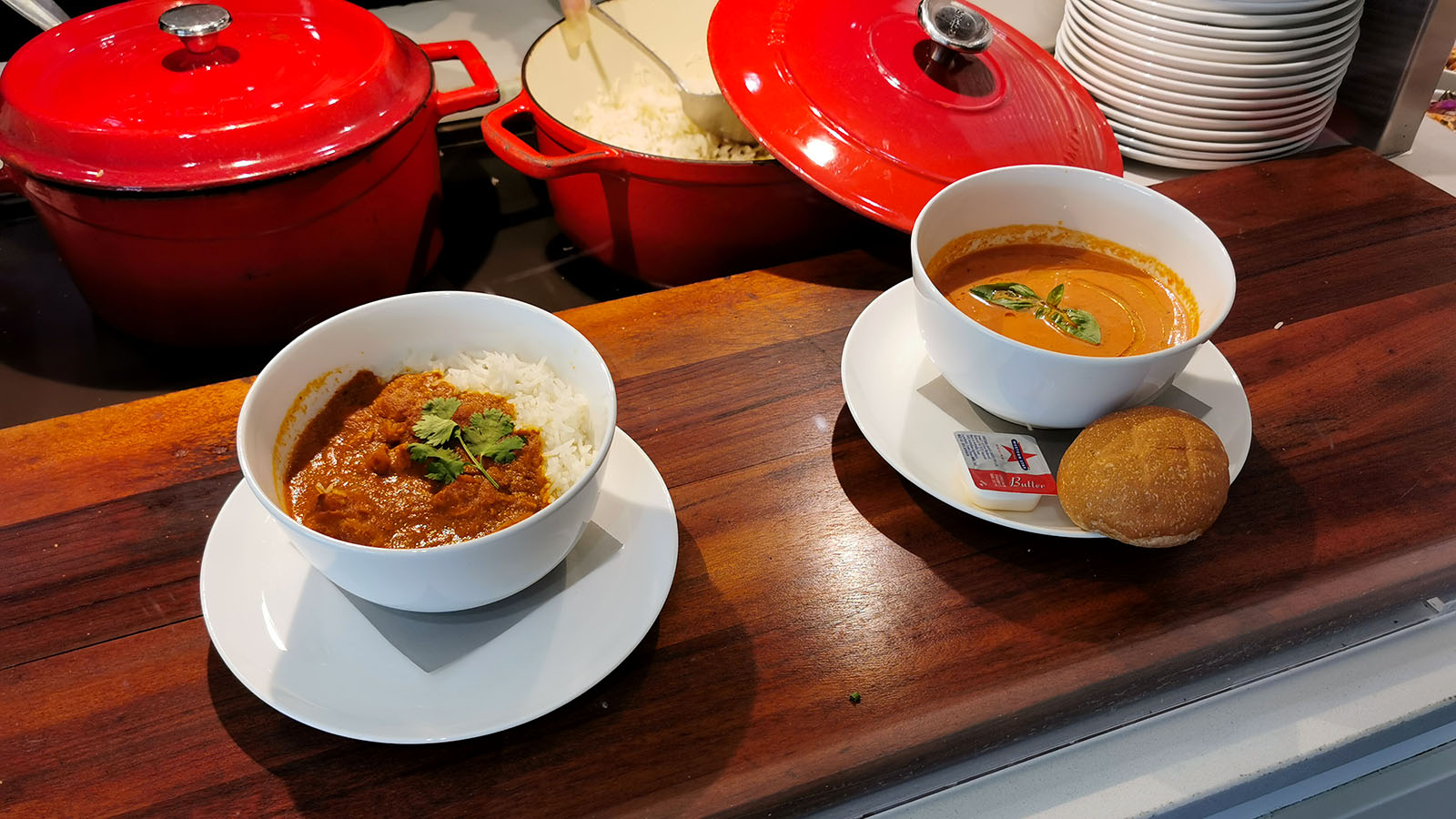 Normally, I'd enjoy a pre-flight meal at the airport. But I've just come from a late lunch in the city, so a simple gin and tonic hits the spot. The lounge is a little quiet today, so staff come around to take drink orders. It's unexpected, and a nice touch.
QantasLink/Alliance Embraer E190 Economy seating
Stepping aboard the QantasLink/Alliance Embraer E190 can unearth a pleasant surprise in Economy. Simply, there are no middle seats – hoorah! These planes are smaller than the typical Boeing 737s you'll find on busier routes. And that means the entire Economy cabin follows a 2-2 layout. Everybody gets an aisle or a window – it's happy days.
QantasLink/Alliance have a number of Embraer E190s zipping around Australia. Sometimes, you'll find one of these more modern, refurbished birds pulling up at the gate. This means reupholstered leather seats and QantasLink-branded safety cards. Other times, you'll get an older plane – often with funky purple fabric chairs instead.
By chance, today's journey has me on one of those newer, nicer birds.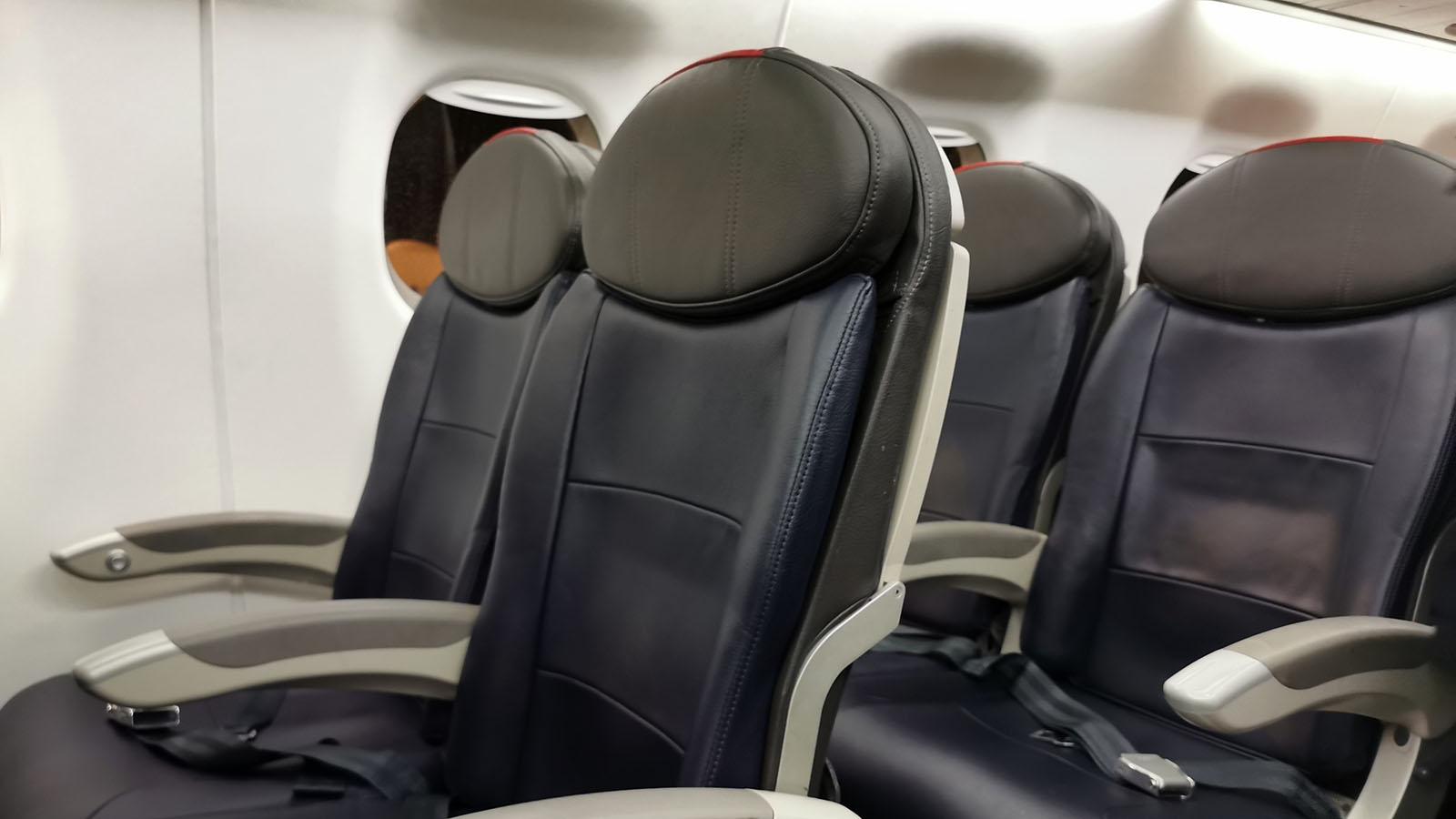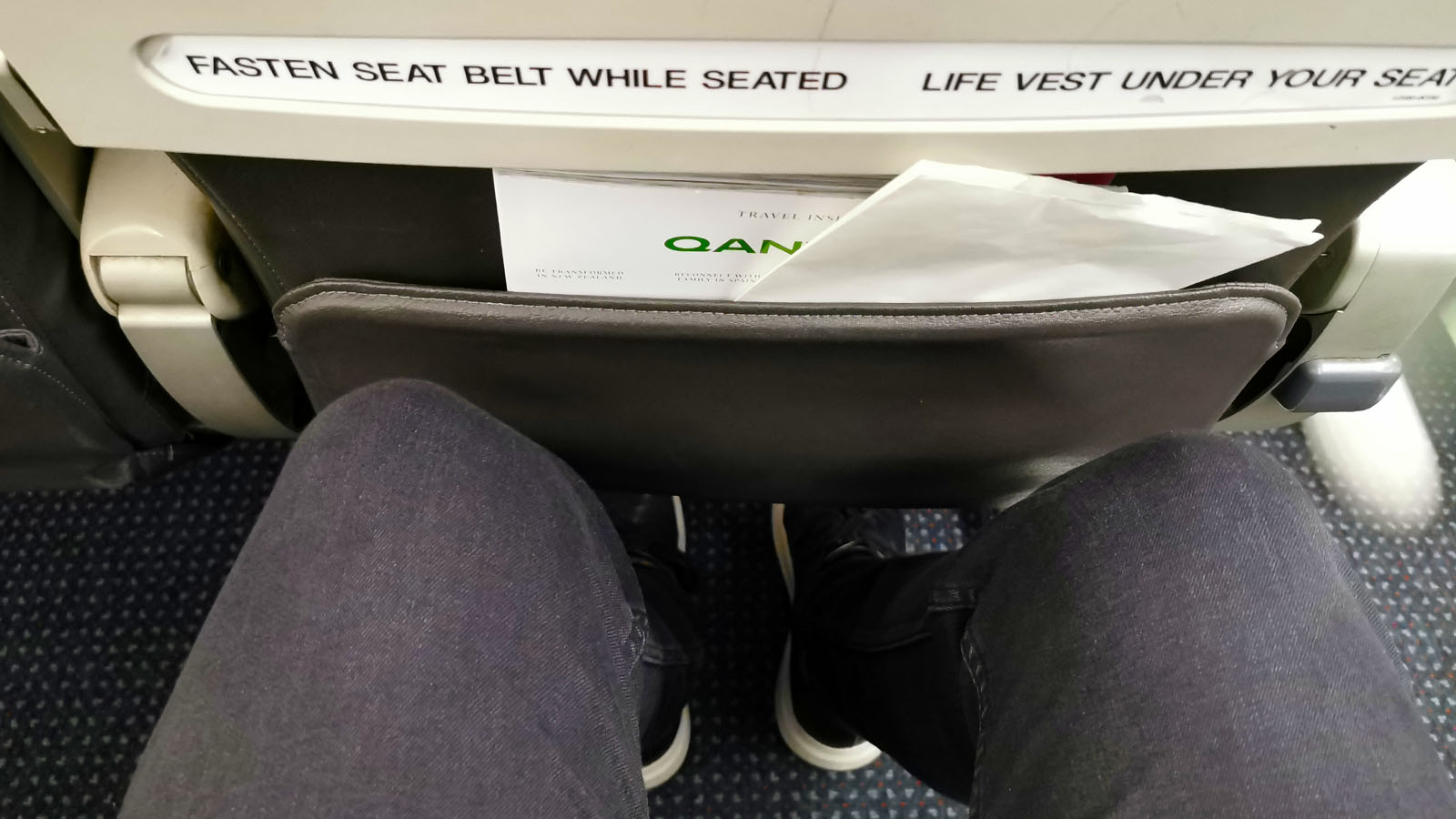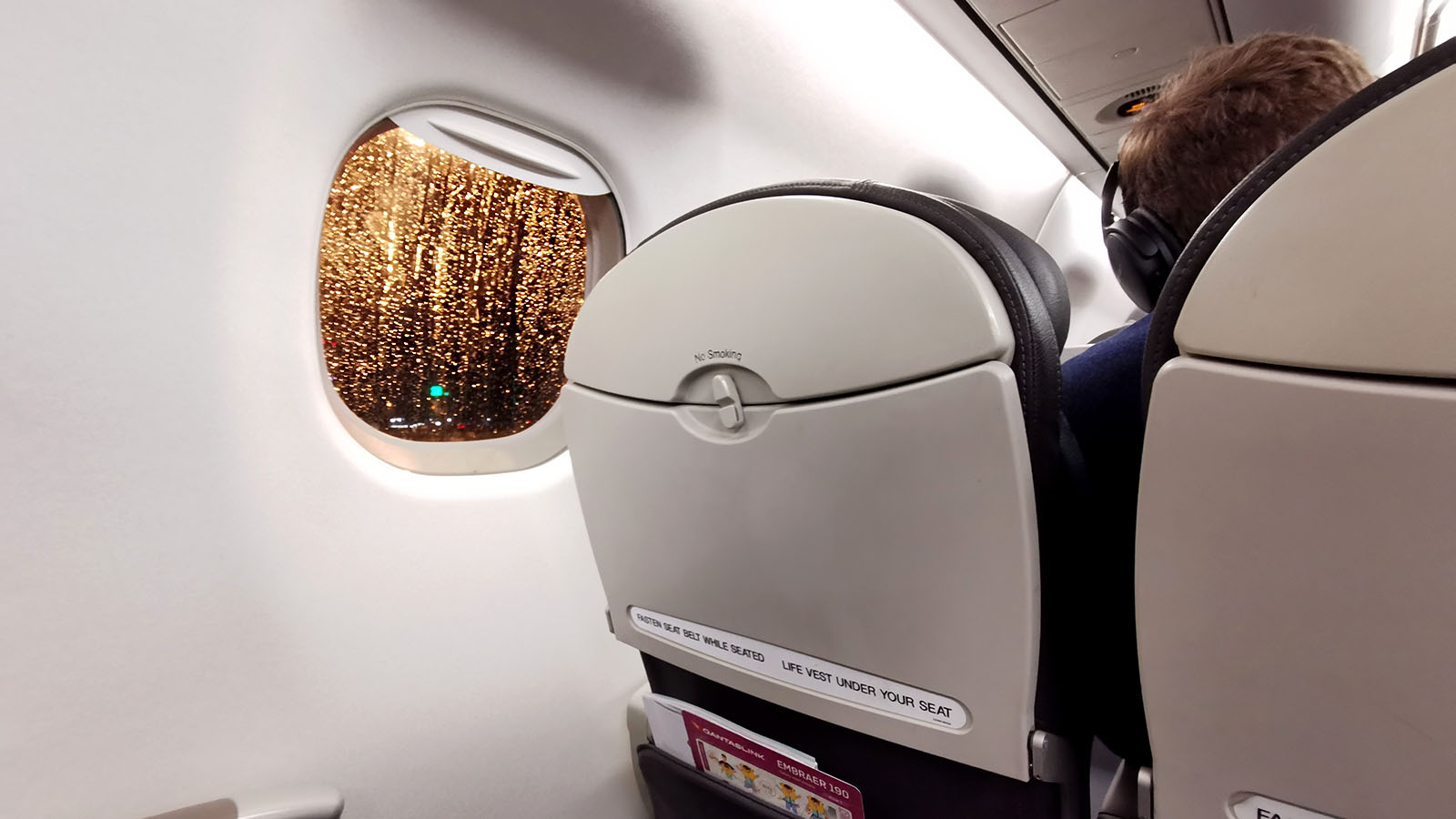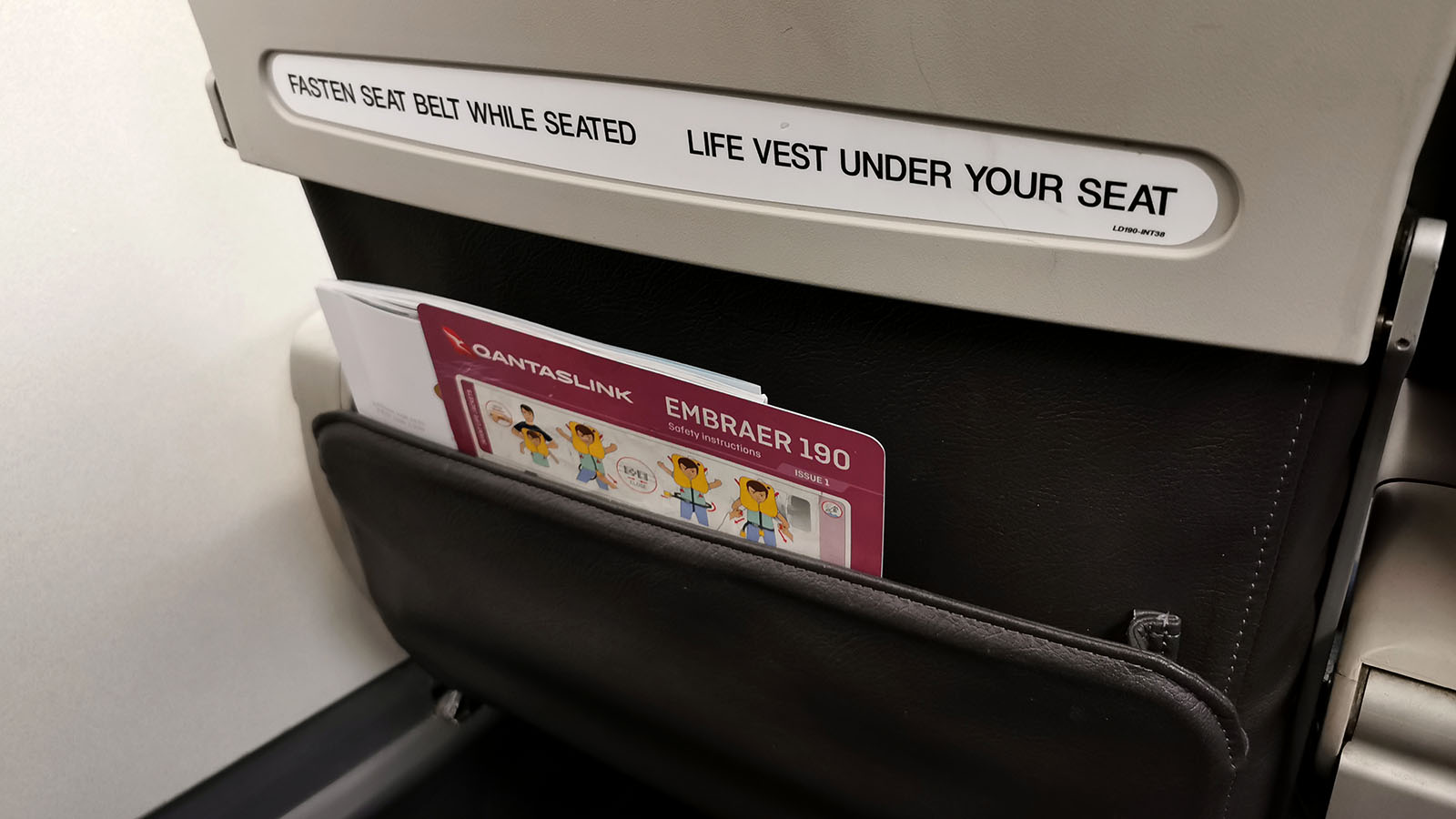 The seat itself is comfortable. An adjustable headrest comes in handy and the chair can recline. It's a lightly loaded flight and I also manage to get a spare seat beside me – as do most in the rows around me. I notice the passengers directly in front and behind me are both in the aisle too. So I scooch over to the window for a little guilt-free recline.
Having said that, there's something missing. Qantas' Boeing 737s offer handy access to AC and USB power, even in Economy. But on the QantasLink/Alliance Embraer E190s, there's no power at all. I'd planned ahead and given my devices a quick charge in the Qantas Club. But if you're heading straight to the flight from a busy day out, plan ahead or pack a power bank, just in case.
Food, beverage and service in QantasLink/Alliance Embraer E190 Economy
Even though this is technically an Alliance Airlines plane, operated by Alliance pilots and cabin crew, the cabin service is still in line with a normal Qantas flight. This means you can expect complimentary drinks and snacks on your QantasLink Embraer E190 Economy flight. At meal times, there's something more substantial in place of a snack.
This service departs Adelaide at 7:30 pm, which counts as a 'dinner' flight. Today's offering is a tasty chicken pie, which goes well with a glass of Hardy's dry white. I also ask for some water, which comes served in a little bottle – handy during some turbulence later on this rainy night.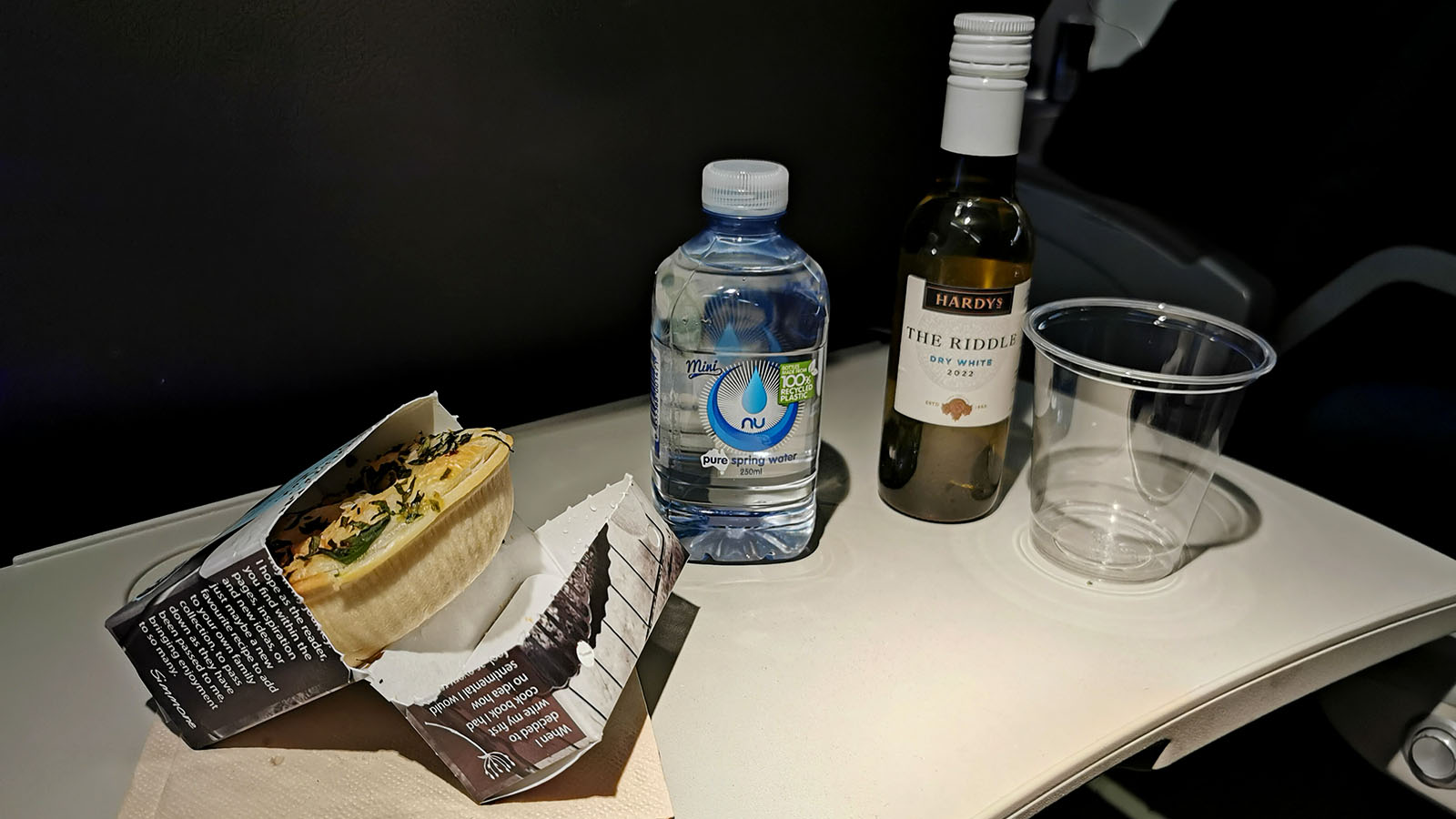 Cabin crew follow the normal Qantas service pattern, including making announcements with the same phrasing as heard aboard Qantas itself. But one thing missing on this leg is inflight entertainment.
In September 2021, Qantas announced that all QantasLink jets would offer content streaming by the end of 2022. These 'Alliance Airlines' flights were specifically included among that roster. But on this return trip in the second half of 2023, entertainment proves absent on both my outbound and my return E190 flights. To be honest, I usually come prepared with my own pre-downloaded entertainment anyway. I advise you to do the same.
Whether or not there's content to watch, one thing absent from all of these E190 flights is inflight Wi-Fi. It's an amenity that I've come to expect on just about every Qantas Boeing 737 flight. But none of the E190 jets offer inflight connectivity.
The verdict
For me, there are four main reasons that I might book with Qantas over a competitor on a domestic flight. These are status benefits, ubiquitous and functional inflight Wi-Fi, inflight charging and the fact that food and drinks are included, not user-pays once on board.
On today's journey, it's clearly a tick in the 'food and beverage' box. As for status benefits, my Qantas Platinum card gets me something – lounge access. It's a pleasant space, but it's still a Qantas Club – a lounge shared also with Qantas Gold and Qantas Club members, rather than a lounge that gives higher-tiered frequent flyers an extra reason to remain loyal. At least though, a Domestic Business Lounge is on the way for Adelaide. But with no effort made with priority boarding on this flight, we'll call that half a tick for status perks overall.
As for Wi-Fi and inflight charging, no ticks today. But that's me – the fussy frequent flyer. For a leisure traveller booking QantasLink Embraer E190 Economy, things actually look quite good. Checked baggage is included, standard seat selection is free, there's no middle seat and the snacks and drinks are included. Unlike Jetstar, you also don't need to pay more to earn Qantas Points or Status Credits: they come with every fare.
In my book, this journey scores 3.5 stars out of five (that's 7/10). This recognises the higher ratings I've given to similar flights on Qantas' Boeing 737s, which have those extra features. But even so, I'm quite satisfied with this QantasLink Embraer E190 flight. Adding those extra attributes would simply make that more so.
Also read: Adelaide Airport plans for more lounges and flights
Feature image courtesy of QantasLink. Other photography by Chris Chamberlin, who travelled at Point Hacks' expense.
---
Stay up to date with the latest news, reviews and guides by subscribing to Point Hacks' email newsletter.
QantasLink/Alliance Airlines Embraer E190 Economy (Adelaide – Brisbane)
was last modified:
October 30th, 2023
by