Unlike its competitors, Qantas' Boeing 737 Economy experience is all-inclusive. You don't pay extra to earn points, check-in a bag, order a drink or enjoy a bite to eat.
For a two-hour flight like Melbourne to Brisbane, that combination meets the needs of most travellers. And when booked ahead of time, fares can be very reasonable. I snapped up this ticket for just $139 one-way, when booking roughly two weeks before travel.
So how does the Qantas Economy experience stack up? Keep reading and find out!
Check-in, lounge and boarding
With a suitcase to check-in, my Qantas Boeing 737 Economy journey begins with a pitstop at the airline's self-serve bag drop stations. It's quick and easy to print and attach your own baggage tag. Or you can head straight for the bag drop belts if using a Q Bag Tag.
Security is quick and easy on this Saturday afternoon, and from there, I'm straight up to Melbourne's Qantas Domestic Business Lounge.
Of course, that's not a perk included by default in Qantas Economy. It's a reward that comes with Qantas Platinum and Platinum One frequent flyer status with every trip. Access here is also extended to Qantas Gold and Qantas Club members when the neighbouring Qantas Club lounge is closed.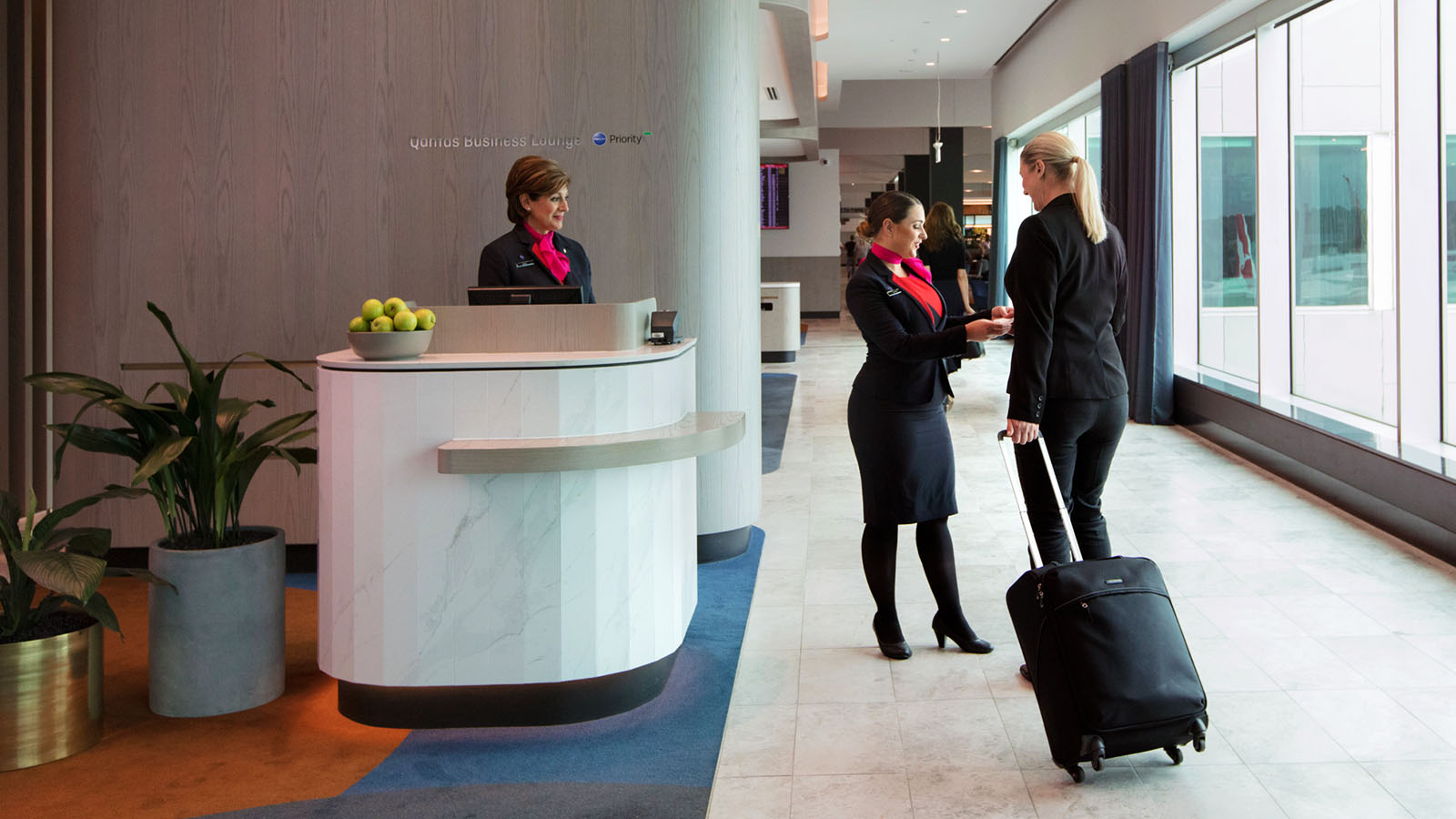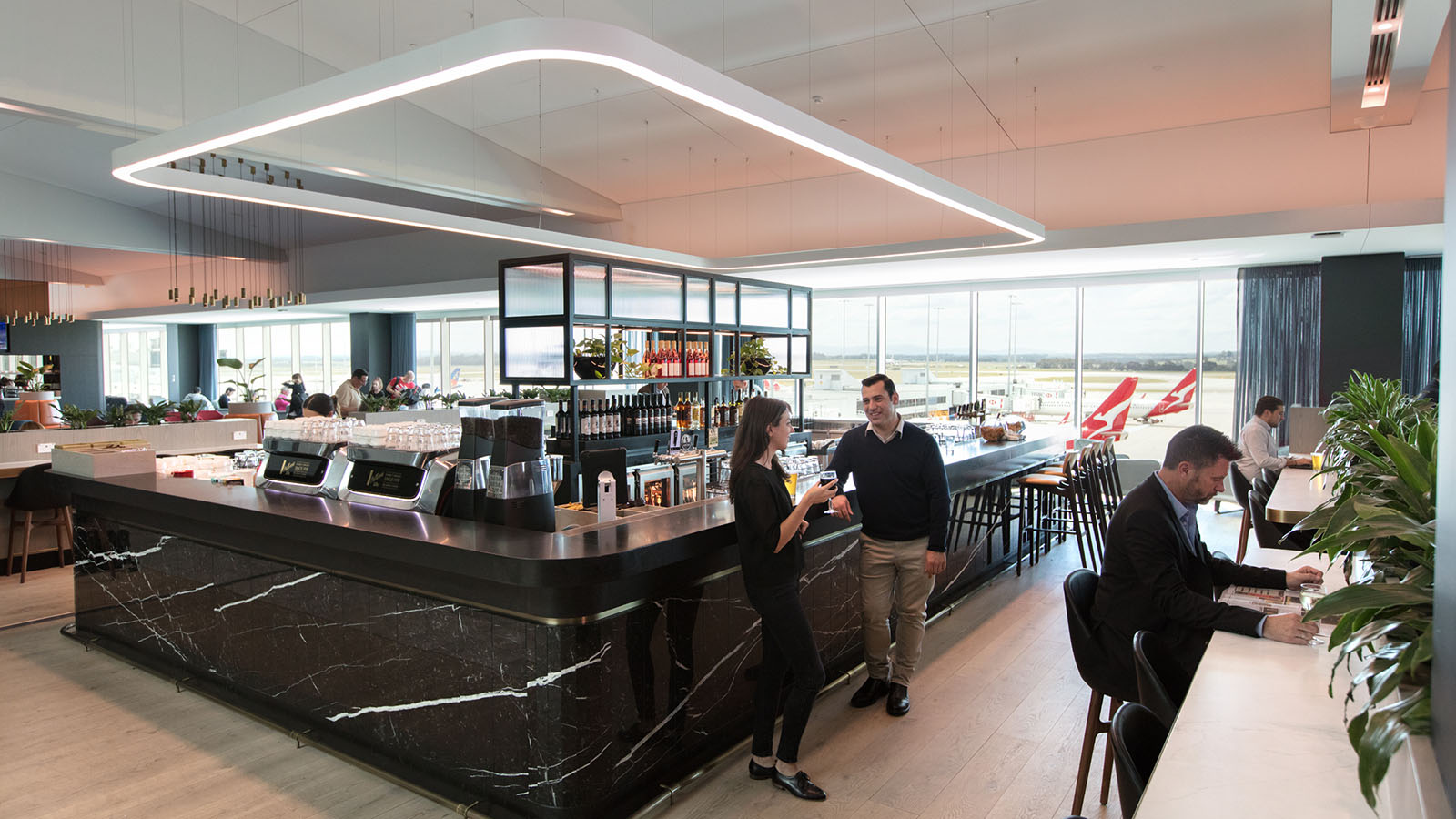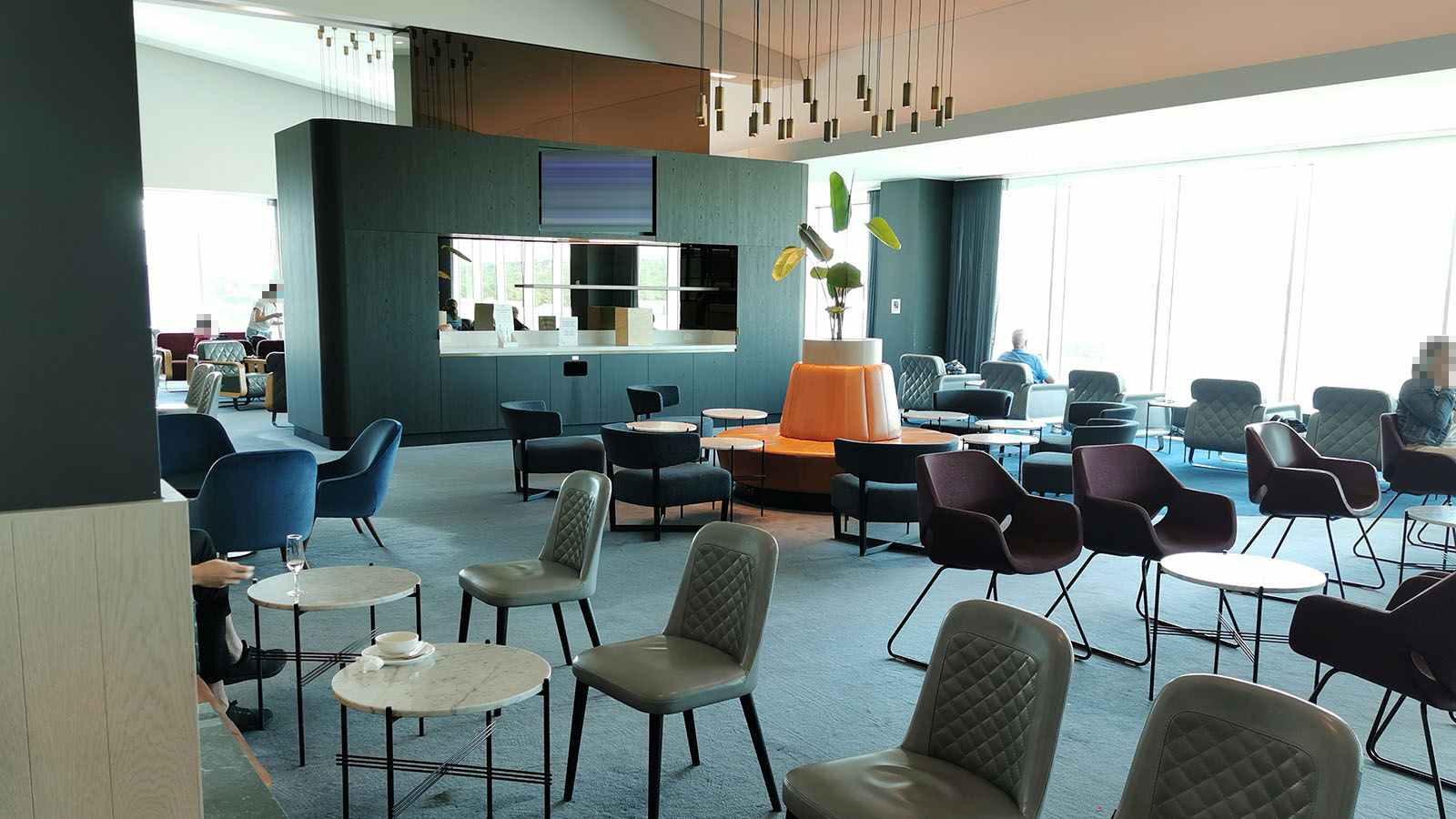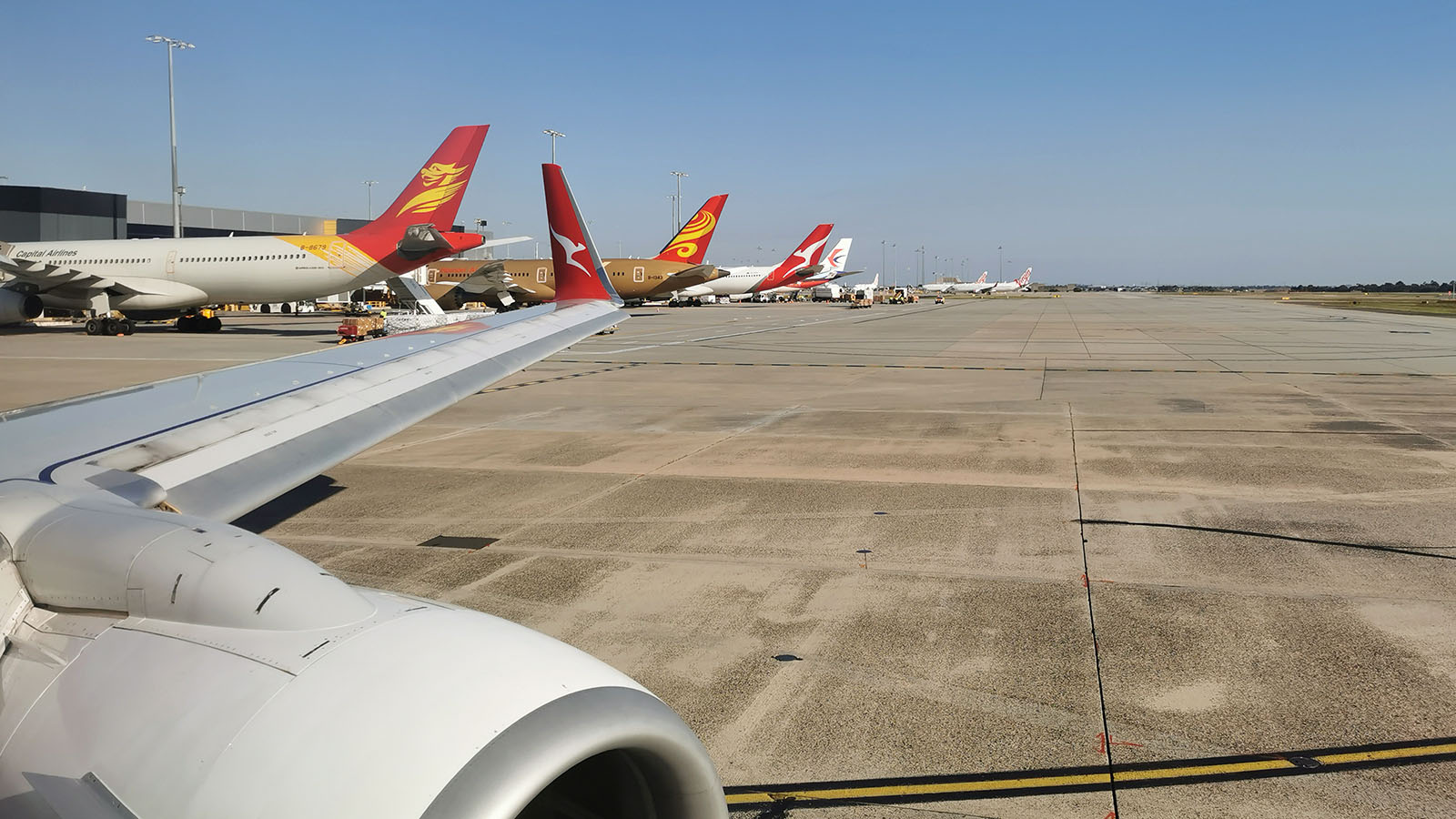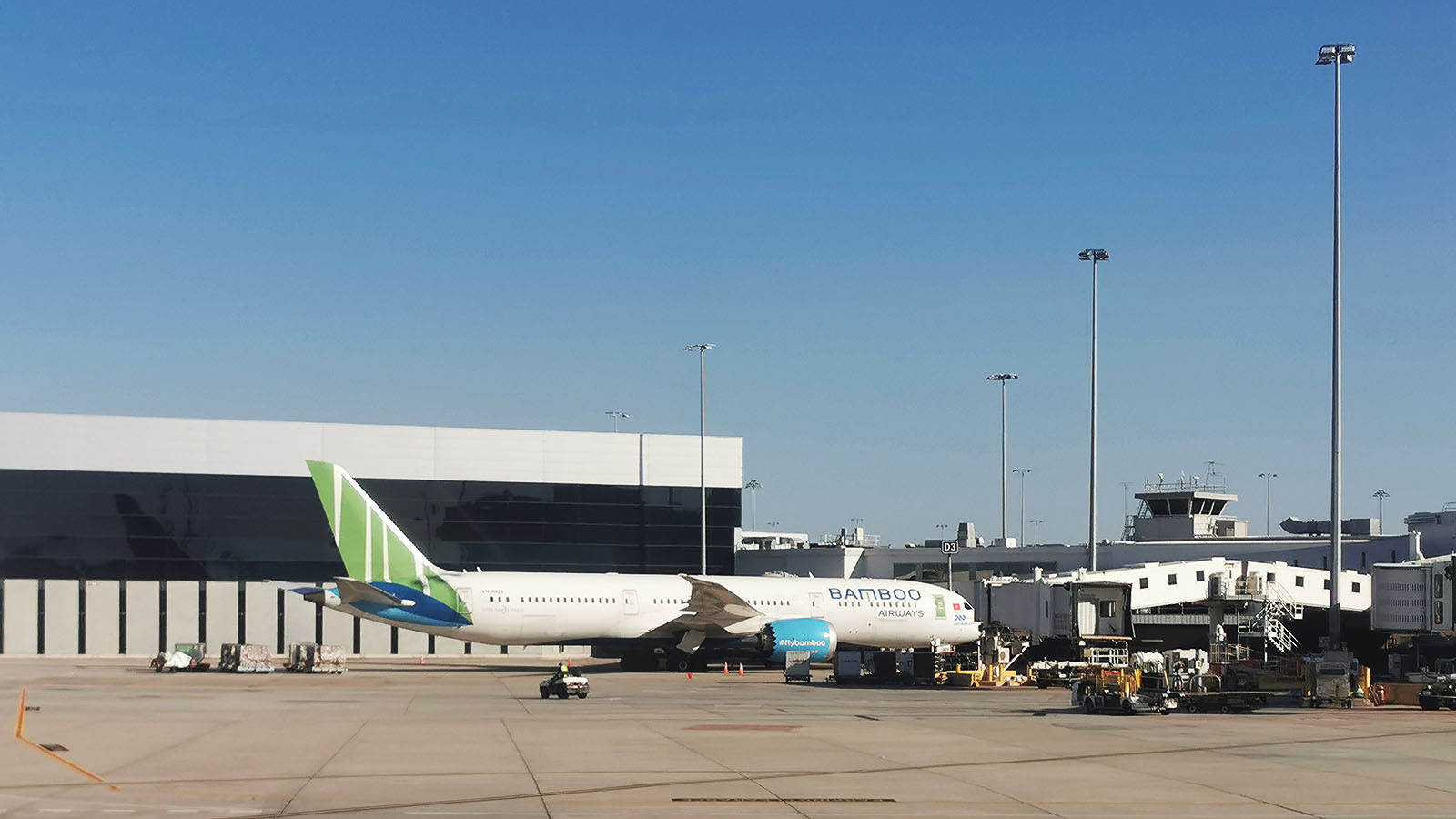 After enjoying a filling lunch in Melbourne itself, I wasn't peckish on this visit. A quick skim latte, a few emails tackled, and it was time to board.
As we were taxiing to take-off, it was interesting seeing all of the international airlines back in Melbourne. And a new one I haven't yet flown: Bamboo Airways, which offers direct flights between Melbourne and Hanoi. That certainly gives me yet another reason to come back!
Qantas Boeing 737 Economy seating
Qantas' Boeing 737s are the workhorse of the airline's domestic fleet, and its Economy seats will be familiar to many. But if it's been a while in between flights, here's a quick recap.
Economy on the Qantas Boeing 737 comes in a standard 3-3 layout. This gives the option of a window, aisle or middle seat on each side of the cabin. On short flights like this, I'll usually select a window seat for the view, and went with 5A this time around.
Of course, seats in the very front row of the cabin (row four) have extra legroom, as do those at the exit rows (13 and 14). While these were all available, row five had something those others didn't: a vacant middle seat.
Given the choice between more space at the knees or elbows, the elbows won this time.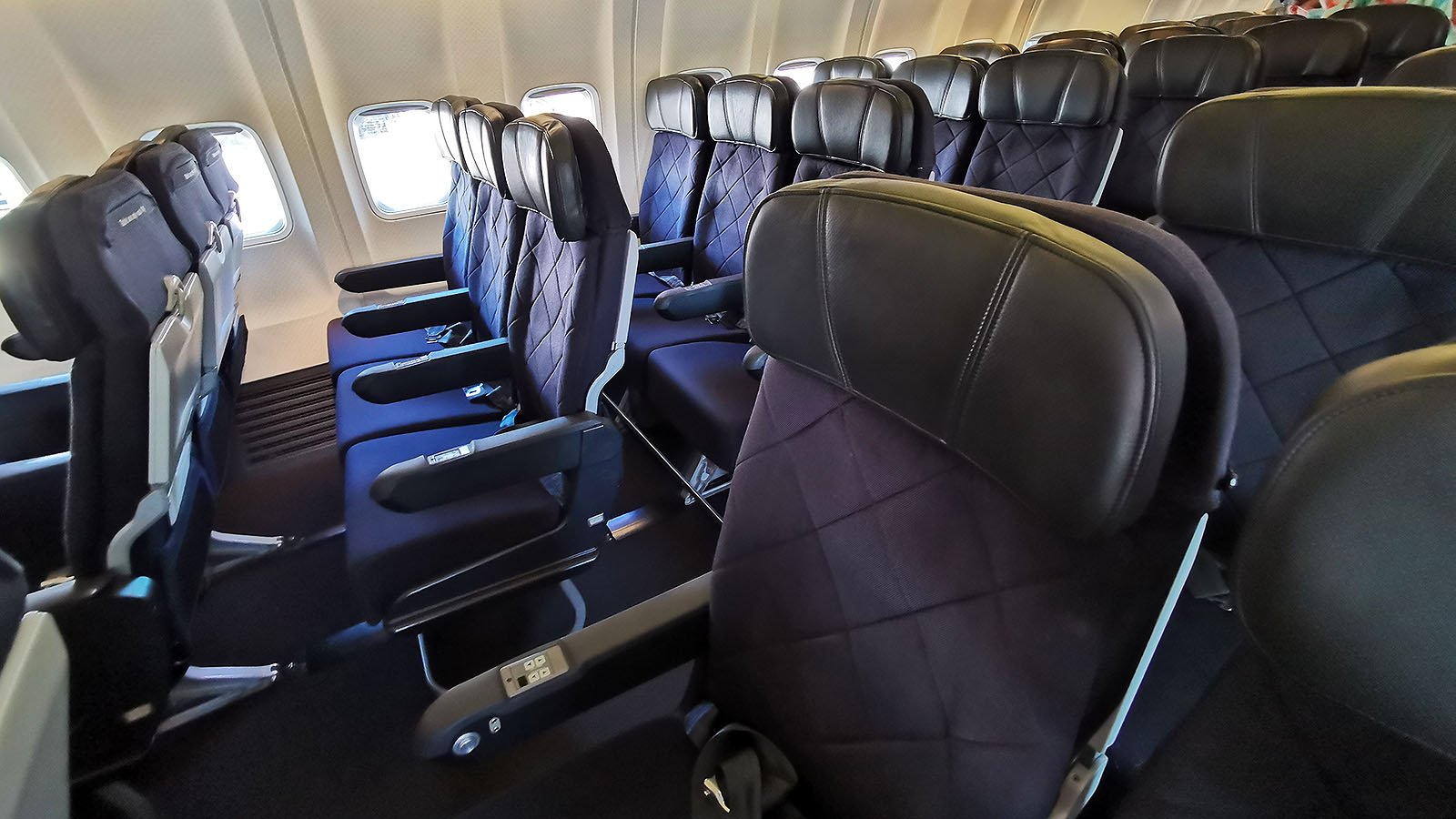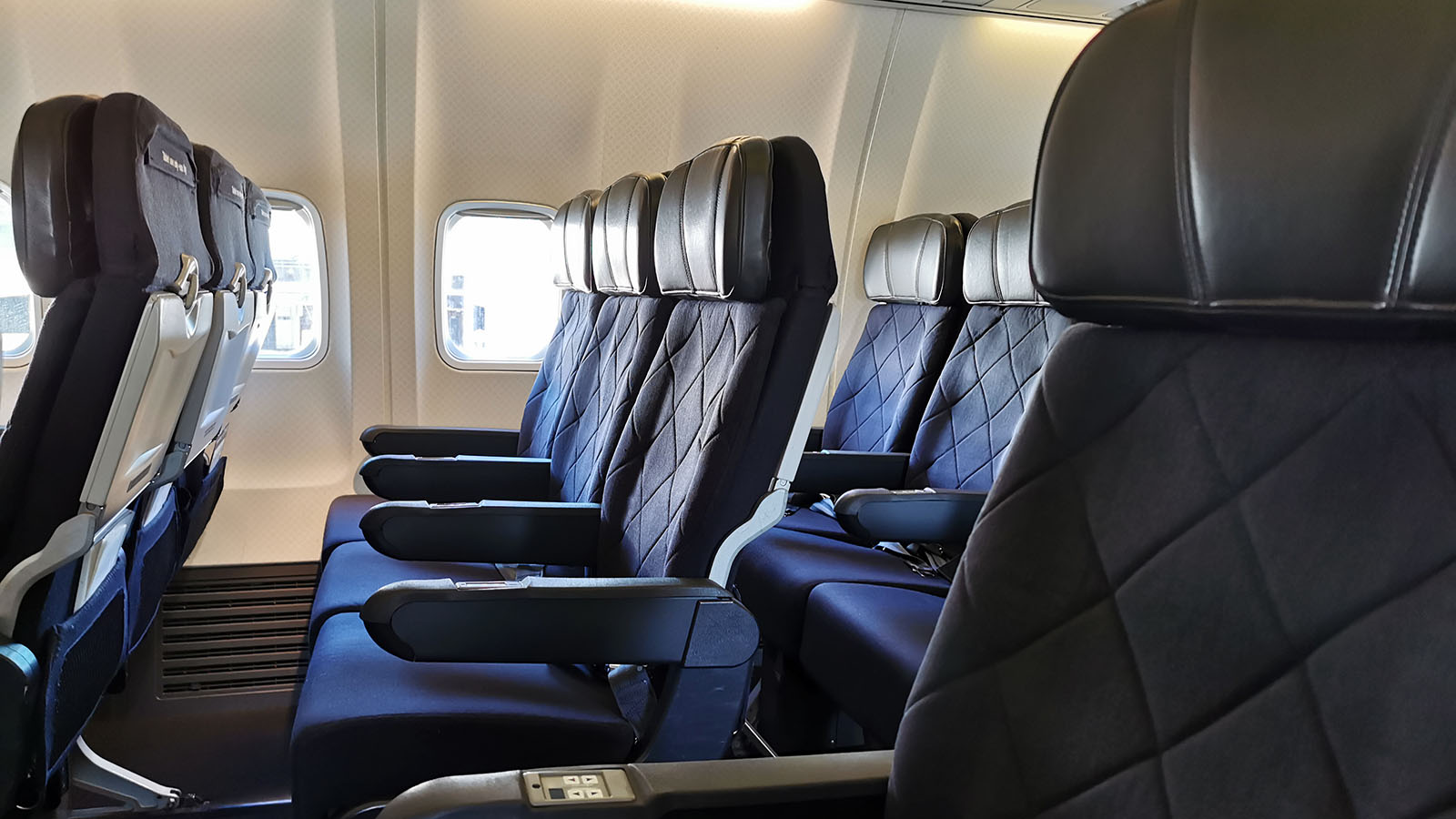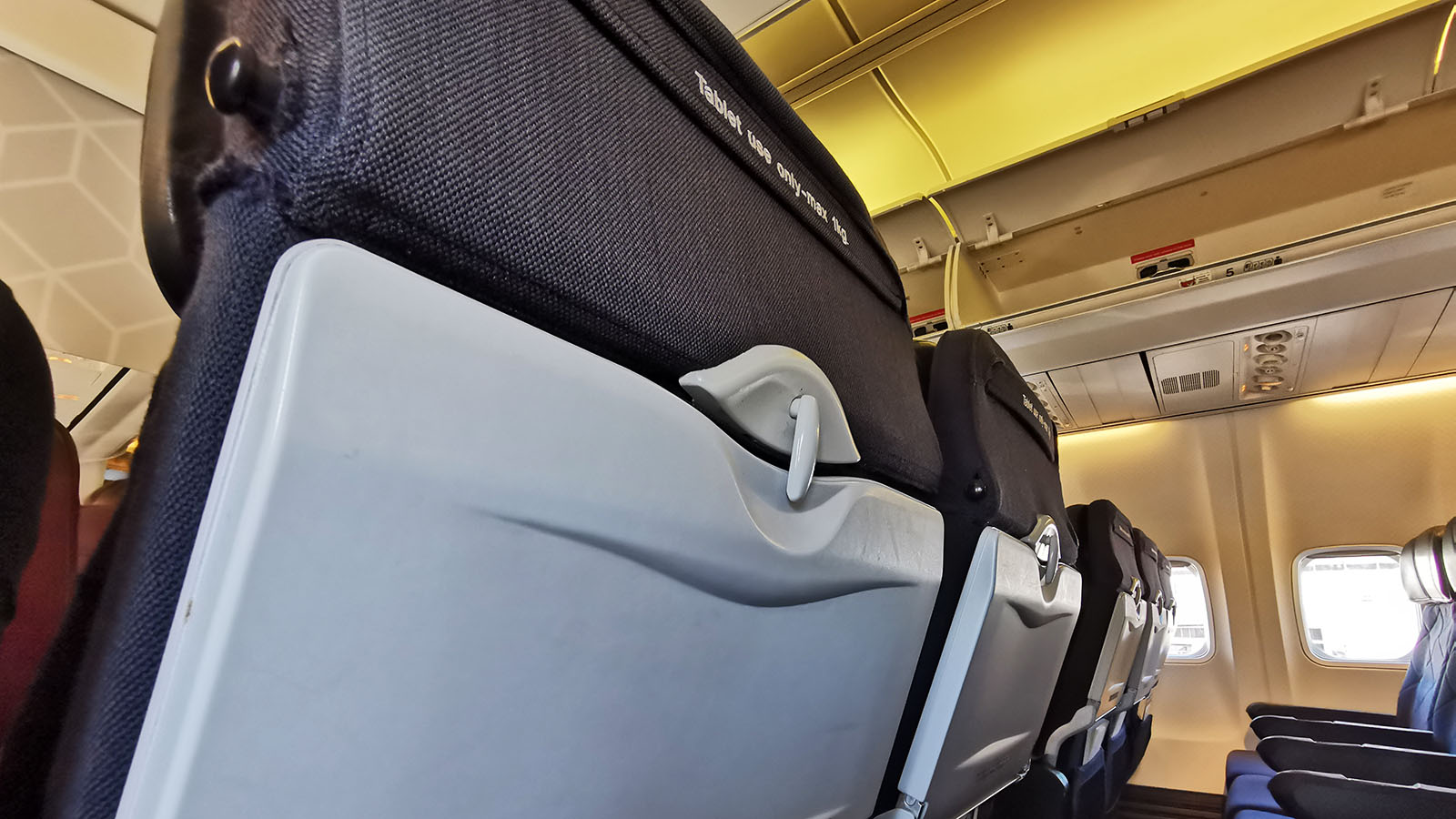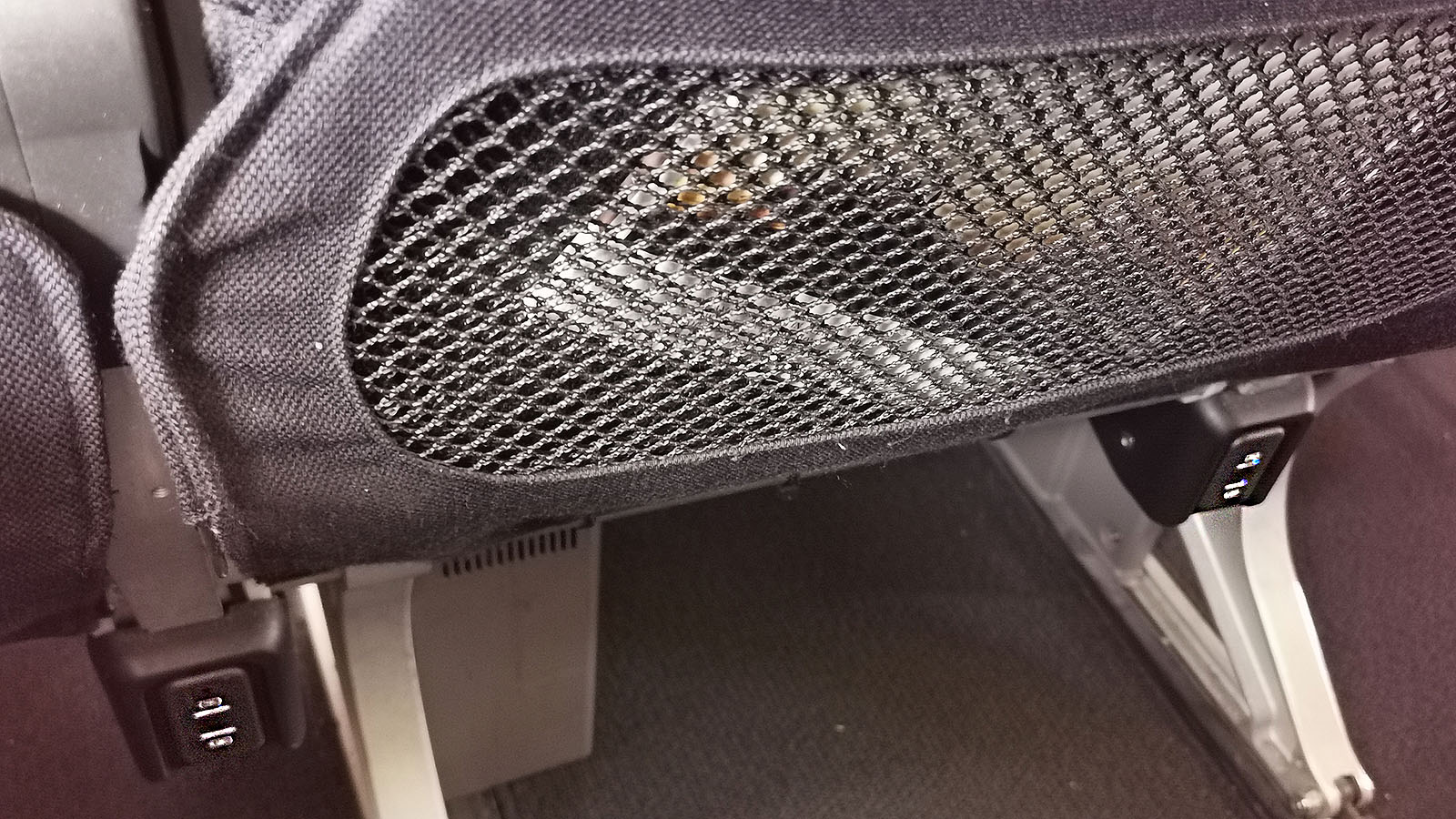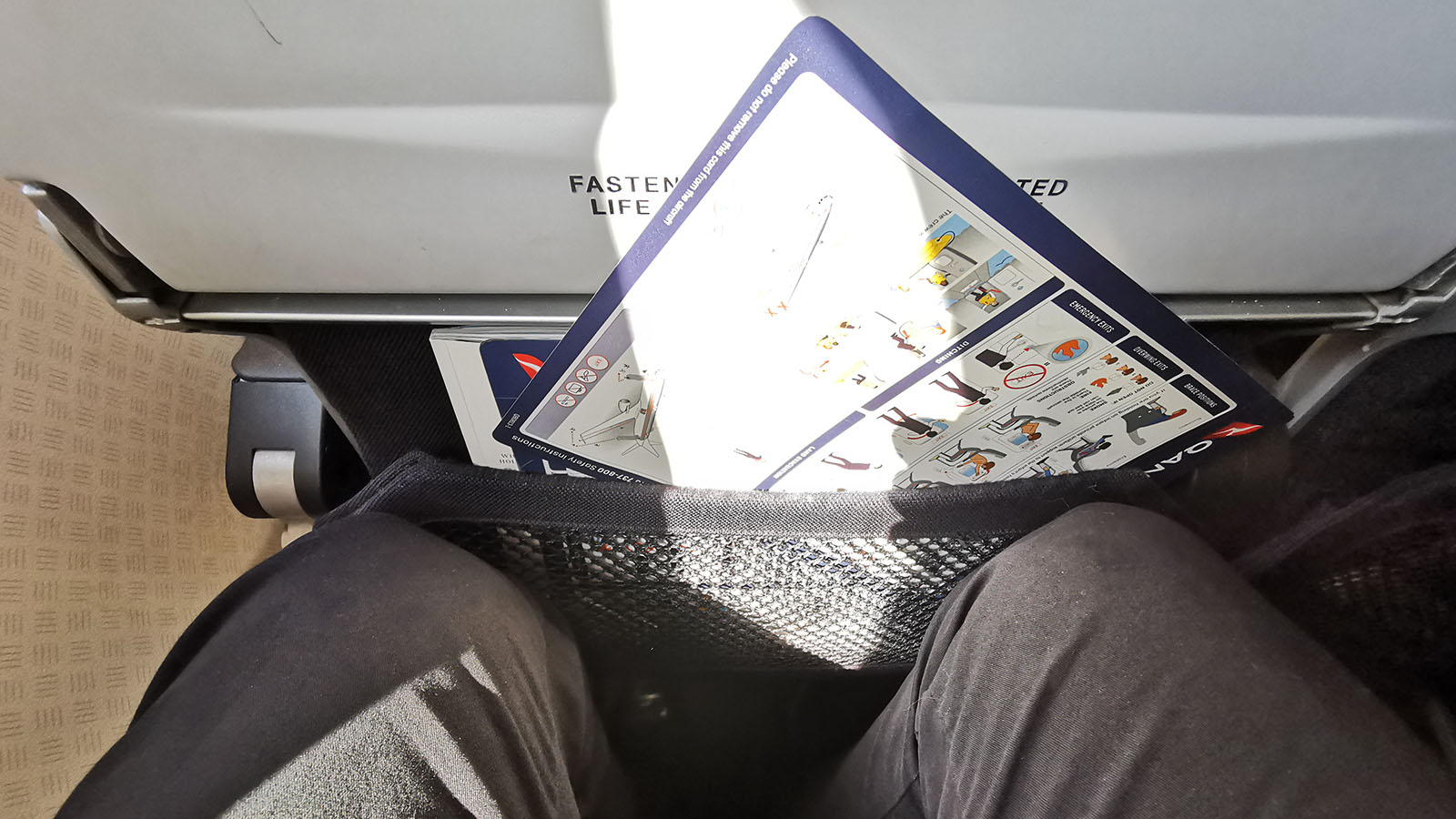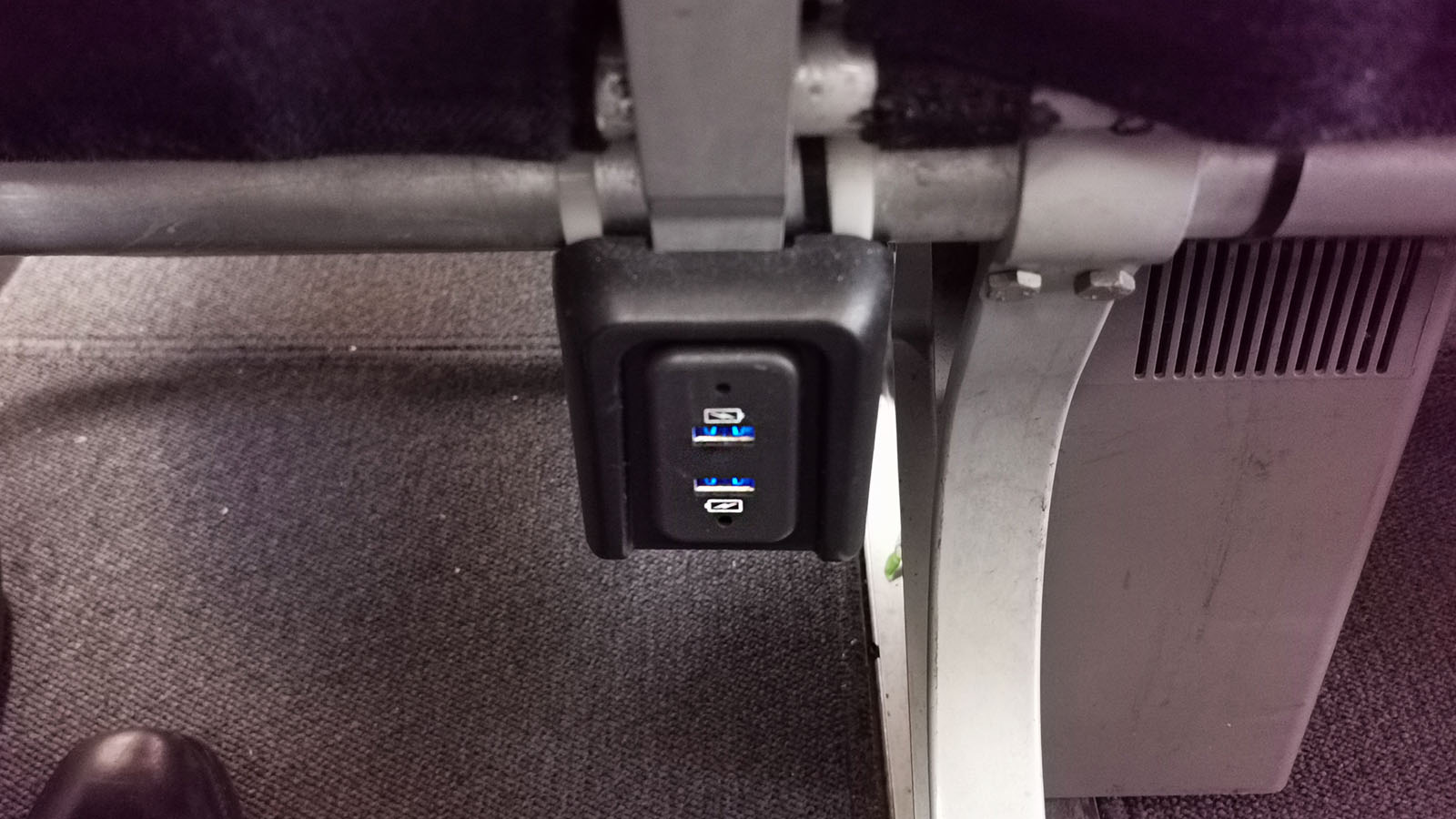 Wherever you end up, these Economy seats offer a standard-sized tray table, as well as a coat hook. A storage pouch sits directly in front of your knees. Although it looks like a tight fit, my knees weren't directly pressed against the pocket, making the experience a comfortable one.
You can also keep your devices powered up thanks to USB-A outlets. On this particular layout, there were four USB sockets shared between every group of three seats, so more than enough to go around. On the airline's newer Boeing 737s, there's instead an outlet for each passenger directly above the tray table.
Many of Qantas' Boeing 737s also feature AC sockets for laptops.
Qantas Boeing 737 Economy food and beverage
Being a late afternoon flight, hot snacks are the order of the day. These come in a single box containing one of each:
Country chicken pie with parmesan mash
Mushroom and lentil pie
Beef sausage roll
For me, the mushroom and lentil pie was the winner – but all went well with tomato sauce. Given the arrival time of 6:25 pm in to Brisbane, I found the snack filling enough, and wouldn't have wanted more before my dinner plans after arrival.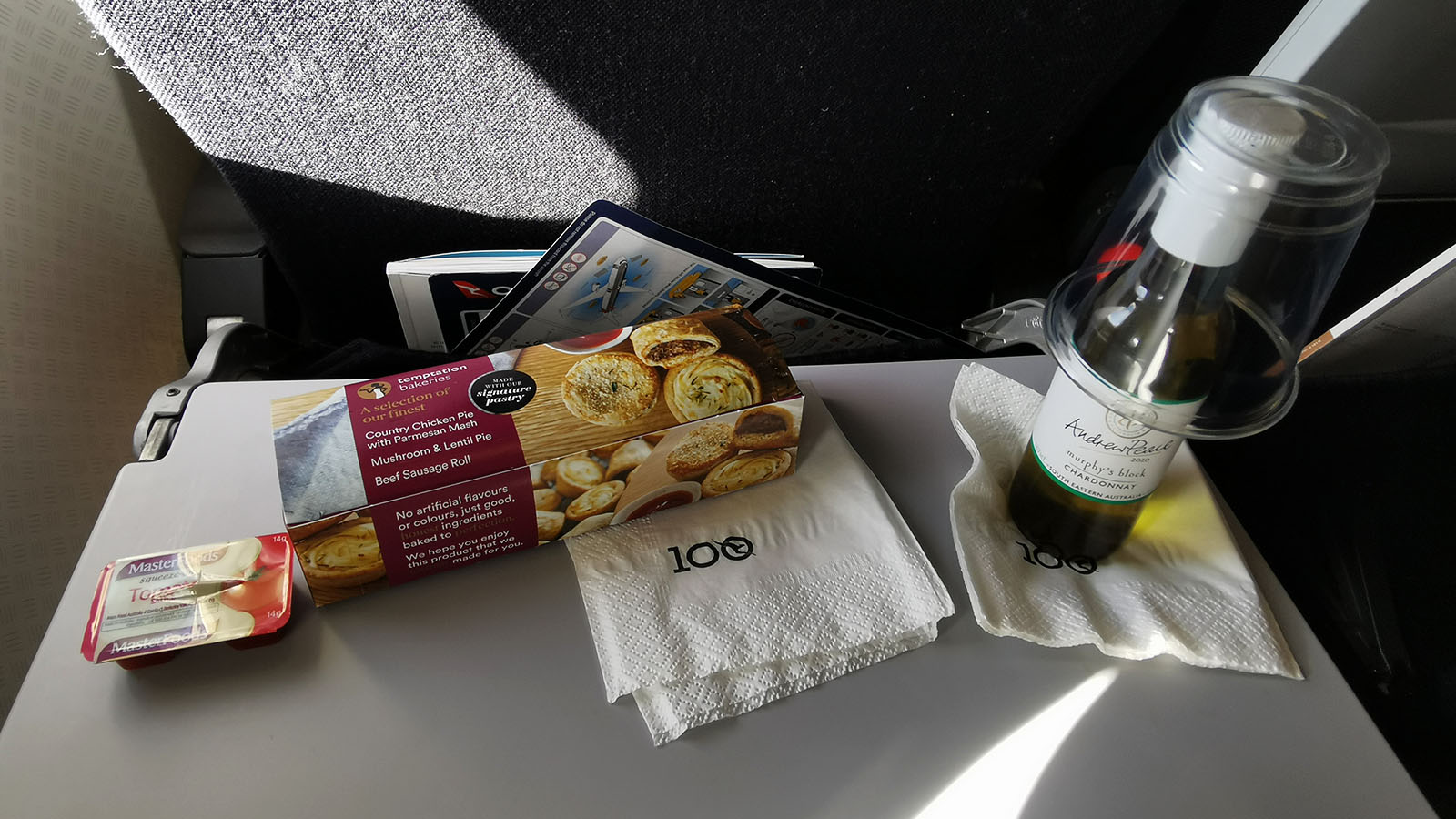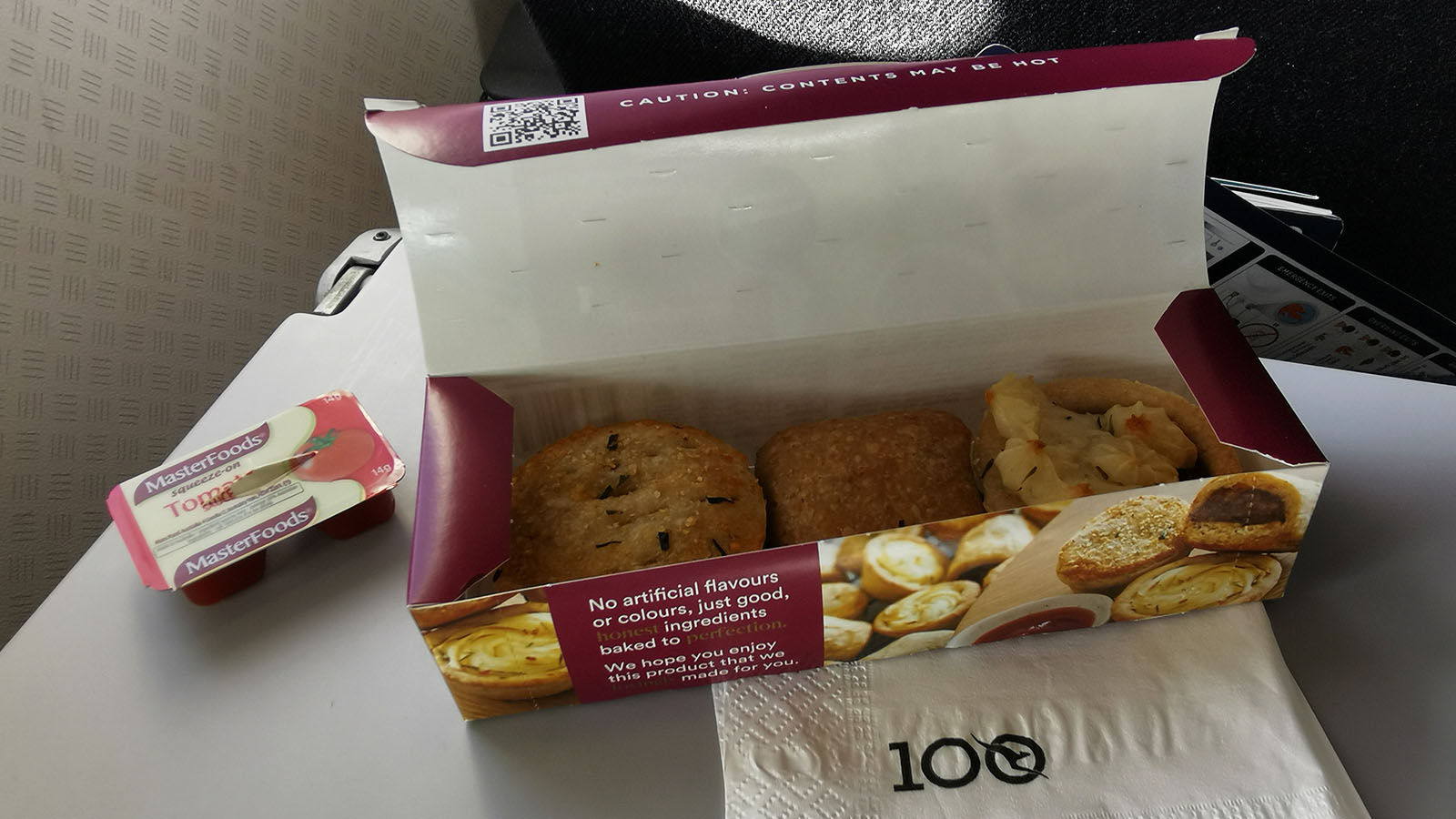 Wine and beer are both complimentary on these late afternoon services. A simple glass of Andrew Peace 2020 Murphy's Block Chardonnay did the trick. One glass was plenty for me on this journey, but I've never been denied a second when asking politely on previous flights.
Non-alcoholic beverages are included too, such as the usual soft drinks, juice, tea and coffee.
Qantas Boeing 737 Economy service and entertainment
Roughly half of Qantas' Boeing 737s offer seatback screens in Economy. The rest of the fleet instead come equipped with communal overhead monitors, paired with streaming entertainment and tablet holders at each seat.
As luck would have it, the latter appeared on this flight. But I was quite happy, hoping to finish the final season of Kim's Convenience. I'd downloaded that within my tablet's Netflix app, which was great to mount at my eyeline.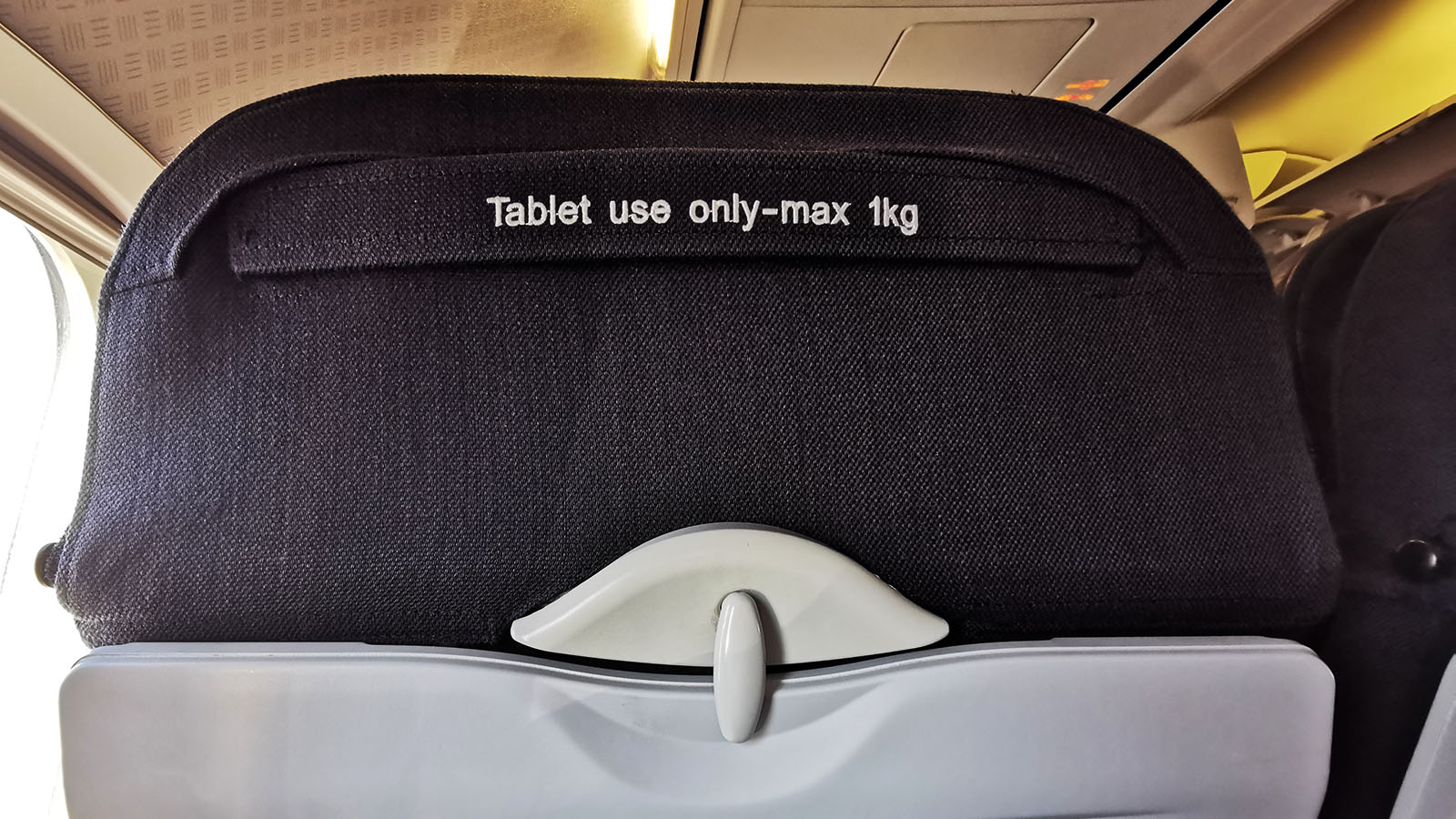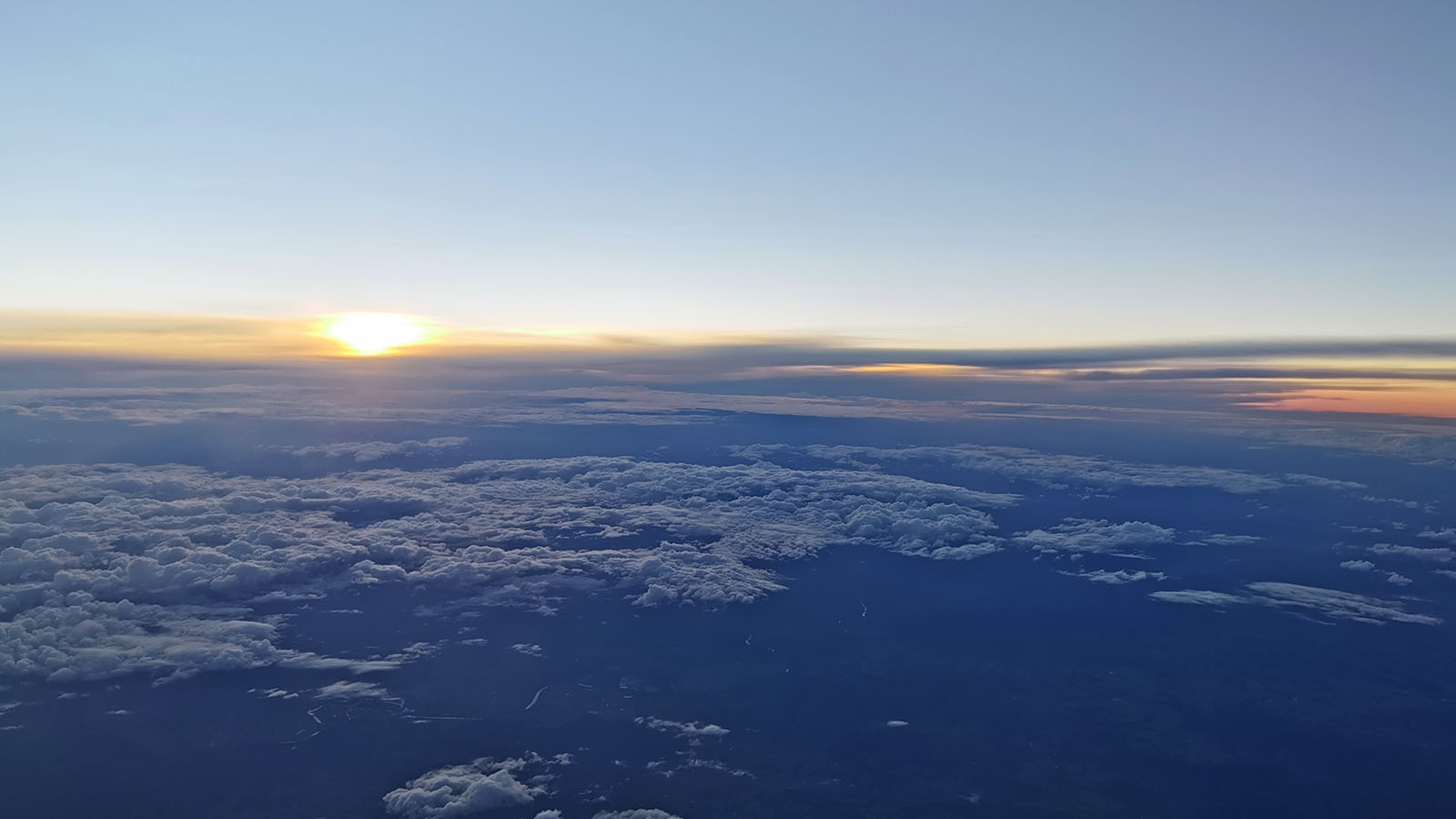 Service on today's flight is approachable and efficient, and before long, we're descending into Brisbane: just in time to catch the sunset.
Summing up
Qantas is one of four airlines vying for Economy Class passengers between Melbourne Tullamarine and Brisbane. (The others are Virgin Australia and Rex, as well as Qantas Group's low-cost arm, Jetstar).
On the all-around experience, Qantas' full-service offering arguably provides the best overall journey. For starters, it's the only airline with complimentary beer and wine for Economy passengers on this route. And the only carrier with gratis soft drinks and hot snacks, too.
Flying Qantas also presented great value on this hop, with my Red eDeal fare priced at just $139 one-way. With so much competition right now, one thing's for sure: travellers are the real winners, whichever airline they fly!
Photography by Chris Chamberlin, who travelled at Point Hacks' expense. Feature image courtesy of Qantas.
Also reviewed: Qantas Boeing 737 extra legroom Economy (Brisbane – Adelaide)
---
Stay up to date with the latest news, reviews and guides by subscribing to Point Hacks' email newsletter.
Qantas Boeing 737 Economy (Melbourne – Brisbane)
was last modified:
August 31st, 2022
by