Unless you're a Platinum One or Chairman's Lounge member, you'll probably notice that a few rows of seats at the front of every Qantas flight is greyed out. This happens in just about every cabin class – even in Business. In Economy, as much as a third of the seat map could be unavailable for selection initially.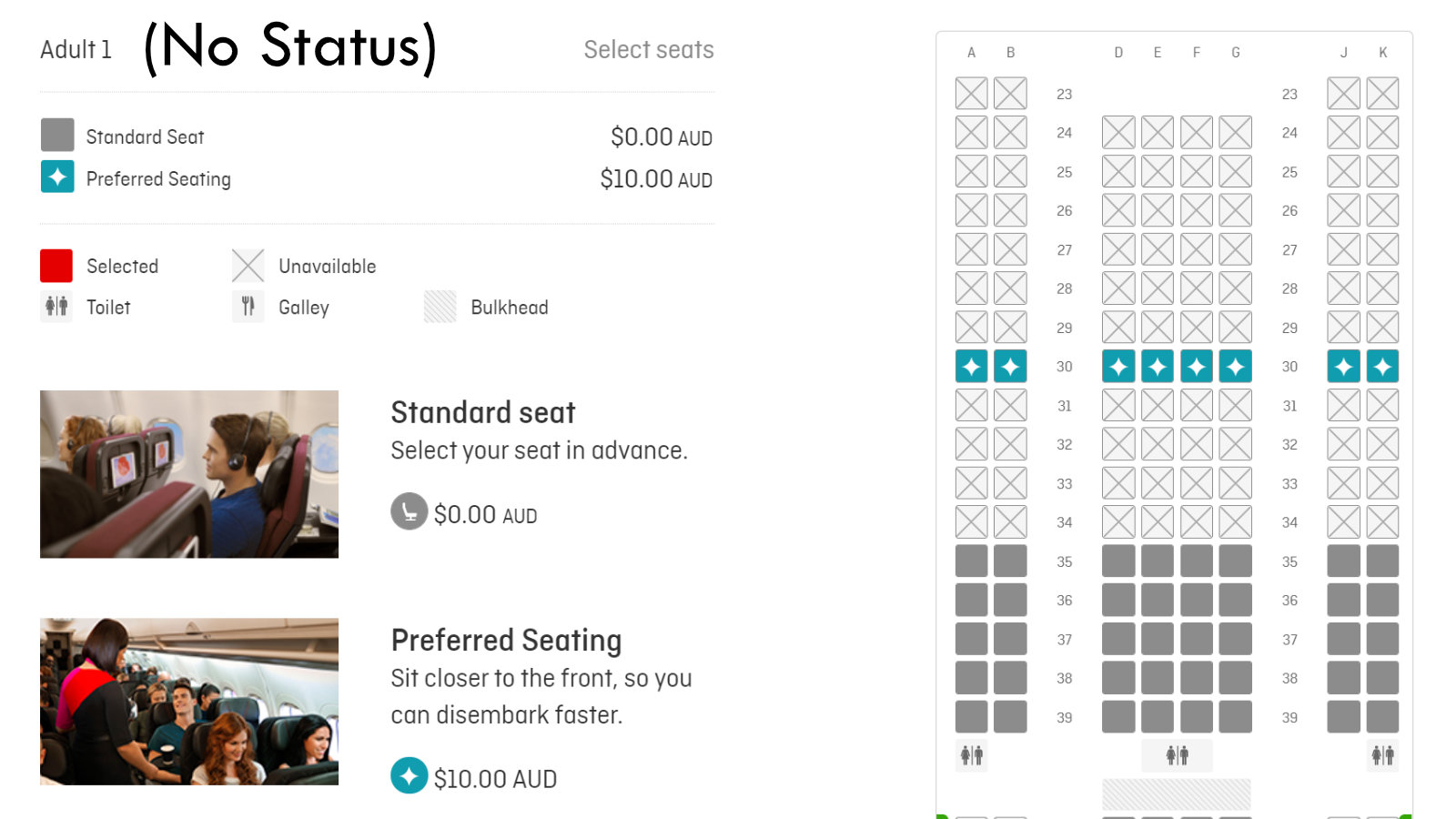 Now, it doesn't usually mean those seats are occupied (though sometimes they are). Instead, those seats are reserved for Qantas' elite frequent flyers – those with Silver, Gold, Platinum status or higher. The better your status, the more seats you are able to see when booking.
Take a look at the difference a Qantas Platinum frequent flyer can see on the seat map for the same flight, compared to a standard passenger booking above.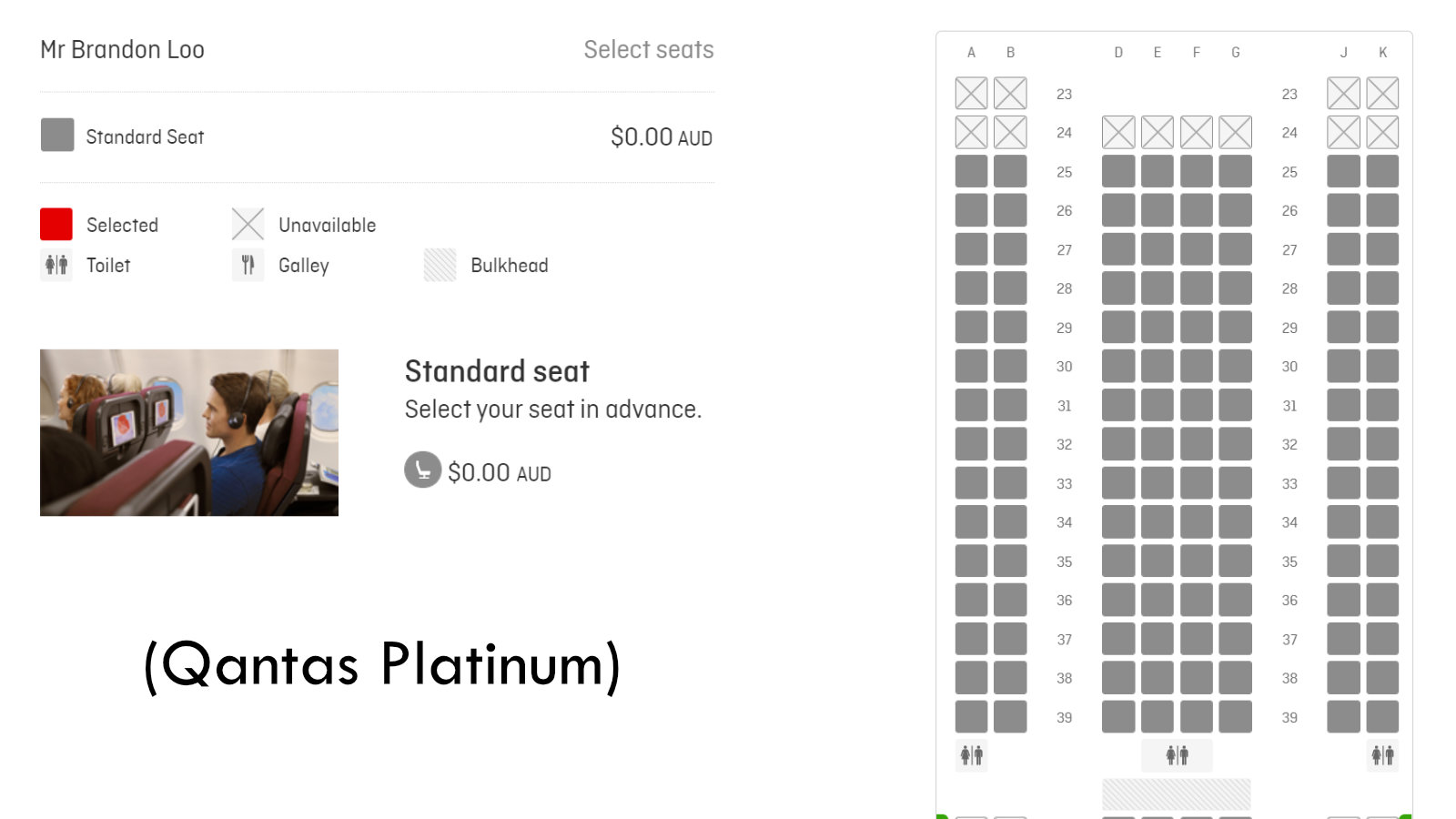 But, what if we told you there is an easy and reliable way to gain access to the front of the plane? As long as other people haven't already booked the seats first, it's simple. Just wait until 80 hours before the flight.
What is the Qantas 'T-80 rule'?
It's not an official rule as such, but Qantas Frequent Flyers have affectionately named it the 'T-80 rule' – in reference to how seats become available at 80 hours prior to departure. Here is how it works:
Check your flight seat map starting from 80 hours before the scheduled departure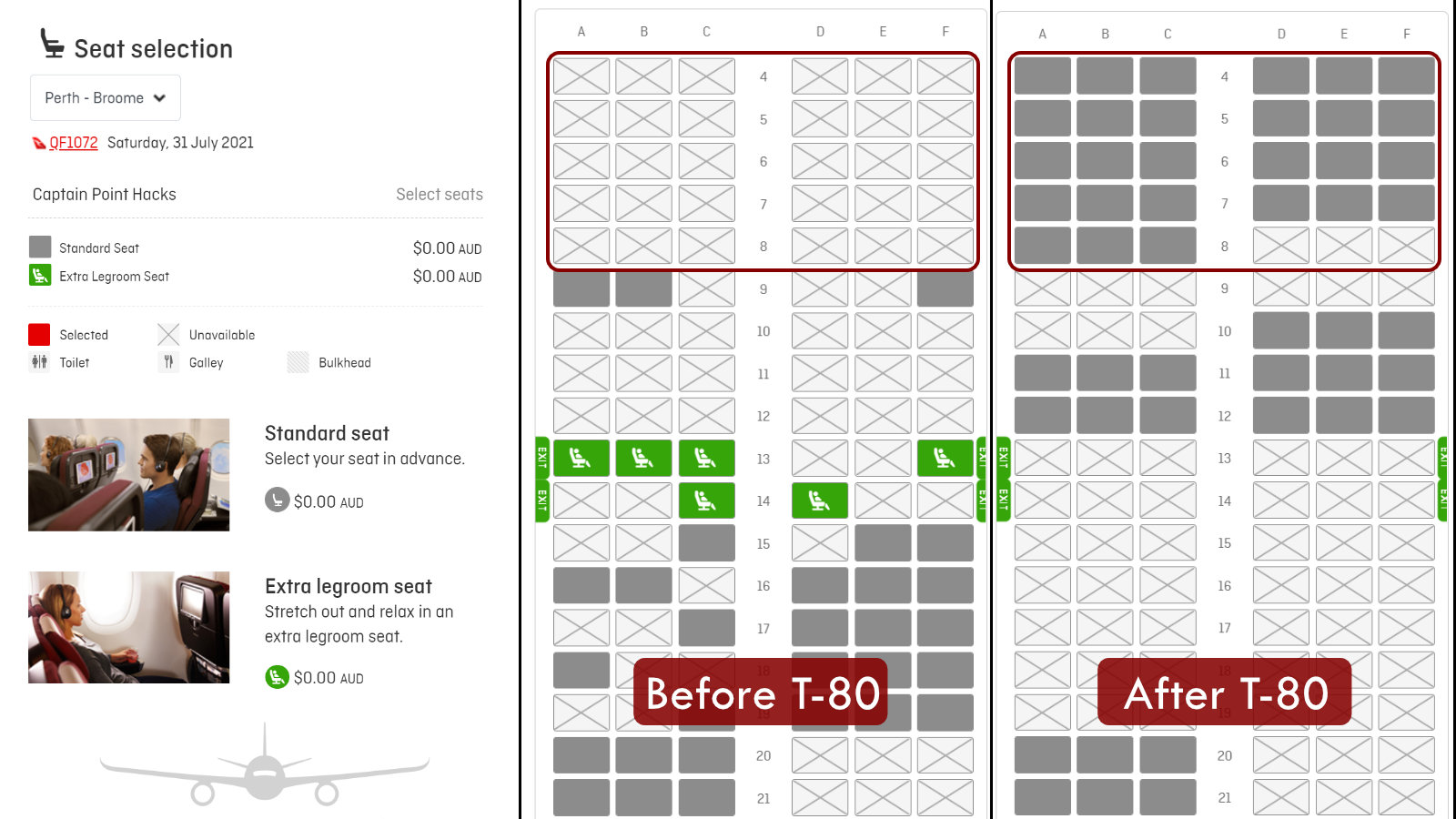 That's it! Although it's not guaranteed, in the vast majority of cases, any unoccupied blocked seats in the cabin will become available for everyone. This includes the coveted 'Row 4' on Qantas Boeing 737s – this front row of Economy offers excellent legroom as the seats are directly behind Business Class.
If available, simple re-select your new seats and confirm your choices. Note that Qantas does reserve the right to re-seat passengers depending on operational demands, but at least you gave it your best shot.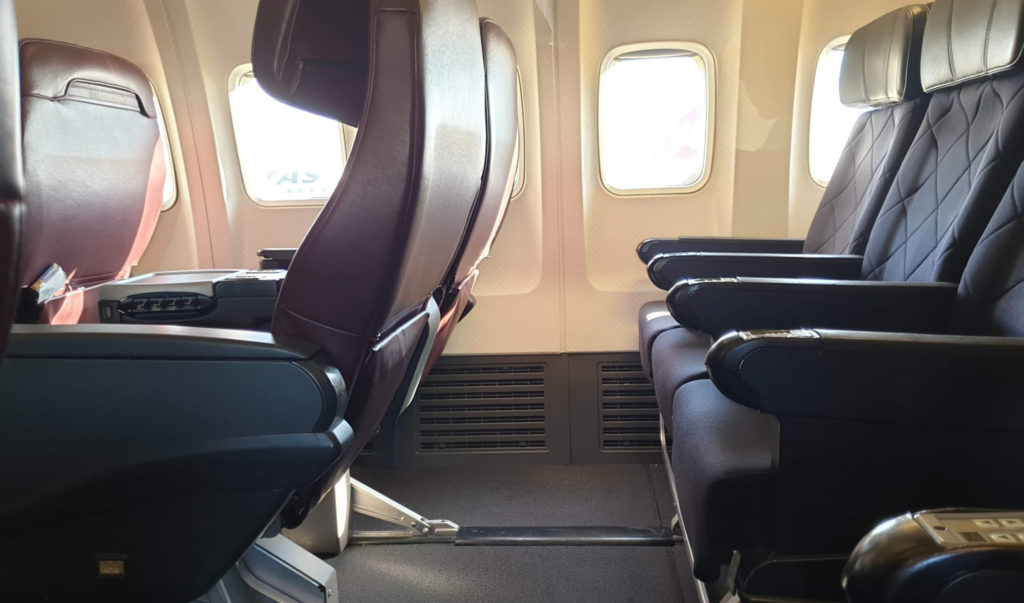 How do I work out what time the T-80 seats open up?
To work out when those seats become released, simply subtract 80 hours from your departure time. In practice, you should minus three whole days (72 hrs), plus take away another 8 hours.
So if your flight departure is 12:35pm on a Saturday:
Minus three days to reach 12:35pm on Wednesday
Minus another 8 hours to reach 4:35am on Wednesday
I personally have a flight that departs 12:35pm on a Saturday. In the name of research, I roused myself at 4:35am to confirm the T-80 rule is still being applied, before writing this article. Good news: it does.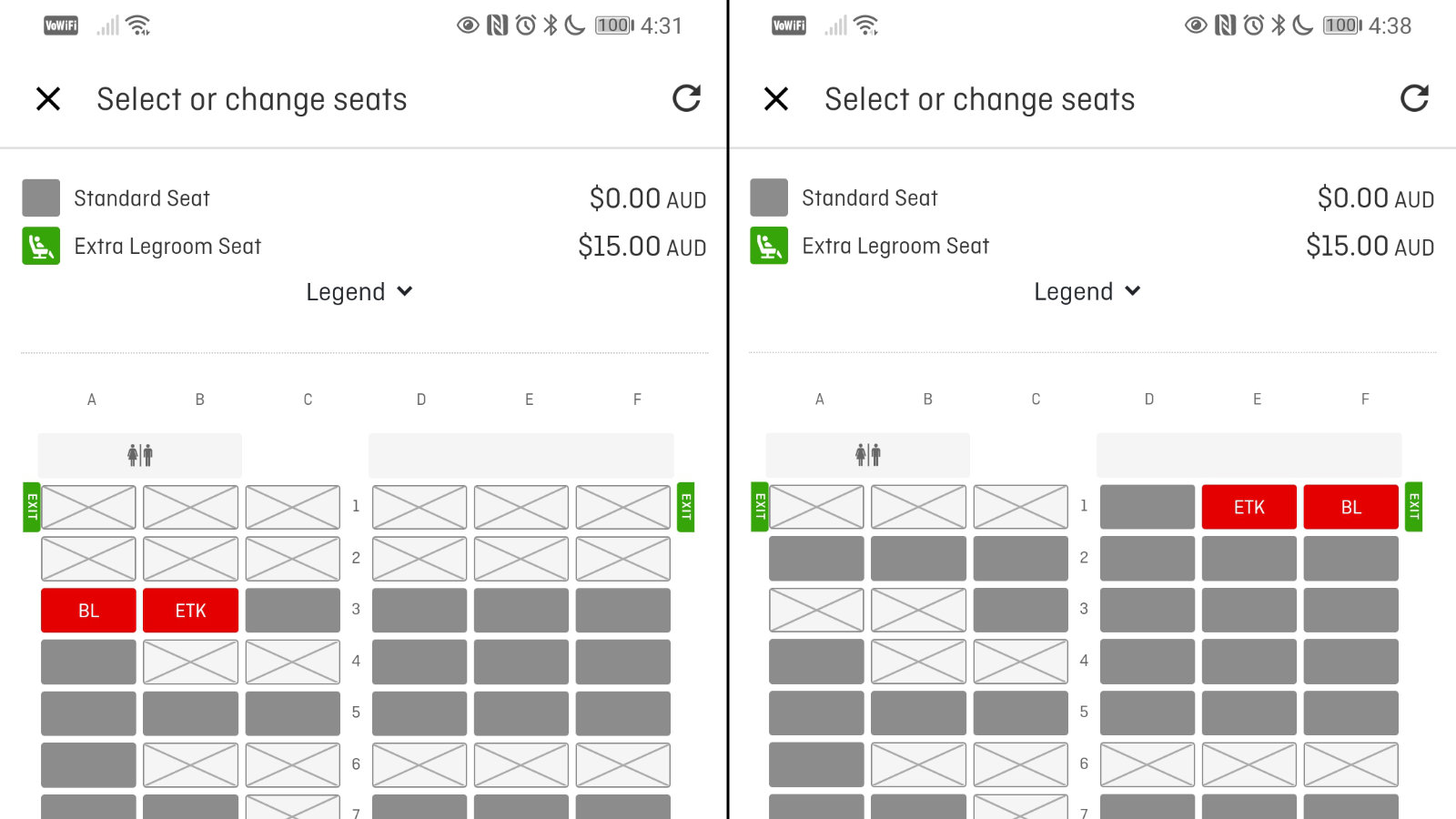 Ad – Scroll down to continue reading.Minimum spend, terms & conditions apply.
Why are seats at the front better?
There are many reasons why you might want to use the T-80 rule to snag some better seats at the front of the plane.
Often, the very first row of Economy and Premium Economy has extra legroom, but doesn't cost extra
In light of COVID-19, you might want to disembark earlier to get through airport arrivals processes faster (e.g. checking border passes)
If you have connecting flights, important events, or any other reason to leave the airport earlier
Anecdotally, some standard Economy seats in the front half of the plane sometimes have a little bit more legroom than the back half of the plane.
You get faster service at the front of the plane, plus less chance of missing out on your preferred meal
What about extra-legroom seats?
Fancy stretching out those legs on the flight, but perhaps you're not quite willing to pay? If you want to try your luck, the green extra-legroom seats become free to select from 24 hours before flight departure.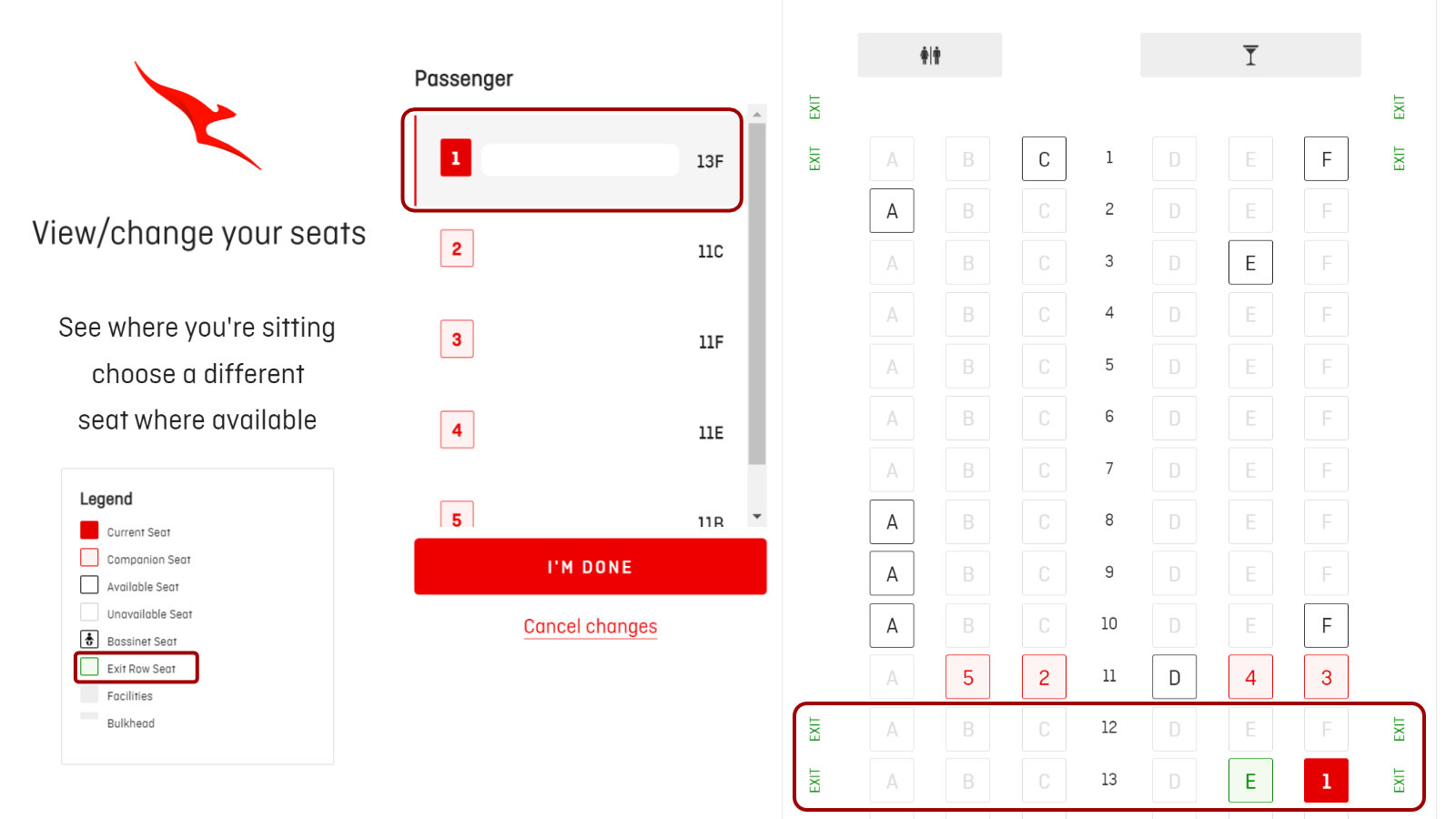 You will need to go through Qantas' online check-in for the best chance. You can also ask at the airport, but usually the seats are taken by then. Platinum One and Chairman's Lounge members can choose extra legroom seats for free at any time.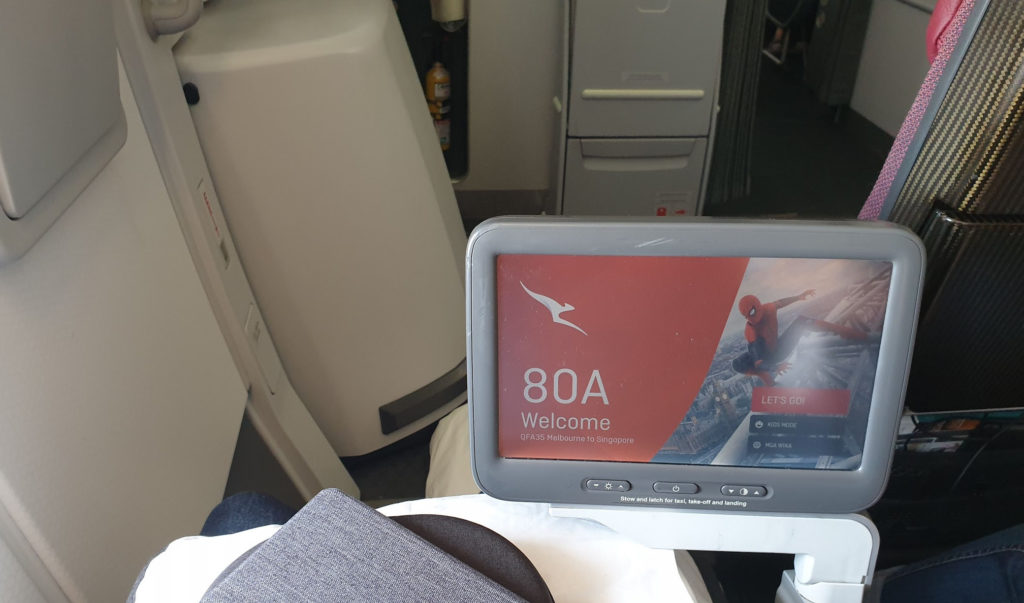 Summing up
Airlines have quirks and Qantas is no exception. The 'T-80 rule' is good to keep in the back of your mind if you want a better shot at nabbing seats usually reserved for elite frequent flyers.
How to unlock the best seats on Qantas flights
was last modified:
July 29th, 2021
by