One of three own-brand lounges in the Regional Express network, the Rex Lounge in Adelaide tends to be the quietest. That makes it a great place for getting work done, or even just a quick refreshment before take-off.
Better yet, you may be able to access the Rex Lounge even when flying with rivals like Qantas and Virgin Australia. Whatever your plans, here's what awaits when you're through the door.
Location
You'll find the Rex Lounge after security at Adelaide Airport. Once through the checkpoint, make a sharp left turn and just keep walking.
Eventually, you'll spy 'Rex Lounge' on the signs overhead. It's the first time you'll know you're truly headed in the right direction!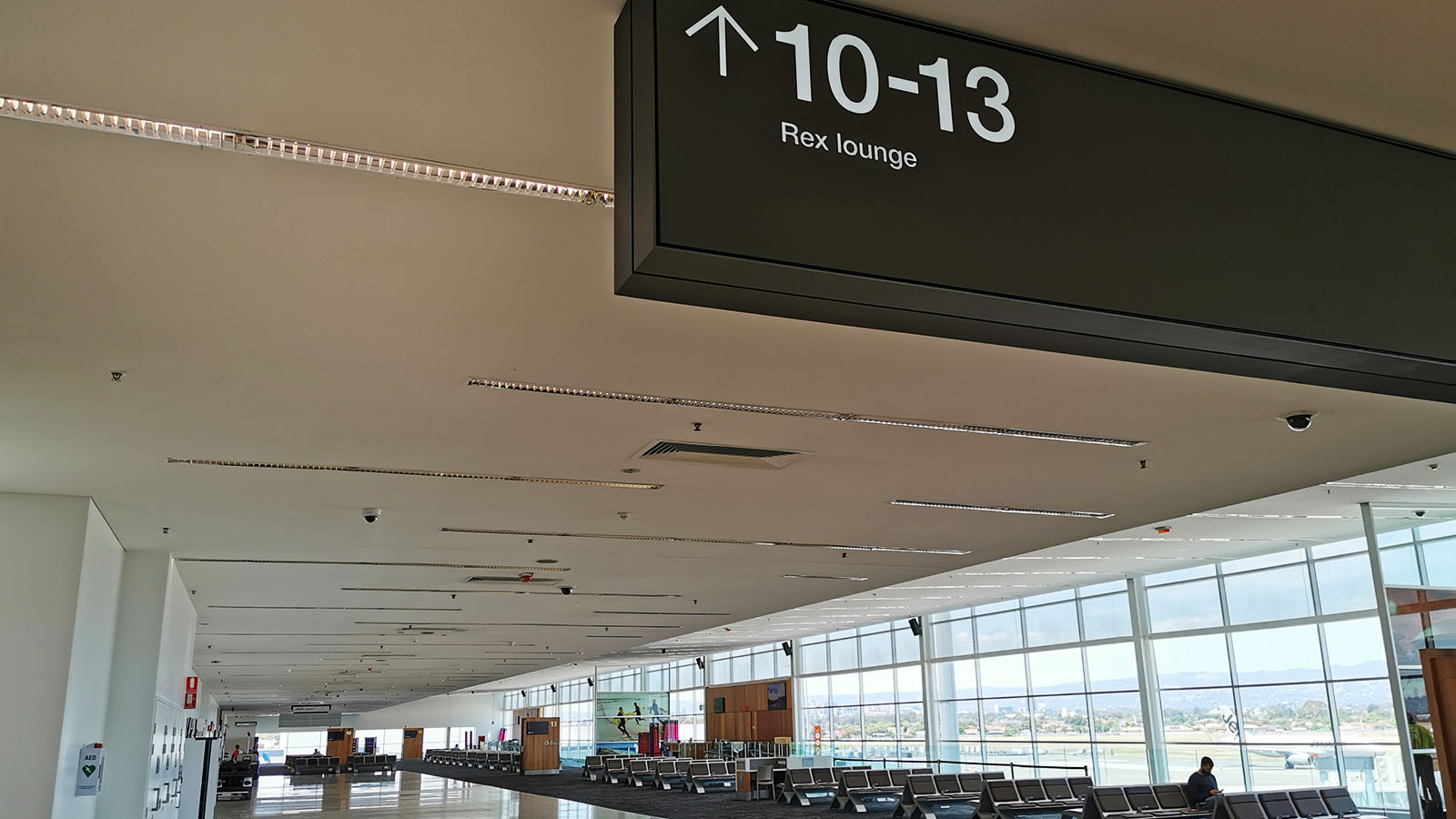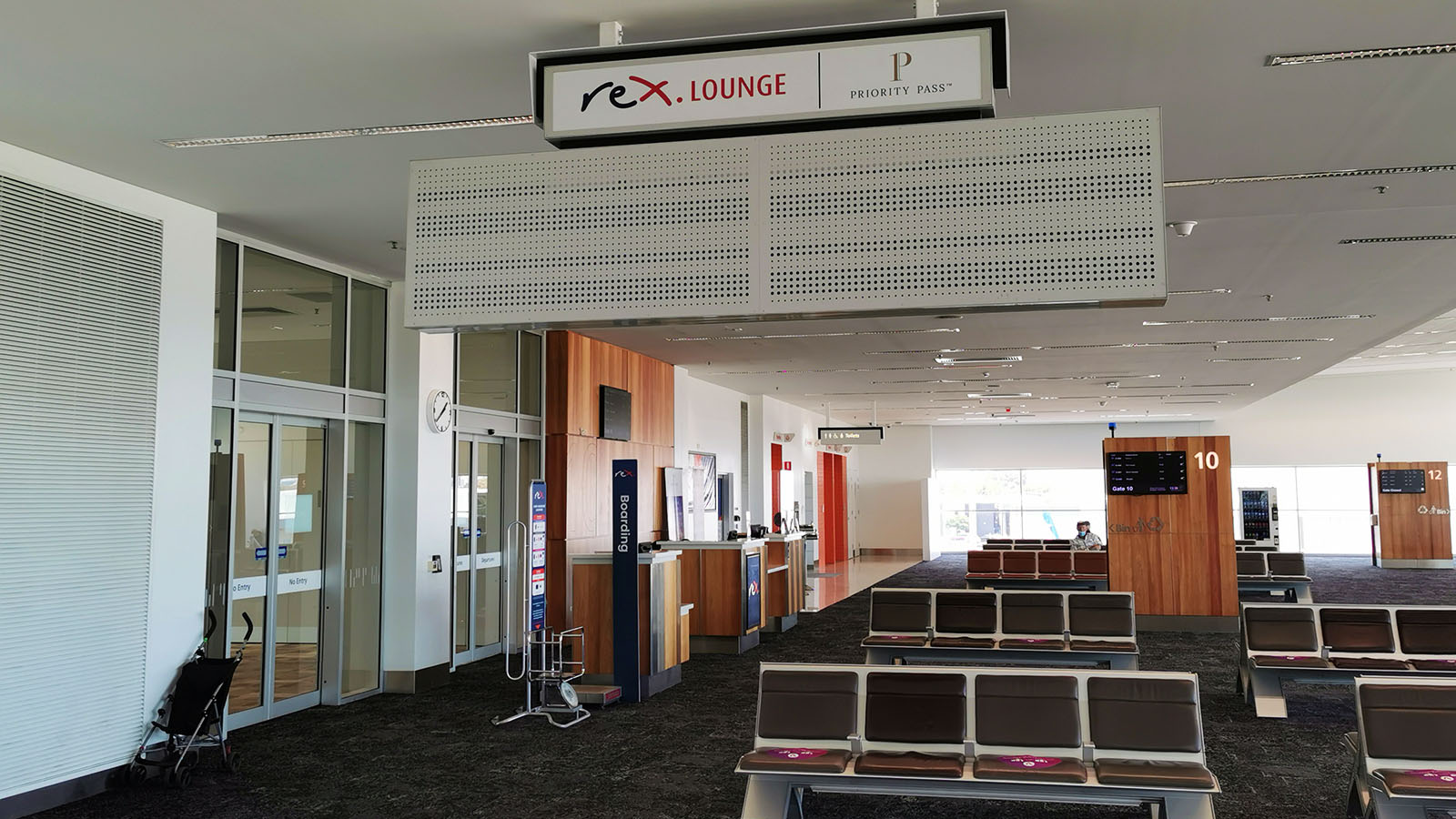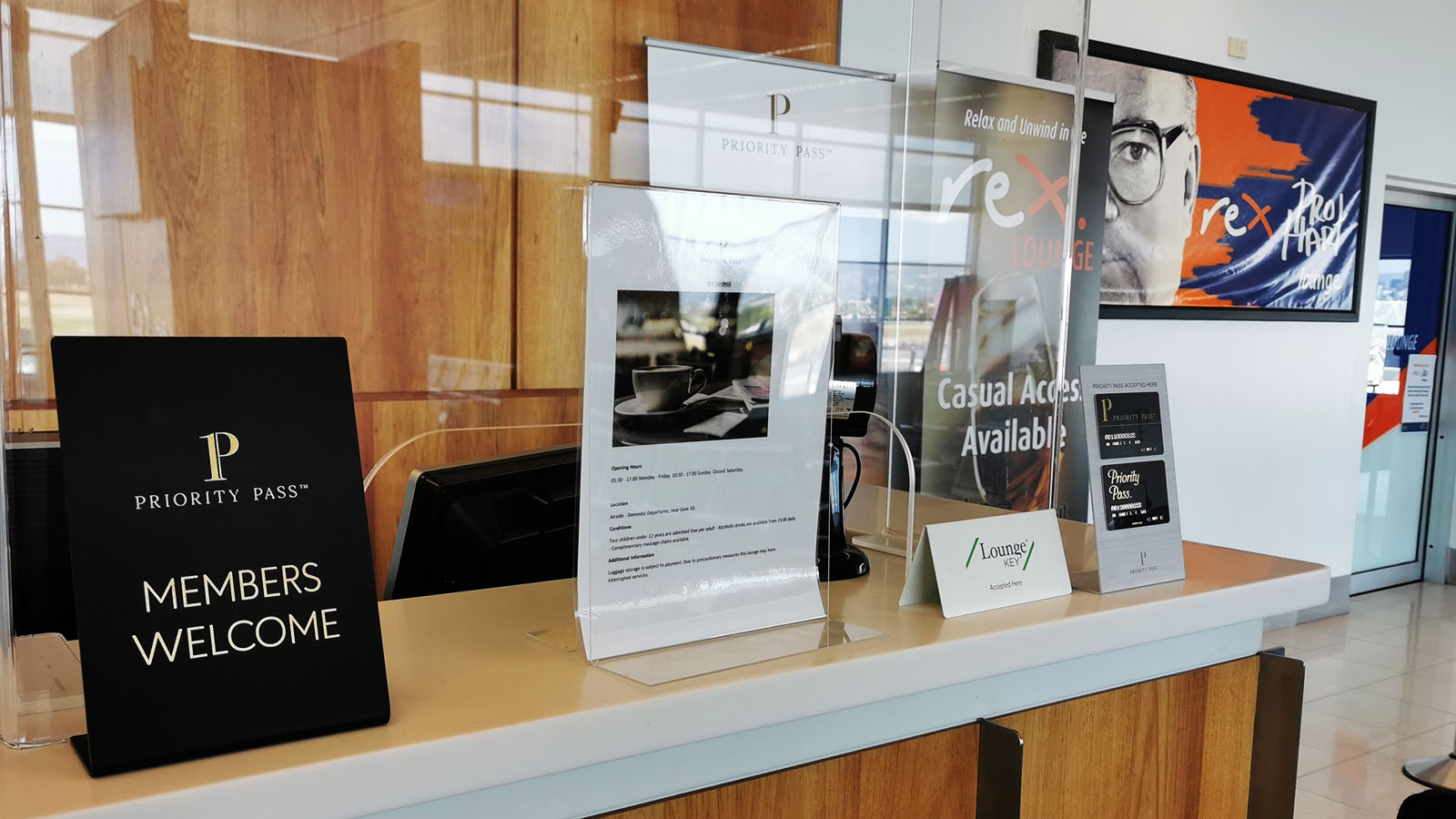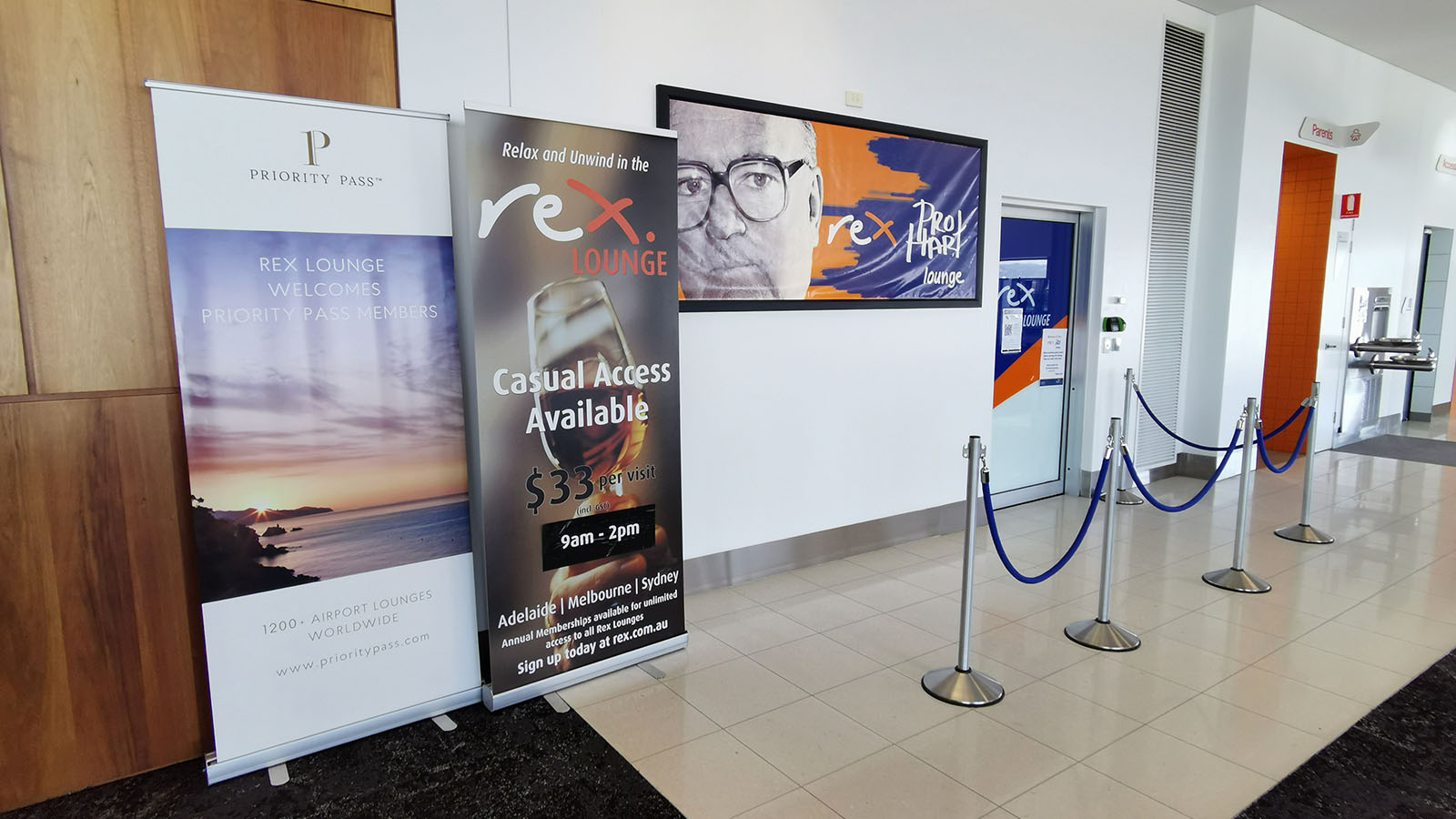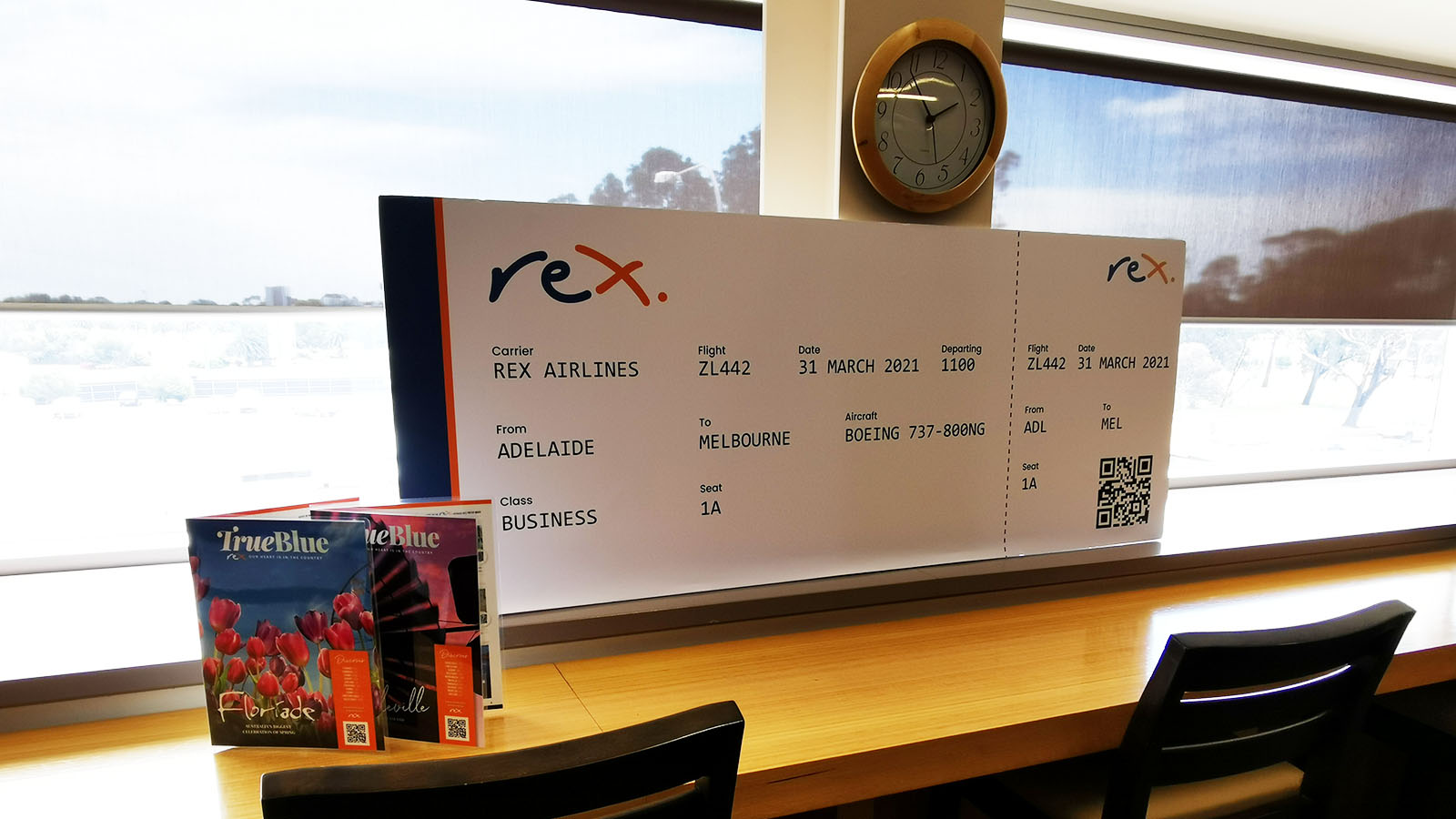 There's no formal reception counter for the lounge. It's instead located directly behind the Rex service desk, where your entry will be processed.
This desk was unattended when I first arrived, but patiently waiting just a few minutes saw a Rex staffer return. After a quick swipe of my Priority Pass card, I'm in.
Currently, opening hours are 5:30 am to 5 pm on weekdays, and 10:30 am to 5 pm on Sundays. For now, Adelaide's Rex Lounge remains closed on Saturdays.
Lounge layout and seating
Rex's Adelaide lounge is cosy, yet functional.
Groups of seats fill most of the space, with benches lining the windows. It's certainly not a modern design, but it's simple and gets the job done.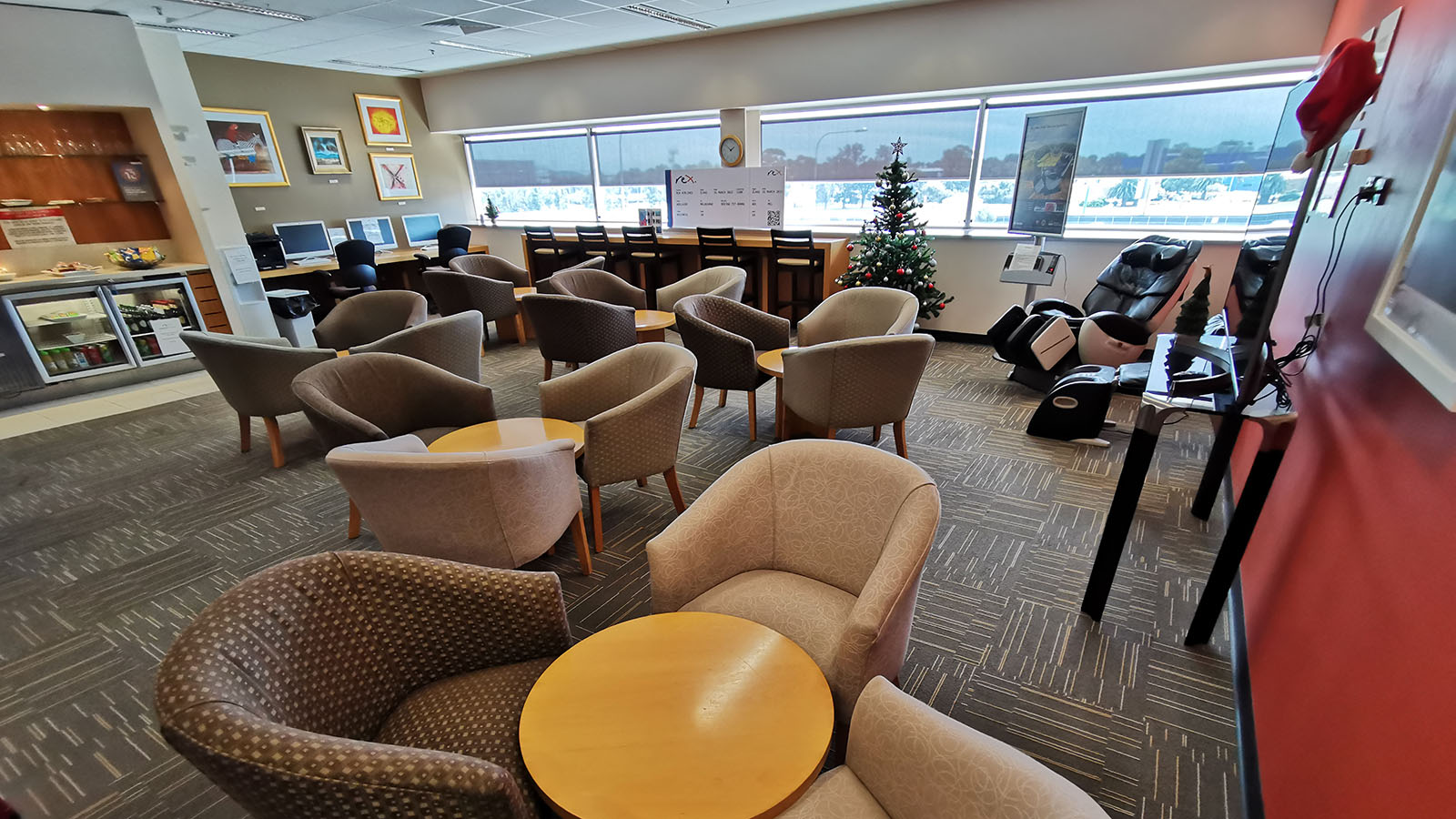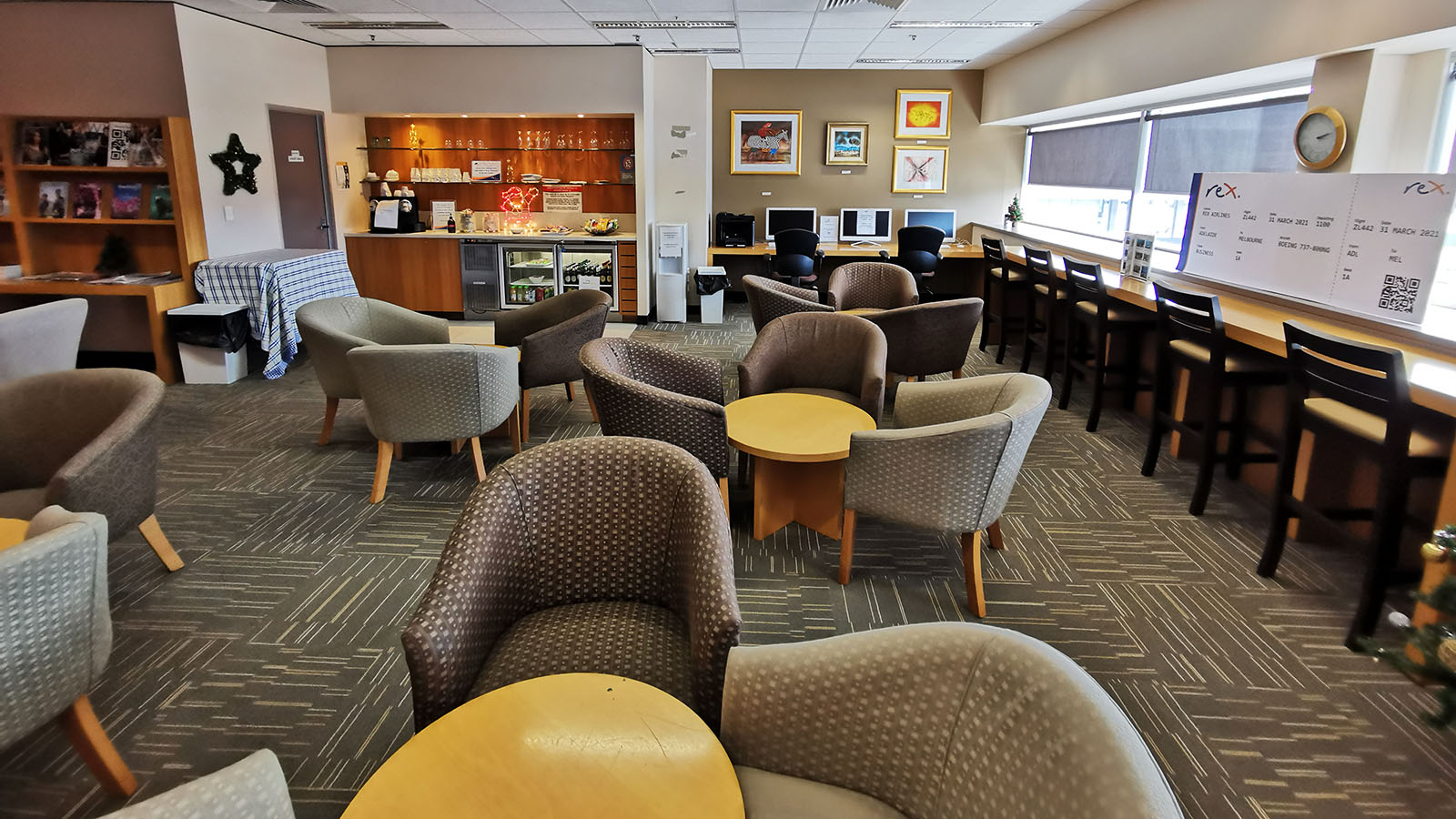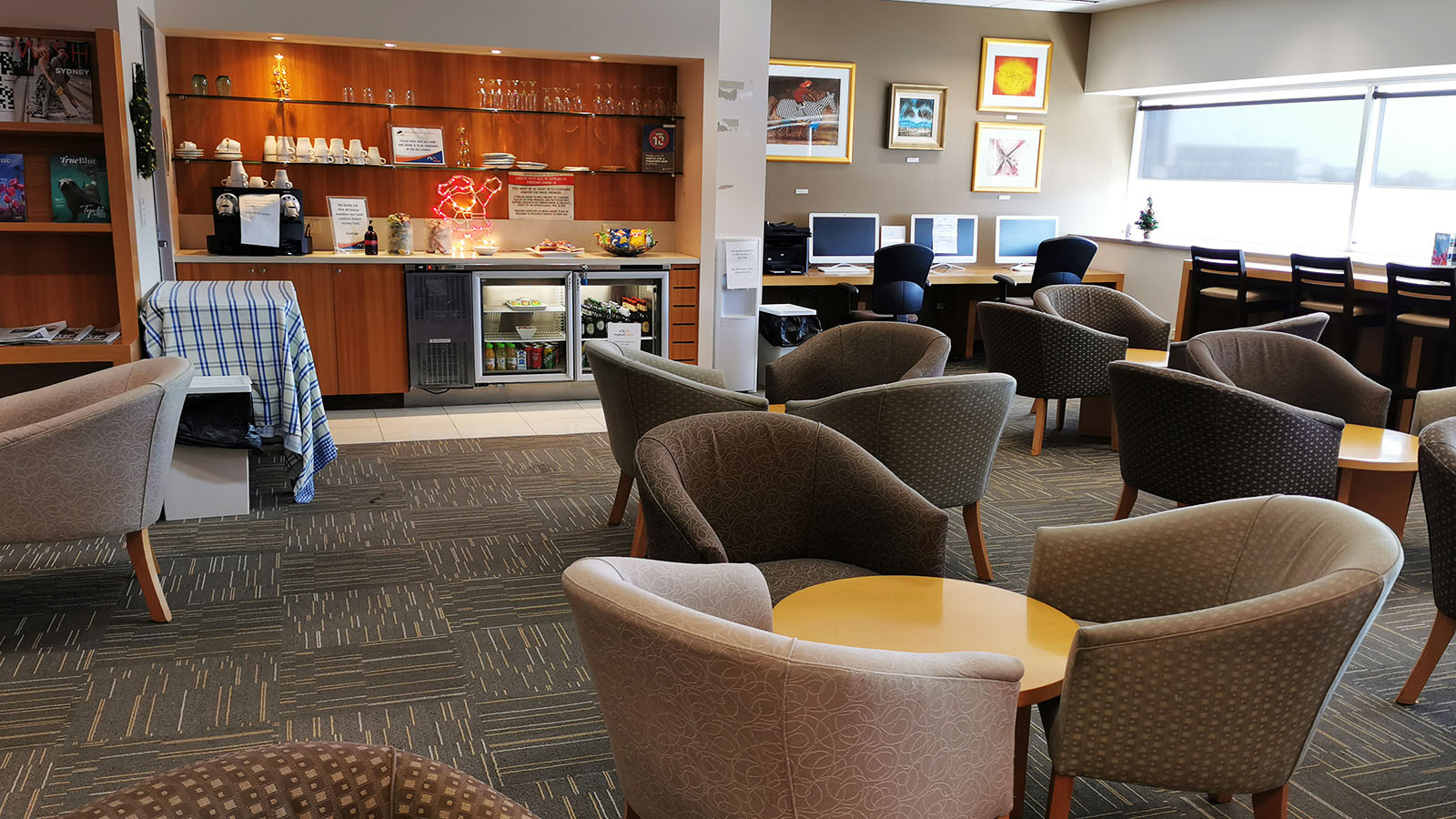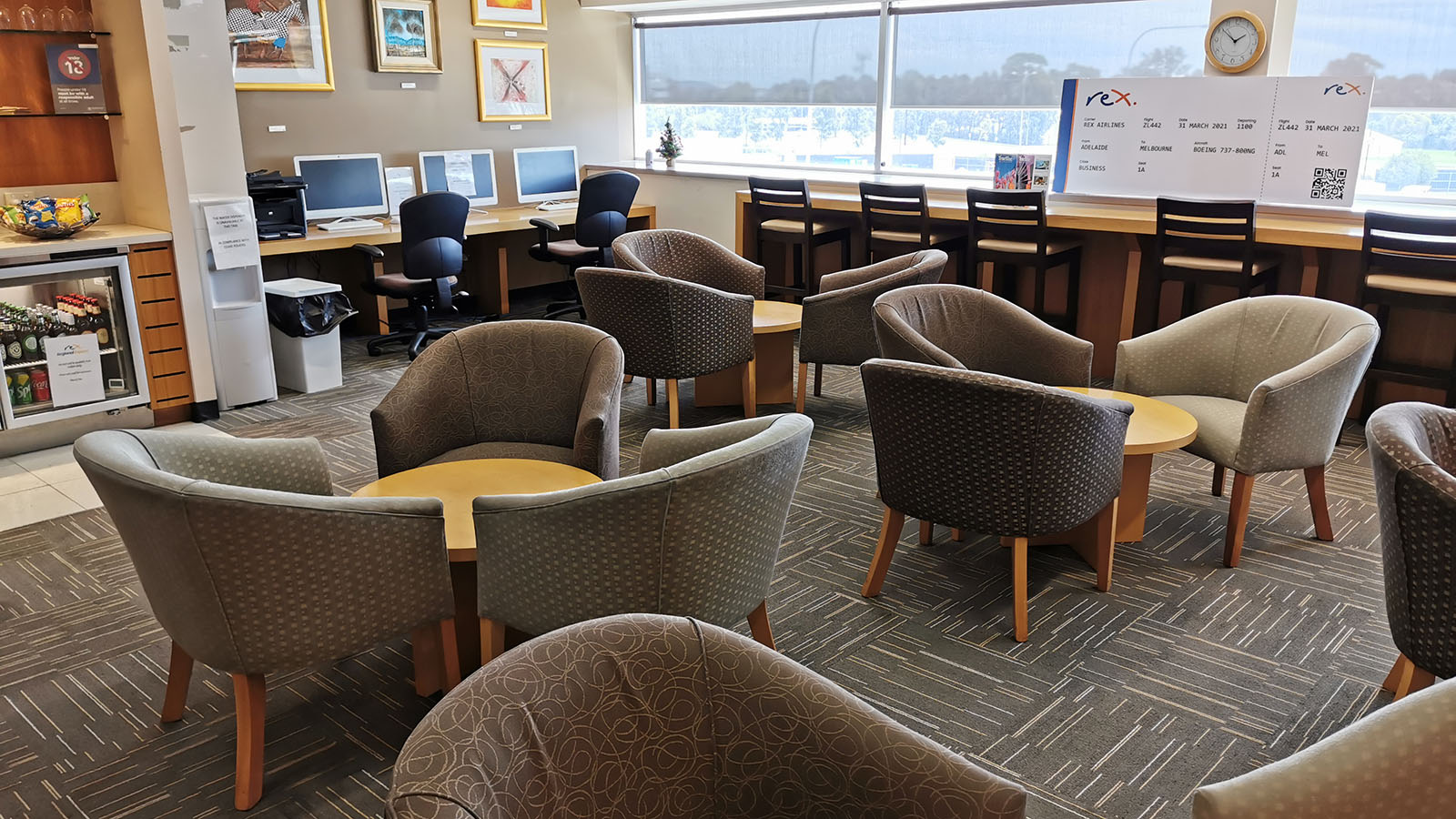 With only a handful of tables to begin with, there really are no 'best' or 'worst' places to sit. If you're after power points though, the clumps near the TV are your best bet.
While the window-side benches appear functional for laptop work, they curiously lack power points.
On the whole, it's certainly the smallest lounge in Rex's network – but one that appears perfectly sized for Adelaide Airport.
Food and beverage in the Adelaide Rex Lounge
All guests in the Rex Lounge can enjoy complimentary light refreshments.
Among your choices are soft drinks, juices, cheeses, biscuits, cookies and chips. It's a much smaller spread than in the airline's Sydney lounge. Absent here are more filling and balanced choices like sandwiches and wraps.
Beer and wine are complimentary from 3 pm each day.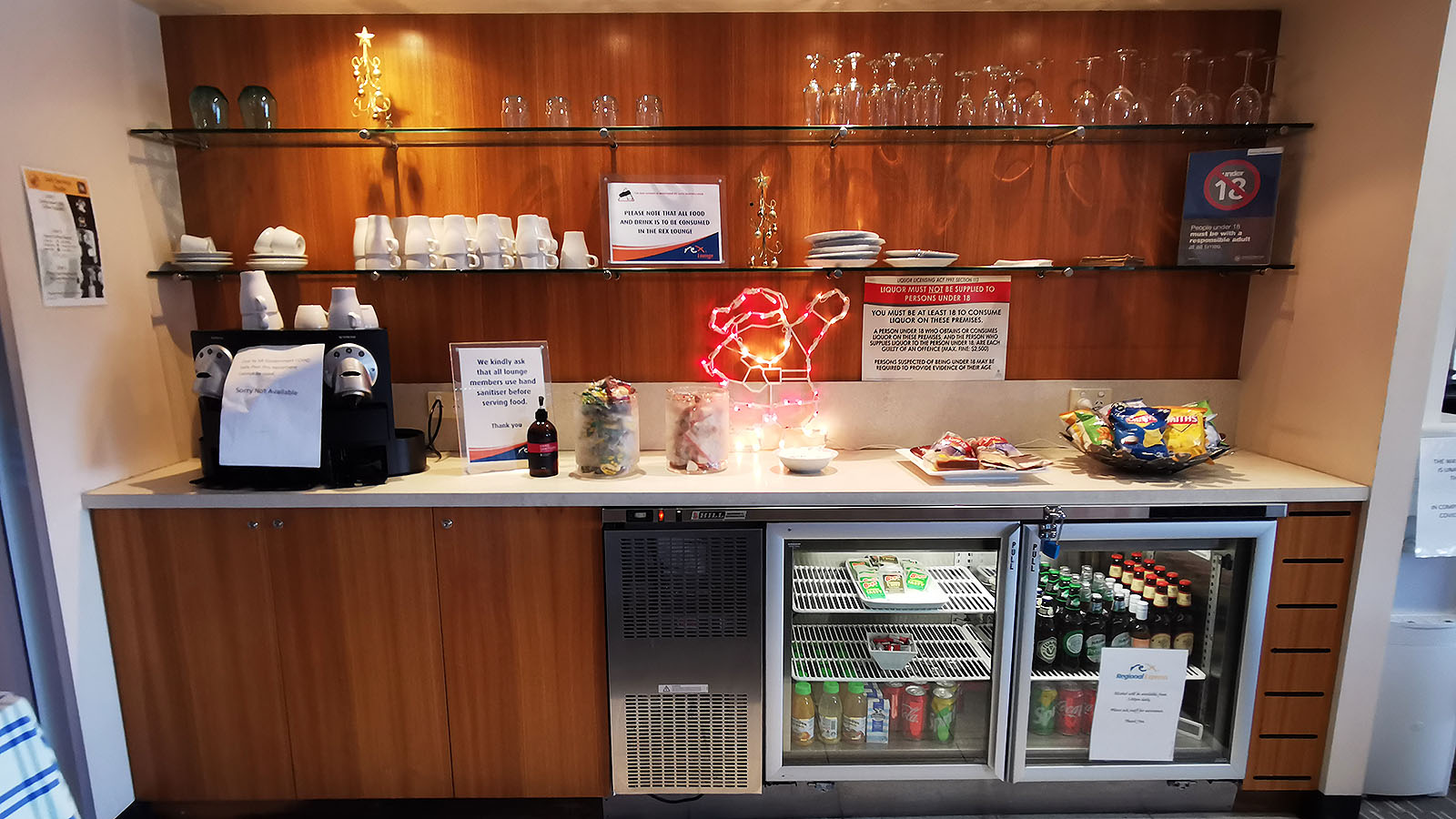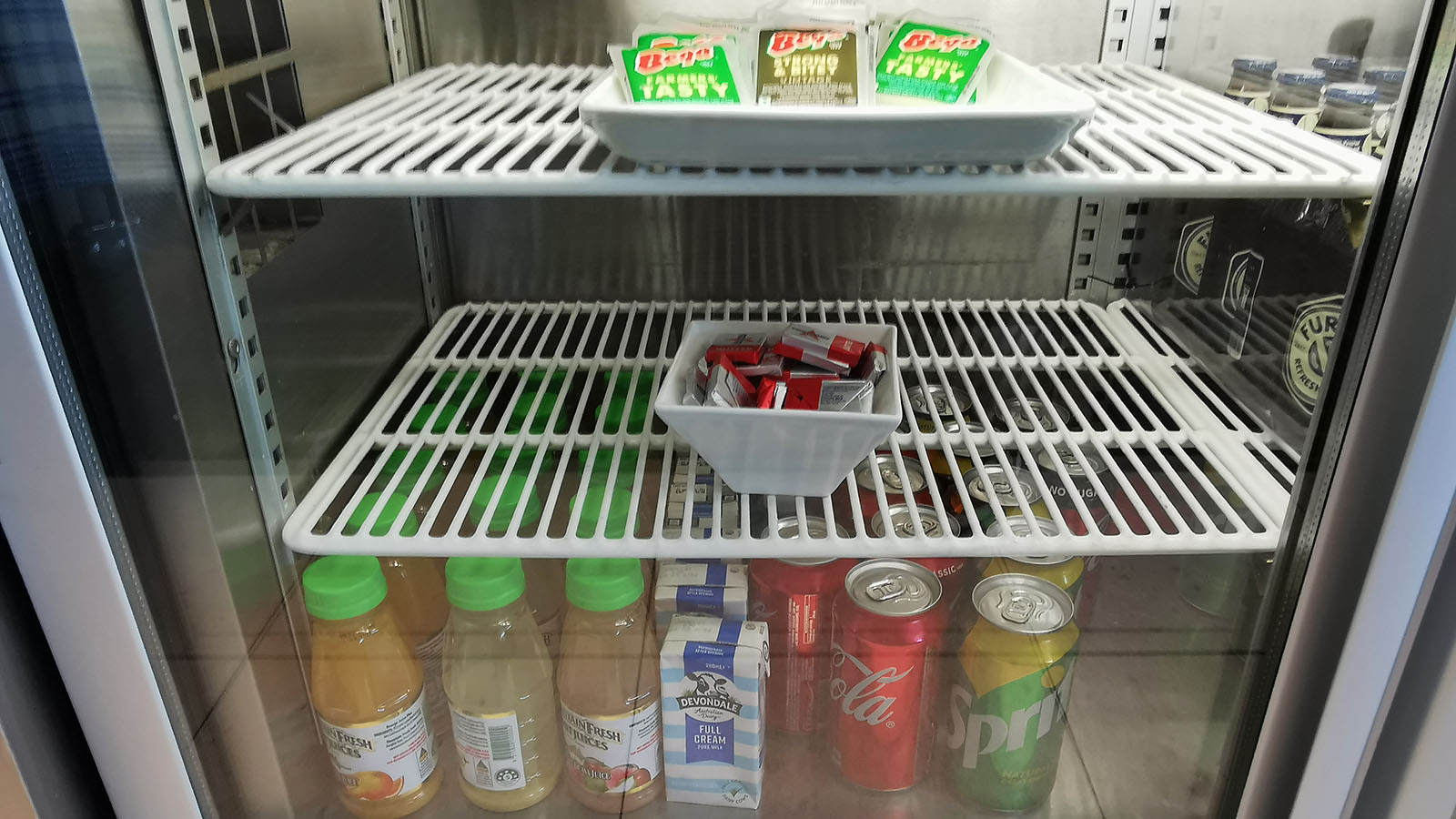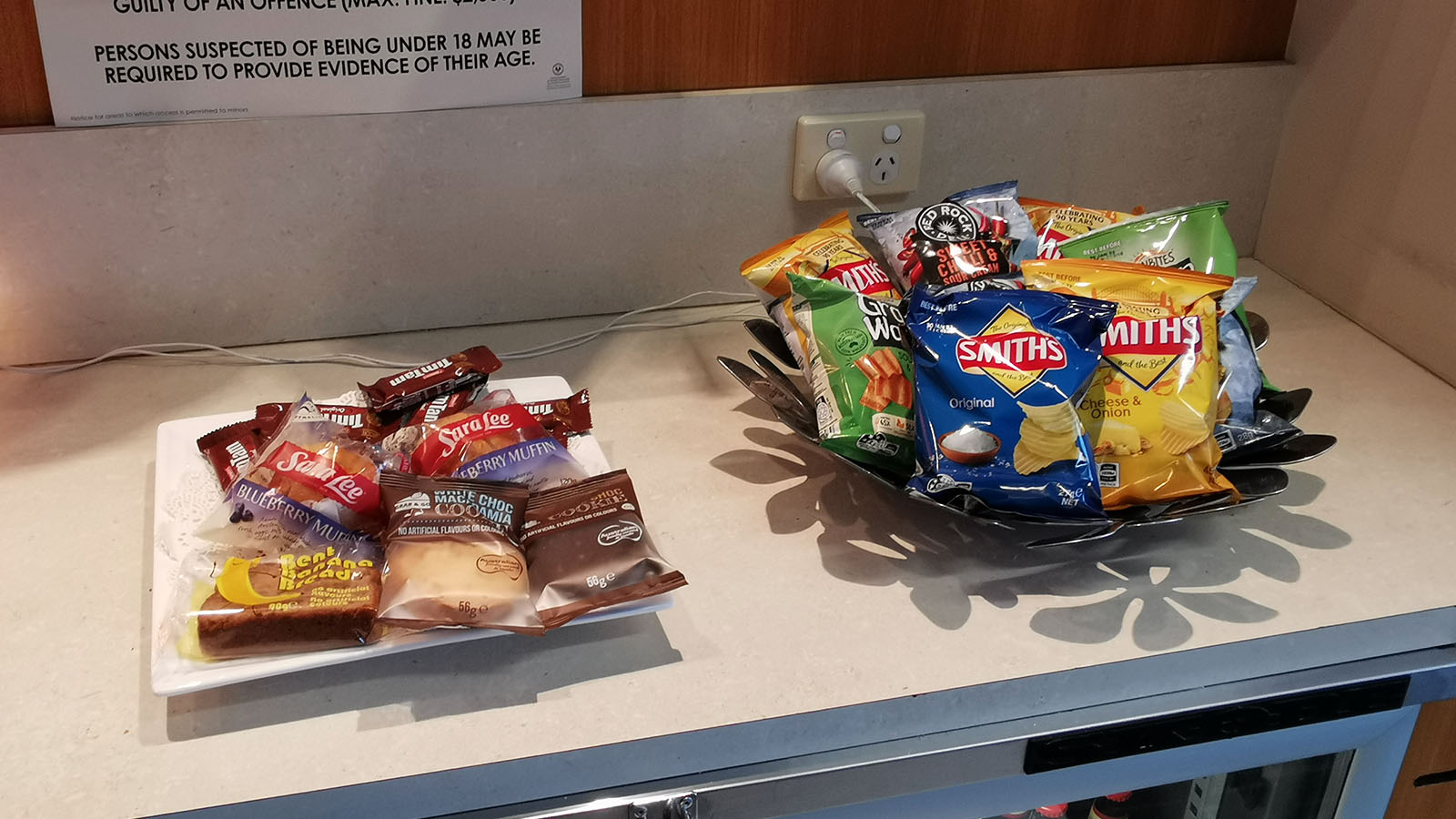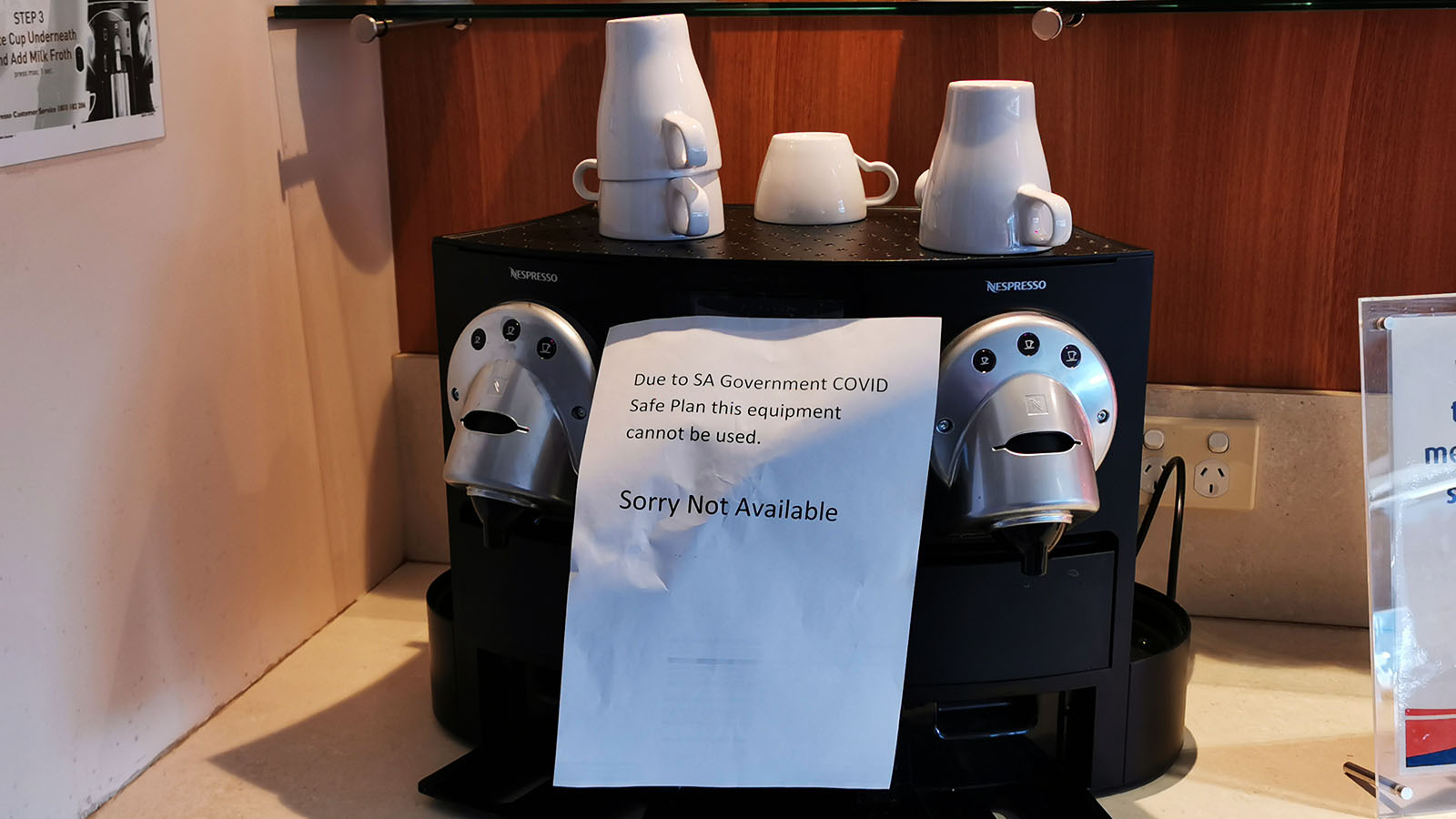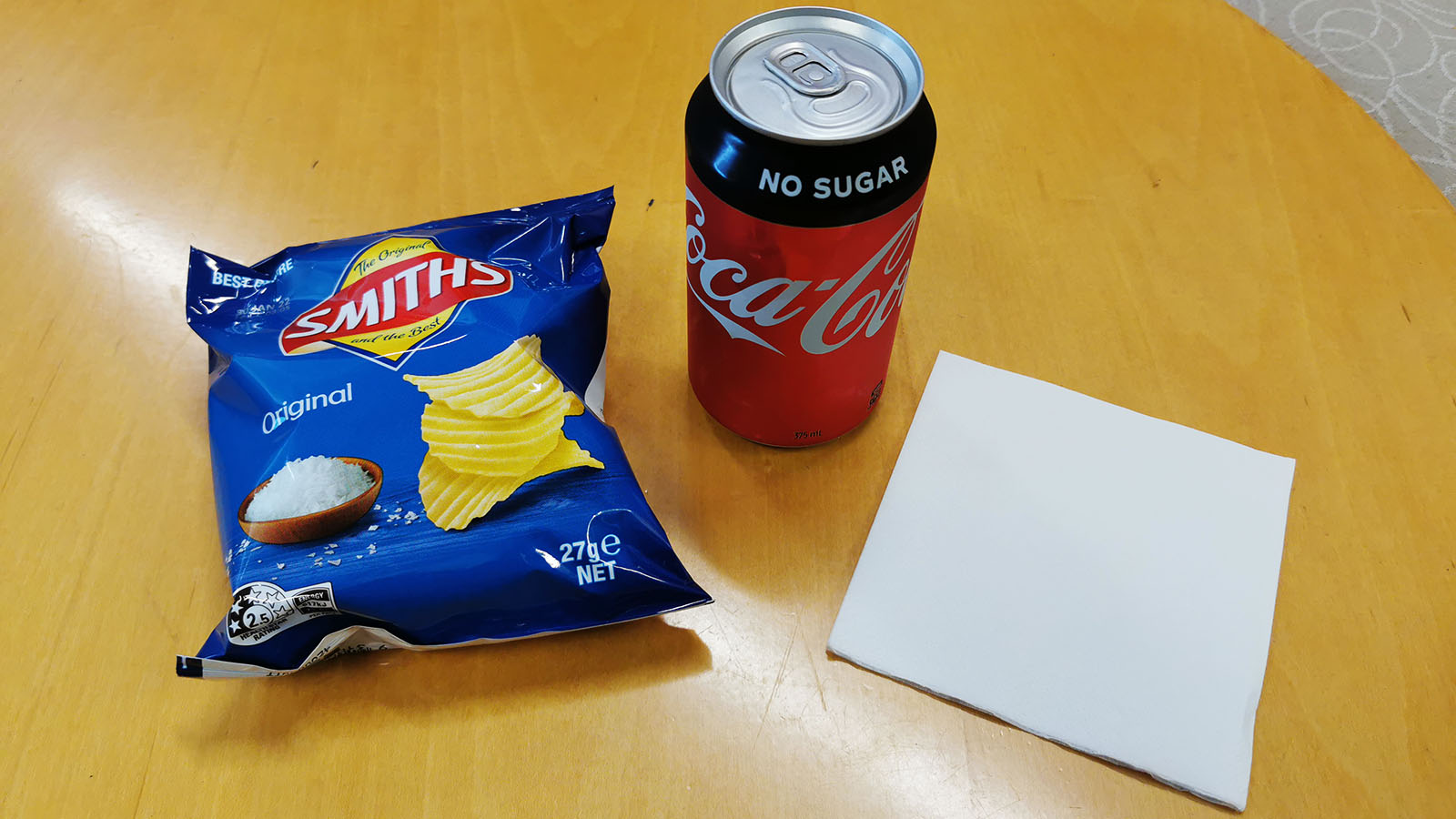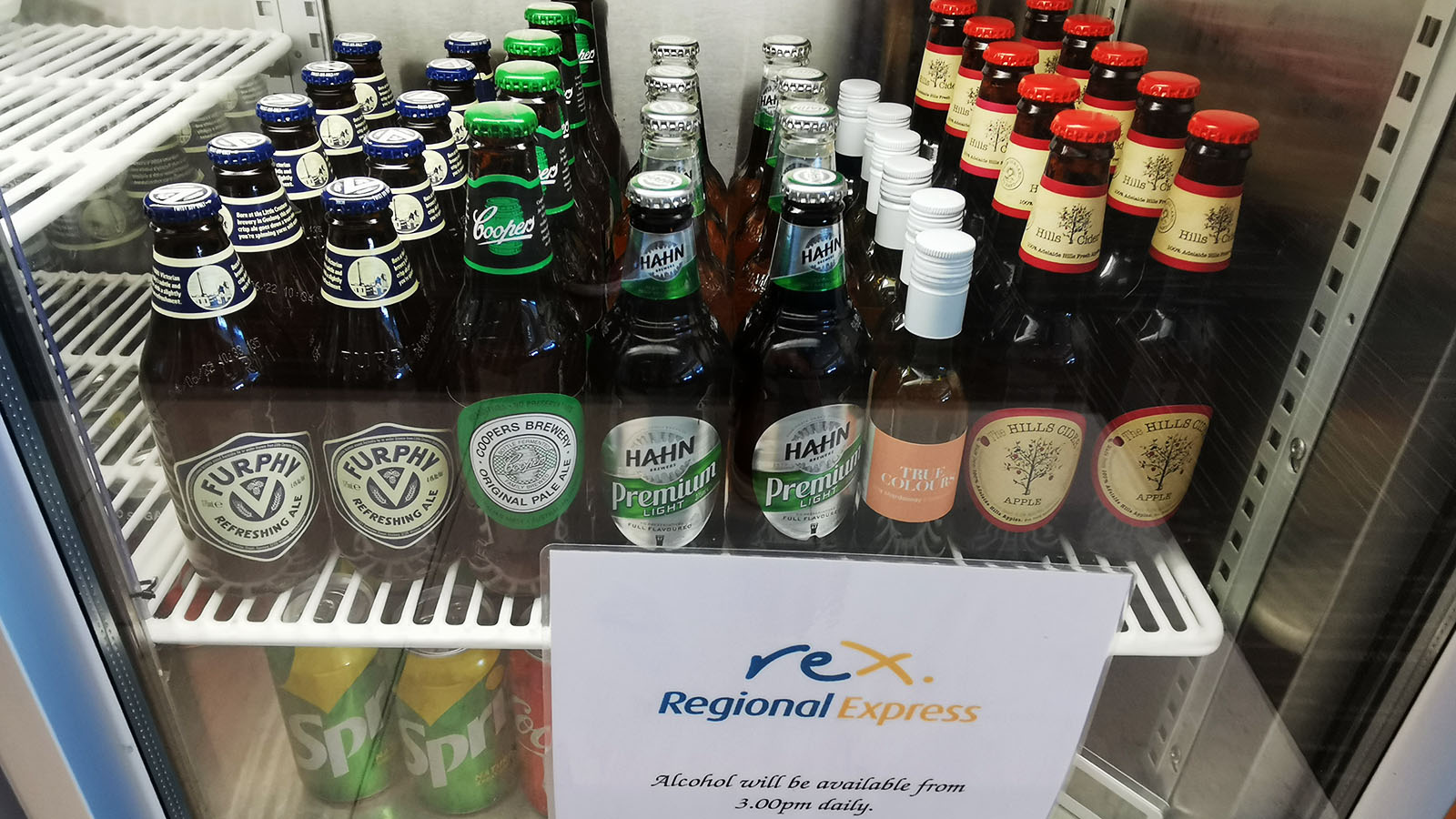 Normally, guests could indulge in Nespresso coffee and chilled water as well. But both remain unavailable, with Rex having shut off the coffee machine and the drinking fountain.
Presumably, that's to stop travellers from touching the same buttons or tools. But to access the remaining drinks, you'd have to touch a common door handle to open the fridge anyway…
It'd be great if Rex staff were instead available to assist with making coffee, as I've observed in both Sydney and Melbourne. But alas, there's Coke No Sugar for a caffeine hit.
Lounge amenities
Another Rex Lounge amenity paused due to COVID is Adelaide's business centre. But with the computers out of use, a better use of space would be to remove them. Travellers could then work at these tables with a laptop, where they'd have power points available.
There's also a collection of reading material available. This includes both print and digital versions of the airline's True Blue magazine. Other magazines and newspapers are also ready and waiting nearby.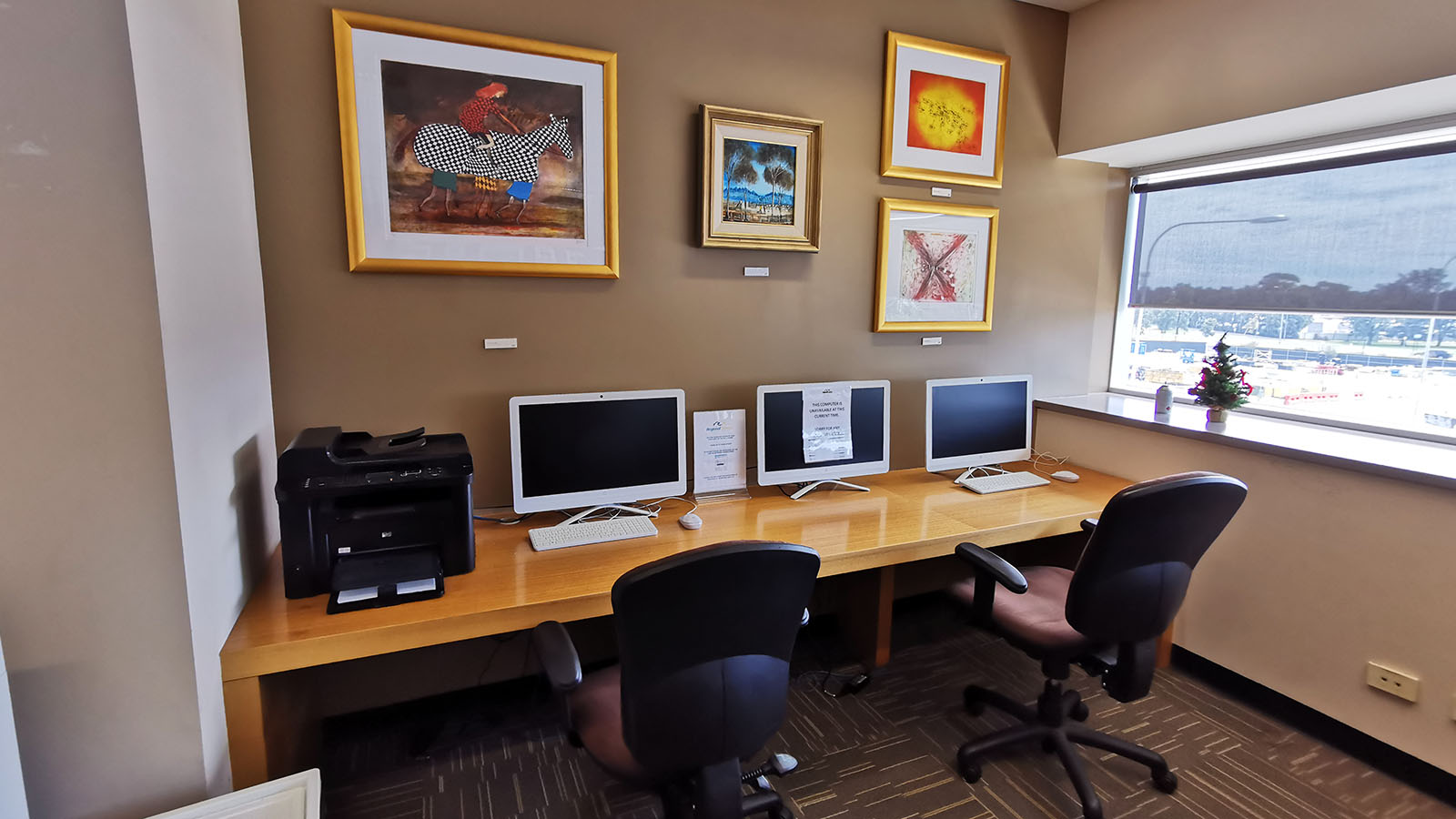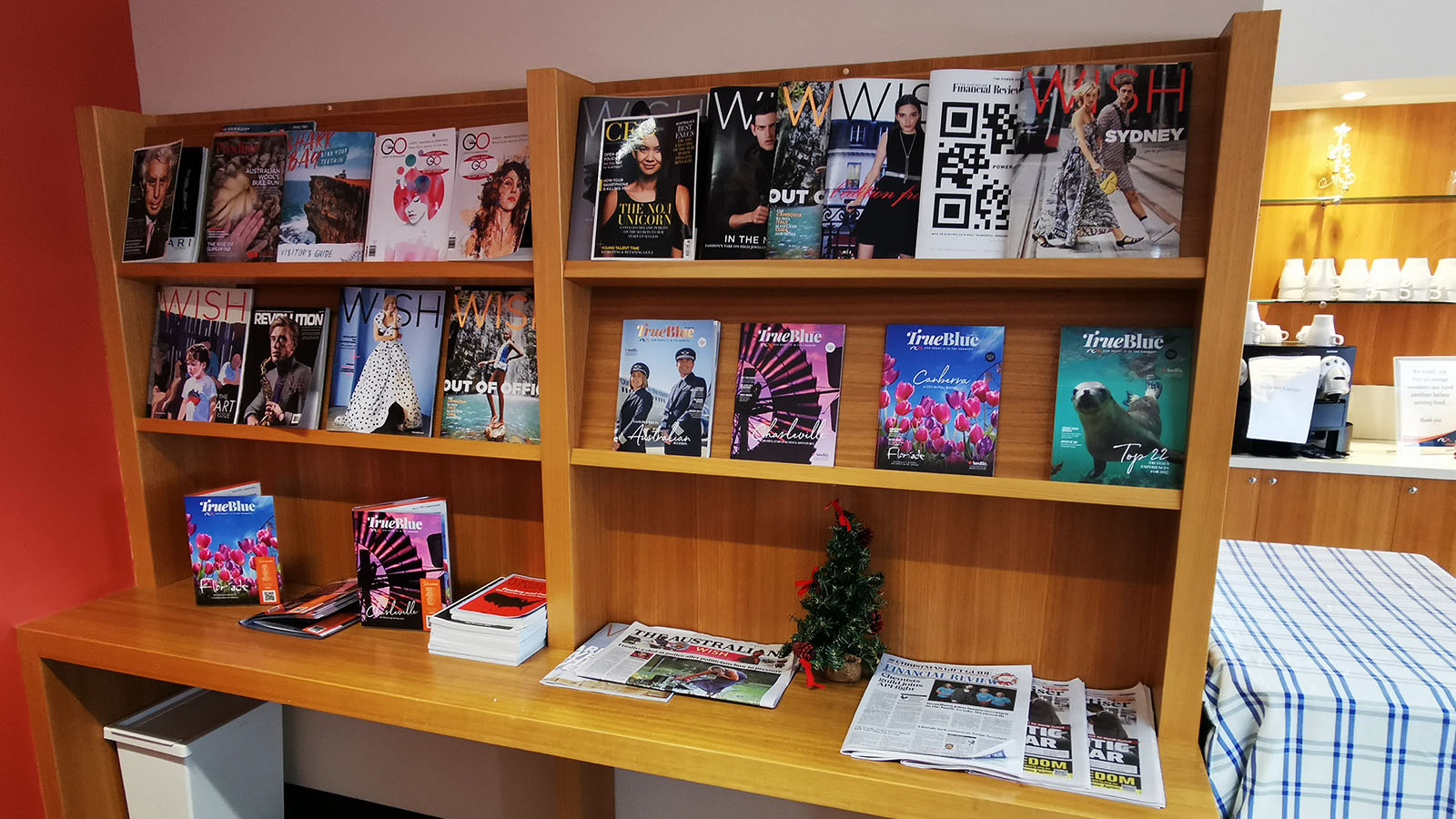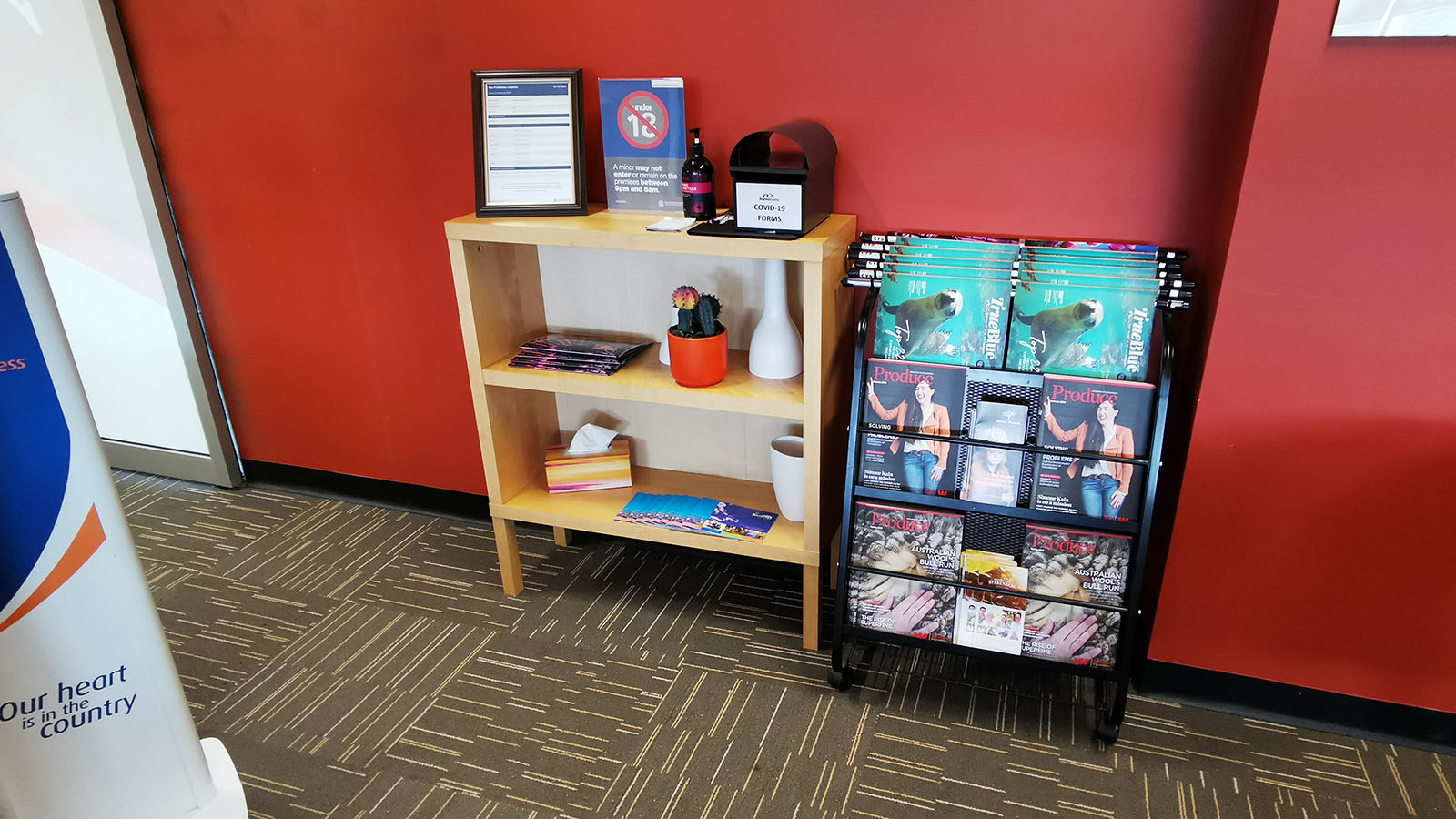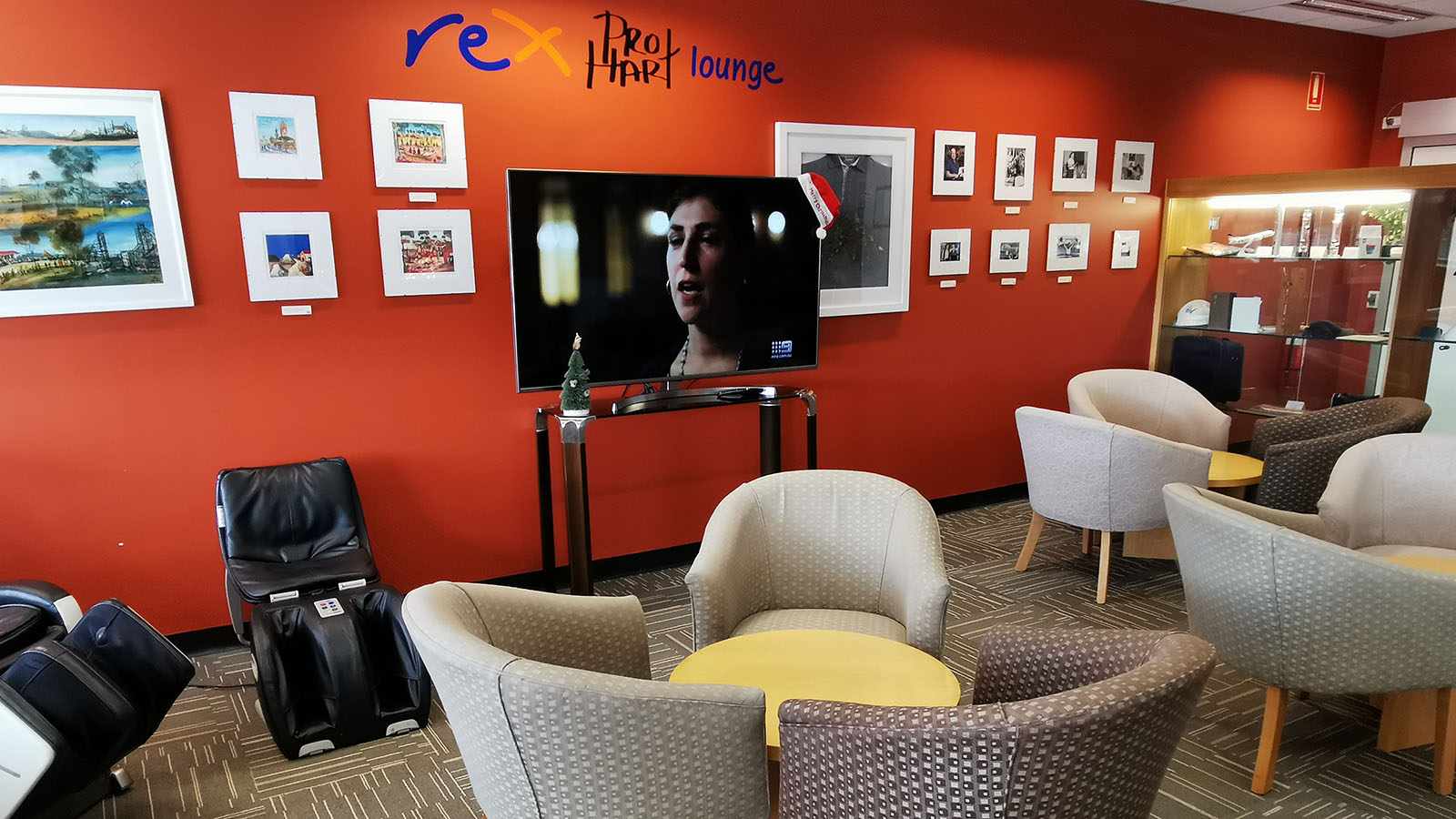 To help pass the time, there's a TV too, as well as free massage chairs. These always seem to do a better job at massaging shoulders rather than legs. But if you've arrived early enough, try them out – at least once!
Just be aware, the lounge doesn't have its own restrooms. Nor was there a dedicated Wi-Fi network available, as the staff couldn't locate the network password. But in its place, Adelaide Airport's own public Wi-Fi is incredibly fast. As measured from inside the Rex Lounge, download speeds average 116Mbps, with uploads almost twice that at 220Mbps.
That's more than zippy enough for the most bandwidth-intensive video calls. If you're downloading TV shows or movies to watch on your flight, expect that to be done in minutes.
Accessing the Adelaide Rex Lounge
The guest list for Adelaide's Rex Lounge is quite broad. In many cases, you don't even need to be flying Regional Express to get through the door.
Rex Lounge access when flying any airline:
For example, a Priority Pass cardholder can access the Rex Lounge when travelling with any airline. This could be Rex, but can also be others like Qantas, Virgin Australia or Jetstar.
Diners Club cardholders should check whether lounge visits are complimentary on their account. For many Australian cardholders, they are, but this doesn't apply to Linked Diners Club Cards issued via Citibank.
Rex Lounge access when flying Rex:
Business Class flyers on Rex.
Rex Lounge annual members.
Paying casual lounge guests, but only on weekends, and between 9 am to 2 pm on weekdays.

Casual access costs $16.50 on Rex's Flex fares. On Saver tickets, it's $33.
Paid access isn't available on other Rex fare types, or when flying with another airline. This is where a Priority Pass card can come in handy.
Summing up
Adelaide Airport's Rex Lounge is certainly more of a 'regional' lounge than a capital city flagship. If you're expecting a Qantas Business Lounge rival, think again.
But if you're reasonable with your expectations, and have a reason to stop by, then the Rex Lounge can be beneficial. For instance, I appreciated having a quiet place to work at an otherwise-busy airport, and a secluded place to take calls. Particularly visiting mid-afternoon on a Friday, I was the only guest here for some time.
Compared to the much busier lounge I'd just come from, that peace and quiet worked for me. For that alone, I'd use the Rex Lounge again. But I certainly hope Rex's coffee machine returns to life before then!
Chris Chamberlin travelled to Adelaide at Point Hacks' expense.
Rex Lounge, Adelaide
was last modified:
December 30th, 2021
by