Booking a dream flight in a premium cabin for two usually means working twice as hard to earn double the points you'd normally need for one.
But if you and your travel companion (partner, friend or family) are both capable of signing up for credit cards and earning points, then there are strategies the two of you can employ to make your Point Hacks journey smoother.
Read on for our first-hand tips and tricks to amass frequent flyer points quicker, and book your next Business or First Class getaway sooner!
1. Alternate between different credit card offers
Many credit card sign-up offers are limited to new customers and have exclusion periods for those who have previously held the credit card, so you can't earn the bonus, cancel the card and apply again straight away for another bonus.
After cancelling a card, you'll usually have to wait between 12-18 months before being considered a 'new customer' again in terms of receiving a sign-up bonus, many of which are exclusive to Point Hacks.
With two people playing the points game, you could potentially 'ping-pong' between different card types, so one person has a high points-earning card while the other is waiting out the period to become eligible for the sign-up bonus down the track.
American Express cards typically have the highest sign-up bonuses, ongoing earning rates, and great cashback offers (including Shop Small), but also the longest waiting period at 18 months.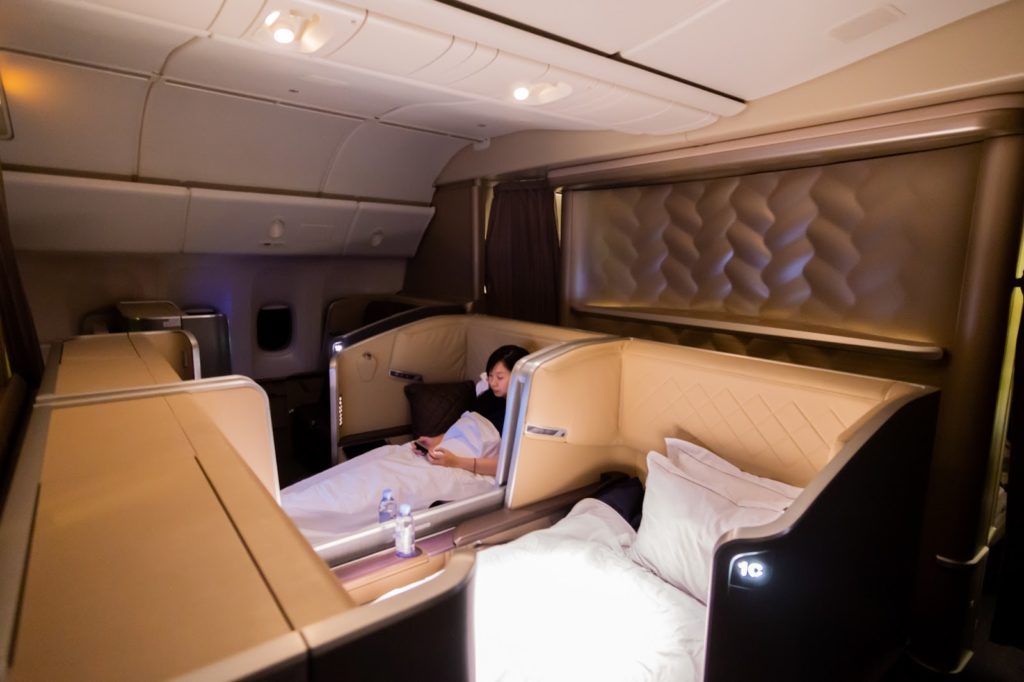 2. Use supplementary credit cards
A supplementary credit card is an extra credit card you can add to your existing account for a friend or family member. While their statements will be separate from yours, they will earn points for you and you are still responsible for paying off their balances.
Many rewards credit cards will let you add supplementary for free. In fact, some (like American Express) periodically offer you around 3,000 bonus points for adding a supplementary cardholder!

As a Point Hacks strategy, supplementary cards are a great way to continue enjoying a certain card's high earning rate and benefits, while sharing the one annual fee and still allowing the supplementary cardholder to wait out the period to sign on as a new customer.
Case example: using supplementary credit cards
For example, a couple 'Amy' and 'Brett' could both apply for an American Express credit card of their choice. After using up the included tangible benefits (e.g. a free flight, travel credit and/or lounge passes), Amy decides to cancel the card after half a year and start the 18-month period to re-apply with a bonus.
Meanwhile, Brett decides to keep the card until the end of the second year to take advantage of the travel benefits again, and adds Amy as a supplementary cardholder.
Amy can continue to earn rewards points to Brett's account and take part in AMEX cashback offers, while waiting out her 18-month period and applying for other non-AMEX cards.
Eventually, Brett decides to close his AMEX account when Amy signs up again as a new customer, getting another big sign-up bonus. Amy can now add Brett as a supplementary cardholder to her account while Brett now waits out his 18-month period.
3. Keep separate Flybuys and Everyday Rewards accounts
Although not as lucrative as credit cards, both supermarket loyalty programs Flybuys and Everyday Rewards can provide healthy bumps to your frequent flyer balances.
Flybuys will regularly dish out 10,000 Flybuys Points for meeting a predetermined spend at Coles over four weeks — this could be worth 5,000 Velocity Points when there is a 15% bonus transfer promotion.
On the other hand, I've received offers as high as 9,000 Everyday Rewards points for spending $60 on groceries online over two weeks — equal to 4,500 Qantas Points when transferred. You can see how these bundles of points can add up if you both get targeted for them, multiple times a year.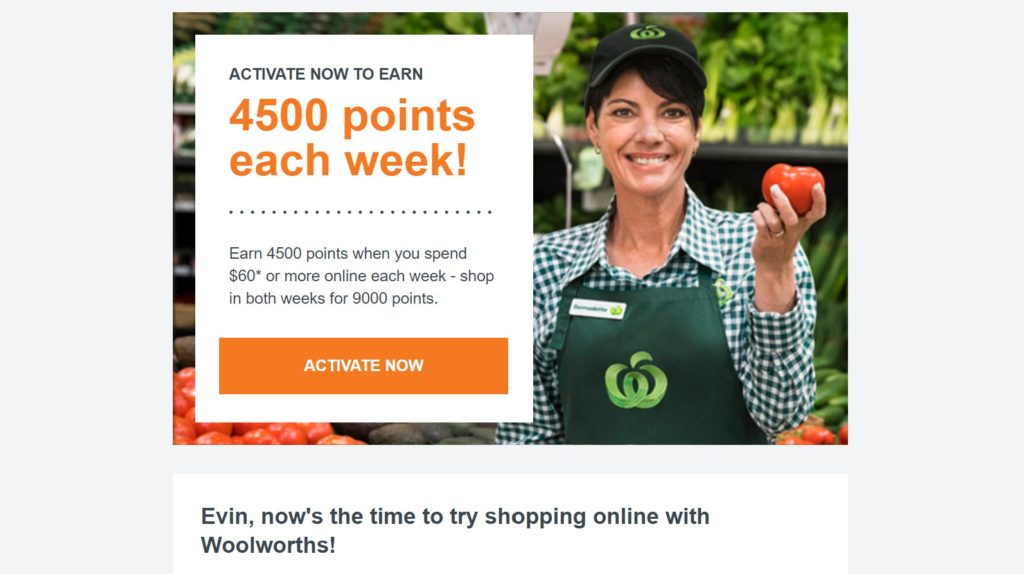 One valid strategy is to keep you and your partner's Woolworths and Flybuys accounts separate, especially if you live in the one household. This means not linking them together to a single Flybuys or Everyday Rewards membership.
As our 'Guide to maximising supermarket reward points' explains in more detail, leaving one of the accounts alone for a while means it should eventually get targeted for better offers with a lower minimum spend, so you can earn the bonus points without increasing your usual spend levels too much.
Ad – Scroll down to continue reading.Minimum spend, terms & conditions apply.
4. Pool points and Status Credits where possible
It generally makes life easier to have all the points in one account, as that person can then book flights for the two of you under a single booking.
Qantas doesn't offer points pooling, but that's no issue because the carrier does allow unlimited transfers of points to family members, only capped by the number of points.
Velocity only allows four family transfers a year, capped at 125,000 points per transaction. In the unlikely scenario you need to transfer more than 600,000 Velocity Points to a family member, you would be stuck. Luckily, there is a process for Family Pooling that I highly encourage couples to take part in.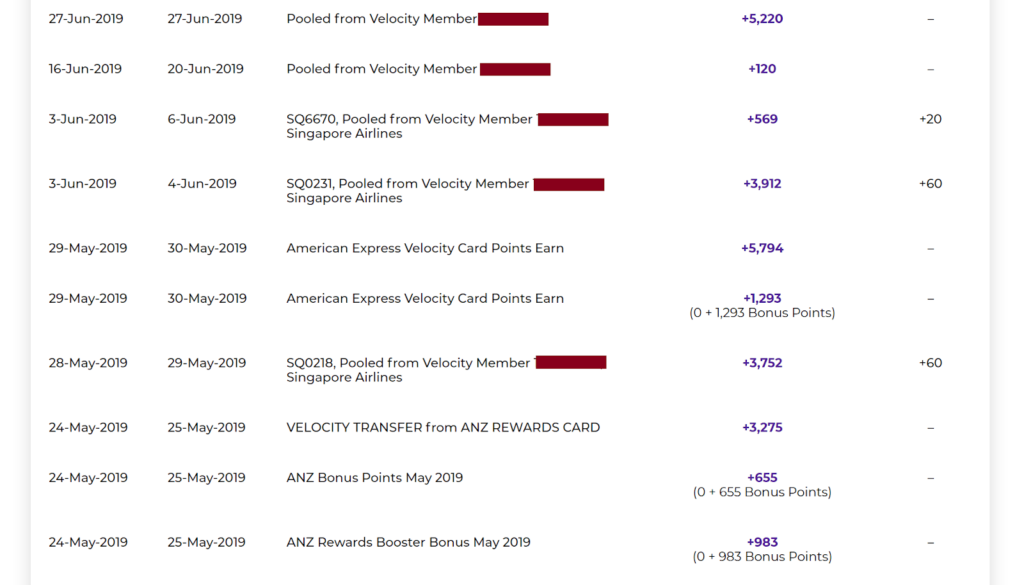 Family Pooling means an uncapped number of Velocity Points and Status Credits will be pooled to a family member residing at the same address as you.
This will help keep all the points in one account for easy redemption, but more importantly, also means that the beneficiary might be able to reach all-important Velocity Gold or Platinum status faster.
This will give more perks such as free lounge access at eligible airports, and may make upgrading to Business Class easier.
Real-life case study
Since both starting work a few years ago, my partner and I have switched between various credit card offers to experience some interesting flights in premium cabins.
This is how we earned enough frequent flyer points through credit card sign-ups and general spend, and ultimately, how much cash we spent to make it happen.
1. Singapore Airlines Suites and Virgin Australia Business Class
In our first year, we signed up for two credit cards each (spaced out about 6-7 months). Each had a very high Velocity Points sign-up bonus that enabled us to book Singapore Airlines Suites and First Class from Singapore to Seoul, plus Virgin Australia Business Class from Hong Kong to Sydney.


Myself
My partner
AMEX Velocity Platinum
+100,000 Velocity Points
+100,000 Velocity Points
ANZ Travel Adventures
+80,000 Velocity Points
N/A
Coles Rewards Mastercard
N/A
+50,000 Velocity Points
Points from flights, general spend, Flybuys promotions etc.
+47,000 Velocity Points approx.
TOTAL POINTS EARNED
377,000 Velocity Points
SQ Melbourne to Seoul, First Class*
-141,500 Velocity Points
-141,500 Velocity Points
VA Hong Kong to Sydney, Business Class
-59,500 Velocity Points
-27,500 Velocity Points**
TOTAL POINTS REDEEMED
370,000 Velocity Points
Notes:
* Transferred to 210,000 KrisFlyer miles at the rate of 1.35 to 1, which is no longer available. The current transfer rate is 1.55 to 1, however, transfers are temporarily suspended at the time of writing.
** My partner successfully upgraded from Economy Freedom to Business Class with points, as a Velocity Platinum Frequent Flyer.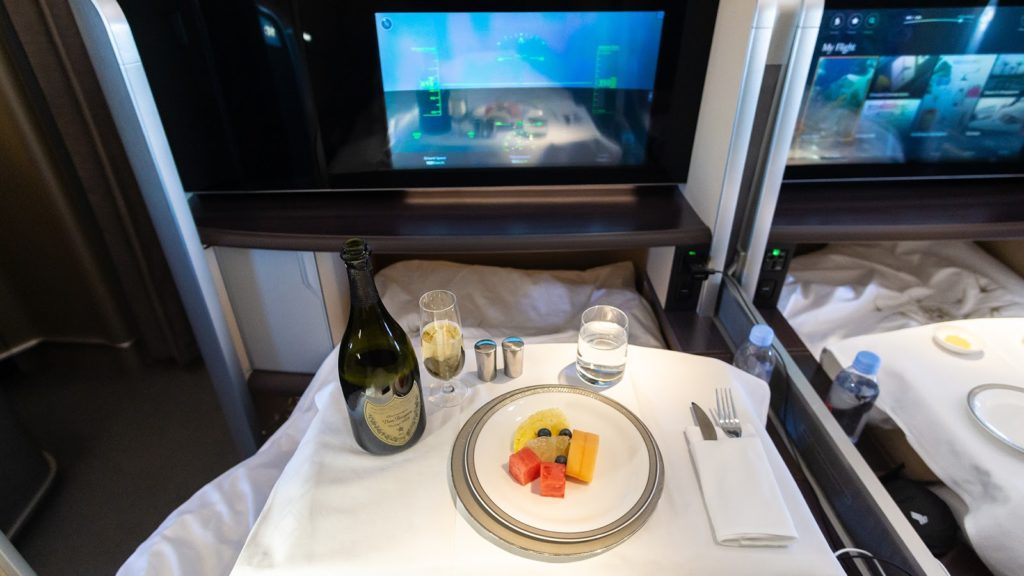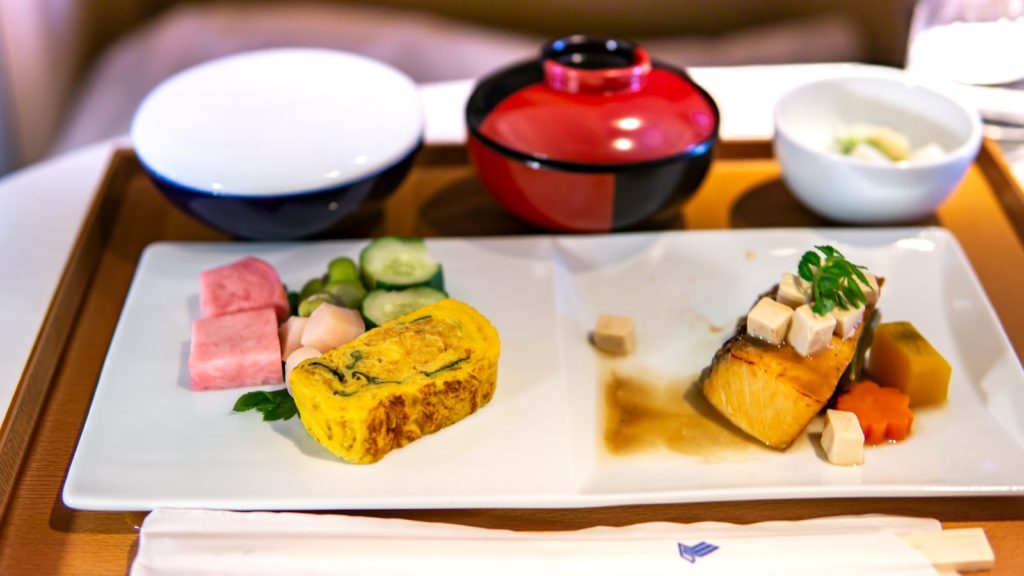 2. Singapore Airlines Business Class and Qantas First Class
I cancelled my first American Express card fairly early on and patiently waited 18 months to be eligible for another bonus, this time with Qantas Points. Once again, we signed up for two cards each within a year, with two Qantas-earning and two Velocity-earning cards.
These points were used to book Singapore Airlines Business Class from Brisbane to Hanoi, then Qantas First Class from Hong Kong to Sydney.


Myself
My partner
Qantas AMEX Ultimate
+100,000 Qantas Points
N/A
ANZ Frequent Flyer Platinum Card
N/A
+65,000 Qantas Points
Virgin Money Velocity Flyer
+75,000 Velocity Points
N/A
Coles Rewards Mastercard
N/A
+50,000 Velocity Points (again)
Points from flights, general spend, Flybuys and Woolworths promotions, existing balances etc.
+35,000 Velocity Points approx.
+20,000 Qantas Points approx.
TOTAL POINTS EARNED
185,000 Qantas Points + 160,000 Velocity Points
SQ Brisbane to Hanoi, Business Class*
-78,000 Velocity Points
-78,000 Velocity Points
QF Hong Kong to Sydney, First Class**
-90,000 Qantas Points
-90,000 Qantas Points
TOTAL POINTS REDEEMED
180,000 Qantas Points + 156,000 Velocity Points

Notes:
* Booked directly through Velocity Frequent Flyer rather than transferring to KrisFlyer.
** Booking made before Qantas increased the price of reward seats in September 2019.
Points redeemed and cash paid
Across those few years, we earned (and nearly redeemed) more than 500,000 Velocity Points and 185,000 Qantas Points, mostly through credit card sign-up bonuses, but also through general spend and targeted promotions with retailers and banks, of which there were many.
You'll likely note that we had a strong preference for Velocity Points, as it was easy to earn and had lower redemption rates and taxes across Virgin Australia and Singapore Airlines flights.
We later diversified to include Qantas Points, which has naturally given us more options in terms of using points.
While these points have enabled us to enjoy flights worth more than $20,000 AUD in cash, very little in life is absolutely free, including for reward seats that come with a small co-payment for taxes, fees and charges as shown below.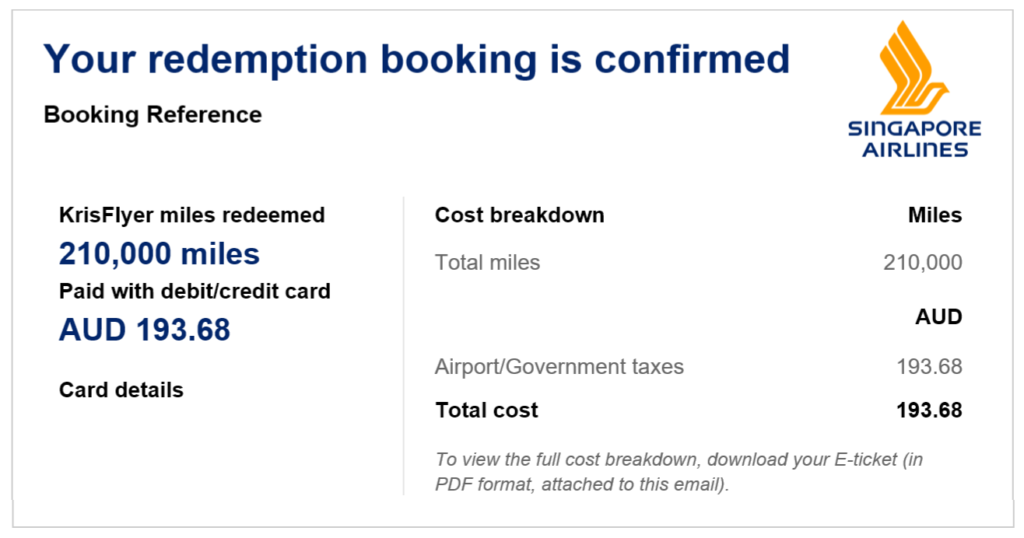 Over those few years, we paid around $1,900 AUD in credit card annual fees across the eight cards we held. For us, that was easily worth it when you also consider the other benefits of some of these cards, such as lounge passes, travel credits and a free return domestic flight.
Our main flight redemptions collectively had taxes and carrier charges totalling $1,165 AUD — interestingly, the Qantas First Class flights were the priciest (about $400 a person one-way), whereas the Singapore Airlines flights were the cheapest (about $95 a person one-way).
With credit card fees and flight charges combined, that equalled $3,065 in actual spend. We're happy to have flown three Business Class and three First Class flights while only paying ~$1,530 each.
New to all this? Where to go from here
If you've finished reading this guide and are new to all this, you may be wondering what your next steps should be. Point Hacks has a large range of beginners guides to get you started, including an email course.
After that, you may want to start with our ultimate guides to the Qantas Frequent Flyer and Velocity Frequent Flyer programs, plus look at the latest credit card news.
Any questions? Ask us at the Point Hacks Community forums.
Summing up
Although these four strategies for Points Hacking couples are quite simple, I've found that they work quite well when combined together.
Through careful management of spending and credit card applications, our credit scores remain healthy and we have never paid any late fees or interest or spent beyond our means just to get more frequent flyer points. It's important to pay off the closing balance in full each month.
It's also useful to plan out your next trip: where you want to go, in which class and on what airlines. Knowing how many points you need and having a rough idea of reward seat availability will make it much easier to plan your strategies for getting the most frequent flyer points.
As for what's next for my partner and me? Depending on how each country deals with coronavirus and when the various borders open up again, we are looking at sinking Qantas Points into Emirates First Class from Perth to Europe, and the ever-reliable Singapore Airlines Business Class on the return leg.
Frequently asked questions
We share the best Point Hacks strategies for couples
was last modified:
August 25th, 2023
by