Asia Miles is Cathay Pacific's main loyalty points program (with the related Marco Polo Club being the airline's main loyalty status program).
Asia Miles are easily earned through credit cards, flying and bonus points promotions, and can be redeemed for award flights in all classes. It's useful for those who fly on Cathay Pacific and its partners like Qantas and Qatar Airways., particularly because of its favourable redemption rates.
This guide is ground zero for those who are just starting off. Read on for how to join the program, earn as many miles as you can, and use them for maximum value.
How do I join the Asia Miles program?
Asia Miles is open to anyone aged two or above and is free to join.
Go to the join Asia Miles website
Enter your personal details
Choose your communication preferences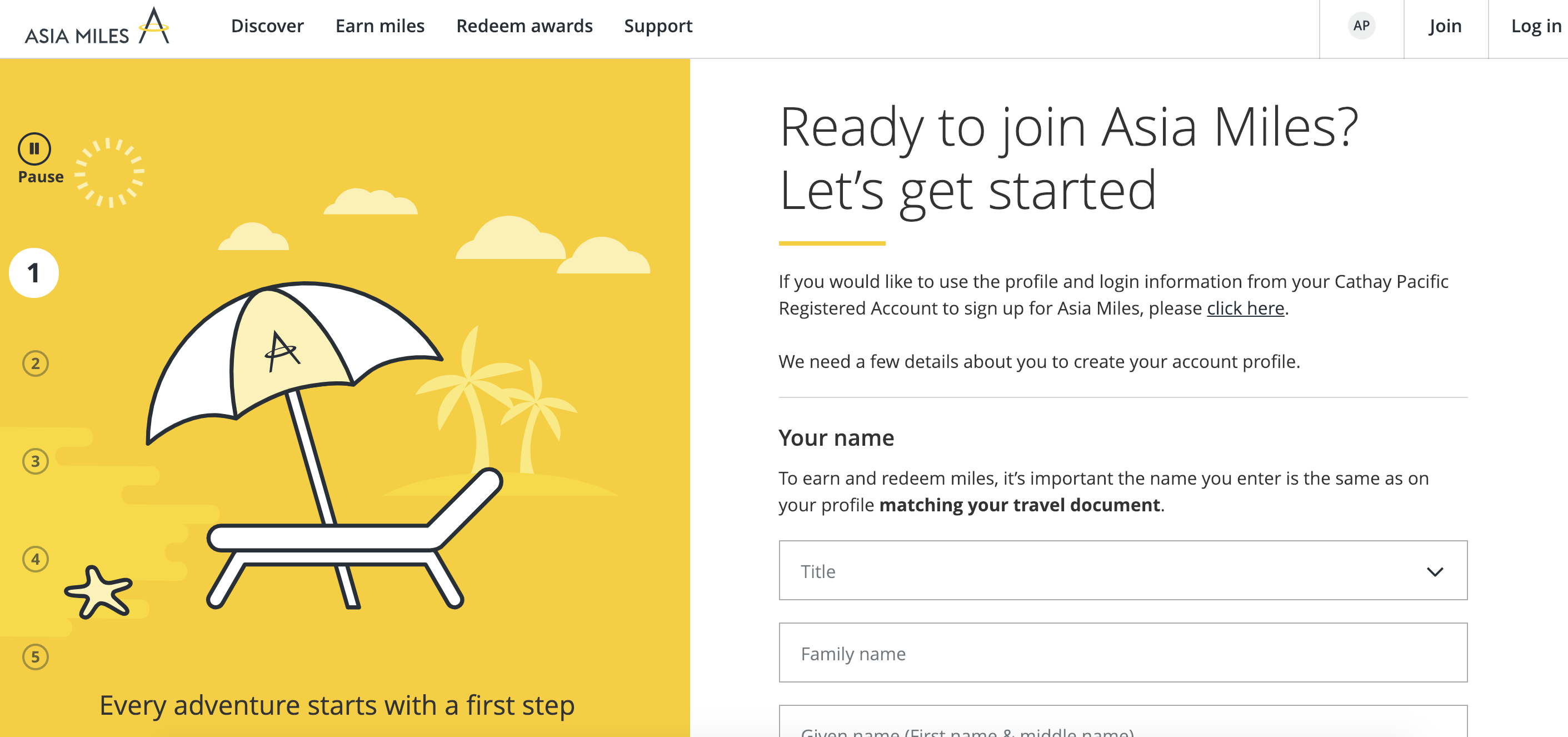 You can sometimes pick up 500 bonus Asia Miles during new member promotions. Click on this link to search for current promotions.
How do I earn Asia Miles?
Unlike Qantas and Velocity frequent flyer points, which are both easily earned in Australia, Asia Miles are a little harder to come across. There are a few different ways to earn Asia Miles in Australia, but the quickest involve credit cards:
Whilst there's no dedicated Asia Miles card in Australia, there are a few schemes with the program as a transfer partner. They include American Express Membership Rewards, Westpac Altitude Rewards and ANZ Rewards.
There are a number of other ways to earn bonus Asia Miles, including by:
You may consider crediting your Qantas flights to Asia Miles instead of Qantas Frequent Flyer — this guide will help you decide whether to do so.
If you are short on miles for a redemption, you can:
If you buy Asia Miles directly from Cathay Pacific, it will cost you at least 3 US cents per point. This is far above our valuation of Asia Miles at 1.5 AU cents each (notice the currency difference). Therefore, we would only suggest buying miles to top up your account for a specific redemption, where missing out on the seat over a few thousand miles would throw your plans into disarray.
How do I redeem Asia Miles?
In our opinion, the best value of your Asia Miles comes from redeeming them for flights on Cathay Pacific and its partners, such as Qantas, American Airlines and Qatar Airways.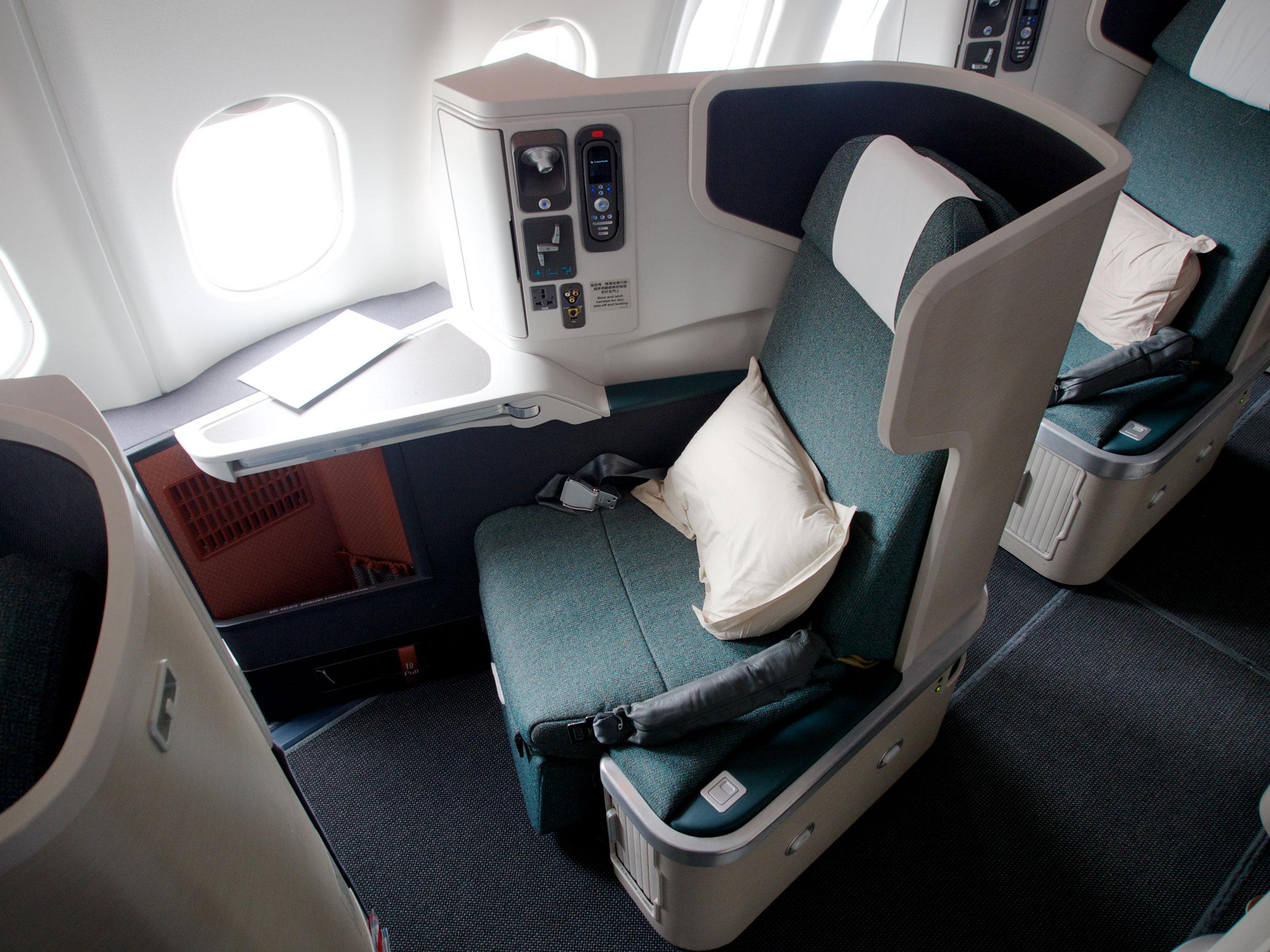 Using Asia Miles for travel in Qantas Business Class provides great redemption value Here are examples of some common redemption opportunities from Australia:
Any Australian city to Hong Kong operated by Cathay Pacific: 30,000 Premium Economy or 45,000 miles Business Class, both one-way.
Sydney to Tokyo on Qantas or Japan Airlines: 61,000 miles in Business Class
Sydney to Los Angeles on Qantas: 75,000/120,000 miles in Business/First Class
In many cases, redeeming Asia Miles for Qantas and oneworld flights represents better value than redeeming Qantas Points for the same flight, on a 1:1 comparison between programs.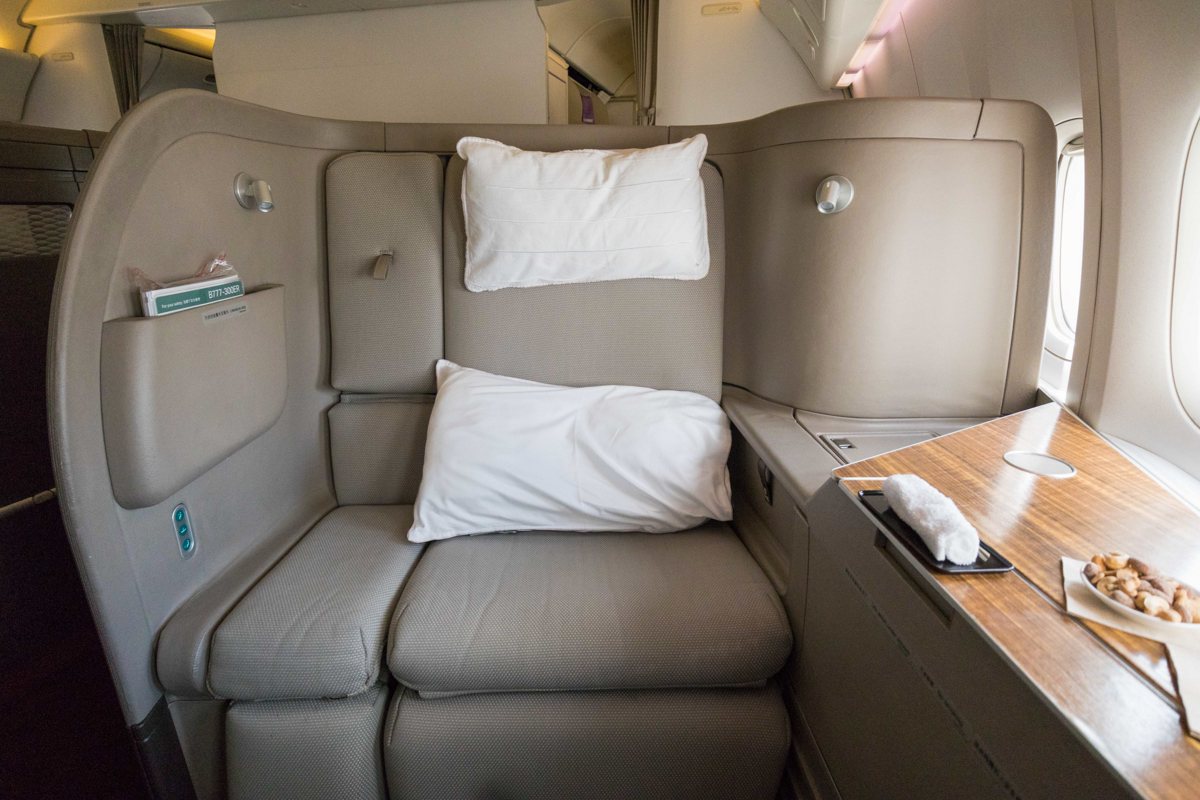 We have dedicated guides for using Asia Miles for travel between Australia and the US, and the US and Europe.
Asia Miles earned from 1 January 2020 onwards expire after 18 months of account inactivity. However, miles earned up until 30 December still have a hard expiry of three years. This is what happens to them after you pass away.
If you have some miles that are expiring or have no use for, you also have the option to redeem your Asia Miles for social goods or donate them to a number of organizations that Asia Miles support.
If you are looking for more inspiration for what to do with your Asia Miles, check out our best uses of points series. Lost as to how to start your search for an award seat? Check out this post.
We've put together some booking tips when using Asia Miles. While for partners such as Air Canada and Lufthansa you'd need to call or use the online request form, you can book on the Asia Miles website for travel on the following airlines:
Cathay Pacific
Cathay Dragon
Alaska Airlines
Finnair
Japan Airlines
LATAM
Malaysia Airlines
Qantas
Royal Jordanian Airlines
S7 Airlines
SriLankan Airlines
Finally, the 'holy grail' for many Asia Miles collectors will undoubtedly be a round-the-world trip in Business or First Class. Just 240,000 Asia Miles is needed for a Business Class and 345,000 for a First Class jaunt up to 50,000 miles in length, which is excellent value in comparison to Qantas Frequent Flyer.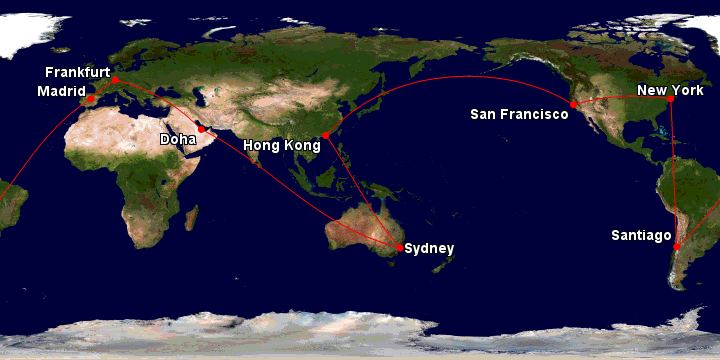 How do I earn Cathay Pacific elite status?
Although Asia Miles is the 'points currency' for Cathay Pacific, elite status is done through a separate program called the Marco Polo Club (it's not clear why the two programs are separate).
Enrolment in March Polo Club costs money and is not compulsory. You can happily be a standard Asia Miles member just to collect and redeem miles if you wish, with no participation in Marco Polo Club.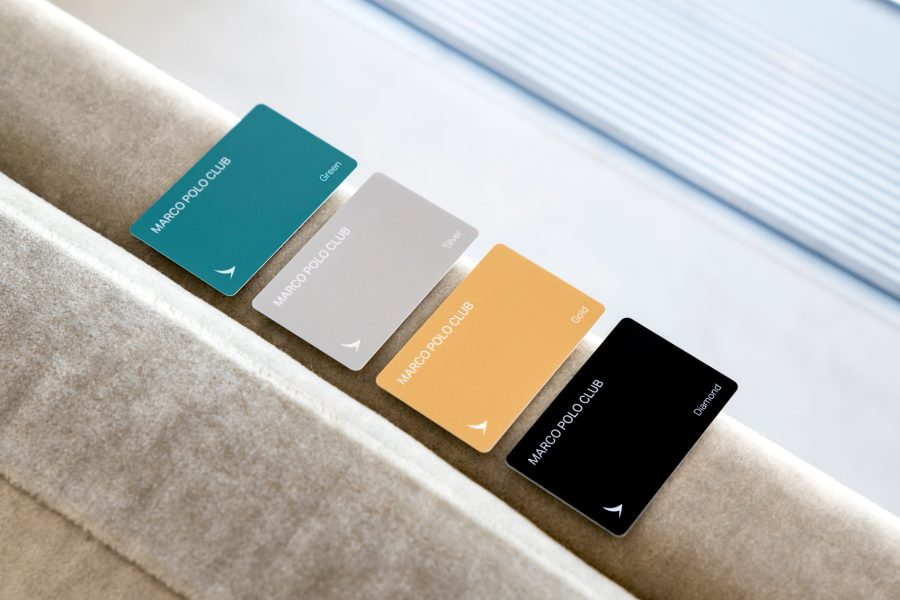 Note that when you reach the next Marco Polo tier, all your Club Points are wiped and you need to start again to earn the next tier. This does make it much harder to earn elite status with Cathay Pacific compared to airlines such as Qantas, where your equivalent status credits are cumulative.
Here is a quick summary of the Marco Polo Club tiers, although you will find more detailed information in our Marco Polo Club guide.
Marco Polo Club Green
To achieve: US$100 sign-up fee
To maintain: USD$100 or 20 Club Points
This gives you Premium Economy counter check-in and limited priority boarding. It's also possible to redeem Asia Miles for lounge access and extra-legroom seats.
In future years, you need to continue paying USD$100 to renew or earn 20 Club Points (like Status Credits).
Marco Polo Club Silver
To achieve: 300 Club Points after qualifying for Green
To maintain: 300 Club Points as a Silver member
Oneworld equivalent: Ruby

Silver grants you Business Class check-in and lounge access when flying Cathay Pacific-numbered flights. There is also 10kg extra baggage allowance and a special 10kg cabin baggage allowance if the normal amount is lower.
Marco Polo Club Gold
To achieve: 600 Club Points after qualifying for Silver
To maintain: 600 Club Points as a Gold member
Oneworld equivalent: Sapphire

As usual, Gold is the sweet spot which gives Oneworld Sapphire benefits, such as priority check-in, boarding and lounge access, across the whole Oneworld network. This includes airlines such as Qantas and Qatar Airways.
Marco Polo Club Diamond
To achieve: 1,200 Club Points after qualifying for Gold
To maintain: 1,200 Club Points as a Diamond member
Oneworld equivalent: Emerald

Diamond is the top published status, offering First Class travel benefits when flying in any class on any Oneworld carrier. This includes check-in, lounge access, priority boarding and luggage. Among other benefits, checked baggage is boosted by 20kg and cabin baggage is a generous 15kg.
How to contact Asia Miles
To get in touch with Asia Miles about a membership enquiry or flight redemption, try:
While the Call Centre might be the quickest way to resolve your issue, try the social media channels if the line is busy.
Summing up
If you fly or are interested in flying Cathay Pacific, Qantas or one of its other partners, then the Asia Miles program may be worth signing up for depending on your exact travel patterns.
Asia Miles are most quickly earned by signing up for one of these credit cards. Be sure to keep an eye on our guide to Asia Miles bonus transfer promotions so you know the best time to send points to Asia Miles.
Do you know someone who might get some use out of the Asia Miles program but needs a little help? Share this guide using the social media buttons below!
Frequently asked questions
Which airlines are in Asia Miles?
Asia Miles is the points loyalty program of Cathay Pacific. However, you can redeem Asia Miles with a variety of airline partners including Qantas and Qatar Airways.
How can I spend Asia Miles?
Asia Miles can be used lots of different ways, from merchandise to Business and First Class flights with Cathay Pacific and other partner airlines.
Do Asia Miles expire?
All miles earned after 1 January 2020 won't expire as long as you earn or redeem Asia Miles at least once every 18 months.
Supplementary images courtesy Cathay Pacific and Asia Miles.
This content contains affiliate links from which Point Hacks may earn commissions from transactions generated from new customers, bookings and general enquiries. Find out more here.
New to Cathay Pacific Asia Miles? Start here!
was last modified:
December 20th, 2021
by