There's never been a better time to travel around our beautiful country, with wonders to be found within each state and territory. Whether it's a staycation in the city or a journey farther into regional areas, many hotel chains give you options with earning points.
You can usually earn points directly in the hotel loyalty program, earn points directly into a partner frequent flyer program, or a mix of both where you earn points into the hotel program but can later transfer them to a wider range of airline programs down the track.
We've crunched the numbers on five hotel programs — Hilton Honors, IHG Rewards, Marriott Bonvoy, World of Hyatt and Accor Live Limitless — to see which ones offer the best theoretical value on a stay in Australia.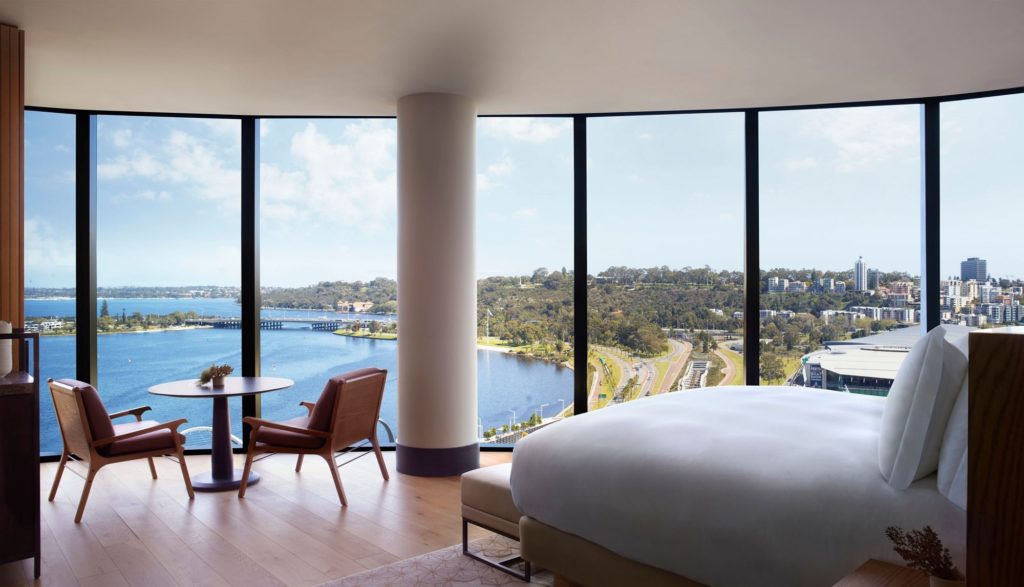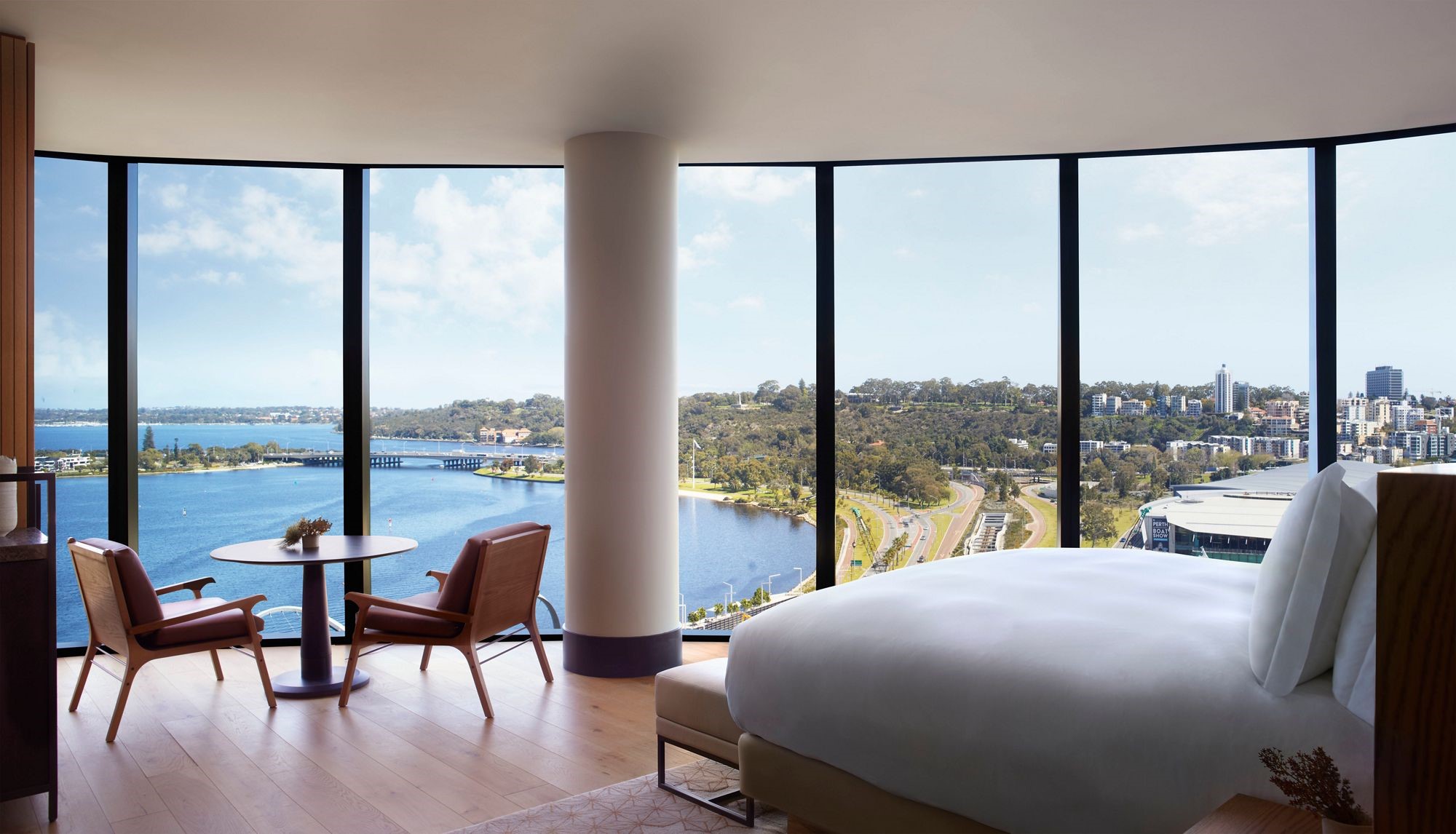 Important assumptions
Before starting, here are the main assumptions we've made in working out the value of points from each chain:
The amounts are based on a stay of A$1,000, converted to US$770 or €635 as required by various hotel programs and based on the exchange rate at the time of writing
Where multiple options exist for earning airline points from a hotel stay (either direct earn or transfer of points), only the higher-earning option is included for analysis
The airline loyalty programs we included are Qantas Frequent Flyer, Velocity Frequent Flyer, Asia Miles, KrisFlyer and Etihad Guest
Where points are transferred from hotel programs to airline schemes, minimum transfer amounts usually apply. Even if the points earned from a stay is not enough to transfer, we calculate the pro-rata value of those points instead
The value of hotel and airline points/miles in this guide is taken from our proprietary point valuations in January 2021 — this may vary over time and affect the results slightly
Bonus point offers are not included in the analysis
---
Earning points with Hilton Honors
Hilton Honors is a versatile program with its points able to be used for reward nights across many room types at many properties or converted to frequent flyer points. Members start by earning 10 points per US$1 spent.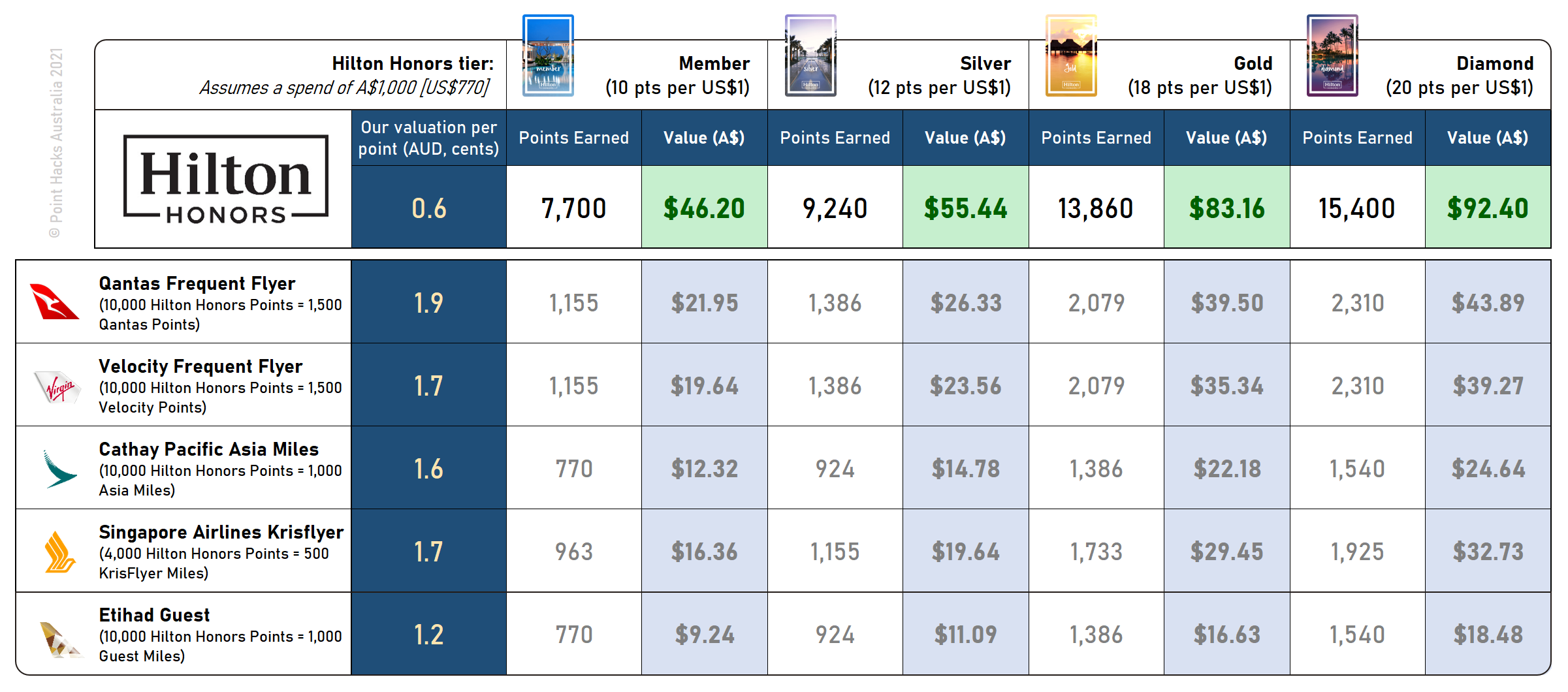 Best value: You'll get the best return from earning Hilton Honors points directly, for all member tiers.
Runner up: If hotel points aren't your thing, then converting to Qantas Points is the next best opinion. Note that you need a minimum of 10,000 Hilton Honors points to convert to 1,500 Qantas Points.
Learn more about earning points with Hilton Honors →
Earning points with Marriott Bonvoy
Marriott Bonvoy boasts a high earning rate also starting at 10 points per US$1 spent, plus a huge number of airline transfer partners.
Although you can earn airline points directly from stays, this isn't as good as earning Marriott Bonvoy points first and later transferring those points to the airline. You need 3,000 Marriott Bonvoy points to get 1,000 airline points, as a minimum.

Best value: Once again, you'll get the best value from earning Marriott Bonvoy and using points directly, for all member tiers.
Runner up: Marriott Bonvoy points convert to airline points at the same rate (for most partners). Choose the program you would use the most. In our example, Qantas Frequent Flyer takes the lead again.
Learn more about Hotel & Air packages with Marriott Bonvoy →
Ad – Scroll down to continue reading.Minimum spend, terms & conditions apply.
Earning points with IHG Rewards
IHG Rewards points are a bit harder to use than others, hence our slightly lower valuation of its points. You can still earn a decent haul, but surprisingly the winner is Qantas Frequent Flyer with stays in Australia, as you can earn 5 points per A$1 spent.
Other airline programs offer a lower rate or a flat number of miles (i.e. Asia Miles and Etihad Guest), which isn't as good.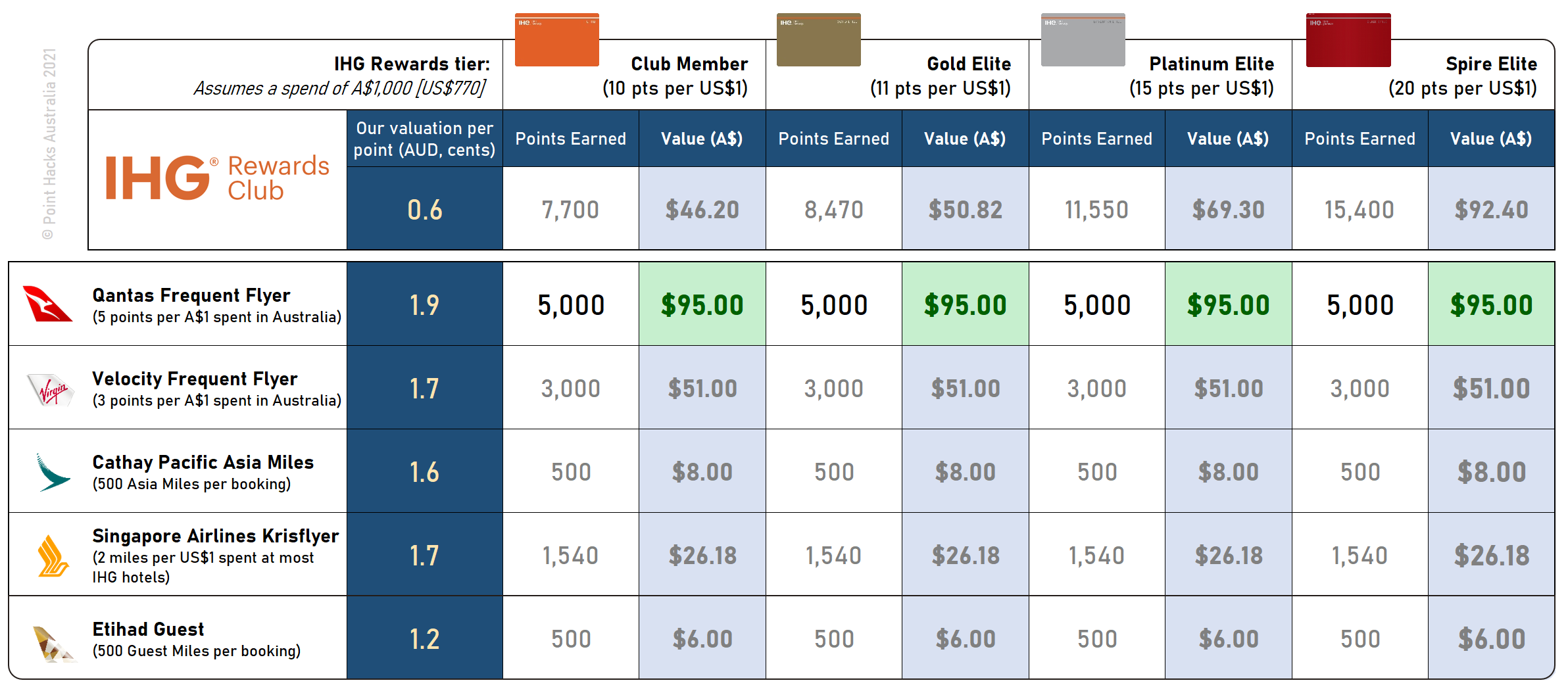 Best value: For Australian stays only, Qantas Frequent Flyer tops out our analysis with a flat 5 points per A$1 spent. (For those curious, this drops to a low 500 points/booking for international stays).
Runner up: Velocity Frequent Flyer comes in second for its flat rate of 3 points per A$1 spent, which is still a decent haul.
Honourable mention: IHG points get a call-out as well for being decent value, but more particularly for the Platinum and Spire Elite members of the program.
Learn more about IHG's new all-inclusive hotel packages →
Earning points with World of Hyatt
Although World of Hyatt is a smaller program than some others, it's still fairly interesting with relatively low redemption rates when using points for free nights at its hotels.
Otherwise, you can transfer 5,000 World of Hyatt points at a minimum, to receive at least 2,000 airline points. However, Velocity Frequent Flyer isn't a partner, unfortunately.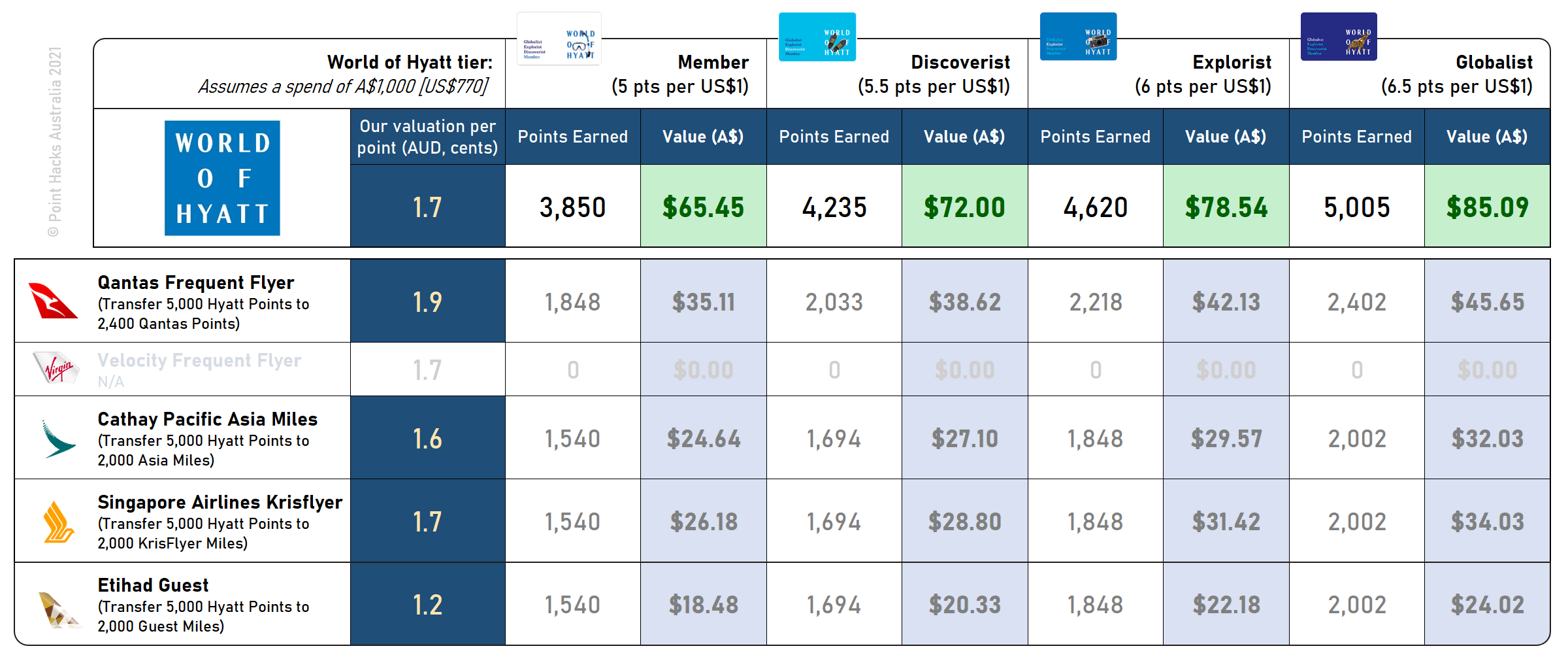 Best value: Keeping your points with World of Hyatt is the best option, in theory. It's worth almost twice as much compared to transferring points over to Qantas when you have at least 5,000.
Runner up: Transferring points to Qantas is a decent second option if you don't have enough for a room rate.
Learn how to buy World of Hyatt points to boost your balance →
Earning points with Accor Live Limitless
Finally, we come to Accor Live Limitless, which is slightly different from the other hotel programs in this guide. Firstly, Accor awards points based on your spend converted to Euros, rather than US Dollars.
Secondly, Qantas and Accor have struck up a unique partnership which goes live in mid-2021. It promises that members will be able to earn both Qantas and Accor points on hotel bookings.
We've included this double-dipping feature in our analysis below, but keep in mind this perk might not yet be active yet.
Accor also allows its points to be transferred to other airline programs. Qantas and Velocity benefit from a great 1:1 points ratio (with varying minimum amounts), while all other programs have a 2:1 ratio.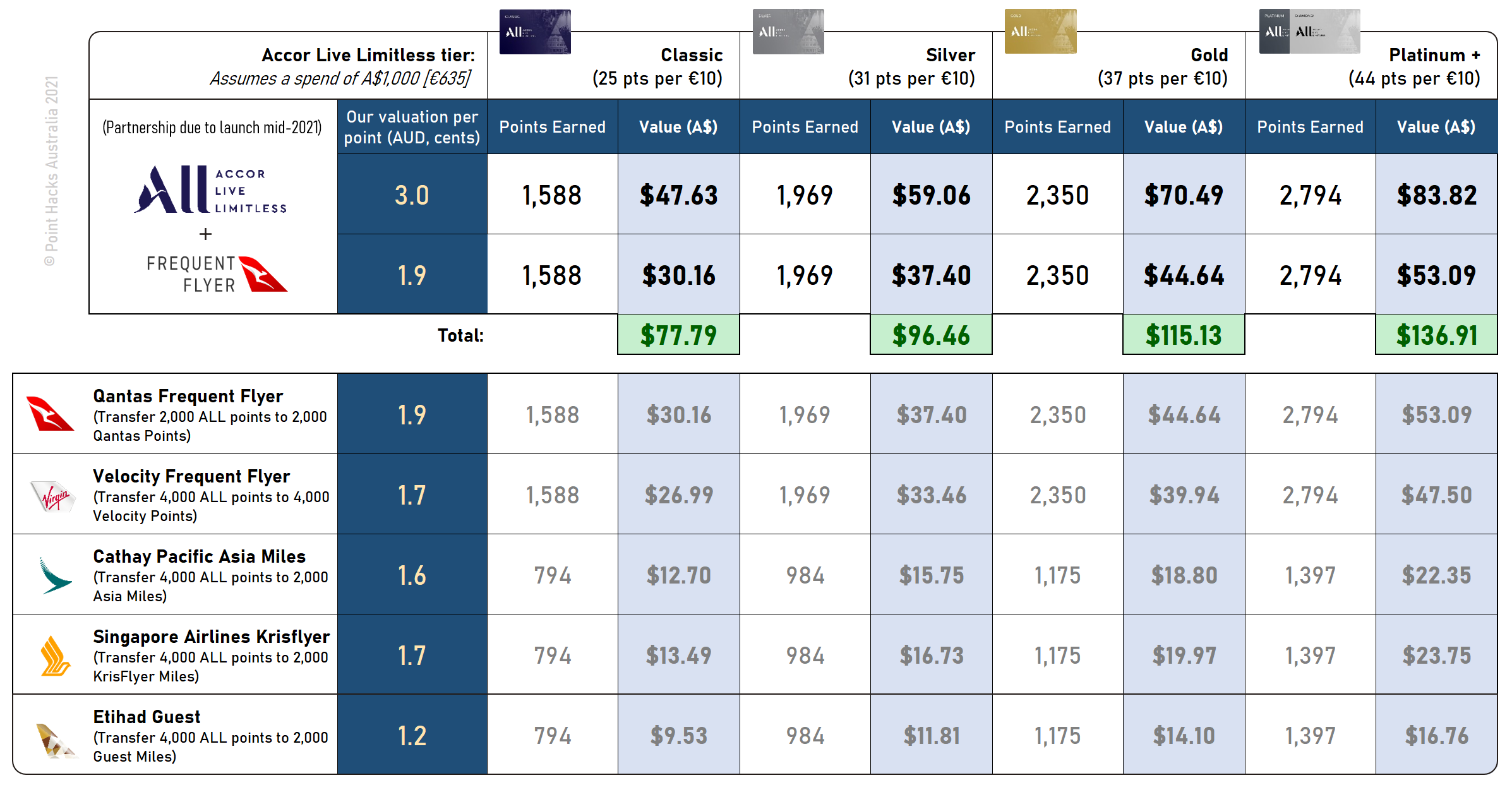 Best value: When the new partnership kicks off, Accor and Qantas will be an unstoppable duo, with the ability to earn Qantas Points and Accor points on hotel bookings (and vice versa).
Runner up: Velocity Frequent Flyer comes in second with its preferential transfer rate from Accor, although it trails far behind.
Read about the upcoming Accor/Qantas partnership →
Summing up
In all but one of the five Australian-based examples above, it's better to earn hotel loyalty points in its own program (the exception appears to be IHG Rewards, where directly earning Qantas Points is more rewarding).
Hotel points are far more flexible than airline points, which boosts its value — you're free to use it for complimentary nights or transfer it to other airline partners, as you see fit.
In terms of 'raw value' for a base-level member from a A$1,000 hotel spend, IHG Rewards delivers $95 worth of perks in the form of 5,000 Qantas Points, followed closely by Marriott Bonvoy which offers $92.40 value through its earn rate of 7,700 points.
Qantas and Velocity Frequent Flyer both offer the best-value option for airline points, largely because of the favourable earn and transfer rates compared to the international programs.
But remember, these figures are derived from our own points valuations based on set criteria, and your situation may be different. If earning in one particular program suits you better than what we suggest, go for it!
Where can you earn the most points at hotels in Australia?
was last modified:
January 22nd, 2021
by