An important feature of the Accor Live Limitless program is the ability to convert Rewards points into frequent flyer points.
The feature is useful for those who stay at Accor properties infrequently and may have a preference to use their points to top-up their preferred frequent flyer account.
All your favourite frequent flyer programs are included, such as:
The basics of converting Accor Rewards points
For most programs, 2 Accor Rewards points are equal to 1 frequent flyer mile or point (we will use 'miles' in this article where possible to better differentiate them from Accor Rewards points).
The minimum transfer for most programs is 4,000 Rewards points to 2,000 frequent flyer miles.
There are some exceptions, with Qantas and Velocity being the two most applicable to Australians where points are converted more favourably—1 Rewards point equals 1 Qantas or Velocity Frequent Flyer point. A minimum transfer of 2,000 Rewards points applies for Qantas while it is 4,000 Reward points for Velocity.
Participating airlines with Accor Live Limitless
You can convert your Accor Rewards points into miles with 32 different airlines.
The ones most relevant to point hacking Australians are listed in this table (click the links for the guides to each program):
Here are the rest of the participating programs, which are all 2:1 unless otherwise noted:
Aegean Airlines
Aeroflot Bonus
AeroMexico Club Premier
Air Canada Aeroplan
Air China Phoenix Miles (2:1.6)
Air France/KLM Flying Blue
Azul – TudoAzul
Delta SkyMiles
Finnair Plus (2:2)
Hainan Airlines
Iberia Plus (2:2)
Japan Airlines
Jet Airways
Korean Air Skypass
LATAM
Oman Air Sindbad (4:0.75)
Qatar Privilege Club
Royal Air Maroc Safar Flyer
TAP Air Portugal
THAI Airways
Turkish Airlines
Ad – Scroll down to continue reading.Minimum spend, terms & conditions apply.
Steps for converting Accor Rewards points into miles
Just follow these steps to convert your Accor Rewards points into your preferred frequent flyer miles.
Visit the Accor airline partner page.
Click on the name of the frequent flyer program you would like to convert points to
Scroll down, and click on the button that says, 'Convert your Rewards points'.
You'll be prompted to login if you haven't already.
You can then choose the number of Rewards points that you want to convert
Note that it can take up to 6 weeks for the conversion to take place, so make sure you leave plenty of time if you're planning to use this method as a top-up for award travel. All transfer requests are irreversible.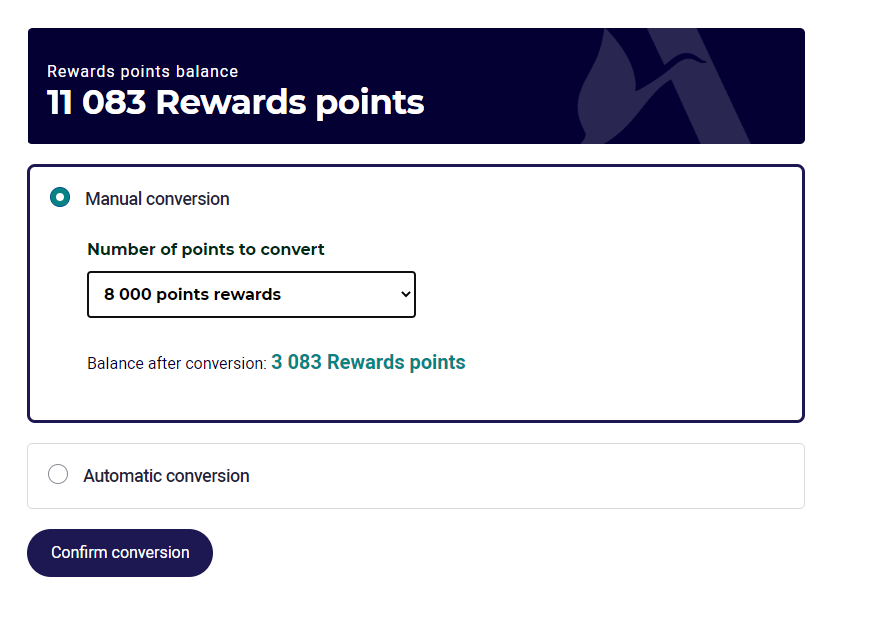 Earning airline miles directly instead of Accor Rewards Points
It is actually possible to earn airlines miles directly from an eligible stay, rather than Rewards Points. You do this by setting up an automatic conversion, rather than a manual sweep, as is shown in the steps above.
However, in most cases, it is advantageous to earn Rewards Points and later convert them to airline miles – the earn rate is exactly the same, and there are often bonuses on Accor Rewards points that you won't be eligible for if you opt for automatic earn of miles instead.
The only time we recommend you consider an automatic conversion is if you know your stay is a one-off, and you don't think you'll ever earn at least the minimum 2,000 or 4,000 points needed for a conversion.
Otherwise your Accor Live Limitless account functions as an excellent flexible points programme, where you can either use for frequent flyer miles as above, or for a discount off future stays at a fixed rate.
Frequently asked questions
Summing up
As with any good hotel rewards program, the ability to convert points into frequent flyer miles is an excellent feature, providing flexibility with how you choose to redeem your hard-earned points.
In the table of major airline frequent flyer programs earlier in this article, click each link to see the benefits of each frequent flyer program and their various sweet spots to see if any could suit your future travel plans.
This content contains affiliate links from which Point Hacks may earn commissions from transactions generated from new customers, bookings and general enquiries. Find out more here.
How to transfer Accor Rewards points to airline partners
was last modified:
February 7th, 2023
by