The Asia Miles iShop is an online shopping mall which kicks you back a number of Asia miles per dollar spent if you click through from their site. Even though it's based in Hong Kong, there are still some relevant local and international partners.
These portals work by ensuring you log in with your frequent flyer program credentials before then being referred out (with a click) once logged in to make a transaction over on the retailer's website.
In this guide, we cover off the key online retailers for Australian online shoppers to help you earn more Asia miles.
What is Cathay Pacific's Asia Miles iShop?
Cathay Pacific's Asia Miles iShop is an online mall that allows you to earn Asia miles on purchases. It has a wide range of retailers with a Hong Kong and Asia-centric focus, but there are many Australian retailers on board too.
The shopping portal gets paid a commission for initiating the purchase, which they then share with you in the form of Asia miles.
Like Singapore Airline's KrisFlyer Spree shop, the iShop quotes earn rates in USD, making hard to compare like-to-like for earning rates with Australian-based Qantas Shopping and the Velocity e-Store.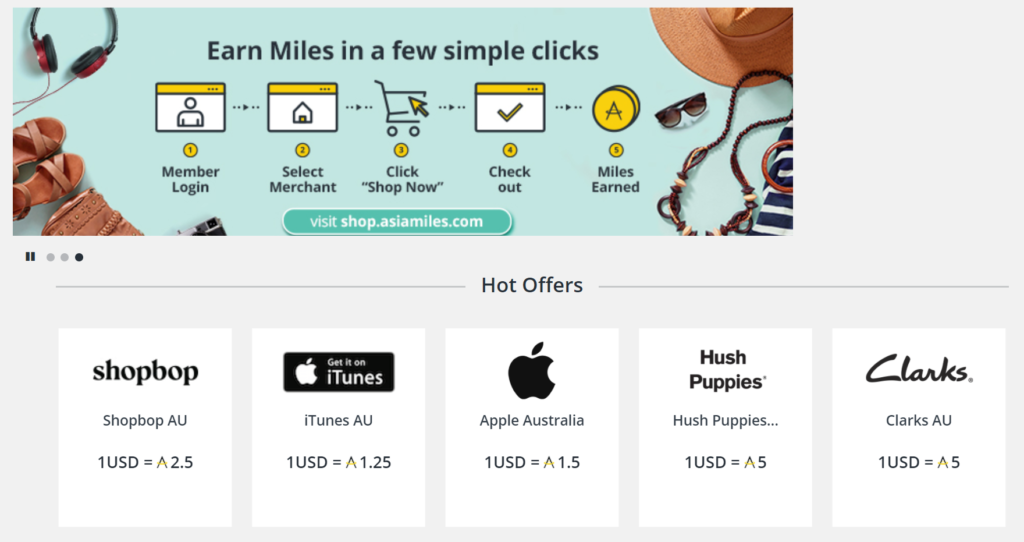 How do I earn Asia miles with iShop?
The main way to enter the shopping portal is to head to the Asia Miles iShop website on a desktop, laptop or tablet.
The iShop online mall works by tracking the purchases you make at participating retailers, so it can credit you with Asia miles for each dollar you spend.
To start, head to the iShop home page and log in to Asia miles account
Change the region locator at the top of the page (the globe icon) to 'Australia and New Zealand', or the applicable region you are currently in.
Click on the retailer you wish to shop at. The page will tell you how many Asia miles you can earn per US$1 spent.
Complete your purchase on the retailer's website. Do not visit other websites during this time, or your purchase might not track
When you have checked out, that's it! Sit tight and wait a few weeks (or months) for the Asia miles to credit.
How do I search on Asia Miles iShop?
If you head to iShop, you can see all retailers available for different regions by filtering using the region dropdown in the top right-hand corner. You can then click on the categories and search for retailers that are available to Australia.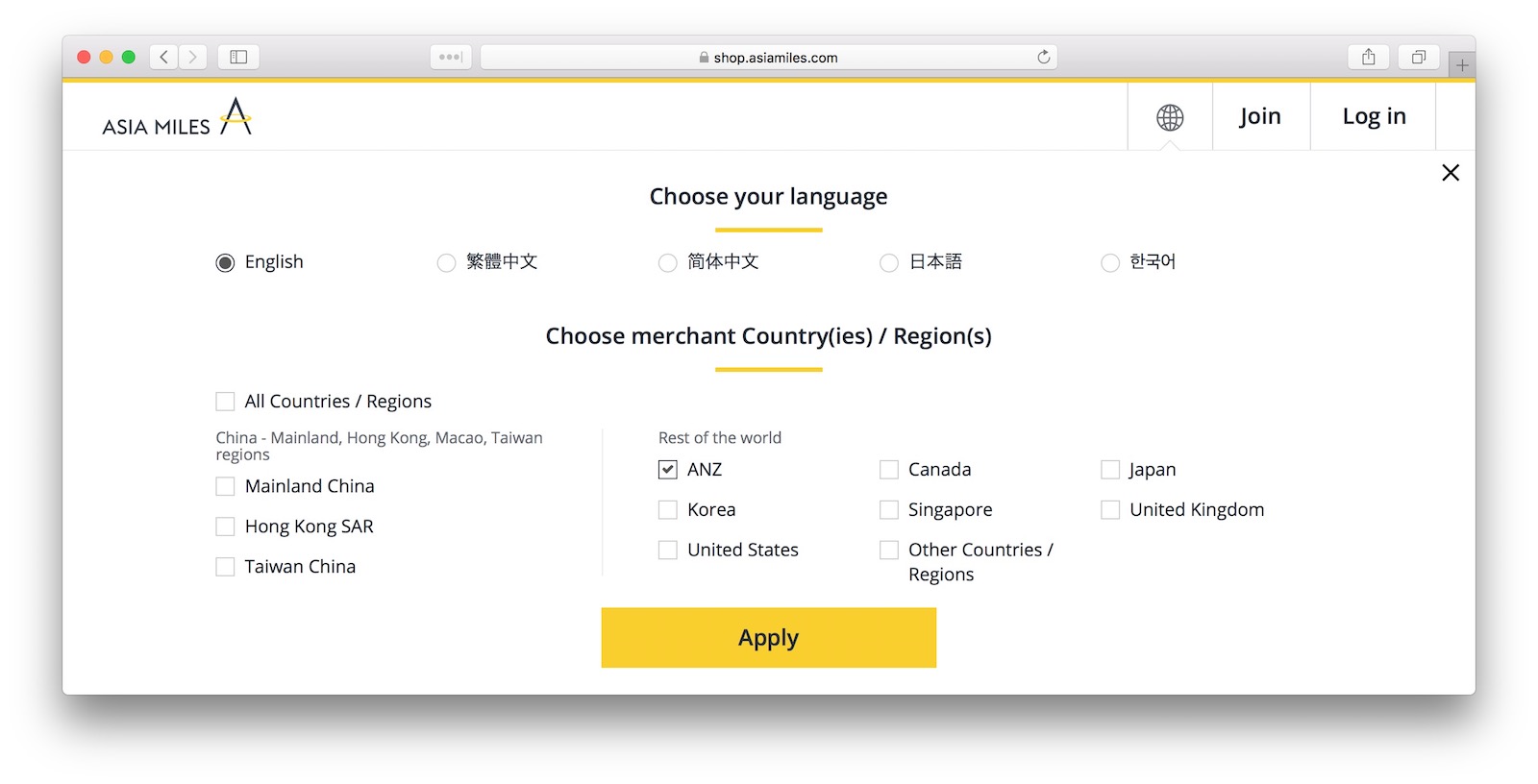 What Australian retailers are partners with Asia Miles iShop?
For a complete list of Asia Miles iShop partners, please click here.
All up there around 50-60 retailers available to Australian purchasers in the Asia miles iShop right now.
There are also a heap of other retailers in other regions too, so if you regularly shop with dedicated overseas retailers who ship to Australia (or to an overseas address) they may be included in the iShop too.
What do I need to know when using Asia Miles iShop?
To ensure that you receive your Asia miles, you'll need to make sure that:
You log in to your Cathay miles account on the iShop website before you check out from the retailer (you should be prompted if you haven't already logged in)
You should note the transaction details and follow up with a missing miles request if you don't get the miles, especially for big-ticket purchases
As with all online malls, it is imperative to ensure that your cookies are activated for the site to be able to track your purchases.
Summing up
Because iShop purchases earn on a per US$1 basis (usually) and the currency conversion that is used is not transparent, it makes it hard to compare between retailers. In most cases, the earn rates are usually comparable on a like-for-like basis to programs like Velocity.
But if you are a member of Cathay miles and want to boost your balance to use for flight redemptions such as Qantas and Cathay Pacific Business Class, then shopping through iShop could be a great way to earn more miles.
Point Hacks has a 'Bonus Points Earn Finder' tool which is updated every few months with the latest earn rates from a range of online malls. Be sure to take a look to ensure you're getting the best rate.
Earn Asia Miles through Asia Miles iShop
was last modified:
March 10th, 2023
by