Here at New York JFK, Delta's main Sky Club is anything but ordinary. In fact, I'd go so far as saying it's one of Delta's best lounges – and over the years, I've seen a fair few. Building upon the standard features travellers expect, this JFK location pushes things further with a glorious outdoor Sky Deck.
Sure, Delta and Virgin Australia are no longer partners – which means Velocity status no longer gets you inside. But as it happens, there are plenty of other shiny cards that permit entry. Even some American Express cards from Australia do the trick. We've got all these details and more. So let's begin!
Location
There's a lot changing at JFK. For starters, Terminal 2 is now permanently closed. It was previously used by Delta for additional capacity, beyond its primary home in Terminal 4. T2 was also handy in that it housed a separate Sky Club to ease the squeeze. But now, all Delta flights are consolidated at T4, meaning there's a bigger demand for lounges here.
Fortunately, Delta is keeping up, with the airline opening a second flagship-style Sky Club within JFK's Terminal 4 earlier this year. As luck would have it, this lounge opens its doors the very next day after I fly back from New York. Drat, just missed it. But my journey still gives me a great opportunity to revisit Delta's long-serving lounge: the 'original' flagship.
First impressions are great. To be honest, based on a number of recent US blog posts, I'd expected a long queue out the door of travellers waiting to get in. But even departing New York on a busy Monday morning, I'm straight inside. No wait, no fuss – just a warm welcome. We're off to a good start.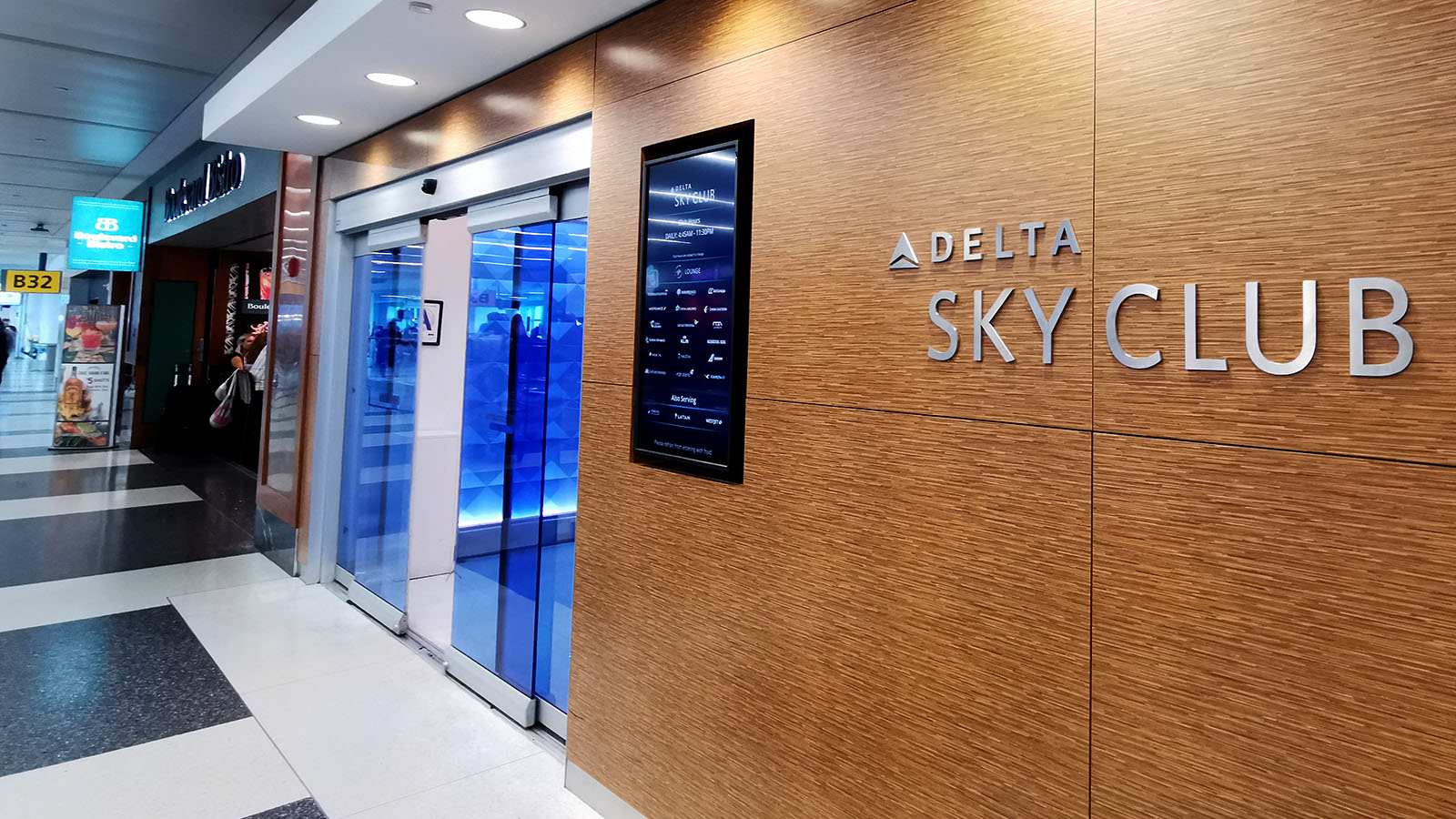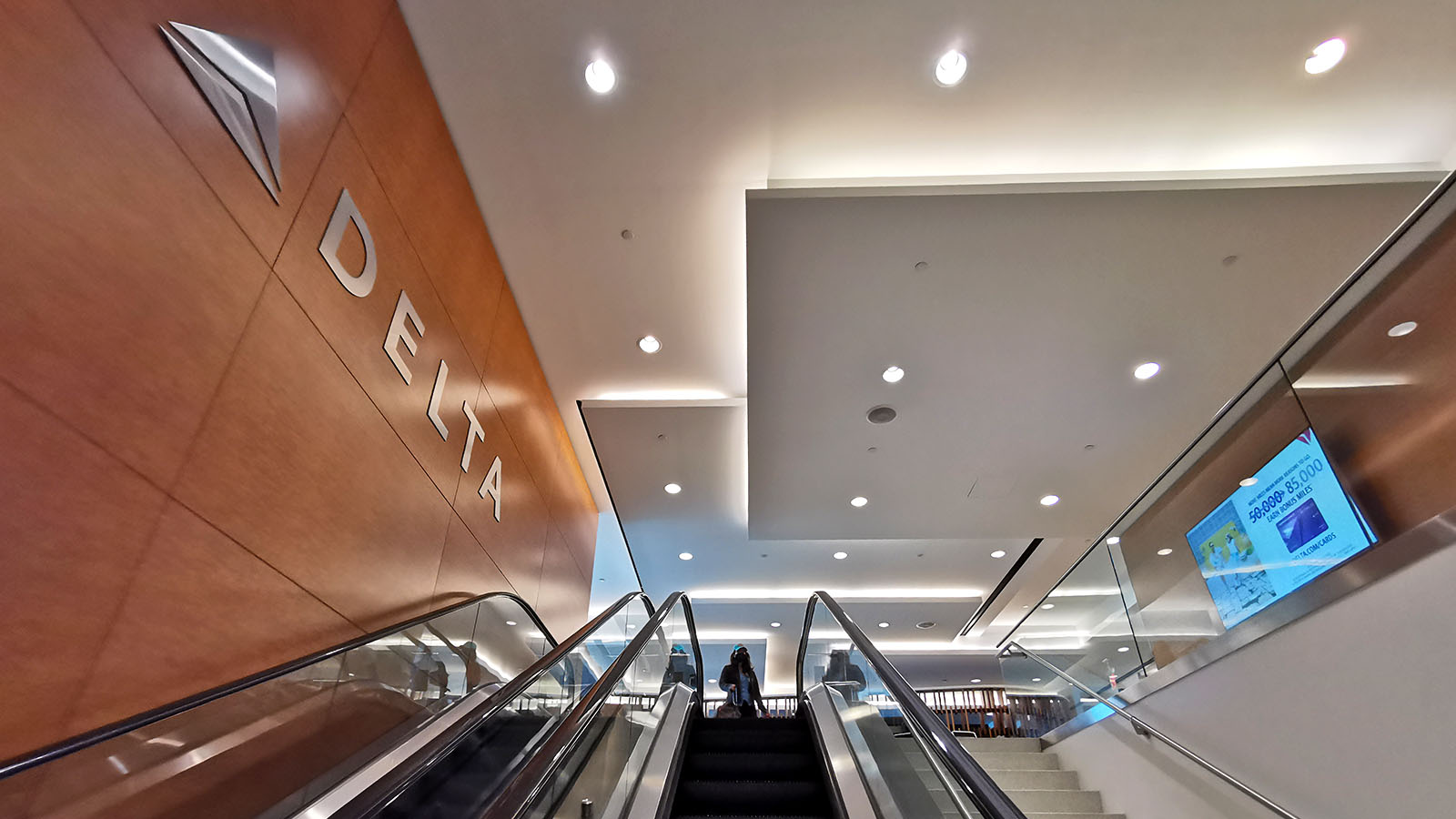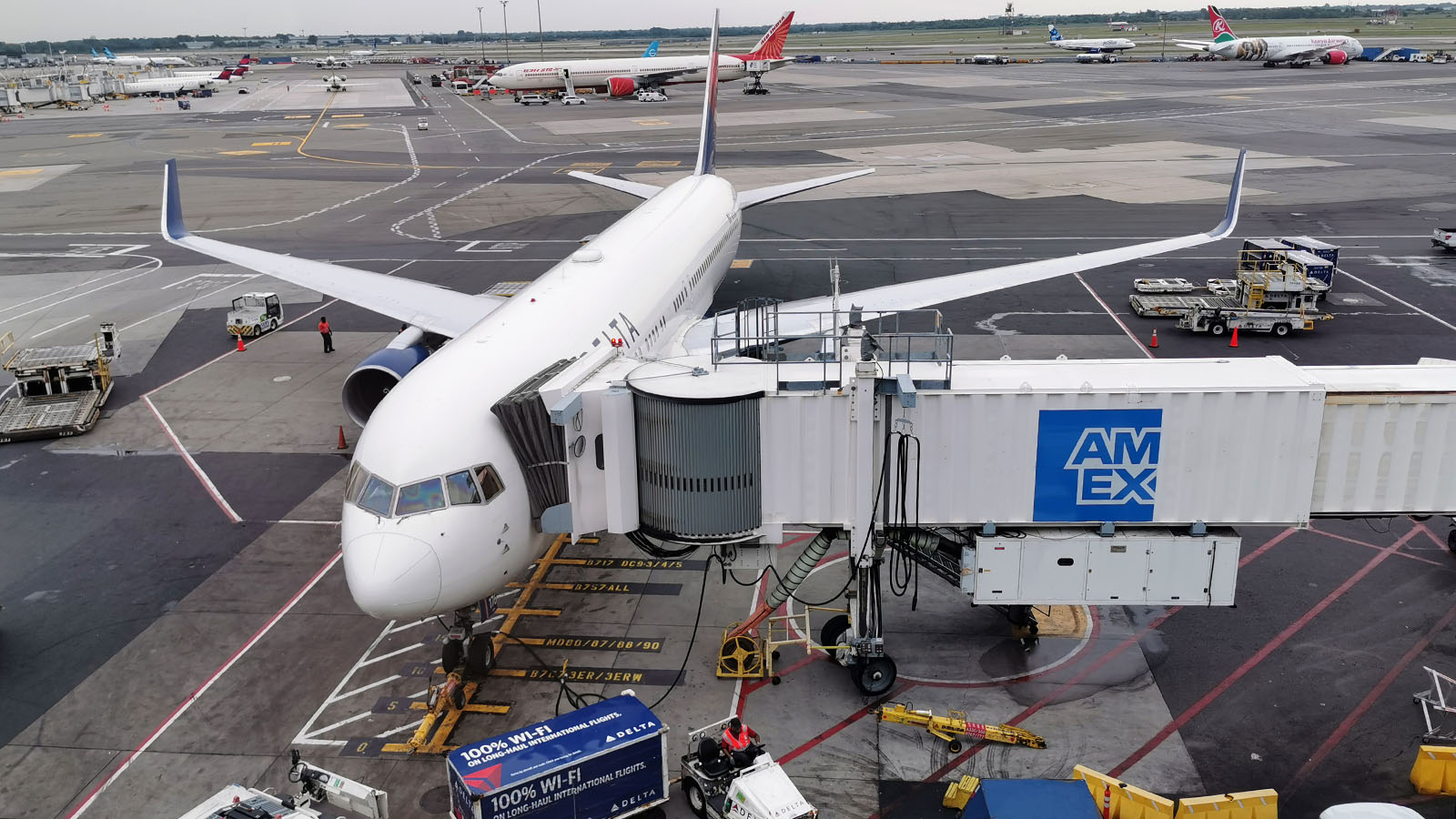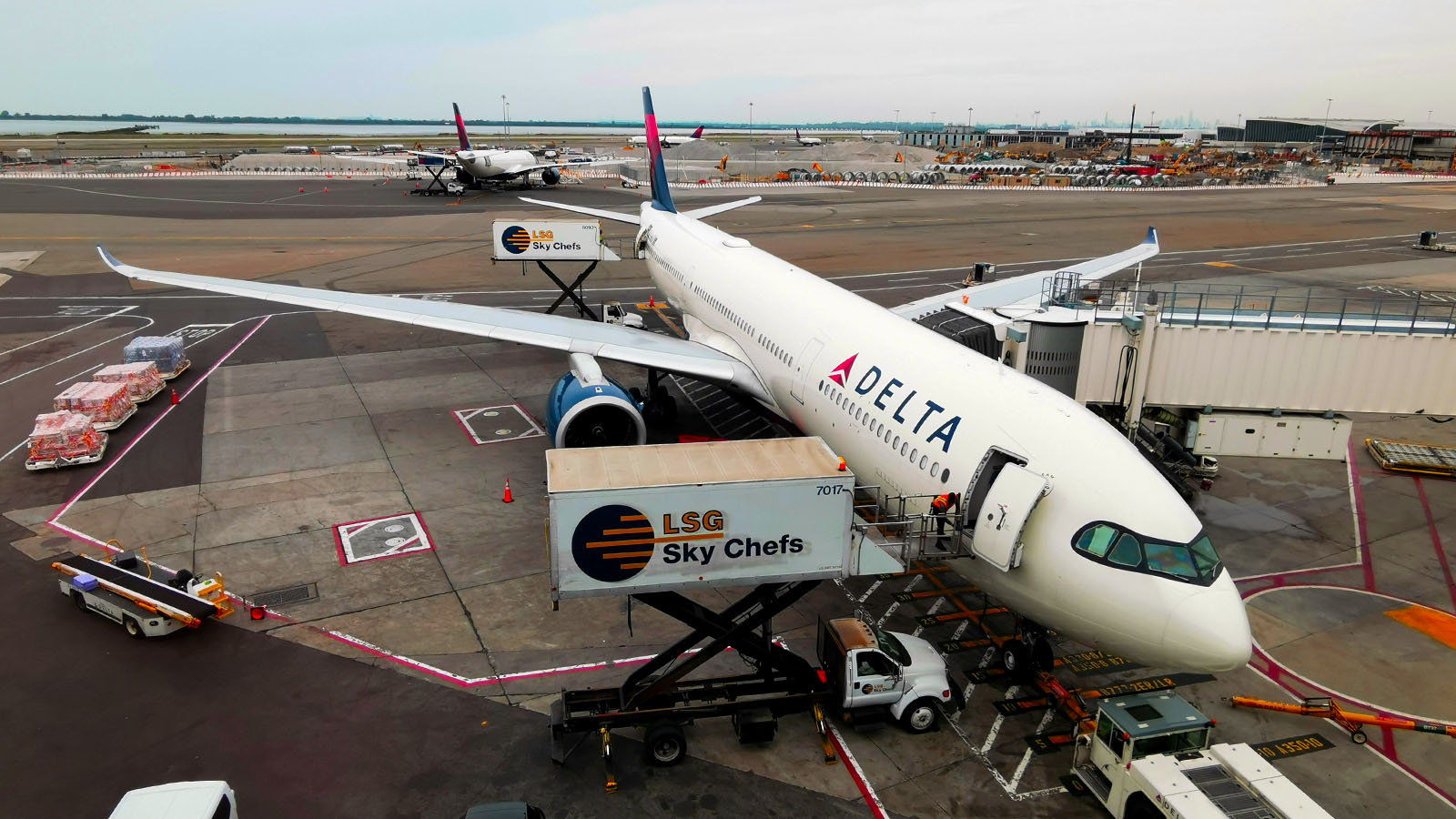 Within JFK Terminal 4, this Delta Sky Club resides along Concourse B. If you're beginning your journey in New York, head downstairs after security. Follow the general flow of the terminal and the Sky Club will pop up on your right. It's close to gate 31, and it's hard to miss Delta's signature frosted blue doors. They'll take you inside and up an escalator where staff are ready to greet you. You can also process yourself into the lounge via one of many self-serve kiosks.
This Delta Sky Club opens daily at 4:45 am and closes at 11:30 pm.
Layout and seating
This has been Delta's key New York JFK Sky Club for many years. So it's great to see the tweaks and updates made to the space over time. This isn't one of those lounges that open and simply remain the same for years on end. It's seemingly always evolving, and looks noticeably fresher than on my most recent visit.
You don't have to wander far from reception to settle in. Turning left finds a sea of comfortable seats. Whether you're looking to relax with a drink, watch some TV, get a bit of work done or just enjoy the airport views, options are plentiful. But what I really like is that the vast majority of seats have easy access to power. This means you don't need to sit in a 'working' area just to juice up your phone. Or indeed, sit at a working bench to use your laptop plugged in.
As in any lounge, it's always worth a stroll before you cosy up and choose a seat. You'll often find the best options last. This proves to be true yet again, where a wander uncovers a long table perfect for groups to dine or work. Meandering even further finds some very comfortable, wave-style seats – my choice for the day.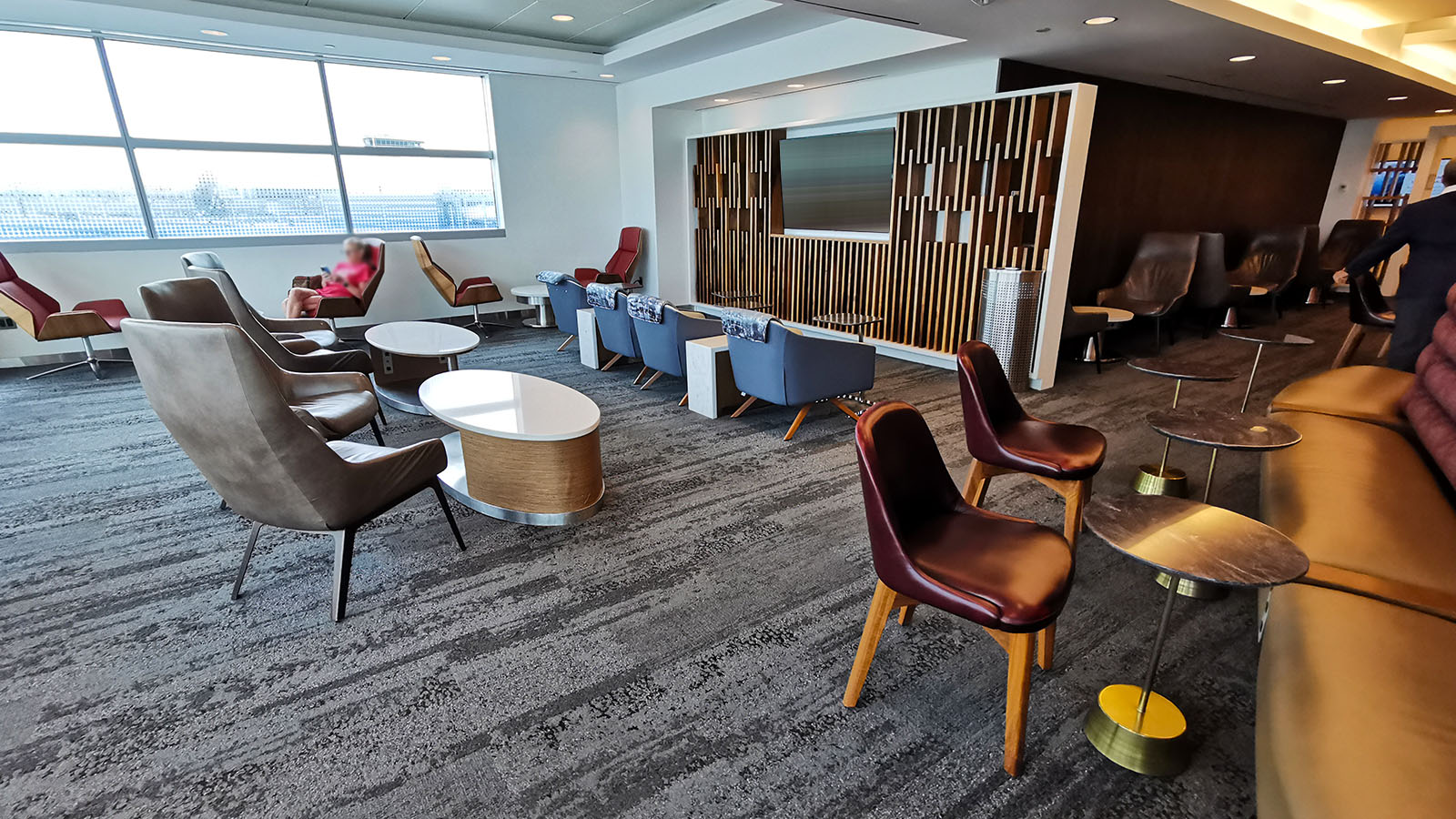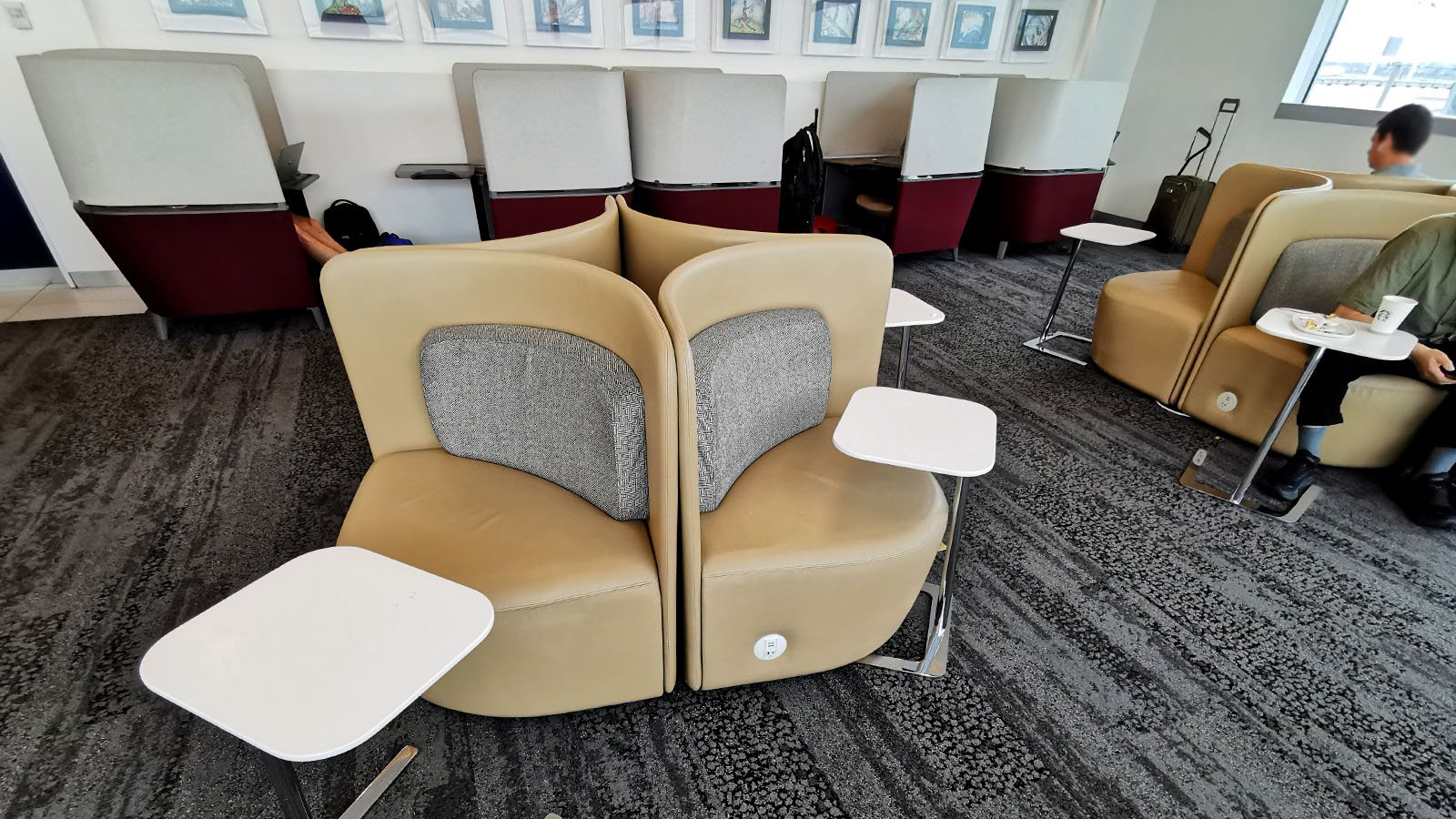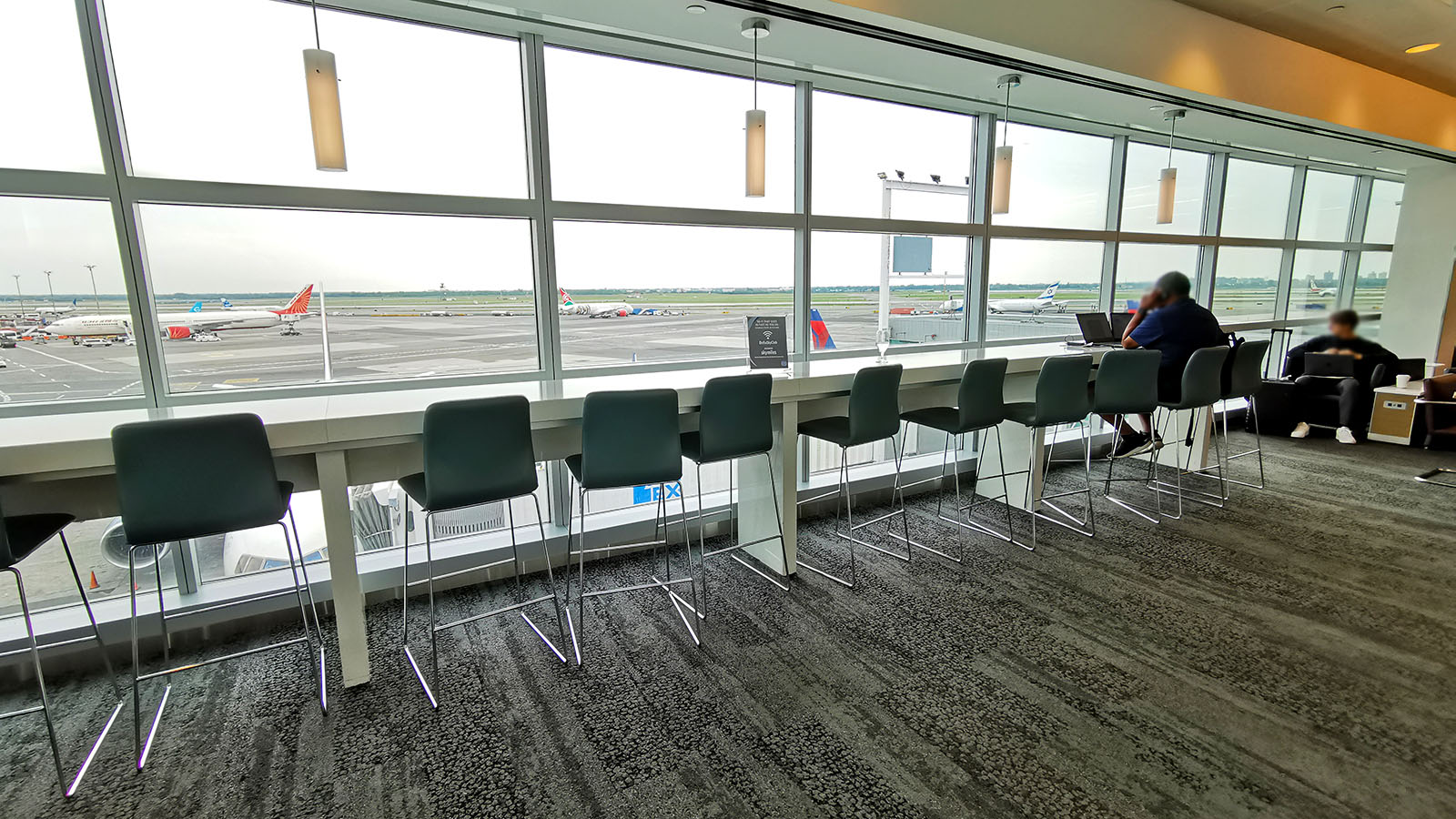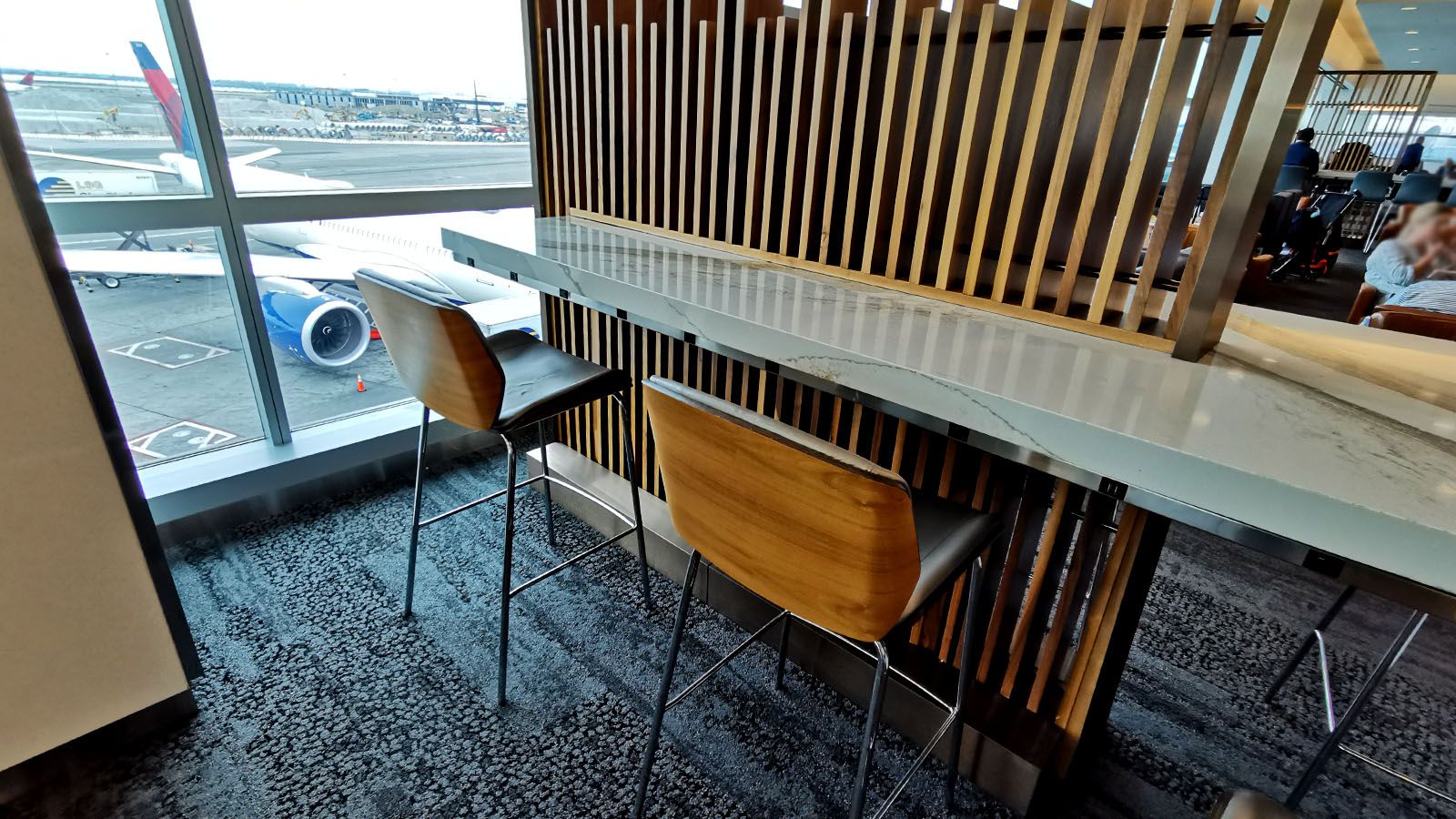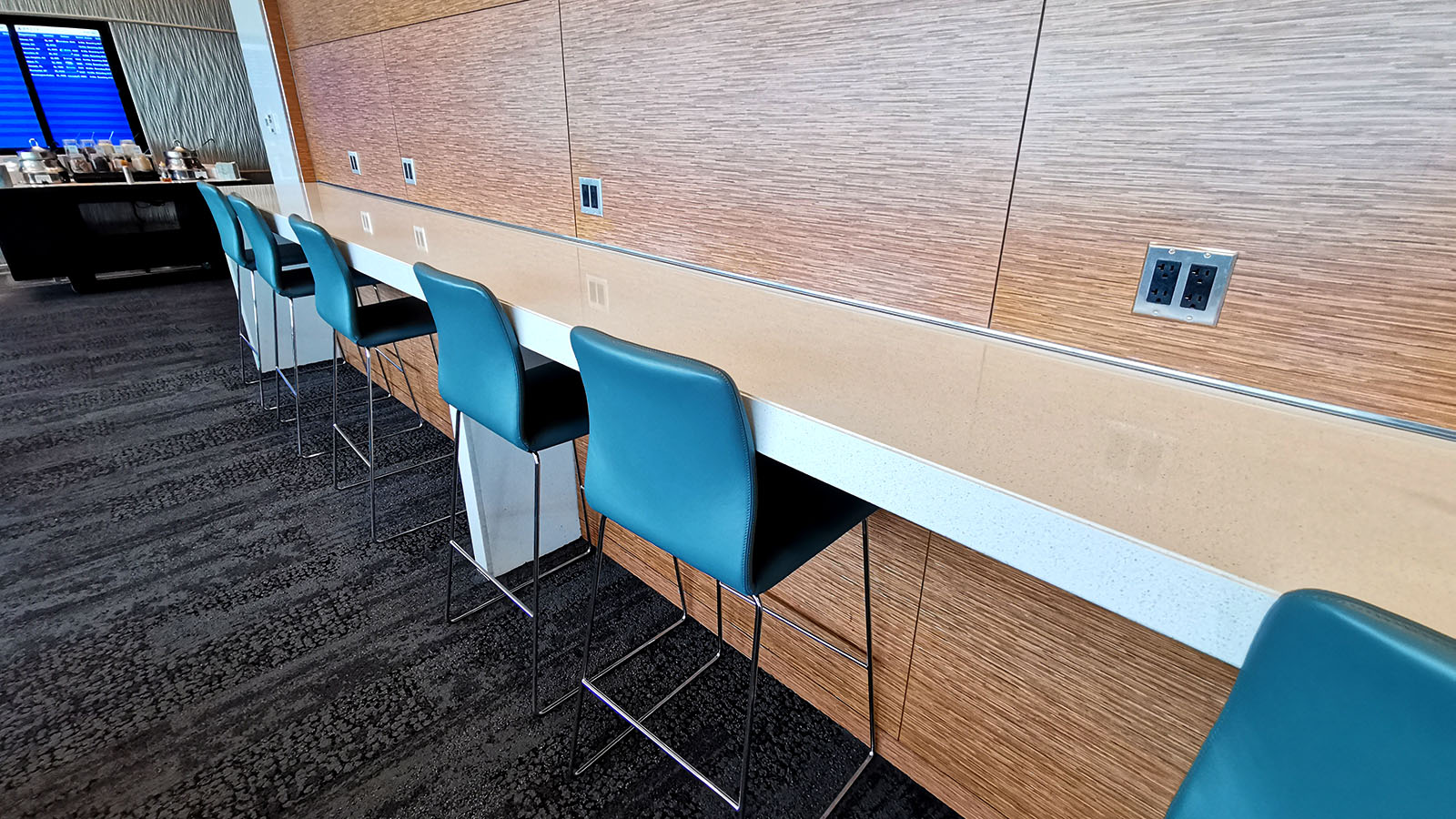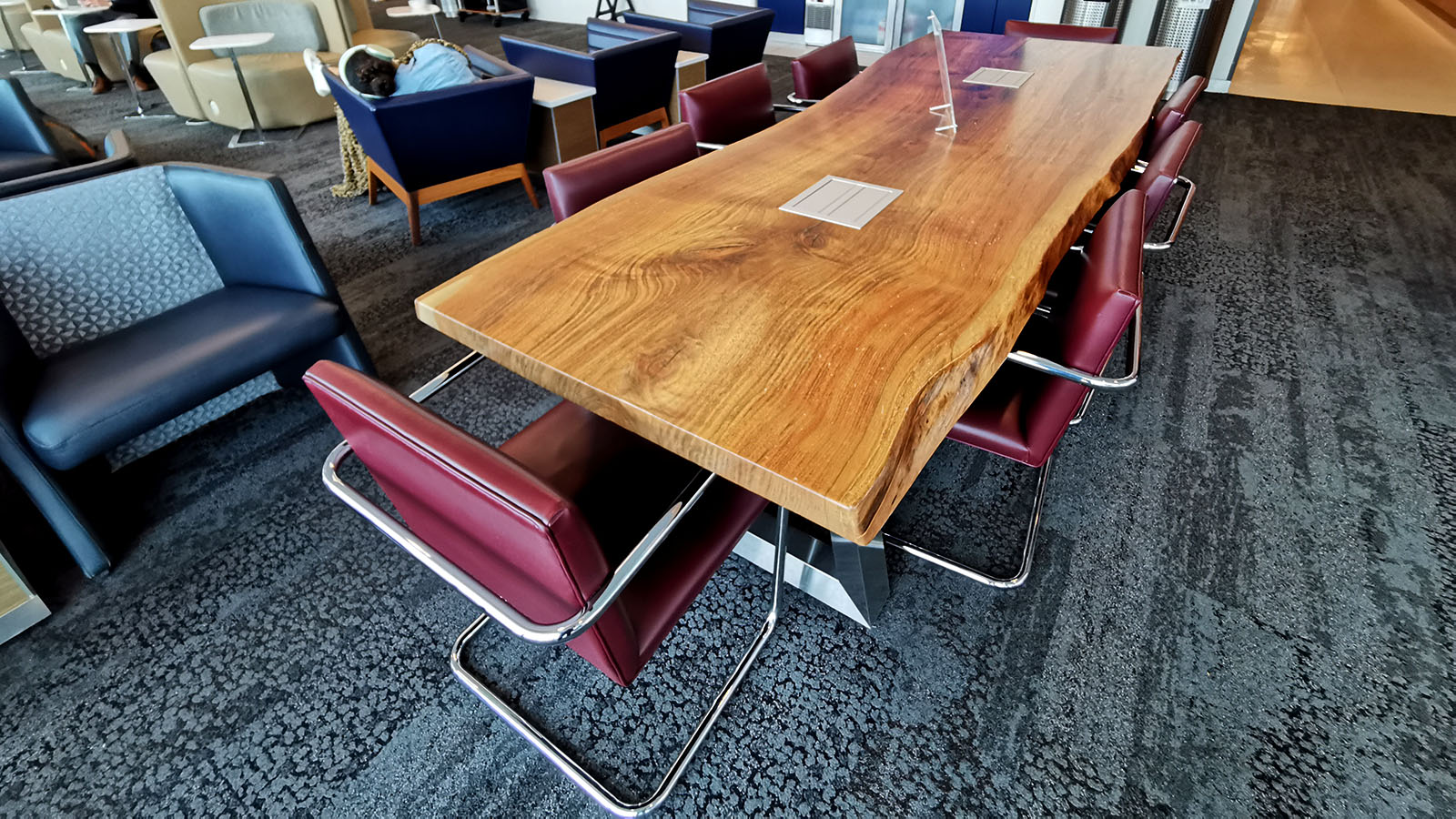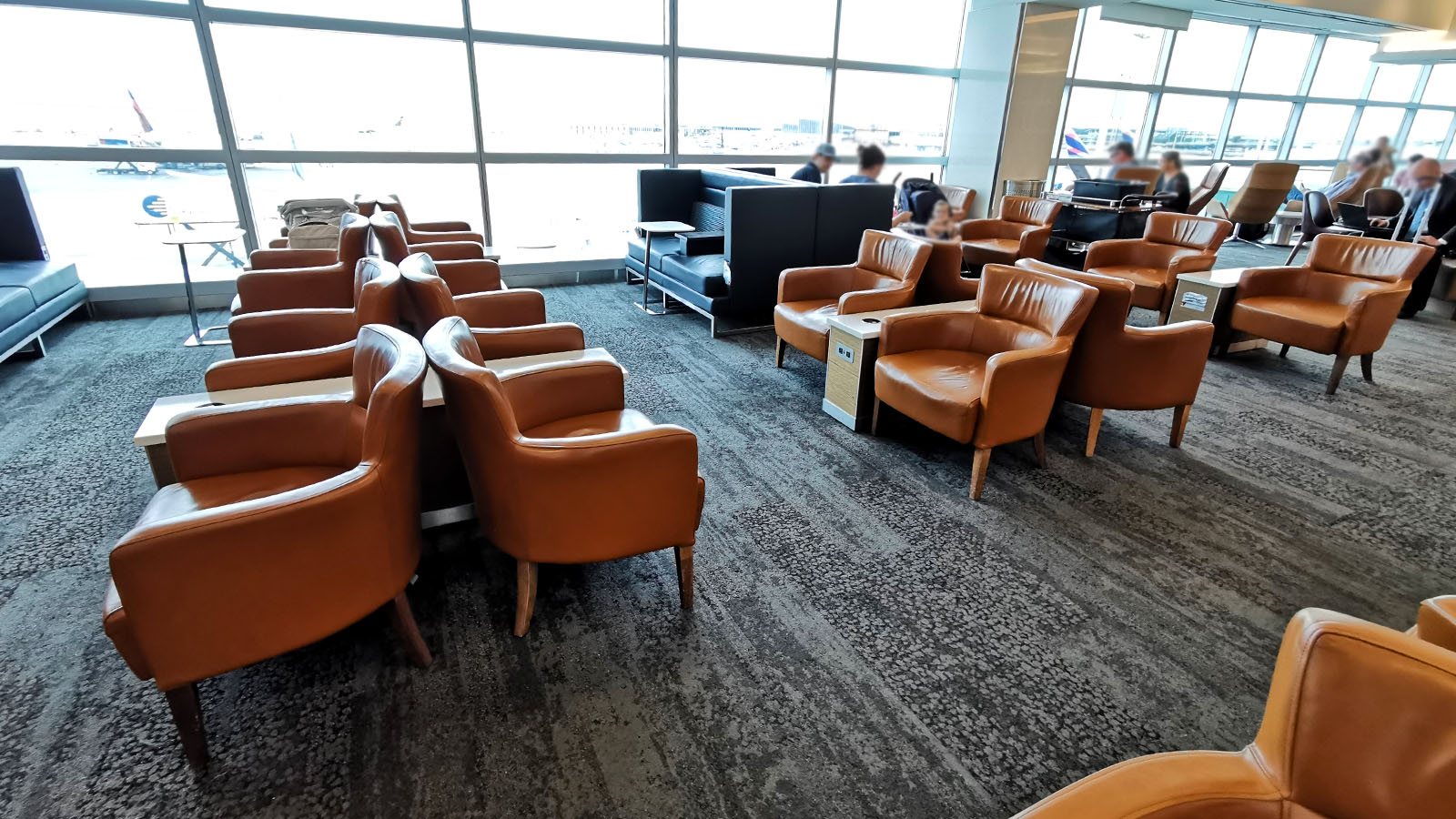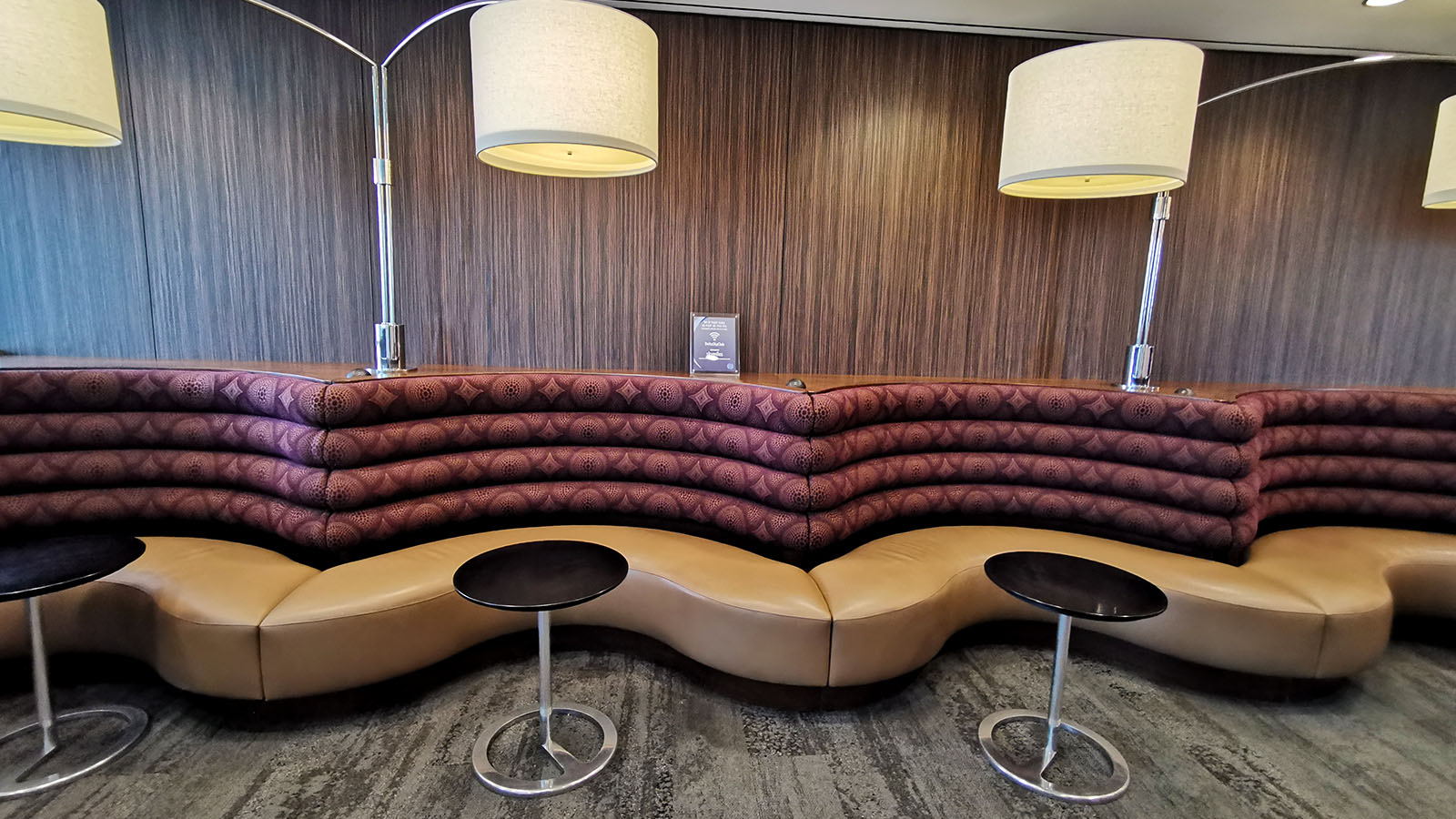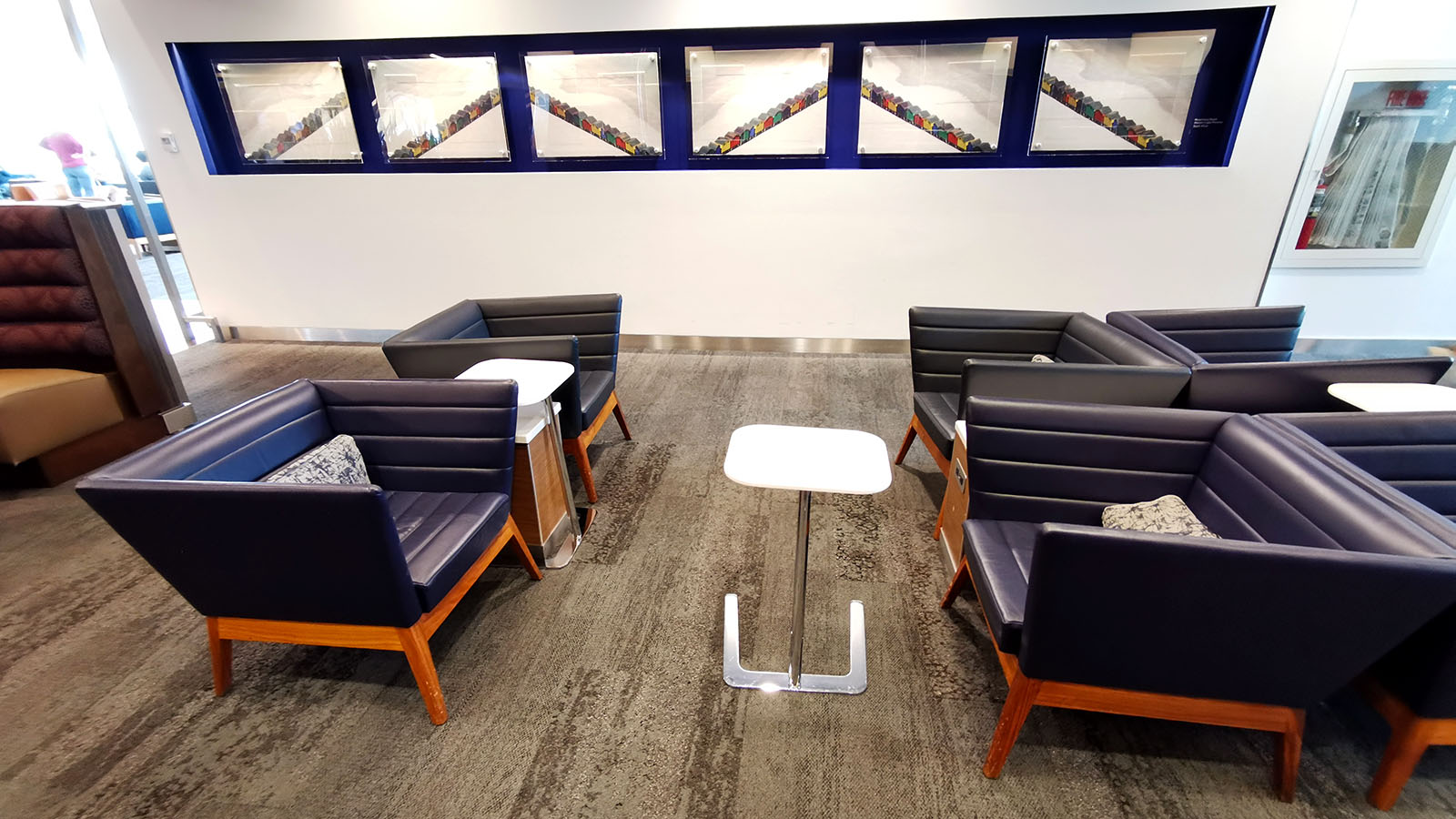 Remember how I said power points are plentiful? I really would be here all day if trying to count them. Take those curved purple seats, for instance. Power points are above the seat, positioned atop each wave. In other seats, they're in the armrests – or within the walls, or the tables, or even down by your feet. This is one lounge where a flat battery really isn't a problem.
Design-wise, it's a large lounge, but every nook almost feels like a separate room. This gives Delta's main JFK Sky Club a distinct premium feel, rather than a more typical 'busy lounge' vibe.
Food and beverage in the Delta Sky Club at New York JFK T4B
Another change at Delta's JFK Sky Club is to the lounge's food and beverage service. Years ago – and we're talking well back into the 'before times', pre-pandemic – there was a restaurant with à la carte dining and table service. But to partake, you had to pay: even if flying in Delta One – the airline's long-haul and transcontinental Business Class cabin.
Rather than fine dining though, dishes were more cafe-style. It was filling food, but positioned more as an 'upsell' to a buffet that wasn't well-stocked. Fast-forward to today and that restaurant is gone, but the buffet is far more generous. While I usually prefer à la carte over self-serve, given the range of food on offer, I'm glad they've moved to the latter.
Arriving at breakfast time, there's a solid selection of hot items. Hash browns, sausages, potatoes and mini quiches headline the day. They're complemented by chilled fruits, yoghurts, boiled eggs, breads, spreads and muesli. There's a bagel station too that invites creativity. Rather than plain cream cheese, I make half a bagel with the homemade salmon and cream cheese mix. The bacon and cream cheese mix wins the other half.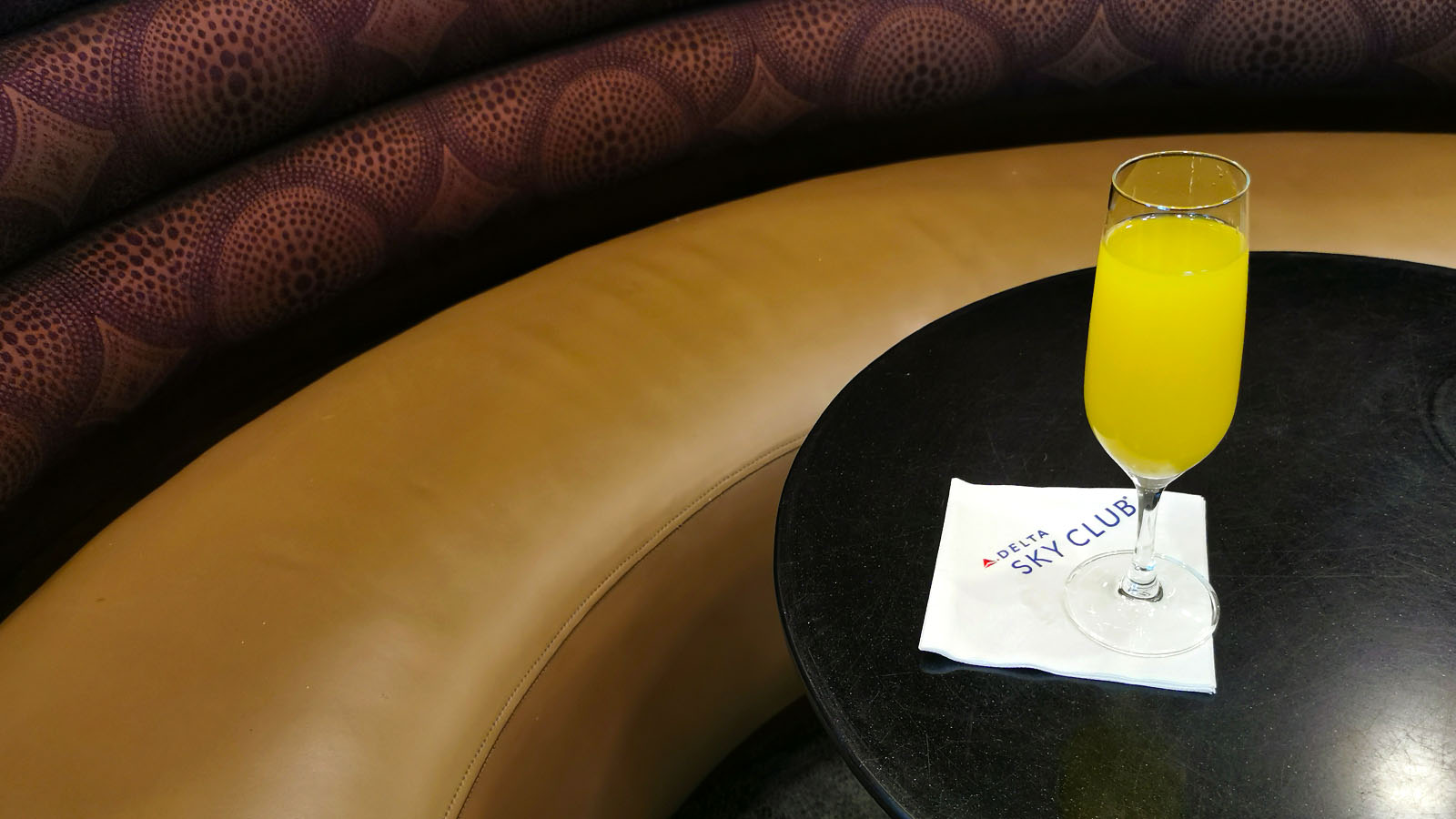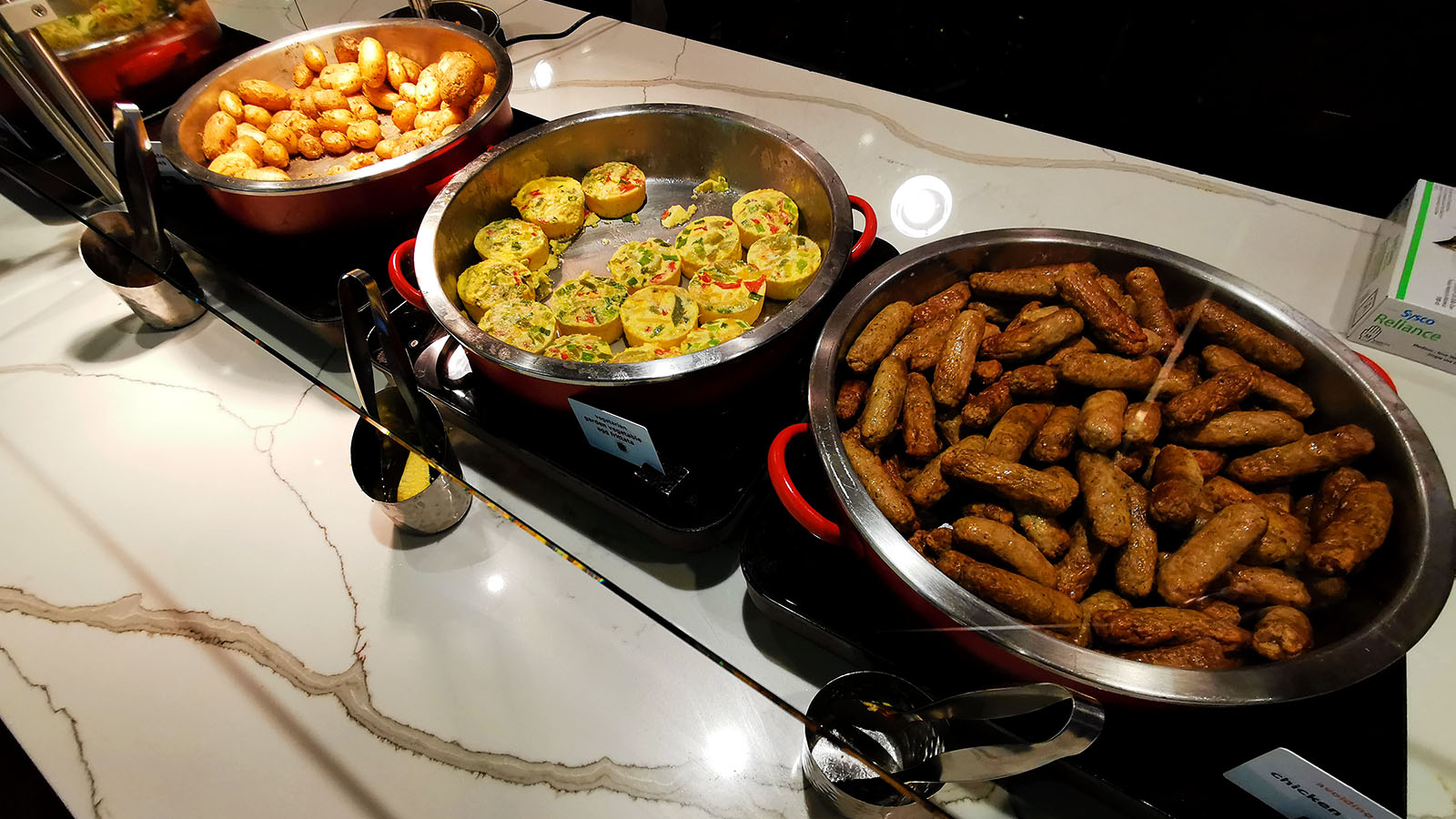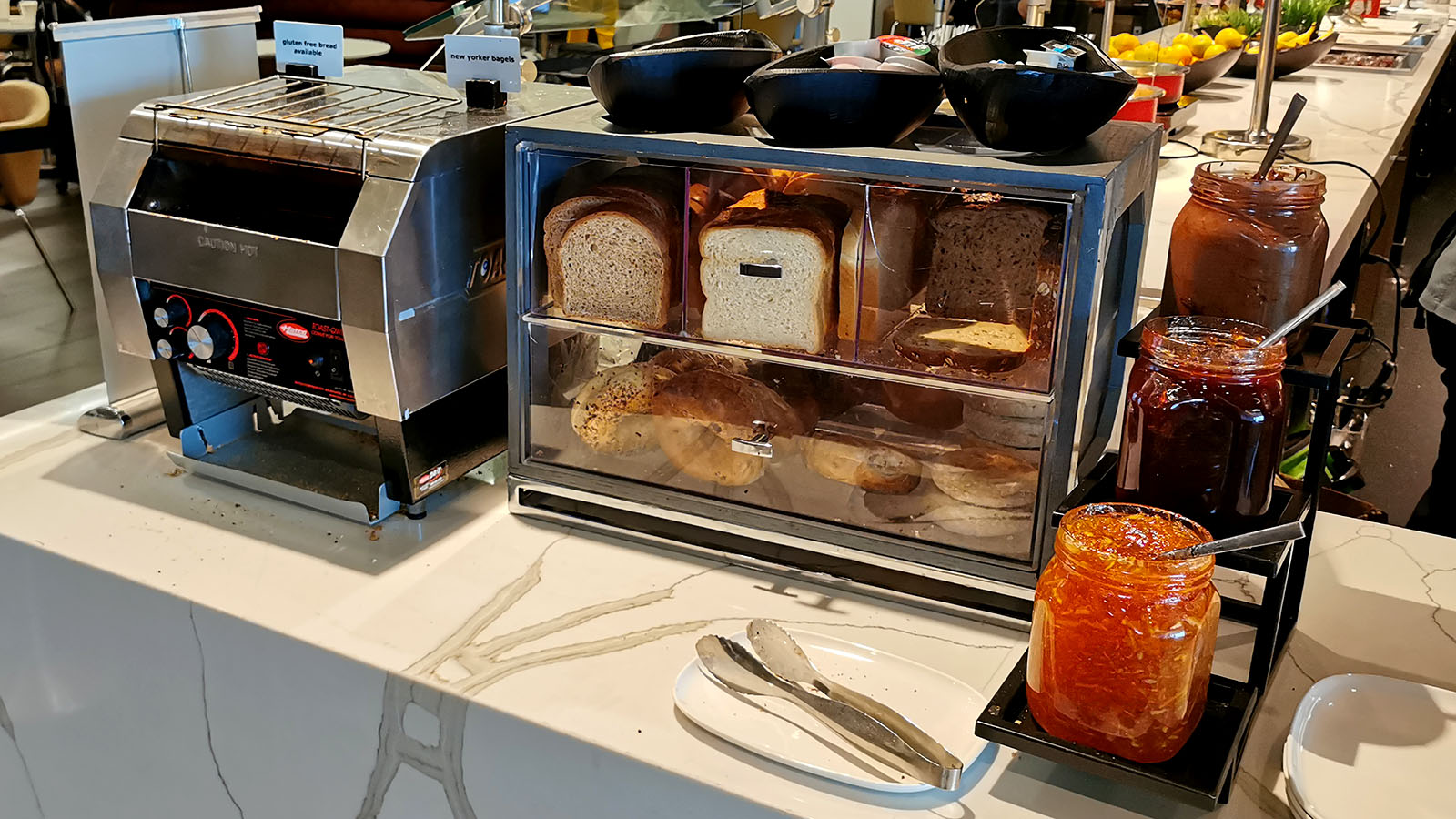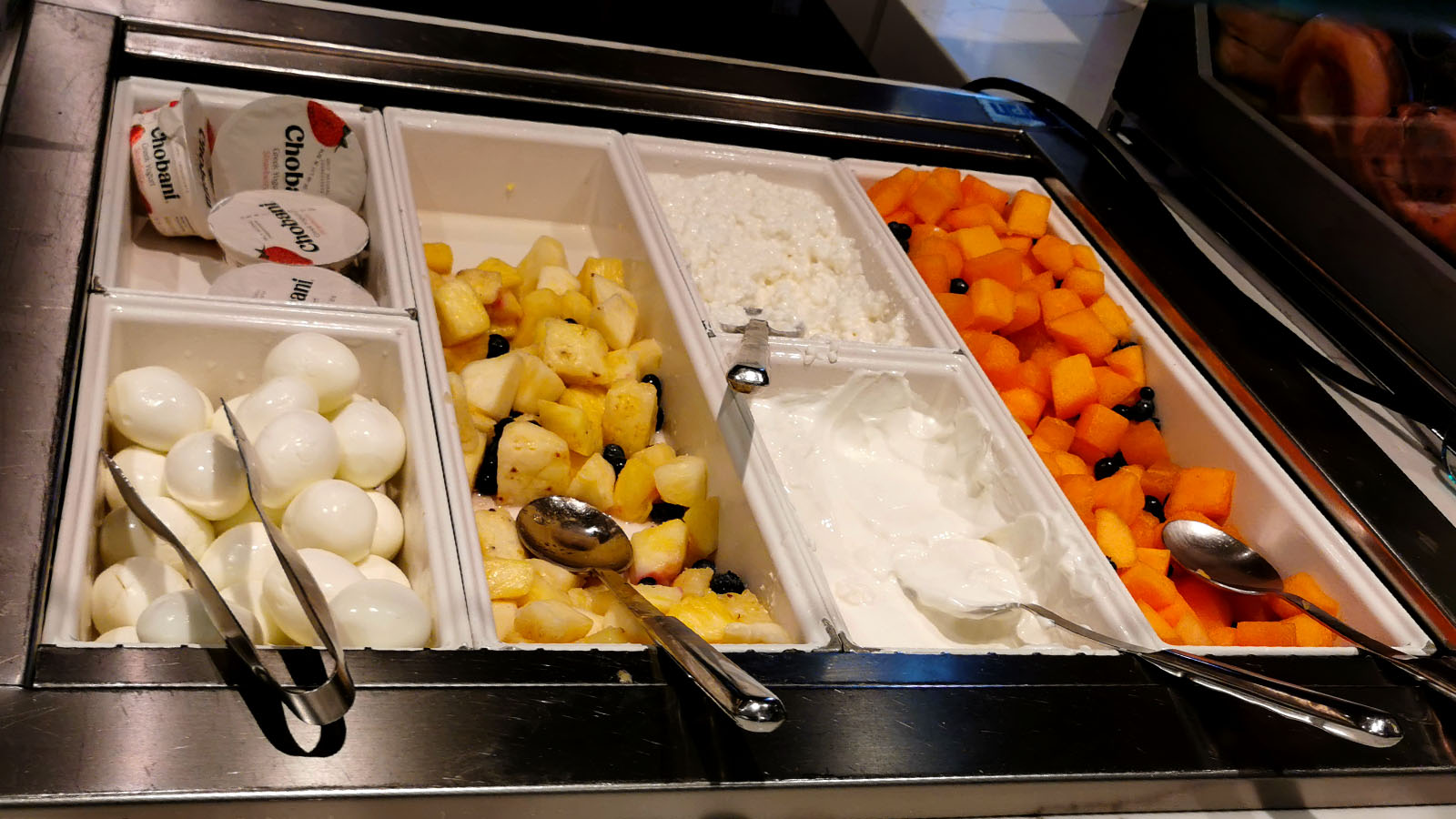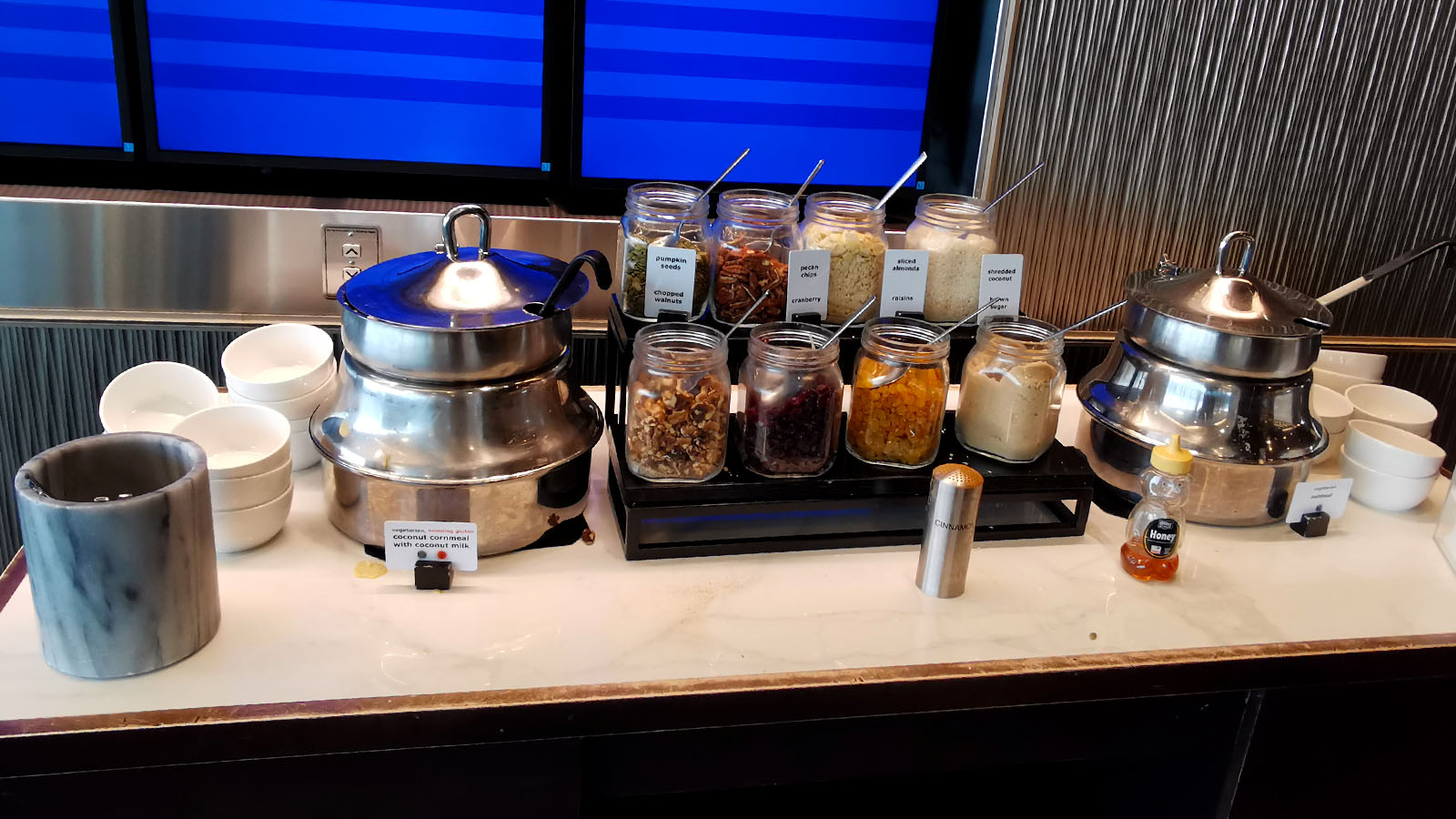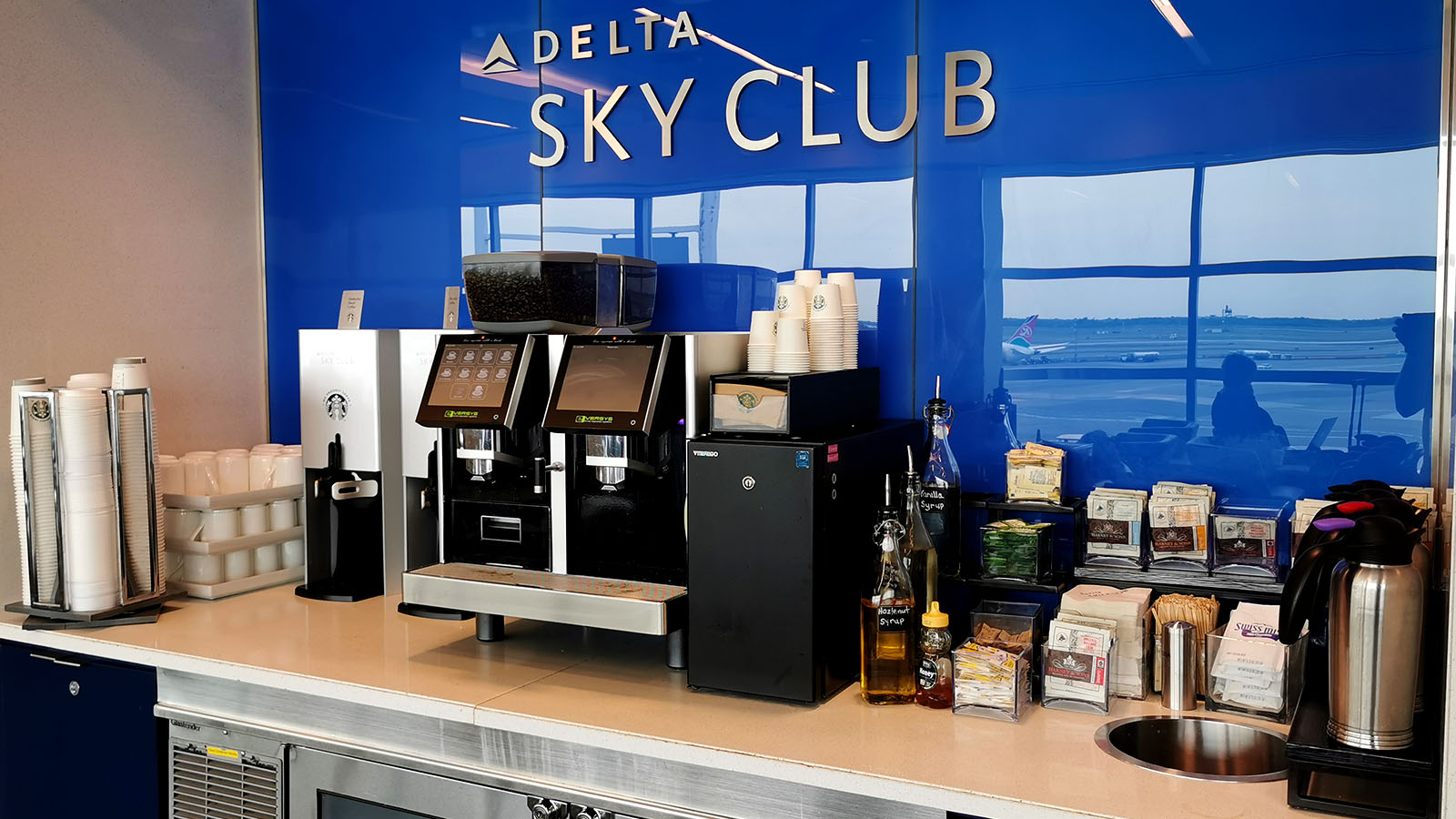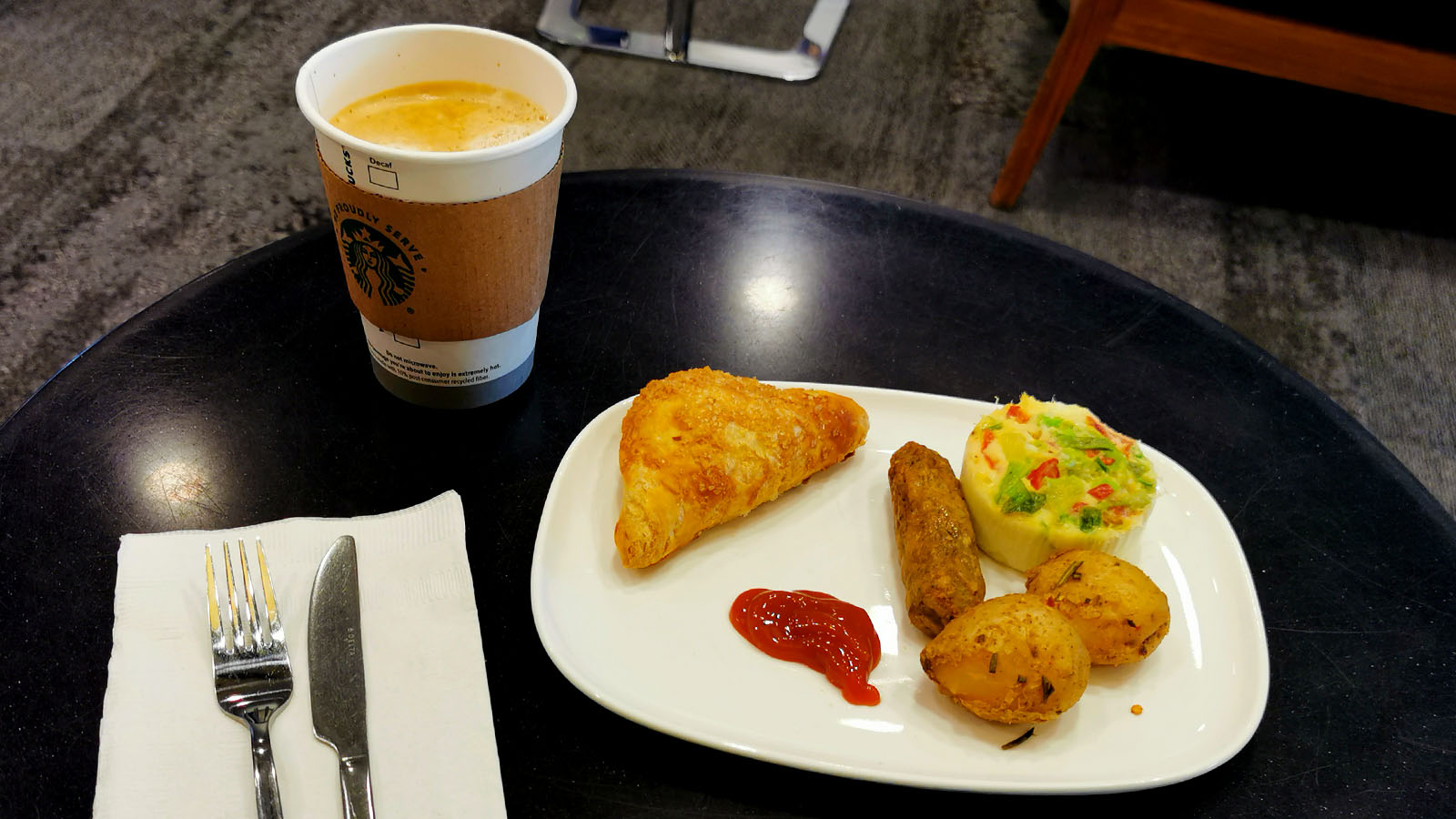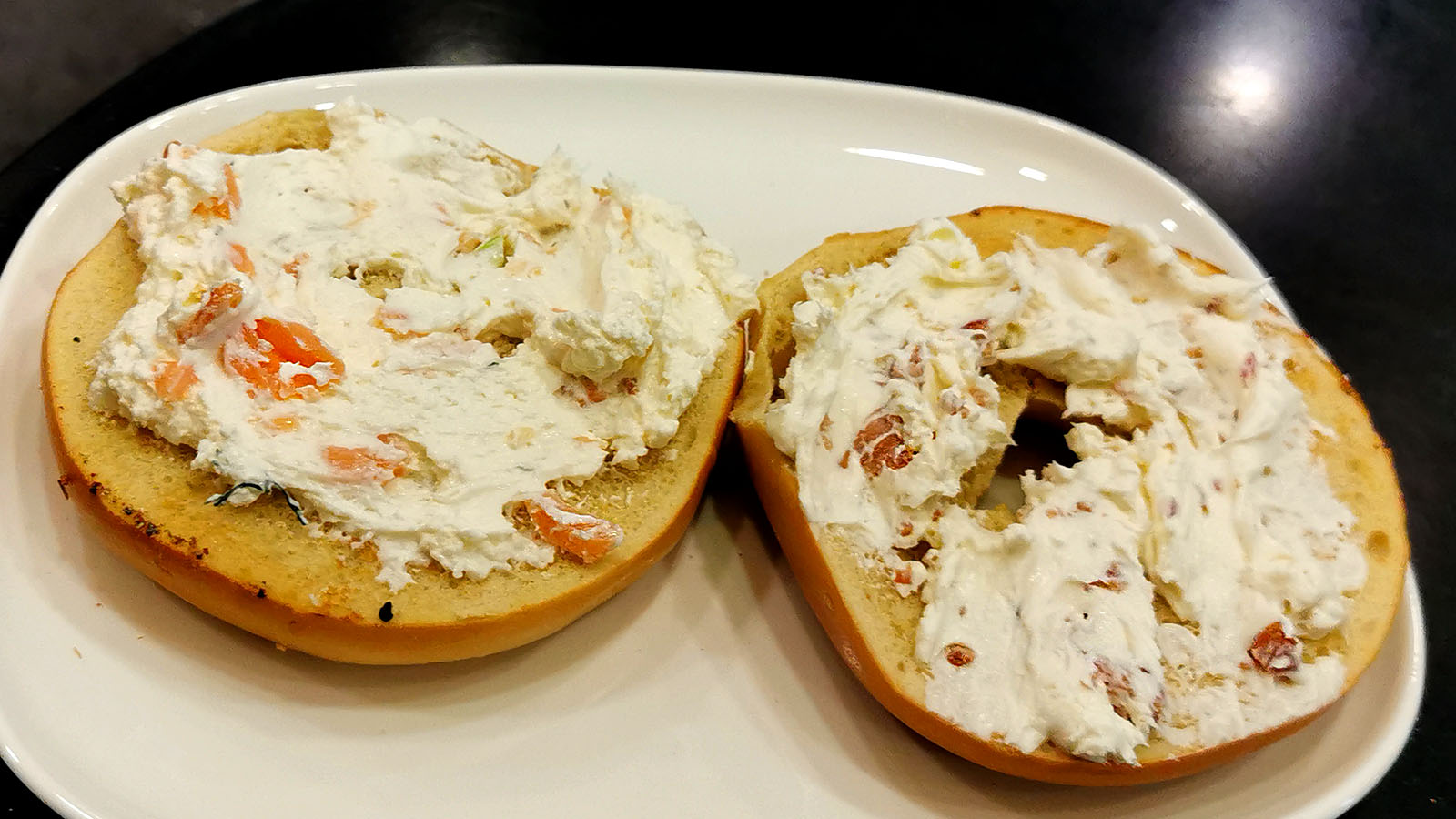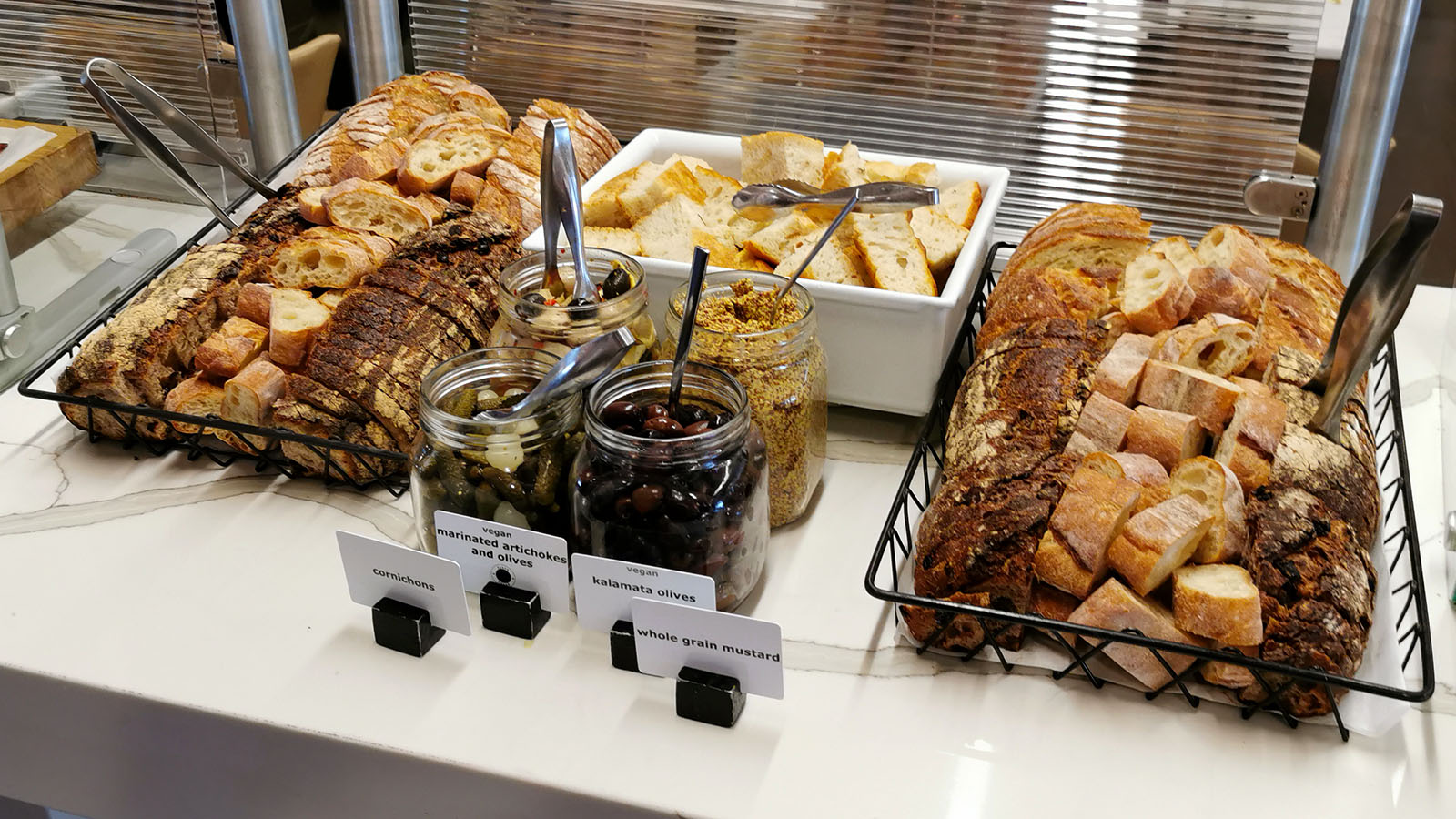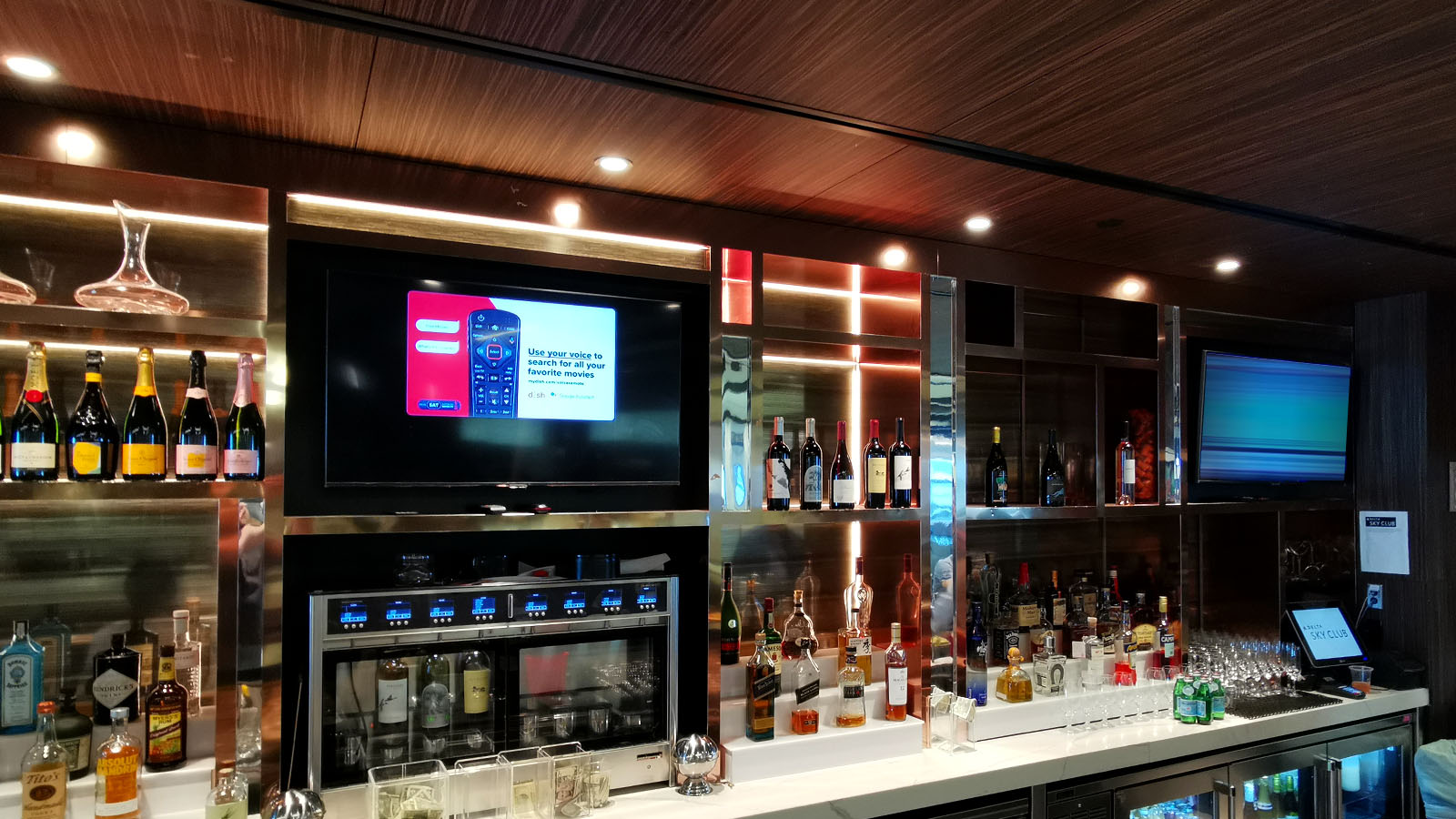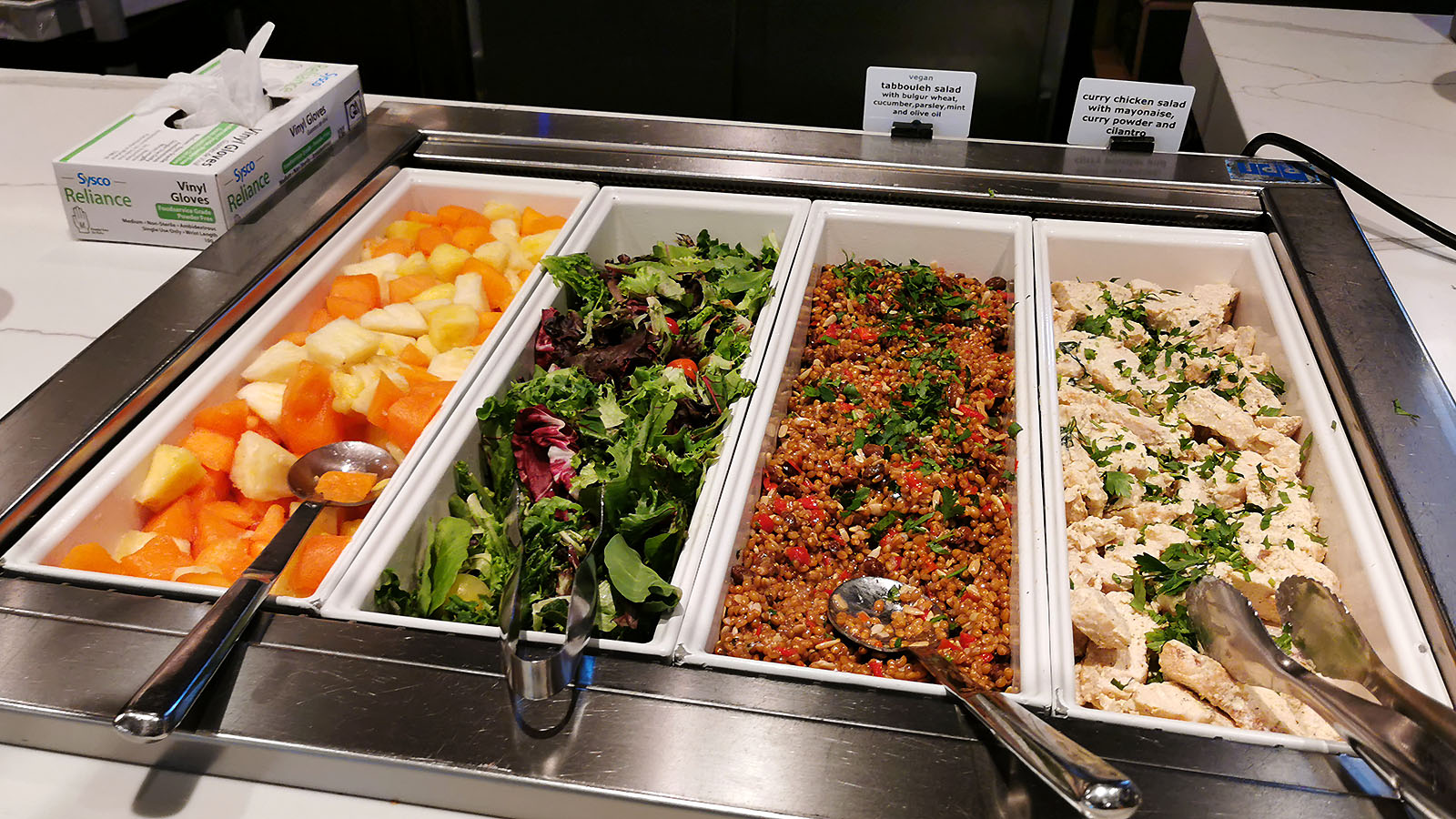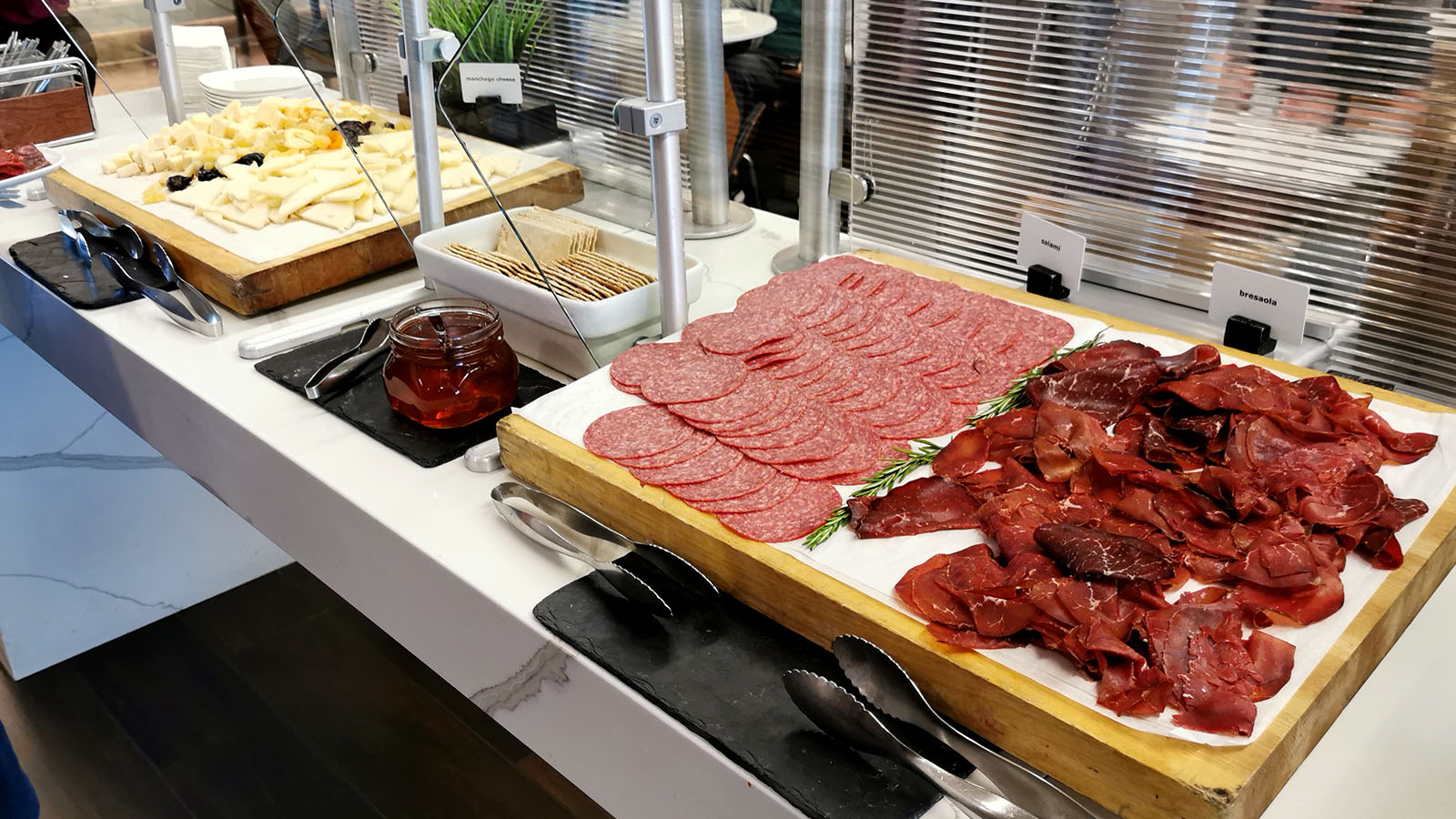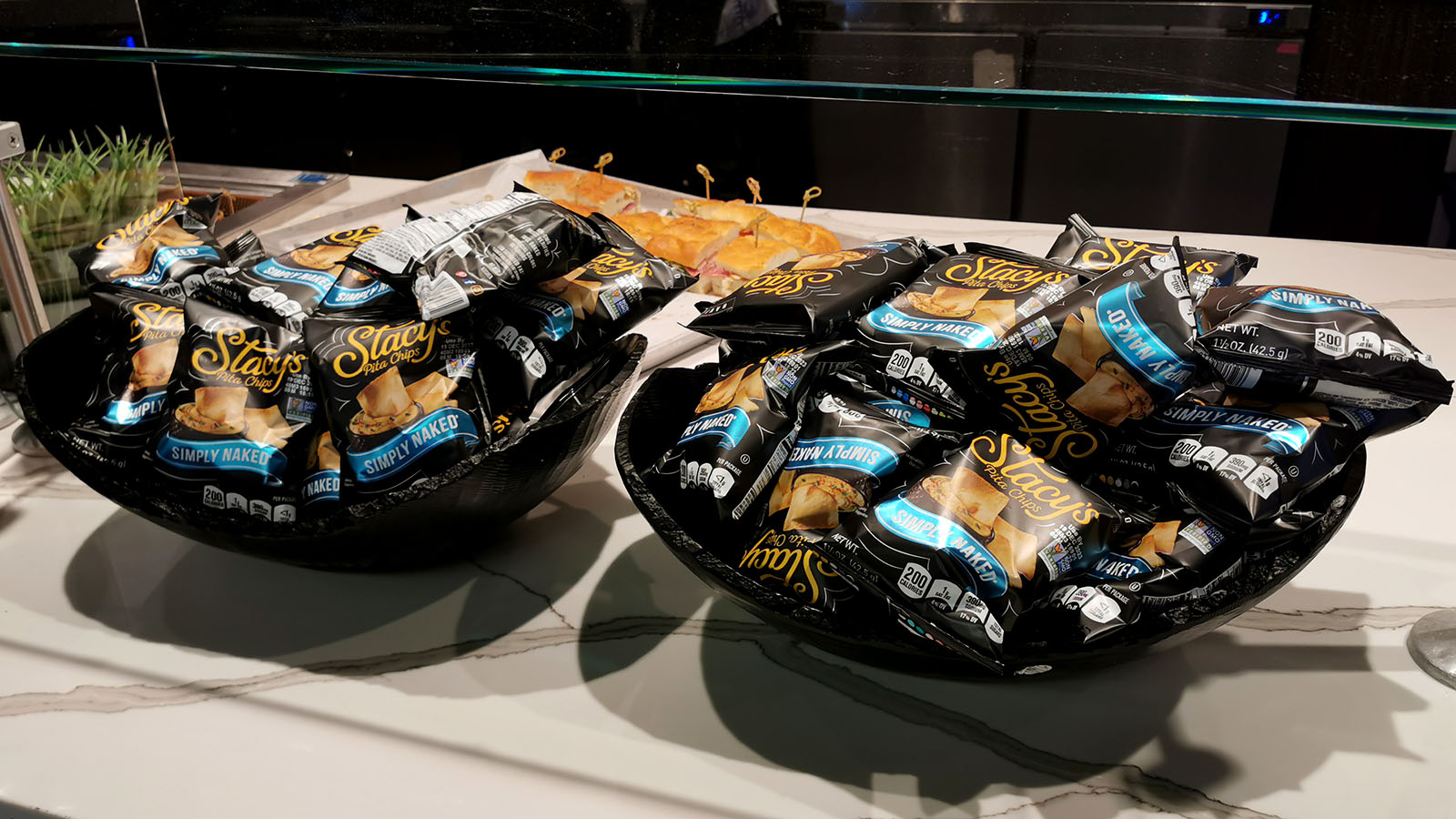 After breakfast, I'm in a 'toasting' mood. Today's flight is the first of three that brings me home to Brisbane. This short but productive trip has already taken me through Sydney, Los Angeles, London, Oslo, Warsaw, back to London and here to New York. It's been a good journey, so I take the chance to order a mimosa at the bar. Simple drinks like this are complimentary, although tipping is common. Staff always seem to appreciate a simple US$1 bill for an easy pour.
I leave the lounge just as lunch is getting set up. I spot a salad corner, a charcuterie station, cookies, brownies and more. Hot food choices at the Sky Club buffet also appear substantial, but my flight from JFK to LA is ready to board.
Amenities in the Delta Sky Club, New York JFK T4B
Here's where Delta's main JFK Sky Club turns up the heat – and quite literally. Along with the space inside, there's a separate outdoor terrace, branded as the Sky Deck. Funnily enough, every time I've been here in the past, the Sky Deck has been closed. Chalk it up to bad weather. But today, despite there being a 'closed' sign visible along the walkway (which the staff forgot to hide away), it's indeed open. Hooray!
I wander outside and soak up the atmosphere. You literally get a bird's eye view over the airport – and not just of Delta's boarding gates, but those of other airlines too. From even a quick peek, I spot Air India, El Al and Kenya Airways parked nearby. To the Sky Deck itself, most of the seats out here really reflect relaxation.
But I tell you what, the high-top tables down the far end of the Sky Deck make for an interesting workspace. Open up your laptop, get typing away and you soon feel as though you're working right from the airport tarmac – not a lounge.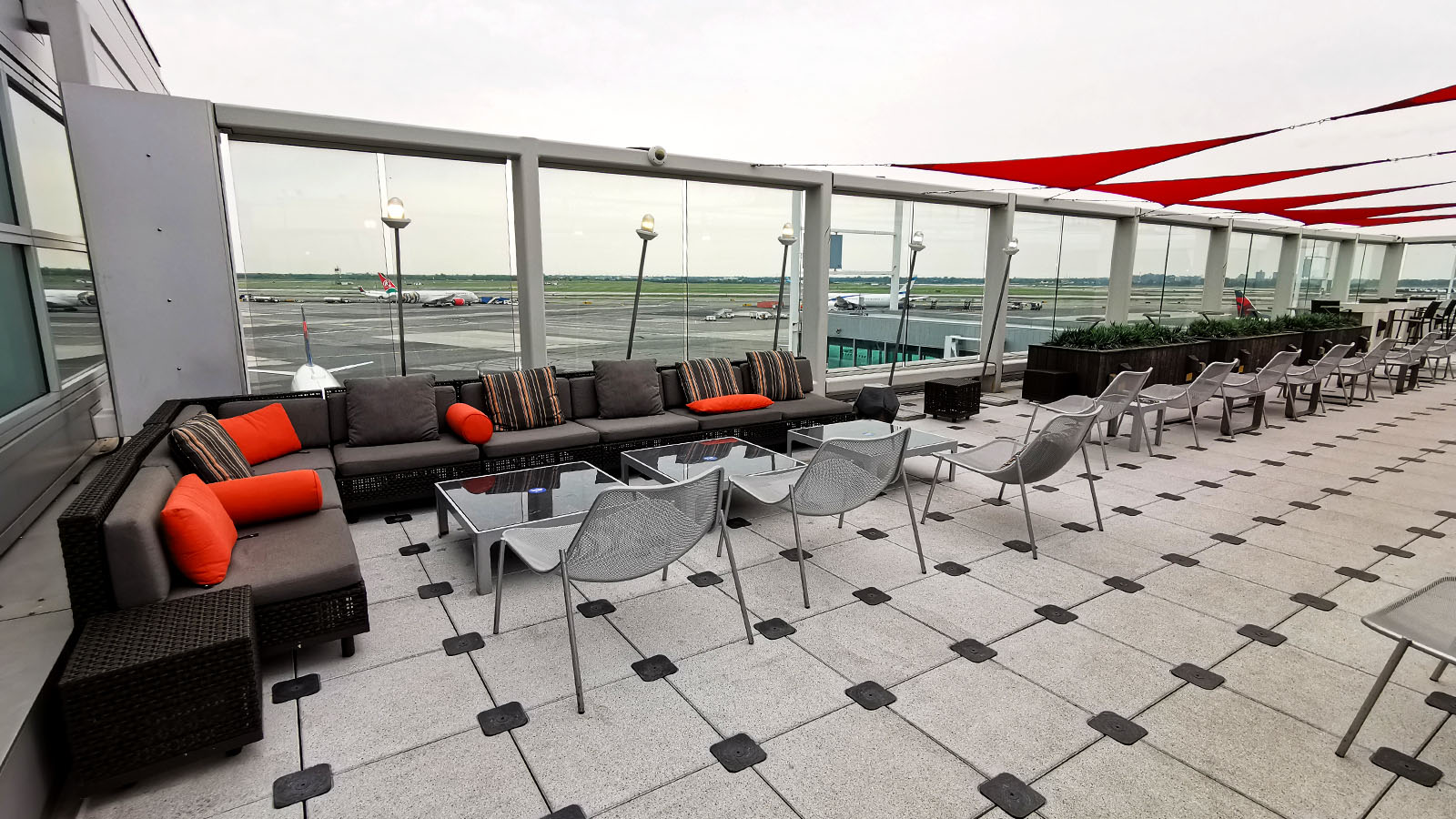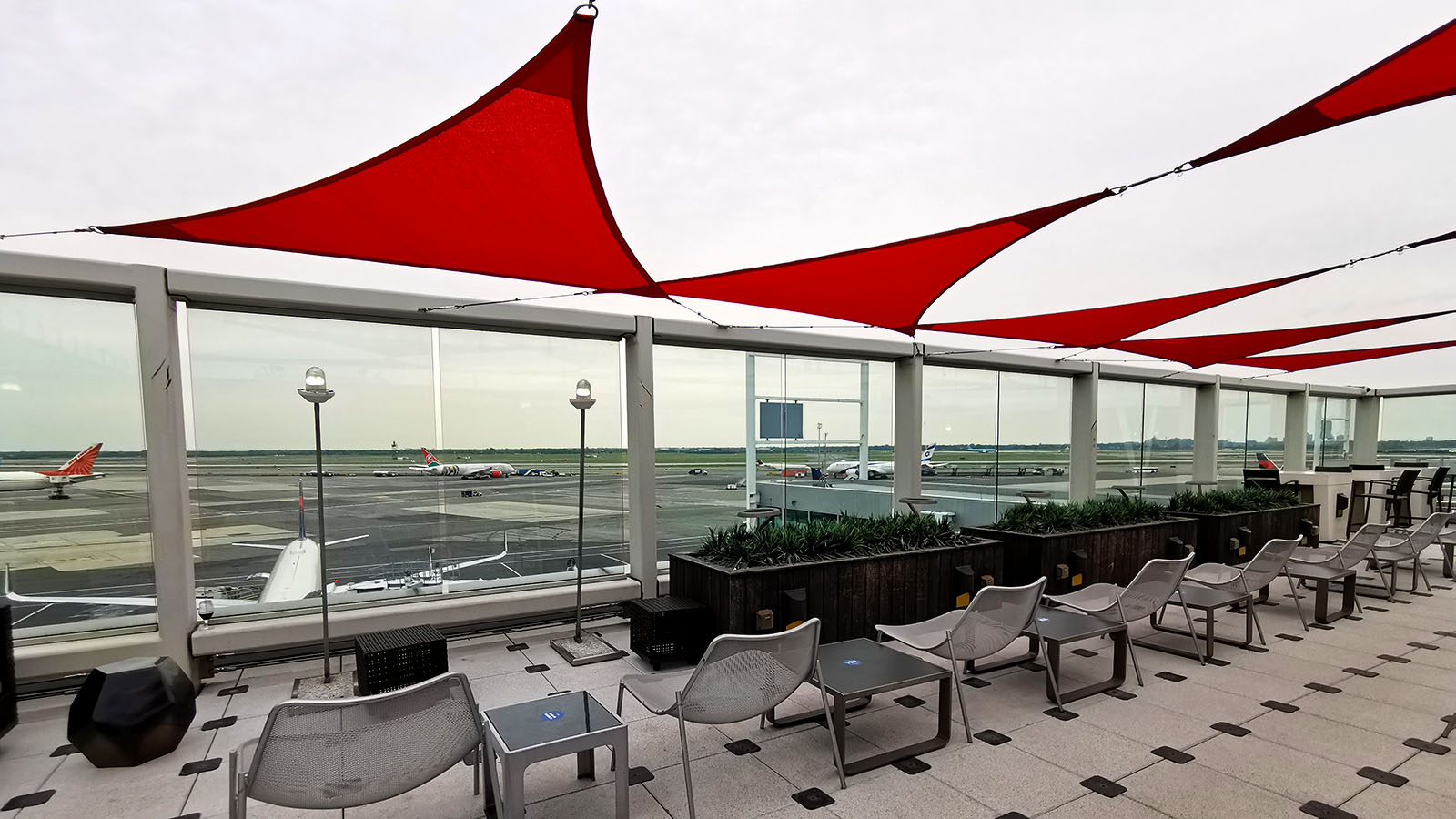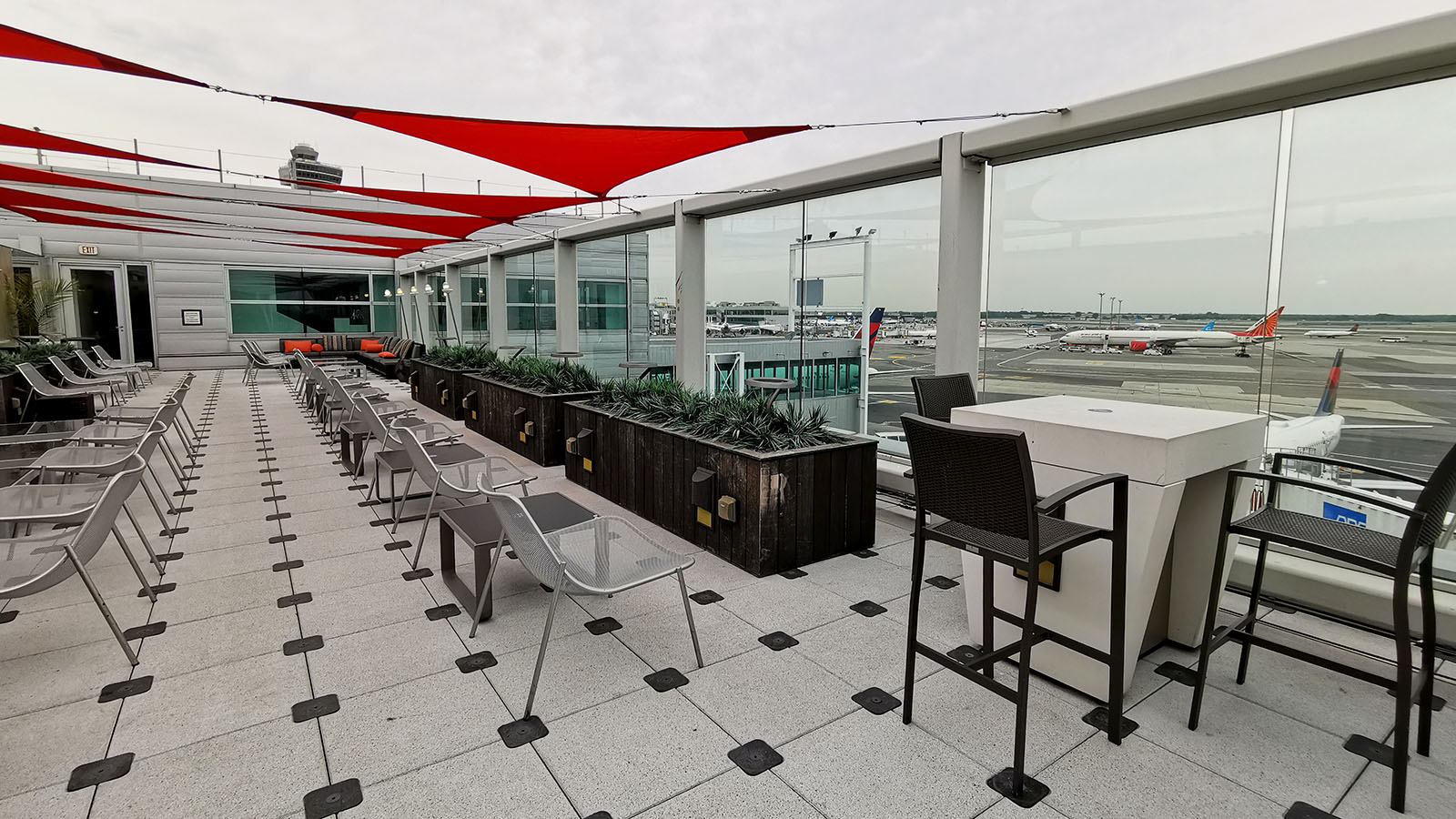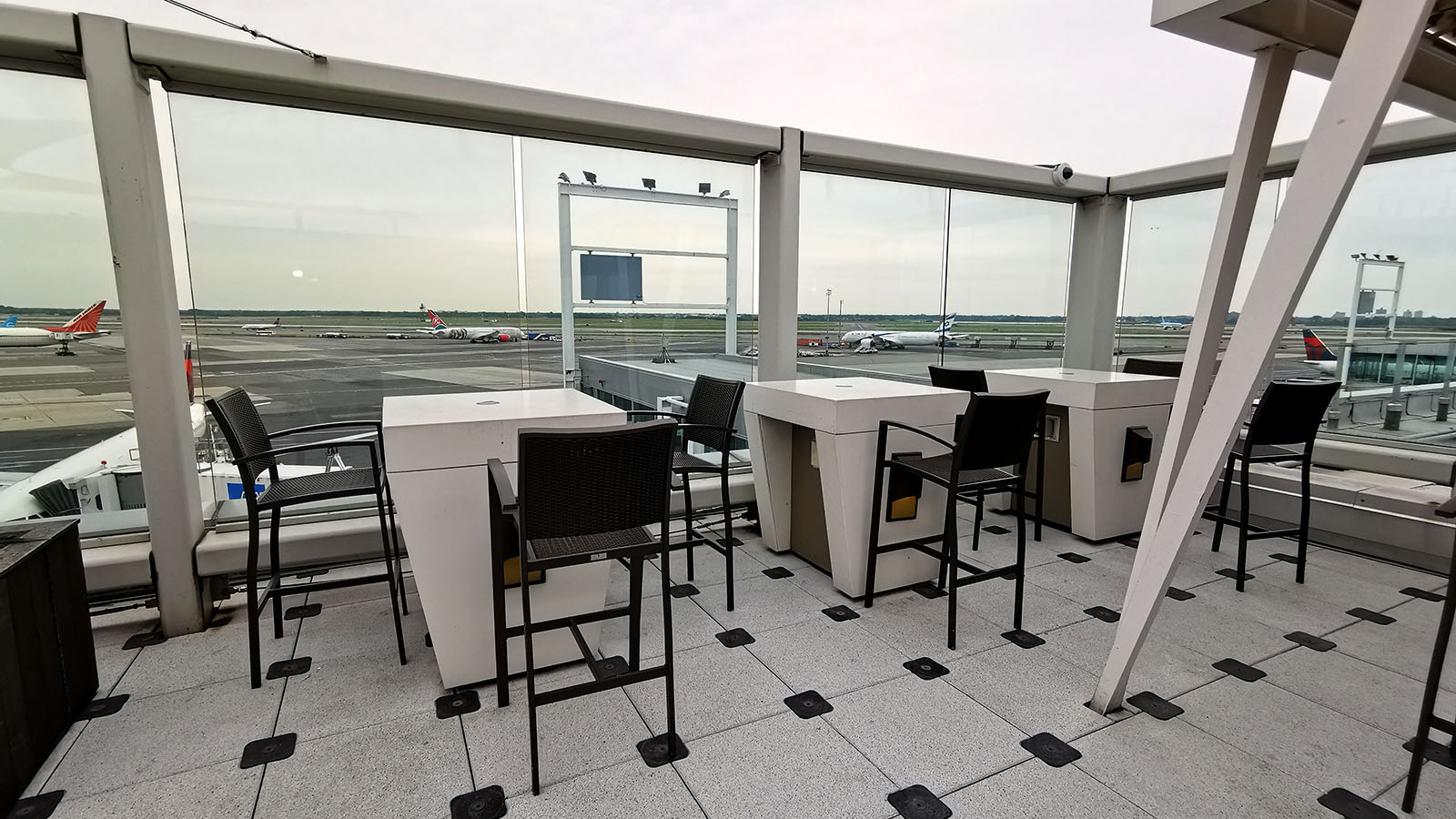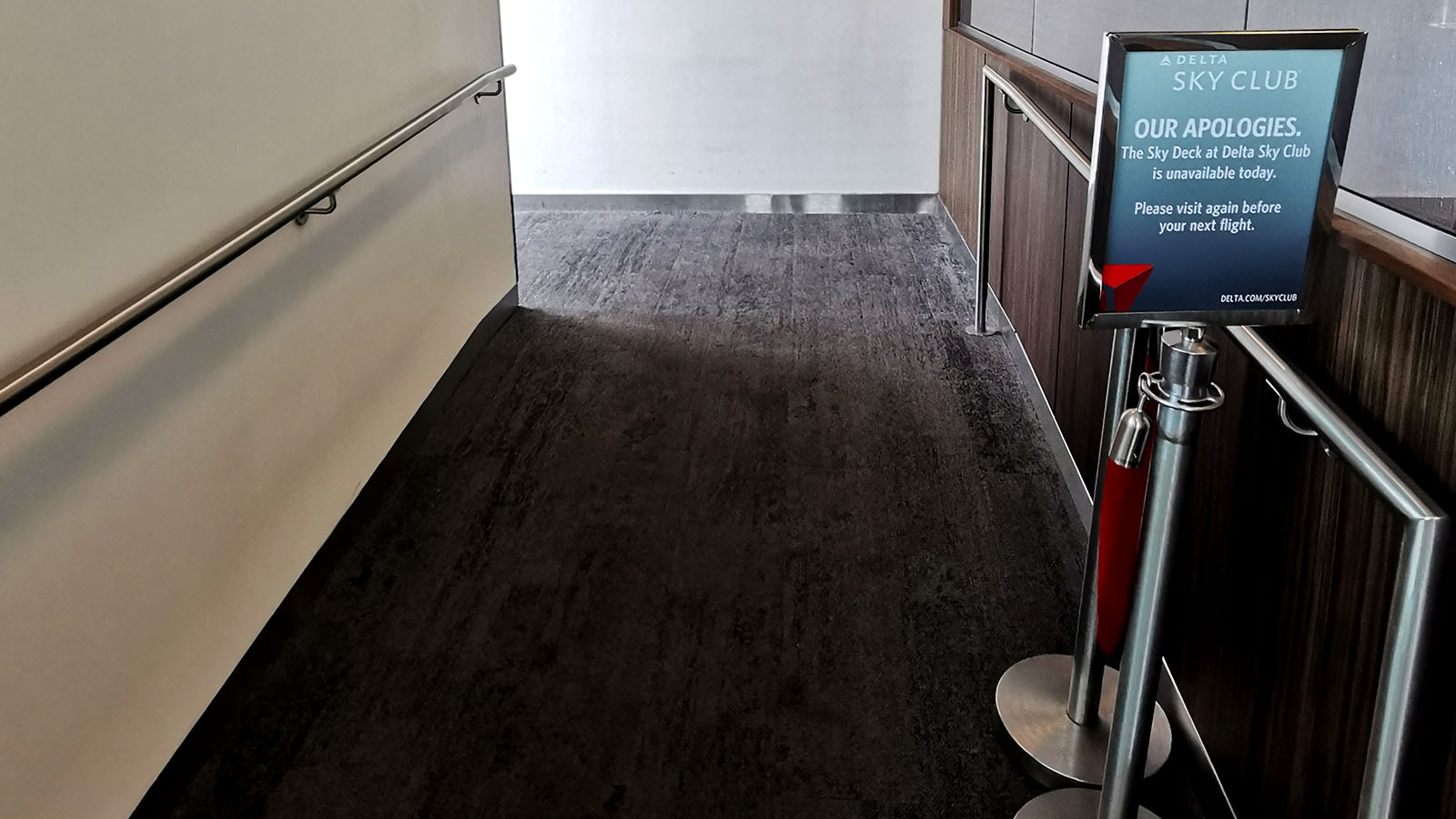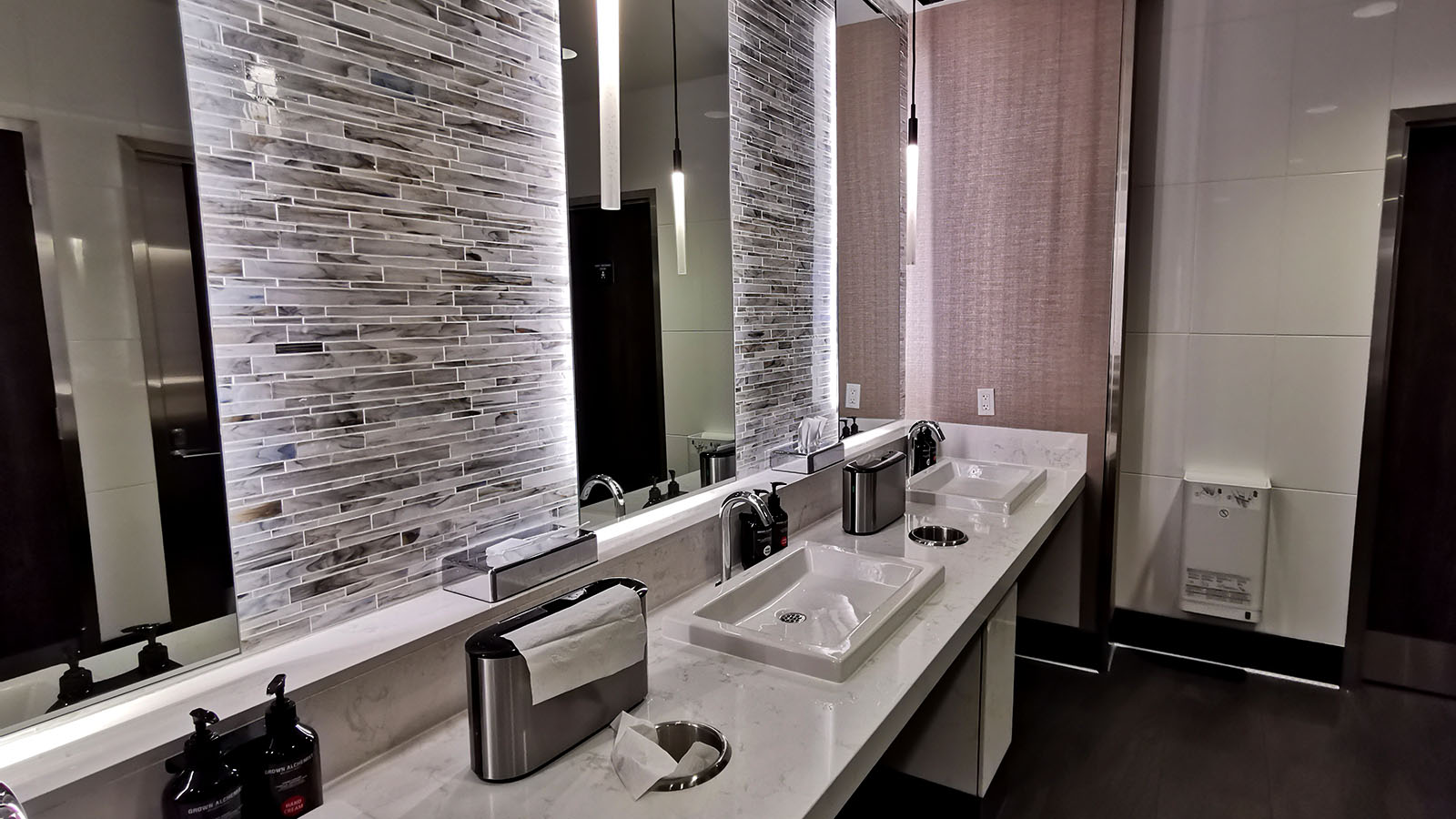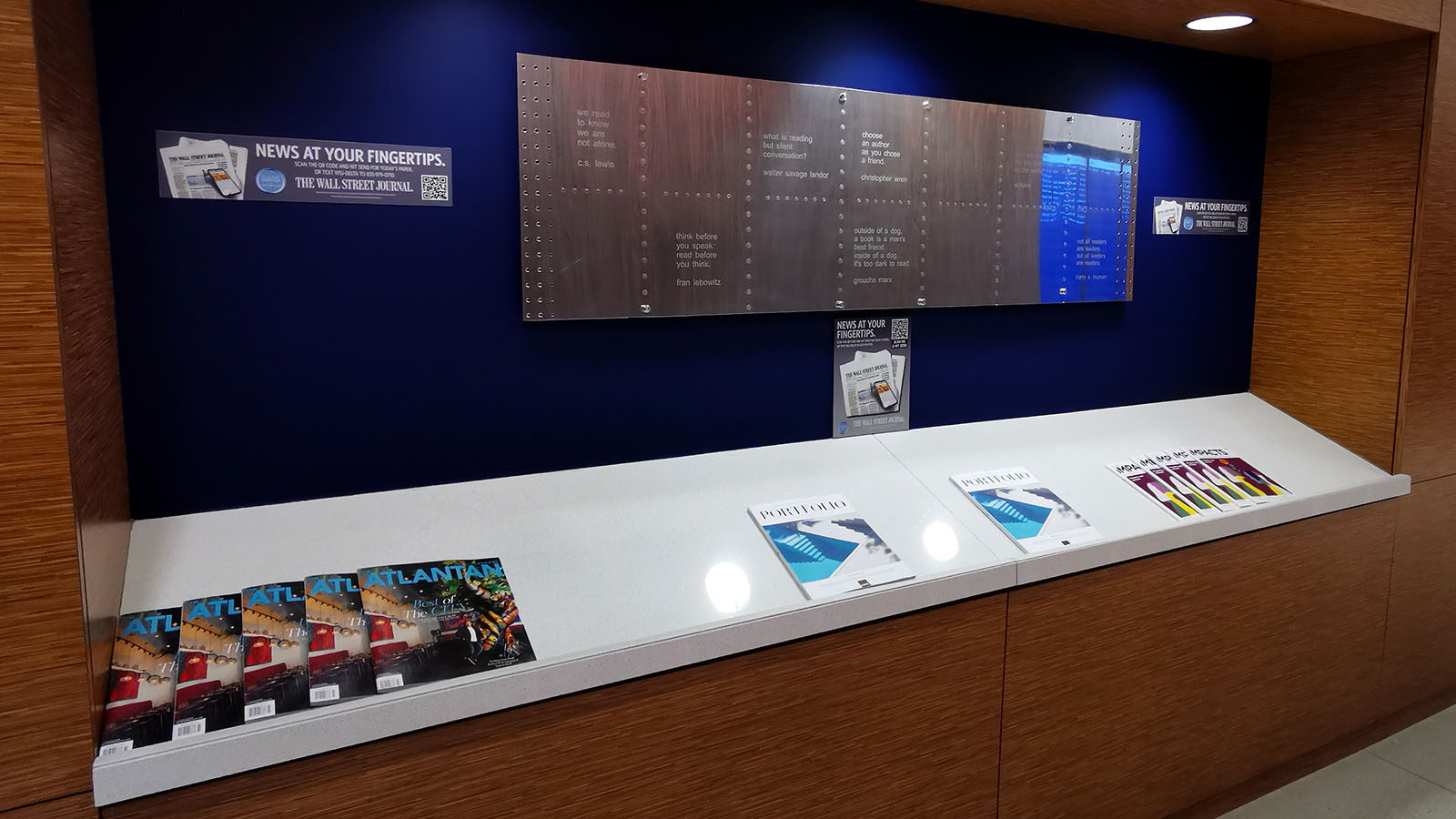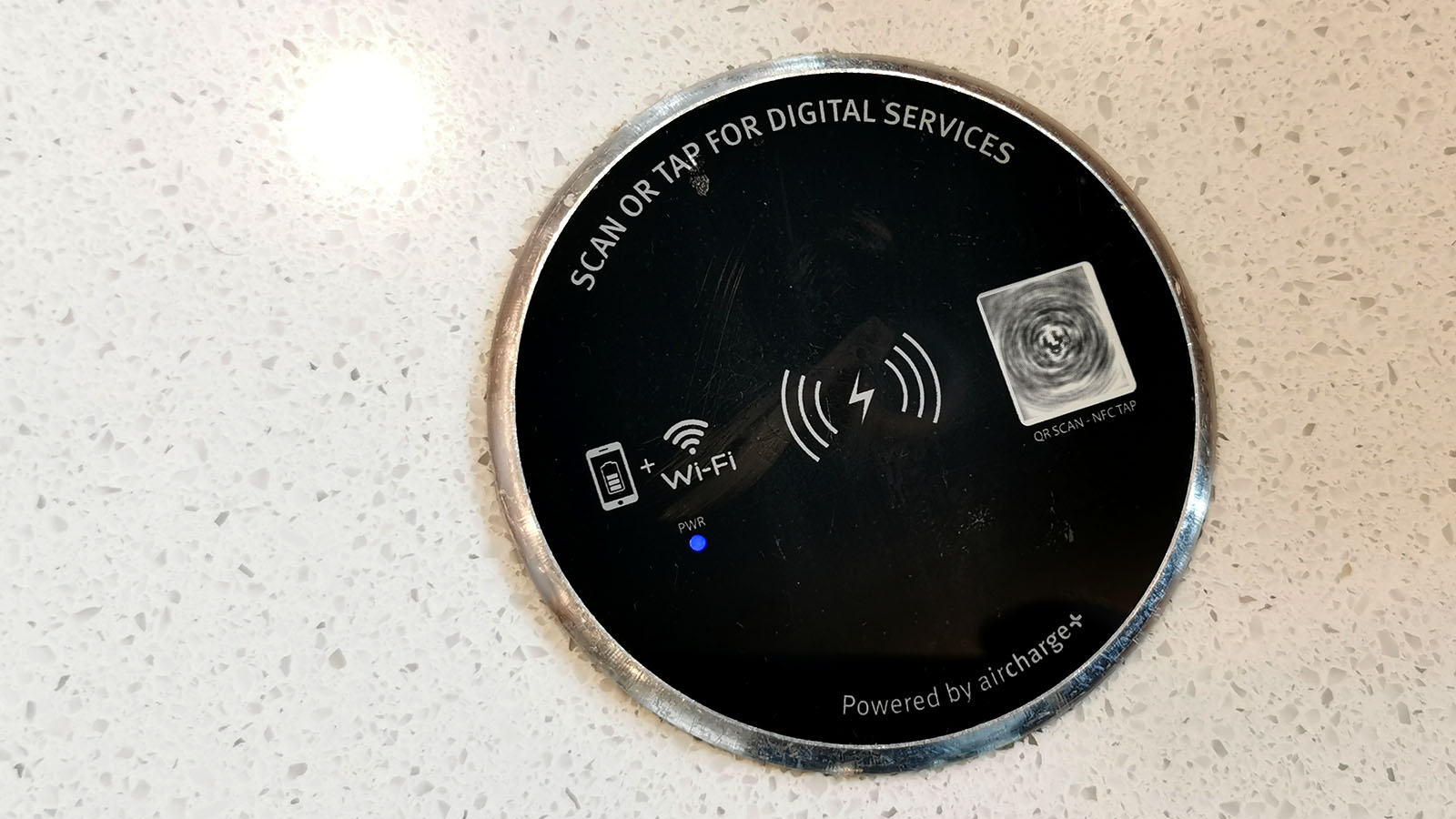 I'm happy to see the Sky Deck open. But I'm flying through in July – New York's hottest month of the year. It's also coming up to lunchtime and a balmy 30°C (86°F). It's not comfortable to stay out here for too long in that heat, but in the afternoons during summer, it'd be a real hit for longer stays.
The lounge also offers shower facilities and a selection of reading material. But there's one more nifty thing. Some of the seats inside even offer wireless charging orbs – a handy backup if you've left your charger by the bed or in a hotel room. Just sit your phone on top to recharge.
These orbs also carry the Wi-Fi signal throughout the lounge, and speeds are simply superb. Downloads average 223Mbps and uploads push to 268Mbps. It'd be fair to say, that beats most home internet connections in Australia.
Accessing the Delta Sky Club, New York JFK T4B
Lounge access rules are complicated in North America even at the best of times. But when it comes to Delta and SkyTeam, that's even more so. The rules can also change from year to year as Delta updates the Medallion benefits in its SkyMiles program – much to the recent chagrin of many frequent flyers.
But let's simplify things. Without going into every possible access method, here are the most common ways that Australian travellers can step inside the Delta Sky Club at JFK.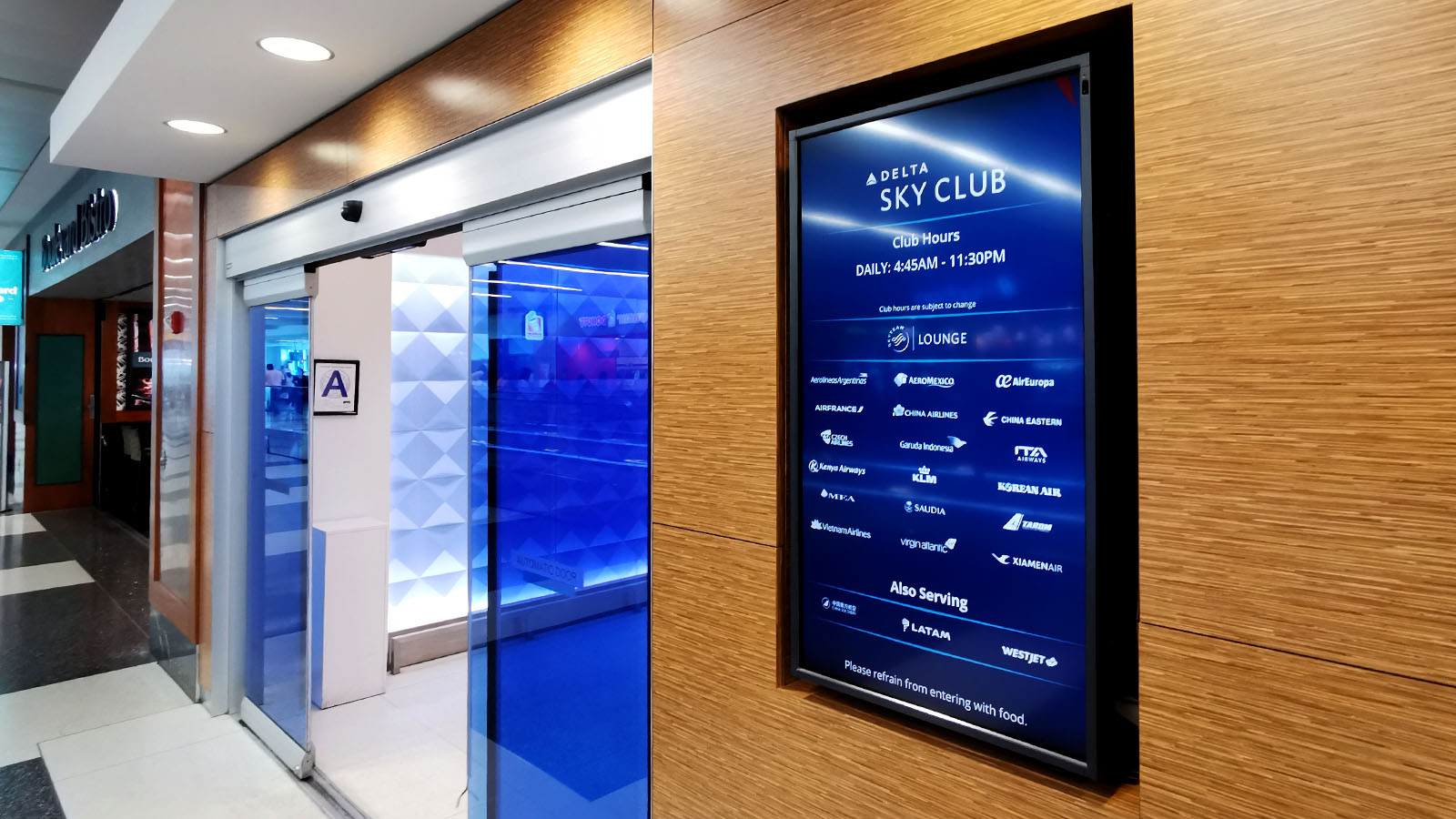 Summing up
Delta's stalwart Sky Club at New York JFK is well worth a visit. Especially so if you arrive early during a patch of good weather to enjoy some time out on the Sky Deck. As far as US airline lounges go as well, this is certainly one of the better ones. To draw a comparison with the competition, this is a little more like an American Airlines Flagship Lounge as opposed to a standard Admirals Club. But not quite like a United Polaris Lounge, where there's à la carte dining.
While it's clear that many US-based travellers may be frustrated with Delta's recent lounge access policy changes, these rules generally won't affect Australian travellers. For instance, unlimited Delta Sky Club access remains in place for those with eligible Australian-issued American Express cards. And particularly as Virgin Australia Velocity status no longer cuts the mustard on Delta, it's a great feature to have on call.
Also reviewed: American Express Centurion Lounge, New York JFK
All photography by Chris Chamberlin, who accessed the lounge as a regular guest when travelling to Los Angeles using Delta SkyMiles.
---
Stay up to date with the latest news, reviews and guides by subscribing to Point Hacks' email newsletter.
Delta Sky Club, New York JFK Terminal 4, Concourse B
was last modified:
October 27th, 2023
by