Have you ever wondered what makes flying in premium cabins so comfortable? Sure, there's the flatbed, the free-flowing beverages or the Instagram-worthy shots of your meal as you soar 38,000 feet in the air. But undoubtedly one of the perks of being perched up the pointy end is the sumptuous set of airline pyjamas. Though keep in mind that not all airlines offer PJs in Business Class.
Those that do leave no stone unturned when delivering the VIP treatment. Pleasingly, this extends to feeling like a VIP when you don a cushiony set of sleepwear. From collaborations with luxury brands to hydrating fabrics, airline pyjamas are an integral part of your in-flight pamper.
Here at Point Hacks, we've road-tested countless Business Class and First Class pyjamas. Keep reading to discover our absolute favourites.
1. Emirates First Class pyjamas
It's no wonder that the world's most luxurious First Class cabin offers an equally extravagant set of pyjamas to don as you snooze away in the sky. Aircraft cabins are notorious for making your skin dry, and there are few things worse than stumbling off a long-haul flight with your skin feeling like the desert of Wadi Rum. But beyond the Bulgari amenity kit provided in First Class, packed with nourishing essentials like body lotion and face emulsion, the pyjamas in Emirates First Class are designed to moisten your skin.
Emirates' signature moisturising pyjamas – a first for any airline – are made with fabric that includes argan oil and shea butter. These two natural ingredients are commonly found in a range of skincare and cosmetics, and when infused into fabric, delight your body as you sleep. You'll awaken with skin that's refreshed and hydrated. And best of all, the technology used to craft Emirates' moisturising pyjamas means they can be washed and reused – so you can replicate the First Class experience at home.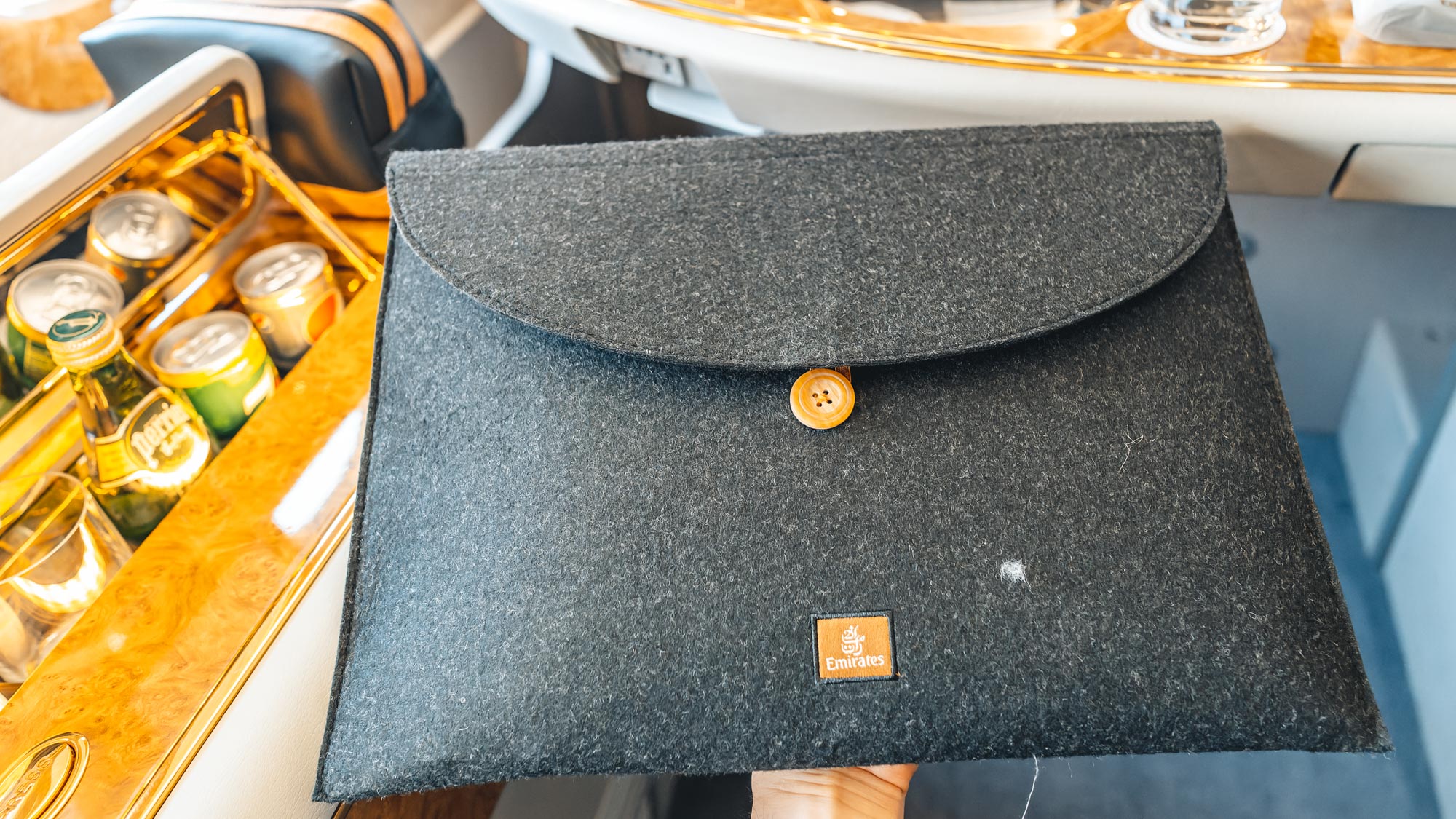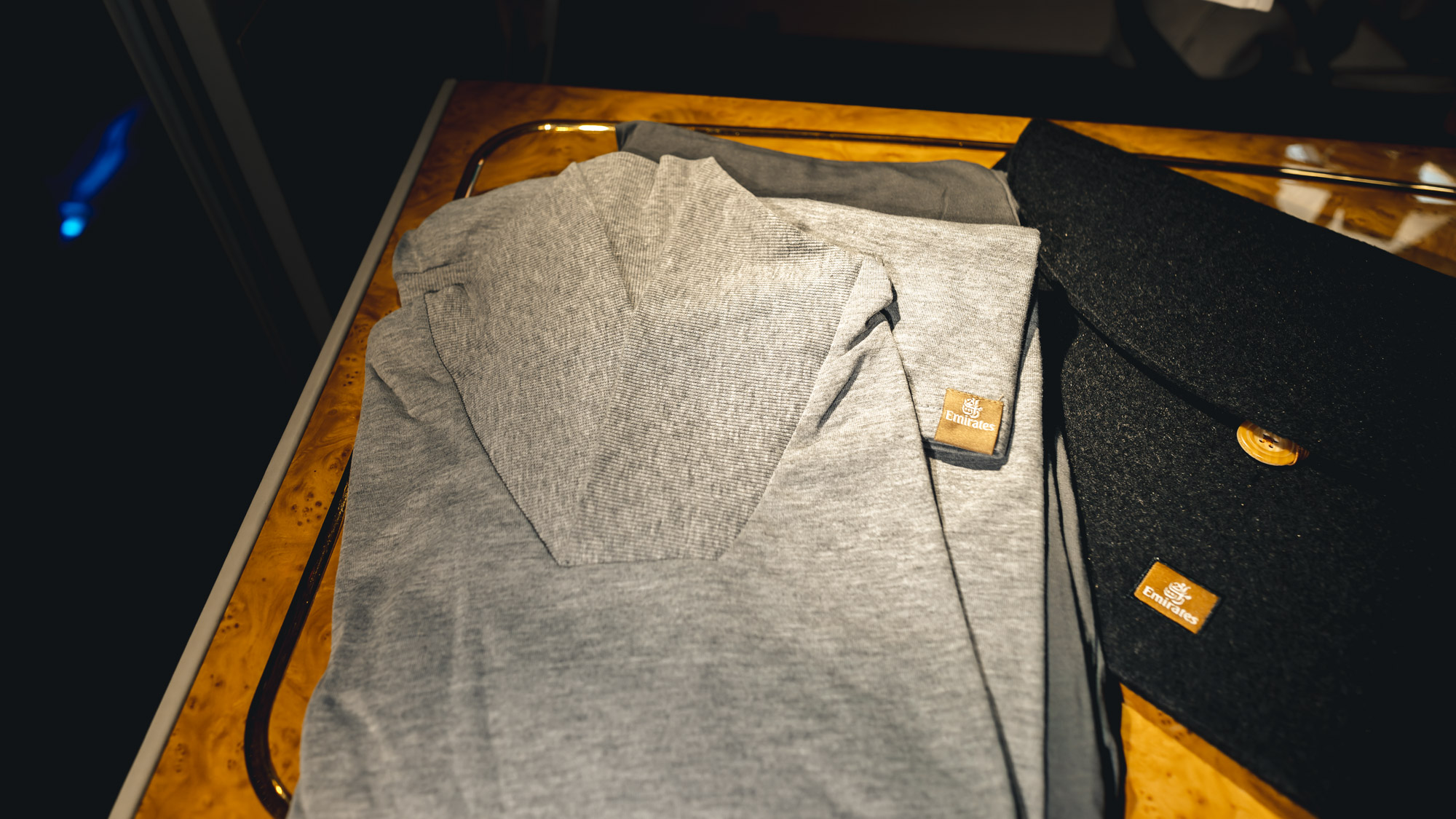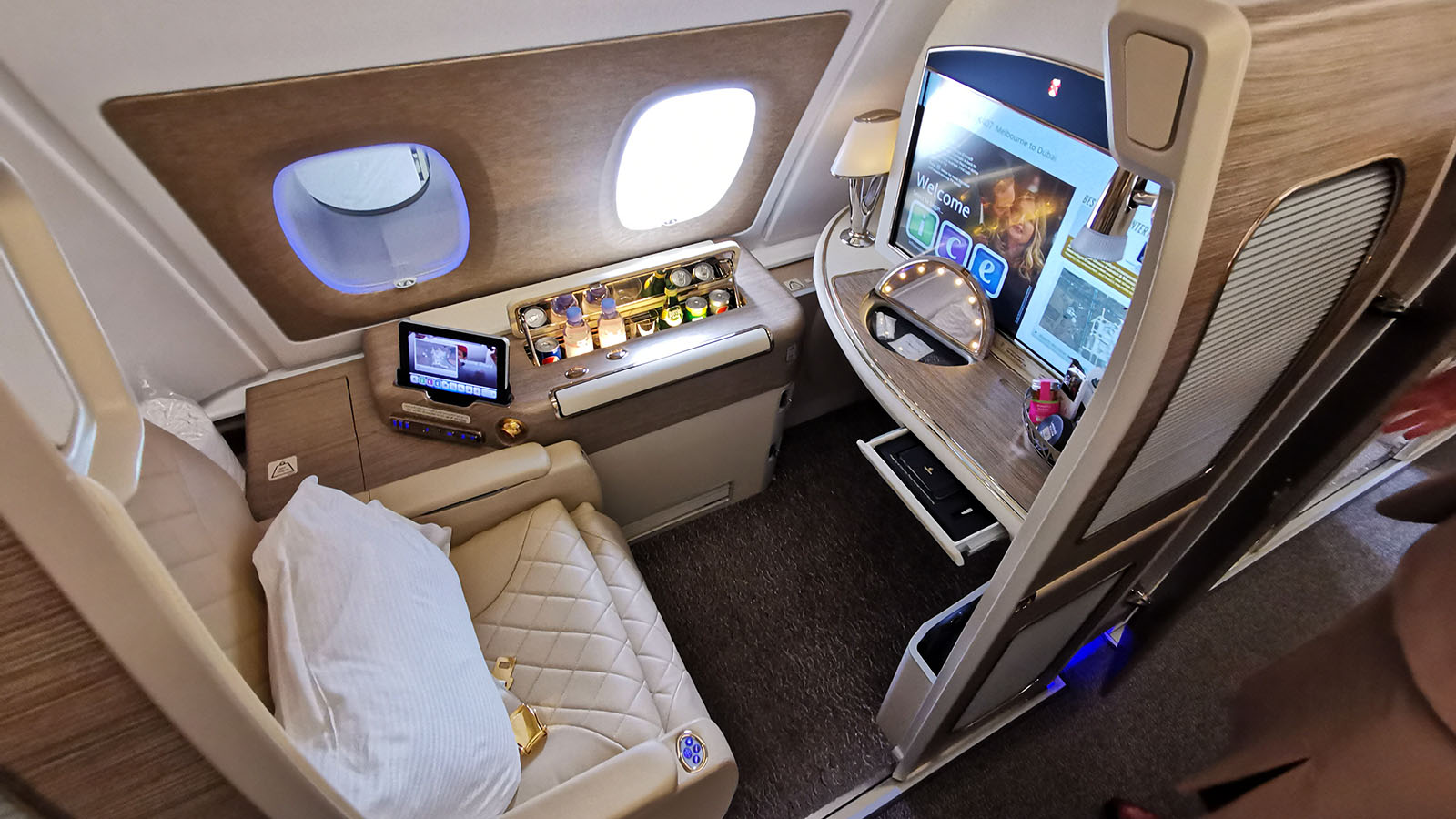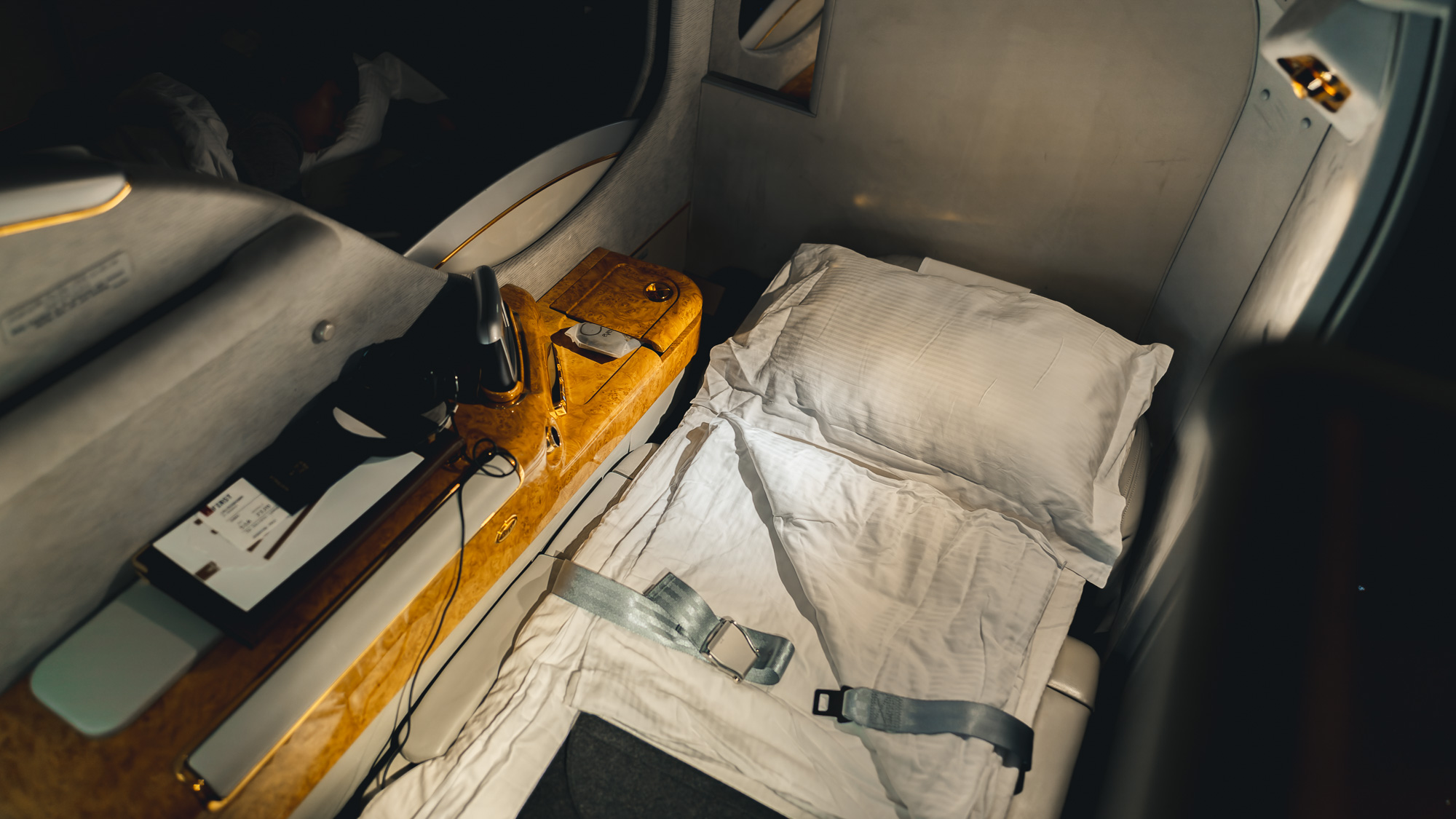 2. Qatar Airways First Class and Business Class pyjamas
Qatar Airways First Class and Business Class are both exceptional products, with the latter's Qsuite often considered the best in the world. And on Qatar Airways' premium cabins, the pyjamas offered are identical. High-flyers receive a monochrome set of pyjamas – charcoal grey for men, light grey for women – designed in collaboration with luxury lifestyle brand The White Company.
In line with the brand, Qatar Airways' First Class and Business Class pyjamas evoke quality, style and comfort for the ultimate relaxation in the sky. Airline branding is subtle, with a tiny Qatar Airways logo towards the hem of the shirt, and another etched on the pants. The 100% cotton pyjamas make the perfect companion for cocooning in Qatar Airways' Qsuite or slumbering in First Class.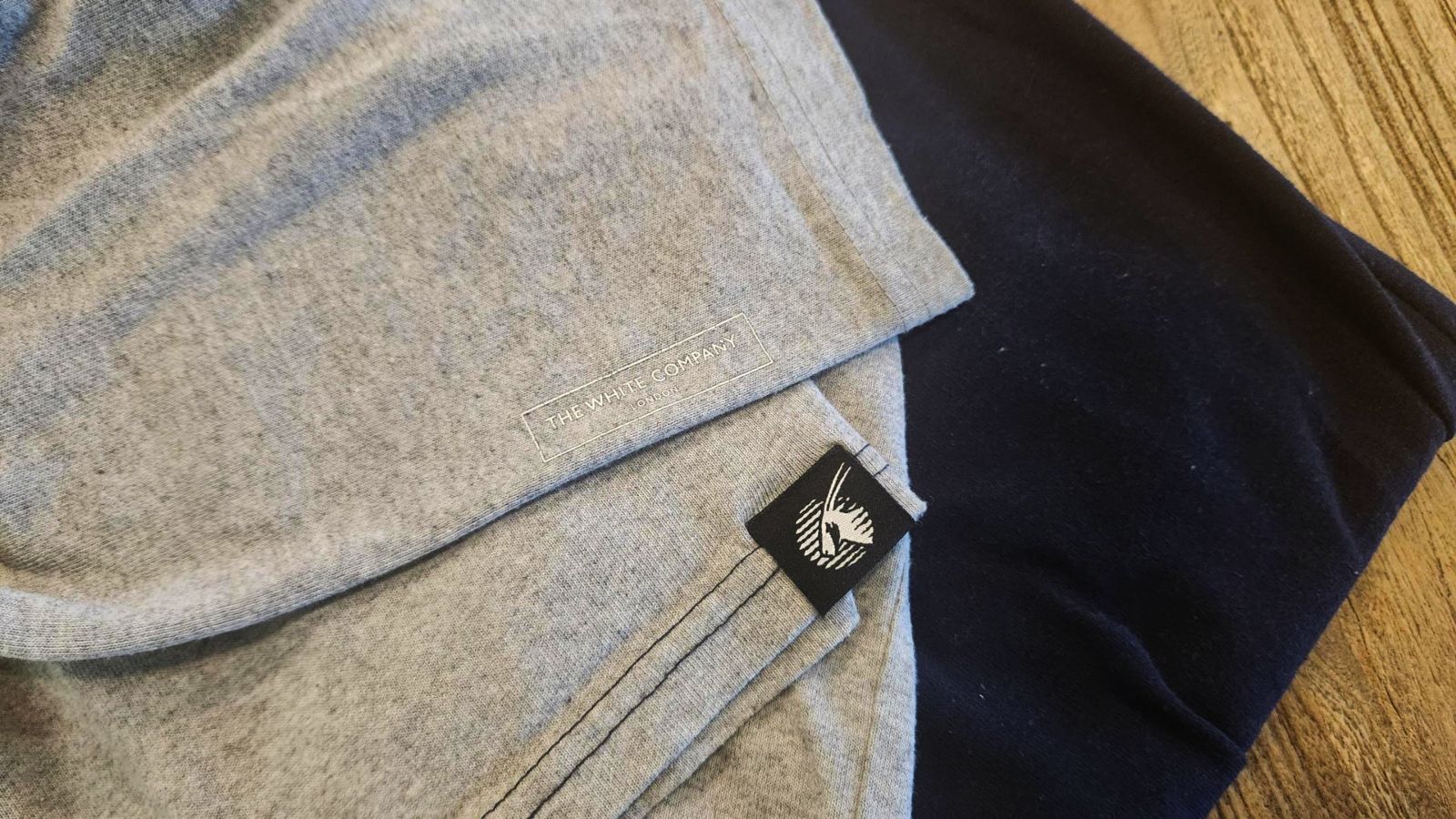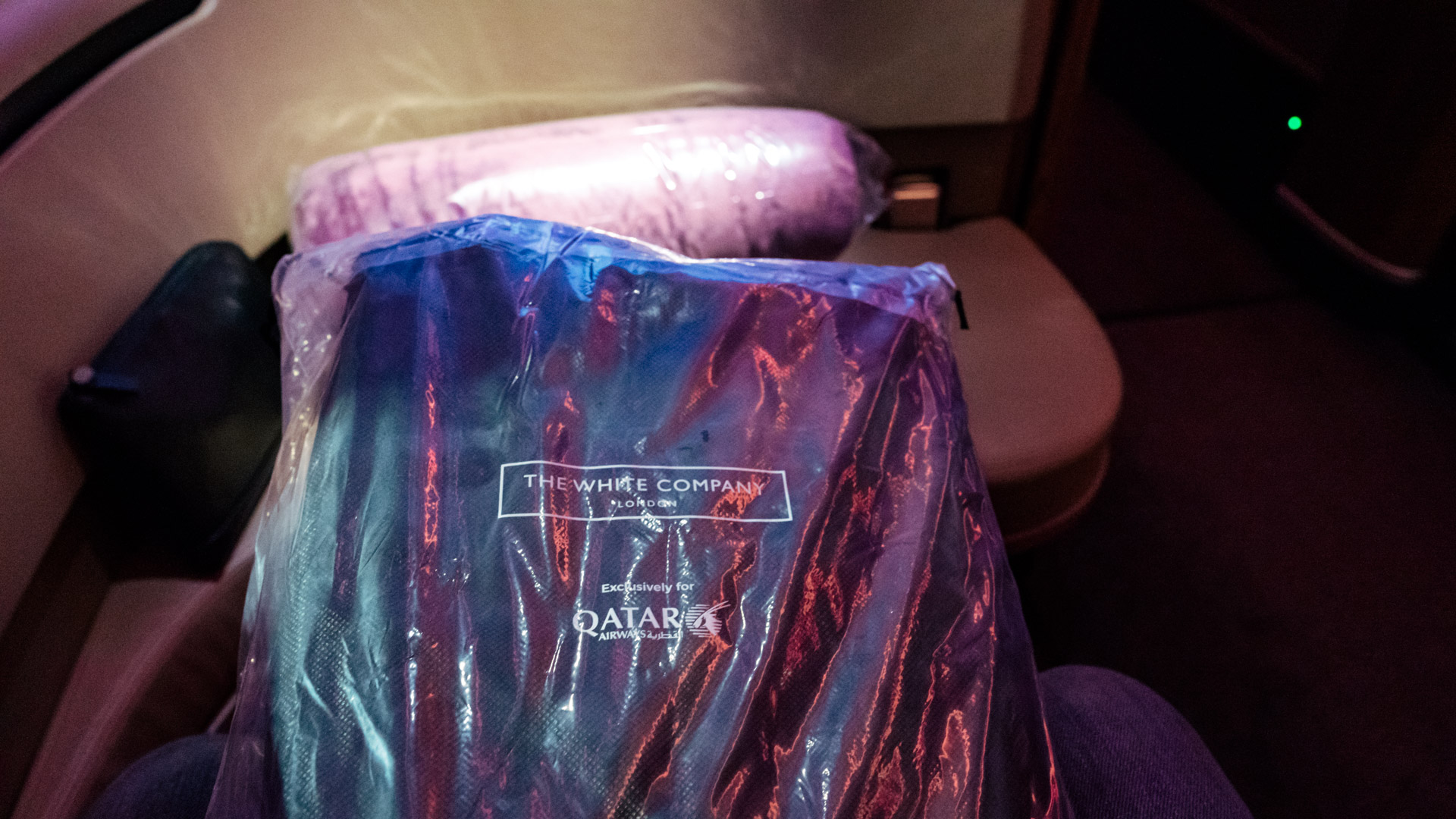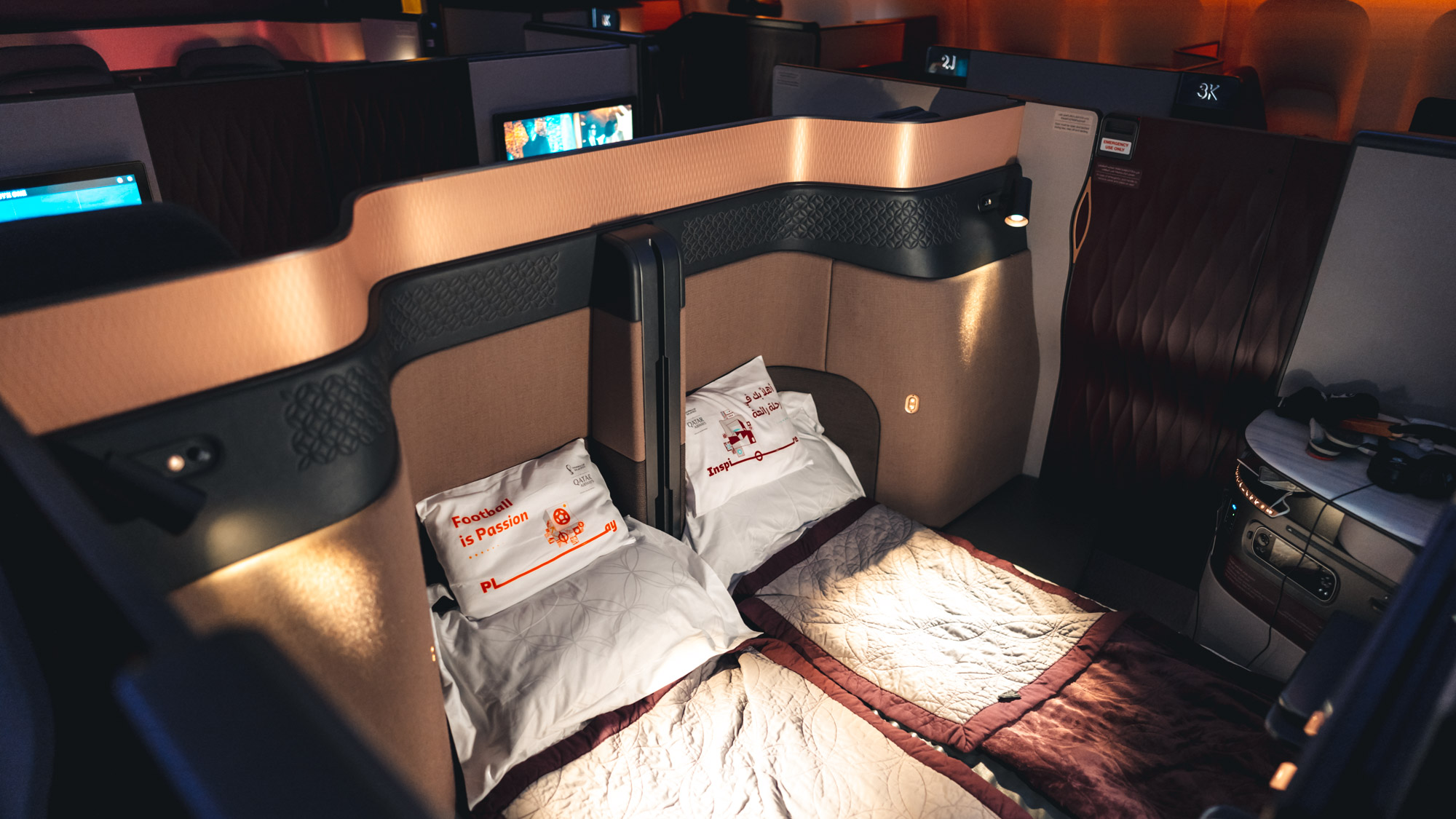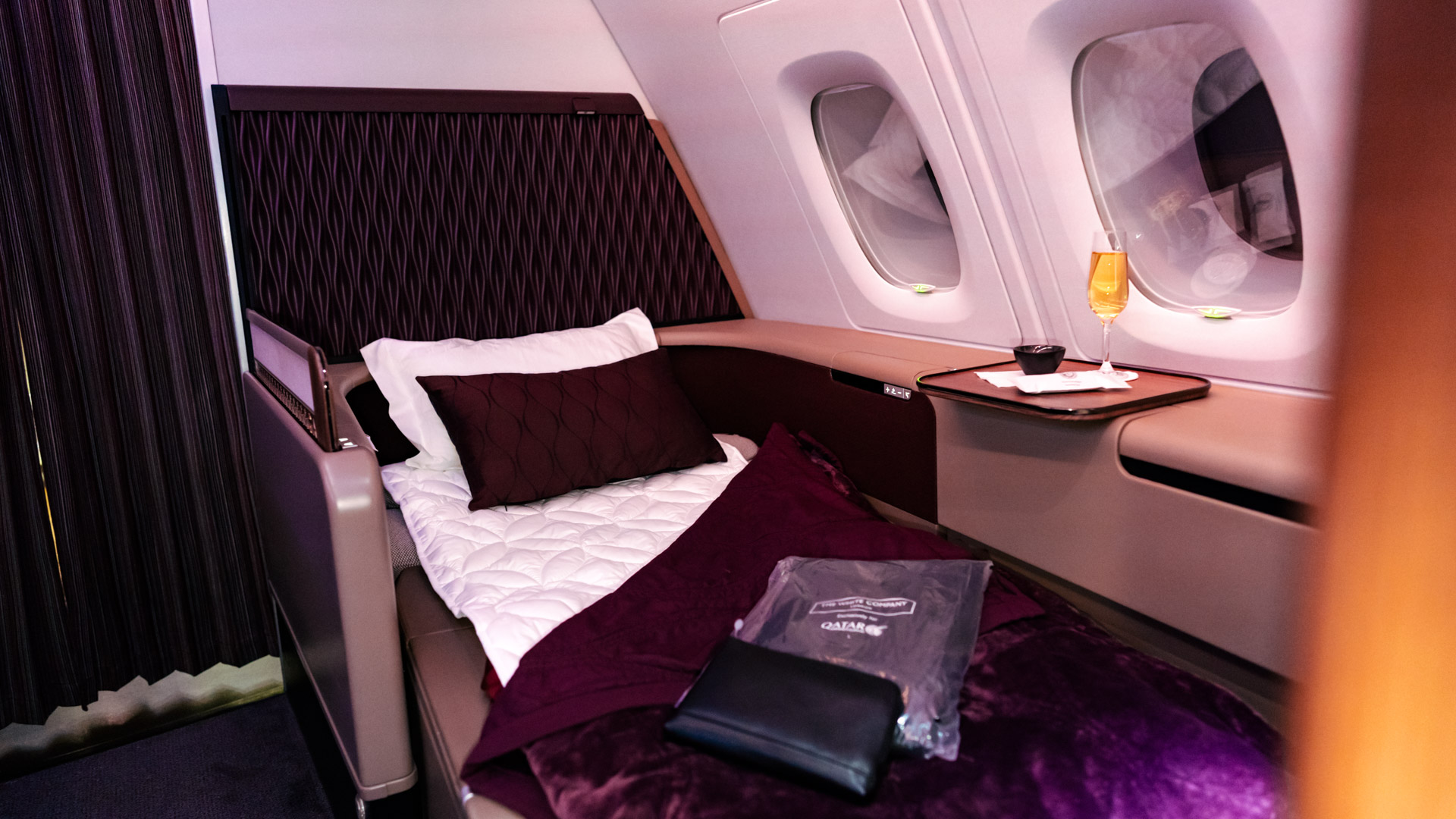 3. Qantas First Class pyjamas
Australia's national carrier leaves no stone unturned when it comes to its most premium product. In addition to the lavish Qantas International First Lounges in Sydney and Melbourne, First Class flyers can delight in free-flowing Champagne, a fully lie-flat bed in your own private suite, and of course, a snug set of sleepwear.
The unisex pyjamas are crafted by Australian-born designer Martin Grant, whose Parisian fashion label has dressed the likes of Cate Blanchett, Lady Gaga and Meghan Markle. And you'll certainly feel like a star, too. The 100% cotton nightwear features a charcoal hue, maroon trim and inconspicuous branding. But there's no need to fret that the flying roo offers the same pyjamas in Qantas Business Class. The sleepwear set offered across the two cabins is distinct, so your peers will be well aware that you experienced the pinnacle of luxury.
Currently, only Qantas' Airbus A380 aircraft are fitted with a First Class cabin. This means that the only way to secure a pair of Qantas First Class pyjamas is when flying between Sydney or Melbourne and Los Angeles, or on Qantas' QF1 flagship route from Sydney to London via Singapore.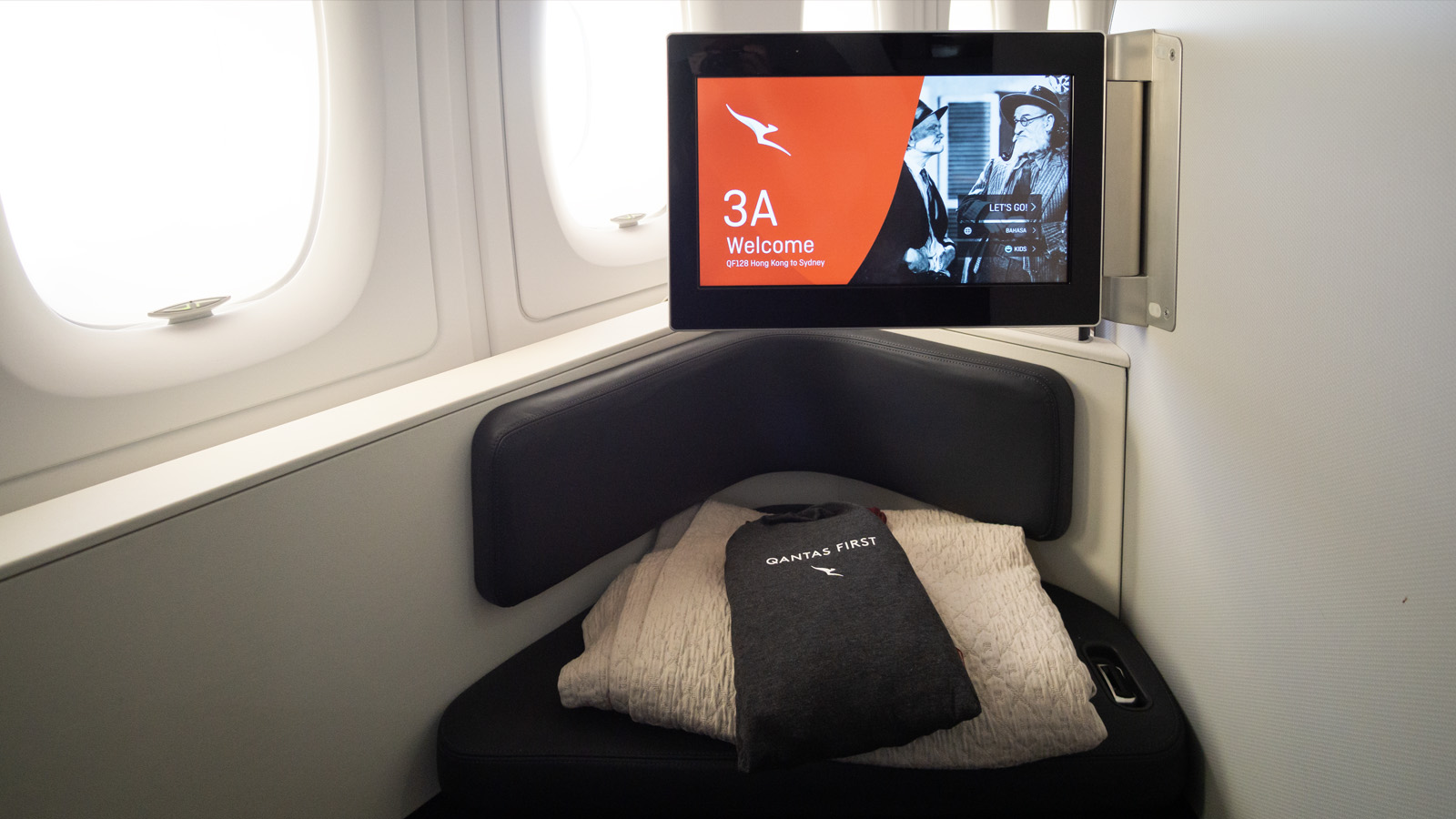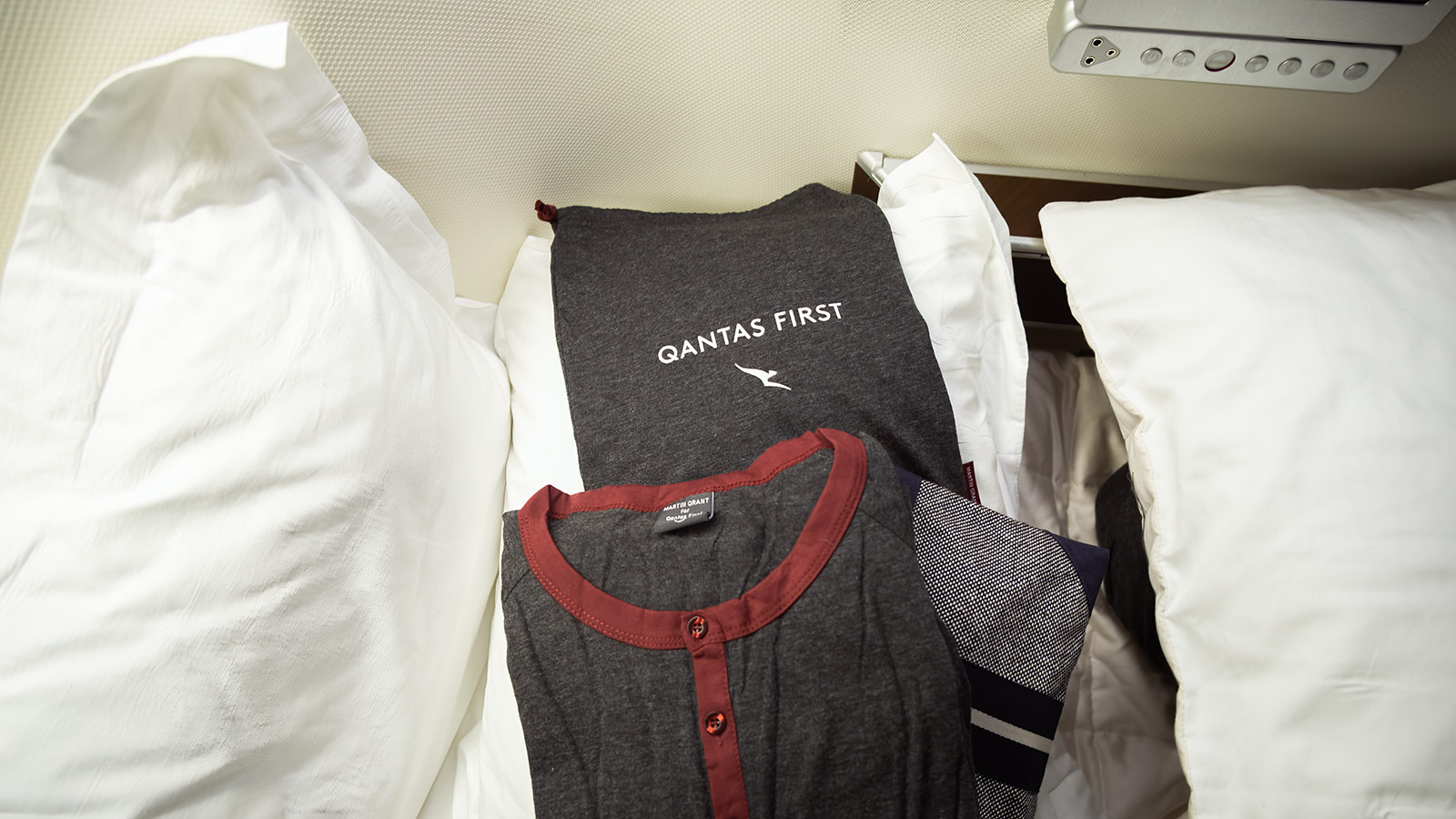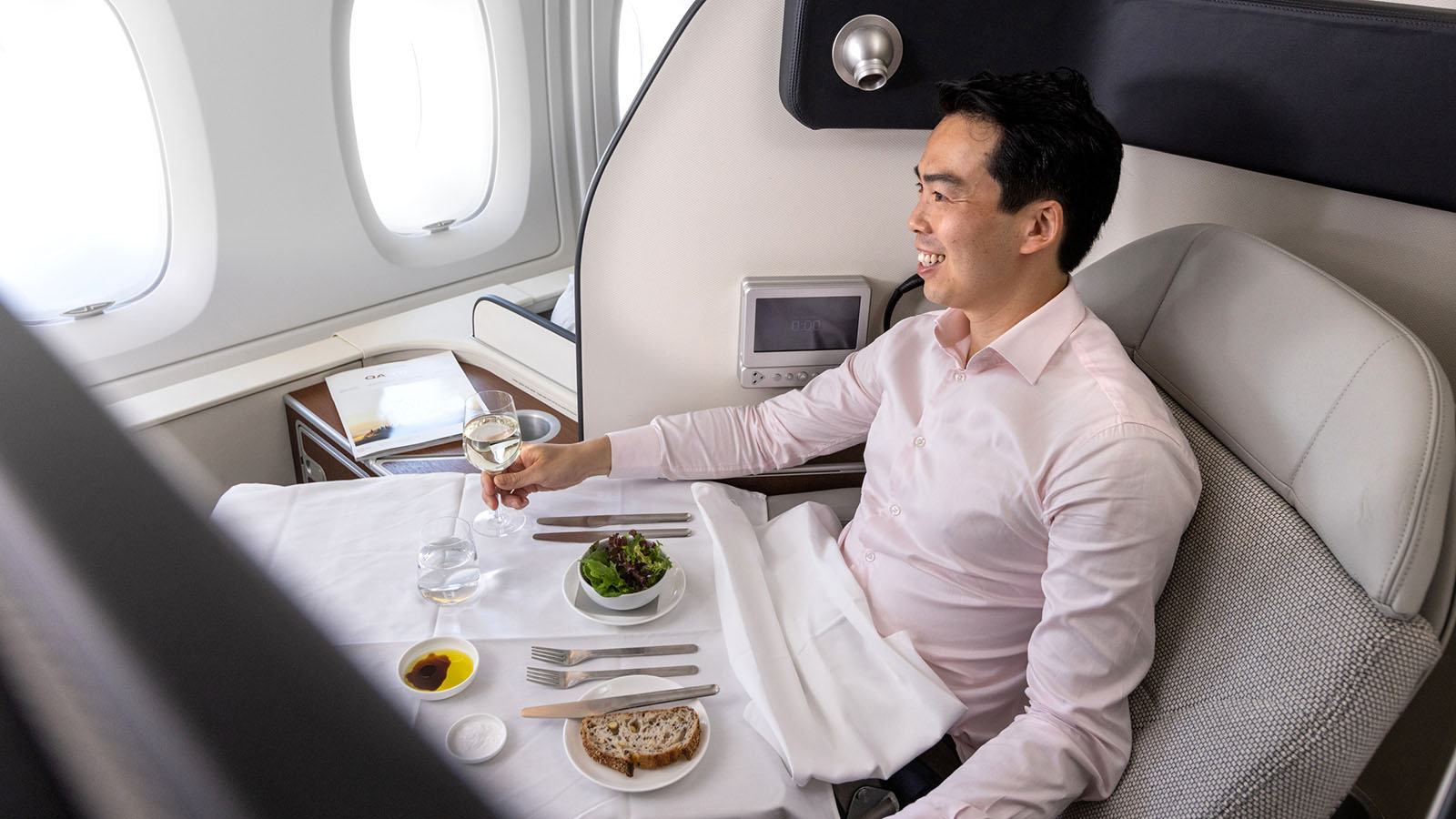 Special mention: Rebecca Vallance pyjamas
Business Class passengers flying on Qantas' QF3 and QF4 routes to and from New York's JFK airport are treated to an exclusive set of pyjamas by Australian designer Rebecca Vallance. The pyjamas, which are only available on the 17-hour flight between Sydney and New York, feature Qantas' iconic kangaroo set against a Big Apple-inspired motif. Printed on the long-sleeve shirt are the words 'New York City' followed by 'QF3' and 'QF4'. So if you're lucky enough to nab a Business Class seat on this route (which will set you back 144,600 Qantas Points, one-way) these pyjamas are a stylish – and brag-worthy – souvenir from the journey.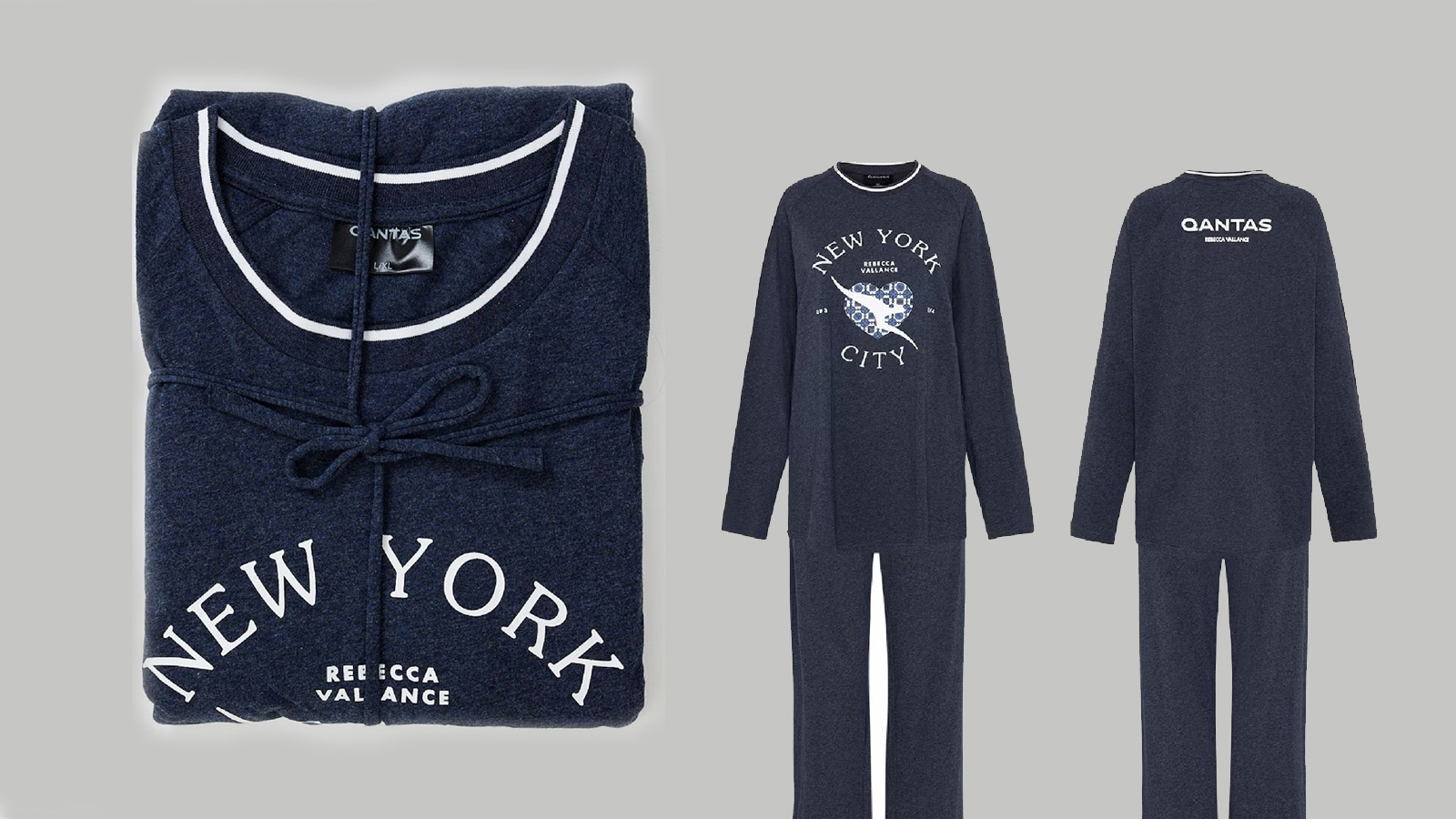 4. JAL First Class pyjamas
Japanese hospitality is at the forefront of the Japan Airlines (JAL) First Class experience. The spacious Sky Suite – specially designed to be a peaceful sanctuary in the sky – is all about relaxation. And there's no better way to get you in the zone than with JAL's plush First Class pyjamas.
As expected from a Japanese airline, the detail on these pyjamas is immaculate. The neutral-coloured set is crafted from 100% organic cotton fabric, in consideration of you and the environment. Nendo, one of Japan's leading contemporary design studios, lends its minimalist approach to the design of these pyjamas. Rounding out the modest look is a small red tag inside the shirt featuring JAL's signature crane logo. Once you're dressed for comfort, you can kick back on the dual-mode airweave pillows. They're the closest you'll get to floating on a cloud.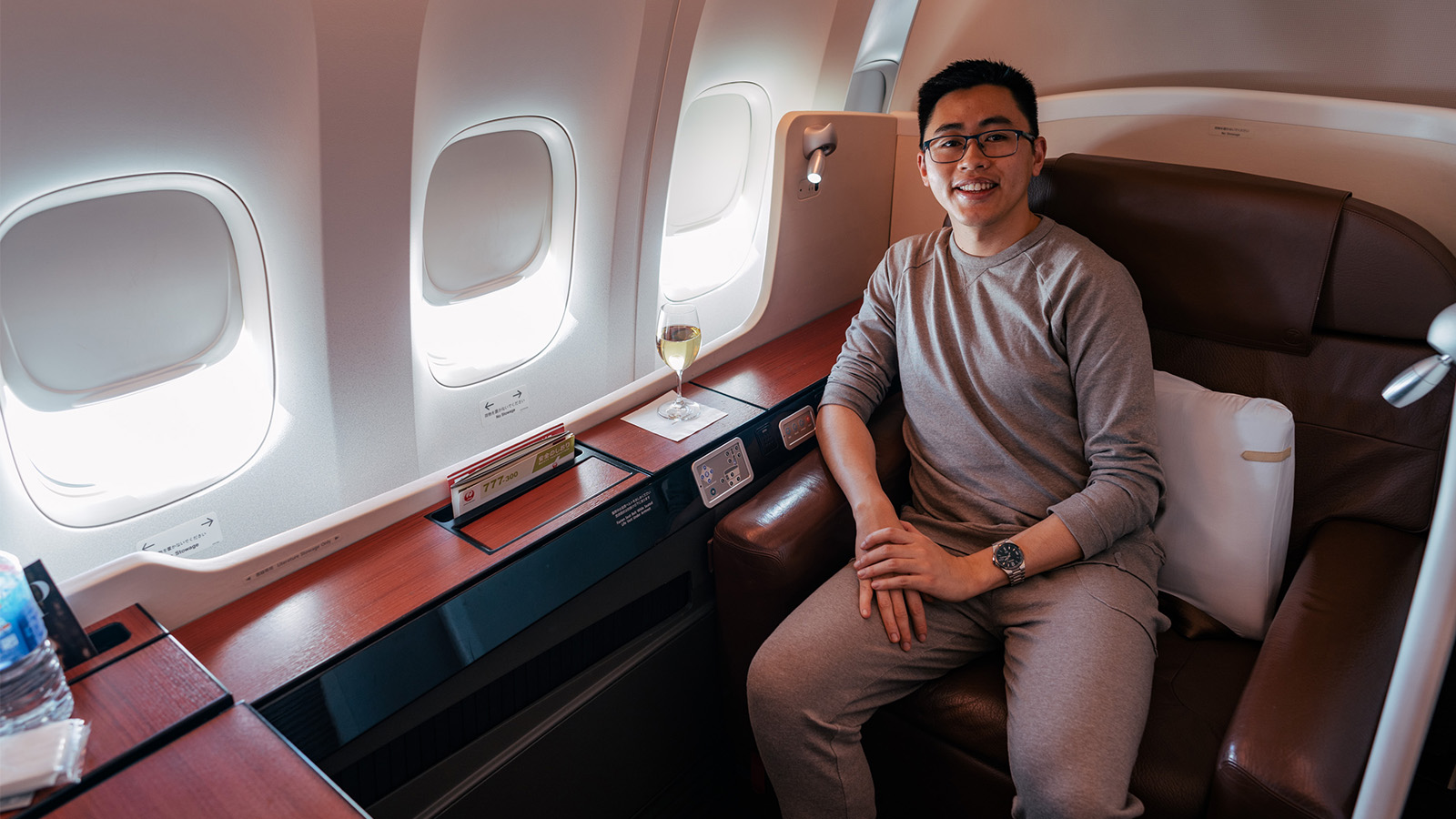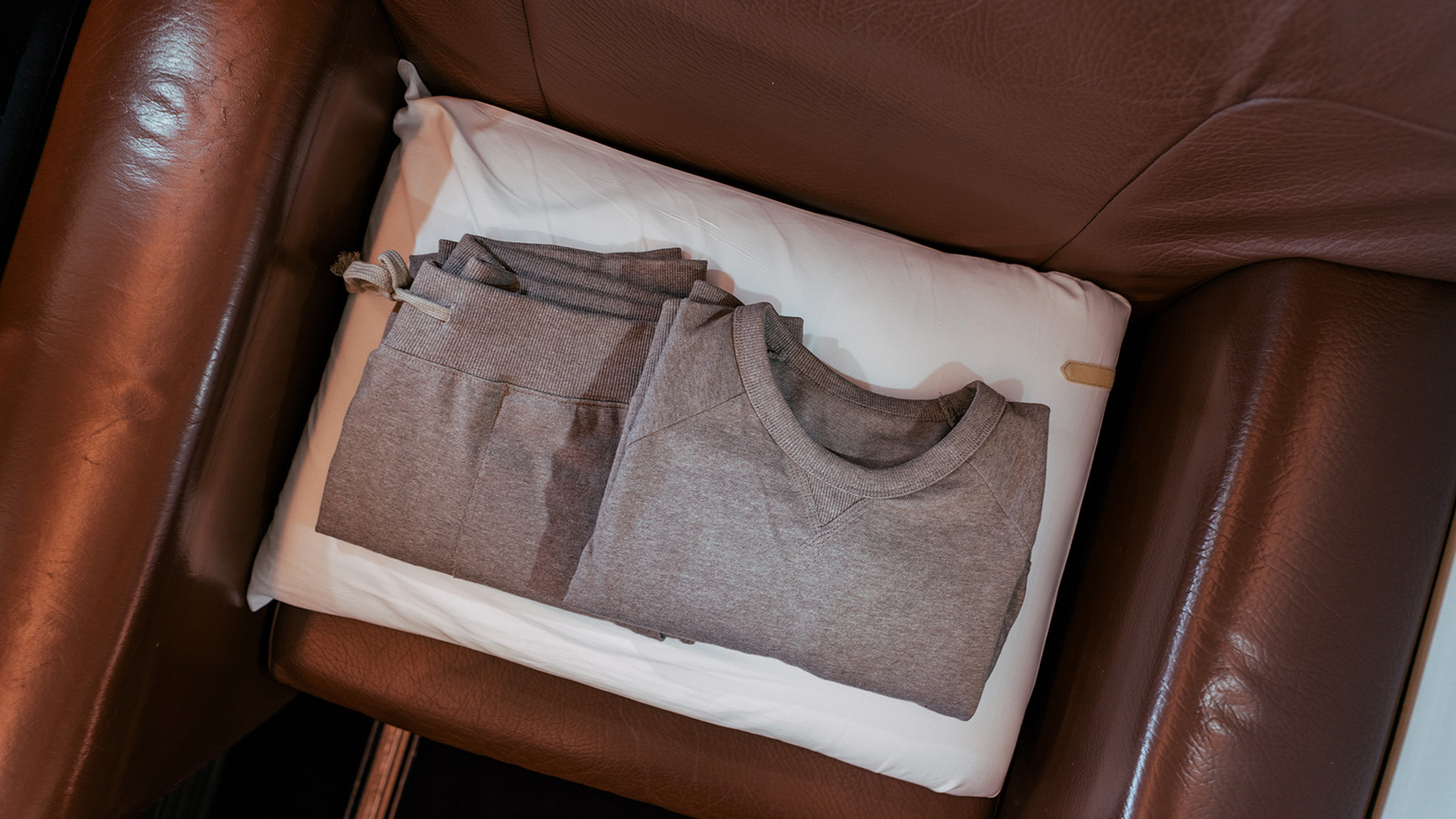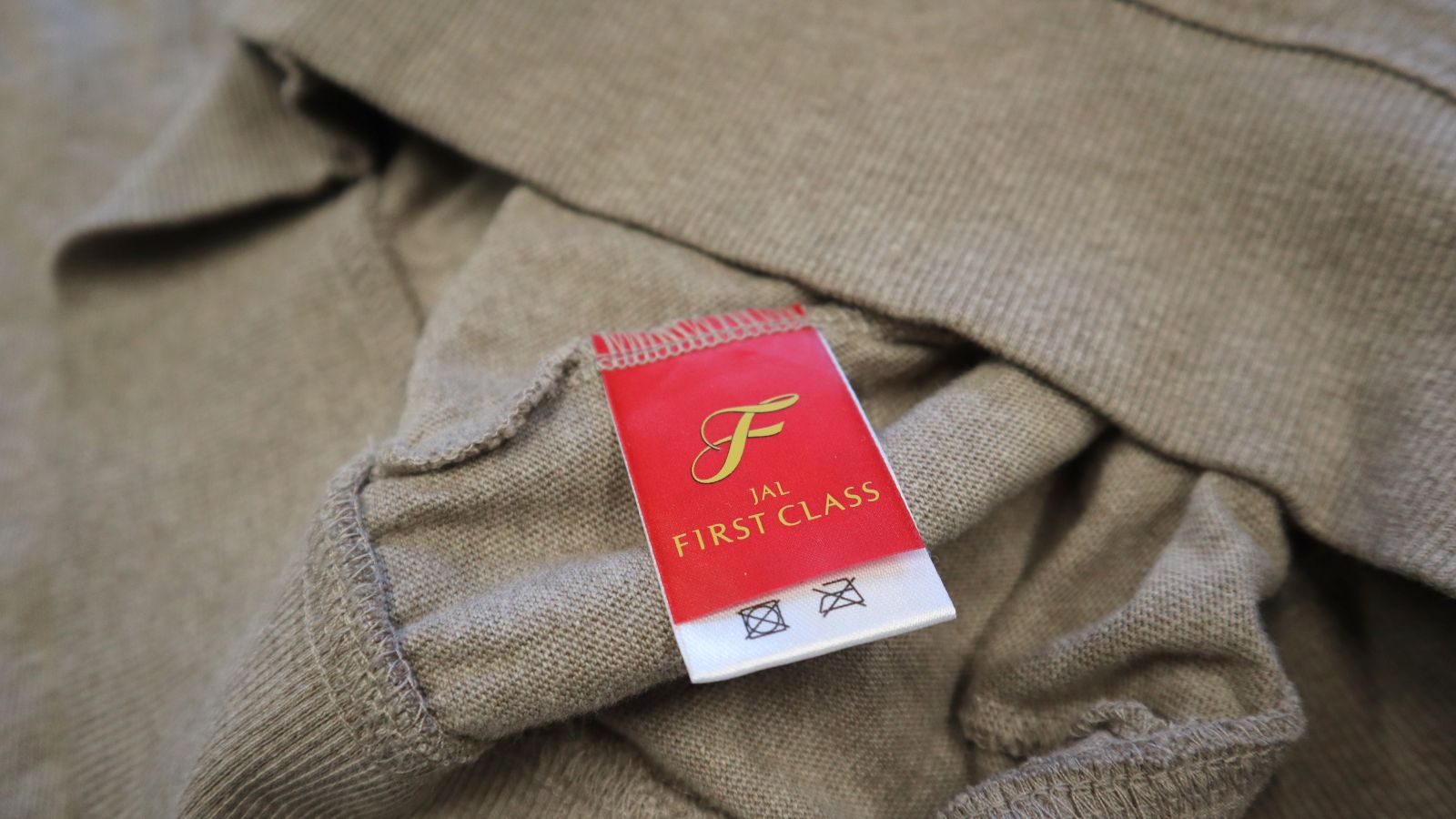 And yes, we'll have a full review of the Japan Airlines First Class experience soon.
5. Singapore Airlines First Class pyjamas
When it comes to aircraft cabins, First Class is the crème de la crème. The pointiest of pointy ends. But just when you thought you'd experienced it all with a First Class seat, Singapore Airlines goes one better. Introducing: First Class Suites.
Singapore Airlines' refurbished Airbus A380s feature – quite literally – suites in their First Class cabin. For starters, you'll get a seat – and a very spacious one, at that. Then you also get a separate, fully flat bed. And if you're travelling with a companion, you can transform the bed in an adjacent suite into a double bed. Talk about luxury in the sky!
And since you're feeling cosy, you'll need a cosy set of airline pyjamas to boot. French luxury brand Lalique takes the reigns, partnering with Singapore Airlines to offer First Class passengers a soft set of charcoal-coloured pyjamas. The cotton and polyester blend keeps you at just the right temperature – not too hot, not too cold. The long-sleeve shirt features a distinct Lalique logo, with Singapore Airlines branding tucked away in the collar. And if you've indulged in one too many plates of lobster thermidor courtesy of Singapore Airlines' Book the Cook service, the pyjama pants have a drawstring waist. Clearly a well-thought-out design.
Not flying in Singapore Airlines' First Class Suites? There's no need to worry, as these pyjamas are available for passengers flying in 'regular' First Class, too. You just won't get a separate bed. But you'll still get a luscious set of sleepwear to take home, and that's a win in our books.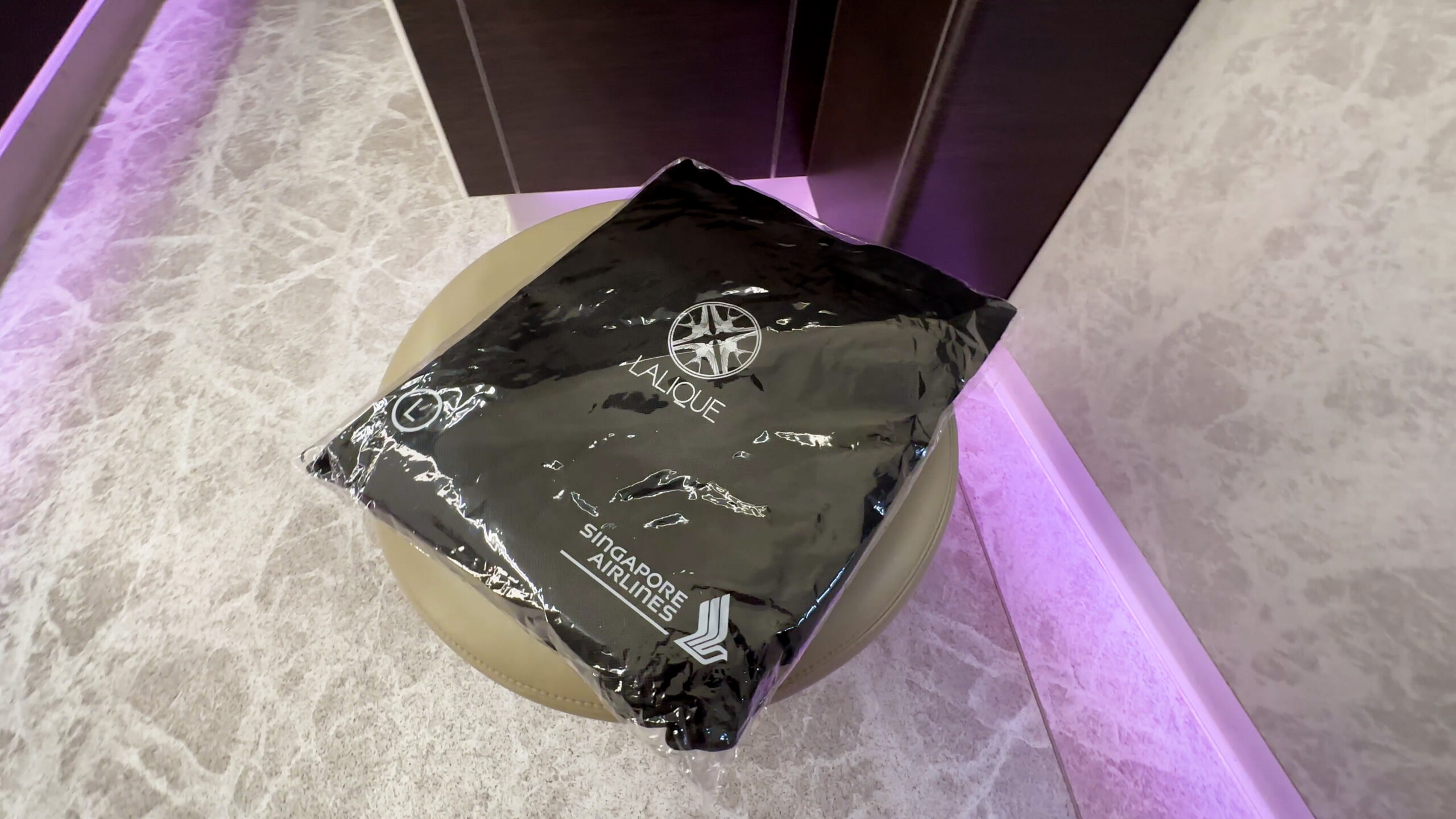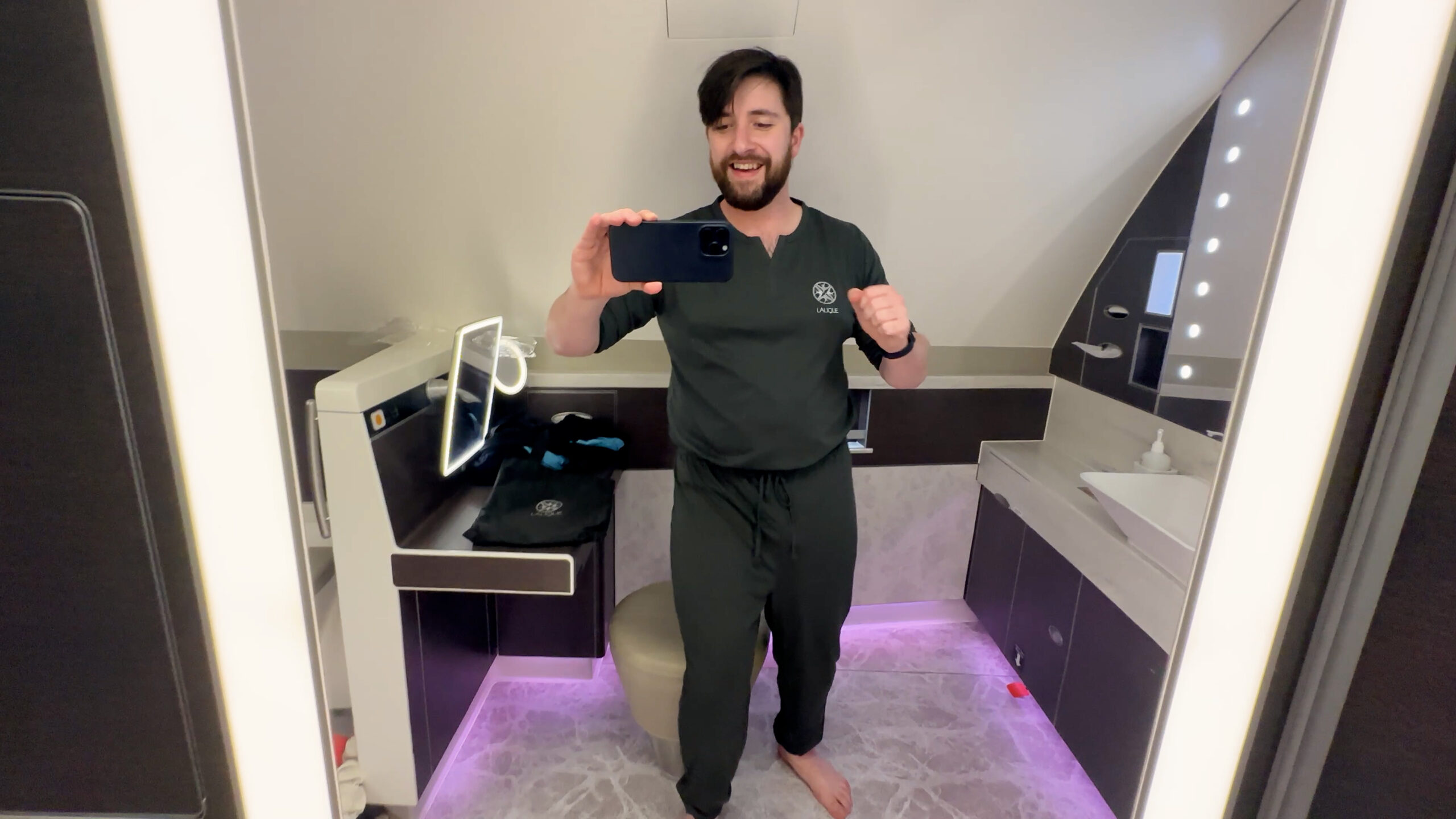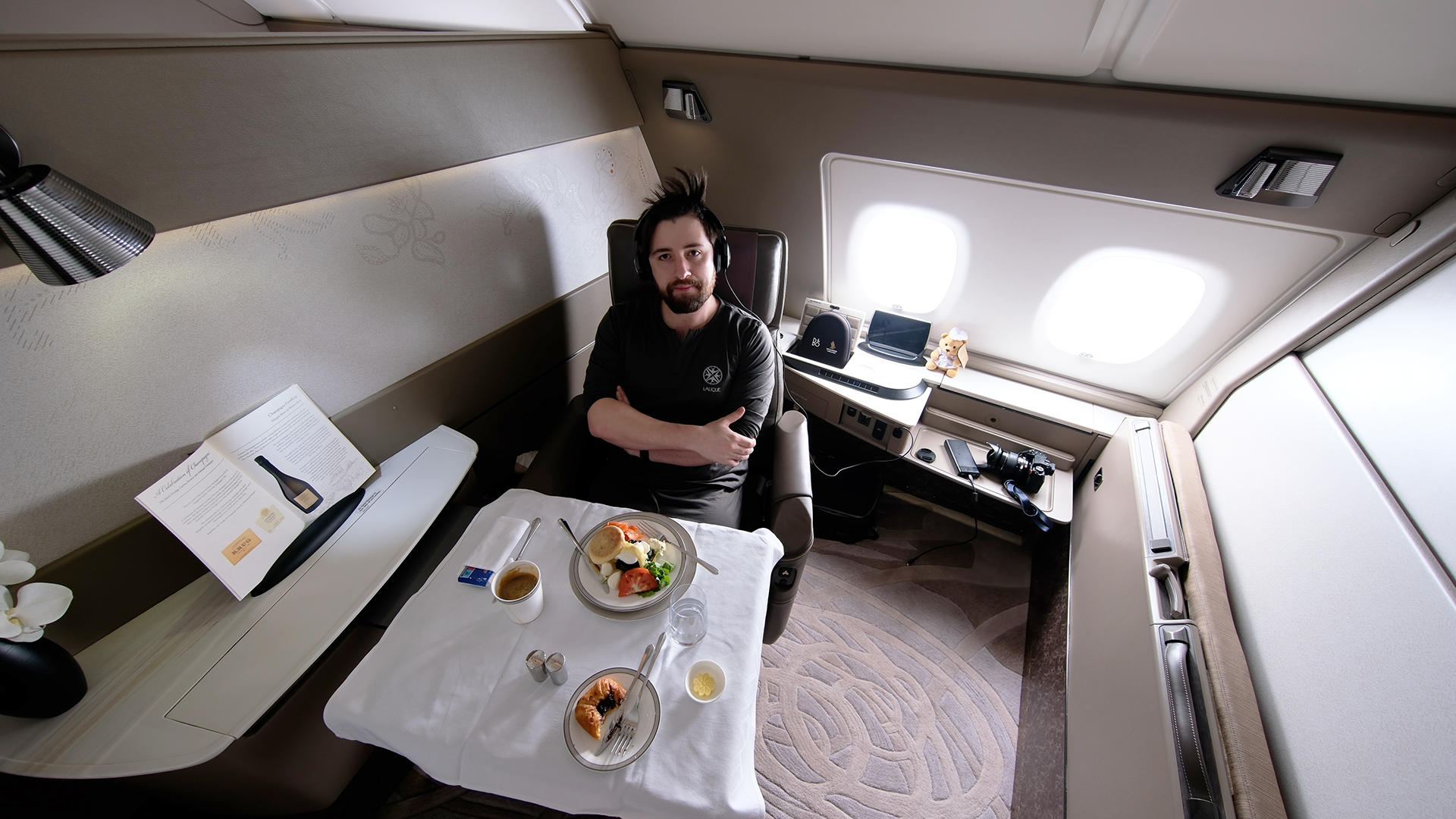 Also read: The five best First Class suites flying from Australia
Want to lap up the latest on our lavish trips around the globe? Don't forget to subscribe to our email newsletter.
Point Hacks' top 5 airline pyjamas
was last modified:
September 4th, 2023
by