New to Delta Comfort+? Put simply, it's a lot like Virgin Australia's Economy X. Picture an Economy seat with a little extra legroom and a few choice perks thrown in. But when Delta's Airbus A330-900neo appears on your US domestic flight, Comfort+ means a lot more.
Book Comfort+ on the A330neo and what you're really getting is a free upgrade to a Premium Economy seat. Service still mirrors the usual Comfort+ inclusions, but there's significantly more room to stretch out. As it happens, it's also not a bad way to spend Delta SkyMiles.
On this trip, I need to get from New York to Los Angeles as a standalone booking on a specific date. There's simply no room for flexibility in my schedule. I have a tight window between tackling City Climb at Hudson Yards – the highest open-air building ascent in the world – and boarding a flight that I've already booked onwards from LA, departing the very next day.
It's fair to say, I'm in a bit of a jam. I try to scoop up a reward seat on American Airlines or Alaska Airlines using my Qantas Points. But alas, computer says no. I try to use Velocity Points on United, but again, no reward seats. But then I remember the little stash of miles I've been saving up with Delta…
As luck would have it, I find a seat in Comfort+ right when I need to fly. It's 50,000 Delta SkyMiles plus US$5.60 to secure the very last seat in the cabin. I take another peek at my balance, and I'm exactly 5,000 miles short – damn! But before leaving the page, I happen to spot a 'Miles + Cash' button. Boom – I can grab the same seat for 45,000 miles, as long as I pay a higher US$95.60 in total fees and charges.
I quickly check the airfare price for the same seat. It'd otherwise cost me US$564 (AU$877), one-way. I burn the Delta miles I've kept for a rainy day, pay the ~AU$149 on the side and I'm booked. There are better ways to spend SkyMiles, sure. But today, my idle balance saves me AU$728 in cold hard cash. I'm quite happy with that.
Check-in and boarding
To make things easy at the airport, I complete online check-in the day before departure. When travelling with checked luggage, this is the easiest way to pay Delta's baggage fees – unless you're eligible for a waiver. Unfortunately, as Delta and Virgin Australia are no longer partners, elite Velocity members no longer qualify.
You can still avoid them with status in Delta's own frequent flyer program, or by requesting a Delta status match. There's also a fee exemption for SkyTeam Elite and Elite Plus cardholders. As it happens, I request a status match before this flight and it hasn't yet come through, so I pay the usual US$30 bag fee this time.
At the airport, this means I'm also flying as a 'regular' Comfort+ passenger – I don't qualify for the fast-track frequent flyer queues. Having said that though, the self-serve options mean I'm not kept waiting.
I wander straight up to a check-in kiosk and print my baggage tag. I wheel it over to the drop-off point, where I'm assisted in under a minute. For standard bags on US domestic flights, Delta's usual allowance is 50 pounds (about 23kg). Mine comes up as 53 pounds, but it's quietly waved on through. It's a small gesture, but I appreciate it. Especially given my allowance would have been 70 pounds (32kg) had Delta processed that status match in time.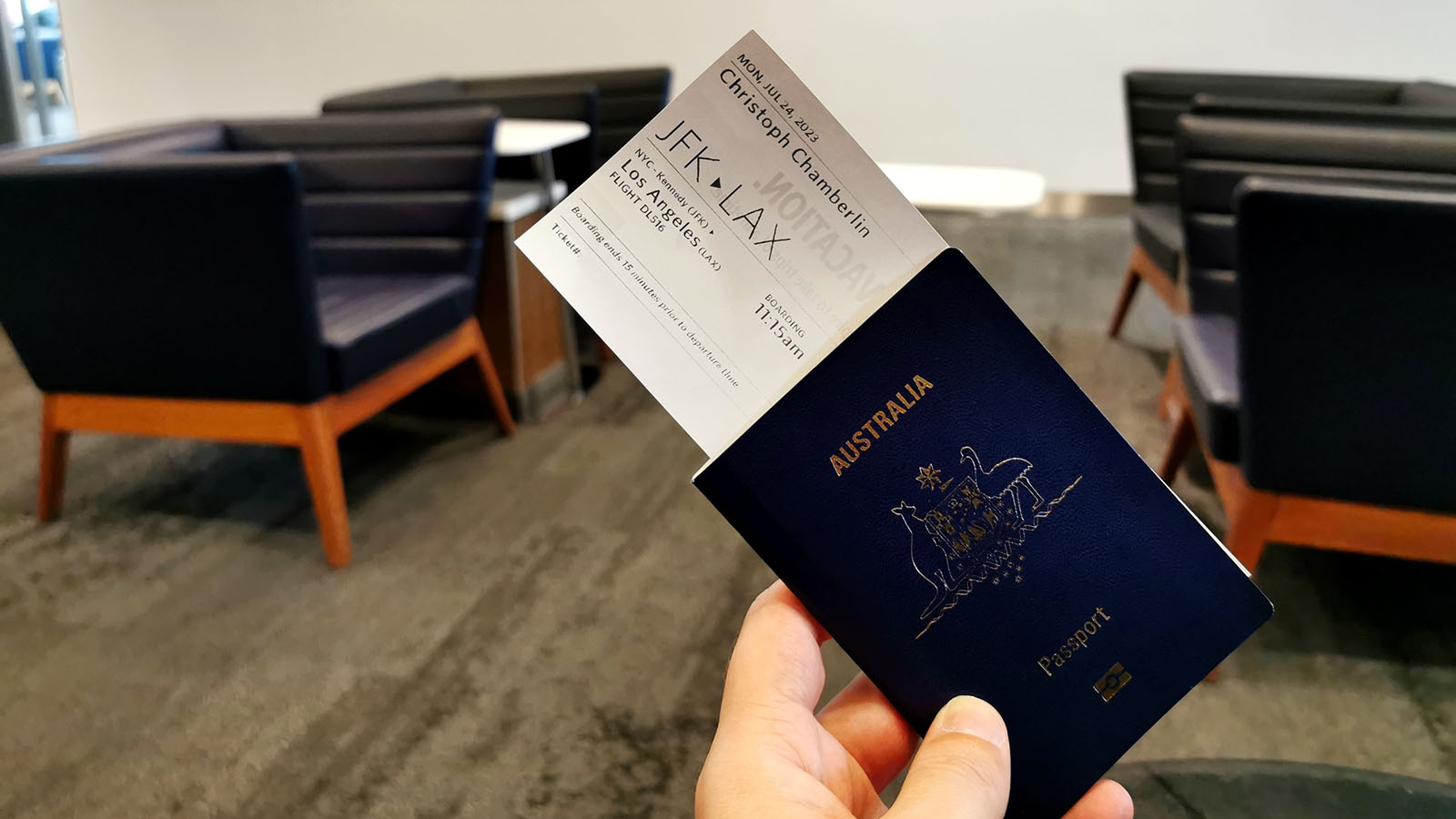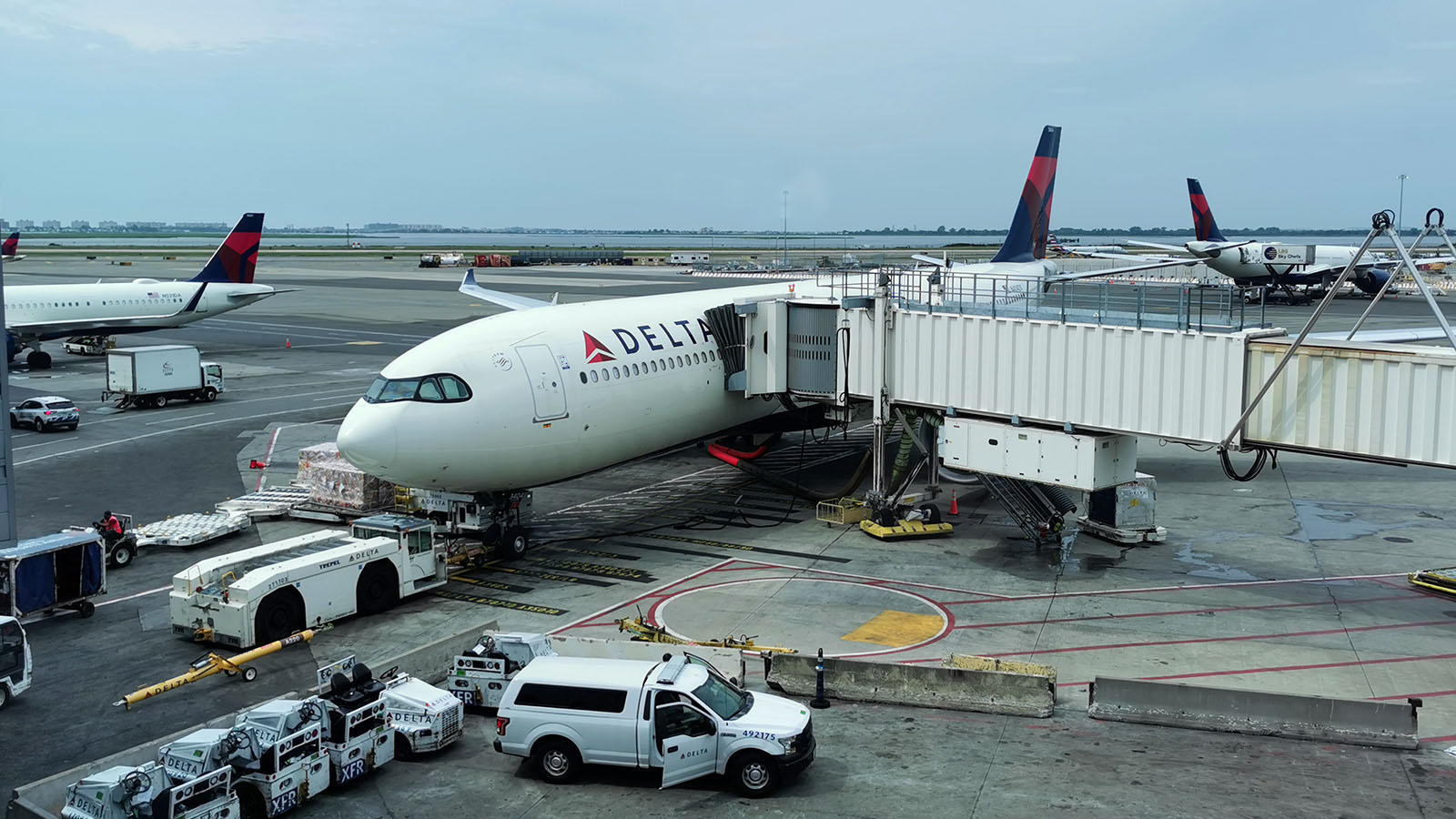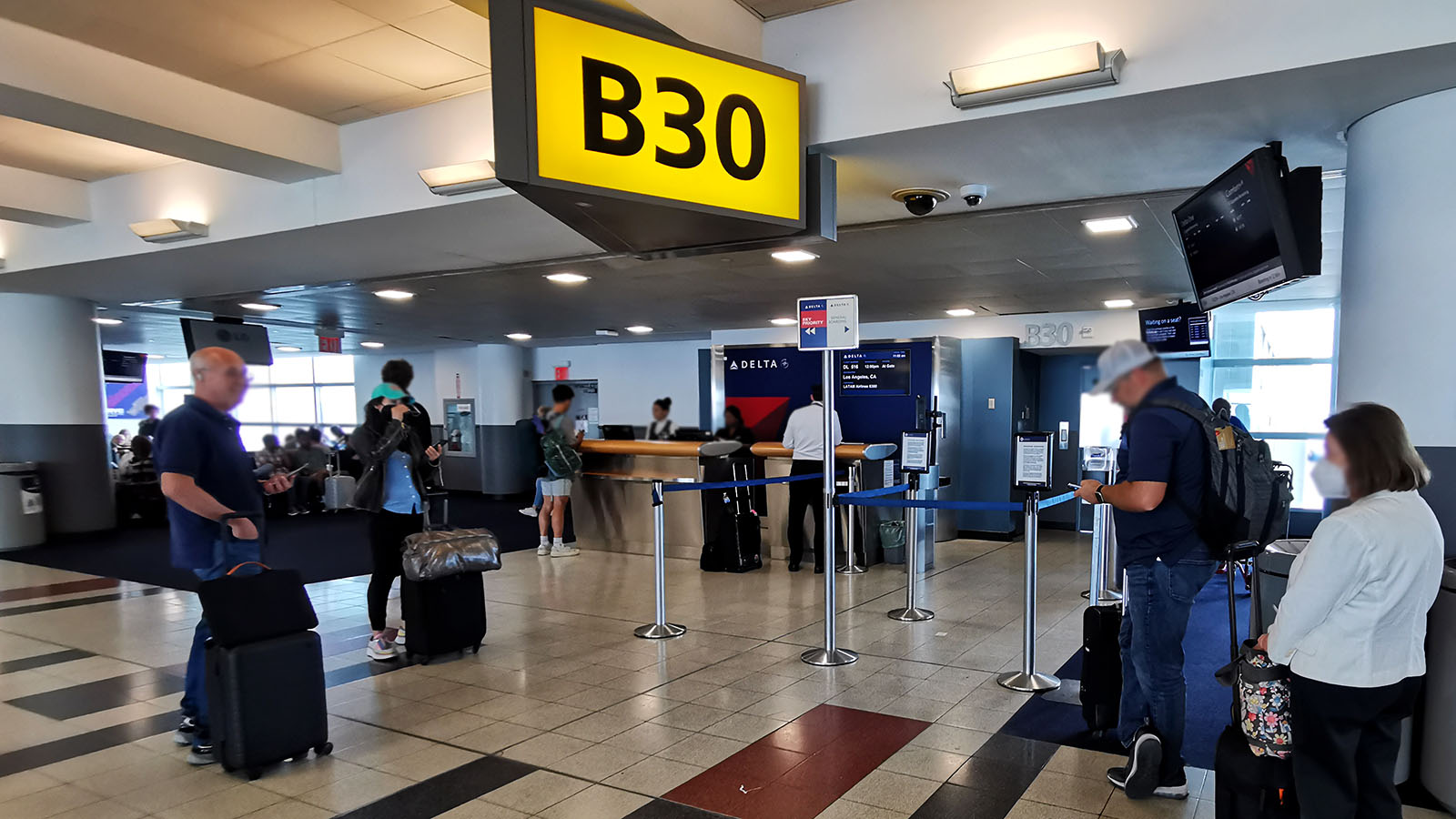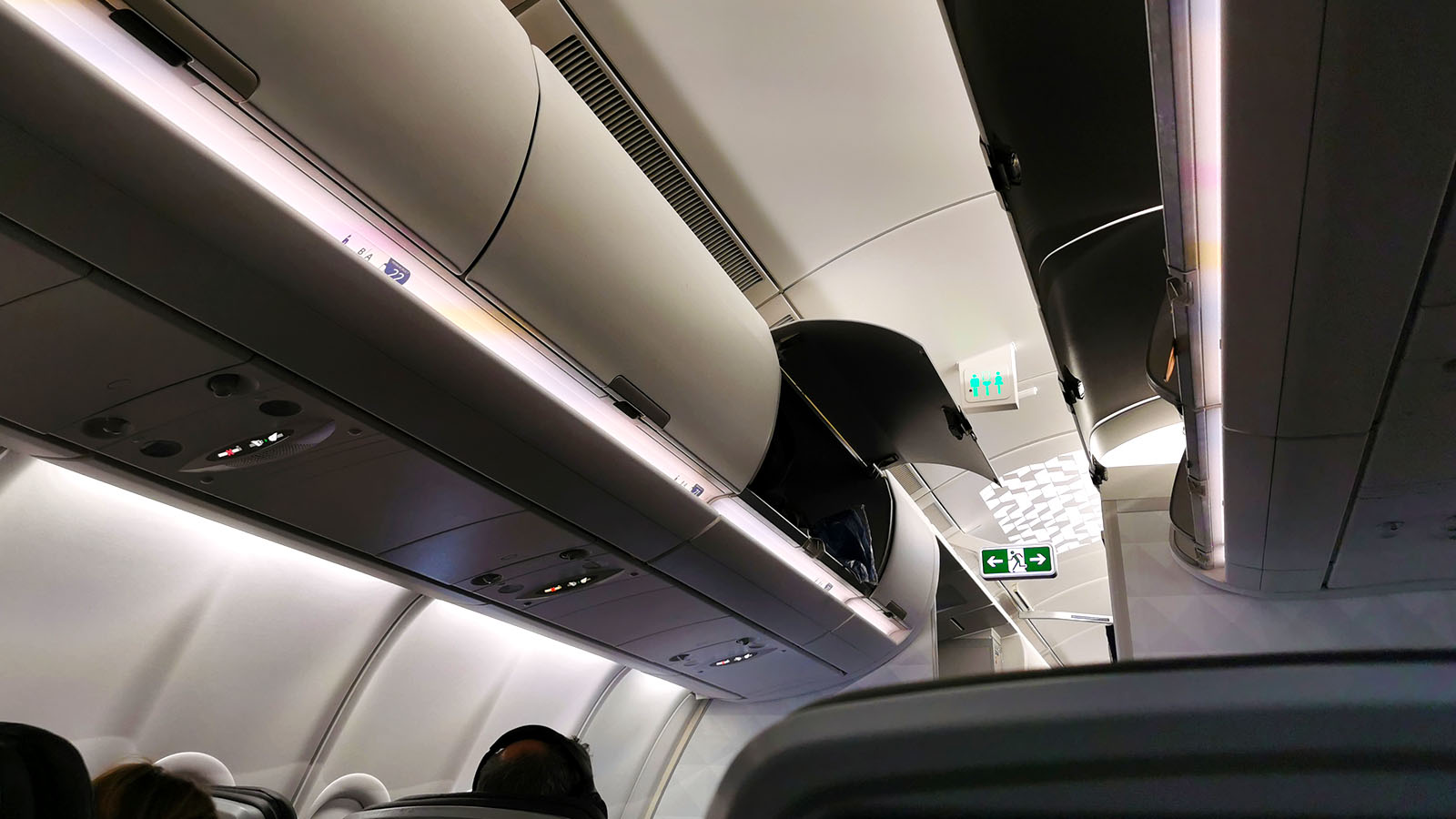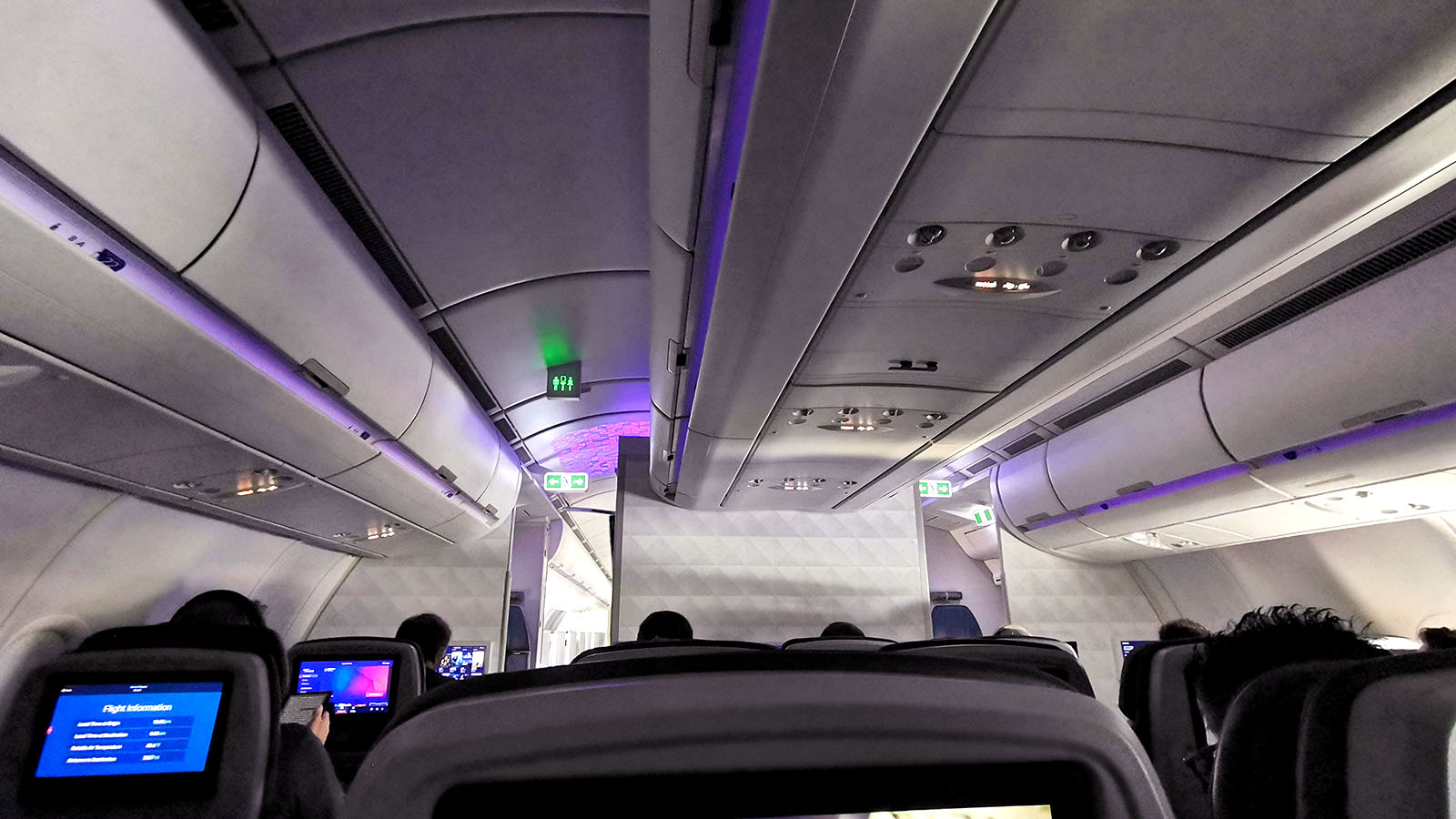 Just as I leave my bag, there's a Delta staffer calling for travellers to follow them to an alternative security screening point downstairs. I figure the line must be shorter, and I'm right. Even without access to TSA PreCheck, I'm through in under 10 minutes.
There's a sprinkle of priority treatment at the gate, with Delta boarding guests in Comfort+ before other Economy travellers on the Airbus A330-900neo.
Lounge options at New York JFK
Even when flying on international jets like Delta's Airbus A330-900neo, there's no lounge access for travellers booked in Comfort+. Of course, given this is Delta's extra legroom product for Economy travellers, we wouldn't expect it.
But when you're taking a domestic-only trip from Terminal 4 at JFK – Delta's home hub – you may qualify for complimentary lounge access. Here are those options, as relevant to Australian travellers.
Delta Sky Club: When flying with Delta on any fare type to any destination, free access for Amex Platinum Card and Amex Platinum Business Card holders, as well as those with the by-invitation Centurion Card. Delta Sky Club members can also stop by, except when booked on Basic Economy. (On domestic trips, no access via Delta or SkyTeam status, unless with a same-day international connection).
The Centurion Lounge: Open to those same American Express cardholders, irrespective of fare type or destination.
Air India Maharaja Lounge: One of many options available to Priority Pass members.
Jabbrrbox: Mini working suites accessible via Priority Pass for 75 minutes at a time. But note, this isn't available for those who have Priority Pass via a financial institution, such as American Express.
Minute Suites: Secure a small, private workroom for an hour courtesy of Priority Pass – including financial institution memberships.
Primeclass Lounge: Another lounge available via Priority Pass.
Virgin Atlantic Clubhouse: Open to Priority Pass guests between 8 am and 1:30 pm daily. Not accessible outside these times.
My pick of the day goes to the Delta Sky Club. I'd seen some horror stories online with long waits and limited seating, but my entry is swift and the lounge is serene. I pop my head outside to explore the open-air terrace, but it's a bit too humid to stay out here today.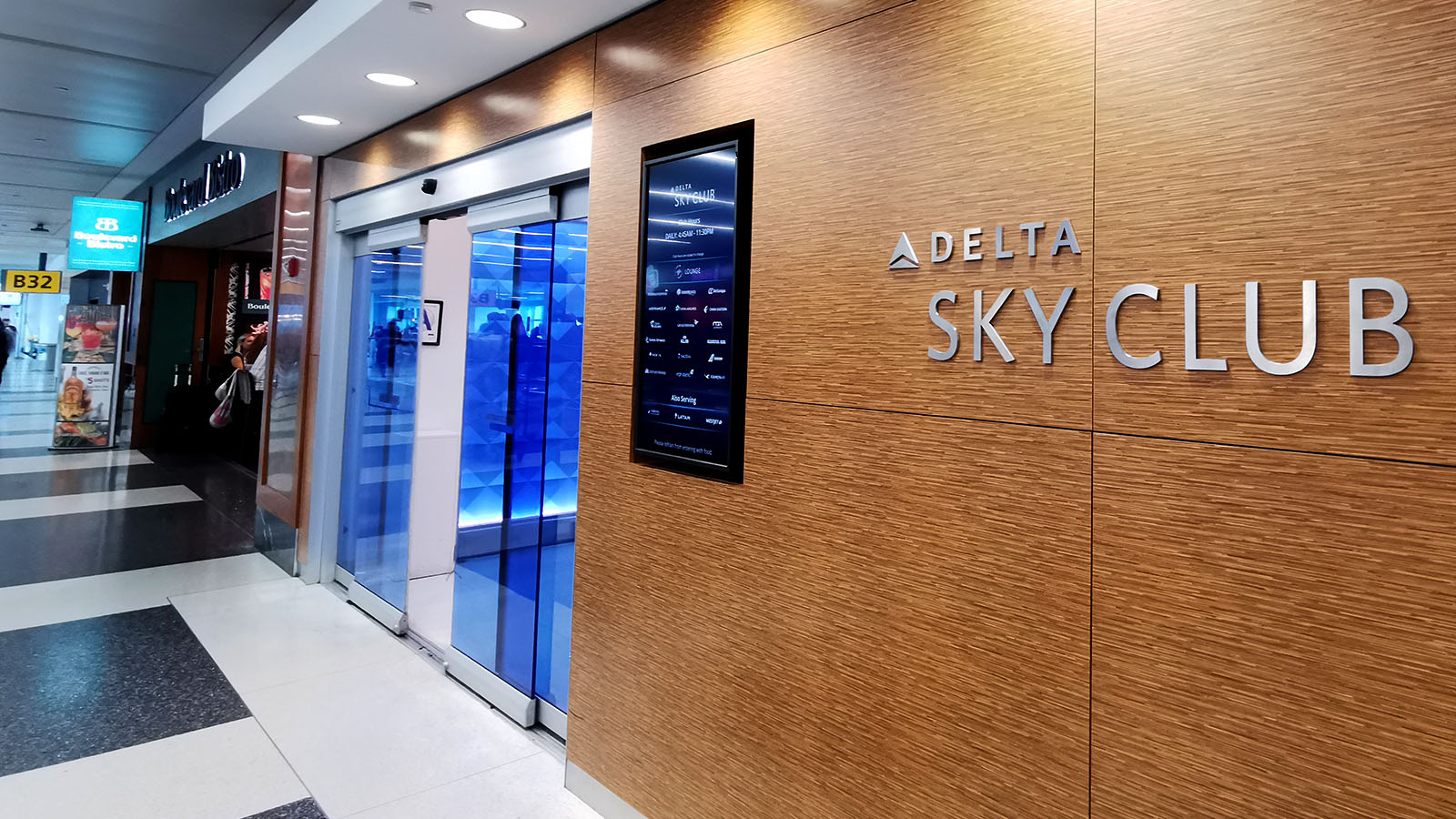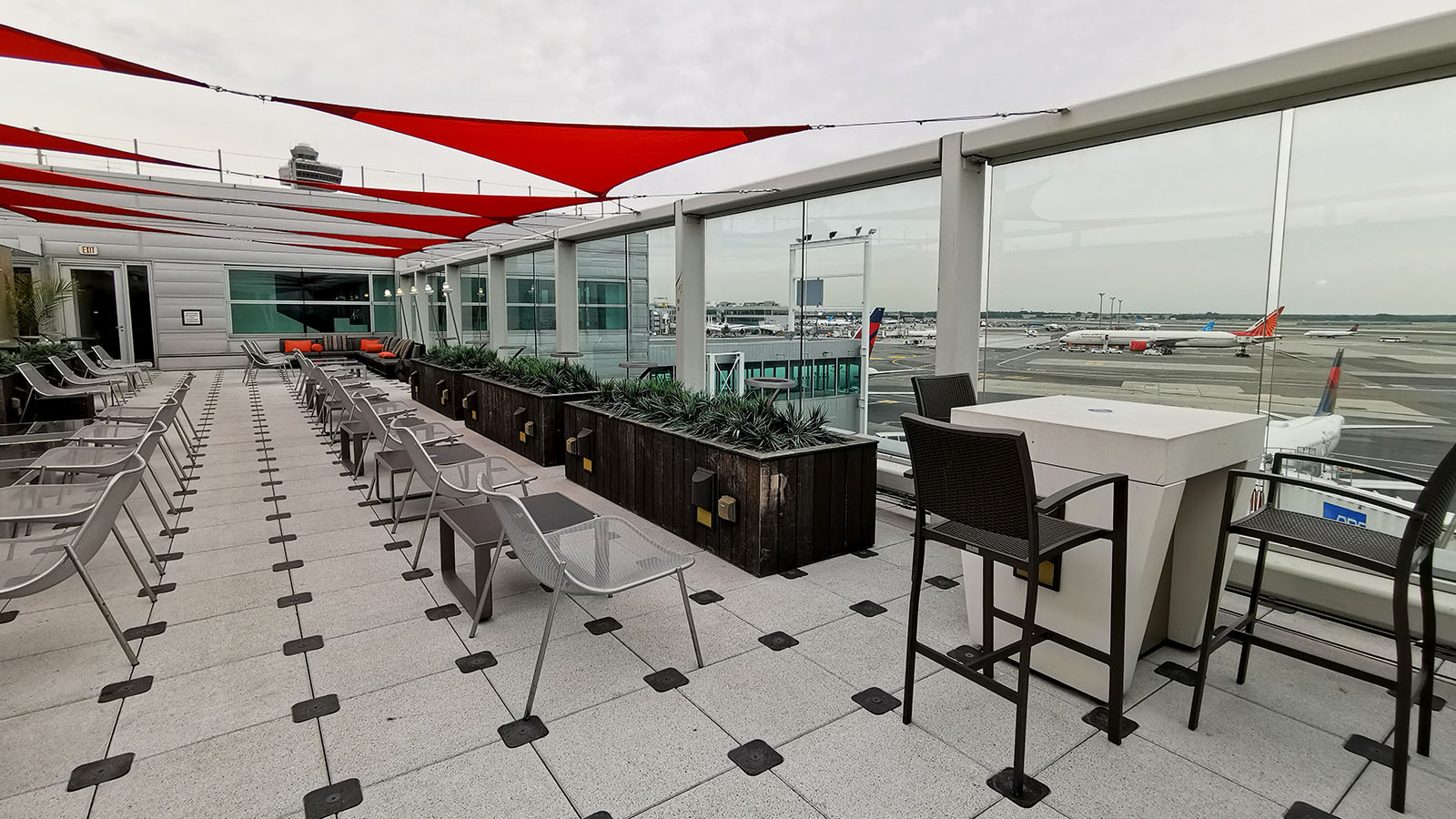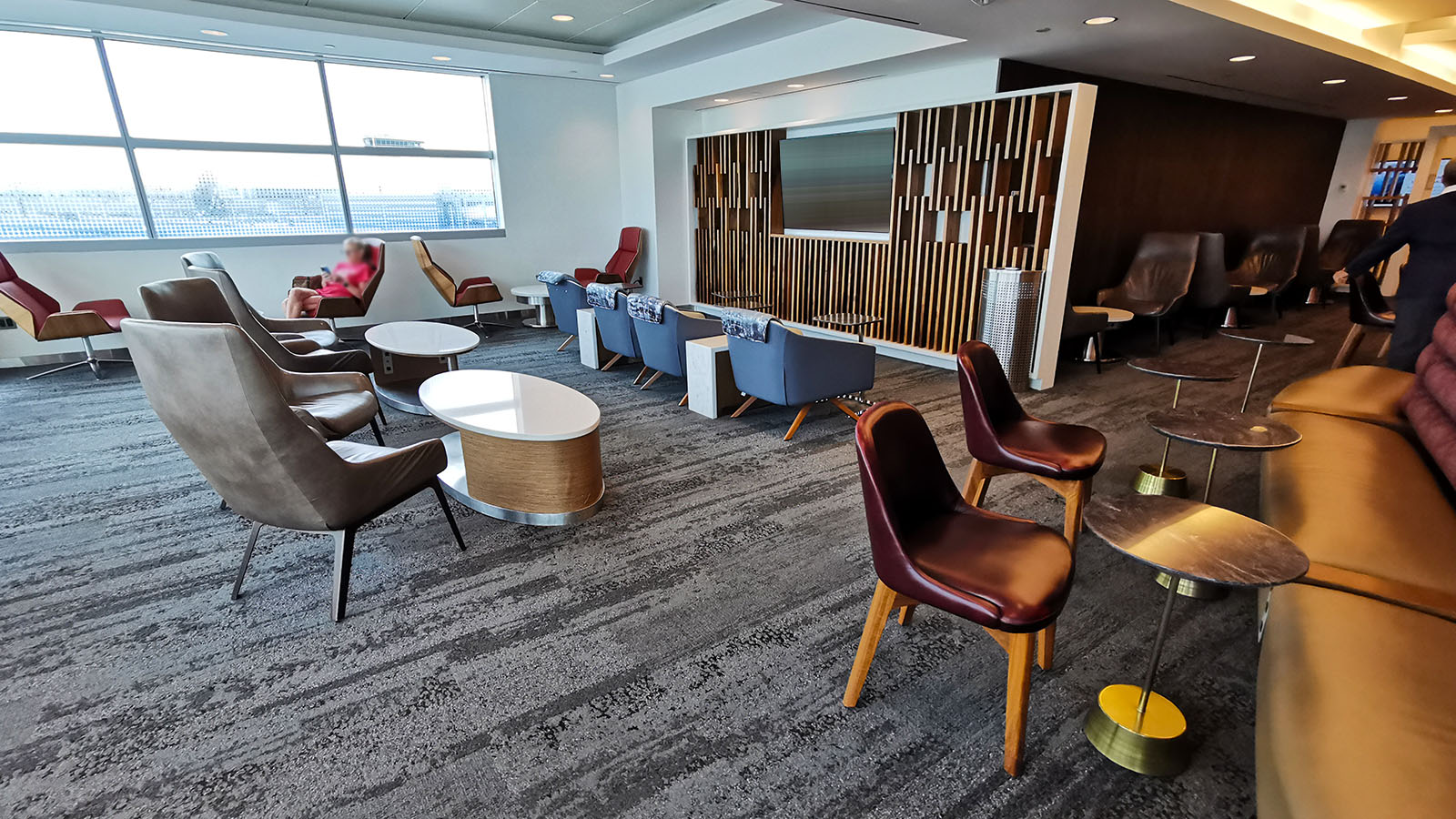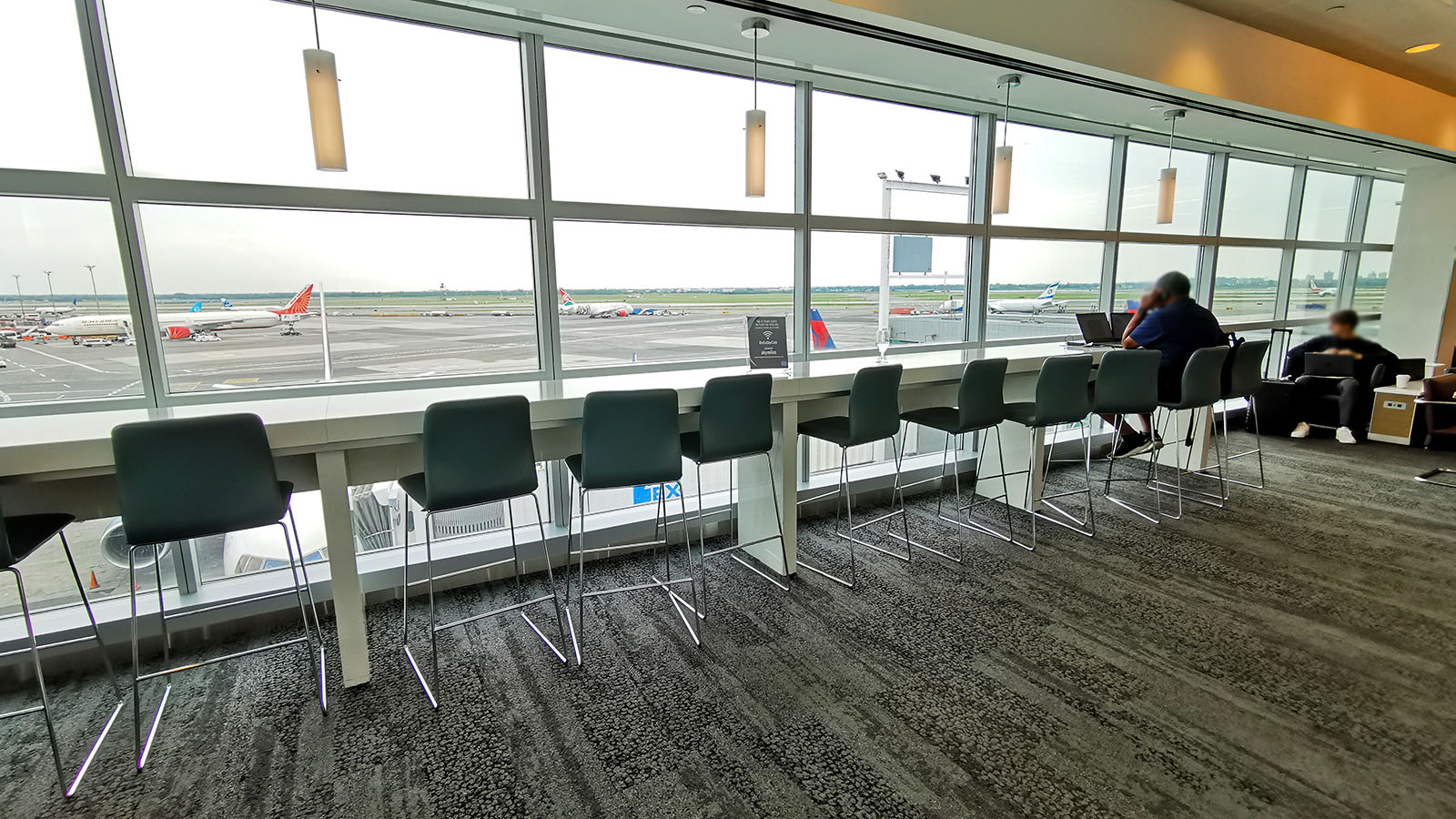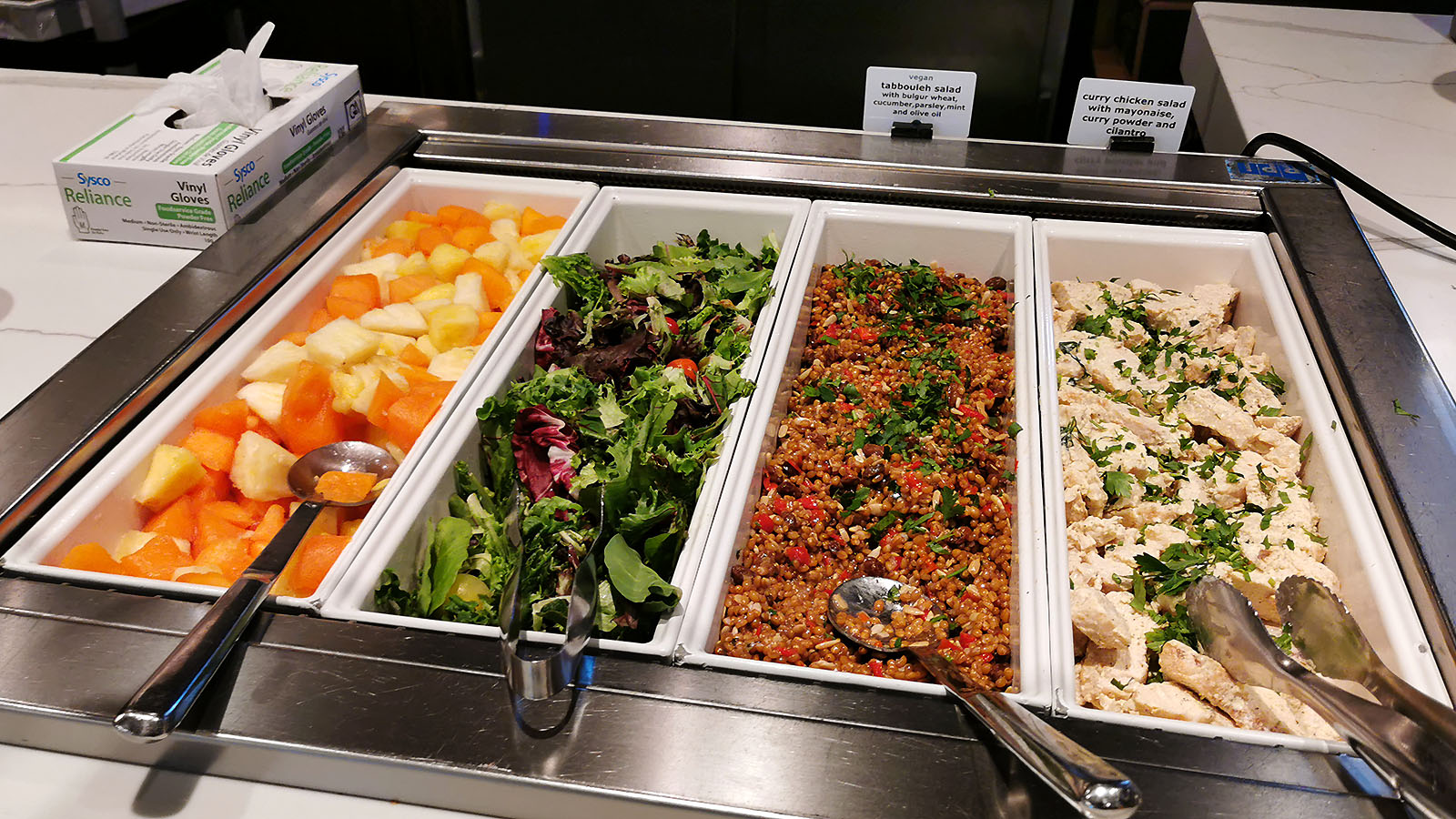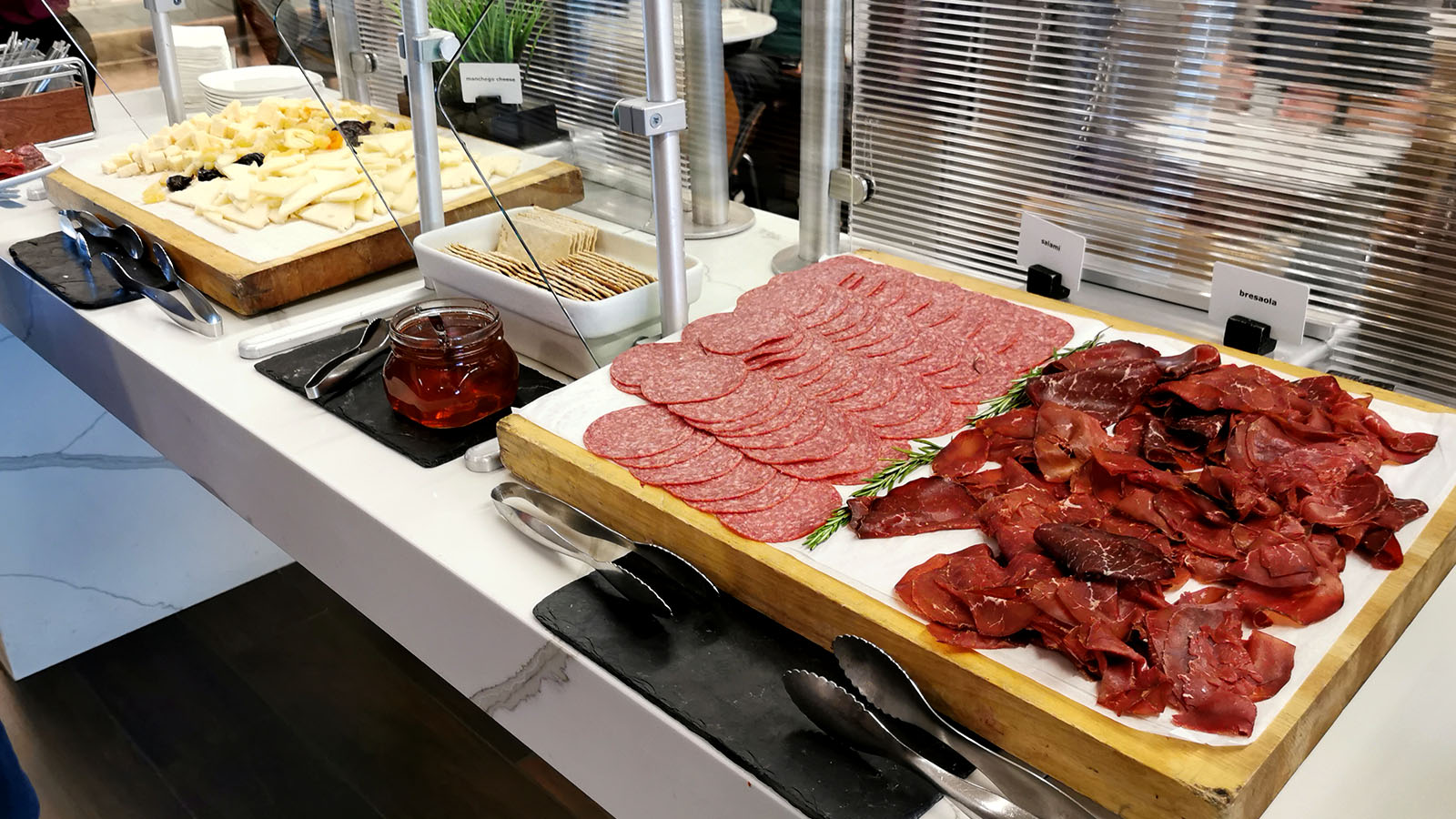 Delta has also just opened a second Sky Club in Terminal 4, which I look forward to checking out next time.
Delta Airbus A330-900neo Comfort+ seating
Here's where things get interesting – and why you should seek out Delta's Airbus A330-900neo when booking Comfort+. On domestic routes, Delta doesn't normally sell Premium Economy ('Premium Select', in Delta lingo). But on the A330-900neo, those Premium Select seats are still there on the plane.
Rather than sending them out empty, Delta allows guests booked in Comfort+ to sit there instead. It's a nice free upgrade from the regular Comfort+ experience, which normally means extra legroom in a standard Economy Class seat.
The Premium Select cabin uses a 2-3-2 seating layout. Compared to the normal 2-4-2 pattern back in Economy, that translates into more room around the shoulders. While the seat cushions in Premium Select are only 1 cm wider than in standard Economy, the physical seats are spaced slightly further apart too, giving that greater sense of space.
When it comes to the core Comfort+ amenity – extra legroom – Delta's Airbus A330-900neo really shines. Compared to standard Economy, Premium Select seats have up to 18 cm (seven inches) of additional legroom. That's thanks to a 38-inch seat pitch, versus 31-33 inches further back.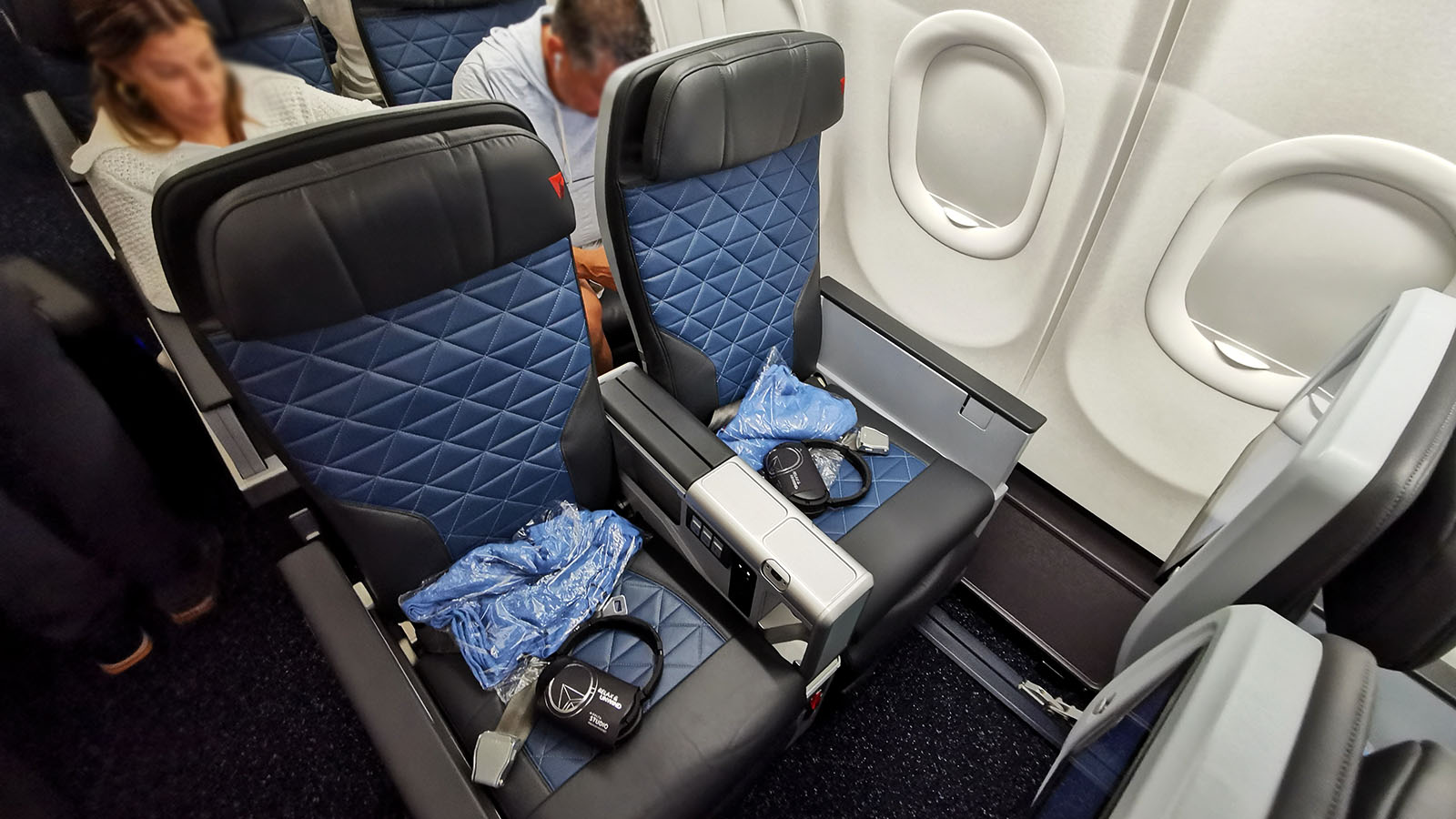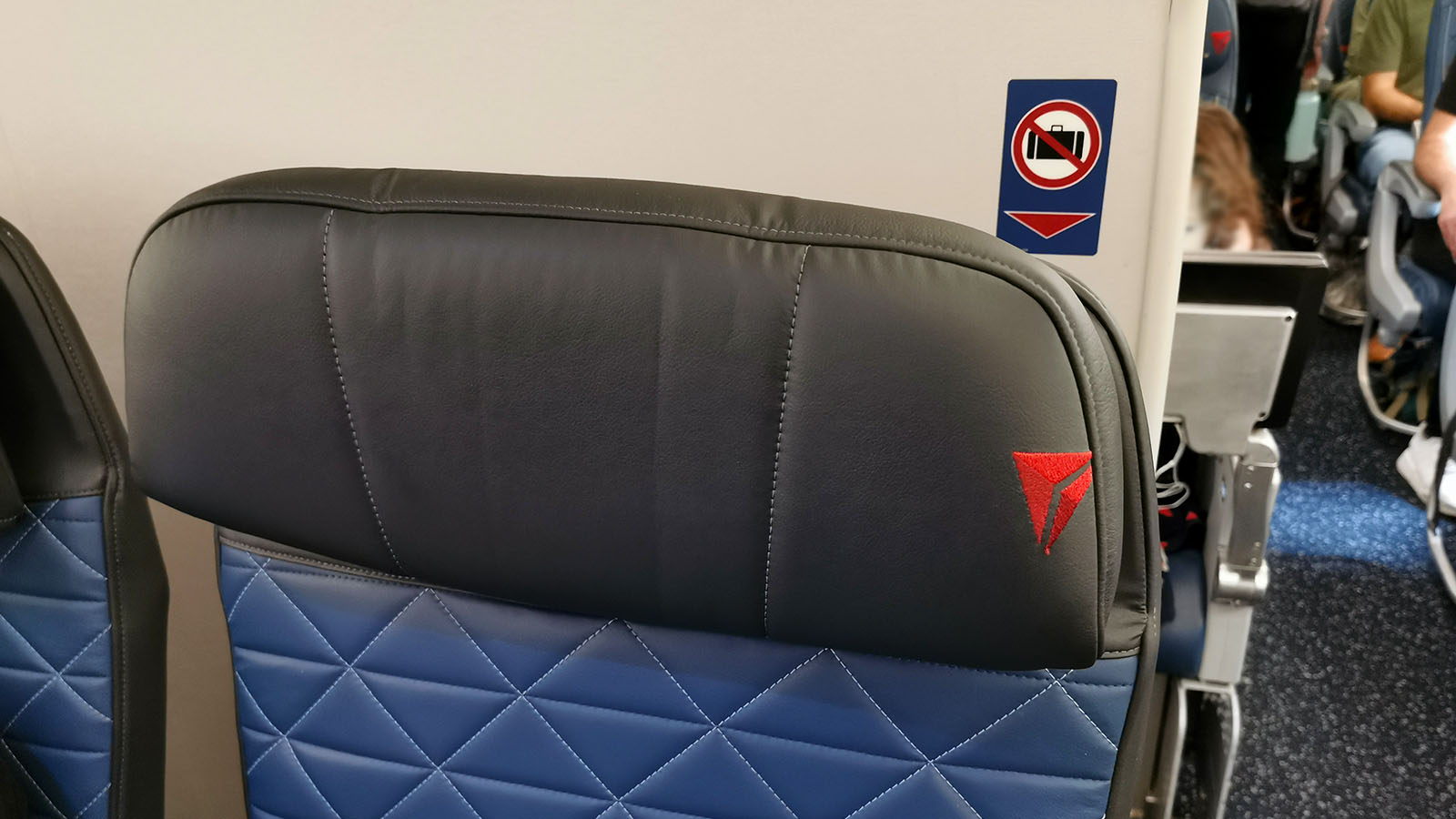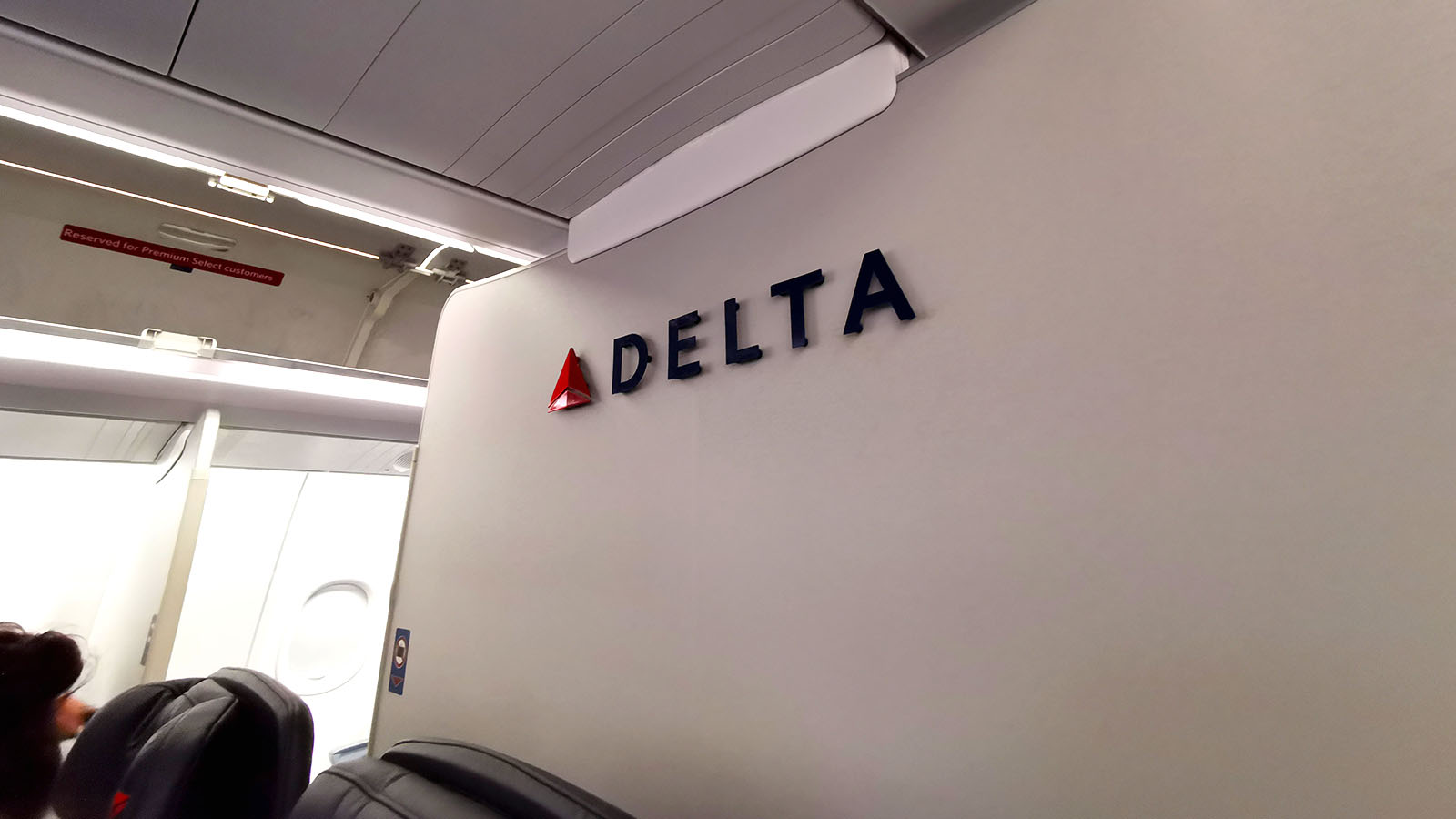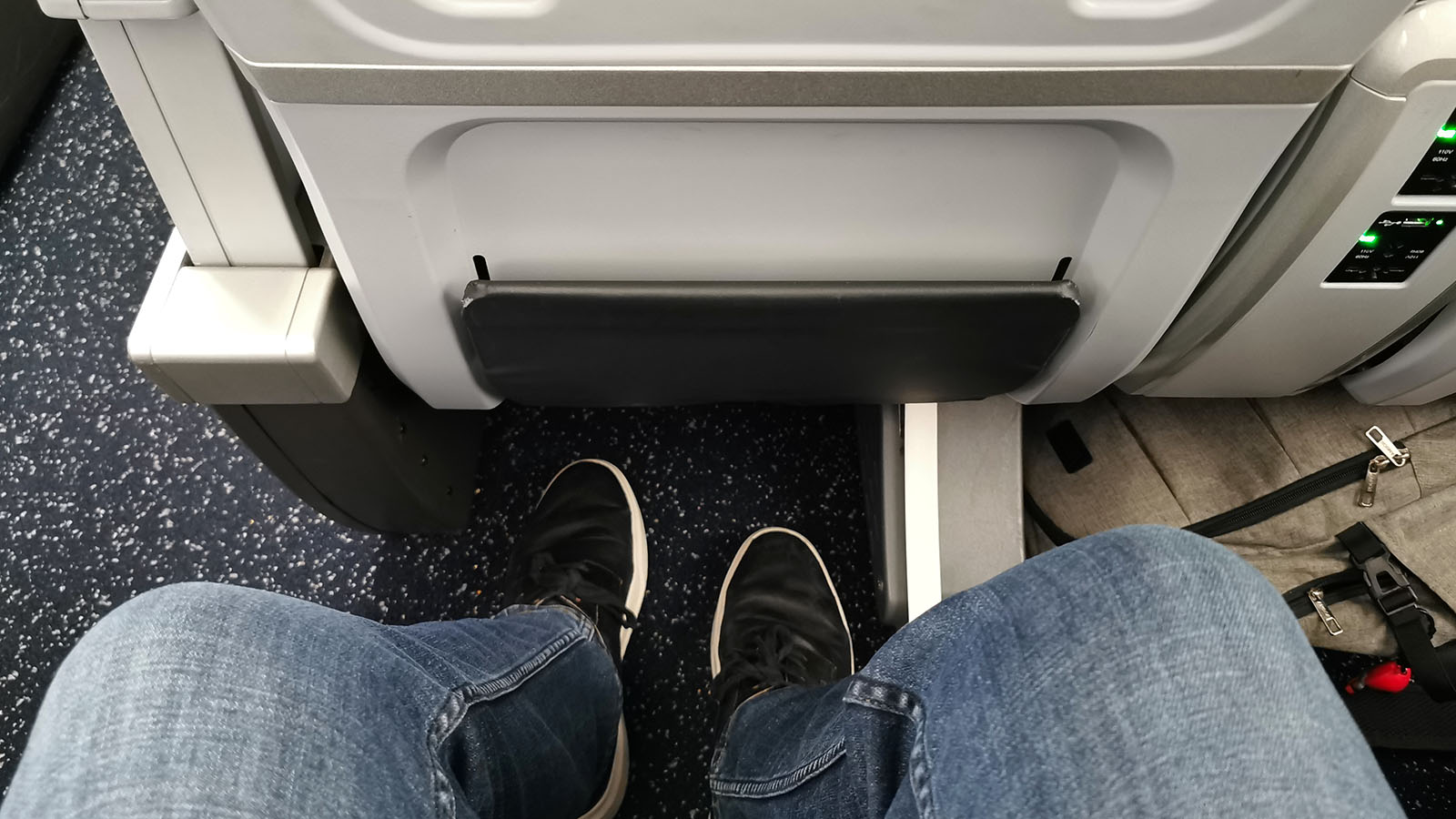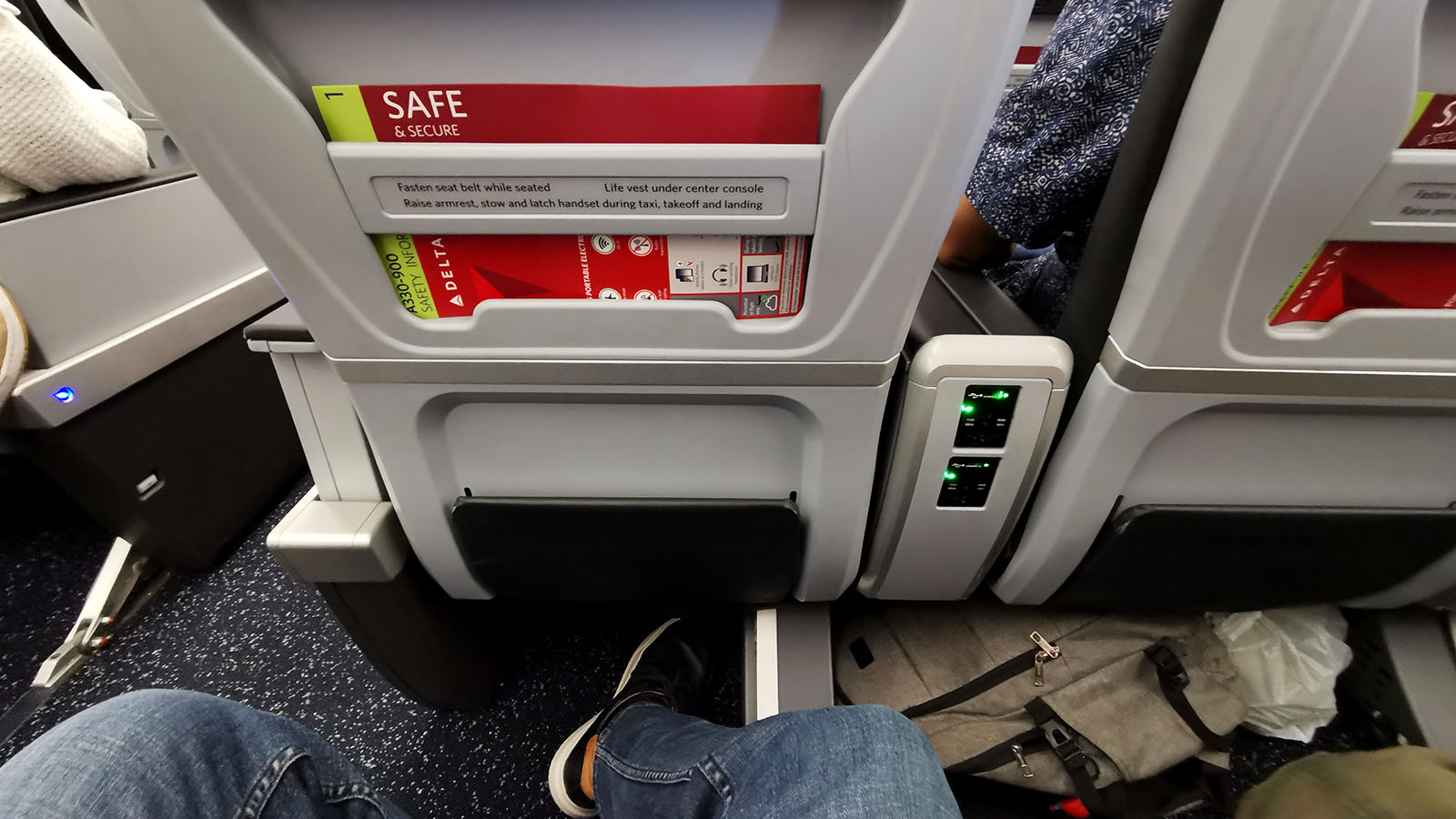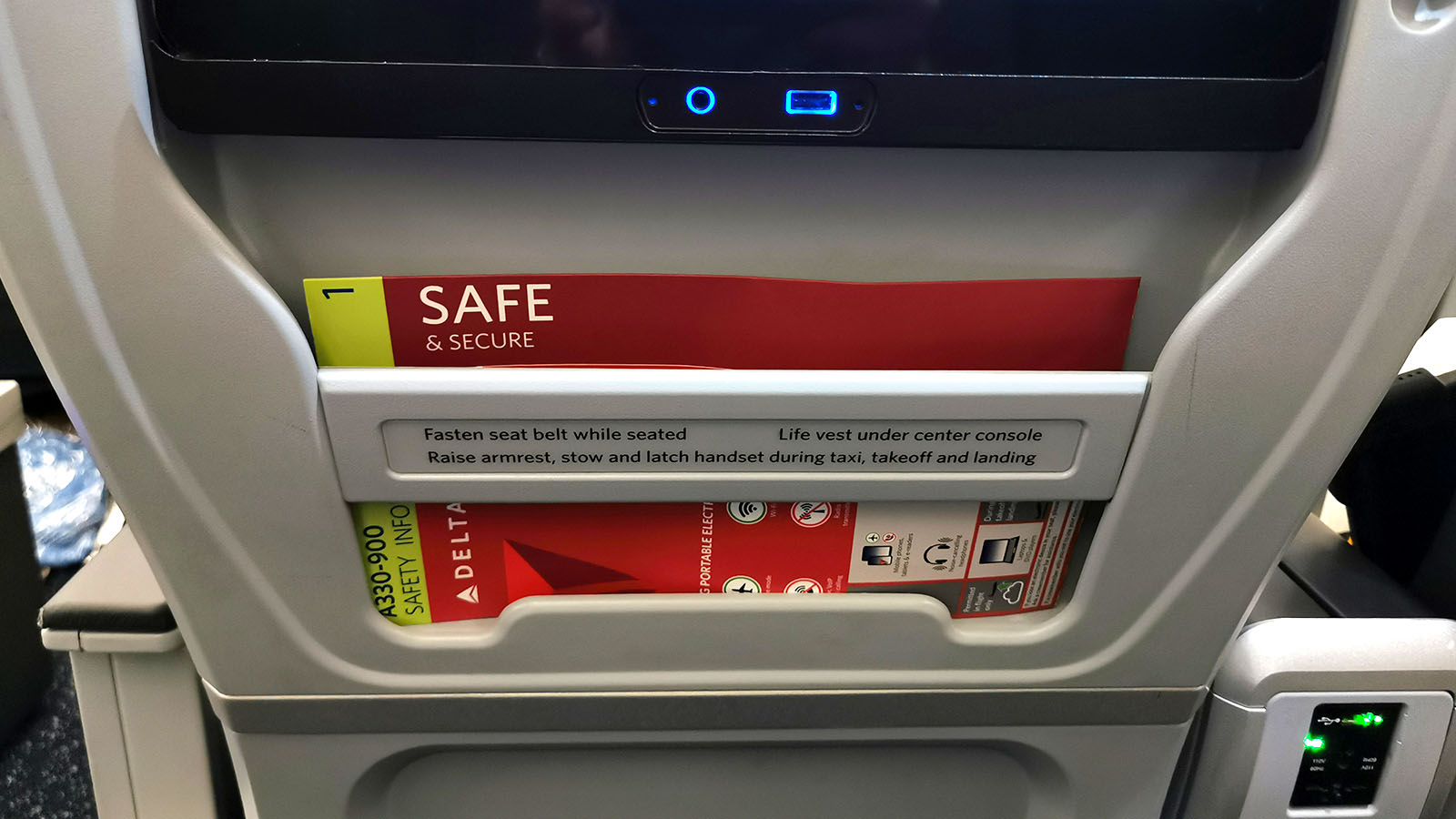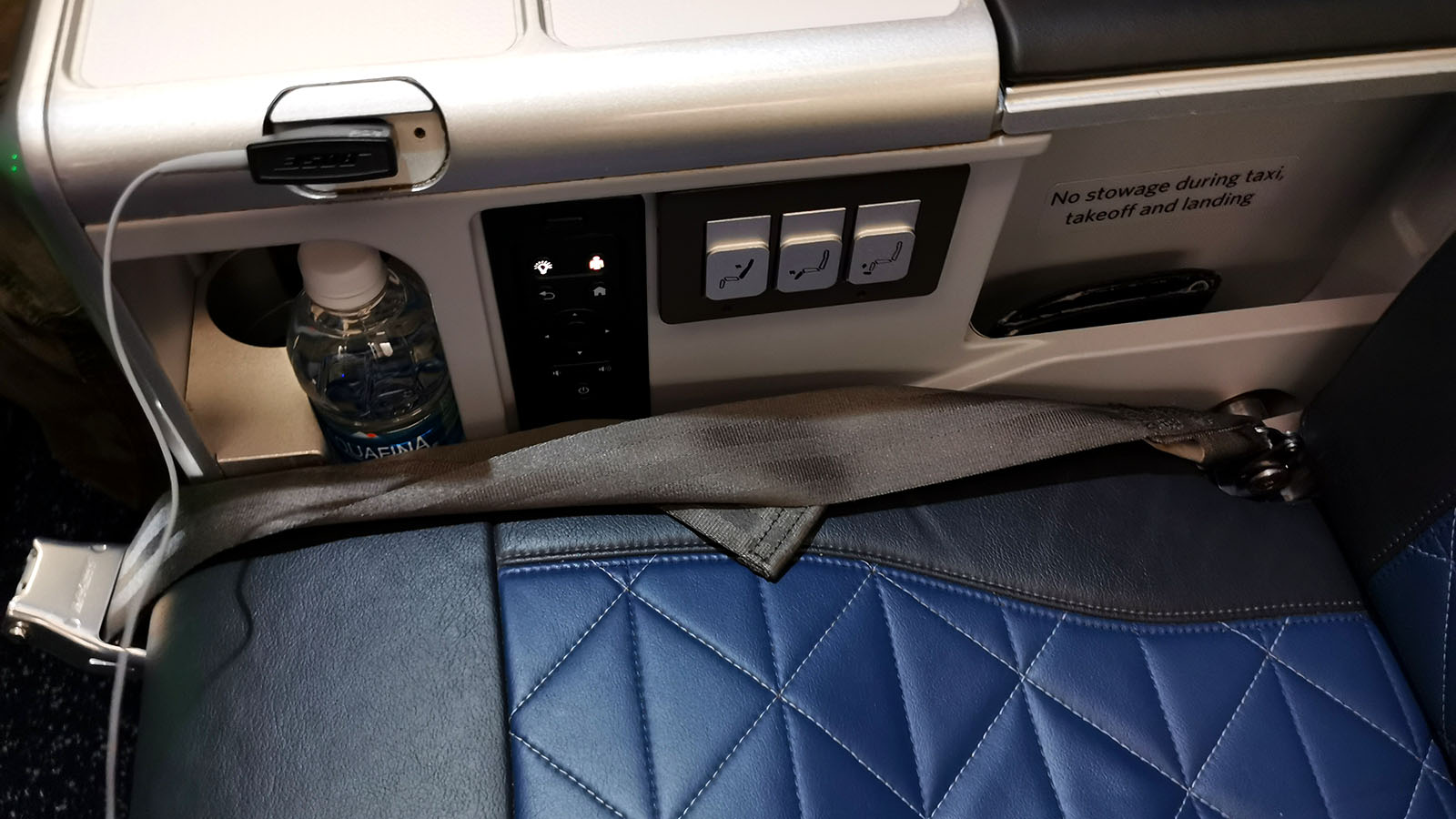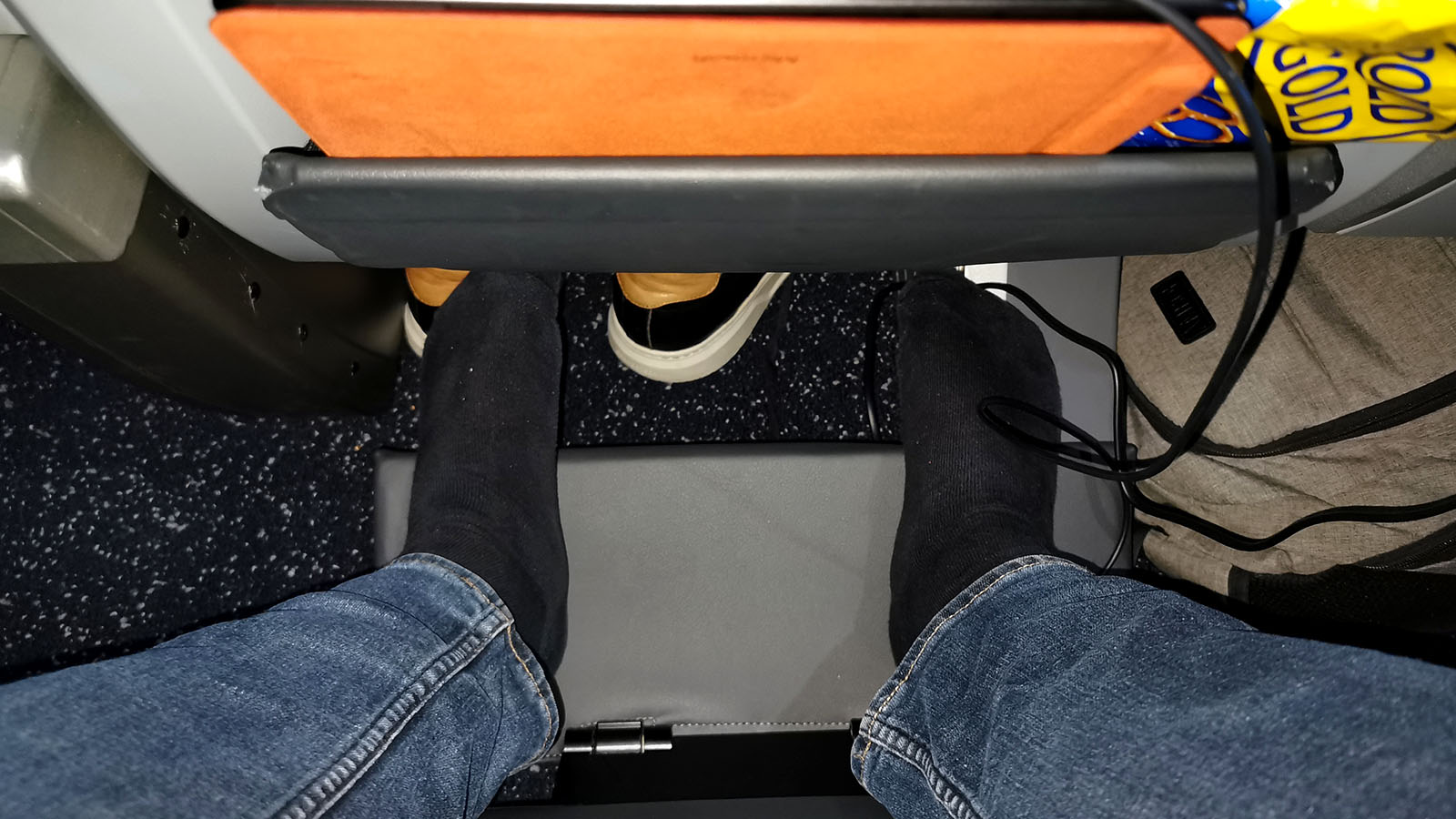 And the seat itself? There's an adjustable headrest and extendable legrest to maximise comfort. A trio of storage options keep your belongings close by. For instance, literature and small items fit in the open pocket around the safety card. Laptops and the like slip into the traditional seatback pocket. Water bottles and small items like passports also have their place.
There's pleasingly an AC power outlet for every single passenger – which isn't always the case in Premium Economy, such as with Qantas and Emirates. There are also two USB-A charging outlets at every seat. To round things out, I choose a seat in the last row, meaning I can stay fully reclined without any guilt.
Food and beverage in Delta Airbus A330-900neo Comfort+
Funnily enough, this is a near-six-hour flight departing at lunchtime. And yet, even in Delta Comfort+ on the Airbus A330-900neo, there's no substantial food included with the ticket. While it's rare to receive meals in Economy on US domestic flights, this flagship route was previously an exception for Delta. It seems, it no longer is.
What do you get, then? As in standard Economy, tea, coffee, juice, water and soft drinks are all included. By booking Comfort+, beer, wine and spirits are covered too. Knowing I'll have cocktails to enjoy at my destination, I'm content with coffee and Diet Coke for now.
On the food front, regular Economy includes basic snacks such as Biscoff. In Comfort+, more 'premium snacks' are gratis as well, like potato chips. Really though, for a six-hour flight, this isn't much to go on.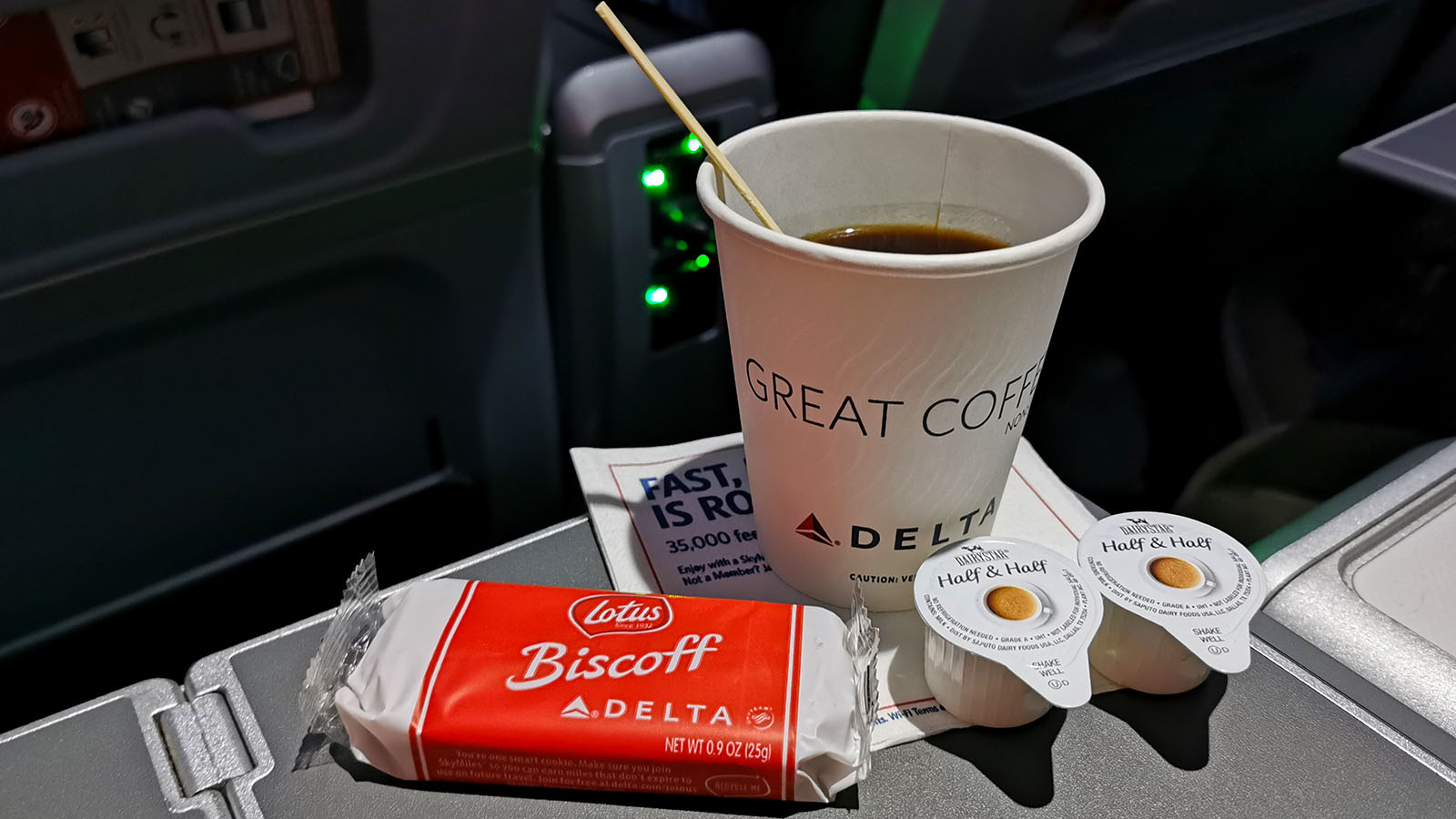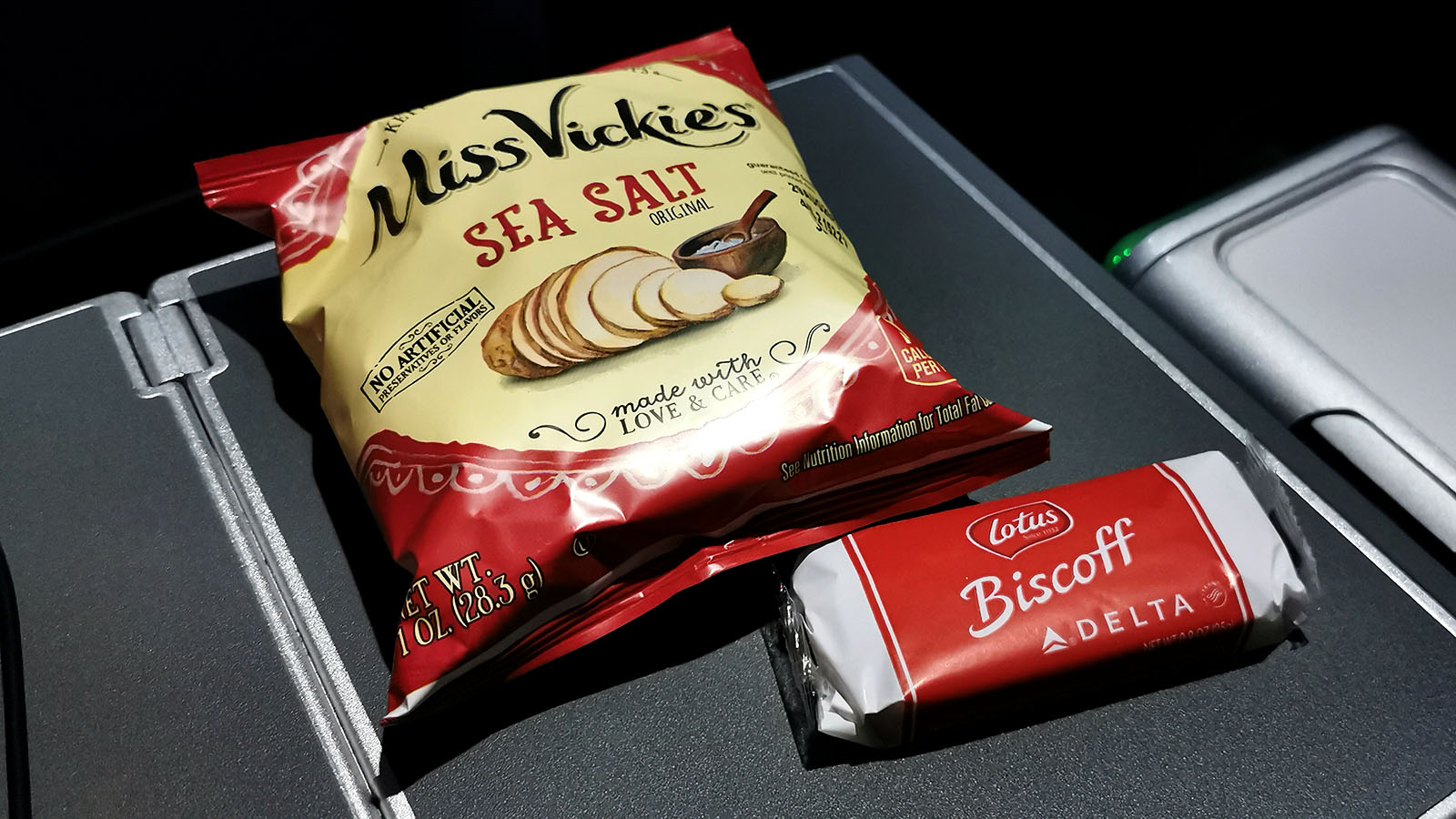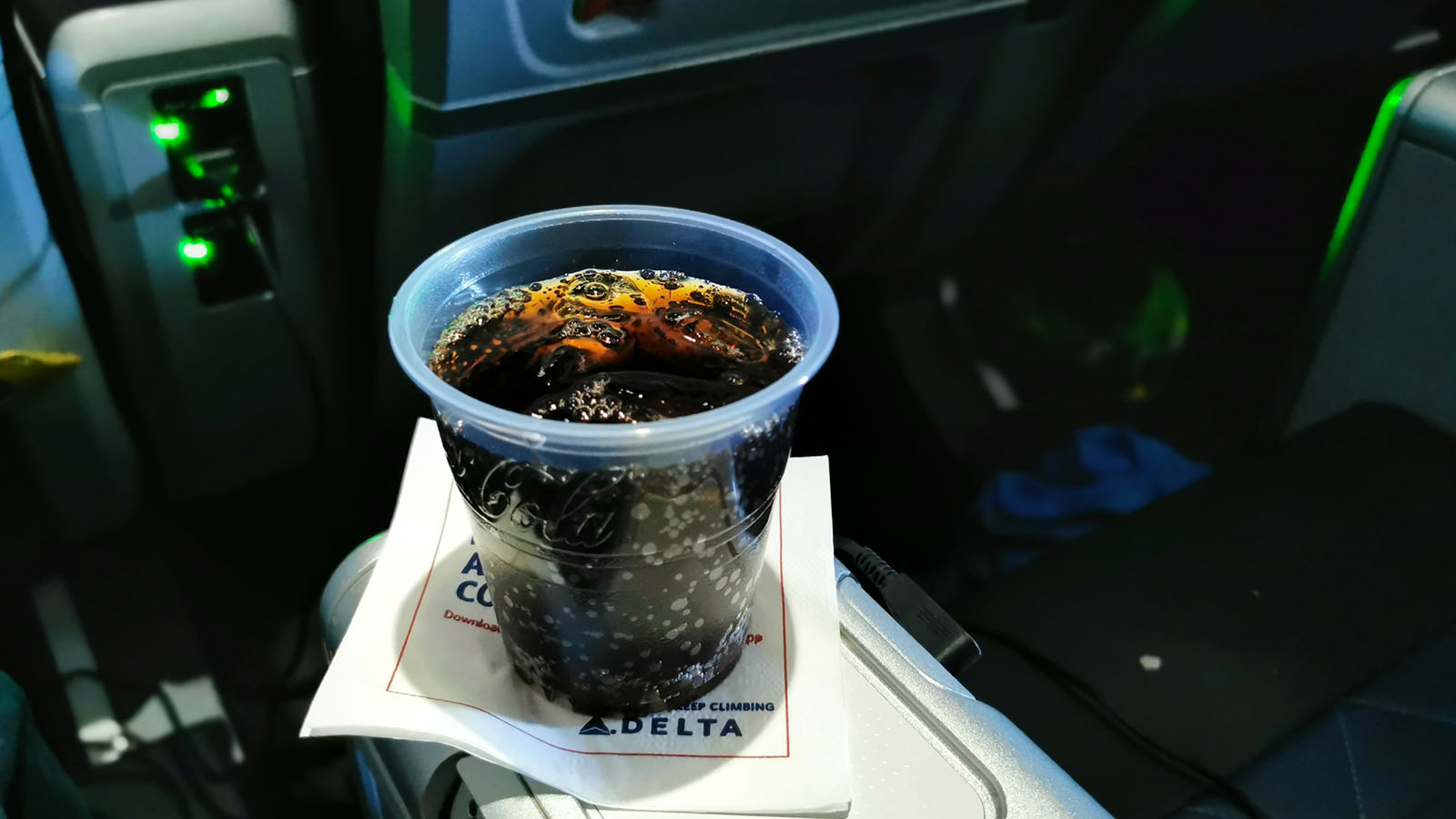 For anything more substantial, you need to pay. And even then, there aren't many options. On my flight, it's a choice between a box of cheese and crackers or a chicken wrap. Both cost US$12 (AU$18.70) – and the rest is just snacks, which are already free. I knew food would be limited, so planned ahead by eating an early lunch in the lounge. I suggest you do the same.
Delta Airbus A330-900neo Comfort+ service and entertainment
Given the lack of meals in Delta's Airbus A330-900neo Comfort+, there isn't much to report on the service front. Except to say that the main beverage cart comes by twice during the flight, and ad hoc drinks are offered sporadically.
Just when I'm feeling a tiny bit peckish, the snack basket comes around again. Crew are polite and efficient, but there's not much interaction beyond beverages. Instead, free seatback entertainment keeps passengers occupied.
Admittedly, I board this leg feeling a little bit sleepy. After all, it's my eighth flight in nine days. Rather than committing my energy to a movie, I watch a shorter documentary instead: The Steepest Climb. It's produced by Delta Air Lines, so I don't expect it'll have any criticism of the airline – and I'm not wrong. But it does illustrate some of the things that Delta did during the pandemic, with some exclusive views behind the scenes. It's still interesting, to say the least.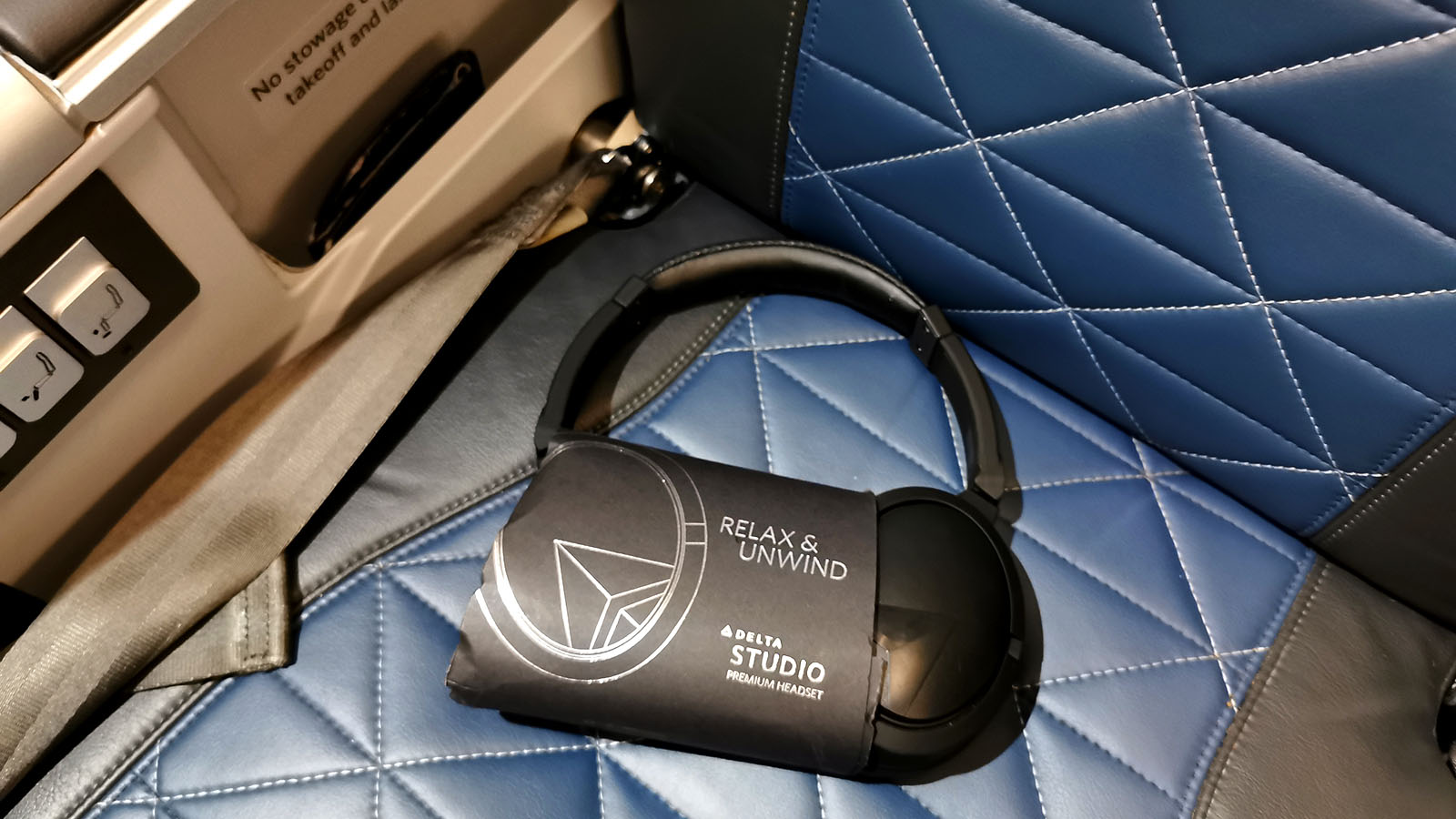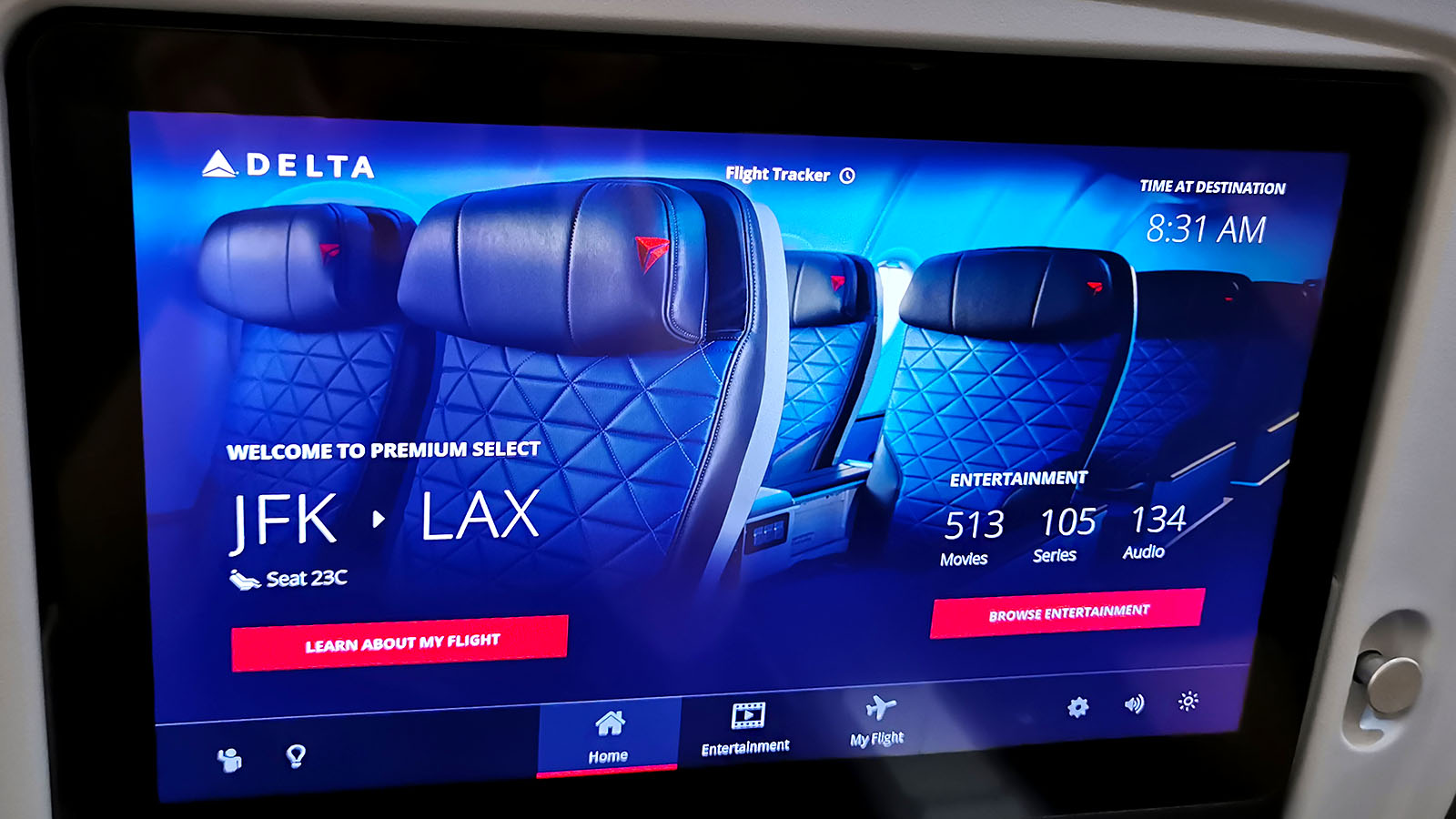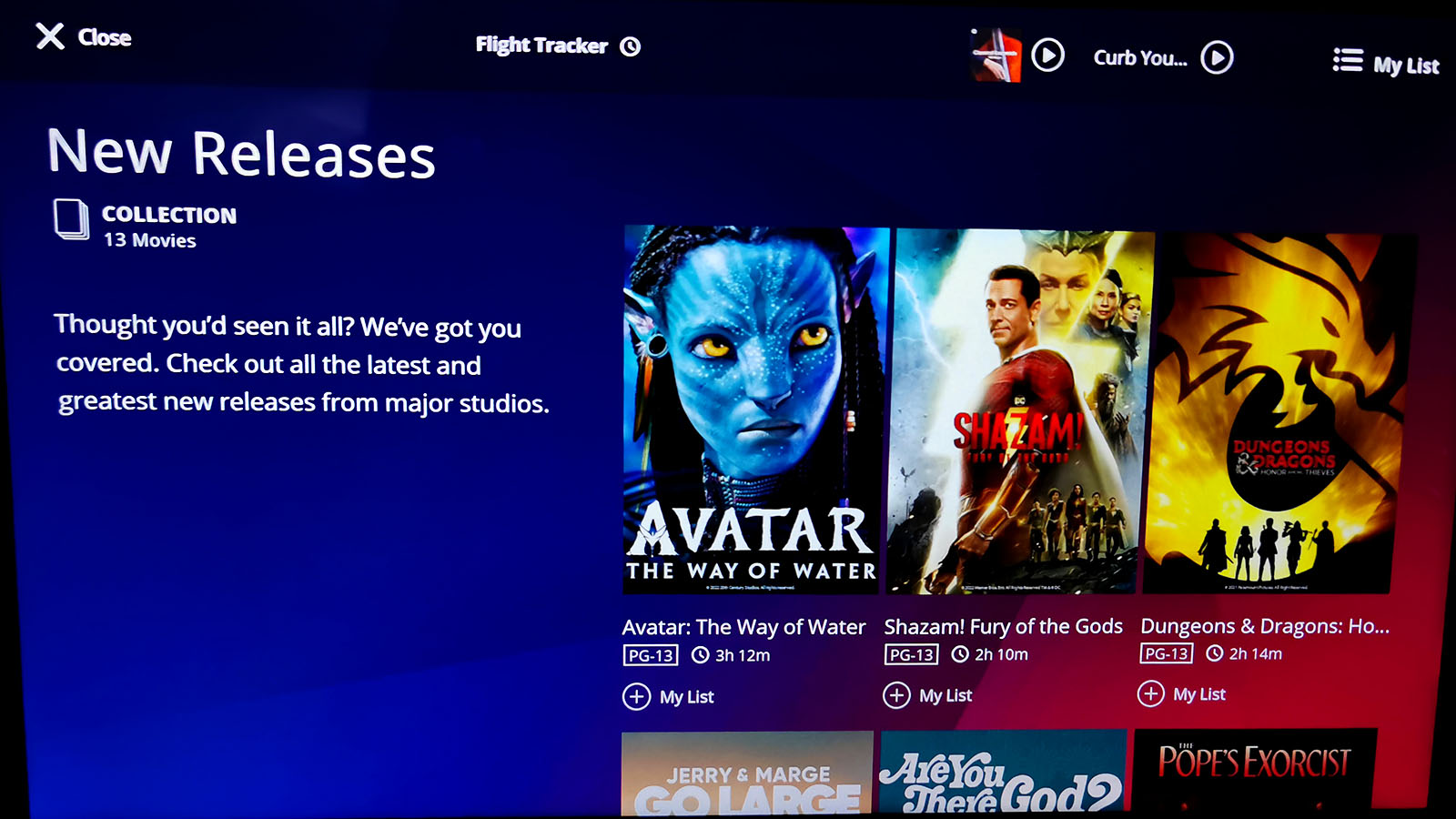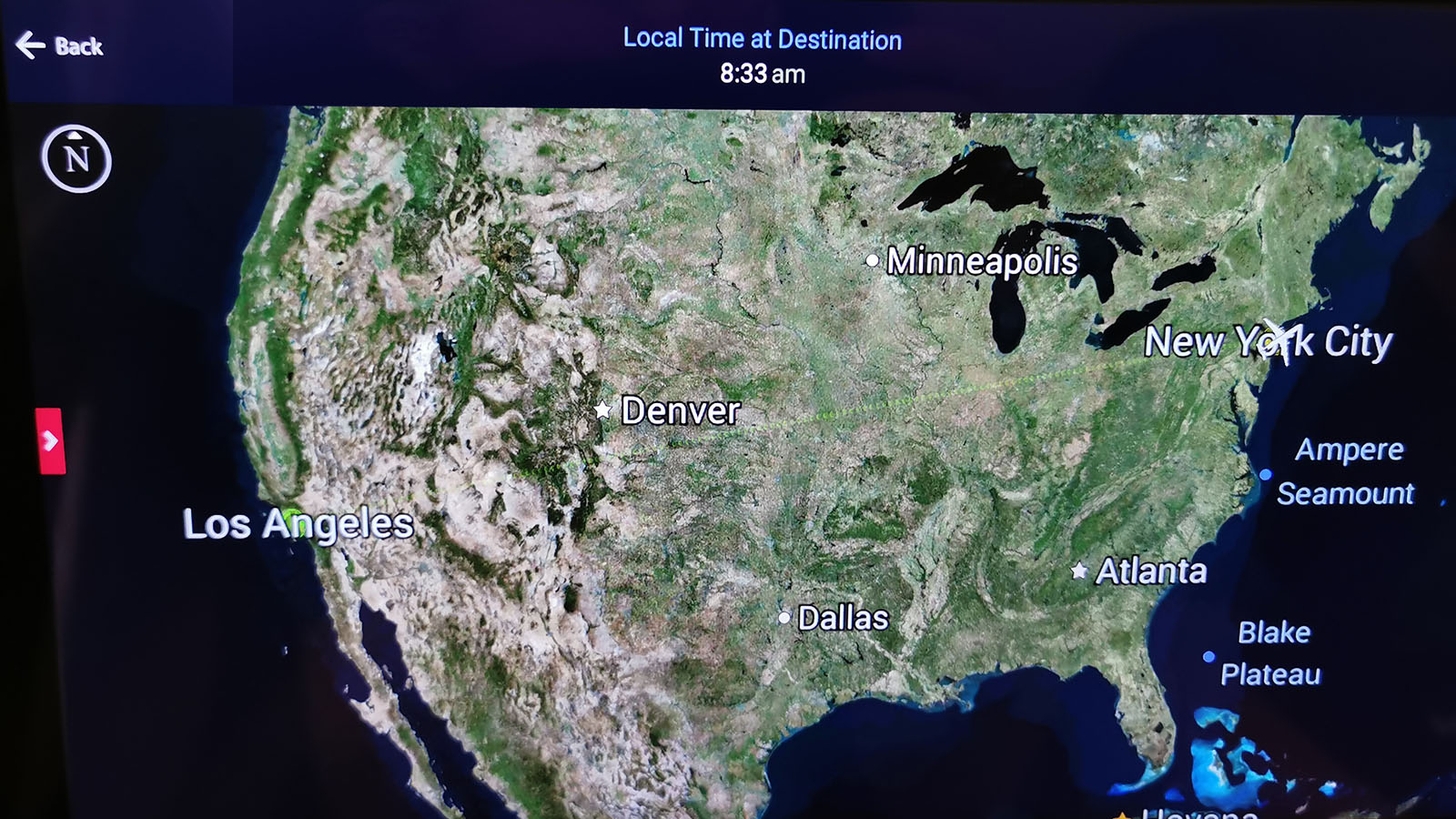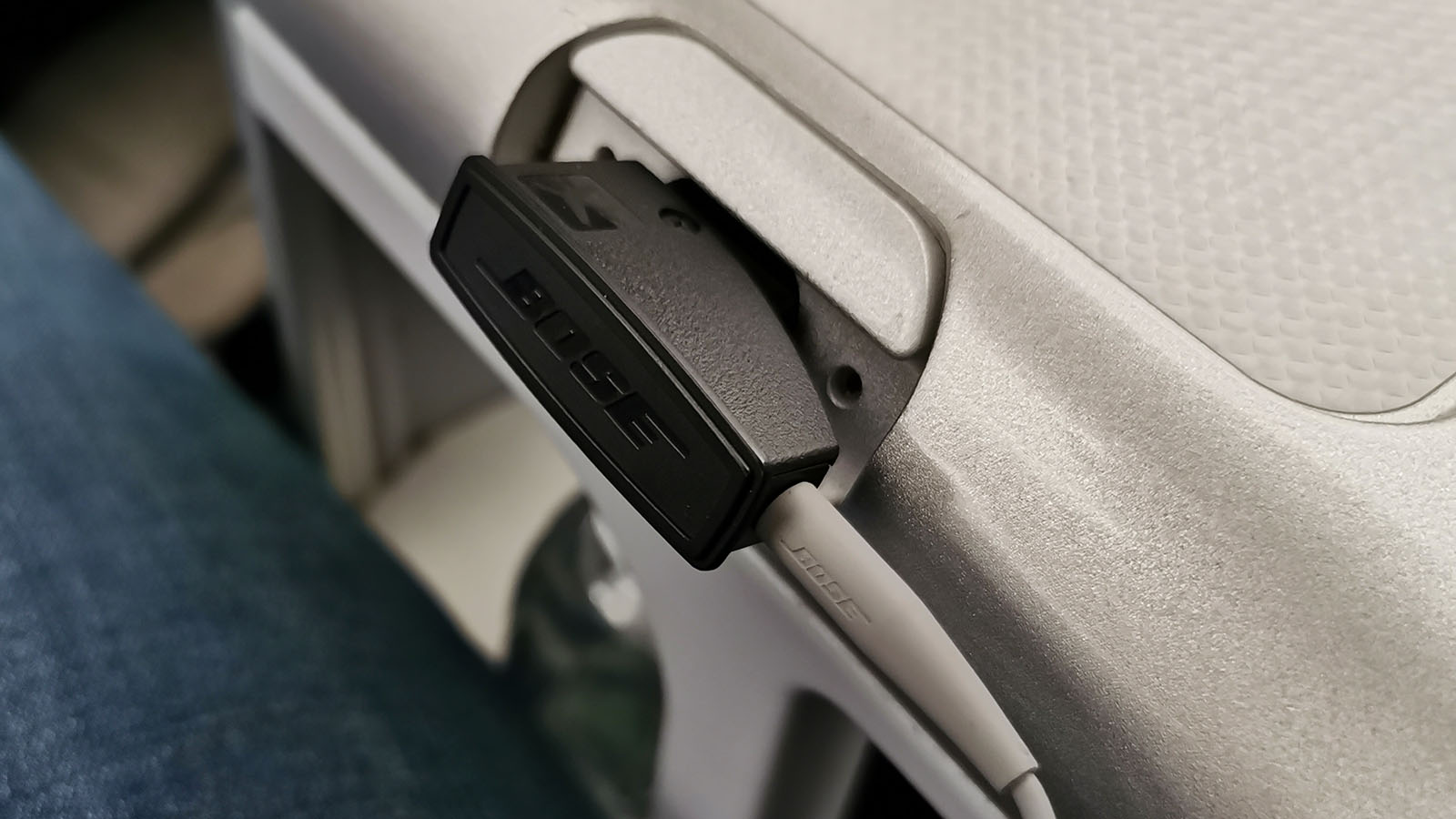 Predictably, there's also the 'moving map' to keep tabs on the journey. It's handy to keep open while I'm doing some work on my laptop. But after a while, I shut everything off, pop on an eye mask that I've packed for the ride and take a nap. Bliss.
Delta's Airbus A330-900neo also offers inflight Wi-Fi. But while the airline advertises 'free Wi-Fi for SkyMiles members on most domestic US flights', this is one of the exceptions. That's because the free Wi-Fi only works on aircraft with a connection by Viasat. Delta's A330-900neo, on the other hand, has technology formerly branded as Gogo, so it's a different system.
Standard Wi-Fi costs US$20 for a flight pass, while high-speed streaming is possible via the US$34 flight pass. If you only need an hour, it's US$6 for standard speeds or US$10 for a zippier connection. The work I'm doing today can be completed without Wi-Fi, so I don't connect this time around.
The verdict
Most of Delta's flights between New York and Los Angeles are served by the much older Boeing 767s. But if you'll be taking this transcontinental trek anyway, see if you can land a seat aboard Delta's shiny new Airbus A330-900neo – especially in Comfort+.
Because it gives you a free upgrade from extra legroom to a full-blown Premium Economy seat – on this route and plane, anyway – it's a good trick to keep in your back pocket. Just remember to pack some extra snacks or eat before the flight, because it's a long six hours without a meal.
One of Delta's strengths, though, is in-app baggage tracking. It's something Australian airlines are slowly starting to introduce, but it's been common in North America for years. Delta's mobile app confirms when your bag is physically loaded on the plane – so you know it'll be there at the other end.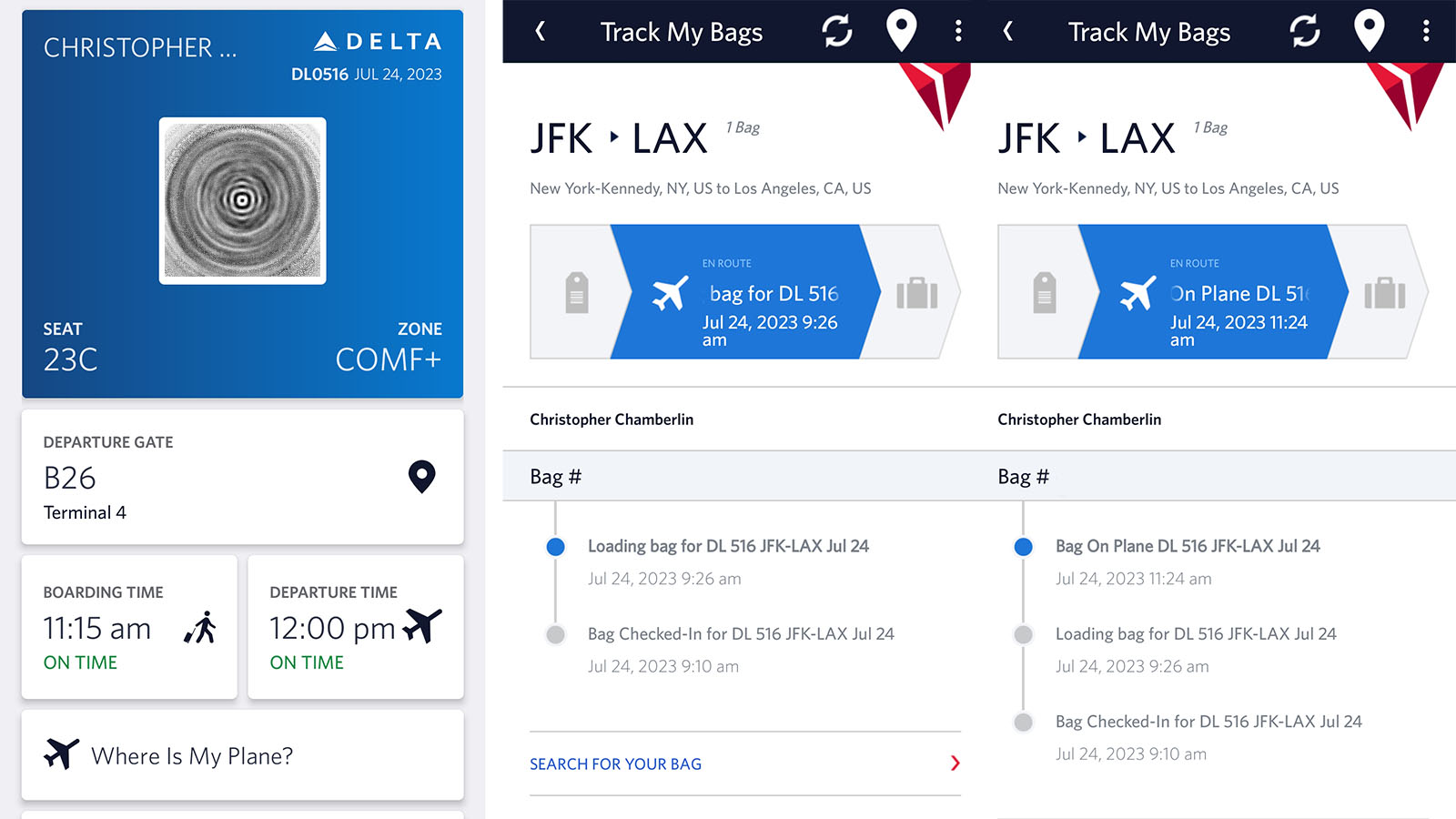 At US$564 (AU$877) for a retail fare, this cross-country flight isn't cheap. But by using Delta miles to book the very last seat in the cabin, I enjoy a comfortable flight without breaking the bank. Under the same circumstances and with access to the same miles, I'd certainly do it again.
Also read: Delta 360° offers Porsche tarmac transfers for the airline's most elite flyers
All photography by Chris Chamberlin, who travelled using Delta SkyMiles.
---
Stay up to date with the latest news, reviews and guides by subscribing to Point Hacks' email newsletter.
Delta Air Lines Airbus A330-900neo Comfort+ (New York JFK – Los Angeles)
was last modified:
September 15th, 2023
by