For most travellers, Business Class lounges tick the boxes. Something to eat, somewhere to sit – and perhaps, a shower before a long flight. But for those flying up the very front, or with the shiniest category of frequent flyer card, a First Class lounge promises something next-level. Enter, the exclusive Qantas Los Angeles International First Lounge.
This is a venue that's definitely worthy of an early arrival. But to get the most out of your next visit, there are things to know before you go. As it happens, I'm a frequent guest here – and I've got your back. Whether it's bagging a private suite, sipping a better Champagne or ordering food that's off-menu, you'll uncover plenty of tips as you read along.
Location of the Qantas Los Angeles International First Lounge
The Qantas Los Angeles International First Lounge sits after security in Terminal B, also known as the Tom Bradley International Terminal / TBIT. If you're beginning your journey at LAX, just take a lift up to level five once you're done with those formalities.
Those connecting from US domestic flights can instead walk straight from their arriving flight to the lounge without clearing security again. That's because most terminals at LAX are attached 'airside'. For instance, Qantas' main Stateside partner – American Airlines – is based next door in Terminal 4. The Roo's other US oneworld partner, Alaska Airlines, uses Terminal 5 and Terminal 6. And you can freely walk between these and Terminal B.
In fact, here's the first tip to keep in your back pocket. Even though this is an 'International' First Lounge, you may be able to visit prior to domestic flights as well. I put this to the test before a flight to San Antonio and have no issues gaining access as a Qantas Platinum (oneworld Emerald) frequent flyer.
I return twice more as part of this review. Once before an American Airlines Premium Economy flight to London Heathrow, and again before a jaunt to Sydney in Qantas First. On every occasion, it's a quick scan and I'm right on in. We've got the full details on access rules and important exceptions later in this review.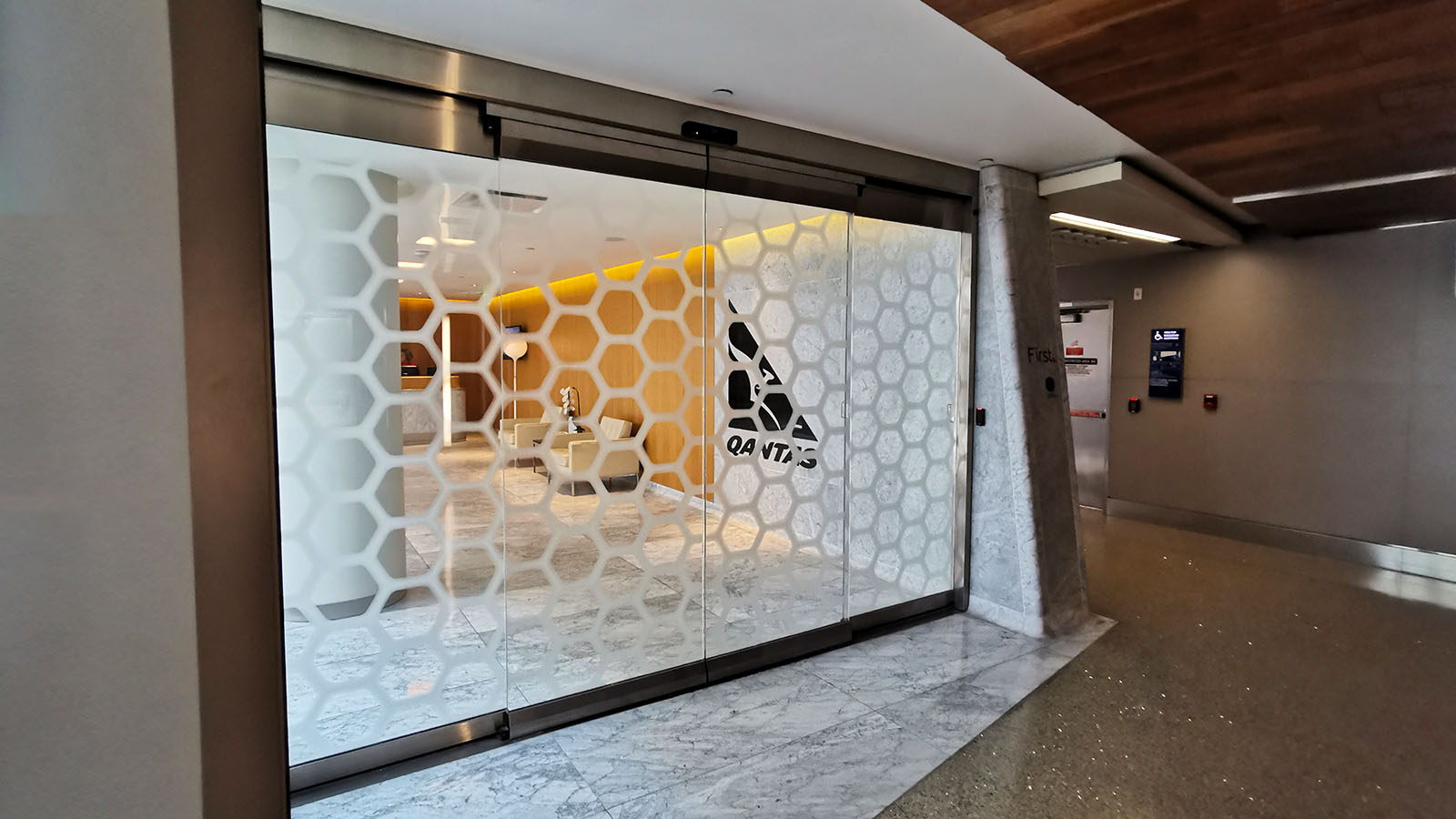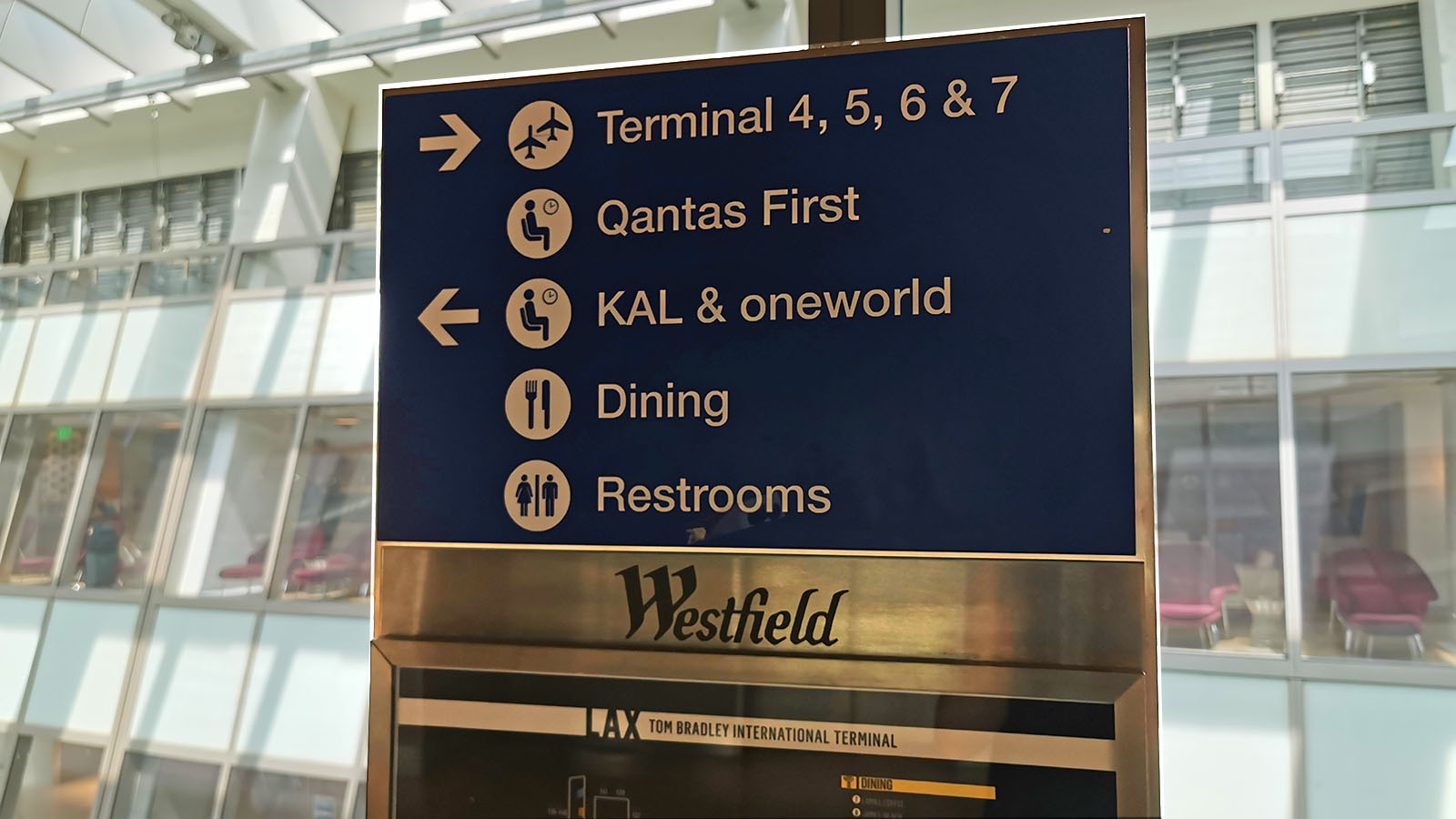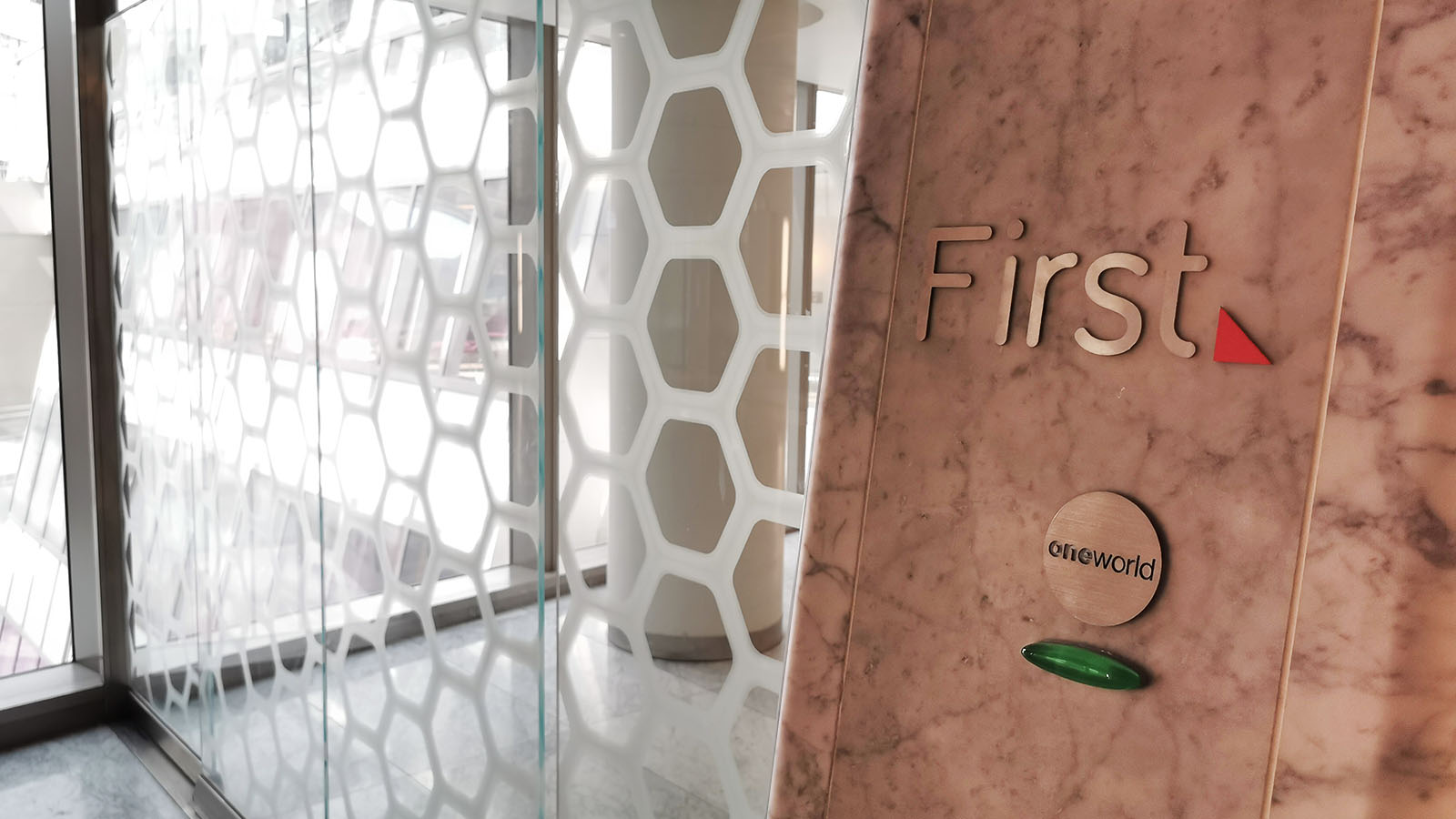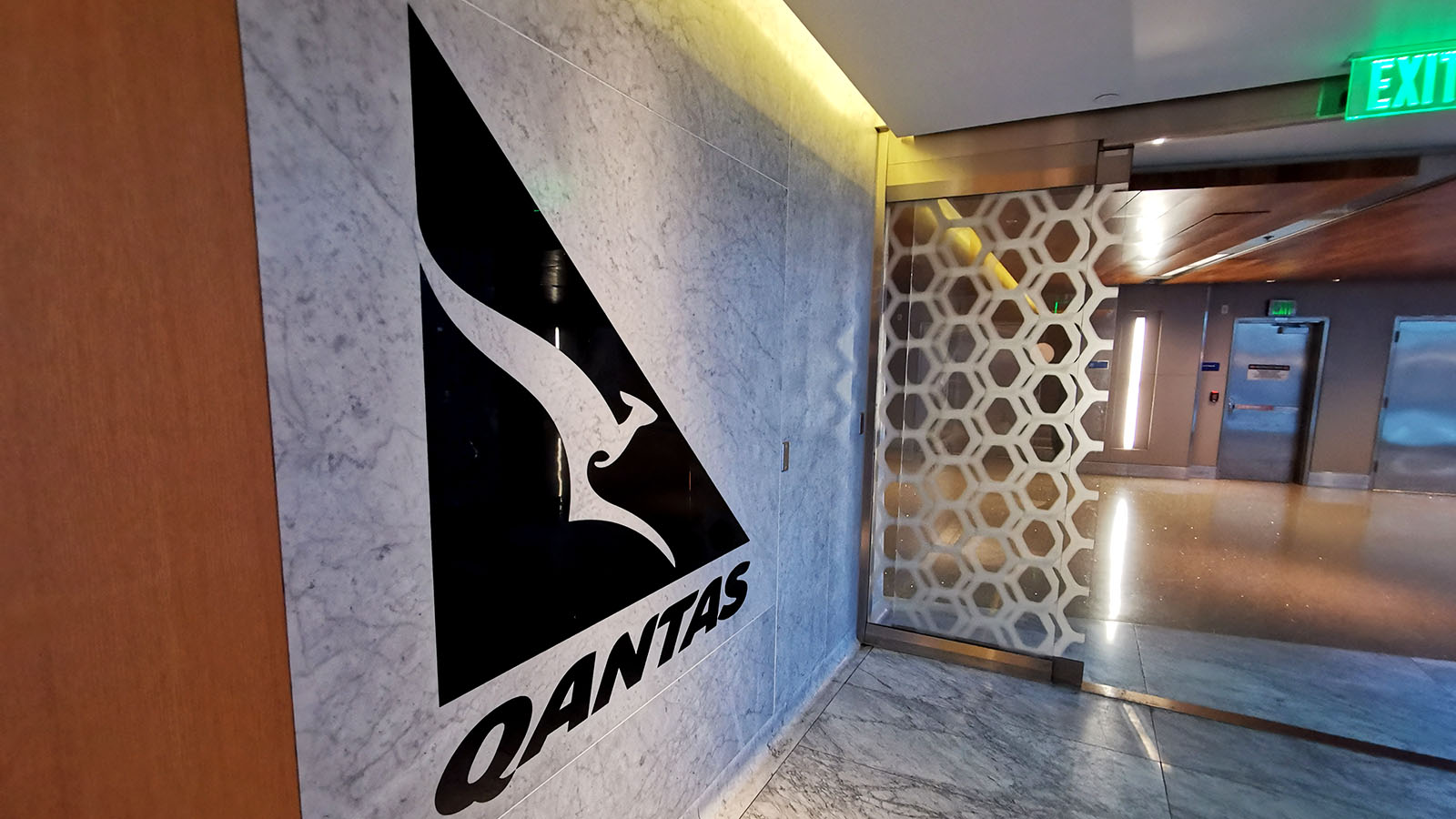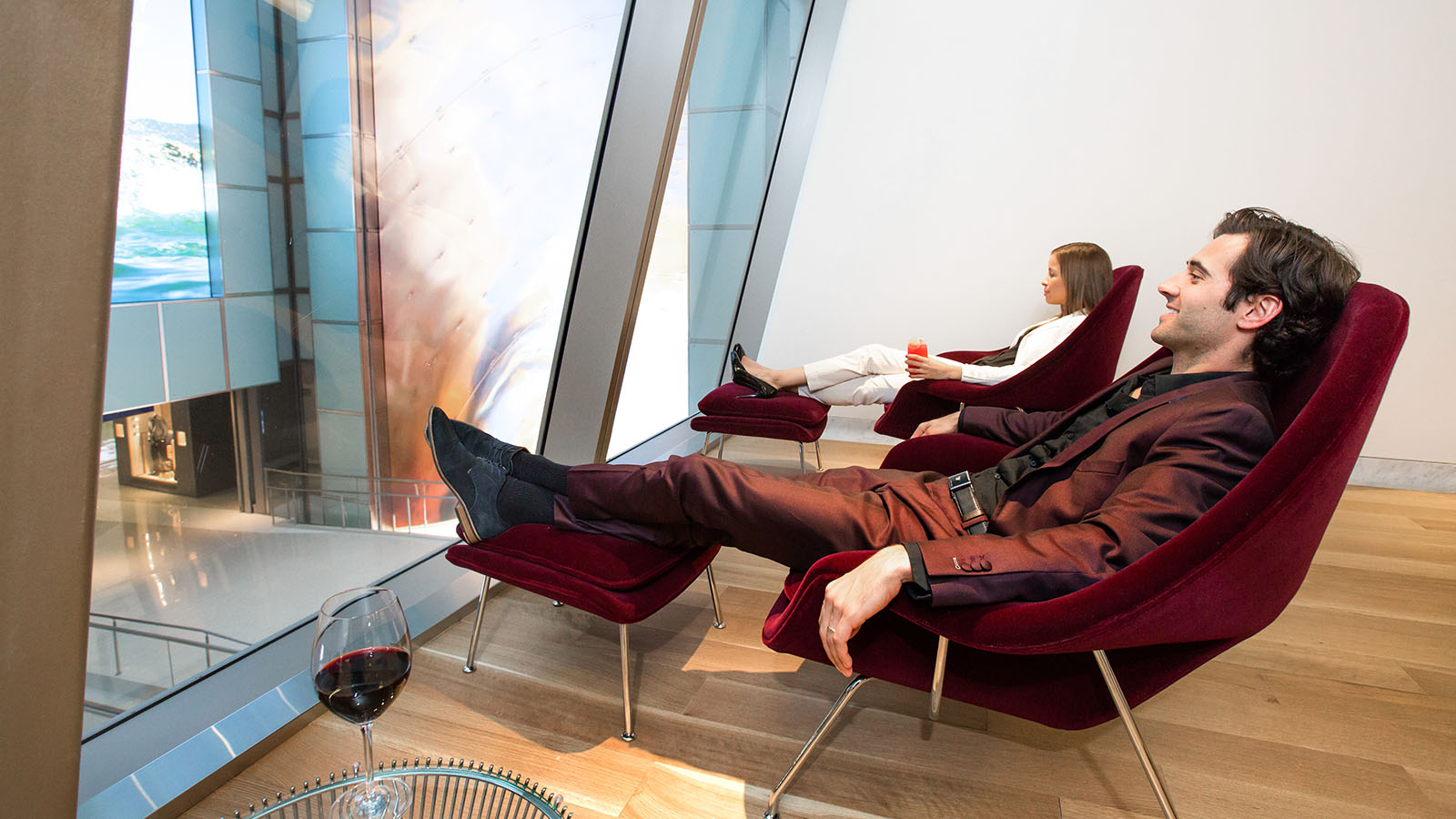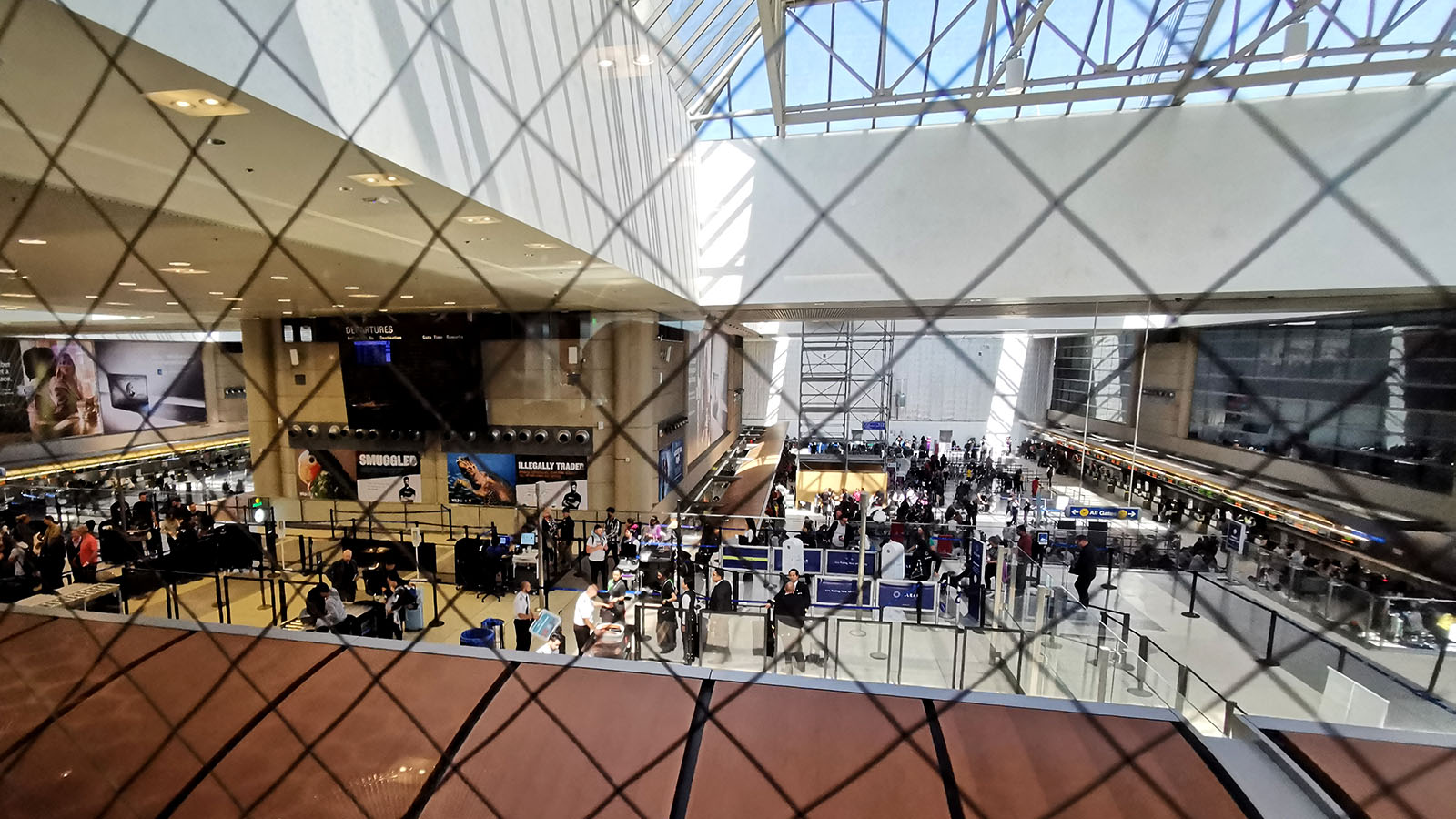 Location-wise, this Qantas First Lounge doesn't have airport views like in Sydney or Melbourne. It instead sits in the middle of the terminal. Some parts of the lounge overlook the LAX TBIT check-in area. Other sections face towards an atrium, through which natural light flows in during the day.
The lounge opens daily at 6:30 am and remains open until the departure of the evening's last Qantas-operated flight. Usually, that's QF12 at 11:40 pm.
Layout and seating
To the untrained eye, the Qantas Los Angeles International First Lounge is – in broad terms – a rectangular room filled with chairs. But when you see a lot of airport lounges, as I do, the spaces that stand out are those that ooze style. This is one such lounge.
Here, the entry enclave is clad with Tuscan Carrera marble. That continues into the brightest sections of the lounge, with marble also forming the walkway from one side of the venue to the other. Offsetting these more muted tones, a sea of bold red chairs constitute the lounge's main relaxation area nearby. At first glance, these seats are rather typical sofas. But each is a designer piece by Florence Knoll – with a retail price tag of roughly AU$10,600. You'd best not spill anything!
Complementing these are smaller, industrial-style seats by Warren Platner – exuding more of a 'short stay' vibe. All sit atop Tai Ping wool carpet emblazoned with Qantas' signature 'hex' pattern. That's a nod to the stylings of the Roo's International First Lounges in Australia. VIP-tier travellers will also recognise a similarity with the floorings in the Sydney, Canberra and Perth branches of Qantas' invitation-only Chairman's Lounge.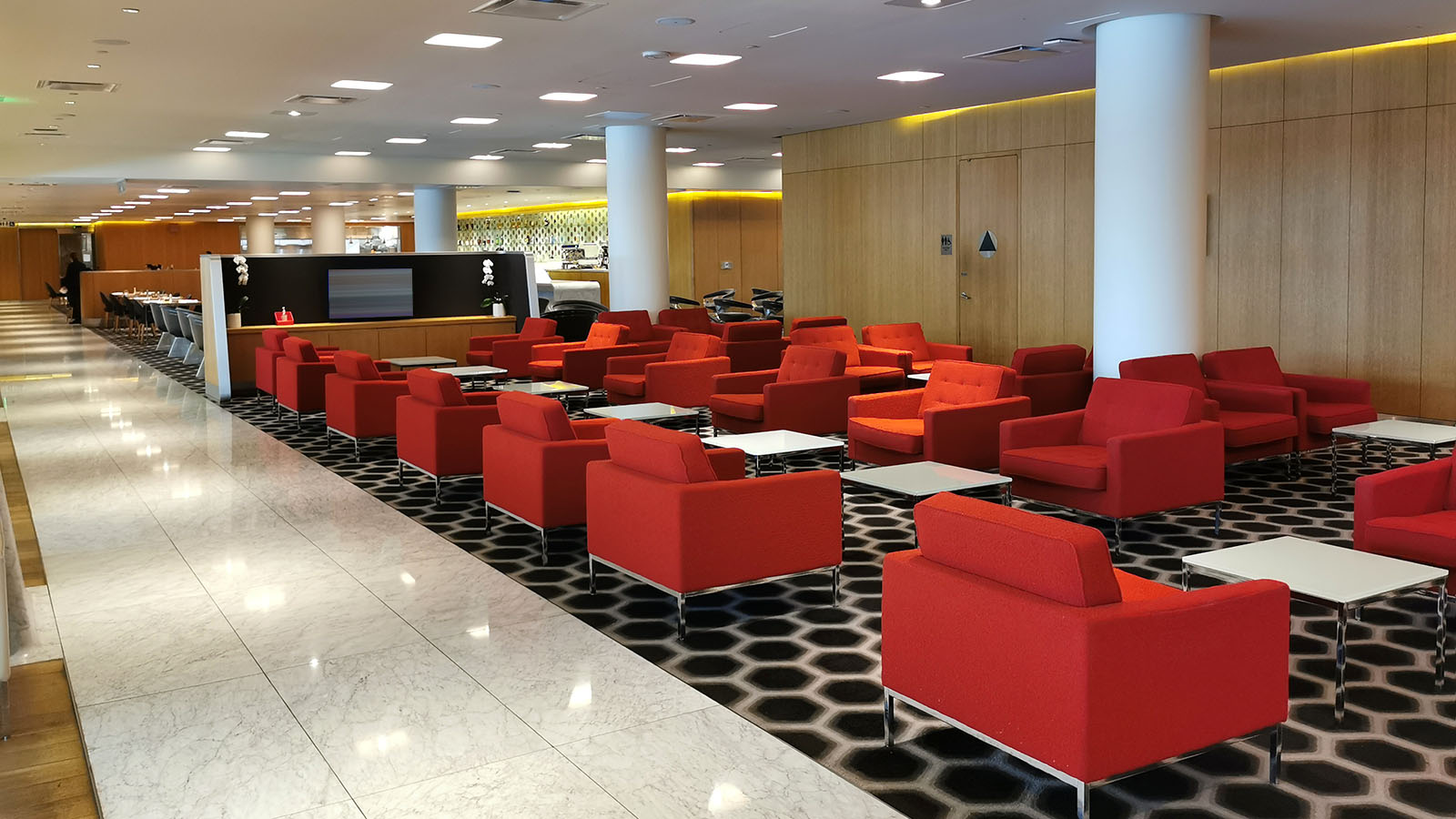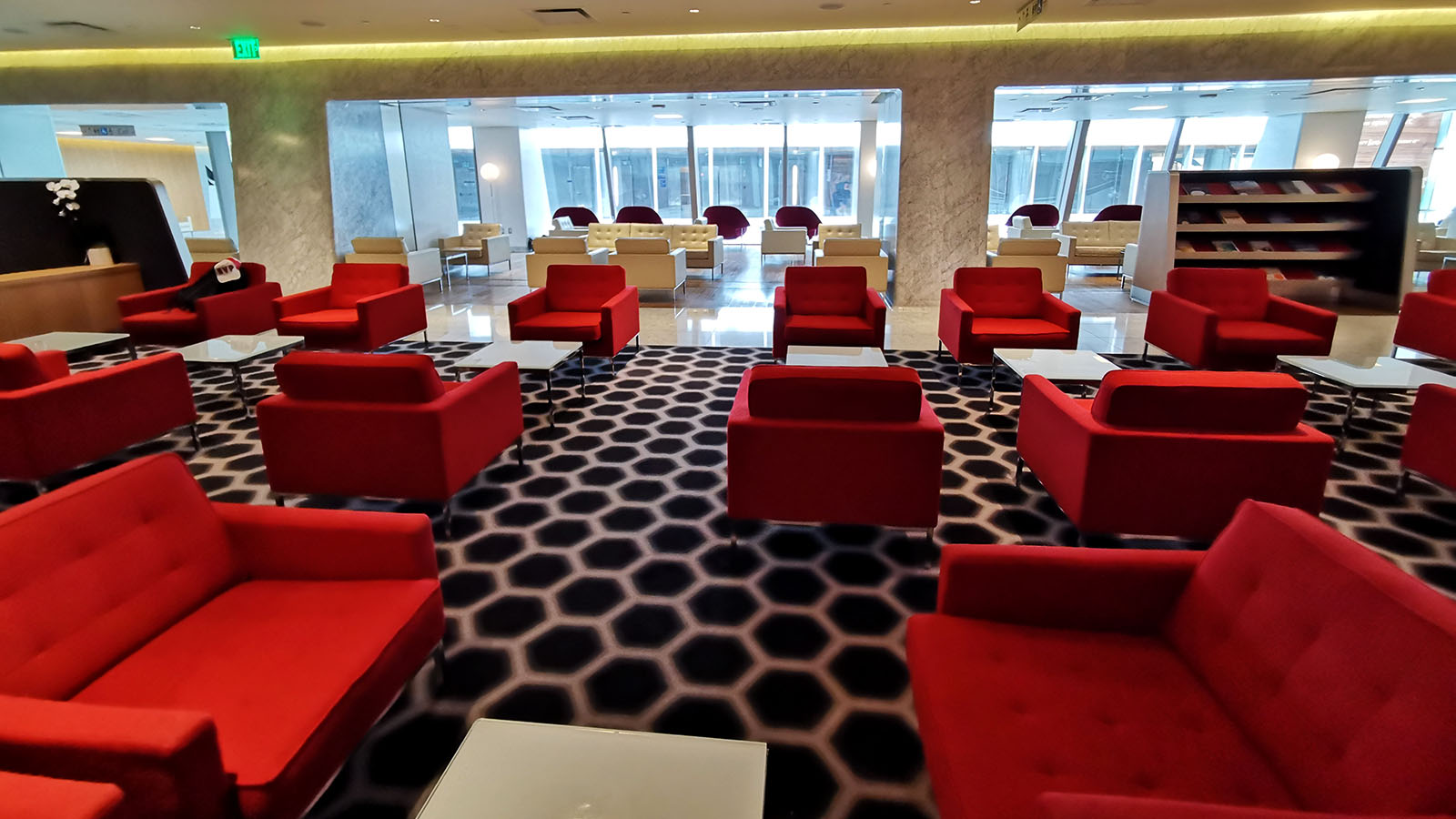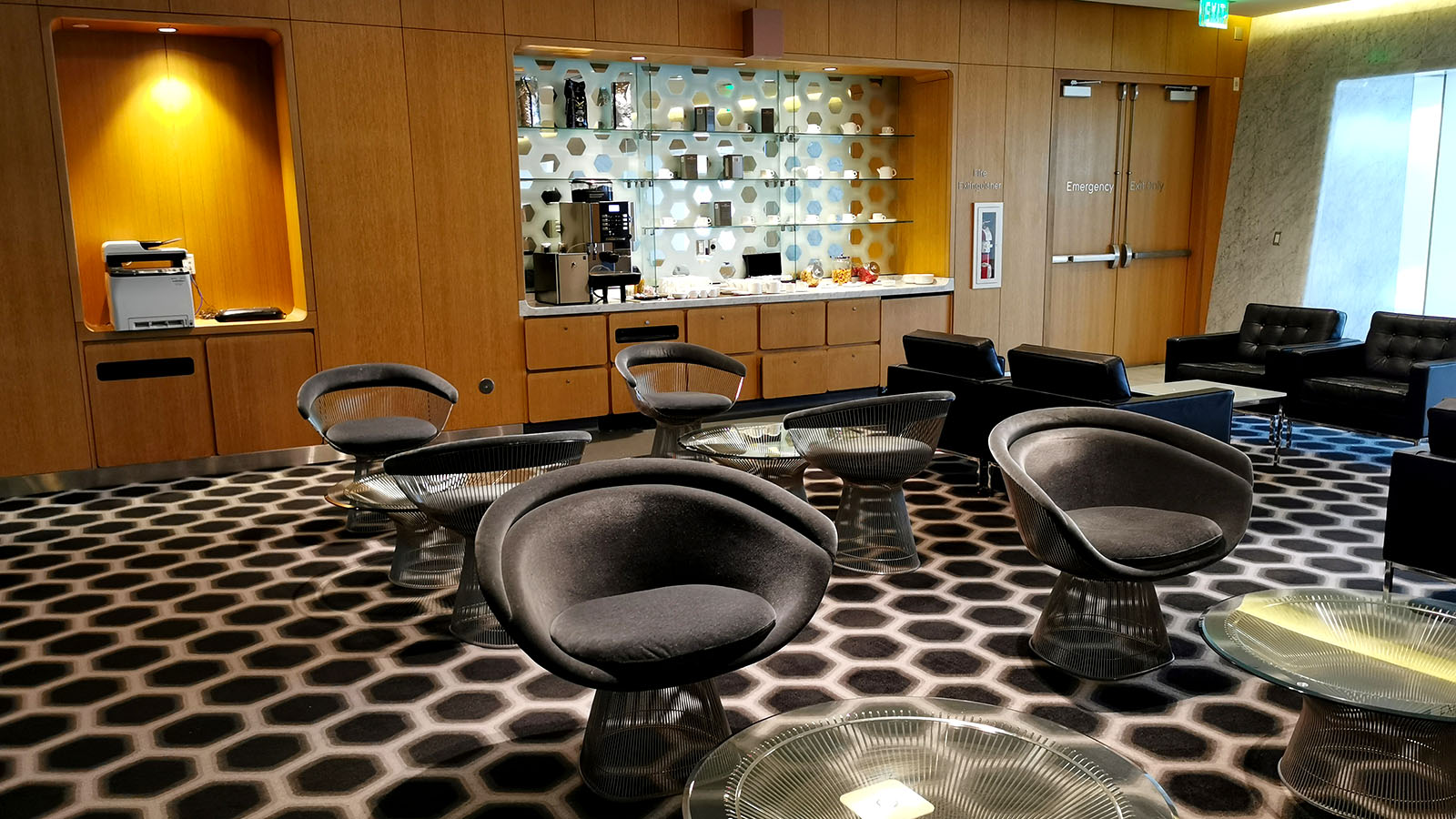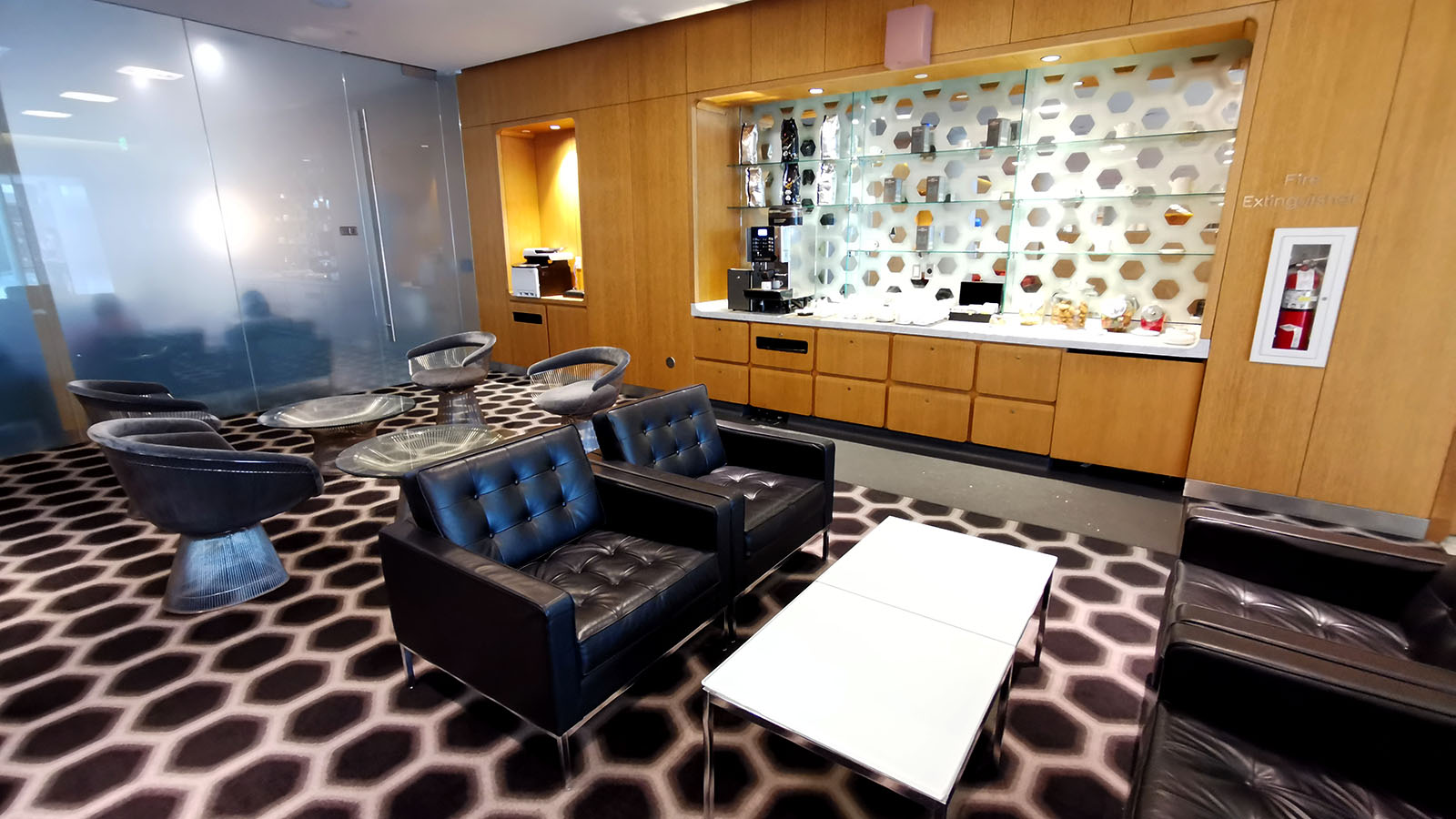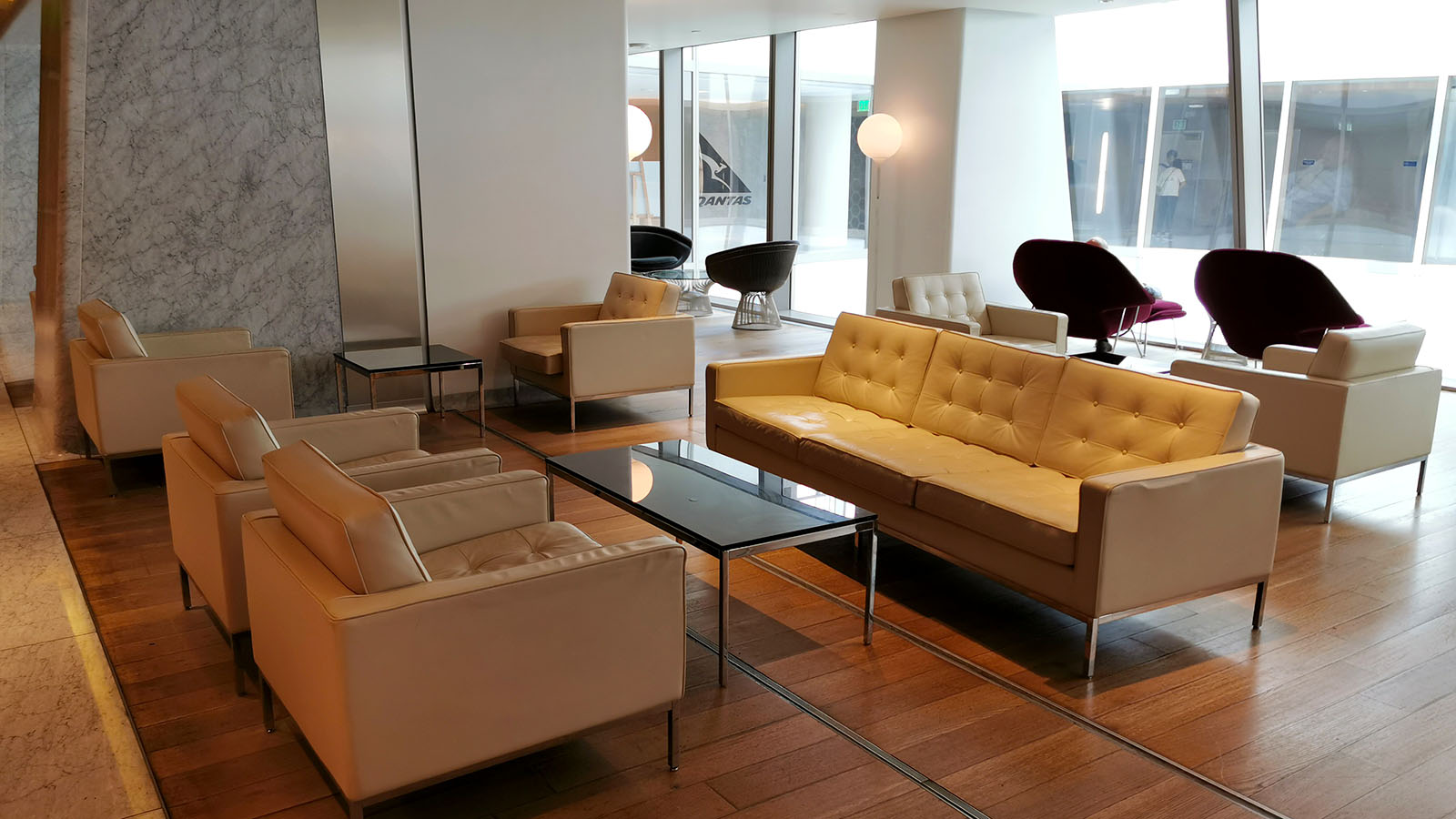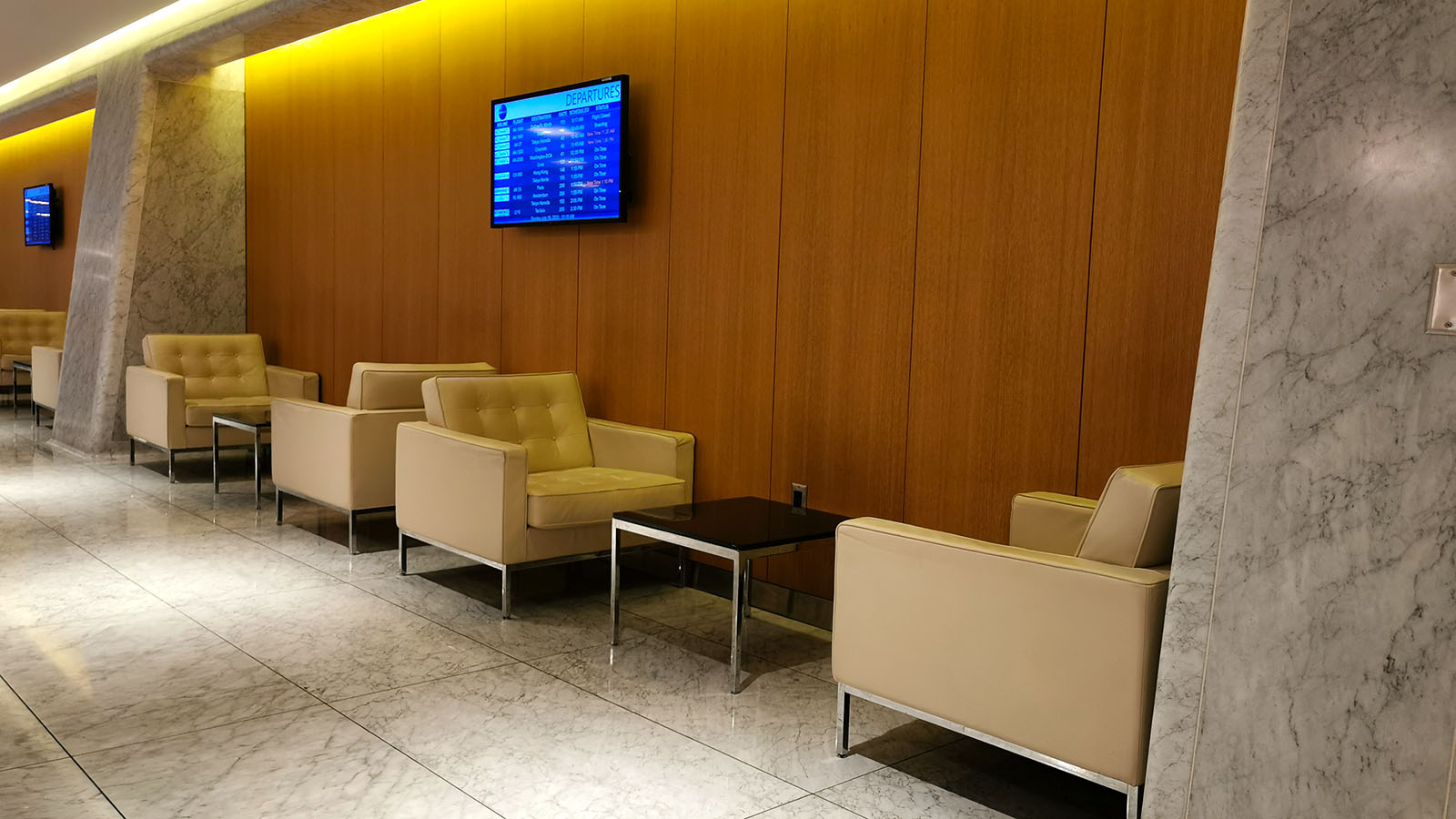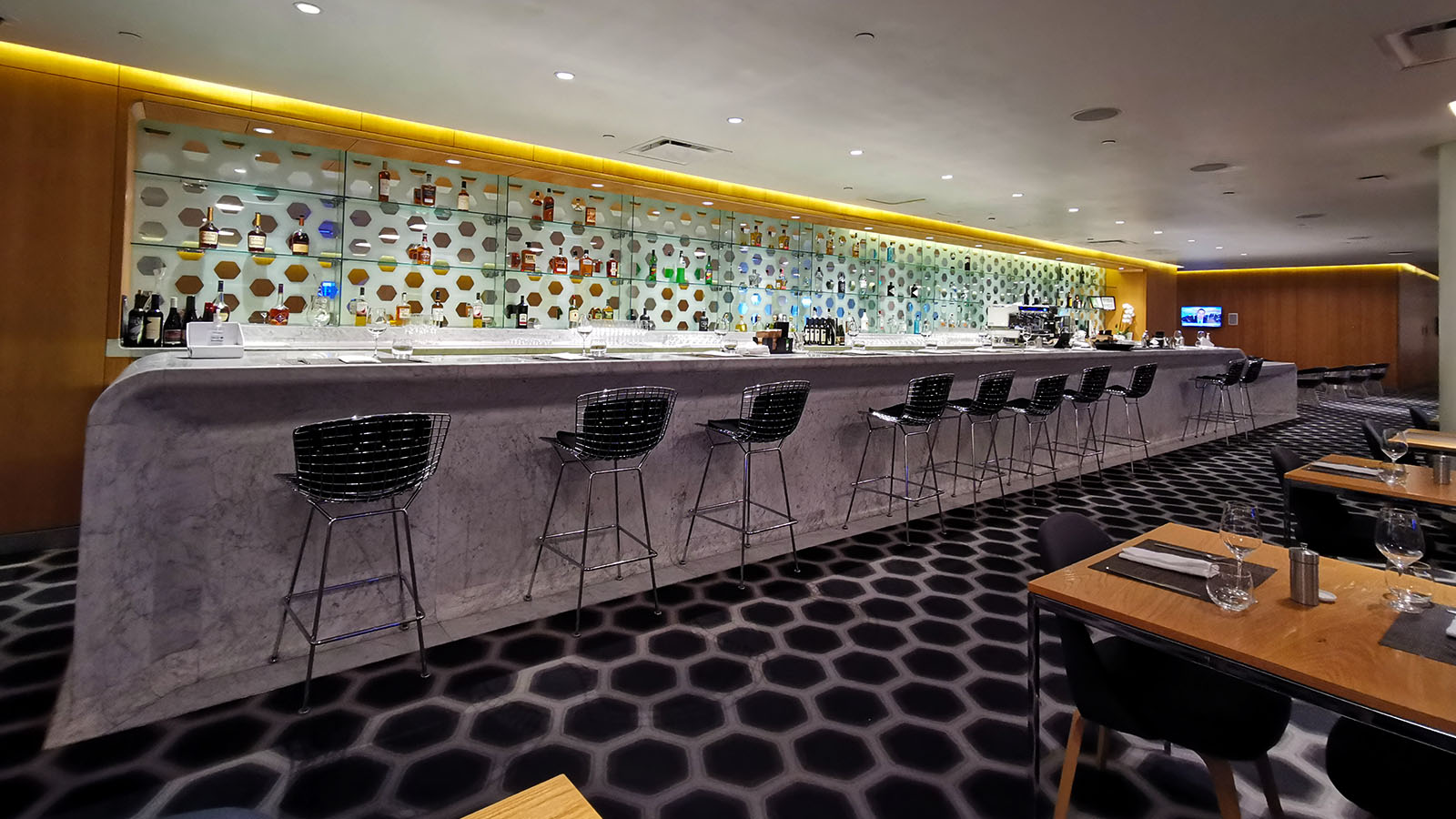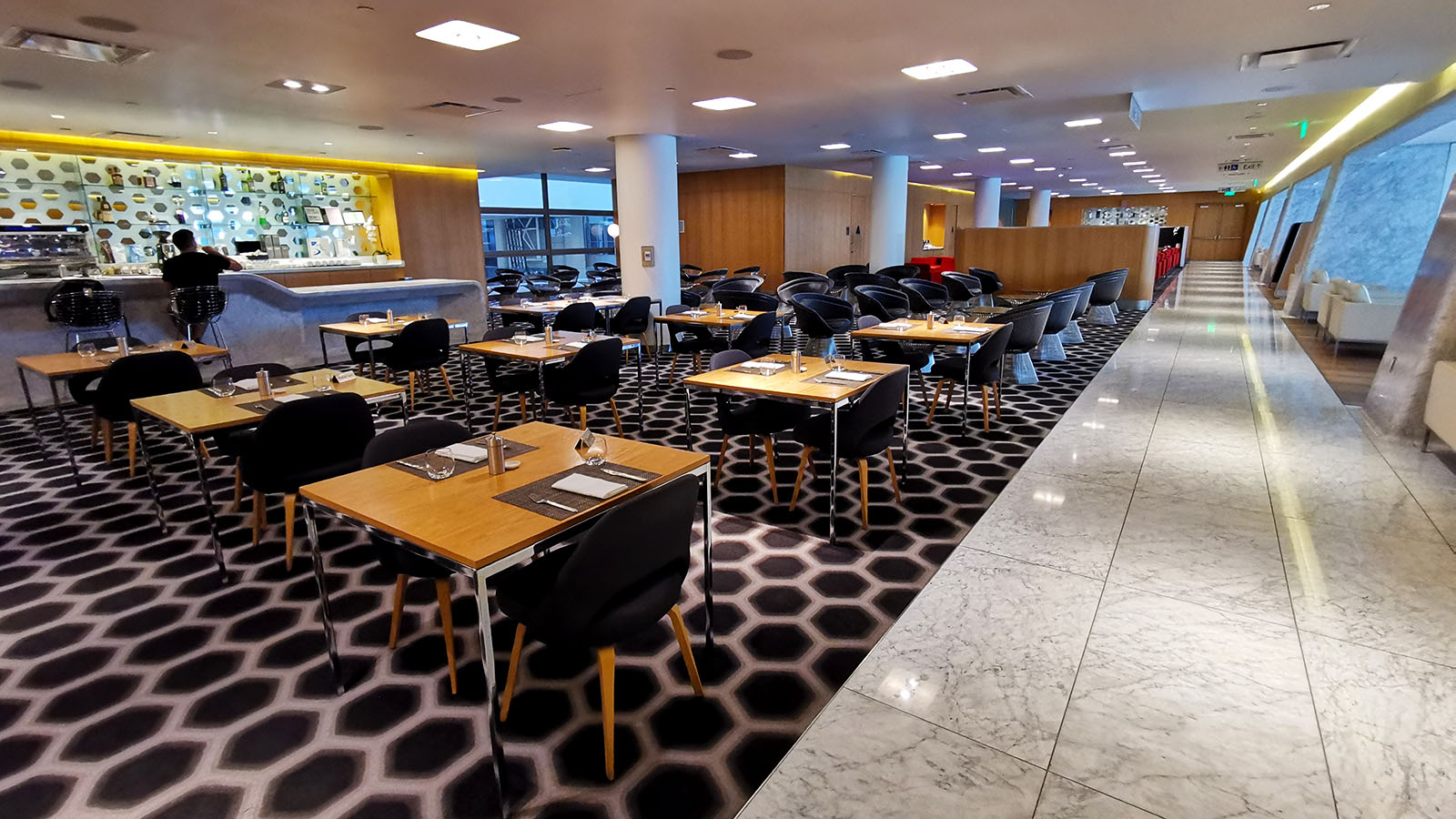 But when there's more time up your sleeve and more inclination for relaxation, the zone by the windows is my preferred pick. In particular, the parchment-toned seats adjacent to the dividing frames. That's also where you're most likely to find a power outlet – an amenity that's otherwise super scarce here.
The final stop in the Qantas Los Angeles International First Lounge is the restaurant area. It's split into two halves, with most passengers invited to sit on the far side. The other section is reserved for Qantas Platinum One and Chairman's Lounge members. The menu is exactly the same on the 'VIP' half – it's just a quieter space. Oddly though, a booking in Qantas First doesn't make the cut.
Food and beverage in the Qantas Los Angeles International First Lounge
Like Qantas' other First lounges, the Qantas Los Angeles International First Lounge adopts a seasonal menu. The timing of my visits over recent months allows me to explore both the spring and summer selections. Here's a little taste.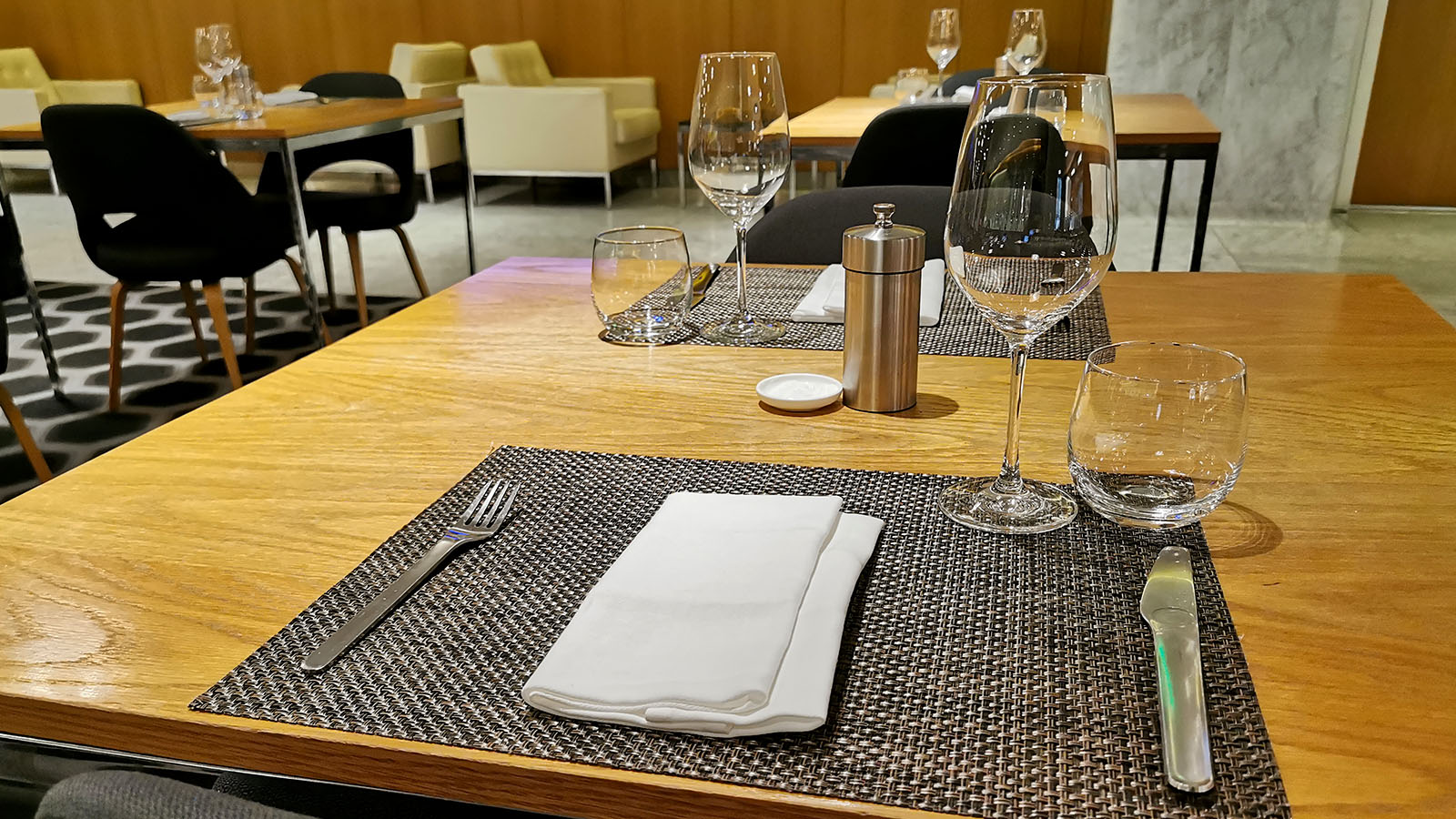 Starters
No visit to a Qantas First Lounge is complete without trying the salt and pepper squid – and that's very true of Los Angeles. Served with aioli and a green chilli dipping sauce, it's the perfect start to any meal.
But at the same time, fried foods are also best in moderation. As somebody fortunate to travel more than most, it's something I try to keep in mind. I've had my fair share of squid, so on my most recent visit here, I look for something new. Yes, sacrilege to many frequent flyers – but I'm happy to branch out.
A waiter recommends the soft-shell tacos. Topped with slow-roasted barbacoa beef on a base of Fuego roasted tomato salsa, it's a tasty, zingy dish – and one I'd gladly order again.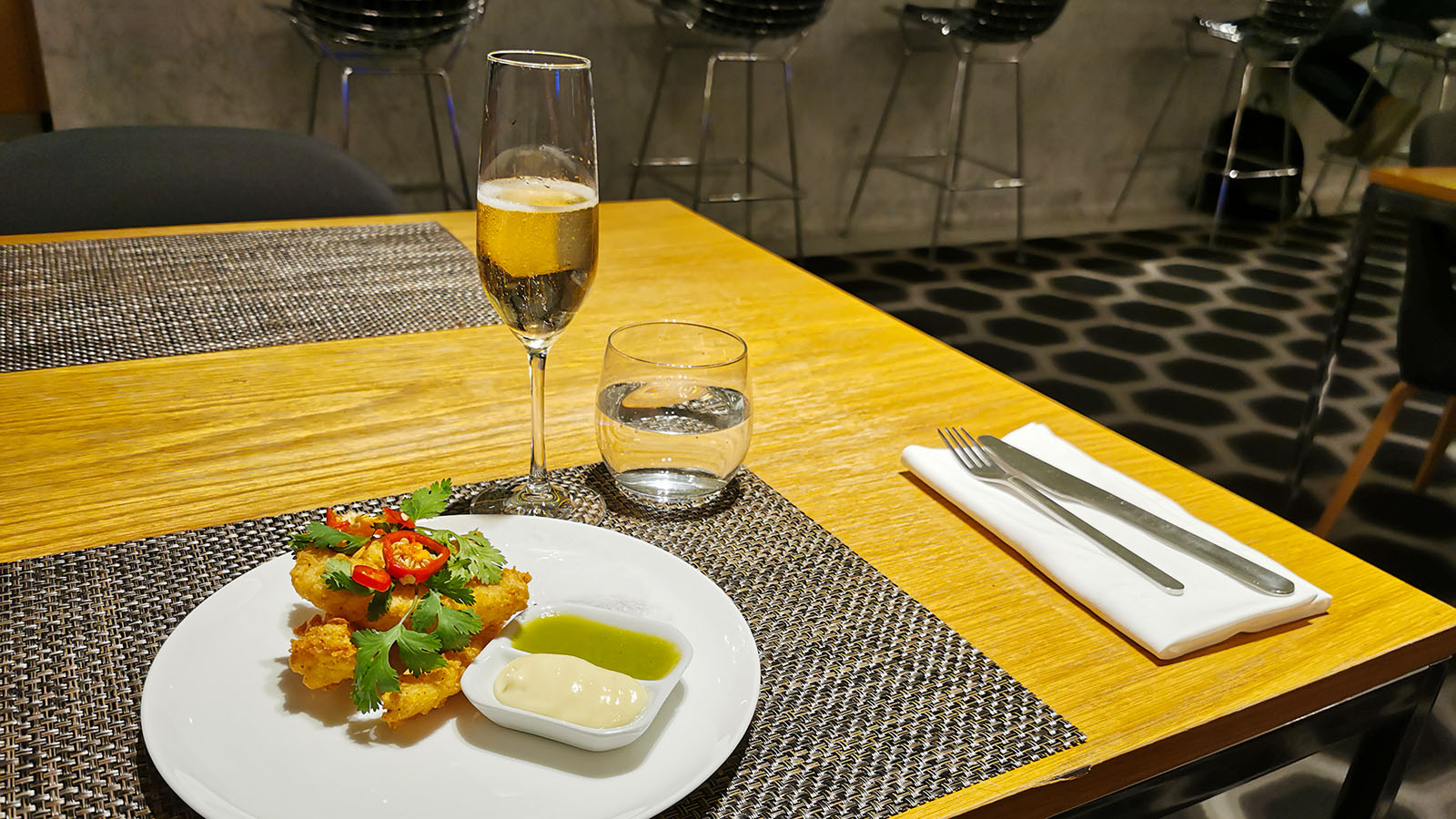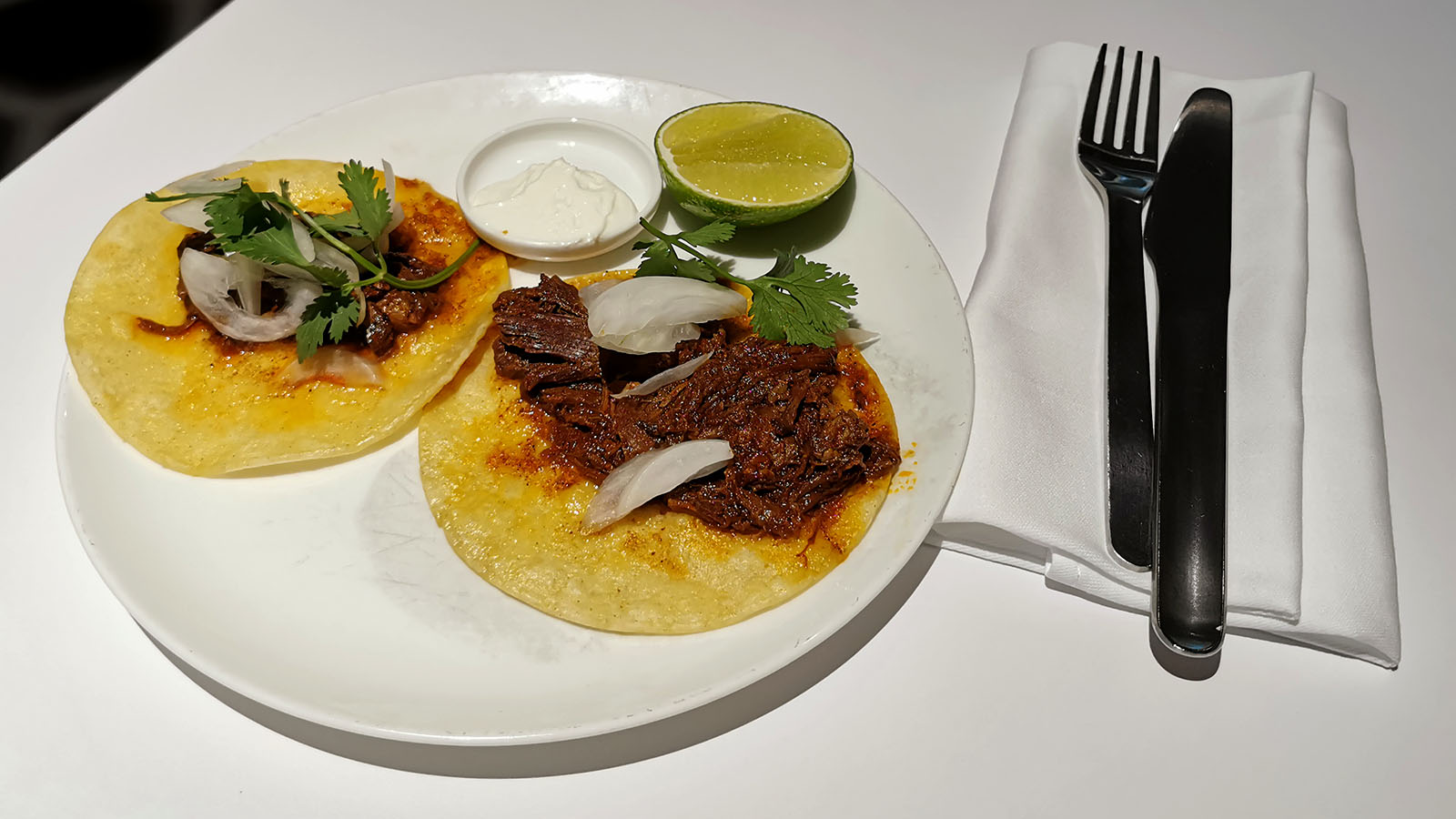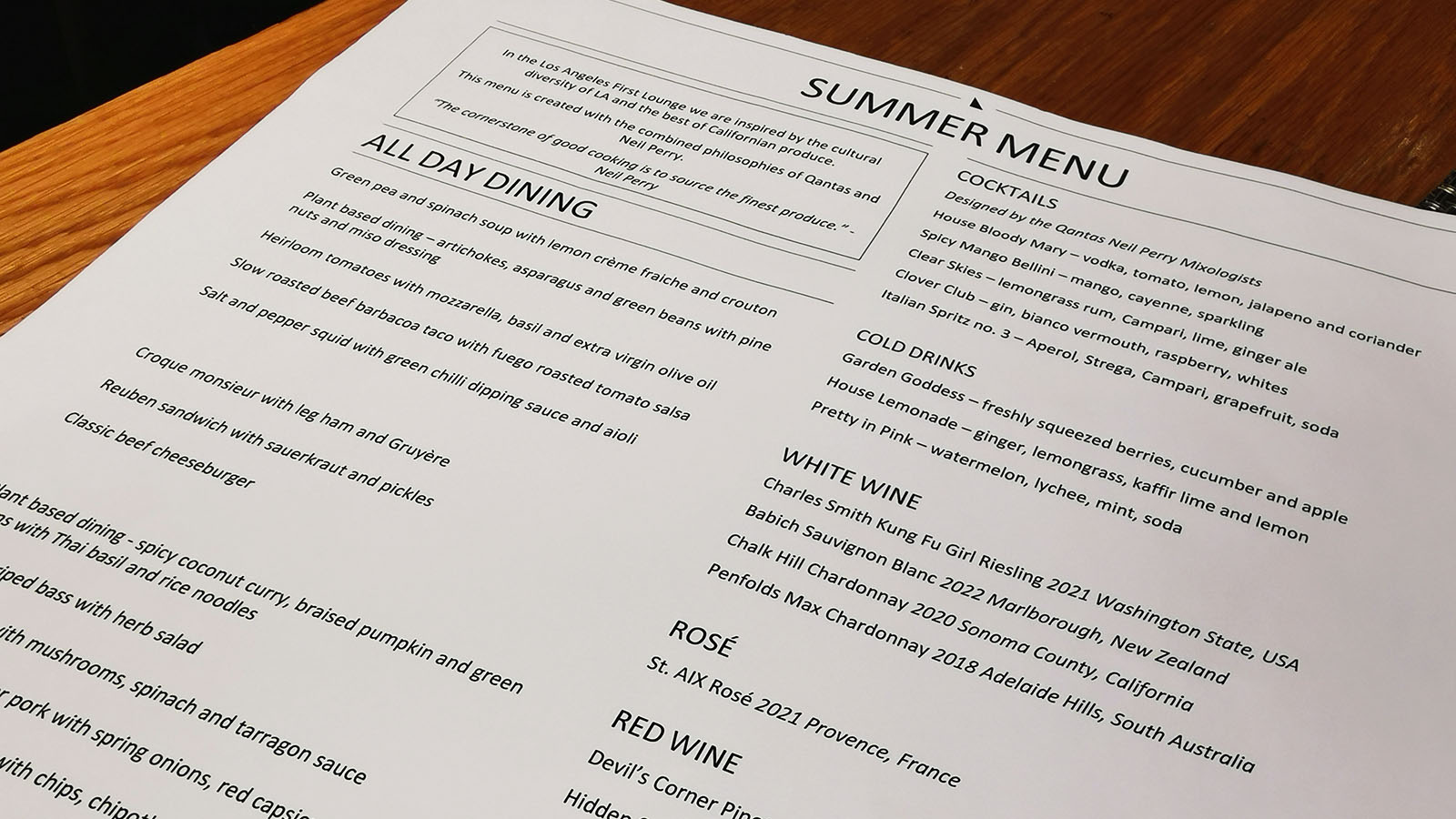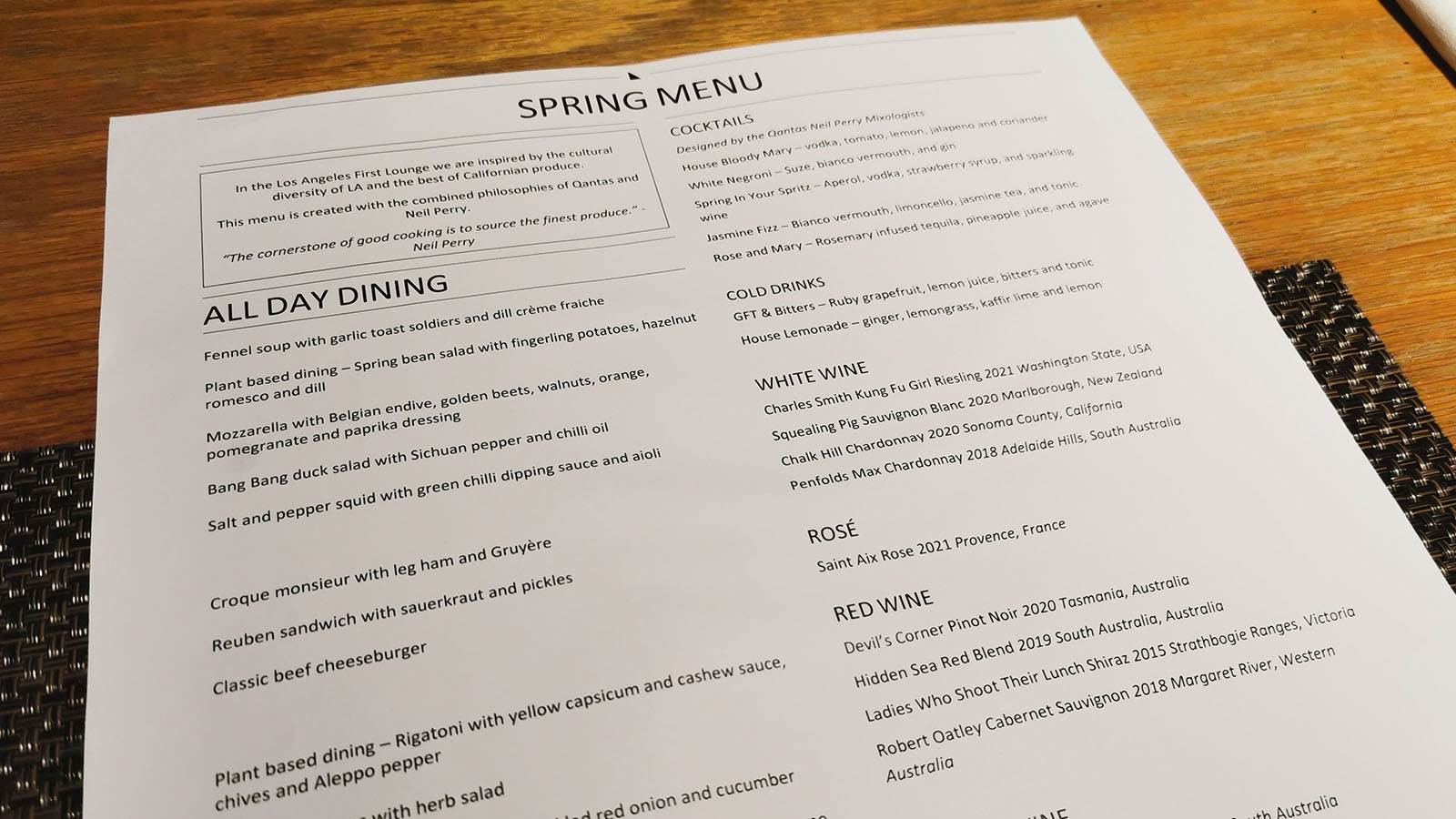 Mains
I notice that the menus in the Qantas Los Angeles International First Lounge helpfully avoid the term 'entrée'. Back in Australia, we'd use that word to describe a starter. But in the United States, it often refers to the main course. Instead, the menu is spaced out to simply imply which dishes are smaller and which are more substantial.
On that front, two lunch visits and one dinner pit stop give me a chance to branch out. The seared striped bass is a favourite here – so much so that it's out of stock on my first lunch attempt. But it's back on my next visit, and a tasty pick with a small herb salad. I add the wild rocket and parmesan salad for more greens and variety.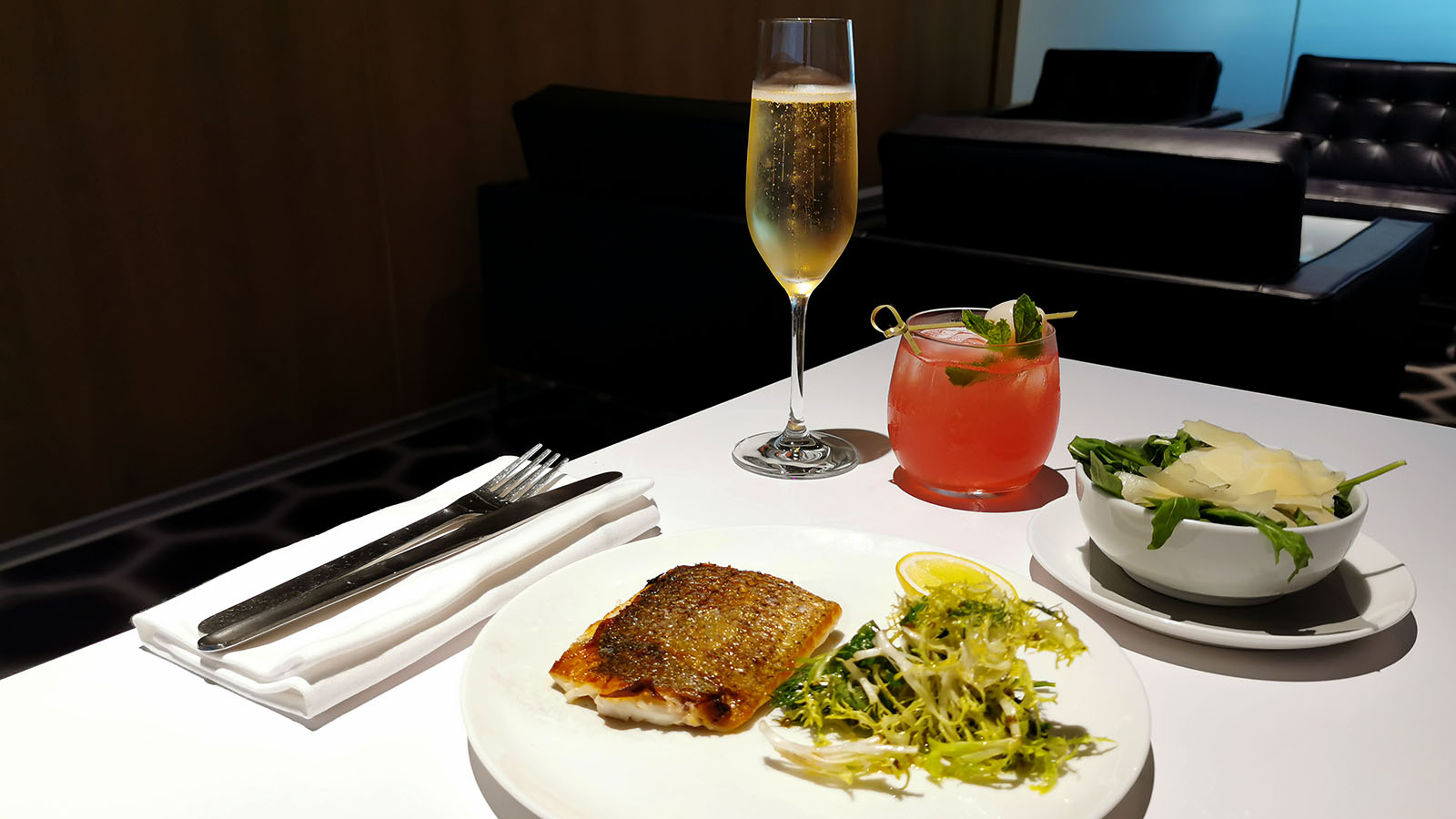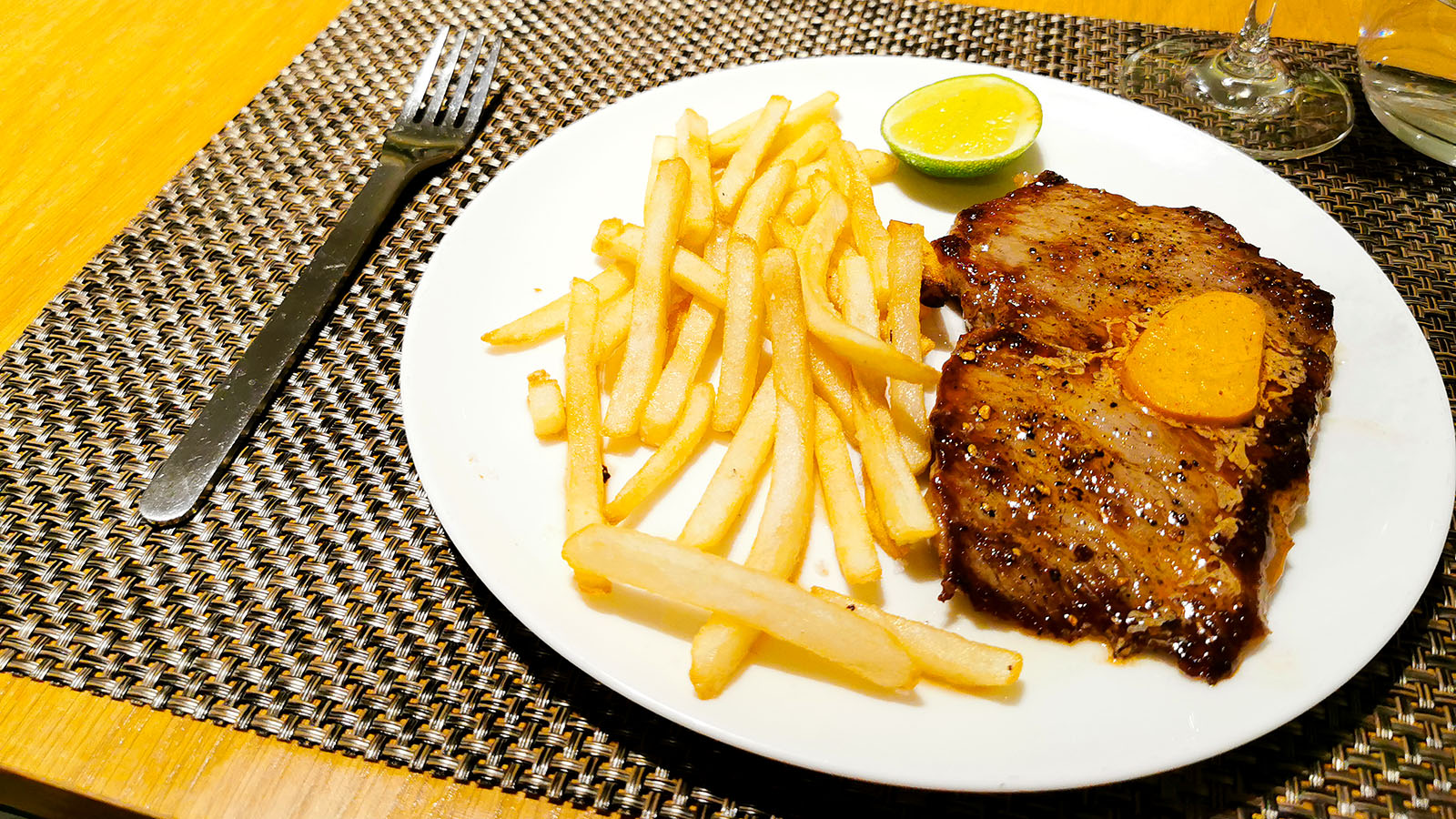 I also try my hand at a plant-based option. The fettuccine served in a yellow capsicum and cashew sauce and topped with Aleppo pepper is simply delicious. In fact, it reminds me of the popular dan dan noodles – a staple of many Cathay Pacific lounges. Sadly though, this special is from the spring menu and didn't make it onto the summer menu. But it's a good reminder to keep your eyes peeled and see if something new grabs your eye.
Specials aside, there's another dish that's almost as popular as the squid. That's the Black Angus minute steak, which also regularly appears on the menu in Qantas' Sydney and Melbourne First lounges. Here, it's served with chips, chipotle butter and lime. The strategy, of course, is to spread the butter around and give the lime a good squeeze. This makes every bite sweet and savoury in equal measure. The juiciness of the steak also counterbalances the saltiness of the fries.
For me, it's this or the squid, not both in a single sitting – fried foods, and all that jazz.
Desserts
Speaking of staples, you won't find Qantas' signature 'pavlova in a glass' on the menu in Los Angeles. Instead, my recommendation goes to the ice cream sundae. New on the summer menu, it's served with banana, dulce de leche, pecans and honeycomb. I quite enjoy the crunch those additions bring.
But here's another tip. If you're not in the mood for something sweet and indulgent, ask the waiter what else might be available. That's how I discover you can also order a cheese plate, which doesn't otherwise appear on the menu.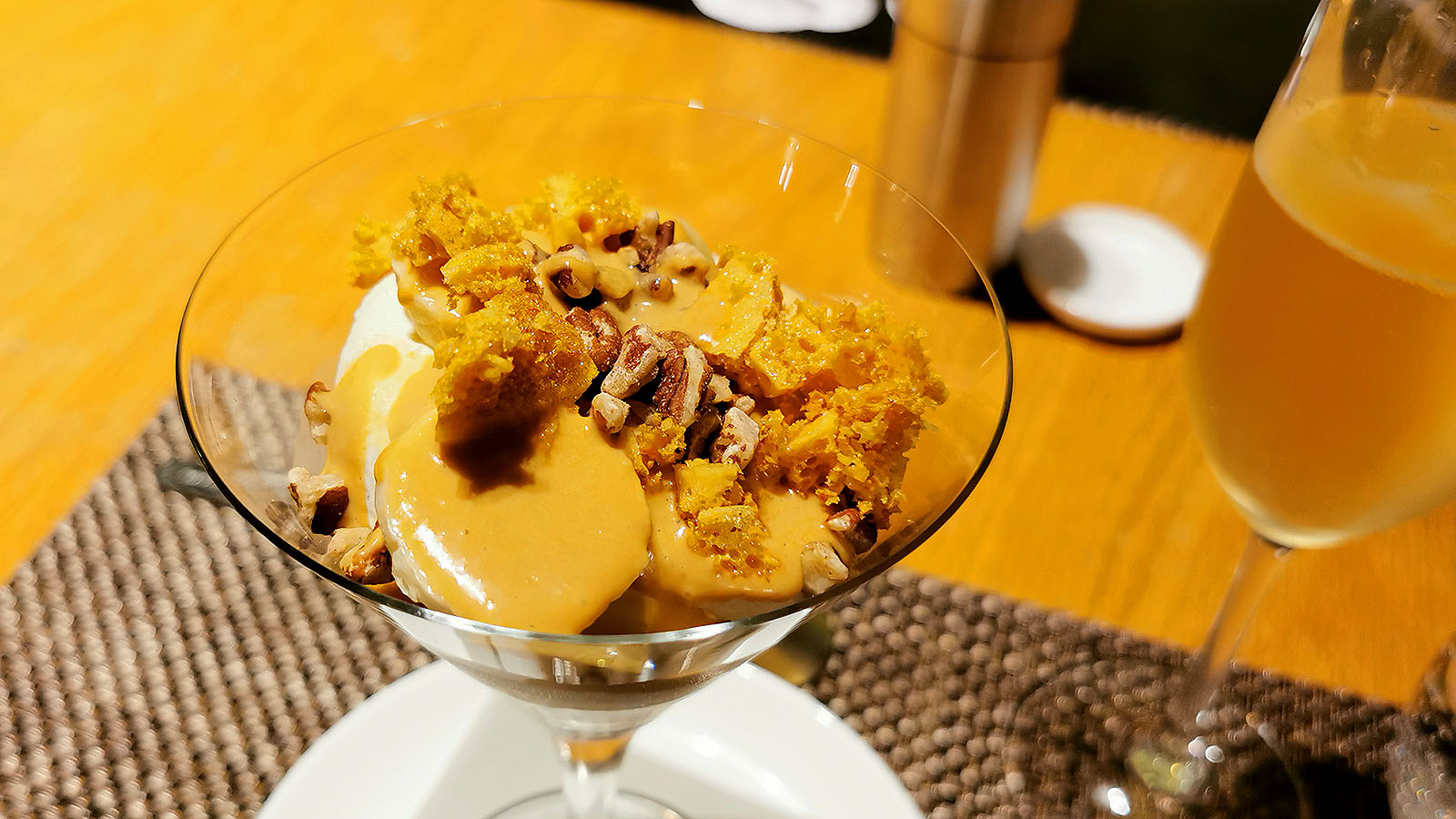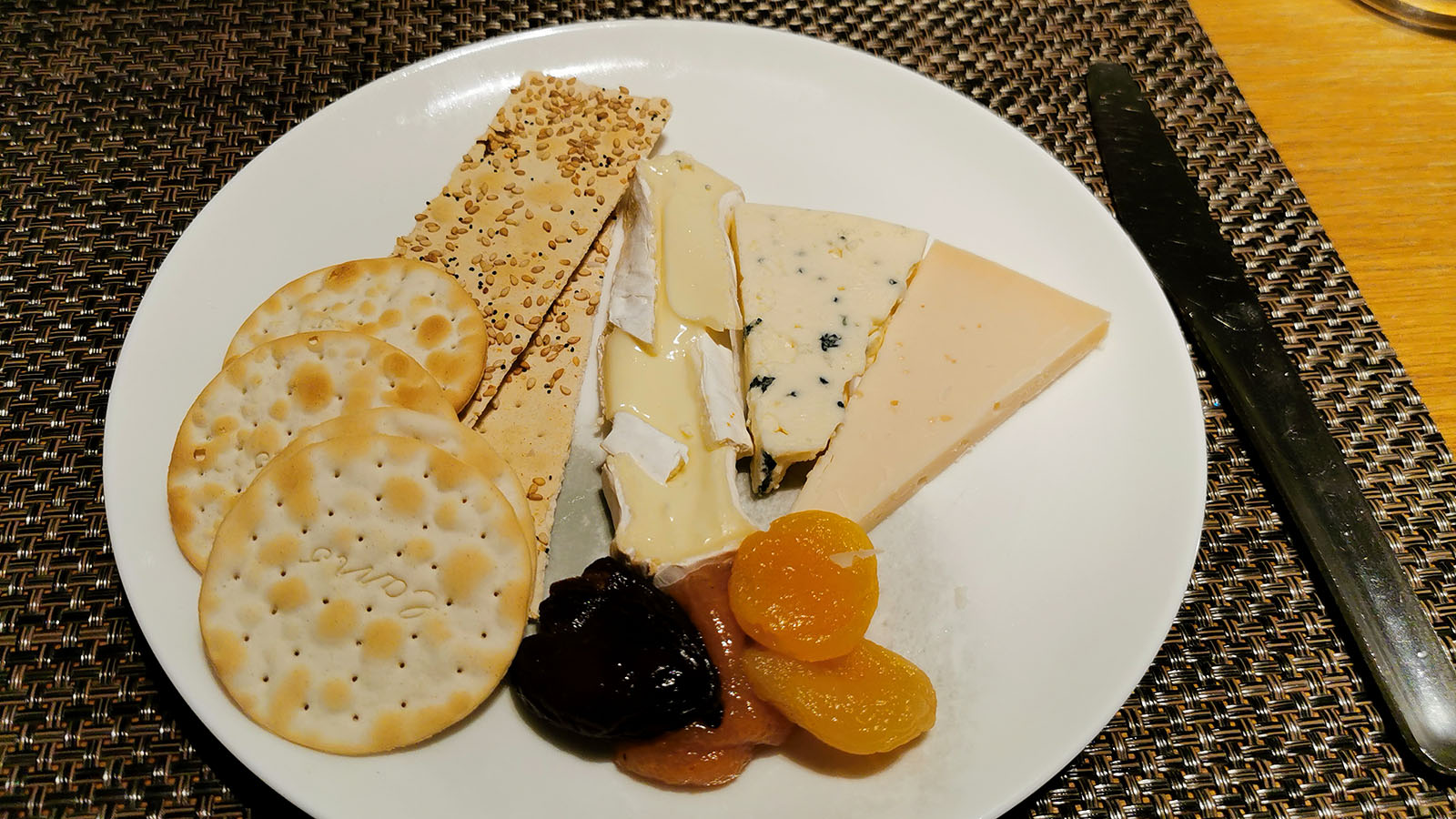 Drinks
Speaking of tips that I've picked up along the way, allow me to share another. Qantas now deliberately omits Champagne from its printed First Lounge wine lists. And from what I've learned, there's a strategy behind that. Travellers who don't already know Champagne is available might default to ordering something cheaper else.
But that's not all. Even if you've wised up to the bubbles and order 'Champagne', waiters in Qantas' Los Angeles First Lounge pour Mumm Cordon Rouge Brut (NV) by default. It's not a bad drop, sure. But it's one that some other airlines choose to serve in Business Class lounges.
On that note, if you were to specifically ask for a glass of Taittinger (Brut Reserve NV), you'd find one winging its way to your table. In fact, on very rare occasions, there can also be a truly 'secret Champagne' hidden away. But unlike the Taittinger, you cannot request it – even if you're a Chairman's Lounge member flying full fare First Class.
Instead, special bubbles are exclusively offered on a 'surprise and delight' basis. And on one visit – and only one – I happen to be in the right place at the right time before a flight to London. I must say, I never thought I'd see a bottle of 2012 Lallier open in a Qantas lounge. But as far as surprises go, it's a very pleasant one. (Please don't put the staff in an awkward position by asking for it, though – if it's available, it'll be offered).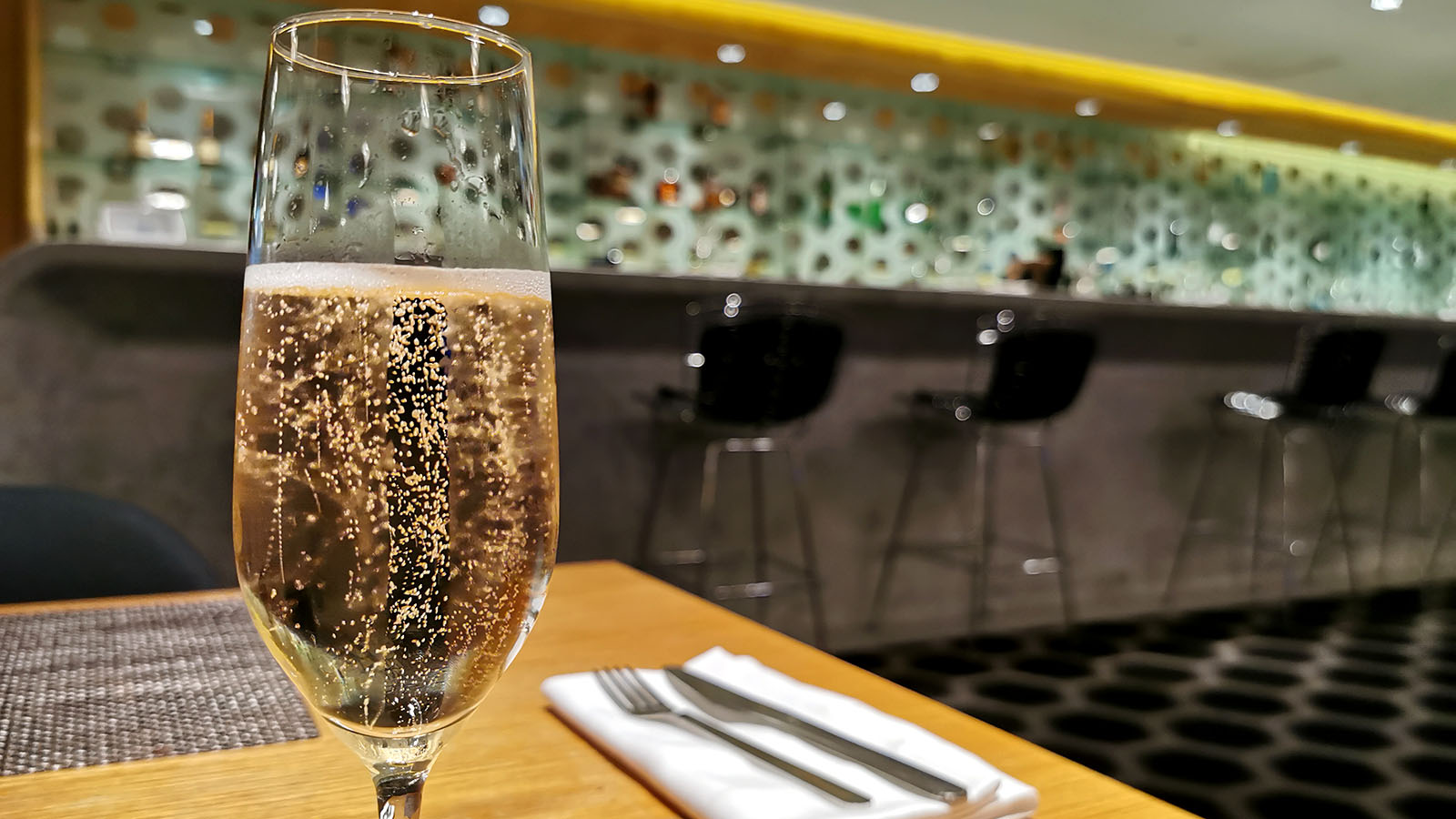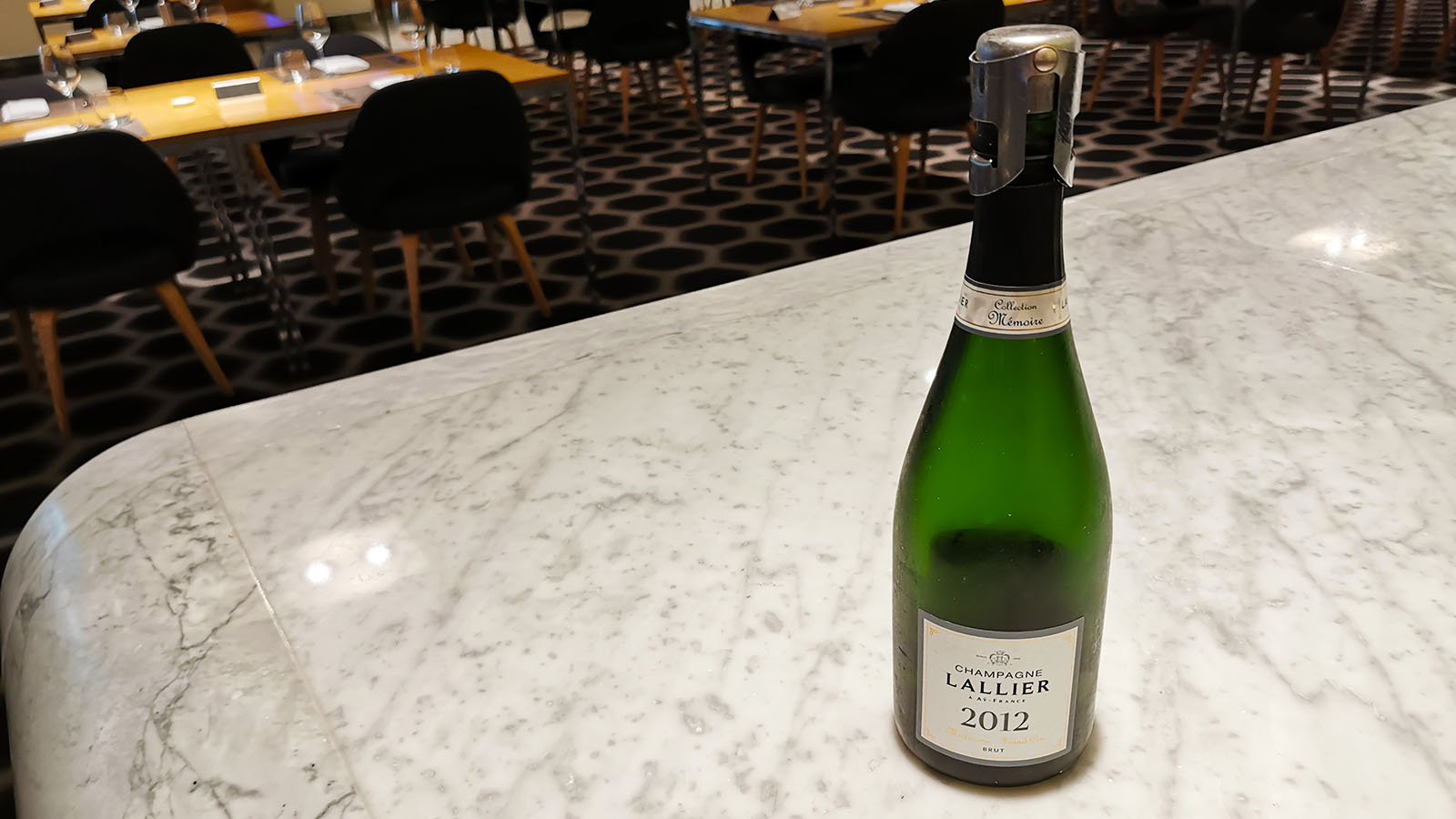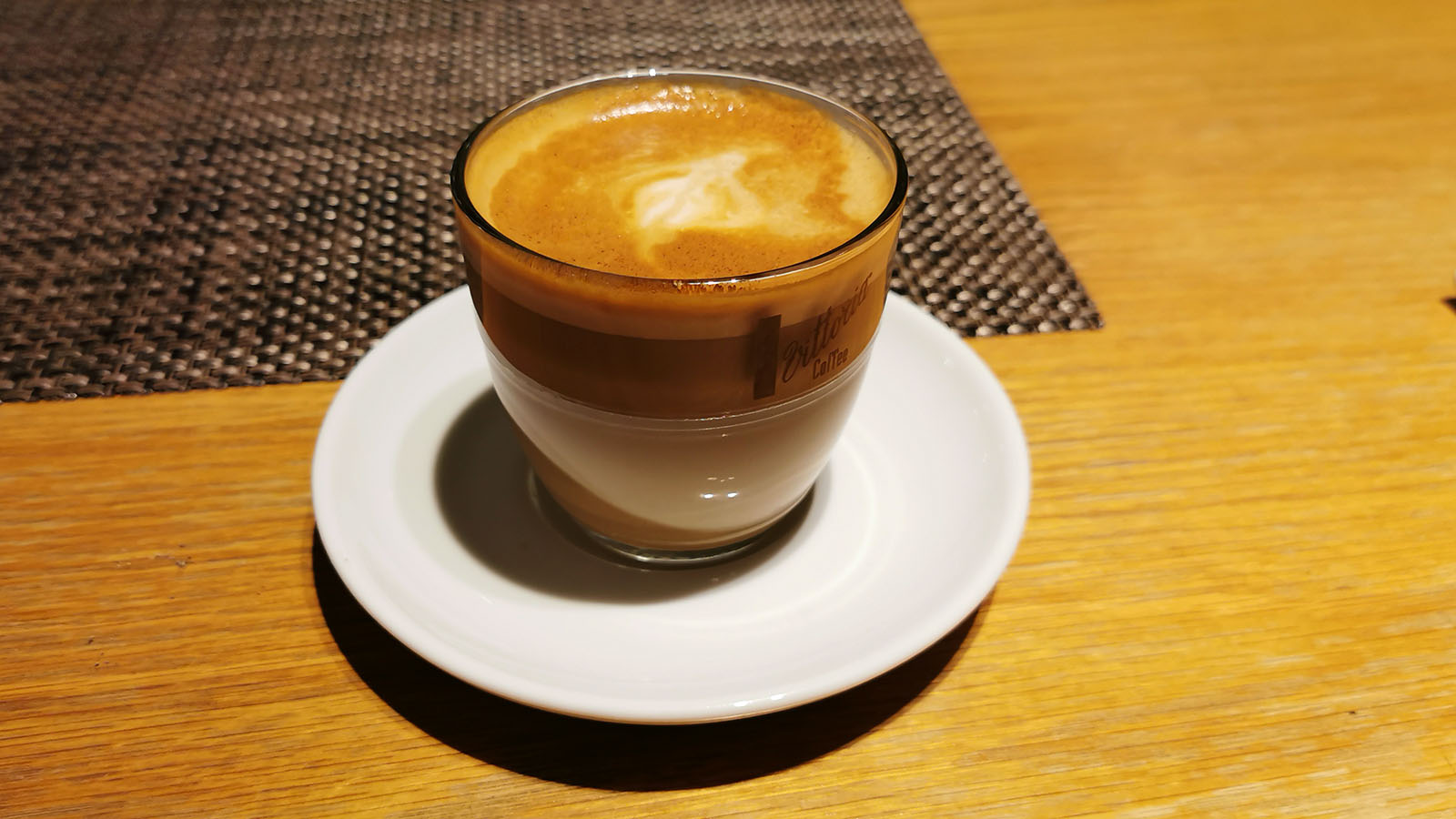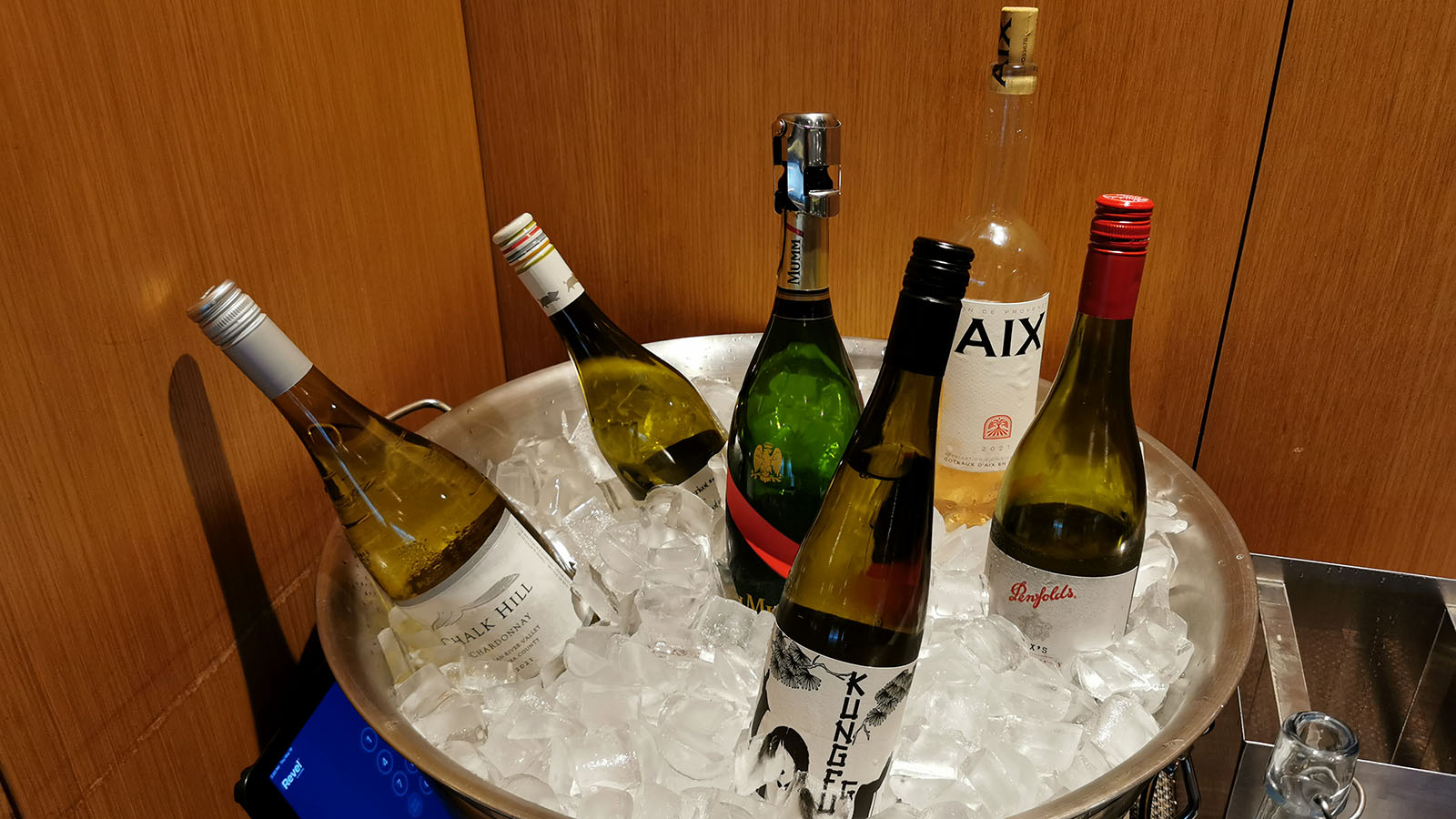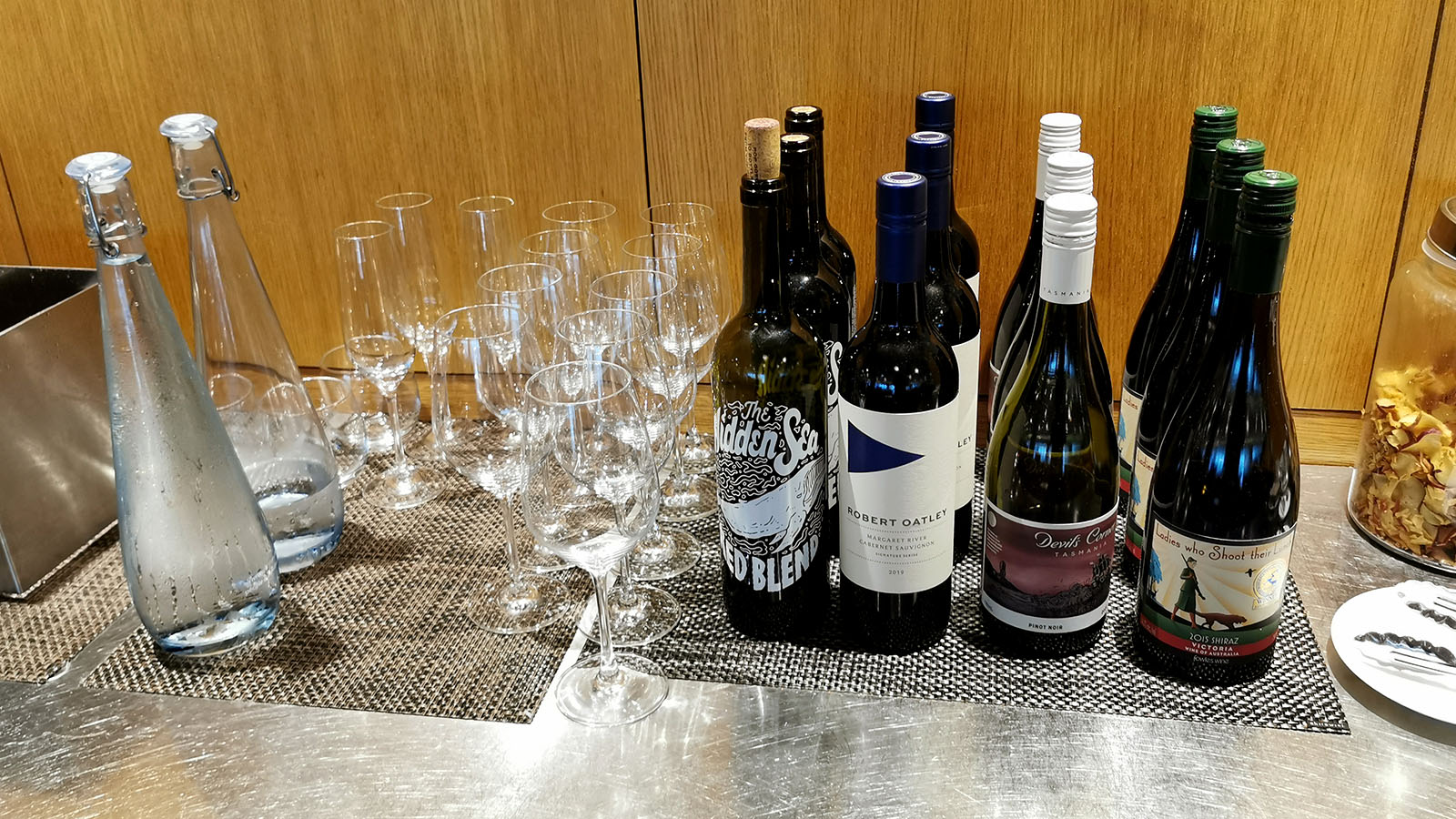 Prefer something lighter? Try the 'pretty in pink' mocktail. New for summer, it's a refreshing mix of watermelon, lychee, mint and soda. Curiously though, the only cocktails you can order here are those specifically printed on the menu, or a standard 'spirit and mixer' combo. A gin and tonic is fine, but an espresso martini is a no-no.
You can order standalone espresso drinks though. Given it's a Qantas lounge, staff know what I mean when 'skim latte' slips out by habit. Elsewhere in the US, you'd have to translate that to 'non-fat' or '2%'. There are also several self-serve wine stations throughout the Qantas Los Angeles International First Lounge.
Sofitel service
In terms of amenities that go above and beyond, the Qantas website offers some interesting reading. Here's an example, taken from the page dedicated to Qantas' Los Angeles First Lounge.
Enjoy exclusive, personalised Sofitel service in our Los Angeles First Lounge to ensure a seamless airport experience. Eligible passengers enjoy services like suit steaming, shirt pressing, shoe shining and priority access to showers. Our First Hosts are on hand to anticipate your needs and ensure a smooth transition from lounge to flight.

– Qantas website, August 2023
As mentioned earlier, I've been to this lounge many times over the years. Most recently, when booked and ticketed in Qantas First from Los Angeles to Sydney as a Qantas Platinum / oneworld Emerald frequent flyer. Even then, I don't receive an offer of any of the above. The same is also true of the last time I flew Qantas First out of Sydney. Not a First Host in sight.
Of course, I wouldn't expect Platinum status on its own to qualify. After all, just about everybody else in the lounge has that card, an equivalent, or is a guest of somebody who does. But like the quieter side of the dining room, First Hosts are just for Platinum One and Chairman's Lounge.
I suppose, 'High Tier Traveller Host' doesn't have the same ring. But really, given the name, it's silly to exclude passengers flying Qantas First from the First Host treatment. Particularly here in Los Angeles, where QF12 to Sydney is currently the longest non-stop Qantas flight with a First cabin.
Amenities in the Qantas Los Angeles International First Lounge
Curious claims aside, there are still a few amenities available to all travellers passing through the Qantas Los Angeles International First Lounge.
For one, shower suites are at hand. They're particularly welcome before the evening departures of Qantas' Australia-bound flights. I never have trouble securing one. But as before, I'm yet to receive an offer of garment pressing or shoe shining here.
Also take note of the flight information screens peppered throughout the space. They're not generic airport monitors. Instead, the flights shown relate to the guests in the lounge and those that are expected. When I visit before my American Airlines flight to San Antonio, for instance, I see my flight pop up. That's true even though I'm departing from Terminal 4, not TBIT.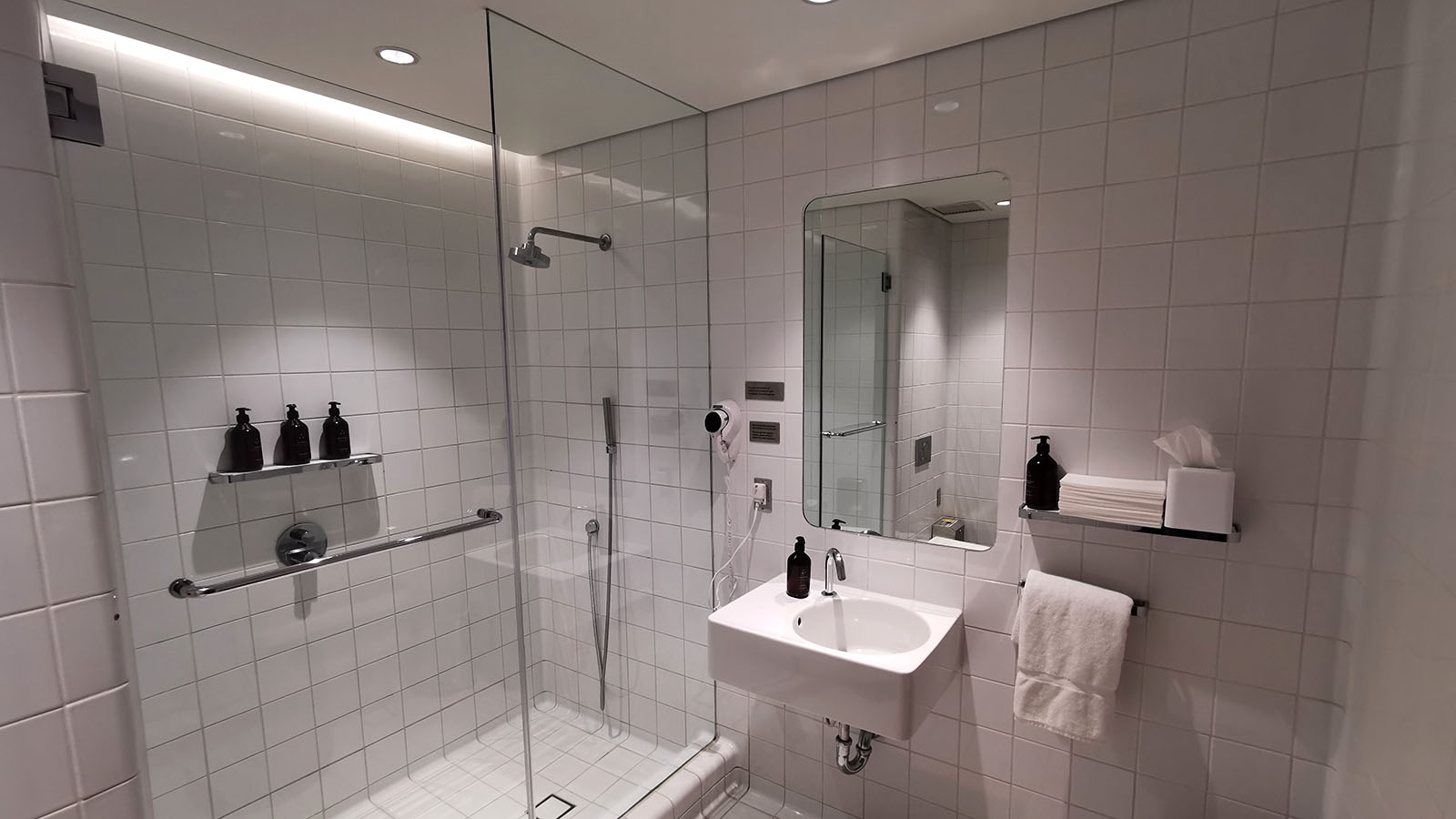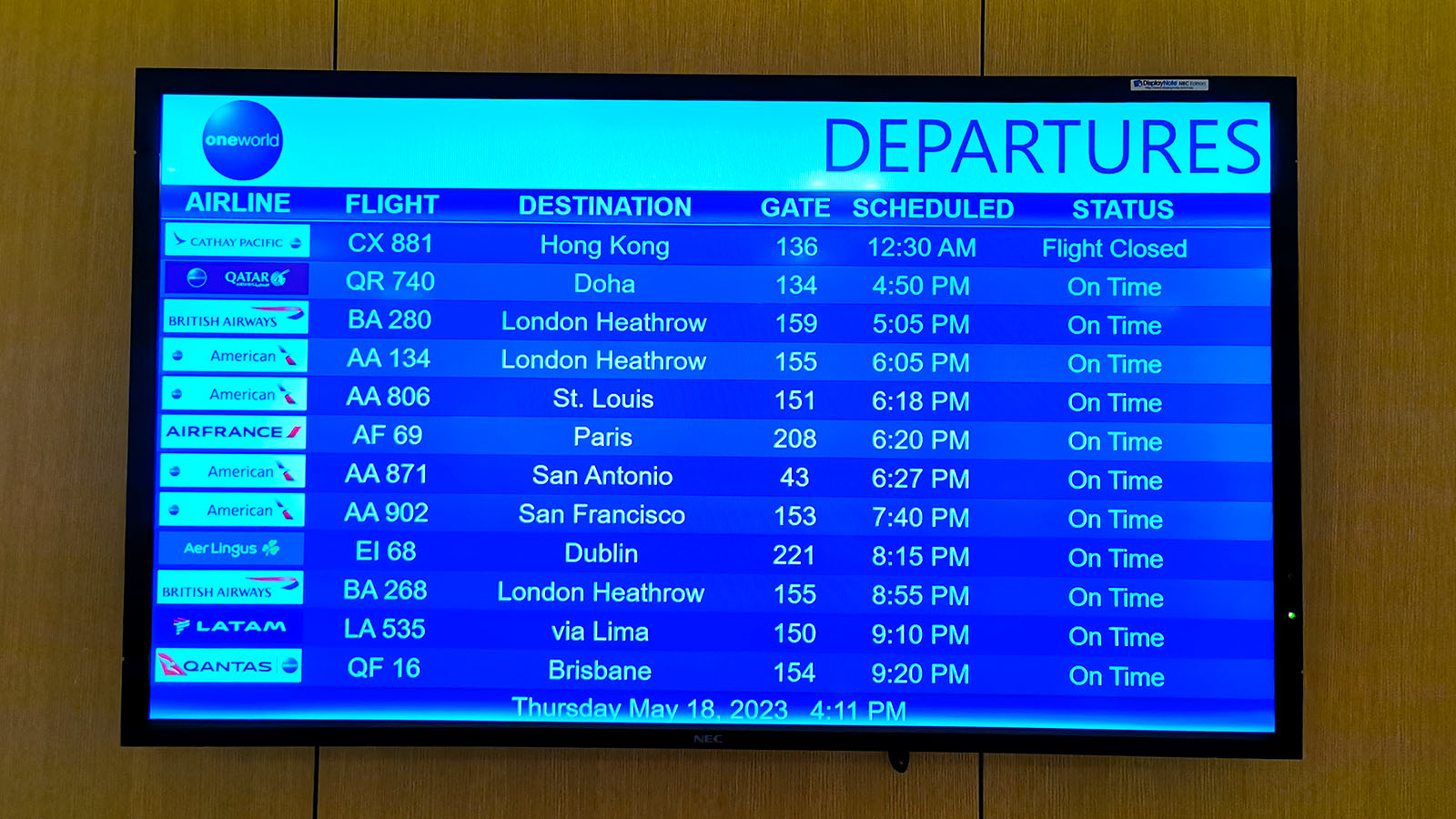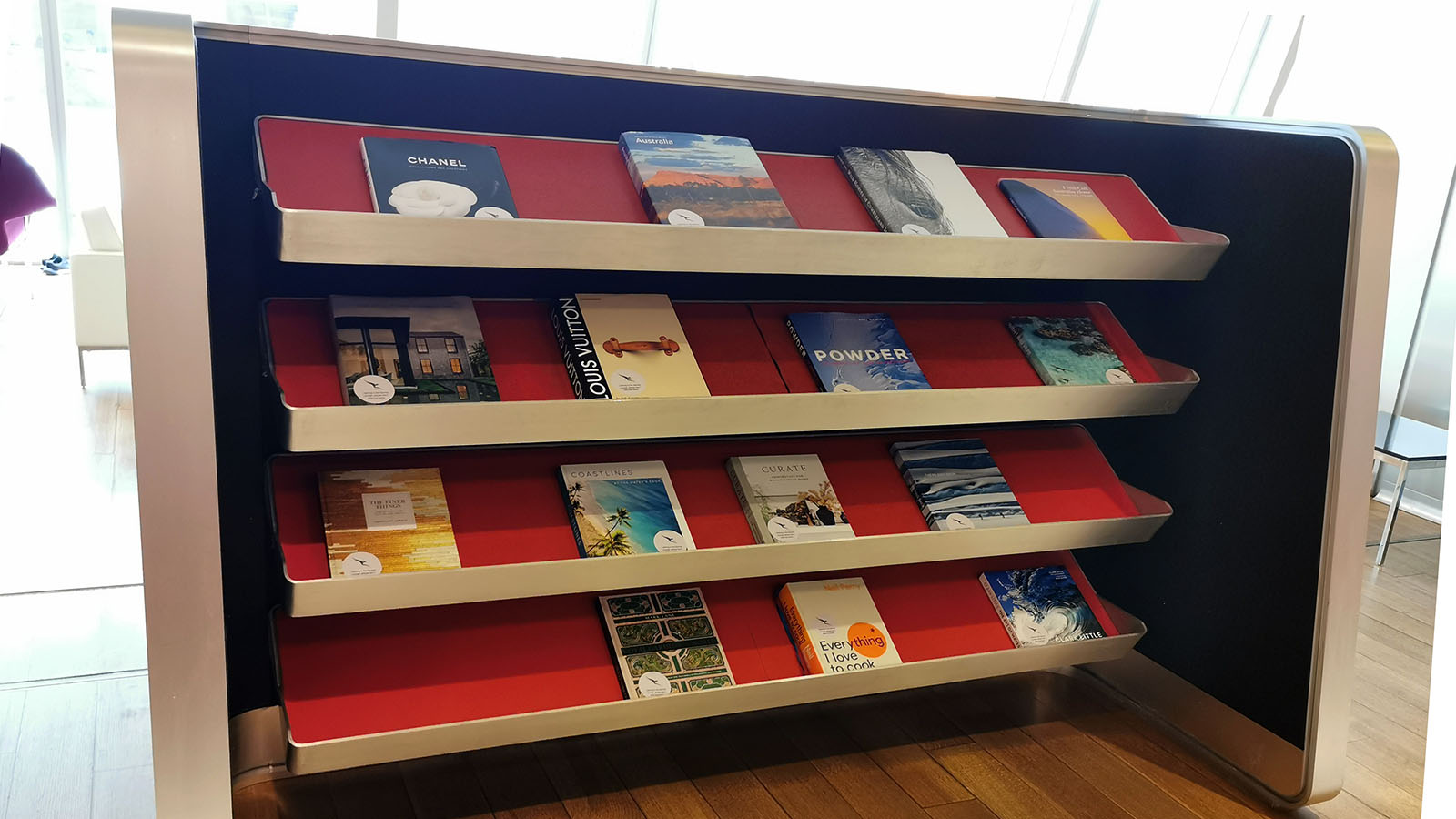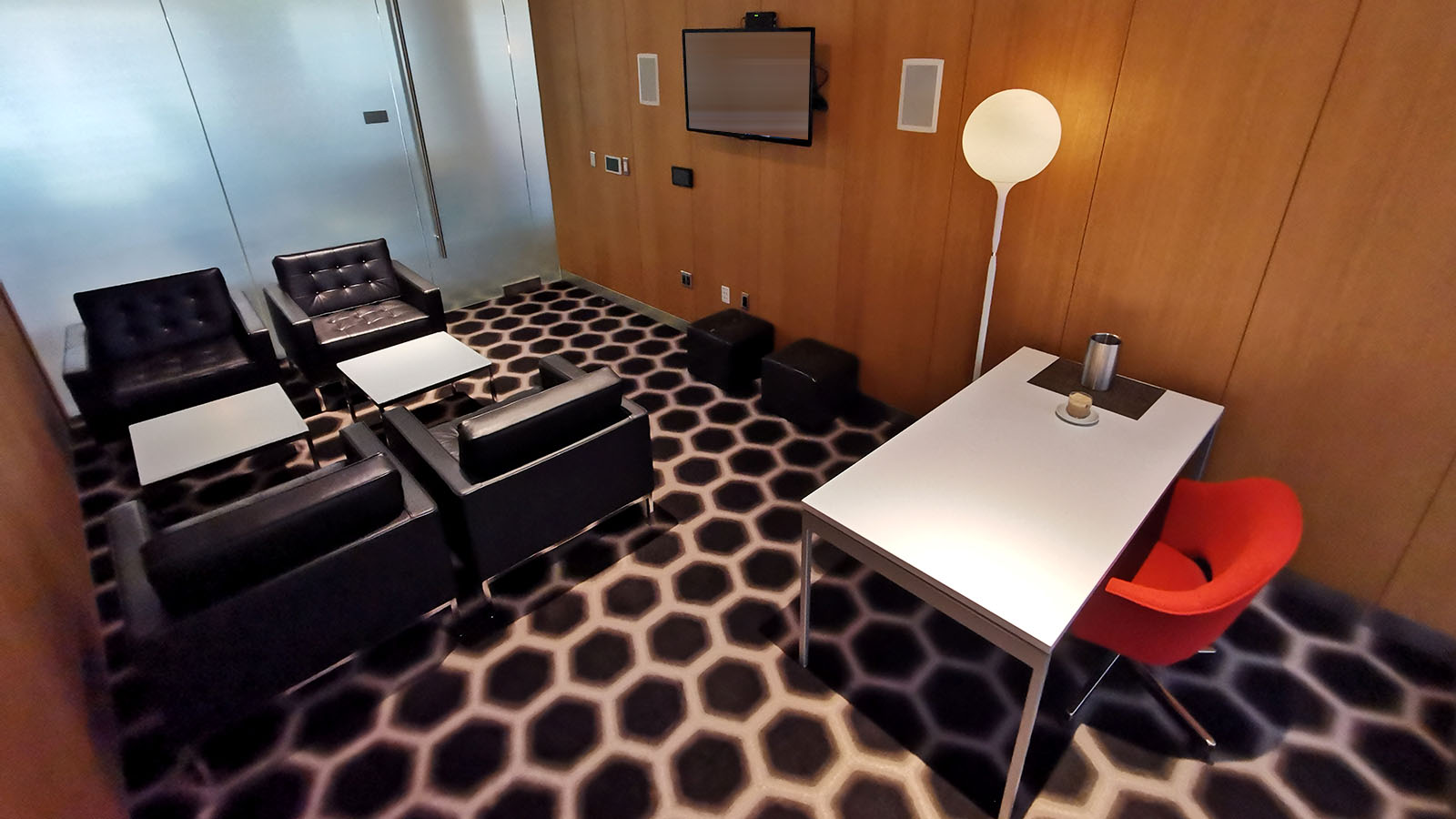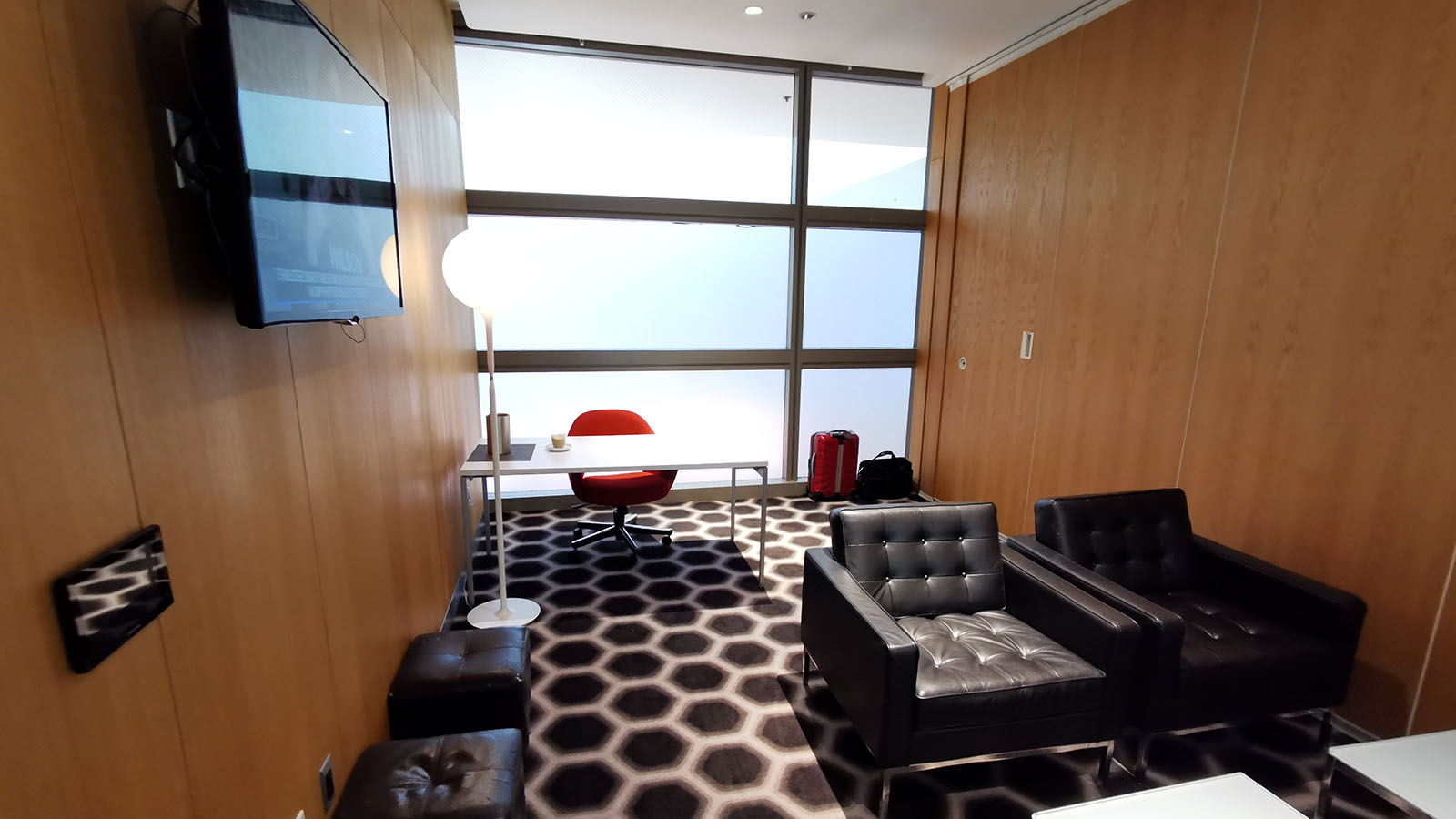 Exploring further, there's a collection of reading material over by the inside-facing windows. But this lounge has one more trick up its sleeve. And it's one I uncover quite by accident.
Like many business travellers, I expect good-quality lounges to offer wide access to power points. And for that matter, to provide a table or desk somewhere quiet when there's work to be done. For the most part, this lounge doesn't tick those boxes for the masses. But if you're lucky, you might find one of two private suites available.
Tucked away behind frosted glass, each offers a desk with power, along with seats for kicking back. They're great for groups, but honestly, just as great for getting some work done. On a visit with five hours to kill before boarding a flight to London, I'm able to snap one up and sink my teeth into work.
These suites are almost impossible to secure in the evenings. After all, Chairman's Lounge members can pre-book them. But during the day, you might just be in luck. As I've learned, just ask at reception.
Once you've found a place to work, the Wi-Fi is pleasingly zippy, at least. I clock average download speeds of 131Mbps, with uploads around 153Mbps. Few tasks require faster speeds than that.
Accessing the Qantas Los Angeles International First Lounge
Unlike the broad guest list at the nearby Qantas International Business Lounge, the Los Angeles First Lounge maintains much tighter ranks. As well, the rules are more complex than at Qantas' other First lounges, so read carefully.
Access when flying First Class
First Class passengers of British Airways, Cathay Pacific, Japan Airlines and Qantas.
American Airlines' Flagship First passengers travelling to a destination outside of the US, Canada, Mexico, the Bahamas, Bermuda and the Caribbean.
When connecting between an eligible international oneworld flight with a scheduled flight time longer than five hours, and a oneworld-operated US domestic flight, or another oneworld international flight of fewer than five hours. This rule is worth noting particularly if you'll be flying from Australia in First Class and have an onward connection that wouldn't otherwise qualify.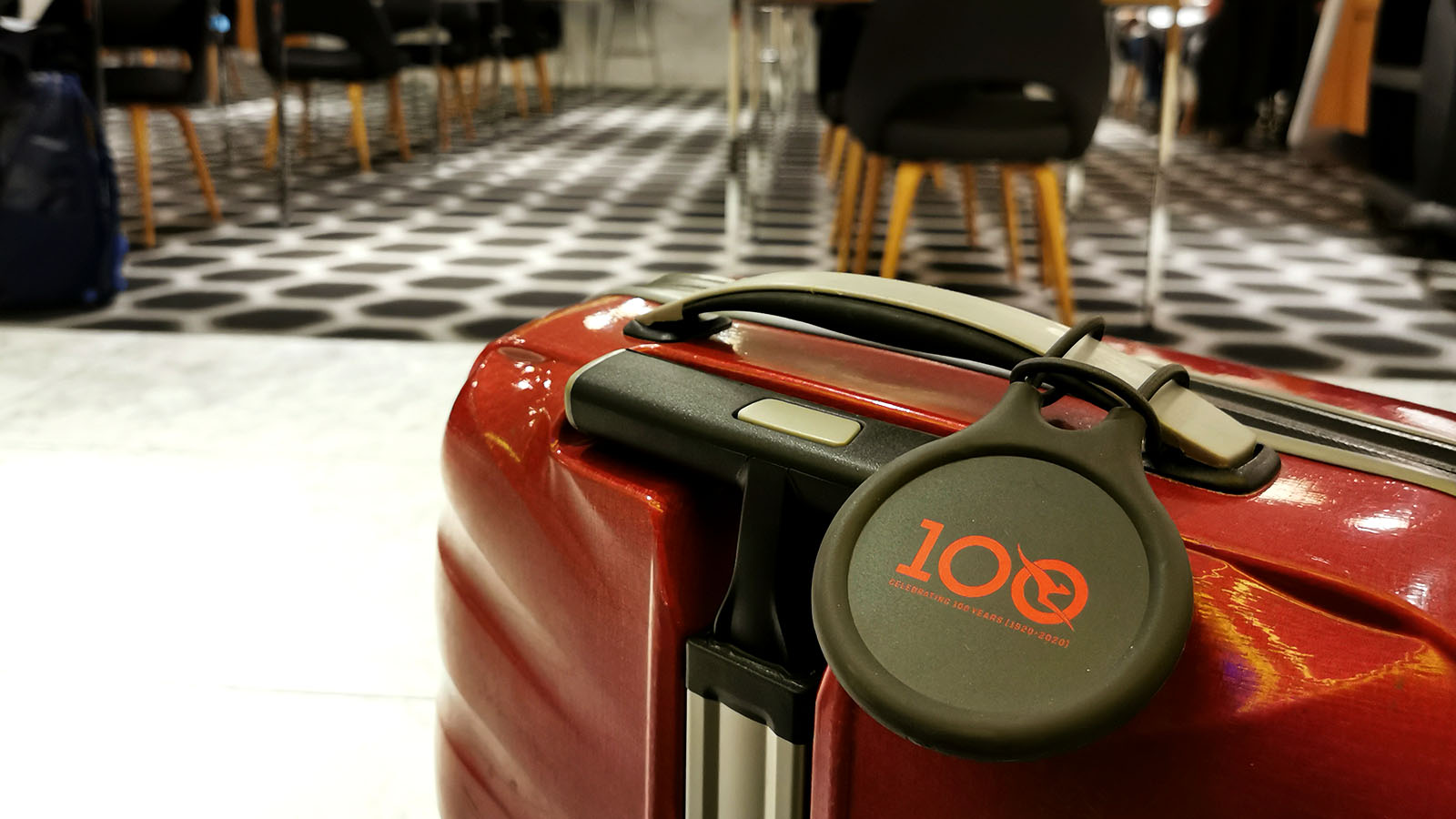 By airline frequent flyer status
Alaska Airlines Mileage Plan MVP Gold 75K and MVP Gold 100K members prior to a oneworld flight. However, the destination must be outside of the US, Canada or Mexico to qualify.
American Airlines AAdvantage Platinum Pro, Executive Platinum and ConciergeKey members prior to oneworld flights. But only when travelling to destinations outside of the US, Canada, Mexico (except Mexico City), the Bahamas, Bermuda and the Caribbean.
Qantas Platinum, Platinum One and Chairman's Lounge members prior to all oneworld flights. This includes US domestic-only itineraries (my flight to San Antonio serving as an example). Access is also available prior to flights booked on a QF codeshare. This makes it possible to visit when travelling with Air Tahiti Nui and Fiji Airways, for instance.
Other oneworld Emerald frequent flyers prior to all oneworld flights, regardless of destination. This includes domestic-only trips within the United States. Travellers must book the flight number of a oneworld airline, and also travel on a oneworld carrier. (In other words, a 'oneworld marketed and operated' flight).
Travellers can also gain access by using a Platinum One or Qantas Premier Titanium First Lounge pass.
The verdict
Despite the modest criticisms, this still remains one of the best airport lounges in the United States. But whether it ticks all of the boxes really depends on each traveller.
Those using frequent flyer status for access are in for a real treat. After all, First Class lounge privileges for top-tier travellers is something that sets oneworld apart from Star Alliance and SkyTeam. Being able to visit before a US domestic flight is also quite a luxury – and a real reward for those who've taken the time to learn the rules.
But if you're actually flying long-haul First Class, things look a bit different. The experience for a passenger taking a 15-hour flight in Qantas First is no better than for a savvy frequent flyer taking an hour-long domestic flight in Economy. And when you've booked First Class outright, your expectations are rightly higher.
Many First Class travellers place a real value on privacy: especially here in the home of Hollywood. Fly First Class from LA on a Star Alliance carrier, for instance, and you're granted access to a private lounge that's off-limits to frequent flyers. The same is largely true when flying SkyTeam First Class, where the Korean Air First Class Lounge is similarly quiet.
I'm mindful, of course, that most will prefer the Qantas and oneworld approach. And to be fair, usually, so do I. It still just strikes me as odd that Qantas has a more premium level of service available in this First Lounge, but chooses to exclude Qantas First passengers from those very benefits.
Surely, when local competitors are offering entirely separate lounges for those booked in First Class, allowing Qantas First guests to also sit on the 'quiet' side of the dining room isn't too much to ask. It seems, buying the best seat on the flight still can't get you the best seat in the lounge.
Also reviewed: American Express Centurion Lounge, Los Angeles
Feature image courtesy of Qantas. Other photography by Chris Chamberlin, who accessed the lounge as a regular, commercial guest on several occasions to compile this review.
---
Stay up to date with the latest news, reviews and guides by subscribing to Point Hacks' email newsletter.
Qantas Los Angeles International First Lounge
was last modified:
August 28th, 2023
by