For 104,000 Qantas Points (or only 70,000 Asia Miles), you can experience arguably the world's best Business Class product.
Adelaide gets an upgrade
From 16 August, the once-daily flight from Adelaide to Doha will be upgraded from the current A350-900, featuring reverse herringbone seats, to an A350-1000, with the superior QSuite product. (Update: between 6 and 30 September 2019, a QSuites-equipped 777-300ER will operate on this route.)
The good news is I can see a heap of award availability in both directions. There are at least two Business Class seats available almost every day between mid-October and the end of the booking calendar (currently February 2020). This includes travel over Christmas, although the first week of January is a little tighter. For details on how to book, read on.
This news comes off the back of previous announcements that Perth will get this product between 12 September and 12 December 2019 (although that could be extended), and Sydney getting an upgrade from the (still QSuite-equipped) 777-300ER to (more modern) A350-1000 from 1 November 2019.
---
In this guide
Part I of this guide explores the different Business Class offerings of the A350, A380 and 777.
In Part II, we'll go into detail on redeeming Qantas Points, Asia Miles and AAdvantage miles for travel from Australia to Doha and beyond.
---
What to expect from Qatar Airways Business Class
Qsuite on the A350-1000 and 777-300ER
The Qsuite features sliding privacy doors, much like you can currently experience in Singapore Airlines and Emirates First Class Suites as well as on Korean Air's Boeing 747-8i aircraft.
The two middle seats convert into a double bed, again just like in Singapore Airlines Suites Class.
And there are removable row dividers in the middle row to convert four adjacent middle seats into a family room.
As I see it, the pros are:
a high level of privacy for solo travellers
a more intimate flying experience for couples, groups and families
beautiful finishing touches
The cons could be:
slightly more cramped seat due to an increase in overall space with addition of door
family room is great for families but could be a noise concern for solo travellers
You can find this product flying from:
Canberra via Sydney (switches from 777 to A350 on 1 November 2019)
Adelaide (from 16 August 2019)
Perth (between 12 September and 12 December 2019)
You can check out the full list of which overseas routes and specific flight numbers the QSuite can be found on here.
Review: Qatar Airways Qsuite Business Class
Reverse herringbone on the A350-900, A380 & 787
On these aircraft, Qatar has a herringbone 1-2-1 configuration in Business Class:
There is also a full-service onboard bar on the A380: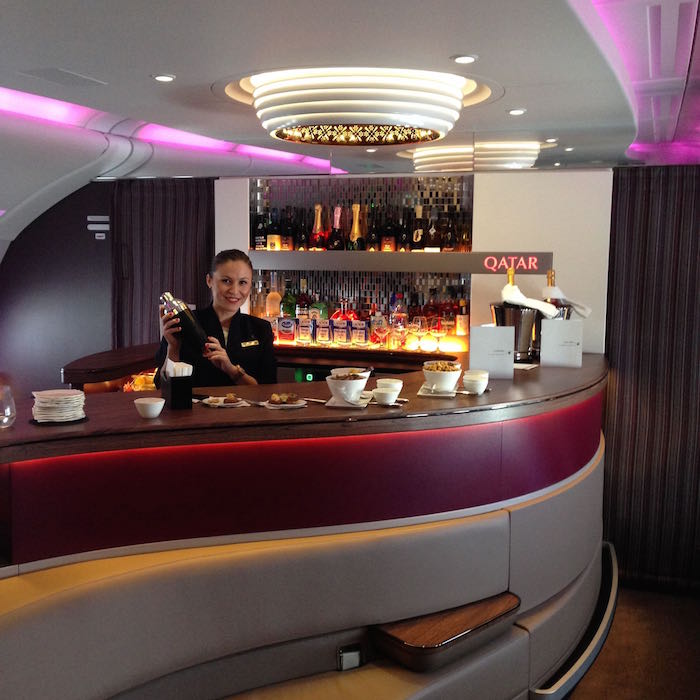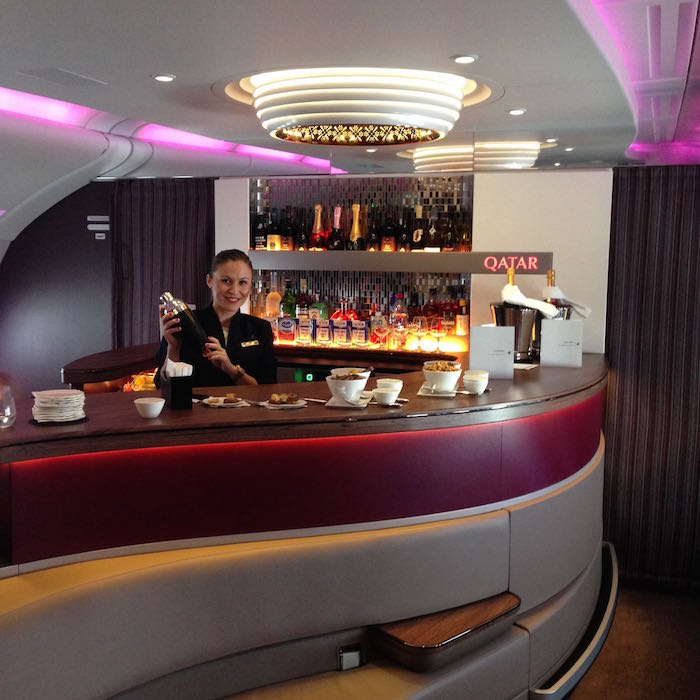 First Class is available on A380 flights but not on other aircraft. Qatar First Class award redemptions can be hard to come by but, if secured, can be a great use of Qantas Points.
In addition to the A380 Australian services, Qatar also operates this aircraft to Bangkok, Frankfurt (from 31 March 2019), Guangzhou, London and Paris. (Note that effective mid-July 2018, First Class award redemptions are not available to/from London.)
You can find this Business Class product on the following flights:
Sydney (one of the two daily flights)
Melbourne
Perth (except 12 September to 12 December 2019 when the 777-300ER operates)
Adelaide (until 15 August 2019)
Review: Qatar Airways A380 First Class
Review: Qatar Airways A350 Business Class

Old 777 product
Qatar is progressively replacing this product, which served Perth until April 2018, with a 2-2-2 lie-flat-bed configuration.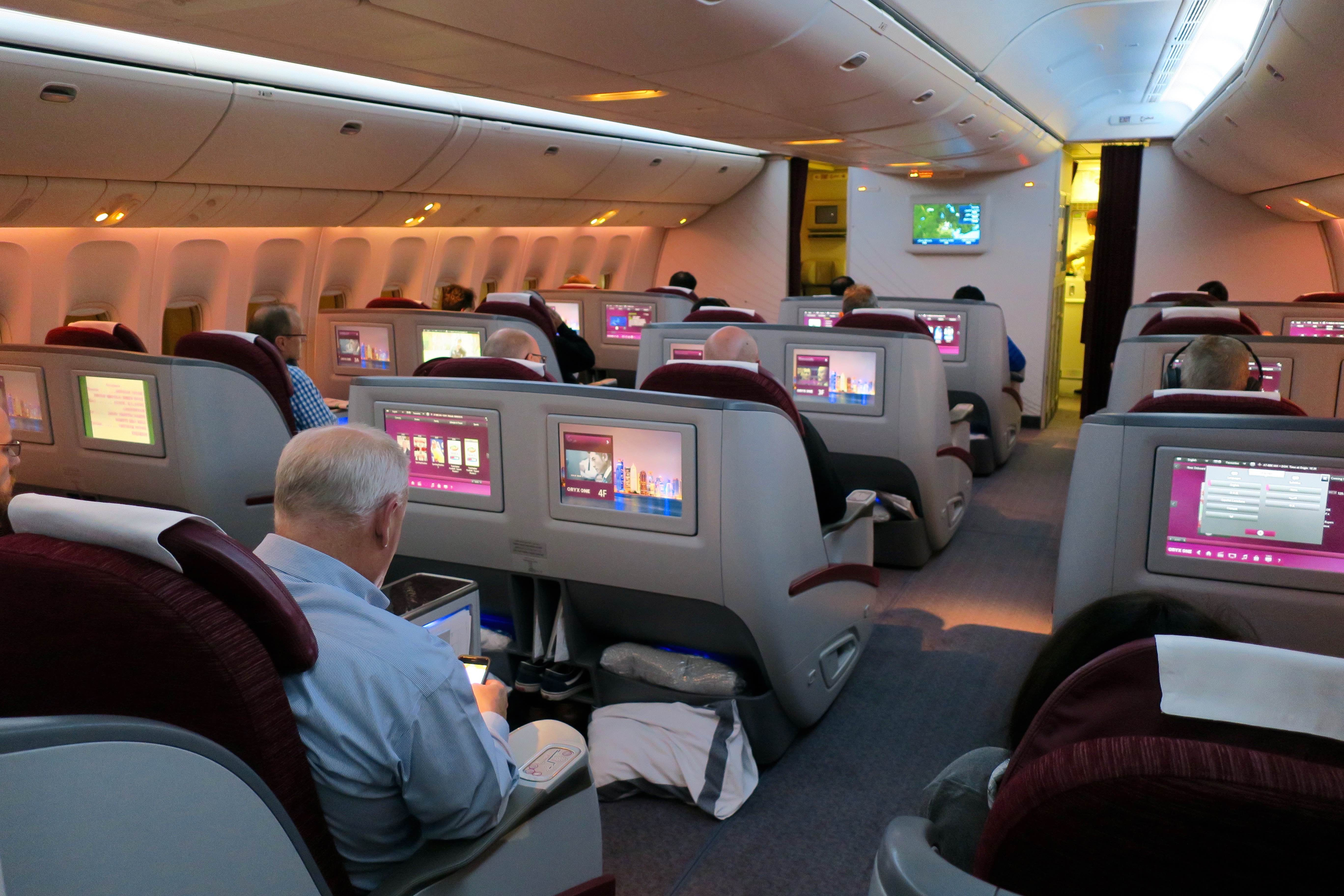 It is probably a slight improvement in seat offering than Qantas' similar layout on their A380s and refurbished 747 aircraft, but inferior to the other Qatar offerings above.
Review: Qatar Airways 777 Business Class
Ad – Scroll down to continue reading.Minimum spend, terms & conditions apply.
Qatar's route options from Australia to Europe
Qatar Airways fly direct from Sydney, Melbourne, Perth and Adelaide to Doha, connecting to a multitude of European cities, including Amsterdam, Athens, Barcelona, Belgrade, Berlin, Brussels, Bucharest, Budapest, Copenhagen, Edinburgh, Frankfurt, Geneva, Larnaca, London, Madrid, Manchester, Milan, Munich, Oslo, Paris, Rome, Sofia, Stockholm, Venice, Vienna, Warsaw, Zagreb and Zurich.
Researching award availability for Qatar Airways redemptions
The best place to search for a monthly view of Qatar Airways flights is on the American Airlines website. Then you can book online through the Qantas, Asia Miles or British Airways websites (depending on which currency you want to use).
You can expect to see Qatar Airways seats released at 361 days before departure but some programs will not see those seats until later on.
Using points/miles to book from Australia on Qatar Airways using points
Here's a summary of the main oneworld program costs for the Australia flights Qatar operates to Doha (in Business Class):
| From | Qantas Points (before/after 18 September 2019) | Asia Miles | AAdvantage miles |
| --- | --- | --- | --- |
| Perth | 92,000/104,500 | 70,000 | 80,000 |
| Melbourne | 104,000/119,200 | 70,000 | 80,000 |
| Adelaide | 104,000/119,200 | 70,000 | 80,000 |
| Sydney | 104,000/119,200 | 90,000 | 80,000 |
| Canberra (via Sydney) | 104,000/119,200 | 90,000 | 80,000 |
Using Qantas Points
Qantas charges 104,000 Qantas Points for one-way Business Class on the Sydney, Melbourne, Adelaide and Canberra routes, which is more expensive than the comparable Dubai flights flown by Qantas or Emirates at 96,000 points.
The same case applies to Perth, with Qantas charging 92,000 points, which is 8,000 points more than it costs to fly to Dubai on Emirates. Qantas passes on full taxes and surcharges too.
If you are flying all the way on to Europe with no stopover, you'll get more out of your Qantas Points by aiming for a redemption on Qantas/Emirates flights as this will come in at 128,000 points in total.
By comparison, partner award costs are pieced together flight by flight, costing you Australia to Doha, plus the cost of the flight from Doha to your final destination.
Using Asia Miles
Asia Miles award charts are distance-based, with Sydney to Doha falling into the more expensive Zone E and the other three destinations into the cheaper Zone D.
For Asia Miles redemptions in Business Class from Adelaide, Perth and Melbourne to Doha, flights cost 70,000 Asia Miles one-way, or 140,000 miles return.
Flying from Sydney or Canberra costs 90,000 Asia Miles in Business Class one-way, or 180,000 miles return.
If you are not flying from Sydney or Canberra as your starting point (e.g. from Brisbane, Cairns, Hobart), it may be worth booking your Qatar Airways redemption from Adelaide, Melbourne or Perth, instead of Sydney or Canberra, when redeeming Asia Miles, and tagging on a paid, connecting domestic flight to one of the three.
Asia Miles also pass on all taxes and surcharges on partner redemptions, so out-of-pocket costs in cash will be similar to using Qantas Points.
Using AAdvantage miles
Qatar Airways is probably one of the better uses of AAdvantage miles for Australian travellers, given the better-than-average redemption availability.
While AAdvantage only lets you redeem miles for travel between Australia and Europe on Etihad with two separate awards, Qatar will let you redeem with one award.
This means that you can take advantage of the reduced cost of 85,000 AAdvantage miles one-way in Business Class to Europe, or 80,000 AAdvantage miles to Doha. Granted, these amounts were increased substantially from 60,000 and 45,000 miles respectively in AAdvantage's March 2016 points devaluation.
By comparison, AAdvantage redemptions on Etihad will be much higher as you will need to redeem two awards, one to Abu Dhabi (80,000) and another to Europe (42,500) = 122,500 in total.
AAdvantage miles are typically best picked up in a buy miles promotion. The guide to AAdvantage miles purchases is here, along with a detailed overview of redemption options to Europe.
Summing up
It's great to have Qatar flying from five Australian cities (hopefully Brisbane will get service in the near future too) and adding some competition on the Middle East routes, especially with Australian travellers being able to experience their newer aircraft.
Asia Miles and AAdvantage award redemptions on Qatar seem to represent the best value for flights to Doha and beyond to Europe, with Qantas Points making more sense for connections through Dubai with Emirates.
Supplementary images courtesy Qatar Airways.
Adelaide gets the fantastic QSuite: award availability plentiful
was last modified:
October 8th, 2021
by