Virgin Australia's Sydney lounge has grown over time. Improvements such as the upstairs overflow zone, Premium Entry, and more recently, super speedy Wi-Fi, would normally combine to create a great experience for passengers.
But some of those elements are currently missing. Premium Entry served its last passengers back in March 2020. And with Virgin Australia's renewed focus on business travellers – as well as VIPs, with invitation-only lounges also back in action – now seems a better time than ever to bring Premium Entry back.
In its absence, here's how the Virgin Australia Lounge experience currently stacks up in Sydney, at Australia's busiest airport.
Location
Virgin Australia's domestic lounge at Sydney Airport sits just after security. It's an expansive space, with a rectangular seating area that borders the central kitchen and food area.
I'm sure the design intention was to make the most of the available views and natural lighting here. But having said that, the views are largely of the terminal roof nearby, which obstructs most of the airfield. During peak times, overflow seating becomes available upstairs – and from there, the vista is much more eye-catching.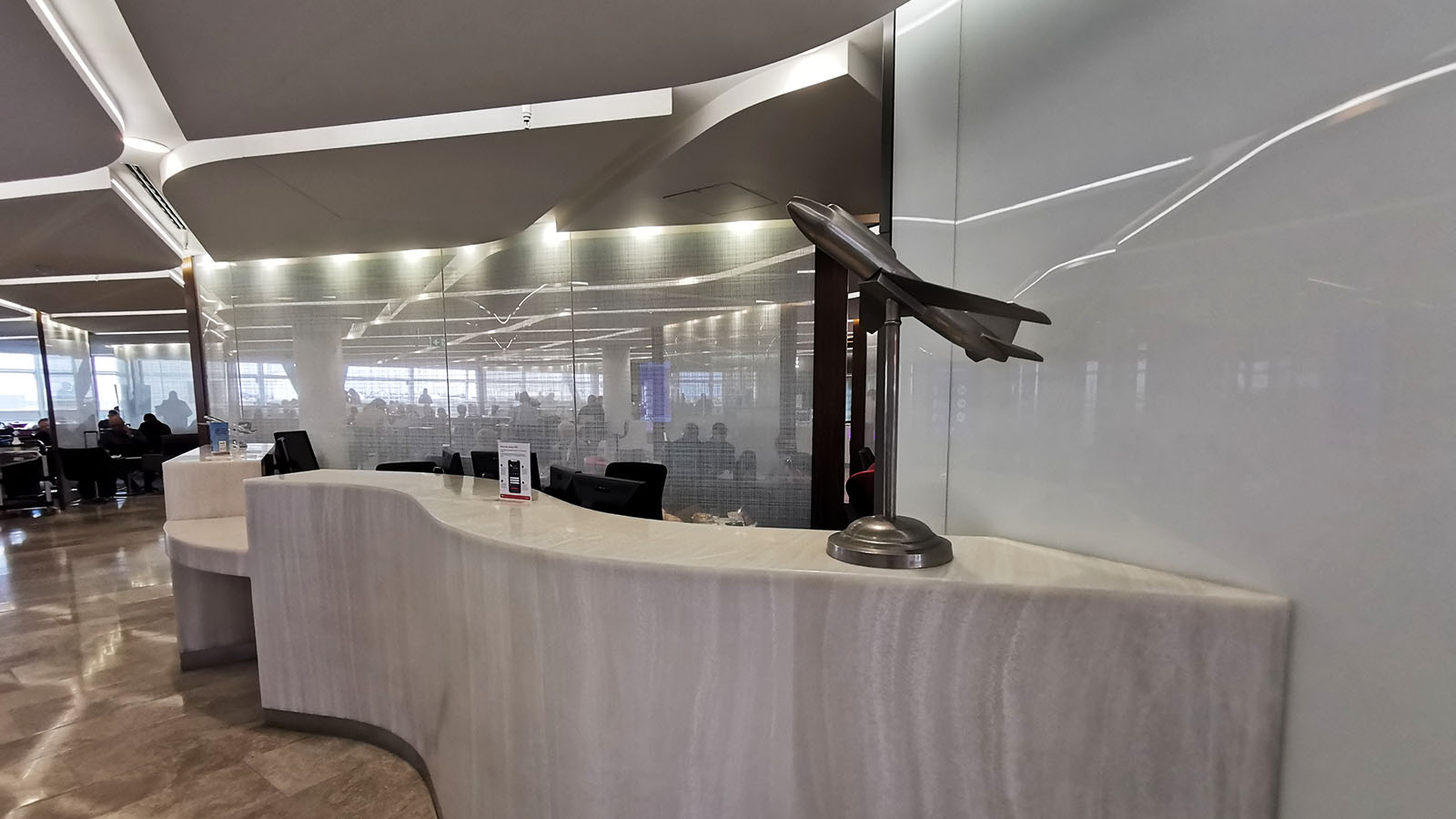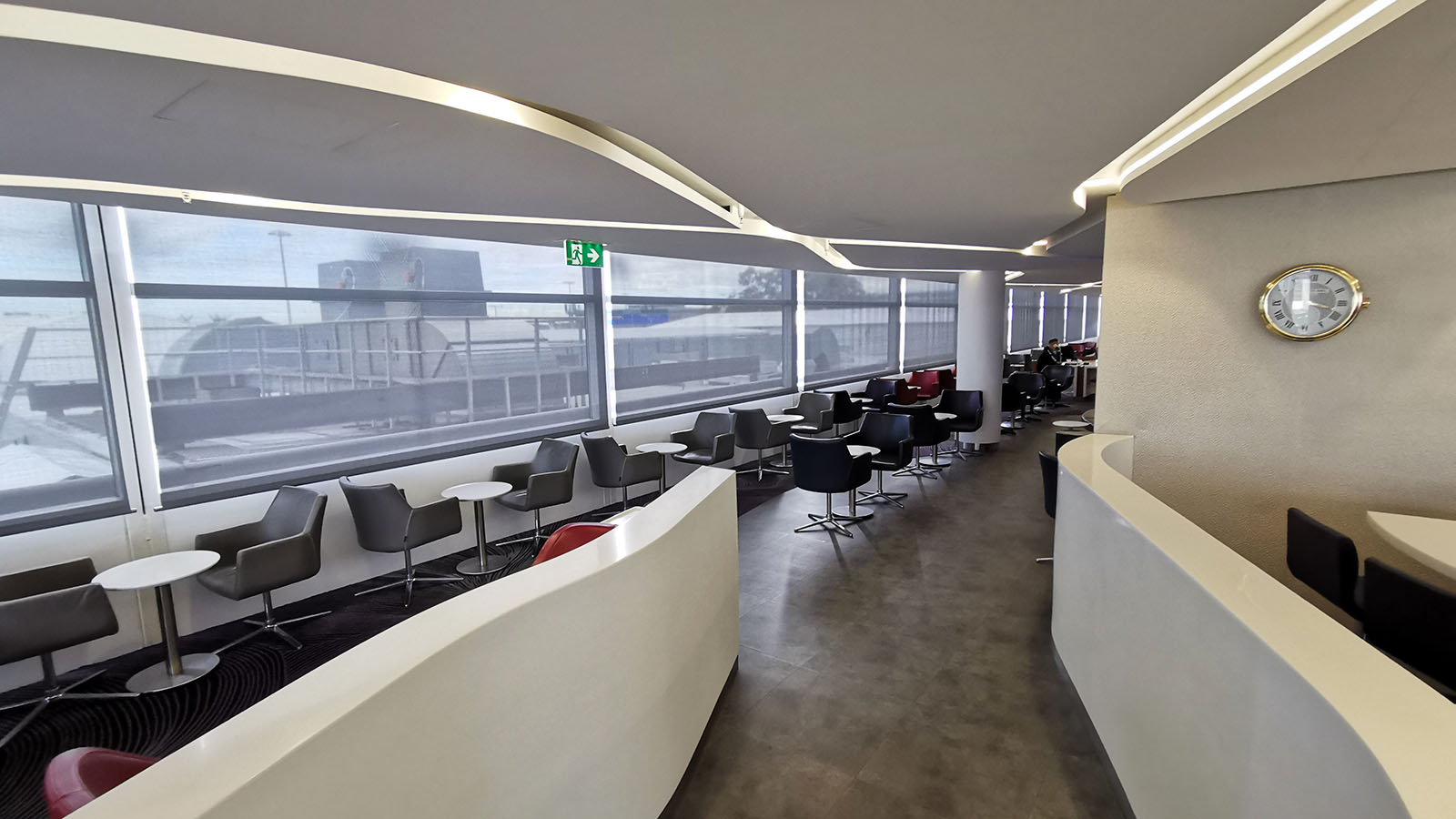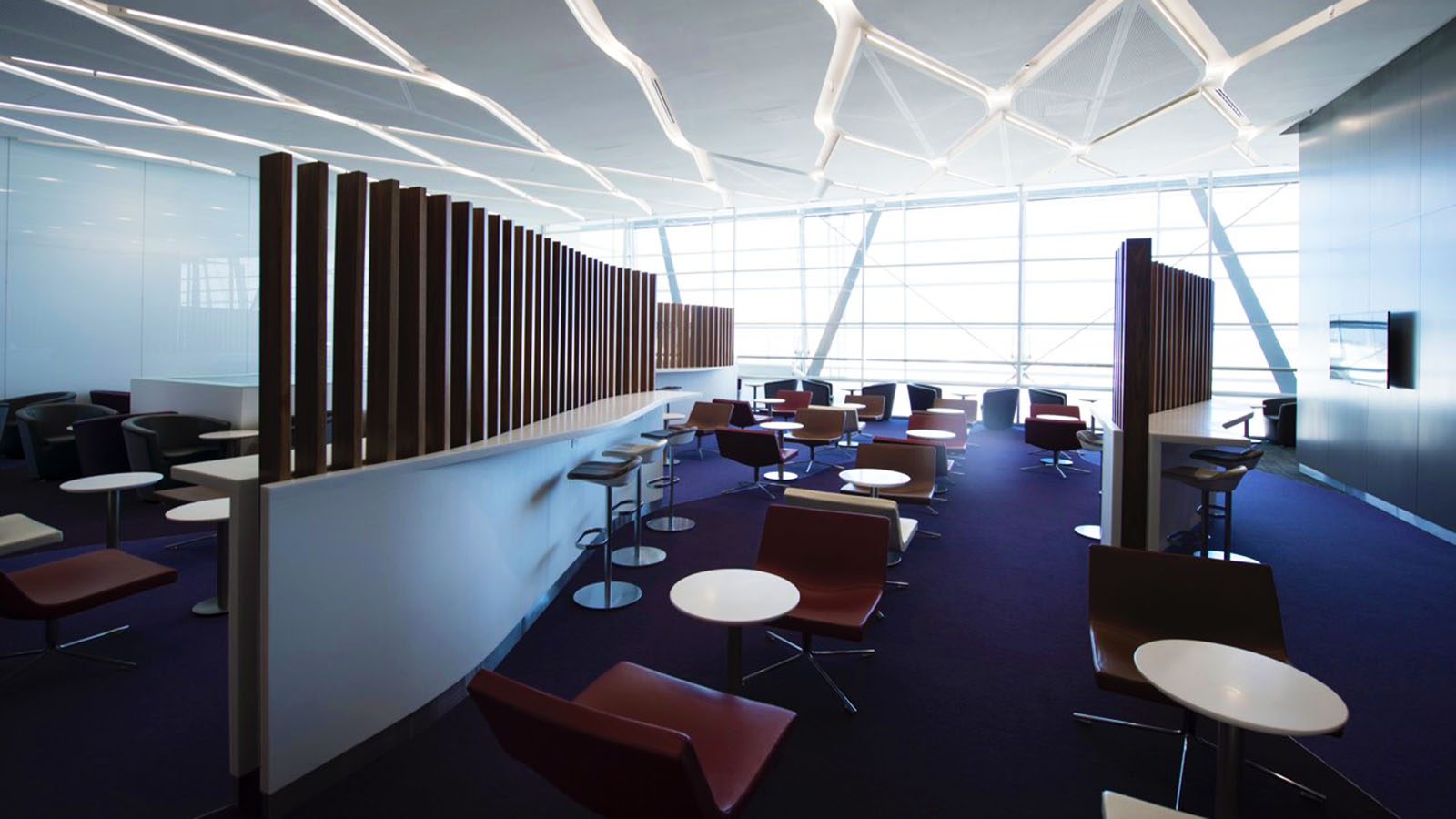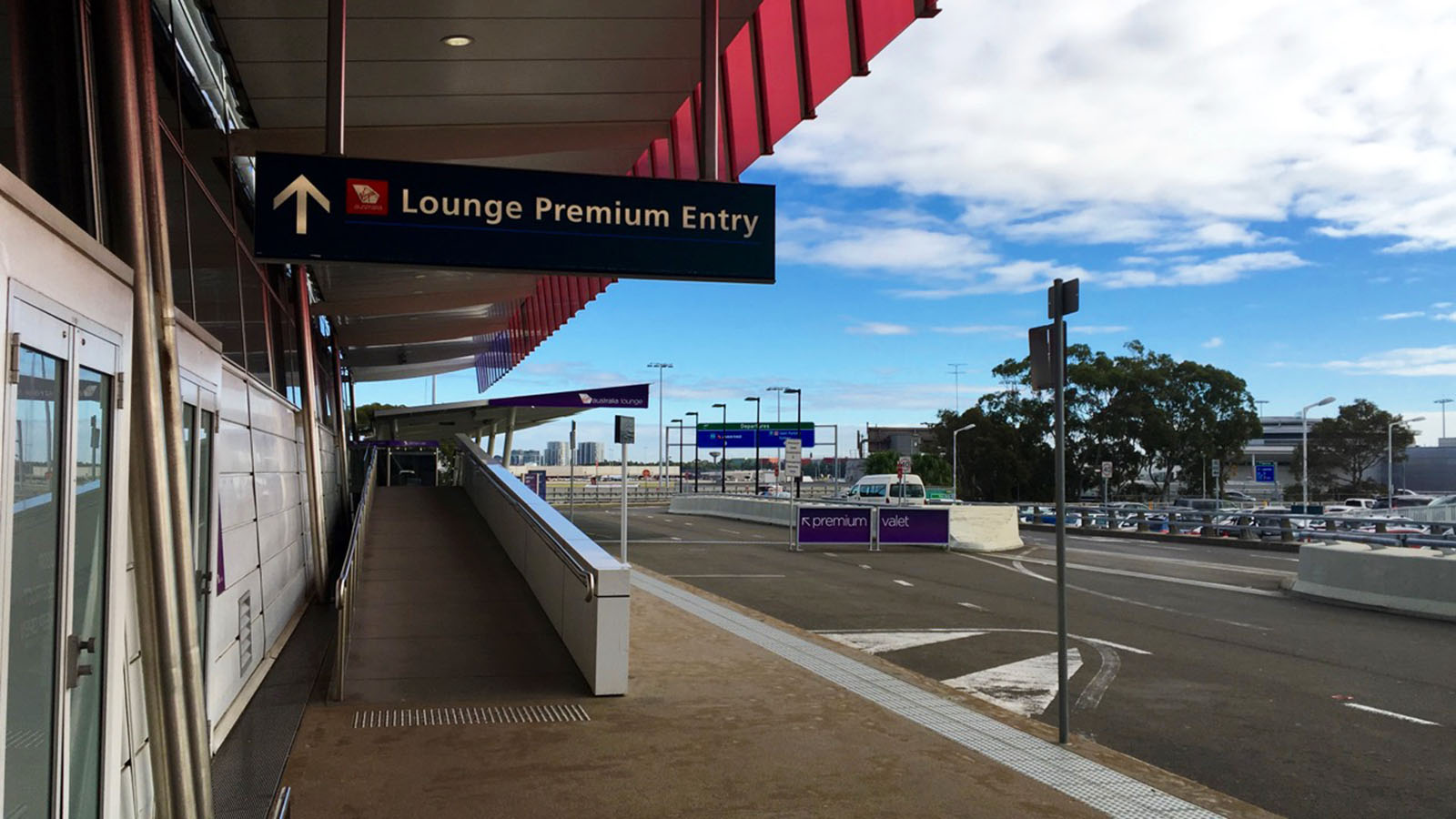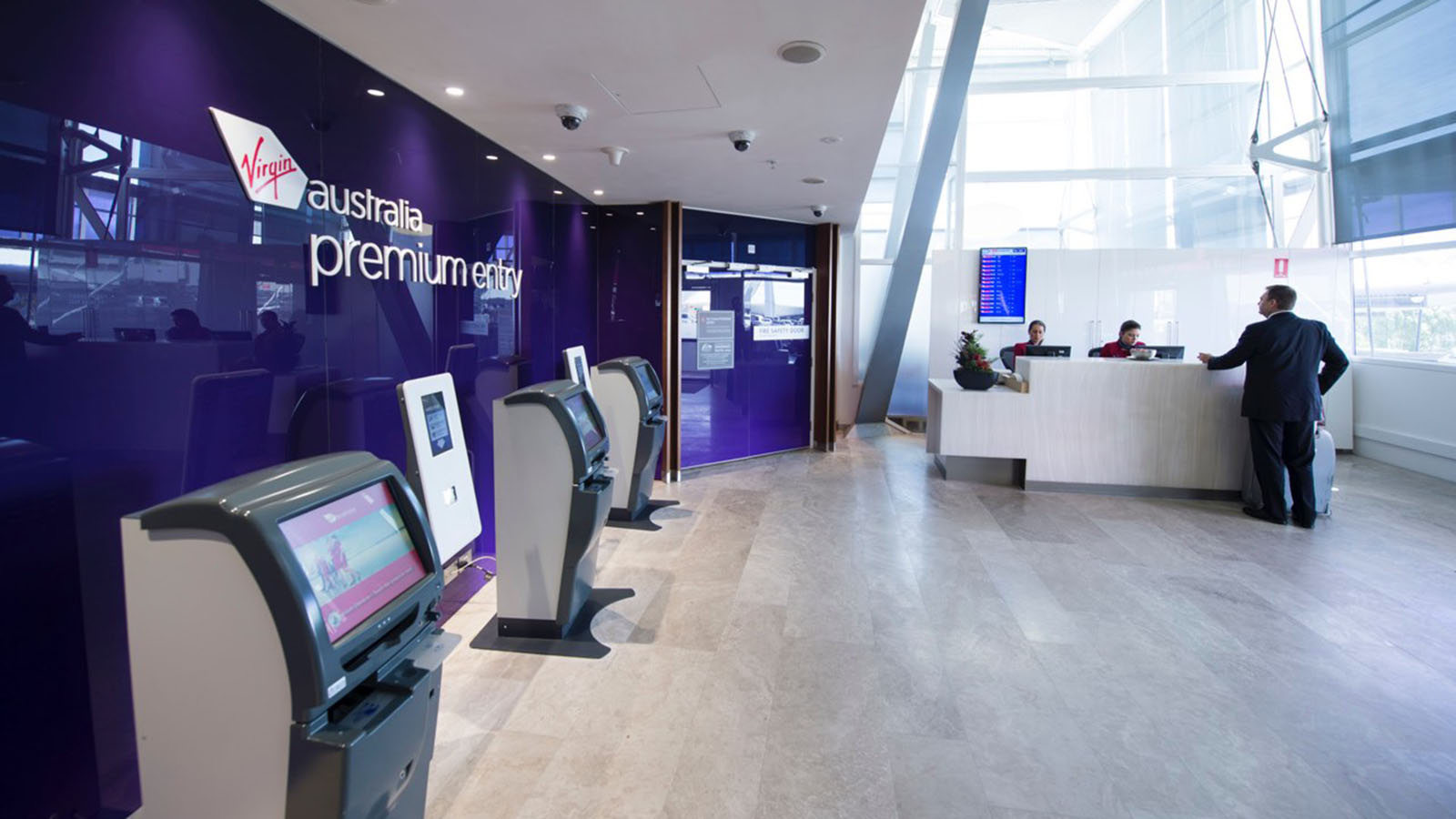 This lounge also sports a Premium Entry channel. It's a private entrance from the airport's drop-off road, complete with a security screening point that leads directly into the lounge. It's a terrific feature – and was the first of its kind in Australia – but it's yet to reopen since COVID first caused airport lounges at large to close.
Lounge layout and seating
While a 'rectangle' layout may sound a little snoozy, the space incorporates many distinct zones. Which of those has the greatest appeal will depend on why you're flying and what time of the day you stop by.
Just beyond reception, there's a seating quad. Not ideal for longer visits, but it's the perfect place to wait for somebody else to arrive. This leads through into a bustling space that blends comfortable chairs with laptop benches. I always think of this as a 'short stay' zone – and it's perfect for a quick email or two, and a coffee.
But wandering further finds some alternatives. Over in the far left corner, laptop benches also sit cleverly snug around the terminal's support beams. Or to feel like you're part of the action but in a space a little quieter, pull up a chair directly behind the barista station.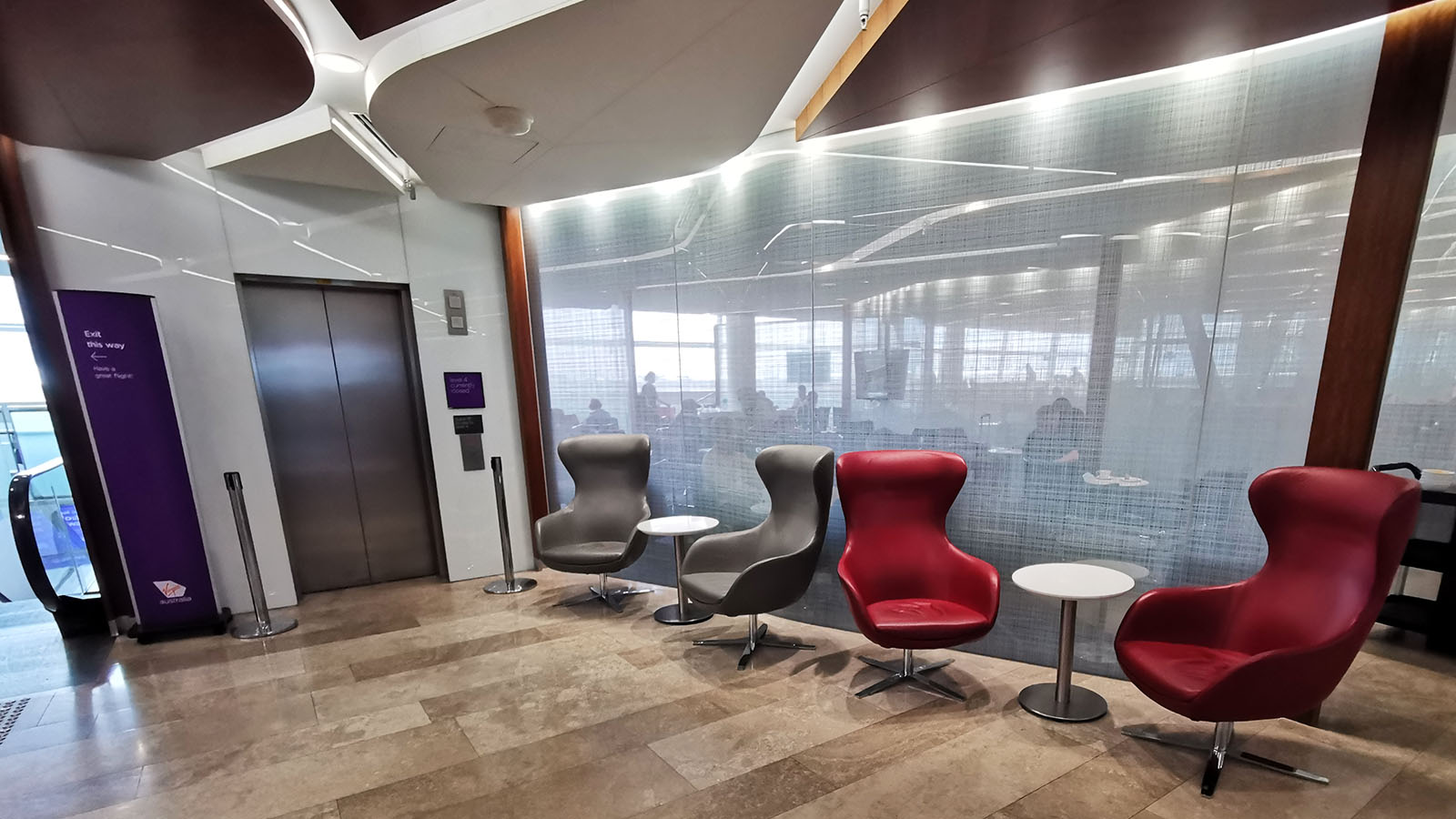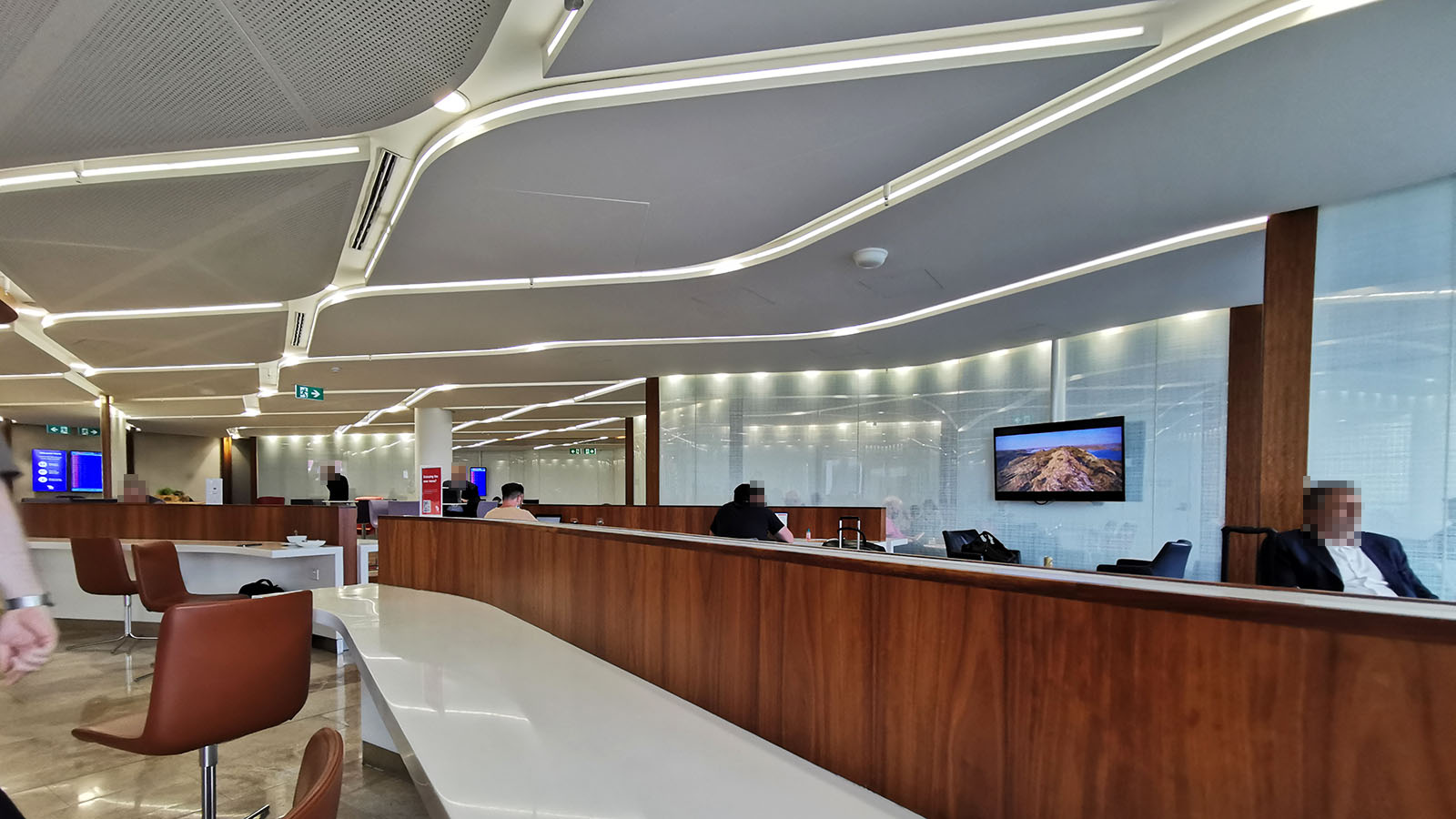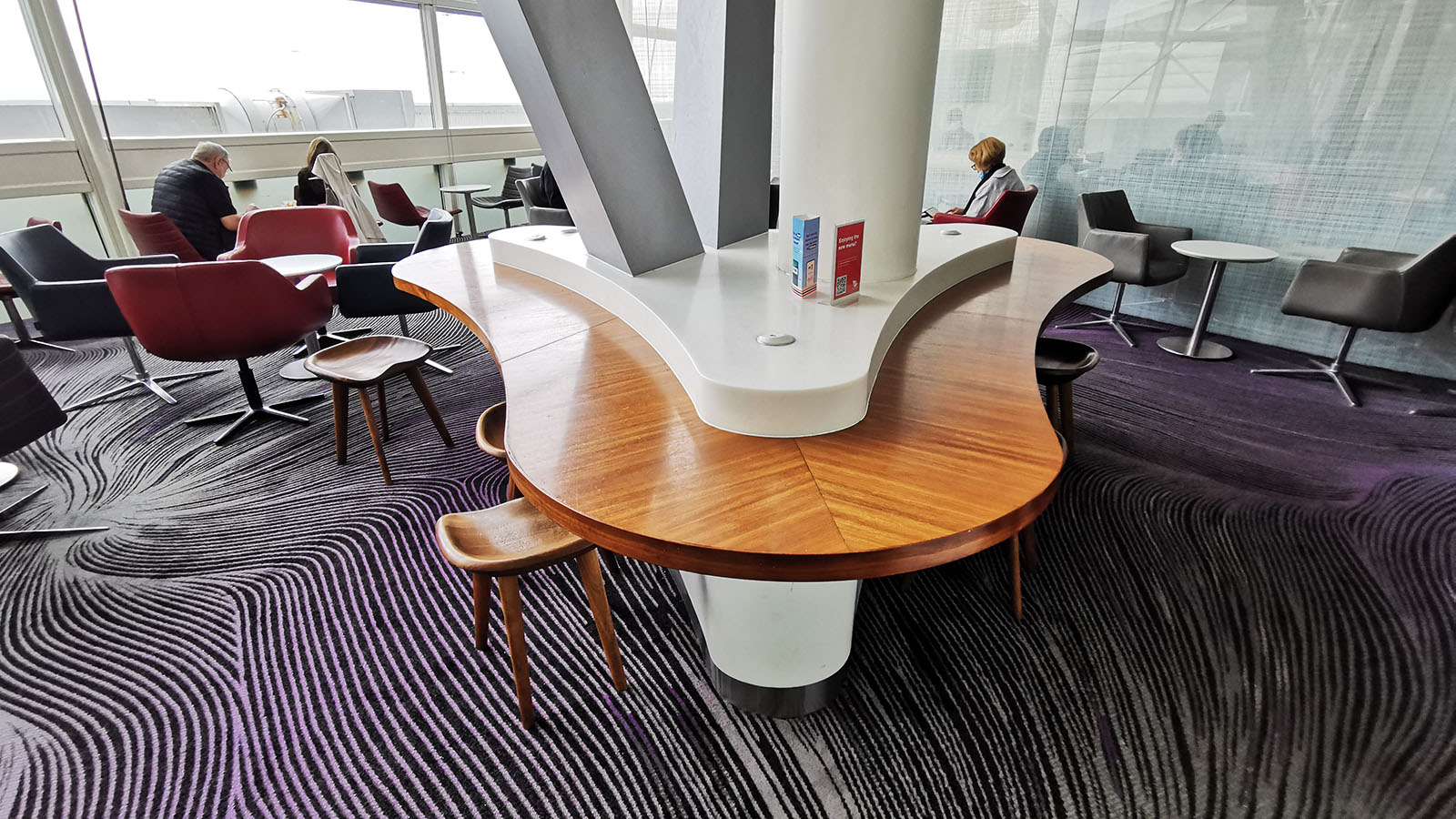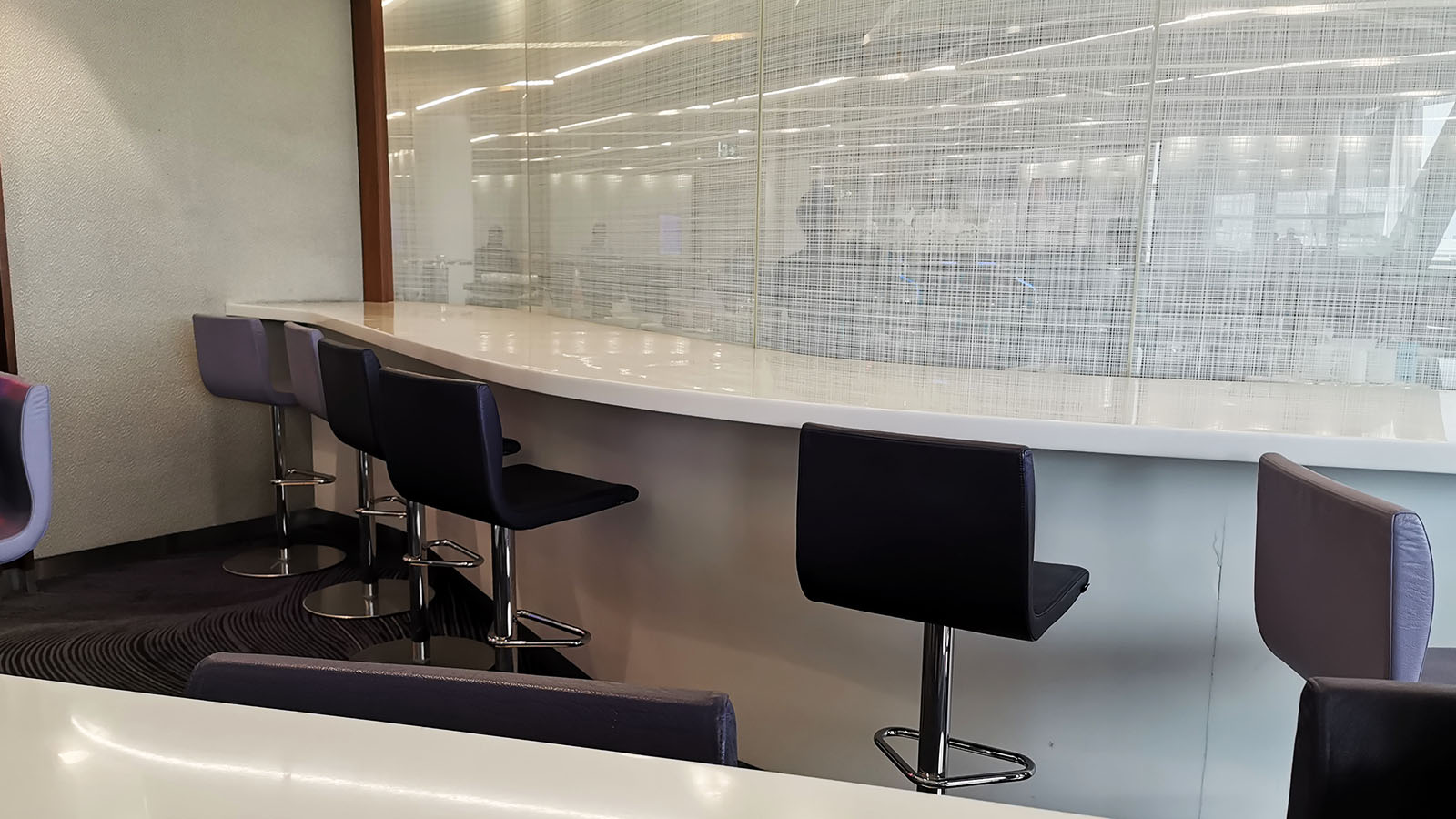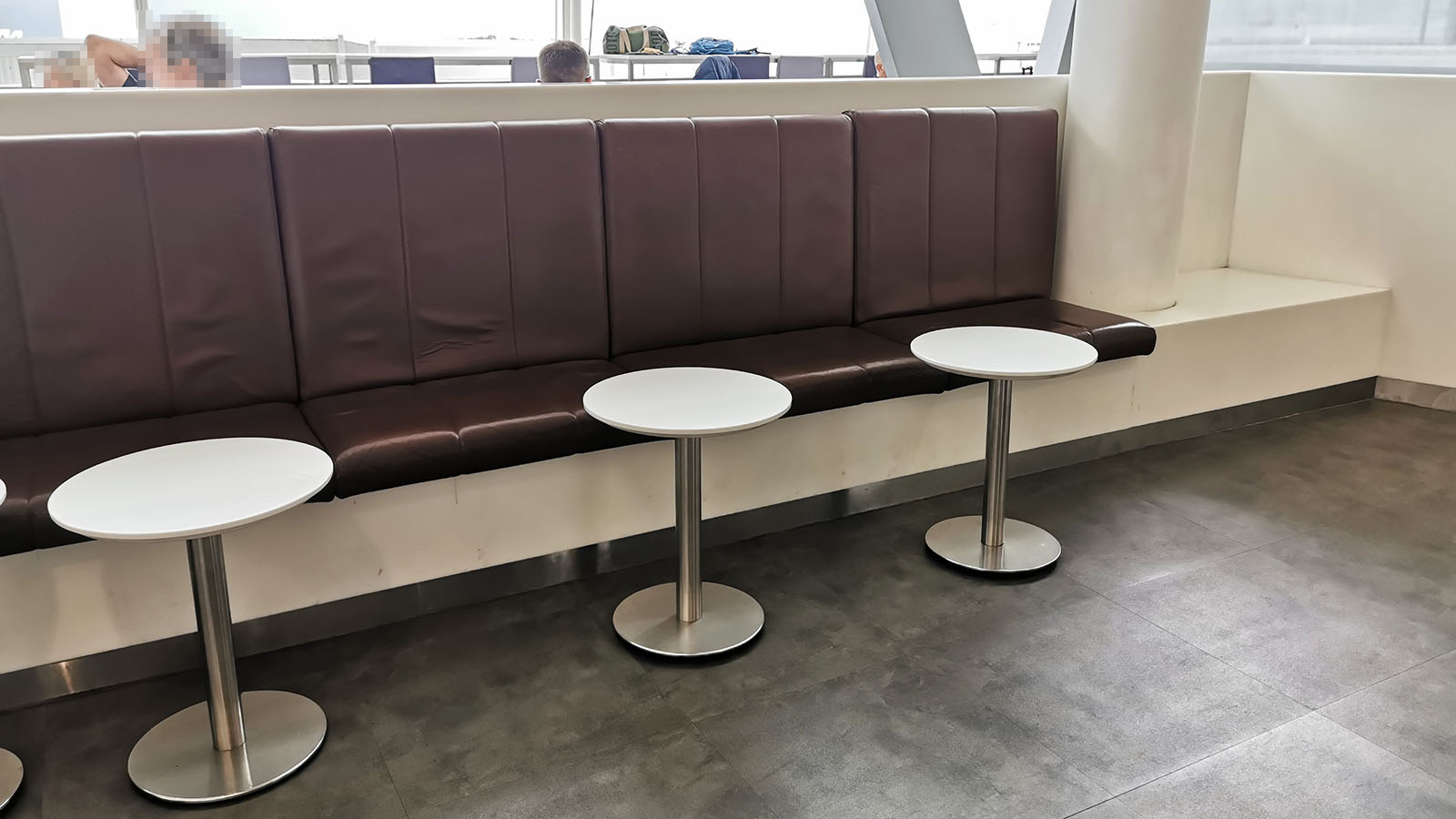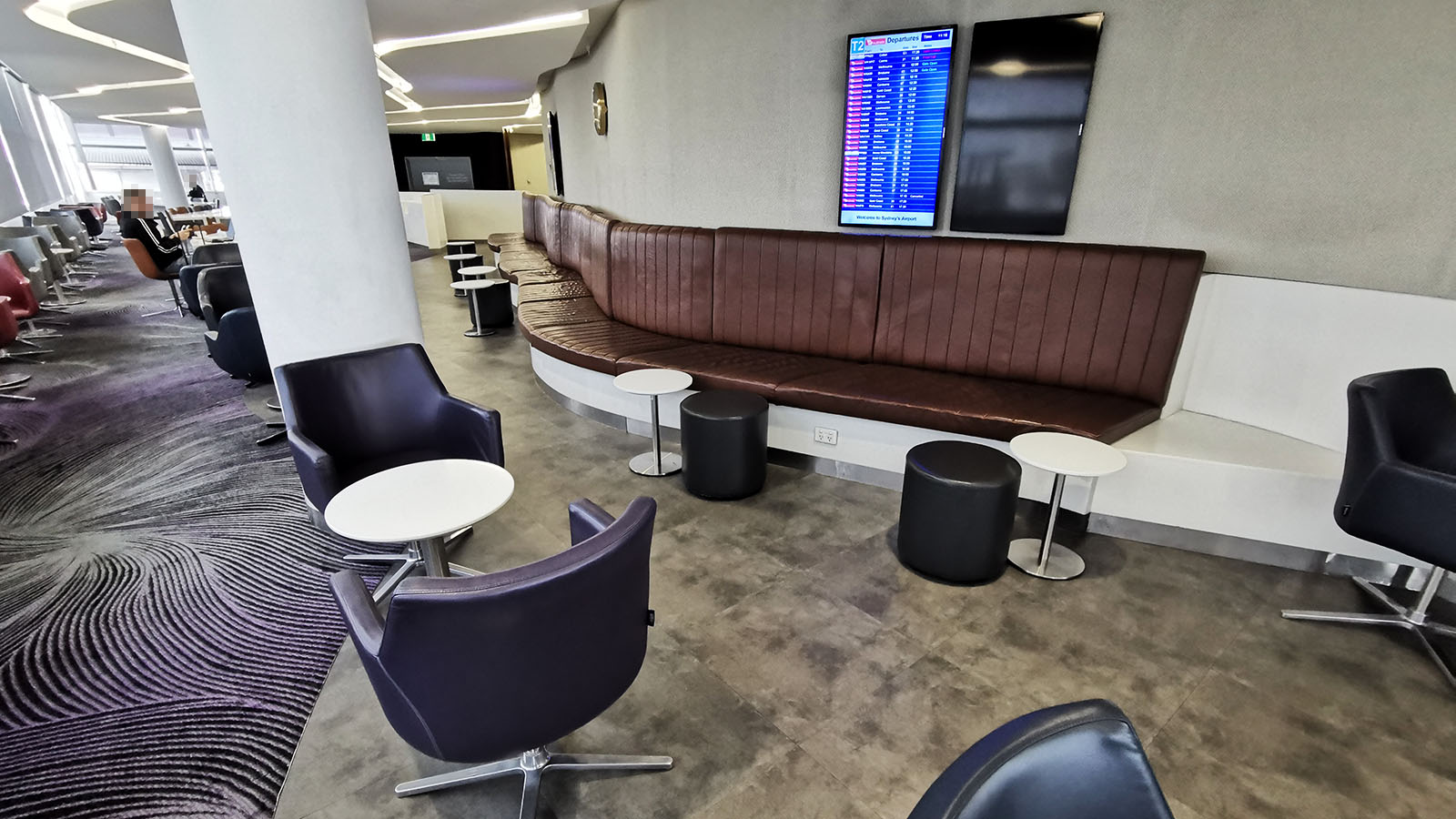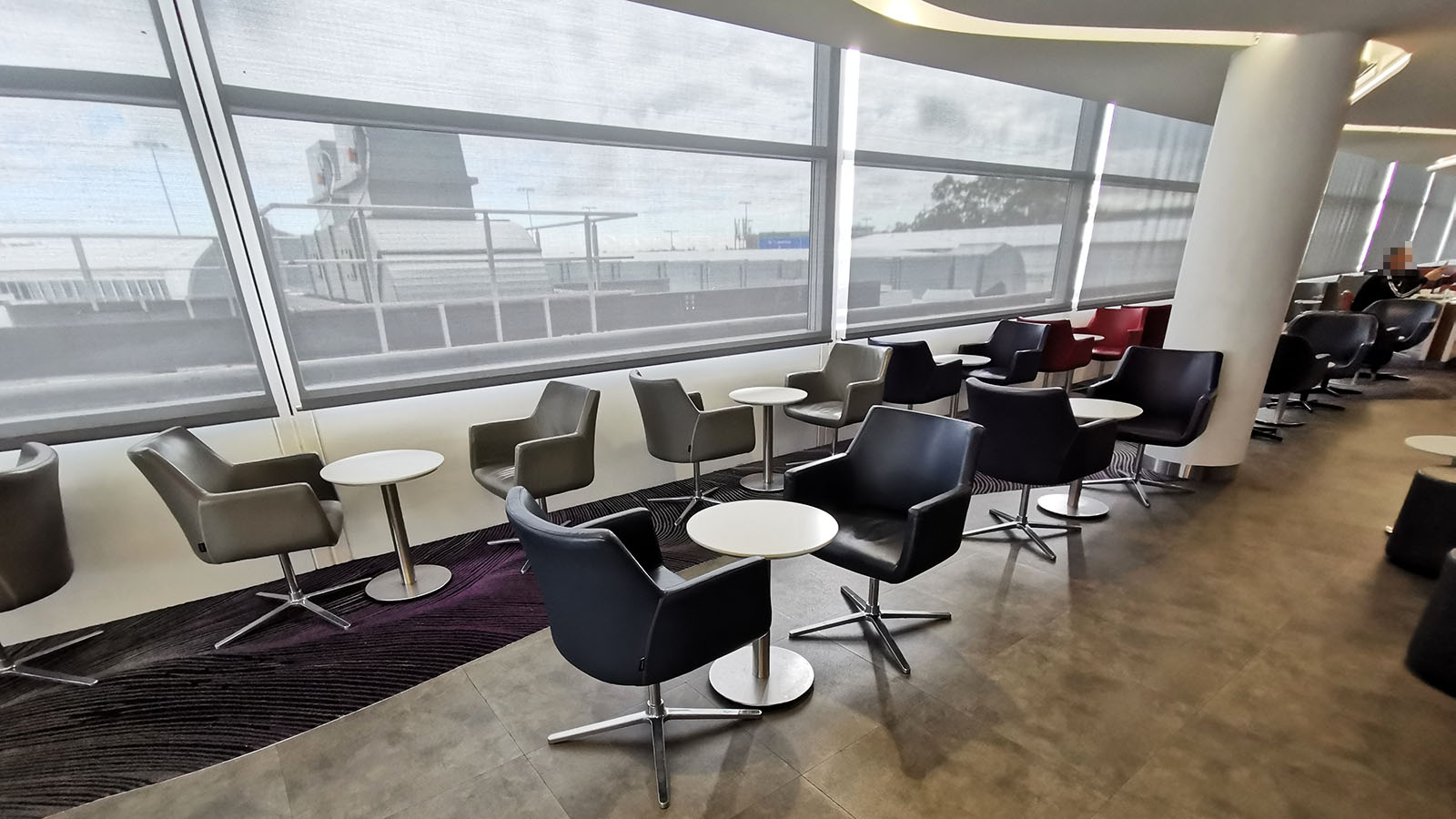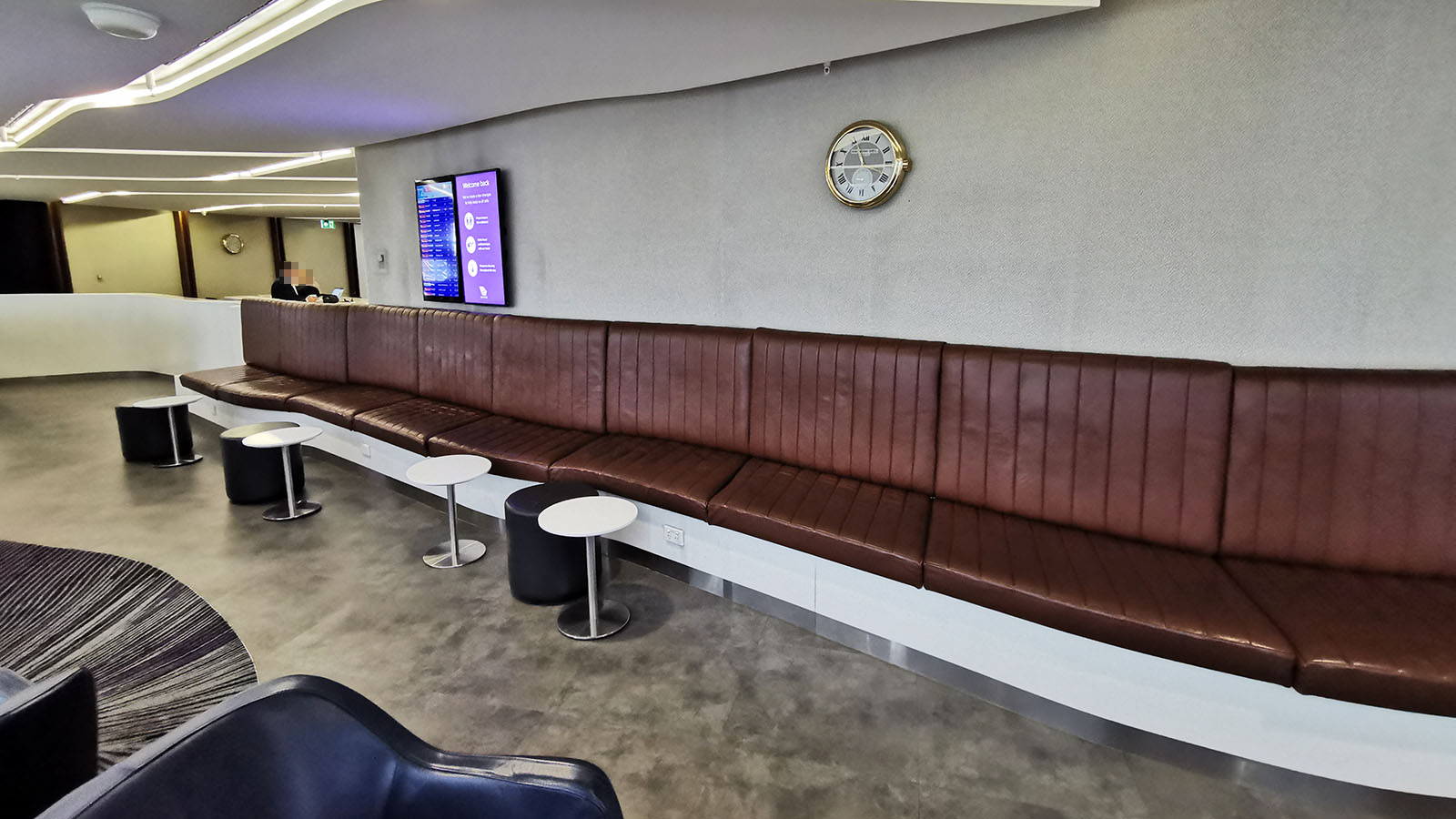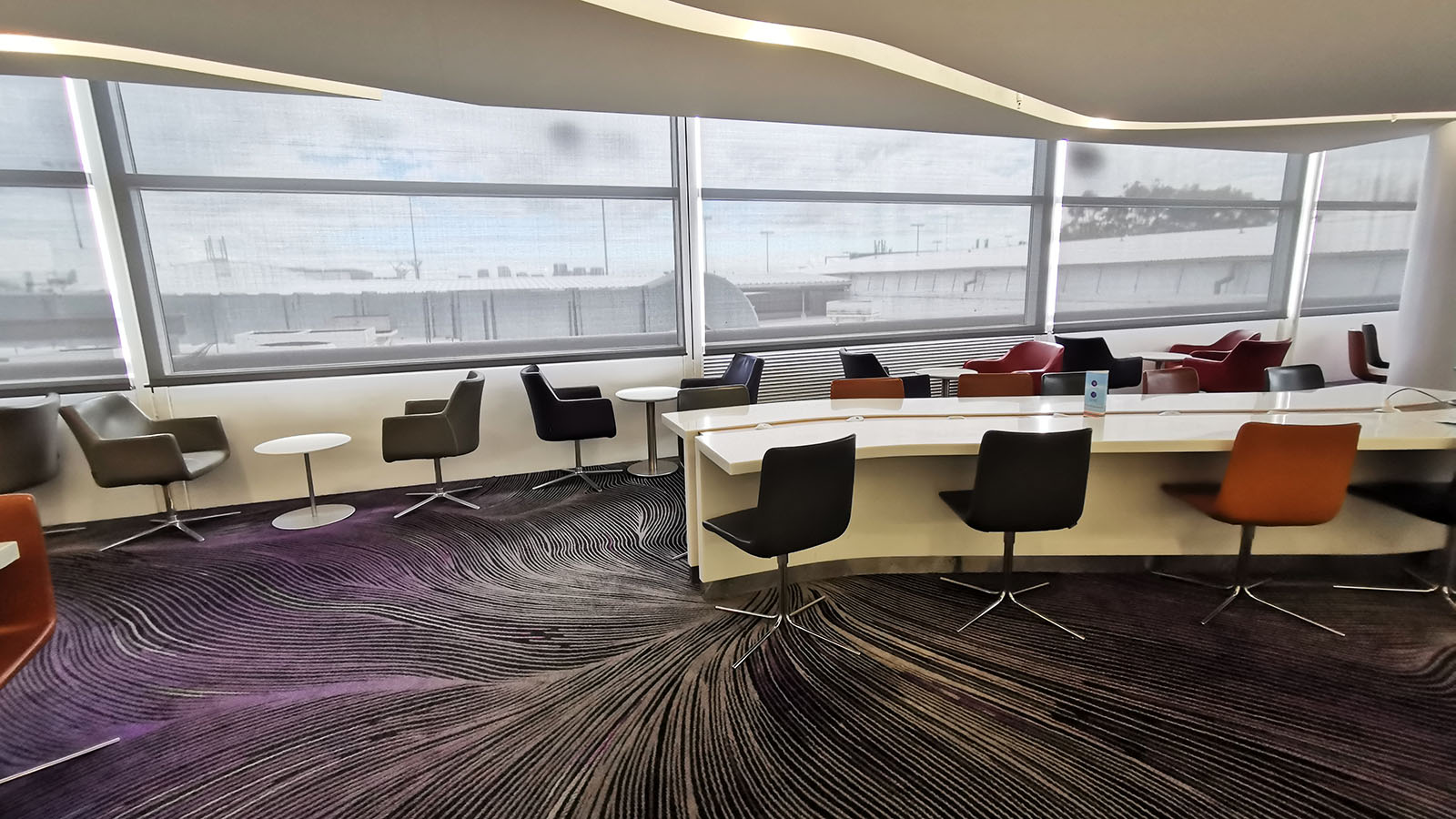 Continue wandering and you'll pass a range of banquette seats, laptop benches and other chairs in pairs. As a tip, if there's a certain type of seat you're looking for, just keep exploring. Chances are, you'll find what you're looking for somewhere.
If it's power you seek instead, outlets are easiest to find by the working benches. There are a few other power points scattered around, but they're generally the exception, rather than the rule. In this respect, Virgin Australia's Sydney lounge could certainly improve.
Food and beverage in Virgin Australia's Sydney lounge
My time at Virgin Australia's Sydney lounge usually begins with a pass of the barista counter, and this pit stop is no exception. Some days, there's latte art, but today, it was not to be.
Other beverage choices before noon include water – chilled, sparkling or ambient – tea, juices and soft drink. The latter wasn't available this time due to a system fault, but a technician appeared to be fixing the problem as I left.
Onto the bites! Over several recent visits, I've seen a variety of choices land at the buffet. Wraps, sandwiches and salads regularly make the cut, and I particularly enjoyed the chicken katsu salad on my most recent stay. The same can be said of the crunchy corn chip dipping plate with sour cream, guacamole and mild salsa.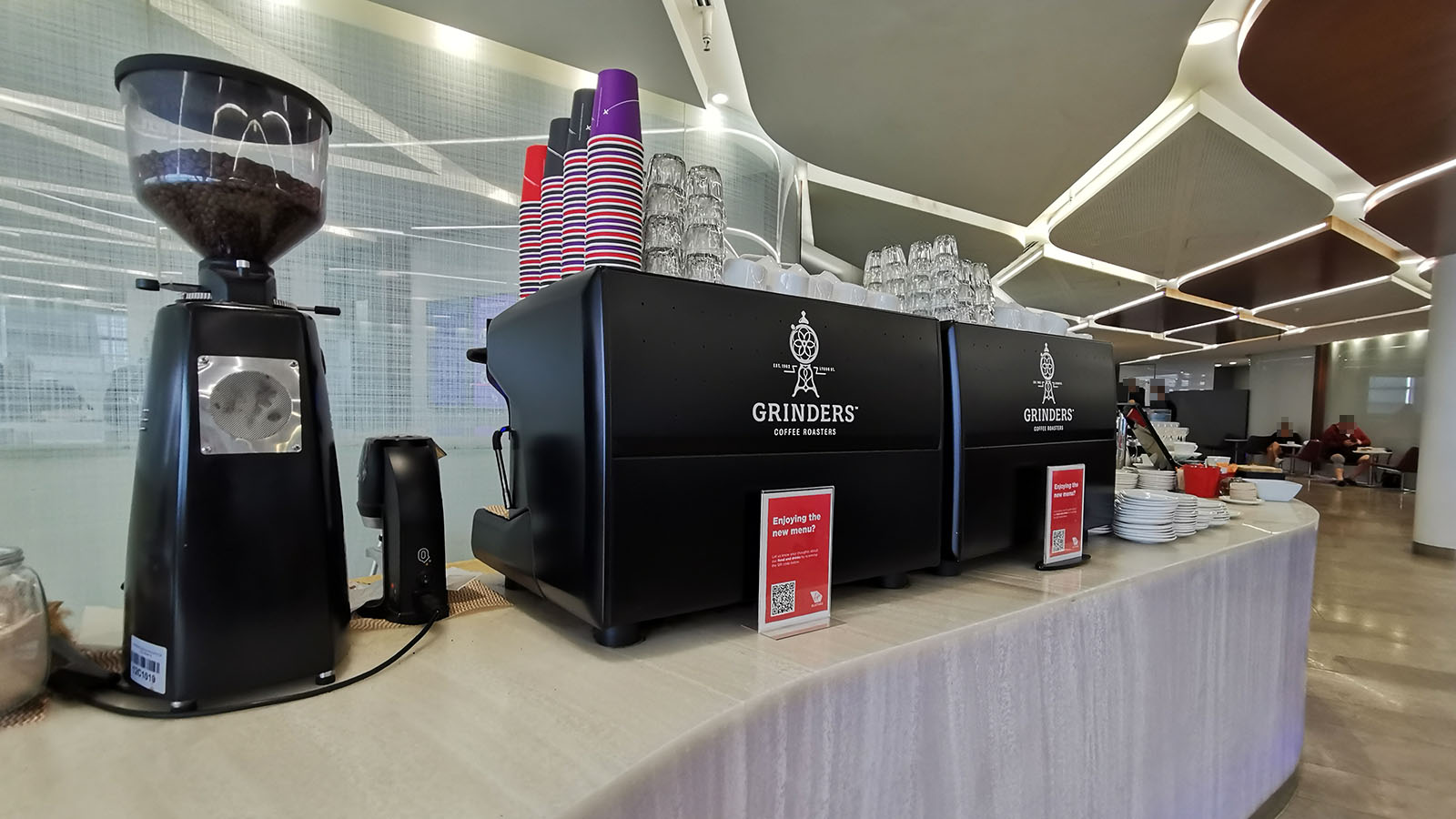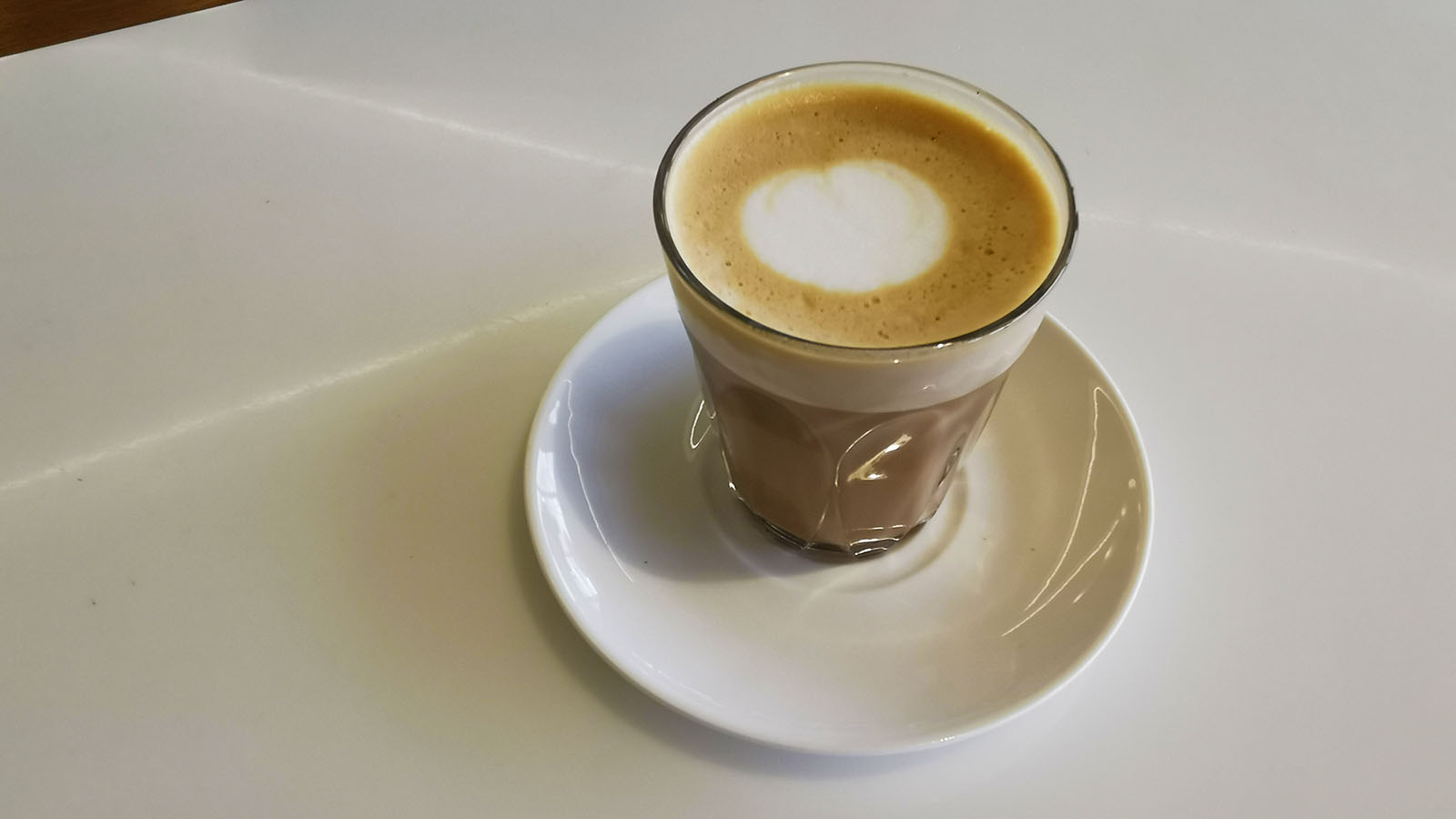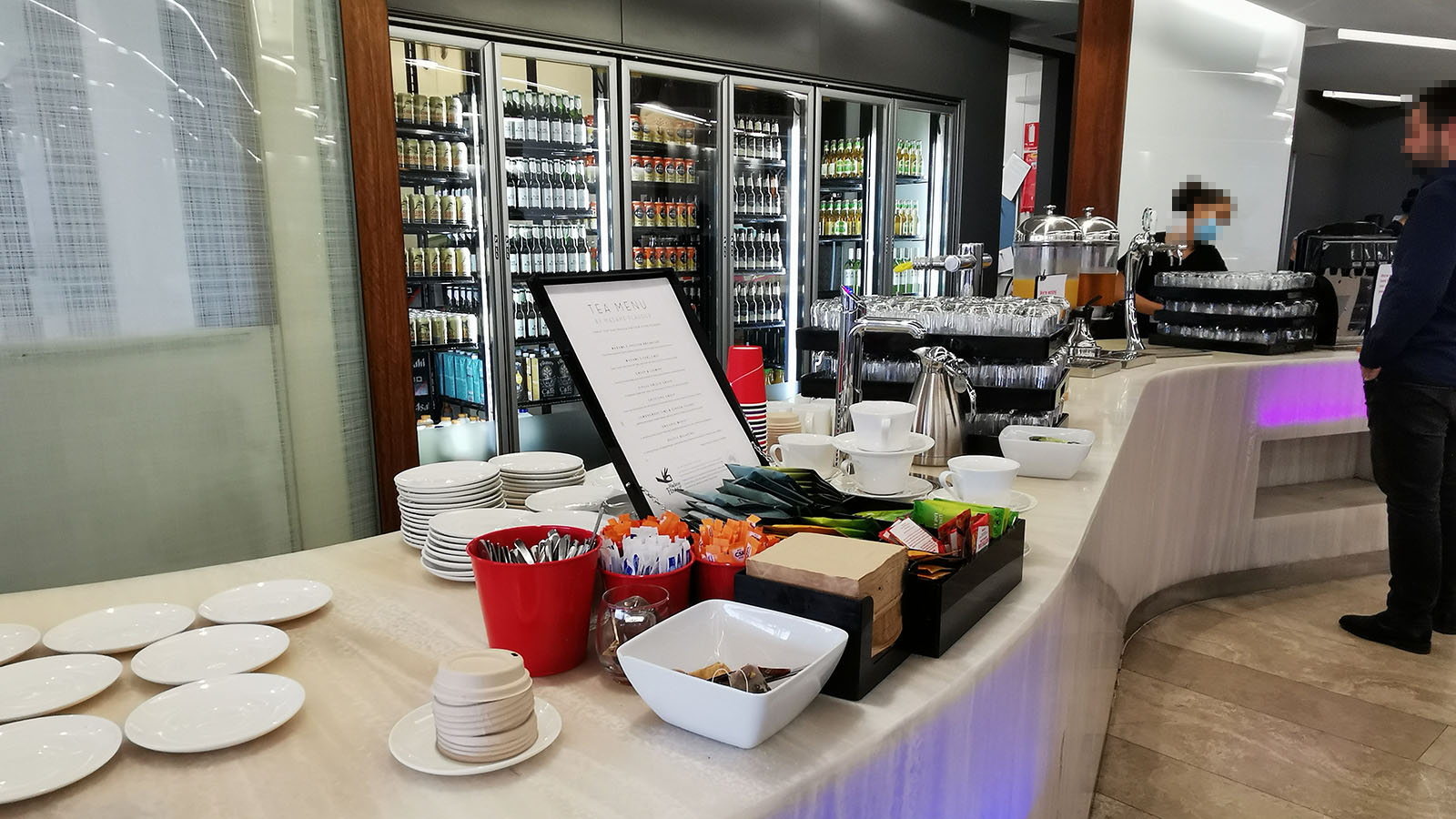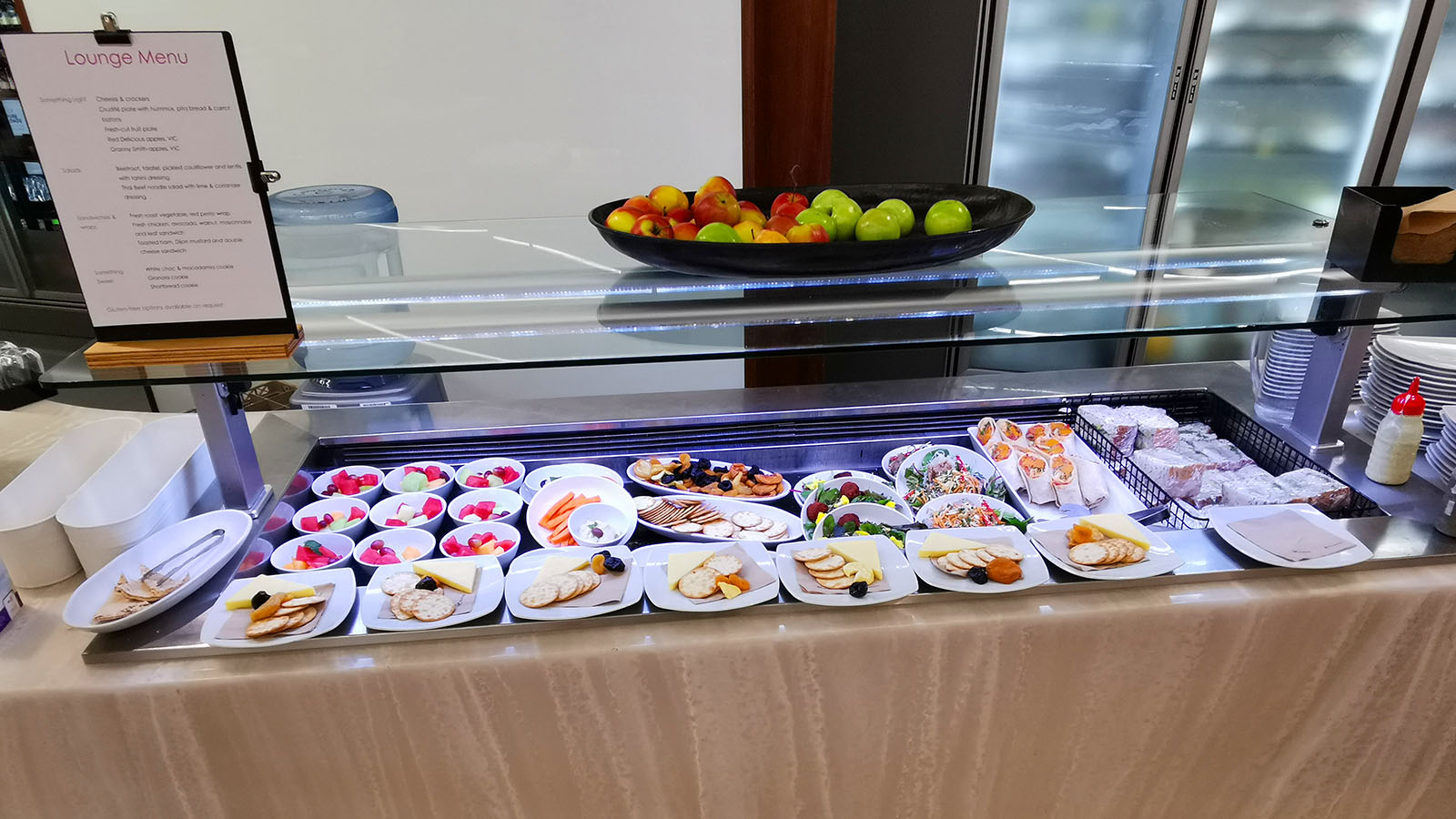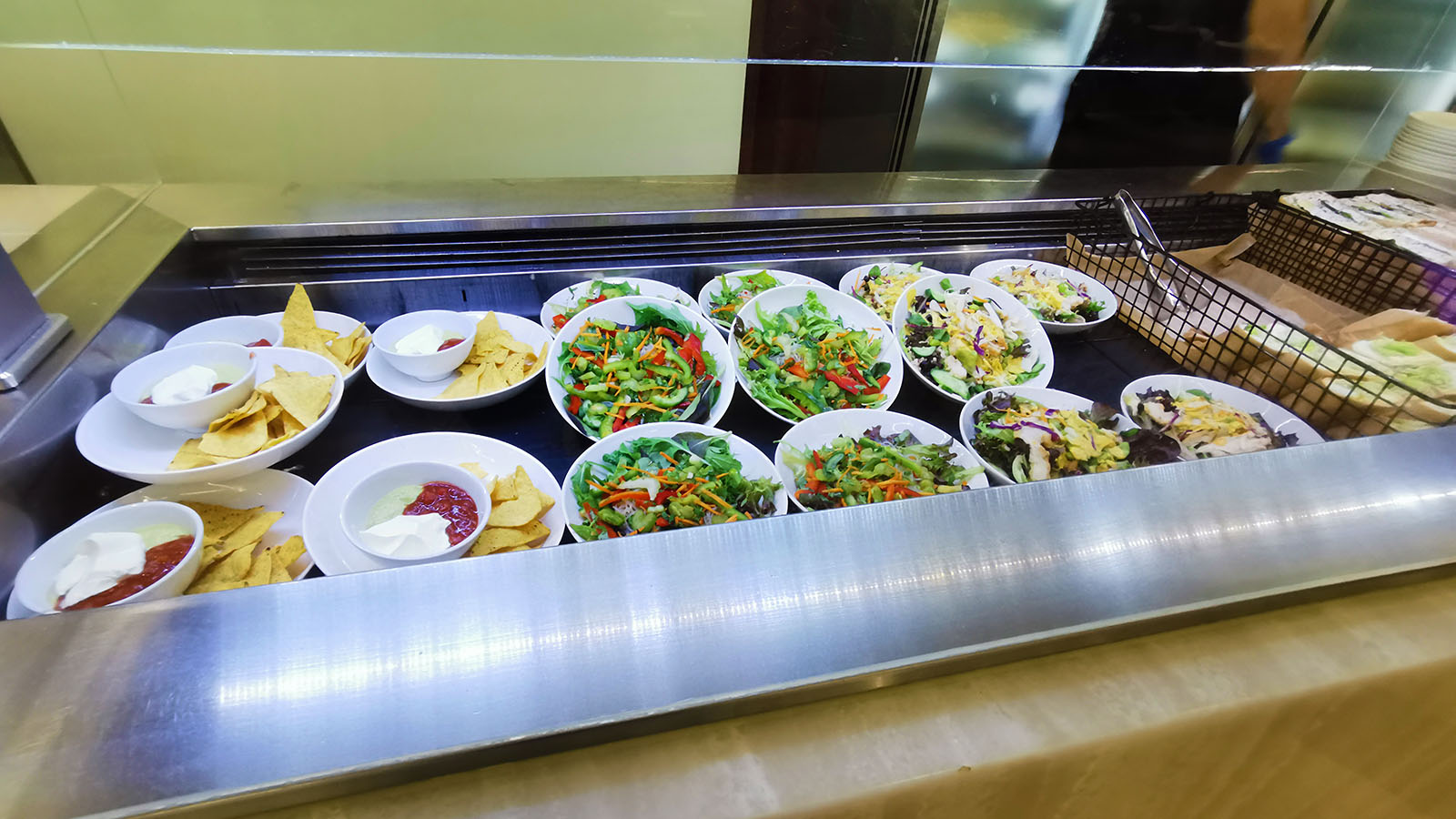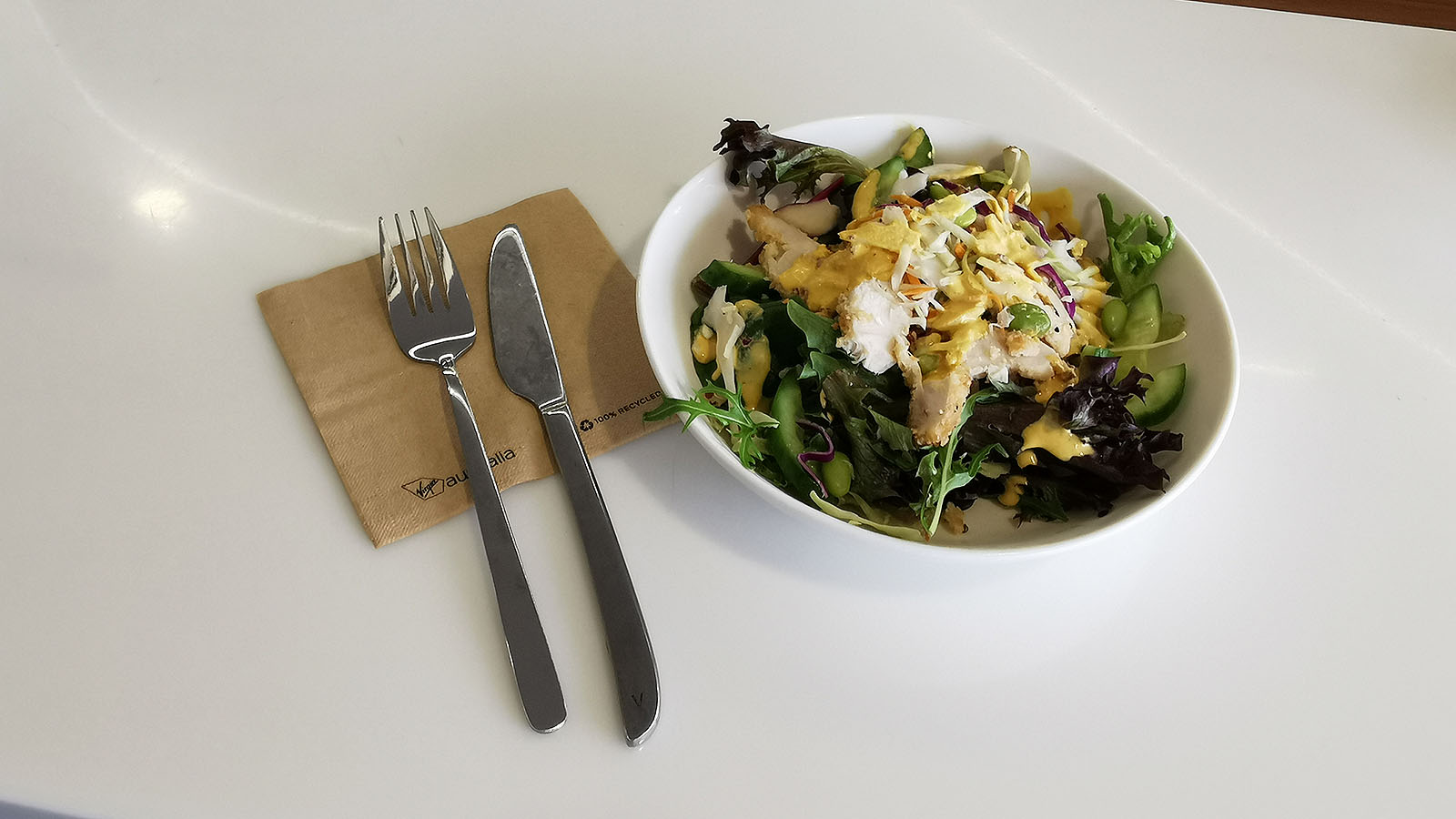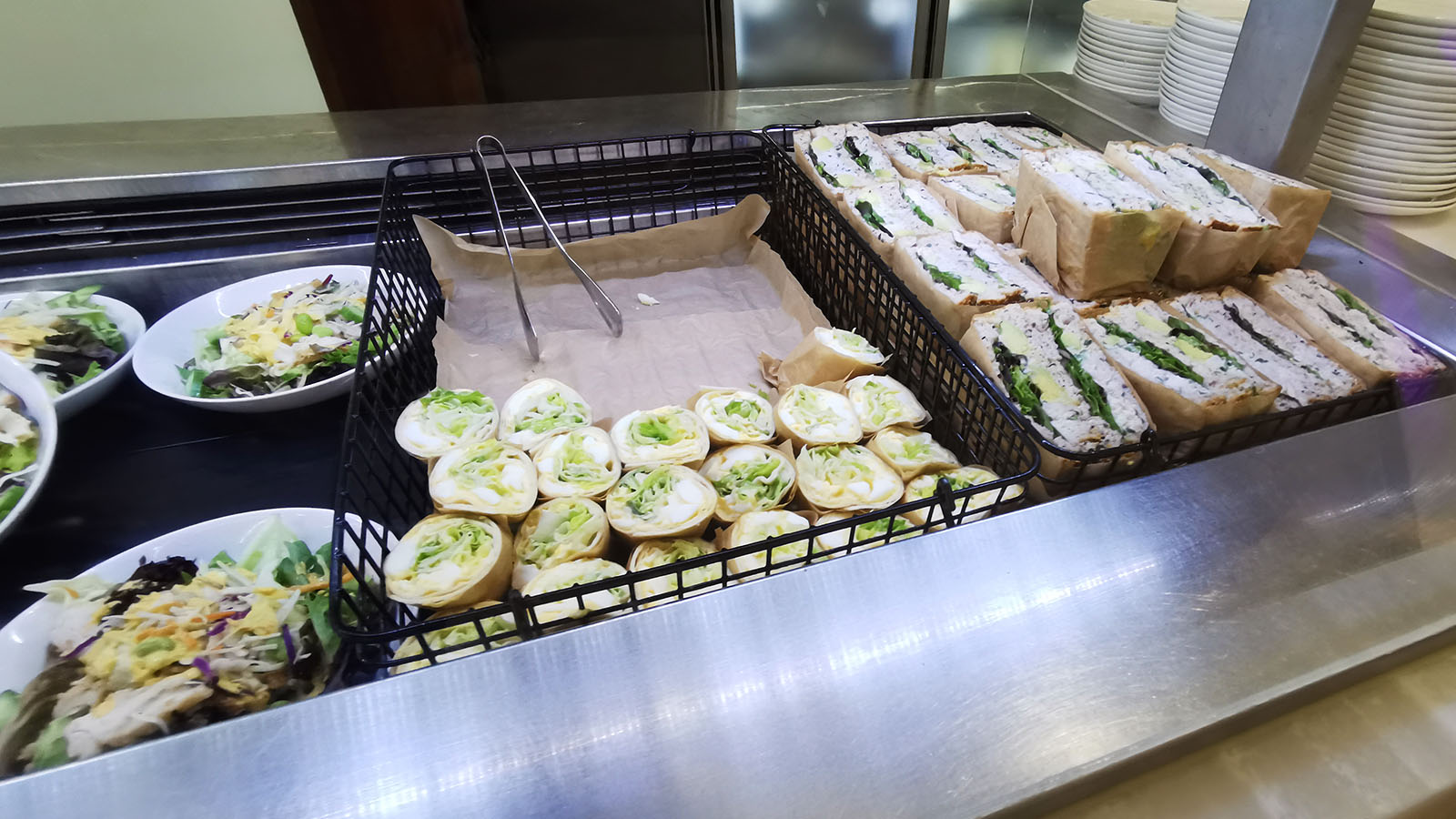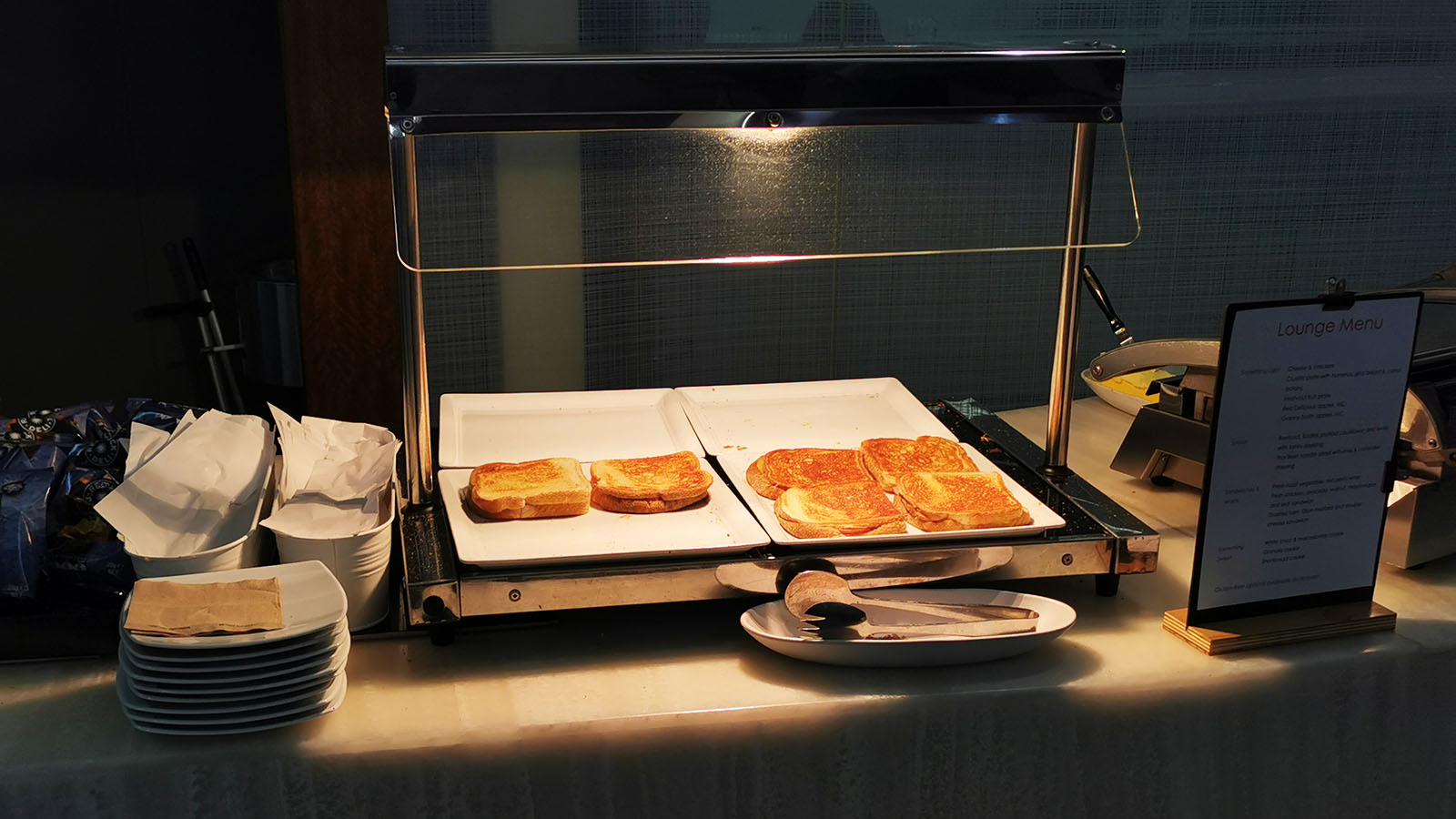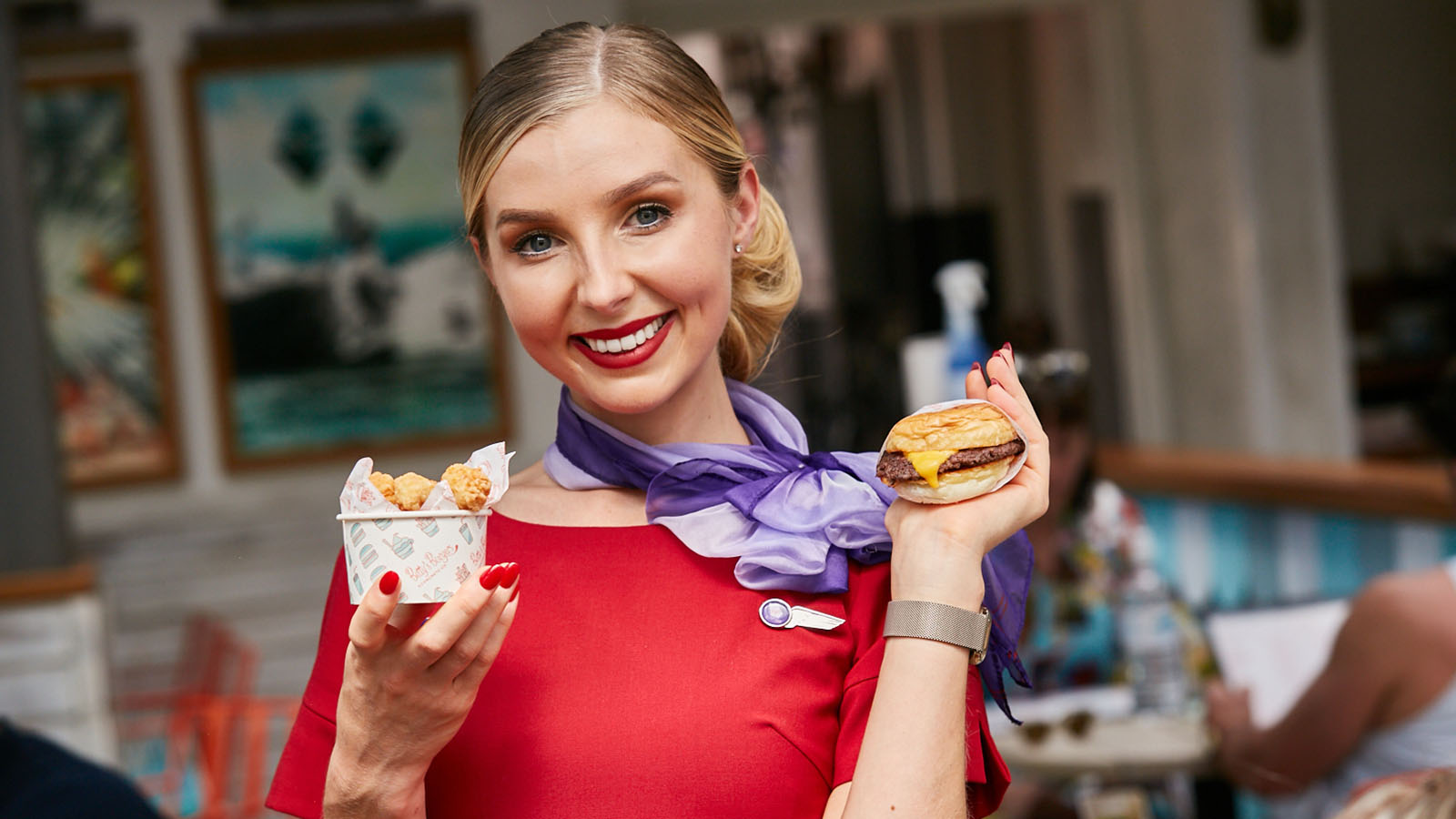 Before a late evening flight, a simple cheese plate with a glass of wine hits the spot. Some evenings also find pre-made toasted sandwiches available, or you can take the DIY approach to customise your creation.
Under a recent partnership with Betty's Burgers, lounge guests will occasionally find these on the menu too. But only on Thursday and Friday nights – and for the time being, this hasn't aligned with our team's travel schedules to try it out.
Lounge amenities
As you'd expect, Virgin Australia's Sydney Lounge offers on-site restrooms. Shower suites are fitted too, but are temporarily closed. The airline expects to reopen these from 1 July 2022 – bringing Virgin into line with Qantas, which reactivated shower facilities some time ago.
More broadly, the Virgin Australia Lounge is also something of a hybrid. Serving both Velocity Gold and Platinum members, it can be considered a notch above a typical Qantas Club, but not quite a Business Lounge. That 'middle of the road' position appears to be embodied throughout the space and in its design style.
Wi-Fi speeds here are much swifter than the days gone by. Tests in May 2022 reveal downloads averaging 134Mbps, and uploads at 139Mbps. This was fast enough to download a movie in full 4K quality to enjoy on my flight ahead. (Pitch Perfect, if you're playing along at home – an oldie but a goodie).
Accessing Virgin Australia's Sydney lounge
As the airline's catch-all lounge, there's a long list of travellers who are welcome to stop by.
Class of travel: those departing in Virgin Australia Business Class, or visiting on arrival.
Virgin Australia Velocity Frequent Flyer status or lounge membership when departing on Virgin Australia, or within 60 minutes of arrival:

Velocity Platinum (+3 guests).

Velocity Gold (+1 guest).

Virgin Australia Lounge (+1 guest).

Virgin Australia Lifetime Lounge (+1 guest).

Airline partner frequent flyer status, when departing on Virgin Australia:

Delta Gold, Platinum, Diamond and 360° Diamond Medallion (+1 guest).

Etihad Guest Gold, Platinum and Exclusive (+1 guest).

Singapore Airlines KrisFlyer Gold, PPS Club, Solitaire PPS Club and Solitaire PPS Life (+1 guest).

South African Airways Voyager Gold, Platinum and Lifetime Platinum (+1 guest).

Virgin Atlantic Flying Club Gold and UNIQ (+1 guest).

Eligible American Express charge cards, prior to a Virgin Australia flight:

The invitation-only American Express Centurion Card (+1 guest).

Single entry passholders: when departing on a Virgin Australia flight.
Paid access at the door: $65 per person, subject to space availability.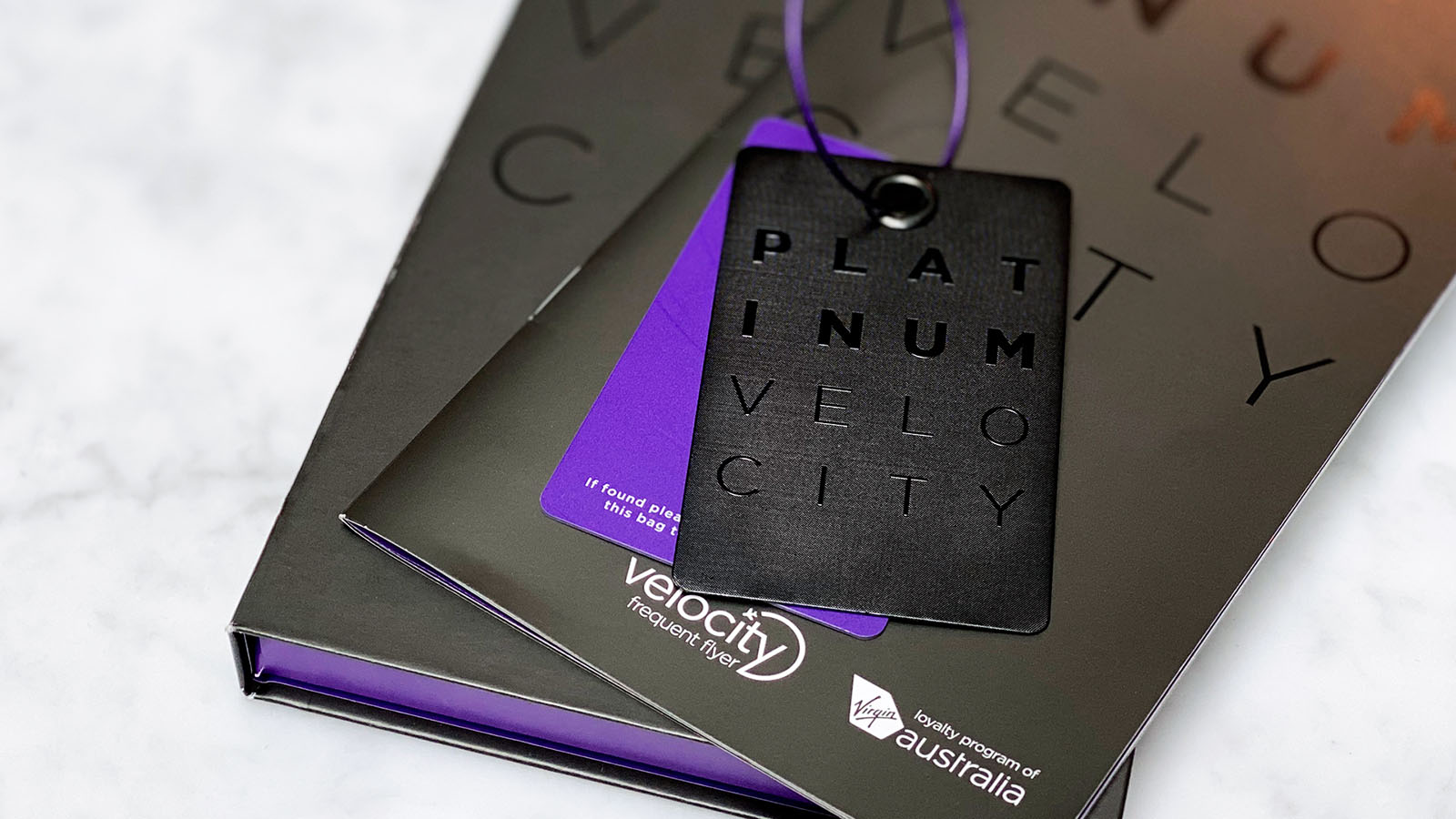 In many cases, complimentary guests of the members above don't need to be travelling. But it's worth pointing out that any guest of an Amex Platinum and Centurion cardholder must be flying. In fact, they must be on the same Virgin Australia flight as the Amex cardholder.
The limits above also generally apply only to adult guests. Children are often permitted as additional guests over and above these caps. Virgin Australia's website has its latest policies on lounging with children.
Summing up
The Virgin Australia Lounge in Sydney ticks enough of the boxes to keep most travellers happy. There's barista-made coffee, fast Wi-Fi for the business crowd (or those enjoying Netflix), and a variety of food and seating.
For now though, a few things detract from the lounge experience, which could otherwise be a real standout.
The continued closure of Premium Entry means high-tiered travellers have no choice but to join the often-lengthy public security queues. And the current closure of the lounge's shower suites has no merit, when Virgin Australia's biggest competitor unlocked these some time ago.
I'm also not sure I've seen the upstairs section of the lounge open since a visit way back in March 2020.
We're pleased to hear that one of those issues will be addressed in the months ahead. As for the others, it remains to be seen. We've certainly asked questions of the right person!
Also reviewed: Virgin Australia Beyond Lounge, Sydney
Photography by Chris Chamberlin, who travelled to Sydney as a guest of Virgin Australia. Feature image by Keith Mason for Point Hacks.
---
Stay up to date with the latest news, reviews and guides by subscribing to Point Hacks' email newsletter.
Virgin Australia Lounge, Sydney
was last modified:
September 2nd, 2022
by