UPDATE 28 January 2022: The Manaia Lounge Queenstown is currently closed for Qantas and Virgin Australia passengers flying on Trans-tasman flights due to New Zealand's current border restrictions. However, the lounge has recently opened for Domestic passengers flying out of Queenstown.
When the trans-Tasman bubble is active again and not paused due to COVID-related outbreaks, passengers heading to Australia will be able to relax in the Manaia Lounge if they hold an appropriate Business Class ticket, frequent flyer status, lounge membership pass or are willing to pay an entry fee.
As part of our Virgin Australia Business Class Melbourne to Queenstown review in 2019, we were able to enter the Manaia Lounge in Queenstown, which is included as a benefit for Business Class guests. This guide takes a look at the amenities and service on offer in this lounge.
---
Editor's note: This lounge review was conducted in 2019 before the COVID-19 outbreak. It does not take into account any coronavirus-related safety measures that may be implemented from 28 June 2021 onwards. We've re-published this review so readers departing from Queenstown have a general idea on what to expect at the Manaia Lounge.
Lounge details & location
The lounge is located on the first floor of the terminal building and is open 2 hours before a scheduled international flight and also once the International Security Screening opens.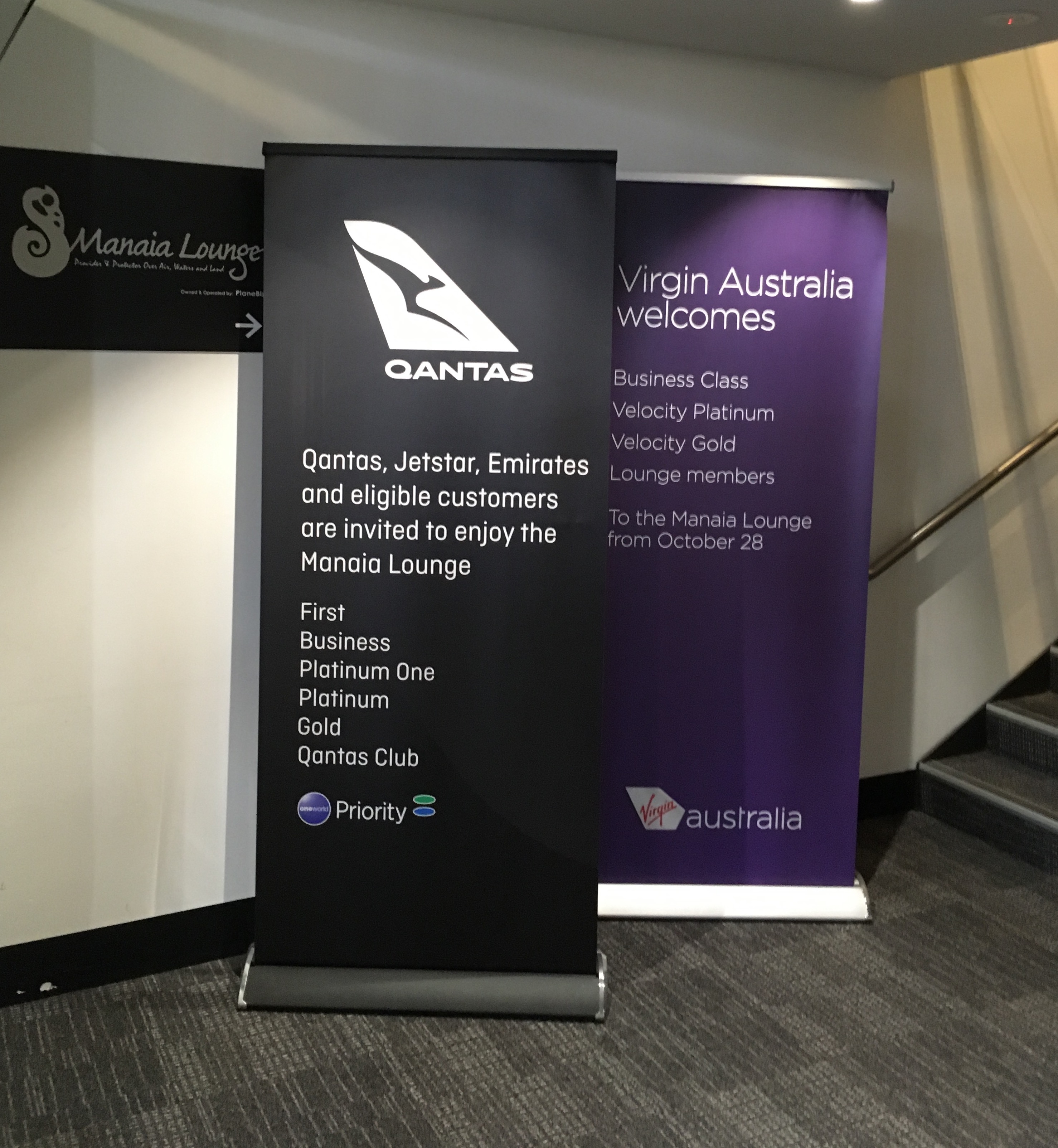 Qantas and Virgin Australia signage adorn the stairway entry leading up to the lounge.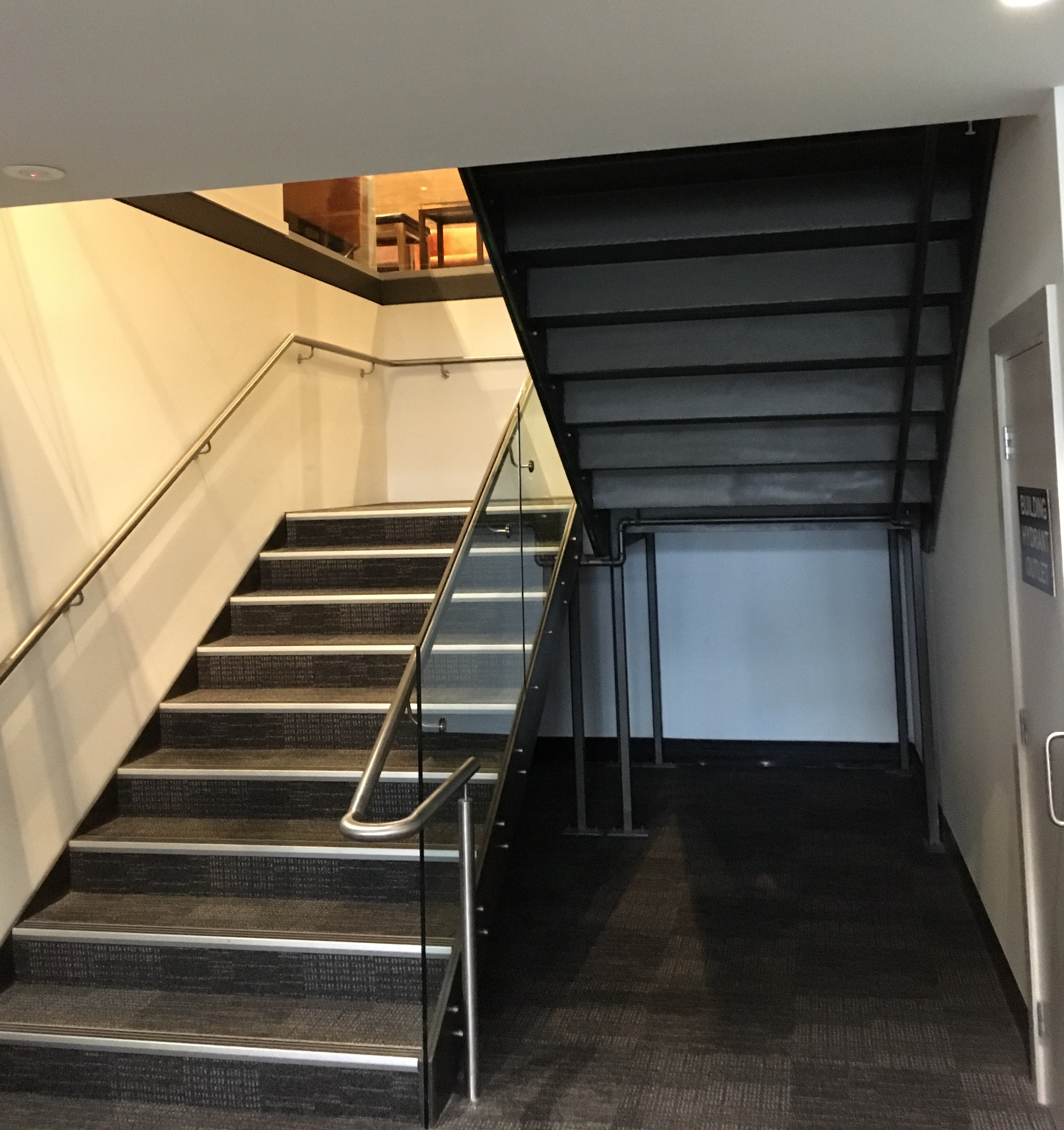 The service desk is located on the right just after you enter the lounge, and on my visit was manned by a very friendly staff member who went to the trouble of directing me to where the all the main amenities were located.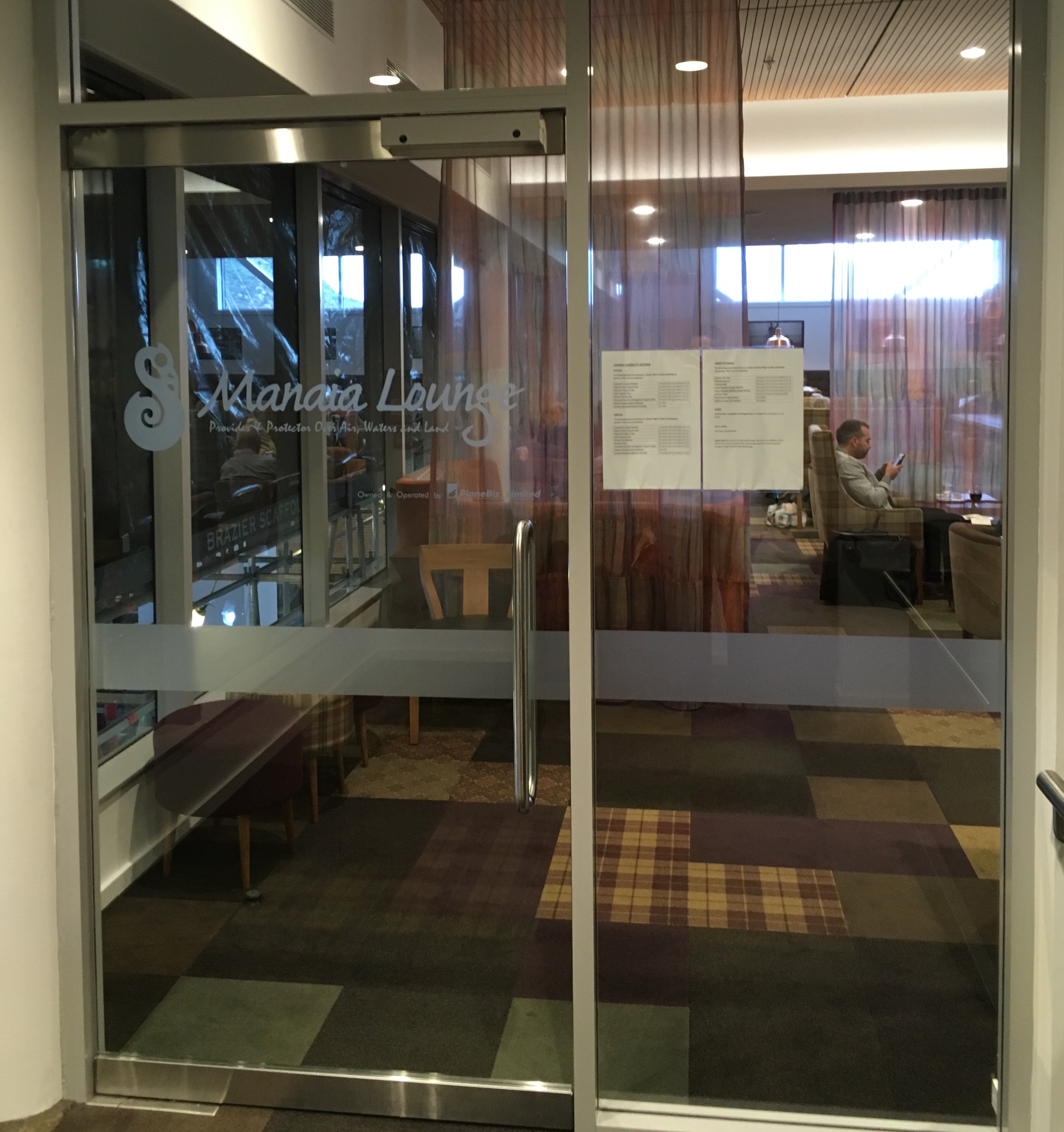 Lounge seating
The lounge is relatively small but can seat up to 120 guests. It has a 'homely' feel to it, partly due to its small size, but also due to its good variety of internal decorations such as pictures depicting the different scenery of Queenstown hanging on the wall or in certain sections as part of the wallpaper.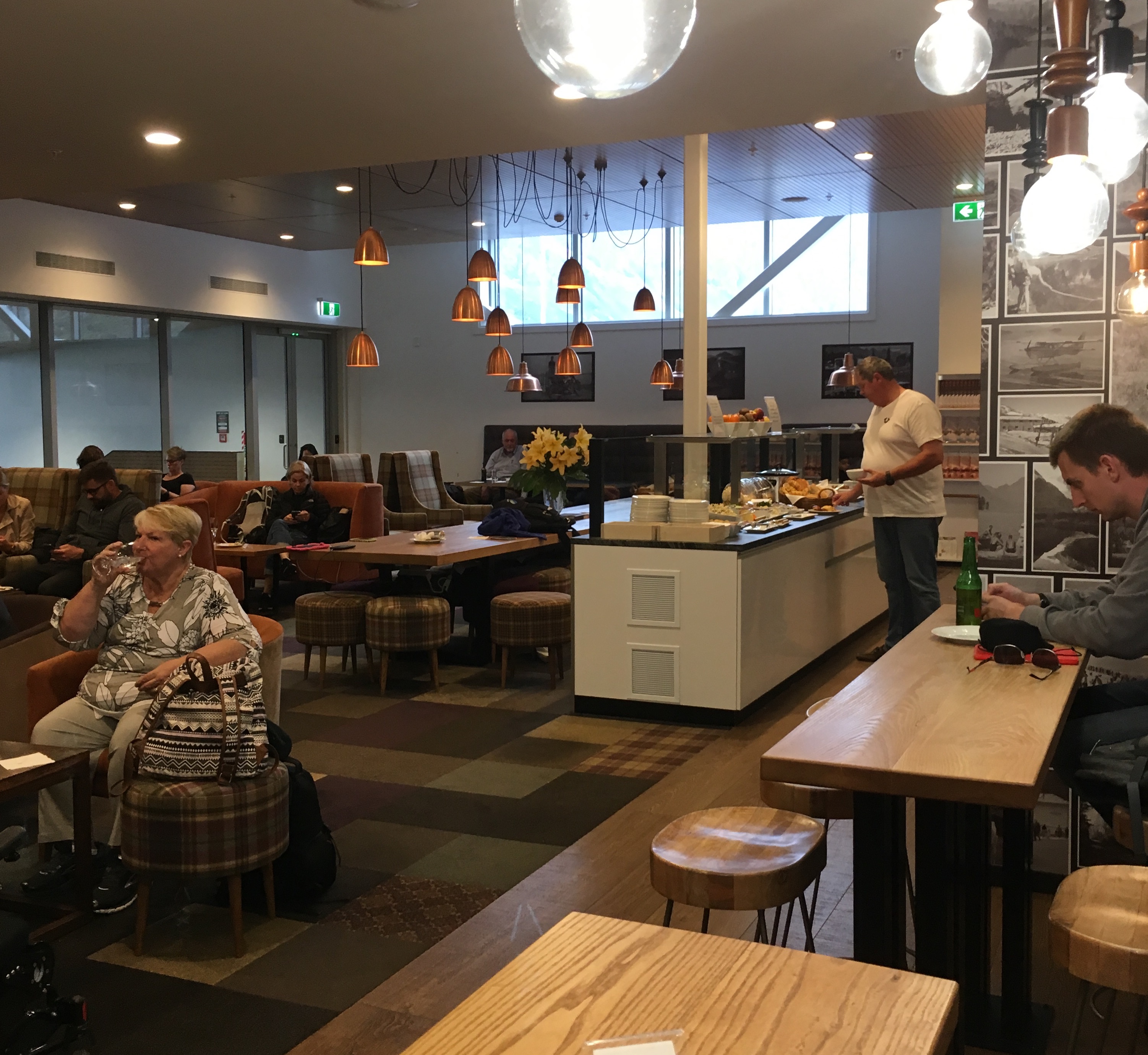 There are two main seating sections in the lounge, with the main section overseeing the food and drinks area to the left of the service desk, and a smaller quieter area that hooks around the back of the service desk and to the right, as shown below.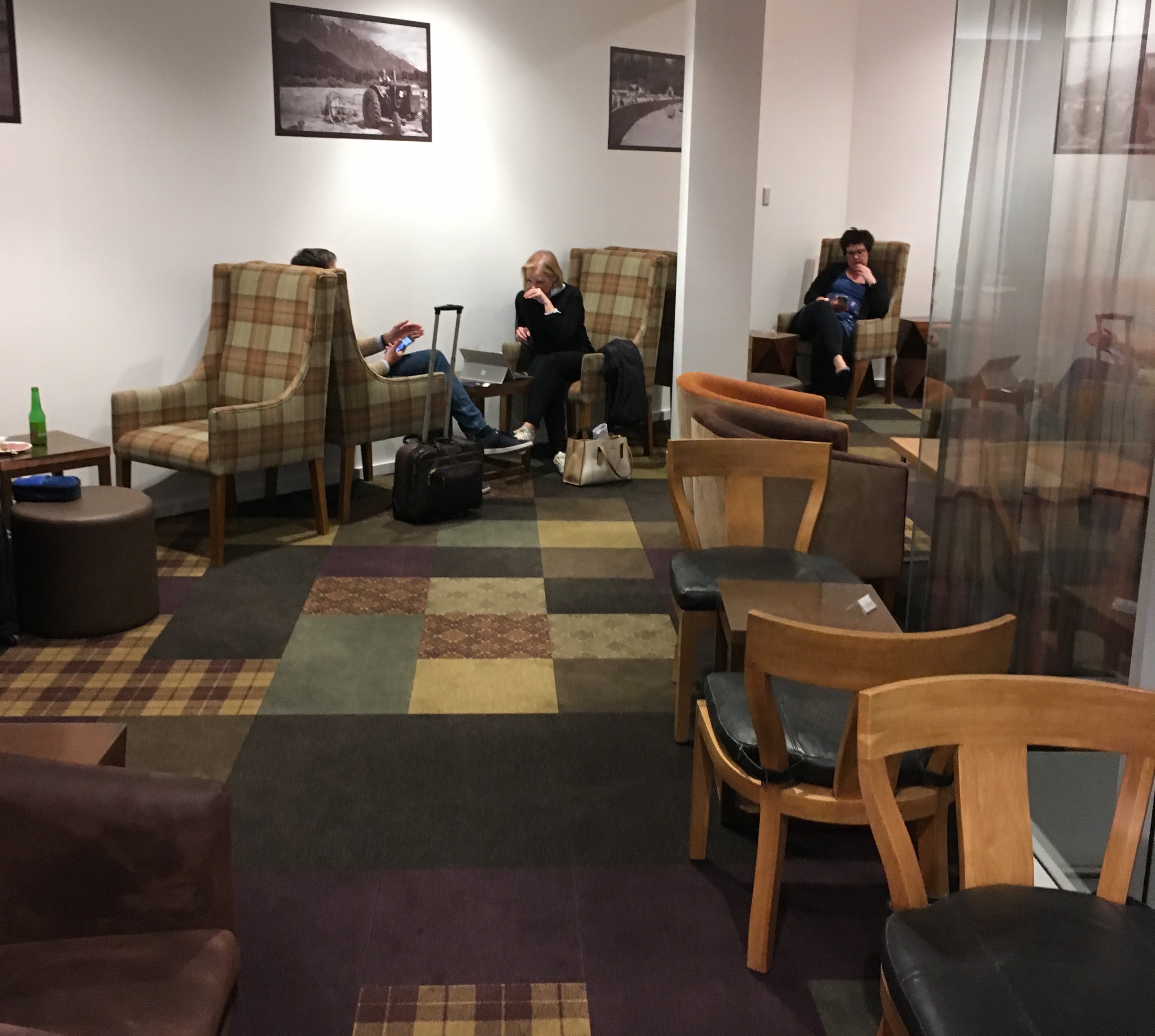 Food & drink
There are plenty of hot and cold food options available in the lounge, including both sweet and savoury options as well as basic snacks.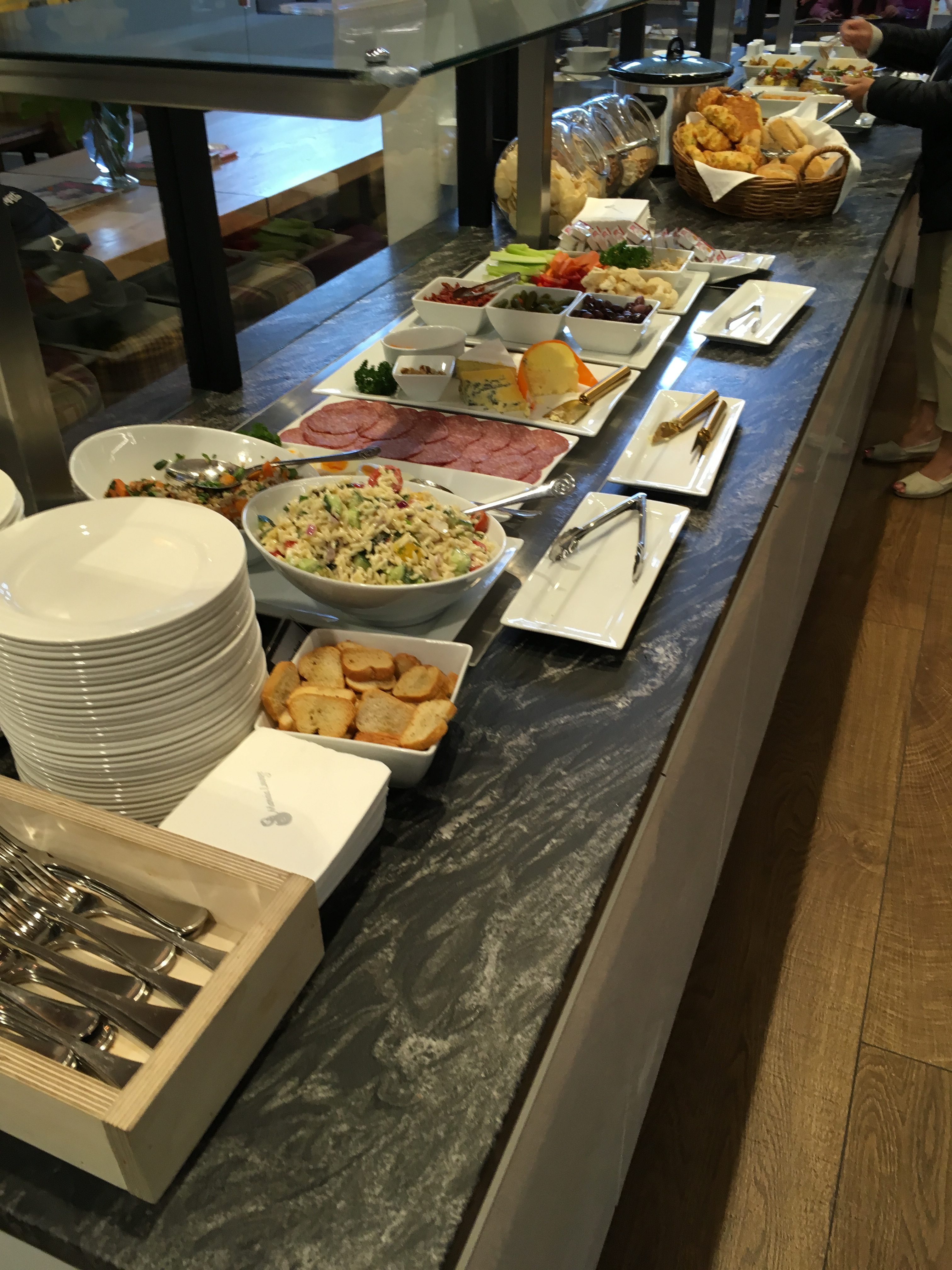 On the day of my visit, the cold options included cold pasta, hard boiled eggs, salami and a variety of salad items such as olives, pickles and sun-dried tomatoes.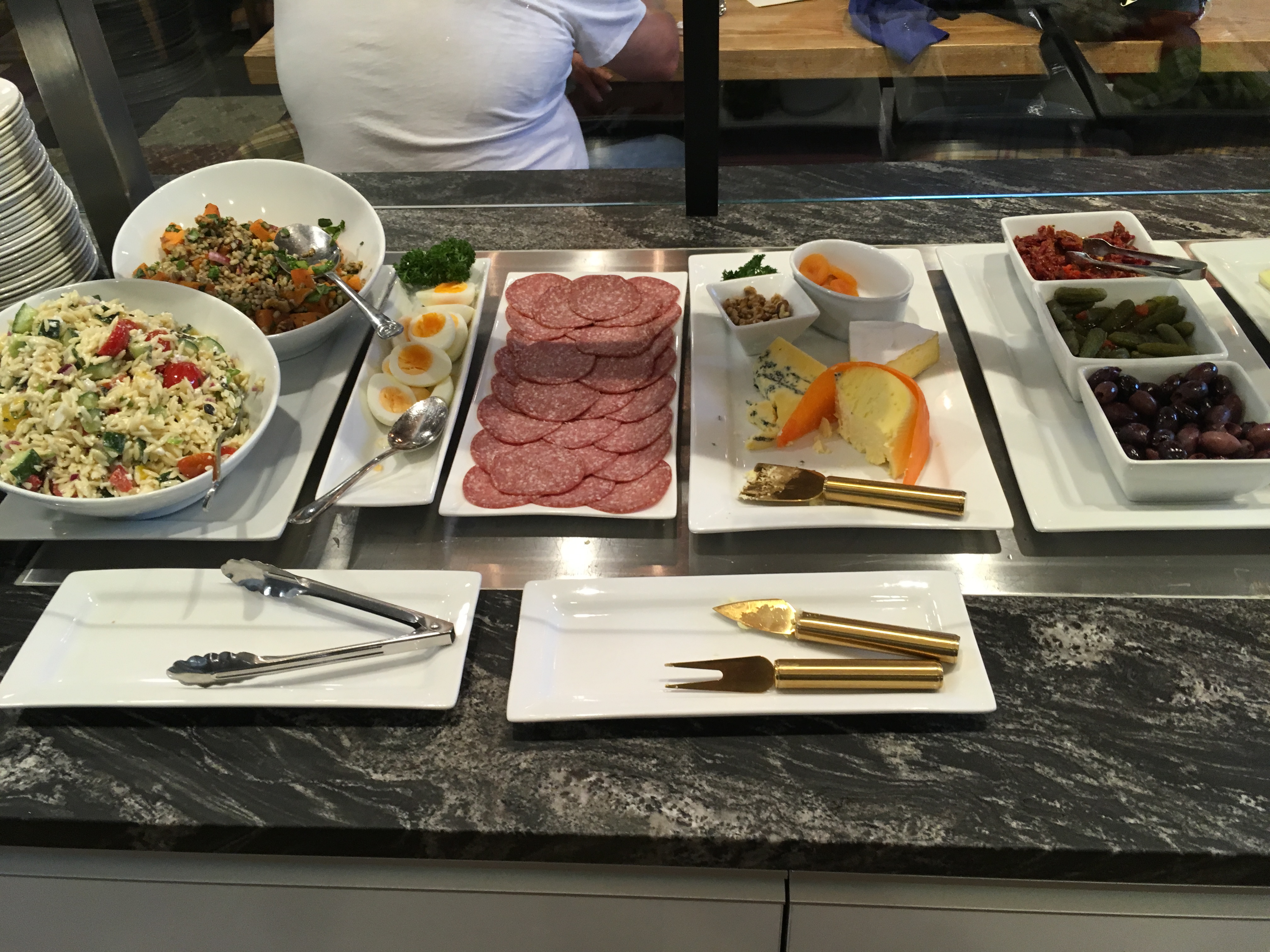 Hot dishes included party and savoury pies, as well as meatballs with tomato sauce and parmesan, along with a vegetarian toastie option.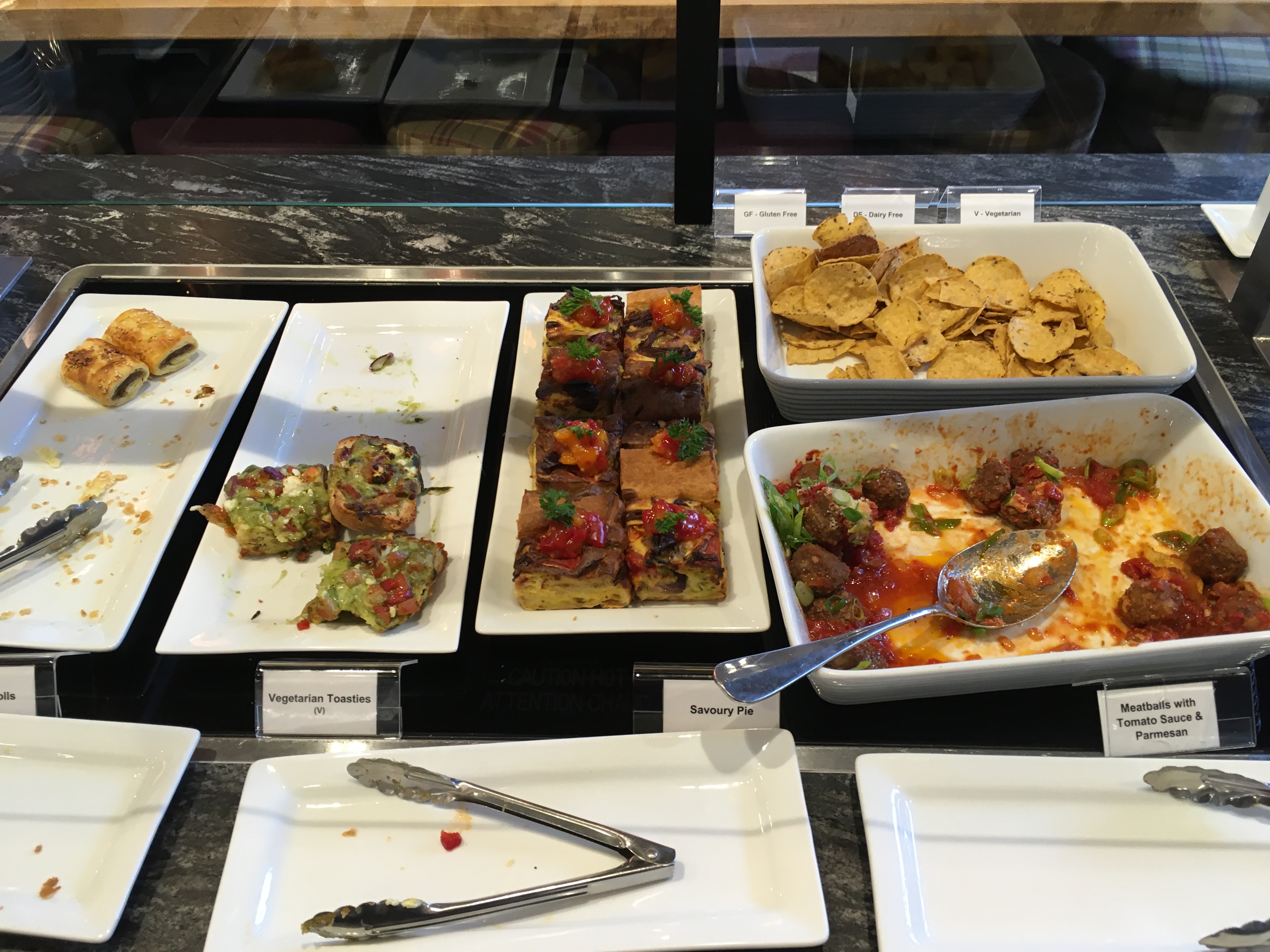 A self-serve fridge is available, which includes a variety of beers, wines soft drinks and juices. A self-service machine is also available for coffee.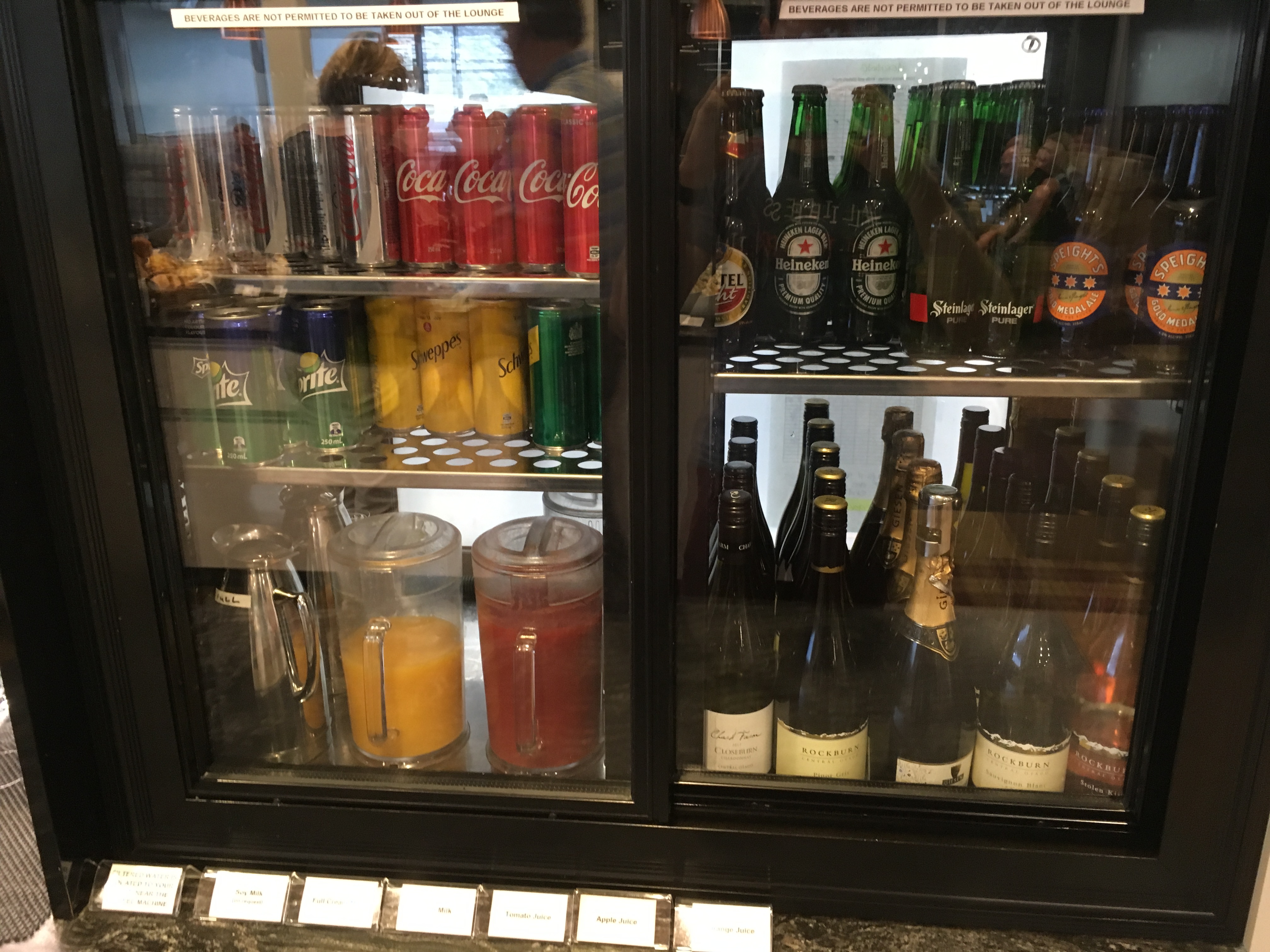 A small number of basic spirits are also made available, however, don't get too excited, as the options are limited and are standard in quality.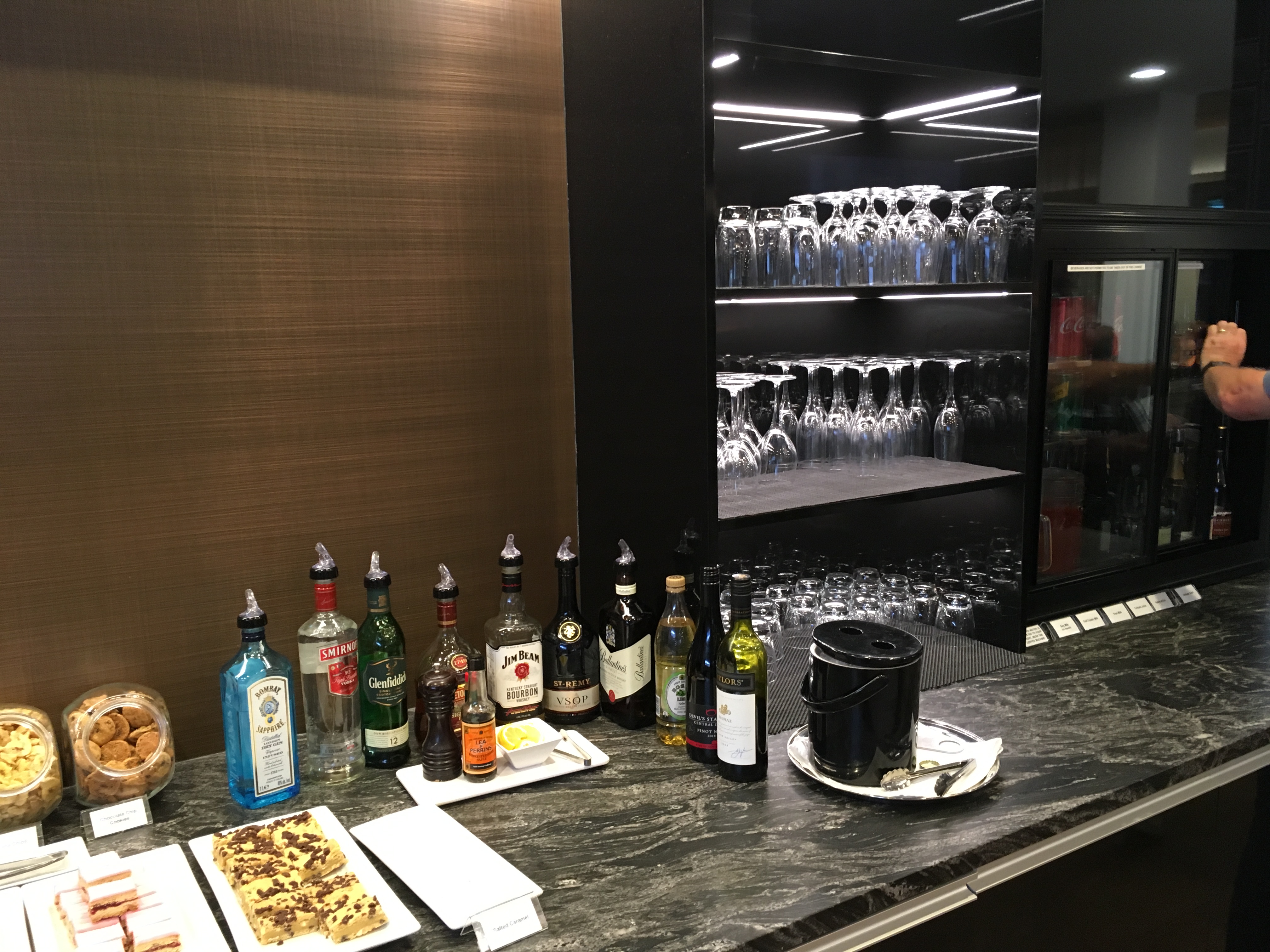 Amenities
The lounge offers complimentary wi-fi that I found to be relatively fast and definitely ideal for emails, browsing websites and streaming music and video content.
The bathrooms were small with two cubicles, but more than sufficient in size to handle the capacity of the lounge, and were very clean and well maintained.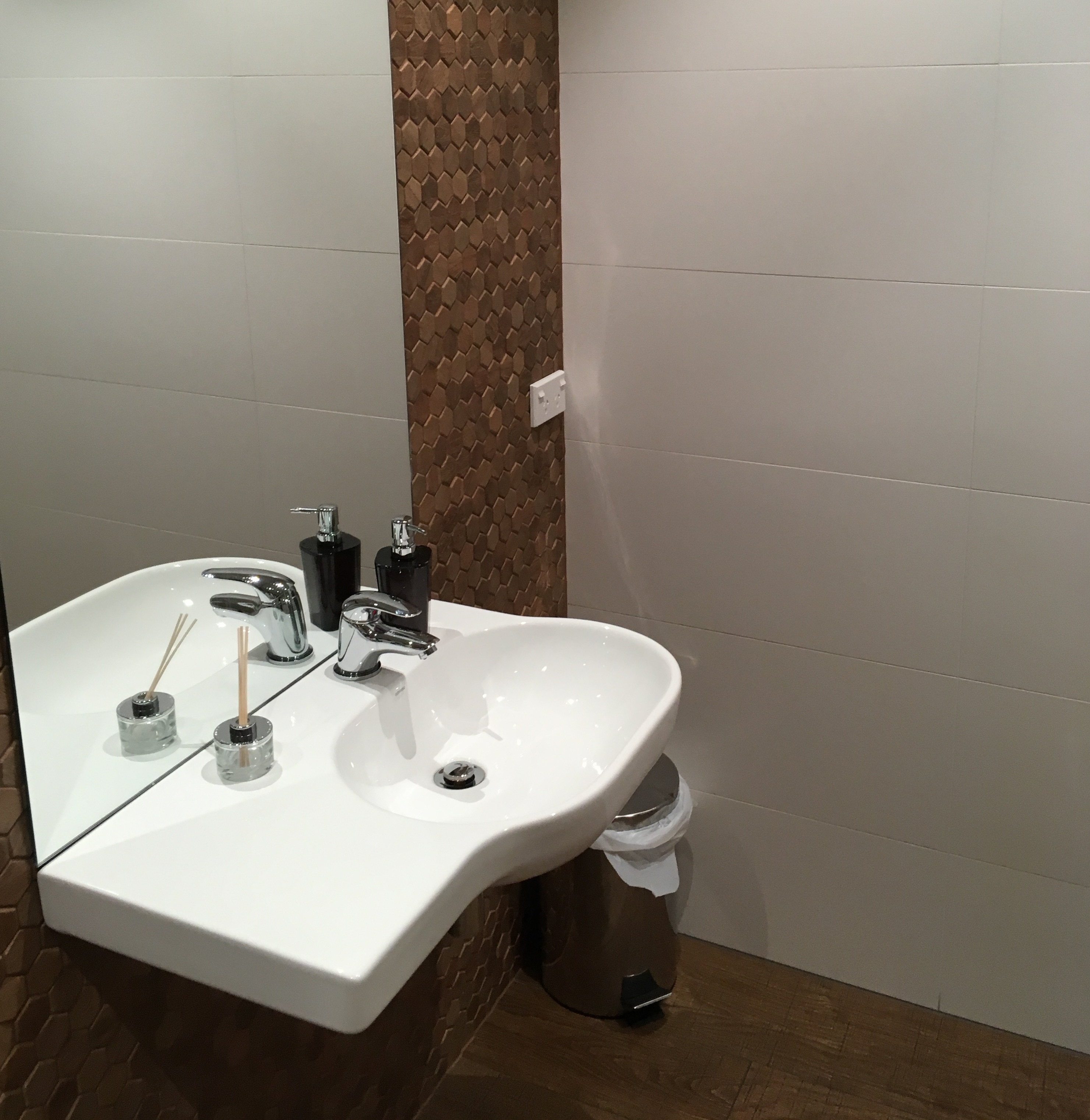 The lounge also had two desktop computers available for use for those looking to do a bit of work during their lounge stay.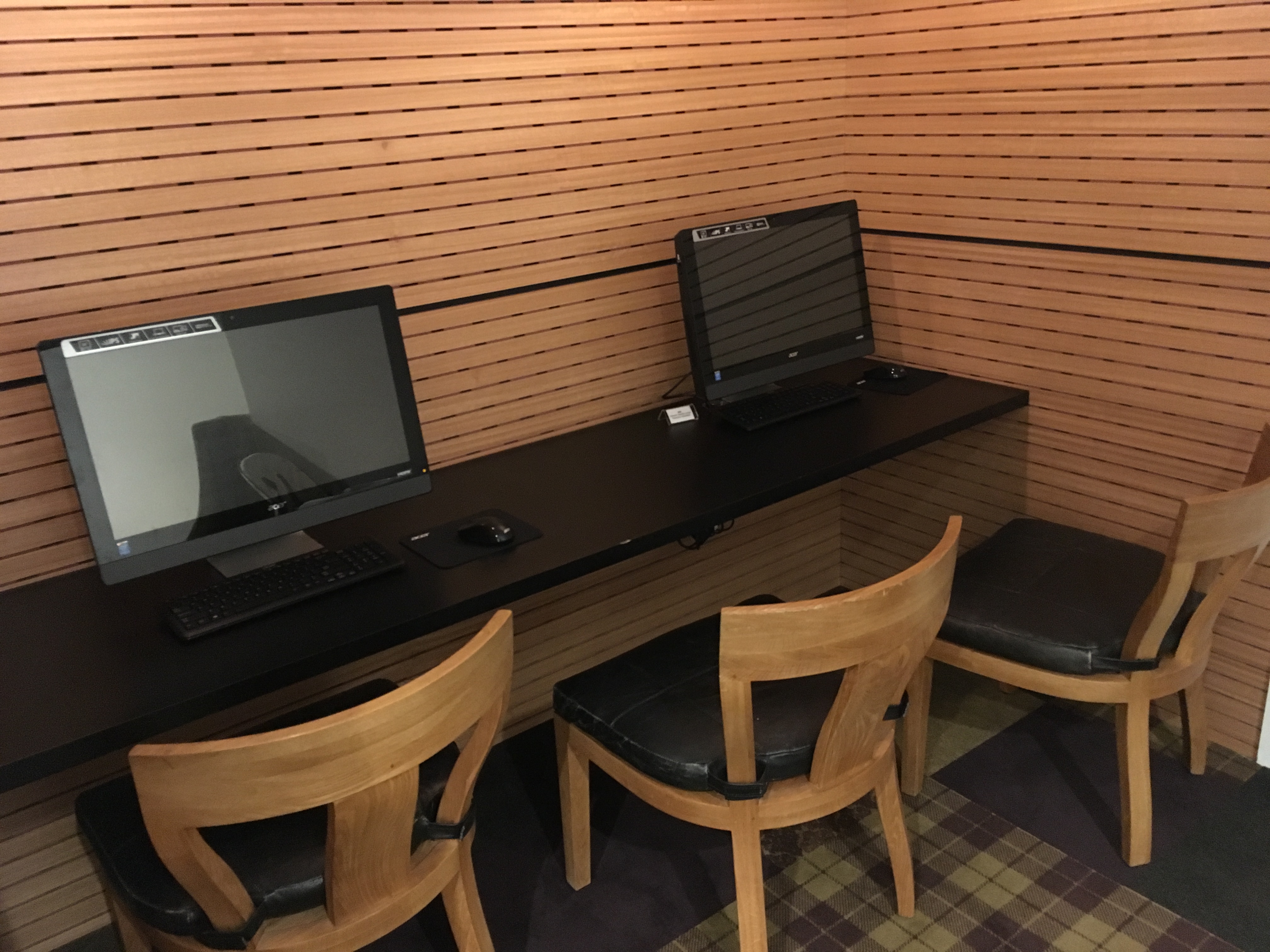 Lounge access options
By class of travel: Business or First Class passengers traveling on international Qantas, Jetstar or Virgin Australia
By airline frequent flyer status: Qantas Gold and higher (on international Qantas flights), Virgin Lounge Members and Velocity Gold and Platinum frequent flyers (on international Virgin Australia flights)
By airline partner frequent flyer status: Emirates Skywards Gold and higher (on Qantas flights)
BY alliance frequent flyer status: oneworld Sapphire and Emerald (on Qantas flights)
By lounge membership program: Access through Priority Pass, DragonPass, Lounge Key and other programs
By day pass: a 'pay in' option is available for passengers traveling on other international airlines at a cost of NZ$55/adult and NZ$20/child, or NZ$140 for a family of four.
Summing up
The Manaia lounge is a nice quiet retreat from what can at times be a very chaotic Queenstown airport. The lounge includes all the required necessities, along with a large variety of food options, especially for the size of the lounge. While the drink options are definitely satisfactory, those looking for a wide variety of top-shelf spirits will be disappointed.
Overall, the lounge was a great place to relax and grab a quick bite, and stream some of my favourite TV shows while I waited for my flight.
What is great
Quiet lounge
Good variety of food and drink options
Great customer service
Clean Bathrooms
What is not great
Poor variety of spirits
No barista service
Manaia Lounge, Queenstown
was last modified:
January 20th, 2022
by