Previously known as the Emperor Lounge, the Strata Lounge is the official Auckland Airport operated airport lounge, and is accessible to all who are departing from the international terminal, regardless of airline or class.
This modern facility is a good option for those with Priority Pass access, cards like the American Express Platinum Charge and Citi Prestige comes with unlimited access.
Lounge location
The Strata Lounge is located in the international terminal at Auckland Airport, meaning only passengers departing on an international flight can access it.
The lounge is located on Level 2, opposite the Qantas First and Business Class lounges.
After you're through Duty Free, keep walking until you see escalators on your right, per the map below. Head to the top of the escalators, and turn left.
The lounge is open from 5am to 1am, seven days a week.
Lounge seating
The lounge offers a variety of seating areas, suitable for relaxing, working and dining.
There is some bar stool seating located on the opposite side of the non-alcoholic drinks island.
There are several long wooden tables located proximate to the buffet area, which allows larger groups to sit and eat together. The small seats however are a little uncomfortable.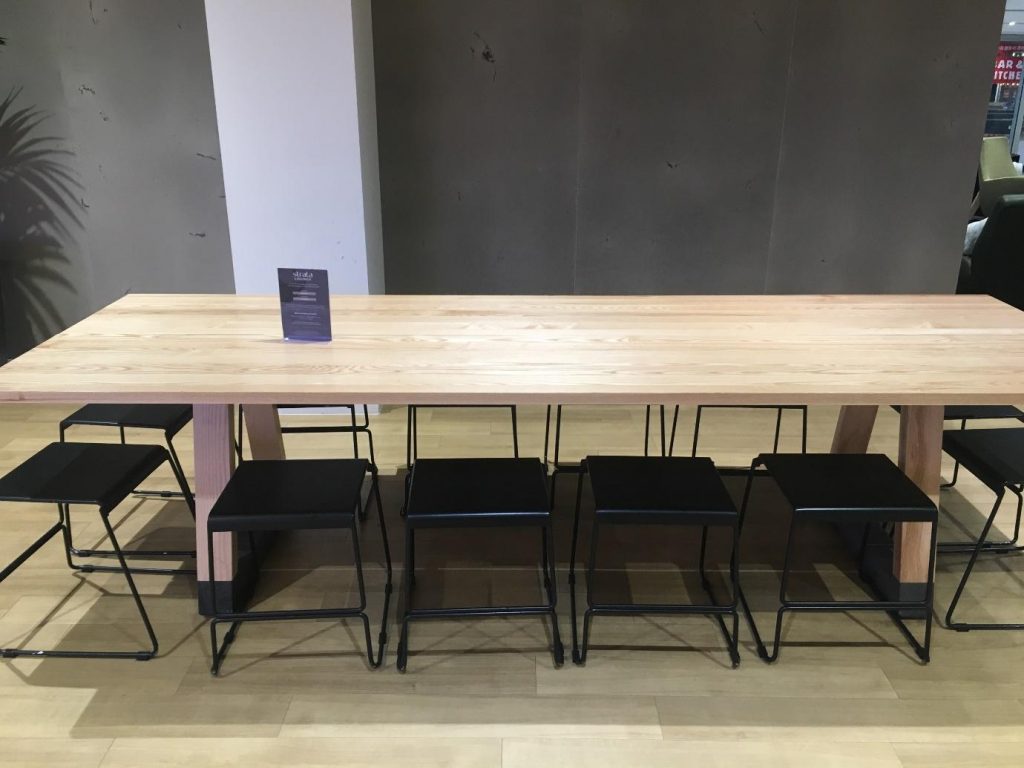 The other areas in the lounge either include seating in groups of two or four, with accompanying low-lying tables.
The lounge area does not receive a lot of natural light, being separated from any external windows by the terminal atrium. On the plus side, this can make for some interesting people watching!
Charging ports, including AC and USB, are unfortunately not located proximate to all seats. If you are planning to charge your devices, be sure to find a convenient place to connect to prior to getting comfortable.
A number of mobile charging devices are available at reception if you happen to be travelling without one.
Food & Drink
The Strata Lounge offers a fresh range of international hot and cold dishes. We have visited the lounge several times in recent months, so have had the opportunity to sample breakfast, lunch and dinner options.
For breakfast, continental options include cereals, fruit, yoghurt, toast, cold meats, fresh juice, and croissants.
Hot breakfast options include sausages, mushrooms, hash browns, potatoes, scrambled eggs, beans, and some Asian options include congee and noodles.
There is no need to make your own pancakes in this lounge, as they are already prepared for you in the lounge kitchen.
At lunch and dinner times, a variety of hot and cold food options will be brought out, including salads, soup, pasta, vegetables, quiches and pies.
A range of dessert options are available all day after breakfast for those with a sweet-tooth, plus fruit cups and cheeses.
The lounge also has a wide range of beverage options, including juices, beers, cider, wine, spirits, soft-drink and self-serve tea and coffee.
The lack of a barista service though is disappointing—especially given the Kiwi coffee culture—this would be a great addition to the lounge if ever offered in the future. There is also no bar service, with all alcoholic drinks being self-pour.
Lounge amenities
Complimentary high-speed Wi-Fi is available, and is easy to connect to. Look out for instruction cards on the tables throughout the lounge.
If you want to take a shower, towel and refreshment packs can be requested from the front desk.
The business centre includes three computers, along with vacant desk space where you can work using your own device. A wireless printer is also available for use.
The lounge also features a dedicated meeting room. The far wall in the room appears to be designed for workstation use, but there are no bar stools in the room which makes the space a little impractical.
The children's area is surrounded by glass partitions, so your kids can play and watch TV without disturbing other passengers in the lounge.
A range of reading material is available, including newspapers and magazines.
If you need to store any luggage while visiting the lounge, just let the reception staff know, and they'll hold it out the back for you.
Be aware that there are no flight announcements over the PA, so make sure to keep up-to-date with your flight status on your device or the screens in the lounge.
Lounge access options
Priority Pass cardholders can access this lounge, with your particular credit card determining guesting privileges.
As a walk-in lounge, you can also purchase access at the following rates:
| | Adult (13+ years) | Child (2-12 years) | Infant (under 2) |
| --- | --- | --- | --- |
| Three hours | $49 | $24.50 | Free |
| Eight hours | $75 | $37.50 | Free |
Make sure to book access online a minimum of 24 hours prior to arrival to receive these preferential rates and to guarantee access.
'Pay on the door' access is available, subject to availability, but will be more expensive.
Strata Club members can use their points towards discounted access, when booked online.
Other access options include:
By class of travel: Business and First Class guests travelling on China Airlines, China Eastern, China Southern, Hainan Airlines, Hawaiian Airlines, Hong Kong Airlines, Korean Air, Malaysia Airlines, Philippine Airlines, Samoa Airways, Sichuan Airlines, Tianjin Airlines, Virgin Australia
By airline frequent flyer status: Malaysia Airlines Enrich Gold and Platinum members, Virgin Velocity Gold and Platinum members
By alliance frequent flyer status: oneworld Sapphire or Emerald members departing on a flight operated by Malaysia Airlines, SkyTeam Elite Plus members departing on a flight operated by China Airlines, China Eastern, China Southern, and Korean Air
By lounge membership program: Virgin Australia Lounge members
By other means: Diners Club, DragonPass, Farmlands co-operative, and Lounge Key
Summing up
The Strata Lounge in Auckland's international terminal offers delicious food, a good range of self-serve beverages, and a space to relax for passengers travelling with any airline, in any class of service.
The lounge is ideal for those wanting to get work done in a comfortable environment, with a functional business centre including computers, printers and adequate desk space.
A barista and bar service would enhance this lounge even further, as would improved placement of AC and USB charging points near seating areas.
The large range of access options can make the lounge a little crowded at times, but its size generally means that guests are spread out, which maintains some level of tranquillity.
Featured image and some supplementaries are courtesy of Auckland Airport.
Strata Lounge Auckland overview
was last modified:
April 22nd, 2022
by