Qantas' QF43 flight is a direct route from Sydney to Denpasar on the popular Indonesian island of Bali. The daily flight takes less than seven hours, landing in Bali with ample time to refresh and recharge overnight before tackling your Bali itinerary.
So if you're thinking of escaping to Bali onboard QF43 from Sydney, here's everything you need to know about the flight.
QF43 flight time
QF43 departs Sydney daily at 4:25 pm. That's enough time for a sleep-in, a last-minute dash to the supermarket to pick up some tanning oil, and still have time up your sleeve to make it to the airport for a late lunch.
Clocking in at around six hours and 40 minutes, the flight lands at Ngurah Rai International Airport, also known as Denpasar International Airport, at 9:05 pm. You can have a full night's snooze in your private villa before you hit the ground running the next morning. Bliss.
QF43 aircraft type and seating
Qantas' Sydney to Bali route uses a narrowbody Boeing 737, the same aircraft found on many of its domestic routes. Some passengers may be familiar with this aircraft – but if not, here's what to expect from QF43's two cabin classes.
Business Class on QF43
QF43's Business Class cabin has 12 seats arranged in a 2-2 layout. Note that these seats don't fold into a flatbed – but for the late-afternoon journey you may wish to stay up and peruse the inflight entertainment instead. The seats do have a generous recline and a footrest, with a spacious 37-inch pitch and a seat width of 18.7 inches.
Passengers perched by the window won't have direct aisle access. So if you're flying solo – or hitting the beverages early – you may prefer an aisle seat. Or take a look at our guide to the best seats in Qantas Boeing 737 Business Class to help you decide.
From later in October 2023, Qantas will swap to an Airbus A330 with at least 27 Business Class suites in a 1-2-1 layout. Every passenger will enjoy a lie-flat bed in Business Class.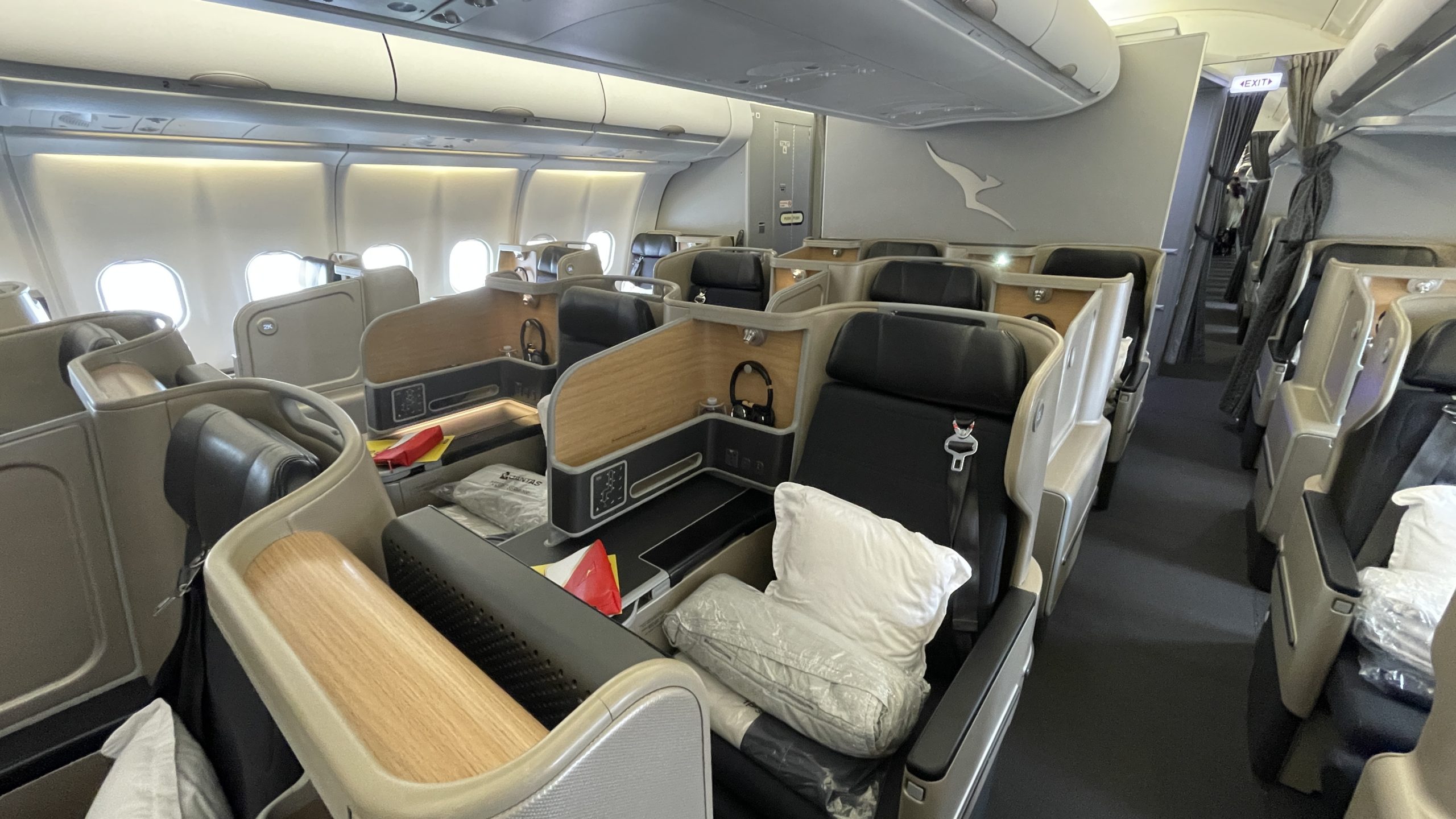 Economy Class on QF43
The 162 seats in the Economy Class cabin onboard QF43 have a 3-3 configuration. As far as space goes, you'll have the same as if you were flying domestic with Qantas – that's a 17.2-inch wide seat and a 30-inch pitch. Itching for more wriggle room? Rows 13 and 14 – the exit rows – offer a more generous 37-inch pitch for you to stretch your legs. But be aware that rows 12 and 13 are directly in front of these exit rows, so for safety you won't be able to recline your seat at all during the flight.
Find out more about what it's like flying Qantas' 737 in Economy in our guide.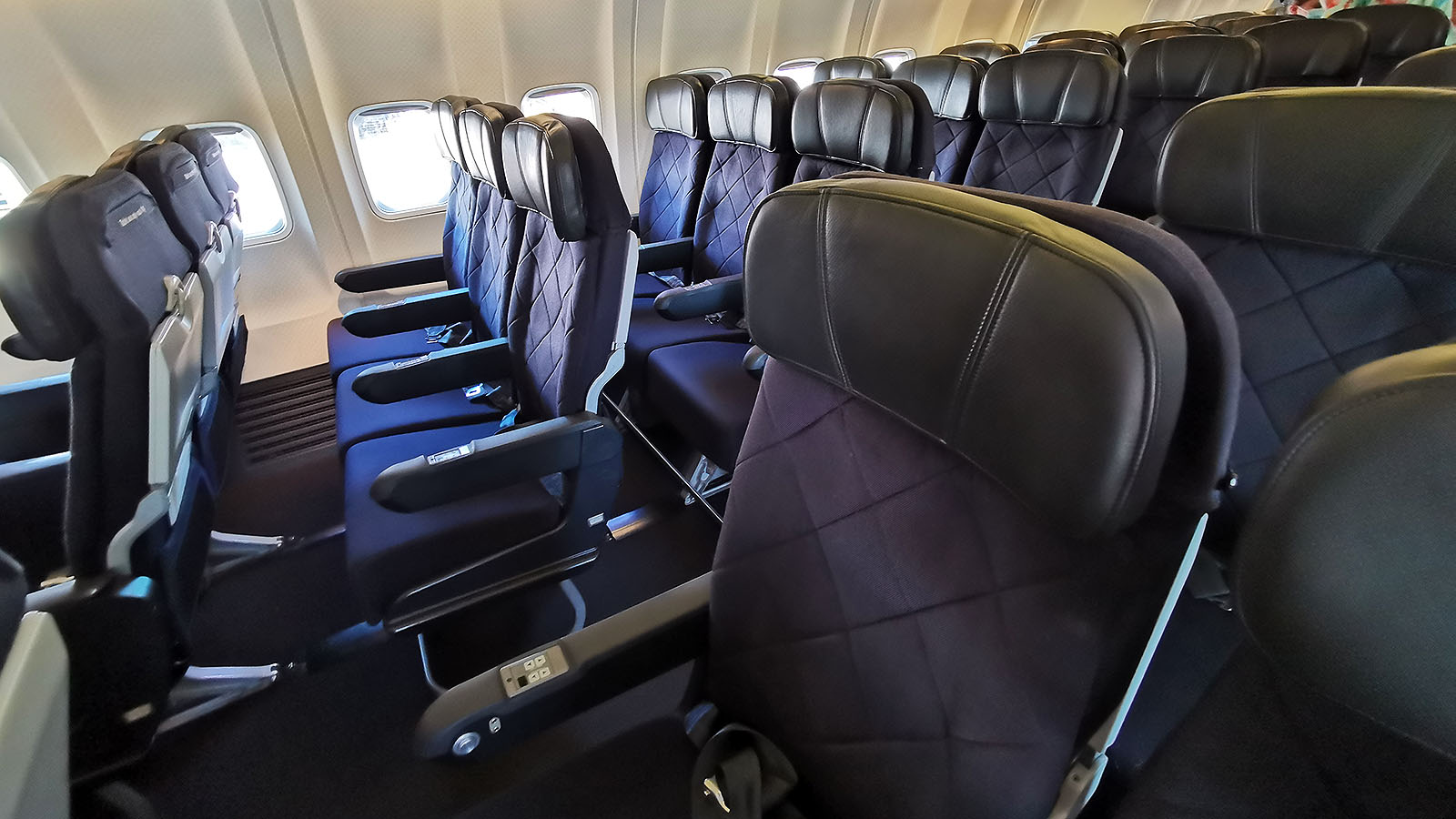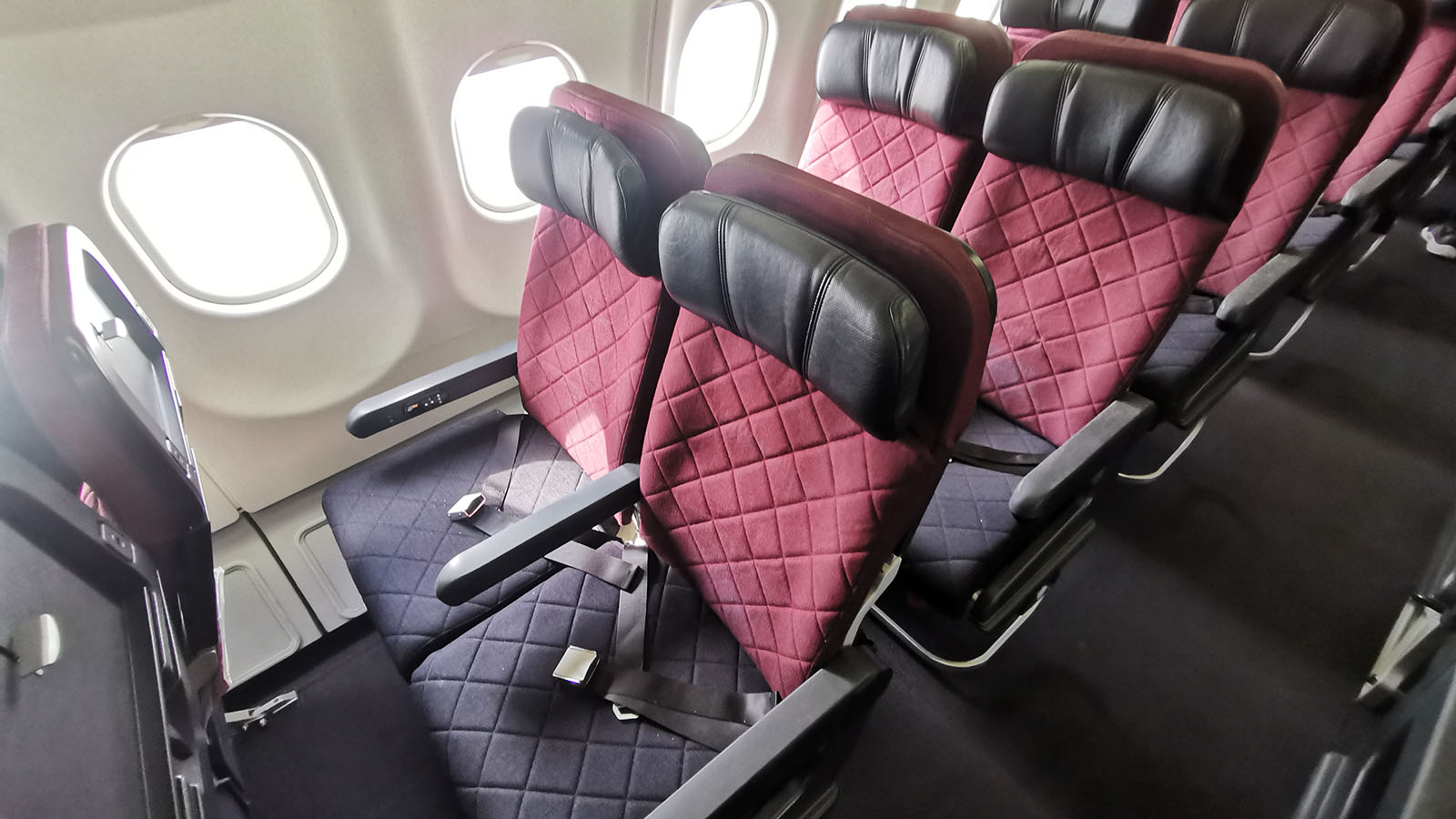 When Qantas switches to the Airbus A330, Economy passengers will enjoy 2-4-2 seating with a 31″ seat pitch.
Lounge access when flying QF43
Qantas International Business Lounge
When jetting off from Sydney's international terminal, eligible passengers can unwind at the Qantas International Business Lounge. This includes those that meet one of the criteria below:
There are other ways to access this lounge, including when flying with oneworld airlines, but we've only included those that are relevant to flight QF43.
And for Qantas' highest-level frequent flyers – Platinum and Platinum One – there's something even better in store. The stunning Qantas Sydney International First Lounge is one of only a handful in the world, with a far superior offering which we cover more about below.
Of course, you don't need status to access the Qantas International Business Lounge when departing from Sydney. Avid points collectors that amass more than 350,000 Qantas Points per year, primarily earned on the ground, unlock the benefits of Points Club Plus. This includes complimentary Qantas Club membership, allowing access to select lounges operated by Qantas. And some credit cards like the Qantas Premier Platinum even include two single-entry digital lounge passes so you and a travel companion can treat yourself before your flight.
Qantas First Lounge
Of all the reasons for frequent flyers to chase Platinum status with Qantas, access to the exclusive Qantas International First Lounge is up there. This stunning space boasts world-class service and amenities, including an on-site spa. Passengers can delight in à la carte dining and unlimited beverages (yes, that includes Champagne), complemented by an abundance of natural lighting and exceptional views over the tarmac. What's not to love?
Best of all, you don't even need to be flying First Class. As long as you meet one of the requirements below when flying with QF43, you'll be granted entry to arguably one of the world's best lounges:
Qantas Platinum and Platinum One frequent flyers
oneworld Emerald frequent flyers
Single-entry Qantas First Class lounge passes from the Qantas Premier Titanium Card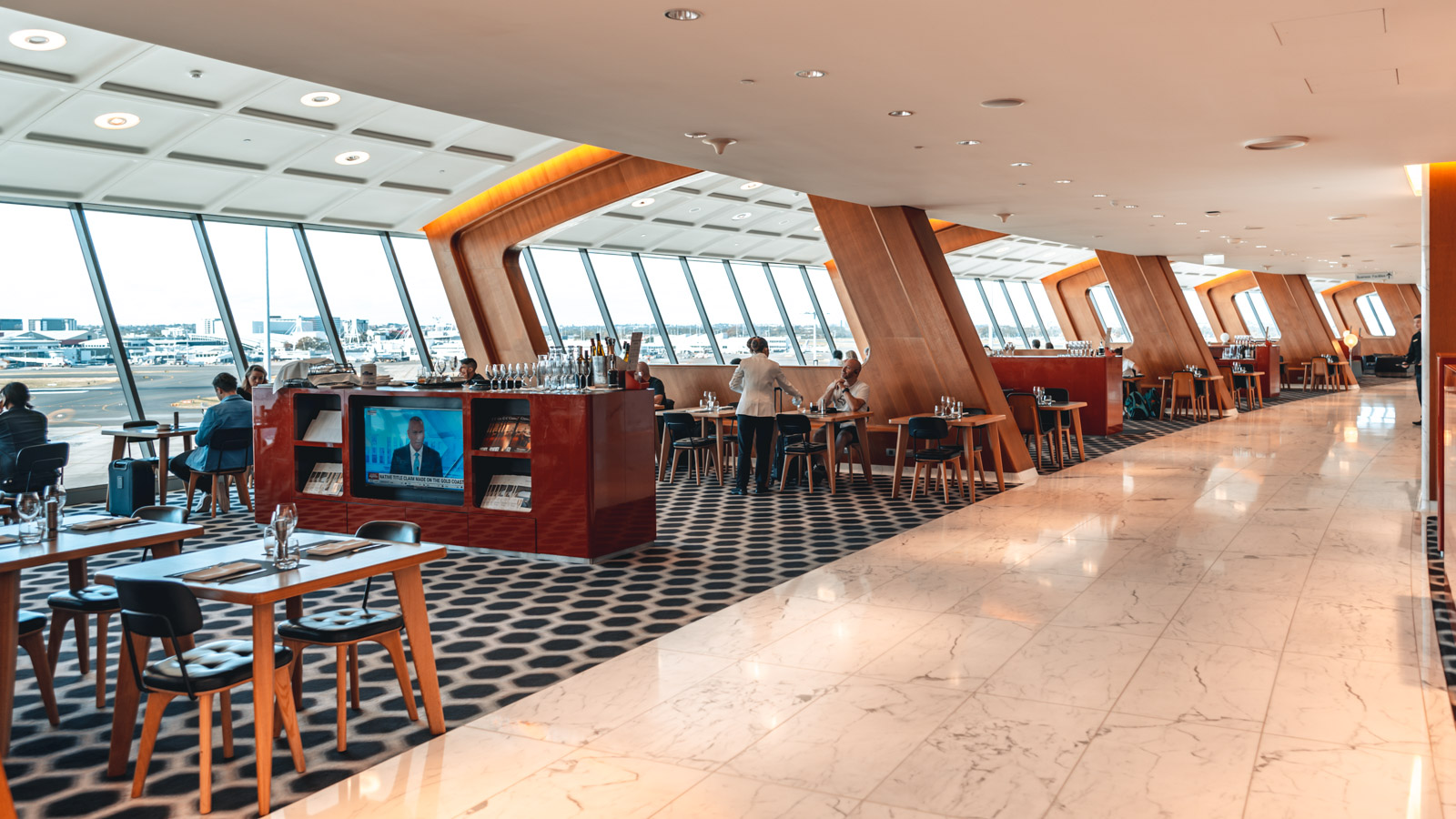 Booking QF43 using points
With some Qantas Points up your sleeve, you could be flying from Sydney to Bali on QF43. Here's how many points you'll need for a Classic Reward booking.
| | | |
| --- | --- | --- |
| | Economy | Business |
| Sydney to Denpasar (Bali) | 20,300 | 57,000 |
Qantas Points required are per person, one way. Taxes, fees and charges are also payable and vary by route.
When searching for seats, ensure you filter by 'Reward Seats'. Anything higher than the points totals we've outlined above is a Points + Pay seat, which is extremely poor value compared to a Classic Reward seat.
Sydney to Bali is a popular route, and reward seats – especially in Business Class – may be hard to come by. But if you hold Platinum or Platinum One status with Qantas, you can call Qantas and request reward seats to be released.
And if you need to top up your points balance, we've got some great offers below. One credit card sign-up bonus could be enough for two Economy return trips to Bali from Sydney!
Also read: Fly Qantas or Jetstar to Bali using Qantas Points
Alternative flights
QF43 is the only Qantas-operated route from Sydney to Bali. But if you're looking to save on cash or points, Jetstar operates two daily flights on the same route:
Jetstar flight JQ39 – Sydney to Denpasar (Bali), departing at 6:35 am
Jetstar flight JQ37 – Sydney to Denpasar (Bali), departing at 5:40 pm
You can use Qantas Points to book Jetstar flights on the Qantas website. The routes above will set you back just 18,000 Qantas Points + $128 one-way in Economy.
Jetstar also operates direct flights to Bali from Adelaide, Brisbane, Cairns, Darwin, Melbourne and Perth.
Alternatively, you could jump on these other Qantas flights from Australia to Indonesia:
Qantas flight QF39 – Melbourne to Jakarta
Qantas flight QF41 – Sydney to Jakarta
Qantas flight QF45 – Melbourne to Denpasar (Bali)
And if you're returning from Bali, QF44 is Qantas' redeye direct flight from Denpasar to Sydney.
Need tips on planning your Bali getaway? We've covered everything in our Bali destination guides. And don't forget to subscribe to our email newsletter for more tips and inspiration on travelling around the world using points!
Featured image: Jeremy Bishop, Unsplash
FAQs
What sort of plane is QF43?
QF43 uses a Boeing 737 with two cabin classes – Business Class and Economy.
What time does QF43 depart Sydney?
QF43 departs Sydney daily at 4:25 pm.
Does QF43 have Business Class from Sydney to Bali?
Yes, QF43 has 12 reclining Business Class seats in a 2-2 configuration.
How often does QF43 fly?
QF43 is Qantas' daily flight from Sydney to Denpasar (Bali).
How long is flight QF43?
QF43 has a scheduled flight time of 6 hours and 40 minutes from Sydney to Denpasar.
Qantas Flight QF43 (Sydney – Denpasar/Bali)
was last modified:
October 12th, 2023
by