Qantas predominantly use the Boeing 737 for their domestic operations, which offer both Economy and Business cabins as well as latest inflight entertainment options.
Although there is an option to book this flight with your Qantas Points, it is often not recommended for short-haul domestic flights. It might be more beneficial for lengthier international flights, or Business Class upgrades.
This overview will provide an insight and what to expect from a domestic Economy trip on a Qantas' Boeing 737-800.
Fleet & routes
Qantas operates a total of 75 Boeing 737-800s, which form the majority of Qantas' current fleet.
The Boeing 737 is often referred to as the workhorse of Qantas' fleet, as the aircraft flies across majority of Australian domestic locations, as well as routes between South Pacific and Oceanic destinations such as New Zealand, Denpasar, Papua New Guinea and New Caledonia.
The cabin & seats
For a narrow-body jetliner, the configuration of the Boeing 737 is somewhat cramped, with the aircraft accommodating a total of 12 Business seats and 162 Economy seats.


The Economy seats are all arranged in a 3-3 configuration and come with a seat pitch of 30 inches, and width of 17.2 inches.

The standard Economy seat does not provide much in legroom. The 17-inch seat width and the 3-3 configuration makes it an even tighter fit, especially if you have someone of bigger built sitting next to you.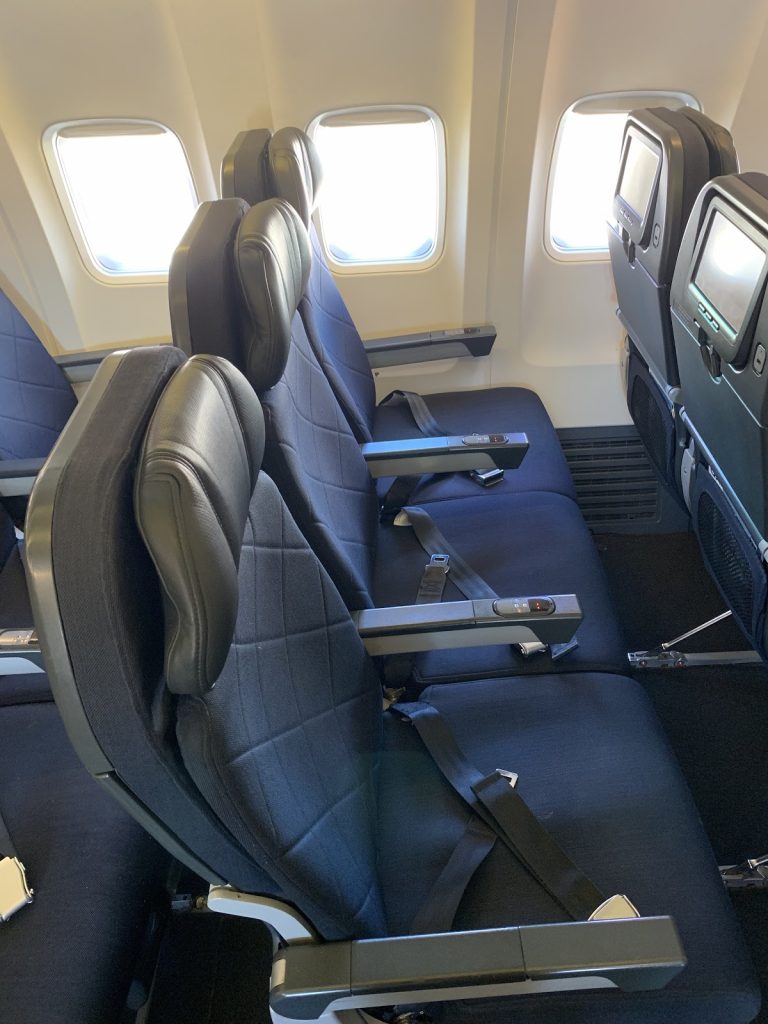 I am a little shorter than average (164 cm), so the photo of my legroom can be a little deceiving.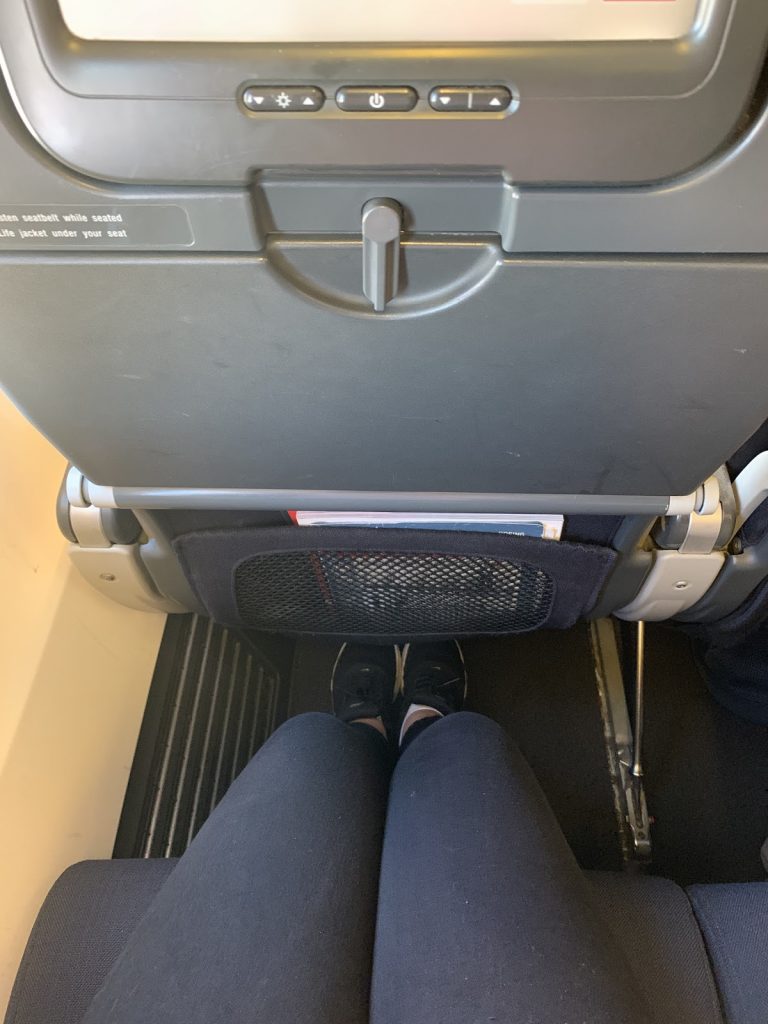 Because of this, I asked my travel buddy who is a lot taller than me (183 cm) to take a photo of his legroom.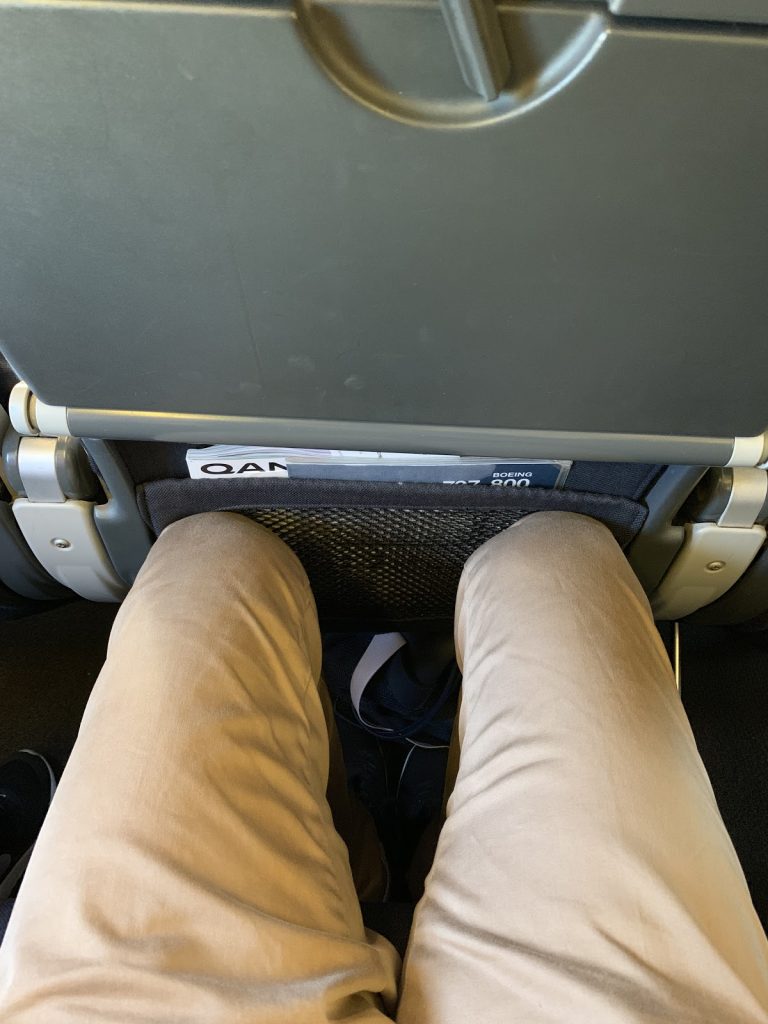 It is evident that anyone slightly taller than the average will struggle with legroom. Although you can store your bags underneath the seat in front of you, I would advise using the overhead lockers to make the most of your legroom.
The lack of legroom is not that big of an issue on a short-haul domestic flight, but for international flights, as well as for some longer cross-country domestic flights, it might be a concern.
Legroom aside, the seats are fairly comfortable with ergonomic cushioning and a four-way adjustable leather headrest.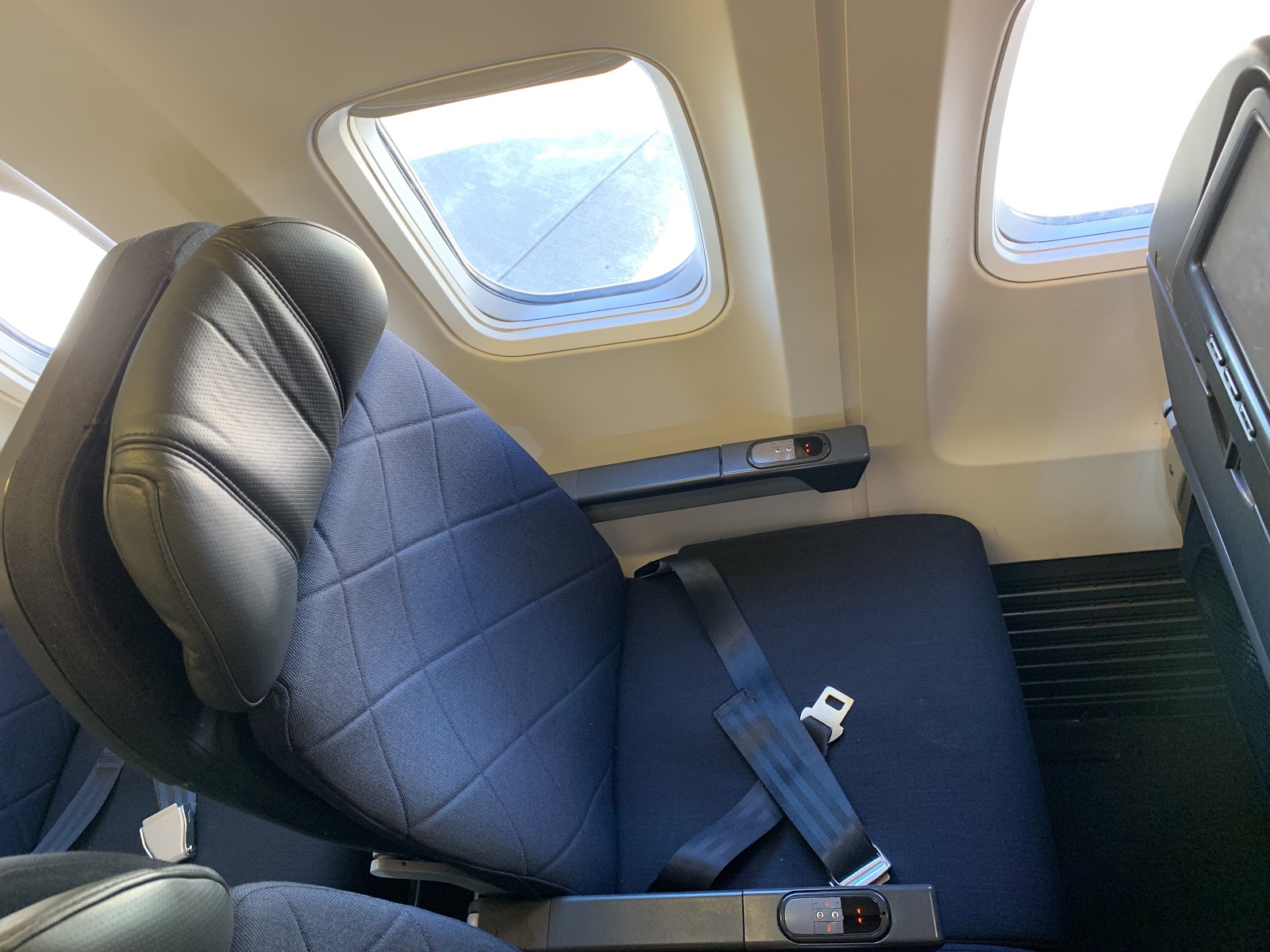 The Economy seats also have a 5-inch recline option, which might make the trip a little more relaxing. On the other hand, your conscience might get the best of you when trying to recline as this will decrease the space for the person sitting behind you even further.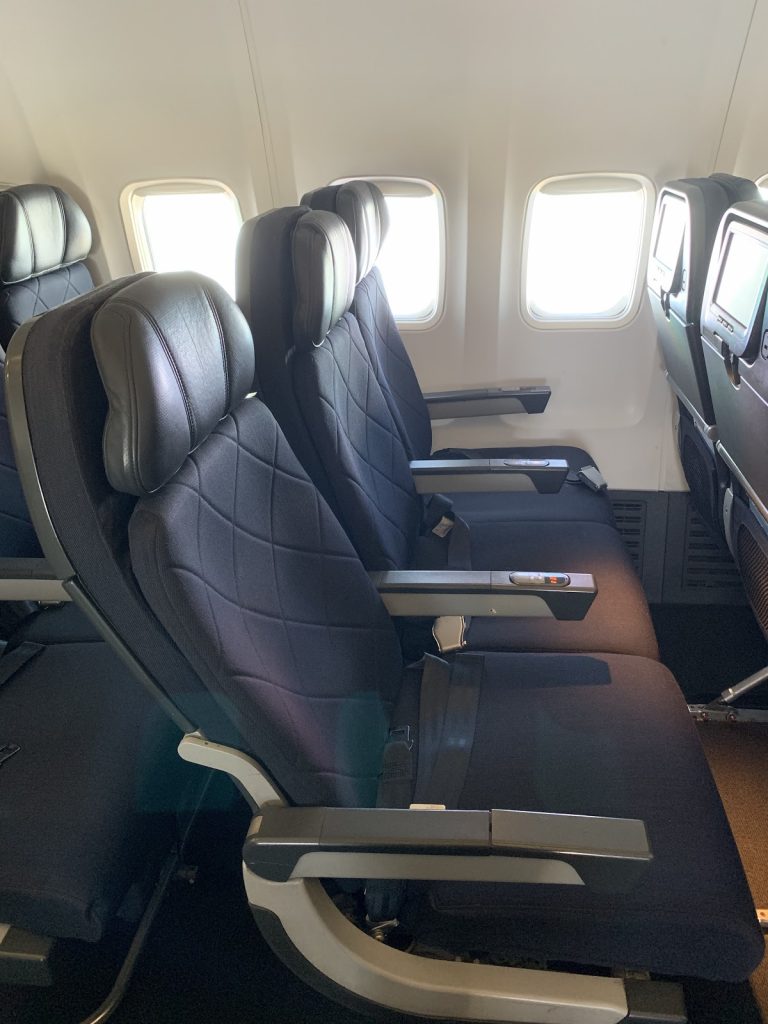 Seat choice
As the standard Economy seats come only with a pitch of 30 inches, you might want to be smart about your seat selection. There are a few options across the plane that provide extra legroom and other perks that might make your trip more comfortable.
You can select your seat for free whilst making your booking, but do keep in mind that a lot of the seats at the front are often blocked off for higher-status frequent flyers.
Some of these seats, if still available, become visible to all passengers 80 hours before departure. Therefore, if you are not happy with your initial seat selection, you can still change it online or on your Qantas app prior the flight, and if you're lucky, potentially score a great seat.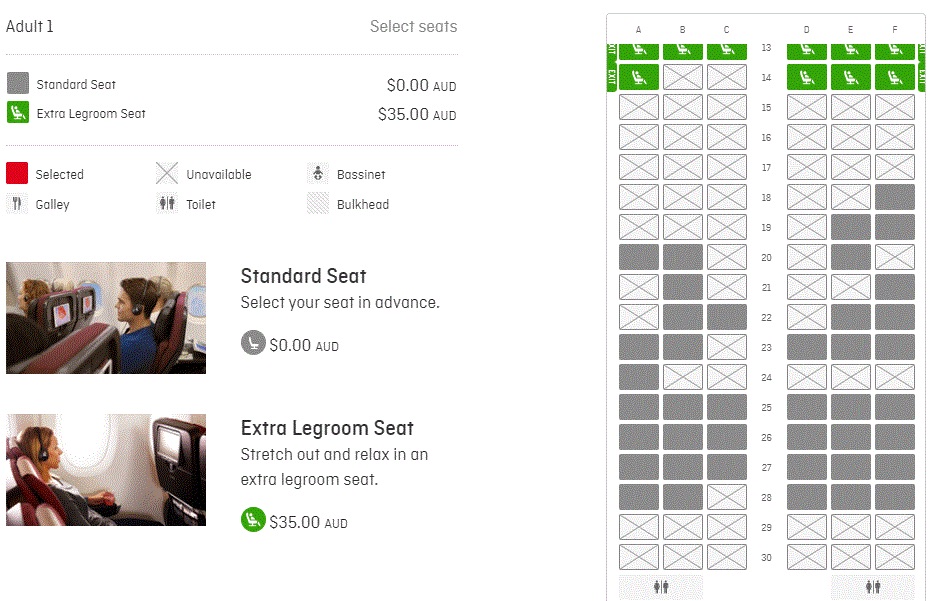 One of the most sought-after Economy seats on this plane are the row 4 seats that are located directly behind Business Class, and therefore offering a lot more legroom than standard Economy seats.
Keep in mind that due to the change of configuration (from Business' 2-2 to Economy's 3-3), the middle seats in row 4 (4B and 4E) do not have a dedicated storage pocket. The tray tables and entertainment screens are also stored in the armrests, rather than at the seat in front of them.

The seats in rows 13 and 14 are also a good pick on this flight; as being exit rows, they provide more legroom.
Being exit row seats, carry-on luggage cannot be stored in front of your feet, but must be placed into one of the overhead lockers. Passengers sitting in exit rows must also be fit and able to help with operating the exits in a case of emergency.
Platinum One and Chairman's Lounge members can select exit row seats at all times, without any extra costs. Other passengers can select one of those seats by purchasing them for an additional fee which varies depending on the route. On my flight, it would have cost me $35 to secure myself an exit row seat.
Although most people choose to sit further up the front of the plane for an easy exit, there are certainly advantages when it comes to choosing a seat at the rear end of the aircraft.
The Boeing 737 3-3 seat configuration is definitely not an ideal layout for passengers who travel alone or in pairs, as you will most likely end up sitting next to a stranger.
However, if the flight is not sold out, a lot of vacant seats are often located at the back of the plane. Whether you're a solo traveller or a couple, you are more likely to get a row 'to yourself', or at least a vacant middle seat at the back of the plane. Boeing 737 does have two exits, and sometimes (although not very often), passengers can also disembark via the back exit.
Furthermore, the two toilets for Economy Class are located at the back of the plane, meaning that if you choose to sit right at the front, you need to make your way through the whole plane, often tackling flight attendants' carts during meal services, especially on a flight that only lasts a couple of hours.
All passengers can select their seats from row 19 without any restrictions or additional fees when making their booking, so a rear-end seat can truly be a hidden gem if the plane is not crowded, and the back exit is being used on your flight.
Food & drink
Inflight catering is provided in both, Business and Economy. Passengers in Economy are offered light meals or refreshments, depending on the duration of the flight.
On my flight, the passengers are able to choose between a savoury or sweet snack, with the first being soy crisps, and the latter white chocolate and raspberry fudge biscuits.
You don't always get a choice of refreshments when flying Economy on a Qantas' Boeing 737, so kudos to Qantas for including an option for all the savoury lovers (like me), as well as those with a sweet tooth (my partner).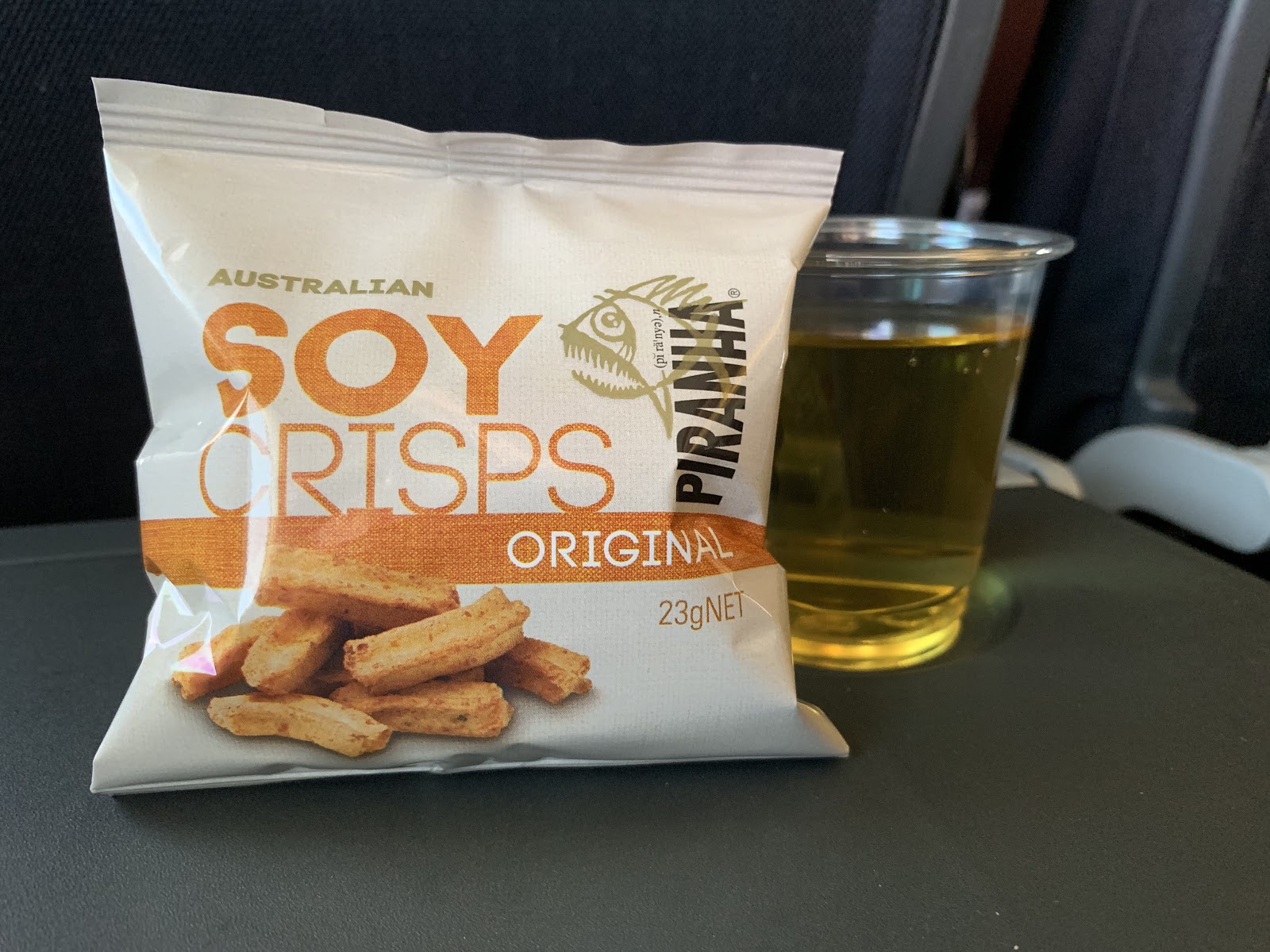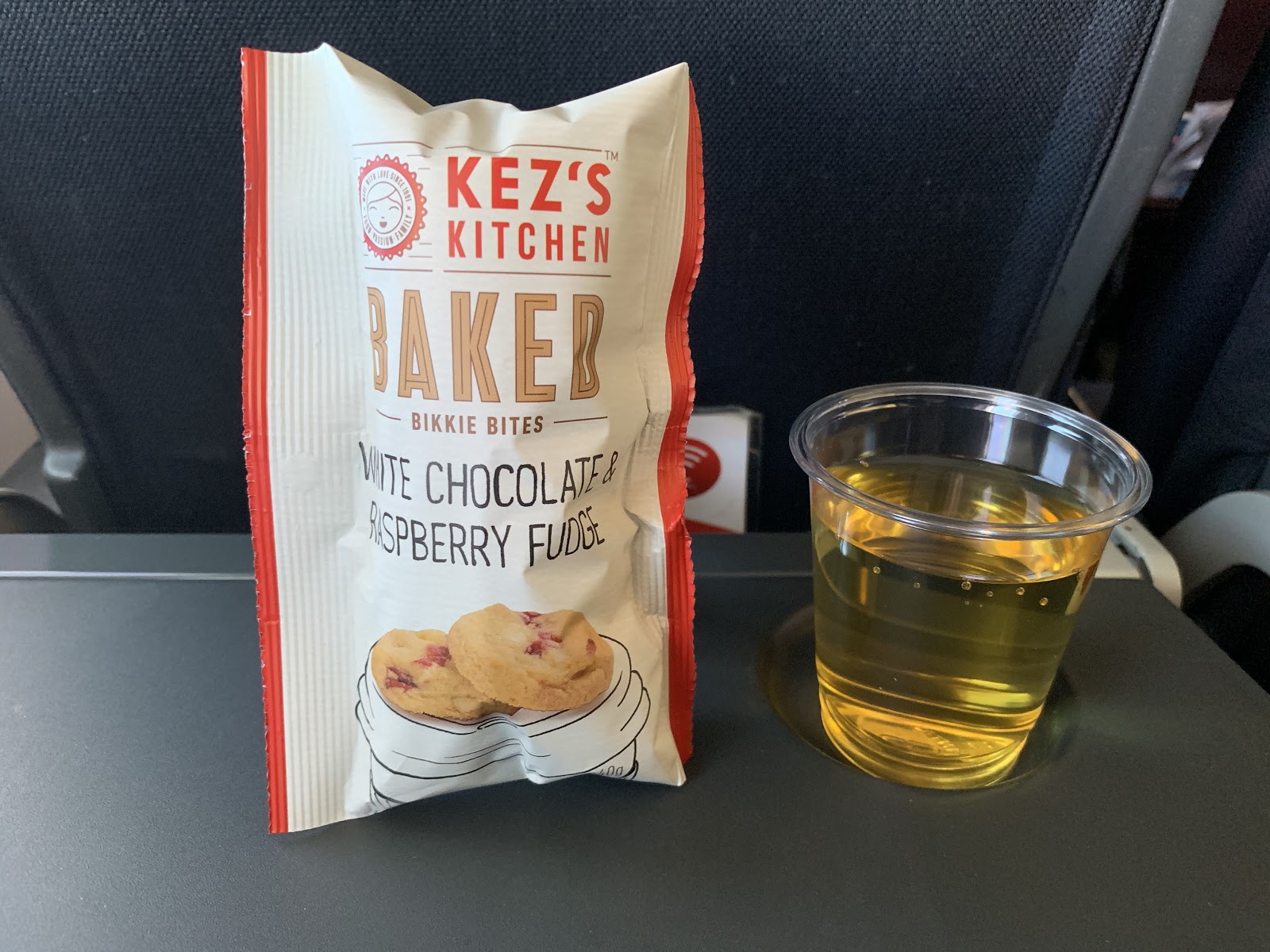 Complimentary beverages such as tea, coffee, water, juice and a selection of soft drinks are also offered on this flight throughout the day. Complimentary alcoholic beverages are served from 4:00 p.m. Monday to Friday (this can vary, depending on the route).
Customer service
Customer service on this flight was pretty standard. Nothing outstanding, but nevertheless professional and polite. The crew was all male, which was a welcome surprise.
The two flight attendants carrying out the meal service were fairly quick and efficient. The only thing that I could point out was that the passengers in front of us got a choice between a savoury or sweet snack. However, the flight attendant serving us didn't ask anything, but just offered us the packet of biscuits, after which I had to ask for the savoury option myself.
This is evidently not an enormous thing to complain about, especially since the food and drink offered are free-of-charge, but it is still nice to have a choice, especially on an early-morning flight where white chocolate biscuits just don't sound that appetising.
Other than that, the cabin crew were all proficient and attentive throughout the flight, and all passengers seemed to be well looked after.
Inflight entertainment
My flight lasted a little over two hours, and the time 'flew' quickly, as Qantas provides a decent range of inflight entertainment options on their Boeing 737s. Whilst some aircraft are fitted with 9-inch seatback entertainment touchscreens, other planes come with inflight entertainment systems to stream a selection of TV-shows, movies and documentaries on your personal device via the Qantas Entertainment app.
The volume controls for the entertainment systems are located on top of your armrest, whilst headphone plugs are situated on the front of your armrest.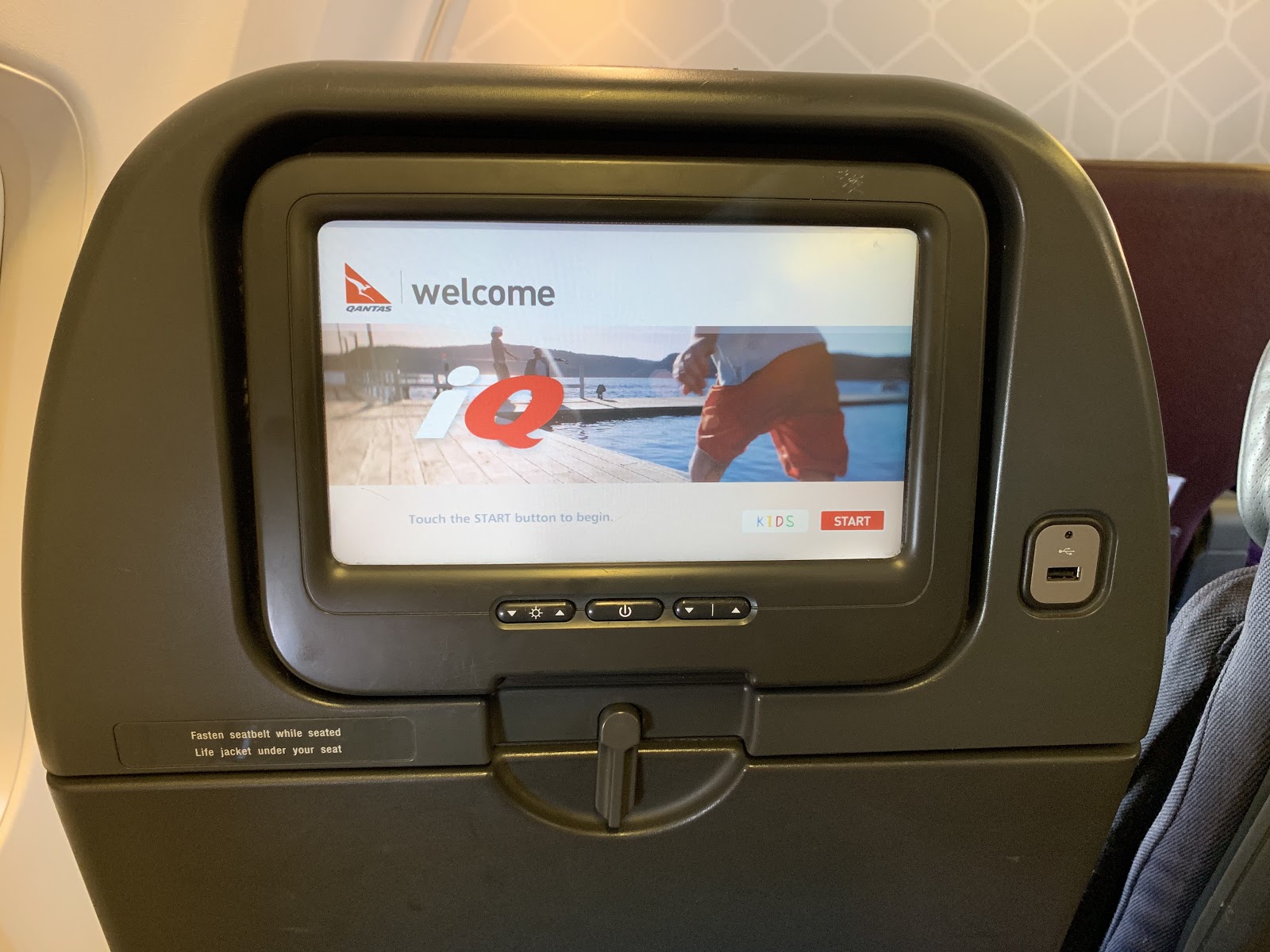 Selected aircraft like this one also features an individual USB port next to the touchscreen and a universal power outlet located underneath your seat.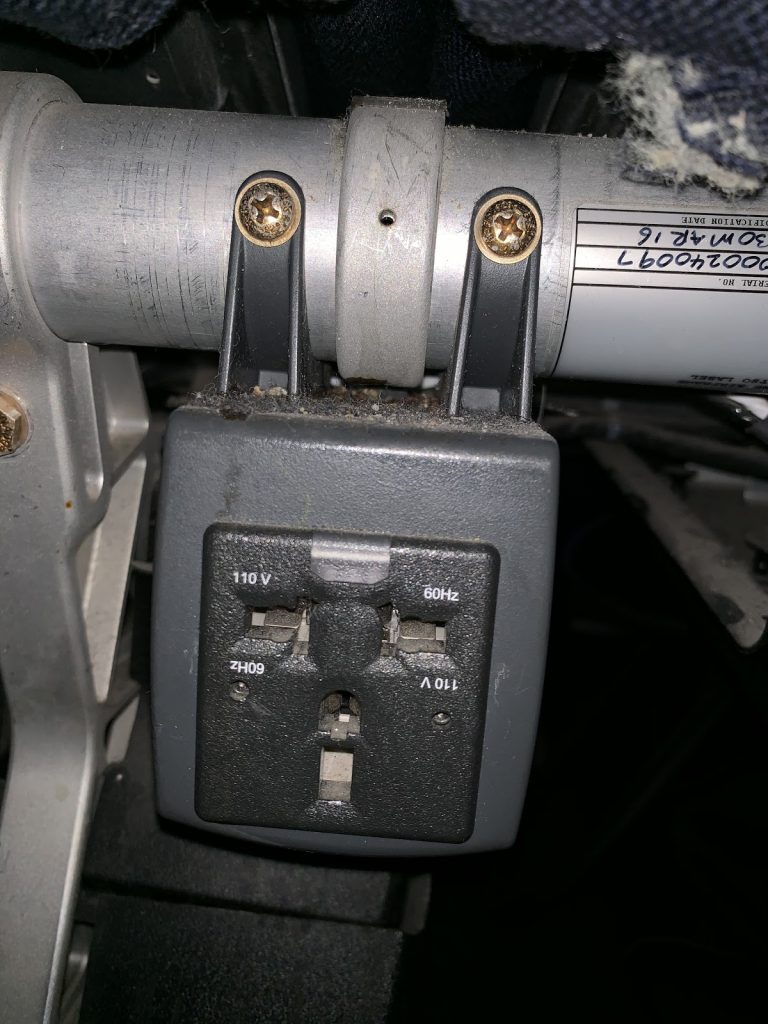 Approximately two-thirds of Qantas' Boeing 737-800 aircraft are now also equipped with WiFi, meaning that you can stay connected whilst 30,000 feet up in the air. Note that free inflight WiFi is currently only available on domestic routes.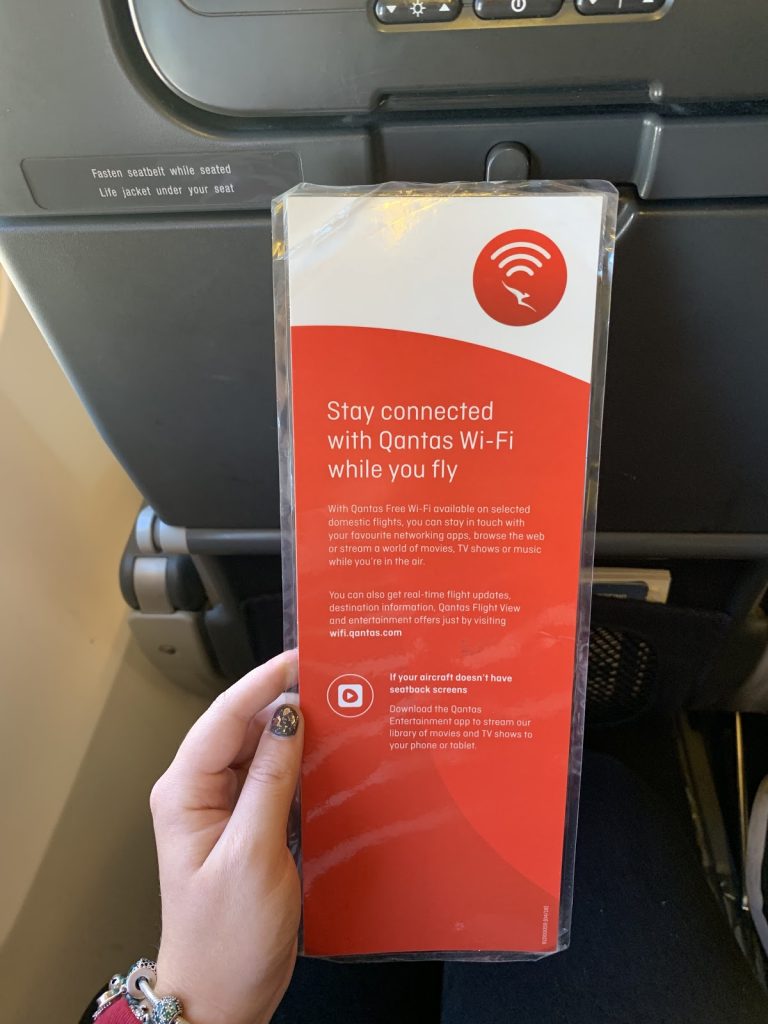 To connect your device with WiFi, you need to remain in flight mode, select the Qantas Free WiFi network, and go to wifi.qantas.com in your browser. You can then enter your details, agree with the terms and conditions, and you're ready to go!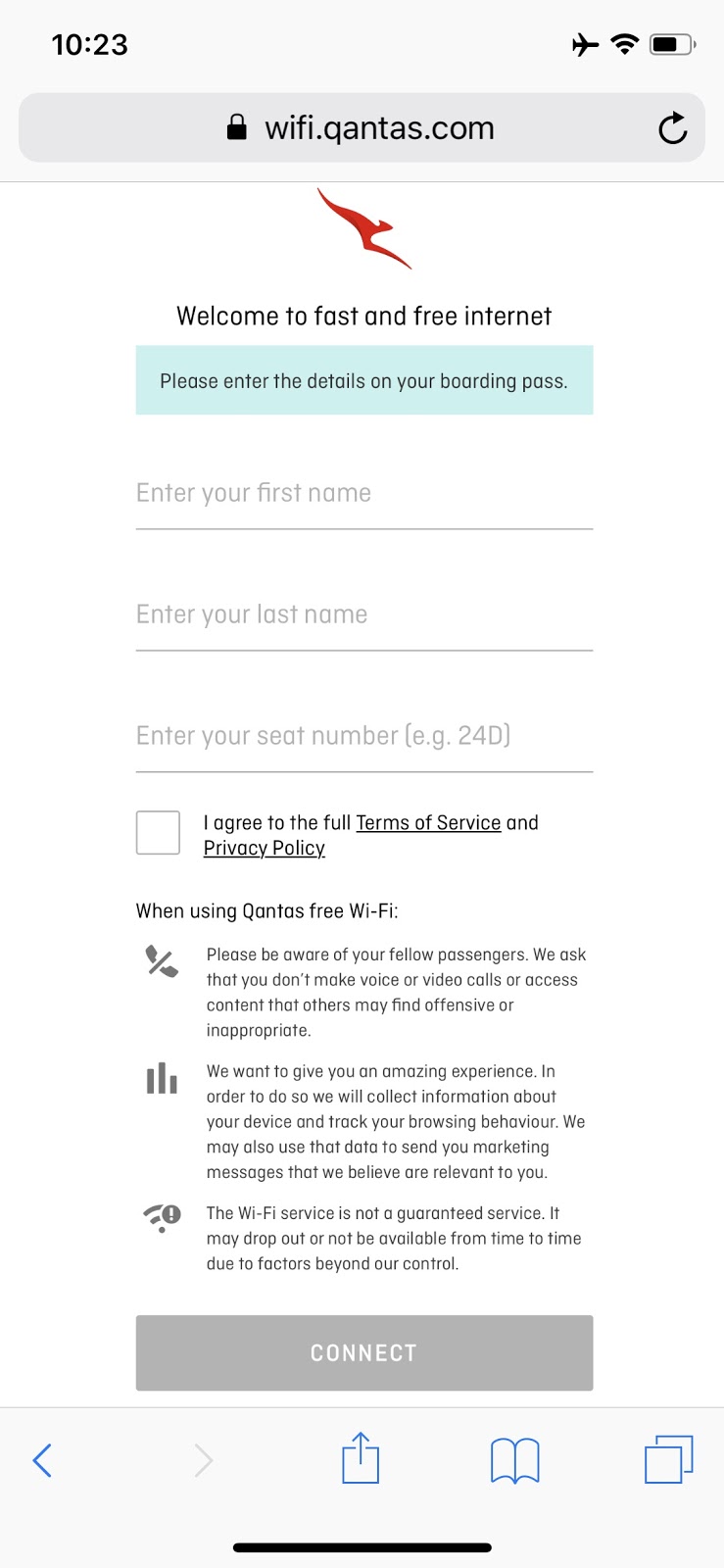 Once connected, you can browse the web, check your emails, keep an eye on flight updates or stream entertainment.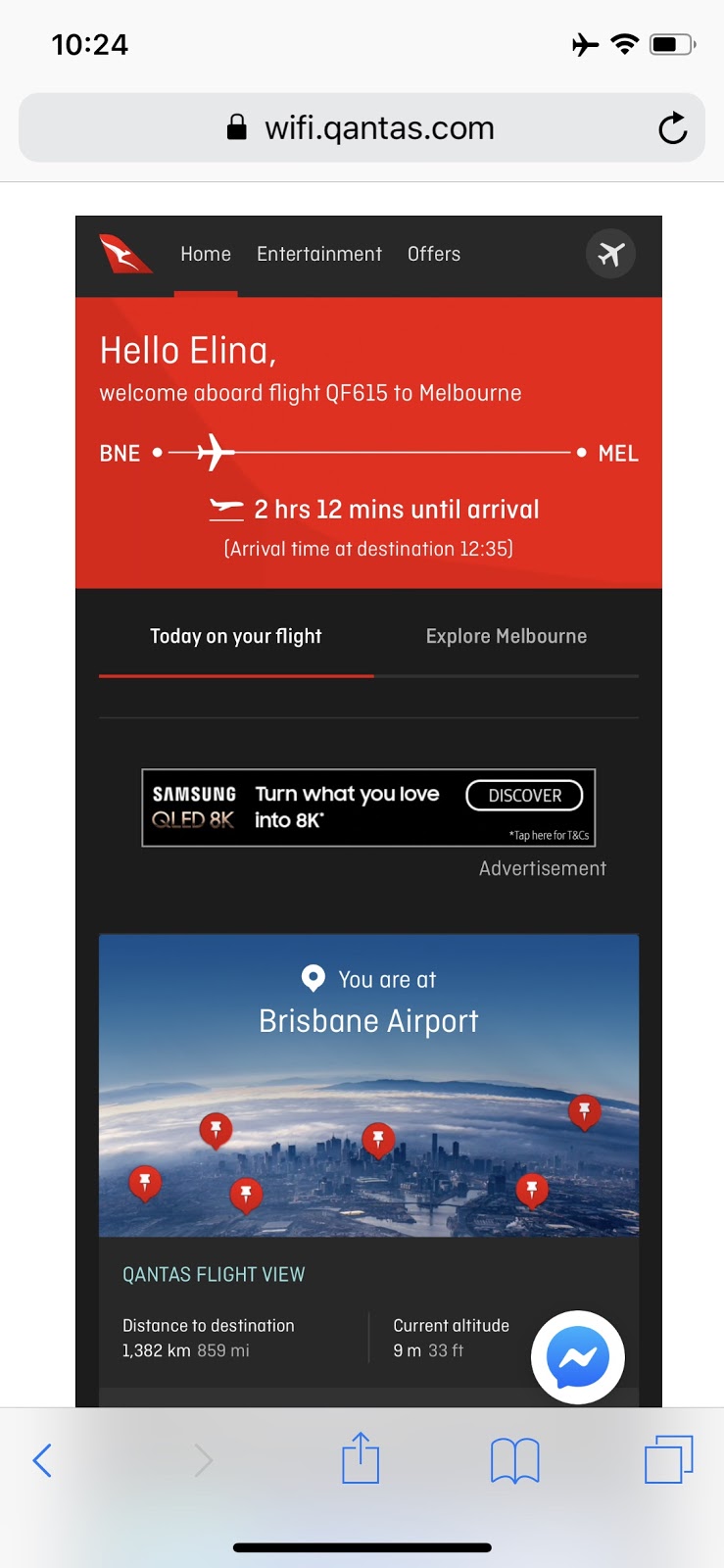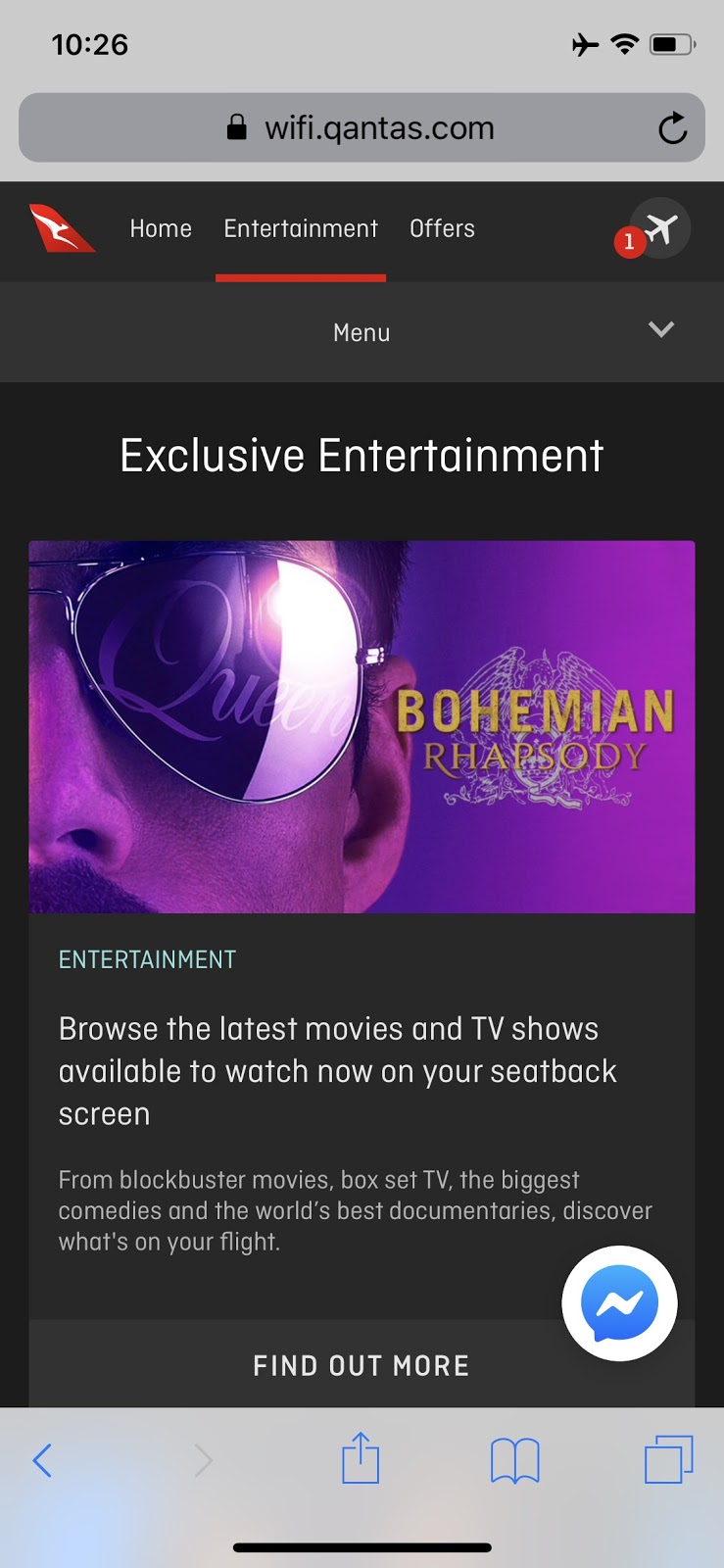 The on-board WiFi speed measured at 15/0.4 Mbps download/upload.
For those who are not too keen on the on-screen entertainment options, and are instead looking for some light reading, the Qantas magazine might keep you entertained for a short-duration flight.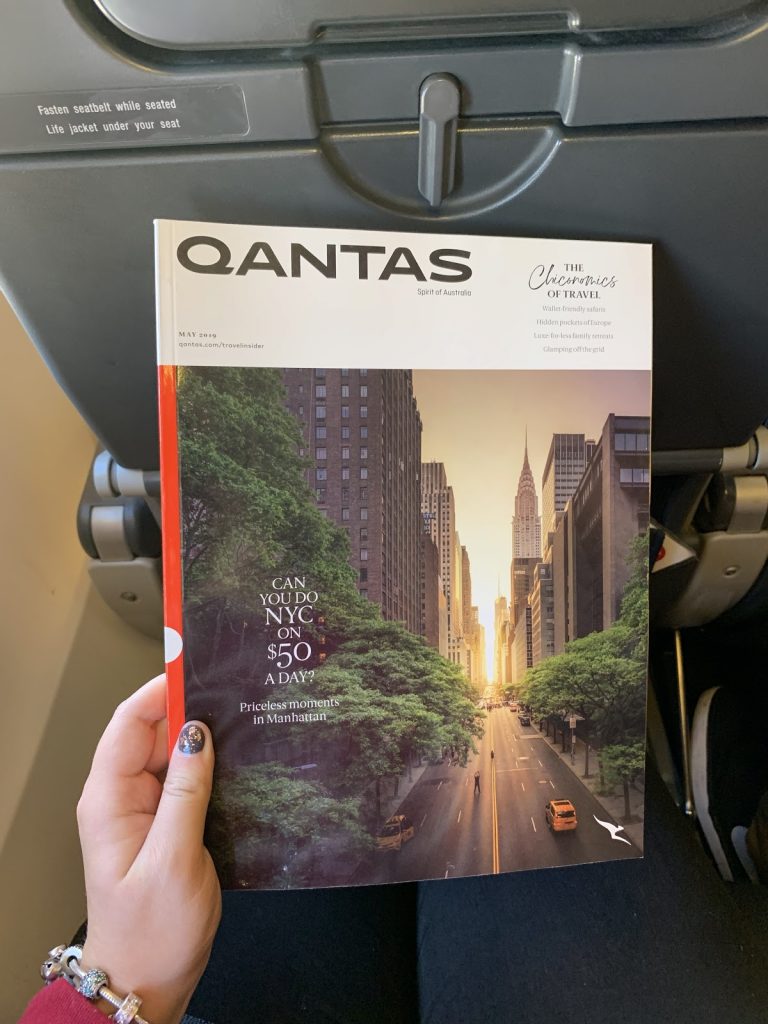 Amenities
There are three lavatories on the Boeing 737, one at the front of the plane for Business Class passengers only, and two at the back of the plane for Economy Class travellers.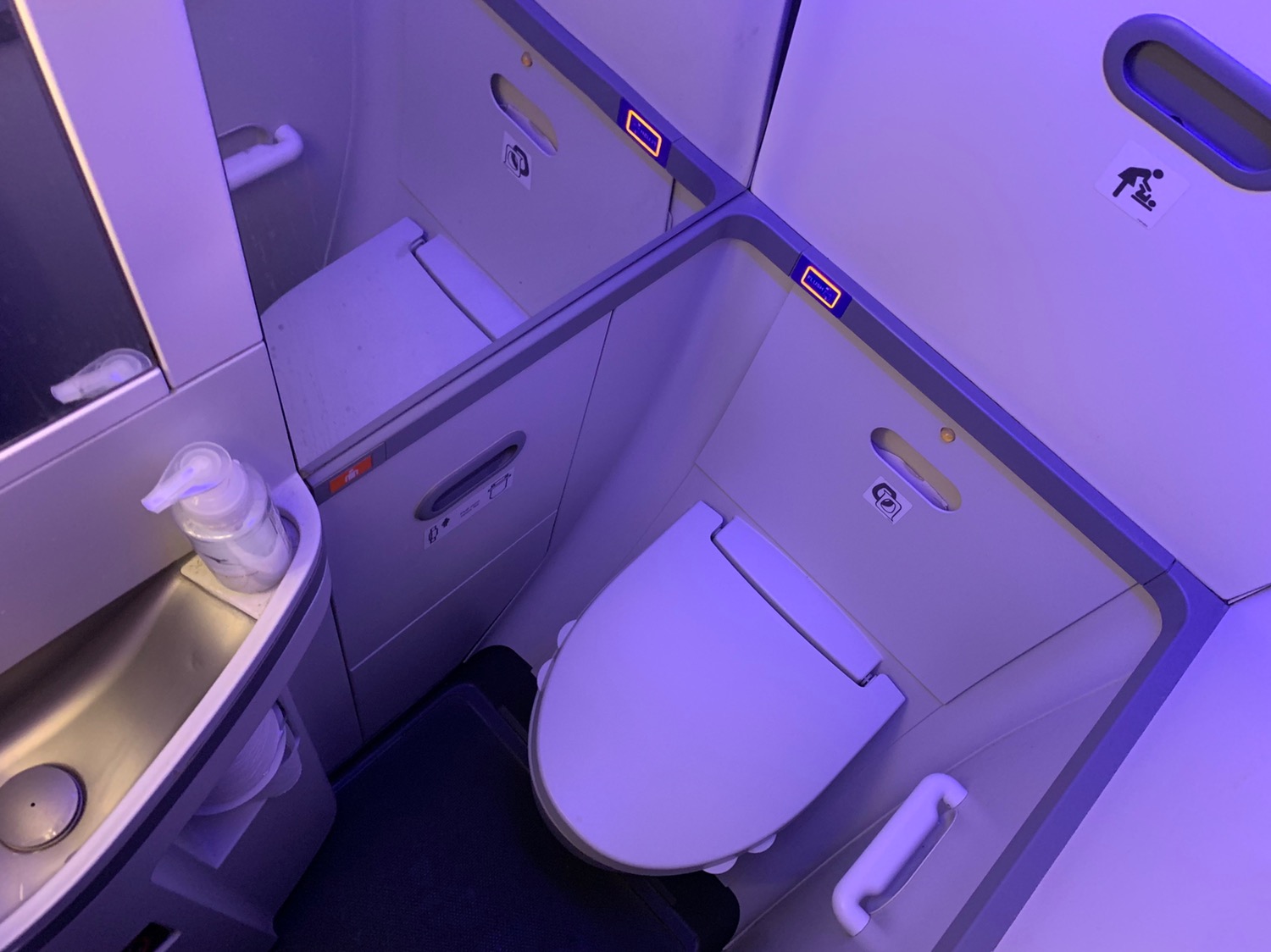 How to redeem points for this flight
Although it is generally recommended to save your frequent flyer points for Business or First upgrades, especially on long-haul international flights, this flight can be booked with Qantas Points if you choose to do so. You can do that by booking a Classic Flight Reward seat if available, paying only by points, or paying with a combination of points and cash.
The least beneficial option out of the three is booking a flight using only points. This is because the points value varies based on the cost of the ticket. If the cash value of the ticket increases, so does the amount of points needed to book the flight.
If I was to book this two-and-a-half-hour domestic flight with points only, it would have cost me a whopping 32,400 points. Note that this is for a standard Economy seat only, so there is technically no value to be received for this amount of points.
It should be noted though, that paying for a flight with points only would earn you the same amount of Qantas Points and Status Credits than it would when paying fully in cash.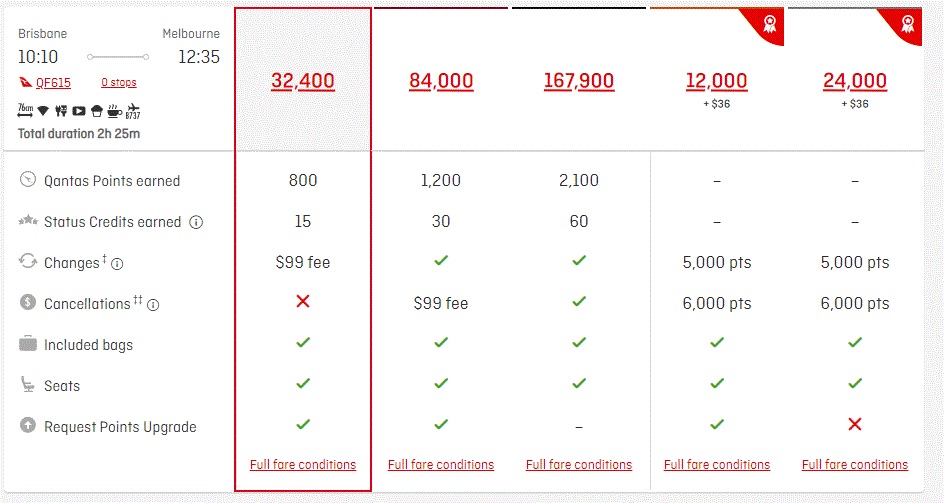 Another way to redeem your Qantas Points is booking a Classic Flight Rewards seat. However, do keep in mind that Classic Flight Rewards seats are subject to availability, and may not be offered on all flights.
Classic Flight Rewards have the potential to deliver more value for your points, as the number of points needed does not change depending on the monetary value of the ticket changing. Instead, it is calculated based on the distance and travel class.
You can use Qantas' points calculator for Classic Flight Rewards by entering your intended travel class and destination; regardless of the time of the actual booking, the cost of the points will remain the same.
Booking an Economy Classic Rewards seat would have cost me 12,000 points + $36 in taxes. Compared to the initial cash fare price of $216 the value just isn't there.
It should also be noted that booking a flight with Classic Flight Rewards does not earn you any Qantas Points or Status Credits.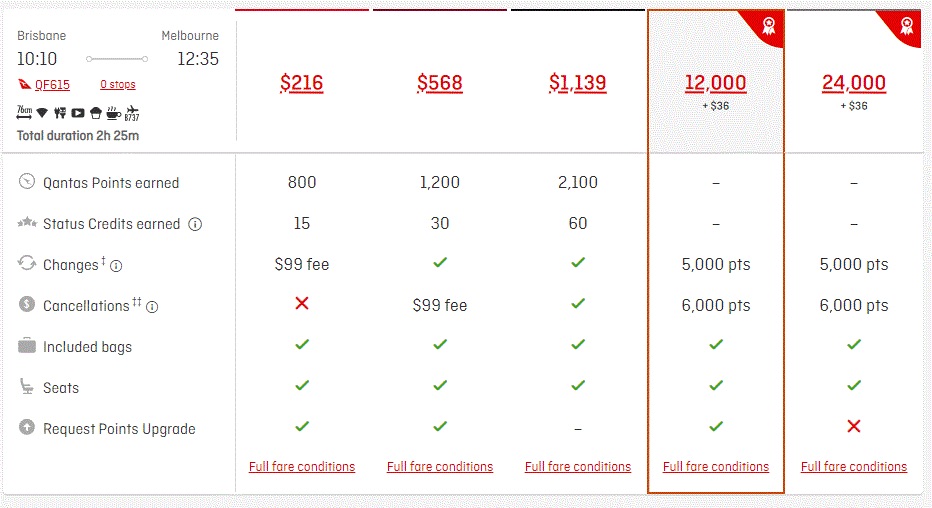 If you are a little short on cash, and have some points to spare, paying for your flight with points and cash can also be an option.
After selecting your preferred Qantas flight, the booking system gives you an option to 'Use Points Plus Pay' for payment (you have to be logged into your Qantas Frequent Flyer account to do this). From there, you can change the cash and points ratio as you wish. Please do keep in mind that the system does set a limit of minimum points to be used for the flight.
When booking this flight with points and cash, the minimum points that I would have had to spend was 5,000, in addition to $185 in cash. With the initial fare of $216, this is not a great value for your points. Combining points and cash to book your flight does, however, earn you Qantas points and status credits just like it would when paying only in cash.

Lounge access
Qantas has a pretty substantial Lounge Precinct at the Brisbane domestic airport, where eligible passengers and frequent flyers have access to before their flights.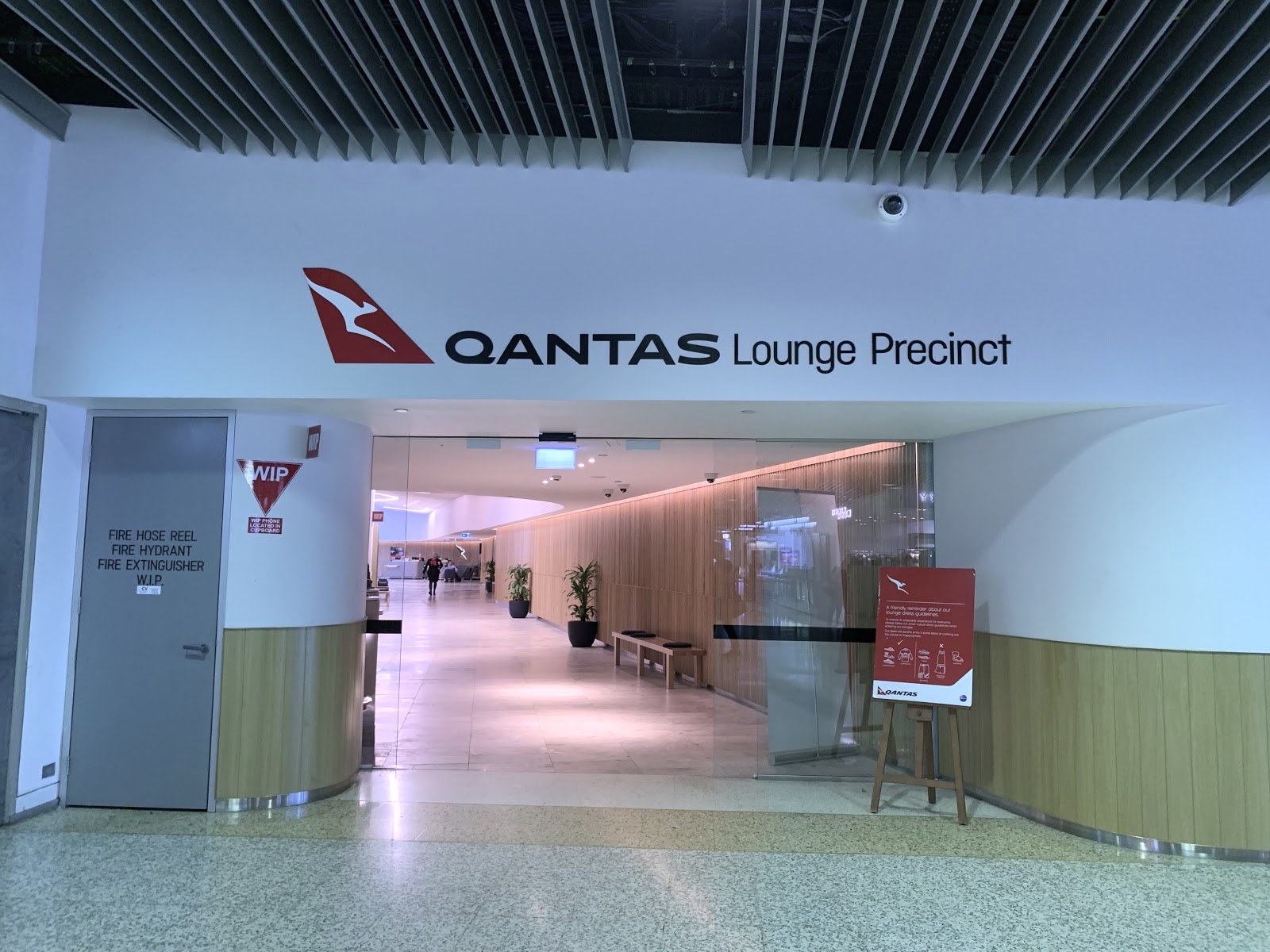 The precinct consists of the Brisbane Qantas Club Lounge, the Brisbane Domestic Business Lounge, and the Chairman's Lounge.
Whilst the Club Lounge can be accessed by passengers who are members of the Qantas Club, or hold a Qantas Gold status or higher, the Business Lounge is only for travellers in Business Class, or at a Platinum level or higher.
I've been to both, the Qantas Club Lounge, as well as the Business Lounge, and in my opinion, both offer a private space with multiple food and beverage options, barista-made coffee and plenty of seating and charging ports. One side of the Business Lounge overlooks the runway and provides great views of the planes landing and taking off.
Related reviews
Summing up: Why choose this flight?
Being the workhorse of Qantas, the Boeing 737 certainly does a decent job of providing relatively comfortable travel across Australia, as well as between some international destinations.
Depending on what you prioritise on a flight, whether it is comfort, legroom, entertainment or catering, it all comes down to preference.
Qantas does offer a wide range of entertainment options; in addition, most of their Boeing 737-800 fleet are equipped with on-board WiFi. If you are on a short-haul flight, time is bound to go by faster when you can browse the Internet, catch up with one of your favourite TV-shows, or get lost in one of the premiering movies.
However, if you are a tall person looking for ultimate comfort and decent legroom, the Economy seats on Qantas' Boeing 737 come a little short (literally). The small pitch size is bound to make every passenger slightly above average height feel cramped and uncomfortable. Although the seats themselves are reasonably comfortable, in terms of legroom, it is just not enough.
Qantas' domestic Economy flight on a Boeing 737 would definitely not be my go-to redemption for my frequent flyer points. Upgrading to Business depends on the duration of the flight, as well as how many points you have to spare. If you can afford it, and are looking for extra space and comfort, upgrading to Business on Qantas' 737 might not be a bad idea, especially if the flight is longer than three hours.
What's great
Inflight entertainment with a broad selection of movies, TV shows and documentaries
Inflight WiFi
Complimentary food and drink
Friendly and proficient staff
Fairly comfortable seats
Seat selection included in the ticket price
Ability to earn and redeem Qantas Points and Status Credits
What's not great
Small pitch size
Slightly cramped Economy cabin
Inconsistency across fleet in terms of inflight entertainment systems and WiFi
Limited selection of extra legroom seats