Love it or hate it, if you hop on any Qantas domestic flight in Australia today, you'll most likely end up on a Boeing 737. You could generously describe the experience back in the Economy cabin as 'cosy'. But despite the fact we all want roomier jets, these nimble single-aisle Boeing 737s are the right fit for darting around Australia.
Because of the excellent economics the Boeing 737 offers for shorter flights, single-aisle jets are here to stay. And for us, that means the Economy Class experience isn't likely to change in any meaningful way.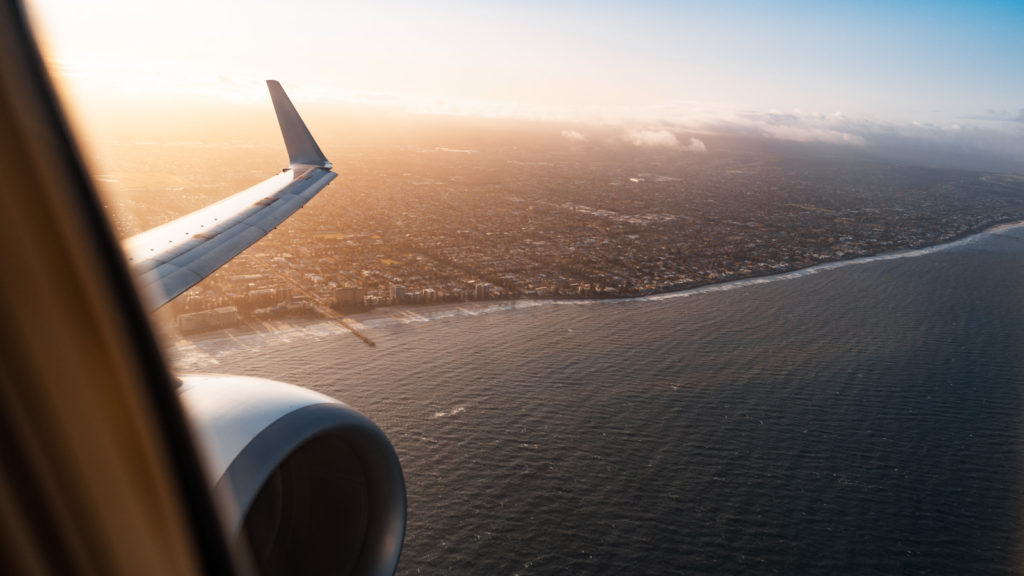 Although you can certainly use Qantas Points to book domestic Economy flights, we don't always think it's the best option if you're able to wait. It might be better to save up your points balances for upgrades, or longer reward flights booked in Business Class outright.
Having said that, there might be times where you have plenty of points and don't mind using some to save some cash. Or maybe the cash fare is high and you're lucky enough to use Qantas Points to nab a reward seat instead.
No matter how you fly, this overview will offer you an insight into what to expect from a domestic Economy trip on a Qantas Boeing 737-800.
---
New to Qantas Frequent Flyer? Read our starter guides
---
Qantas Boeing 737 Economy cabin and seats
Do you know how many Boeing 737s Qantas has? A whopping 75, which makes up just about 60% of the Red Roo's entire fleet. We often refer to the Boeing 737 as the workhorse of Qantas' fleet, as the jet services most of the airline's routes across Australia and over to New Zealand, the Pacific Islands, and as far north as Denpasar, Bali.
Truthfully, you'll find the seat configuration on a narrow-body 737 jetliner somewhat cramped. The aircraft accommodates a total of 12 Business seats and 162 Economy seats.


The Economy seats are all arranged in a 3-3 configuration and come with a seat pitch of 76.2 cm (30″) and width of 43.7 cm (17.2″). These are fairly standard measurements, compared to other airlines Boeing 737s.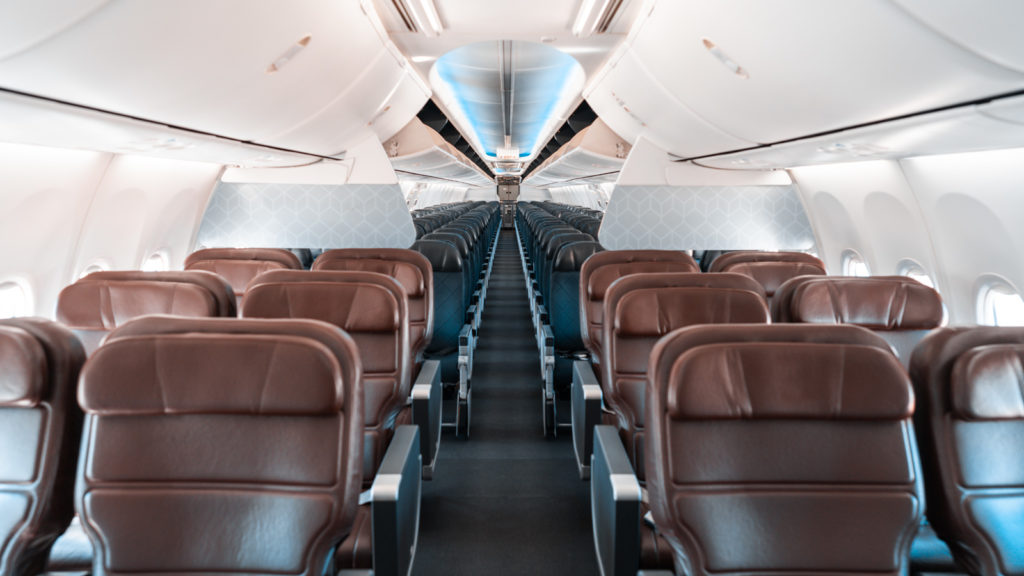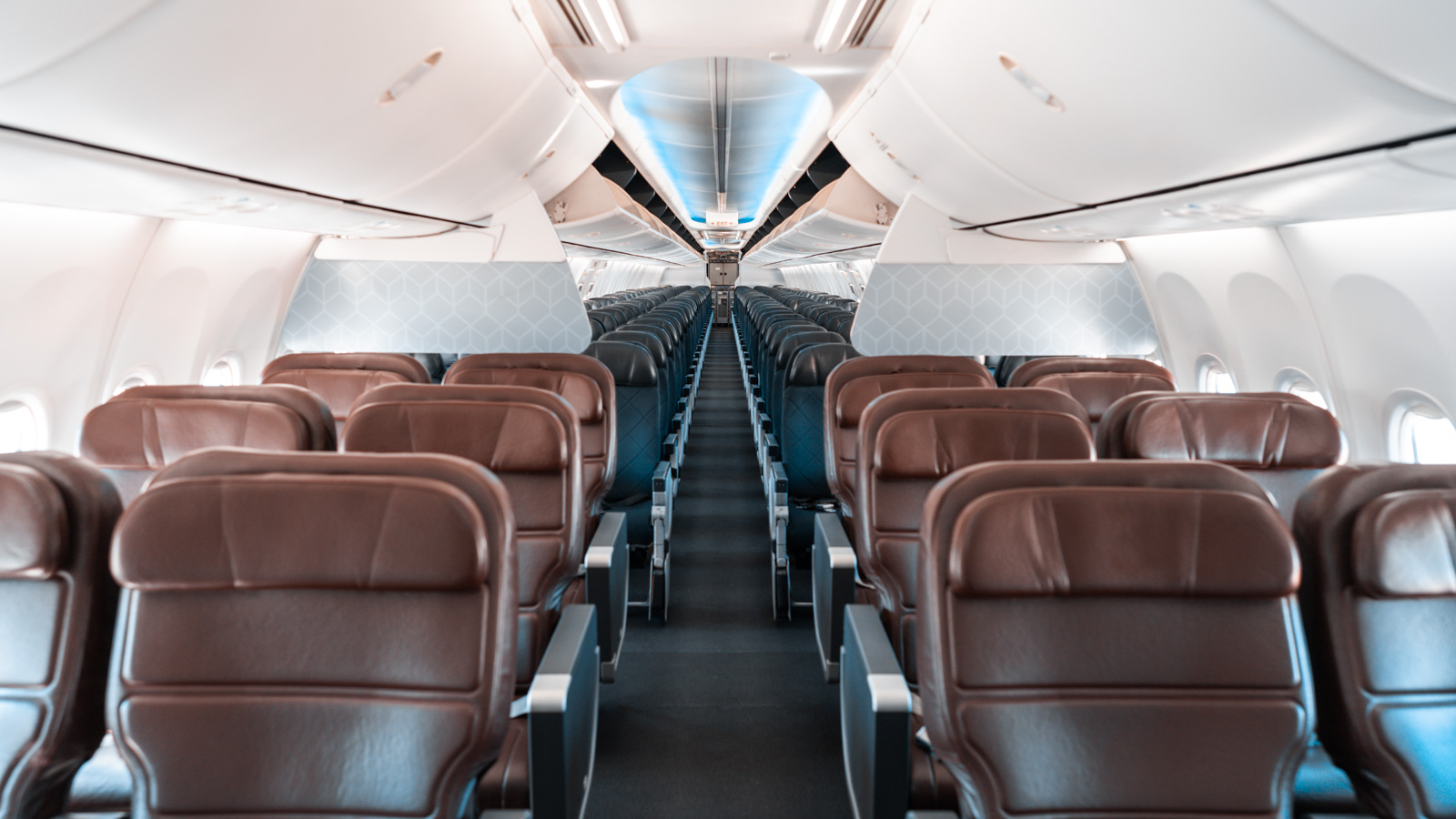 The standard Economy seat doesn't provide much legroom. The 17.2-inch seat width and the 3-3 configuration makes it an even tighter fit, especially if you have someone of bigger build sitting next to you. Below is a picture of someone who is 183 cm tall, and only just fitting into the seat.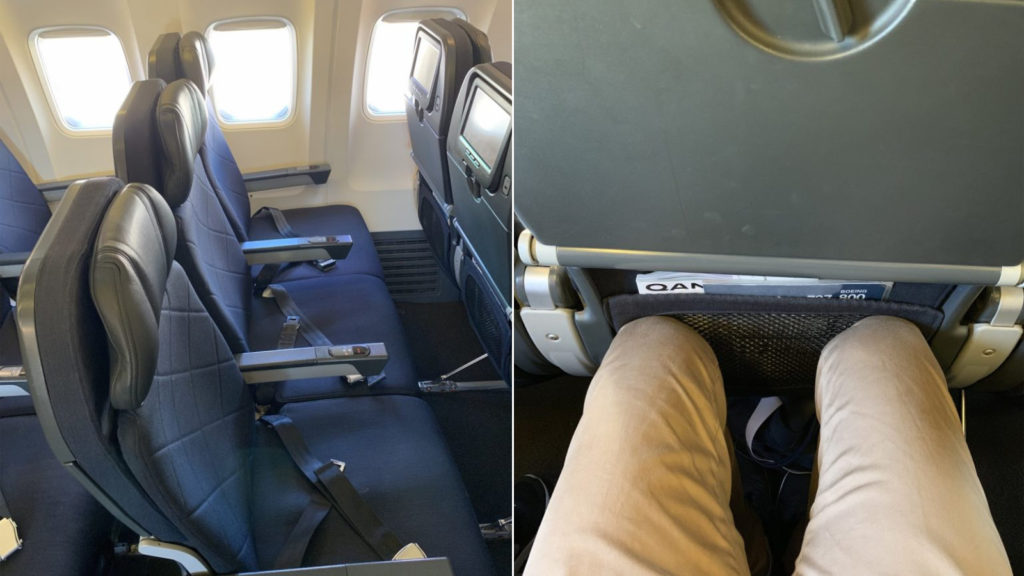 Although you can store a bag underneath the seat in front of you, I would advise using the overhead lockers to make the most of your legroom.
The limited legroom is not that big of an issue on a short-haul domestic flight. But for international flights, as well as for some longer cross-country domestic flights, it might be a concern. Legroom aside, the seats are fairly comfortable with ergonomic cushioning and a 4-way adjustable leather headrest.
The Economy seats also have a 5-inch recline option, which might make the trip a little more relaxing. On the other hand, you are taking away space from the person behind you. At least for shorter domestic flights, I haven't seen anyone try to recline their seats.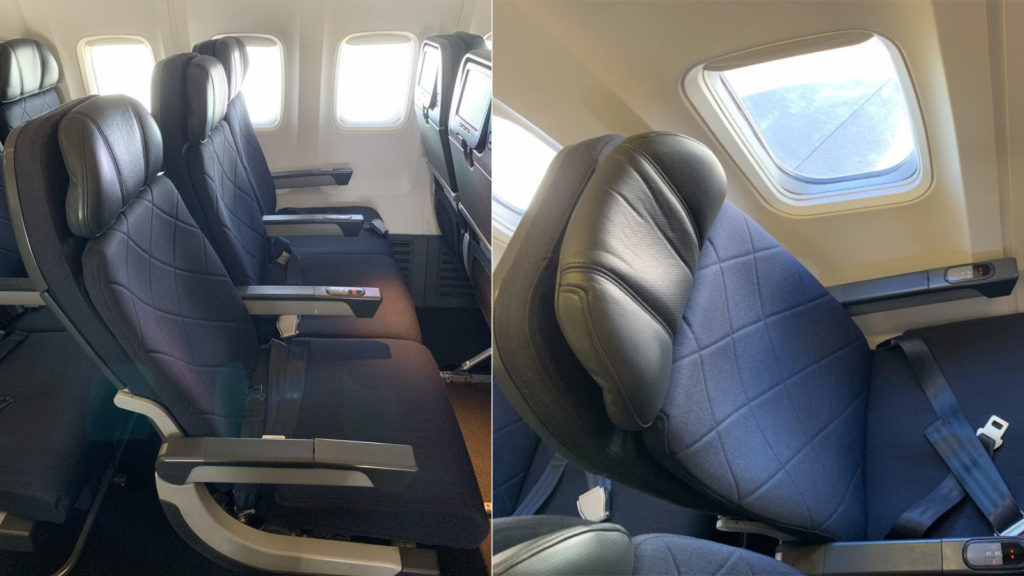 Where should I sit?
As the standard Economy seats come only with a pitch of 30 inches, you might want to be smart about your seat selection. There are a few options across the plane that provide extra legroom and other perks that might make your trip more comfortable. For extra legroom, we recommend:
Row 4 (pictured below)
Row 14
or, Row 13 (though this row can't recline)
You can select your seat for free when making your booking.
Do keep in mind that a lot of the front seats – especially Row 4 – are often blocked off for higher-status frequent flyers.
If still available, most of these seats become visible to all passengers 80 hours before departure. That means you can still change your seat selection prior to the flight, and if you're lucky, potentially score a great seat.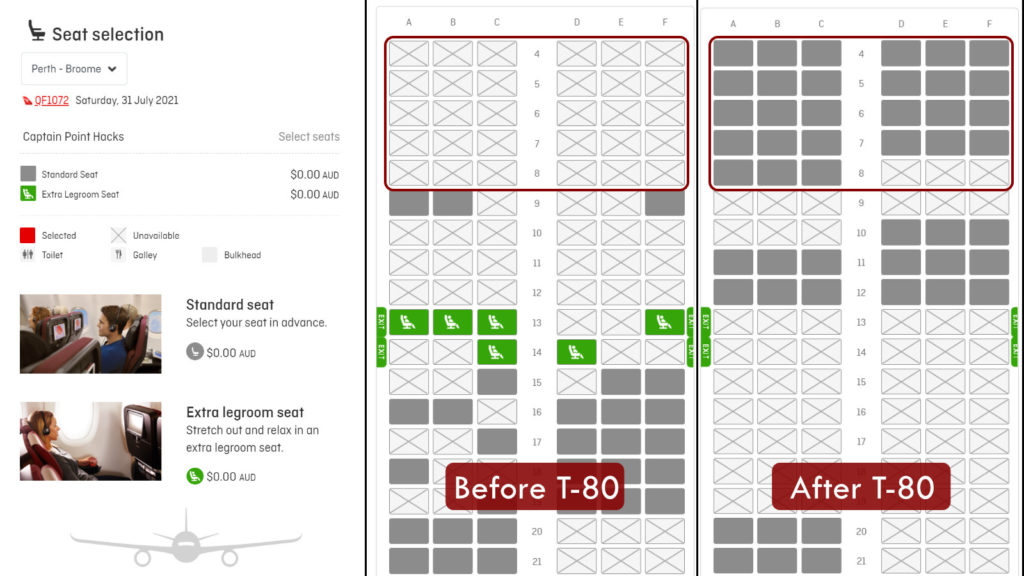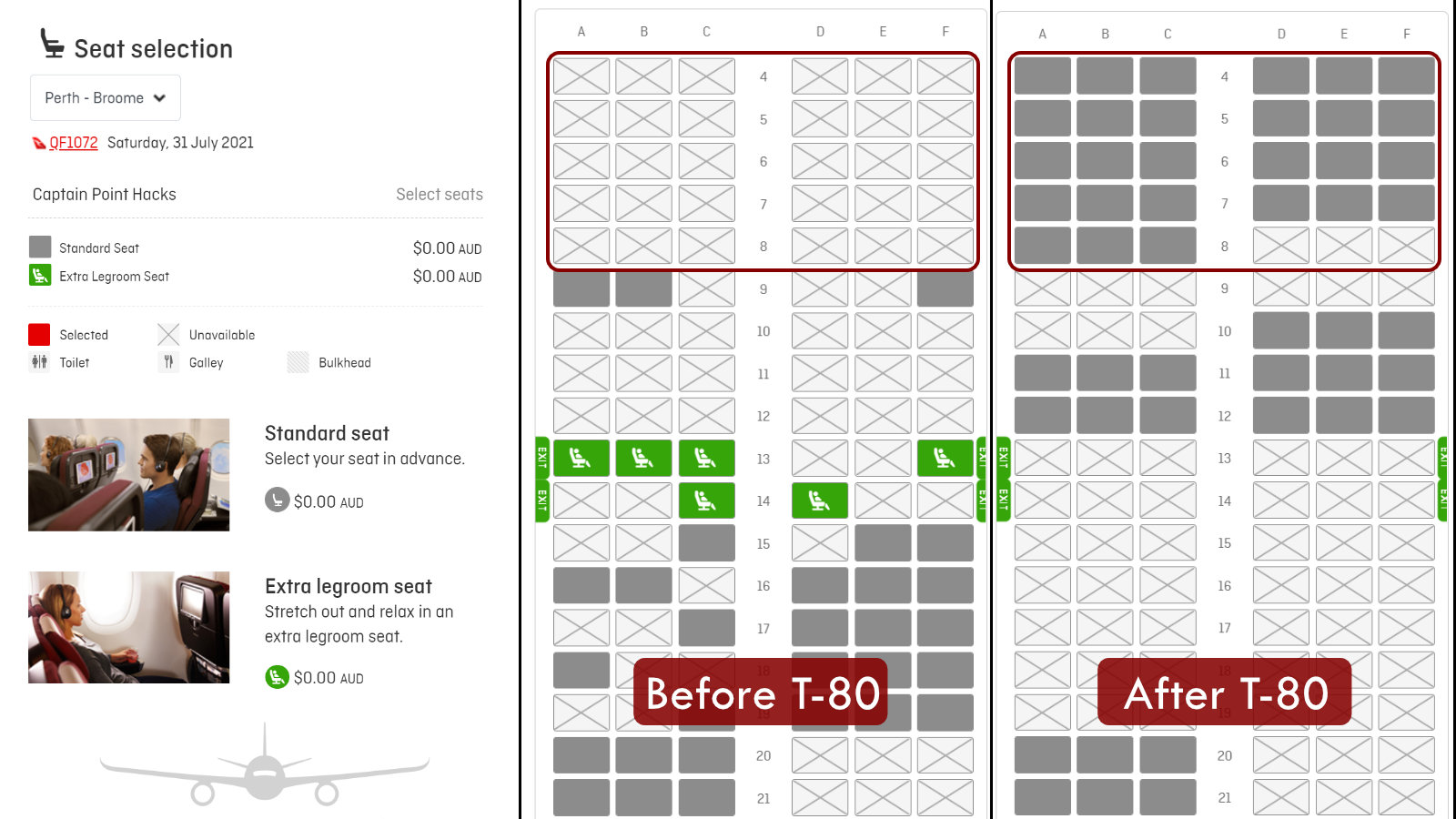 What to watch out for with Rows 4, 13 & 14
Keep in mind that since Rows 4, 13 and 14 are 'non-standard' rows offering extra legroom, there are some restrictions:
Row 4 has the entertainment screens and tray table inside your armrest.
Seats 4B and 4E don't have a storage pocket, since there are only 2 Business seats in front.
In Rows 13 and 14, you can't stow luggage underneath the seat in front.
You must be willing and able to assist in the event of an emergency, in these 2 rows.
In Row 13, you can't recline due to the second exit row behind.
Platinum One and Chairman's Lounge members can select exit row seats at all times, without any extra costs. Other passengers can select one of these seats by purchasing them for an additional fee, which varies depending on the route. On domestic flights, this normally costs up to $45 per person.
Other tips for sitting in Economy
Although most people choose to sit towards the front of the plane for an easy exit, there are certain advantages when it comes to choosing a seat at the rear of the aircraft.
When a flight doesn't sell out, you will find many vacant seats often located at the back of the plane. Whether you're a solo traveller or a couple, you are more likely to get a row to yourself – or at least, an empty middle seat.
The Boeing 737 does have 2 rear doors and sometimes (although not very often), passengers can also disembark via the back exit for a speedy getaway.
Finally, the 2 toilets for Economy Class are located at the back of the plane. If you sit at the front, you'll need to navigate through the busy aisles to access the lavatories. This can be quite a challenge, particularly during meal service.
Food & drink in Economy
Inflight catering is included for all Qantas flights, even in Economy. You can usually expect a light hot meal or refreshment, depending on the time of day and flight length.
On shorter journeys, you might be able to choose between a savoury or sweet snack. This could be soy crisps, or a white chocolate and raspberry fudge biscuit, for example.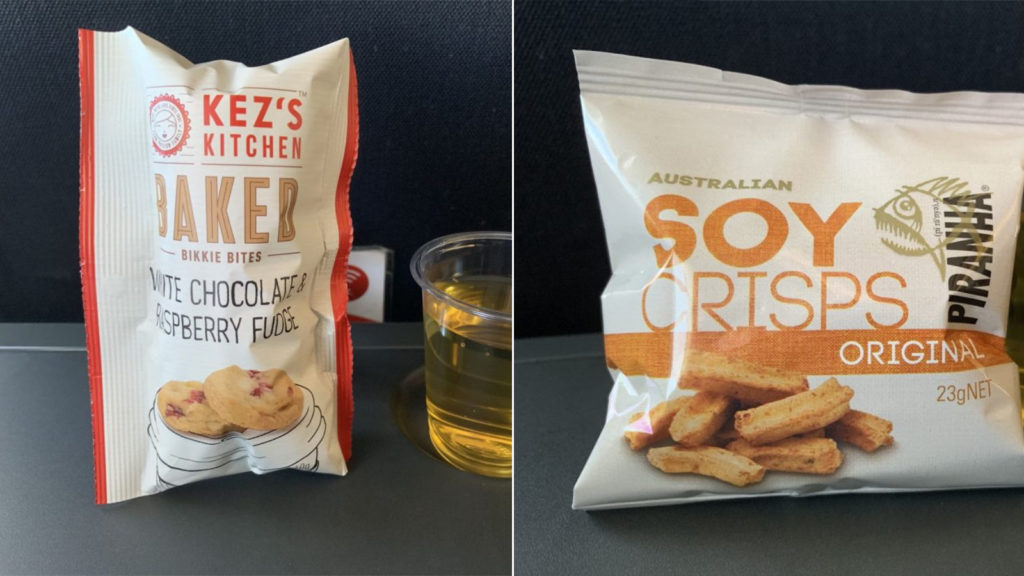 On a longer journey, such as from the east coast to the west, you can expect a hot meal. For context, I could choose between an omelette with feta or a mango yoghurt snack pack (pictured below) on my recent Adelaide-Perth flight.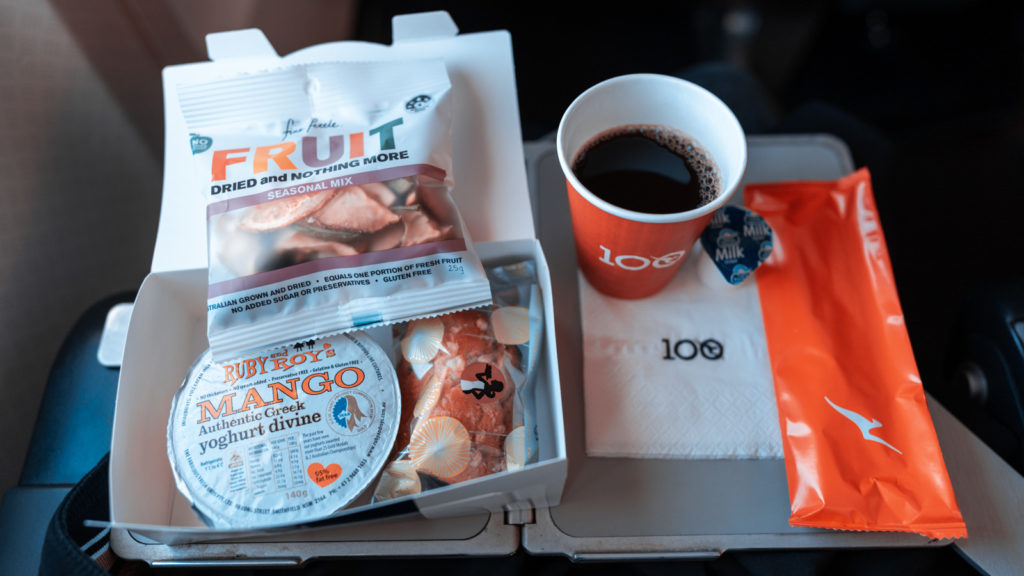 I could also choose from a range of complimentary beverages. These include tea, coffee, water, juice and a selection of soft drinks, which are provided throughout the day. You may also choose complimentary alcoholic drinks during 'happy hour', which is after 4 pm on Monday to Friday. But this can vary. On other flights, you may be able to purchase wine and beer at $6 a bottle.
Inflight entertainment in Economy
Time can fly quickly on Qantas flights, as the Red Roo provides a decent range of inflight entertainment options on its Boeing 737s. Only select aircraft include 9-inch seatback entertainment touchscreens. Other aircraft come with streaming wireless entertainment, where you view content on your own device.
You will find the volume controls for the entertainment systems on top of your armrest, and your headphone plugs on the front of your armrest. If your aircraft has in-seat screens, you should also have USB and AC power outlets available.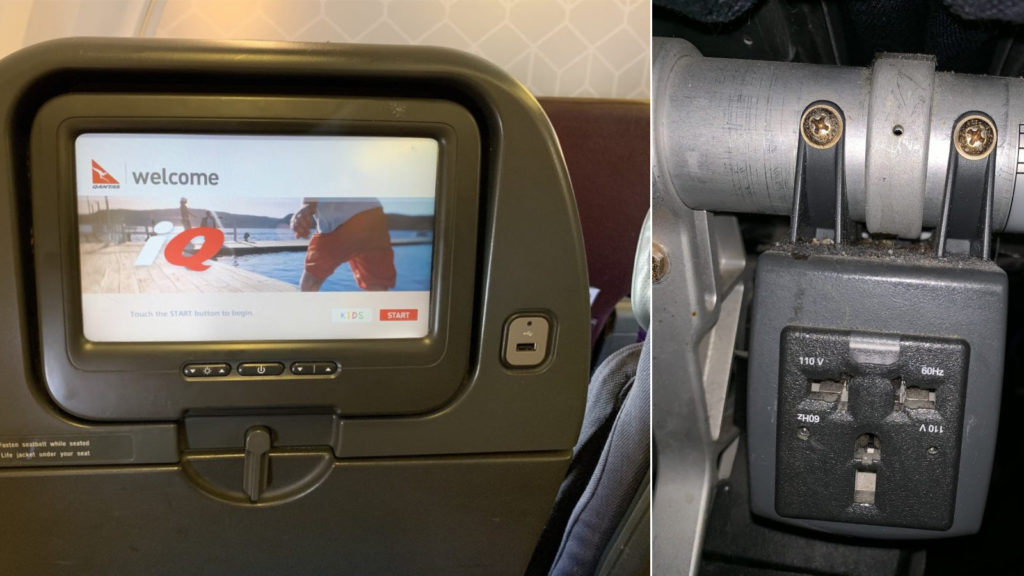 You'll find WiFi equipped on most of Qantas' Boeing 737-800 aircraft. The WiFi provides fast and free connectivity on pretty much all Qantas Boeing 737 flights around Australia.
To connect your device with WiFi, you need to remain in flight mode, select the Qantas Free WiFi network, and go to wifi.qantas.com in your browser. Then enter your details, agree with the terms and conditions, and you're ready to go!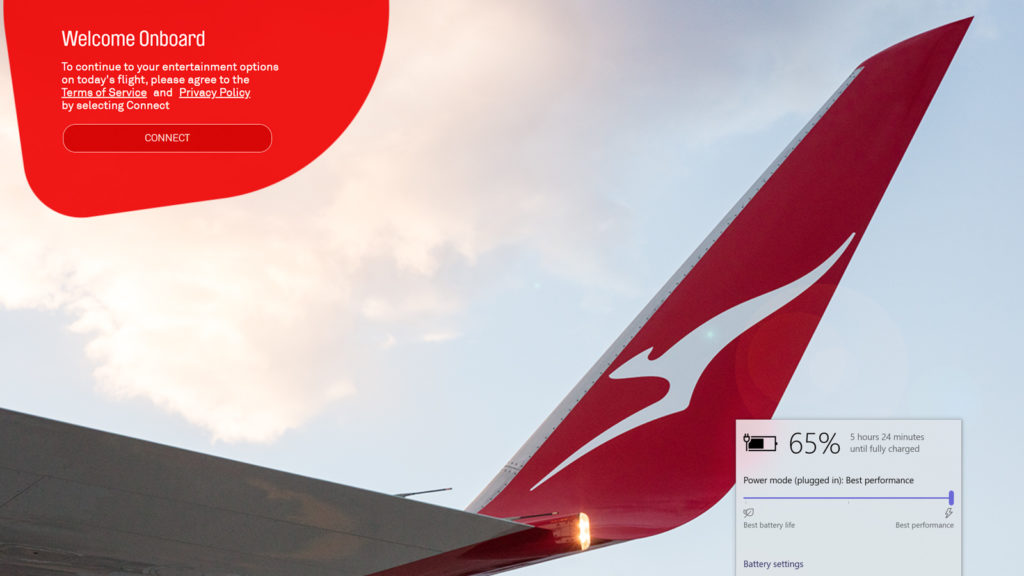 Once connected, you can browse the web, check your emails, keep an eye on flight updates or stream entertainment. We measured the onboard WiFi speed at 15 Mbps for downloads, and 0.4 Mbps for uploads. That's fast enough to stream some video content, though uploading anything may take a while.
We're still waiting for the enjoyable Qantas magazine to return. Qantas removed their magazine from aircraft to minimise contact over shared surfaces.
Qantas Boeing 737 amenities
There are 3 lavatories on the Boeing 737. One is at the front of the plane for Business Class passengers only, with 2 at the rear for everyone else.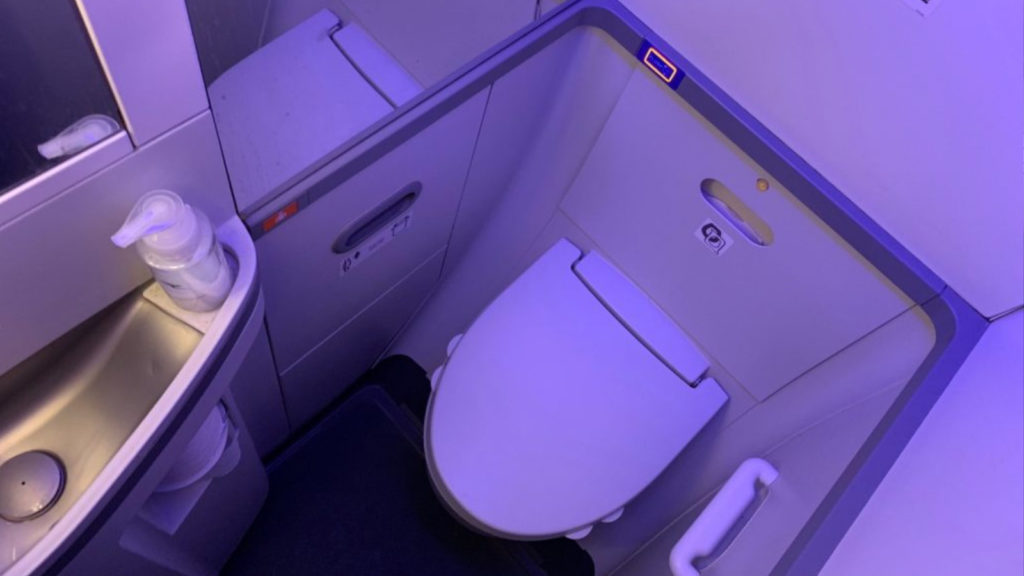 How do I use Qantas Points for Economy flights?
You can book Qantas Boeing 737 Economy flights with your Qantas Points. Alternatively, you can also book through other oneworld partner airline programs. With Qantas Frequent Flyer, you can book a Classic Flight Reward seat if available, or pay a cash fare with a combination of points and cash.
At Point Hacks, we always recommend you choose the reward seats (Classic Flight Reward), and never choose 'Points Plus Pay', with a mixture of cash and points. That's because those latter fares offer very poor value for your points.
Take a look at the example below. Why use up to 34,100 points for a $219 Red e-Deal fare, when you can book an Economy Classic Reward for just 12,000 points + $43? Plus, reward seats are more flexible when it comes to changes and cancellations. (The same applies to Business Class, but on a much grander scale).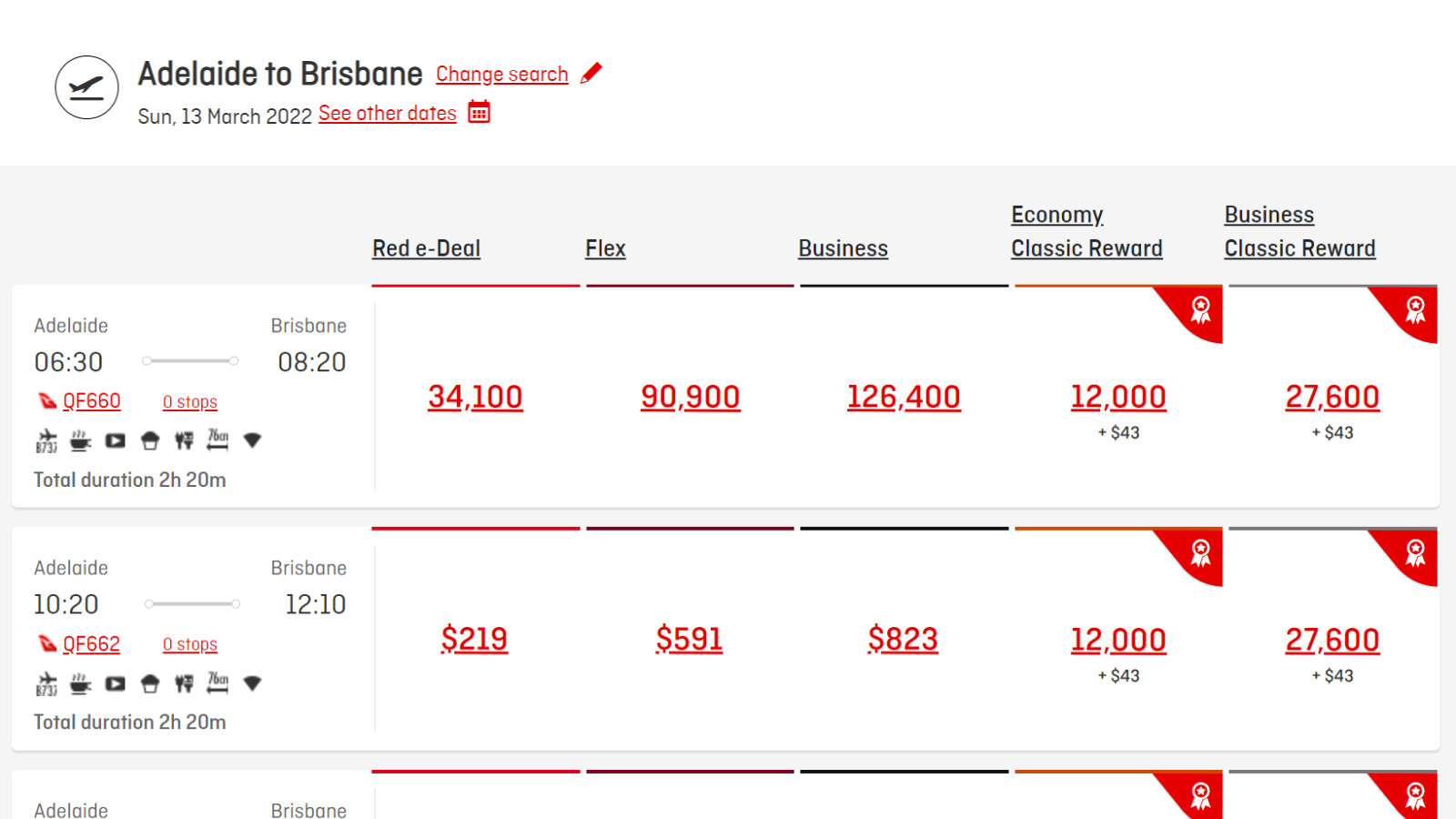 Since Classic Flight Reward seats are subject to availability, you may not always find your preferred flight. However, Platinum Frequent Flyers and higher might be able to request the release of extra reward seats.
Why use Classic Flight Rewards?
Classic Flight Rewards have the potential to deliver more value for your points balance. This is because the number of points needed doesn't change depending on the monetary value of the ticket. Rather, the distance travelled and cabin class determines the cost.
You can use Qantas' points calculator for Classic Flight Rewards by entering your intended travel class and destination. Regardless of the time of the actual booking, the cost of the points will remain the same.
Qantas lounge access on Economy flights
Your Qantas Economy ticket does not automatically qualify you for lounge access. Sorry to be the bearer of bad news! But you can enter Qantas Lounges while flying in Economy, if you have the right membership or pass:
Use a single-entry lounge pass (from credit cards or Silver status)
Hold partner Gold status or higher with certain partners on certain codeshare flights, such as Emirates (QF/EK-coded flights), China Eastern (QF/MU-coded flights) and Air New Zealand (NZ-coded flights only).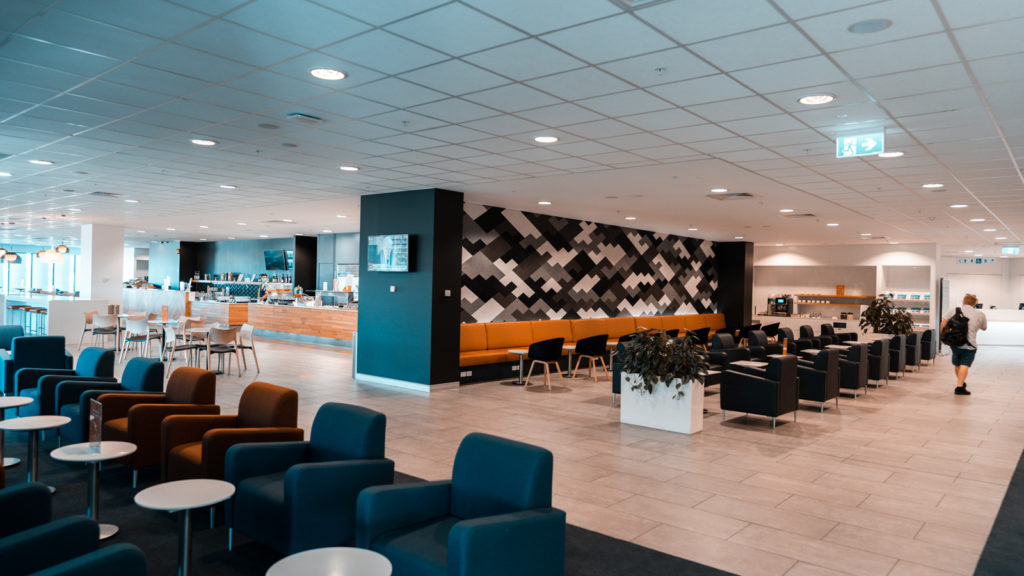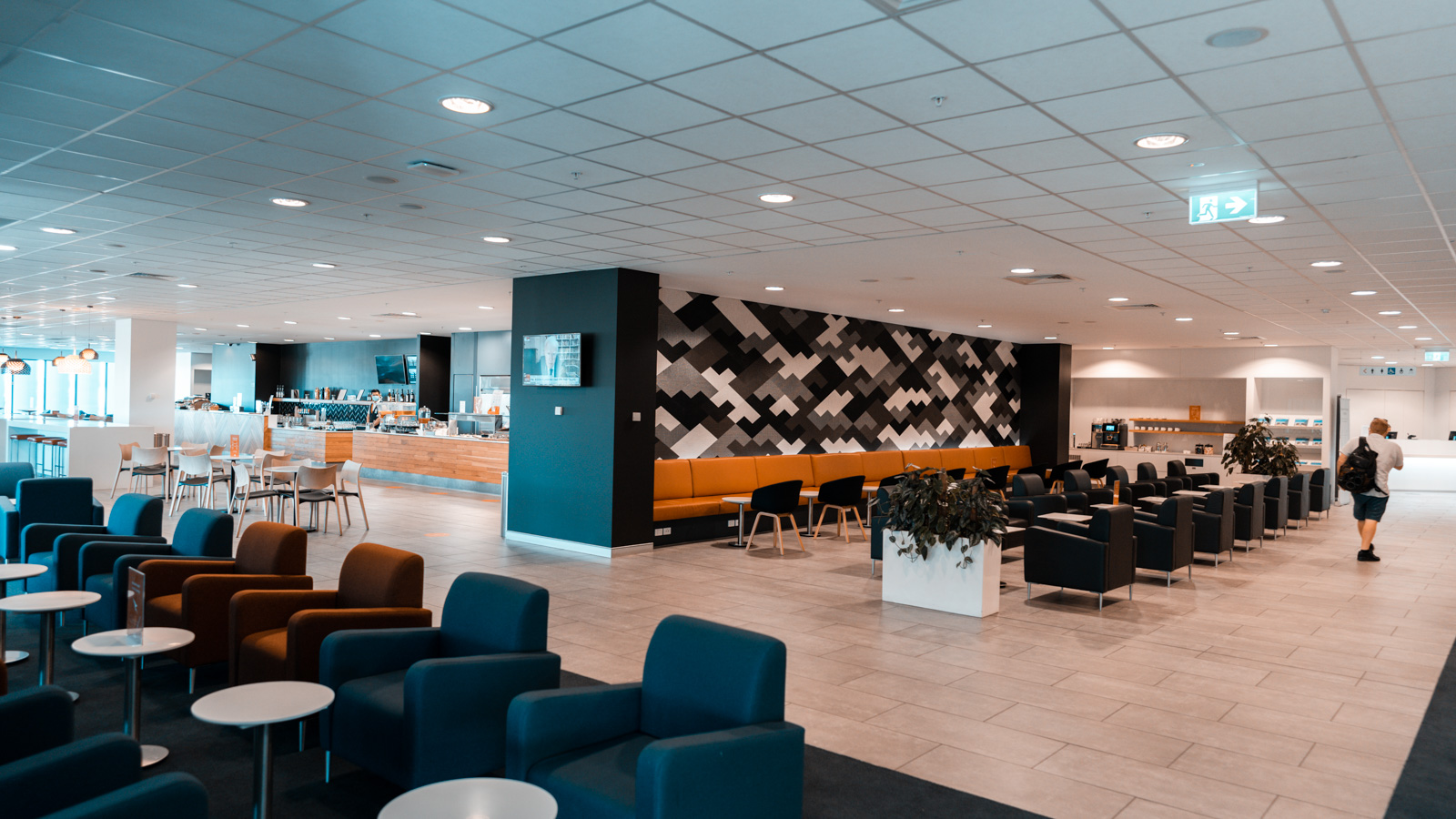 Summing up: Qantas Boeing 737 Economy
Being the workhorse of Qantas, the Boeing 737 certainly does a decent job of providing relatively comfortable travel across Australia, as well as between some international destinations. Remember, Qantas is going to offer a far better experience than Jetstar, for example.
Legroom and a squeezy cabin are likely to be the biggest pinch points, so to speak. I would definitely suggest you purchase an extra legroom seat if this is a concern, or wait and try to snag Row 4.
Qantas' domestic Economy Boeing 737 will get you there in relative comfort, but it's not really an aspirational experience you should save up your Qantas Points for. Unless, of course, you simply have plenty of points to spare, or really need to travel on a budget for whatever reason.
What's great
Inflight entertainment with a broad selection of movies, TV shows and documentaries
Inflight WiFi
Complimentary food and drink
Friendly and proficient staff
Seat selection included in the ticket price
Ability to earn and redeem Qantas Points and Status Credits
What's not great
Small seat pitch size
Slightly cramped Economy cabin
Inconsistency across the fleet in terms of inflight entertainment systems
Limited choice of extra legroom seats available
Also read: What it's like flying Qantas Business Class in Australia →
Original images and text by Elina Kalavus. New images and updates by Brandon Loo.
What's it like flying Qantas' 737 Economy?
was last modified:
September 27th, 2021
by