Qantas' route from Sydney to New York's John F. Kennedy airport is a fuss-free way to fly from Australia to The Big Apple, with just one stop in Auckland. The QF3 flight number (which was previously allocated to Qantas' Sydney to Honolulu route) takes you all the way to New York from Sydney on the Boeing 787 Dreamliner.
Here's what to expect on Qantas flight QF3 and how you can book it using Qantas Points.
QF3 flight time
From 14 June 2023, QF3 will operate three days a week: Wednesday, Friday and Sunday. It'll eventually increase to four flights a day. The flight departs Sydney at 10:05 am, arriving in Auckland around four hours later at 3:15 pm local time. Passengers disembark the plane during a swift two-hour transit in Auckland. QF3 then continues onward to JFK, departing at 5:00 pm and arriving around 16 hours later at 5:15 pm. Including flights and transit, the entire journey takes around 22 hours.
QF3 aircraft type and seating
QF3 is serviced by the Boeing 787 Dreamliner, with three cabin classes available.
Business Class on QF3
QF3's Business Class cabin offers 42 seats in a 1-2-1 layout. The seats offer a generous 46-inch pitch, with a width of 23-24 inches (up to 61 cm). And as a welcome luxury during the 22-hour trip, the Business Class seats convert into a comfortable 80″ (203 cm) flatbed.
Here's what to expect in Business Class onboard Qantas' Boeing 787 Dreamliner.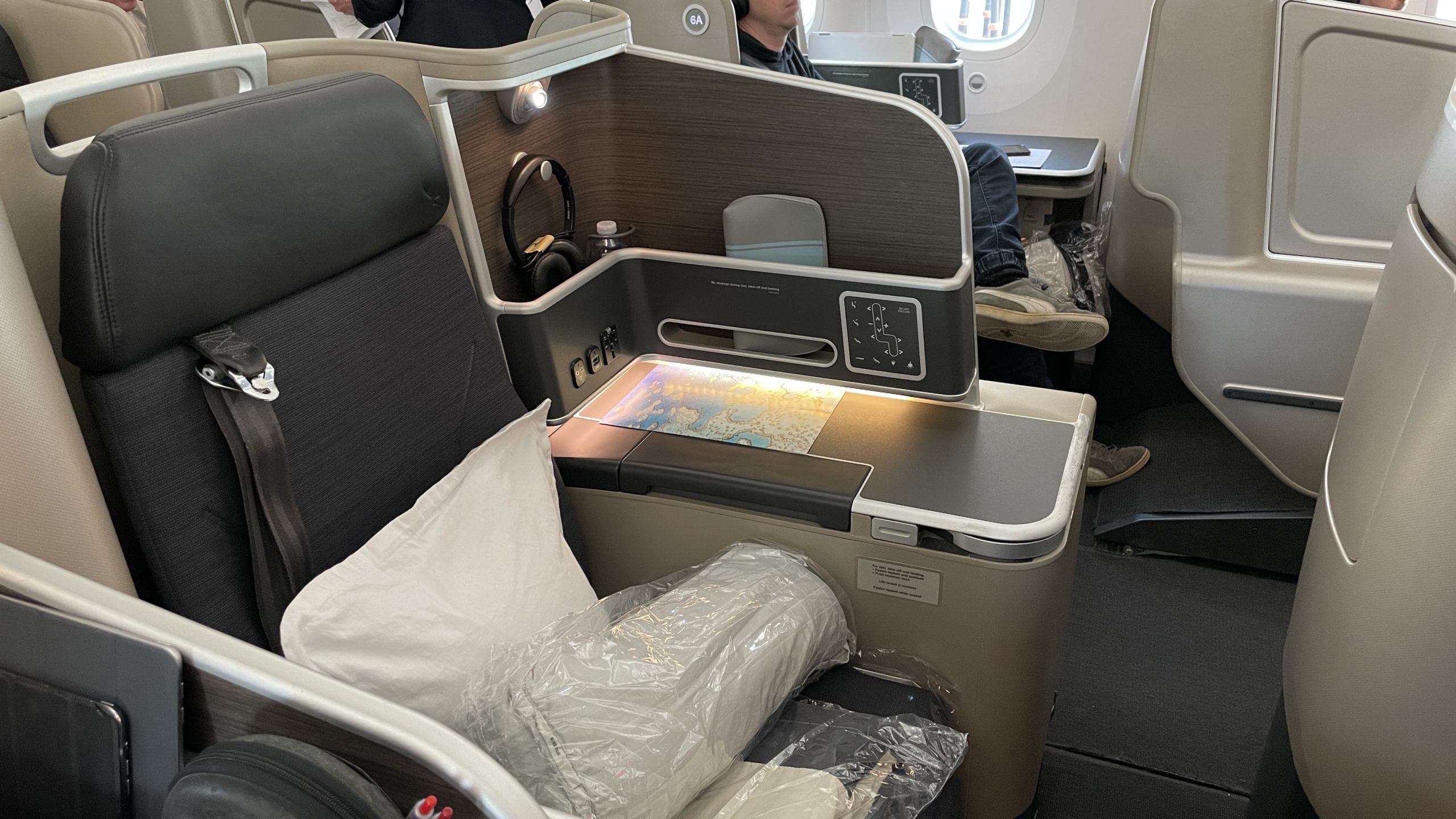 Premium Economy on QF3
The Premium Economy cabin onboard QF3 offers 28 recliner seats with a 2-3-2 configuration. Seats have a 38-inch (96.5 cm) pitch and are 20.5 inches (52 cm) wide, making the long trek from Sydney to New York far more bearable. For even more legroom, opt for row 20.
Here's what to expect in Premium Economy on the Qantas Boeing 787.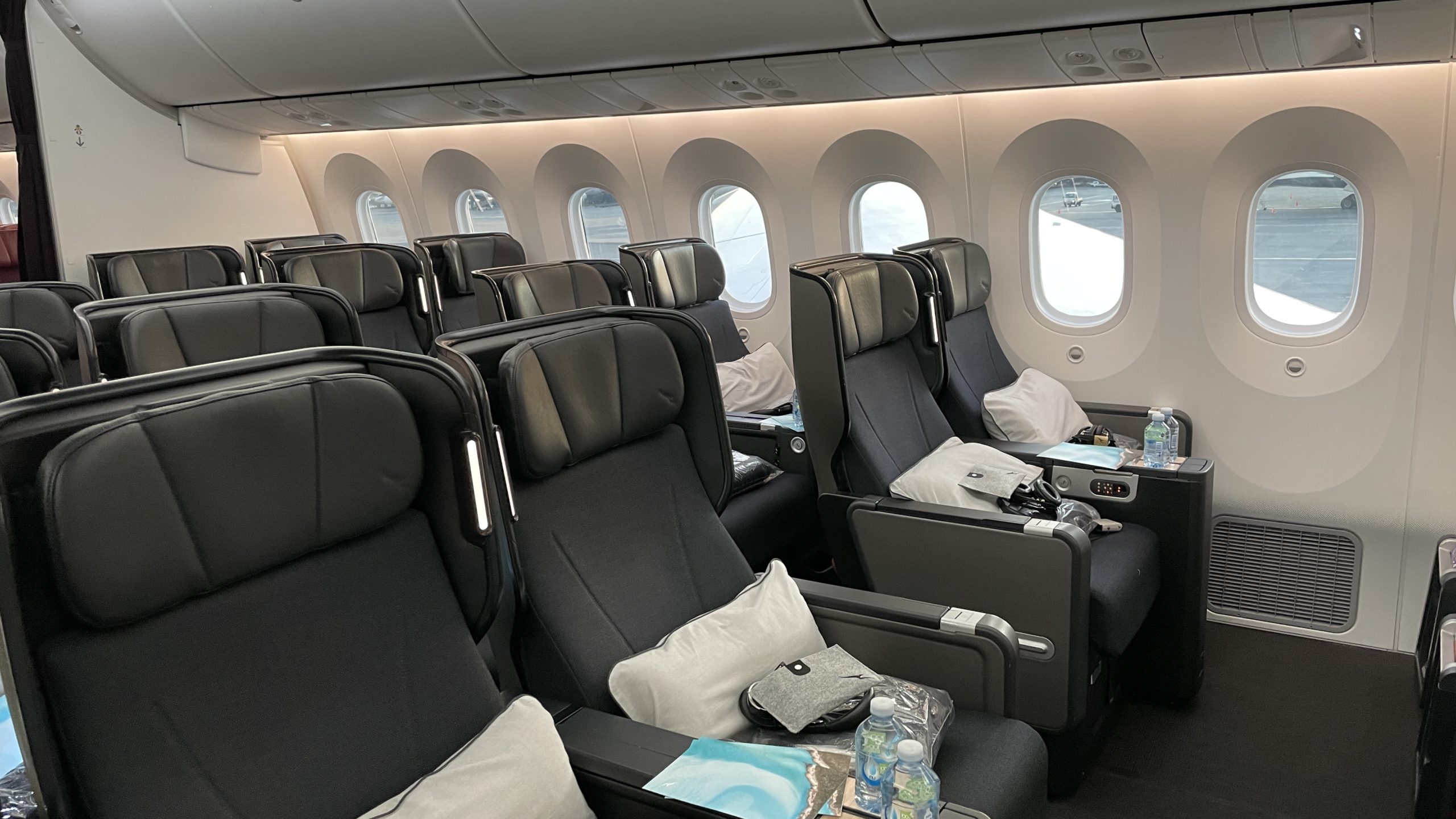 Economy Class on QF3
QF3's Economy Class cabin is fitted with 166 standard seats, arranged in a 3-3-3 layout. Each seat has a 32-inch (81 cm) pitch and 17.2-inch (43 cm) width. If you're looking for more legroom, opt for seats in rows 40 or 46.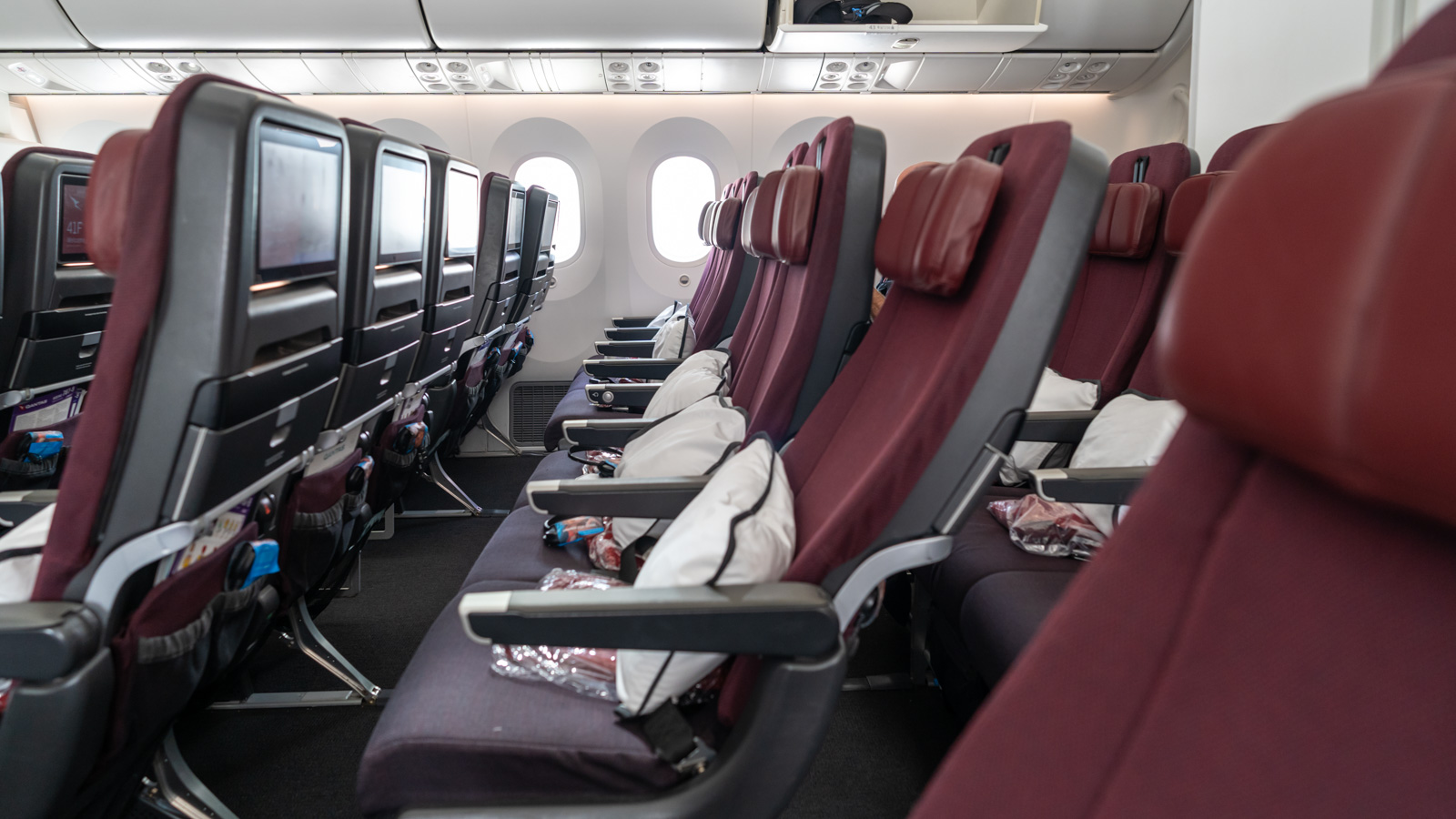 Also read: Qantas Boeing 787 International Economy (Sydney – Perth)
Lounge access when flying QF3
Sydney
A mid-morning departure from Sydney warrants breakfast in the Qantas International Business Lounge. Eligibility extends to Business Class passengers, Qantas Gold frequent flyers plus other oneworld Sapphire members. Qantas Club members and passengers with a complimentary digital lounge pass can also unwind here before their flight.
The Qantas International First Lounge in Sydney is a luxe option for passengers who hold Qantas Platinum or Platinum One status, as well as oneworld Emerald members.
Auckland
QF3's stop in Auckland clocks in at just under two hours, with passengers required to disembark the plane. Thankfully, eligible passengers can enjoy a quick refresh at one of two Qantas lounges in Auckland. There's a Qantas International Business Lounge as well as an International First Lounge. The latter isn't quite on-par with its Sydney counterpart, but still stocks Champagne and can be quieter than the main Business Lounge. Entry requirements mirror those in Sydney.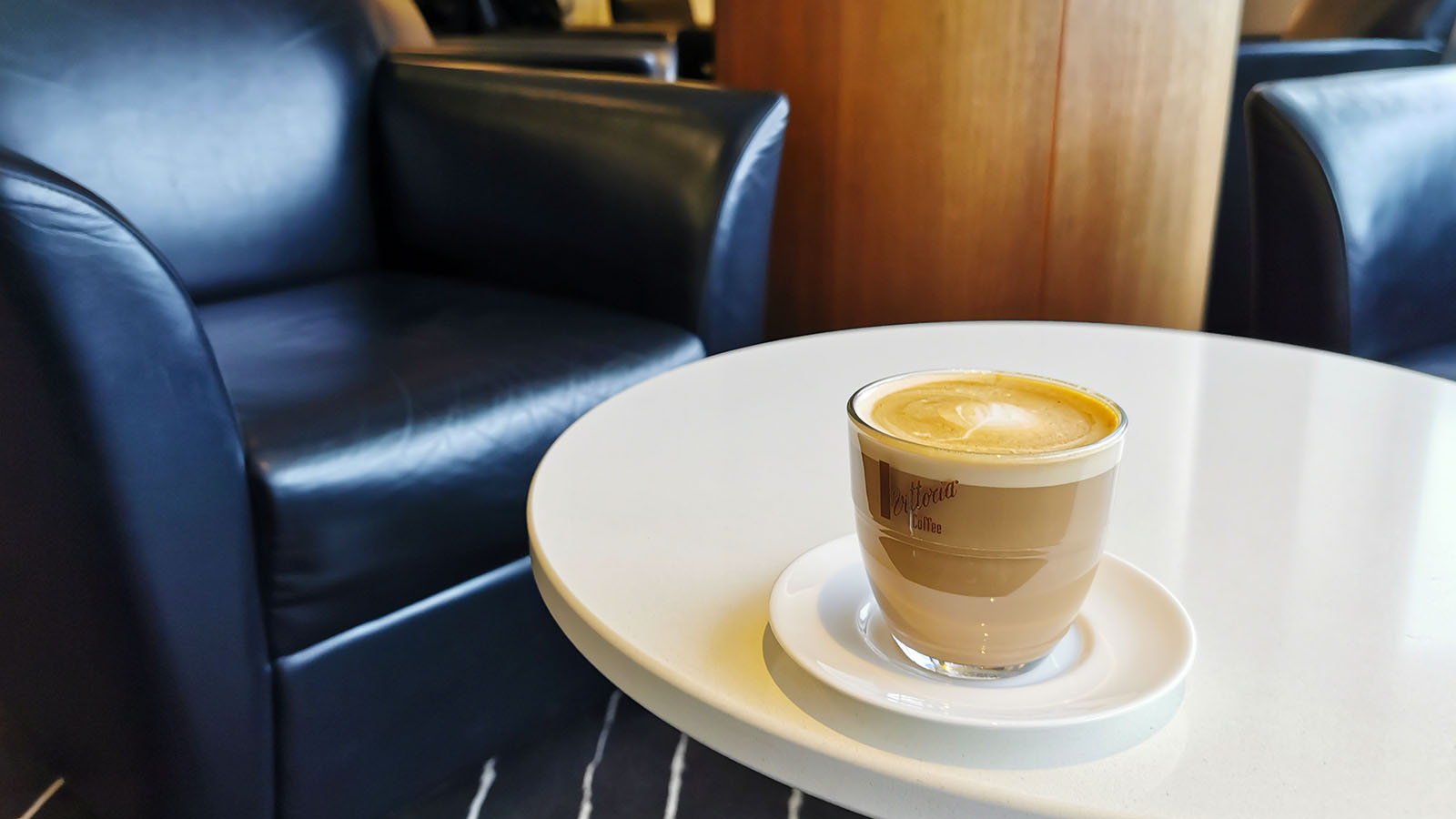 Booking QF3 using points
QF3 can be booked using Qantas Points. Here's how many points you'll need to fly from Sydney to New York via Auckland when there are reward seats available, as well as the cost in points if booking each leg individually.
| | | | |
| --- | --- | --- | --- |
| | Economy | Premium Economy | Business |
| Sydney to New York (JFK) via Auckland | 55,200 | 108,400 | 144,600 |
| Sydney to Auckland only | 18,000 | 31,000 | 41,500 |
| Auckland to New York (JFK) only | 51,200 | 94,900 | 126,500 |
Qantas Points required are per person, one way. Taxes, fees and charges are also payable and vary by route.
Remember, if you're seeing a very high number of points (in the hundreds of thousands or even millions), it means there are no reward seats available. Instead, you're seeing a Points + Pay seat which is a cash fare converted into points.
Rewards seats on QF3 (and the reverse QF4) are quite hard to come by. Qantas tends to release some seats in all classes periodically in batches. Sign-up for our seat alerts newsletter to be notified when more seats are dropped.
Qantas Platinum and Platinum One frequent flyers can also call Qantas to request reward seats to be released.
Alternative flights
Here are some other Qantas-operated routes to consider between Australia and the US:
Qantas flight QF7 – Sydney to Dallas Fort Worth
Qantas flight QF11 – Sydney to Los Angeles
Qantas also operates a direct Brisbane to Auckland flight – QF119. A 9:10 am departure from Brisbane and 2:20 pm arrival into Auckland would allow a same-day connection to Qantas' Auckland to New York flight.
Additionally, Qantas' Melbourne to Auckland route, QF151, would also allow for a same-day connection to New York. QF151 departs Melbourne at 9:20 am and arrives in Auckland at 2:55 pm.
Also read: How to fly to the US with Qantas Points
Featured image: Colton Duke, Unsplash
FAQs
What aircraft is QF3?
QF3 is serviced by a Boeing 787 Dreamliner which offers three cabin classes.
Do you get off the plane in Auckland on QF3?
Yes, passengers disembark the plane during the one-hour and 45-minute transit in Auckland.
What time does QF3 depart Sydney?
QF3 departs Sydney three times a week at 10:05 am.
Does QF3 have First Class?
No, Qantas flight QF3 offers Business Class, Premium Economy and Economy Class.
How often does QF3 fly?
QF3 operates three times a week on Wednesday, Friday and Saturday.
Is QF3 non-stop?
No, Qantas flight QF3 from Sydney to New York is a direct flight rather than non-stop. While non-stop applies to flights that don't stop, QF3 has a short stop in Auckland. The route has the same flight number the entire way from Sydney to New York, and is completed on the same aircraft.

Can you fly direct to New York from Australia?
Presently, no airlines offer non-stop services from Australia to New York. However, Qantas operates a direct route from Sydney to New York's JFK airport, with a short stop in Auckland.
Qantas Flight QF3 (Sydney – Auckland – New York JFK)
was last modified:
October 11th, 2023
by