Travelling to Europe often involves uncomfortable flights and weary stopovers. But it doesn't have to be this way. Qantas is on a mission to pioneer non-stop flights between Australia and Europe. While that's not yet possible from the eastern states, it's certainly doable from Perth.
With frequent flyer points, you can bid farewell to Perth and say buongiorno to Rome, just 16 hours later. Best of all, you'll only part with 108,400 Qantas Points and $435 in fees and taxes for a one-way journey to Europe in flat-bed luxury, which retails from $4,810 for a cash ticket.
Adding a stop from over east is a cinch as well. You won't pay more than 144,600 Qantas Points + taxes to enjoy Business Class bliss from your hometown to Perth and onwards to Rome. Make sure to target an Airbus A330 flight – or the connecting QF5 flight from Sydney – to relax in a lie-flat seat all the way!
I recently flew on the inaugural service from Perth to Rome and I have to say – 16 hours in Qantas Business Class is a dream. With Qantas Points, I'm able to get comfortable and actually enjoy the journey as much as the destination. And credit card sign-up bonuses will go a long way to get you there.
Before I know it, I'm on the Frecciarossa high-speed train down to the Amalfi Coast, wondering how I ever travelled to Europe any other way.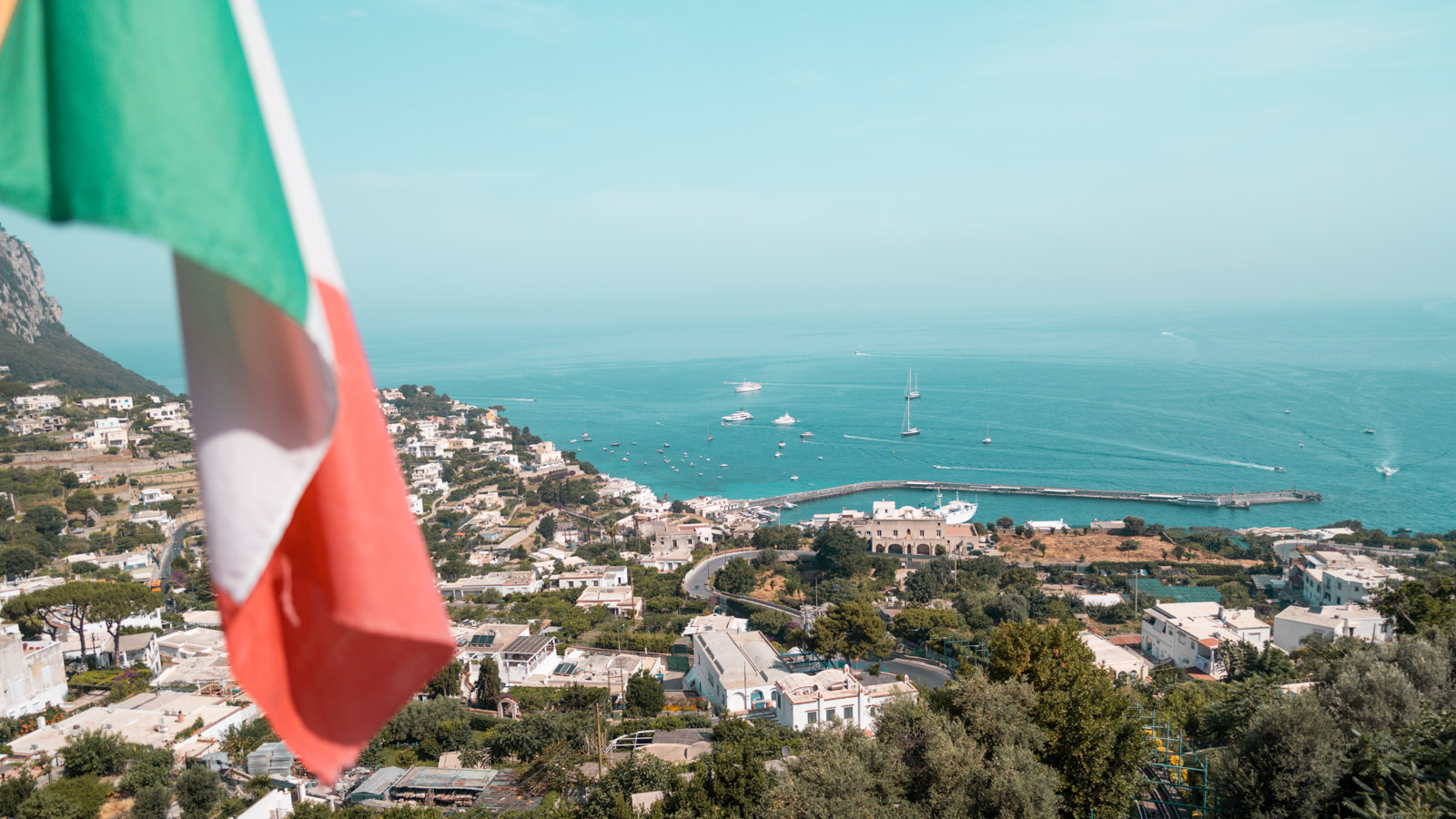 The flight: QF5 from Perth to Rome
When Qantas first announced the launch of the Sydney-Perth-Rome route back in December 2021, I wasted no time in using Qantas Points to secure a Business Class seat on the inaugural Points Plane.
I haven't been to Europe in over six years, so this trip has my anticipation levels at an all-time high. This is also the longest Business Class flight I've taken, so I'm looking forward to being able to sleep, uninterrupted. Fast forward to June 2022, and the magical day has arrived. At last!
With the energy and excitement of a kid, I arrive at the airport three hours early to make the most of the experience. The premium check-in counter sorts out my Business Class boarding pass, and I'm sipping on a negroni at the Perth International Transit Lounge in minutes.
The Perth International Transit Lounge is one of the best and newest in the Qantas network. Tailored for passengers on the ultra-long flights to London and Rome, its menu boasts healthy salads, fresh bruschettas and much more. The staff cheerfully walk around offering tantalising grilled prawn skewers.
Thanks to premium boarding, I also skip the queue at the gate and happily settle back in my Business Suite as one of the first passengers onboard the inaugural Points Plane to Rome. In mere moments, a delightful glass of Jacquart Cuvée Brut Mosaique Champagne makes its way into my hand. It's time to fly!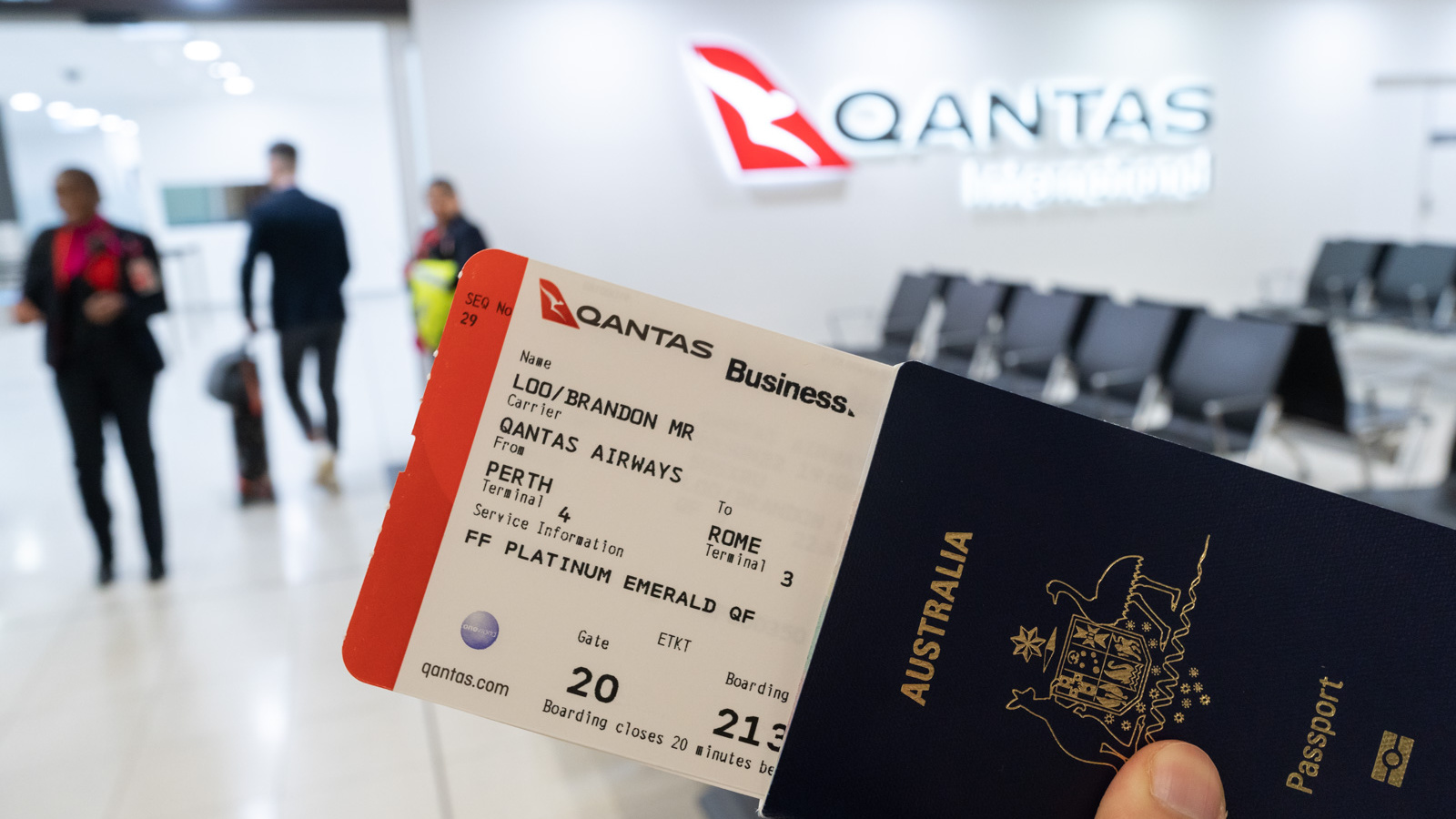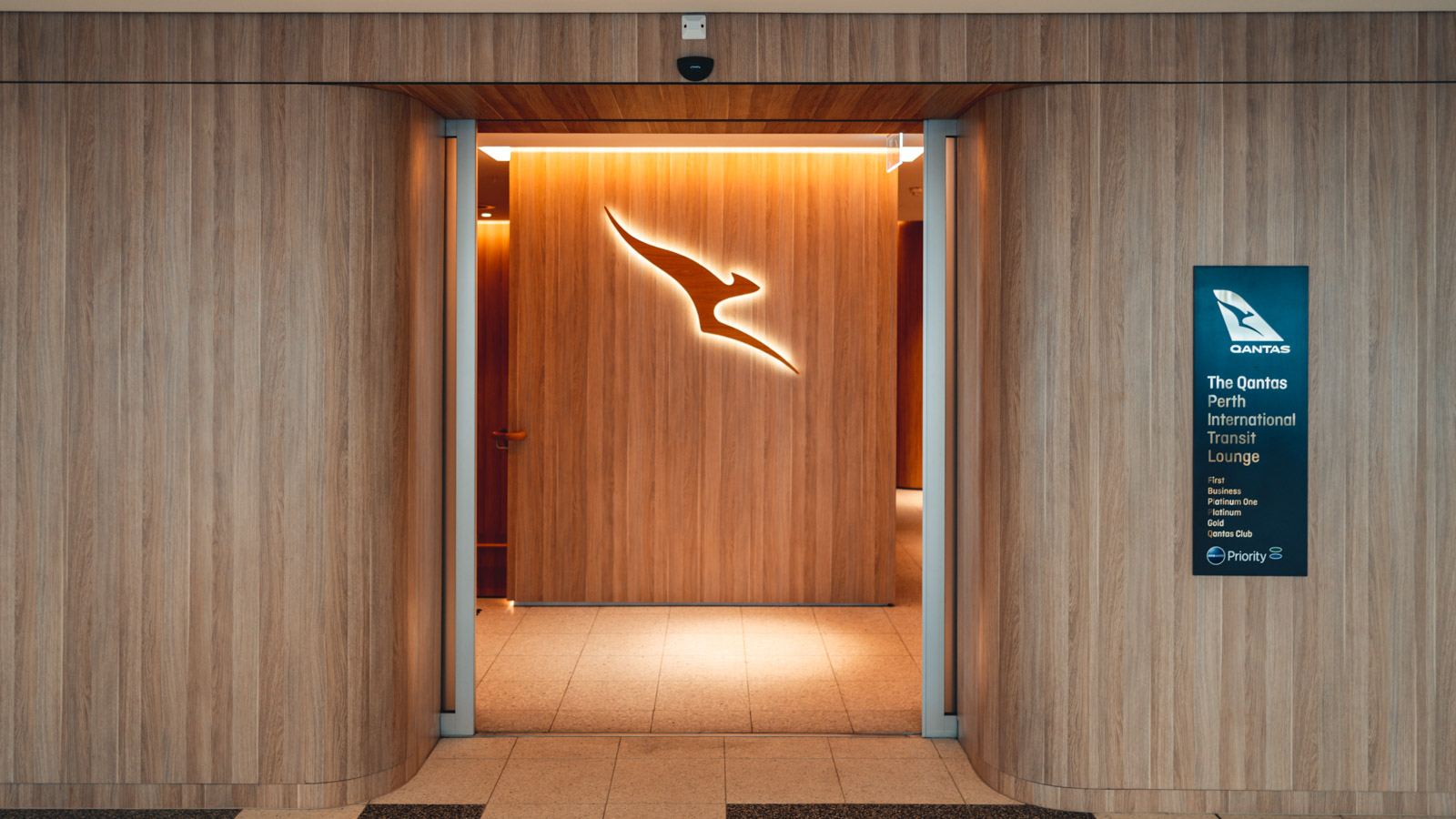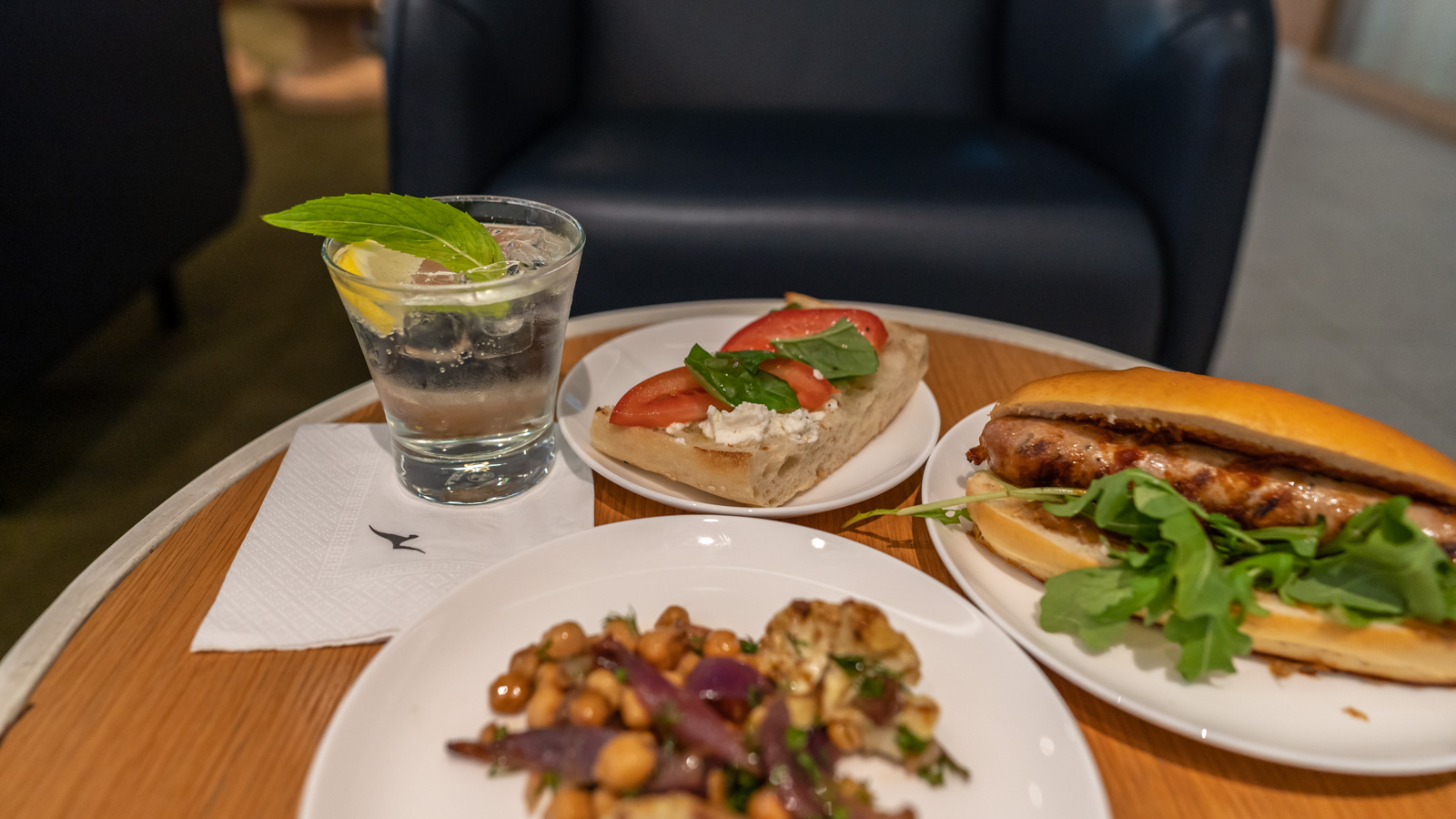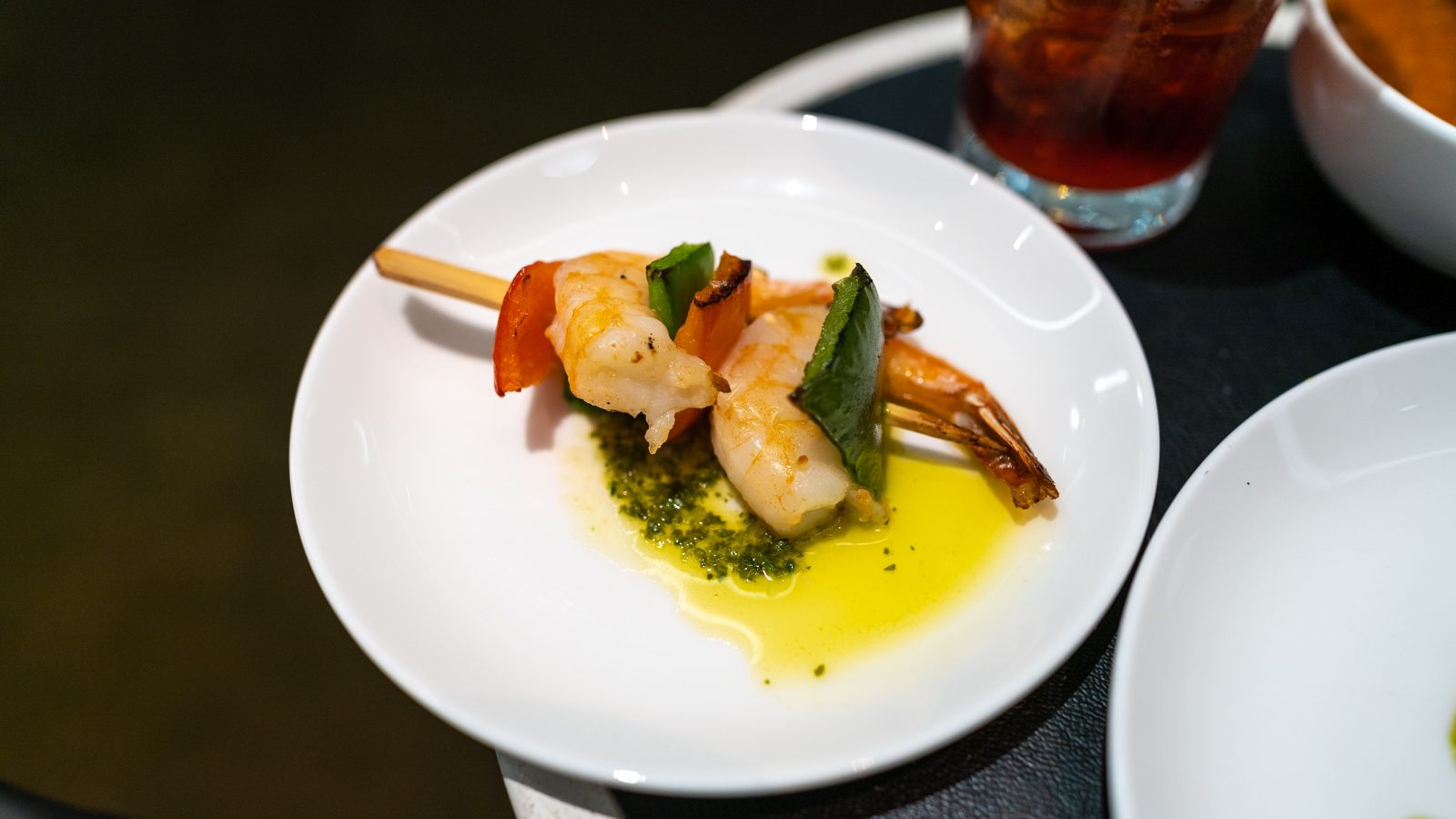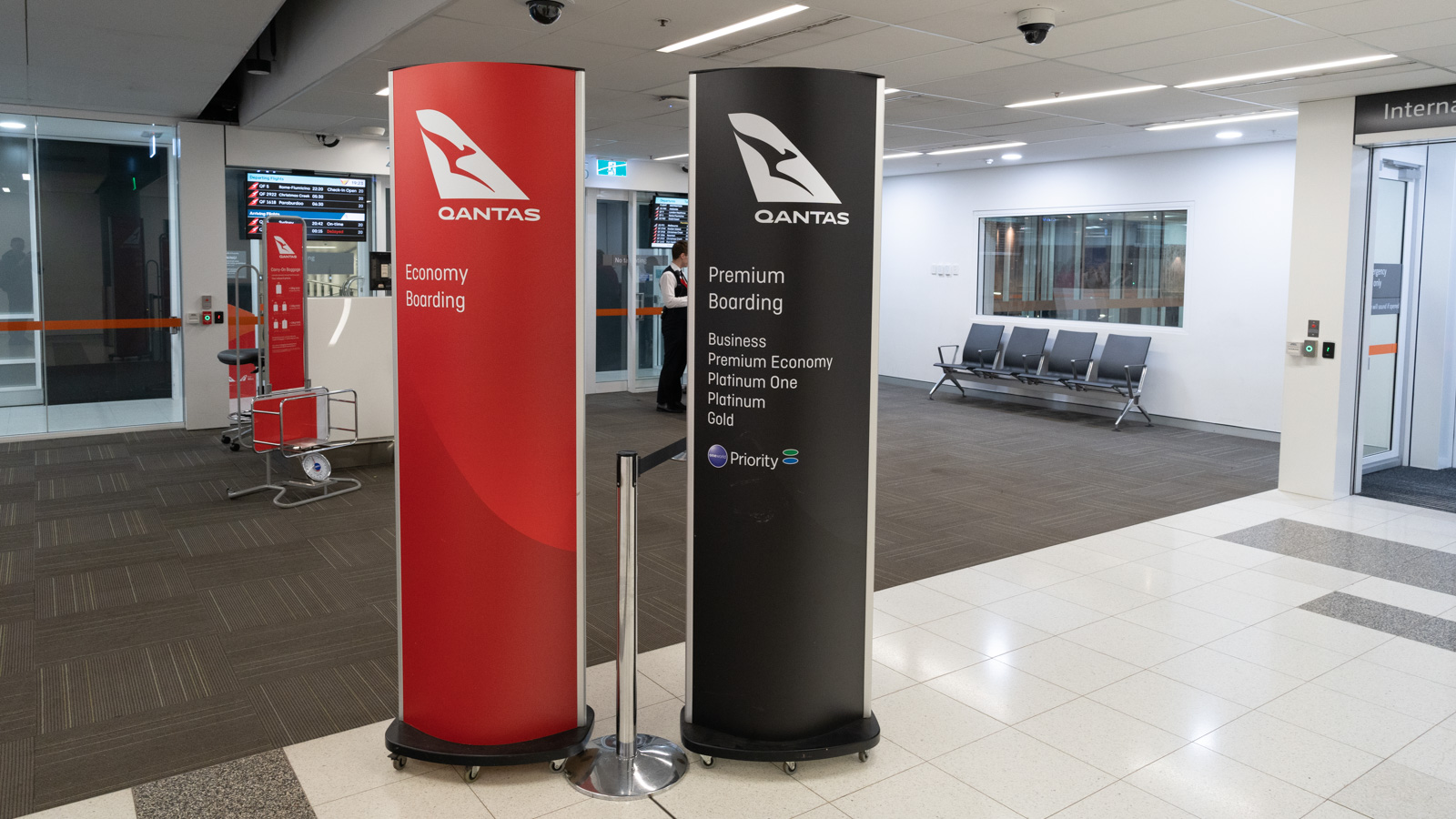 My indulgent seat in the sky
The Business Class Suite on Qantas' Boeing 787 Dreamliner is seriously comfy. Legroom is not a concern thanks to a deep footwell that later becomes part of the bed. The screen is crisp and the storage plentiful, while dark wood panelling and integrated mood lighting complete the elegant look. And just to fuel my excitement further, we're all given commemorative certificates for being on the inaugural flight!
While I'm exploring the many features of the Qantas Business Class Suite, I'm also handed a 70's-themed amenity kit and a pair of Qantas PJs. Not many airlines still offer pyjamas in Business Class, but Qantas is one of them. Along with a comfy pillow, plush duvet and a mattress pad, I have everything I need to sleep like a baby at 39,000 feet.
There's just no comparison to flying in Economy.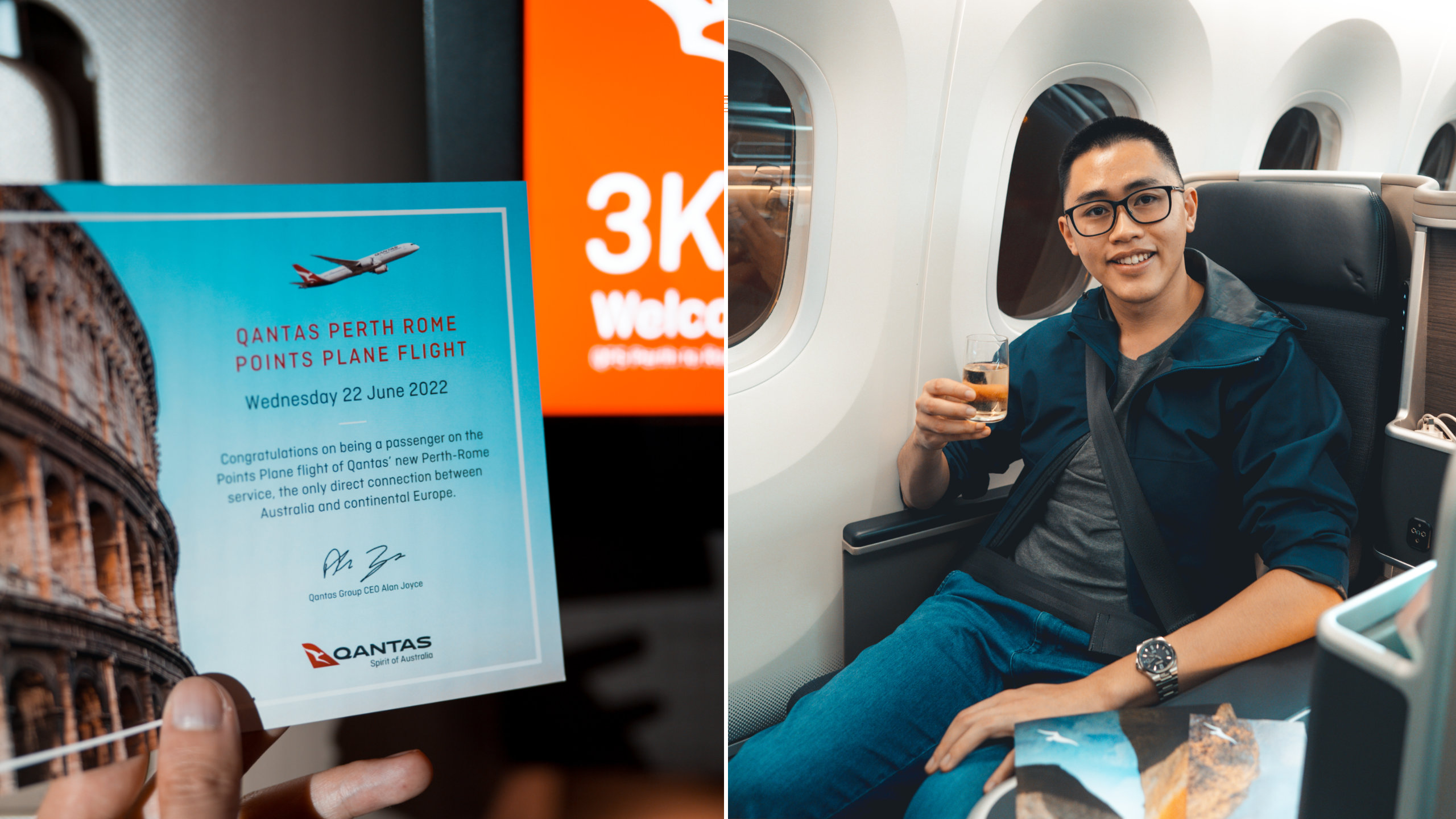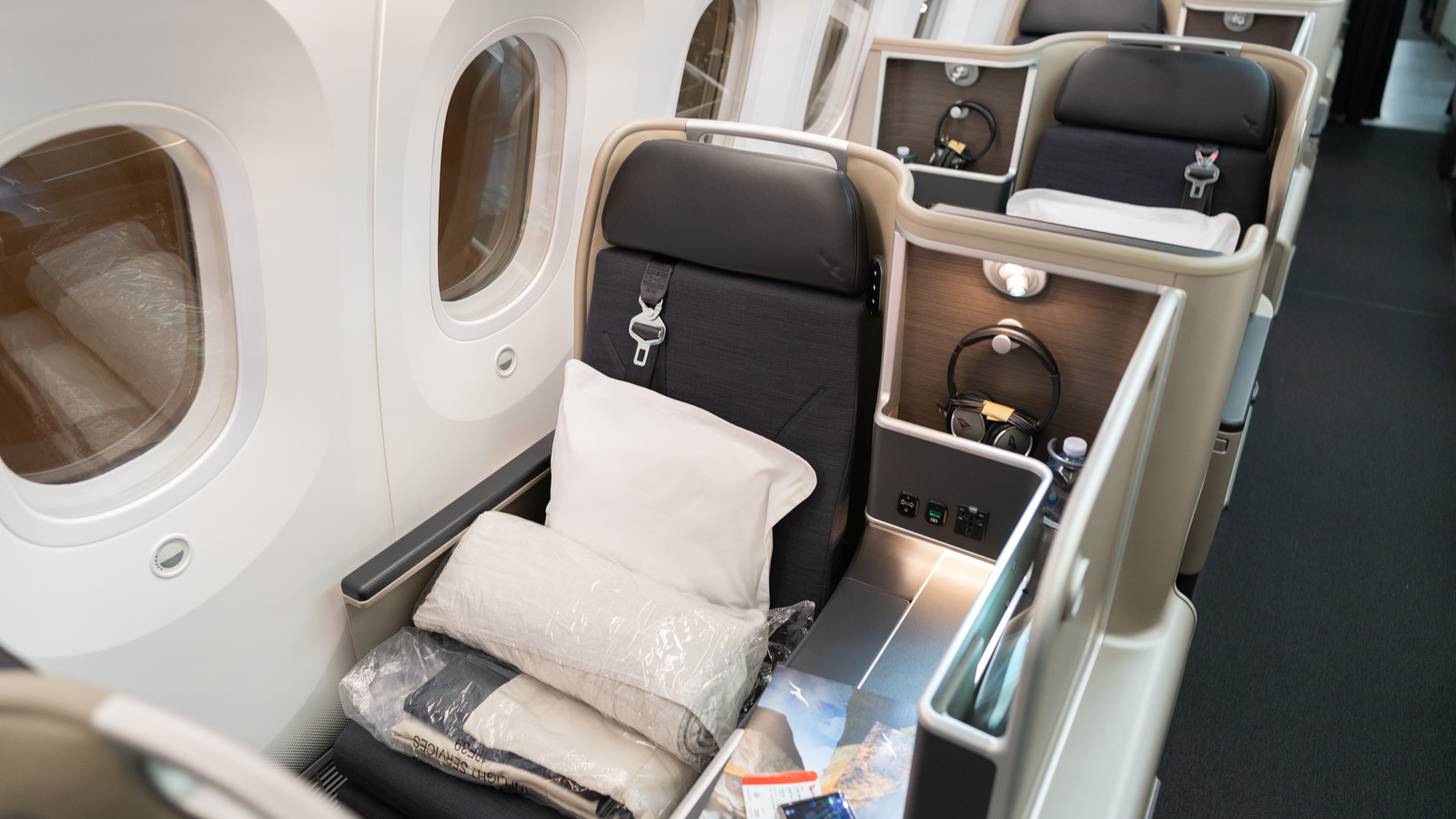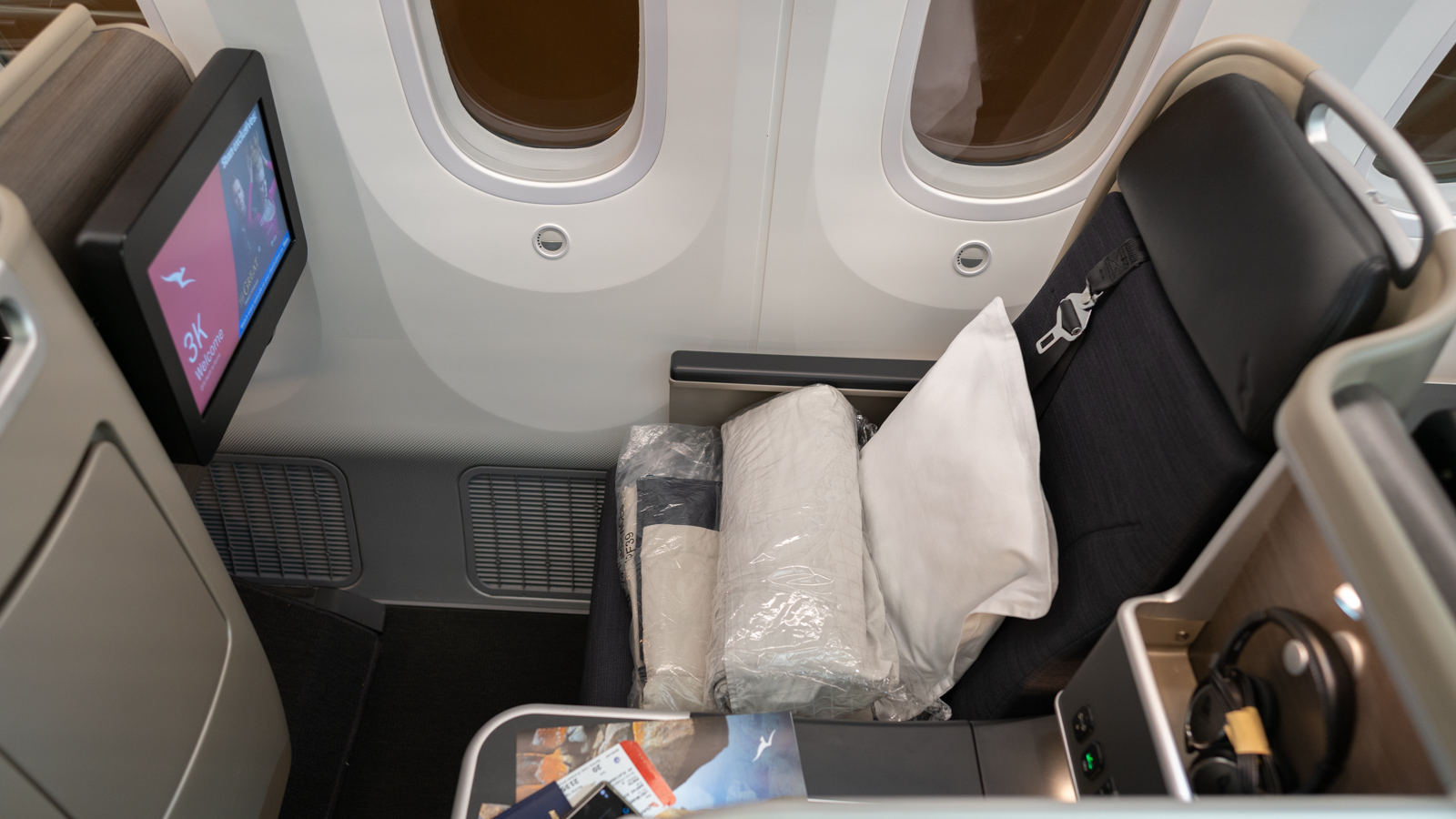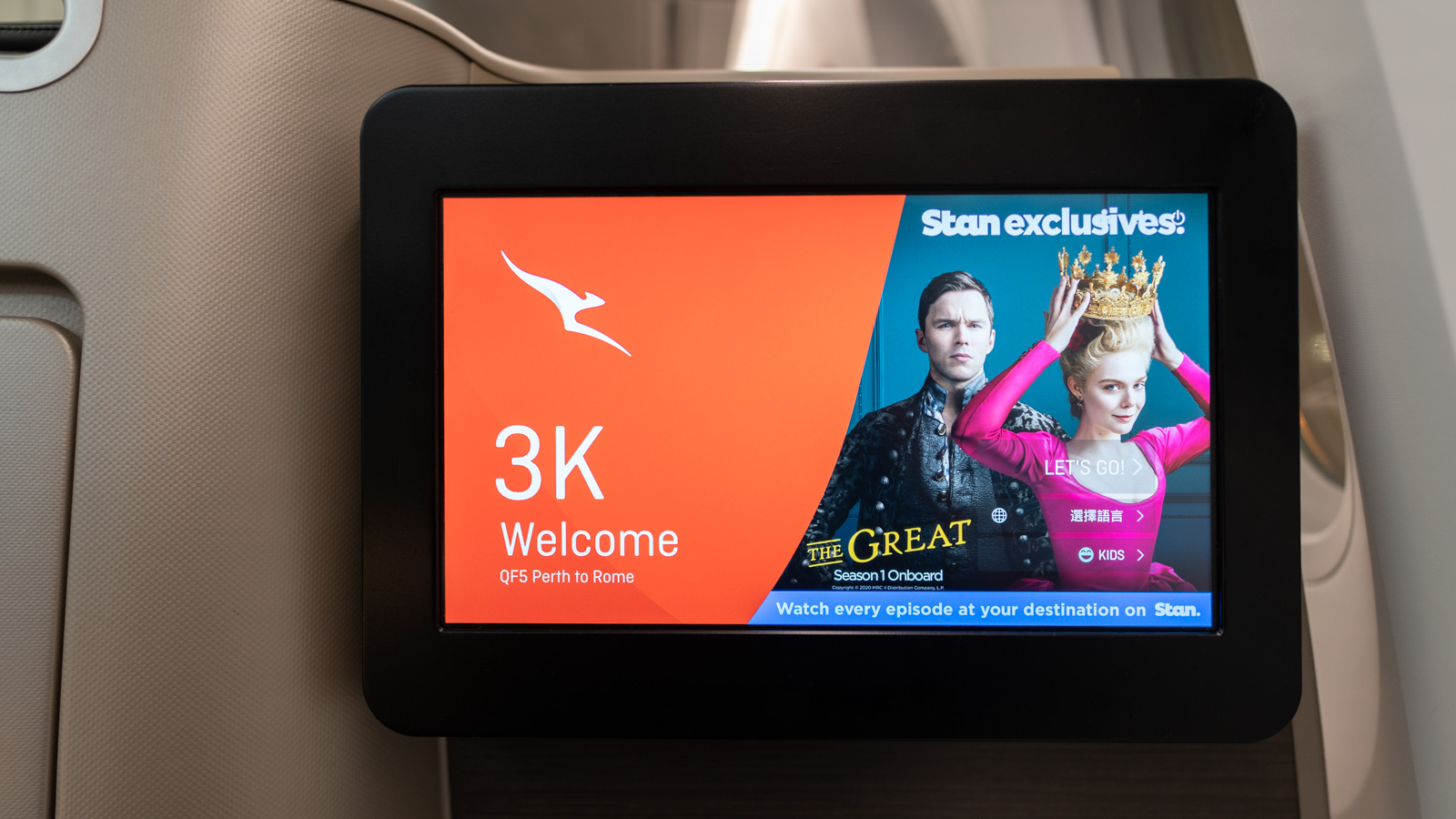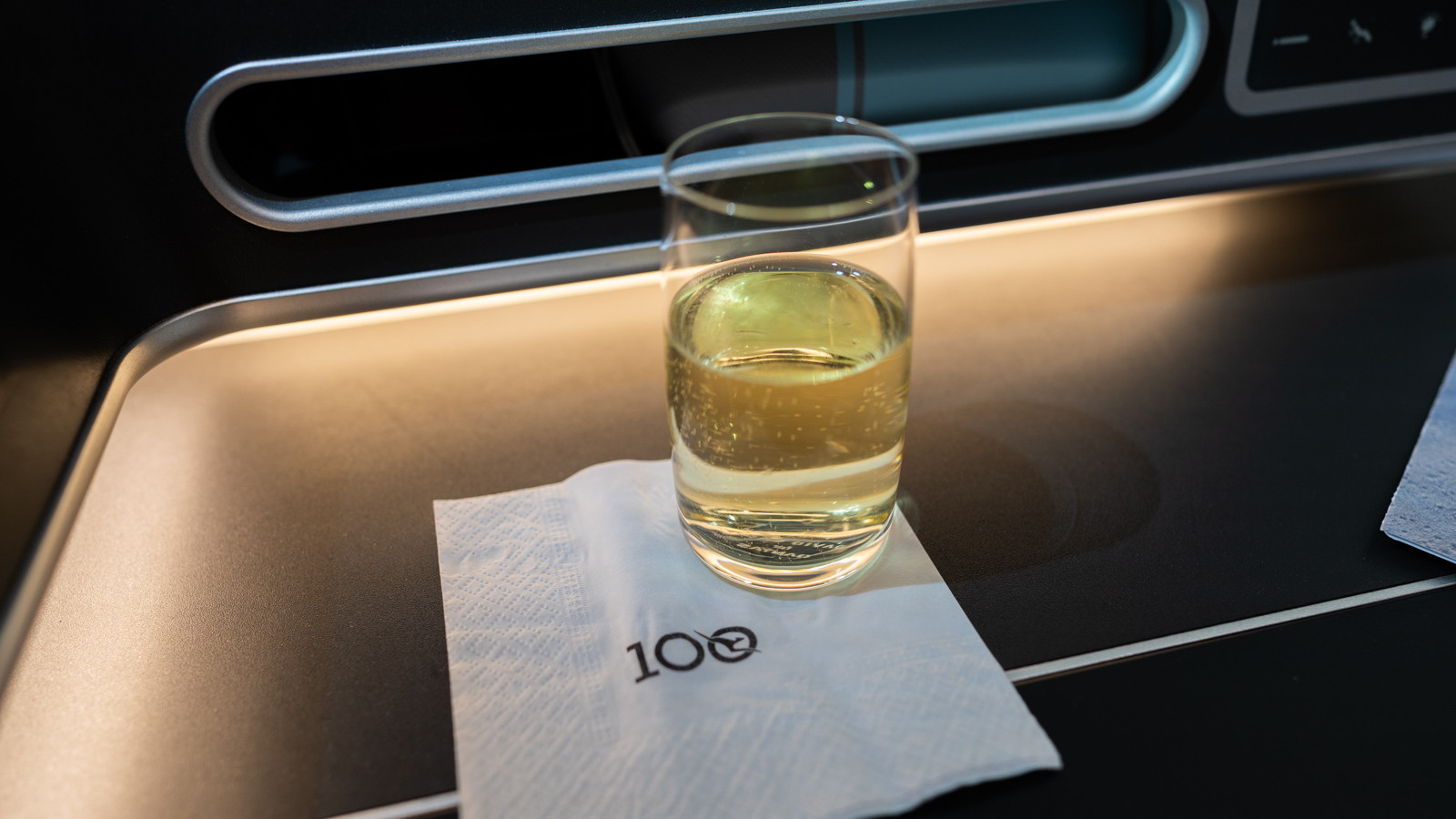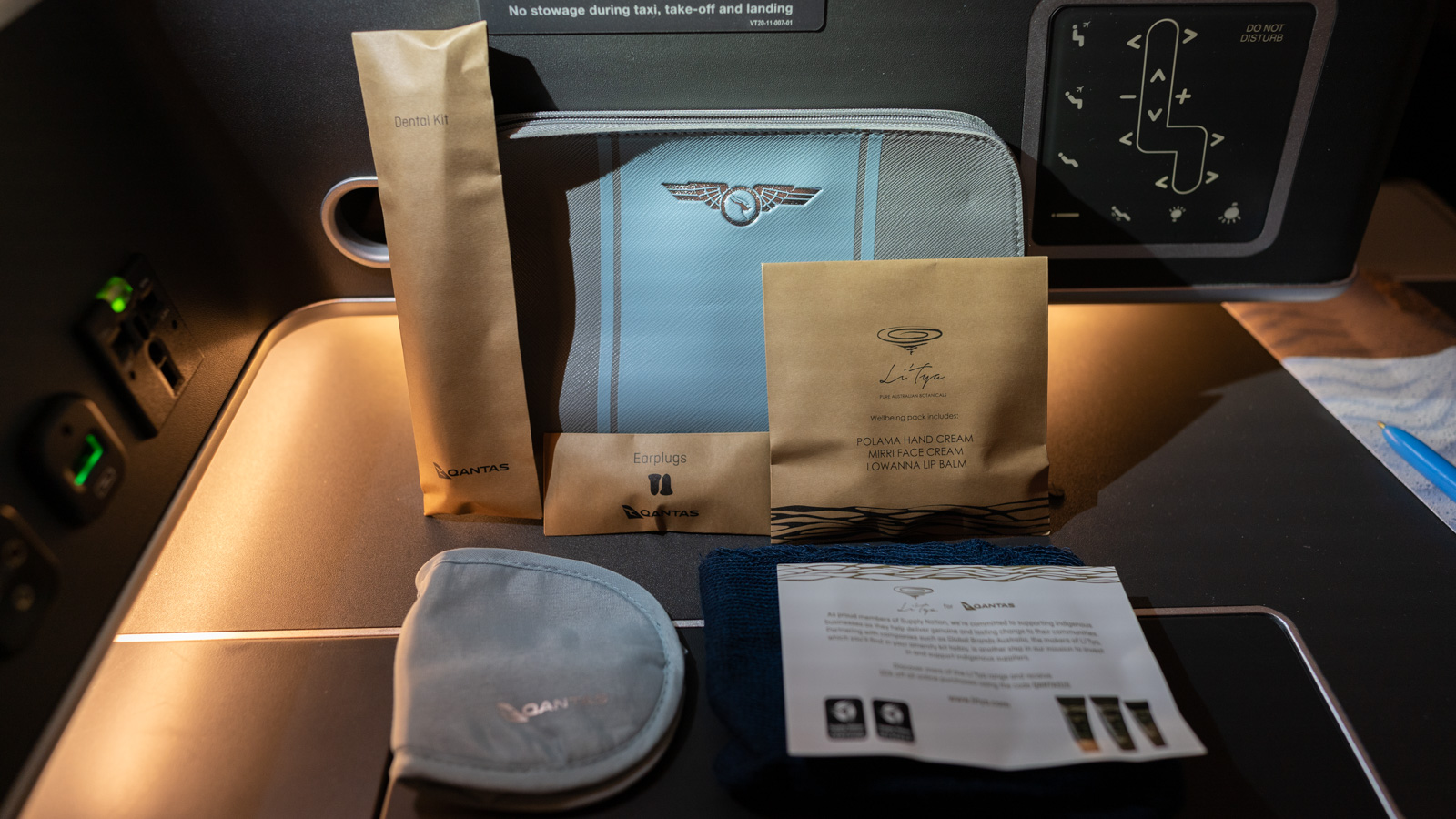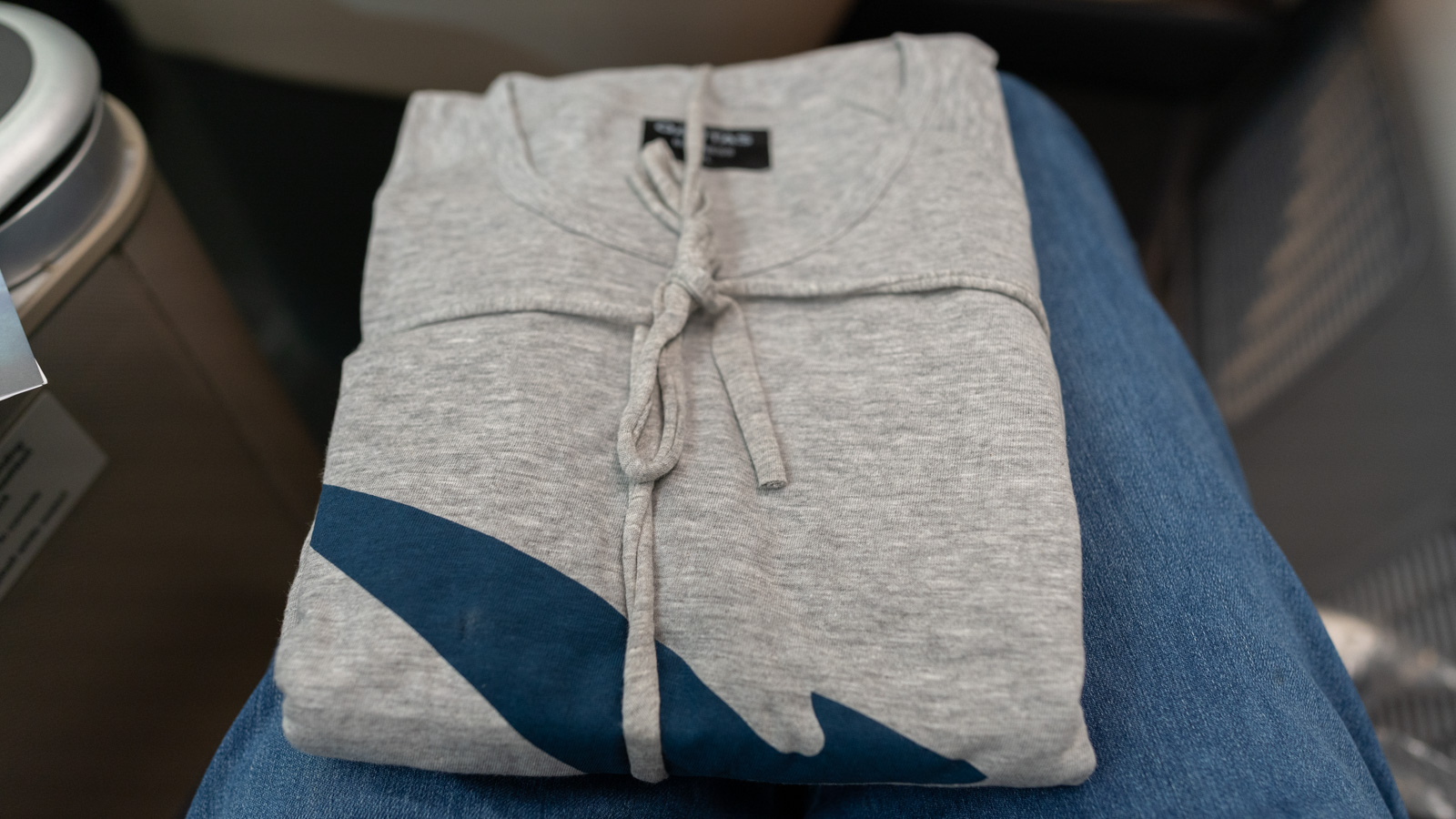 A full night's sleep at 39,000 feet
How does one pass the time on a 16-hour flight, you may wonder? That's not a problem in Business Class, especially since this flight takes off at night and lands in the morning.
As we start to track west, service kicks off with supper. Neil Perry has crafted this Italian-themed menu, which sees me slurping up a tasty prawn spaghettini (emboldened by hints of chilli), followed by a tiramisu that's almost too pretty to devour. But devour I do, and it's delicious.
I could order more from the menu – the crew are happy to tailor supper to our liking – but I call it a night. It's time to swap my day clothes for Qantas PJs and settle back into my fully-flat bed. For all the bells and whistles that come with flying Business Class, being able to sleep horizontally is surely one of the greatest pleasures.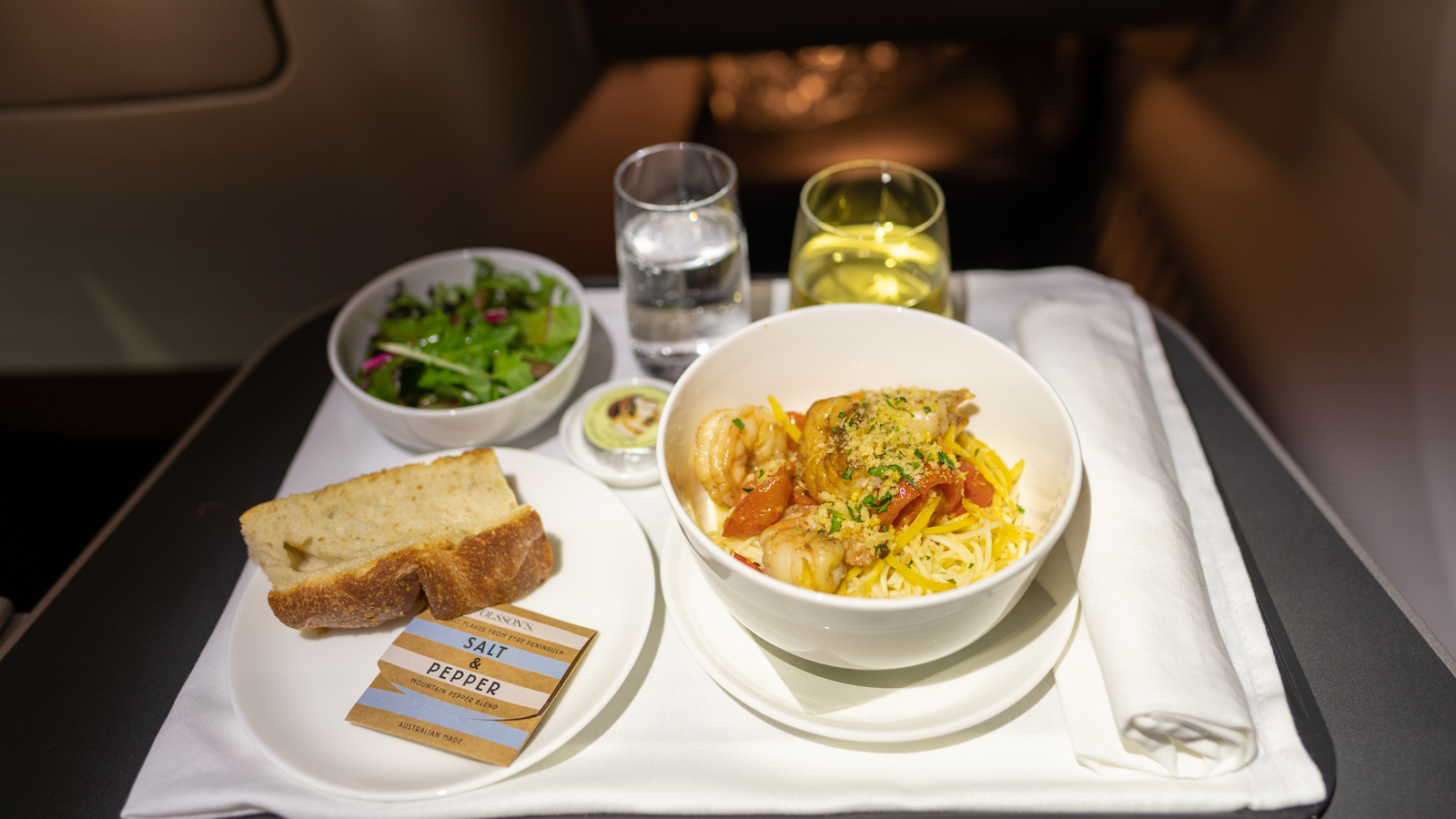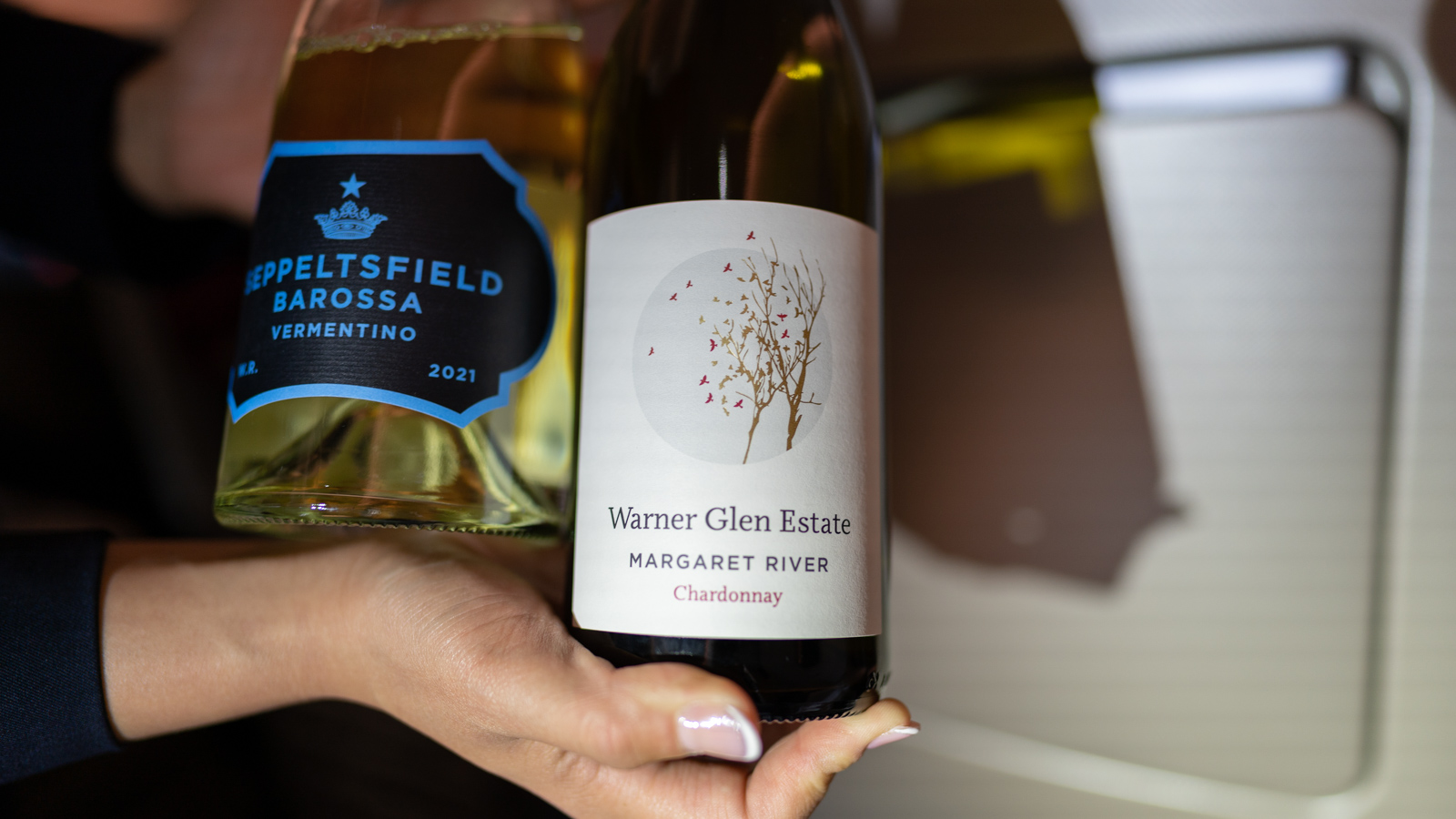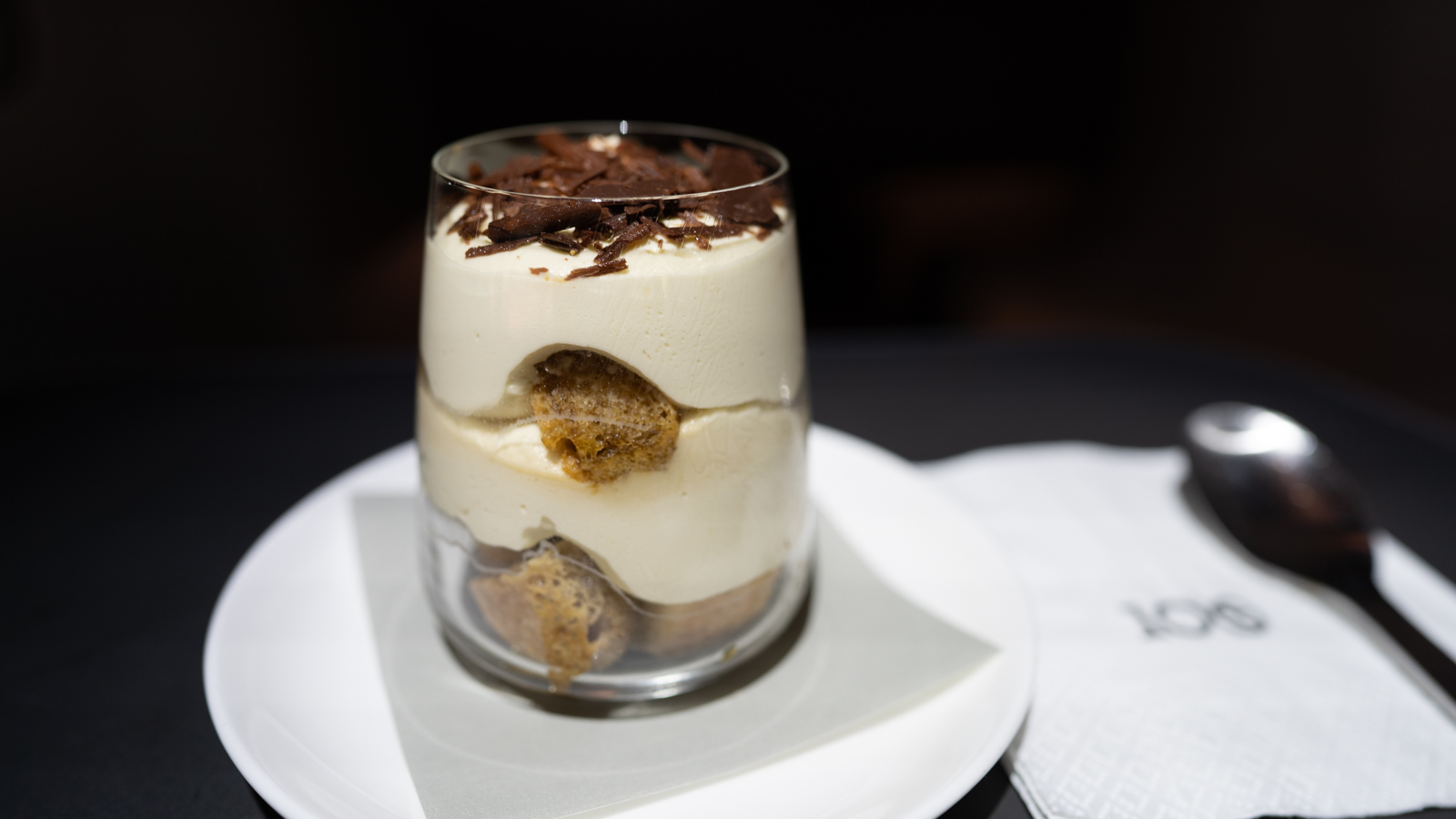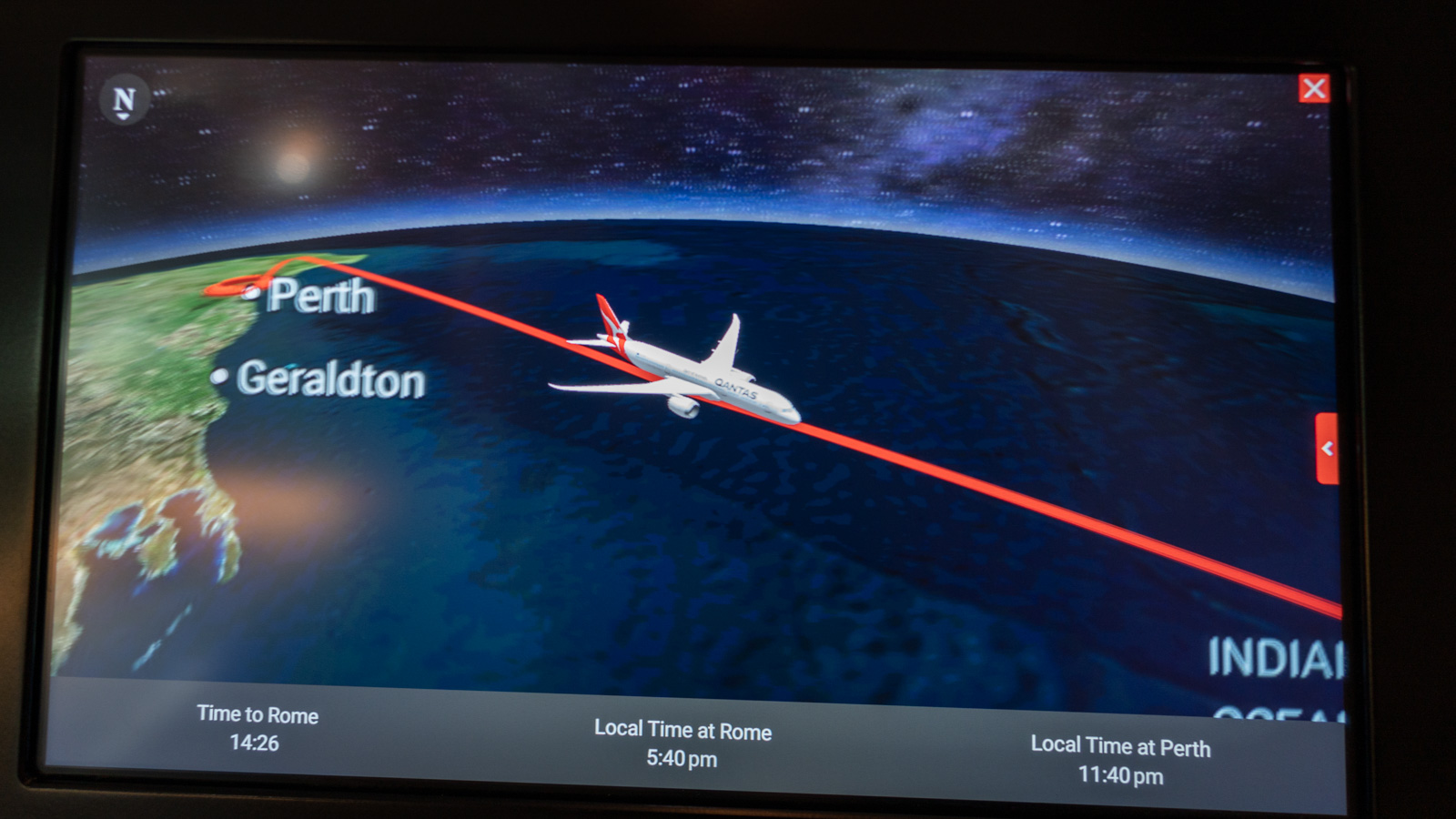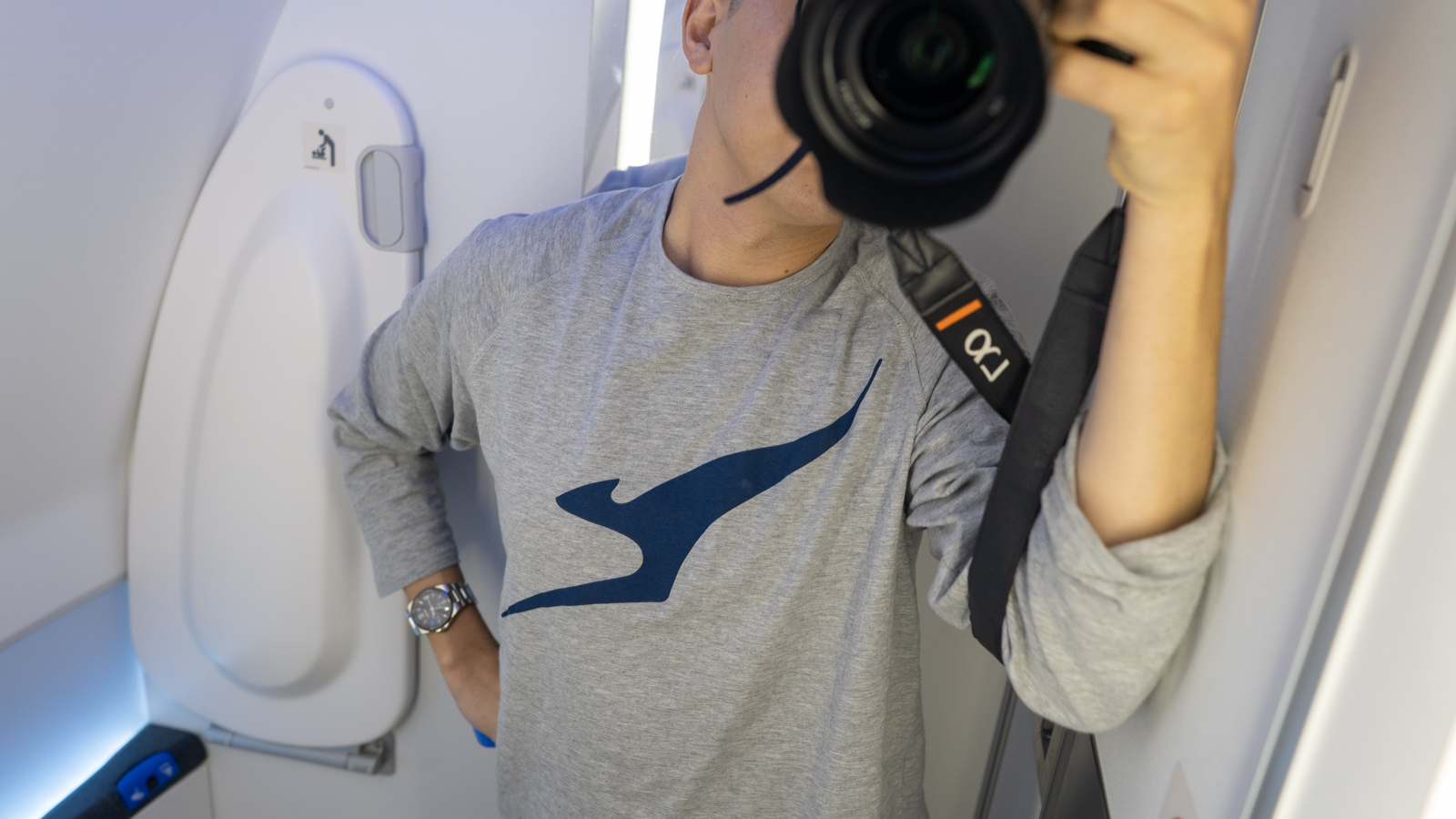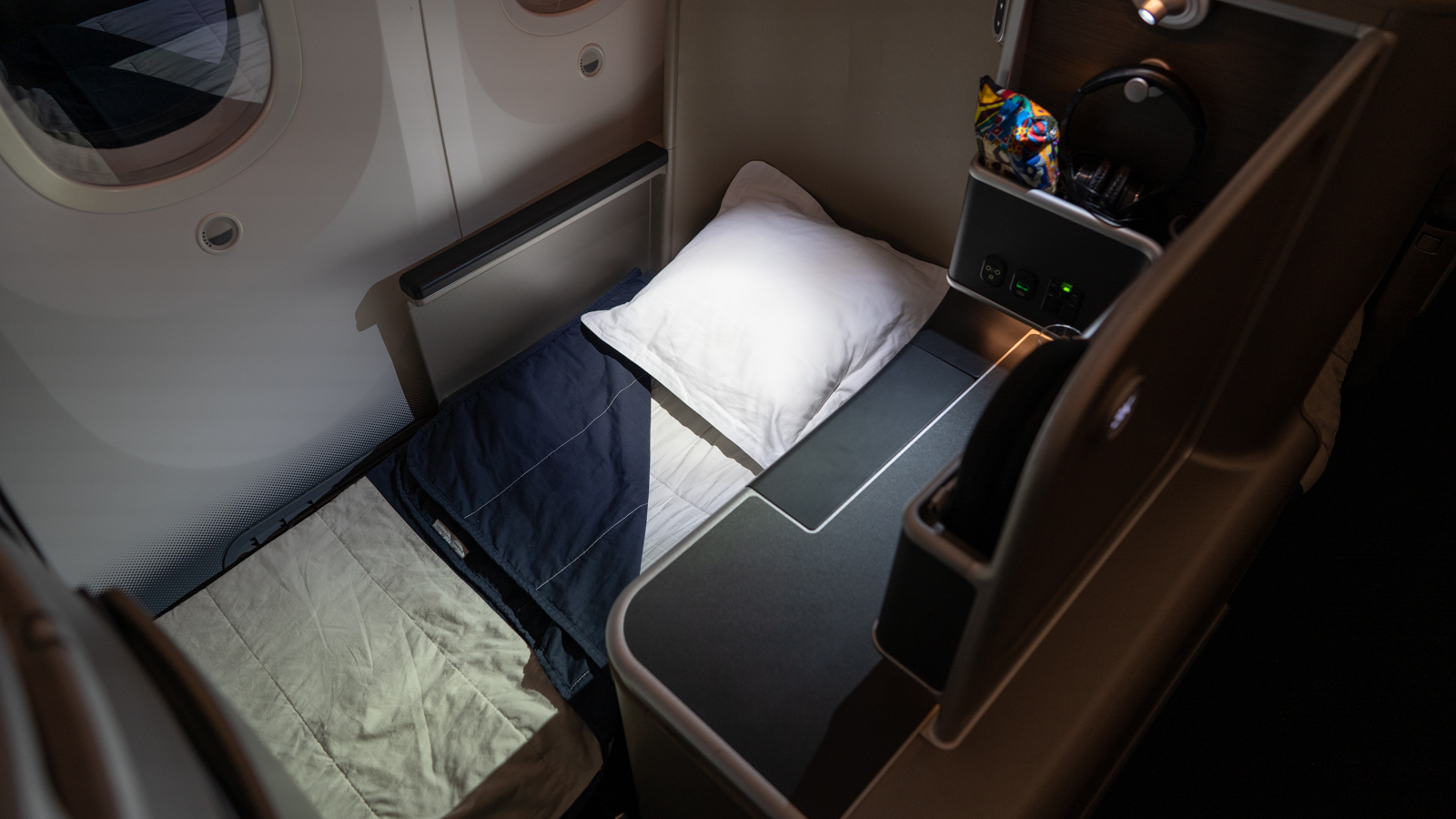 Chasing the European sunrise
When I wake up, half the flight has passed, which means I've been asleep for six hours. Glancing at the moving map, we're not far from Mumbai. But we're also only eight hours away from landing in Rome, which doesn't sound so bad now! My soul stirs as I contemplate how close I am to setting foot in a European country once again.
Hot snacks are available on demand, so I tuck into a warming quiche while perusing the inflight entertainment. Qantas cabin crew have also set up a snack station in the galley, resplendent with treats and healthy drinks.
Between snacking, napping and doing some work, the first rays of dawn break over Europe at last. The Dreamliner's windows are still darkened, but I venture into the galley to see the morning light and chat with other passengers. Everyone agrees that this is the most painless way they've travelled to Europe. And not having to wear masks on this flight is the cherry on top.
I pre-filled my breakfast card at the start of the flight, so there's no surprise when everything I ordered is efficiently served an hour before landing. I eagerly tuck into a filling plate of scrambled eggs and bacon, accompanied by a pastry, fruit, juice and a coffee. If only every morning started this way.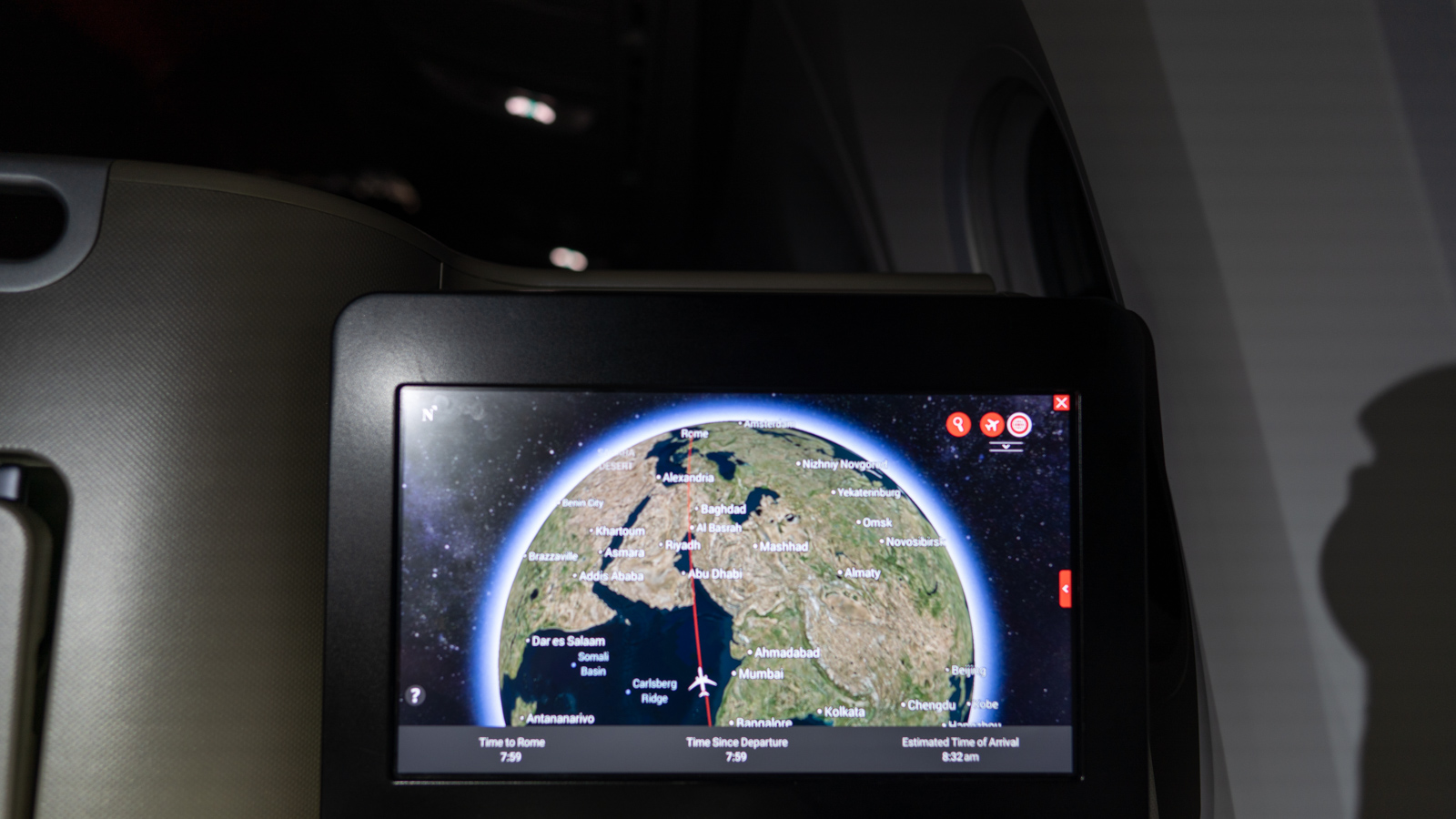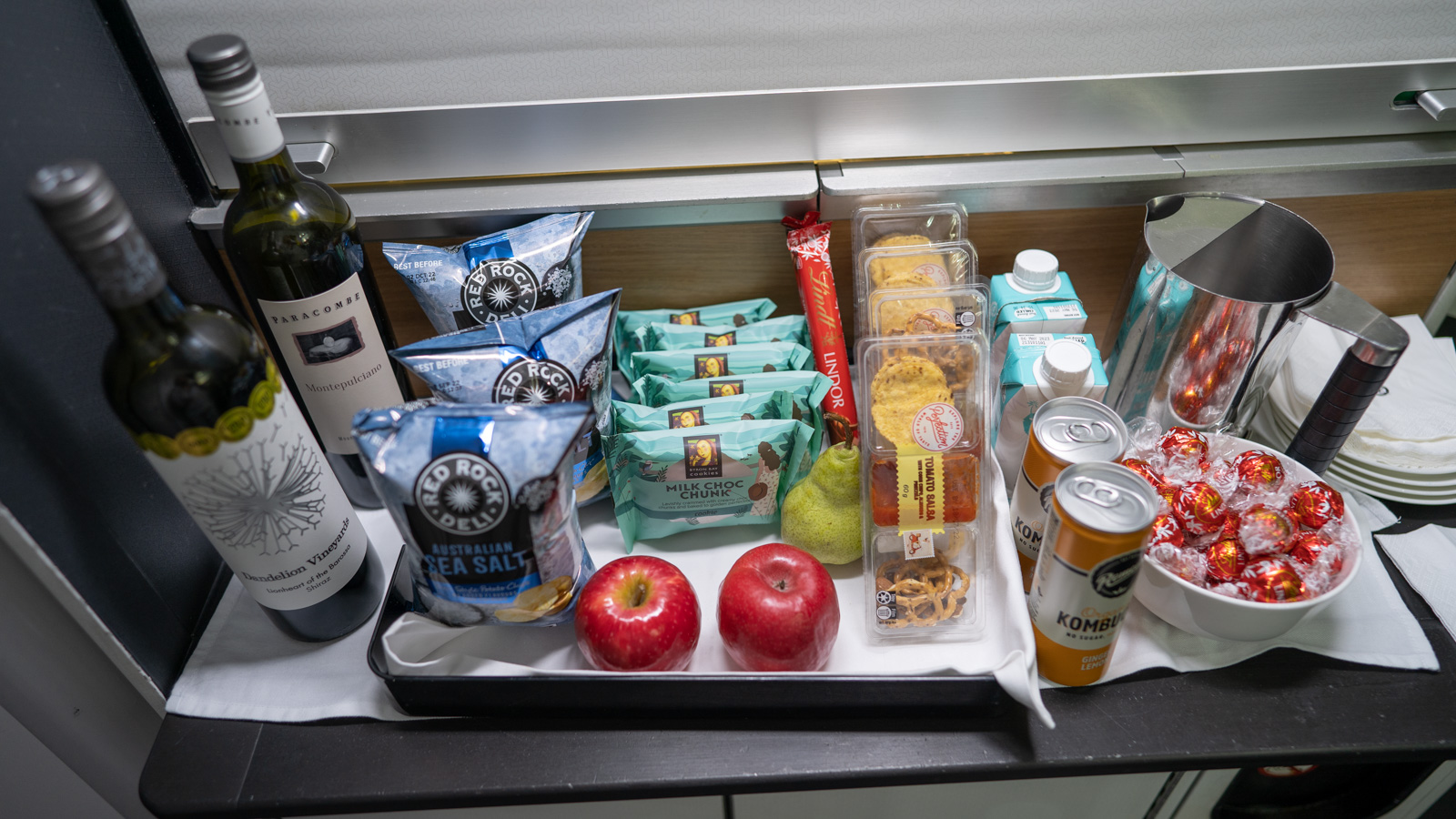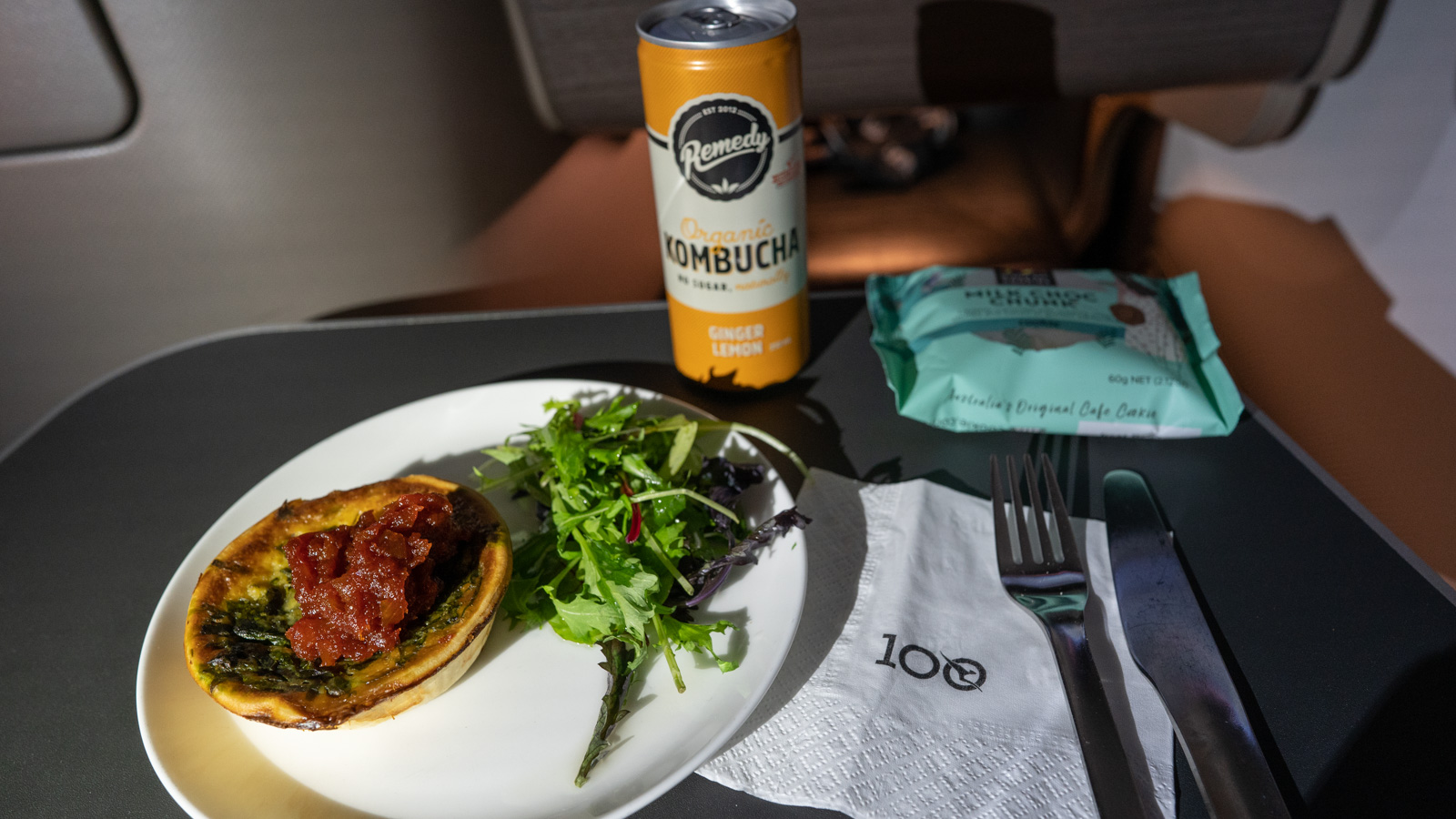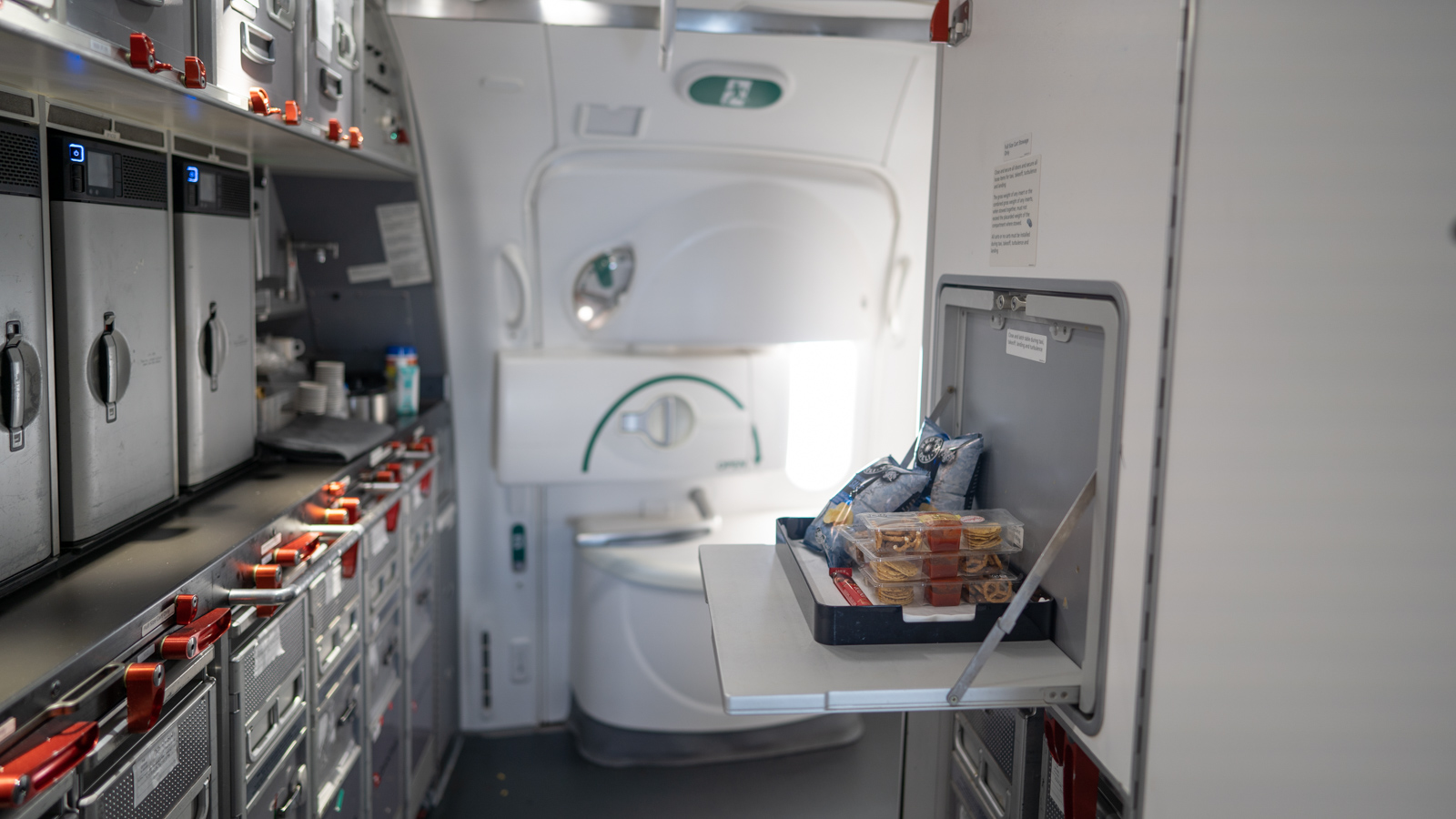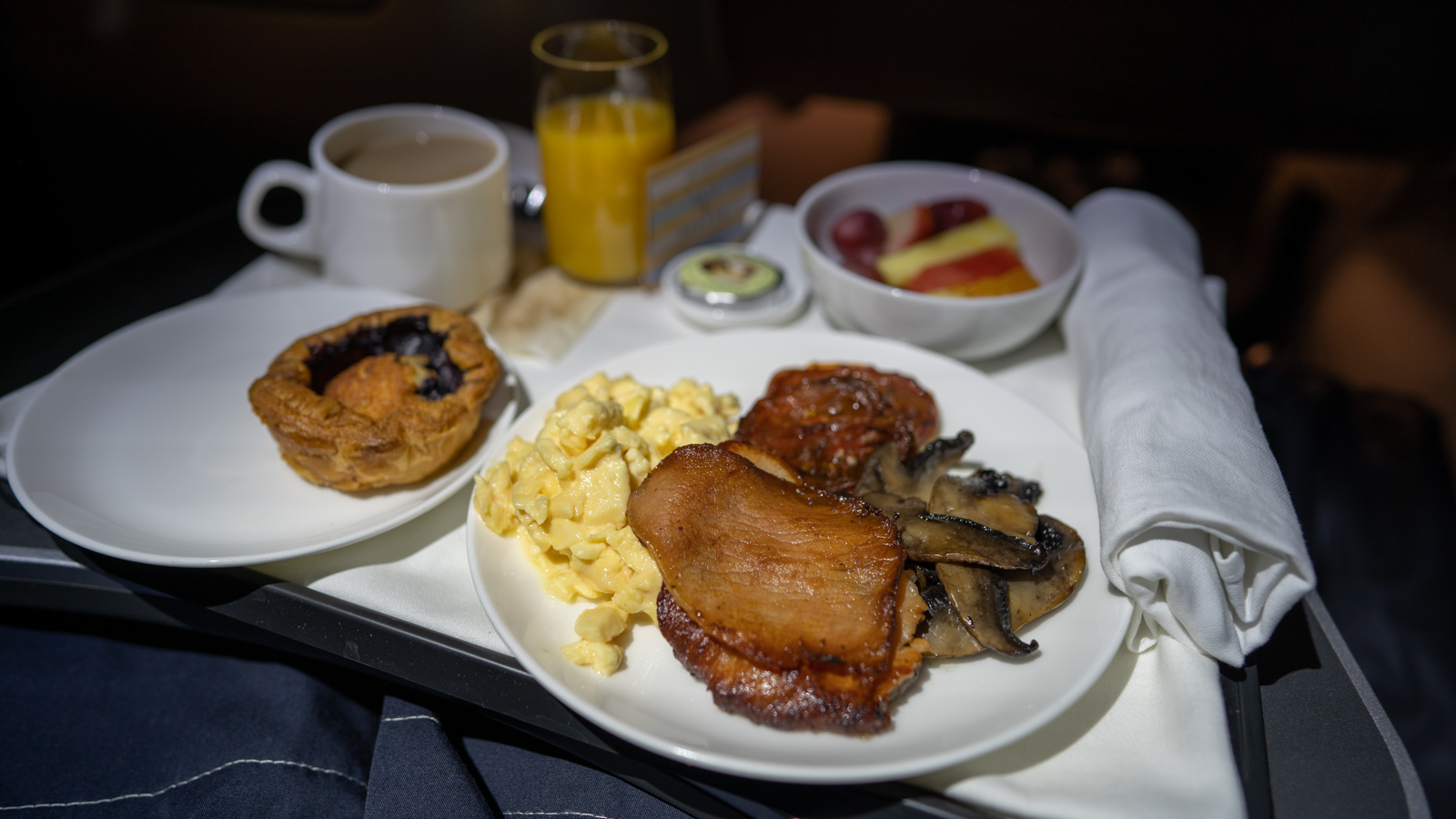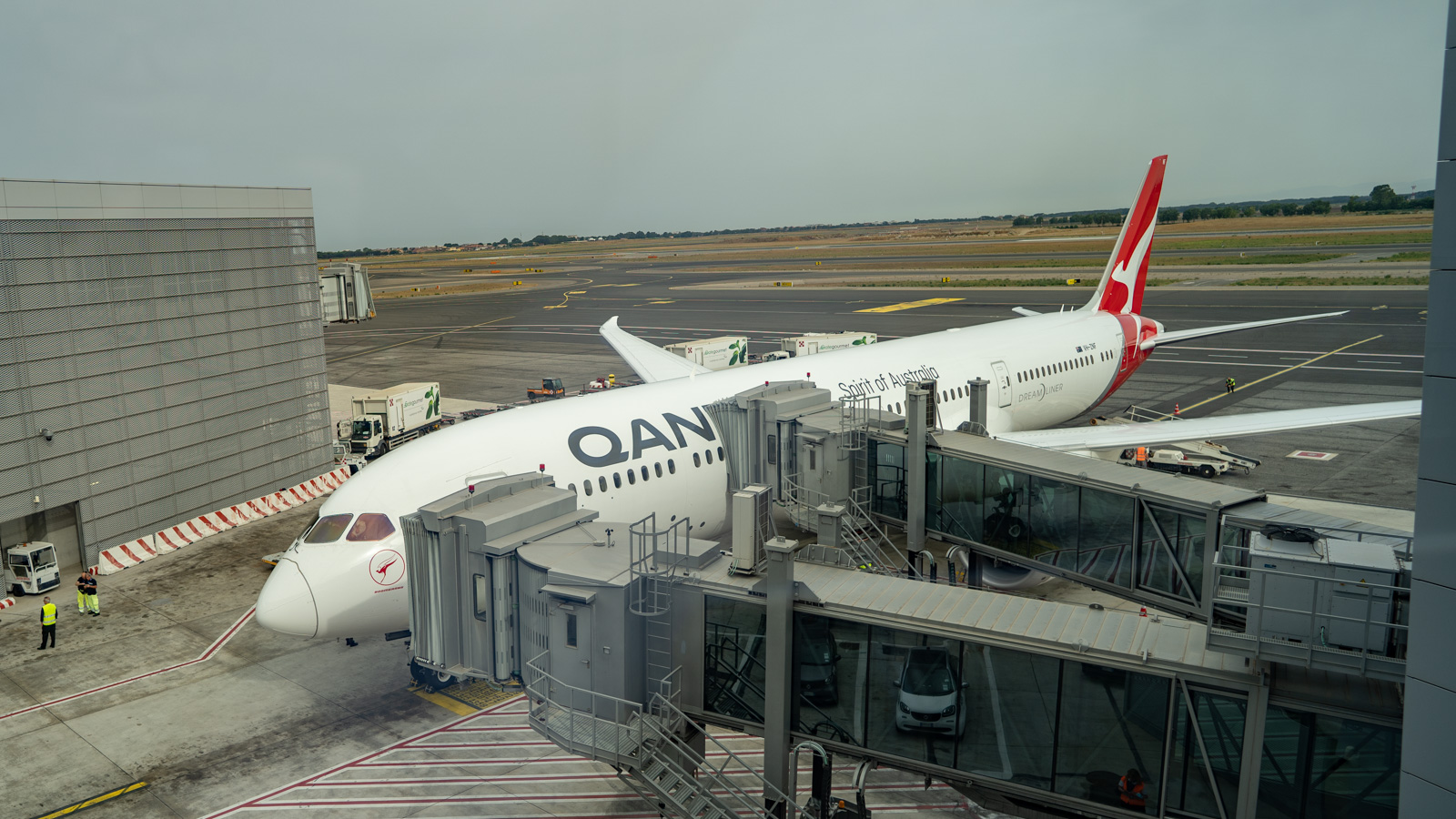 I want for nothing on this flight and arrive in Rome refreshed and ready to embrace the day ahead. To make life easy, there are no specific COVID formalities at the airport, and there's no wait at immigration. Another perk of flying Business Class – my priority-tagged luggage comes out in the first batch of bags.
Grateful that my whole Qantas Business Class experience to Rome has gone off without a hitch, I grab my suitcase and breeze through customs at a cracking pace. There's a smile on my face and no time to waste – the dreamy Amalfi Coast, Naples and Rome await.
How to earn and book with Qantas Points
The Qantas Sydney-Perth-Rome route is seasonal, running thrice-weekly between June and October. Since the flights have been so popular (surprise, surprise!), the route has been renewed for 2023.
Naturally, reward seats on these flights involve a bit of effort and luck to find. But they do exist, and we post reward seat alerts when Business Class availability appears. Stay up to date by signing up for our email newsletters below and following our Facebook page.
Of course, you can also connect to this flight from the eastern states, paying more in points and taxes to fly the whole journey at the front of the plane. QF5 actually originates in Sydney, with the Sydney-Perth leg being operated as an international sector.
Using Qantas Points
Qantas Points are easily earned in Australia and could be the best way for you to book your ticket to Rome. Platinum Frequent Flyers and higher can request reward seats to be released on these coveted flights, which is a handy perk.
Perth-Rome (and return): 108,400 Qantas Points + taxes each way in Business.
Sydney-Perth-Rome (and return): 144,600 Qantas Points + taxes each way in Business.
Qantas does release more reward seats from time to time, and we'll let you know via our popular 'reward seat alerts' when fresh availability pops up. We'll soon be sending advance alerts to our email subscribers first, so be sure to sign-up for 'Exclusive offers and featured deals' below to be on the list.
Using other partner points and miles
You may be able to book this flight with miles from other partners, such as:
Flying Qantas to Rome is one of the most stress-free ways to reach Europe. With one long hop from Perth (plus a short connection from the eastern states, for many readers), you'll arrive refreshed and ready to make the most of your European adventures. I know I did, and I'd do it again in a heartbeat.
And that's all thanks to the power of Qantas Points.
To keep up to date with our luxurious travel experiences on points – as well as the latest travel news, reviews and guides – don't forget to subscribe to the Point Hacks newsletter. And to hear more about my amazing trip to sunny Italy, have a listen to this exclusive podcast.
Featured deals
Photography by Brandon Loo, who travelled at Point Hacks' expense. The comparison price of AU$4,810 one-way is based on the best available Business Saver return fare around our dates of travel.
Non-stop to Rome in Business Class luxury for $435 with Qantas Points
was last modified:
October 11th, 2023
by