Qantas' daily QF11 service from Sydney to Los Angeles is an easy way to fly from Australia to the USA. The direct flight has a same-day arrival which sees you depart Sydney just before lunchtime, and wake up in the City of Angels. And if you can nab a comfy seat up the pointy end for the journey, even better.
In this guide we'll cover what you can expect on QF11 and how you can book each cabin – including First Class – with Qantas Points.
QF11 flight time
From 29 October 2023, QF11 has a scheduled departure from Sydney at 11:20 am, arriving into Los Angeles at 7:05 am the same day. Prior to this date, the schedule runs an hour earlier, with a 10:20 am departure and 6:05 am arrival. The entire journey clocks in at 13 hours and 45 minutes – enough time for a snooze, and a movie or two.
Though if you arrive in LAX bleary-eyed and your hotel check-in isn't until the afternoon, consider booking a day use room at a hotel to beat the jetlag and take the opportunity to refresh.
QF11 aircraft type and seating
QF11 is serviced by a spacious Airbus A380, offering four cabin classes across two decks for the flight from Sydney to Los Angeles.
First Class on QF11
QF11's First Class cabin is located on the main deck, with 14 open suites in a 1-1-1 layout. This means each seat has direct aisle access, and all but four seats are located by a window.
First Class is undoubtedly the best way to fly to Los Angeles from Sydney. And spoiler alert – you can do so on points, which we cover in more detail below. If you're lucky enough to nab one of these elusive seats, you'll experience the comforts of a flatbed en route to LAX. You'll also enjoy a 22.5-inch wide swivel chair and a bright 18-inch HD touchscreen for all your in-flight entertainment needs.
And if you've got a travel companion, each suite has an ottoman that doubles as a buddy seat for mealtime.
Alternatively, you can head upstairs and unwind in the lounge area, which is reserved for First Class and Business Class passengers only.
Business Class on QF11
The upper deck houses Business Class. The 70 seats are divided across two cabins, with 20 seats in the front cabin and the remainder behind the galley. Seats are arranged in a 1-2-1 layout, with all passengers enjoying direct aisle access.
And of course, all seats convert into a fully-flat bed. One of the many perks of flying Business Class on a long flight! You'll even get storage for small items like your glasses or phone. Speaking of which, you can power up during your flight with universal AC and USB-A sockets on each seat.
The title of the world's most spacious aircraft shouldn't be understated, especially when it comes to Business Class on Qantas' A380. The 23-inch wide seats offer plenty of wriggle room. And seats in the bulkhead – that's rows 11 and 16, and seats 17E and 17F – offer wider footwells for those seeking even more room.
Business Class passengers onboard QF11 can also enjoy the lounge areas and snack bar at the front of the deck. You could choose a seat in the forward cabin for easy access when you're feeling peckish. Or, opt for a seat in the rear Business Class cabin to avoid the foot traffic.
Premium Economy on QF11
QF11's Premium Economy cabin shares the upper deck with Business Class. The 60 seats are arranged in a 2-3-2 layout across ten rows. While there's no flatbed, passengers can enjoy a suspended footrest and a nine-inch seat recline. The seats have a width of 20.5 inches and a 38-inch pitch, which is a noticeable upgrade from Economy. Given the layout, some passengers miss out on direct aisle access. And there's even the dreaded middle seat if your assigned seat ends in 'E'. But if you're willing to forgo a quick escape in favour of a view upon arrival into LAX, opt for a seat with A or K for a window.
Have a read of our full overview of this cabin on QF11: Qantas Airbus A380 Premium Economy (Sydney – Los Angeles)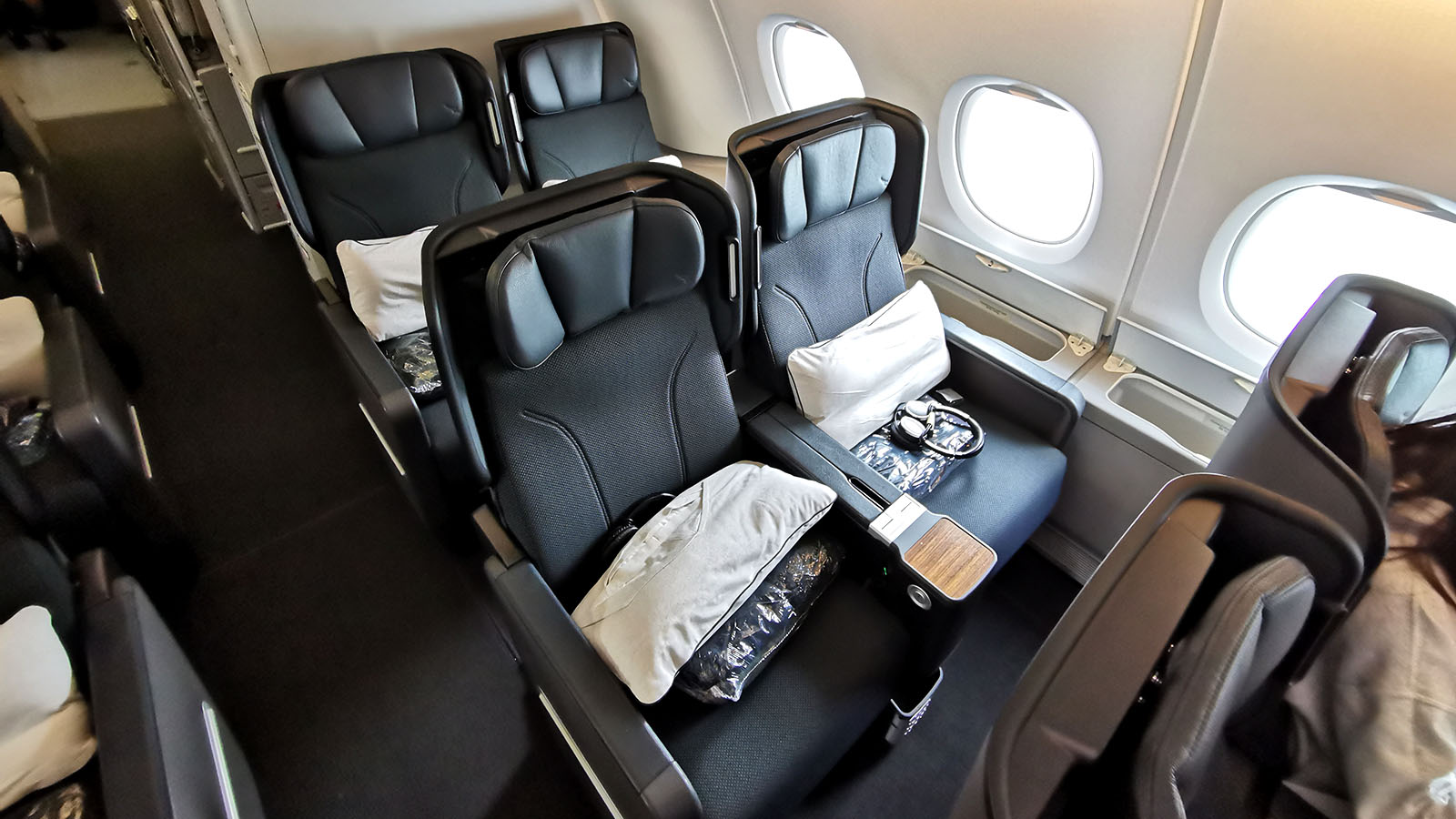 Economy Class on QF11
While Economy isn't the most favourable way to fly long-haul, it's noticeably roomier on the A380. We're talking 17.7-inch wide seats, a 32-inch pitch, and a six-inch recline.
The 341 Economy seats are arranged in a 3-4-3 pattern and spread out across three cabins on the main deck, behind First Class. The rear Economy cabin is the smaller of the three.
And there's no need to fret if you've forgotten to charge your devices before departure, or forgotten your powerbank. Shared universal AC sockets are located between the seats, and passengers have access to individual USB-A sockets.
For extra legroom, select a seat in rows 48, 66 or 79. But if you'd rather avoid the toilets and galley, seat 71D also provides additional room to spread out.
Lounge access when flying QF11
Sydney
Passengers departing from Sydney can take their pick of lounges when flying QF11, provided you meet the entry requirements.
Qantas International Business Lounge
The guest list for the Qantas International Business Lounge in Sydney is extensive, with a space just as large to accommodate. There are other ways to access this lounge aside from what we've covered below, but here are the criteria if you're jetting off on QF11:
While a hefty joining fee is attached to Qantas Club membership, you can enjoy a complimentary year by unlocking Points Club Plus. To do so, you'll need to earn 350,000 Qantas Points during your membership year, primarily from on-the-ground activities like shopping or through a credit card that earns Qantas Points. If you frequent LAX regularly, Qantas Club membership also grants you entry to the Qantas International Business Lounge in Los Angeles on the return leg.
And if you don't fly regularly enough to hold status or find benefit in a paid Qantas Club membership, a single-entry lounge pass will also get you through the door. These passes are included with some credit cards, such as the Qantas Premier Platinum which gives cardholders two complimentary single-entry digital lounge invitations per anniversary year.
Qantas International First Lounge
Reserved for only the most elite flyers, the Qantas International First Lounge in Sydney is often regarded as one of the best lounges in the world. With free-flowing Champagne, an on-site spa and a tantalising à la carte menu designed by Neil Perry, a visit to this lounge is an experience in itself. If you've ever wondered if chasing Qantas Platinum status is worth it, one look at this lounge and you'll understand the allure.
Speaking of which, the guest list isn't limited to high-tier Qantas Frequent Flyer members. There are a few other ways you can access this lounge:
First Class passengers
Qantas Platinum and Platinum One frequent flyers
oneworld Emerald frequent flyers
Single-entry Qantas First Class lounge passes from the Qantas Premier Titanium Card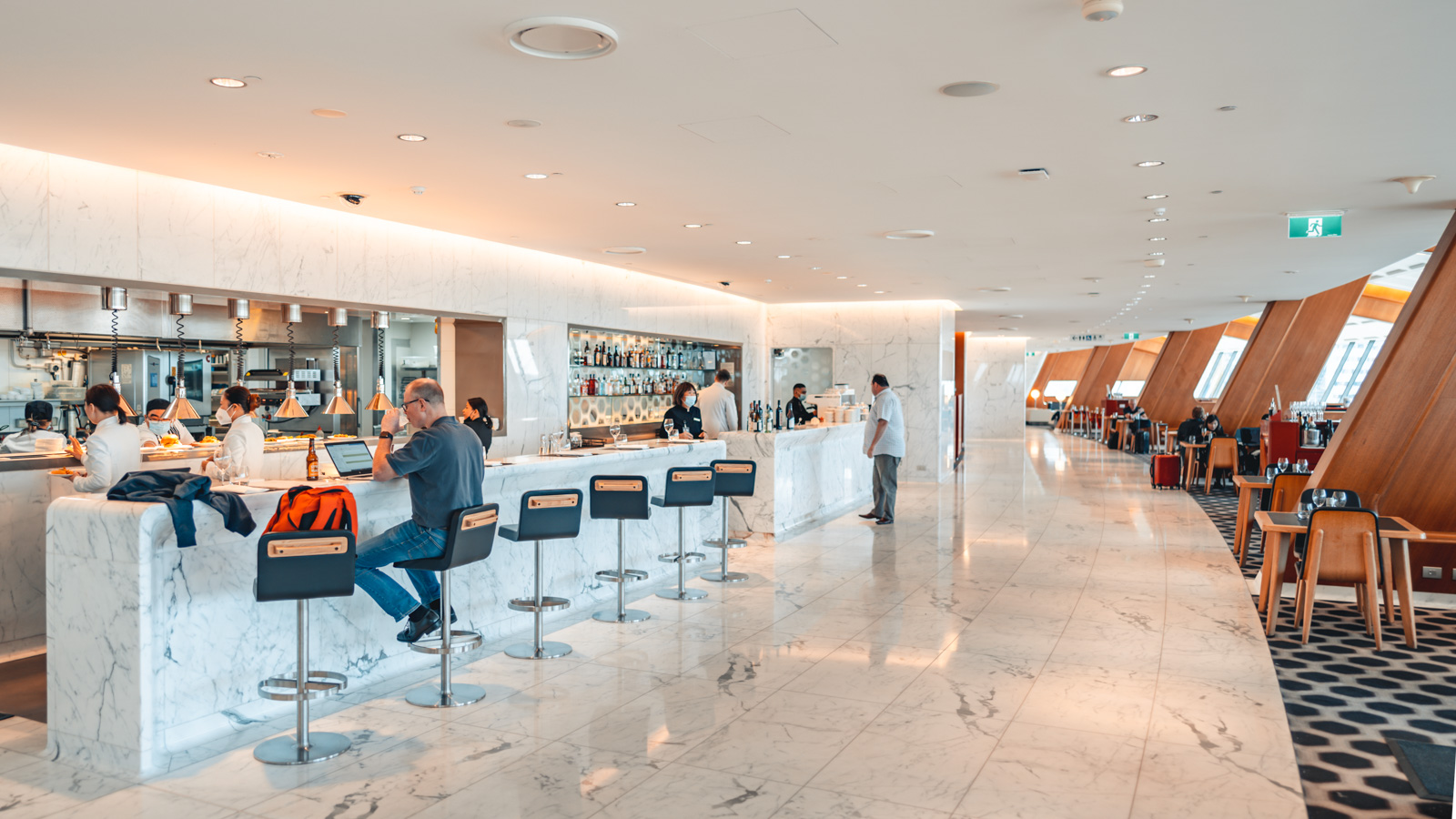 Other lounges
Aside from class of travel and frequent flyer status, you can also access lounges with an eligible credit card or lounge membership. Here are some alternative lounges:
Los Angeles
If your trip concludes at LAX, you won't have the ability to access any lounges on arrival after QF11.
But if you've got a connecting flight with a oneworld airline and meet the eligibility requirements, you could access a oneworld lounge (including the Qantas International Business Lounge) during your transit.
Booking QF11 using points
Flying to Los Angeles from Sydney is made more affordable when you've got some Qantas Points up your sleeve. Reward seats on this popular route can be tricky to come by, but they're not impossible. Here's how many Qantas Points you'll need for a one-way Classic Reward.
| | | | | |
| --- | --- | --- | --- | --- |
| | Economy | Premium Economy | Business | First |
| Sydney to Los Angeles | 41,900 | 81,300 | 108,400 | 162,800 |
Qantas Points required are per person, one way. Taxes, fees and charges are also payable and vary by route.
And here's our top tip for getting the best value from your points. Always ensure you filter your search by 'Reward seats' when looking for Classic Rewards. Any points totals higher than what we've outlined above are Points + Pay seats – the cash value of the fare converted to points – and are terribly poor value.
If you can't find any reward seats and hold Qantas Platinum or Platinum One status, you can call Qantas to request reward seats to be released.
Need Qantas Points to book QF11 from Sydney to LAX? One credit card sign-up bonus could net you enough points for a return Economy trip, or one-way in the lap of luxury.
Also read: How to fly to the US with Qantas Points
Alternative flights
Aside from Qantas' daily QF11 flight, the airline also operates a seasonal additional flight. QF17 flies the same route with a later departure time.
Alternatively, American Airlines also operates a daily route from Sydney to Los Angeles that codeshares with Qantas as QF4111, with a similar departure time to QF11. This flight can be booked using the same number of Qantas Points as above.
Qantas also operates two other routes from Australia's east coast to Los Angeles. The points required are the same as what we've outlined above, except that the aircraft used on these routes does not have First Class.
Qantas flight QF15 – Brisbane to Los Angeles on an Airbus A330
Qantas flight QF93 – Melbourne to Los Angeles on a Boeing 787
And if you're bound elsewhere in North America, here are some other Qantas-operated routes to consider:
Qantas flight QF3 – Sydney to New York via Auckland
Qantas flight QF7 – Sydney to Dallas Fort Worth
Qantas flight QF21 – Melbourne to Dallas Fort Worth
Qantas flight QF73 – Sydney to San Francisco
Qantas flight QF75 – Sydney to Vancouver
On the return leg look for QF12, the Qantas-operated flight from Los Angeles to Sydney.
Is your next getaway simmering in your mind? Whether you're flying to Los Angeles or closer to home, we've got all the tips and tricks to help you get there on points. Subscribe to our email newsletter so you don't miss out!
Featured image: Venti Views, Unsplash
FAQs
What aircraft is QF11?
QF11 is serviced by an Airbus A380 with four cabin classes available.
What time does QF11 depart Sydney?
QF11 has a scheduled departure time of 11:20 am from Sydney Airport.
Does QF11 have First Class?
Yes, QF11 has 14 First Class seats onboard the Airbus A380 from Sydney to Los Angeles.
How often does QF11 fly?
QF11 is a daily service from Sydney to Los Angeles.
Qantas Flight QF11 (Sydney – Los Angeles)
was last modified:
October 11th, 2023
by