In the world of premium travel, there are Business lounges and Business lounges. Typically, the latter is an airline's flagship lounge in its home hub. A lounge that invites lingering and equals the luxury you'll find on board in the world's best Business Class cabins.
Cathay Pacific's The Pier Business Lounge in Hong Kong ranks among my top two favourite lounges globally (the other is Qatar's Al Mourjan Business Lounge in Doha). The moodily-lit The Pier features an array of stylish spaces, each crying out for a protracted visit.
We visit en route to the fabulous Philippines, flying Cathay Pacific Business Class from Hong Kong to Cebu.
Here's how to gain access to The Pier and what to expect inside.
Lounge location and details
Hong Kong's Terminal 1 is vast, so allow plenty of time to find The Pier Business Lounge near Gate 65. It's located at one extremity of the main concourse, down an escalator. Expect a walk of 15-20 minutes from security, though you can jump on an intra-terminal train to speed things up. In any case, allow extra time to find the lounge and then make it to your departure gate.
In June 2023, the lounge is open daily from 5:30 am until Cathay's last departure of the day.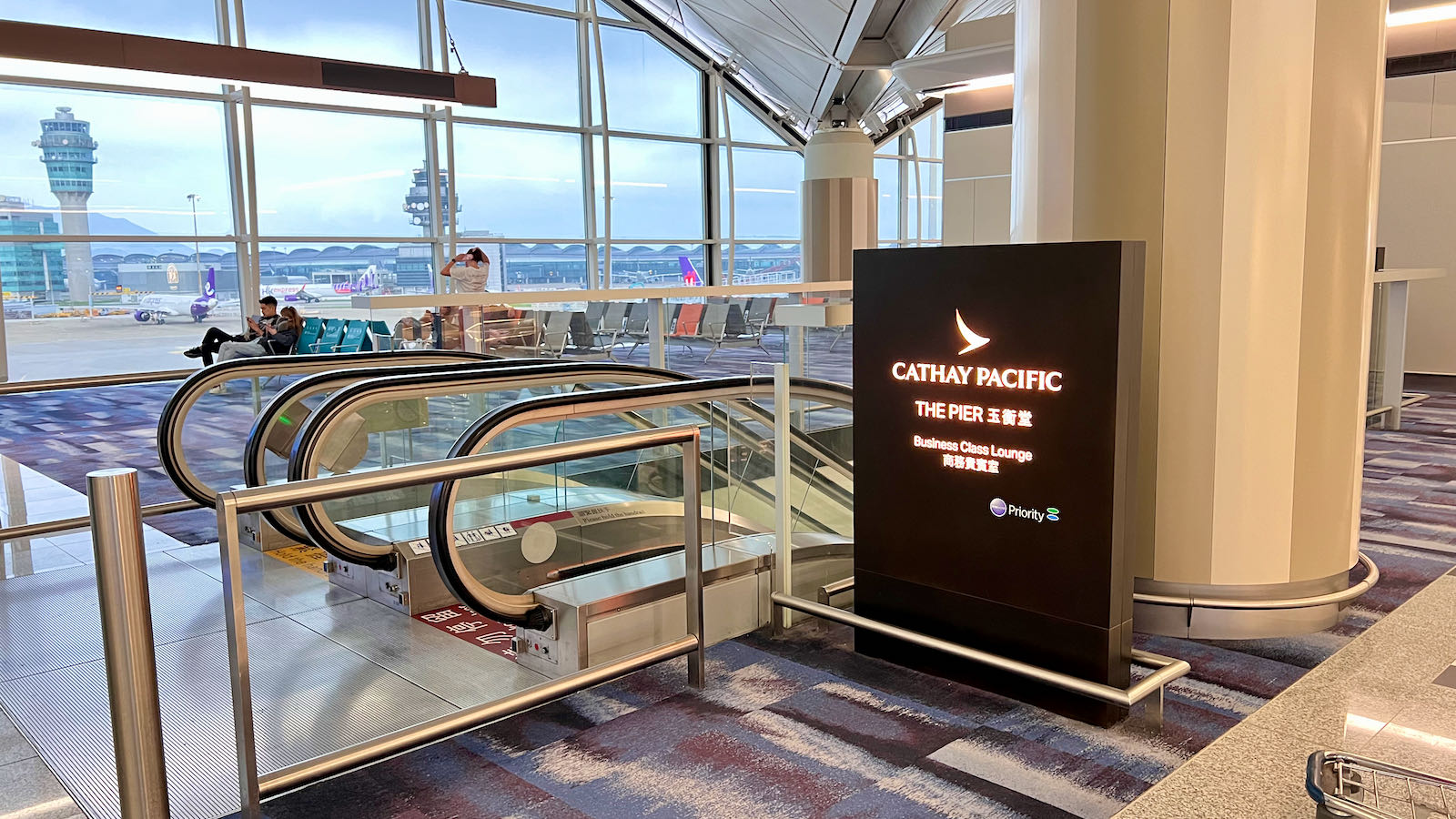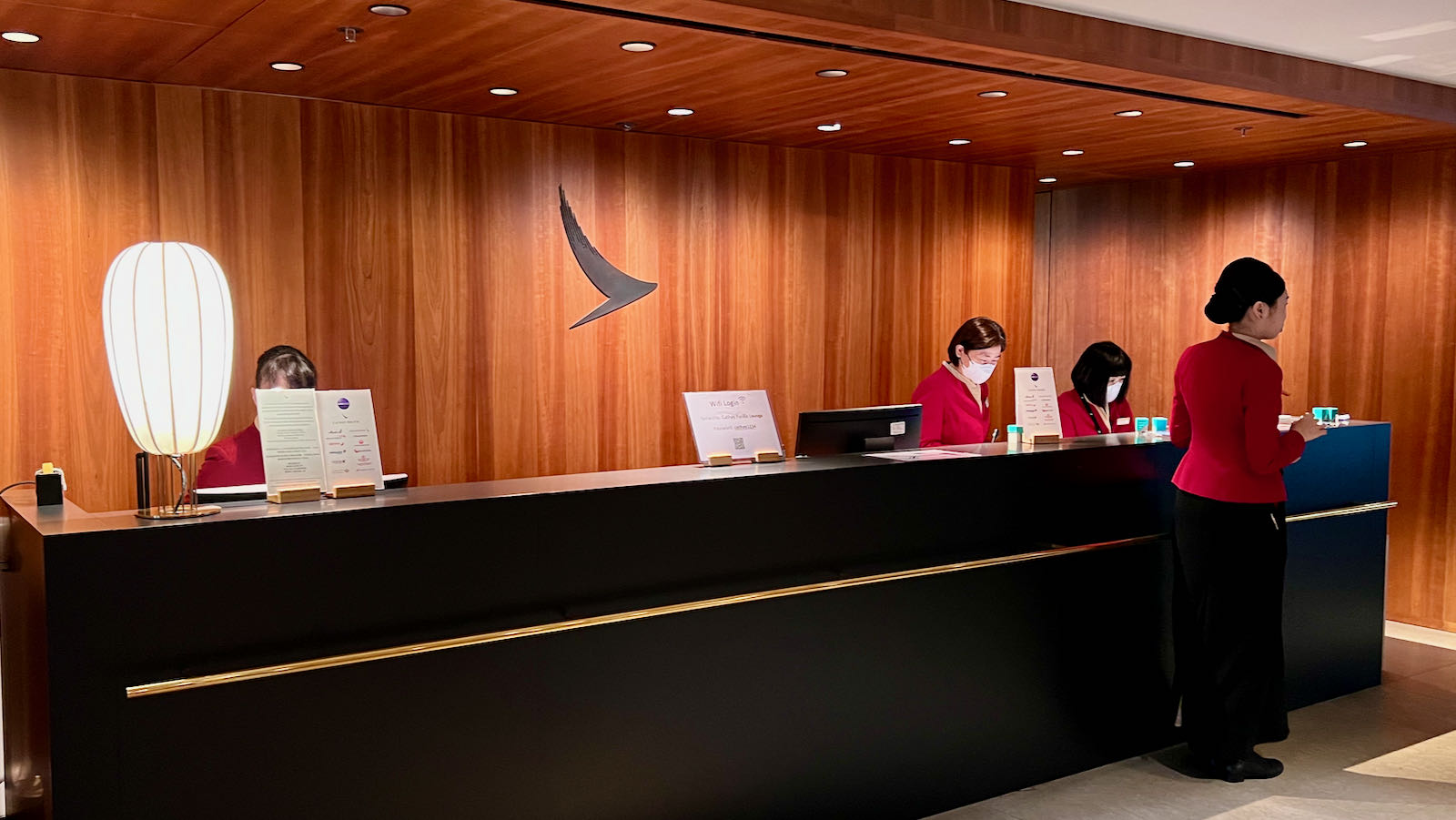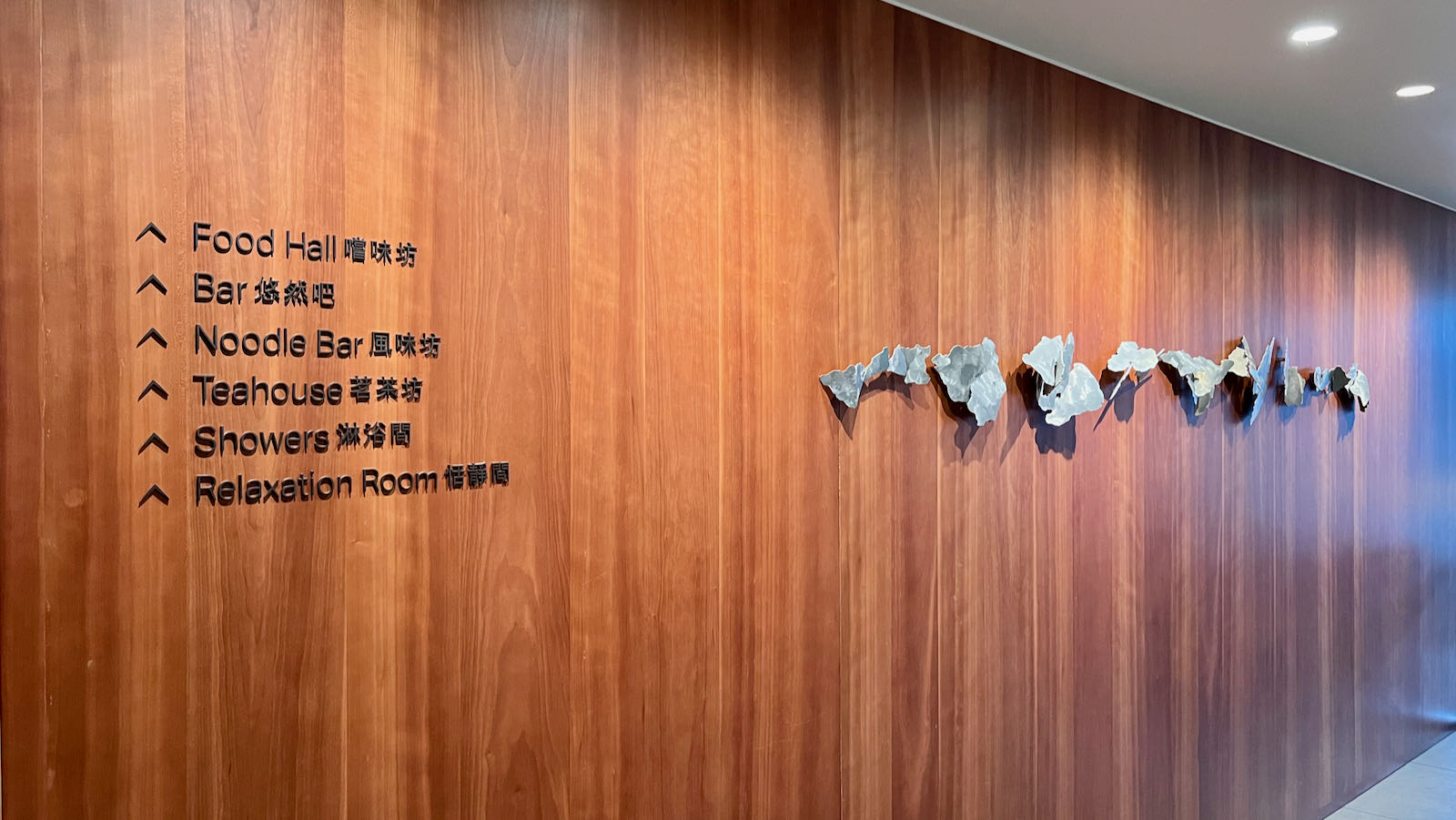 Lounge layout and seating
The Pier features a suite of beautifully-designed spaces that flow seamlessly from one to the next. First up you'll find the buffet dining hall, with a range of seating options at different heights. A scrummy Western breakfast is on offer during our visit – though more on that in a moment.
Next up is the dimly-lit bar, which is pleasingly open all day. (We visit at 7 am and the Champagne's already flowing). The wide windows here provide scenic tarmac views with the mountainous Scenic Hill in the distance. The many different seating options – ranging from open-plan spaces to intimate nooks – ensure you'll find a pew to suit you.
Third, you'll find the popular noodle bar, which features eight different seating options. There's a varied Chinese breakfast on offer during our visit.
But we're not done. Next up is the serene tea room. It's a lovely space that's perfect for relaxing over a soothing cuppa. The range of made-on-demand teas is exceptional, though there's also freshly-squeezed juice and sweet treats on offer.
Unfortunately we don't have time to visit The Sanctuary by PURE, which includes a dedicated yoga and meditation room. Next time, Gadget.
Finally, there's a huge 'relaxation room' at the end. And here's a tip. My travel companion and I have a lengthy overnight transit in Hong Kong Airport, so we book a nearby landside hotel (there's no airside accommodation in HKG). But if your transit falls early in the morning or during the day, you should absolutely visit this relaxation area instead. Dark and whisper-quiet with individual bed-like couches, you could easily nap here for a few hours.
Sneakily, you'll find very little information about this space online – perhaps because Cathay Pacific doesn't want guests taking up residence for hours on end. But just quietly, I'd suggest weary travellers do just that.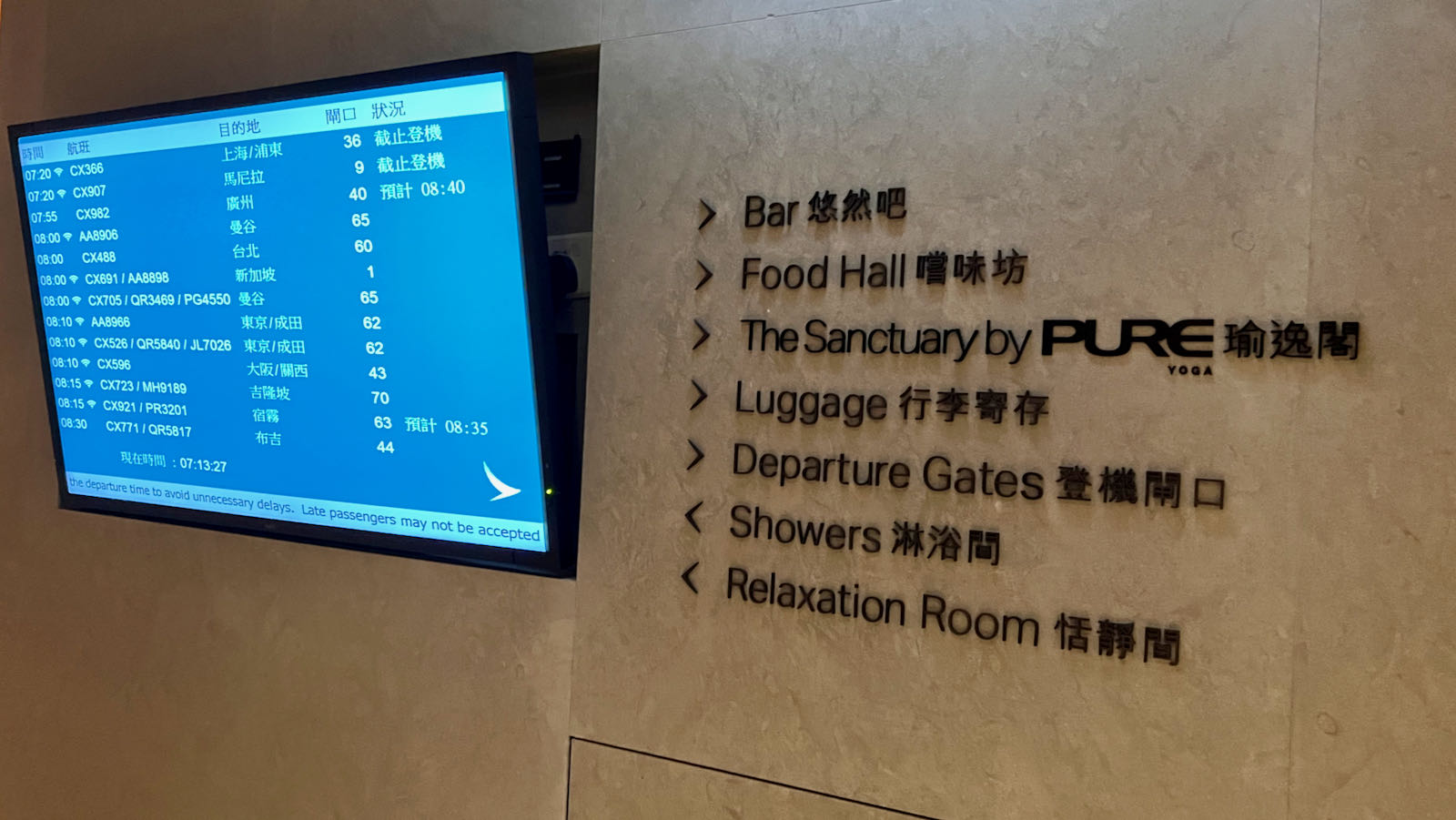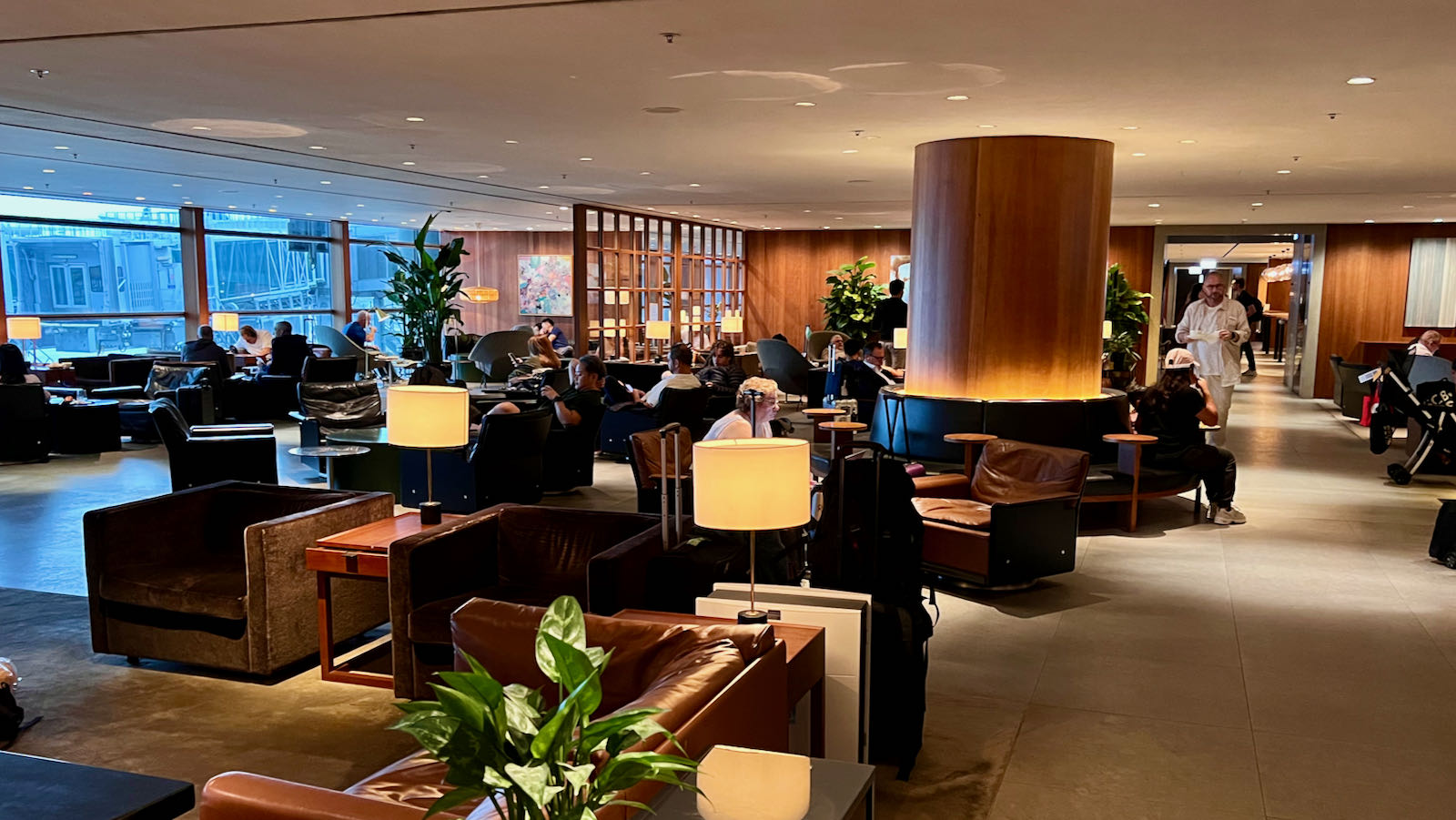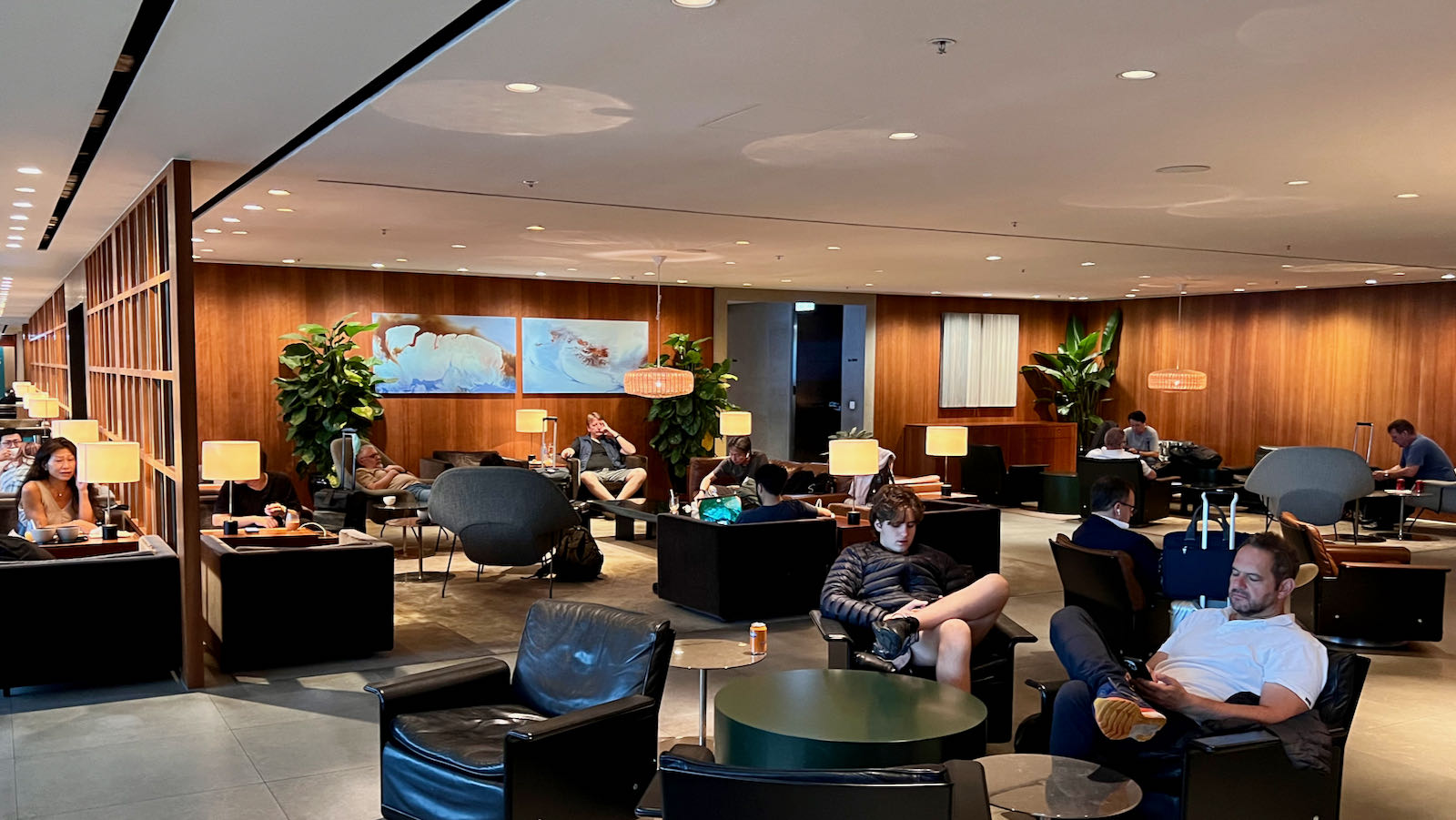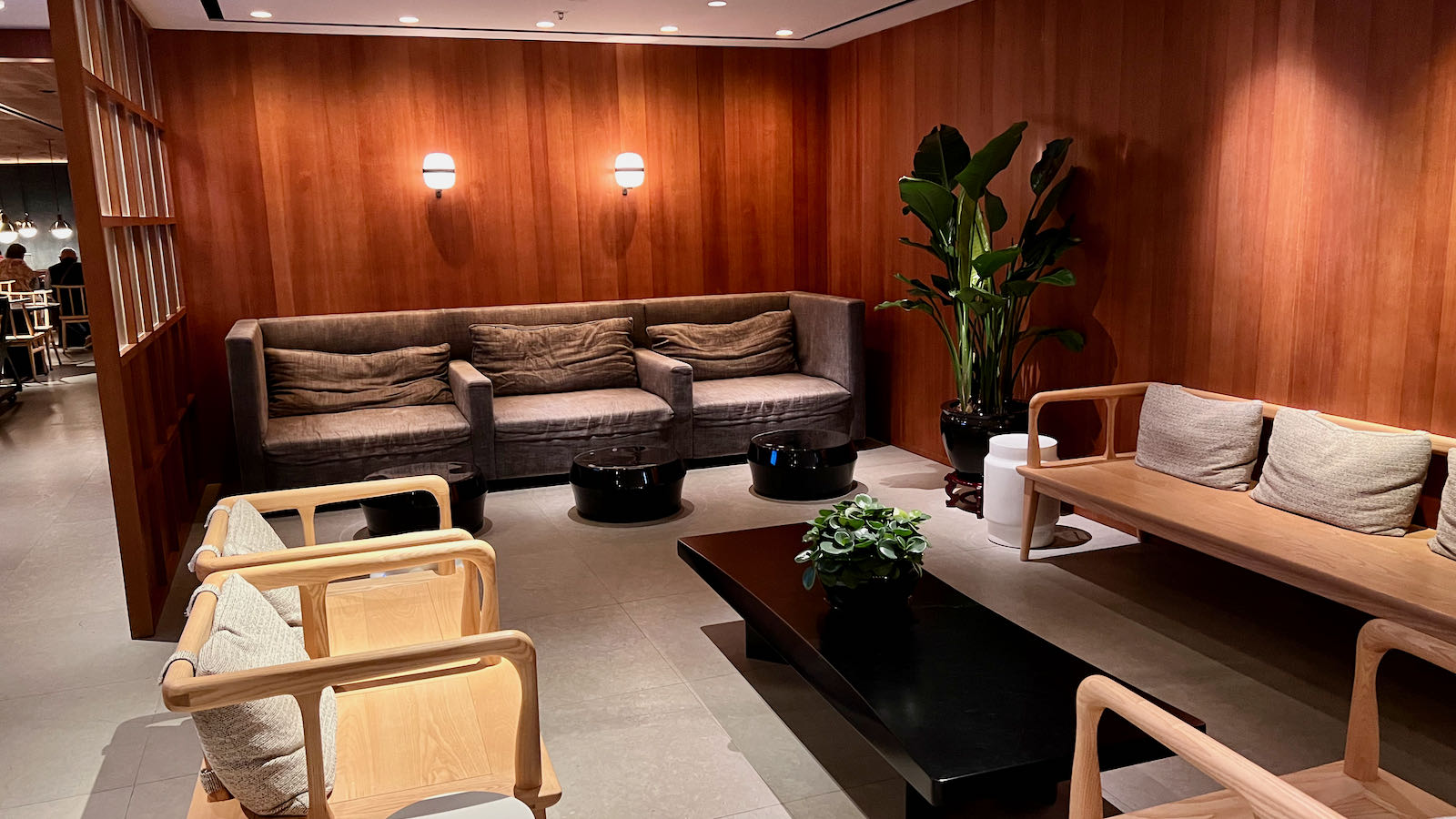 Food and beverage in Cathay Pacific's The Pier, Business Class Lounge
The food and beverage situation at The Pier is reassuringly excellent, with friendly and helpful service only adding to the experience.
It's 7 am, but in classic Antonia fashion I kick things off with a glass of Champagne – Piper Heidsieck in this instance. Two glasses might be taking it too far – even for me – so I follow up with Cathay's signature Cathay Dream mocktail. It's a wistful coconut and kiwi concoction, with an almost whipped texture that makes me swoon. After a long-haul flight, it feels like a hug for your insides. In fact, it's so good that it eclipses Qatar's famed lemon mint juice.
Of course, there are many other drinks on offer, including cocktails and mocktails, spirits, a range of beers, plus red and white wine. If tea is more your schtick, head straight to the peaceful tea room. At The Pier, there really is something for everyone.
On the food front I'm craving scrambled eggs, so I opt for the Western breakfast. It's very good, with a veggie frittata, freshly-carved ham and a wonderful Panzanella salad with basil-drenched tomatoes. For a sweet kick, I finish up with the yoghurt and dried fruit compote plus a glass of finely-diced fruit salad.
Those after an Asian breakfast should head next door to the spacious noodle bar. Options range from steamed dumplings to a variety of noodles and other goodies.
Back at the bar, I'm surprised to see a self-serve coffee machine (pre-COVID The Pier had a coffee cart). But if you head to the counter, one of the lovely staff will make a barista coffee for you. I'm impressed that when I order a macchiato, they enquire whether I'm after a single or a double. Just like in Italy!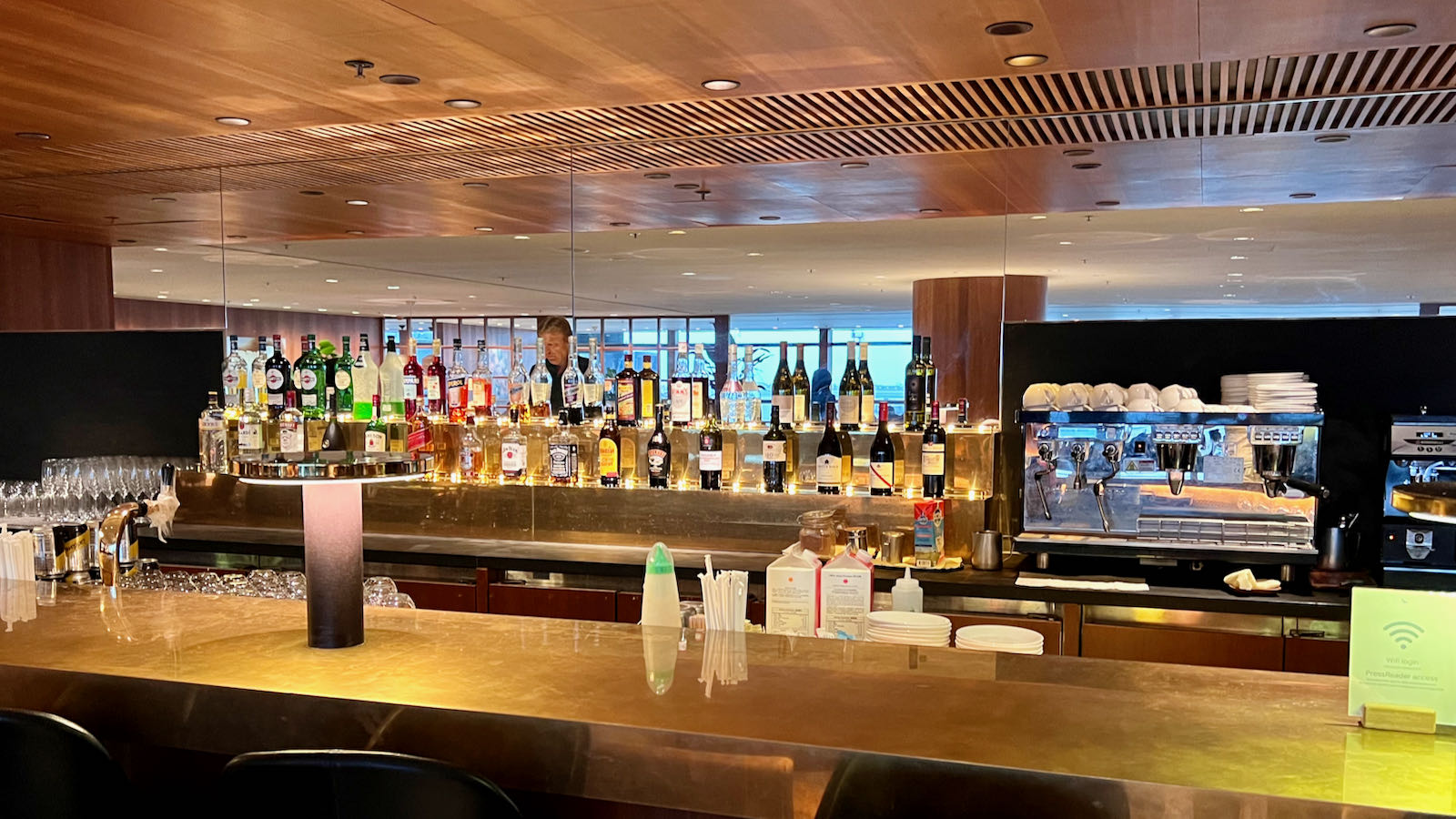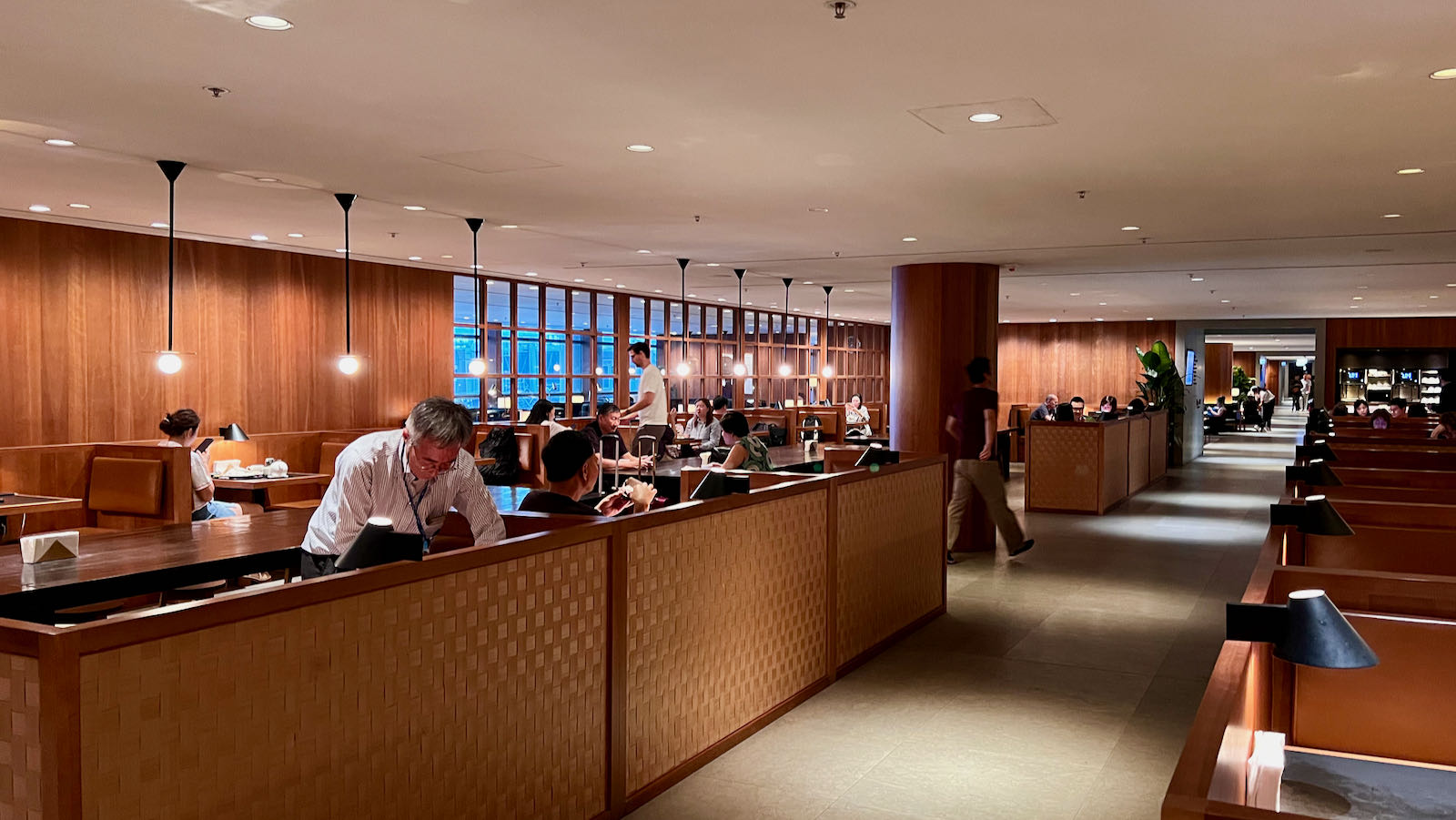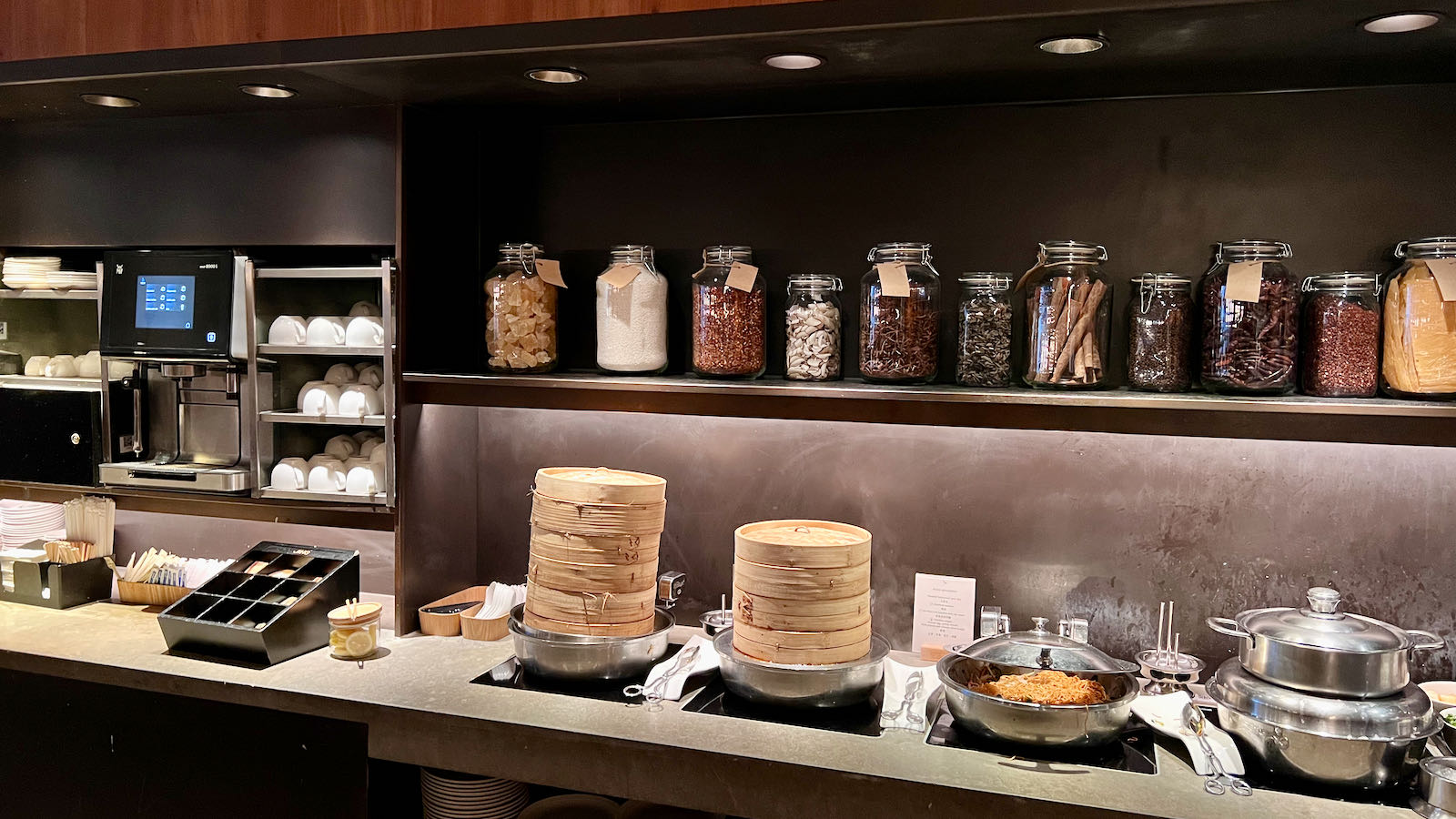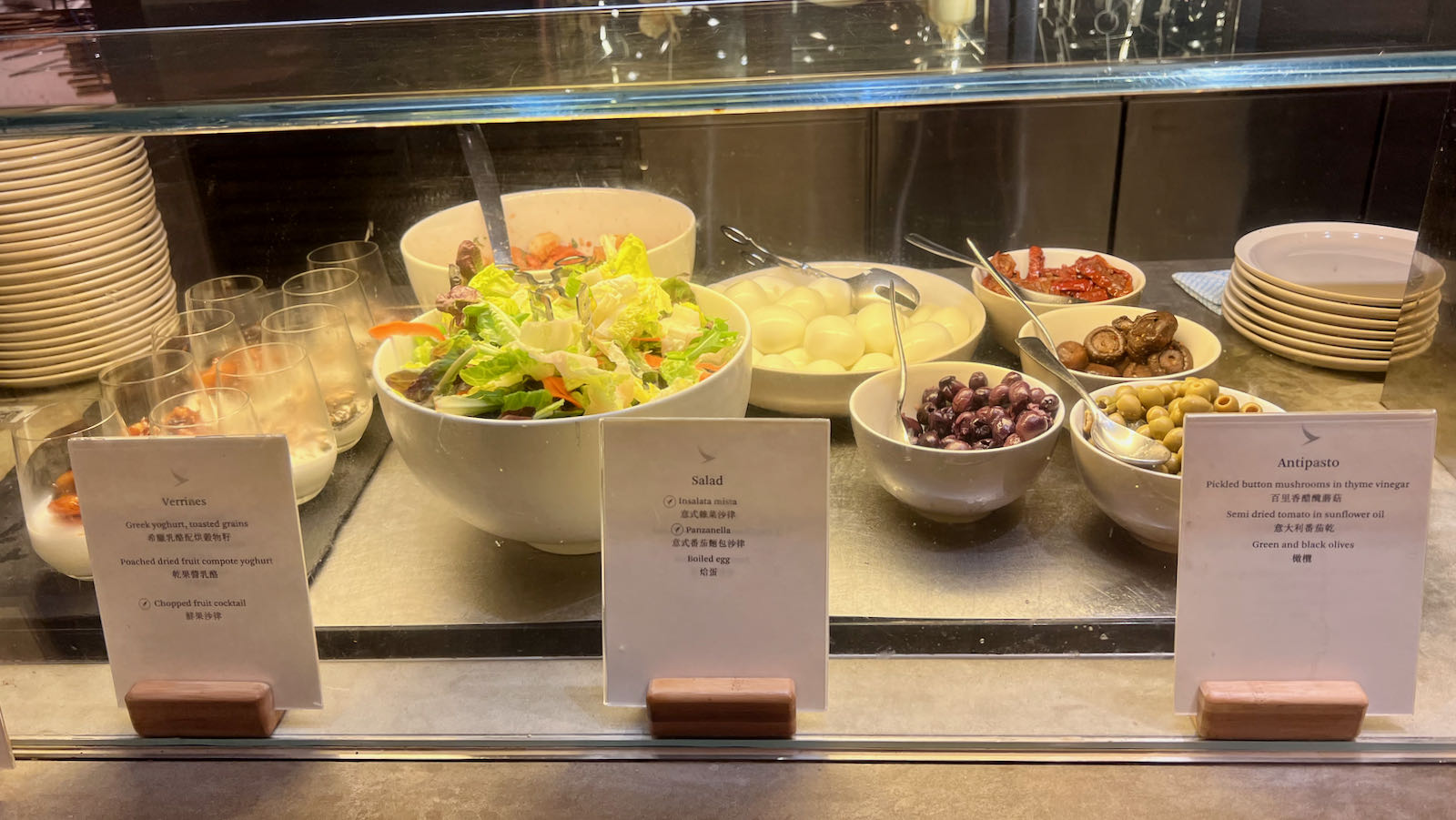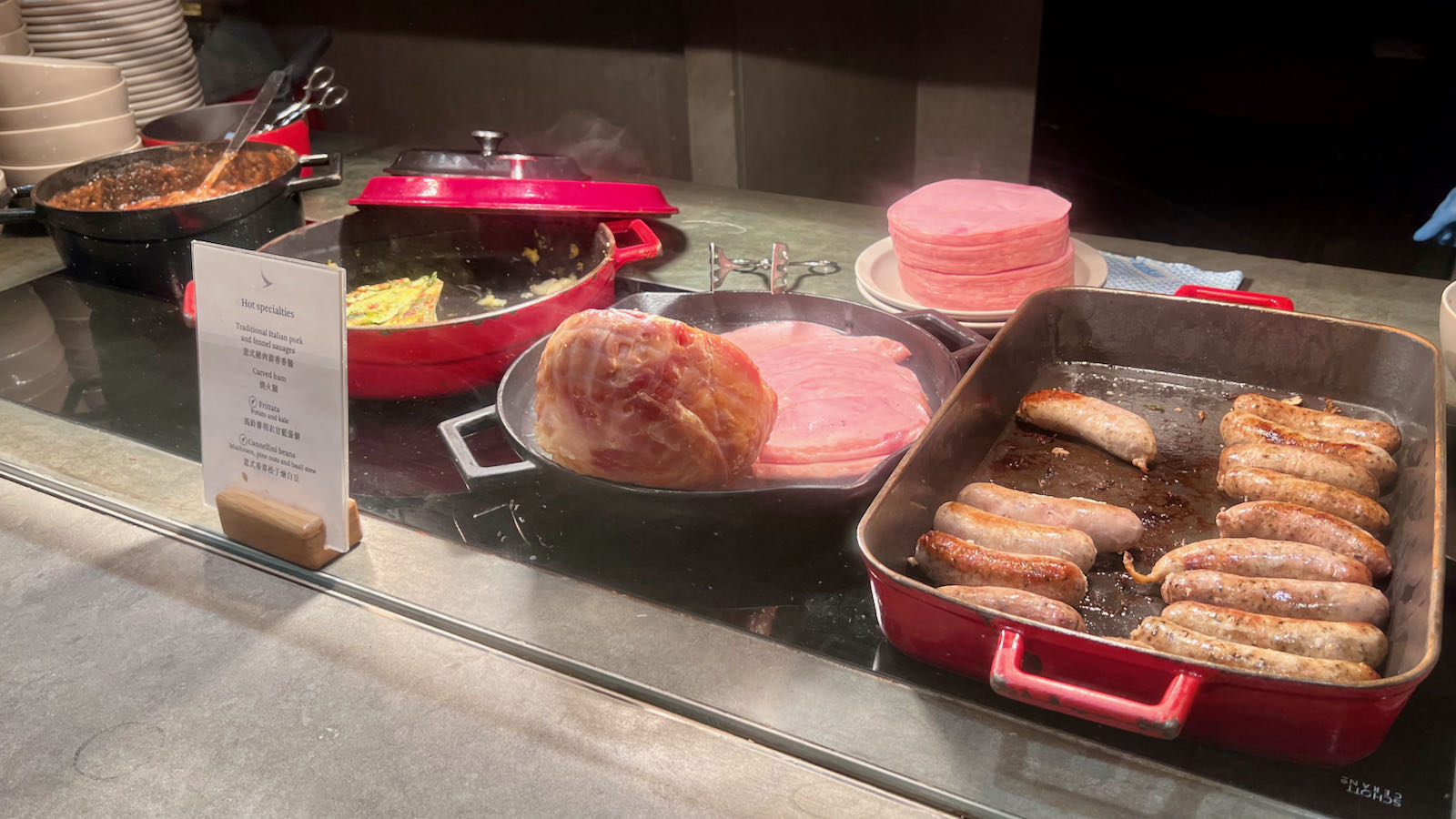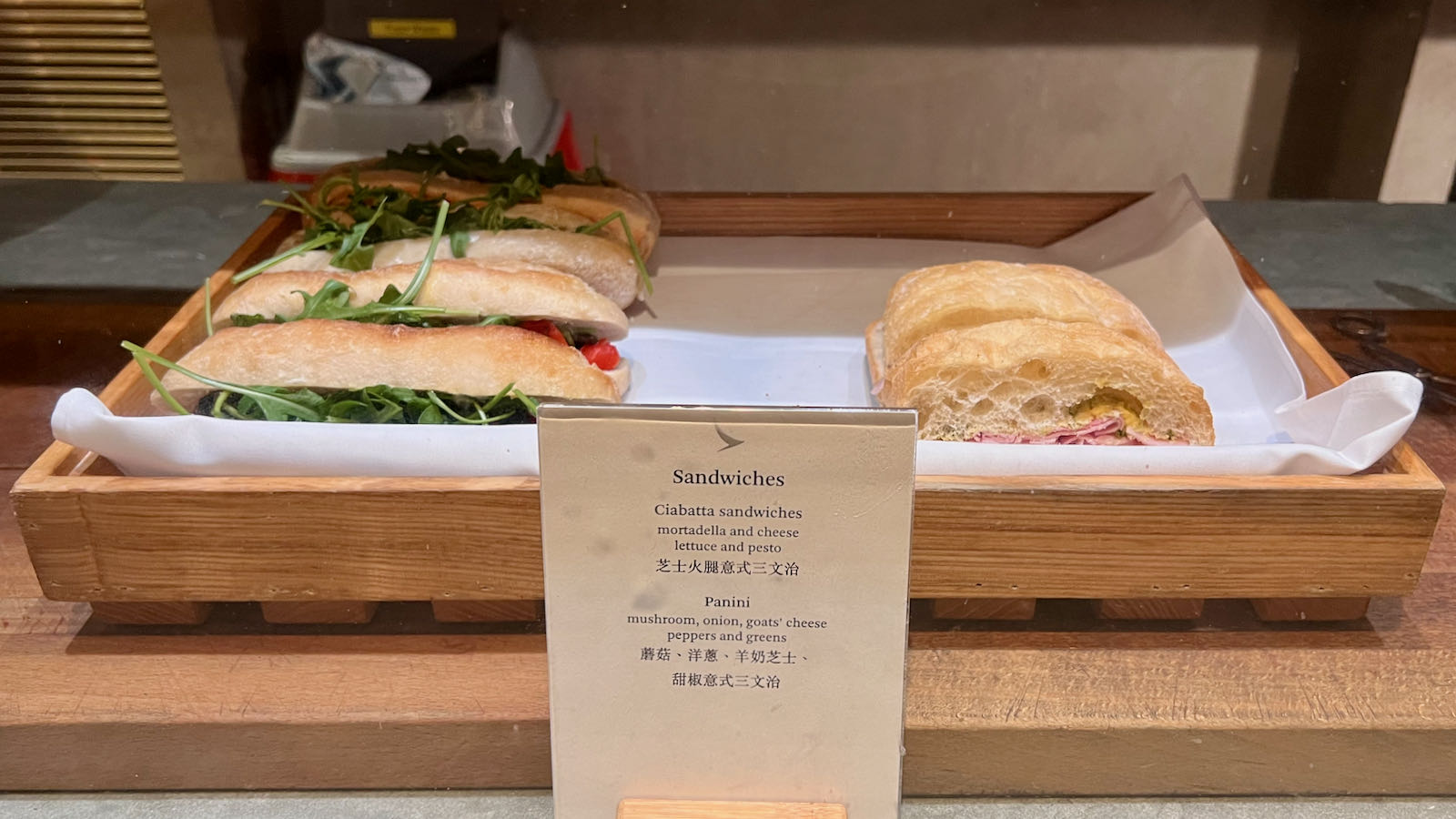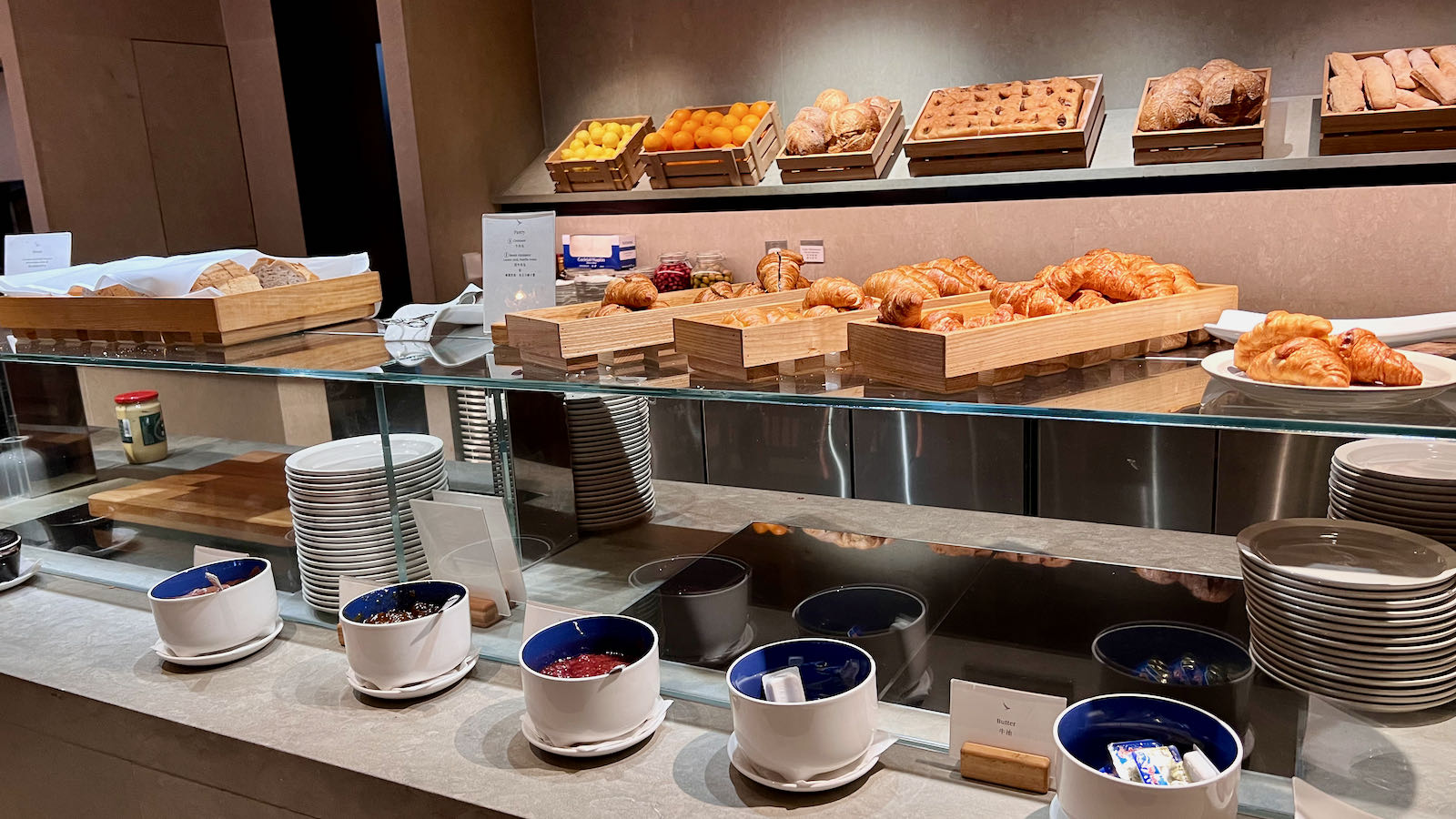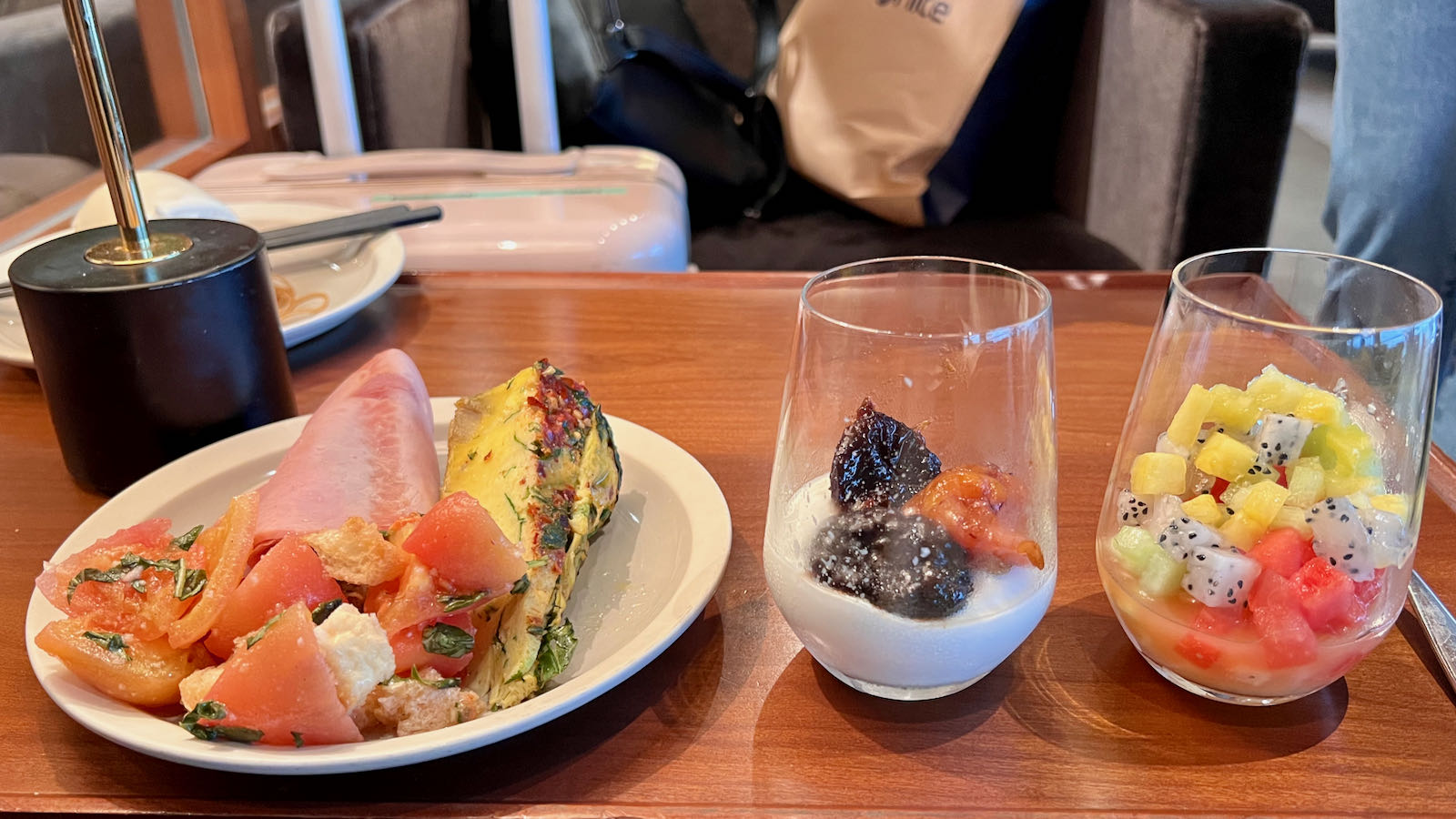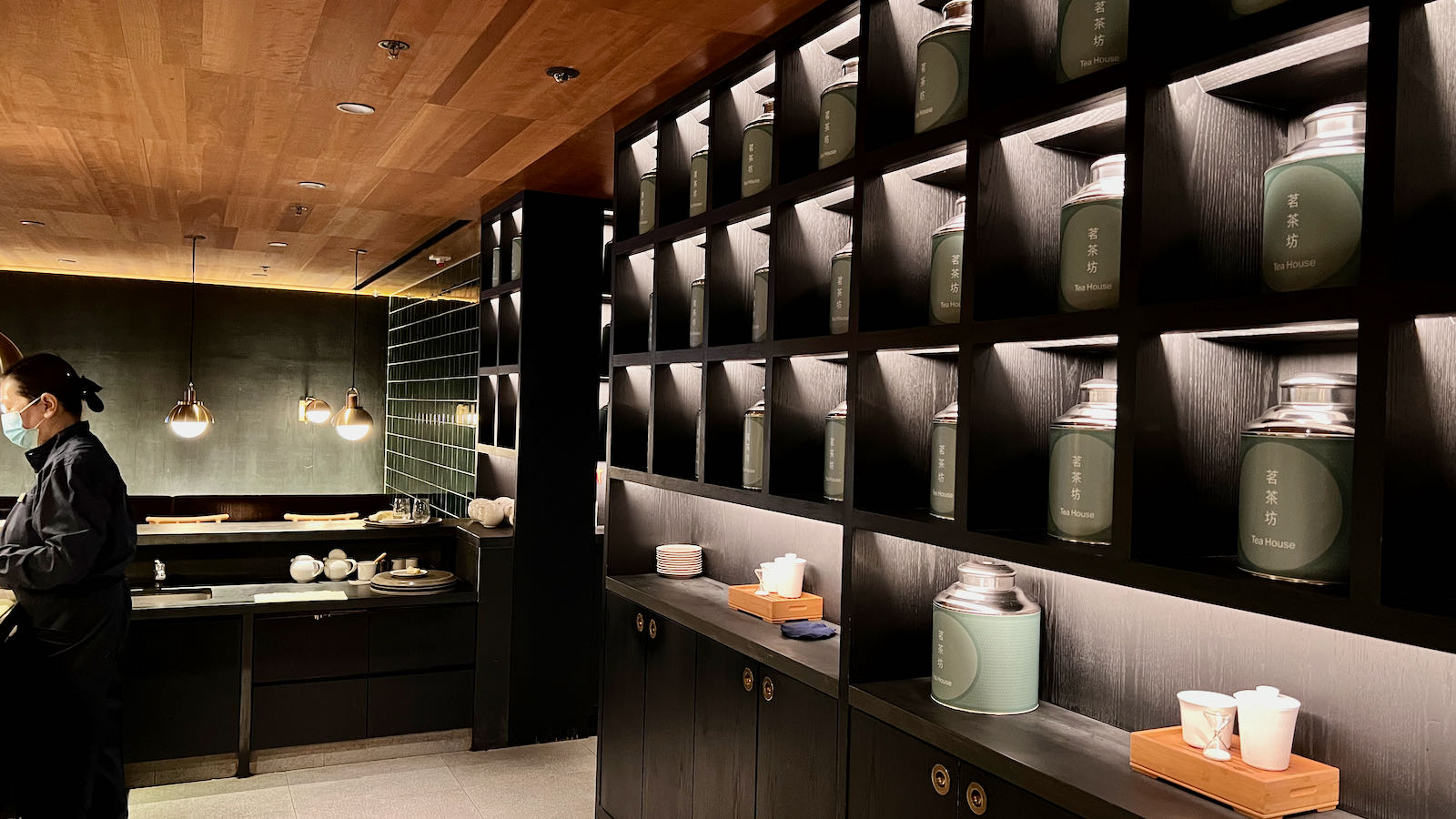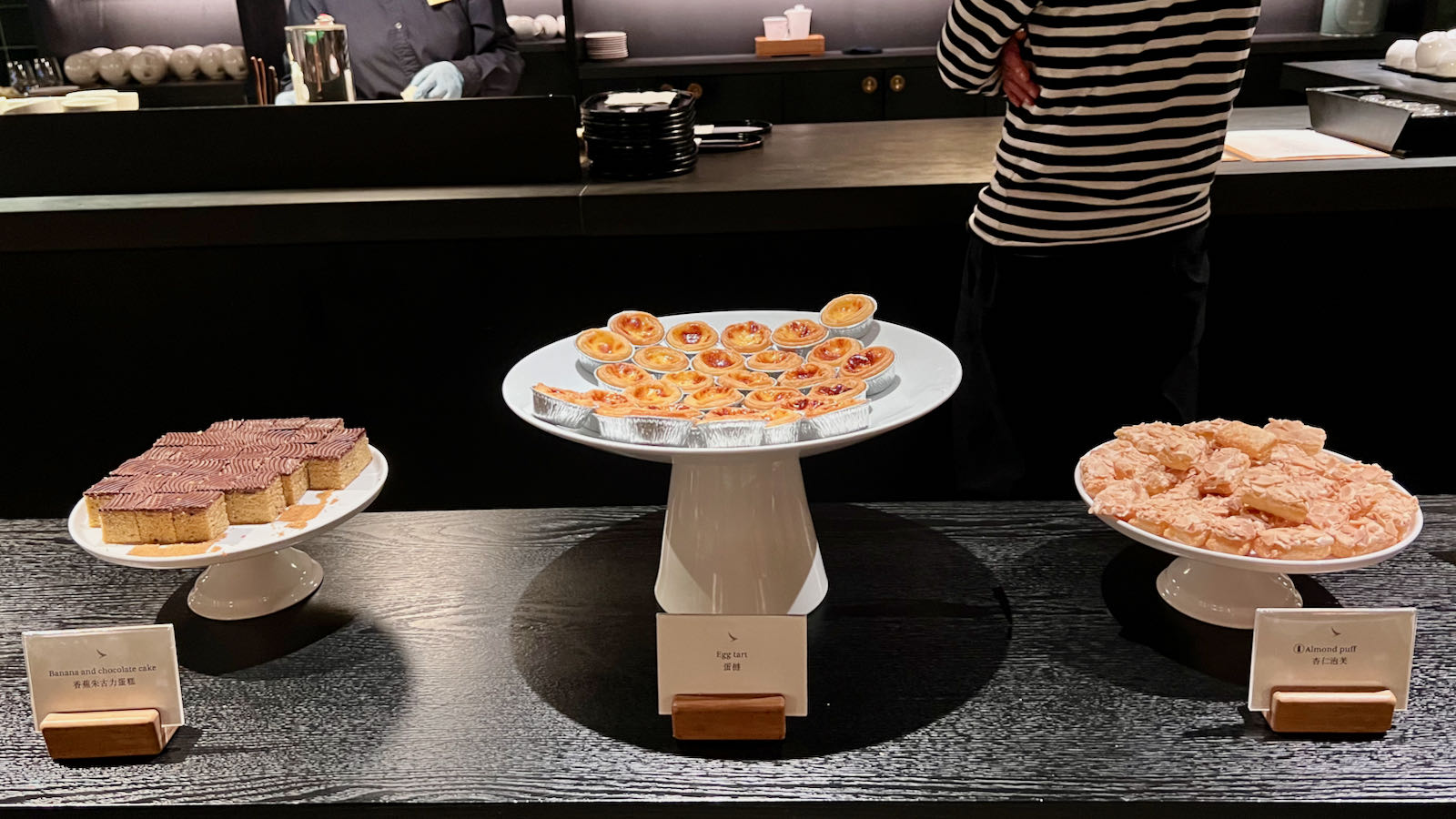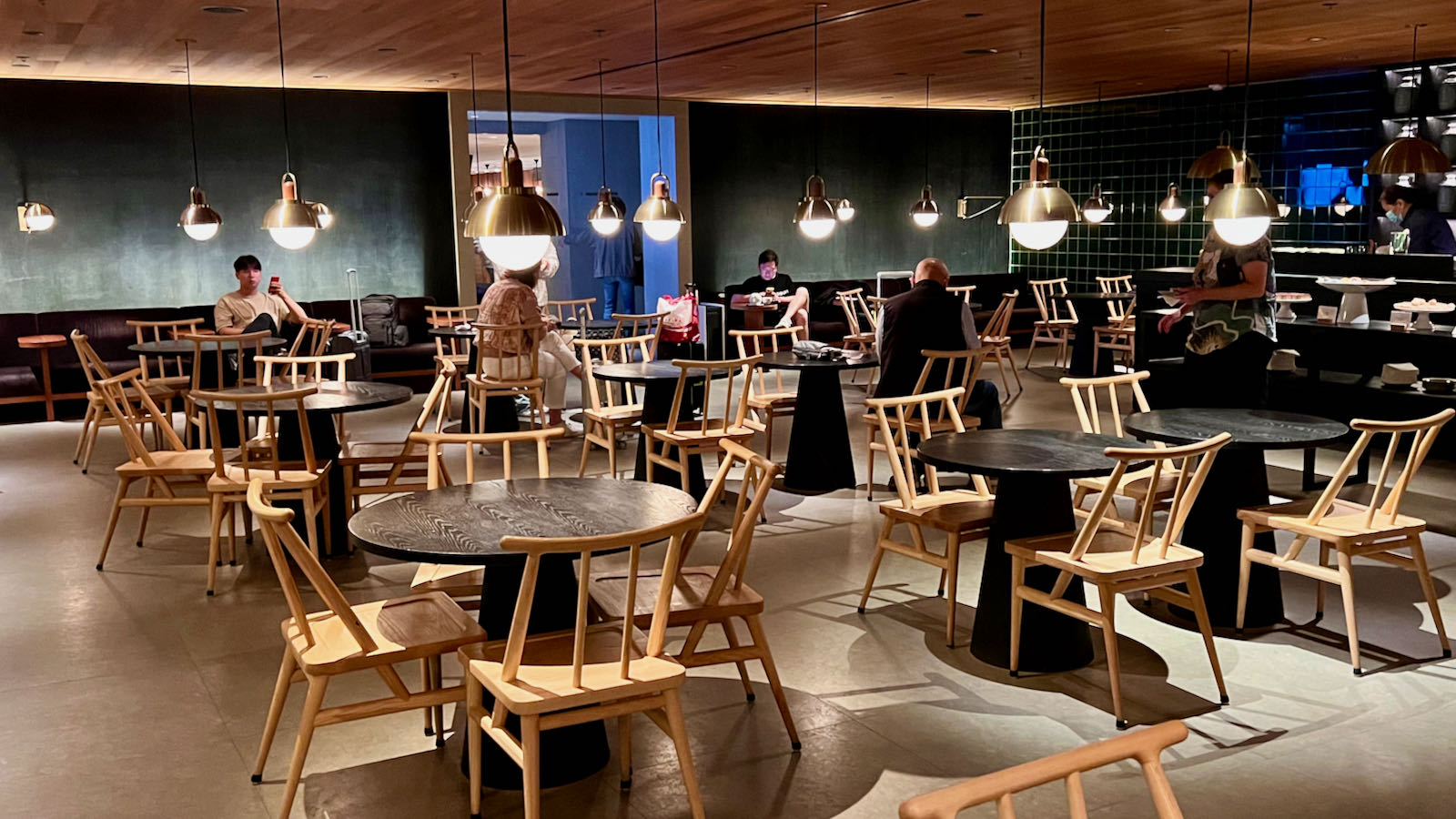 Lounge amenities
As you might expect, The Pier has a range of impressive amenities.
Again, the quiet relaxation room mentioned above is essentially a sleeping zone. Whack in earplugs, pop on an eye mask and you're good to go. The space is also great for chilling with a book or movie. So take your pick.
The bathrooms are lovely, with marble and brass accents adding a luxe touch. The shower suites are also very nice – and spotlessly clean. There were a few free on our visit, a welcome change from the queues found at many other Business lounges.
Luggage storage is another welcome touch, as is the yoga and meditation space, located to the left of reception. The space is divided into four, with a mini yoga room featuring yoga mats and a TV to guide your practice. You'll also find stretching instructions, plus four guided audio meditation pods with comfortable seating.
Unfortunately for parents, there's no children's area. In all honesty, the peaceful atmosphere of the lounge doesn't invite boisterous toddlers with oodles of energy tearing around. Though the service is so good here I'm sure you wouldn't be made to feel uncomfortable if you're unlucky enough to have a cooped-up kiddie-wink or two in your care.
In the power outlet department, you'll find them hidden in the pull-out drawers at most tables. All are UK-style, but you can borrow an adaptor from the front desk if needed.
Finally, there's a ton of reading material available, and the Wi-Fi is very acceptable. I clock speeds of 26/34Mbps download/upload on my visit.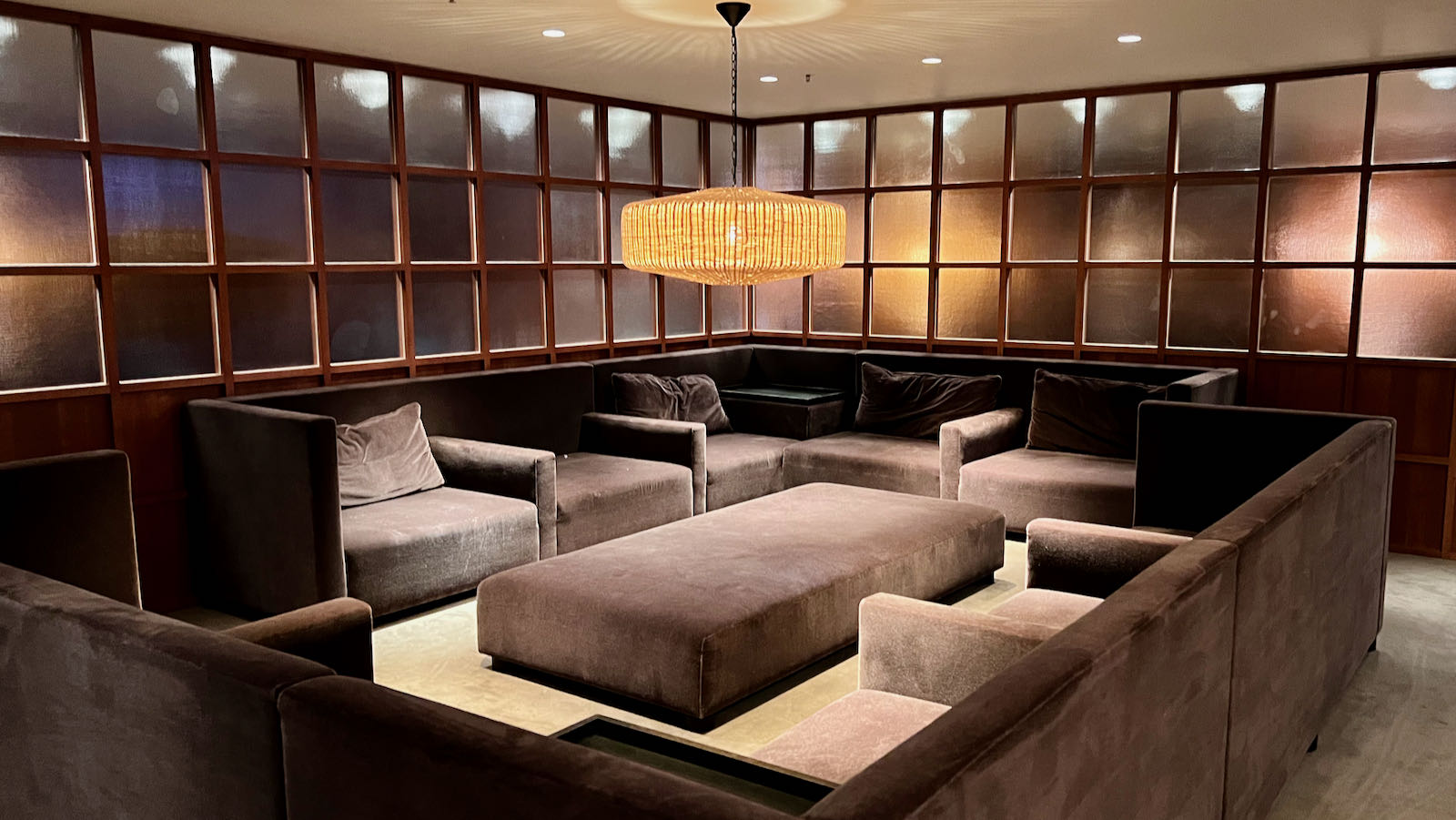 How to access this lounge
The Pier Business Lounge is accessible by Business Class passengers on Cathay Pacific and oneworld airlines, as well as Qantas Gold (oneworld Sapphire) and above status holders travelling in Economy Class.
By class of travel: Business and First Class passengers departing on Cathay Pacific, Cathay Dragon or a oneworld Alliance airline.
By airline frequent flyer status: Marco Polo Club Silver passengers travelling in any cabin on Cathay Pacific. Also, Marco Polo Club Gold (and above) travelling on Cathay Pacific or a oneworld airline.
By airline partner frequent flyer status: Qantas Gold and above travelling in any cabin on Cathay Pacific, Qantas or another oneworld airline.
By alliance frequent flyer status: oneworld Sapphire and above travelling in any cabin on Cathay Pacific or a oneworld airline.
Most of the passengers listed above can guest another person into the lounge, except (oddly enough) for Business Class passengers without status.
Summing up
Cathay Pacific's The Pier Business Lounge in Hong Kong is widely regarded as one of the best Business Class lounges in the world. And after my visit in April 2023, I can confirm this is certainly the case.
I'm disappointed to the point of devastation that we've only got an hour to spare before our onward Business Class flight to Cebu. In fact, I've opted for an eight-hour transit in HKG in September over a two-hour one simply so I can spend time here.
Usually, I'm all about constructive criticism. But with The Pier I'm coming up short. I can't think of a single thing I'd improve, other than re-introducing the barista coffee cart and carving off a small space for kids. But it's not really fair to deduct points for this, given staff will whip you up a latte at the bar and families can choose from a range of seating areas.
So I'll finish, instead, with a plea: get yourself to Cathay's The Pier Business Lounge by any means possible. And if the option to extend your transit arises, take it.
It's five out of five from me.
Article originally written by Matt Moffitt.
Photography by Antonia Strakosch, who accessed the lounge while travelling at Point Hacks' expense. Feature image courtesy of Cathay Pacific.
Cathay Pacific The Pier, Business Class Lounge, Hong Kong
was last modified:
June 22nd, 2023
by