Buying Avios is an easy way to top up your British Airways and now, Qatar Airways points balances. The best use of those points is for cheap last-minute Business and Economy Class flights. Fly Qantas in Australia, American Airlines in the US, Japan Airlines and Cathay Pacific in Asia, and Qatar Airways worldwide.
In this beginner's guide, we highlight why you might want to buy Avios and the best use of them. Also, keep an eye out for our separate guide to the latest British Airways promotions for buying Avios.
Why would I want to buy Avios?
Avios are great for redeeming short-to-medium haul flights on oneworld partner airlines. For example, you'll need 12,500 Avios for a one-way Business Class hop between Sydney and Brisbane (versus 18,400 Qantas Points). Purchasing Avios with a 50% bonus means that you can score this flight for ~AU$370, including taxes. Cash tickets usually retail from AU$800.
You will need an active British Airways Executive Club account to take advantage of this offer. If you haven't already done so, you can sign up for a British Airways Executive Club account here. You must also have at least one Avios point in your Executive Club account. Otherwise, you will see this very abrupt message:
Since late March 2022, you can also transfer Avios between British Airways and Qatar Airways Privilege Club. Qatar Airways charges just 90,000 Avios one-way between Australia and Europe in Business Class. Taxes are not as extreme with no fuel surcharges, although a booking fee of US$70 per segment has been quietly reintroduced.
The above cost is compared to Qantas Frequent Flyer, where you're looking at 139,200 to 159,000 Qantas Points for the same flights, plus at least AU$600 in fees and charges from Australia (more from Europe). And as reported by Australian Frequent Flyer, Qantas Frequent Flyer is currently getting very little availability from Qatar Airways.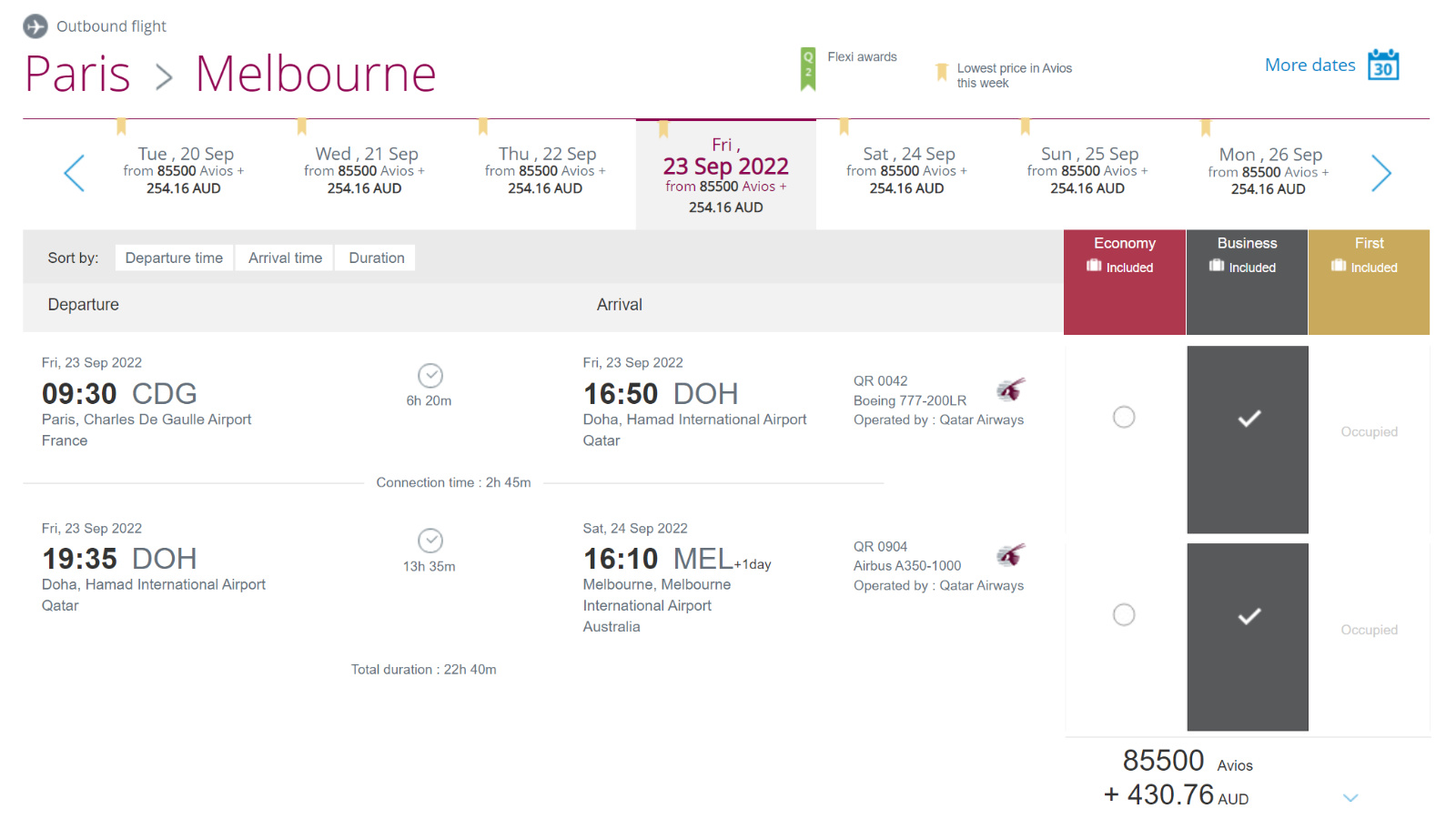 Buying 90,000 Avios with a 50% bonus costs as little as £975 (AU$1,665). Add taxes, and you're looking at about $2,000 one-way to Europe in Business Class. That's not too bad, considering how high fares are right now. Of course, be sure to find availability on a route you want before buying the Avios!
The basics: British Airways and Iberia
Avios are the frequent flyer loyalty currency of IAG (International Consolidated Airlines Group). They're the parent company of British Airways and Iberia and a part-owner of Qatar Airways. Points can be transferred between the three programs with ease.
There are three separate (yet intertwined) Avios programs:
The price for BA and Iberia Plus Avios differs on a few factors. British Airways Executive Club will be of the most use to Australia-based travellers, but charges for Avios in US Dollars which is the most expensive. However, if your Executive Club account has a UK address in it, you can buy Avios in British Pounds which is far cheaper.
Iberia is a niche airline but offers cheaper rates when buying Avios in Euros with a promotion.
What are the Avios sweet spots?
Here are three examples in Australia:
A one-way ticket from either Brisbane to Sydney or Sydney to Melbourne both fall into their lowest bracket at under 600 miles. A one-way ticket will set you back 6,000 Avios in Economy or 12,500 in Business at this level. Compare this to 8,000 and 18,400 Qantas Points respectively.
Brisbane to Melbourne is over the 600-mile mark so will fall into the next bracket: 9,000 Avios in Economy or 16,500 in Business. Once again, this is considerably less than Qantas.
Melbourne to Perth is 11,000 Avios in Economy or 22,000 in Business and Sydney/Brisbane to Perth is 13,000 Avios in Economy or 38,750 in Business. This is about the maximum distance where purchasing points outright can represent any value for domestic flights.
Unlike most other purchased miles, Avios can provide good value for Economy flights, especially when redeeming last-minute. And unlike on their international routes, last-minute Qantas domestic awards are easy to come by.
Similar short hops can be useful around Asia on other oneworld partners such as Japan Airlines and Cathay Pacific or in the US on American Airlines and Alaska Airlines.
Read how Matt saved up to 75% on flights by buying Avios →
How are Avios awards priced?
British Airways Executive Club has a distance-based award chart (similar to Qantas), with each segment pricing separately. But British Airways-operated flights offer peak and off-peak award pricing, meaning that the number of points you pay will depend on the date you wish to travel.
Qatar Airways flights also have preferential pricing, matching the Avios that Qatar Airways charges for its own flights. For example, it takes 70,000 Avios to fly from Australia to Doha in Business Class, or 90,000 Avios to go all the way to Europe in Qatar Airways Business Class.
As of 2022, here is the current British Airways partner award chart for most other partners:
| Miles travelled | Economy | Premium Economy | Business | First |
| --- | --- | --- | --- | --- |
| 1-650 miles | 6,000 | 9,000 | 12,500 | 24,000 |
| 651-1,151 miles | 9,000 | 12,500 | 16,500 | 33,000 |
| 1,152-2,000 miles | 11,000 | 16,500 | 22,000 | 44,000 |
| 2,001-3,000 miles | 13,000 | 25,250 | 38,750 | 51,500 |
| 3,001-4,000 miles | 20,750 | 41,250 | 62,000 | 82,500 |
| 4,001-5,500 miles | 25,750 | 51,500 | 77,250 | 103,000 |
| 5,501-6,500 miles | 31,000 | 62,000 | 92,750 | 123,750 |
| 6,501-7,000 miles | 36,250 | 72,250 | 108,250 | 144,250 |
| 7,001+ miles | 51,500 | 103,000 | 154,500 | 206,000 |
You'll also need to pay taxes and surcharges on top. British Airways have a well-earned reputation for high fuel surcharges. For Qantas domestic flights, expect to pay around £24.10 per person, per flight.
Don't have enough Avios? You can also opt to pay more cash and use fewer Avios on reward flights. Sometimes, you'll actually be better off going down this route! See the example below: you can save 33,000 Avios in exchange for paying £280 (~AU$512) more. You're essentially buying those Avios for 1.55 AU cents each, which is cheaper than any of the 'buy points promotions' we have listed above.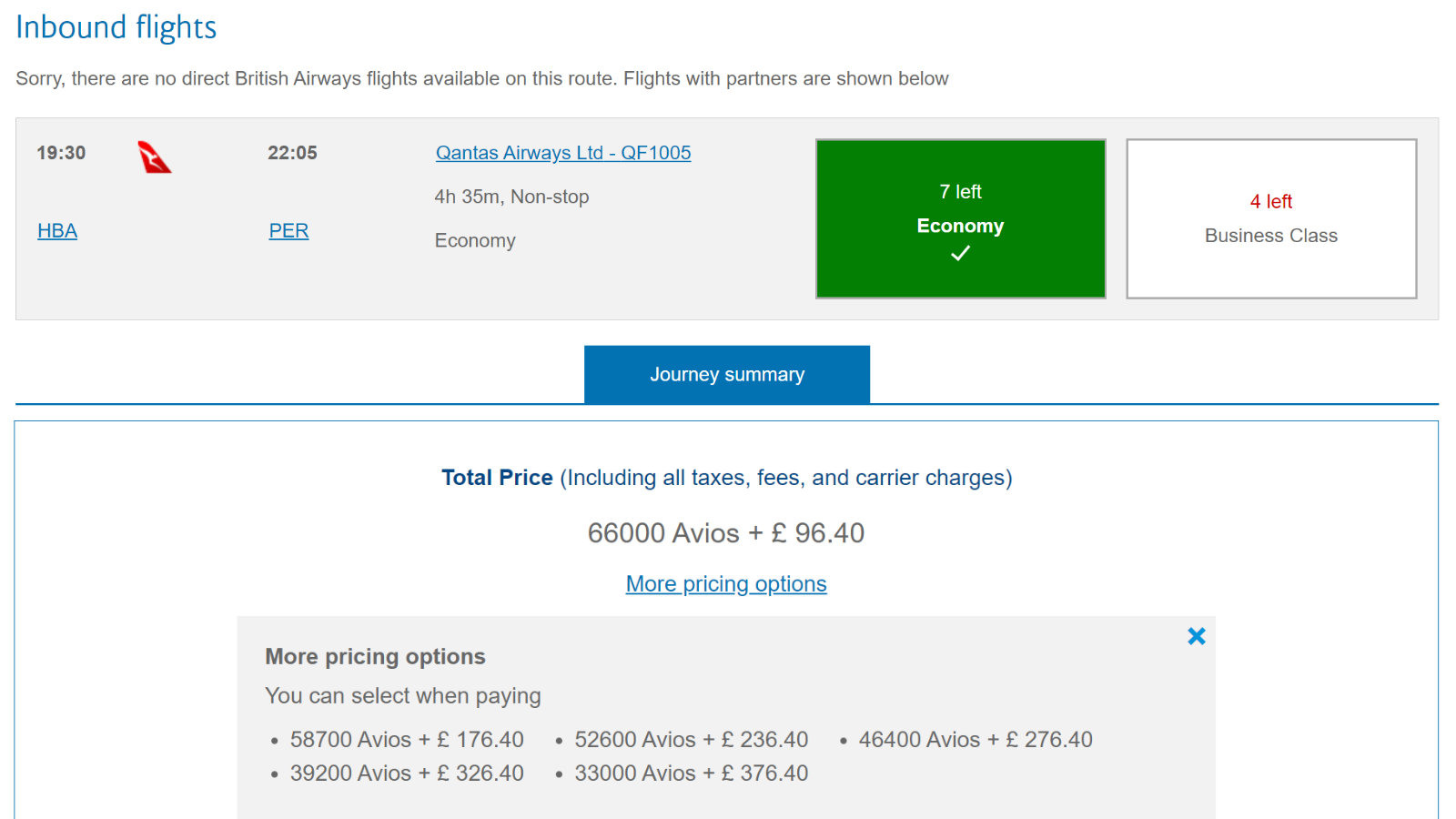 When to transfer Avios over to other airlines
One rare feature of the various Avios programs is the ability to transfer points between each other at a 1:1 ratio.
The main advantage here is accessing Iberia Plus's redemption rules with your purchased British Airways Executive Club Avios. Or, purchase Iberia Plus Avios and move them over to British Airways if there is a different deal running between the two programs.
Of course, with Qatar Airways Privilege Club joining the mix, it gives you more options yet again. Travelling to Europe or the USA in Business is now much easier. You can transfer British Airways Avios to Qatar Airways and back at a 1:1 ratio.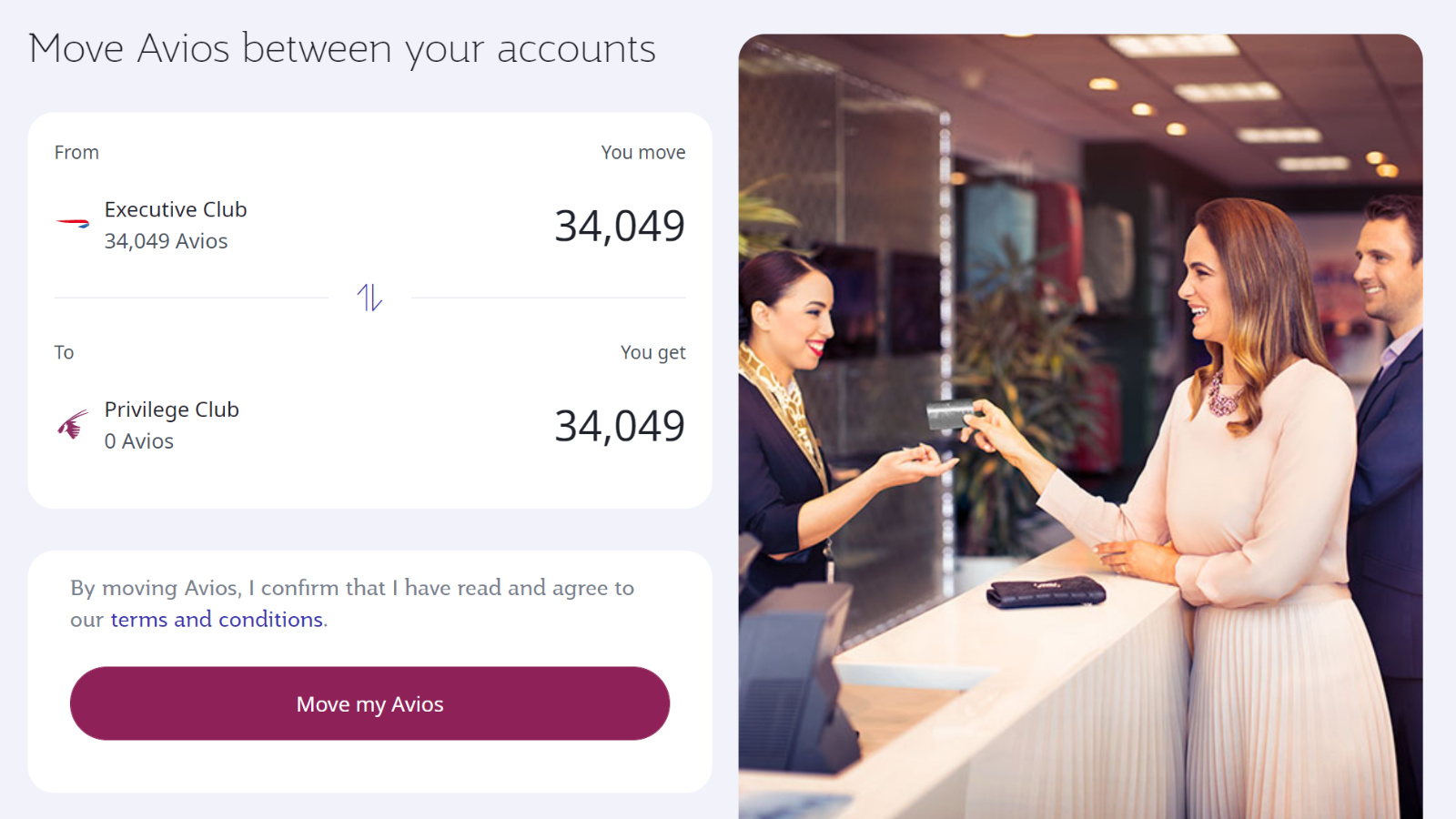 One Iberia sweet spot is Zone 4 and 5 Business Class redemptions. This allows one-way bookings in Business Class from New York/Boston to Madrid for 34,000 Avios and Chicago/Los Angeles/Miami to Madrid for 42,500 Avios.
By comparison, these are 50,000 and 62,500 Avios on British Airways. Also, Iberia Plus doesn't levy fuel surcharges when flying on Iberia-operated flights, increasing the savings.
Head For Points has a complete guide on how to transfer points between the two programs. One key thing to note is that your Iberia Plus account must be 90 days old and must have earned at least one Avios point to be able to purchase and transfer miles.
The easiest way to fulfil this requirement is to simply credit your next Qantas or oneworld flight, car hire or hotel stay to Iberia Plus since it's a oneworld member airline. Iberia Plus also regularly runs discounted award redemption offers.
Making bookings using Avios
The British Airways website is one of the most complete search engines around for displaying partner award availability. It includes Qantas and the other oneworld airlines that fly to Australia. You can see exactly how many reward seats are remaining.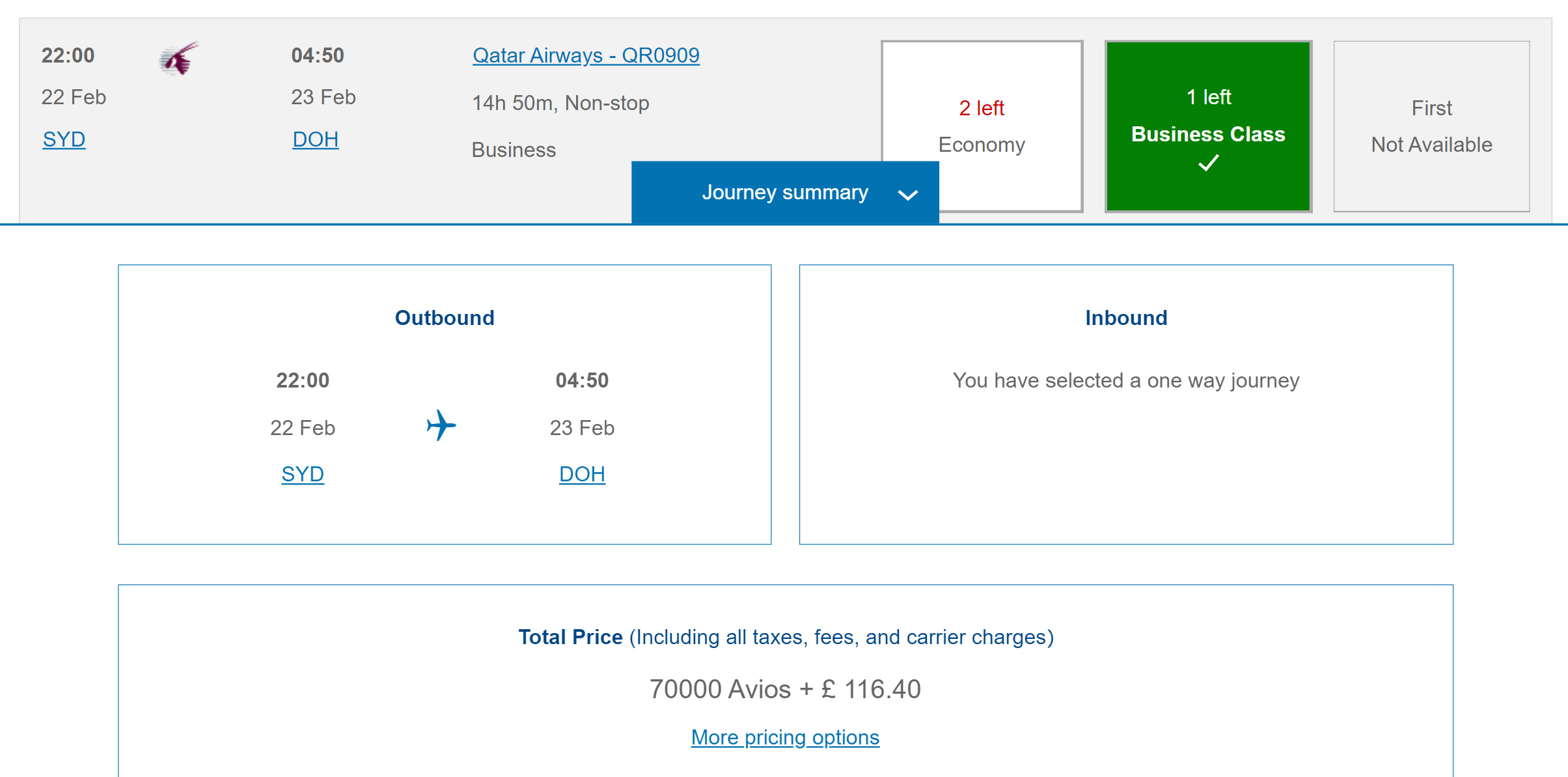 While most itineraries should be bookable online, you may need to call up if you're having difficulties. You might get shorter wait times by contacting their Singapore office at +65 6622 1747.
An alternative way to get Avios: transfer from Marriott Bonvoy and/or Amex Membership Rewards
The other easy way for Australians to acquire Avios is by transferring through Marriott Bonvoy, which is a points partner of American Express Membership Rewards. If you're short of Avios and Marriott Bonvoy has its own 'buy points promotion', you could consider going down that avenue instead.
In 2021, I went down this road when I wanted to secure Easter 2022 Business Class seats with Avios, but only Marriott Bonvoy was running a promotion at the time.
Until 30 September 2022, there's also a nifty 50% transfer bonus from American Express Membership Rewards to Marriott Bonvoy.
Summing up
The best use of Avios is for Business Class travel on short- to medium-haul flights in Australia, Asia and the US. With Qatar Airways thrown into the mix, it certainly opens up more options as well. Keep an eye out for future Avios sales and you may be able to secure a Business Class flight at a reasonable price.
Read all our other guides for buying points →
This content contains affiliate links from which Point Hacks may earn commissions from transactions generated from new customers, bookings and general enquiries. Find out more here.
Thanks to TK from the Point Hacks Community for writing up this guide to buying Avios! Recent updates by Brandon Loo.
How buying British Airways Avios can unlock cheaper Business Class flights
was last modified:
June 22nd, 2023
by