Cathay Dragon is the regional airline of Cathay Pacific, based in Hong Kong. It is an affiliate member of oneworld, meaning you can use any oneworld points currency for a redemption, including Qantas Points.
It is a full-service carrier operating exclusively within Asia and used to be called Dragonair.
I booked a one-way Business Class flight on Cathay Dragon to Kaohsiung for 9,000 British Airways Avios (now 12,500 Avios)+ US$42 (~AU$57) in order to start my one-month journey around Taiwan in January-February 2019.
Fleet & routes
Cathay Dragon basically operates two types of aircraft, the narrowbody A320 and the widebody A330. There are a couple of variants within each, the most notable being the largest version of A330-300, which has eight 'First Class' seats arranged in a 1-2-1 configuration.
Are they really First Class? Not really—they are almost identical to what you'll find in Cathay Pacific's medium- and long-haul Business Class.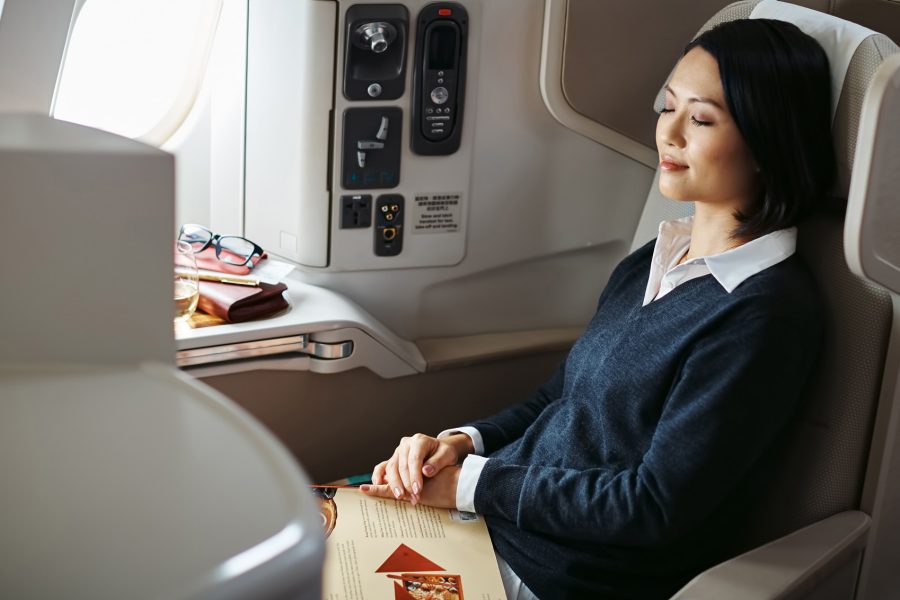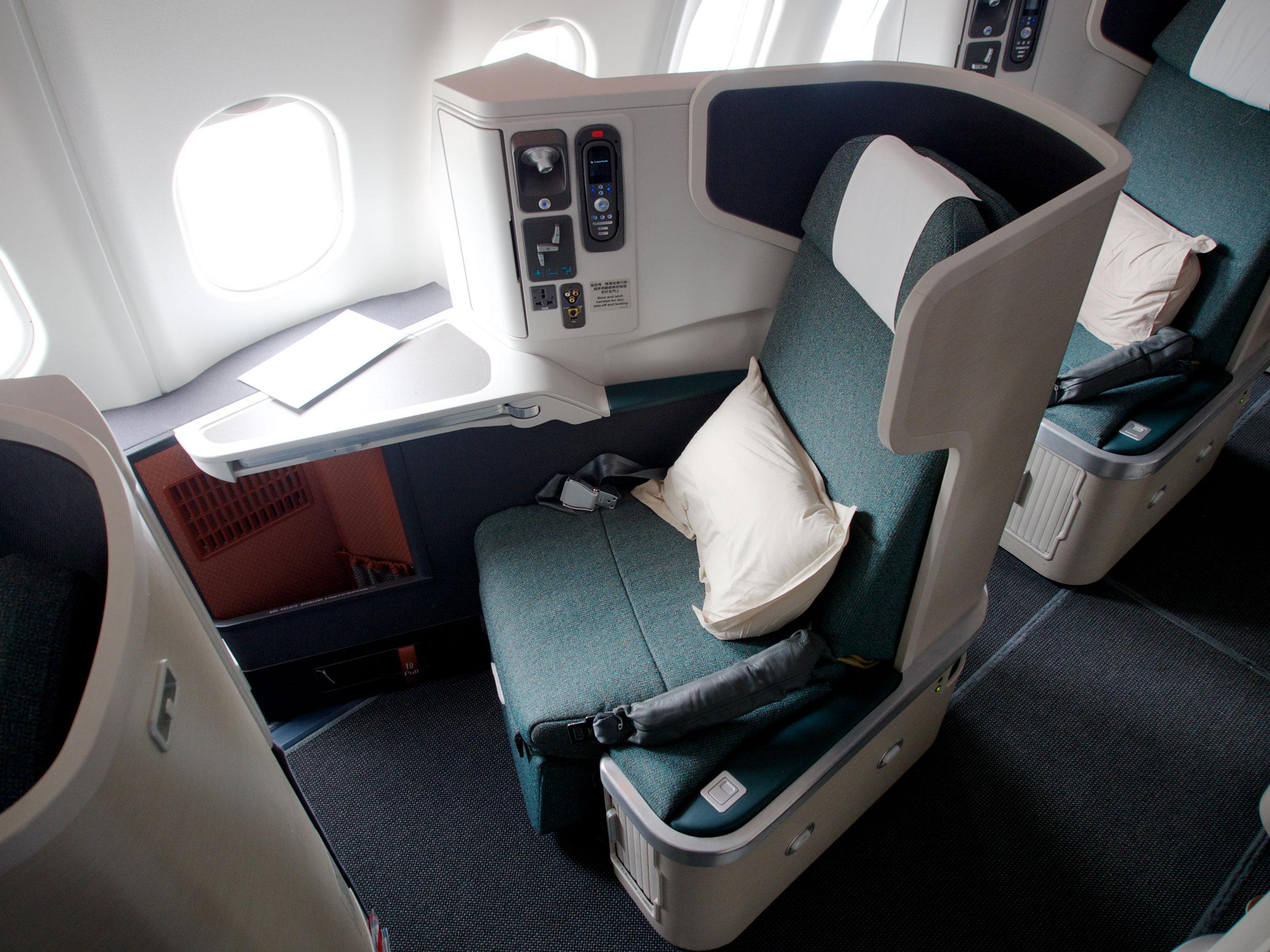 But you will get access to Cathay's two excellent First Class lounges when departing on a Cathay Dragon flight from Hong Kong.
I was originally booked to fly First Class on this route, forking out 18,000 Avios, but they downgraded the plane to one without First Class about three months before departure and I got a refund of 9,000 Avios. I'm thankful for that because First Class would've been a waste of points on a 90-minute flight!
The airline services 50+ destinations throughout Asia, with about half of them being in Mainland China:

Most flights are less than three hours in length. The longest operating flight is six hours to to Bengaluru, India and the shortest is to nearby Guangzhou, with less than one hour in the air.
Cathay Dragon has a dedicated check-in area in Hong Kong's Terminal 1.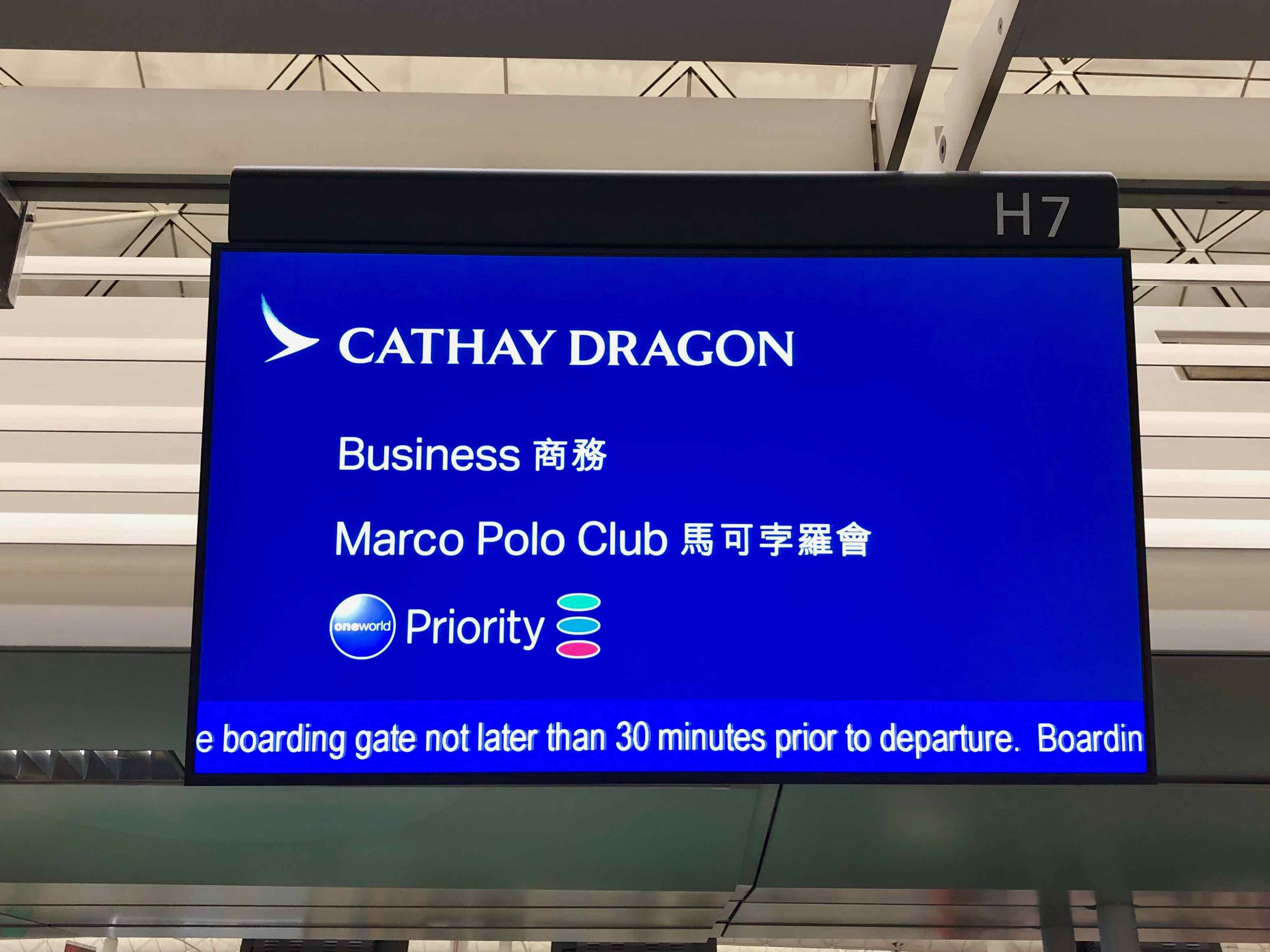 The cabin & seats
Depending on the route, you'll be on a plane in a 2-2 or 2-2-2 configuration, as shown below: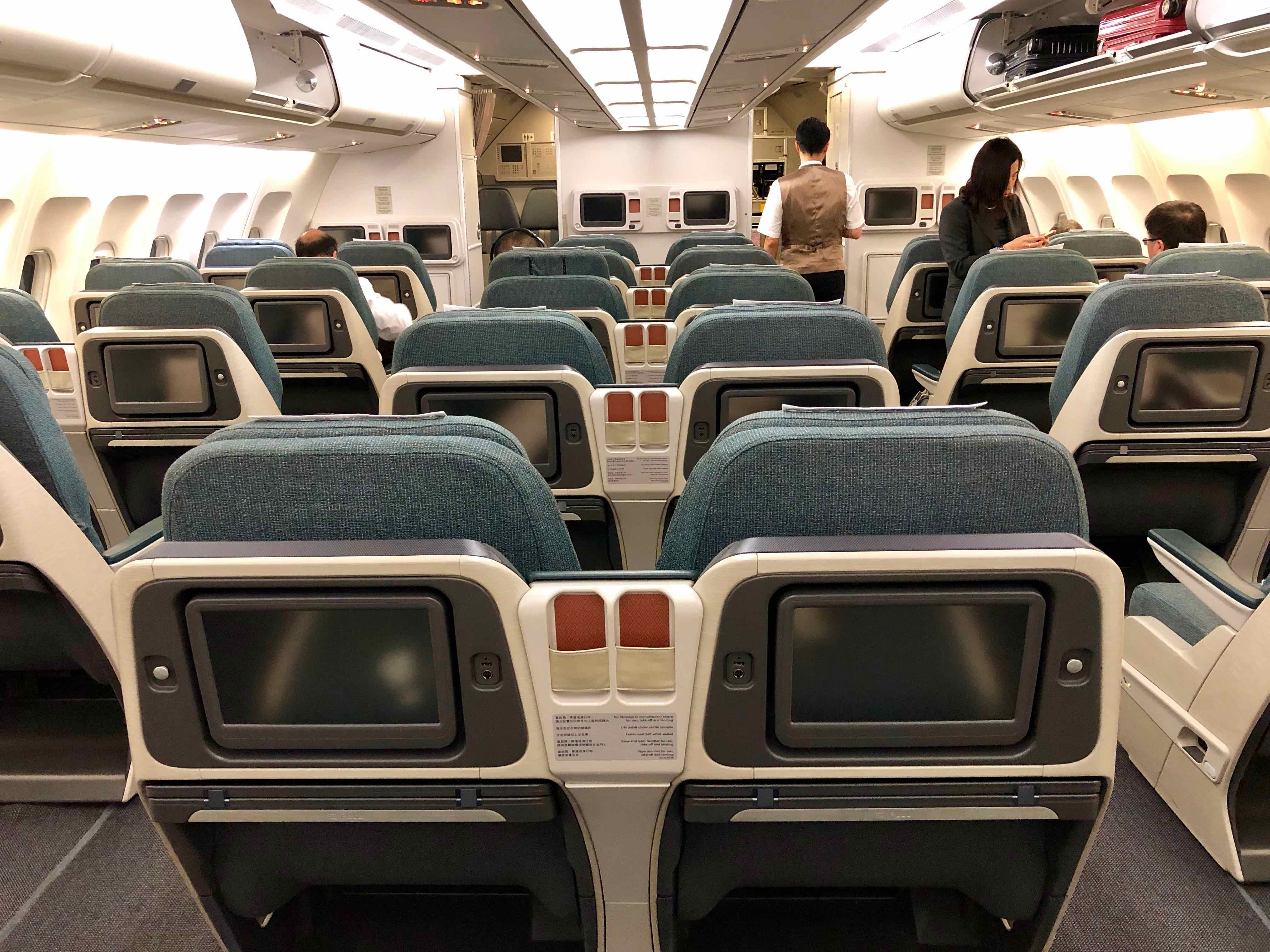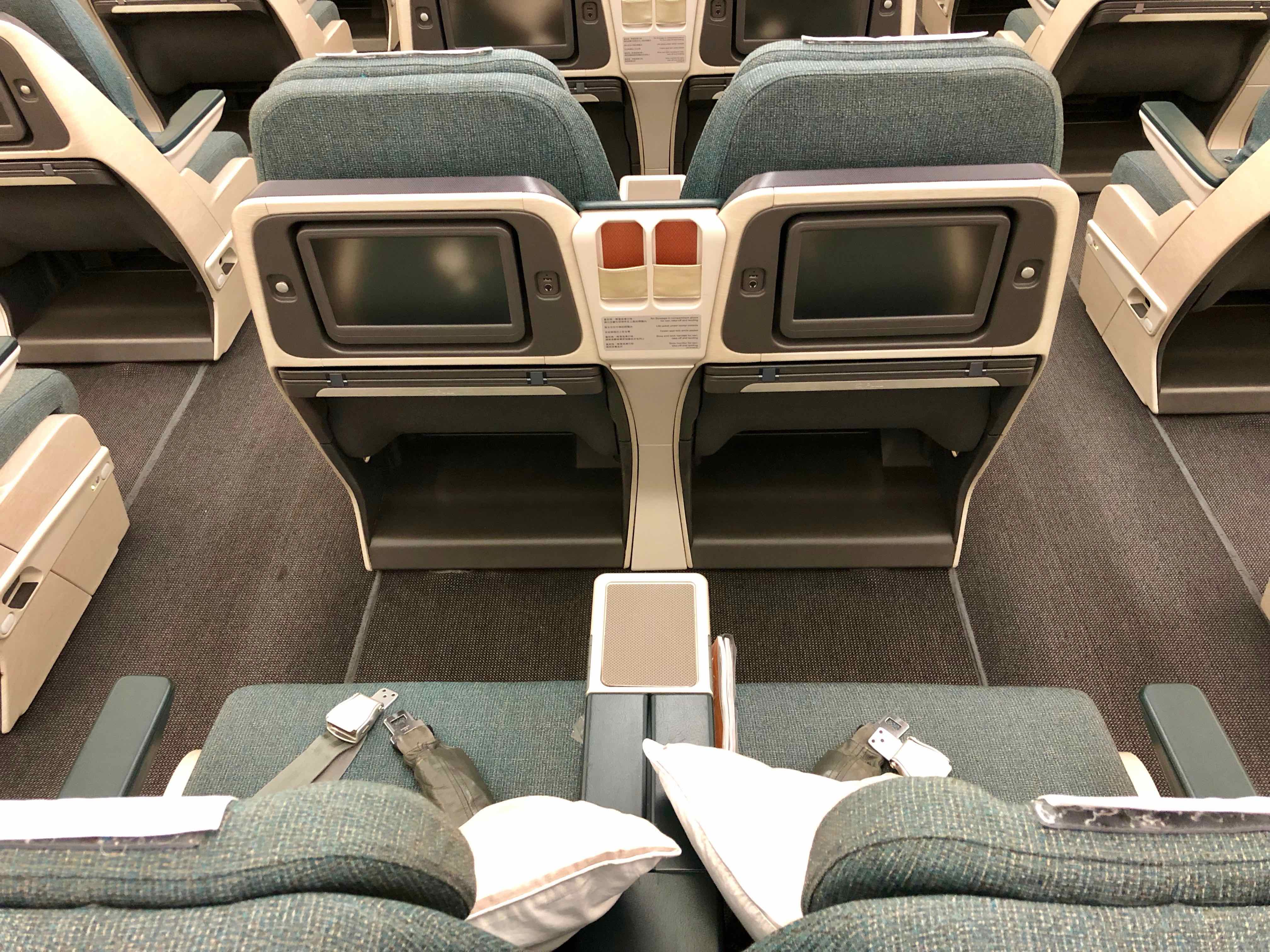 Compared to Qantas and Virgin Australia's 737s which feature 37 inches of seat pitch (the distance between you and the person in front), you'll have a more generous 42-45 inches on Cathay Dragon. The seats are about the same width though.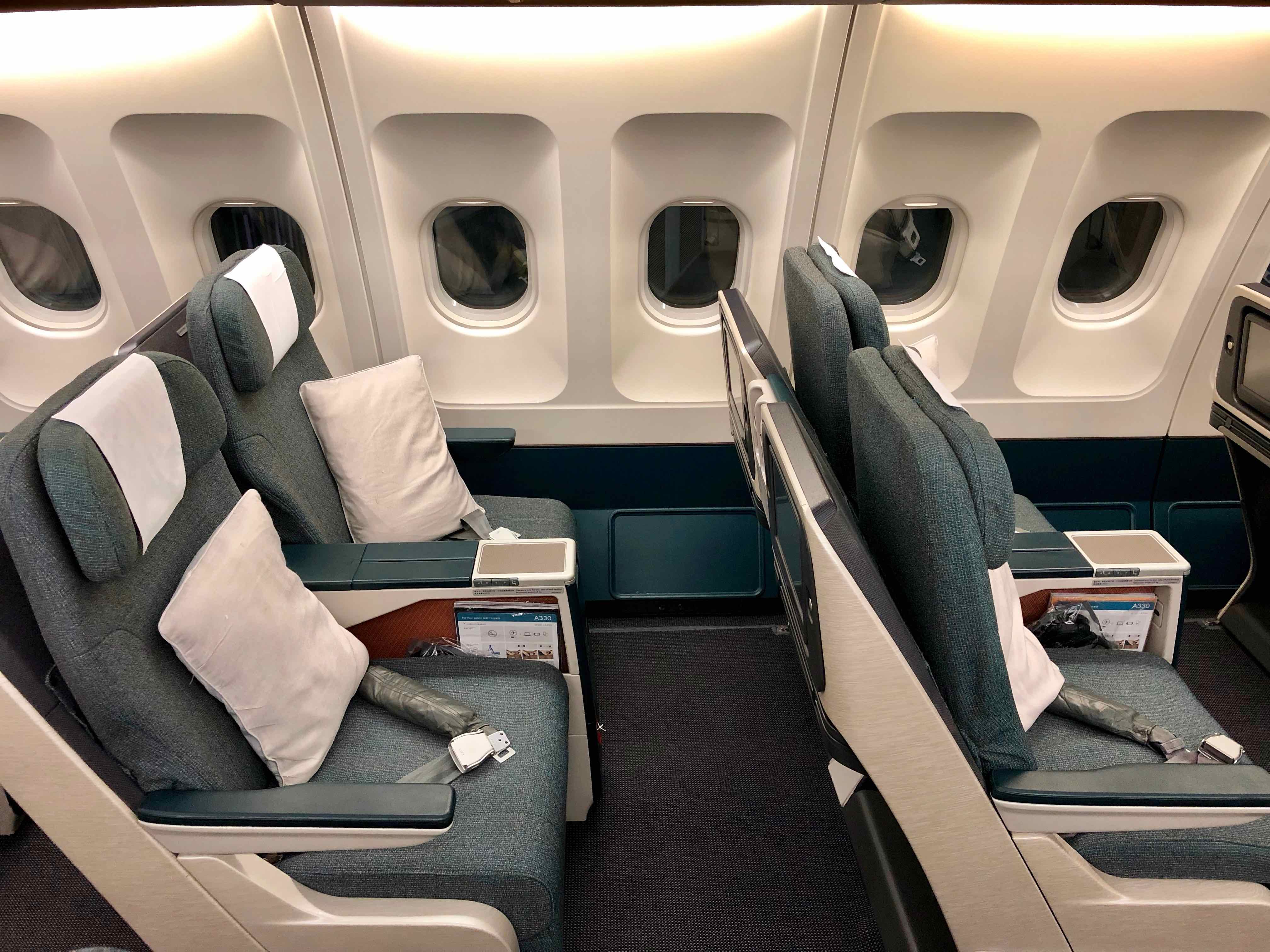 There be 6-7 rows in the Business Class cabin, depending on the aircraft. I was blown away by how large (and empty) the cabin was on my short flight!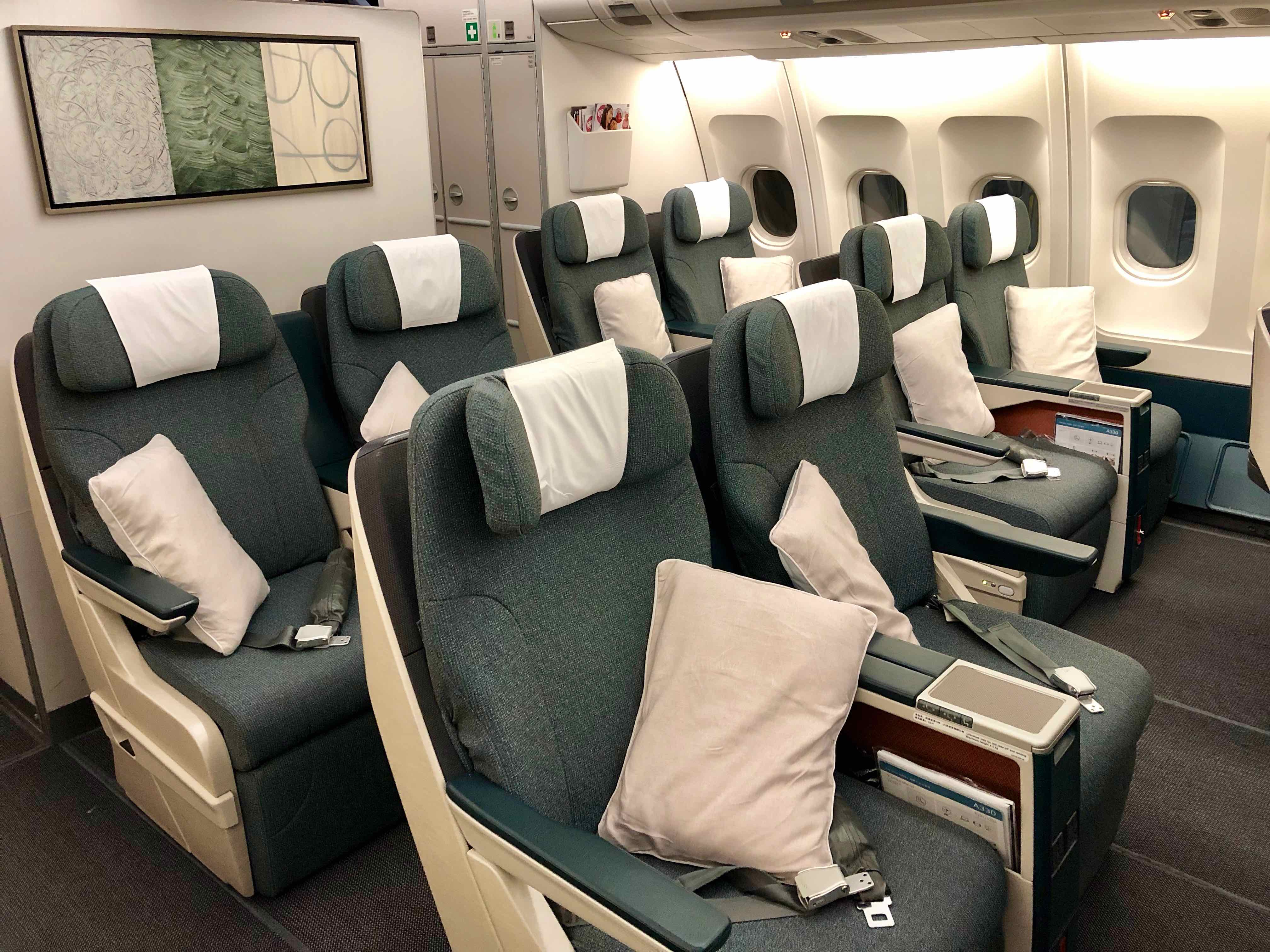 You'll find that the finishes are dated but still clean.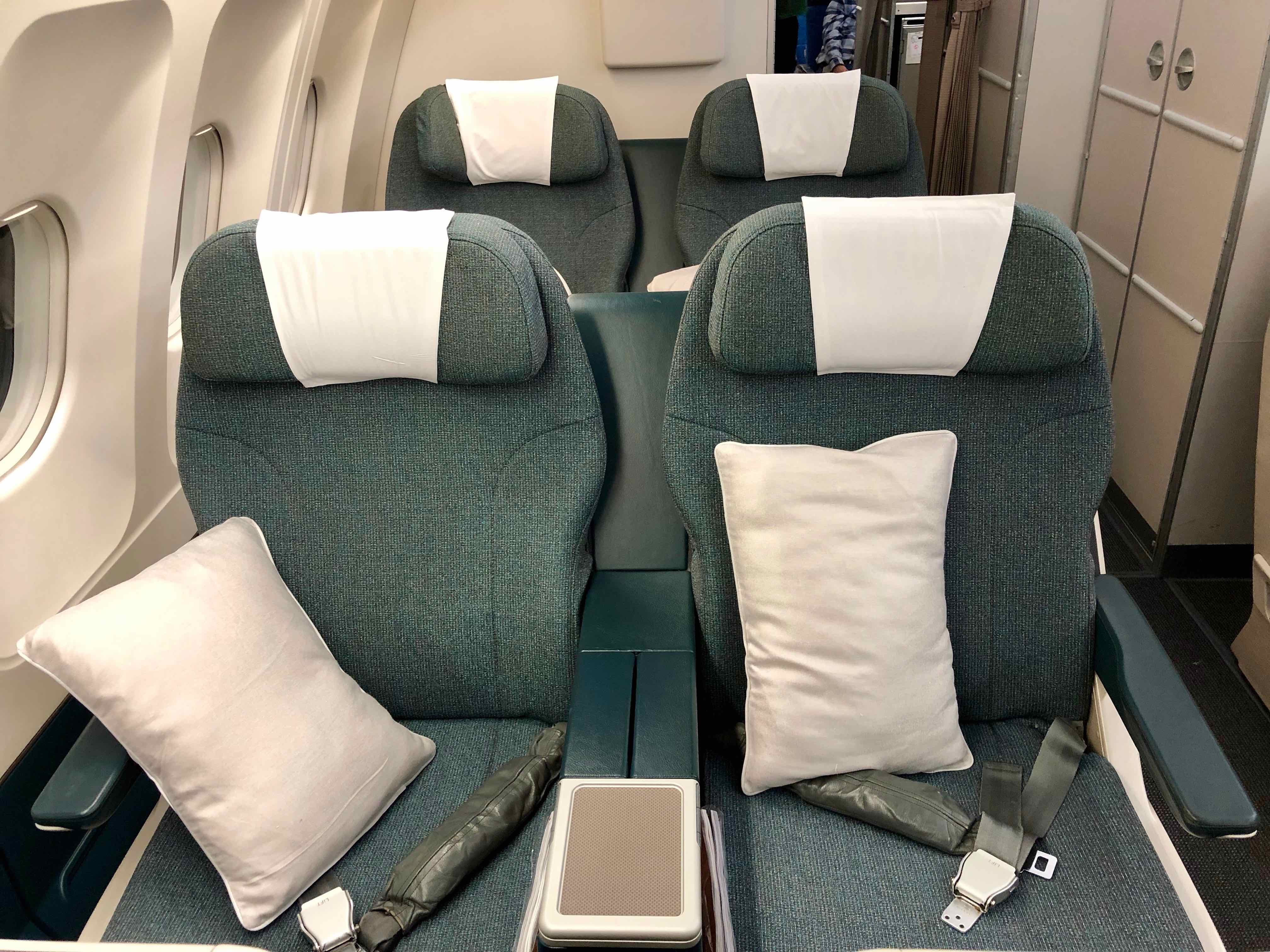 The seats recline but do not go lie-flat.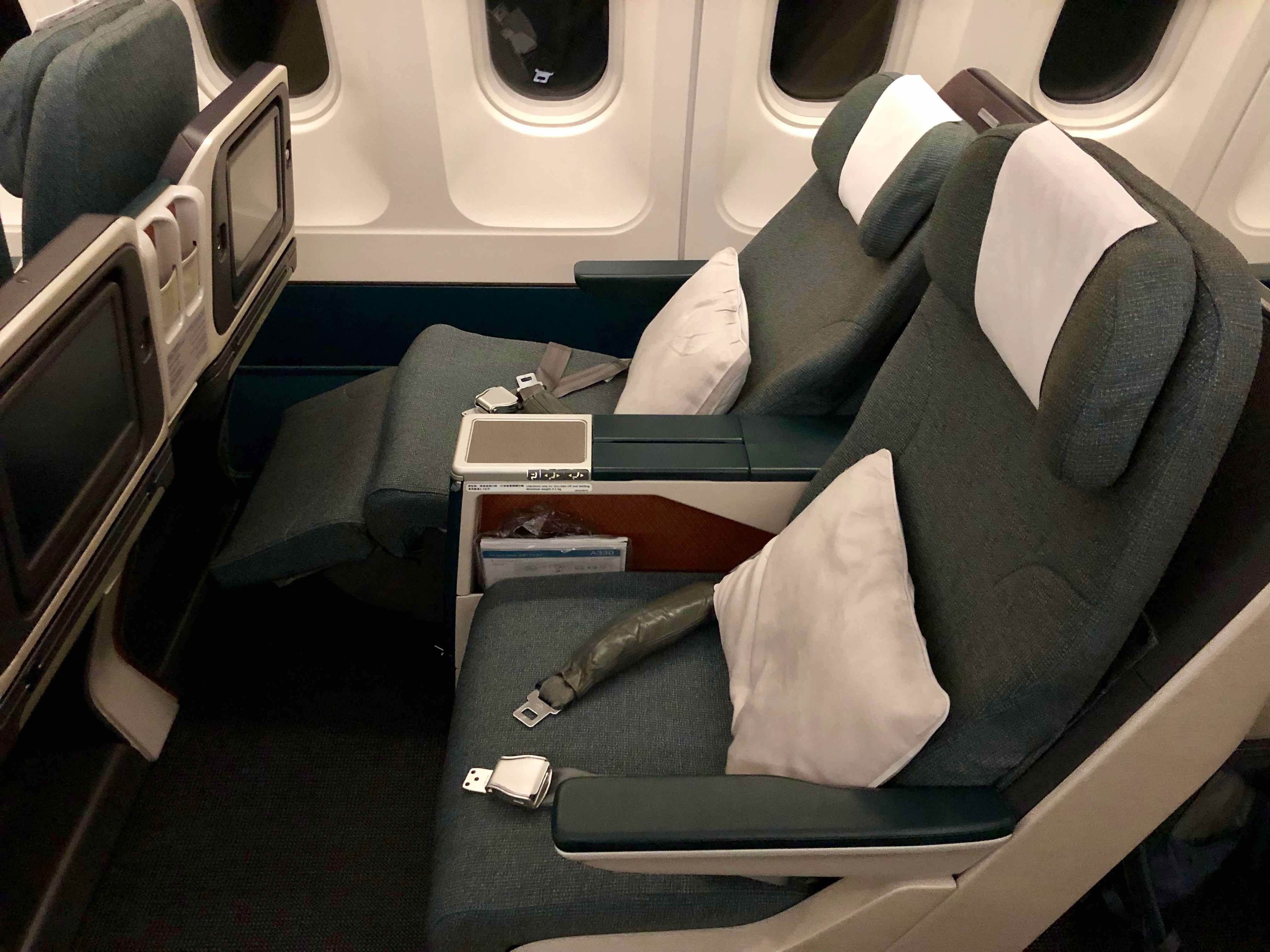 Seat choice
Here is the seatmap for the A330s:
I would suggest avoiding the first and last rows to reduce noise from the galley and lavatories. Apart from that, it's fair game. Whether you are travelling solo or accompanied, it is probably nice to choose a seat closer to a window rather than in the centre.
Food & drink
You'll be given the choice of a welcome beverage of water, juice or a cocktail.
I ordered a special meal (vegan) and it tasted as unappealing as it looks in the photo, but I'm sure the regular options would be better.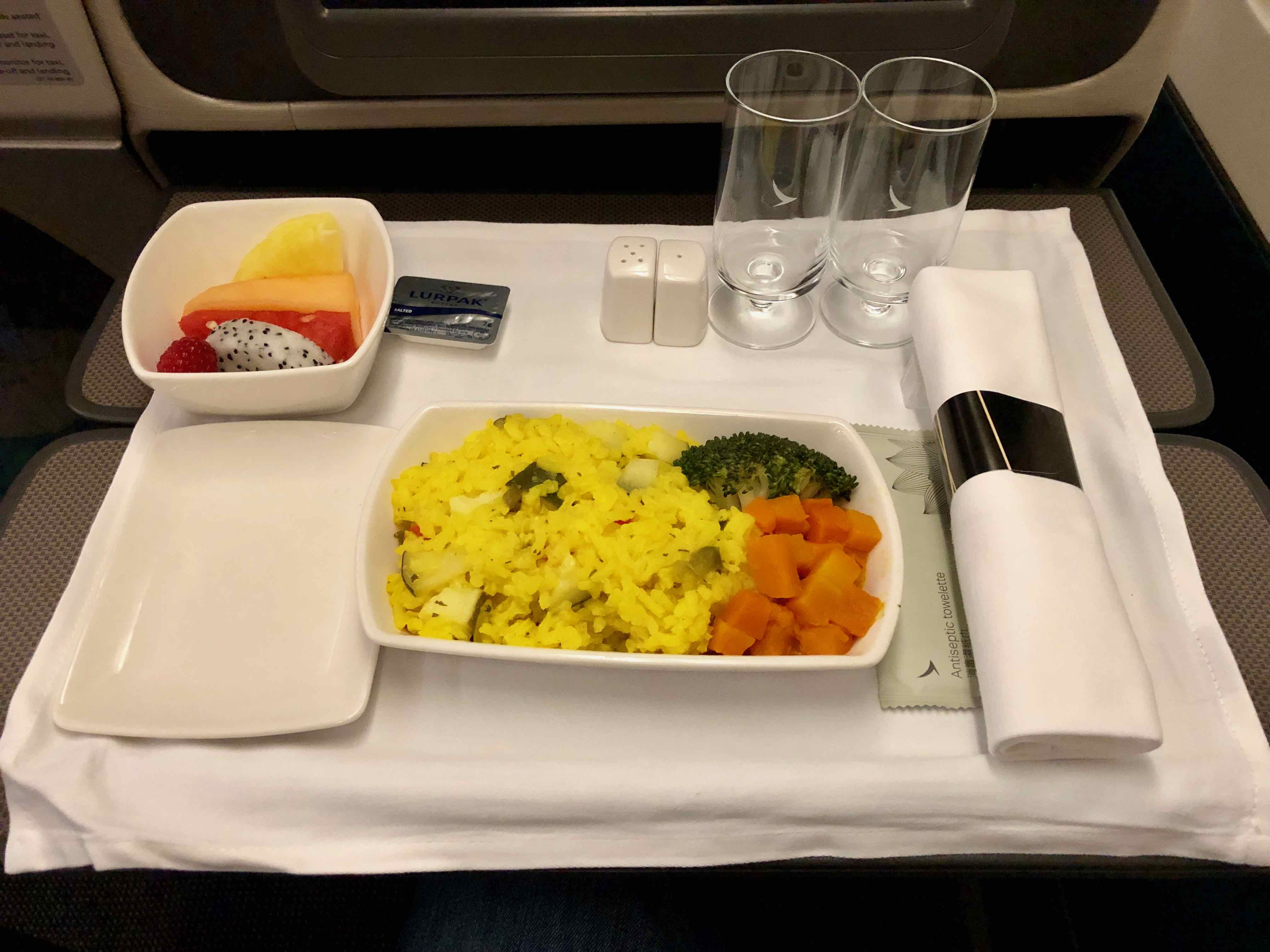 Customer service
Due to the short flight, I don't have much to comment on.
The agent who checked me in at Hong Kong was cold and unfriendly, but the crew onboard were very friendly and it was obvious they enjoyed helping passengers.
Inflight entertainment
On the A330s, each seat has a small touchscreen: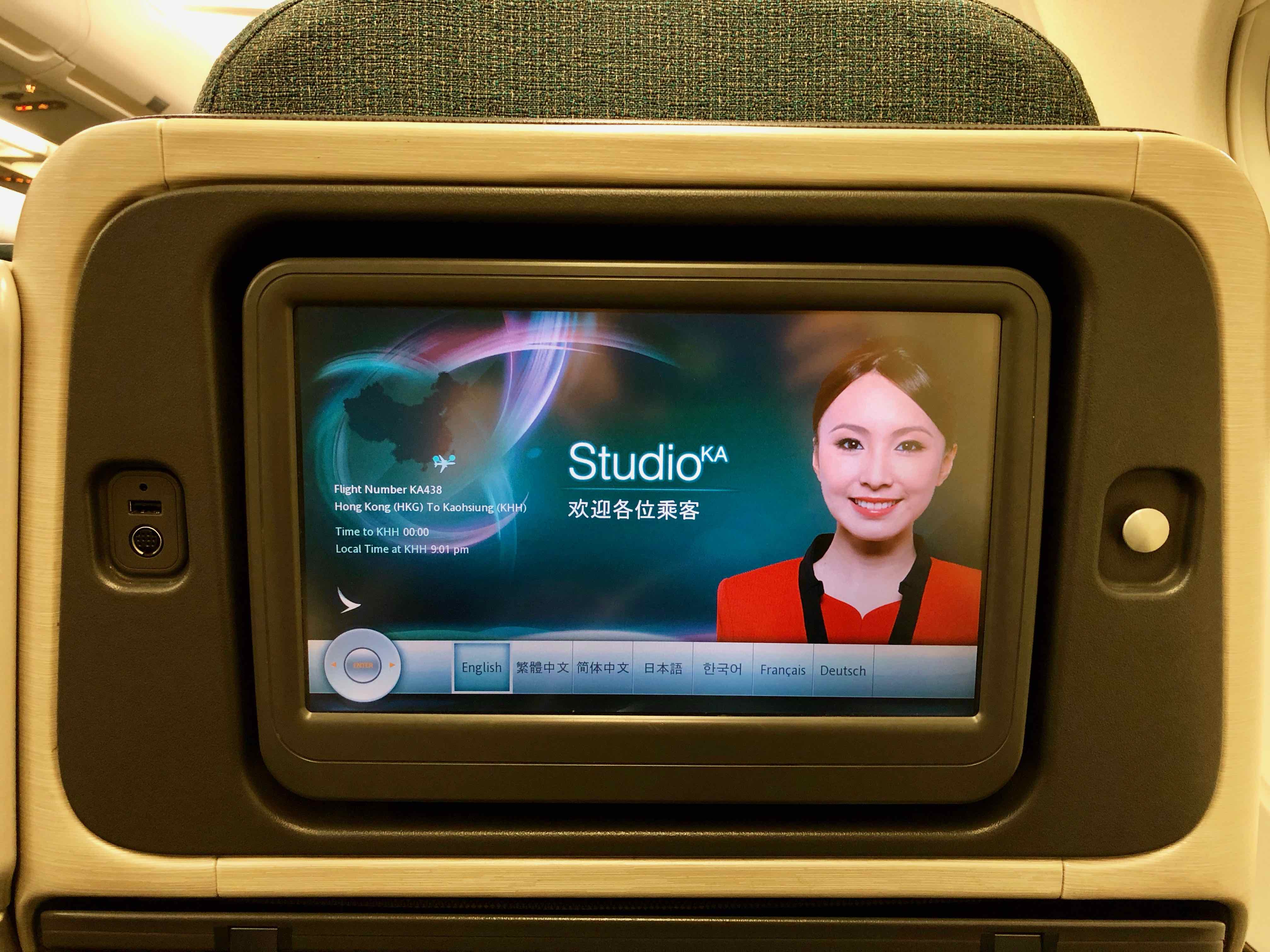 which has a surprising amount of new release movies.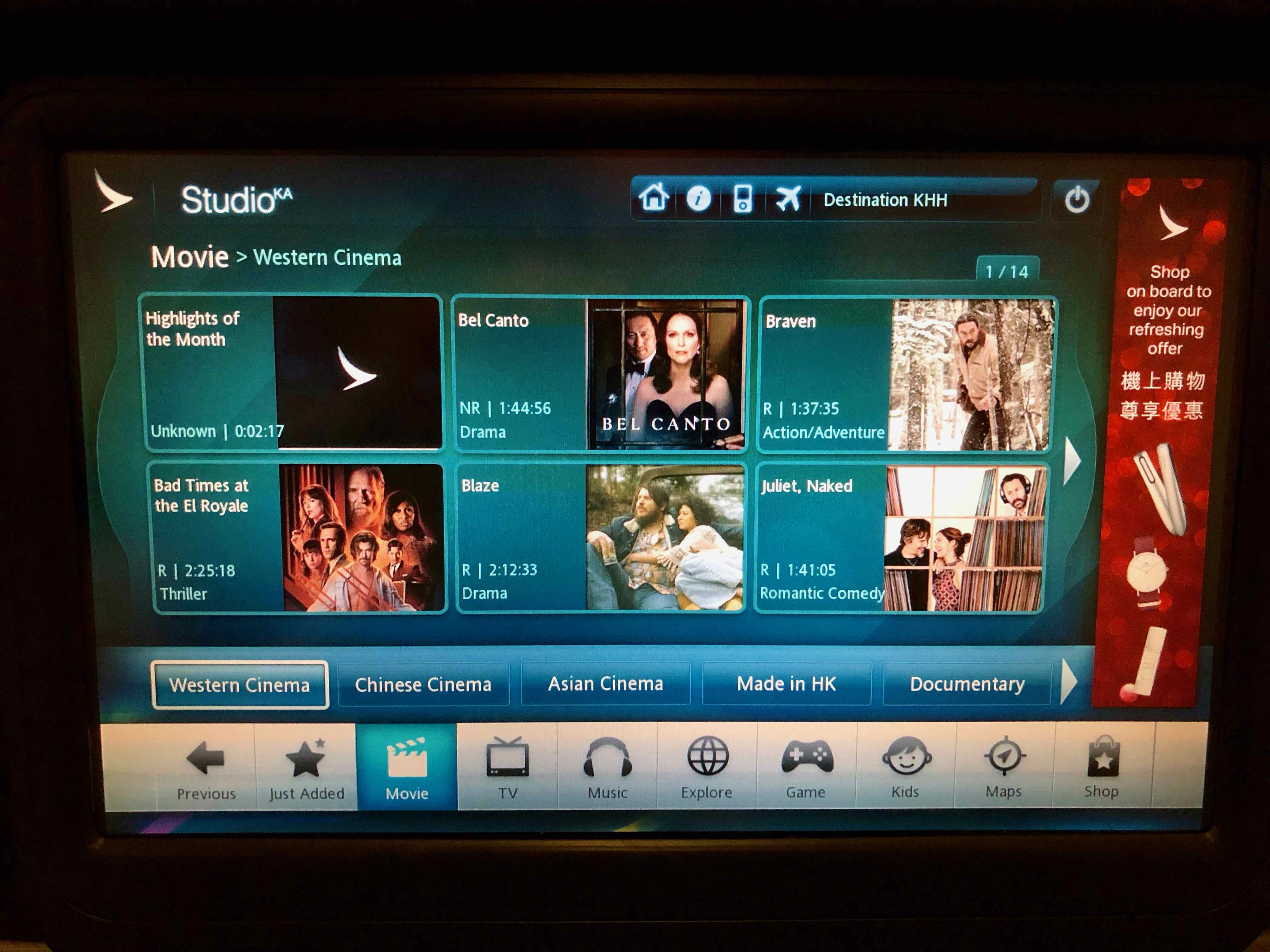 On the A320s, there are no screens, so you can either wirelessly stream content on your own device by downloading the StudioKA app before boarding, or you will be provided with a tablet by the cabin crew.
Amenities
There are no pyjamas or amenity kits provided.
Cathay Dragon planes are not wifi-equipped.
The lavatories on my flight were kept quite clean, but that wasn't much of a challenge on a 90-minute flight which was at most 20% full.
How to redeem points for this flight
You can redeem your Qantas Points and other oneworld currencies on Cathay Dragon as if you were on Cathay Pacific.
As an example, a one-way Business Class flight between Hong Kong and Hanoi, Vietnam would price at:
| Program | Points required |
| --- | --- |
| British Airways Avios | 9,000 |
| Cathay Pacific Asia Miles | 16,000 |
| Qantas Frequent Flyer | 18,000 (20,000 from 18 September 2019) |
| American Airlines AAdvantage | 22,500 |
Note that Alaska Airlines Mileage Plan miles cannot be used on Cathay Dragon flights—only Cathay Pacific.
Also note that fuel surcharges used to be outlawed on flights departing from Hong Kong, however, effective November 2018, they are now applied.
For more information on where to search for award seats and how to book read here.
Lounge access
You'll enjoy access to lounges as if you were a passenger on the Cathay Pacific parent airline. That includes the excellent The Pier Business Class Lounge in Hong Kong (the best of the four Business Class lounges, in my opinion).
Economy Class passengers with Qantas or oneworld status can also access these lounges.
If you are flying Cathay Dragon First Class, you will get access to Cathay's First Class lounges as if you were flying First Class to Europe or the US.
Summing up: why choose this flight?
Cathay Dragon has a solid regional Business Class product, with more legroom than you'll find on domestic Australian flights with Qantas and Virgin Australia.
I would happily fly this product again on a flight of less than three hours, but if it were longer, I'd opt for a more expensive First Class seat on Cathay Dragon, or to fly another airline.
If you can use British Airways Avios to access good-value redemptions, then it's a no-brainer; if you'd be using Qantas Points, I would maybe consider using cash for a low-cost flight within Asia and saving your points for one of these better uses.
What is great
Friendly customer service
Lots of legroom
Classic style
Access to excellent Cathay Pacific lounges
First Class redemption opportunity on short flights
What is not great
Bland food
No wifi
Recliner Business Class seats on 4-6 hour flights to Bali, Japan and India
Related reviews
Images courtesy Cathay Pacific and Cathay Dragon.
Cathay Dragon A330 Business Class overview
was last modified:
February 11th, 2022
by