Many Australians visiting the United States make Los Angeles their first port of call. After all, it's a key hub for a host of flights from Down Under. But when it comes to travelling onwards within the US, Qantas loyalists tend to prefer American Airlines – even if the connection is a Boeing 737 Economy flight.
As with Qantas, AA is a member of the global oneworld Alliance. And when you have Qantas Silver, Gold or Platinum status, that brings about a whole suite of benefits. Even a Qantas Club card has its perks here in LA.
Whatever brings you here though, here's what to expect on a domestic hop with American Airlines from one of its key west coast hubs.
Check-in and checked baggage
I begin my journey with an international flight to Los Angeles. It's on a rival airline – and by extension, a separate ticket – so my bag needs to be tagged again to my next destination. For that matter, I'm keeping my fingers crossed that AA will accept the bag at all, given I'm 12 hours early for my flight.
As it turns out, it's actually no problem. And by following the signs to 'connecting flights' after the Customs exit from my arriving flight, I uncover a dedicated American Airlines check-in counter for passengers in transit. There's no queue, and with a few clicks of the keyboard, an agent has a new bag tag sorted.
This time, I'm flying on a standalone US domestic itinerary. That means checked baggage isn't included as part of the fare. But for this leg in American Airlines Boeing 737 Economy, status has me covered. Here's a list of how you could bypass those checked baggage fees too. And if so, how much you can pack.
1 x 23kg: American Airlines AAdvantage Gold, oneworld Ruby (including Qantas Silver), plus US-based AAdvantage Aviator and Citi AAdvantage credit card holders.
2 x 23kg: AAdvantage Platinum, oneworld Sapphire (including Qantas Gold) and JetBlue TrueBlue Mosaic frequent flyers.
3 x 32kg: AAdvantage Platinum Pro, Executive Platinum and ConciergeKey. Plus, oneworld Emerald (that covers Qantas Platinum, Platinum One and Chairman's Lounge), as well as active duty US military on personal travel.
5 x 32kg: US military and/or dependents with ID travelling on military orders.
If your flight is part of a connecting international itinerary on the same ticket, you might also get a free bag. For instance, if you've just flown from Sydney even in AA Economy, you'd get at least one 23kg bag for free, unless you've booked Basic Economy.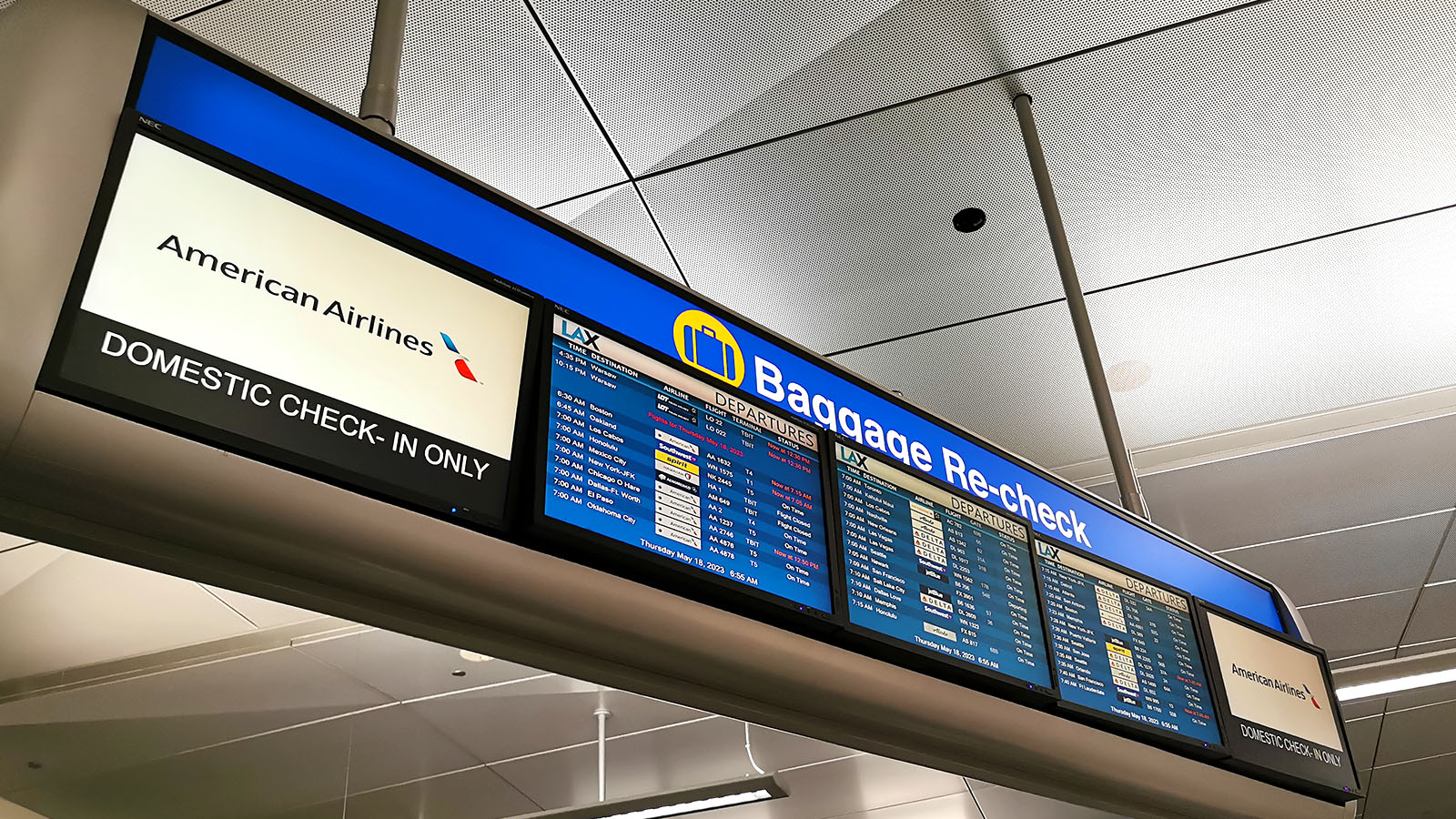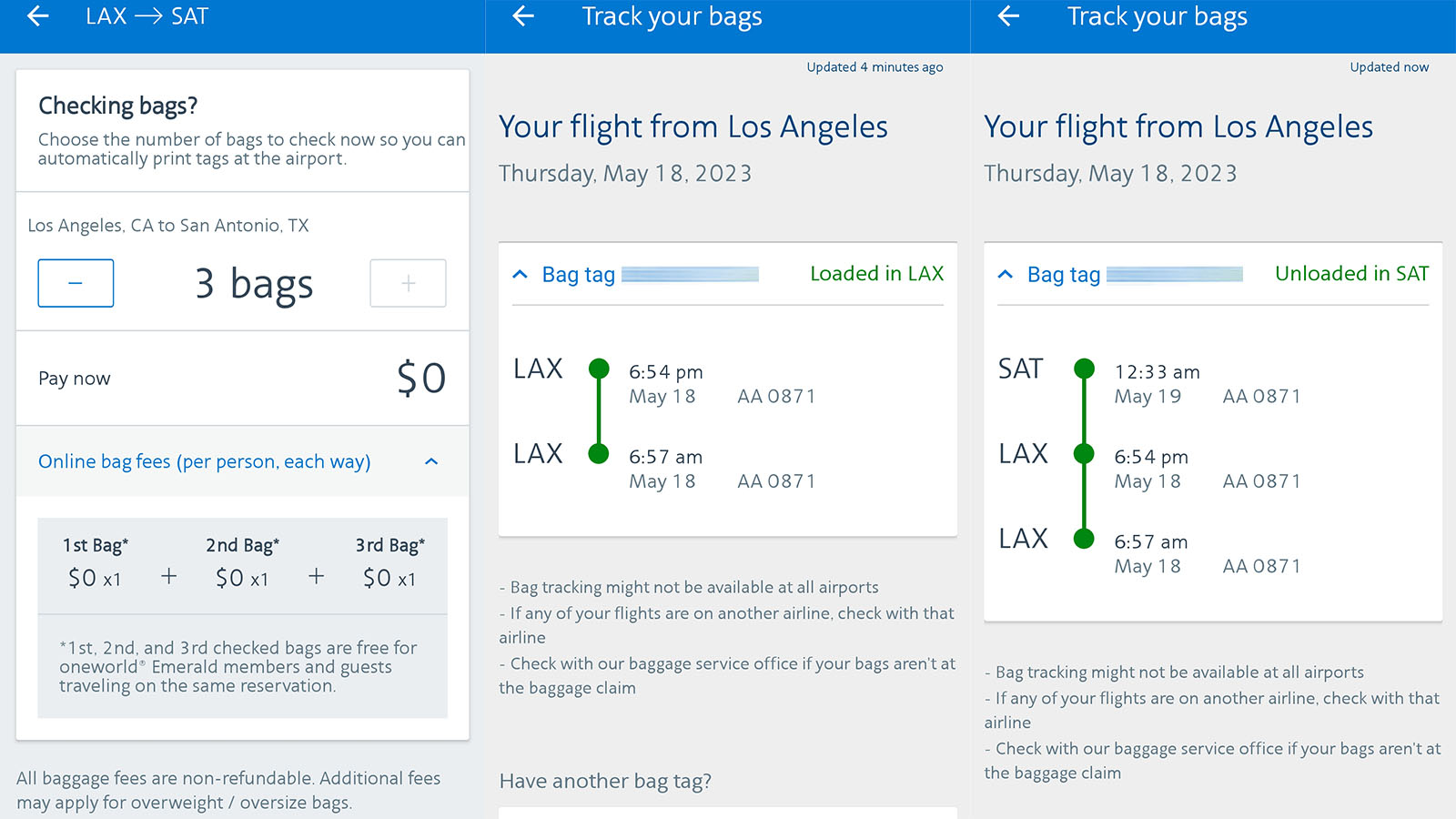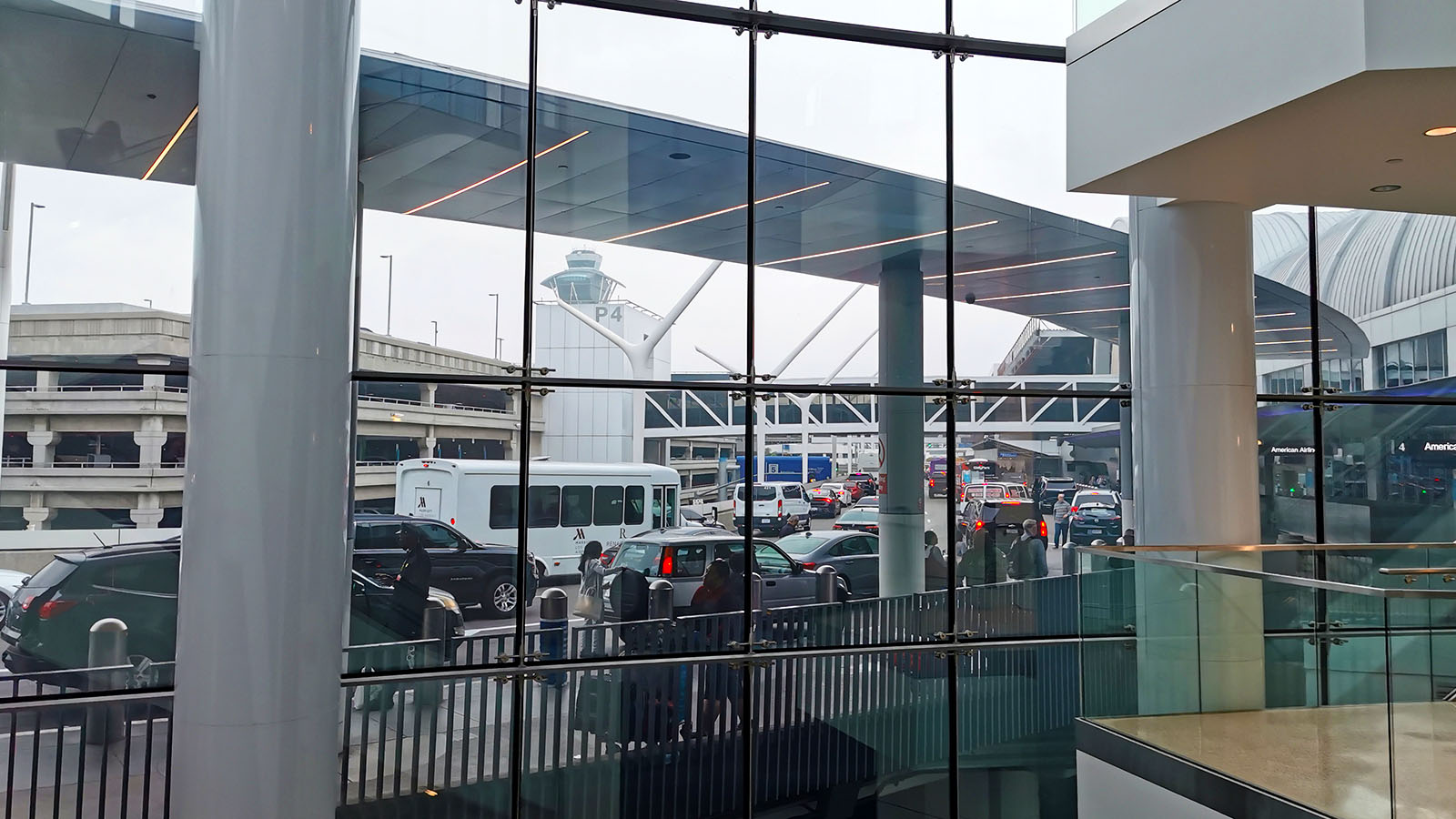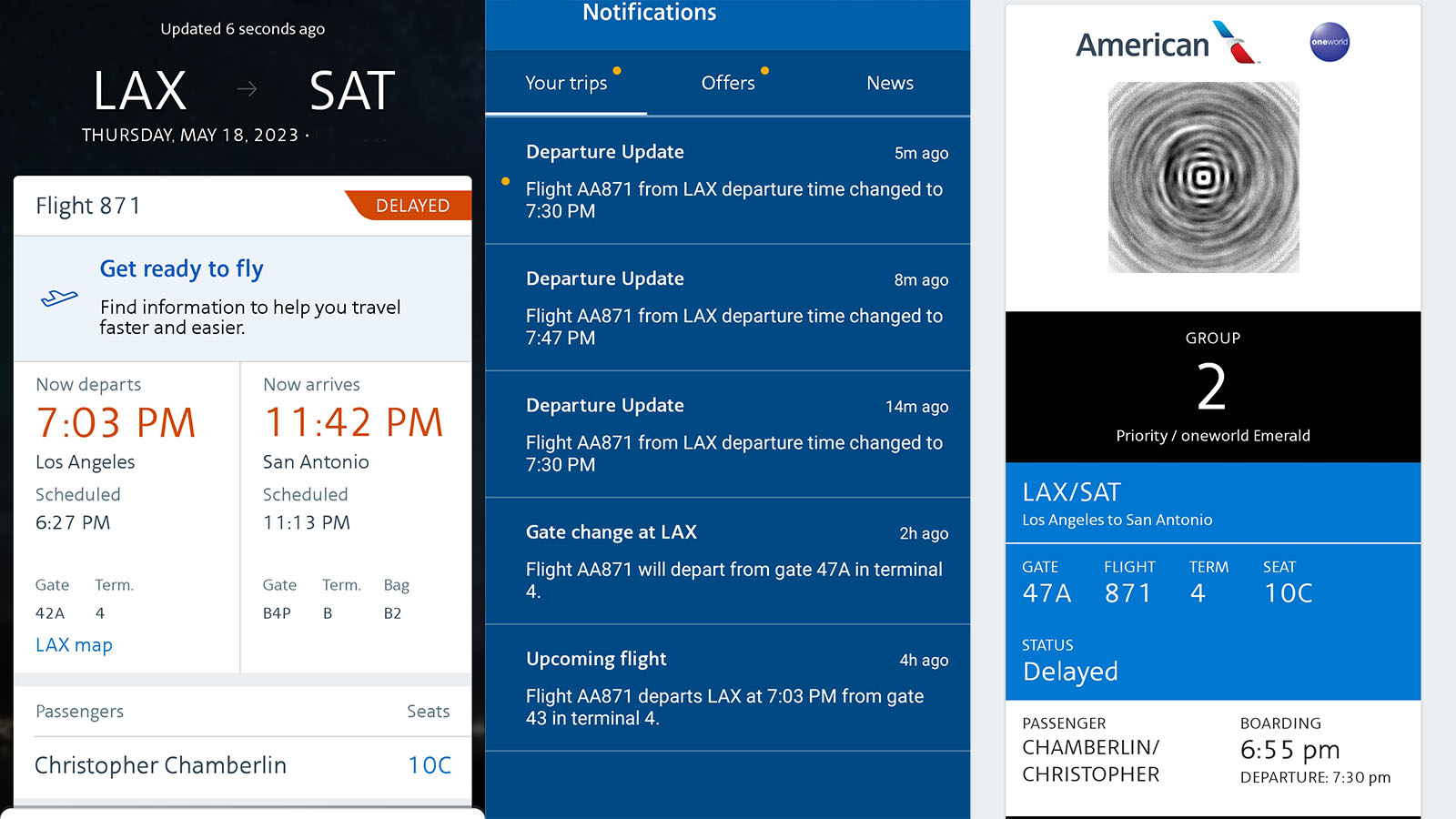 Lounge options in Los Angeles
As you'd expect, an Economy ticket on an American Airlines Boeing 737 flight doesn't include lounge access. But here's where strategy comes into play. If you have the right credit card or an eligible frequent flyer card, you needn't wait out in the terminal.
In an airport like LA, passengers are spoiled for choice on the lounge front. Here are the many lounges that may be available to you at no cost, when taking an AA domestic flight in Main Cabin:
American Airlines Flagship Lounge (Terminal 4): Open to oneworld Sapphire and Emerald frequent flyers of airlines other than AA and Alaska Airlines. Also available if your international connecting flight was in oneworld Business or First Class. If you're an AA Platinum frequent flyer or above, or an Alaska Mileage Plan MVP Gold member or higher, you'll need to be travelling on an eligible international flight. For VIP-tier ConciergeKey cardholders, any oneworld flight will do, to any destination.
American Airlines Admirals Club (Terminal 4): Excluding the travellers eligible for the Flagship Lounge, this space primarily caters for AA Admirals Club and Qantas Club members.
The Centurion Lounge (Tom Bradley International Terminal – TBIT): For Australian cardholders, open to those with the American Express Platinum Card, Business Platinum Card and invitation-only Centurion Card.
Qantas International Business Lounge (TBIT): Access rules largely mirror the Flagship Lounge for US domestic itineraries.
Qantas International First Lounge (TBIT): Again, similar to the Flagship Lounge rules, but excluding oneworld Sapphire members, and Business Class connecting passengers. An eligible oneworld Emerald frequent flyer card or connection from long-haul First Class is required.
Alaska Airlines Lounge (Terminal 6): For the most part, this mirrors the rules of the Flagship Lounge.
Which lounge should you visit?
There's a lot of choice in lounges when you're flying American Airlines Economy from Los Angeles. At least, for those with the right shiny card in their wallet. So which lounge is best?
First, it pays to know that most terminals at LAX are linked airside. You can freely walk between TBIT and Terminal 4, without needing to clear security again in between. Terminal 6 can also be accessed from Terminal 4 by walking via Terminal 5 – again, inside security.
So really, it comes down to which lounge is 'best'. Personally, I'm not a fan of Alaska Airlines' outdated lounge at LAX – and given it's also further away, I'd scratch that one out. Then, if your lounge privileges come via American Express, there's just one choice: The Centurion Lounge. Arrive early enough and you might just secure a free massage, too.
For top-tier travellers with oneworld Emerald (e.g. Qantas Platinum), I'd say the Qantas International First Lounge is best for food. But then, the AA Flagship Lounge has better views and a more 'happening' vibe. You can move from one to the other, so perhaps, dine at Qantas First, then go relax at Flagship.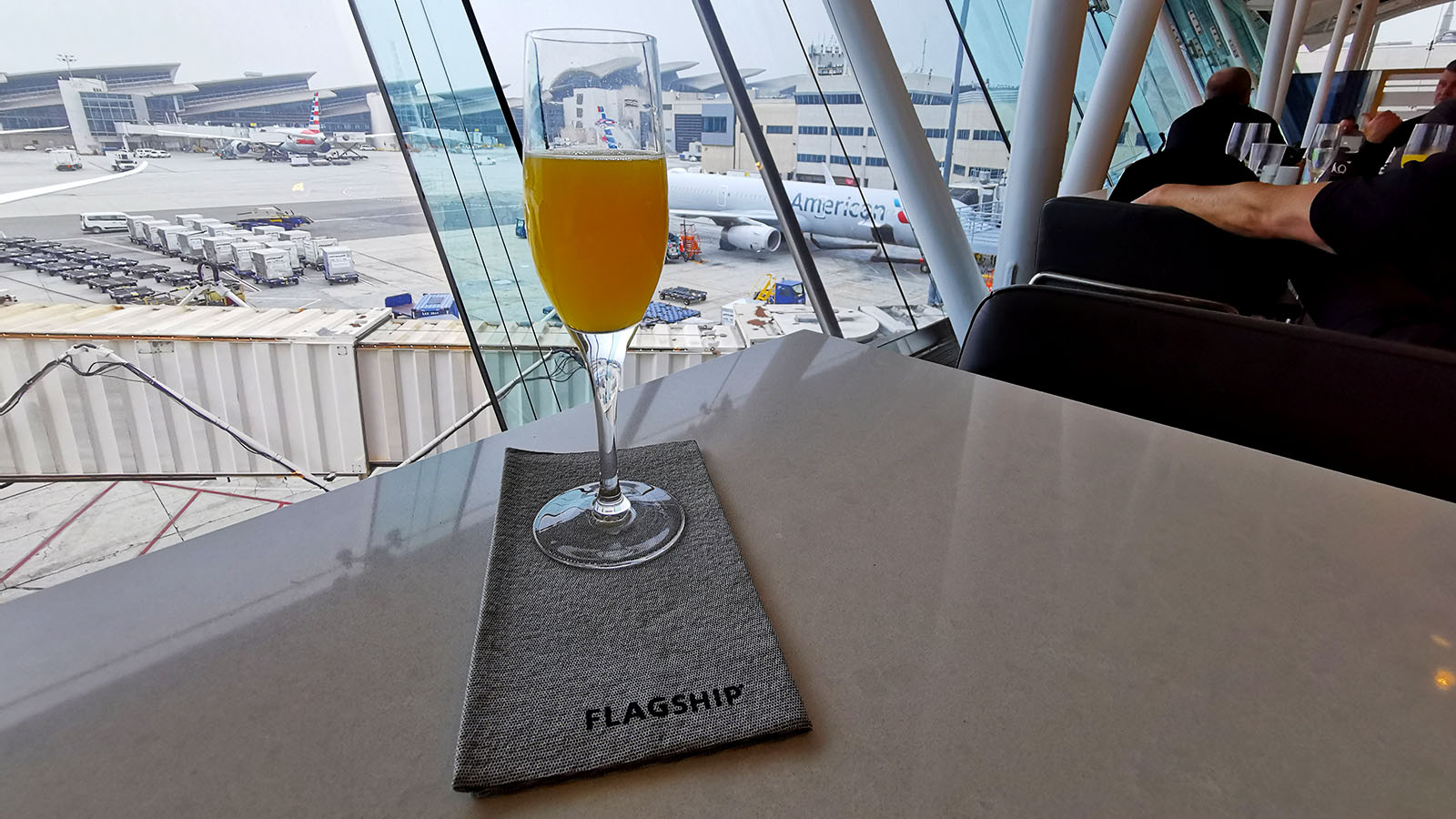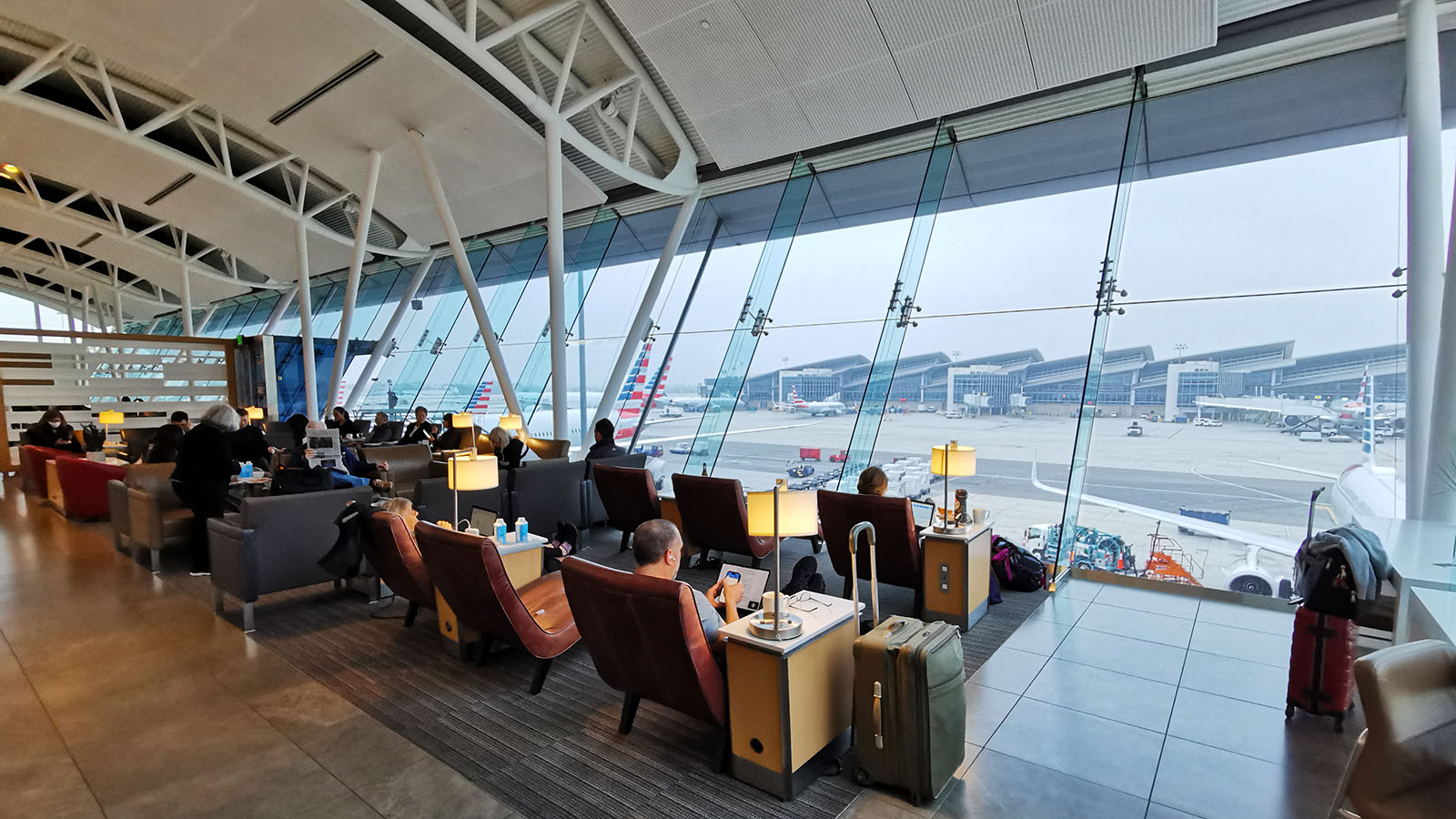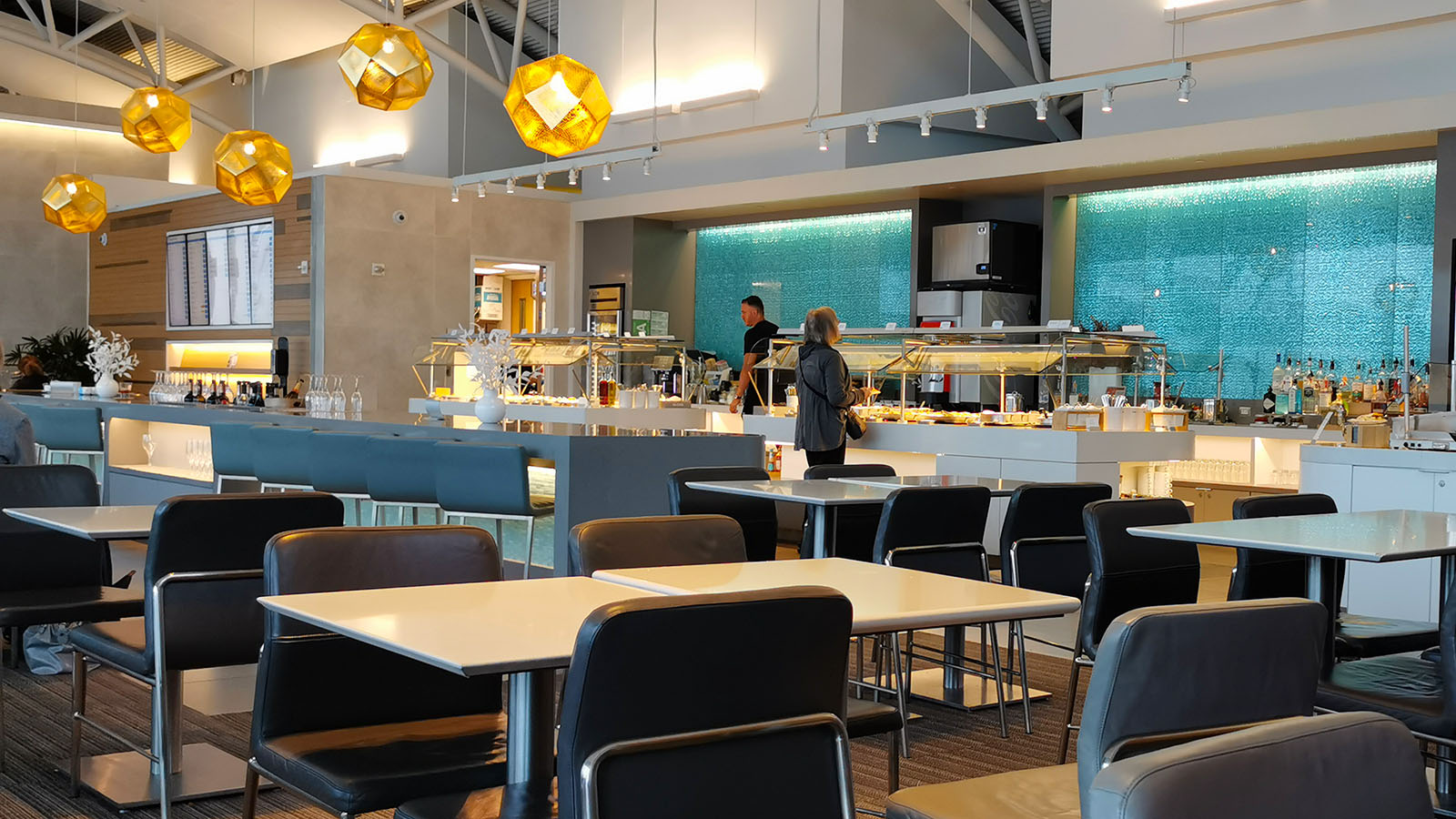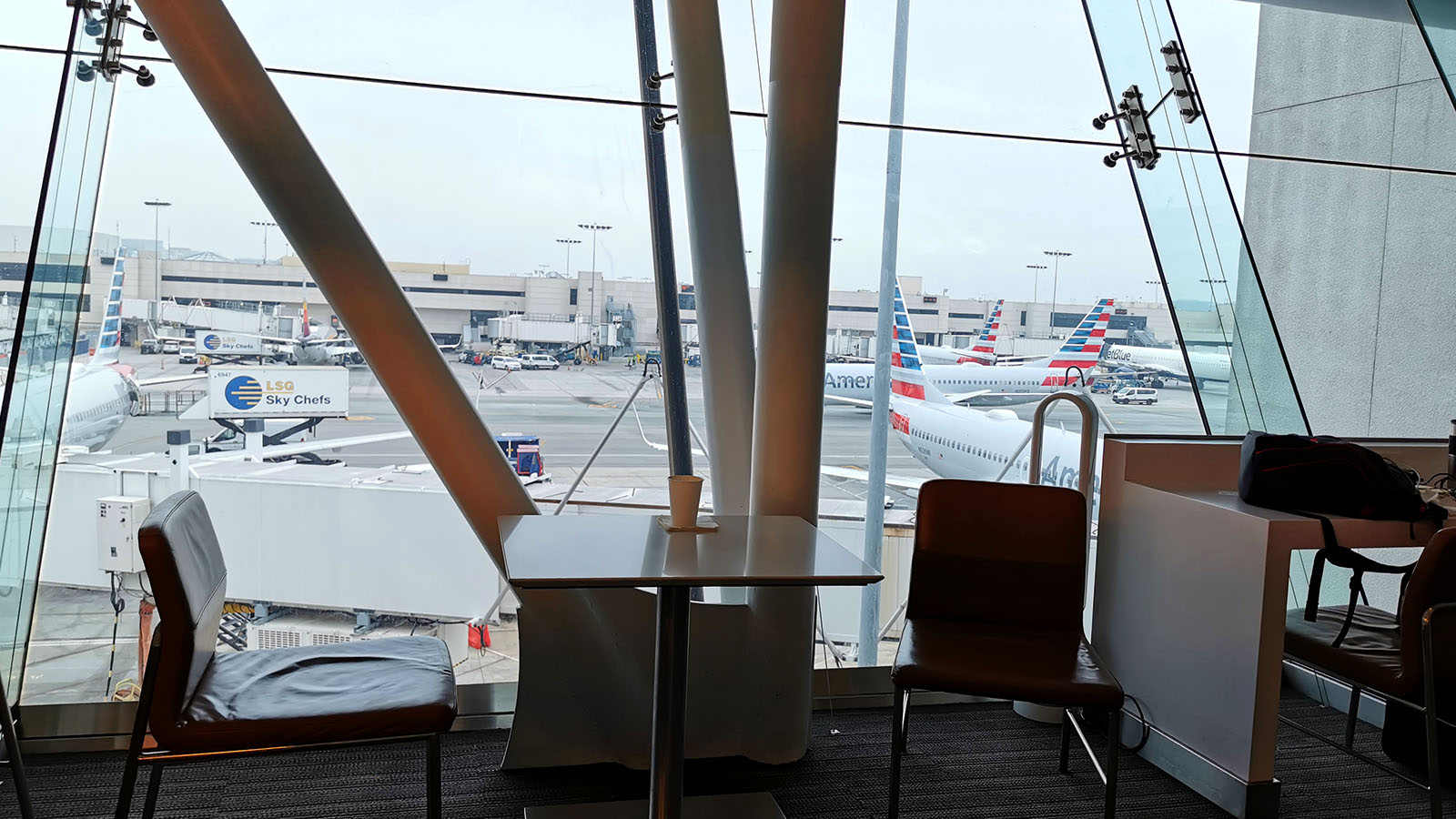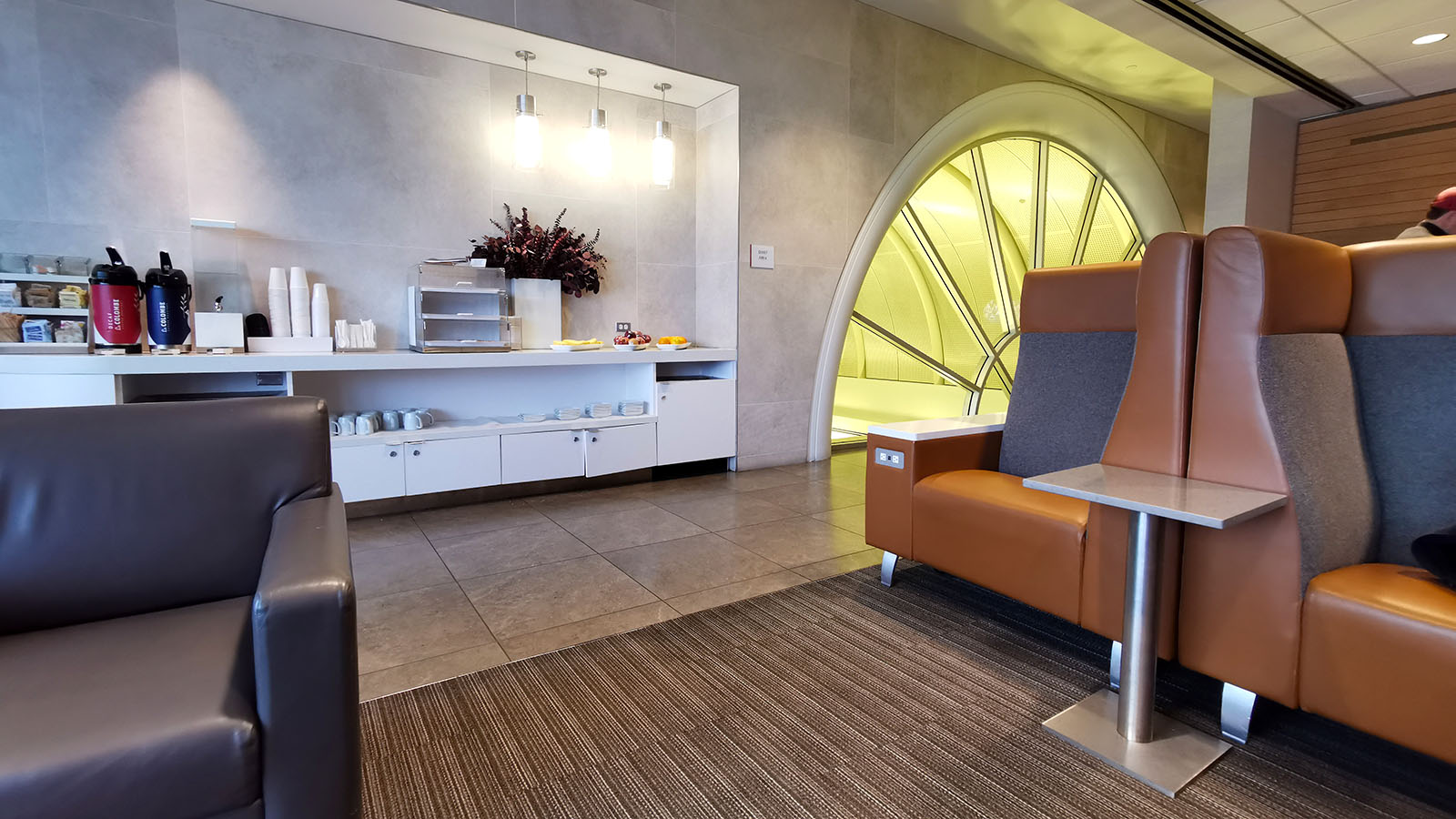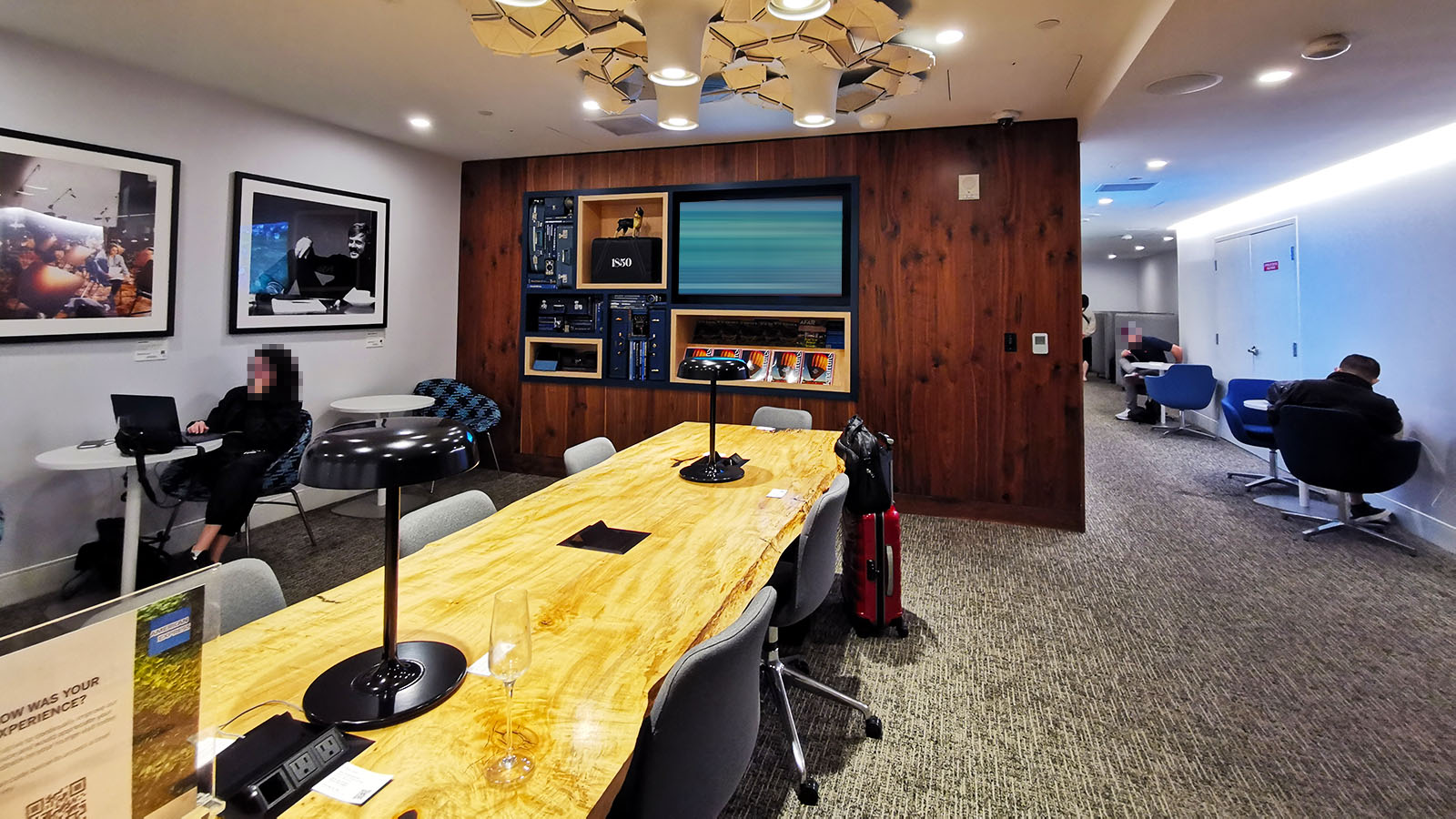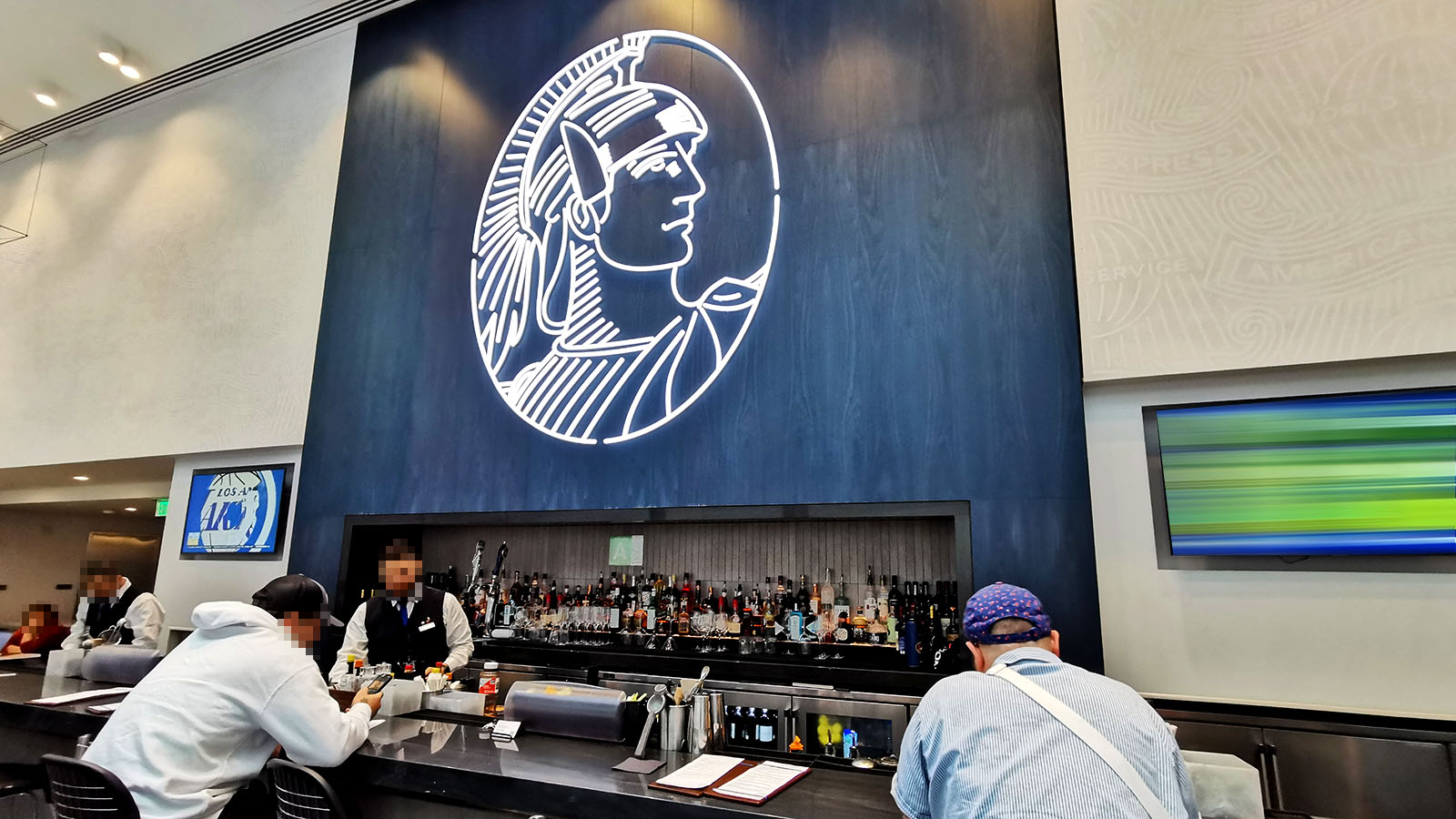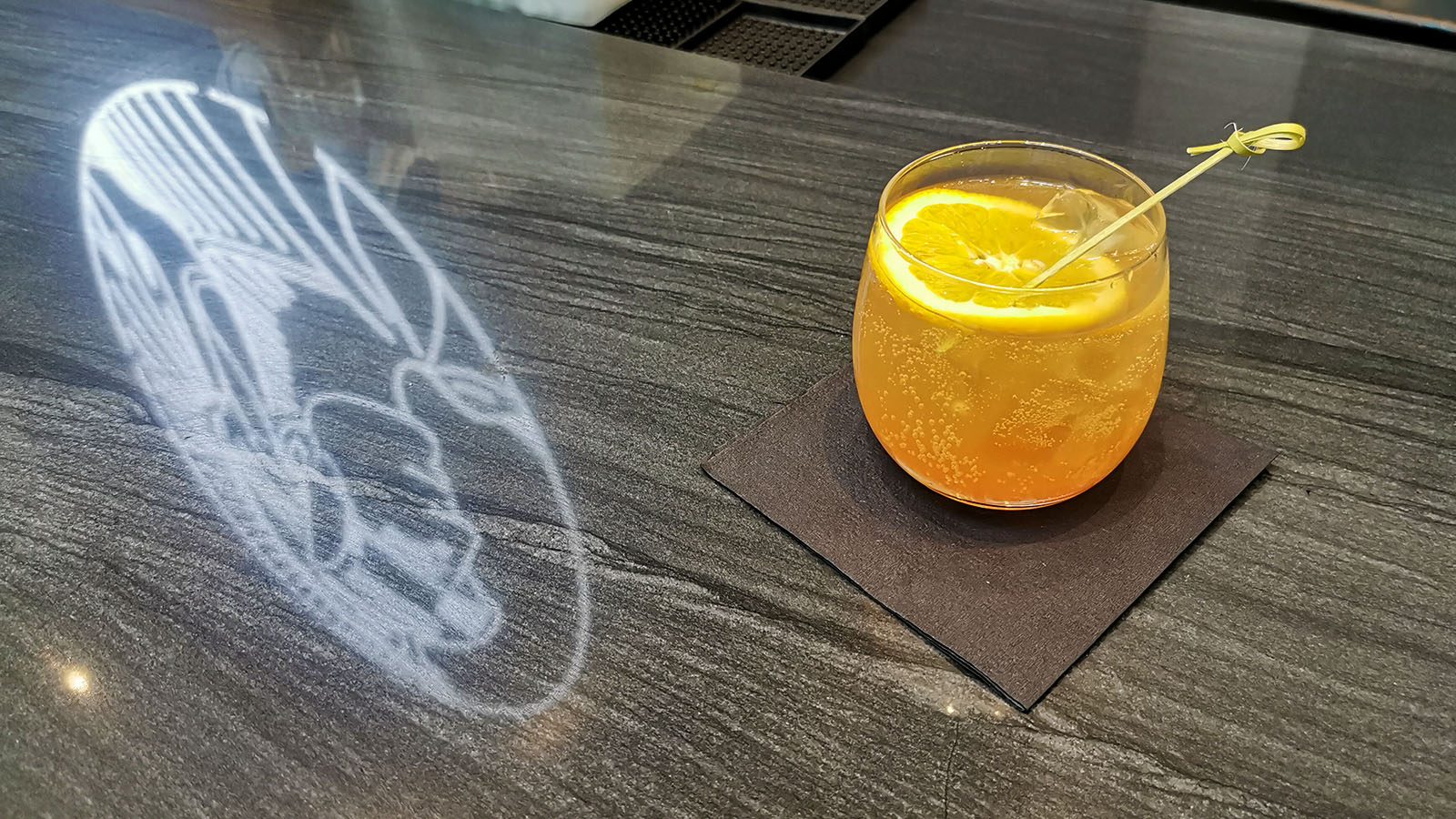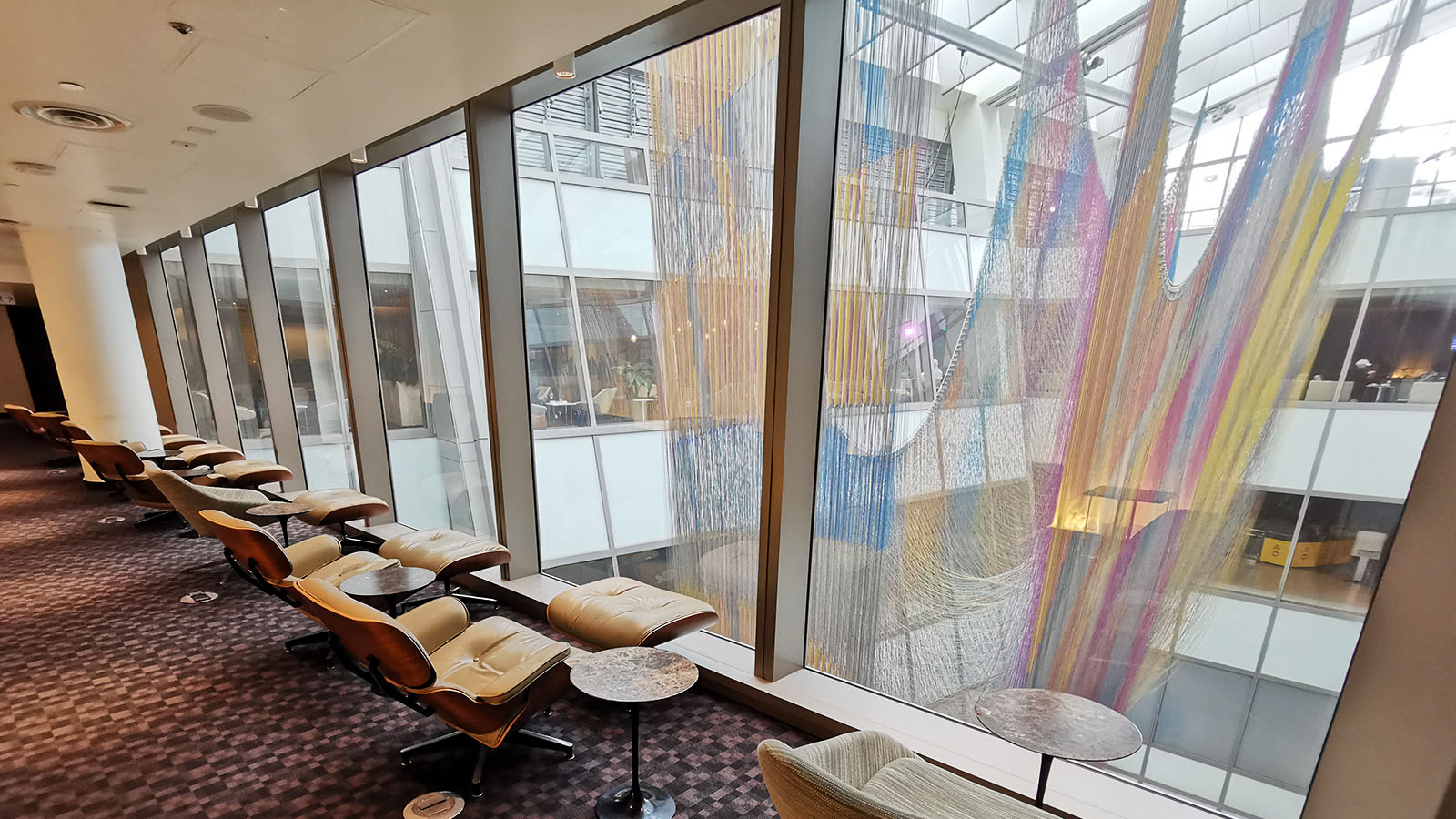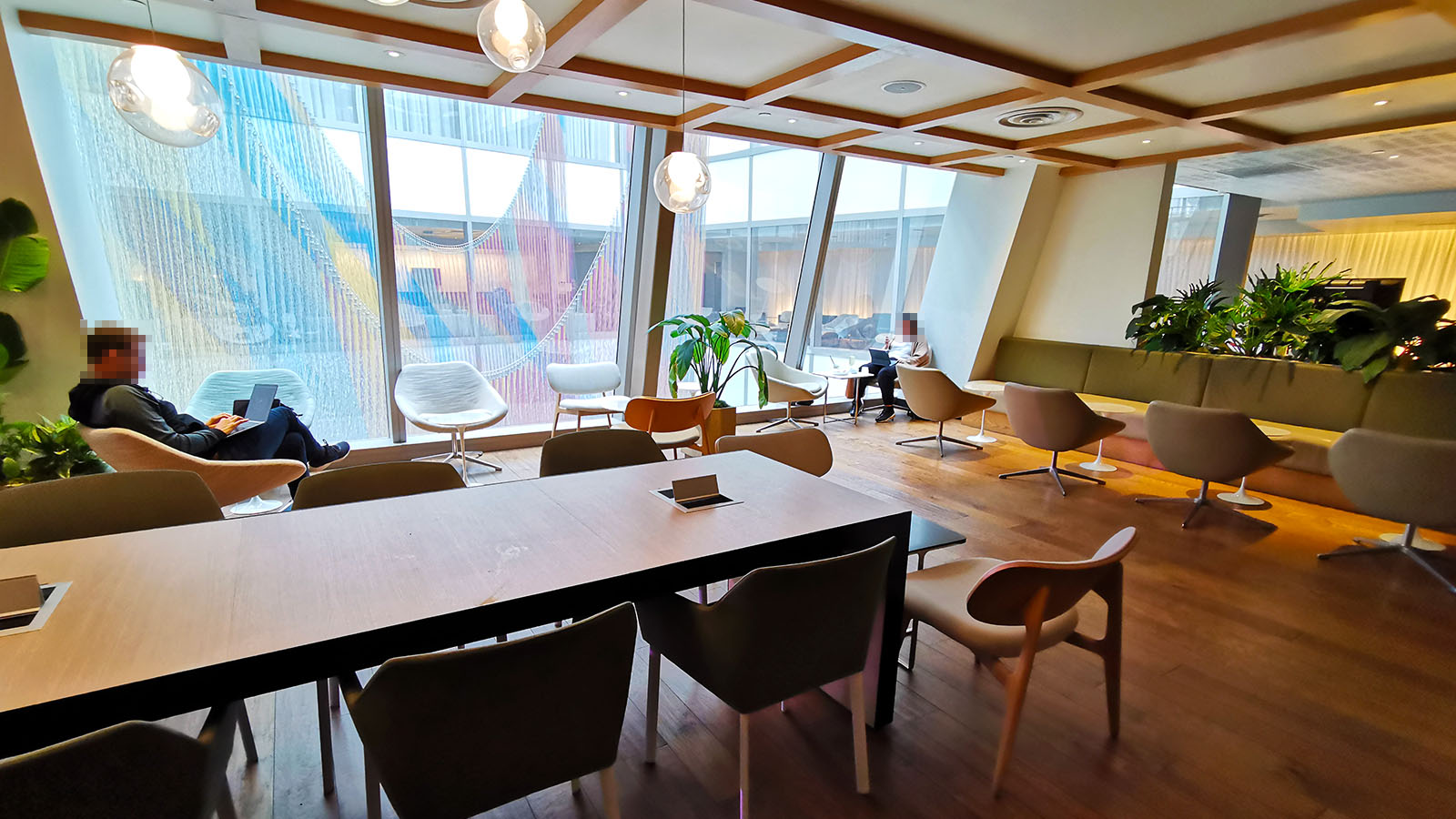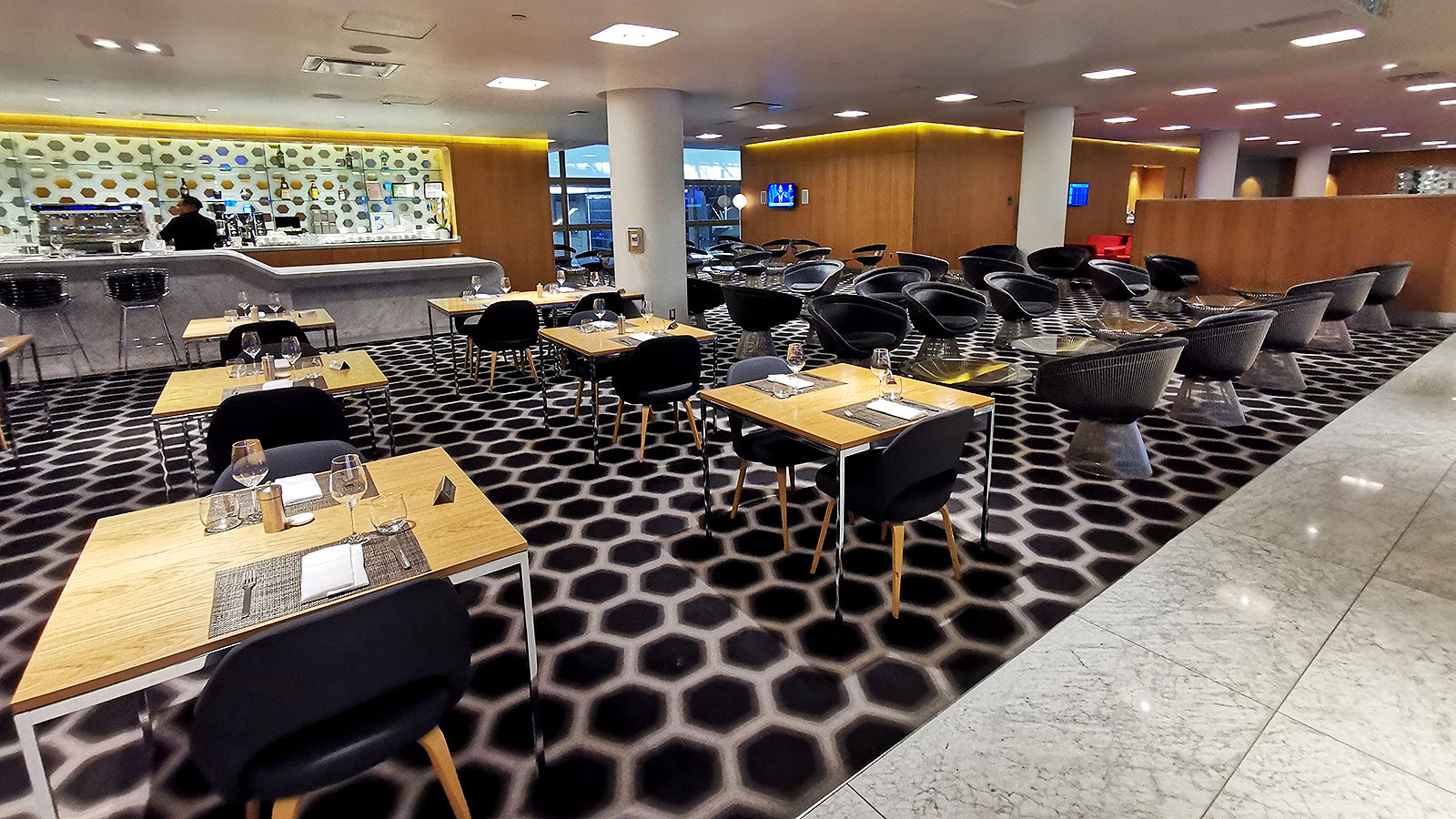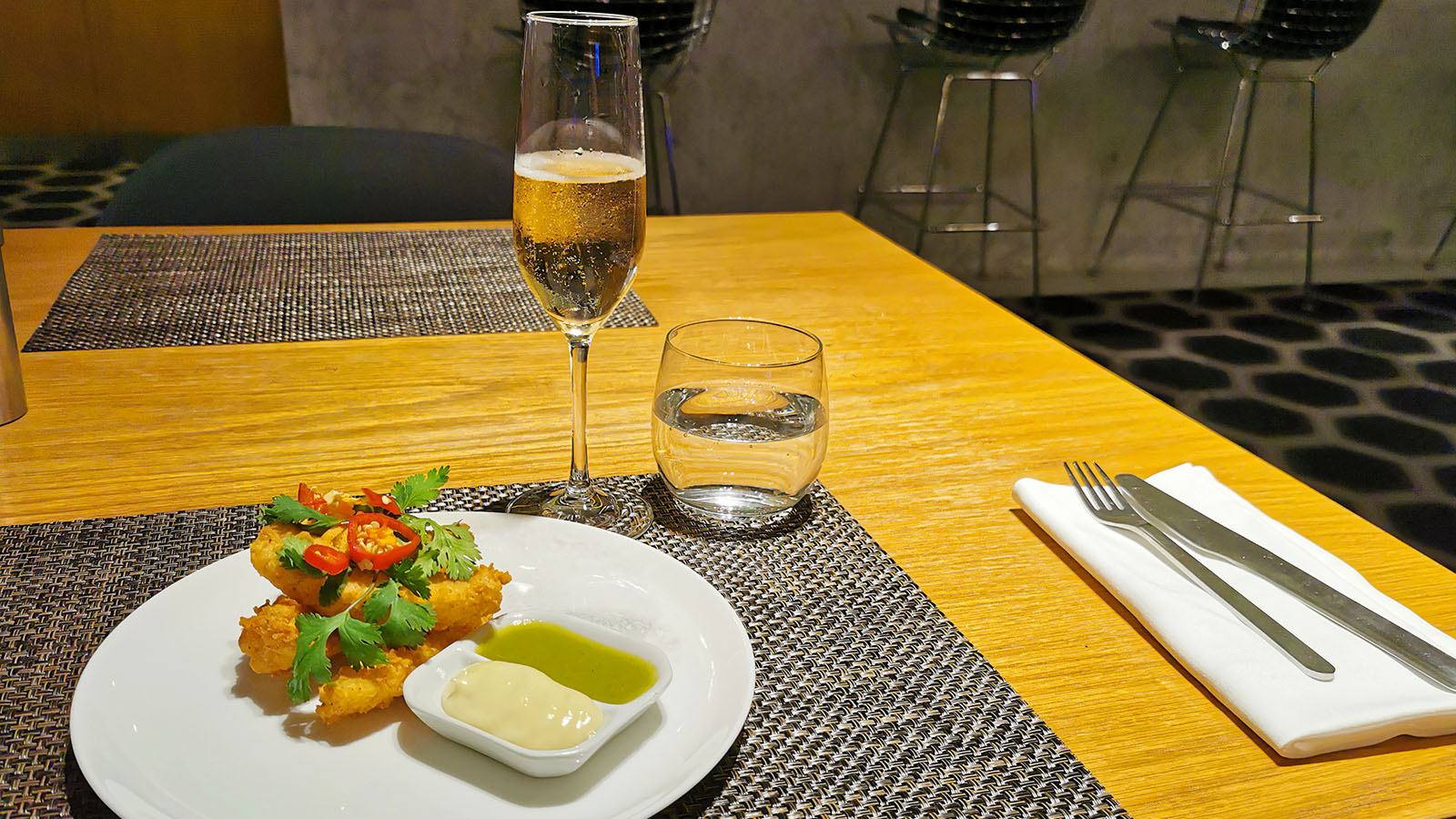 If yours is a oneworld Sapphire card (e.g. Qantas Gold), I'd suggest the Flagship Lounge over the Qantas International Business Lounge. Flagship is more of a top-tier lounge – again, with better views and broad self-serve dining. By comparison, Qantas' lounge is designed to be mid-tier, and there are no views.
For Qantas Club and Admirals Club members, it's the Admirals Club. Expect more of those views, bartender service, a limited buffet – and a menu to purchase anything beyond the basics.
As the photos above may hint, I spent an entire day at LAX to bring you this research, so take my word for it!
American Airlines Boeing 737 Economy seating
Whether your journey includes a lounge visit or not, here's the core experience you're paying for. Economy on American Airlines' Boeing 737 jets comes in a familiar 3-3 layout. While the finishings are a little different, these seats are very similar to what you'd also find on this side of the Pacific, aboard Virgin Australia's newest Boeing 737s.
There's an adjustable headrest, moderate recline and enough room for my knees without feeling squeezed in. On the storage front, a large mesh pocket directly in front is perfect for larger bits like headphone cases and chargers. There's a separate literature pocket further up, which keeps all that paperwork from impeding your space.
Smaller items like laptop bags also fit underneath the seat in front. I'm lucky to score a flight that's barely half full, so I move my bag to the adjacent seat to really stretch out.
I'm also glad it's a lightly loaded flight. As we taxi out from LAX, I spot a Qantas Boeing 787 preparing for its own departure to Melbourne as QF94. It reminds me that I'm jetting further away from home – but I'll be back soon enough.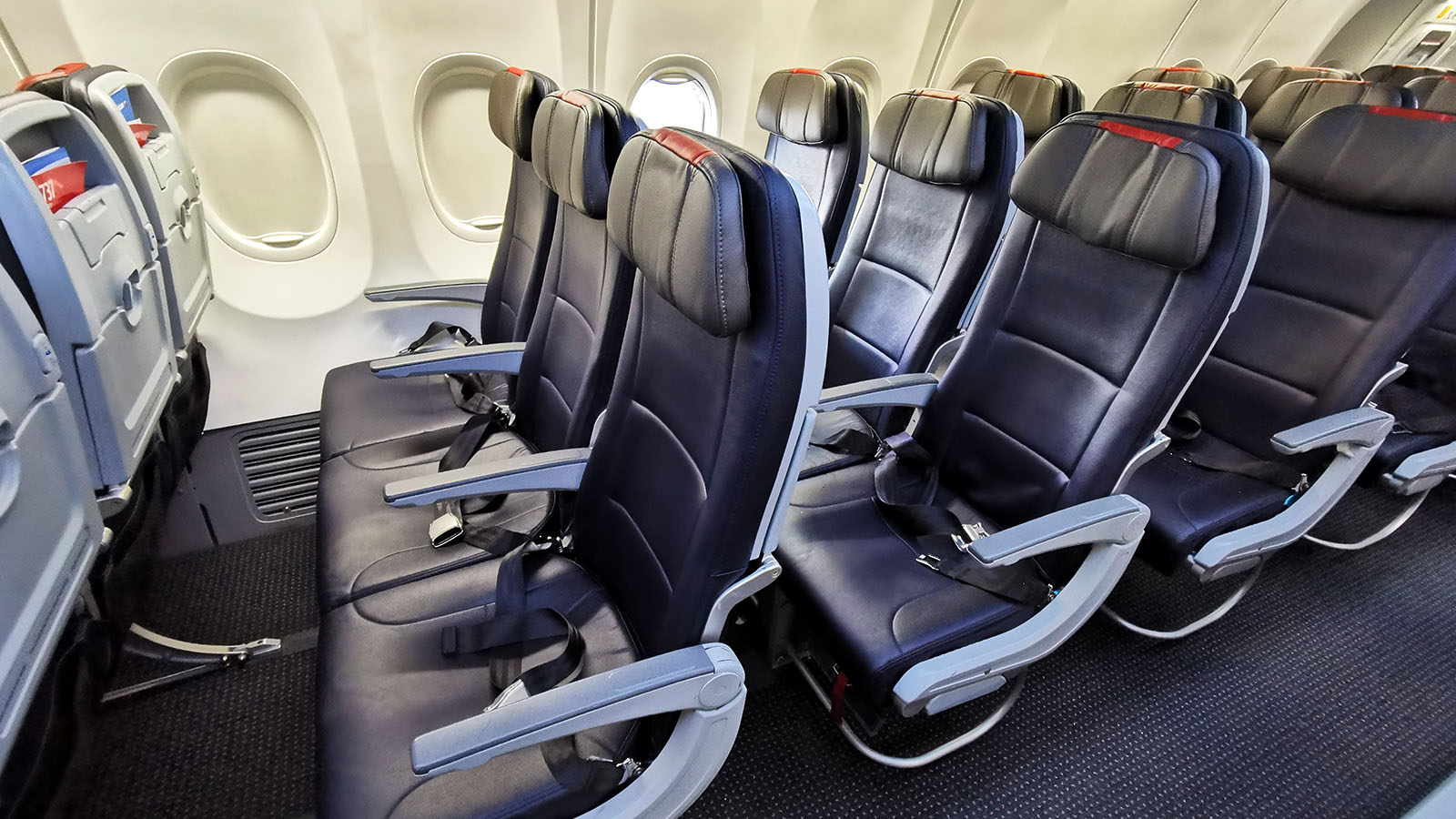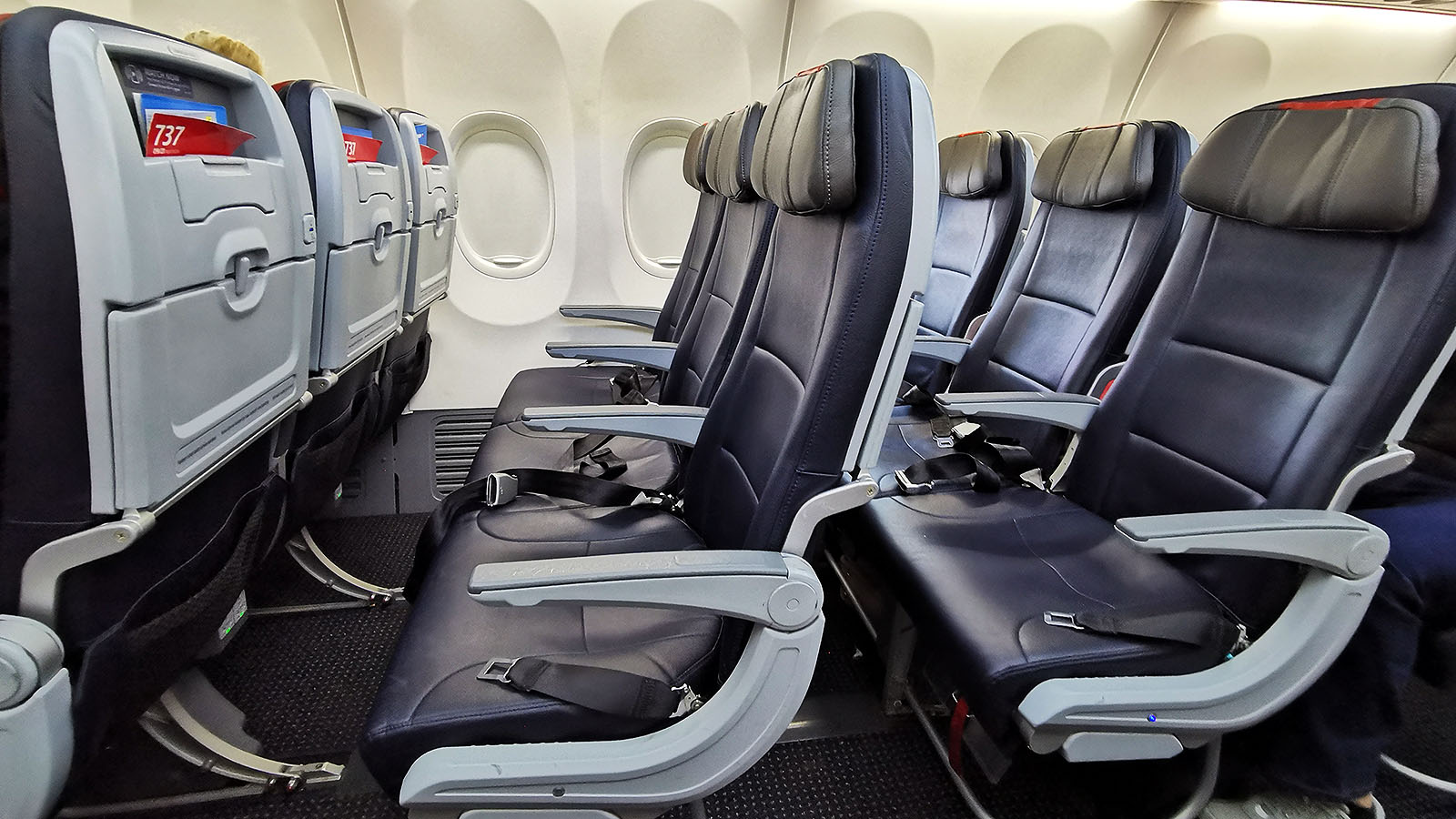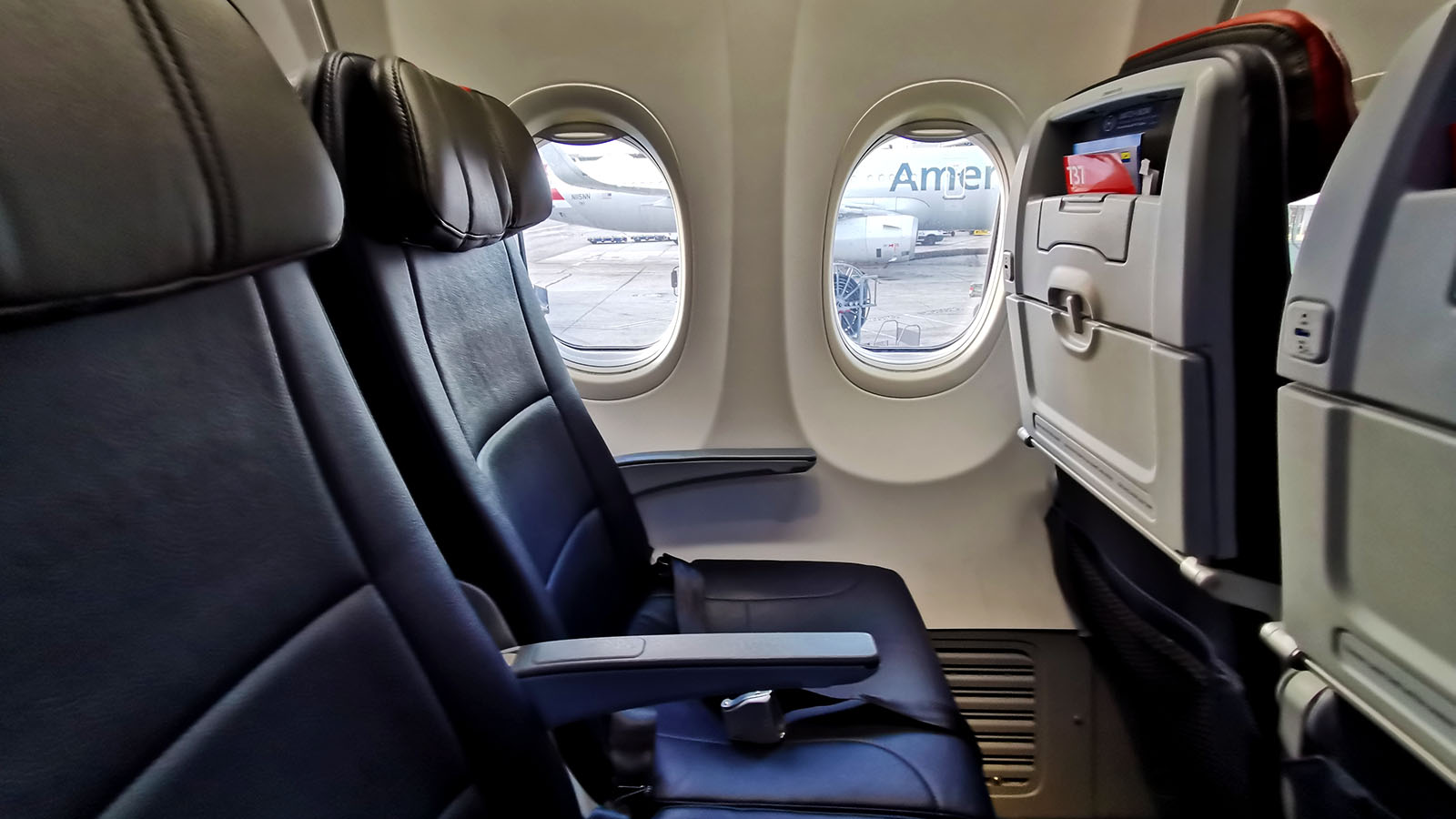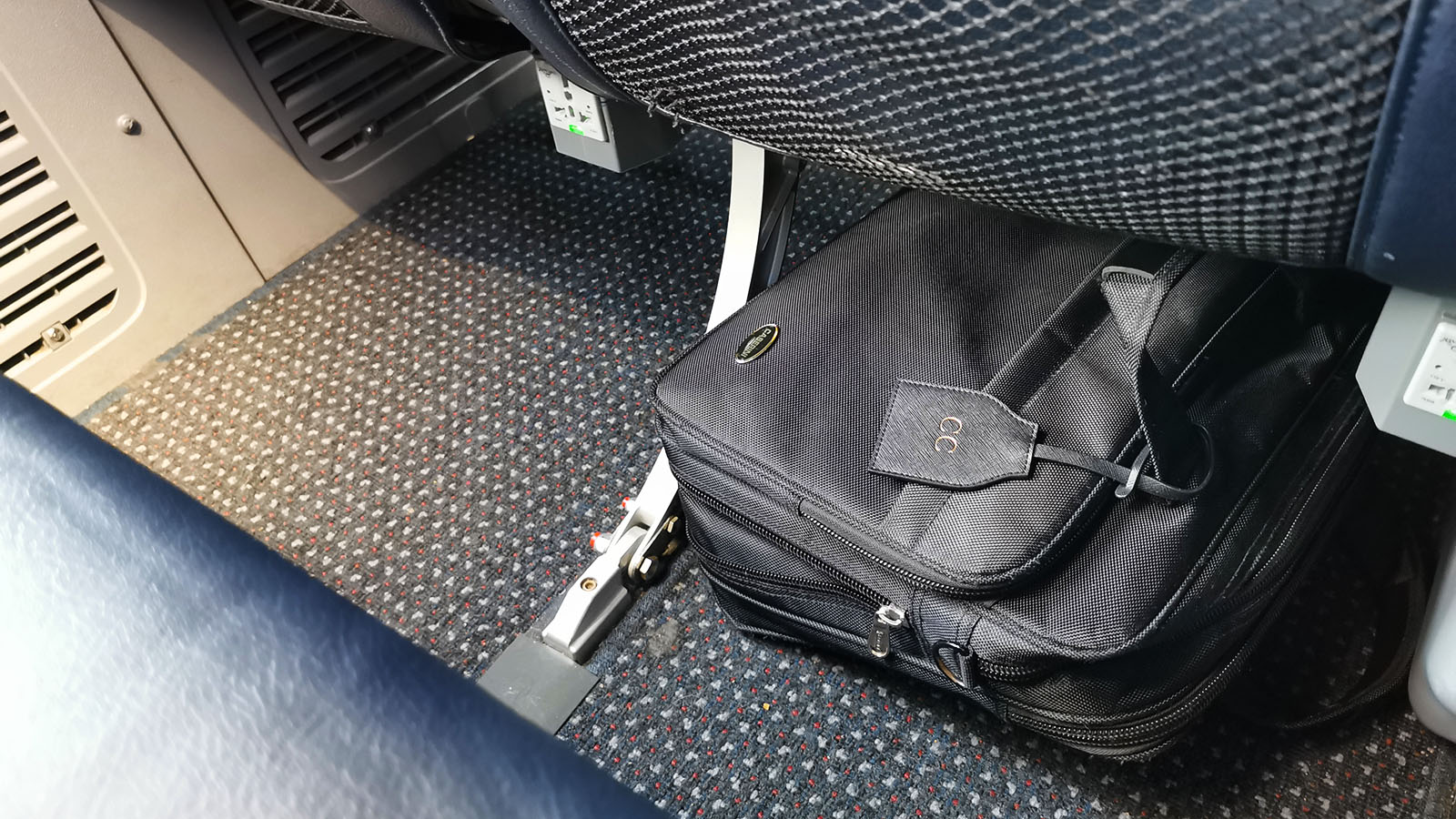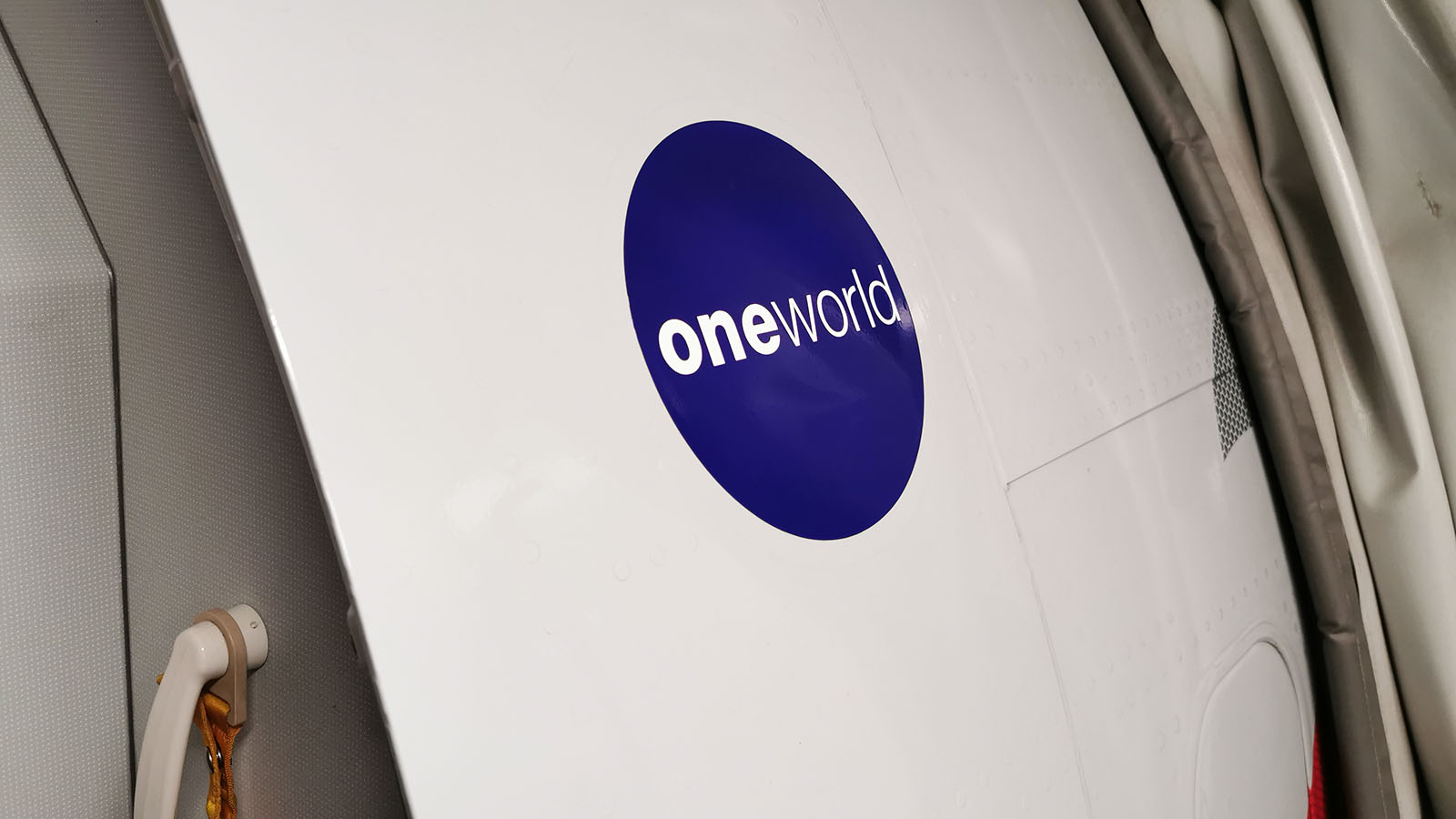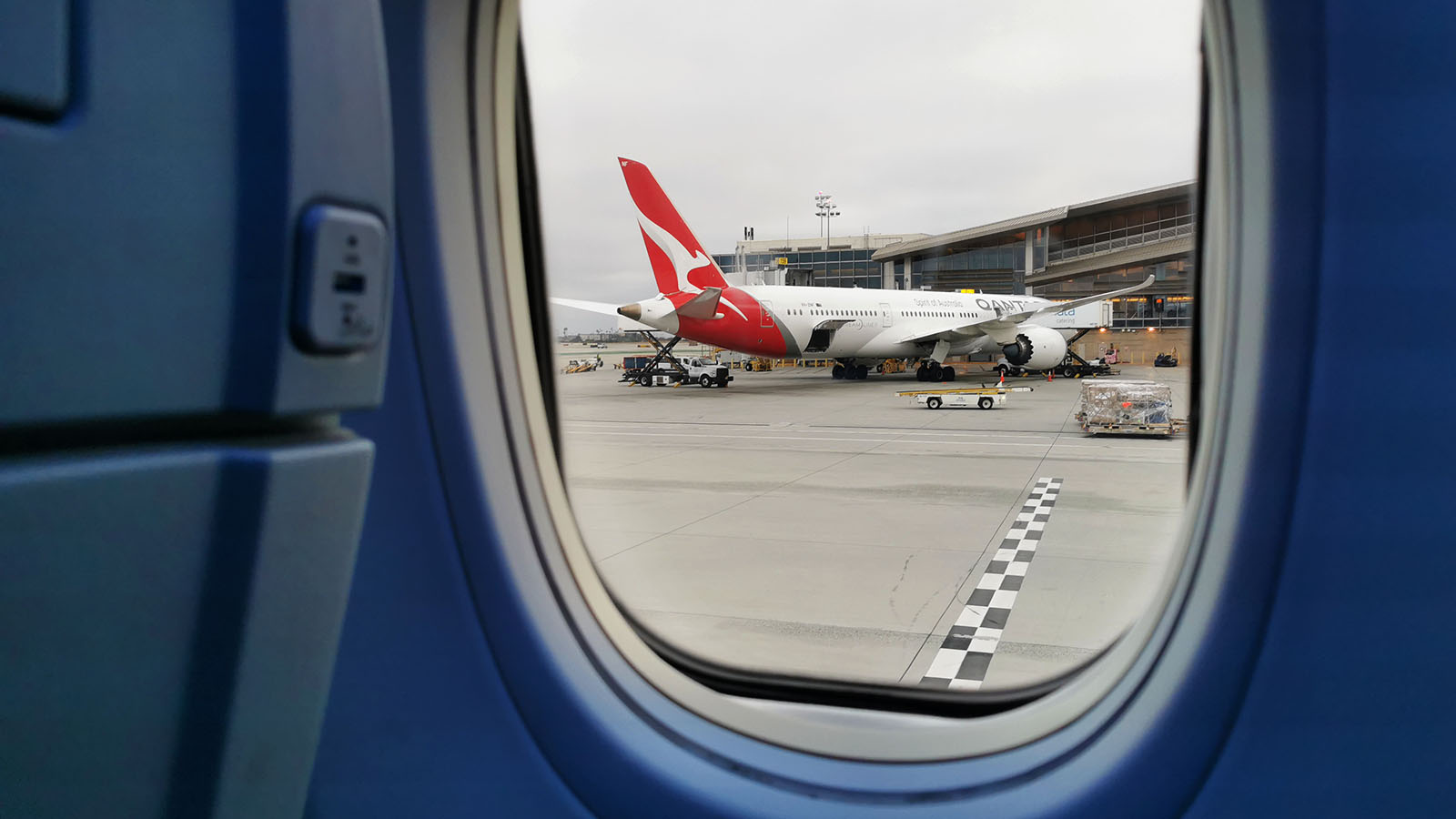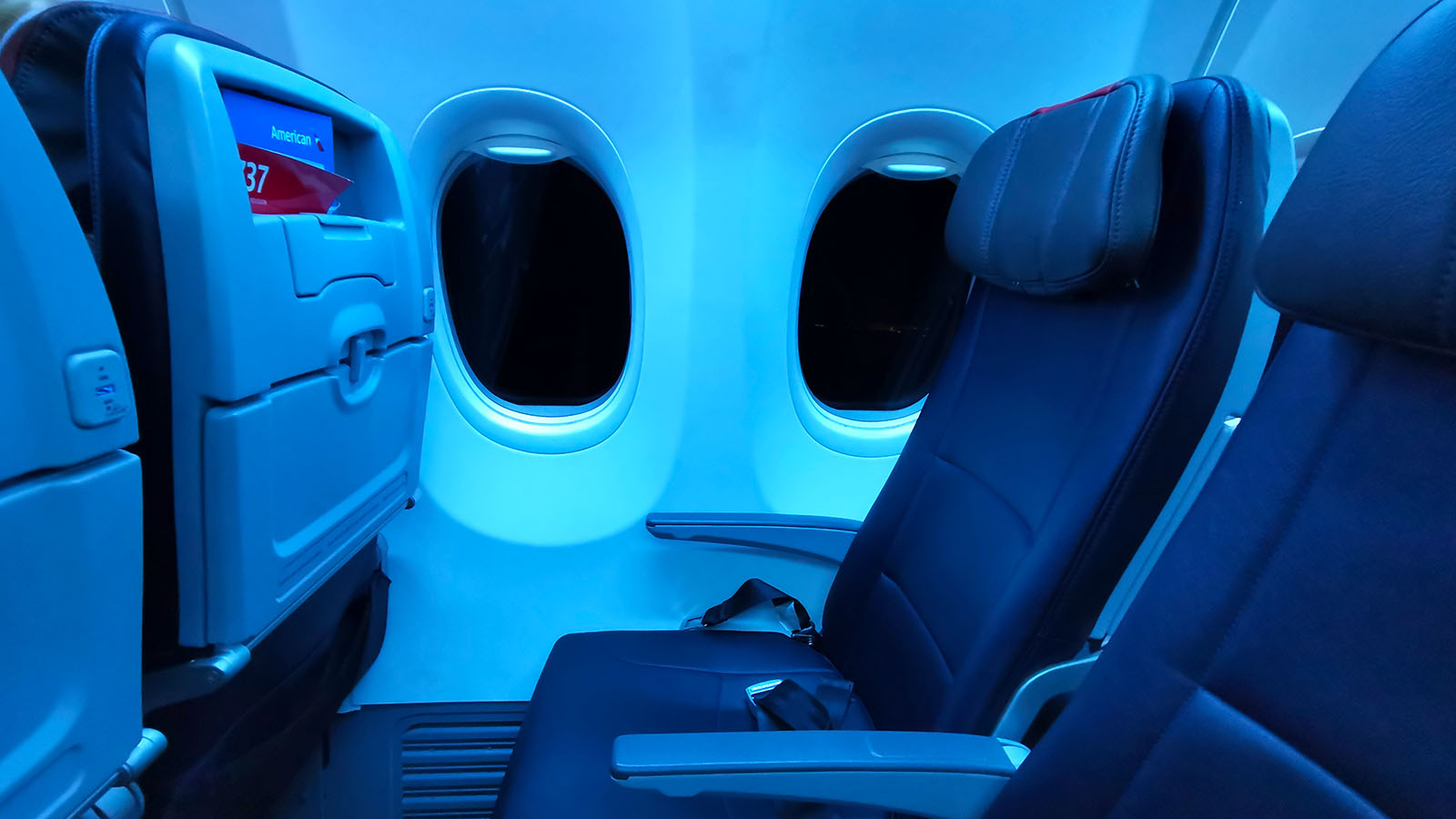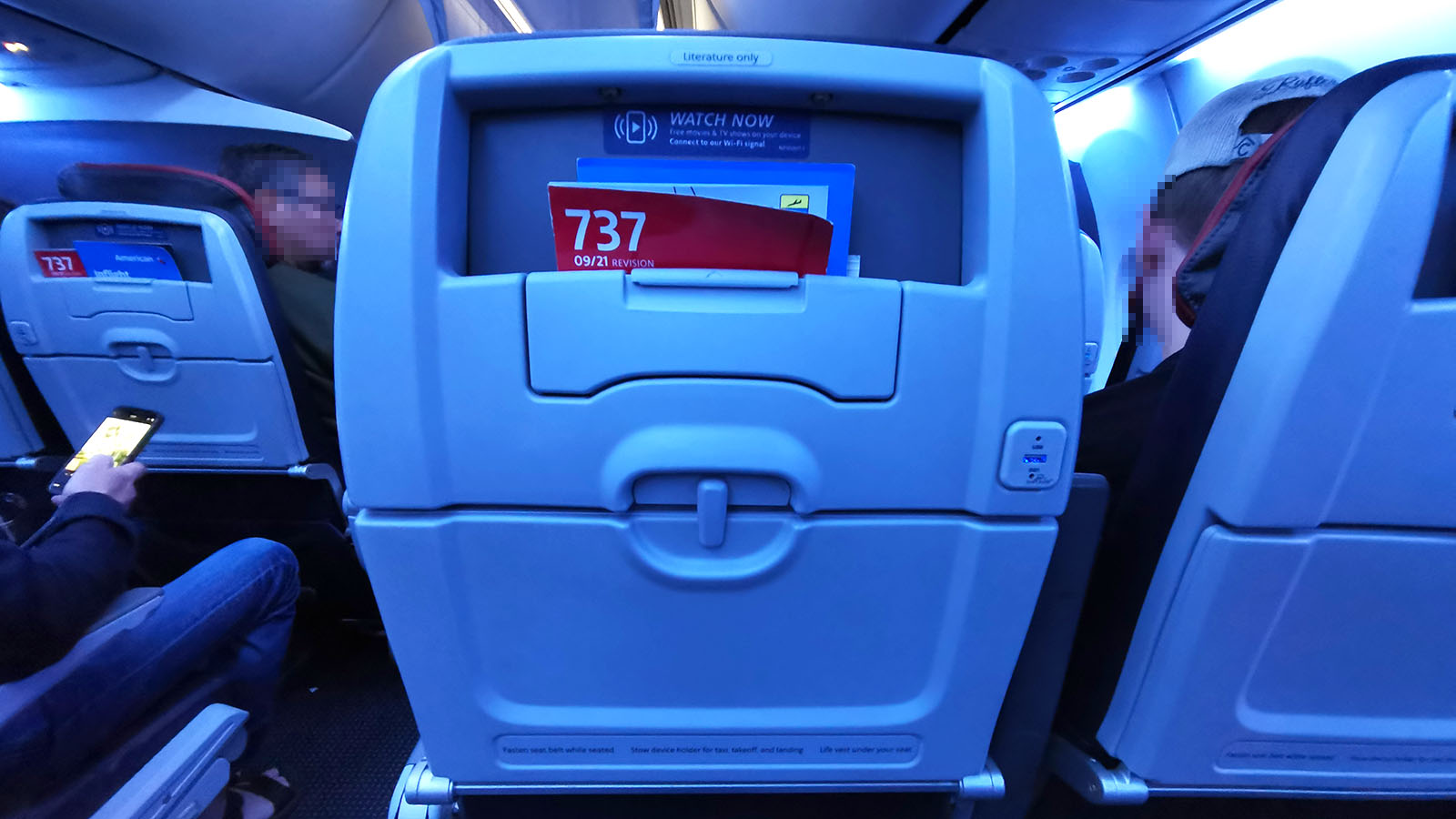 As the sun sets and the mood lighting comes into play, it's nice to see a calming shade of blue. It's reflected on the cabin walls, but also on the seatbacks throughout.
Speaking of the seatback, there's a standard fold-down tray table. Above that is an expandable holder for smartphones and smaller-sized tablets. Given there are no seatback TVs, it makes it easier to mount your own screen. Having said that, I travel with a Surface Pro, which is too large to be stably mounted above. The tray table it is.
There's one more thing I really appreciate. Not only is there a USB power port at every seat, but there's an AC power outlet as well. Not just two outlets between three people, but one international-style outlet for every passenger. I do wish more airlines had this philosophy – especially in cabins where every screen is BYO.
Food and beverage in American Airlines Boeing 737 Economy
Here's where the American Airlines Boeing 737 Economy experience gets a little less exciting. Even on flights scheduled to depart around dinnertime, there are no meals served. And unlike AA's rival United, flights of this length don't offer any substantial or hot items for purchase, either.
Instead, there's just a choice of snack – biscuits or pretzels. Fortunately, I've flown AA before and know what to expect. That's my main reason for visiting the Qantas First Lounge before departure, to enjoy dinner.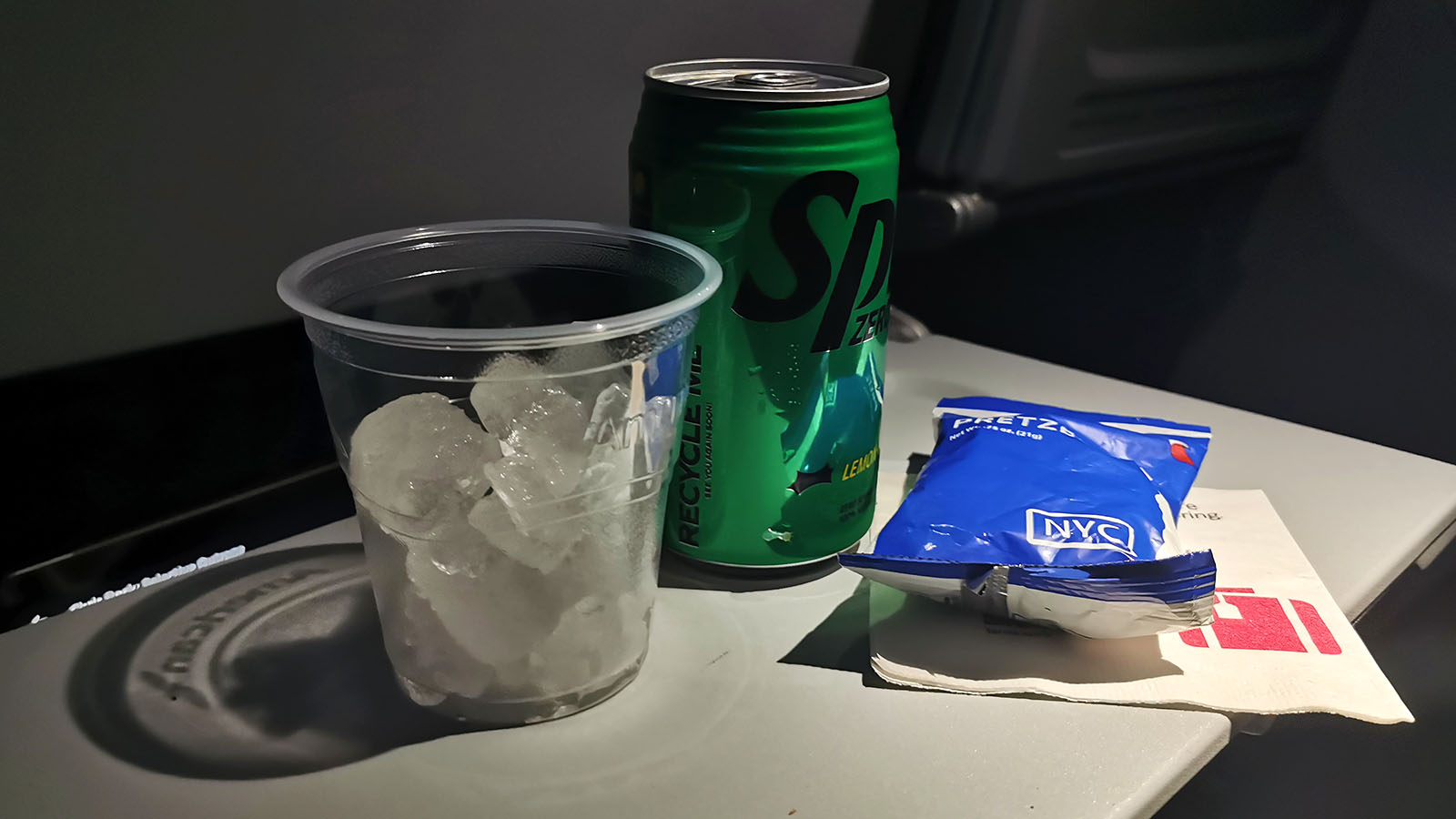 Along with a snack, a wide range of non-alcoholic drinks are complimentary. I'm particularly happy to find Sprite Zero among those choices. It's a refreshing pick yet without the caffeine of a Diet Coke. Wine, beer and spirits are available for purchase.
If you have Executive Platinum or ConciergeKey status in AA's own frequent flyer program, your first alcoholic drink is on the house. This doesn't extend to oneworld Emerald frequent flyers of other airlines, though.
Service and entertainment in American Airlines Boeing 737 Economy
Just because there are no seatback screens in American Airlines' Boeing 737 Economy cabin doesn't mean there's nothing to watch. Connect your own device to the onboard Wi-Fi network and a whole host of content is ready and waiting.
Before the flight, I've already downloaded a few shows from a streaming app as a backup. But it's nice to branch out. And given I've already been in the US for half a day and haven't yet left the airport, the live TV options help connect me with the country I'm now in. I'm able to stream the CBS TV channel to enjoy The Late Late Show with James Corden.
It's also great that I don't need to pre-download any particular app or software. I can simply tune in via the web browser on my Surface – and it works well.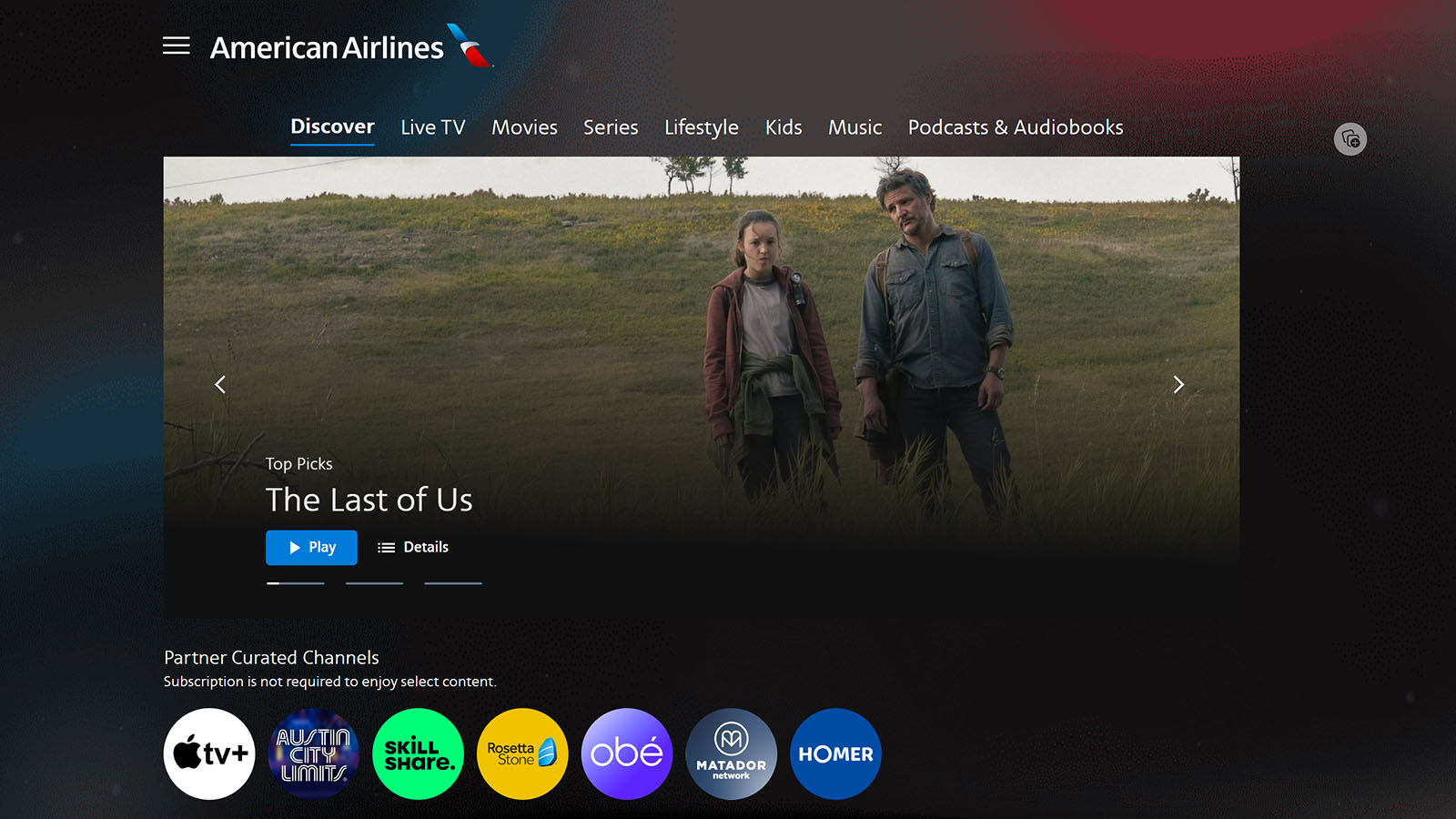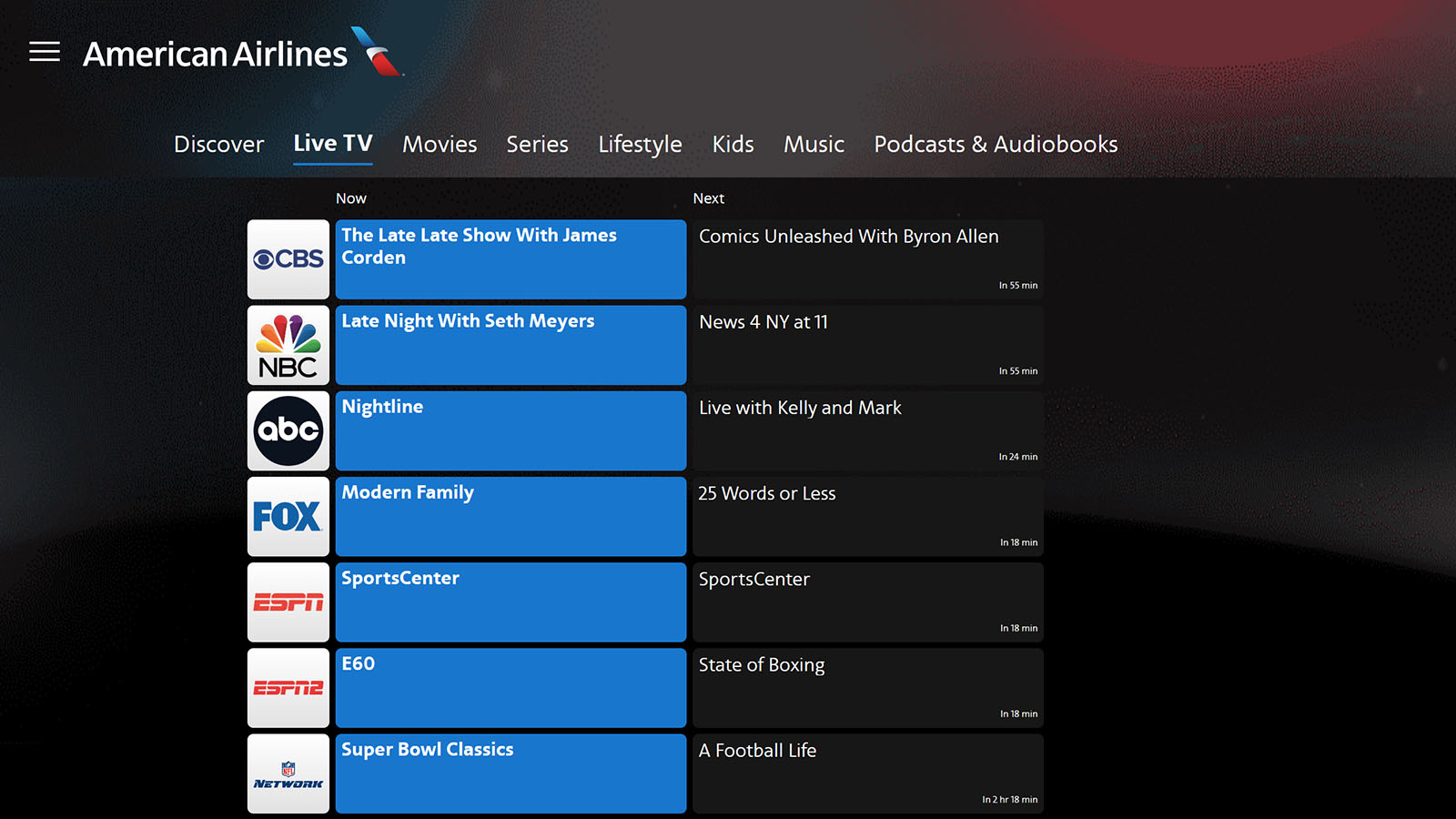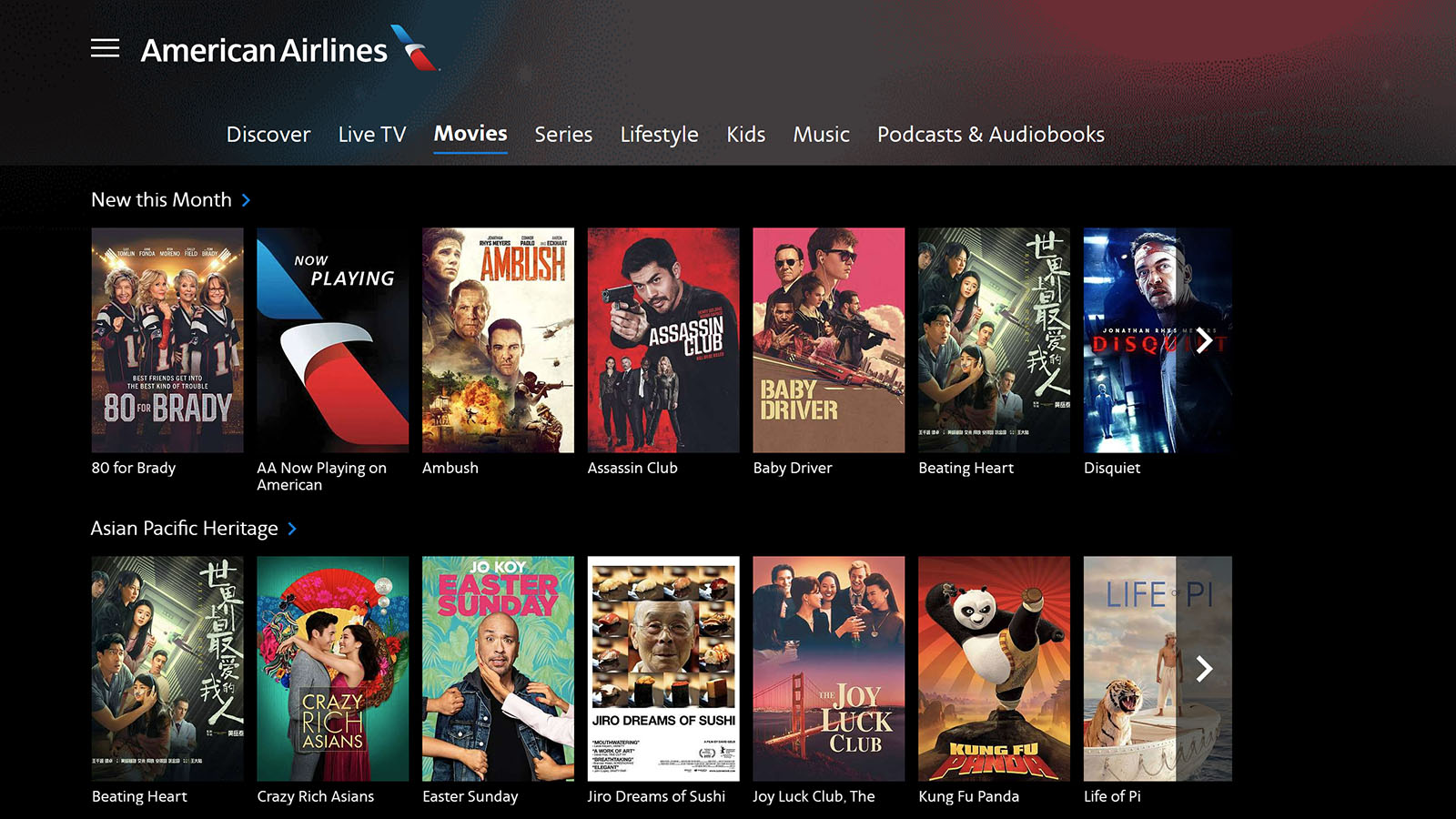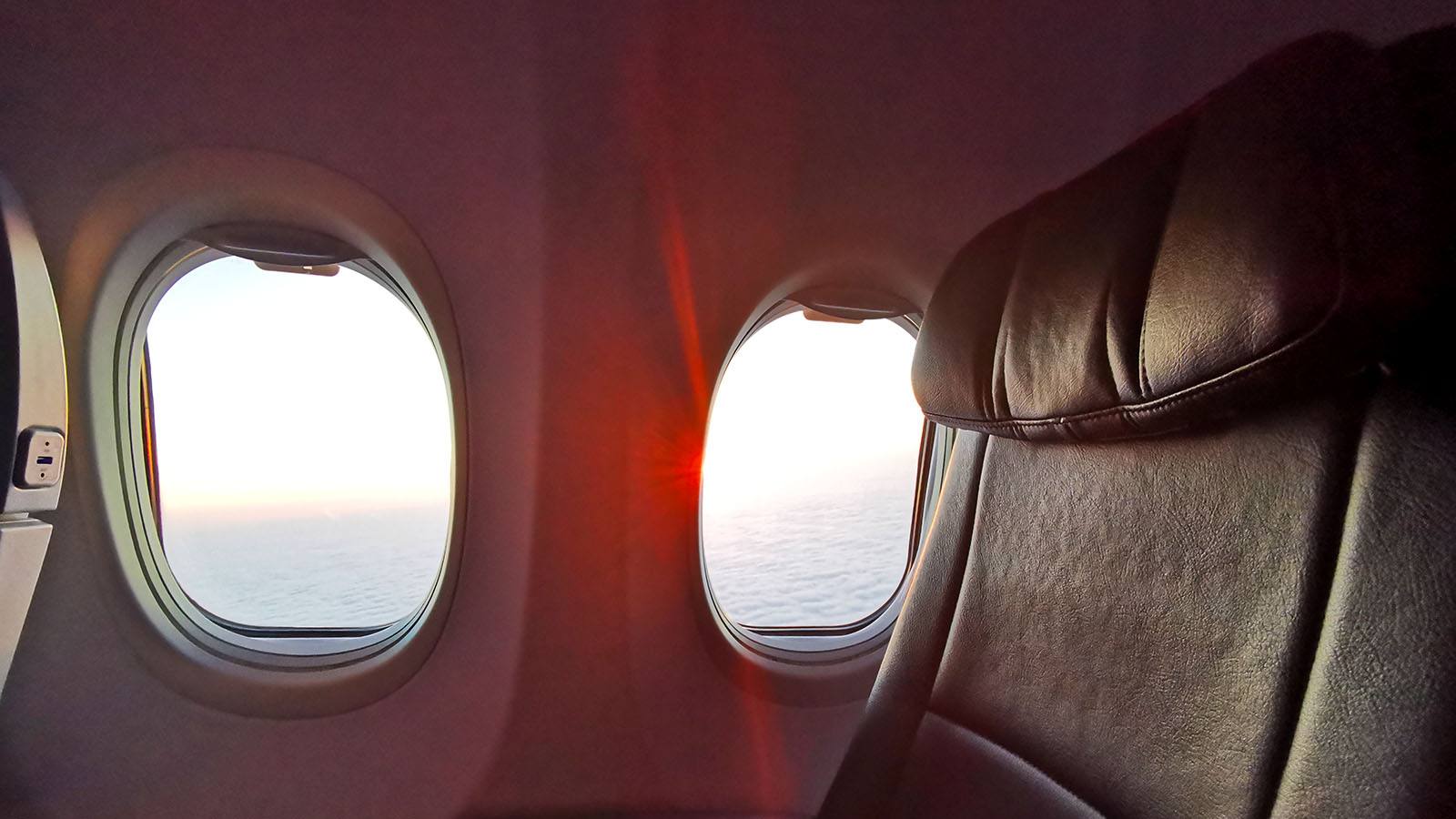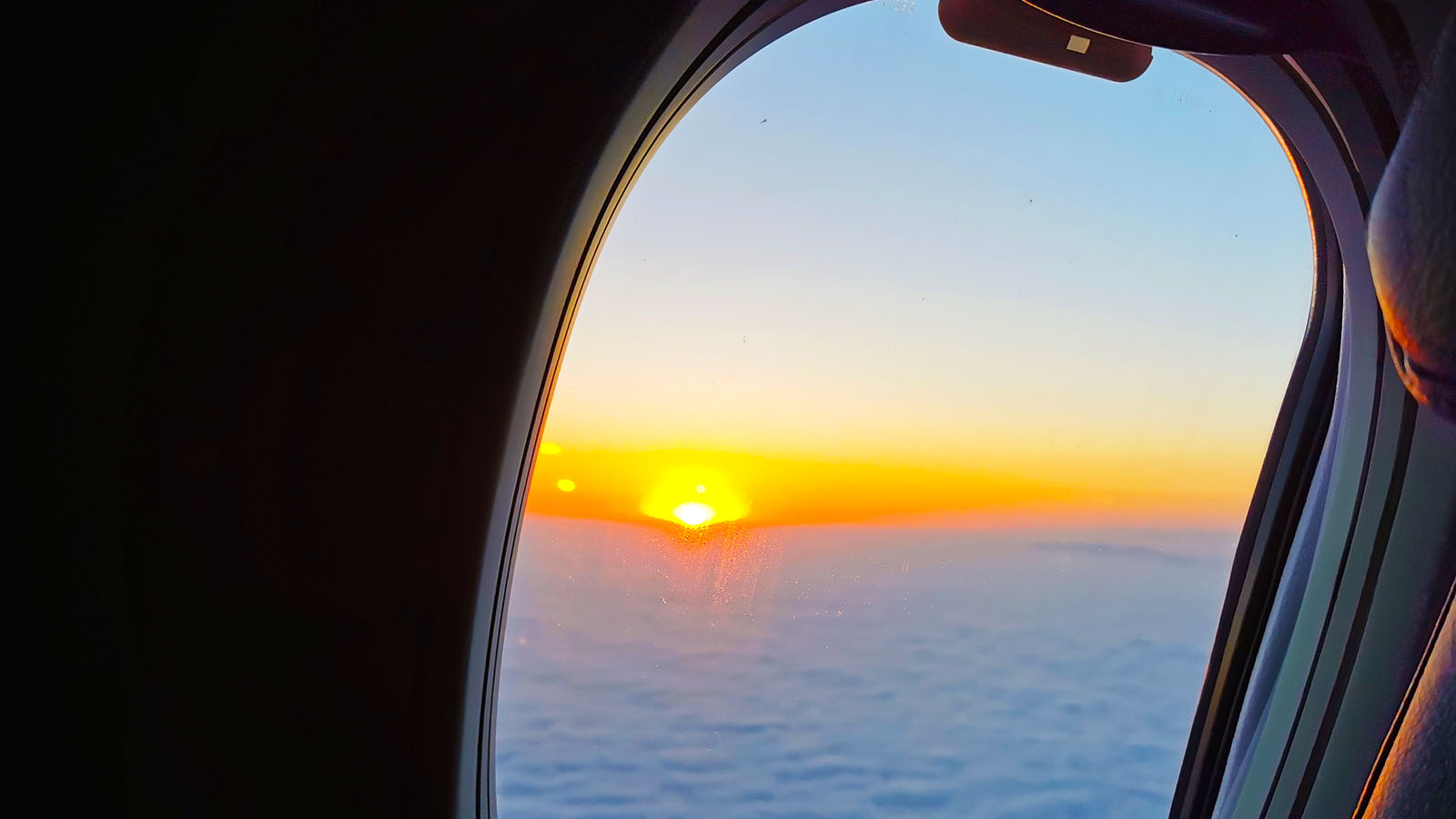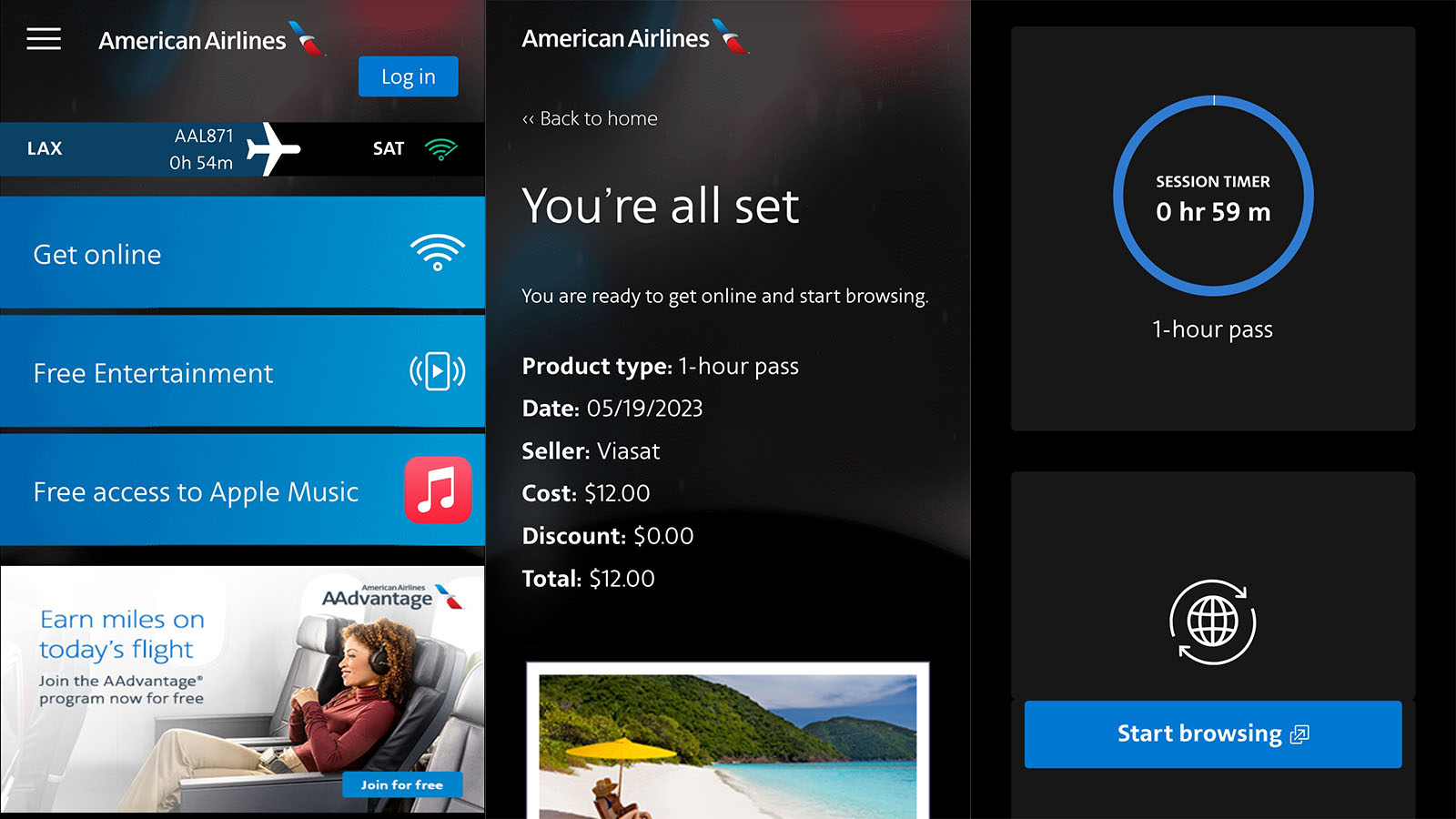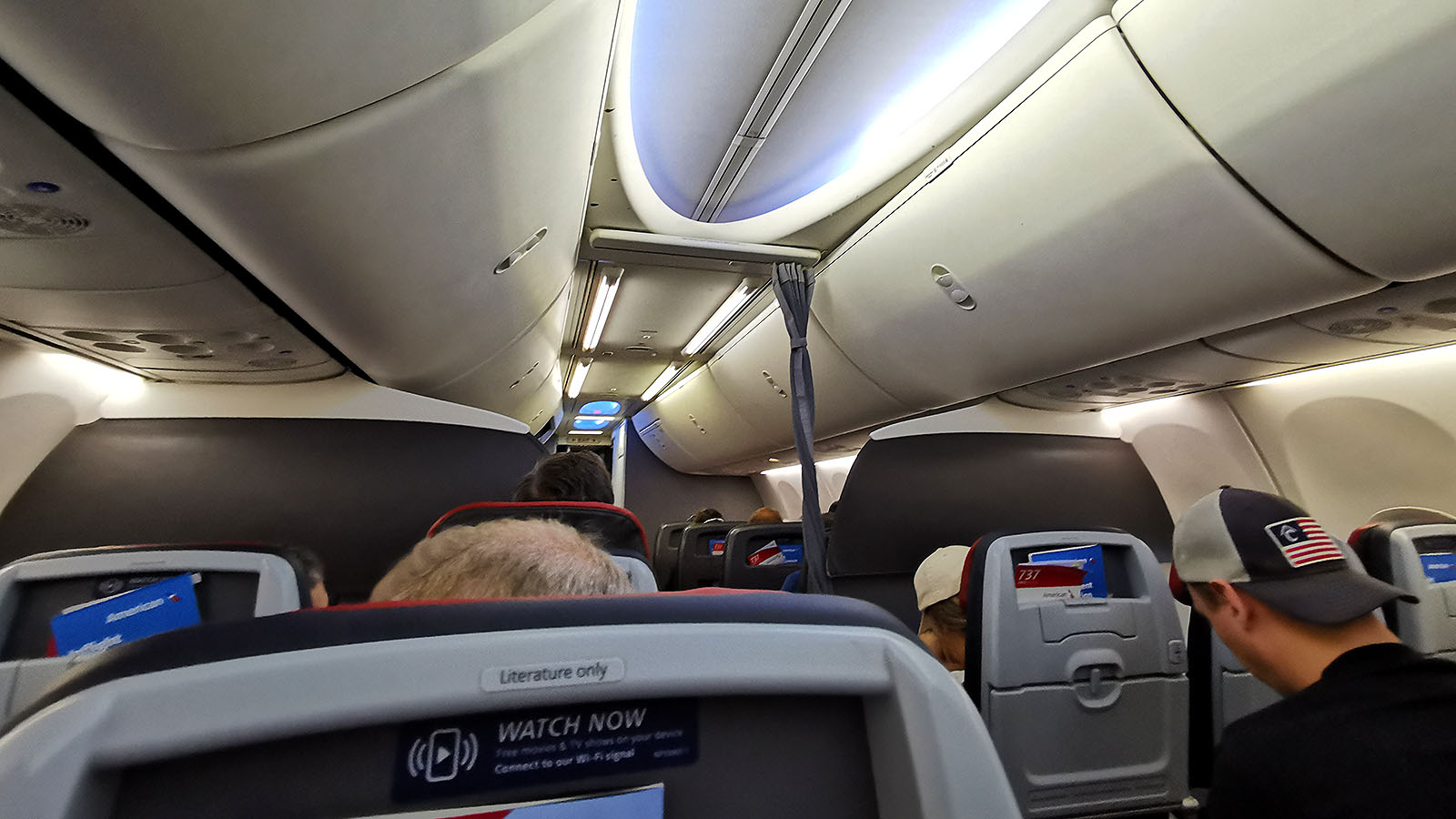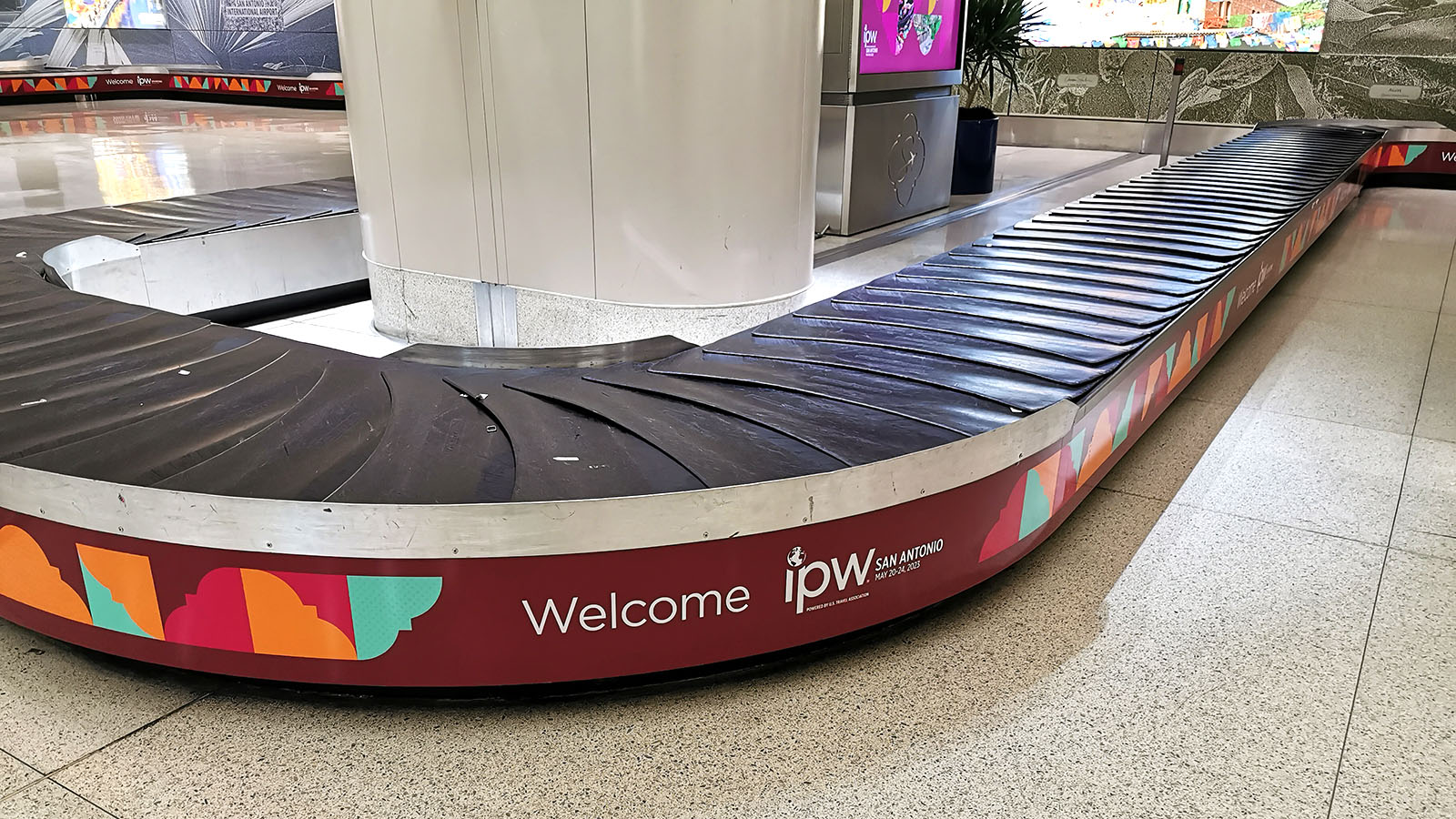 Given this is such an empty flight, I'm also entertained by views of the sunset through the windows at the end of my row. Again, after being inside all day – without much natural light, during much of that time – it helps my mind adjust to the new time zone.
After enjoying a little TV, it's handy having inflight internet access as well. On this route, US$12 buys a one-hour pass, while US$16 covers you for the entire flight. This time, I opt for that simple one-hour pass. I don't experience any dropouts, and it's very useful being able to connect with staff back at the office during Melbourne business hours.
Sorting out emails in the air also means I can land and head straight to bed, with business taken care of. Given the flight touches down in Texas around midnight local time, that's not a bad way to go.
Summing up
As Qantas' major Stateside partner, American Airlines is a convenient choice when travelling within the United States. And when you have Qantas status, the benefits AA provides can save you both time and money.
Case in point – I link my Qantas Platinum number to this booking. Because of that, I don't have to pay a seat selection fee to sit in a 'preferred' row close to the front. I'm also not stung by AA's usual US$30 charge for my suitcase: the bag flies free, and with a priority tag.
With a long transit, I don't have to kick around the terminals of LAX. I can head straight to the AA Flagship Lounge – and when I get bored, the Qantas International First Lounge – for a meal and a shower. When my Qantas Points arrive, I even get double points compared to the normal advertised rate, thanks to the Qantas 'status bonus'.
Certainly, the journey looks very different when you're just flying Economy without one of those shiny cards. But particularly in the US, those status benefits are what make one airline stand out from another. Otherwise, in Economy on any US airline, a ticket is just a seat to your destination, maybe an inflight drink and snack, and you pay for everything else.
Those who'll happily fly with any airline certainly have a lot more freedom to shop around based on price. But I tend to find AA's airfares quite reasonable, especially if you book at least a few weeks in advance. This particular flight – and overall experience – costs less than US$200, all-in. I could have even booked for US$5.60, if spending 12,000 Qantas Points.
In any case, I'm very happy to be reunited with my checked bag on arrival. It seems an early check-in is no problem at all.
Also reviewed: American Airlines Airbus A321neo Economy Class (Orlando – Dallas Fort Worth)
Feature image courtesy of American Airlines. Other photography by Chris Chamberlin, who travelled at Point Hacks' expense.
---
Stay up to date with the latest news, reviews and guides by subscribing to Point Hacks' email newsletter.
American Airlines Boeing 737 Economy (Los Angeles – San Antonio)
was last modified:
July 12th, 2023
by