If you're an avid Point Hacks reader, there's a good chance you're also a fan of the 2009 hit, Up in the Air. And if you watched along closely, you might have seen Ryan Bingham (played by George Clooney) flash a secretive 'ConciergeKey' card when trying to impress Alex at the bar.
Alex is quick to reply, 'oh, my God, I wasn't sure this actually existed.' But yes, Alex, it really does. So what does ConciergeKey actually get you? Here's what you're missing out on…
Exclusive benefits for ConciergeKey members
When you're in the same league as Ryan Bingham, travelling gets a lot smoother with American Airlines.
ConciergeKey members kick things off at Flagship First check-in. That's a private area ordinarily reserved for long-haul and cross-country First Class passengers: but for VIPs, it's available before every American Airlines flight. Yes, even short domestic and regional hops.
From there, there's 'expedited security access at select airports'. In my experience, this includes both Los Angeles and New York JFK, among others. A host escorts you from Flagship First check-in and takes you right to the front of the priority queue, so you're through quick smart.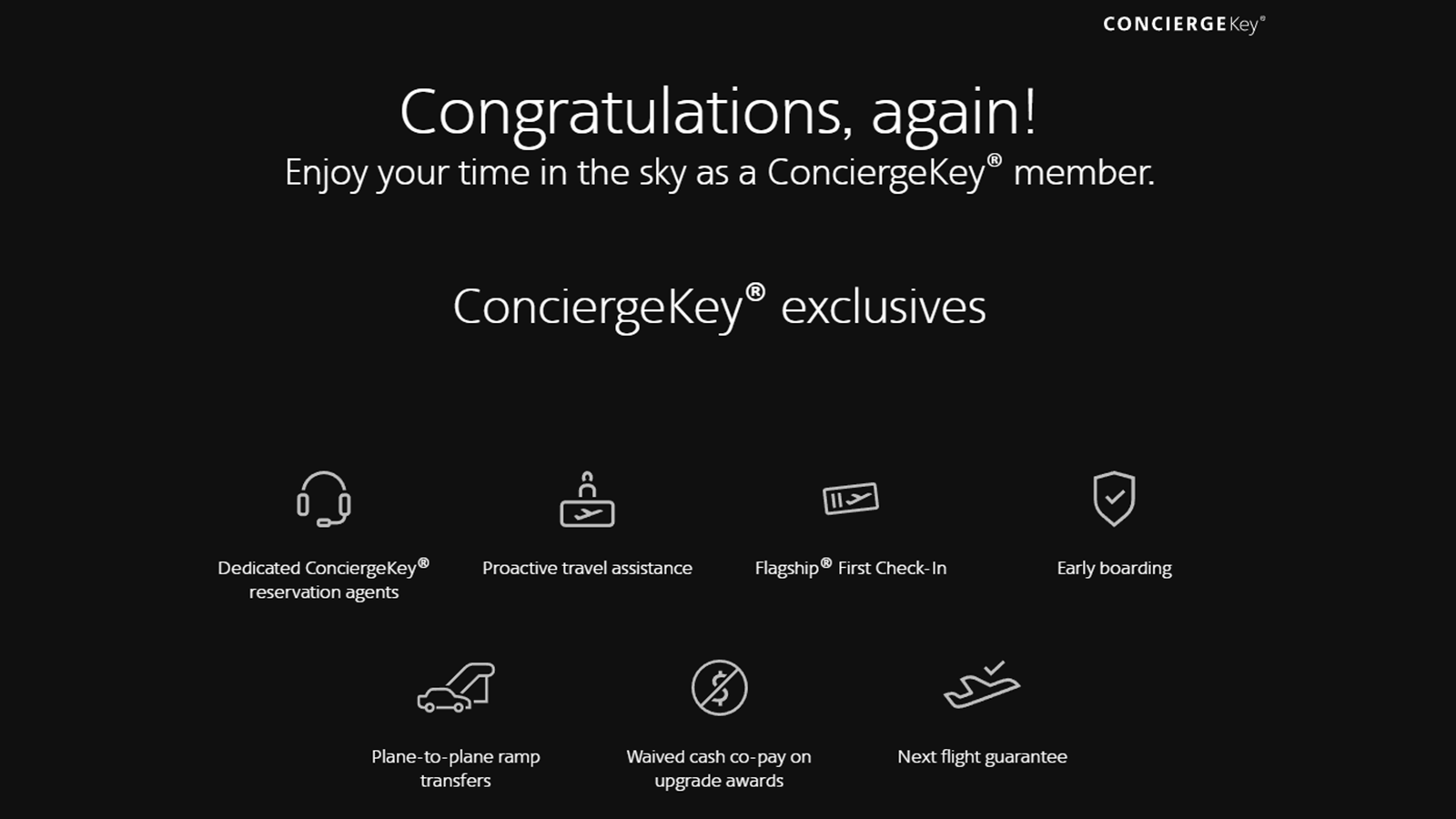 In the background, staff proactively monitor the flights of ConciergeKey members for delays and tight connections. If a member's flight is cancelled or delayed by more than three hours, they're guaranteed a seat on the next departure. That's true even if the new flight is already full: somebody else gets bumped.
But hopefully, ConciergeKey members make their original flight. When a connection is tight, American Airlines may even send a car to the plane to help make that happen, with a super speedy Cadillac transfer across the tarmac.
In fact, I've experienced that before at JFK (and in full disclosure, when travelling as a guest of American Airlines). There's really nothing cooler than a black SUV pulling up and taking you from one side of the airport to the other. Forget giving way to cars on the road: your driver is navigating around everything from Embraer regional jets to Airbus A380s to get you to your flight!
As it happened, Heidi Klum was on the same flight… but didn't get the Cadillac. Sorry, Heidi, didn't see you there!
Other cool perks with a ConciergeKey card
Nobody likes to wait on hold. That's why ConciergeKey members have a dedicated contact channel for any enquiry large or small. There's a 24/7 phone number and a private email address monitored around the clock.
For a little bling, American Airlines delivers a new metal ConciergeKey baggage tag every 12 months, when a member's status is renewed for the year ahead. These are often dangling on display in the overhead lockers: particularly in First Class.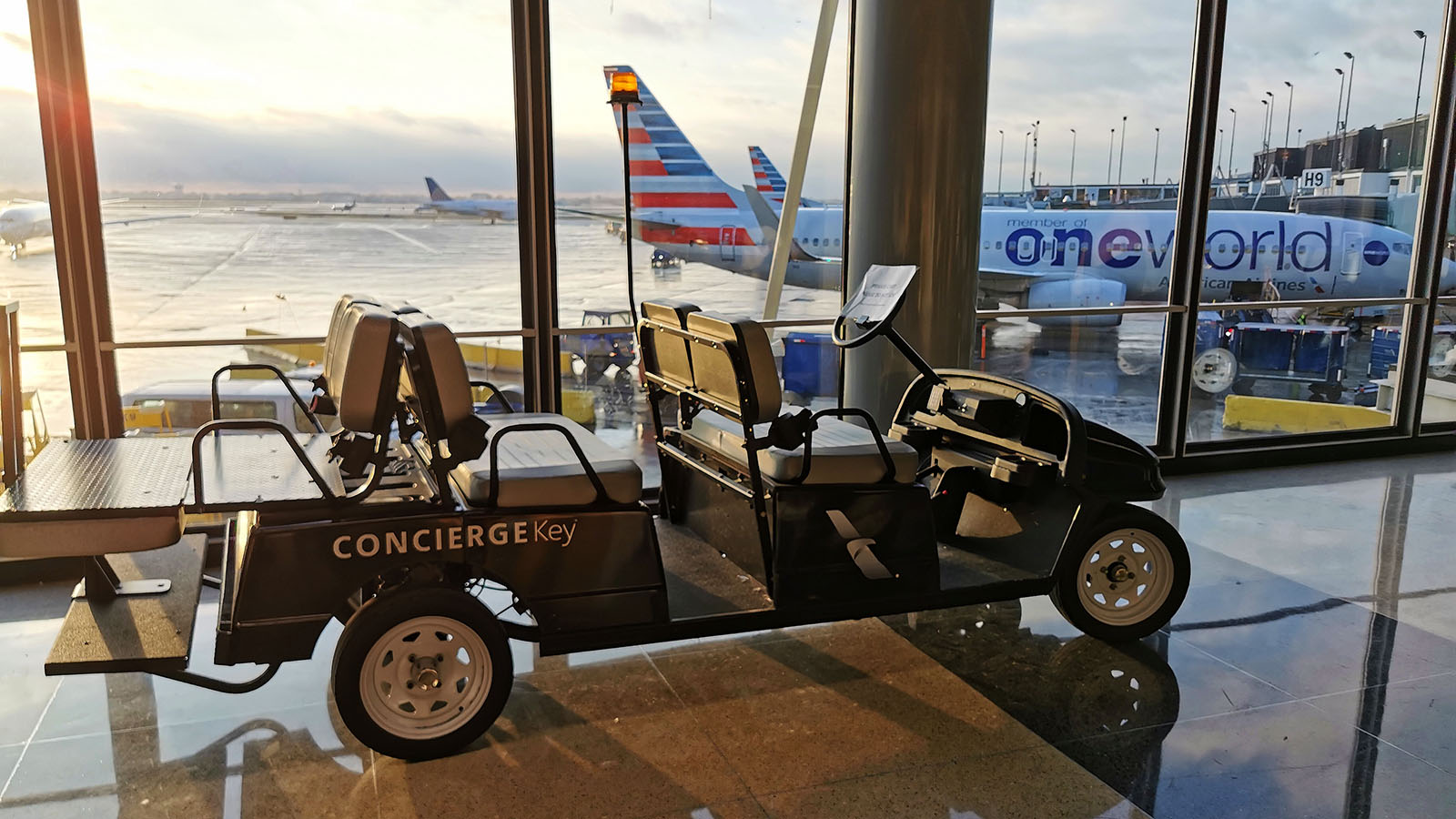 As another nice perk, American Airlines makes it more attractive for VIPs to upgrade using their miles. When a miles-based upgrade would normally require a cash co-payment, AA waives these charges for ConciergeKey guests.
So how do you get a ConciergeKey card? There's no set amount of flying or spend that guarantees your place among the VIP ranks. But if you're among AA's top frequent flyers, or control the travel spend of a large company, membership isn't out of the question.
Ad – Scroll down to continue reading.Minimum spend, terms & conditions apply.
Lounge access for ConciergeKey members
ConciergeKey also aligns with oneworld Emerald. That means access to the First Class lounges of oneworld airlines across the globe, including with Qantas, British Airways, Cathay Pacific and more. On Australian domestic flights, this status also unlocks Qantas' Domestic Business lounges – but unfortunately, not the Chairman's Lounge.
But in North America, airport lounge access can be more restrictive than elsewhere. Fortunately, ConciergeKey members are exempted from all of that red tape.
That starts with a complimentary American Airlines Admirals Club membership. This guarantees lounge access when travelling on US domestic and short-haul international flights: something not normally granted by regular AA status.
Even better, ConciergeKey members can use AA's Flagship lounges as well, regardless of their destination. On occasion, passes may also be provided to Flagship First Dining: an even more exclusive room within the Flagship Lounge.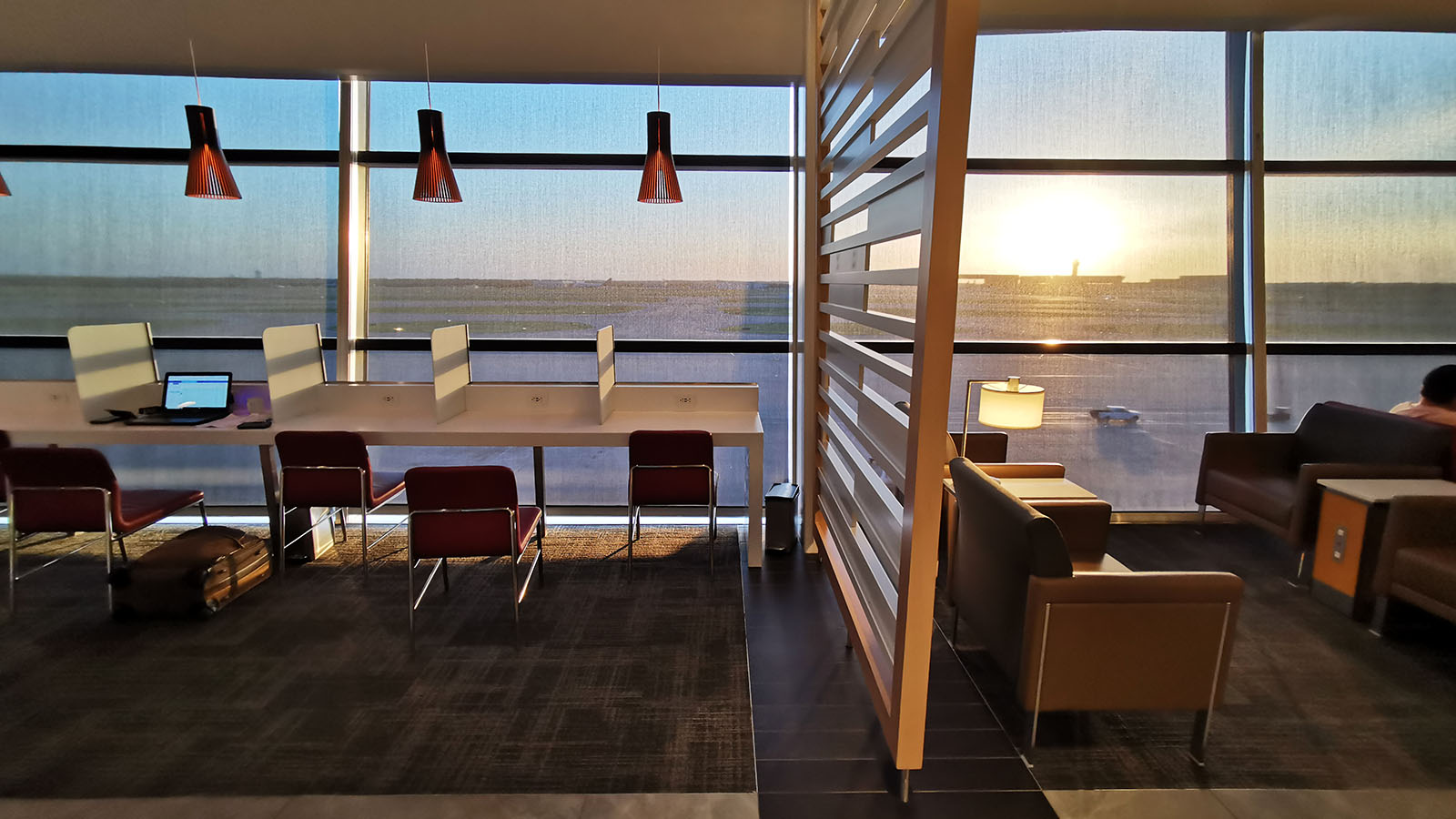 Unlike its transpacific partner Qantas, which operates lounges for its own VIPs, American Airlines doesn't offer any lounges exclusively for ConciergeKey members. These high flyers simply use the best available public lounge when travelling with American Airlines, and First Class lounges when flying with other oneworld carriers.
Also read: What's the difference between an Admirals Club and a Flagship Lounge?
Other niceties for American Airlines' top travellers
American Airlines is known for dishing out complimentary upgrades on domestic flights. For members with Executive Platinum status – the top 'public' tier of AAdvantage – these can occur up to 100 hours before departure. But ConciergeKey members get first dibs, from 120 hours before travel.
At the gate, ConciergeKey cardholders also get on first. Members are invited to board ahead of First Class and Group 1 – and this is one perk that American Airlines acknowledges publicly. By extension, there's always room in the overhead lockers for a VIP's bags: they'll never need to gate check and wait at baggage claim.
Otherwise, the benefits of 'secret status' largely mirror those of AA's public Executive Platinum tier.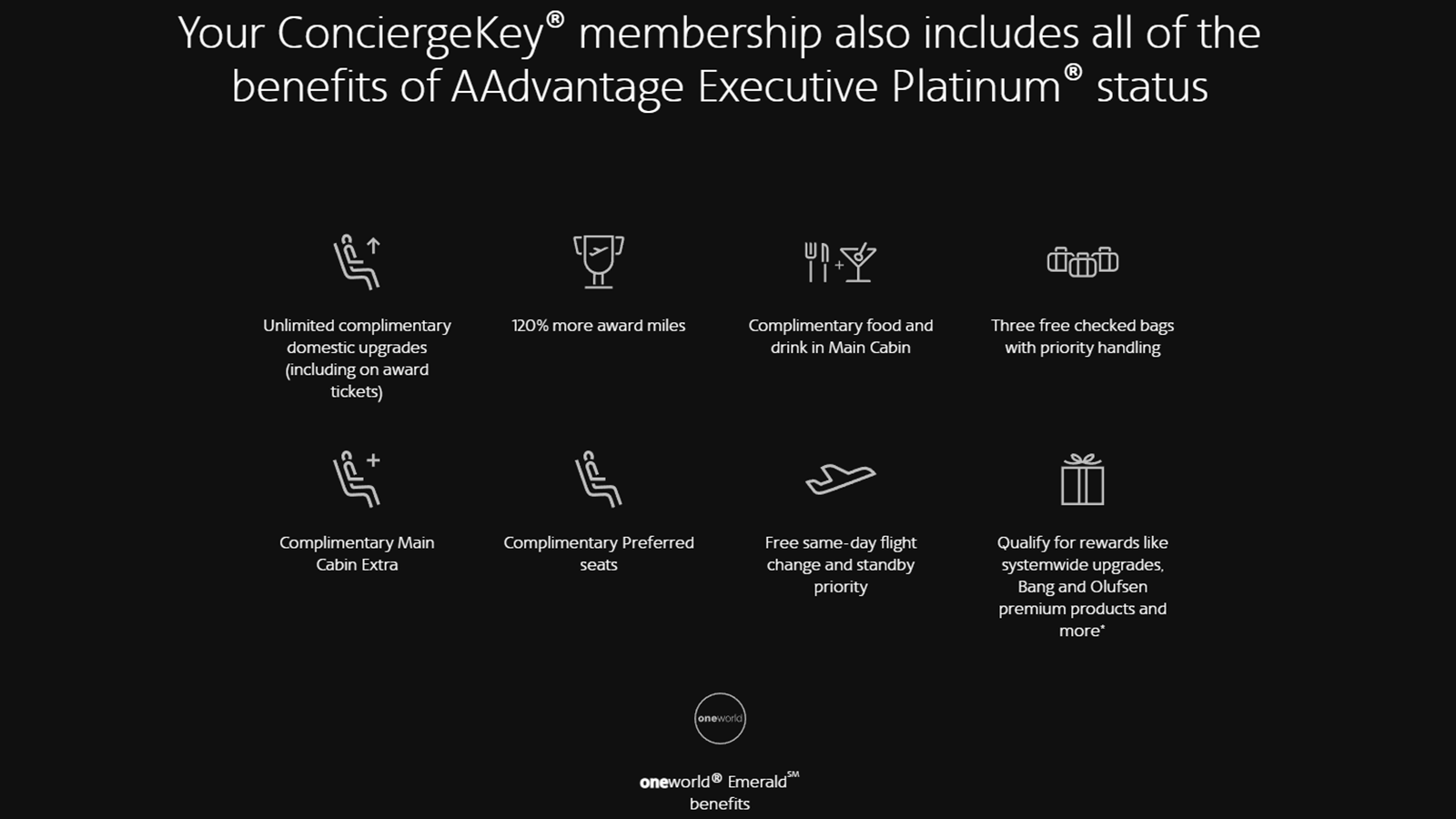 This means access to benefits such as free same-day flight changes and 'systemwide upgrades'. It also means being able to select Main Cabin Extra and Preferred seats at no cost. When flying 'Main Cabin' (Economy), one alcoholic drink and one snack food item are complimentary on every flight.
Summing up
American Airlines' ConciergeKey is one of the more attractive invitation-only tiers. Members can literally book a domestic Economy Class flight – and more often than not, end up sitting in First Class for free.
Blend in year-round access to AA's Flagship lounge and those Cadillac tarmac transfers, and ConciergeKey is a true asset when travelling in the United States.
But if you haven't made the cut, there's still a way to get some of the royal treatment on American Airlines. That's by purchasing AA's Five Star service. Depending on your ticket type and where you're flying through, it may be possible to get a personal host to assist you. Or perhaps, even one of those elusive tarmac transfers.
As for the other secret metal card that Ryan Bingham gets after earning 10 million miles, I'm sorry to say, that's a myth. Or is it…?
Also read: The Qantas Chairman's Lounge – for VIPs only
ConciergeKey imagery generated by Chris Chamberlin based on source material courtesy of American Airlines.
---
Stay up to date with the latest news, reviews and guides by subscribing to Point Hacks' email newsletter.
ConciergeKey: Ryan Bingham's secret American Airlines status
was last modified:
October 19th, 2023
by