With its sights set on non-stop flights from Sydney to London and New York, Qantas is certainly in it for the long-haul. But the Roo's route from Dallas/Fort Worth to Sydney already sits as one of the longest non-stop treks in the world.
Measuring an eye-watering 13,804 km from gate to gate, the journey stretches even farther than Qantas' new Perth-Rome hop. In fact, measured by distance, Dallas/Fort Worth to Sydney is the sixth-longest commercial route currently in service across the globe.
Check-in, lounge and boarding
Arriving by Uber at DFW Airport, the driver is excited to learn that flights to Australia are back in action. There's a small hiccup – the Uber app lists ideal drop-off points for many airlines, but not Qantas – so we head for the drop-off zone for American Airlines.
I figured that'd be my best bet, but Qantas check-in was nowhere to be found. I couldn't spot the check-in zone details in the Qantas app or on airport screens, so I asked a roving airport worker for help. I'm pointed in the right direction (counters 50-54), and discover the Qantas desks a few minutes later.
From there, I'm straight to Qantas Business priority check-in for my Boeing 787 flight. My bags are tagged and I'm on my way. With many security checkpoints scattered throughout Terminal D, I head for the shortest queue and again walk straight on in. After some banter about Australian rugby with a friendly TSA agent, the lounge awaits.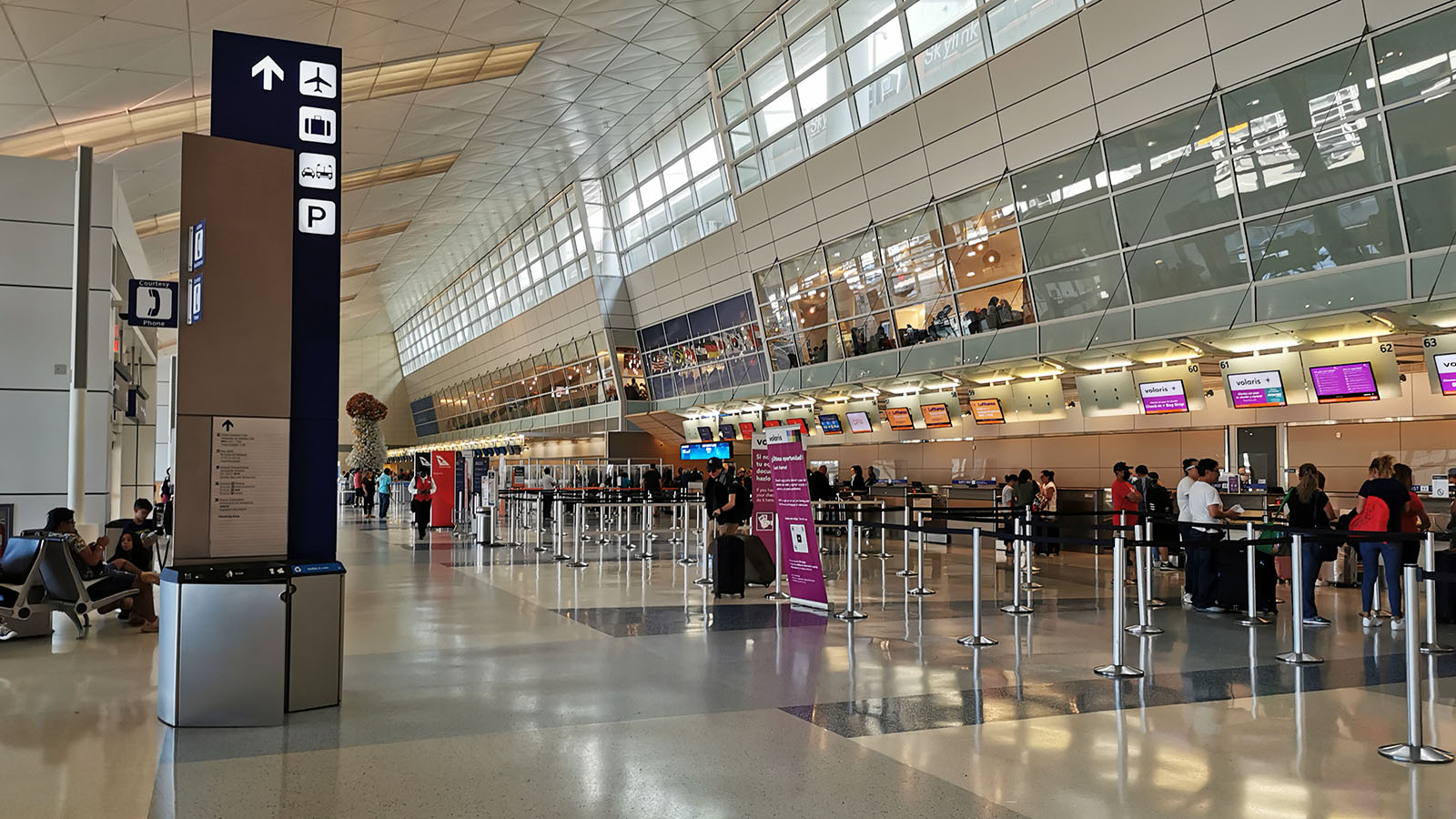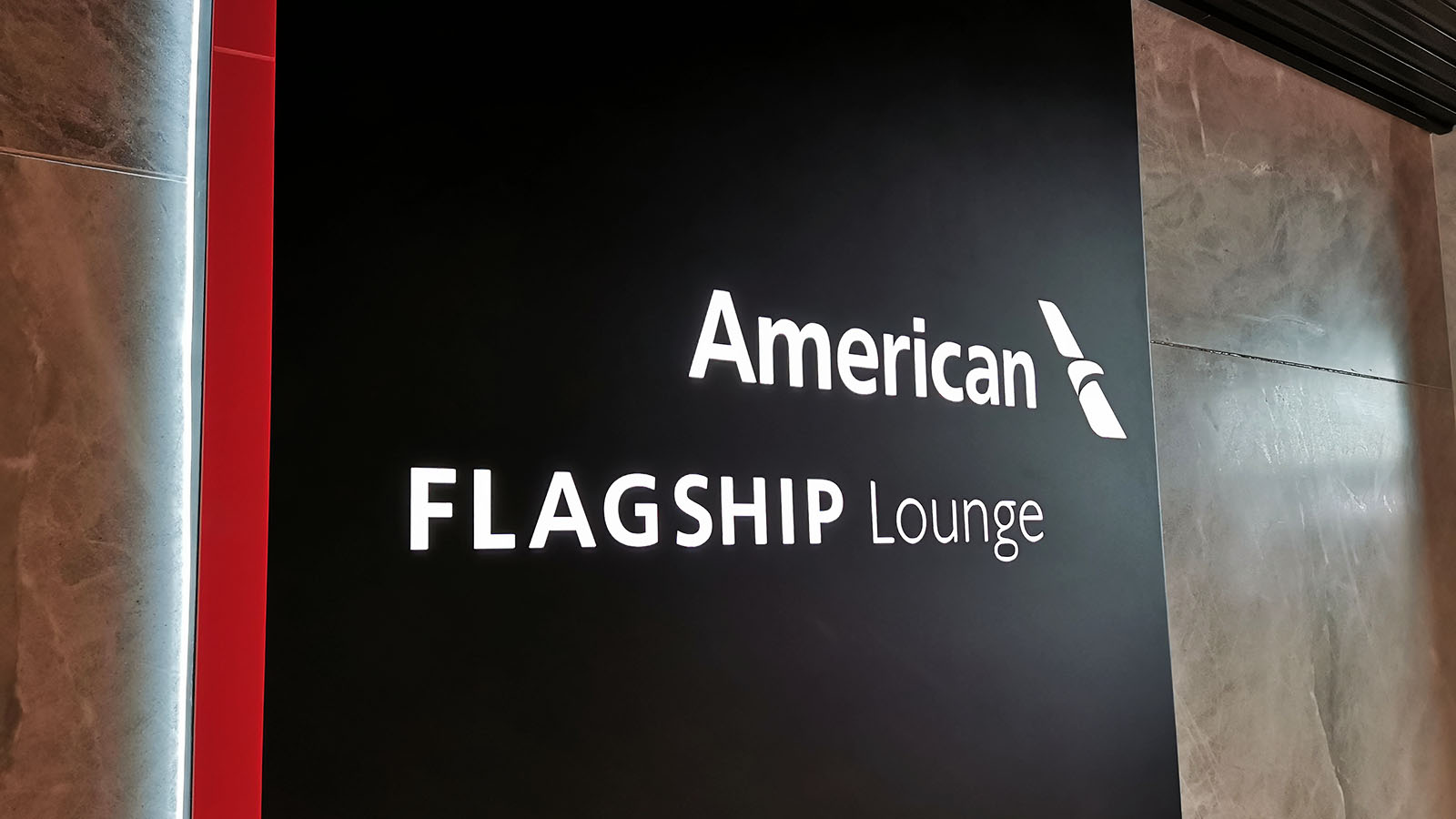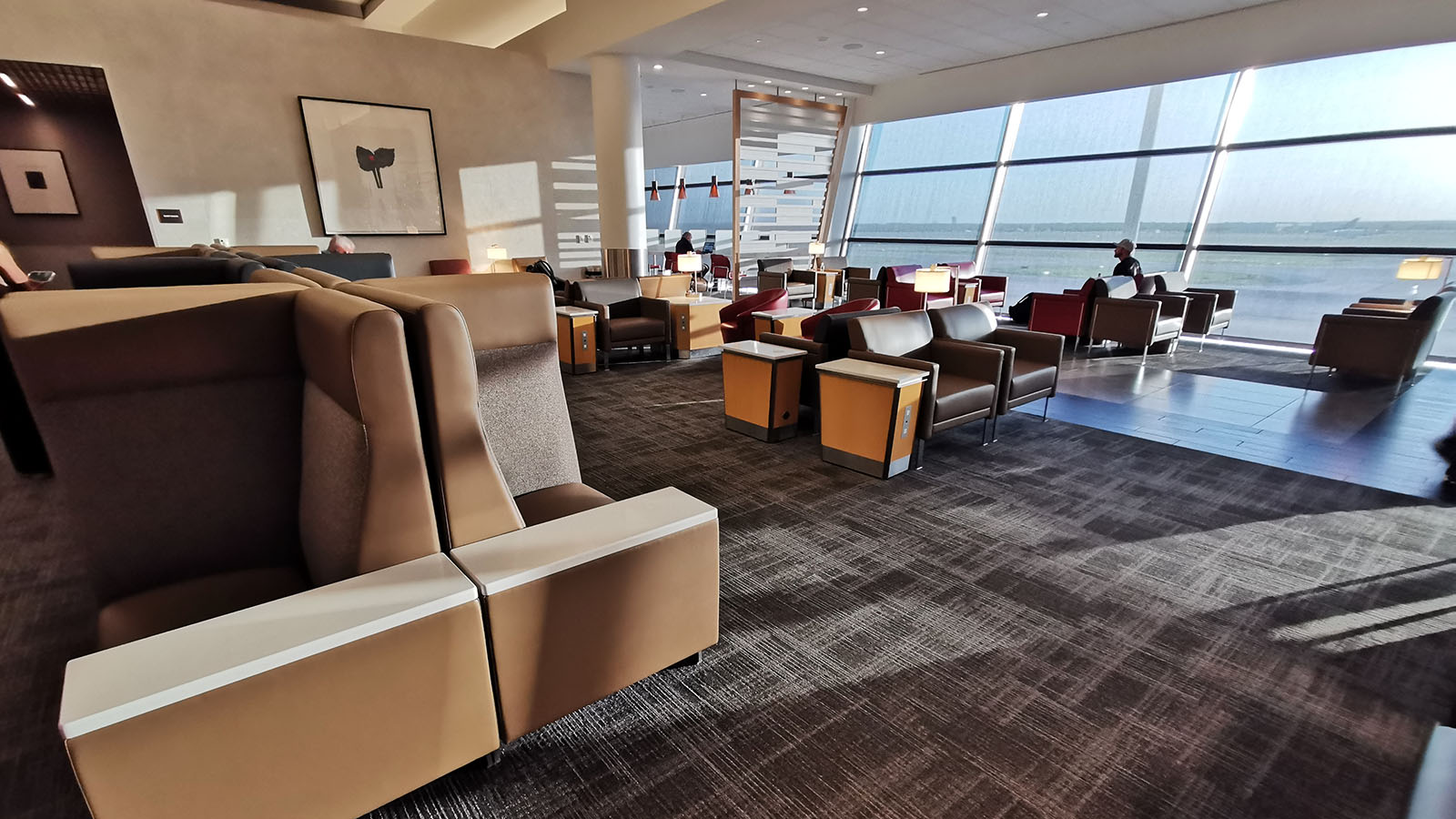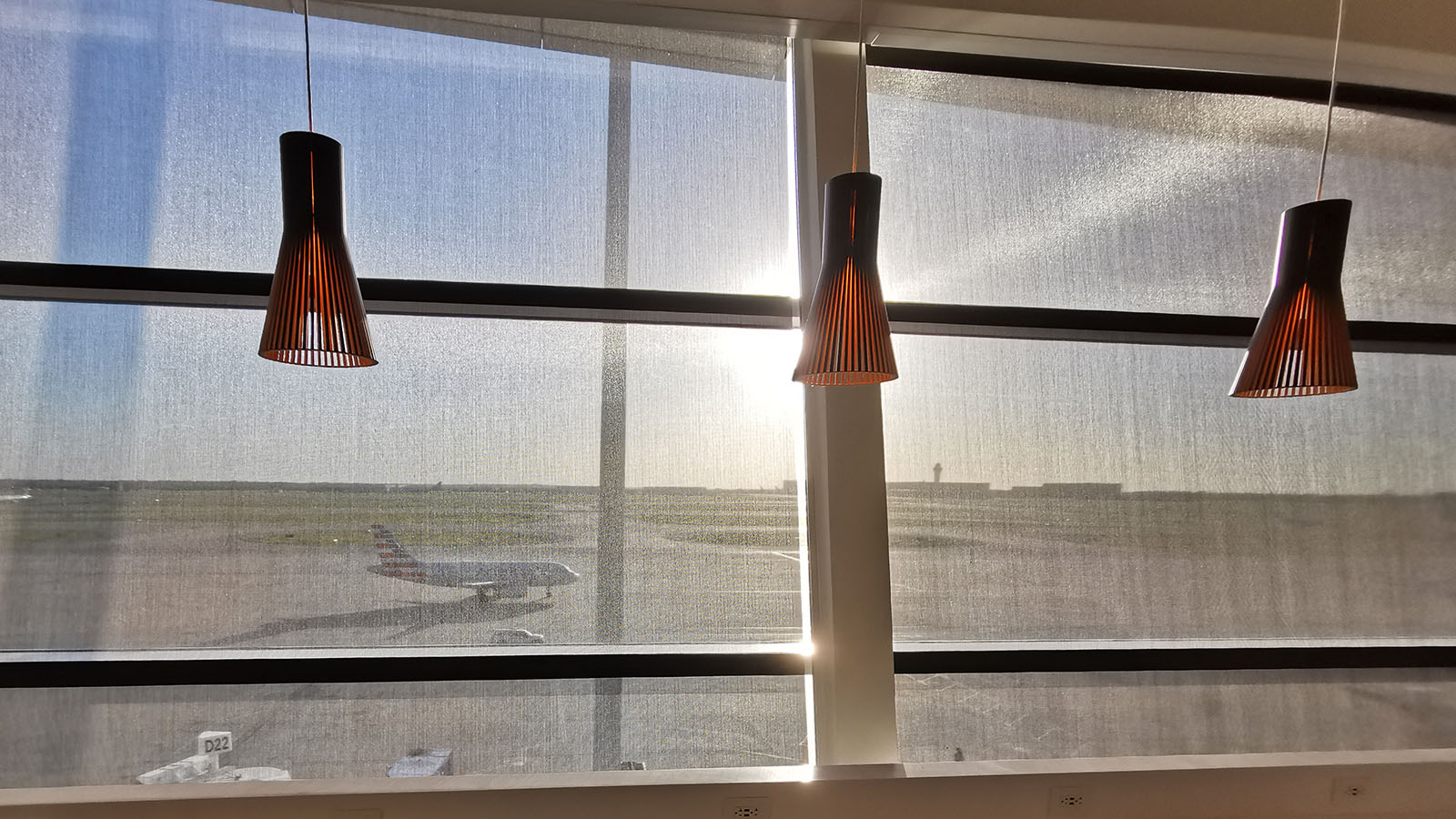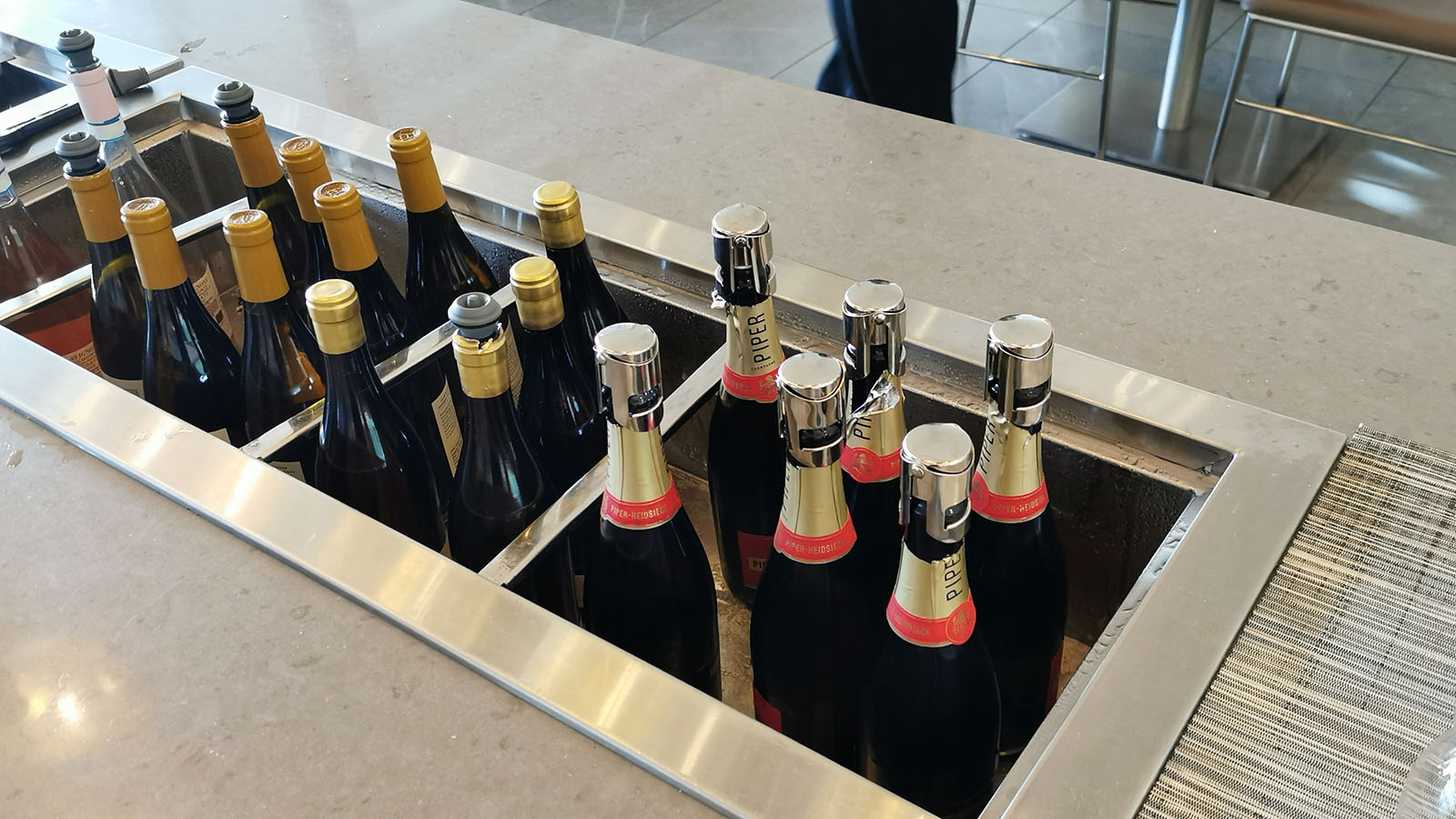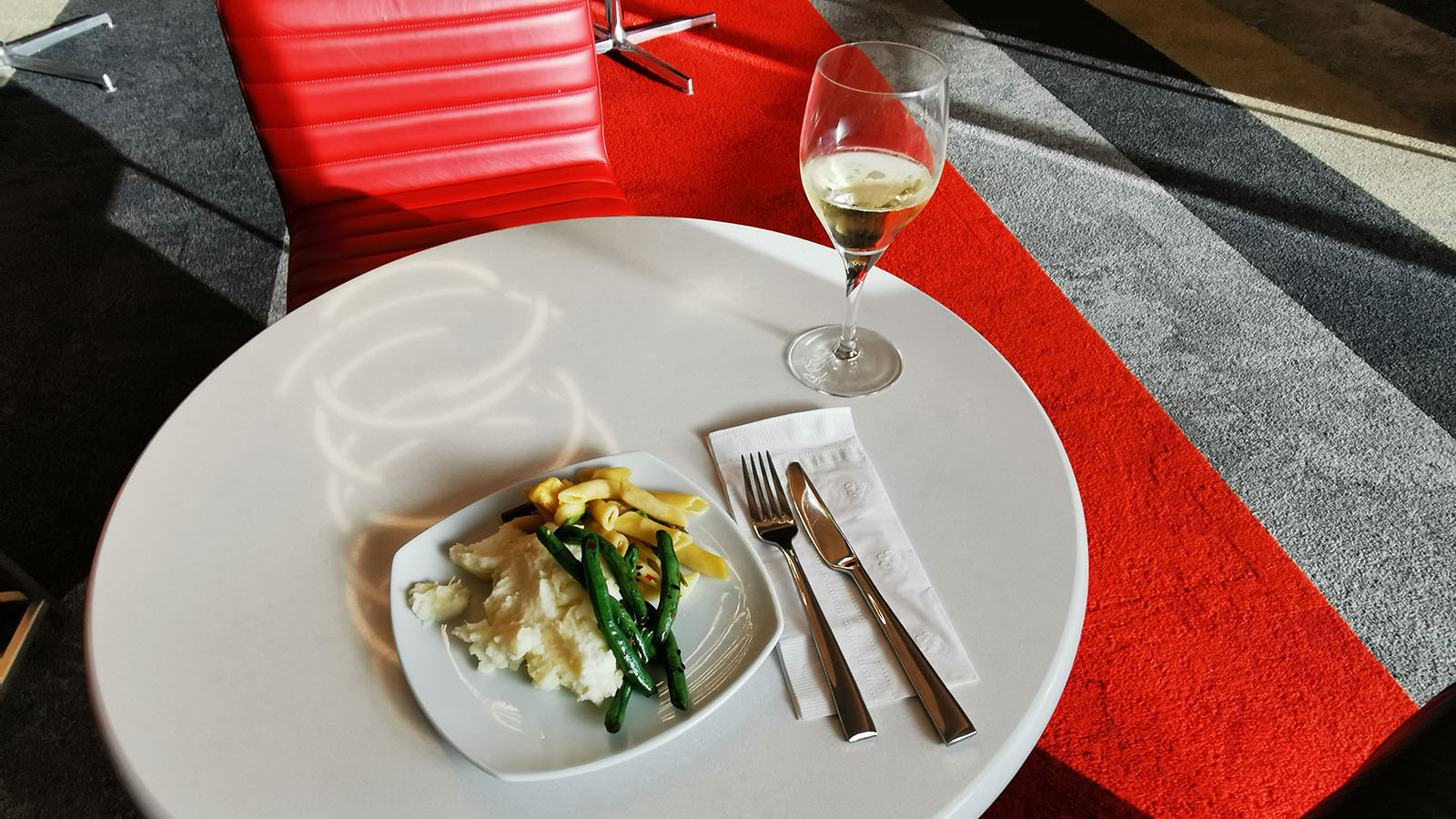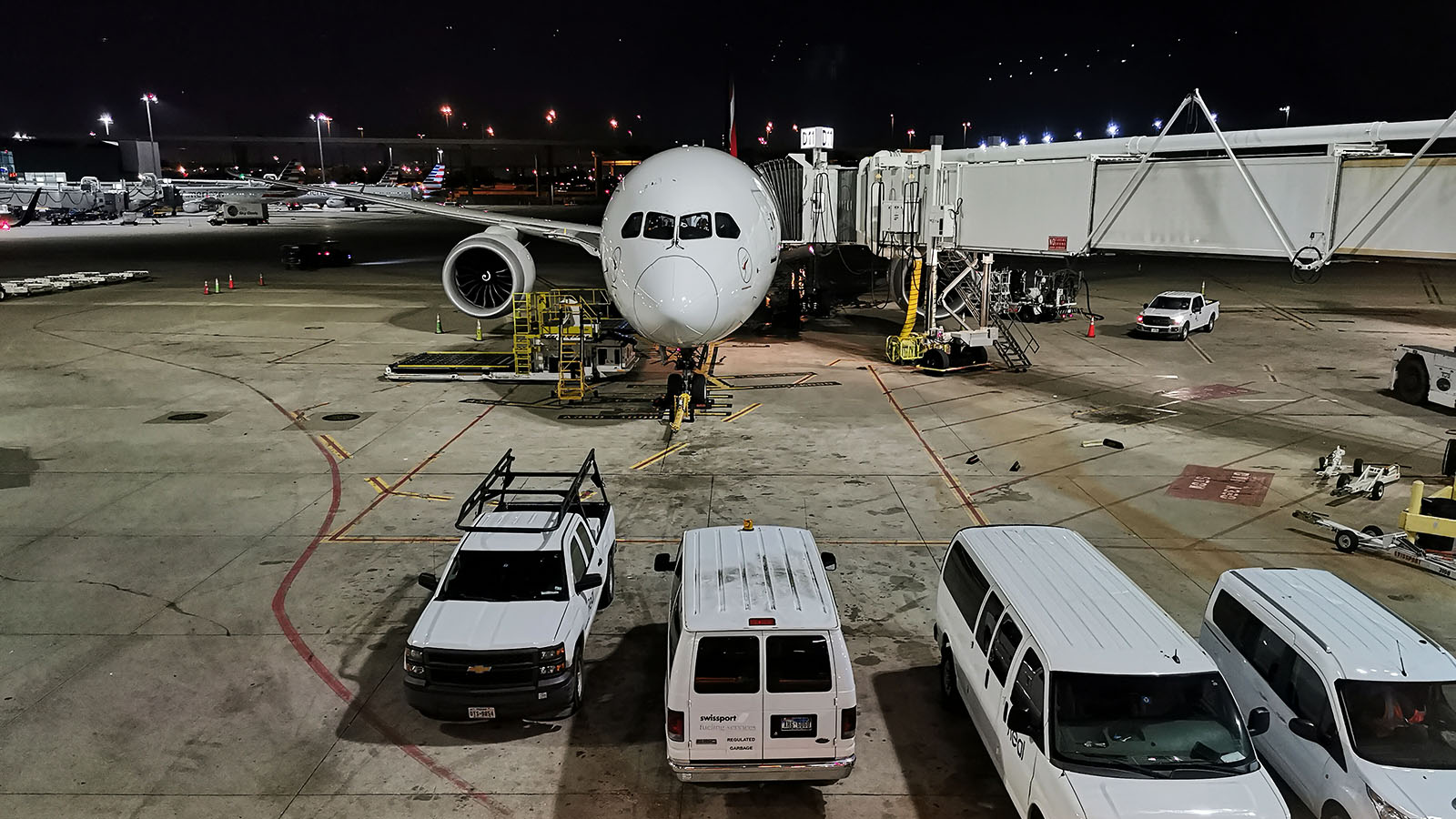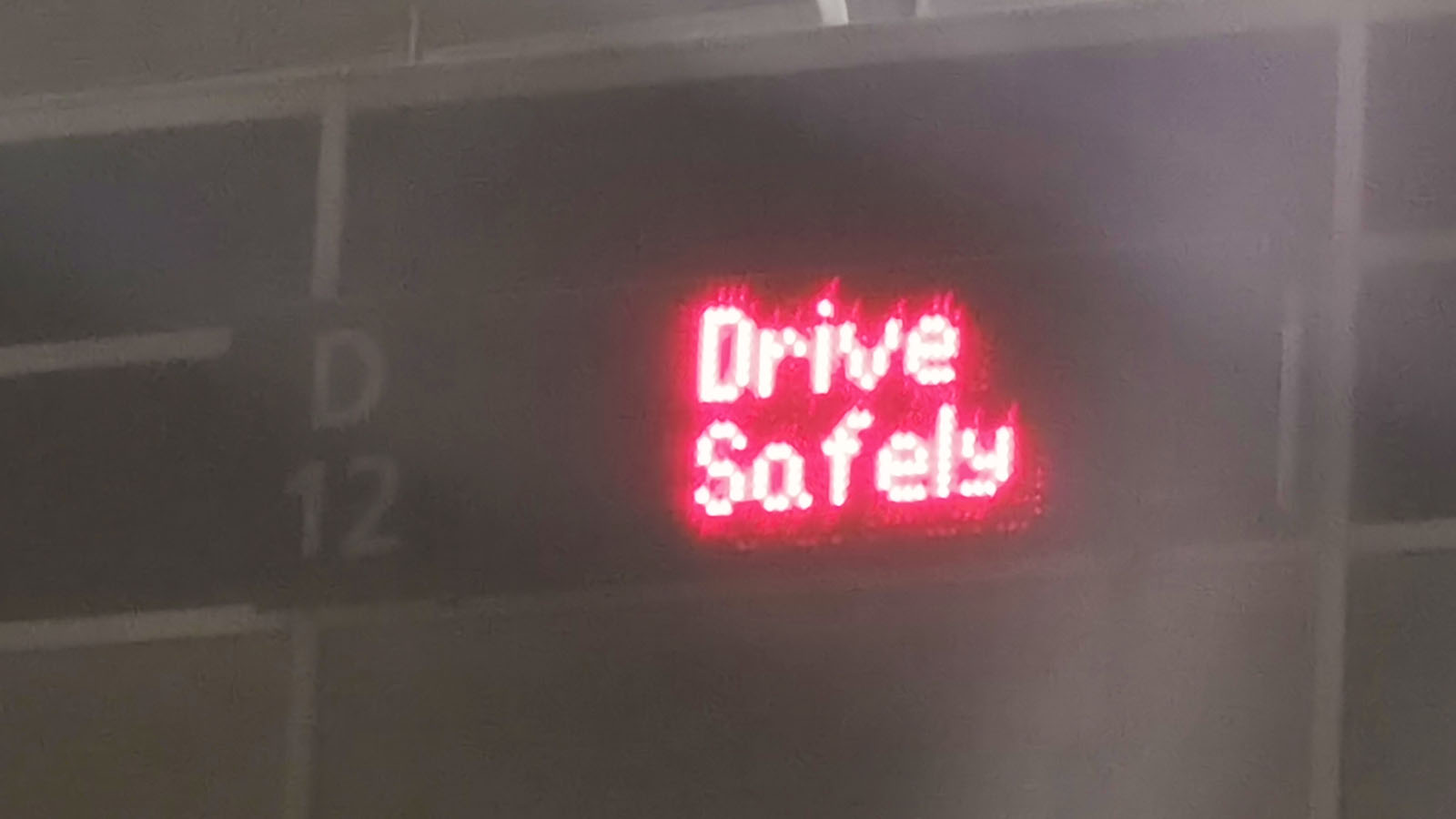 While the Qantas check-in agent hadn't mentioned which lounge I could visit, I already knew the rules. That is, a oneworld Business Class boarding pass unlocks the American Airlines Flagship Lounge.
It's a step up from a typical Admirals Club. There's Champagne (Piper-Heidsieck), a respectable buffet of hot food and great airport views. It was a little disappointing to find no tonic water available after I'd poured an Aviation Gin, but I'm told this was a temporary shortage, not a permanent issue.
When I head to the gate, there's a long line of connecting passengers having their documents checked. Mine had already been sighted, so I was clear to board.
As we're about to depart, I notice the pilot information screen outside had been updated to read 'drive safely', and chuckle. This flying car is ready for take-off.
Qantas' Boeing 787 Business seating
As for many of us, it'd been a little while since I'd stepped aboard a Qantas Boeing 787 – so I can't help but smile as I settle into Business. These birds come in a staggered 1-2-1 seating layout. Knowing this, I'd chosen my seat carefully: 11A.
My choice means I'm on my own with the window right beside me. It also means my physical seat is closer to that window than the aisle itself, making sleep easier on this overnight leg. As well, there's a sizeable wall between the seat and the aisle for privacy. Altogether, it's the perfect trio for a good night's rest.
Speaking of sleep, the bed very comfortably accommodates my six-foot self. There's a pillow, padded fabric seat cover and pyjamas provided. The crew are swift as we get closer to Sydney – I step down the aisle to change, and that seat cover has already been packed away on my return.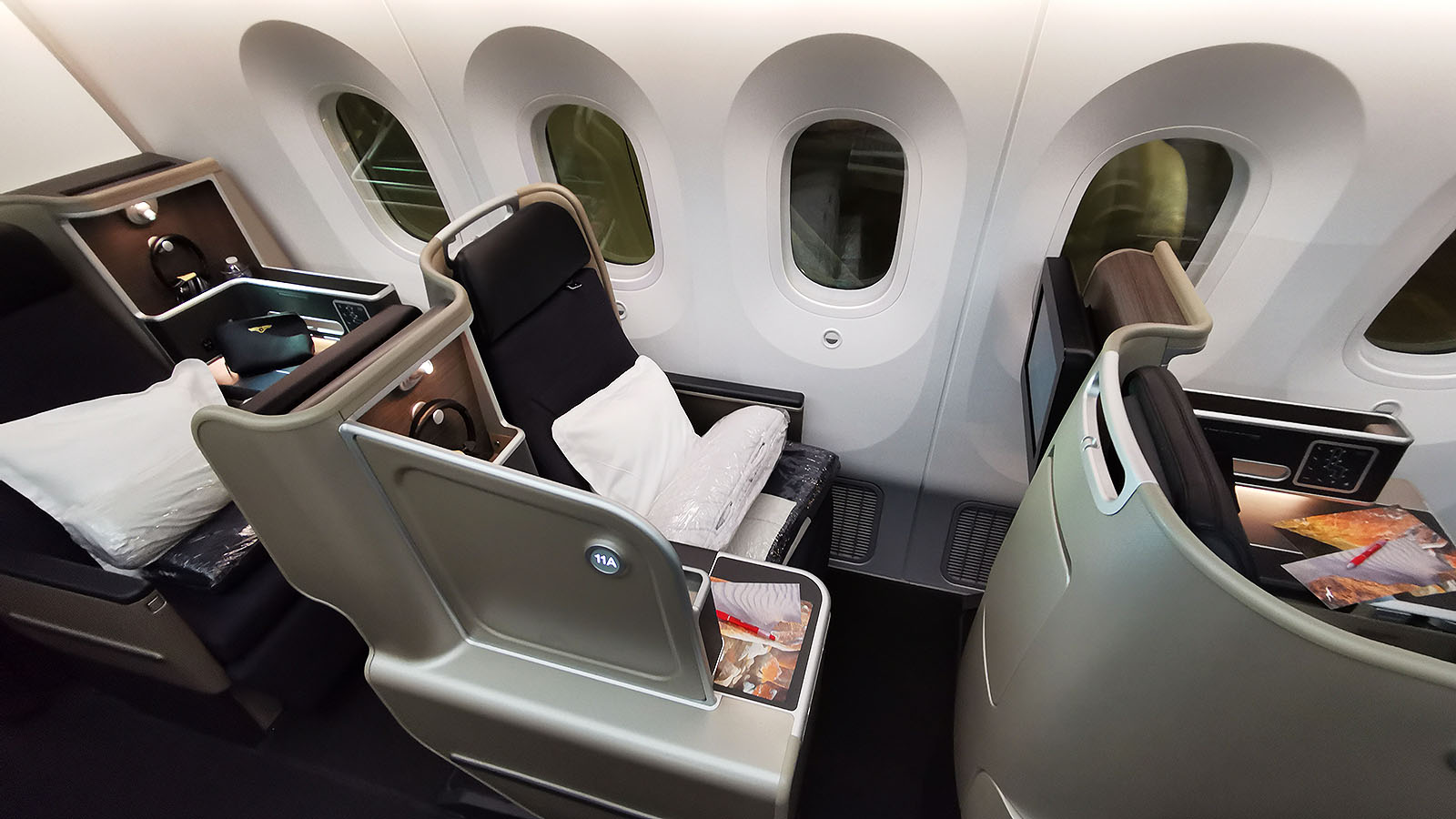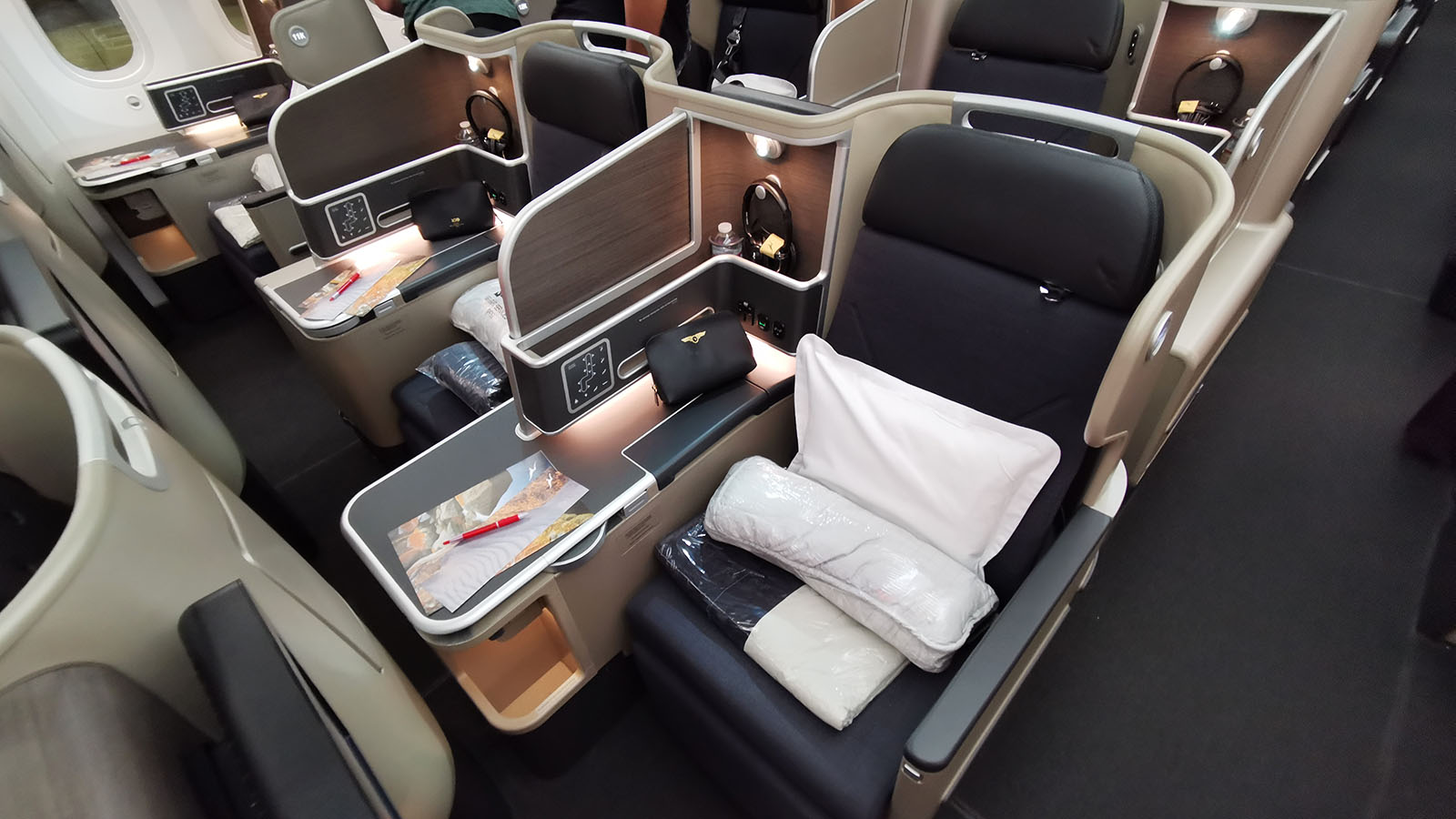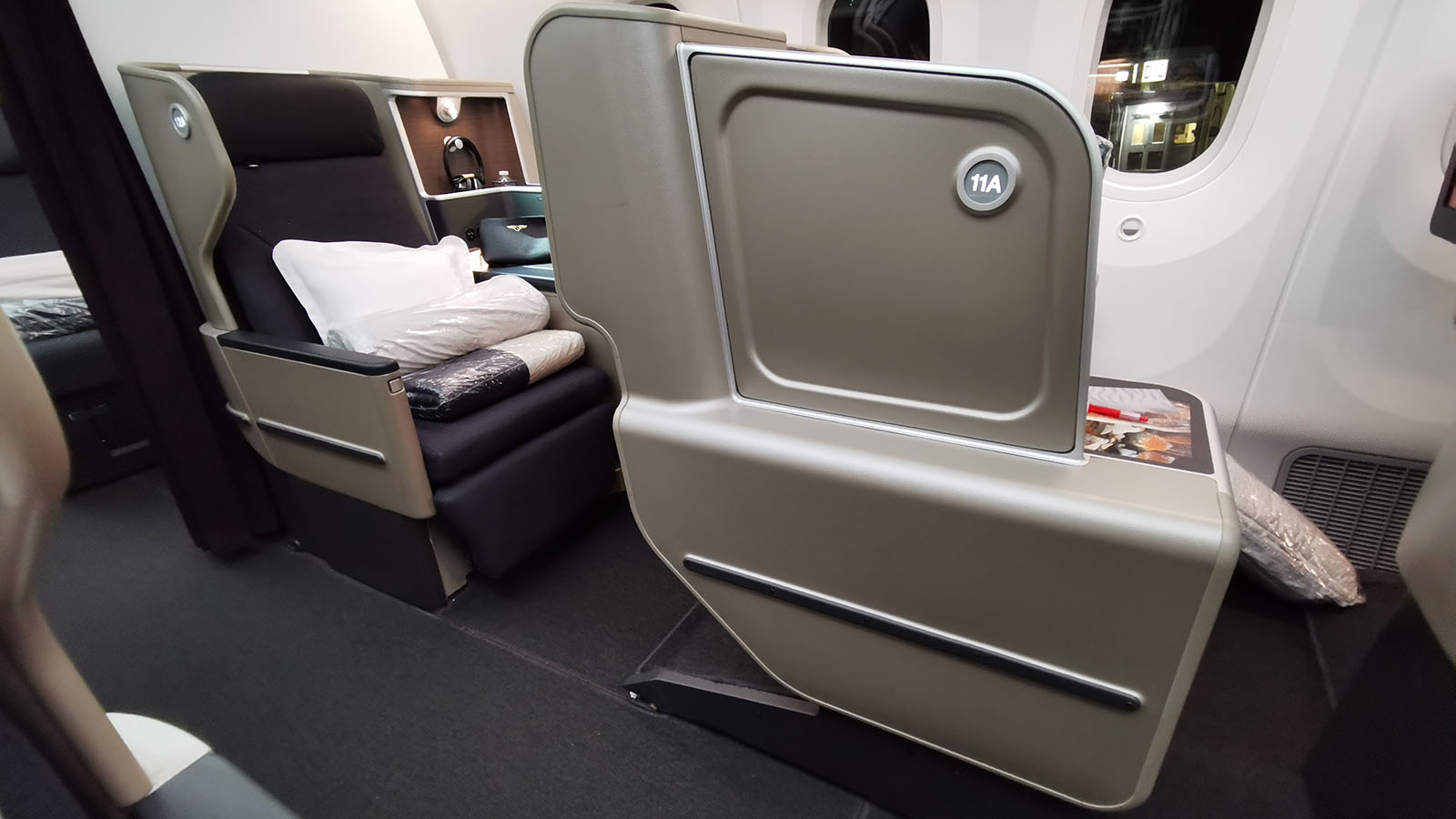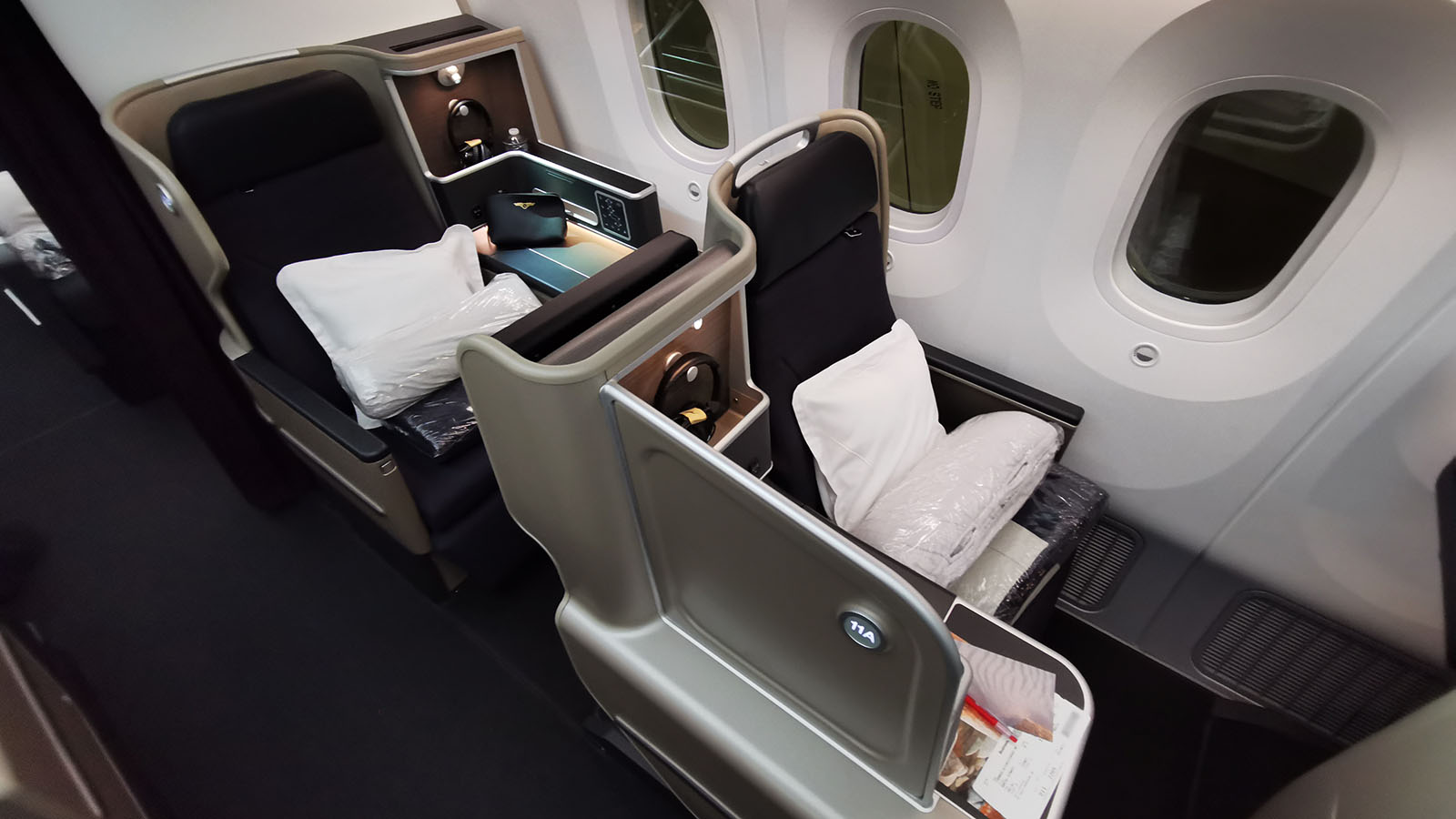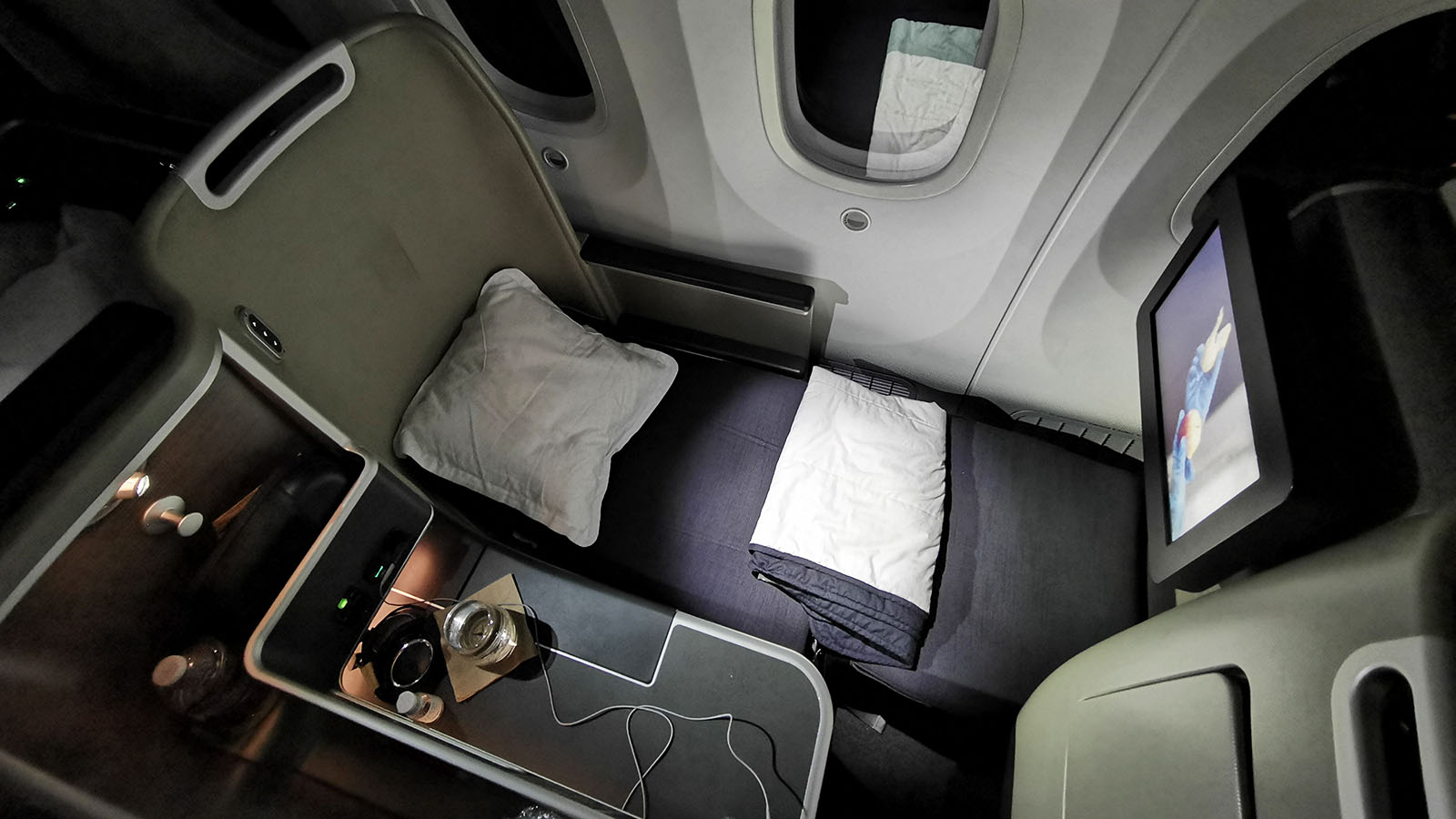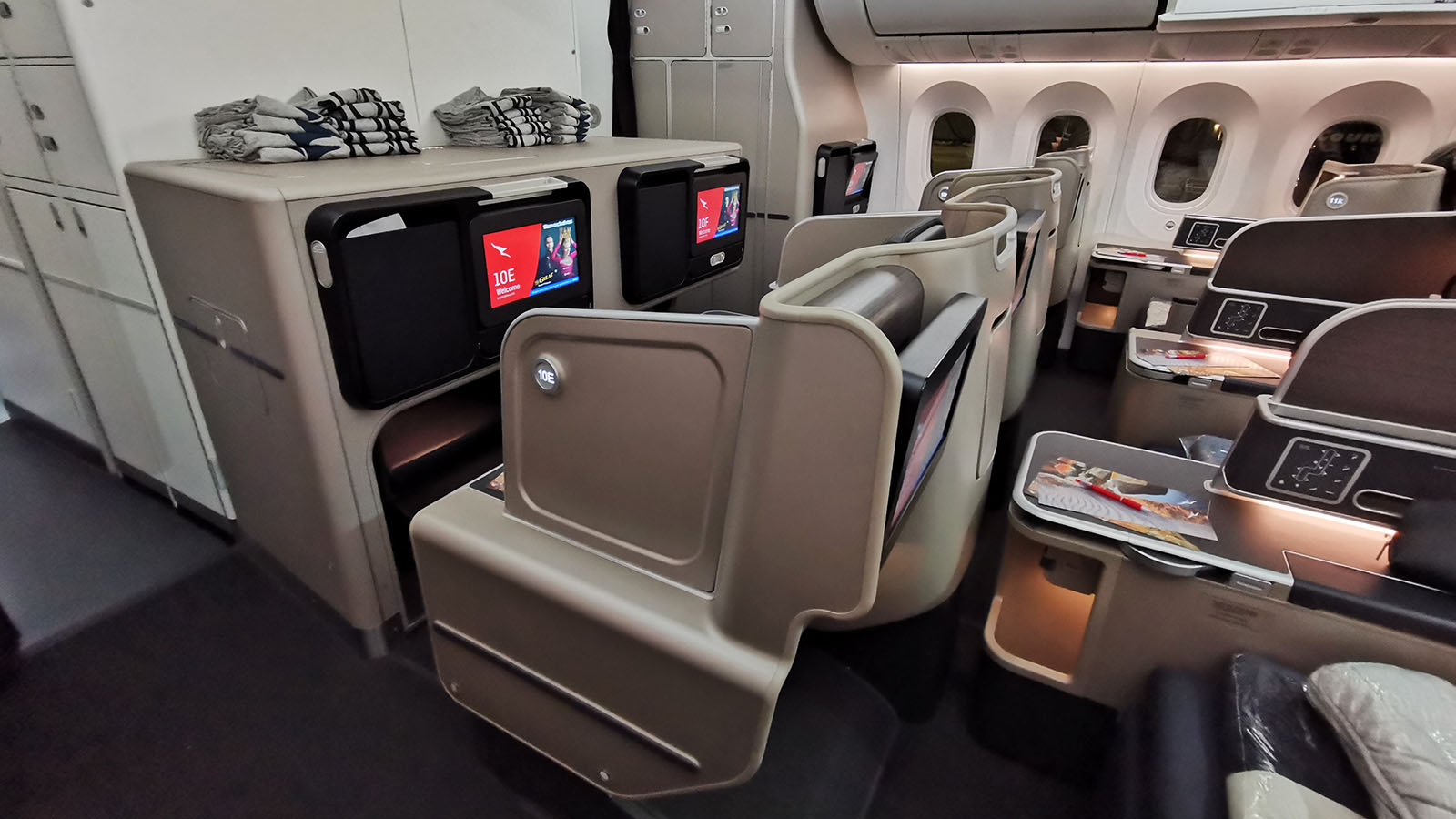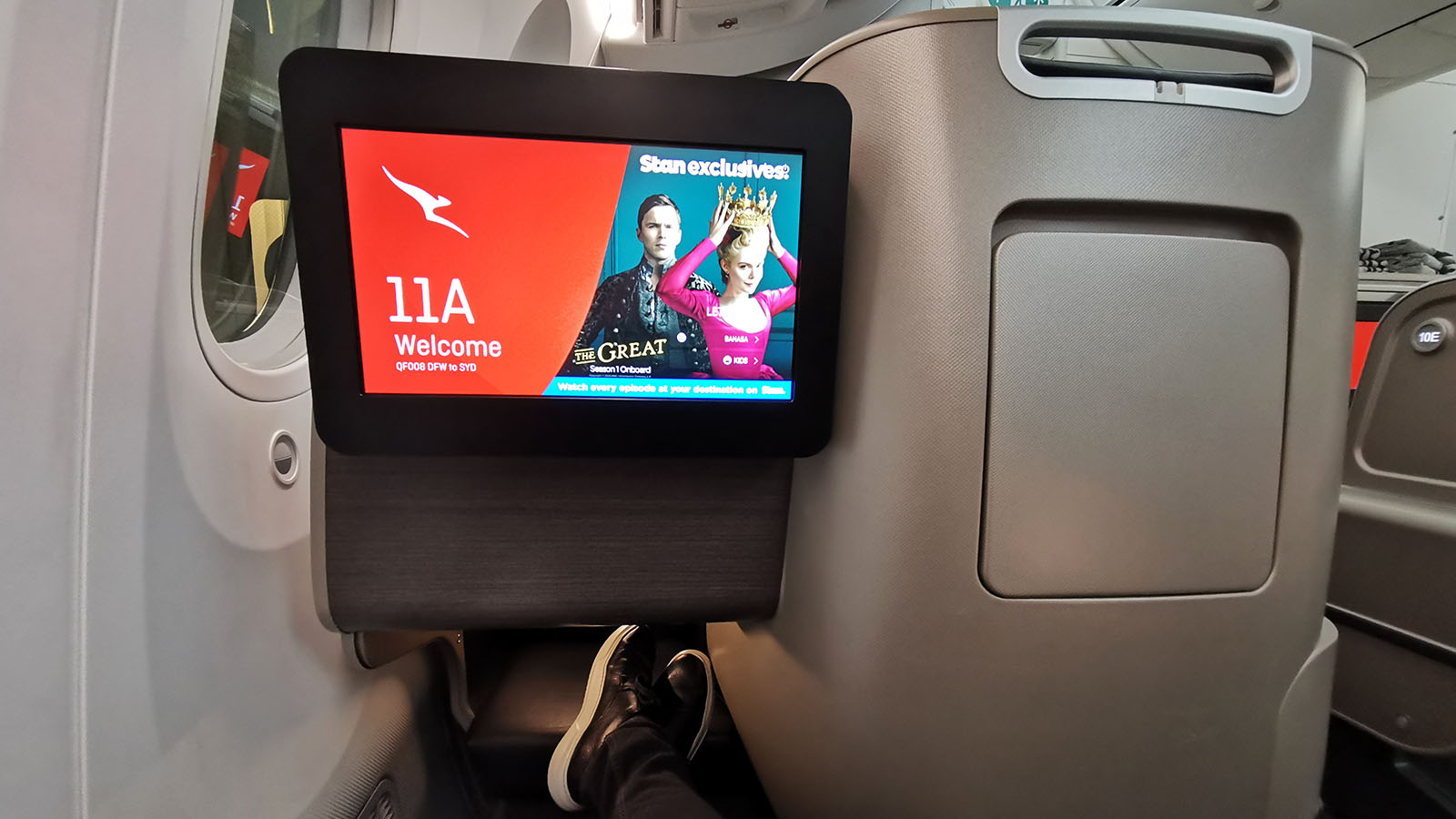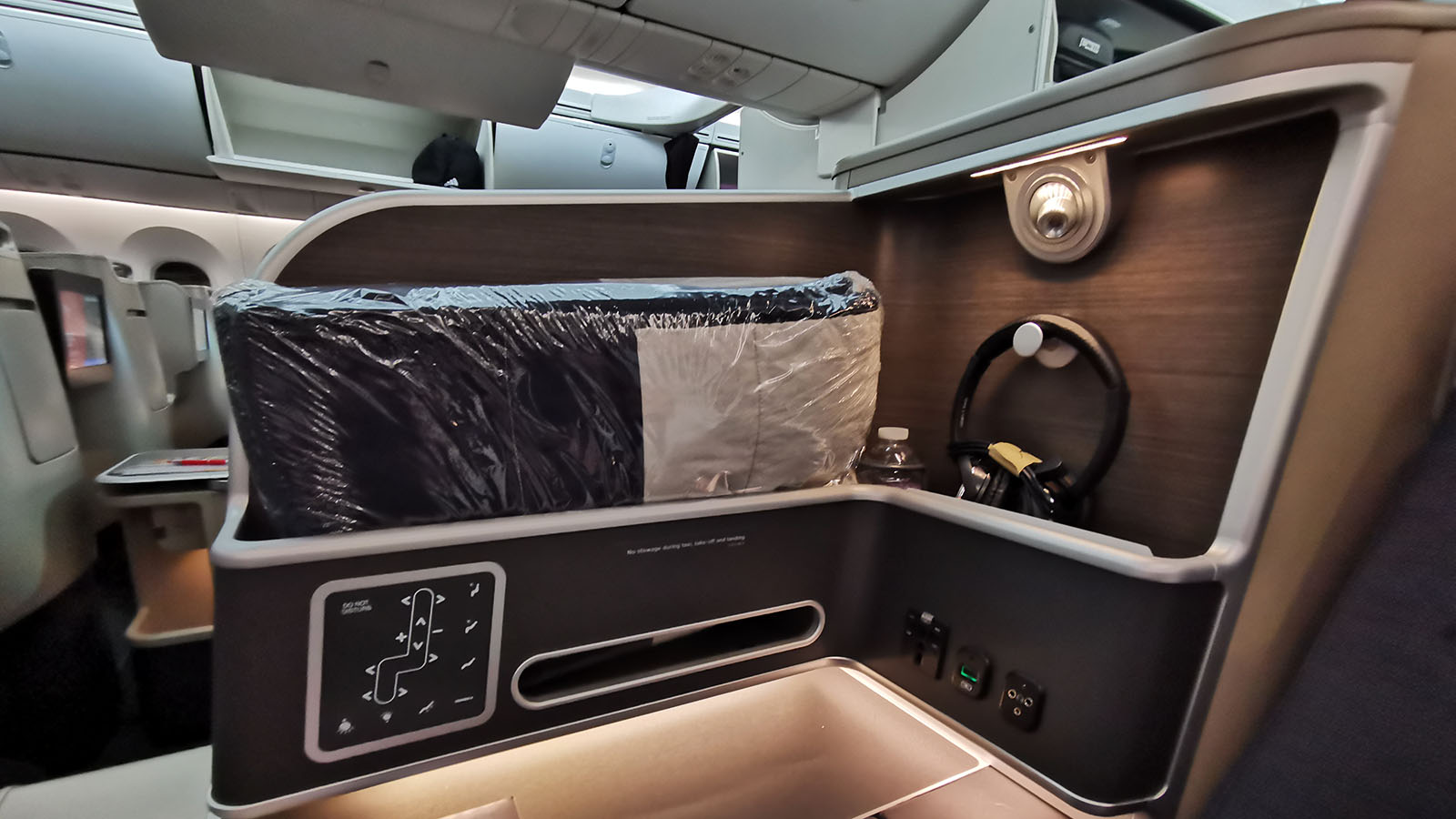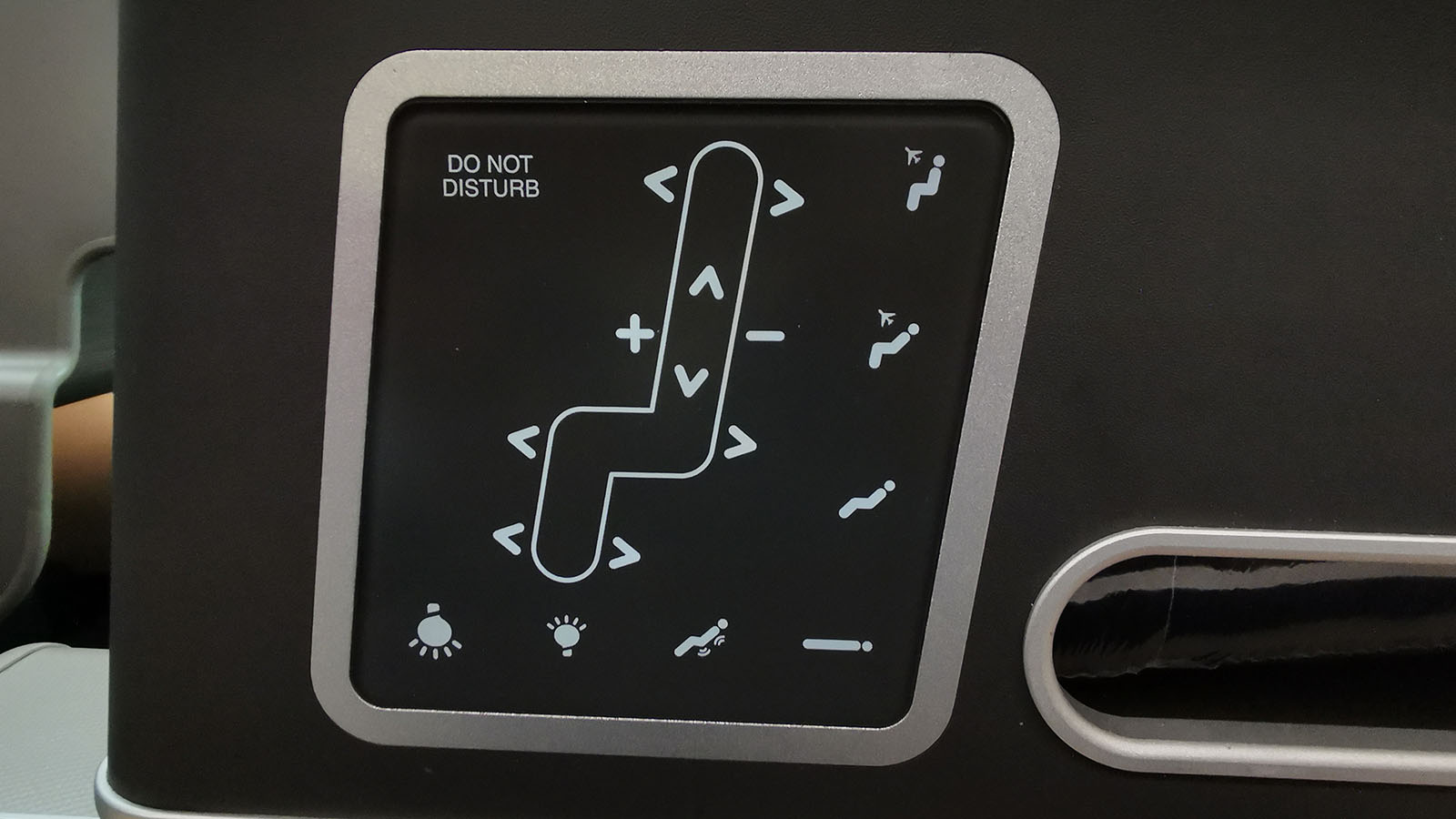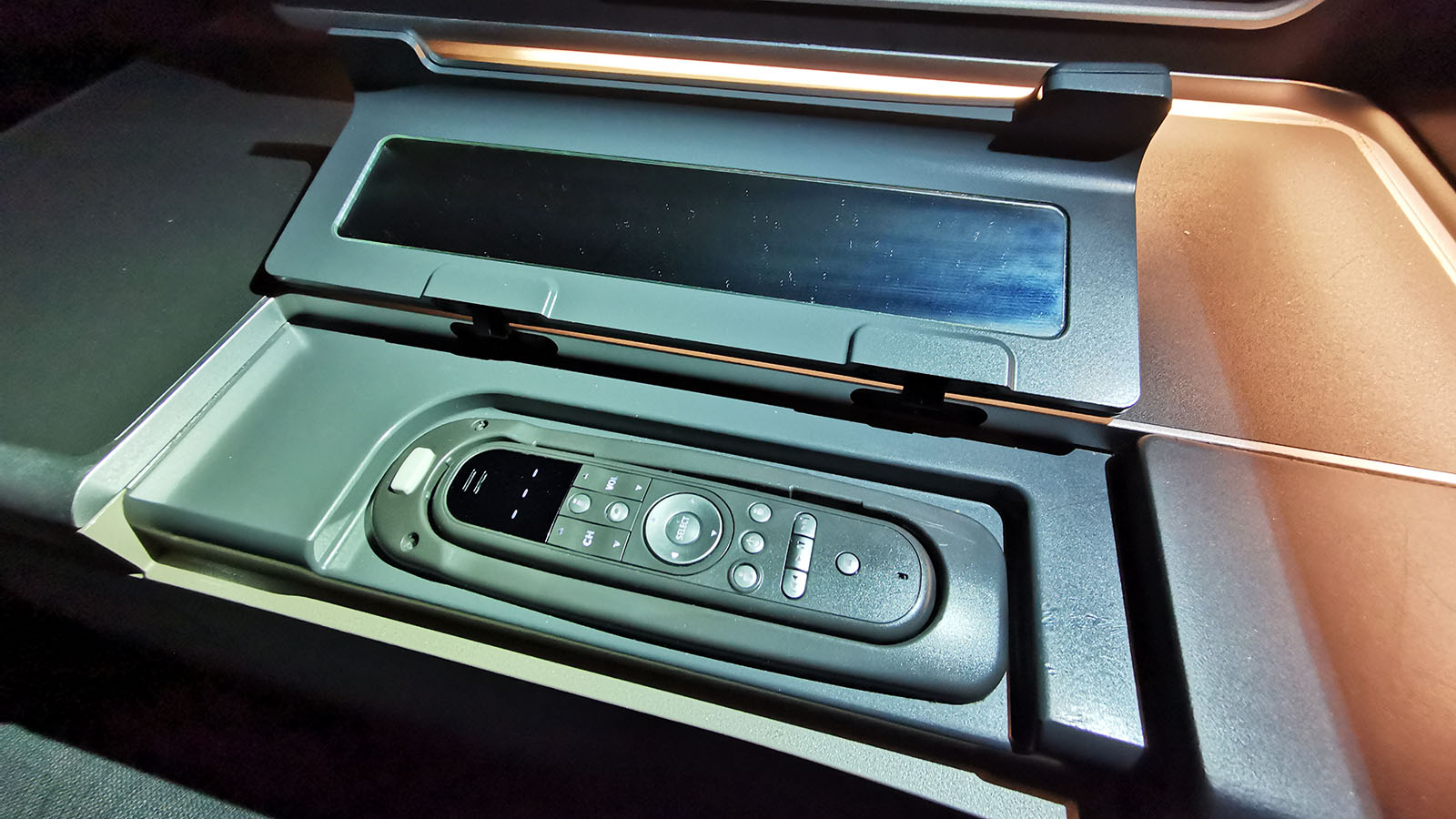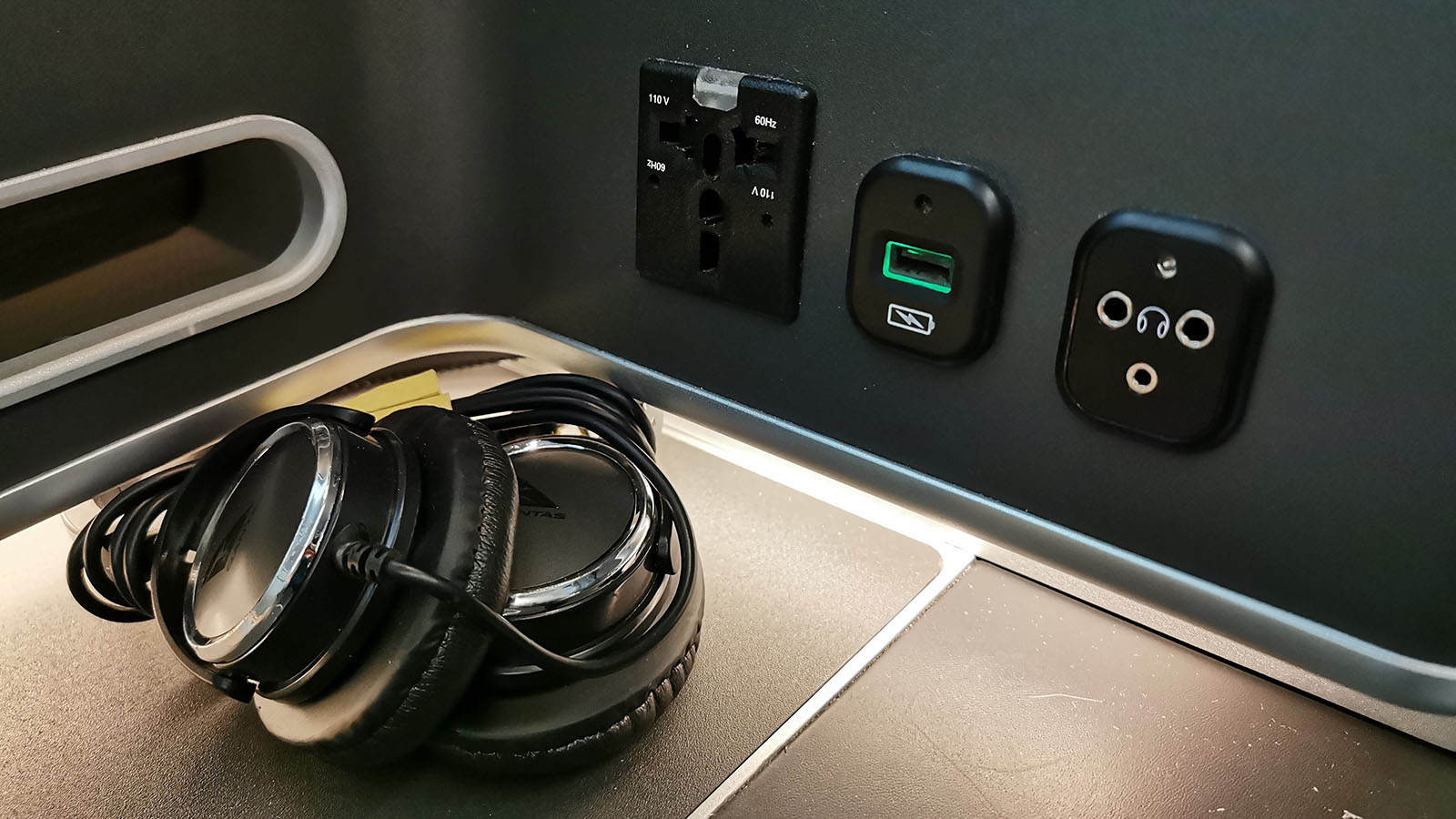 To use throughout the rest of the journey, there's ample storage around the seat. This includes an L-shaped pocket that doubles as the privacy wall. Everything has its place, and the bench beside the seat is a great place to quickly shift a laptop if you're working when the meal arrives.
A square panel controls every aspect of your seat, as well as the 'do not disturb' light. But it's the massage feature that gets the biggest workout after my rest.
I get roughly six hours of solid shut-eye, and arrive home in Australia in the morning with minimal jet lag. That's despite having well and truly adjusted to US time after spending about two weeks in the country before this leg to Sydney.
Qantas' Boeing 787 Business food and beverage
This marathon trek in Qantas Boeing 787 Business begins with a refreshing drink before take-off. I skip the Champagne in favour of icy cold water on a very hot Dallas day. But the crew had clearly read my mind and returned with a second offer of bubbles as boarding continued. Okay, if you insist…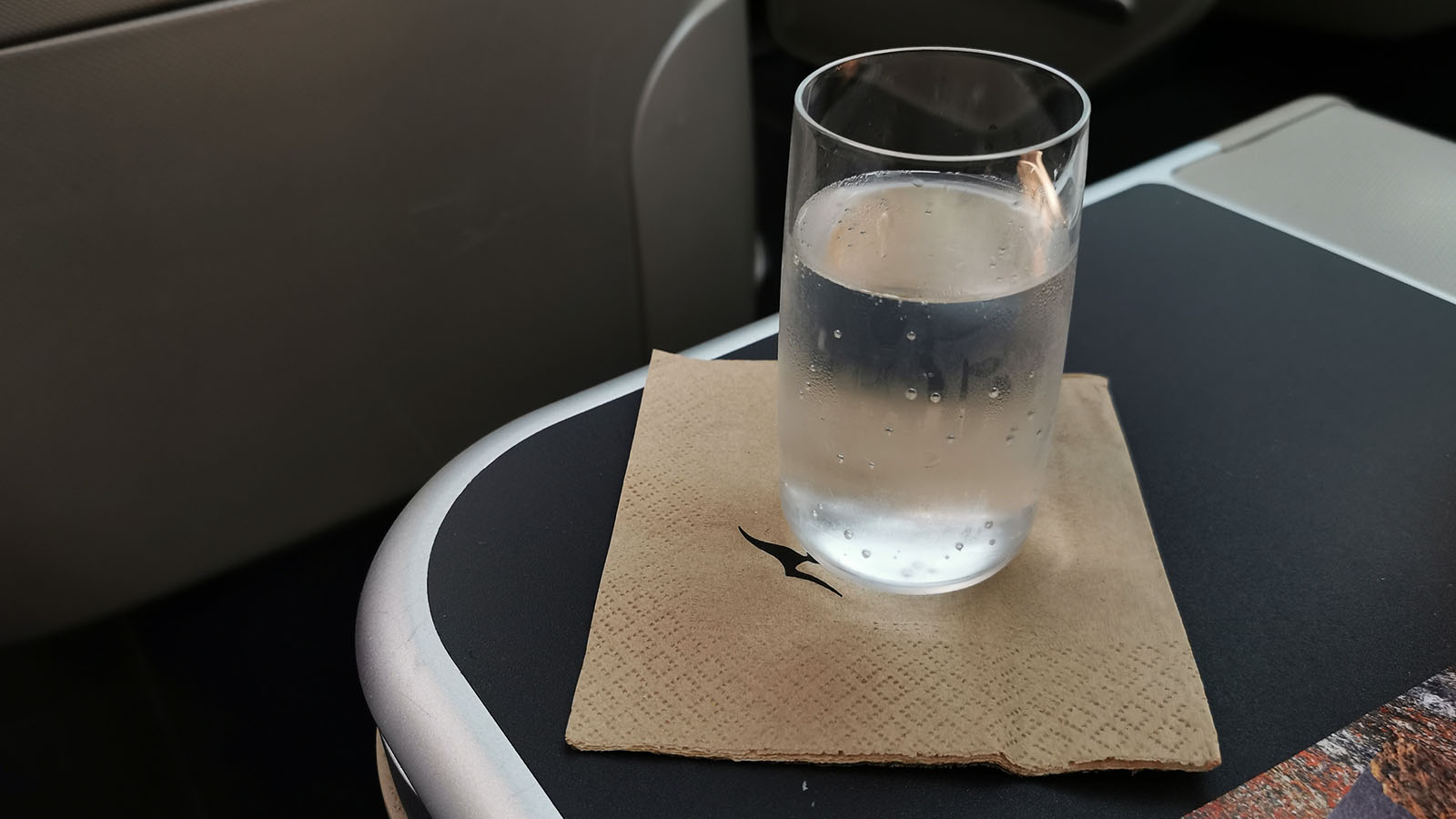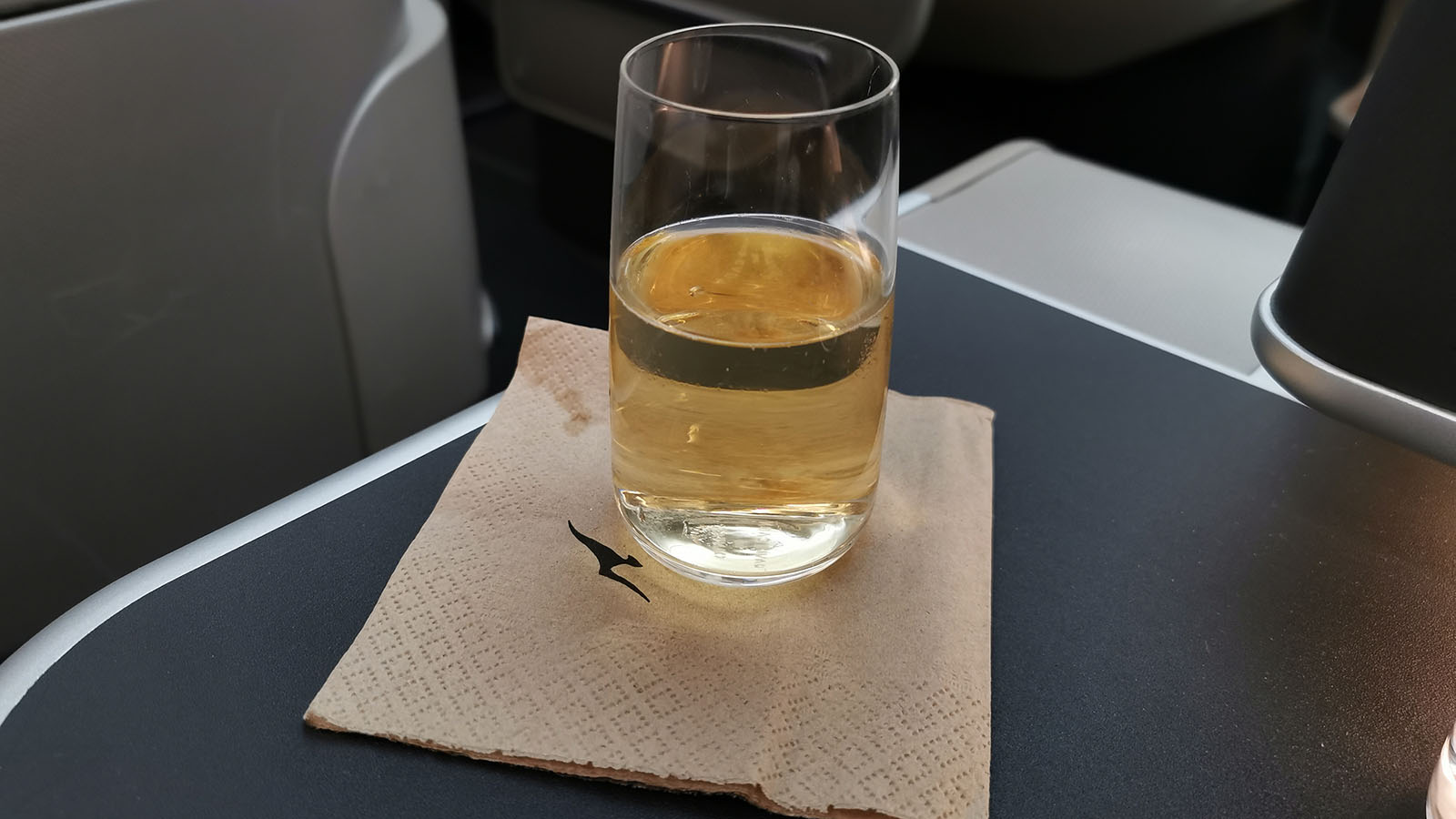 With a 10:50 pm departure from DFW and a 6:35 am arrival into Sydney, supper and breakfast bookend this journey. But the airline's previous 'Select on Q-Eat' service – allowing pre-selection of inflight meals, similar to Book the Cook with Singapore Airlines – was unavailable. So the inflight menu it was.
Dinner in Qantas Boeing 787 Business from Dallas Fort Worth to Sydney
The service begins promptly with a small Mediterranean antipasto bowl. For the main course, the menu gives the following choices:
Plant-based dining: eggplant, zucchini and tomato caponata lasagne with toasted pine nuts, gremolata and cherry tomato relish.
Grilled salmon with spiced butter, potatoes, roasted garlic and broccoli.
Chicken schnitzel and Swiss cheese toasted sandwich with coleslaw.
Flat iron beef steak with skordalia, roasted carrots and barbeque sauce.
Seeking something more refined than a toasted sandwich, and with the salmon and beef options being similar to meals I'd eaten in Dallas, the plant-based lasagne won the coin toss.
On the whole, it was quite delicious and rather filling. In a way, it was nice to try something different to the more typical beef mince alternative – and I would order it again. However, a generous spray of spicy American mustard threw out the balance of the dish. I scraped it off where I could – and it was better without it.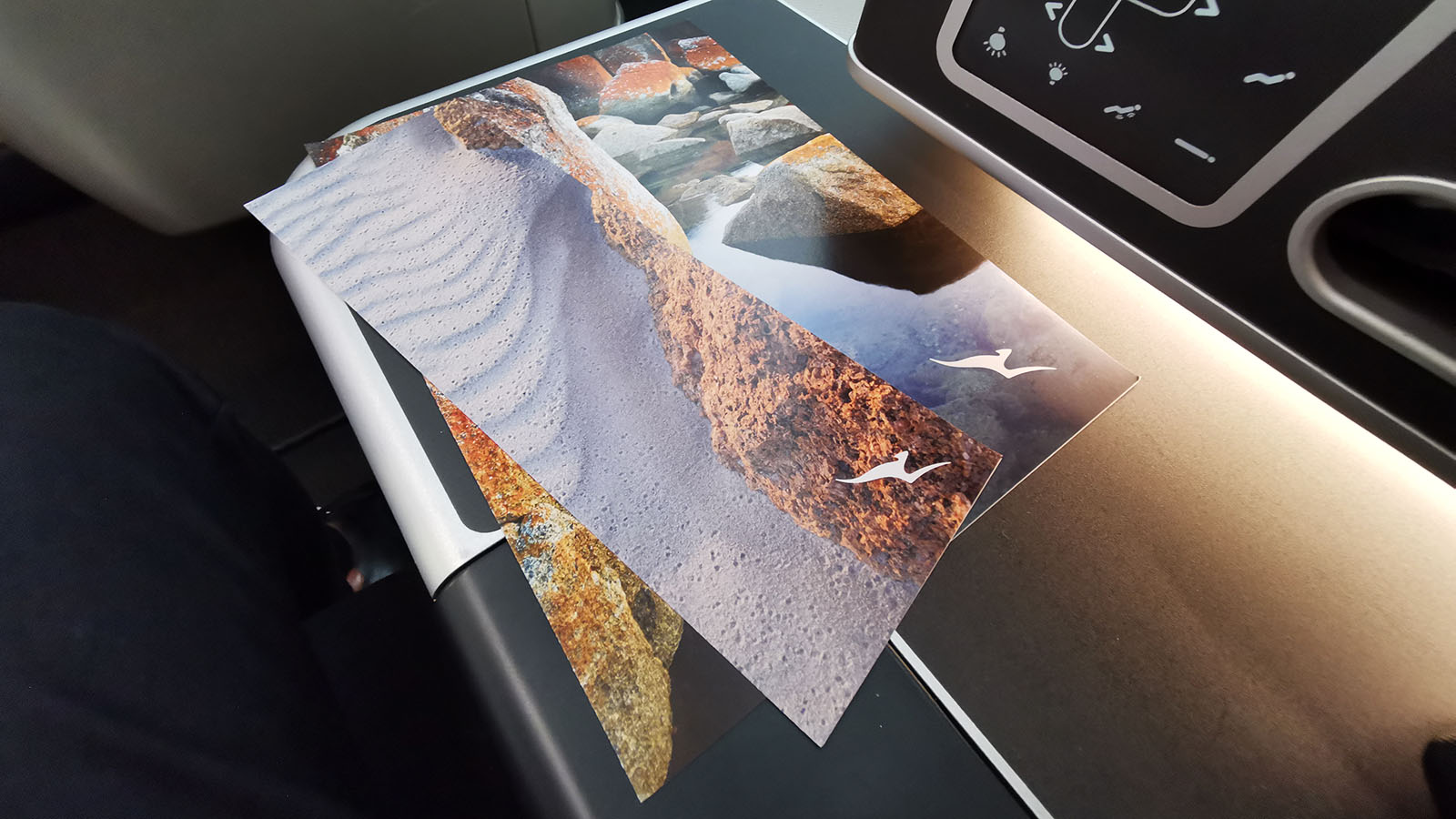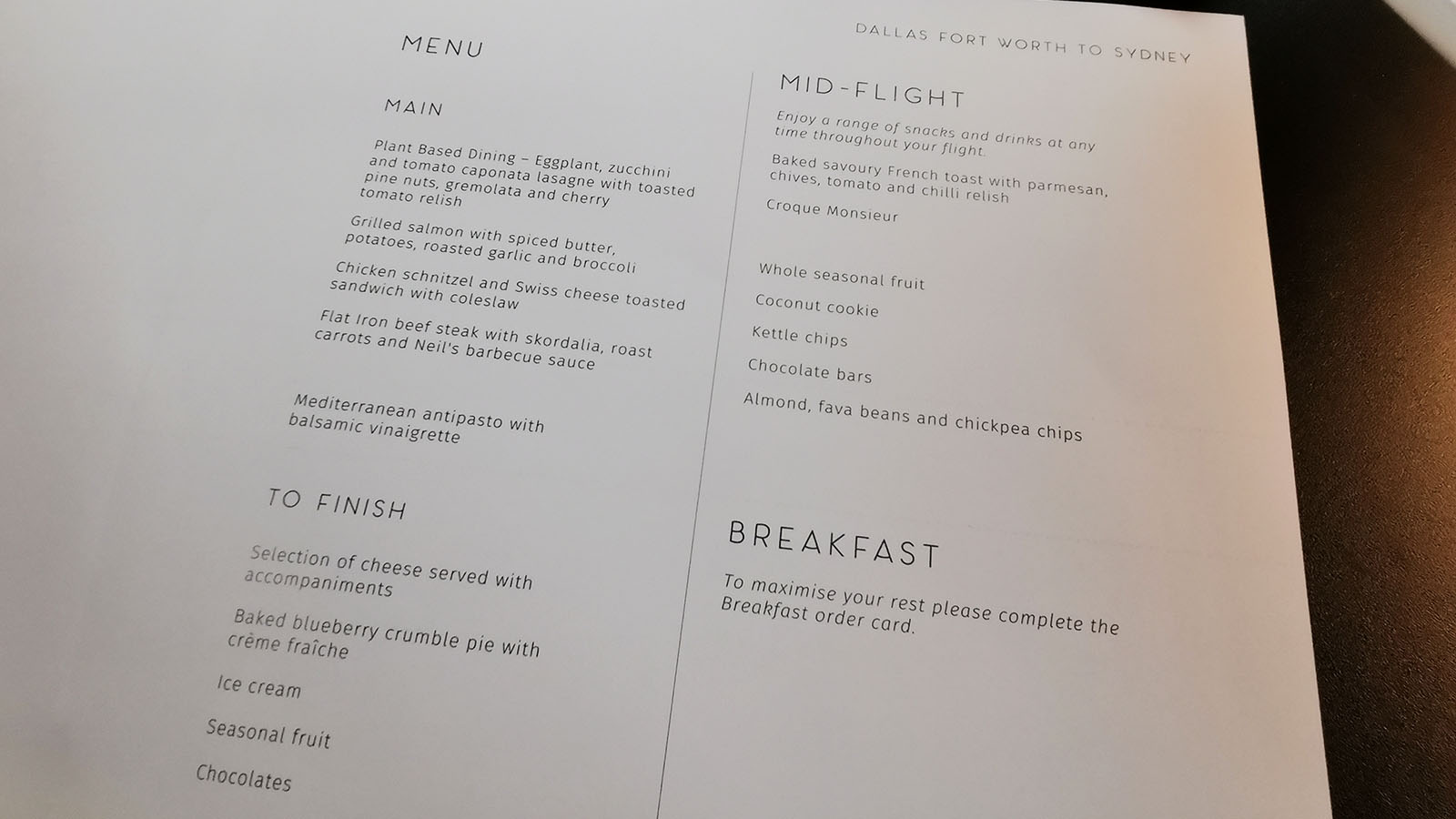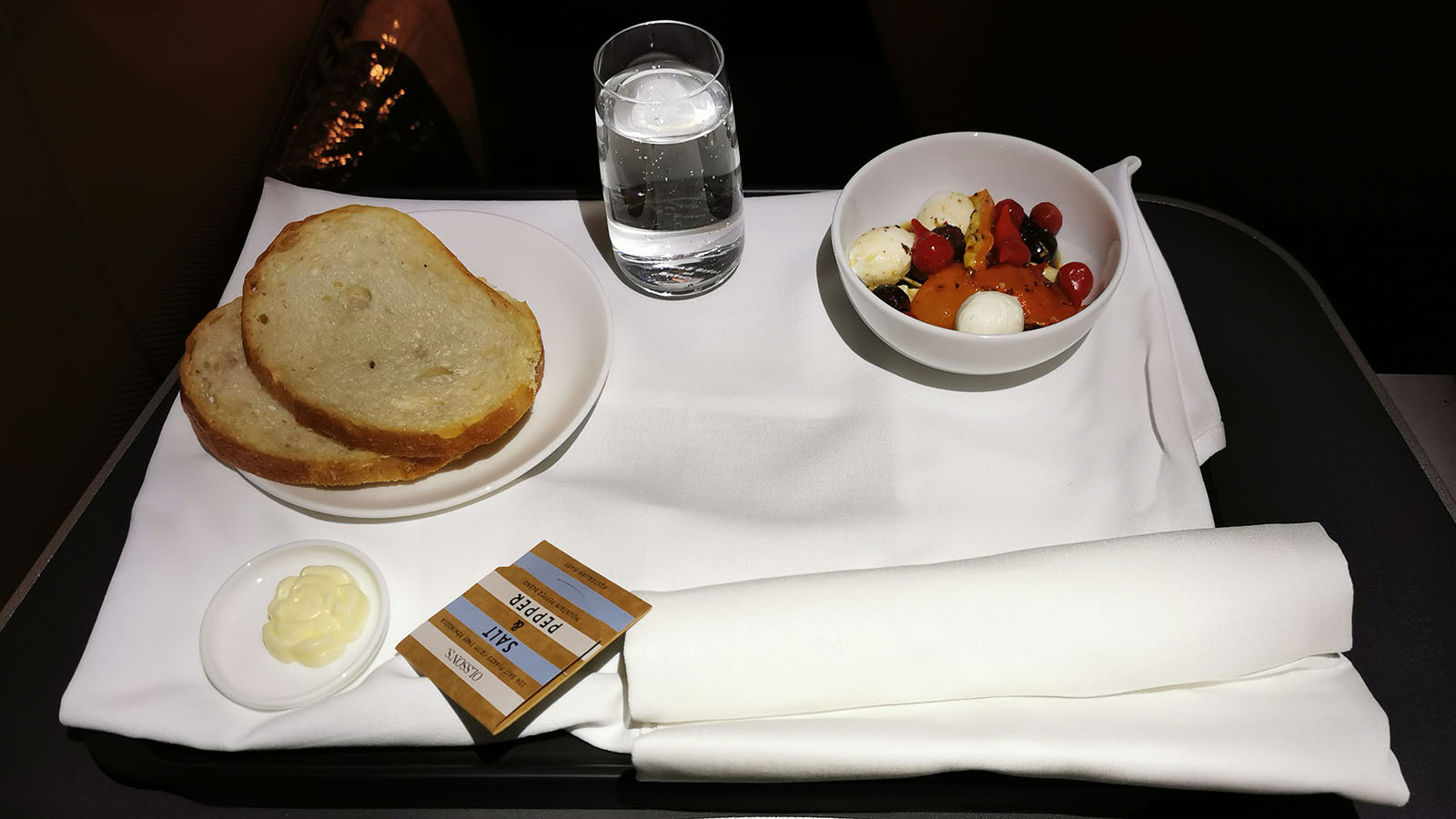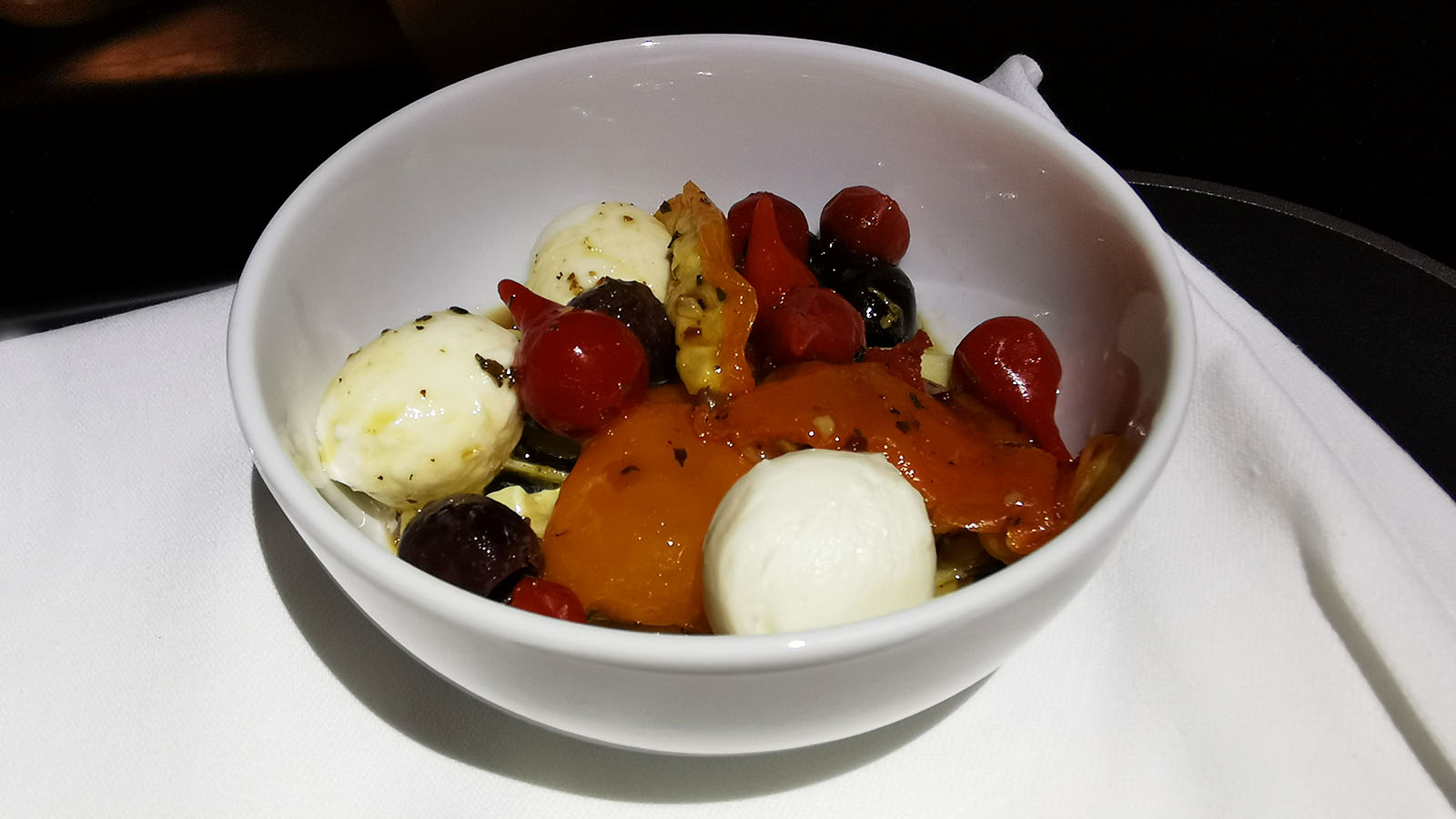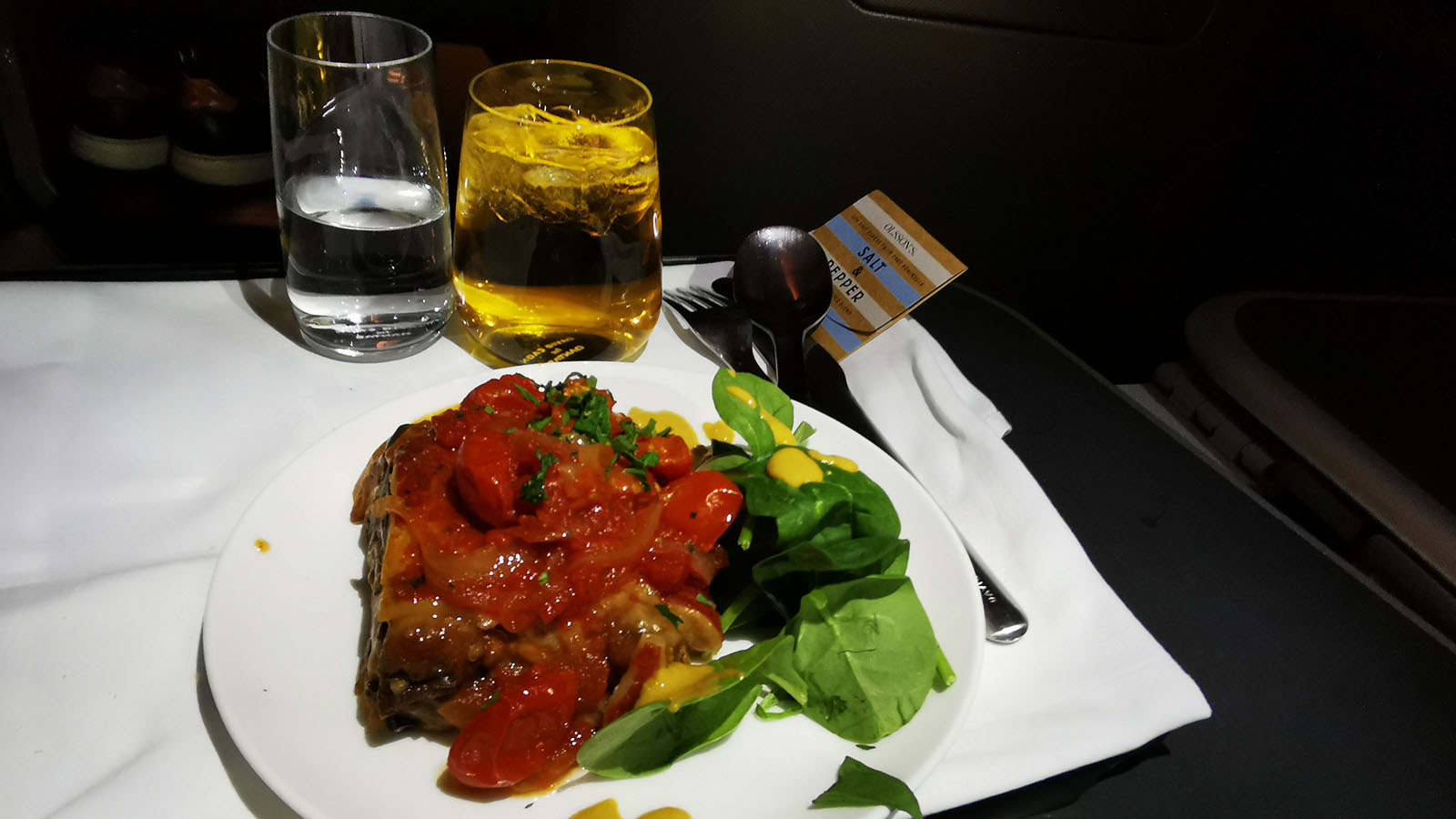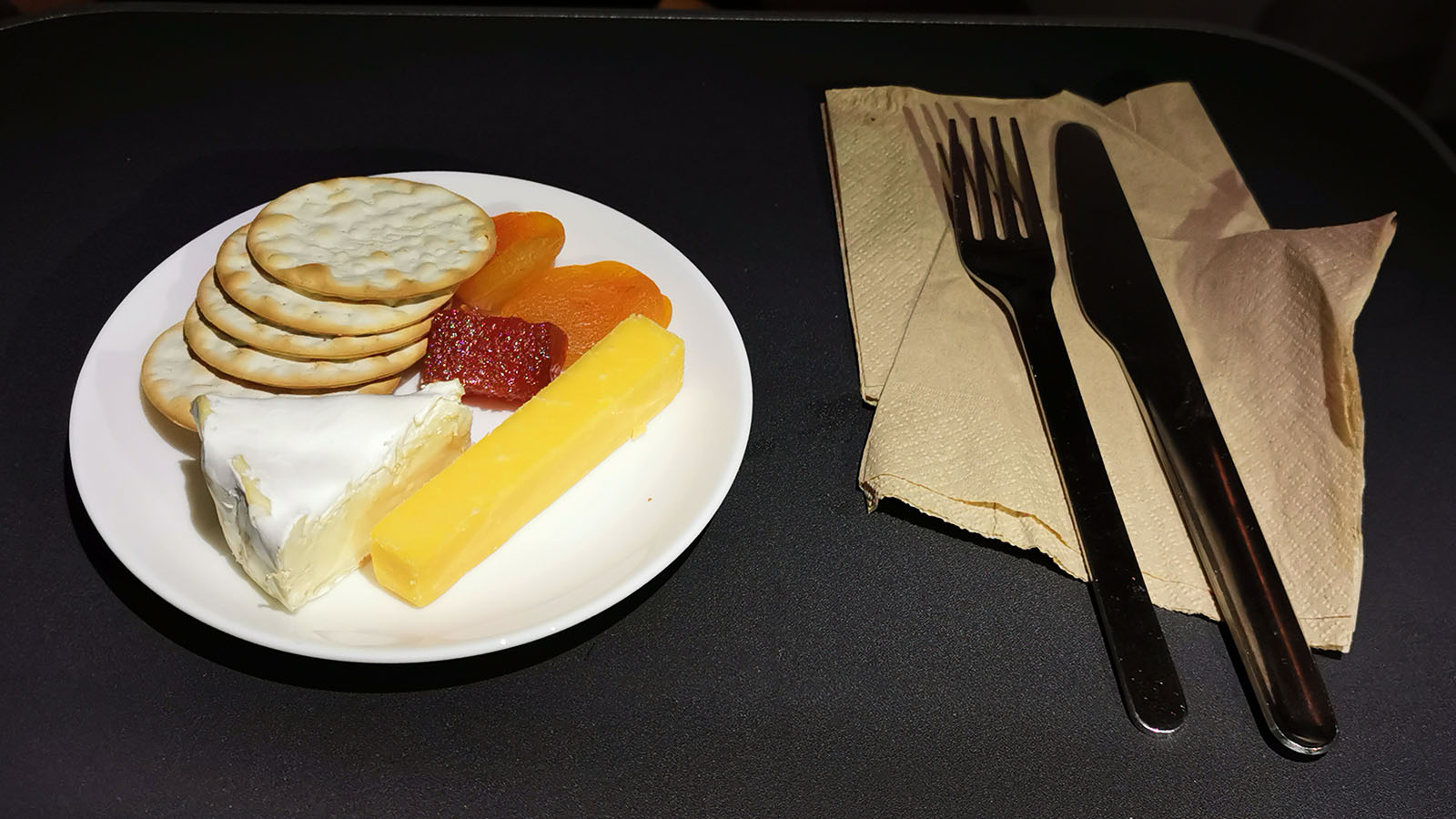 That's followed by dessert, where the choices are simpler. You can opt for a cheese plate, a baked blueberry crumble pie, ice cream, seasonal fruit or chocolates.
After a hearty main, I went for the cheese as a lighter choice. While tasty enough, the presentation was arguably more 'DIY lounge snack' than 'international business class dinner'. Taking away the linen-lined tray – when no linen cloth remained underneath – also didn't help.
Prior to the pandemic, Qantas would line the table itself and serve each course restaurant-style. It's a shame this hasn't returned, as this really elevated the overall dining experience.
After all, it's not like we were racing to pack up and land: QF8 is one of the world's longest flights, and we still had many, many hours to go.
Drinks in Qantas Boeing 787 Business
On the beverage front, the overall approach to service is unfortunately quite haphazard. That's not a remark on the crew – but on the airline's own planning.
The biggest oddity is the double-sided menu and beverage list. On the food side, it outlines every option in great detail. It's also emblazoned with the words 'Dallas Fort Worth to Sydney', showing it's been printed for this specific flight.
But turn it over to the beverage list, and it's a different story.
The menu informs the passenger that Champagne will be available – but not which one. Want to peruse a wine list? Your only clue to what's on board is a description, 'premium Australian wine'. Not even which varietals, if they rotate – it might as well say, 'we have wine'.
How about dessert wine, a drop that's less likely to change? 'Australian dessert and fortified wine' is as descriptive as it gets. Want a beer? 'Premium Australian beer' is your only hint. The airline then goes on to list a couple of international brews – but those are only served to destinations that Qantas isn't even flying to.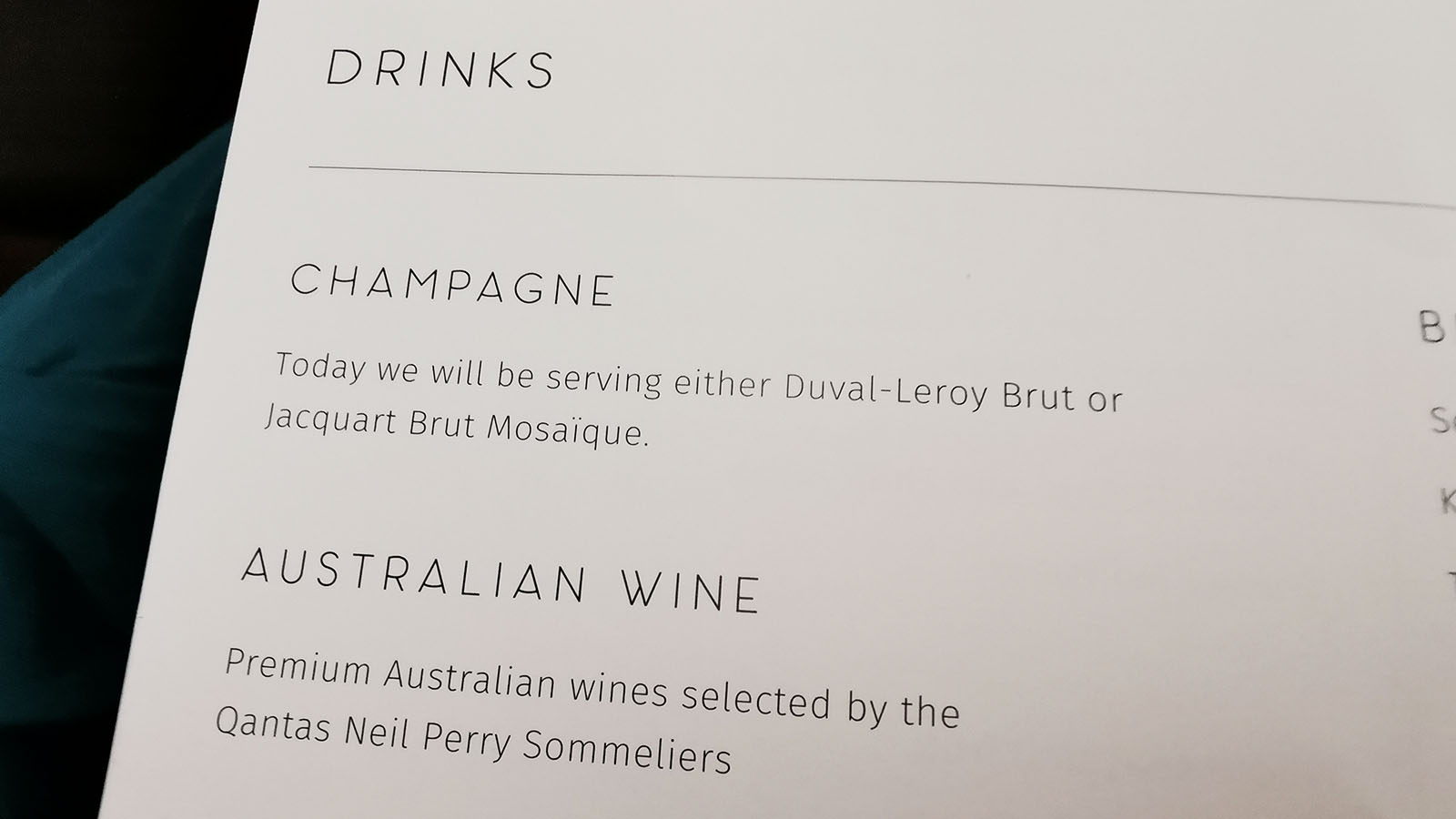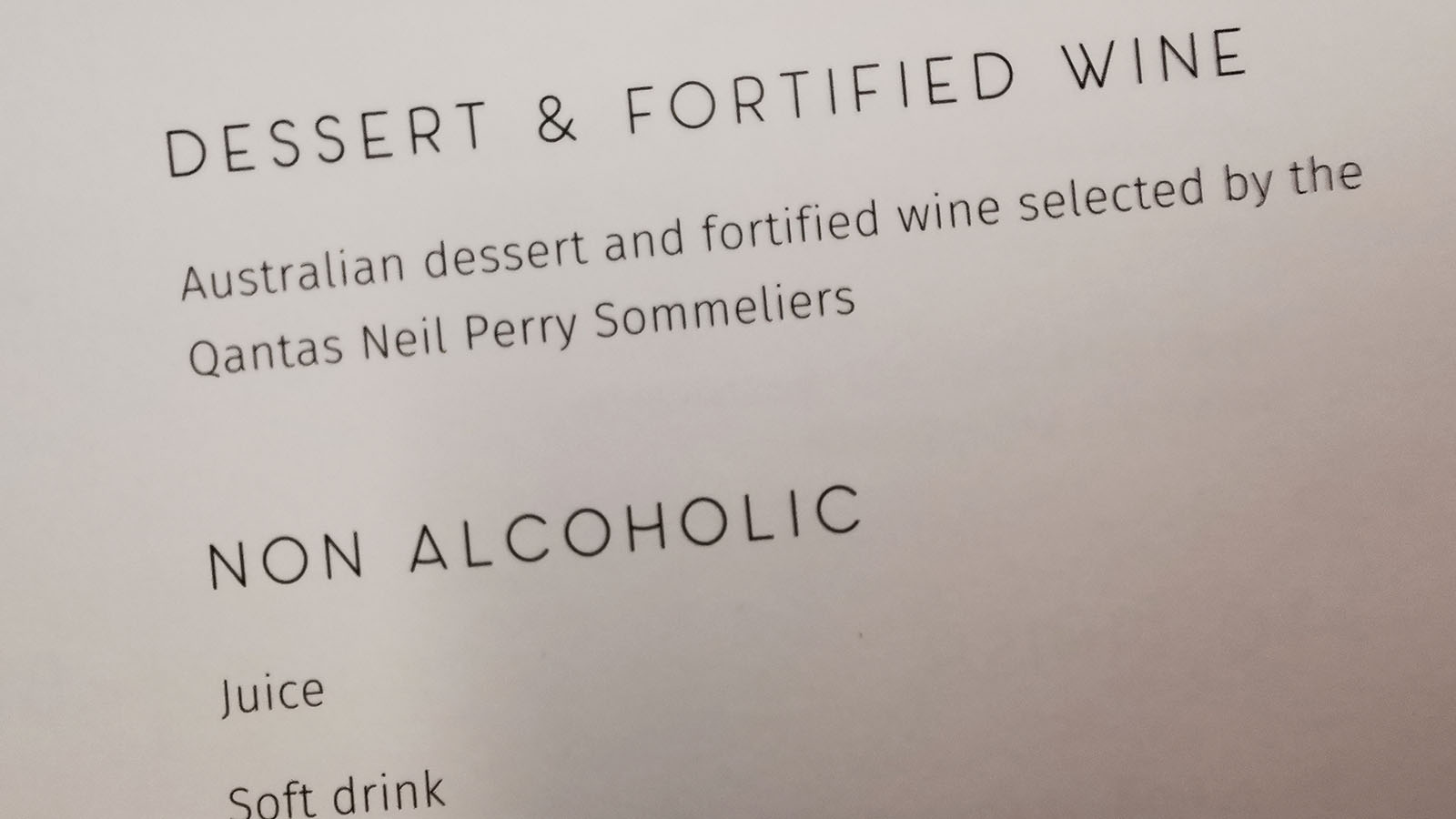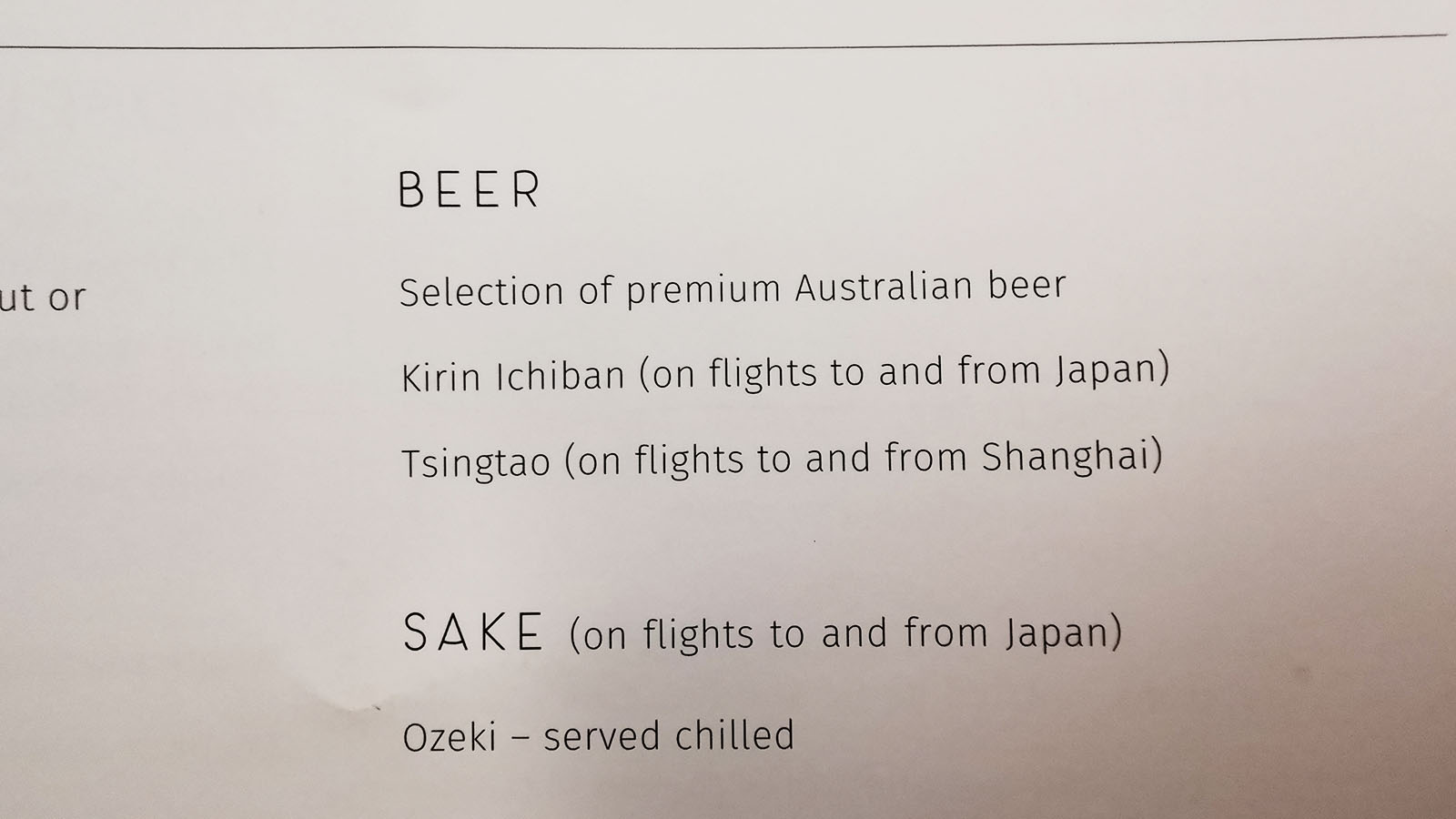 What about your other options? There's 'soft drink' and 'juice' – but again, with no elaboration. It really is a beverage list that fails at its core role – to list beverages.
I found it quite frustrating overall. On long flights like this, I always like to plan and choose a wine that seems to match well with a course: not make a snap decision when the trolley wheels past.
Not having been tempted by something tantalising, I order a simple apple juice in the end. After a week-long travel industry conference in Orlando, it's probably for the best, anyway!
Snacks and breakfast in Qantas Boeing 787 Business from Dallas Fort Worth
Dinner's done, sleep is slept – but there's still almost five hours to go. What happens when you're peckish before breakfast in Qantas Boeing 787 Business? Cue the mid-flight snack menu.
On the 'hot food' side, there's savoury French toast with parmesan, chives, tomato and chilli relish. Keeping that French influence, there's also a simple Croque Monsieur. It's hard to turn down a sandwich that translates to English as 'mister (crunchy) bite'!
It's perfectly toasted and generously cheesy – but not too big as to spoil breakfast. For more snack-sized bites, you can also order fruit, chips, cookies and chocolate bars.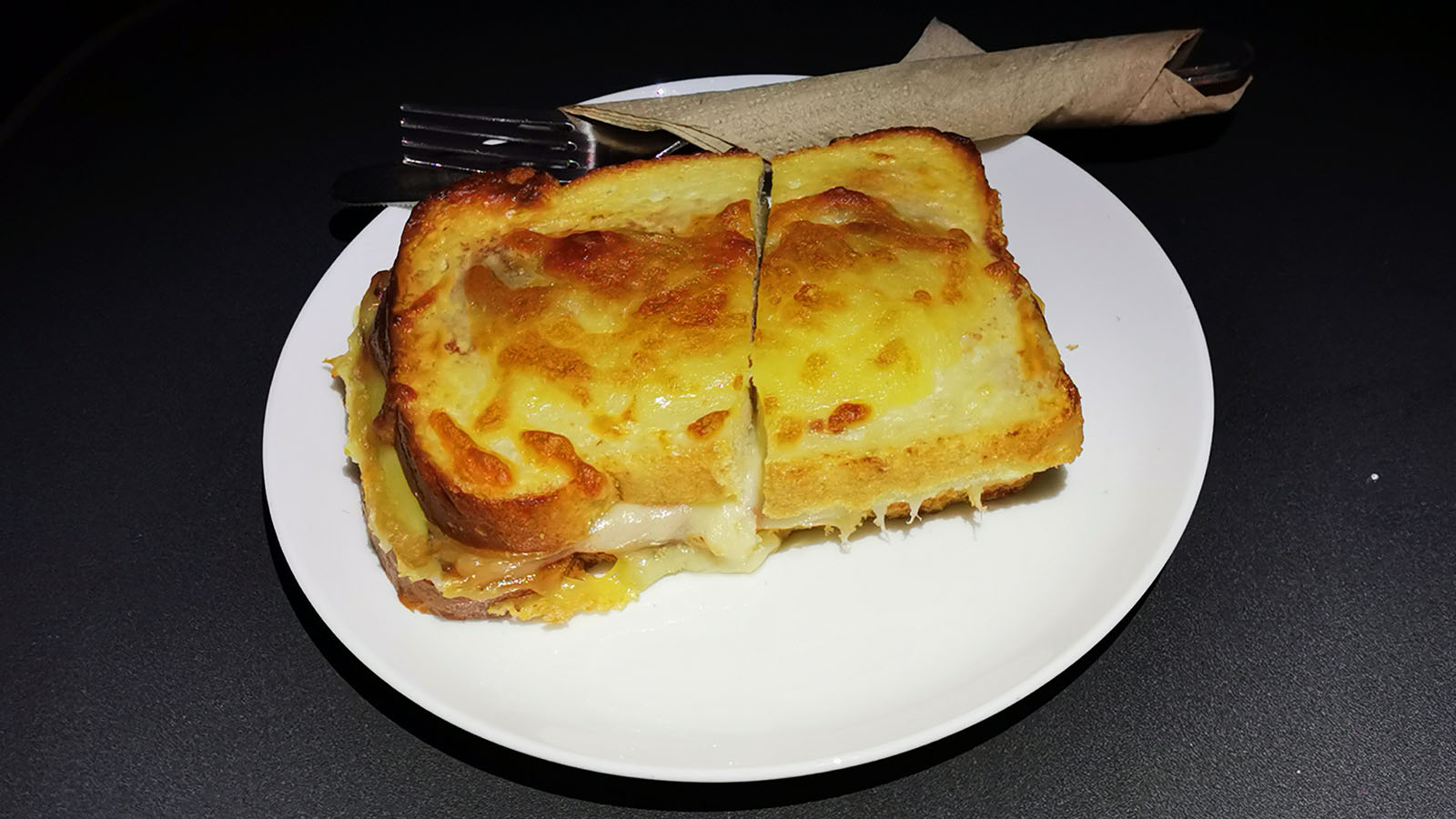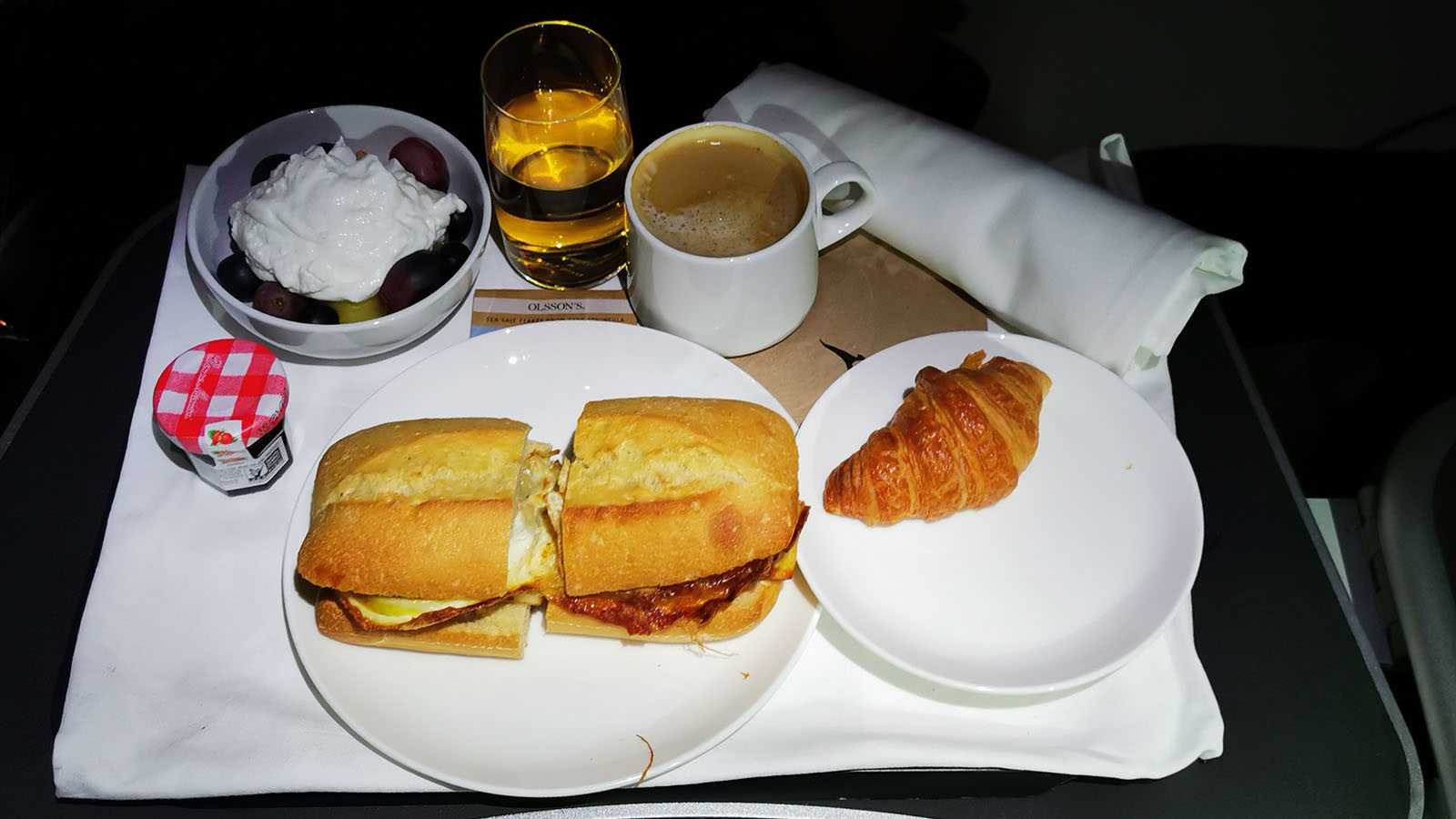 For breakfast, orders are placed at the beginning of the flight. This helps maximise rest for those still dozing closer to arrival into Sydney. A crew member comes by and playfully asks if I've 'finished my homework' – the breakfast card, that is!
It's similar to a card that you might hang on your hotel room doorknob, with preferences for both food and drinks. Here's what I selected:
Fried eggs and haloumi on ciabatta with baby spinach and spiced tahini dressing. (Alternatives were a scrambled egg dish or buttermilk and ricotta pancakes).
Fruit salad with yoghurt.
A croissant with berry jam.
Apple juice.
Coffee with low-fat milk. (I write 'latte if possible', and the crew whip one up).
'Sleepy me' hadn't clicked that 'on ciabatta' was code for 'sandwich'. Given the inflight snack options are both bread-based, I'd certainly order a different breakfast main next time. But I got my first preference, and the fried eggs were surprisingly good – just as you'd expect on the ground.
Croissants can also sometimes arrive brick-like on planes, but this one was perfect. The fruit salad was also fresh and tasty, with a generous dollop of plain yoghurt on top.
Qantas' Boeing 787 Business service and entertainment
Perched in front of each passenger in Qantas Boeing 787 Business is a 16-inch entertainment screen. It's super crisp, and the Qantas safety video really shows off just what these panels can do. Vivid colours, sharp fonts – and noise-cancelling headphones to match.
After seeing this clip many times on domestic Qantas flights, it's fun to finally notice a couple of 'Easter eggs' within. Such as that the pilot is on the phone to Qantas (13 13 13) when turning her device to flight mode. (I do hope she didn't have to wait long when calling back!)
Grey Martin Grant pyjamas and an amenity kit – stocked with all the expected goodies – complete the experience. Having said that, I'd packed my own colourful green and gold Qantas PJs. Several crew members stop by to compliment my choice and to share their 'pyjama envy'.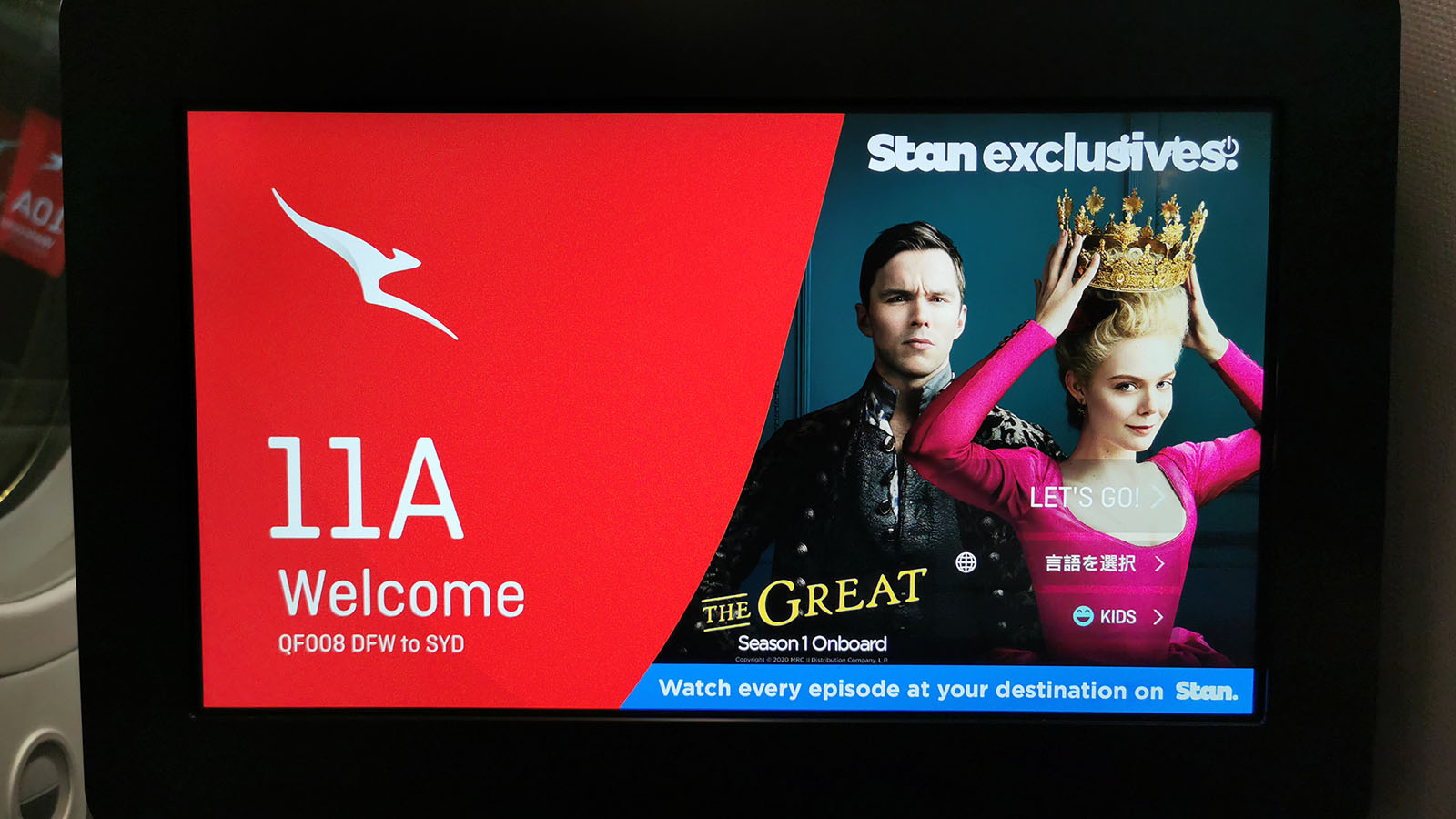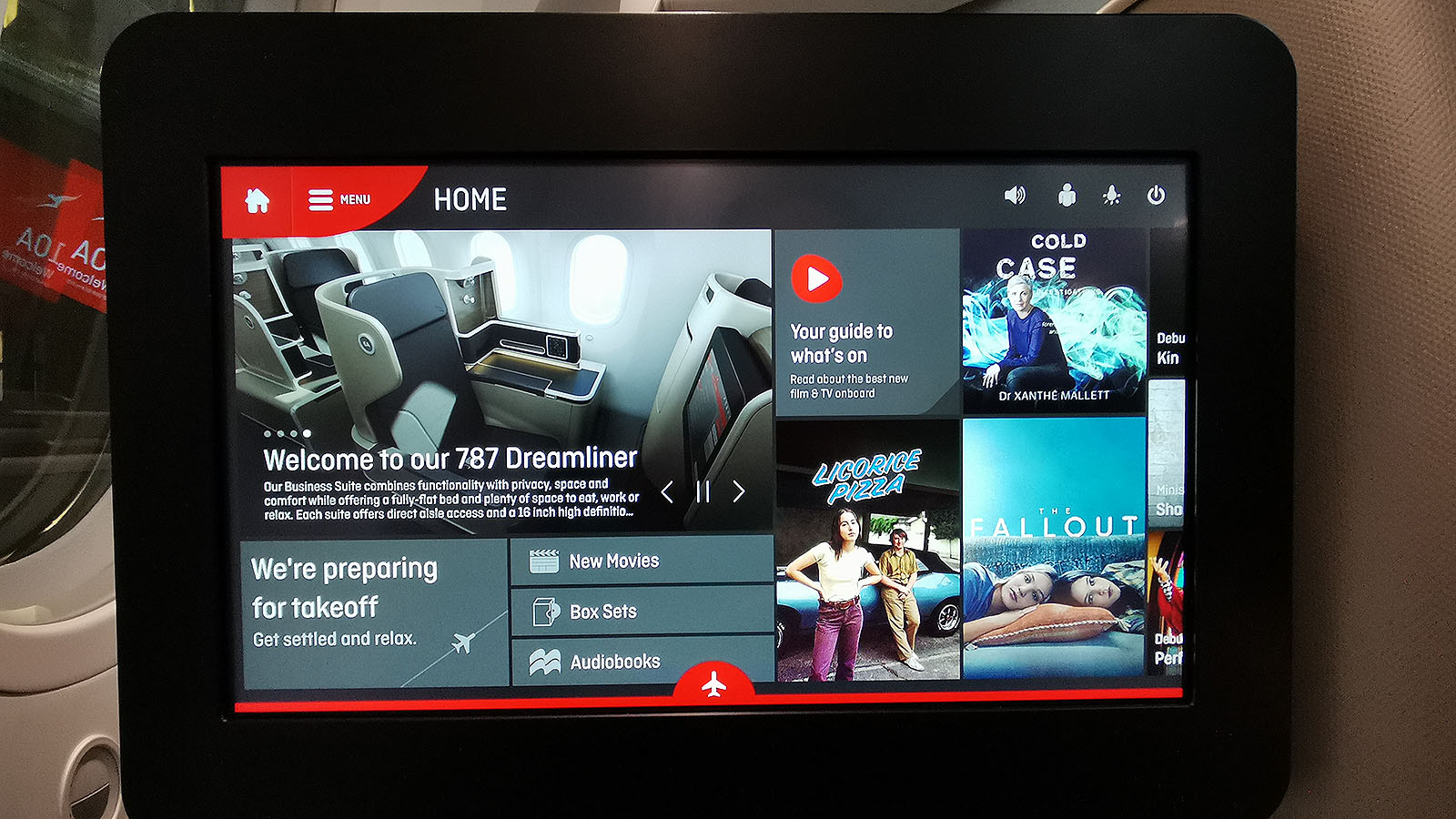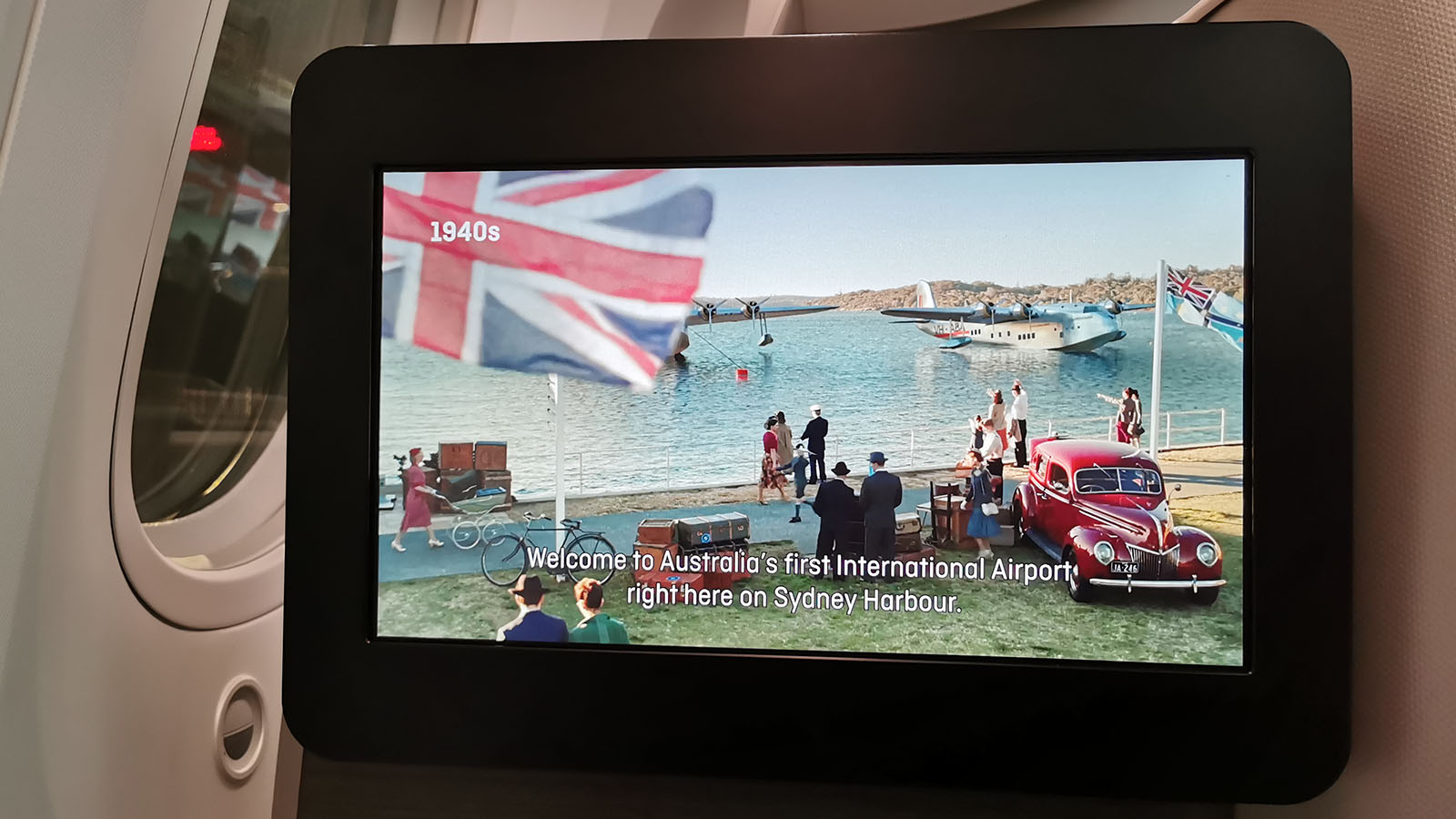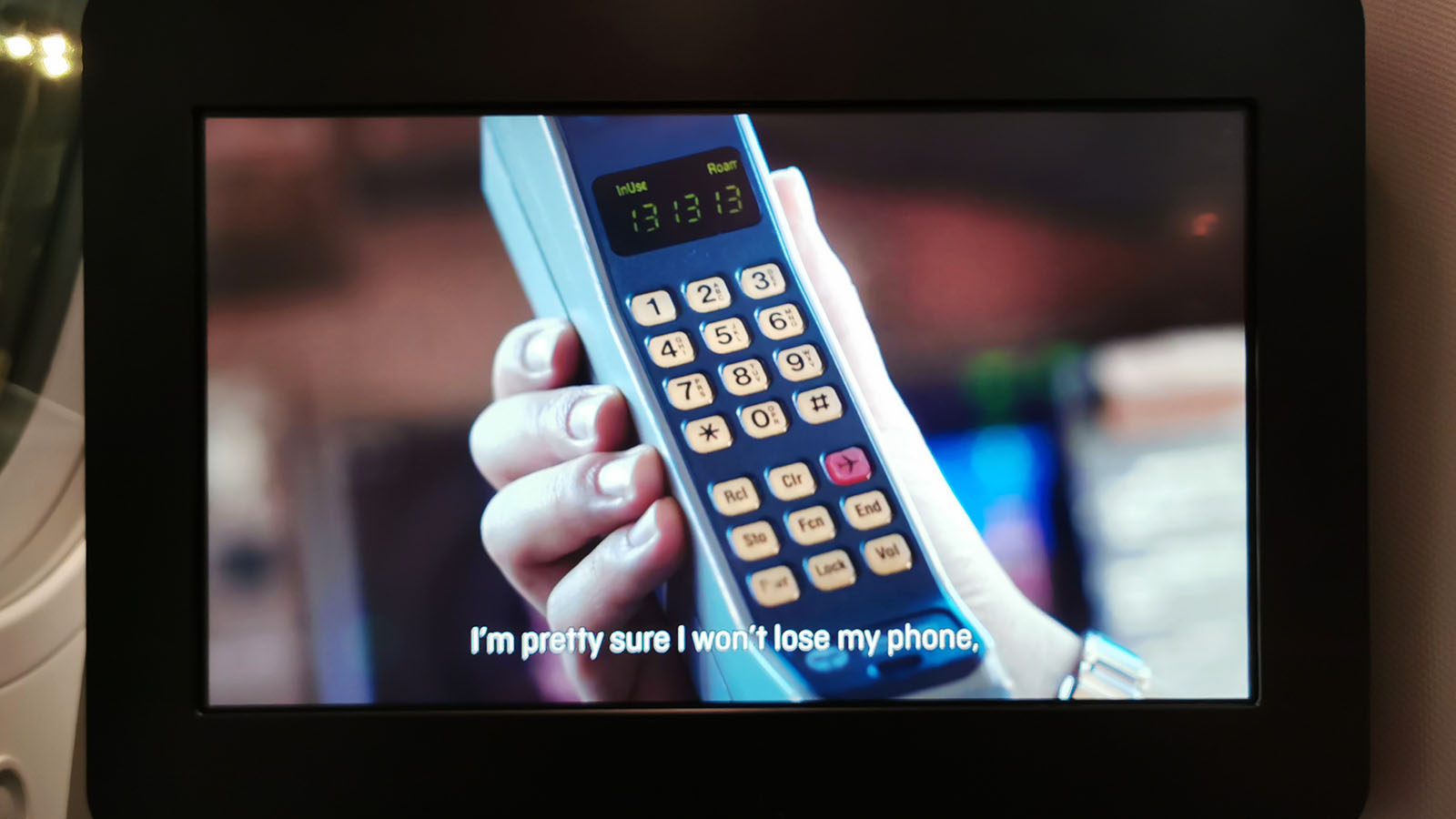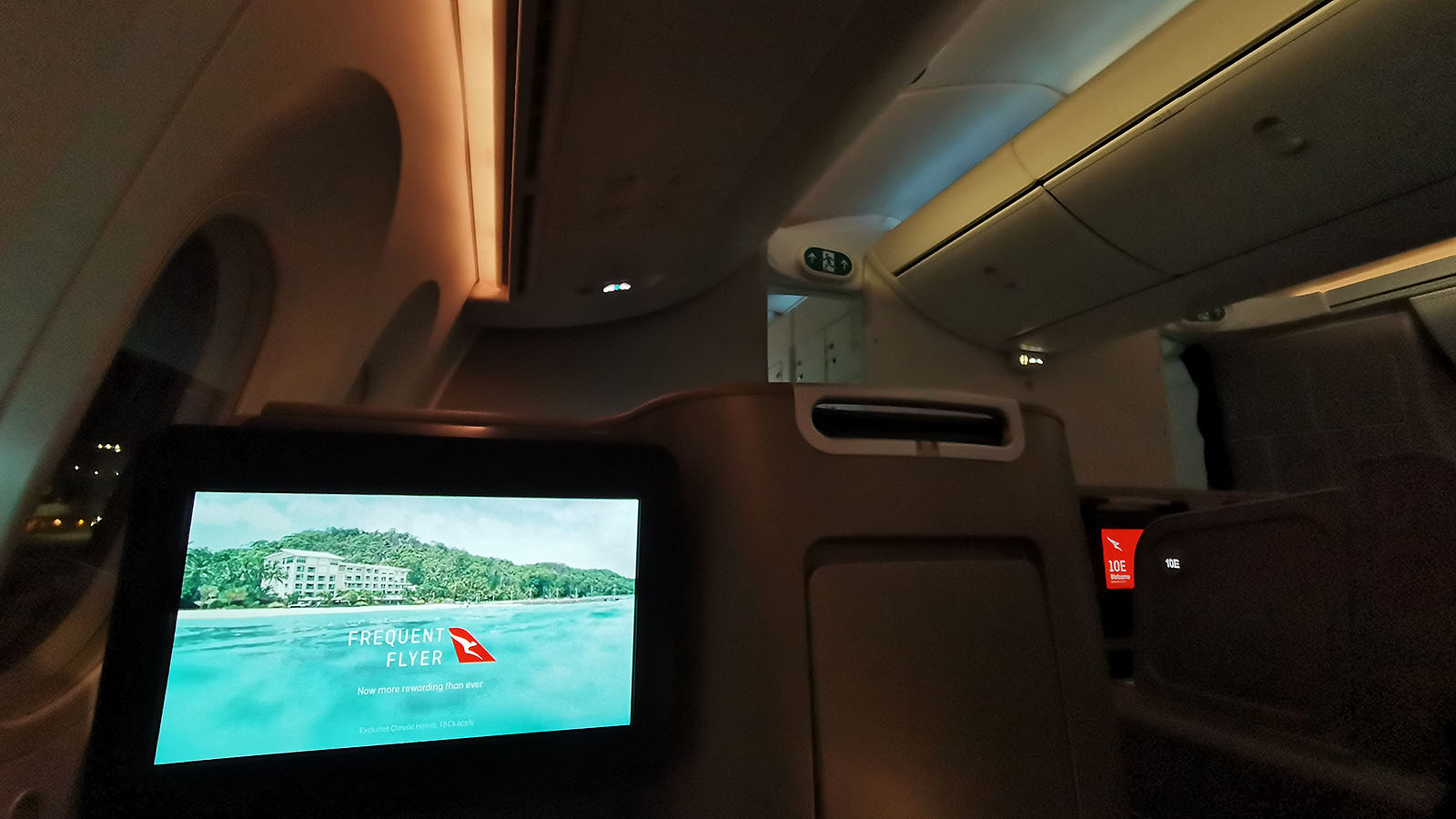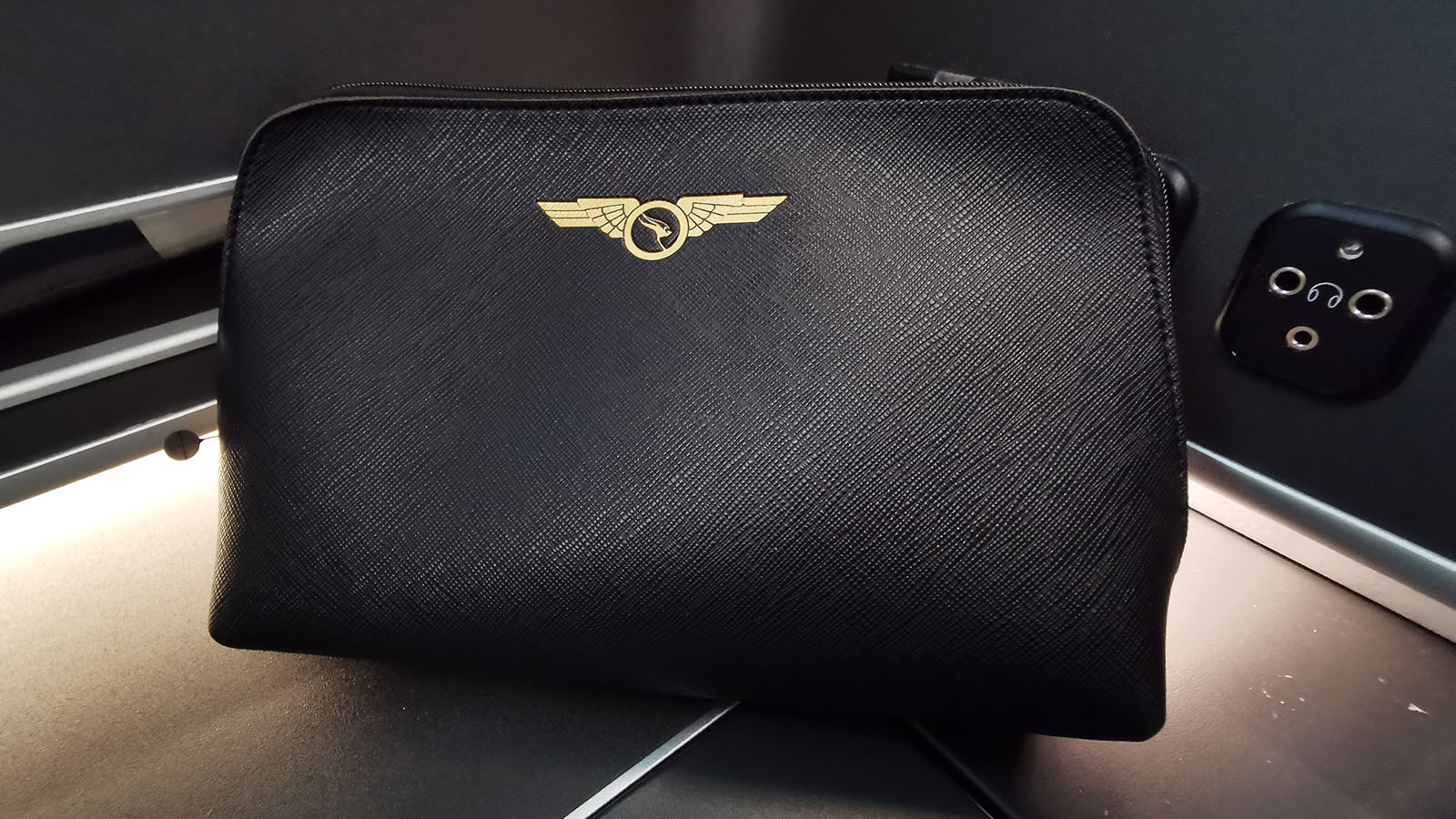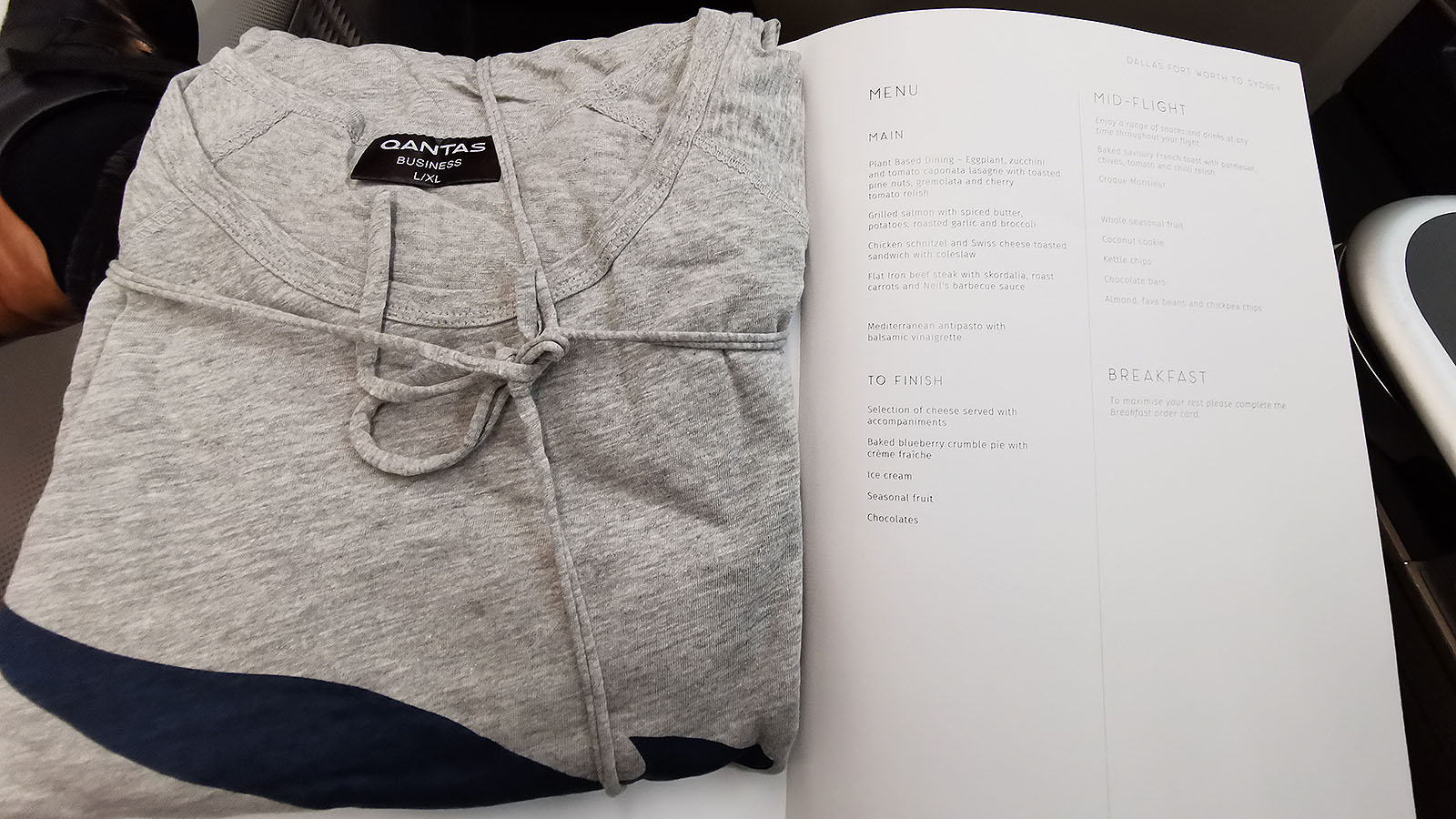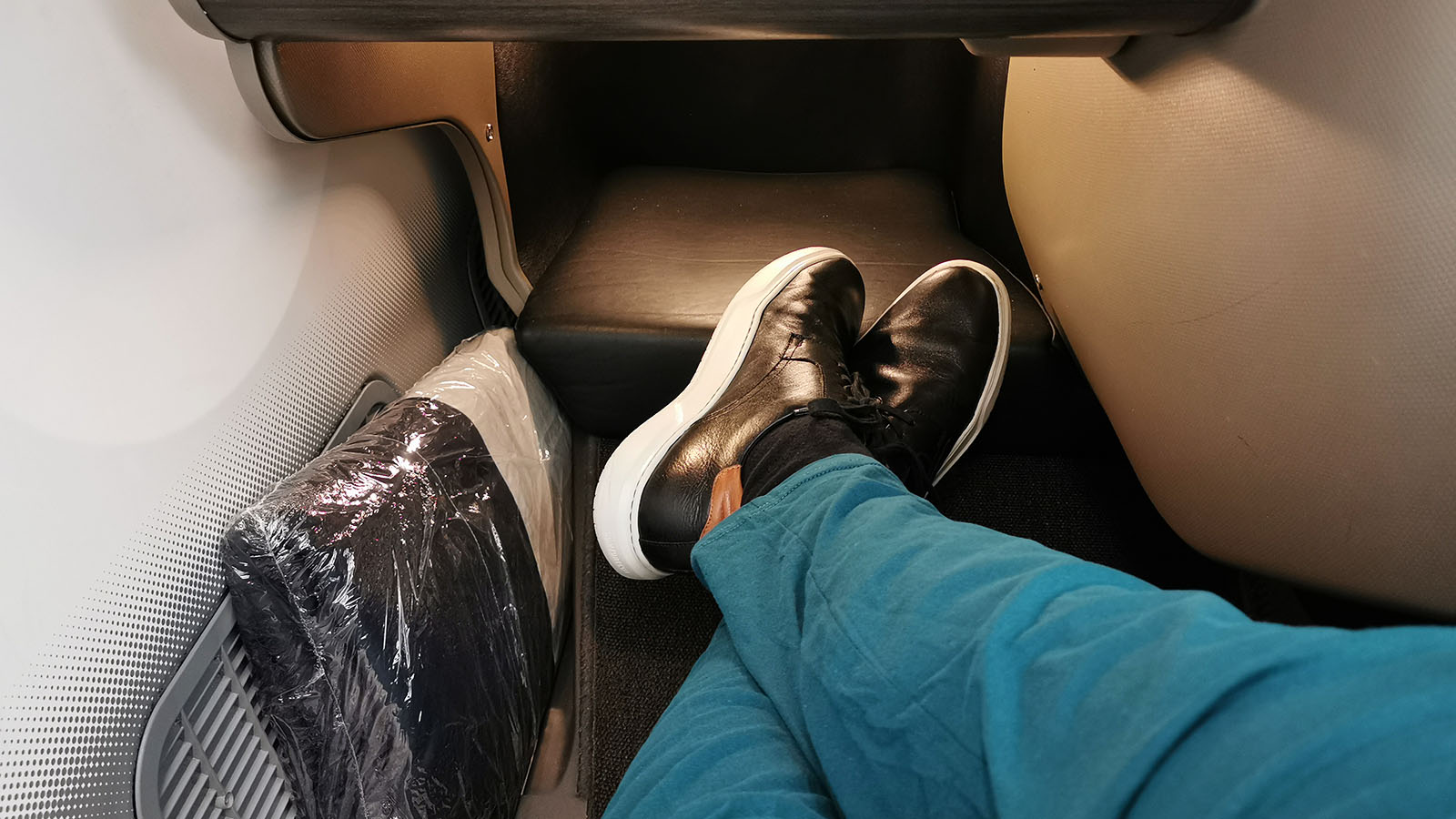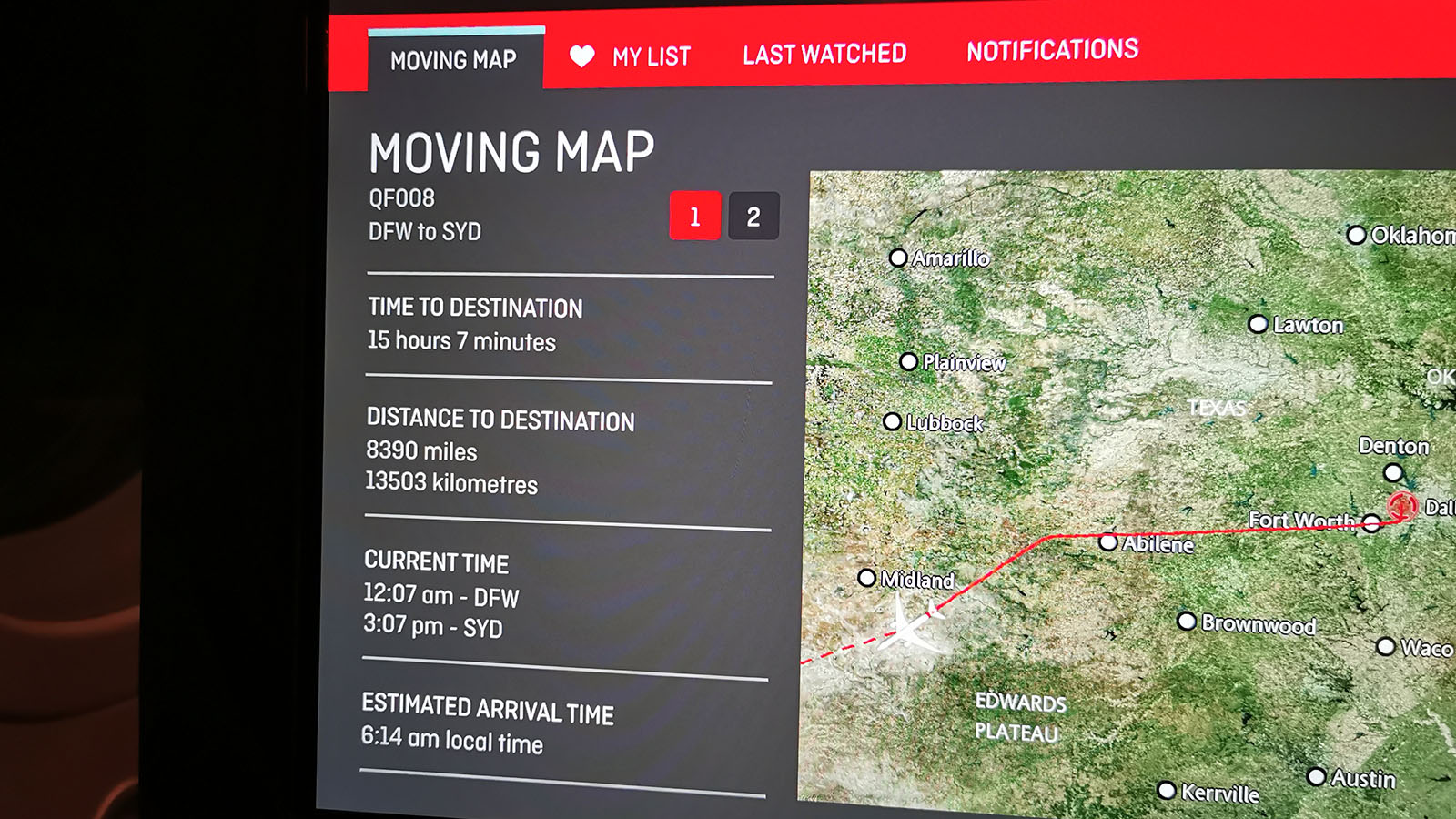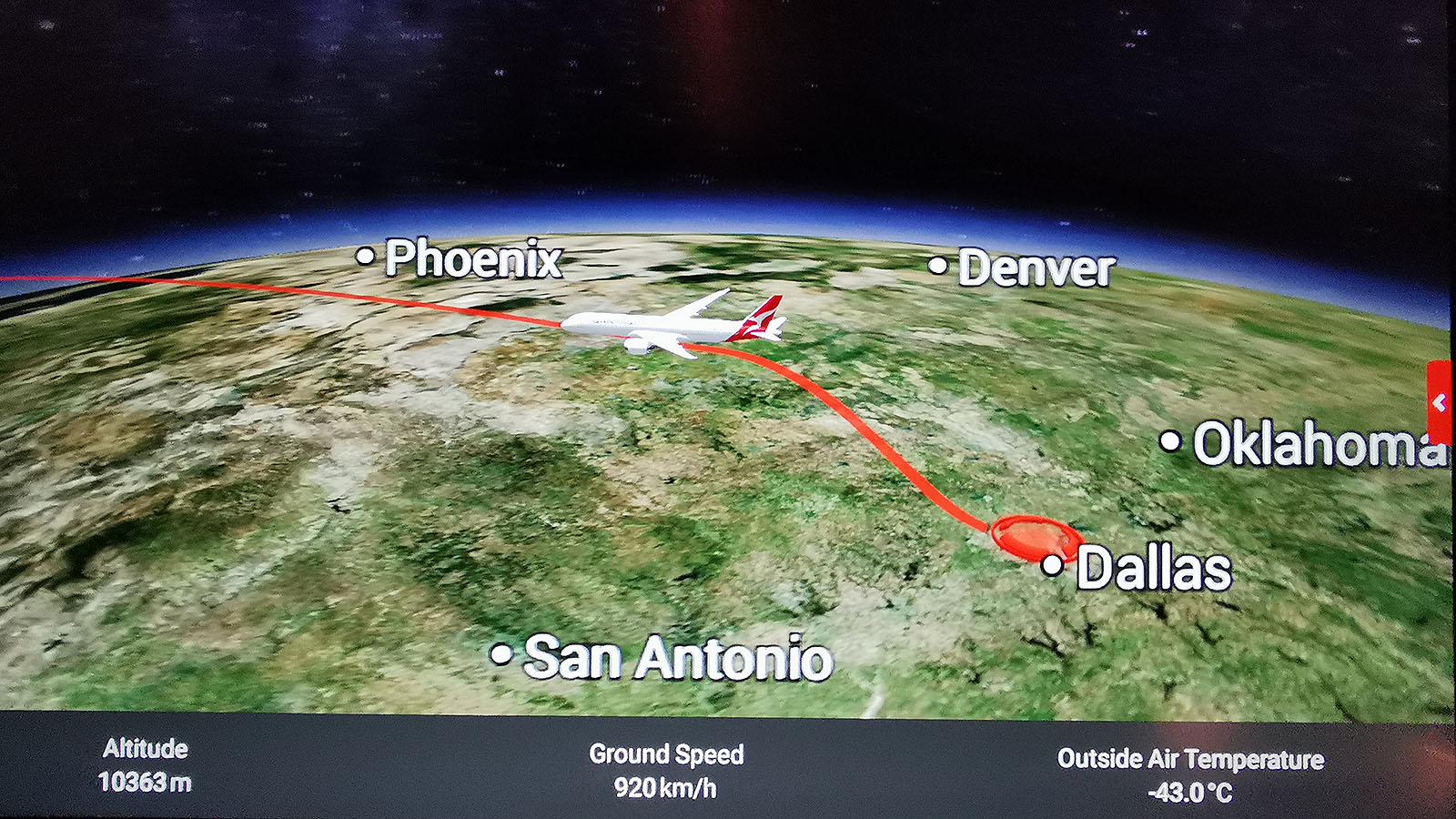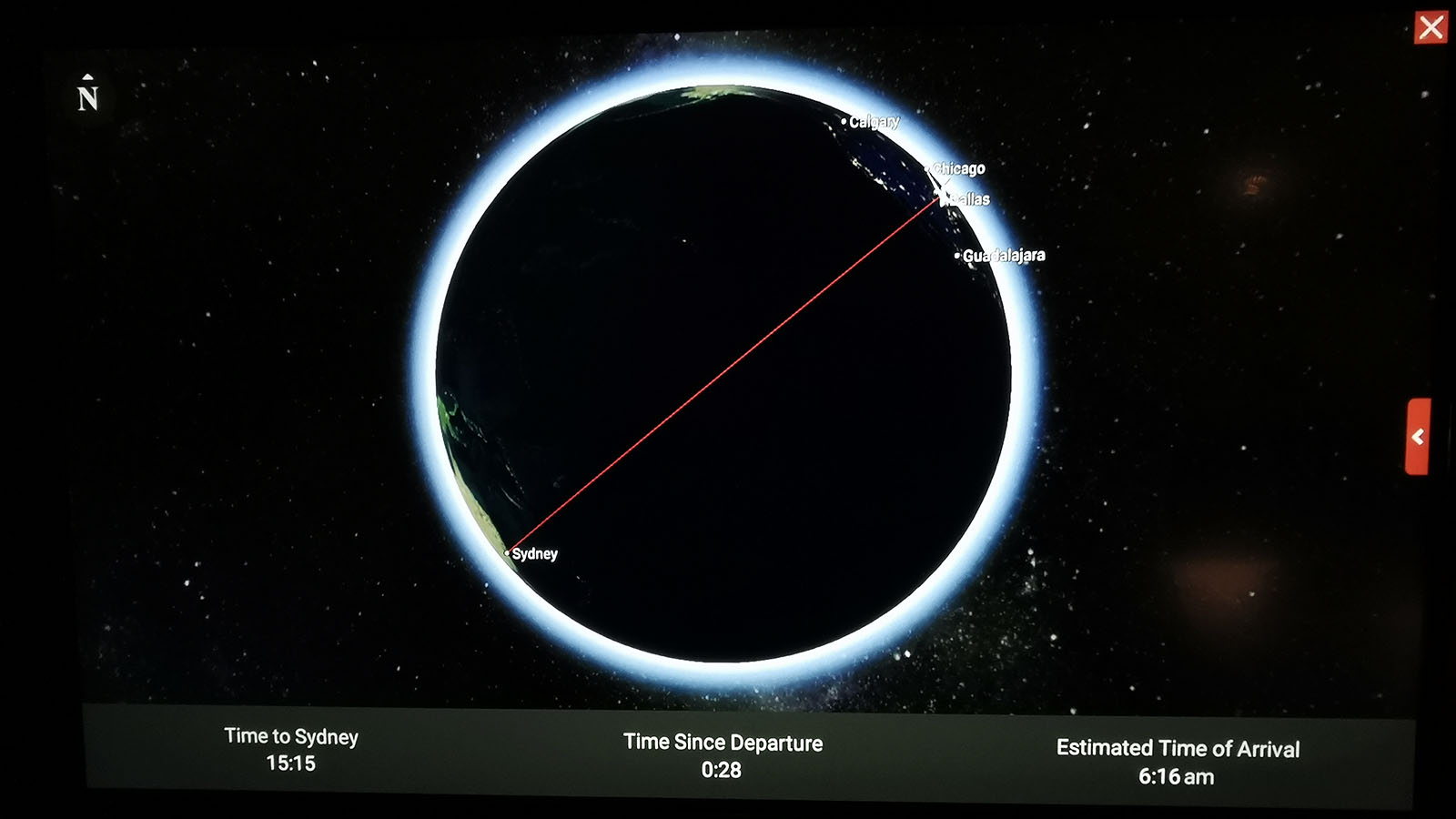 To keep tabs on this ultra-long voyage, the moving map shows exactly where you're flying in the world and how long until it's time to land. I notice the numbers ticking down as the hours pass, but I'm not counting.
On the service front, I receive a cheerful 'welcome back' as I board – a nod to my Qantas Gold status. In fact, I would retain Gold on this very flight: just six weeks into my Qantas Frequent Flyer membership year. Having said that, it'd be great if the iPad given to cabin crew could highlight milestones like this.
A simple 'congratulations on retaining Gold' when delivering a passenger's drink would add a real personalised touch to the service. And at no extra cost for the airline, either.
The crew are otherwise personable and strike the right balance between friendly, laidback and professional. That always makes for a great flight.
Transiting onto a Qantas domestic flight in Sydney
Given I live in Brisbane, my journey wasn't done in Sydney. There was one more leg to go – a domestic hop home.
With my connection booked on the same ticket, I received both boarding passes (international and domestic) in Dallas. My bag is also tagged from DFW straight through to Brisbane. It still needs to be collected in Sydney to clear Customs, but that tag means I can quickly and easily drop it on the domestic transfer belt.
That's located just outside the international terminal, on the right-hand side. From there, a bus takes transferring passengers straight to the domestic terminal. While it wasn't open when I flew through, the transfer security point is also now available here for transferring travellers.
This means that once any checked bags have been dropped off, you'll clear security inside the transit lounge area, and board a bus that drops you straight at the domestic terminal's post-security departures zone.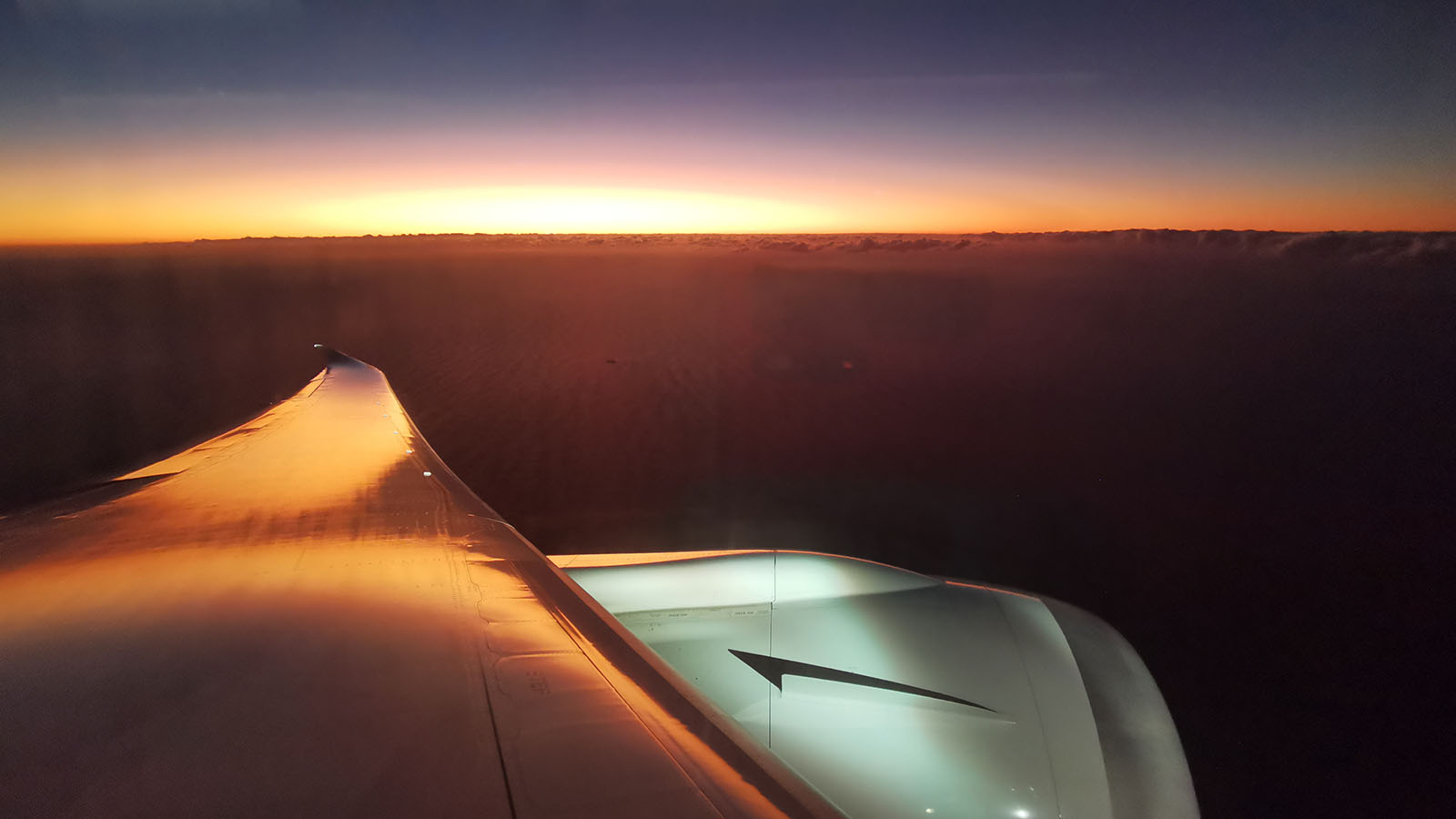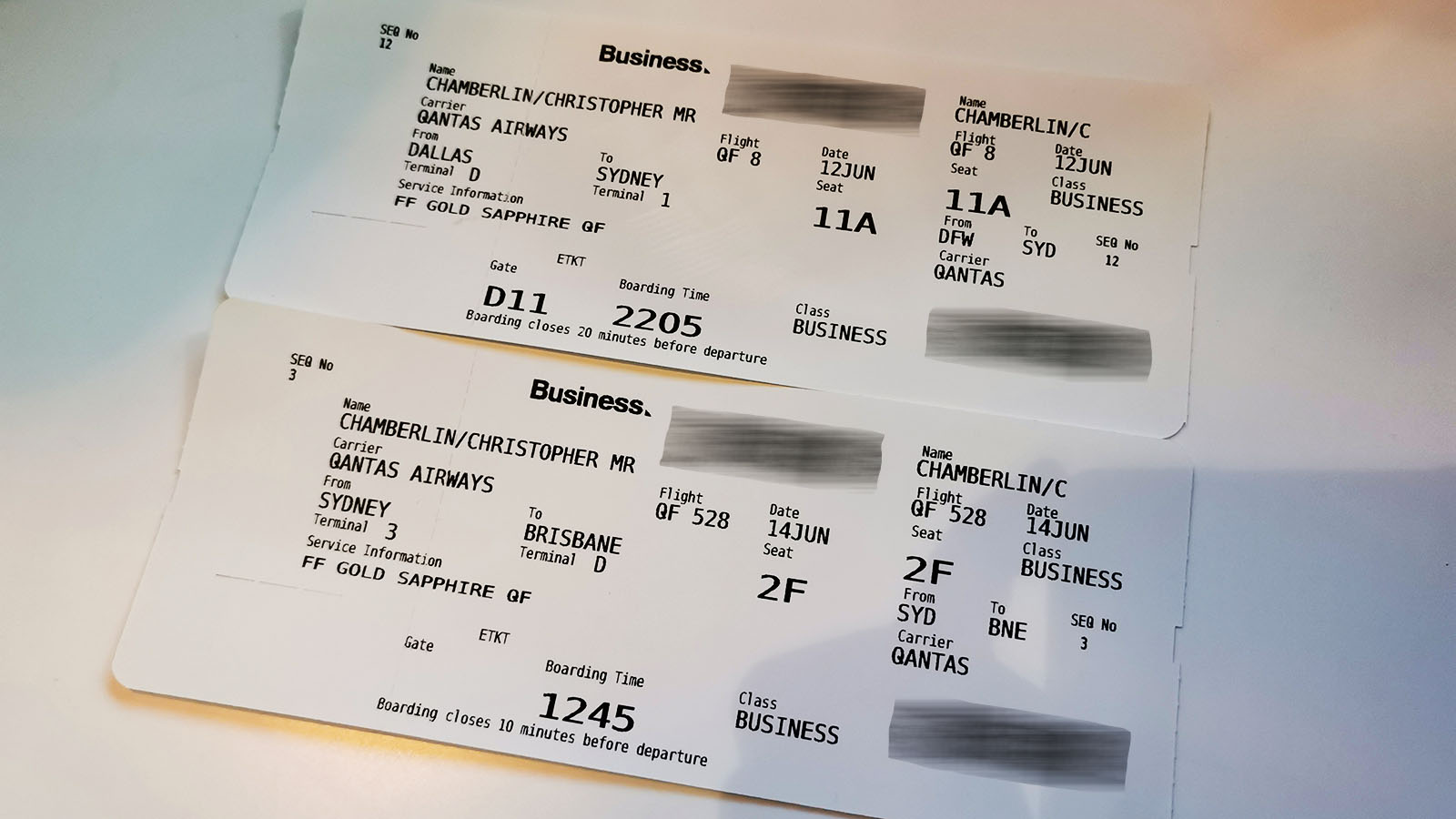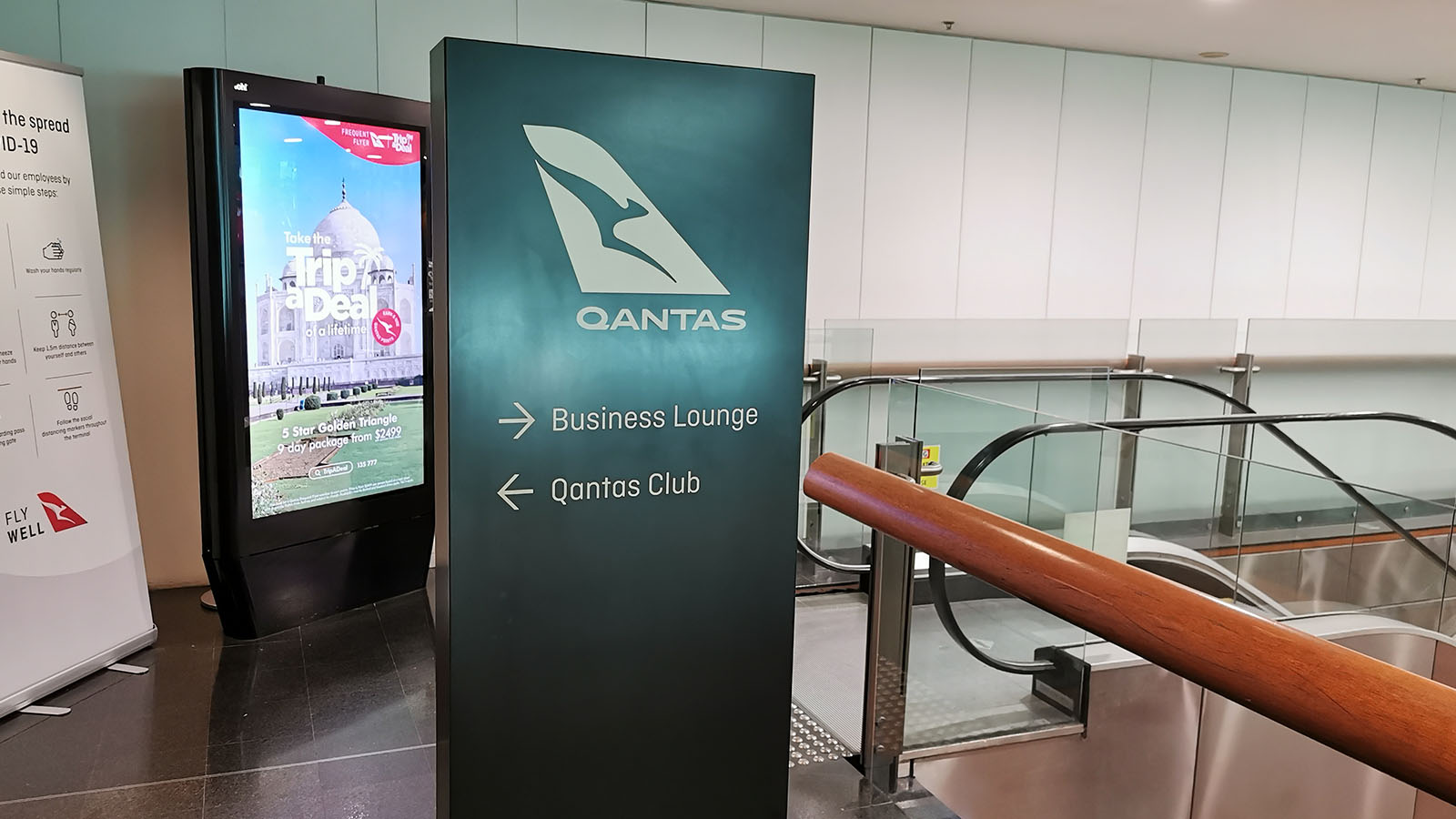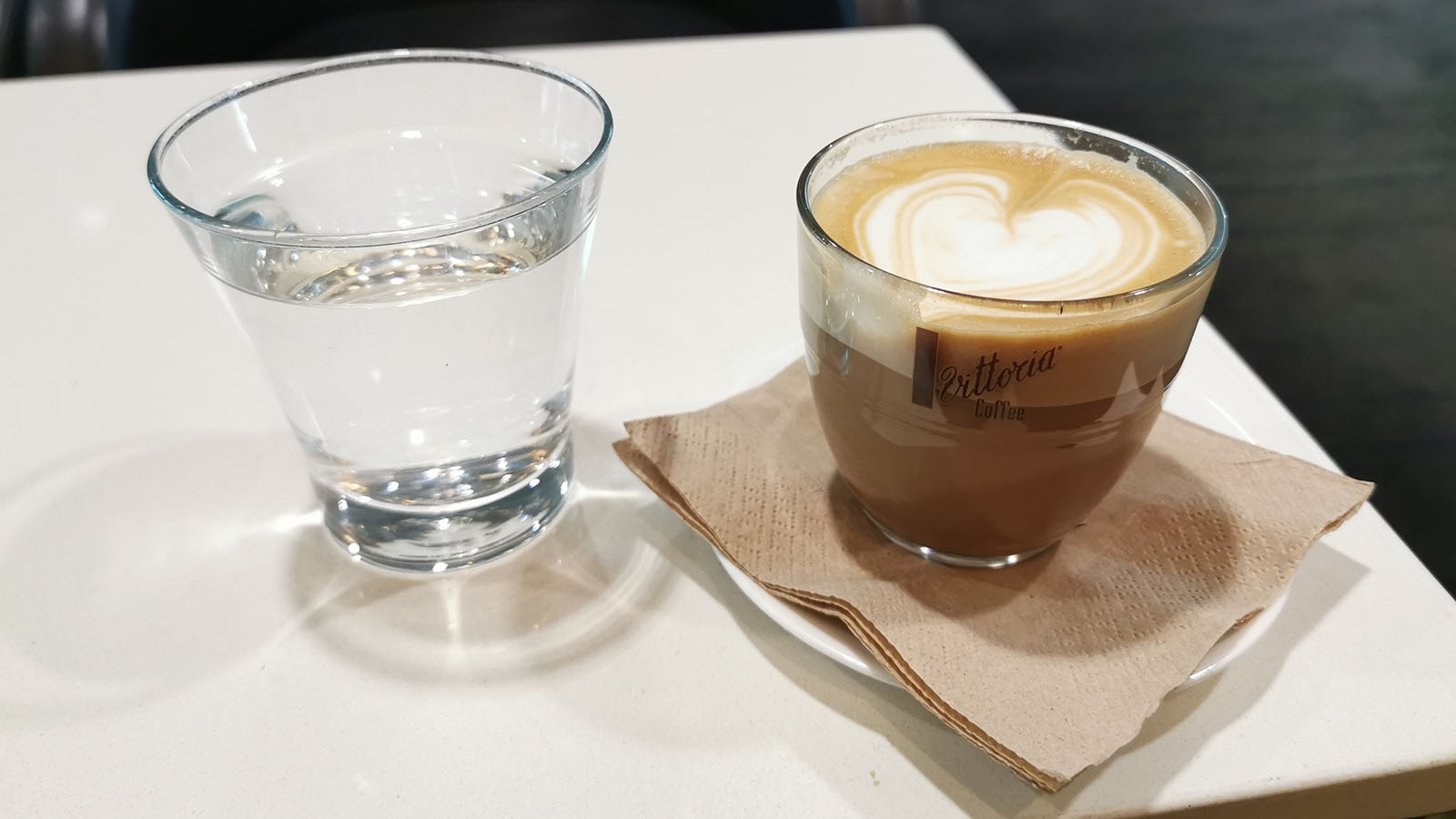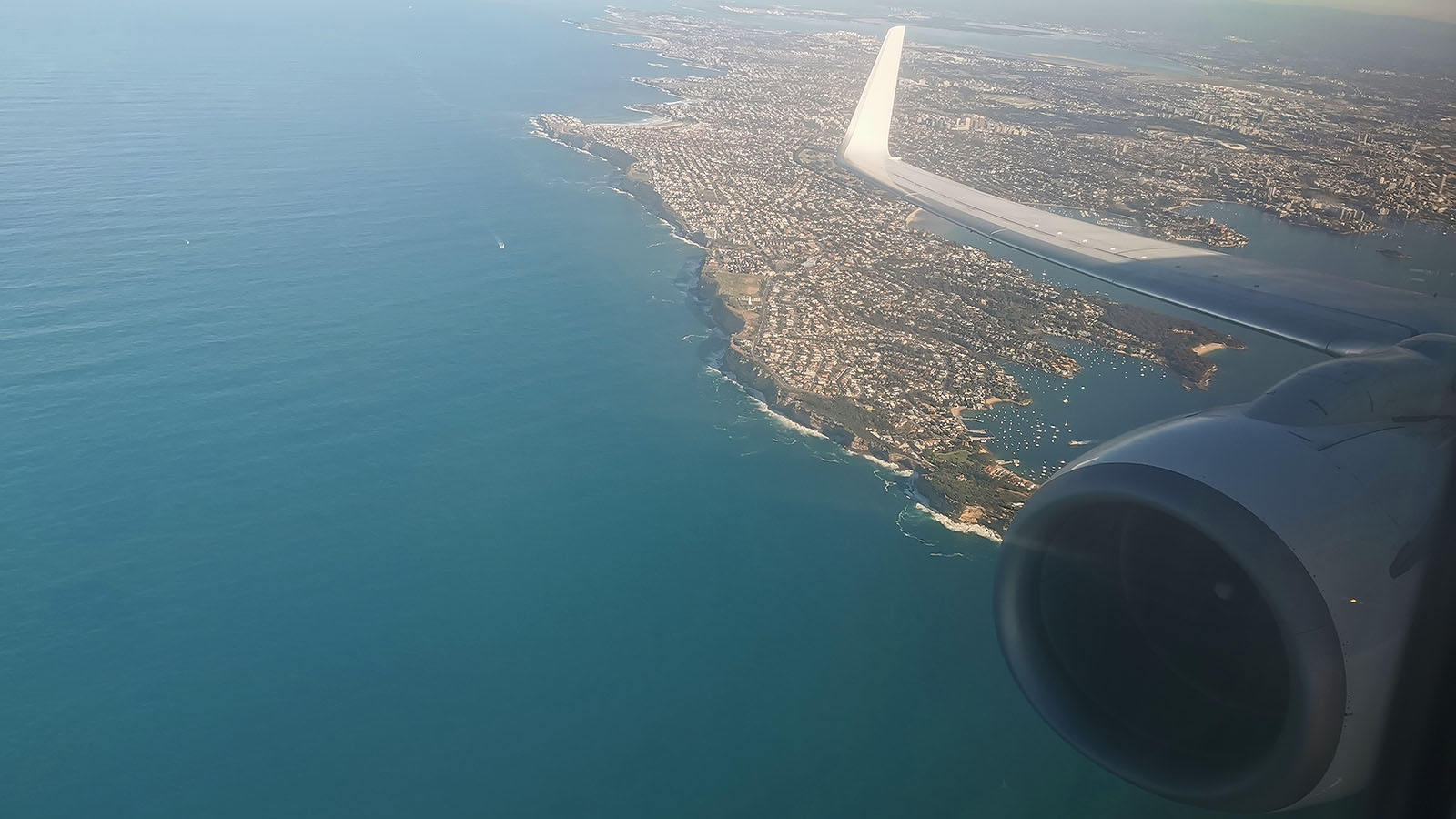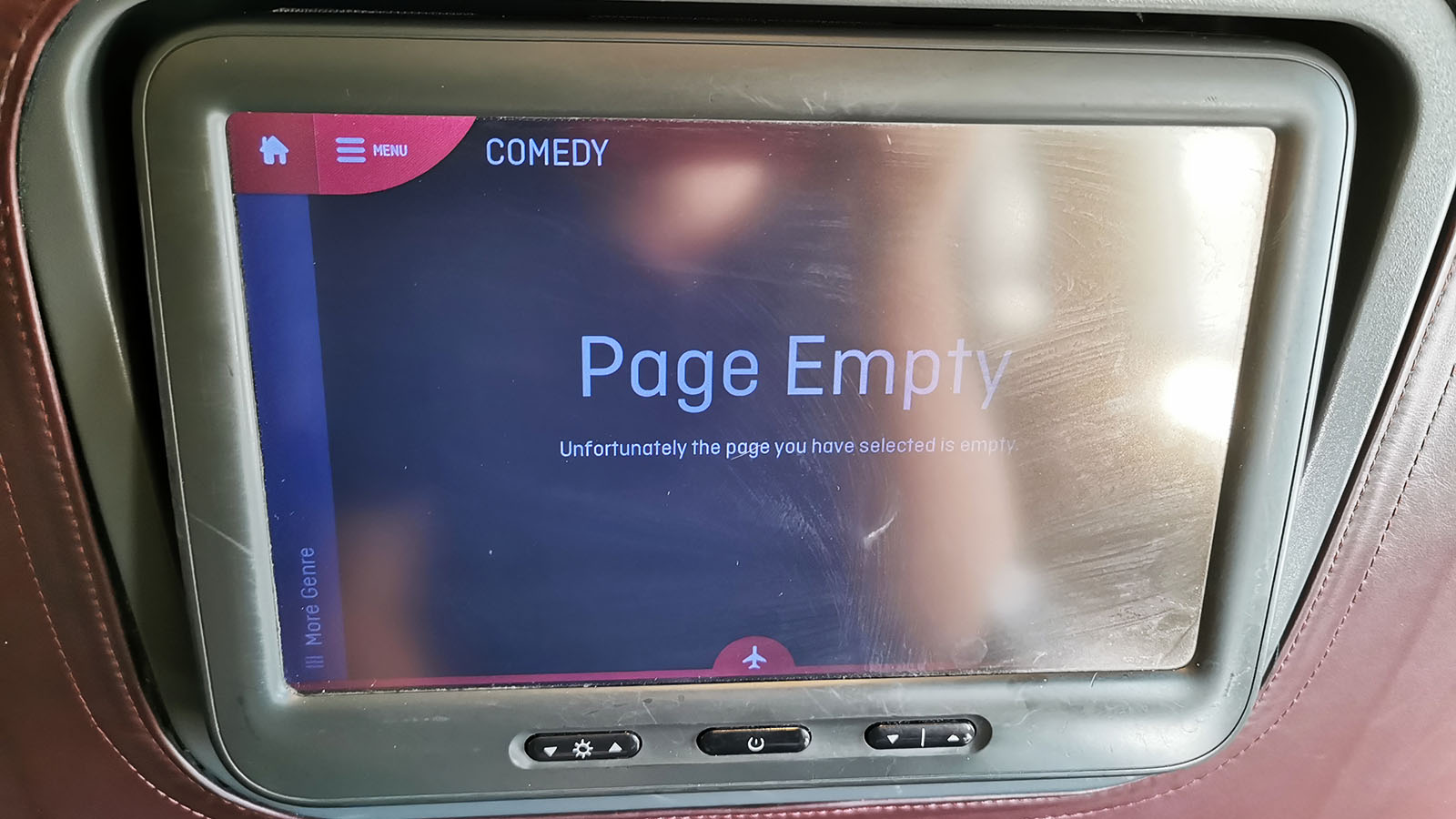 Travelling in Qantas Business, I enjoy a visit to Qantas' Domestic Business Lounge before that Sydney-Brisbane hop. I'd allowed plenty of time in between flights, just in case – but I needn't have this time.
Still full from the flight, not even a light snack tempts me here. But the barista-made coffee is calling my name, along with more chilled water. Shower facilities are available too.
When the time comes, I'm settling into Qantas Business up to Brisbane. But do note, inflight movie selections on these domestic aircraft are thin to non-existent. Several of the content categories have nothing to watch at all: there wasn't so much as one comedy movie.
It's not that there's nothing to watch – there are more selections in the TV categories. But the takeaway: if you'd started a film on an international Qantas flight, don't expect to finish it aboard a domestic connection.
How to earn and spend Qantas Points from Dallas/Fort Worth to Sydney
Naturally, one way to book your Qantas Boeing 787 journey in Business is to purchase a ticket. But with flights in high demand right now, this can be pricey. Using dates in August 2022 when 'Business Saver' fares are available, a round trip attracts a $17,000 price tag.
On that fare type, travellers would collect at least 31,900 Qantas Points flying return, as well as 420 Status Credits. Tiered members of Qantas Frequent Flyer can take home even more Qantas Points.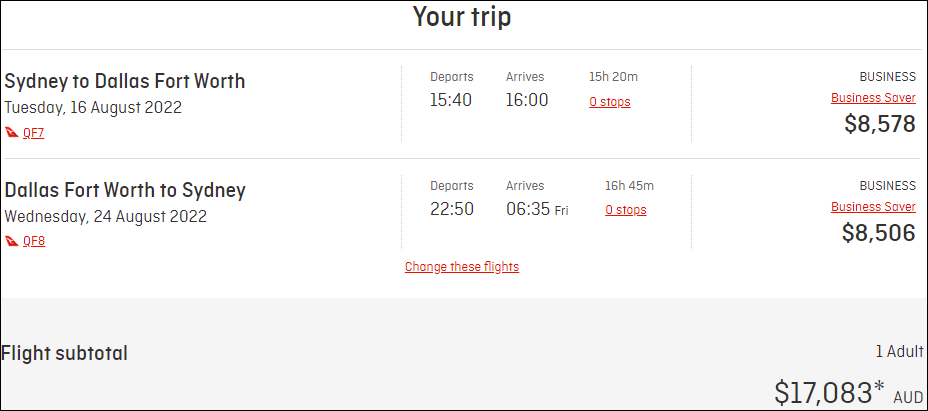 But of course, you can also book these flights using Qantas Points, subject to availability. Reward seats in Business certainly aren't abundant, but they can pop up from time to time.
This one-way leg from DFW to Sydney costs exactly 126,500 Qantas Points. On the side, you can also expect to pay around US$201 (~AU$297) in taxes, fees and carrier charges.
Compared to the cash price of buying a comparable flight above, that's a saving to the hip pocket of over AU$8,200, one-way. This also provides a terrific return on those Qantas Points, being close to 6.5 cents in value per point spent. All while enjoying almost 17 hours of sky-high comfort in Business.
Don't forget, just one credit card sign-up bonus could provide more than enough Qantas Points for the same itinerary.
Not a business? Not to worry. Check out our other Qantas partner credit card sign-up offers here.
Summing up
Different people travel for different reasons. For that matter, people also fly Business Class with differing agendas.
Being at the end of a hectic work trip, my first priority was to sleep and minimise jet lag. Especially as I'd have a full week of work ahead, including on the day I returned to Australia. On that front, I got as much rest as I could, and had a great deal of energy in the days that followed. Two thumbs up.
But if my trip had been more leisure-focused, I'd have placed greater importance on the food and wine. After all, that's where passengers are more likely to indulge. On that front, having a full wine list would have significantly elevated the experience. And of course, given me more of a reason to try a few different drops to compare.
At the end of the day, Qantas is the only airline with non-stop flights between Sydney and Dallas/Fort Worth. And when there's a plane running from where I am to where I need to be – or close enough to it – that time saving generally wins in my book.
Also read: Dallas Fort Worth International Airport sets its sights on the world
Photography by Chris Chamberlin, who travelled at Point Hacks' expense. Feature image courtesy of Qantas.
---
Stay up to date with the latest news, reviews and guides by subscribing to Point Hacks' email newsletter.
Qantas Boeing 787 Business (Dallas/Fort Worth – Sydney)
was last modified:
August 29th, 2022
by