We've all seen the McCallister family dash through Chicago O'Hare in Home Alone – forgetting Kevin, of course. But there's quite a bit of truth to that scene. You might not realise it, but Chicago O'Hare really is one of the busiest airports in the world. And with Chicago a major hub for American Airlines, a Flagship Lounge is a perfect fit.
Chicago's Flagship Lounge also stands ready for eligible Qantas passengers on the airline's mooted QF86 service. That's the direct flight Qantas had planned between Chicago and Brisbane. Sales for the route were shelved during the pandemic, and it never took off. But Qantas Group CEO Alan Joyce confirms that Chicago is still in its sights.
Whichever way you ultimately get to Chicago, here's what awaits when it's time to depart.
Location
As with all of American Airlines' Admirals Club lounges in Chicago, the Flagship Lounge resides after security in Terminal 3. Fortunately, if you qualify for the Flagship Lounge, you'd also make the cut for AA's priority check-in queue – maximising your lounging time.
In fact, as another timesaver, there's a priority security line right next to priority check-in. As long as just one passenger on the booking is 'priority', the priority treatment extends to everybody on the same reservation. With my Qantas status all linked up and my companion's boarding pass showing that 'priority' flag too, we're again through quick smart.
Off to the Flagship Lounge! Now, there are no signs telling you this, but you'll need to take a sharp right just after security. (Fortunately, I was able to use mobile data to look up the location and avoid wandering aimlessly). After that, the signs get better, pointing you towards the juncture between concourses H and K.
With a quick flash of our boarding passes, we're given the all clear. The Flagship Lounge shares the same lobby as an Admirals Club – and both are only accessible by taking a lift upstairs. To streamline the process, those qualifying for Flagship receive a black card. It's almost as though you've made it into the inner sanctum.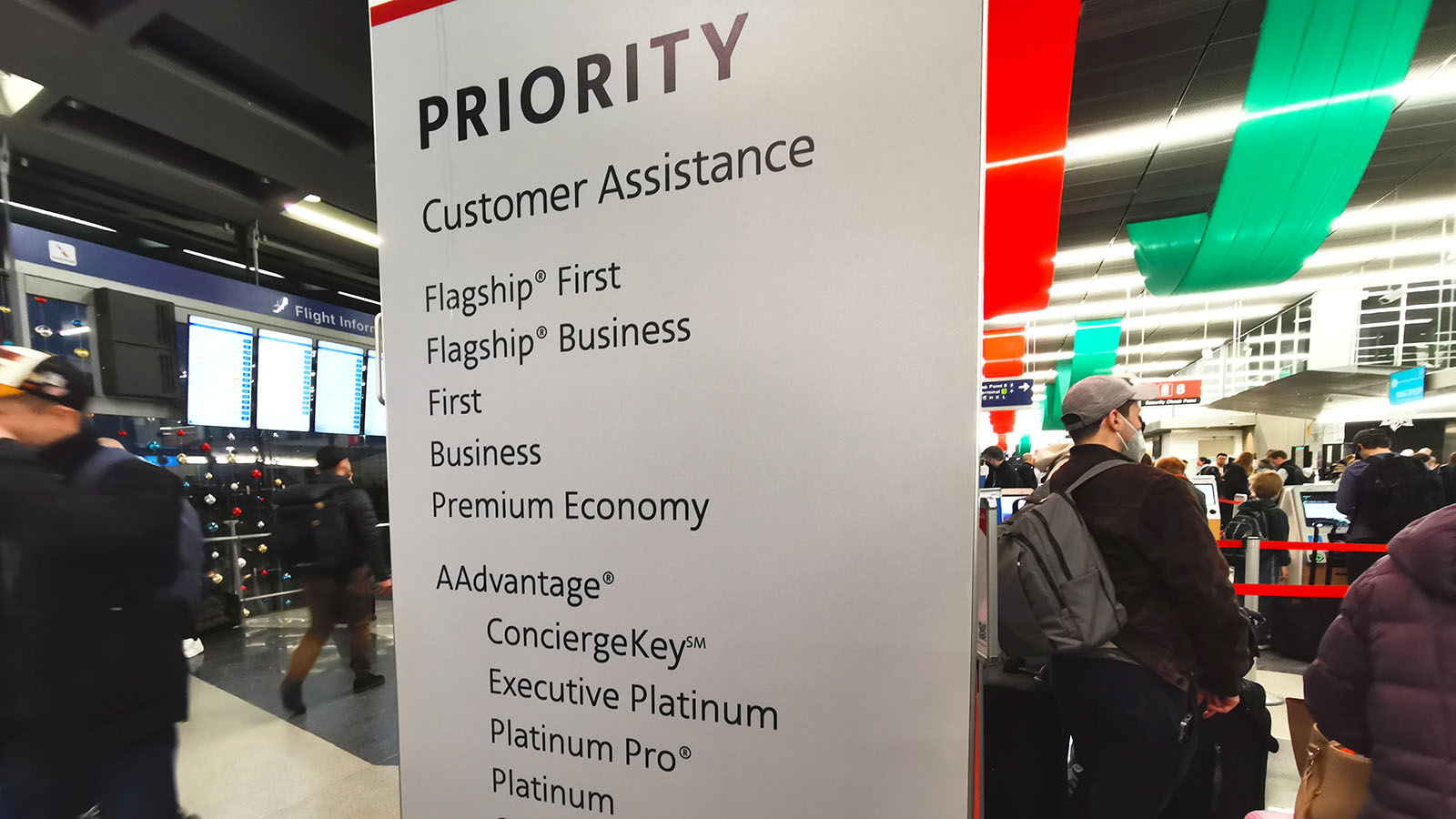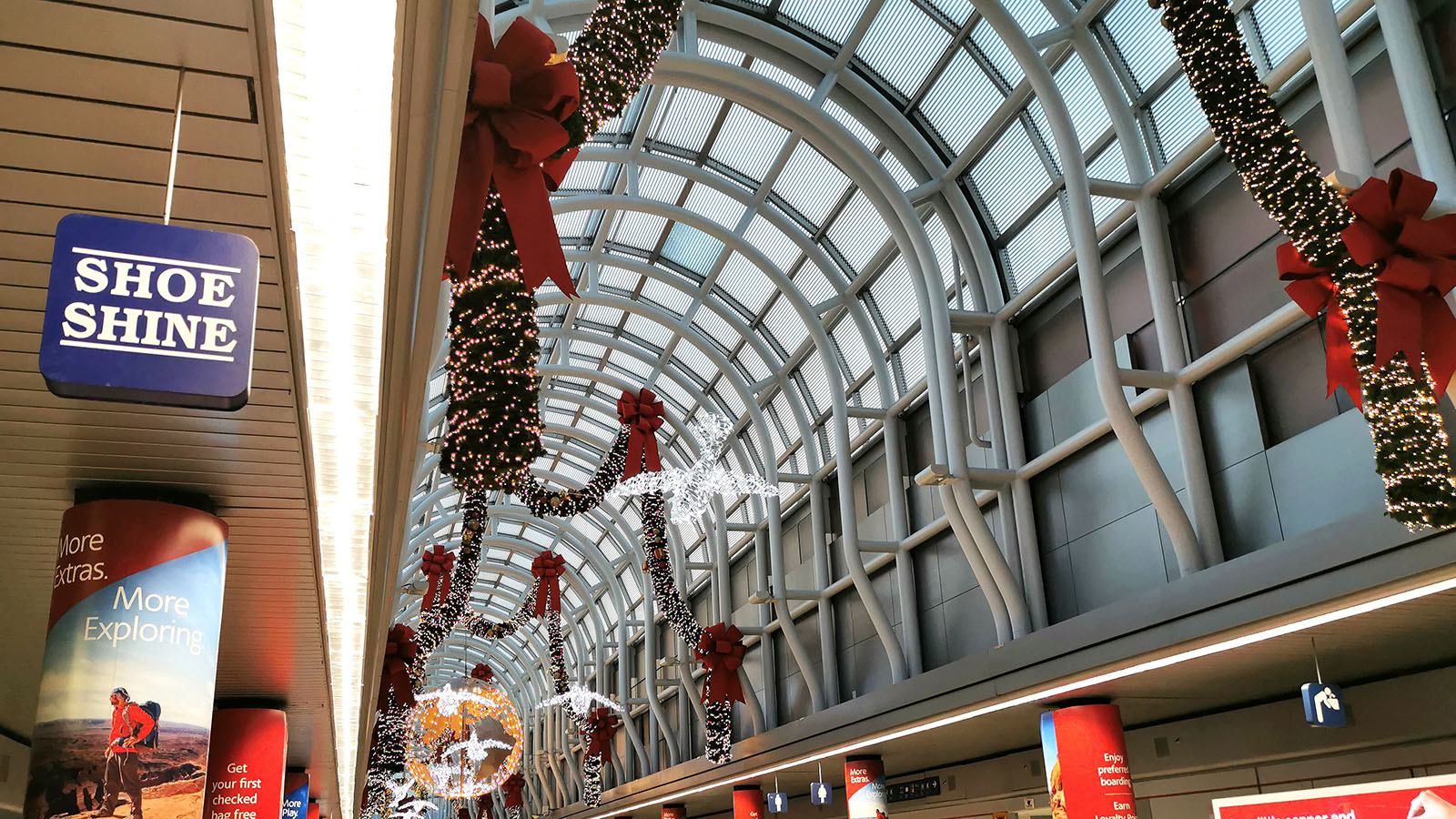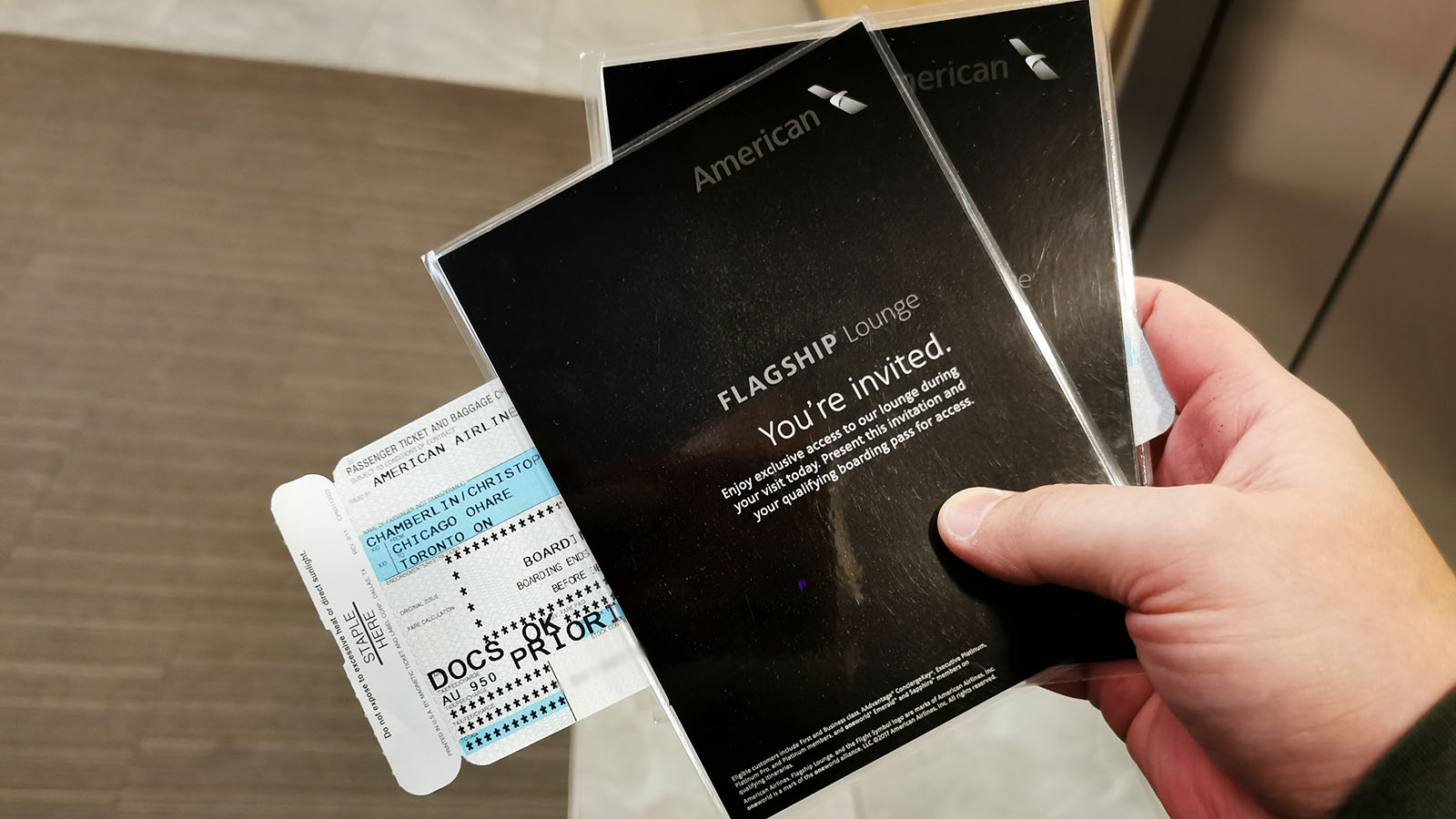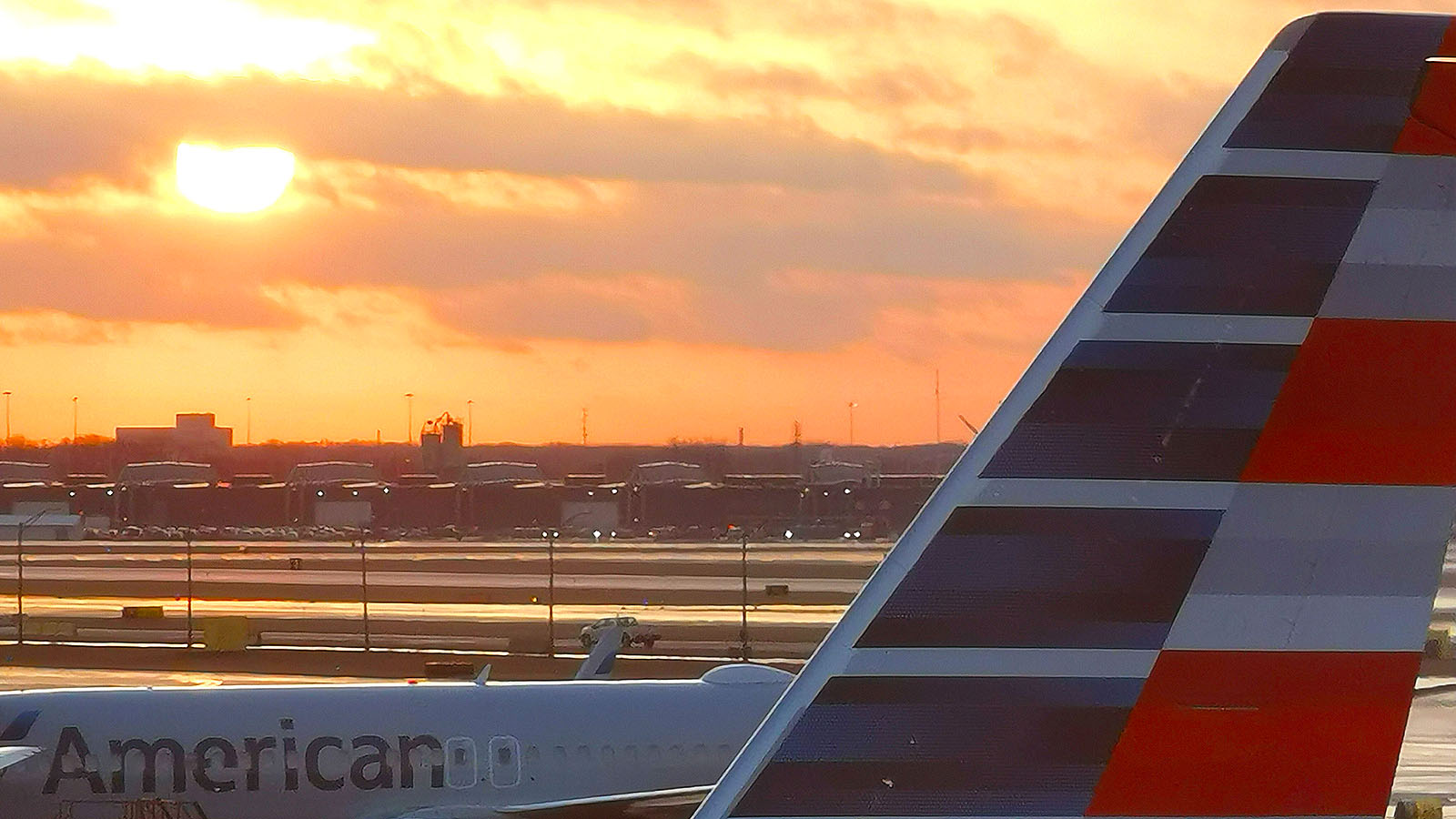 Here in Chicago, American Airlines' Flagship Lounge opens from 5 am each day, closing at 9 pm. This mirrors the nearby Admirals Club and caters for most eligible flights. Just be aware that AA doesn't typically keep its lounges open later into the evening if flights are delayed.
Lounge layout and seating
Some lounges divide the seating into clear zones. But at Chicago's Flagship Lounge, there's a mix of everything peppered throughout. I quite like this approach as it helps to space guests apart. It also avoids a bunfight for seats in certain areas. You're not constrained to a particular section just because you want to work, for instance.
From one end to the other, enjoy fantastic views of the airport. I've arrived for an early morning flight up to Toronto, which adds a lovely sunrise into the mix.
Looking to kick back? Take your pick. Want to work? There's a great bench along the window – or sit just about anywhere else and you'll still find power readily available. It's simple, but this layout is quite effective.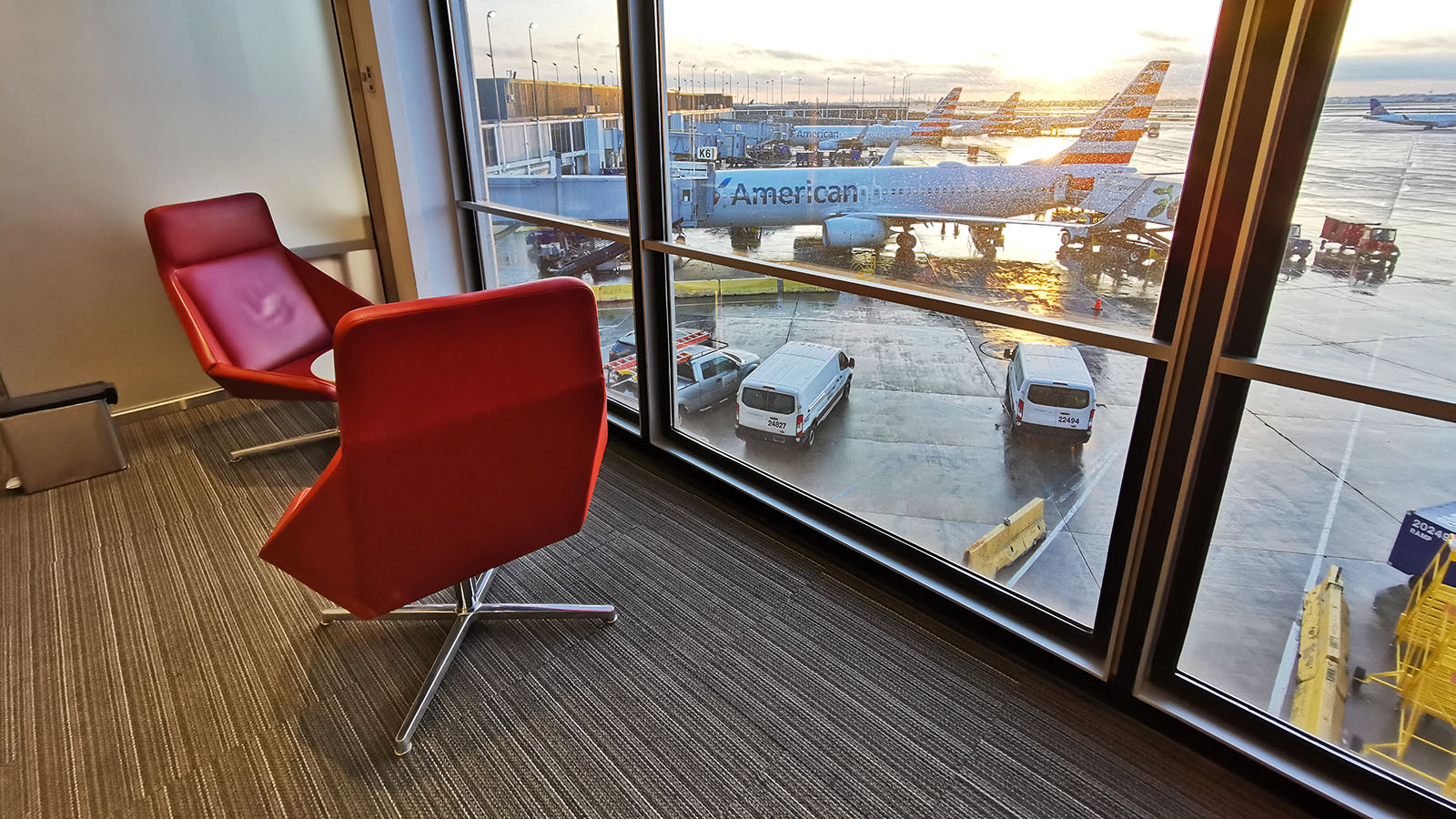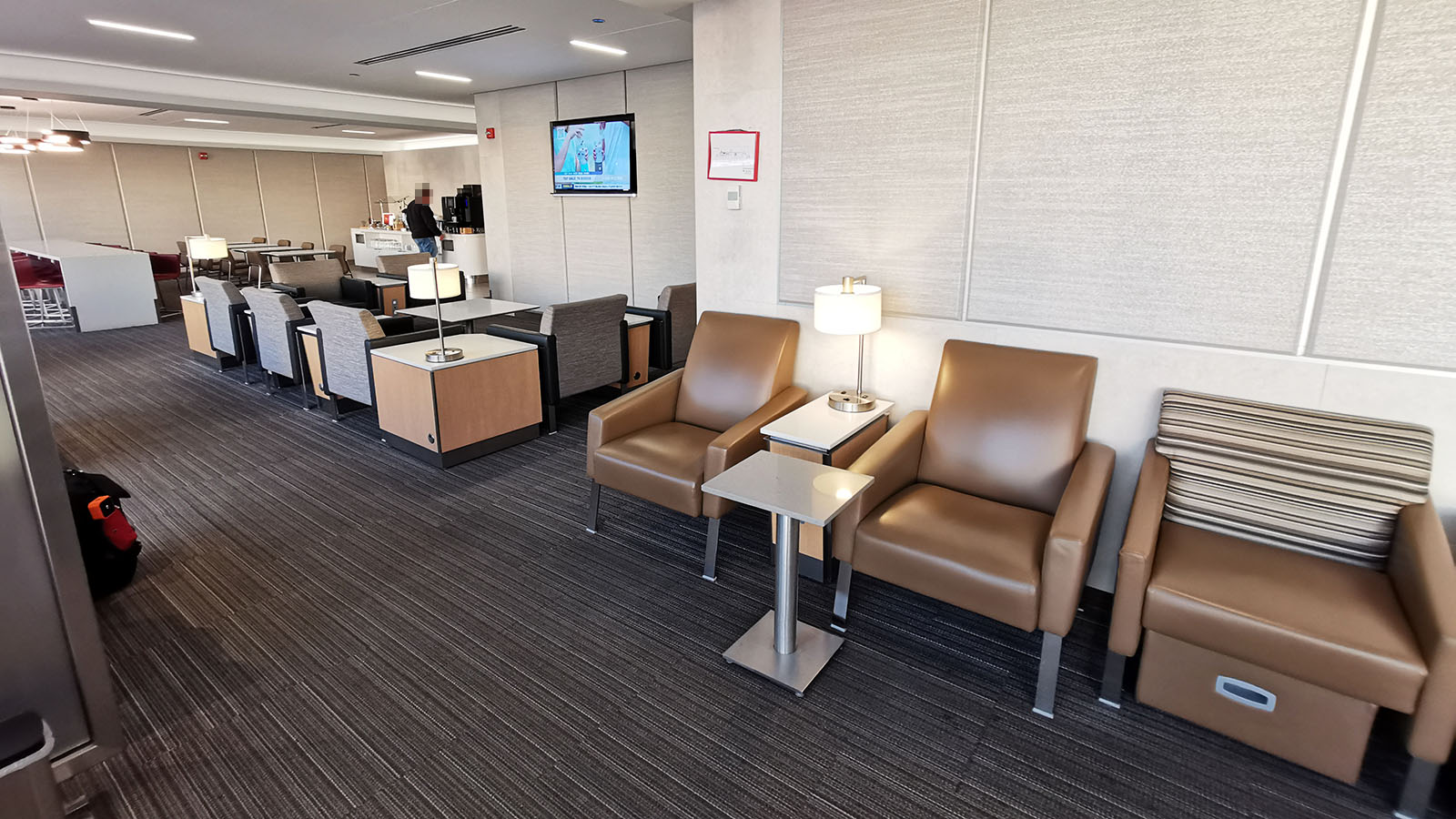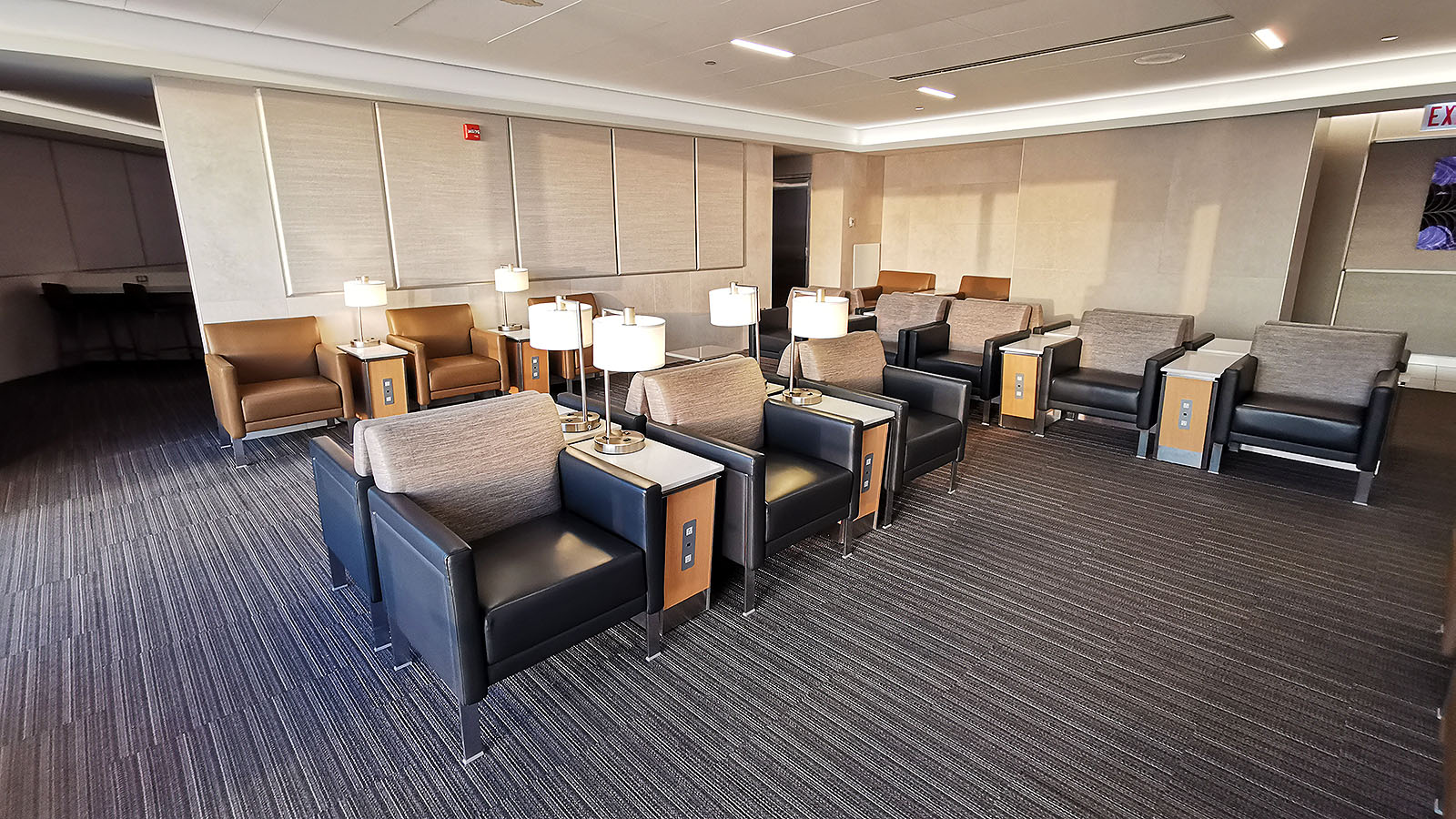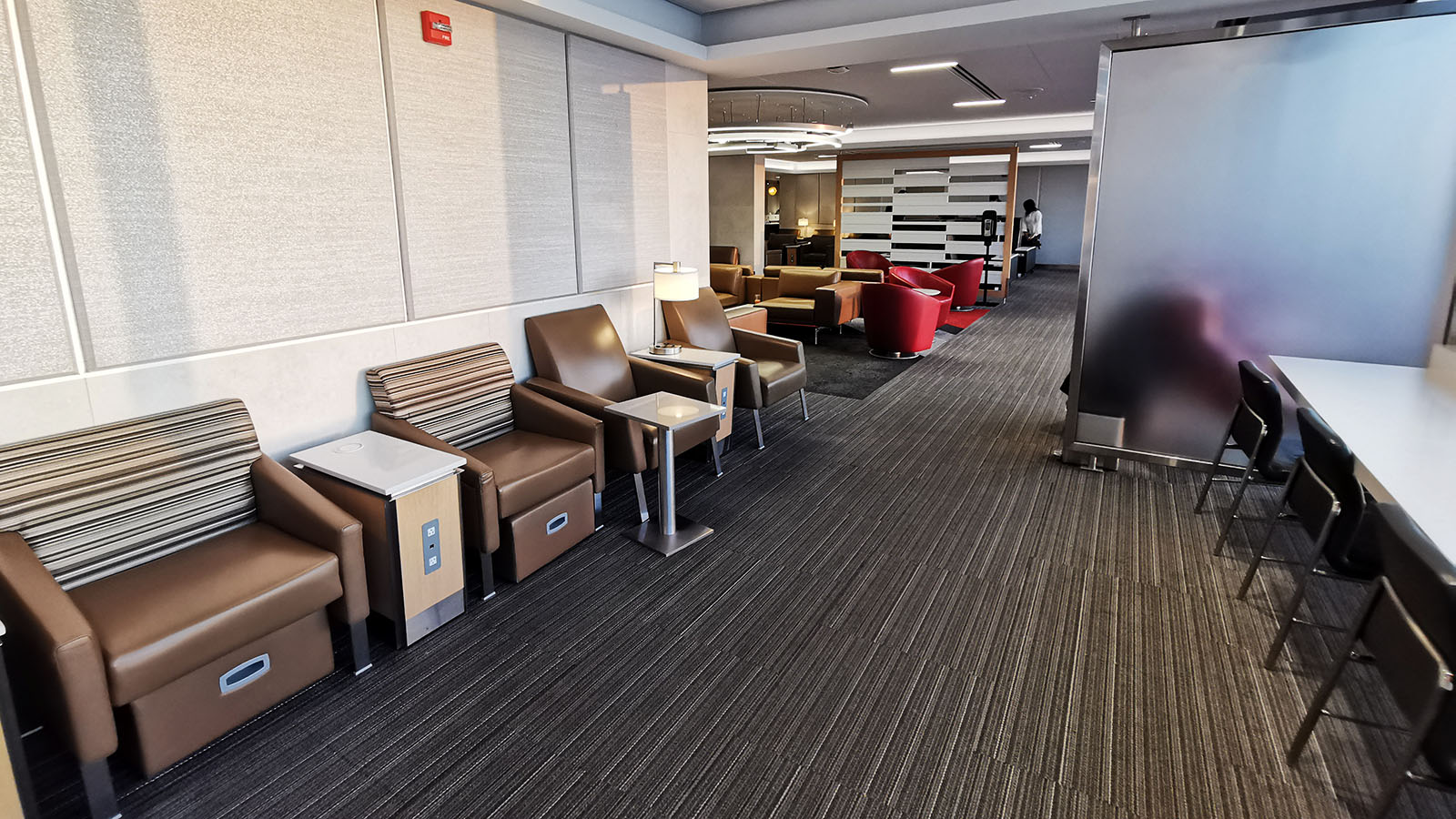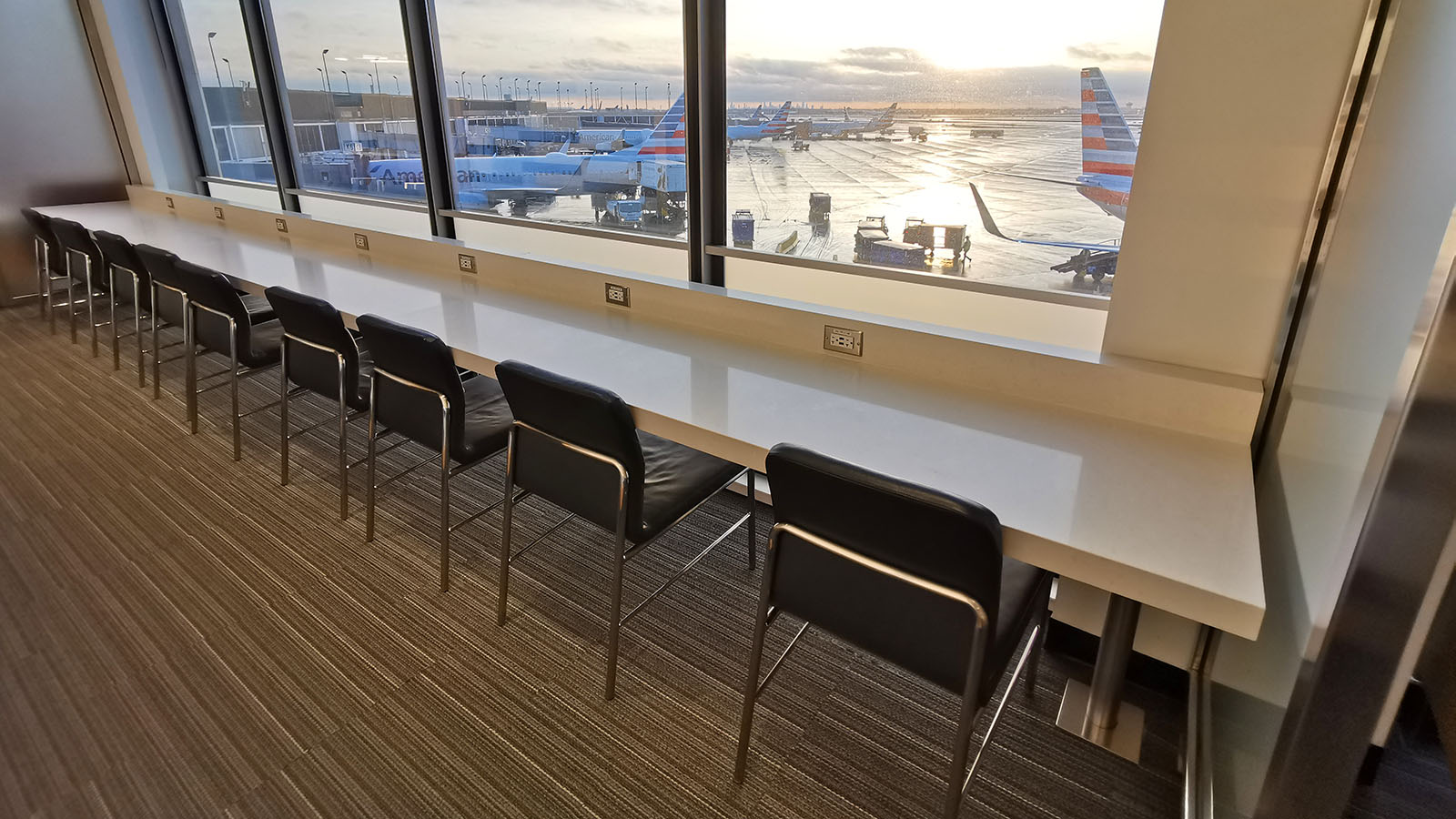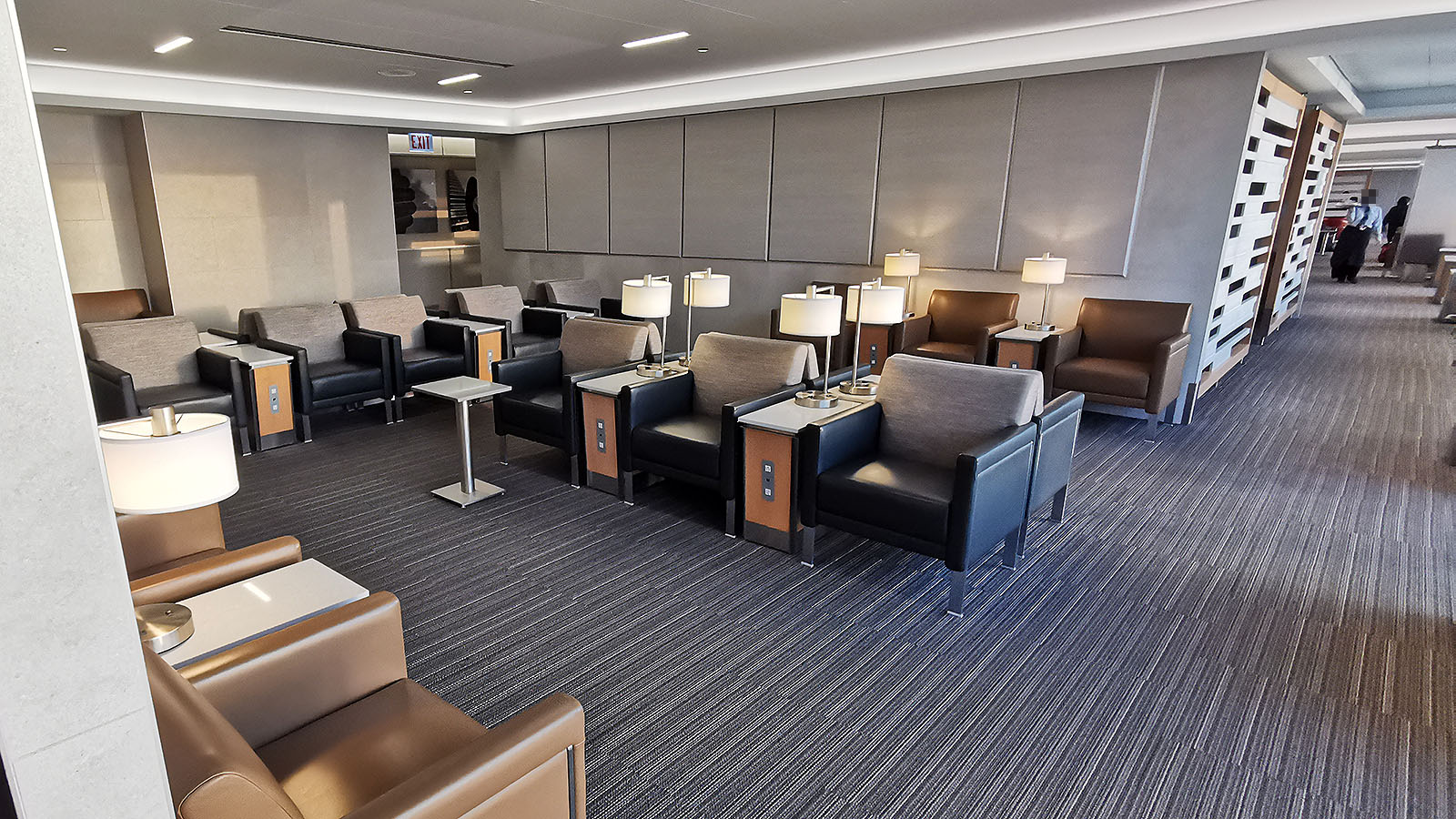 Best of all, it doesn't feel like one big room. Clever use of dividers and changes in theme help to give each section its own vibe.
Lounge amenities
One of the nooks bringing variety to the space is the 'quiet area'. While there are no formal rules posted at its entrance, its enclosed design is a clear suggestion to take any loud phone calls elsewhere.
I always appreciate peace and quiet in lounges – and here, you'll find no boarding announcements to interrupt your train of thought. But on this visit, the whole lounge felt like a quiet area. Despite being a weekday morning, there wasn't really any noise to escape. But during busier periods, this would be quite handy.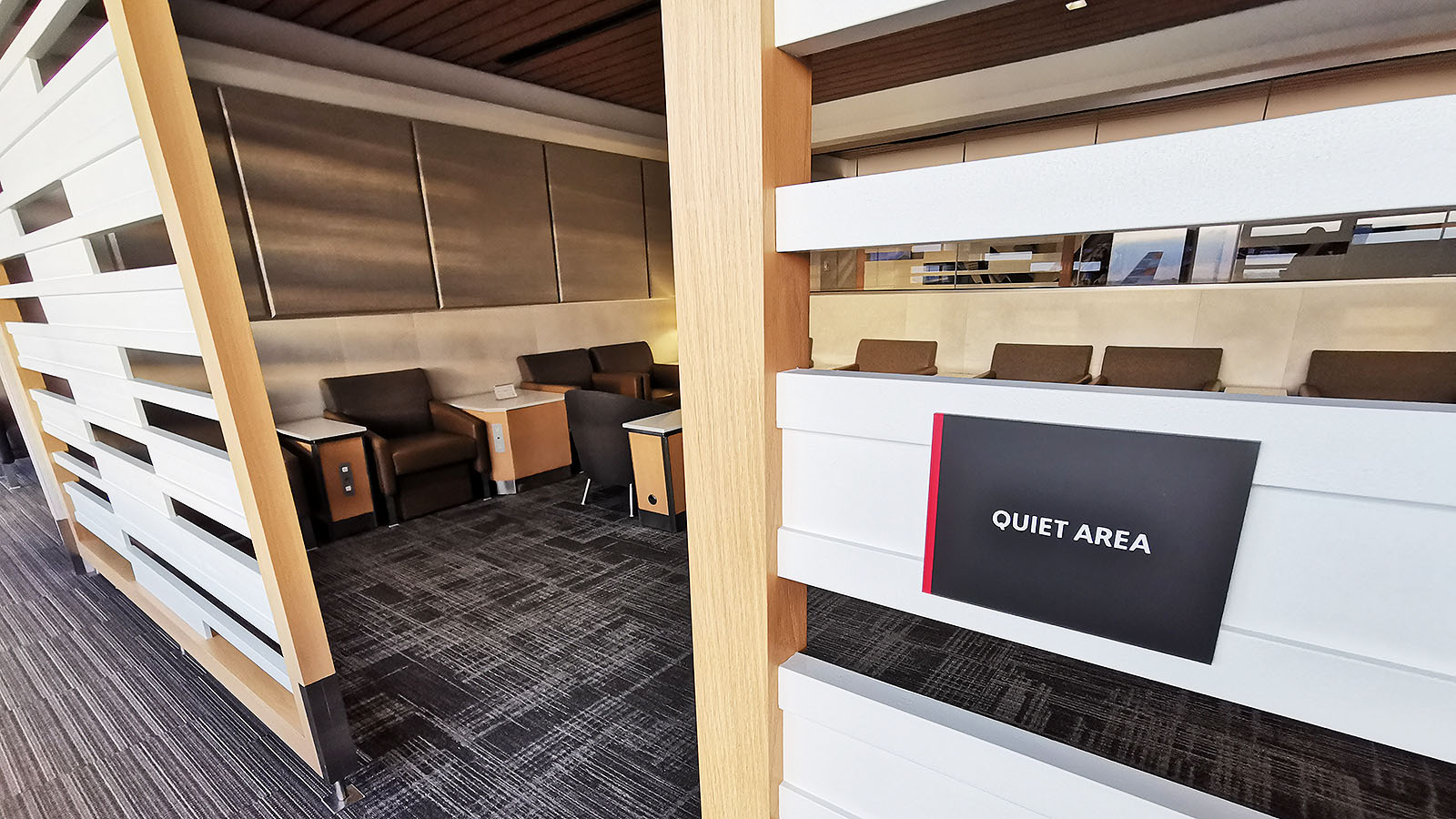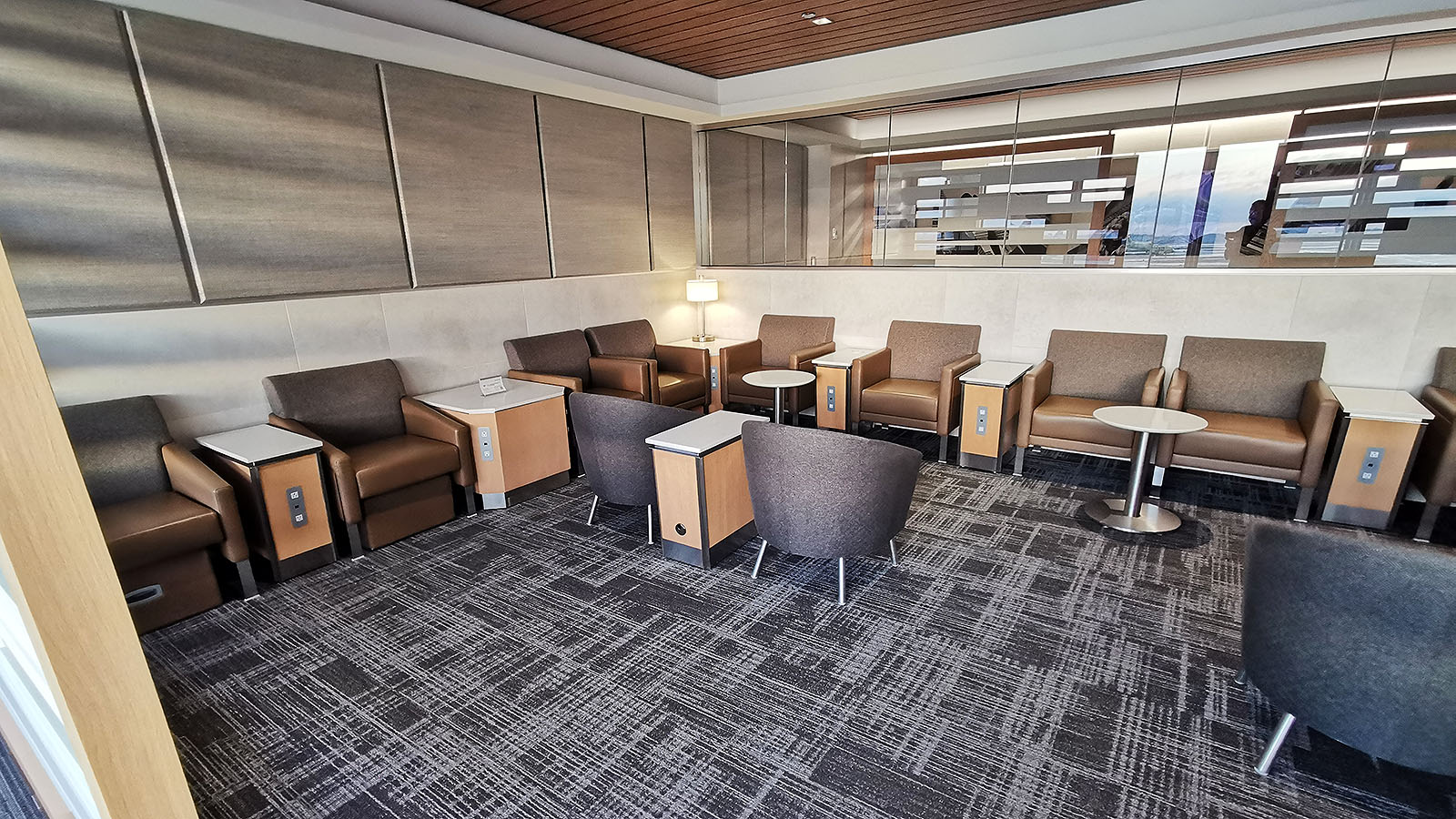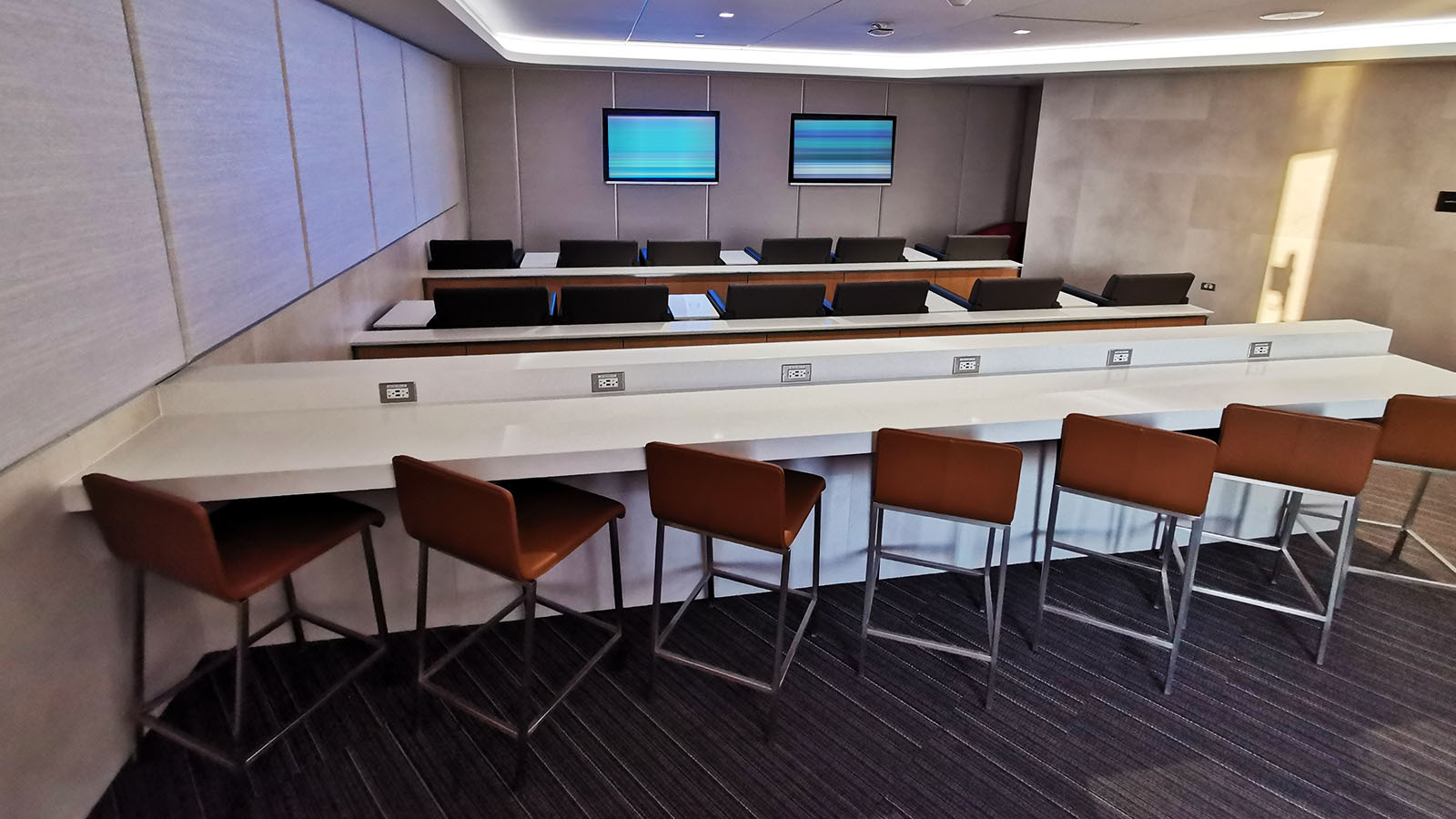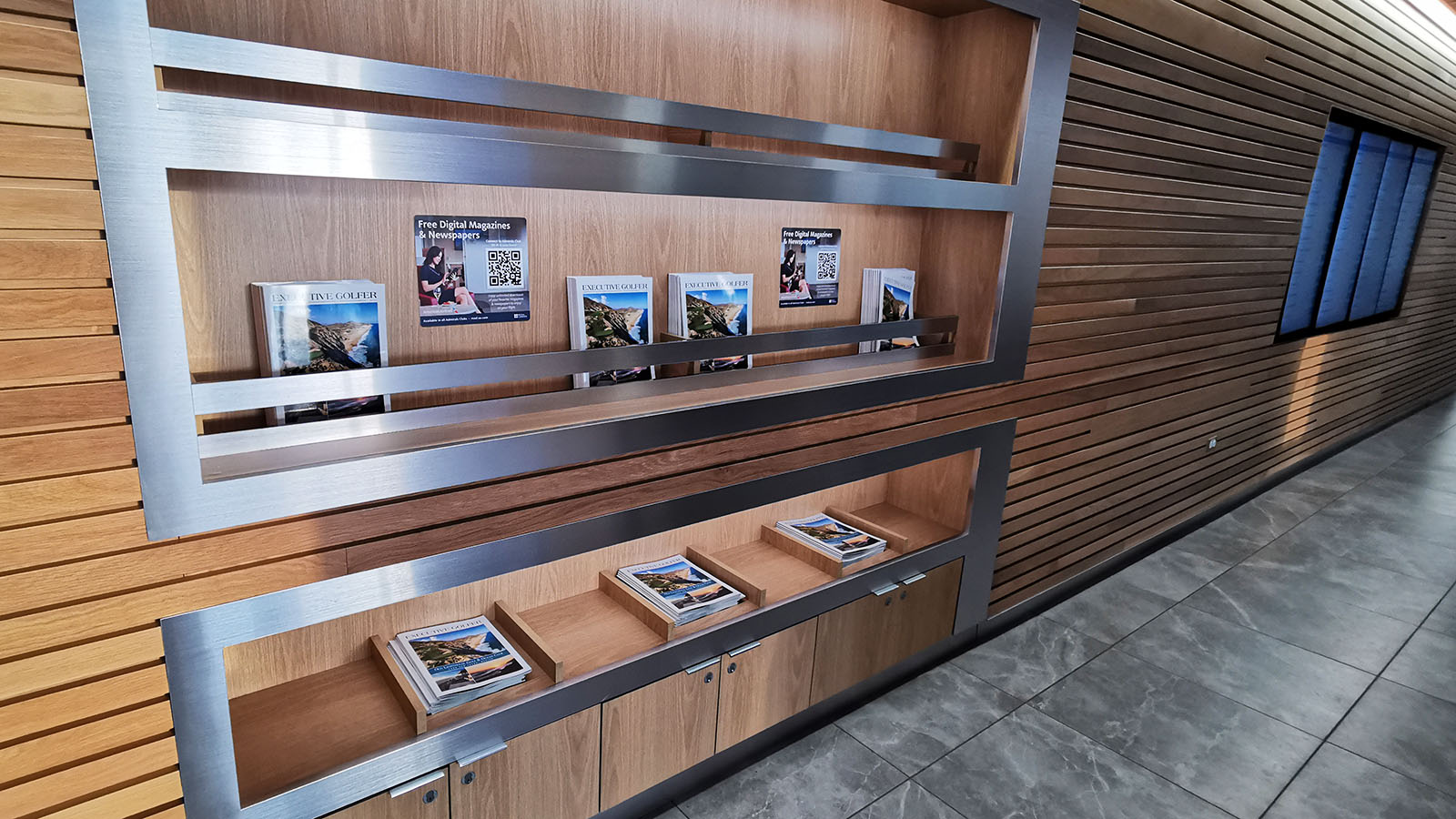 Away from the quiet zone is a TV nook. In fact, it's tucked away down at the far end of the lounge. It's certainly the place to go during the American NFL season. And if you can't make it to Arizona for this year's Super Bowl, there are worse places to watch it than in a lounge with free-pour Champagne.
Prefer a quieter activity? Chicago's Flagship Lounge has bountiful copies of the latest Executive Golfer magazine. But all other reading material is served electronically via QR code over the lounge's speedy Wi-Fi.
On-site restrooms and shower suites are available too.
Food and beverage in the American Airlines Flagship Lounge, Chicago O'Hare
I'm just a few steps inside Chicago's Flagship Lounge – not even at my seat – when an attendant enthusiastically offers a welcome glass of Champagne. Ahh, this is my kind of lounge! It doesn't matter that I'm on a short regional flight: and one booked for a mere US$5.60 thanks to Qantas Points, mind you. Here, everybody gets the 'Flagship' treatment. Bliss.
I'm not normally one to mix orange juice with true Champagne (Piper-Heidsieck Brut NV). But given it's 7:30 am, I made an exception – requesting a mimosa and toasting to what was still an international journey.
After that, it's coffee time. I appreciate that the lounge has an espresso machine – a step up from standard filtered coffee. But given the premium tilt taken by the Flagship Lounge, a barista counter would be a welcome improvement.
There's still a full open bar, even in the mornings – but not something I plan to utilise at this hour. Later in the day, a go-to of mine is the Aviation Gin and tonic – also served at the Dallas/Fort Worth Flagship Lounge. Champagne is abundant if you're so inclined: you're not limited only to that glass on arrival.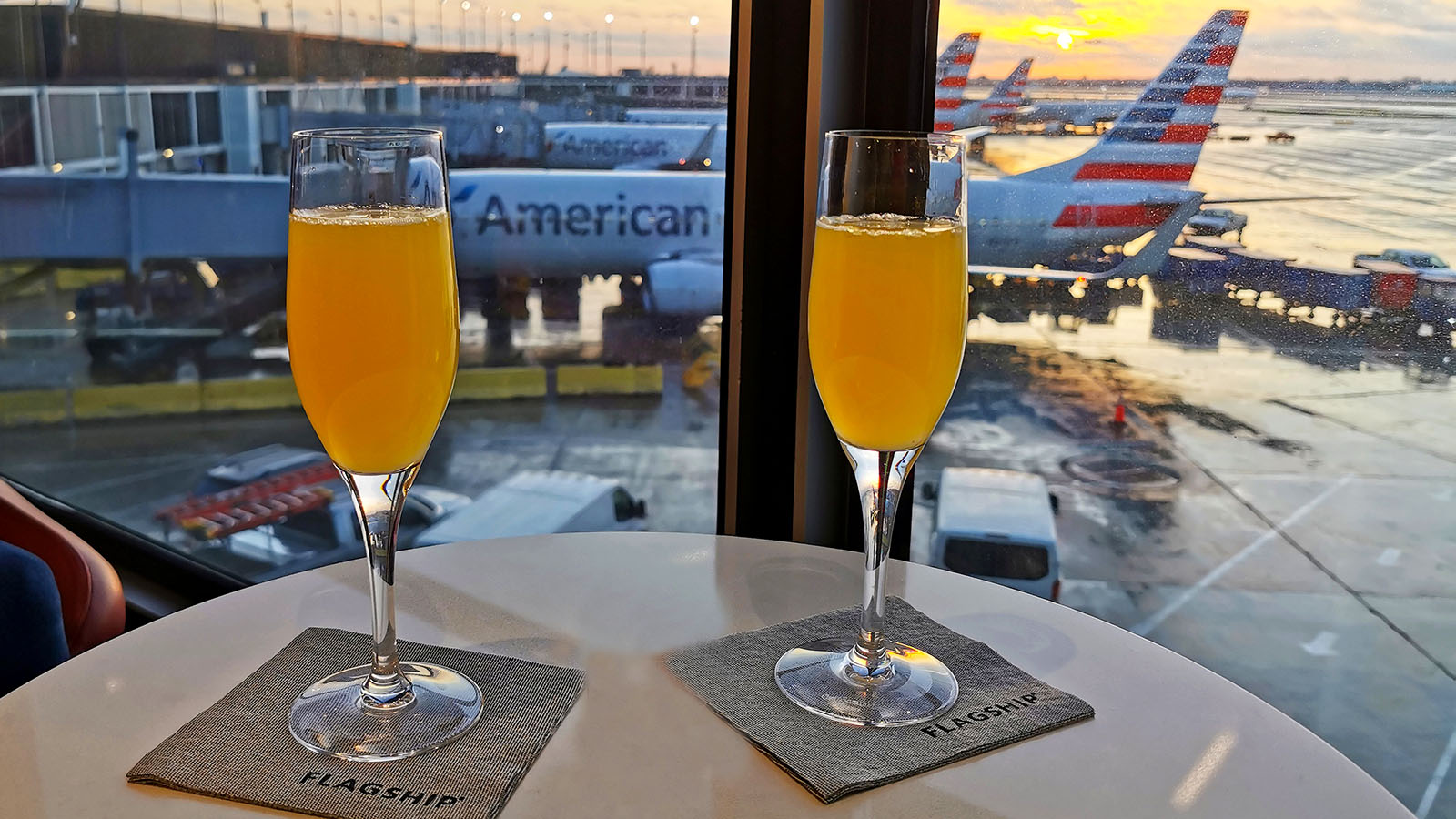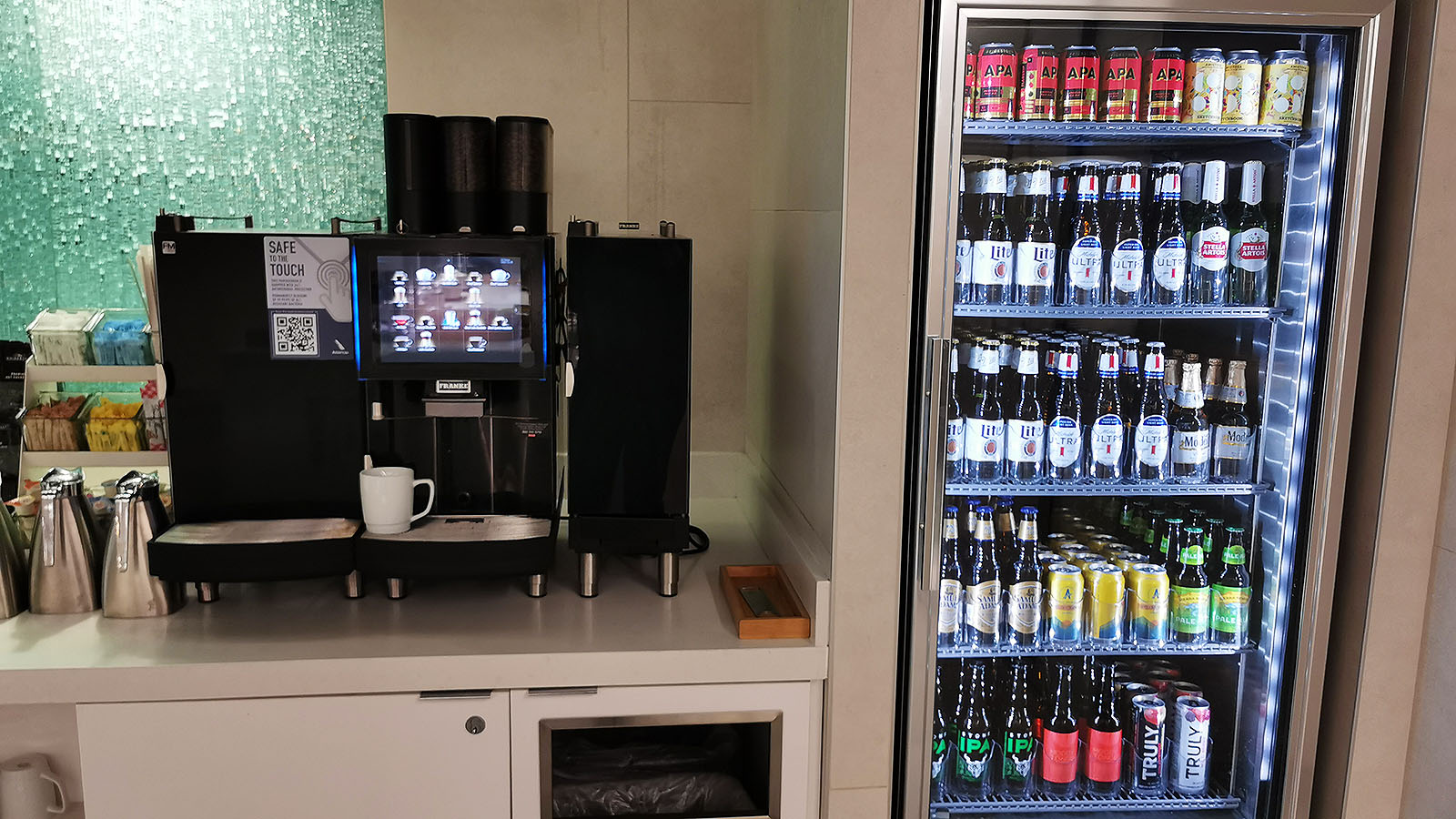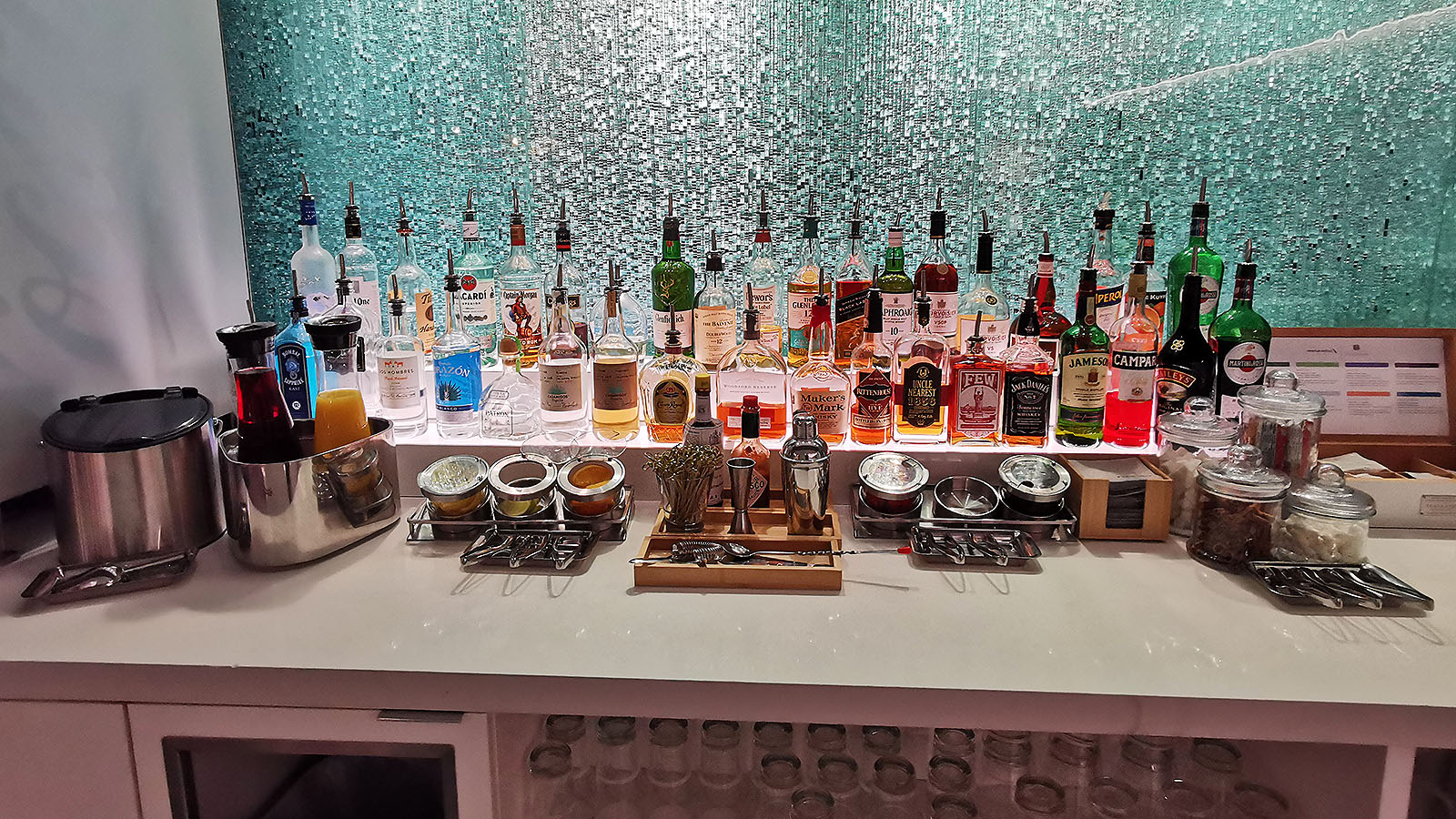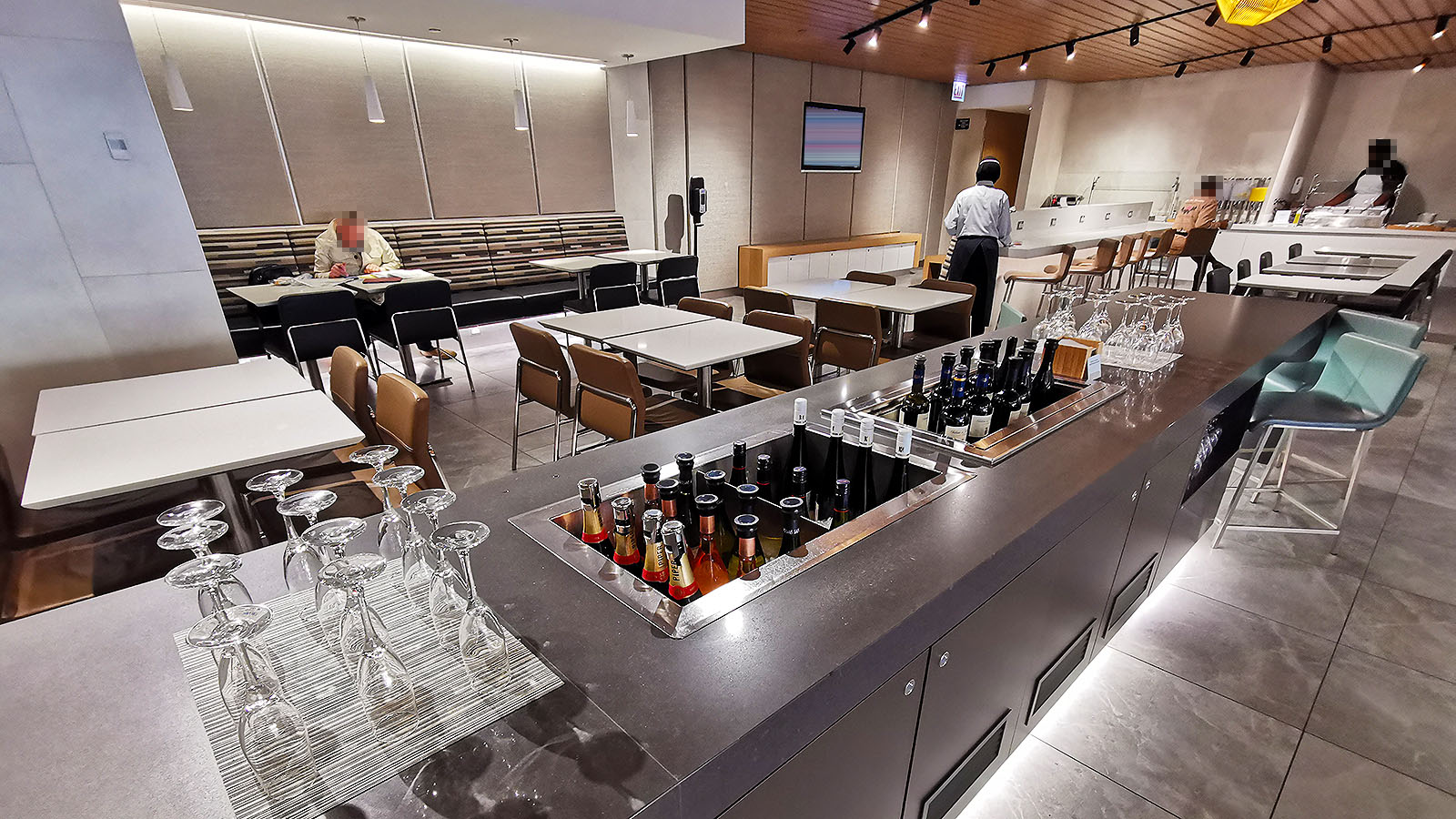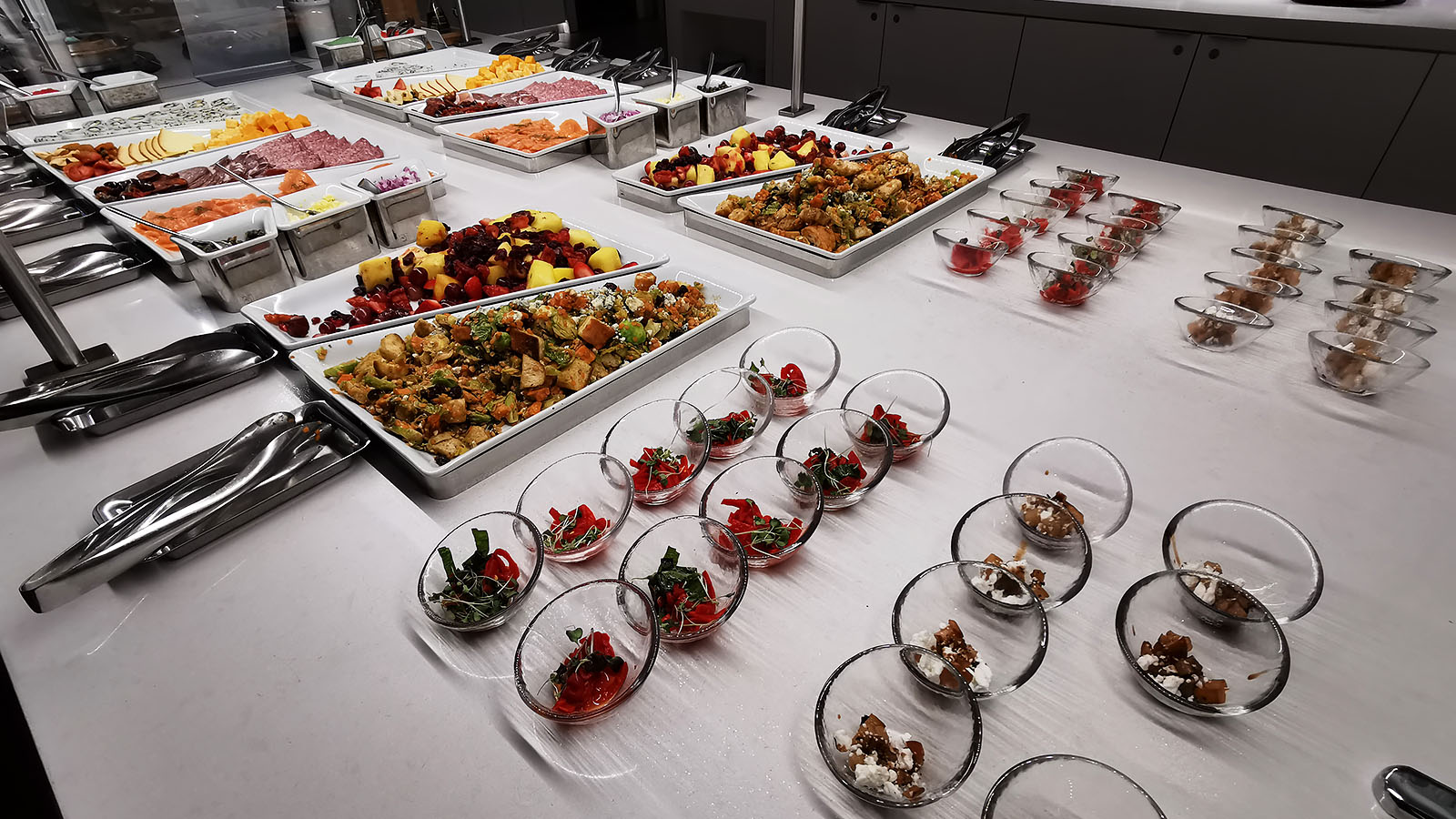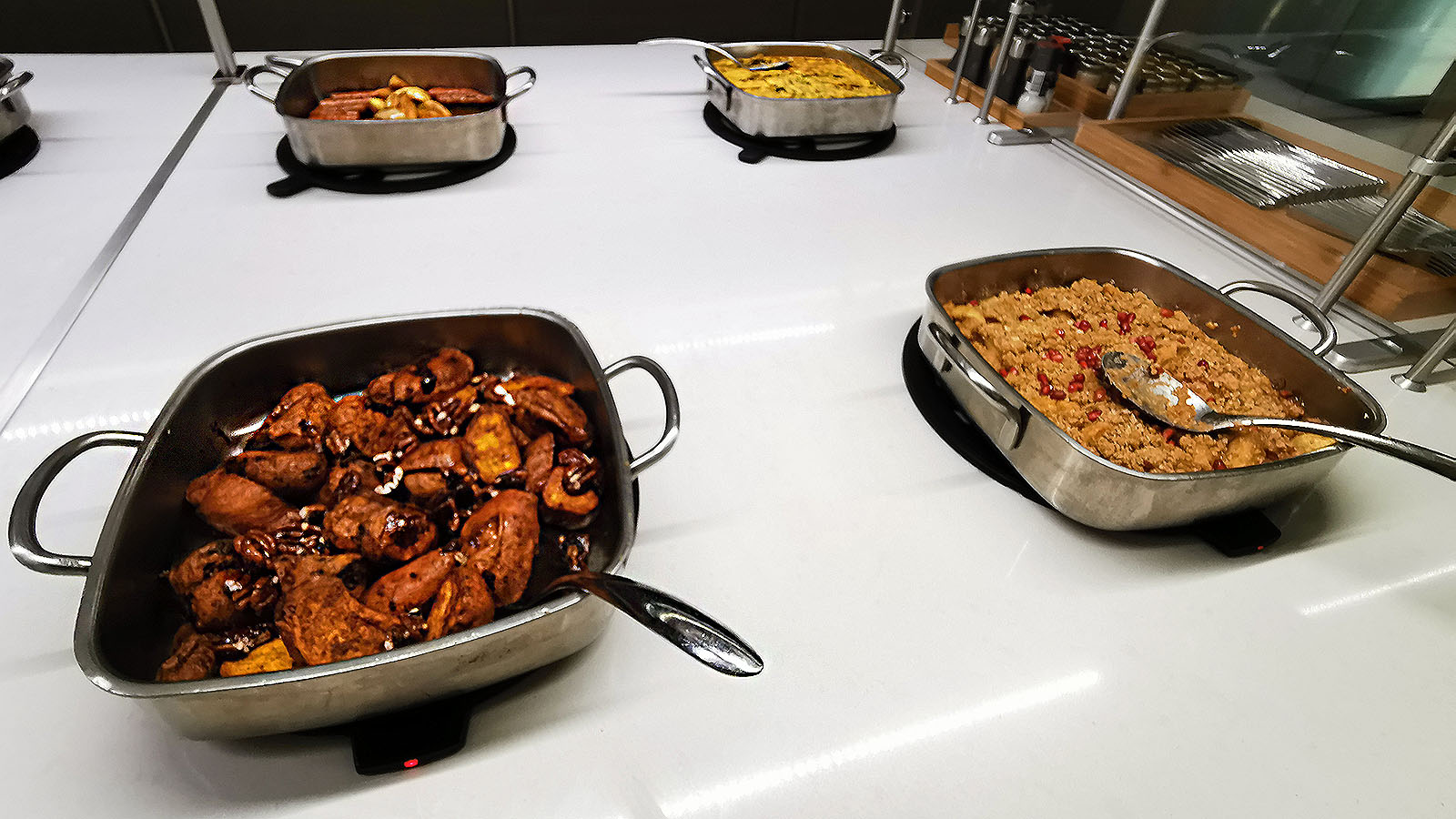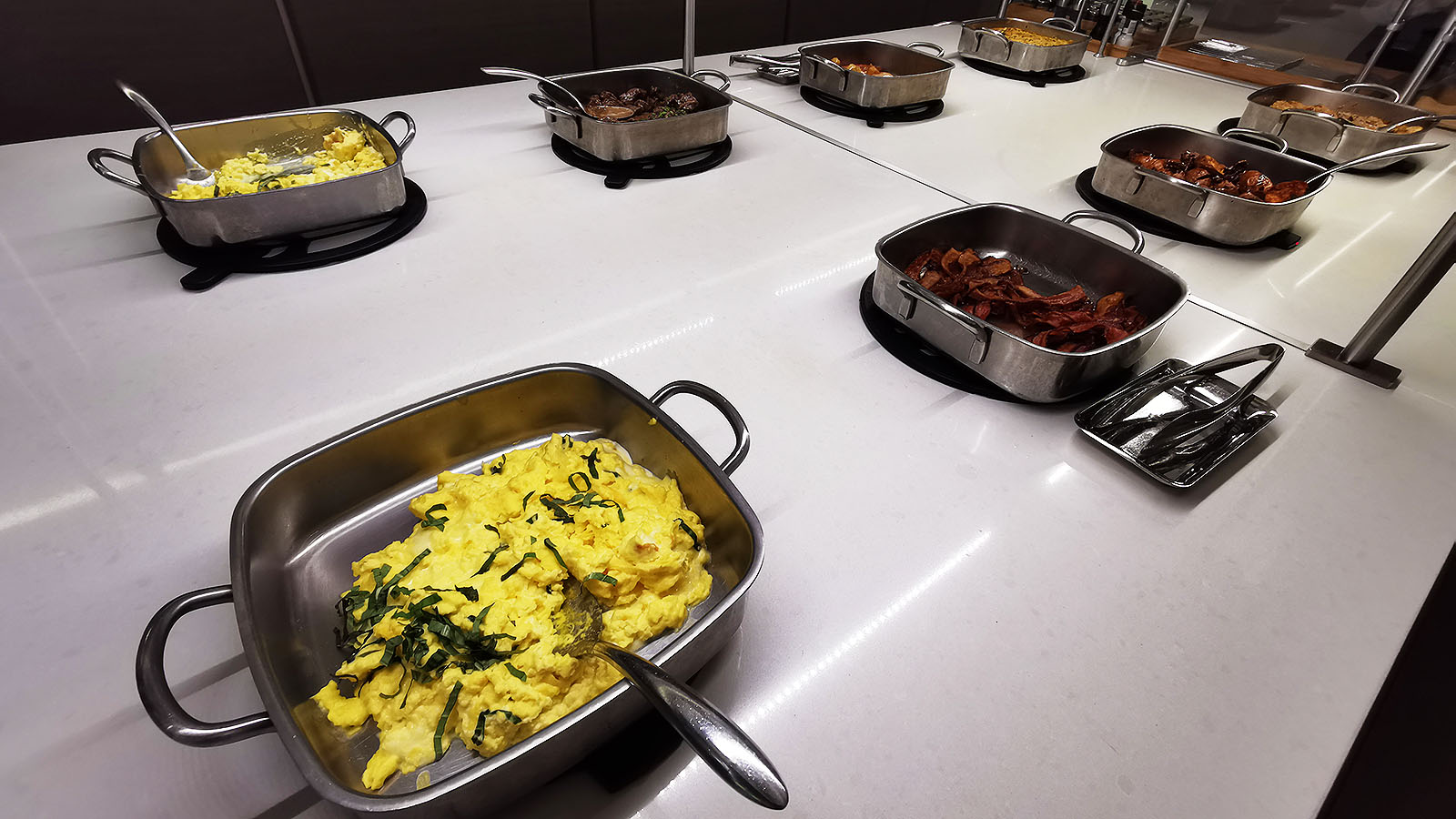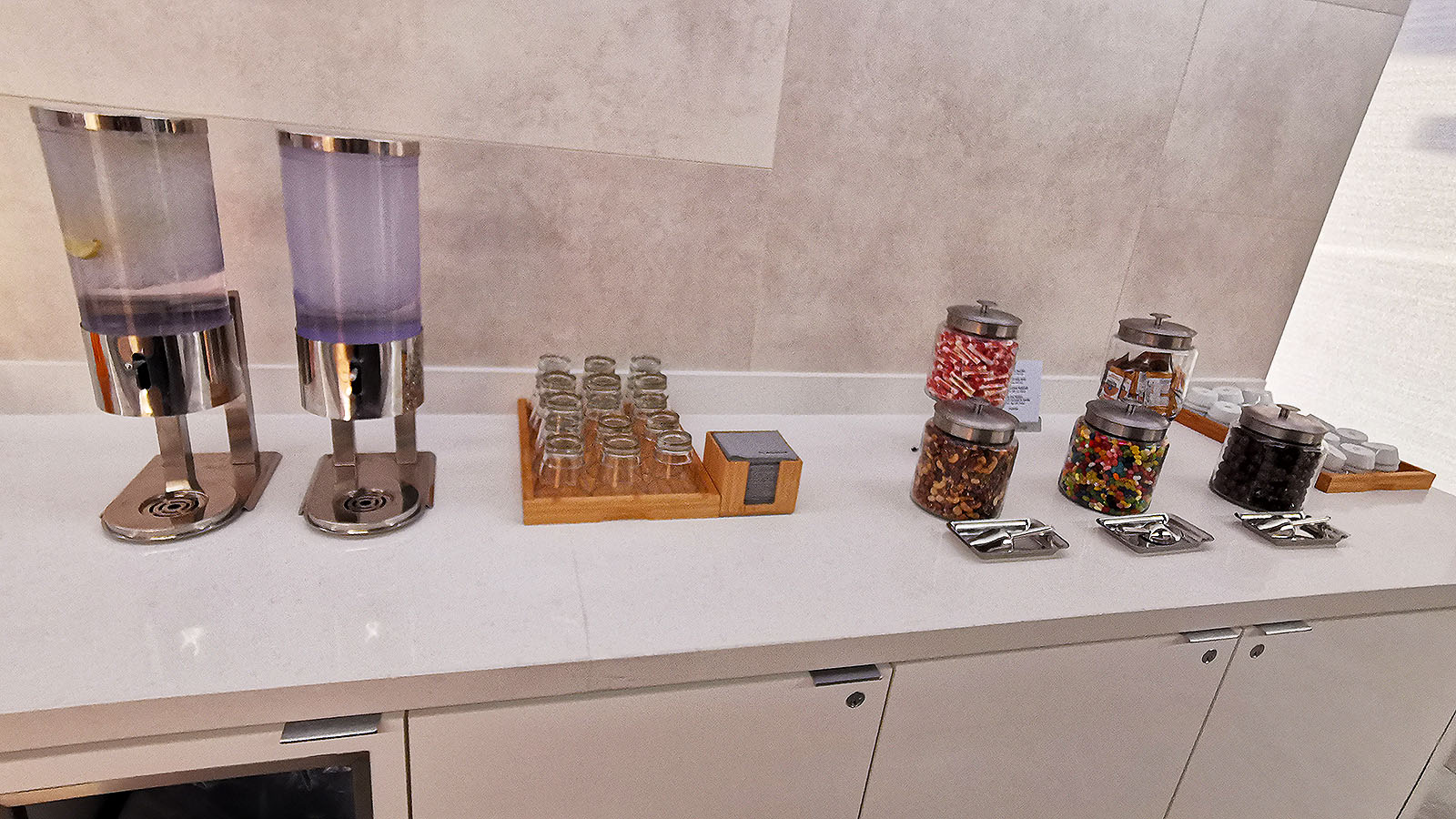 On the food front, I needn't (and shouldn't!) have eaten breakfast at the hotel. There's an egg chef on standby for omelettes and the like. If you're in a hurry, scrambled eggs are also found at the buffet. So too are other hot options such as baked tomatoes, sweet potatoes and tasty sausages.
If you're angling more towards brunch, there's plenty of fresh salad to go around. You'll also find cheese and accompaniments, meats including salami and salmon, and of course, toasted muesli. Note to self, arrive on an empty stomach next time.
Unlike the Flagship lounges in Dallas, Los Angeles and Miami, Chicago isn't home to a separate Flagship First Dining facility.
Accessing the American Airlines Flagship Lounge, Chicago O'Hare
Here's who qualifies for the Flagship Lounge at Chicago O'Hare:
By airline and cabin:

American Airlines' Flagship Business, Flagship Business Plus and Flagship First passengers (+1 guest for international Flagship First only).
Business Class and First Class passengers on other oneworld Alliance long-haul flights (+1 guest for international First Class only).

Courtesy of airline frequent flyer status:

Qantas Gold, Platinum, Platinum One and Chairman's Lounge (+1 guest, prior to AA and other oneworld flights, including on domestic itineraries).
American Airlines AAdvantage Platinum, Platinum Pro and Executive Platinum (+1 guest, but only when booked on an eligible international itinerary with AA or a oneworld airline).
Alaska Airlines Mileage Plan MVP Gold and MVP Gold 75K (+1 guest – again, only when travelling on an eligible international itinerary with AA, Alaska Airlines or another oneworld carrier).
American Airlines ConciergeKey (+2 guests, when travelling on any same-day flight with American Airlines or another oneworld carrier).
Other oneworld Sapphire and Emerald members (+1 guest, including on domestic itineraries).

Buy a single visit pass: If you don't otherwise make the cut, one-off access can be purchased at the door for US$150 or 15,000 AAdvantage miles. This is subject to available capacity.
As you'll see from above, the Flagship Lounge isn't really designed for passengers taking short flights. But if you have invitation-only status with American Airlines, or eligible status with one of its partners, you're welcome to visit all the same.
Note that Qantas Club membership doesn't grant access to the Flagship Lounge. Instead, American Airlines' Admirals Club lounges await – and there are several at Chicago O'Hare. These welcome Qantas Club cardholders before all American Airlines flights, regardless of destination. Travel can be on an AA flight number or a QF codeshare.
Summing up
In photos alone, American Airlines' Flagship Lounge in Chicago might seem rather muted – and dare I say, boring. After all, it's a space with seats, seats and more seats.
But there's a real vibe here. And it's one you truly appreciate after making your way through the incredibly busy concourses below. Keep in mind, Chicago O'Hare is a busier airport than LAX, New York JFK and even Dubai. O'Hare's terminals are huge, the piers are plentiful and long, and people are everywhere.
Most others are scurrying off to their gate or racing to make their connection. Some are fortunate to have standard Admirals Club access. But in the lofty heights of the American Airlines Flagship Lounge, it's tranquil bliss. Here, you're well away from all that chaos.
When it's finally time to board, stroll straight to the gate and down the priority lane. That is, unless you're a ConciergeKey member, like Ryan Bingham from Up in the Air. In which case, there's a golf buggy on reserve to whisk you straight there. It's a tough life, for some.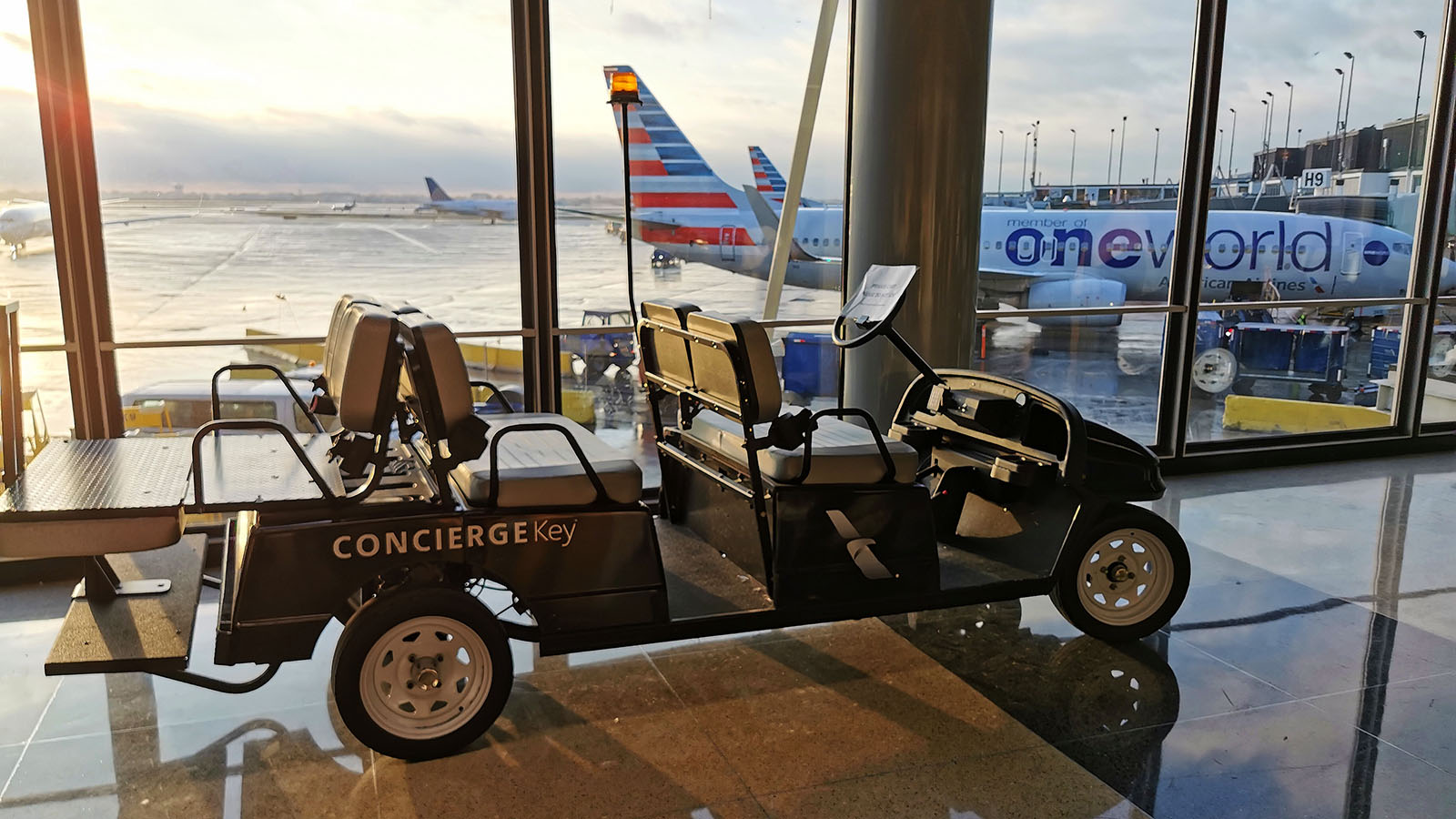 For Australian travellers, at least there's a solid lounge ready and waiting at O'Hare for Qantas' Chicago-Brisbane flights. Hopefully, they take wing sooner rather than later – making this lounge a regular haunt for many repeat Roo flyers.
Also reviewed: American Airlines Flagship Lounge, Dallas/Fort Worth
All photography by Chris Chamberlin, who accessed the lounge courtesy of frequent flyer status when travelling at his own expense.
---
Stay up to date with the latest news, reviews and guides by subscribing to Point Hacks' email newsletter.
American Airlines Flagship Lounge, Chicago O'Hare
was last modified:
February 8th, 2023
by