Just arrived at LAX? If you're a Qantas Club member connecting onwards with American Airlines, the Los Angeles Admirals Club will be your next port of call. Complete with airport views, showers, buffet dining and a separate user-pays menu offering even greater variety, there's a lot to look forward to here in Terminal 4.
That said, this location can be very busy – and isn't quite as modern as some of AA's other, remodelled Admirals Club lounges. Here's a look at how the experience shapes up at LAX T4.
Location, layout and seating
American Airlines offers four lounges at LAX. But you could say that this location is effectively AA's 'main' Admirals Club in Los Angeles. It resides in T4 – the home of many key AA flights. T4 is also right next door to the Tom Bradley International Terminal (TBIT), into which Qantas and AA flights arrive from Australia.
In other words, unless you go out of your way to find a different Admirals Club, this is likely where you'll end up. You'll spot the entrance after security, along the Terminal 4 concourse. Somewhat ironically, the entrance is adjacent to a very large 'exit' sign overhead, so don't make that mistake. It's also next door to AA's separate Flagship Lounge.
Once inside, the space appears to resemble one long hall. But if you go exploring, there are more rooms and areas to uncover.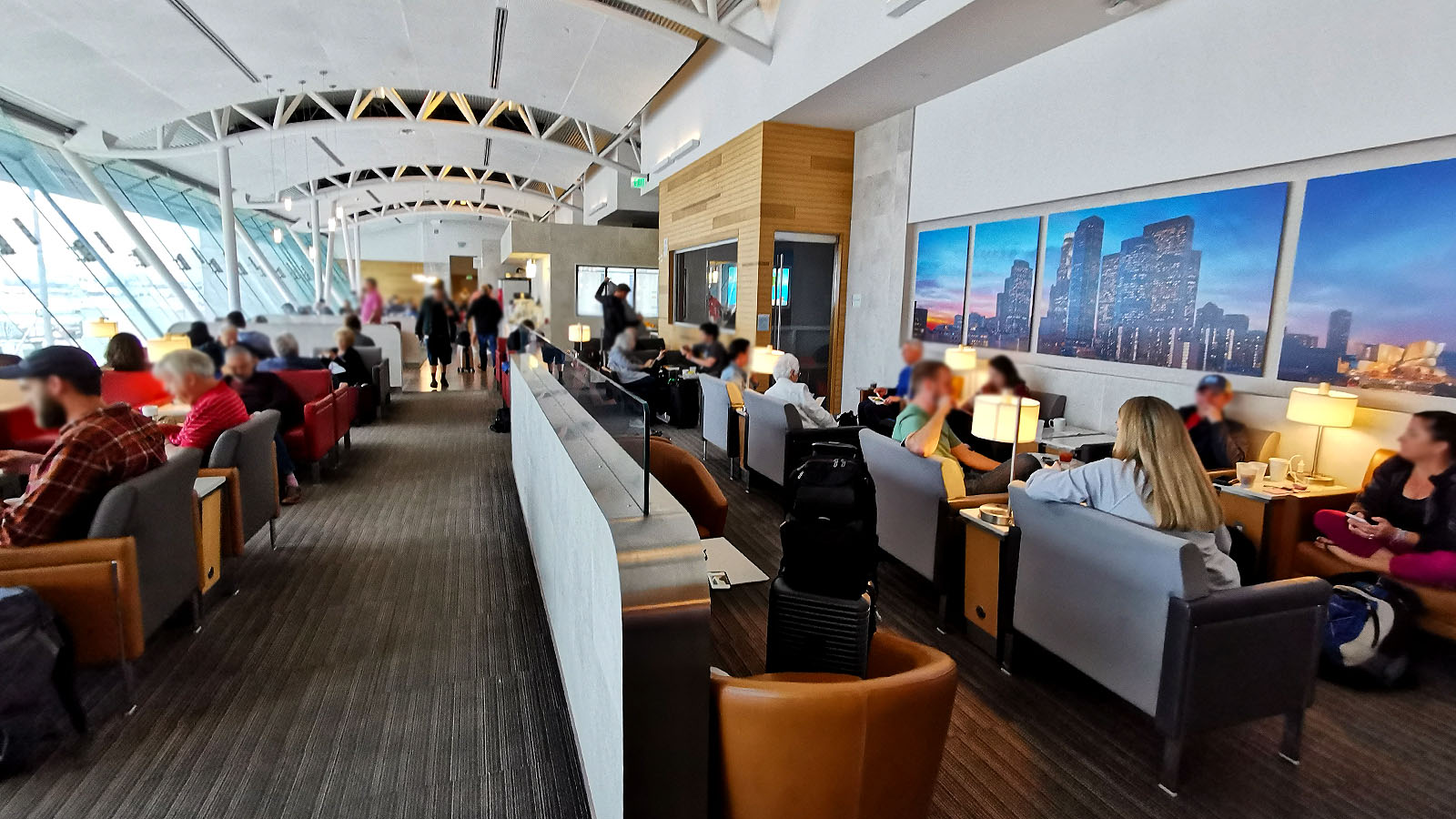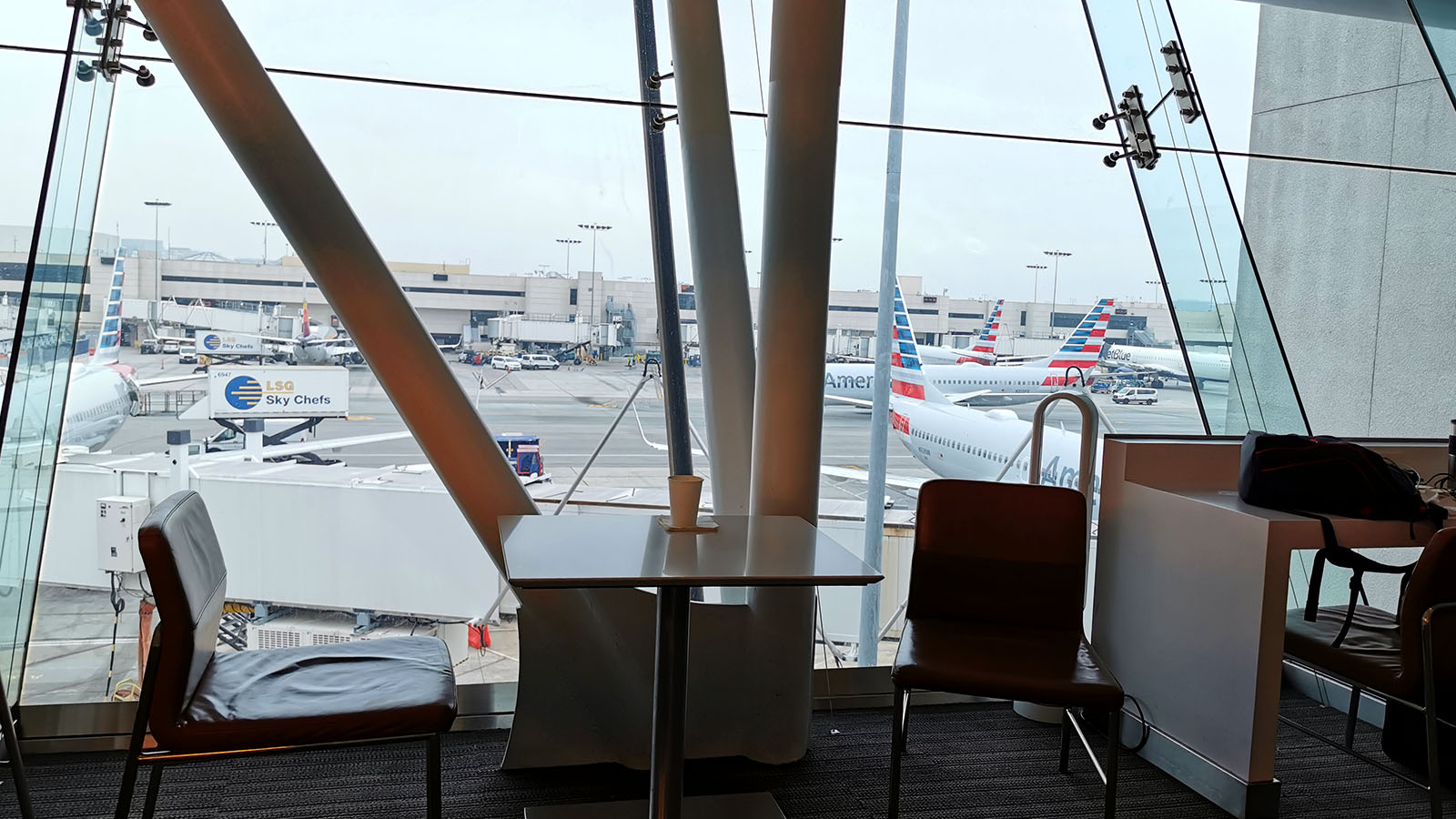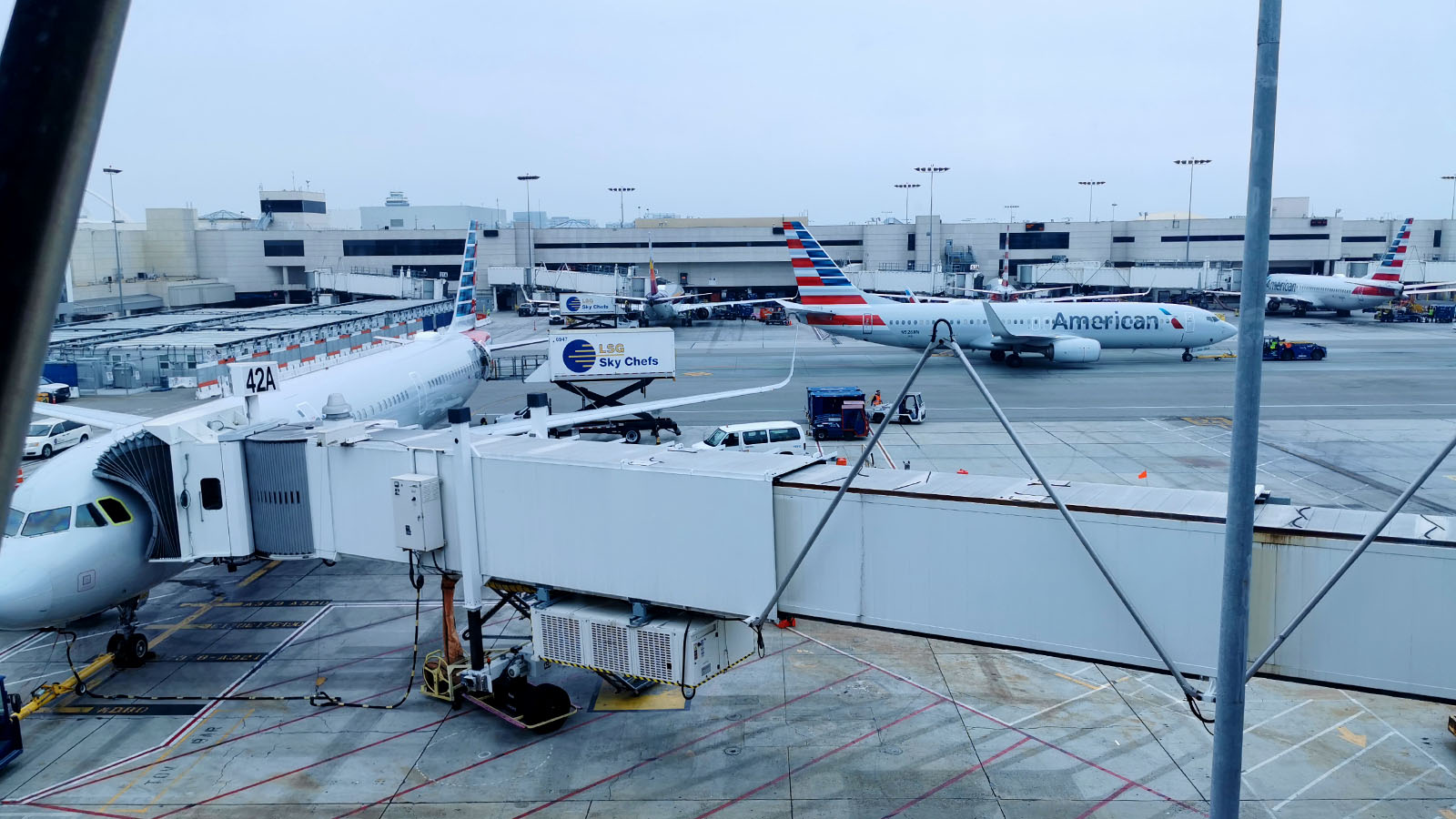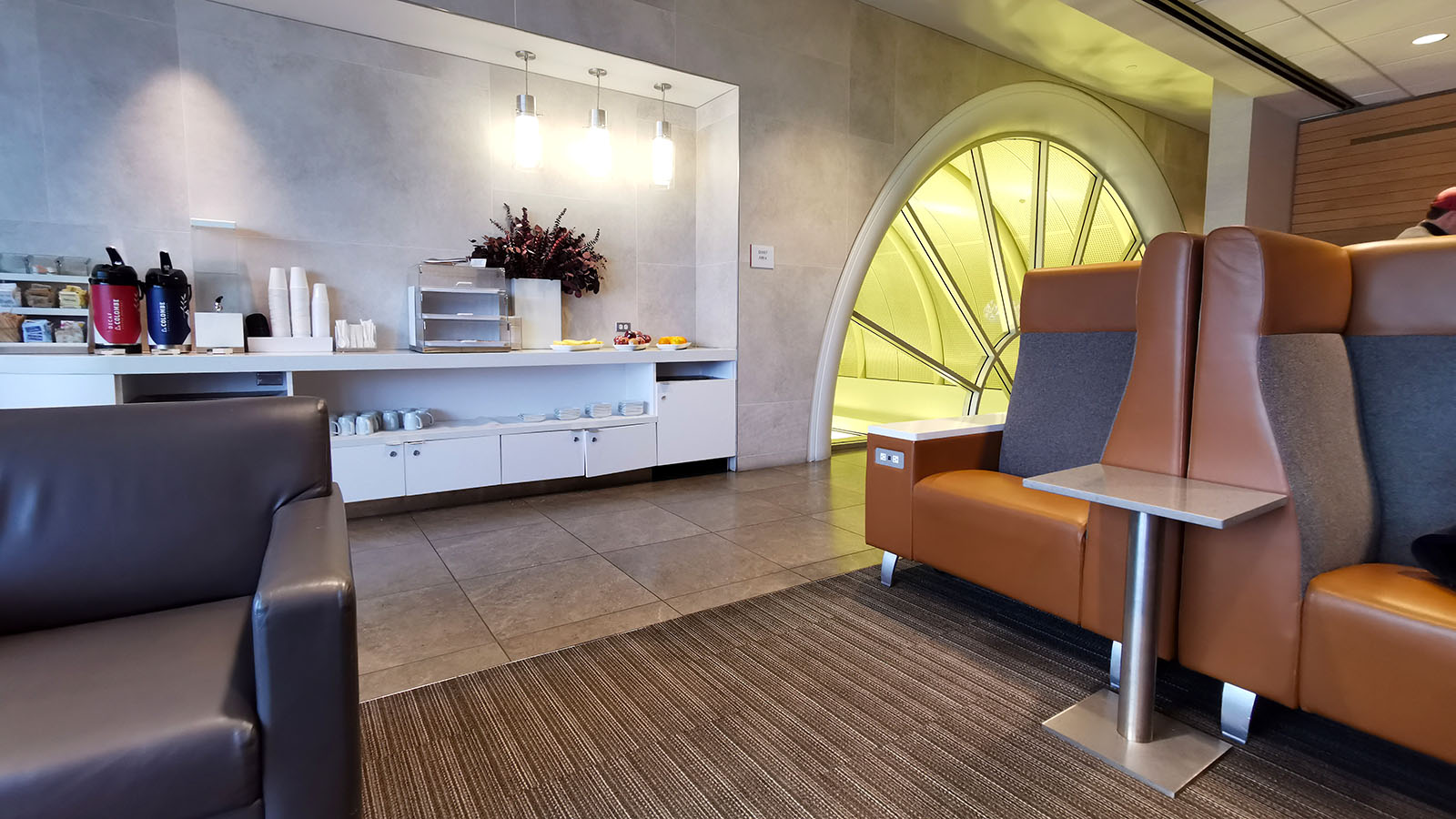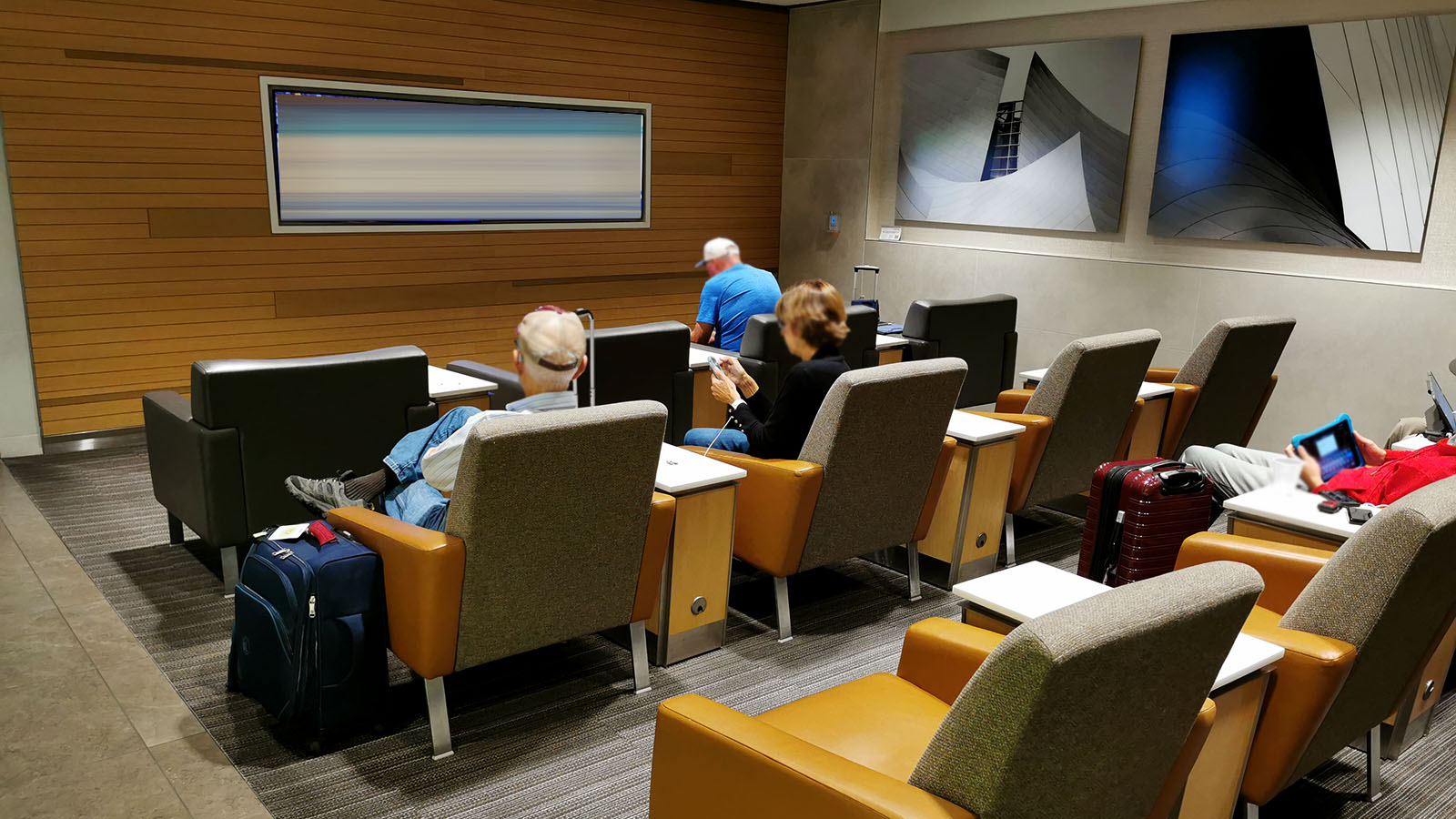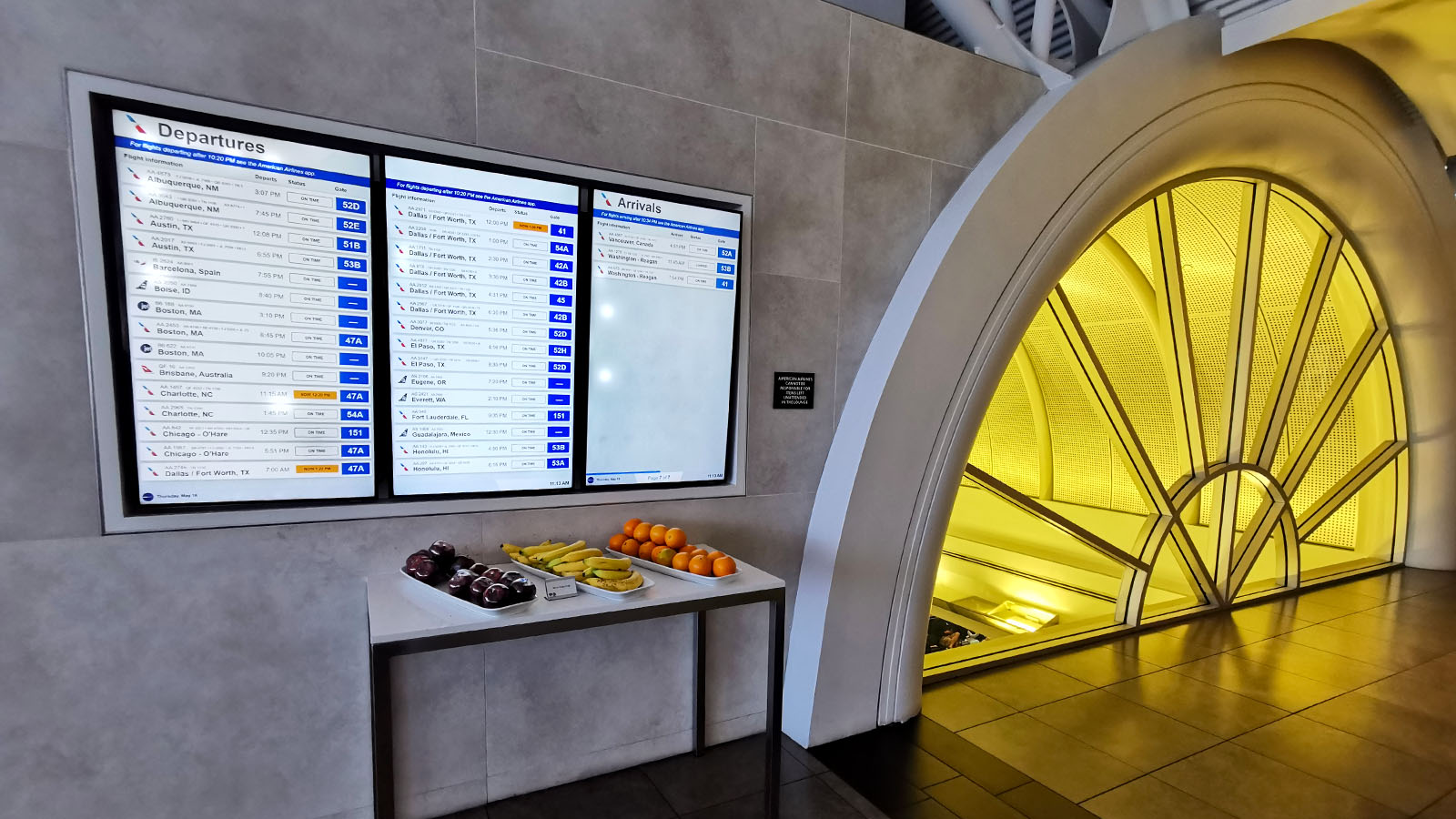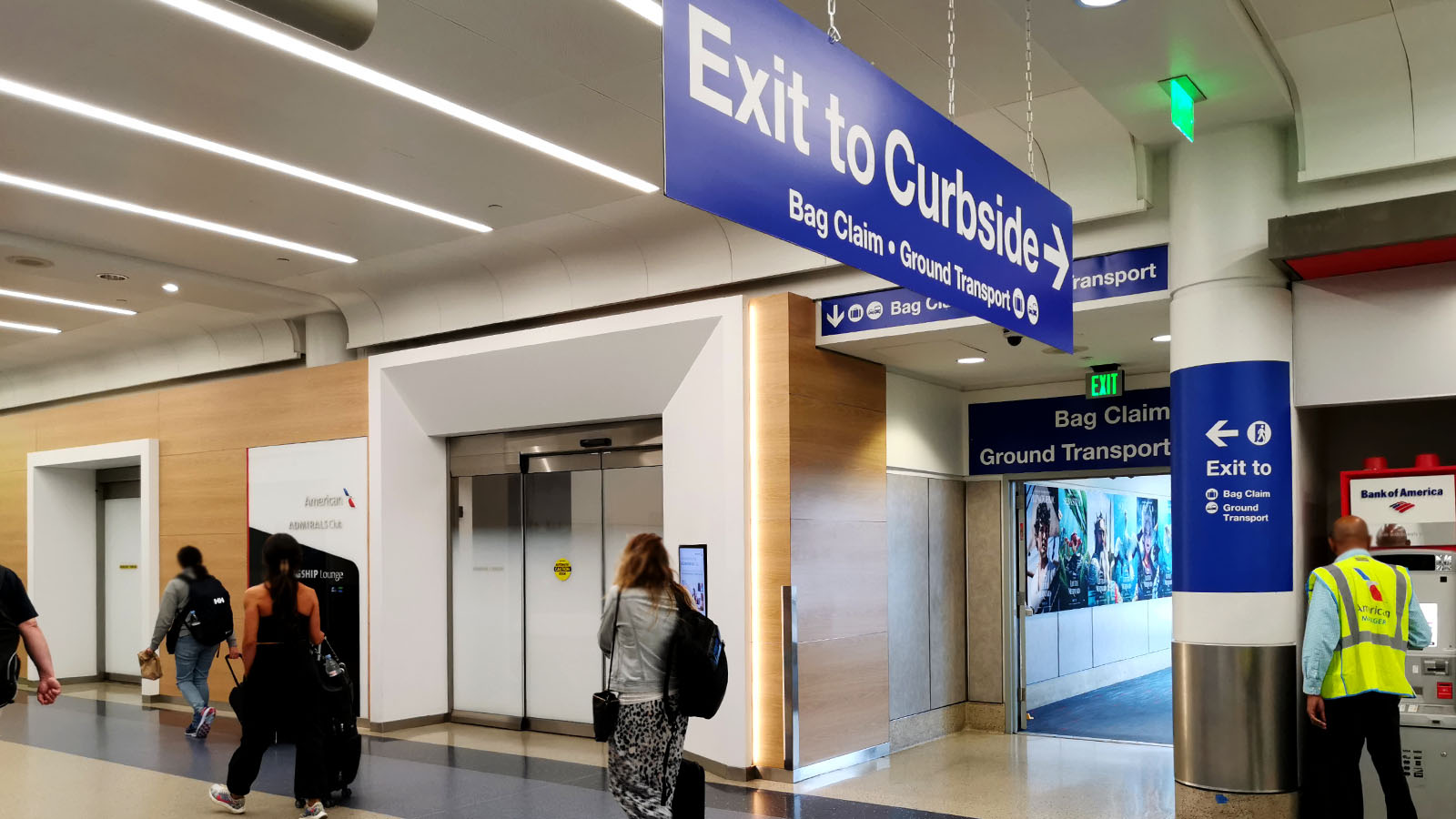 Meander down past the bar and you'll find a quieter TV room – worth remembering on game days. That flows through into another secluded space that's designated as a quiet zone. Both the quiet zone and the main lounge hall offer great airport views. You'll see more AA planes from that main hall. Whereas from the quiet zone, the windows face in the opposite direction, towards TBIT – giving a little more variety.
This Los Angeles Admirals Club opens at 4:30 am daily, remaining available until 1 am. If you qualify for entry, you can stop by as early as you like before your departing flight on the same day. Of course, if you're on a flight departing just after midnight – say, at 1 am on a Friday morning – you're clear to visit the lounge on the Thursday, which is when you'd check-in anyway.
Shower facilities, zippy Wi-Fi and a bookable conference room are also available.
Food and beverage in the American Airlines Admirals Club, Los Angeles
When it comes to eating and drinking in the Los Angeles Admirals Club, AA adopts a hybrid approach. Some things are complimentary, while others are user-pays.
On the food front, anything from the buffet is gratis. I stop by towards the end of breakfast, finding things like scrambled eggs, hash browns and the usual continental suspects – cereals, breads, fruits and so on. This transitions to a light lunch setup later in the morning. Those selections include salad ingredients and dressings, hummus, bacon, cheese and soup.
But joining the buffet is an à la carte menu, bringing some more substantial options. I give the bao bun sliders a whirl (US$14 plus tax and tip, or about AU$27 all-in). It's a bit pricey, but that's everything in the US given the exchange rates as they are. It's a tasty bite, though. The Korean BBQ beef is flavourful, and who doesn't like a few sneaky potato chips? (You can request a side salad instead, too).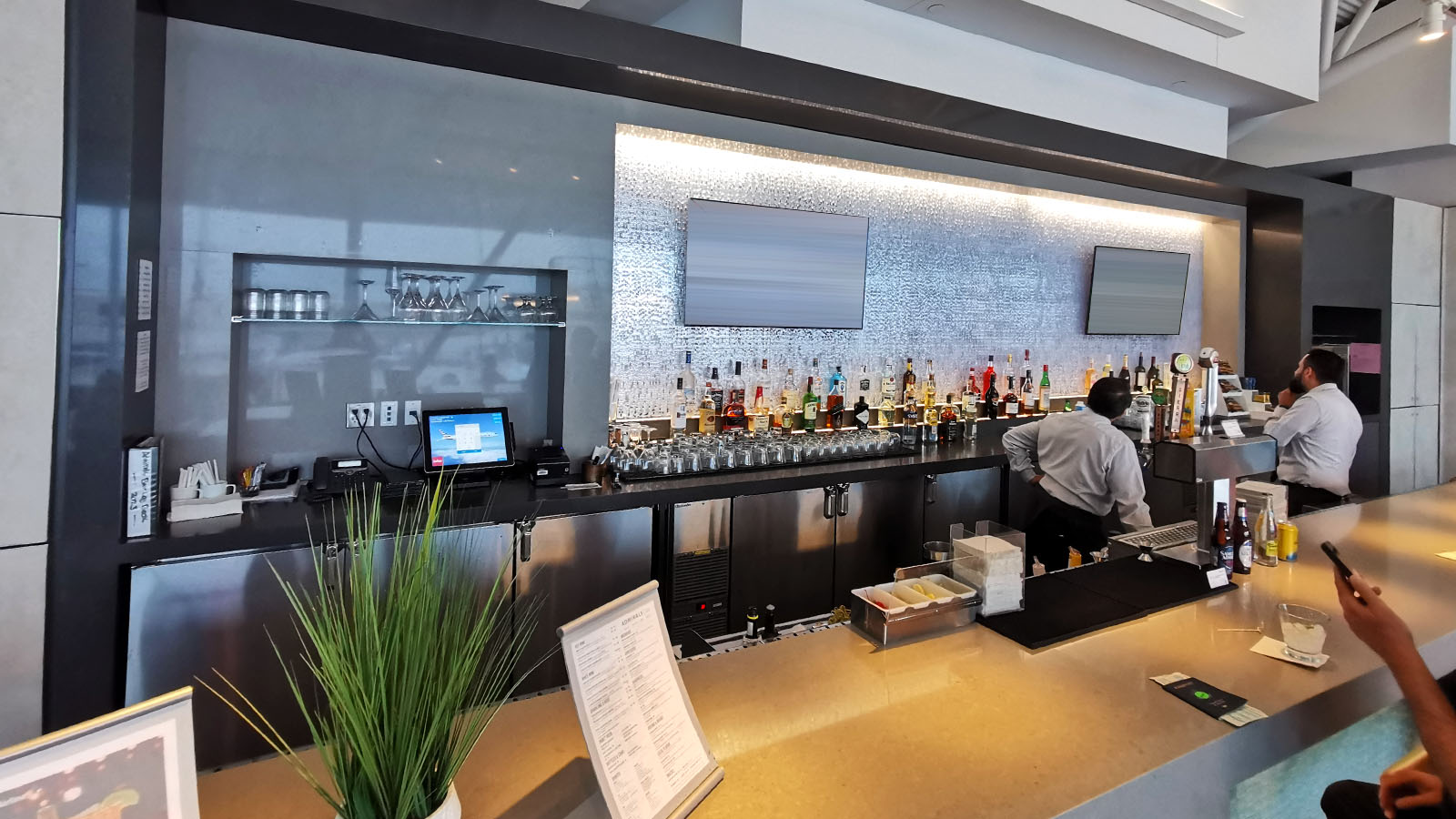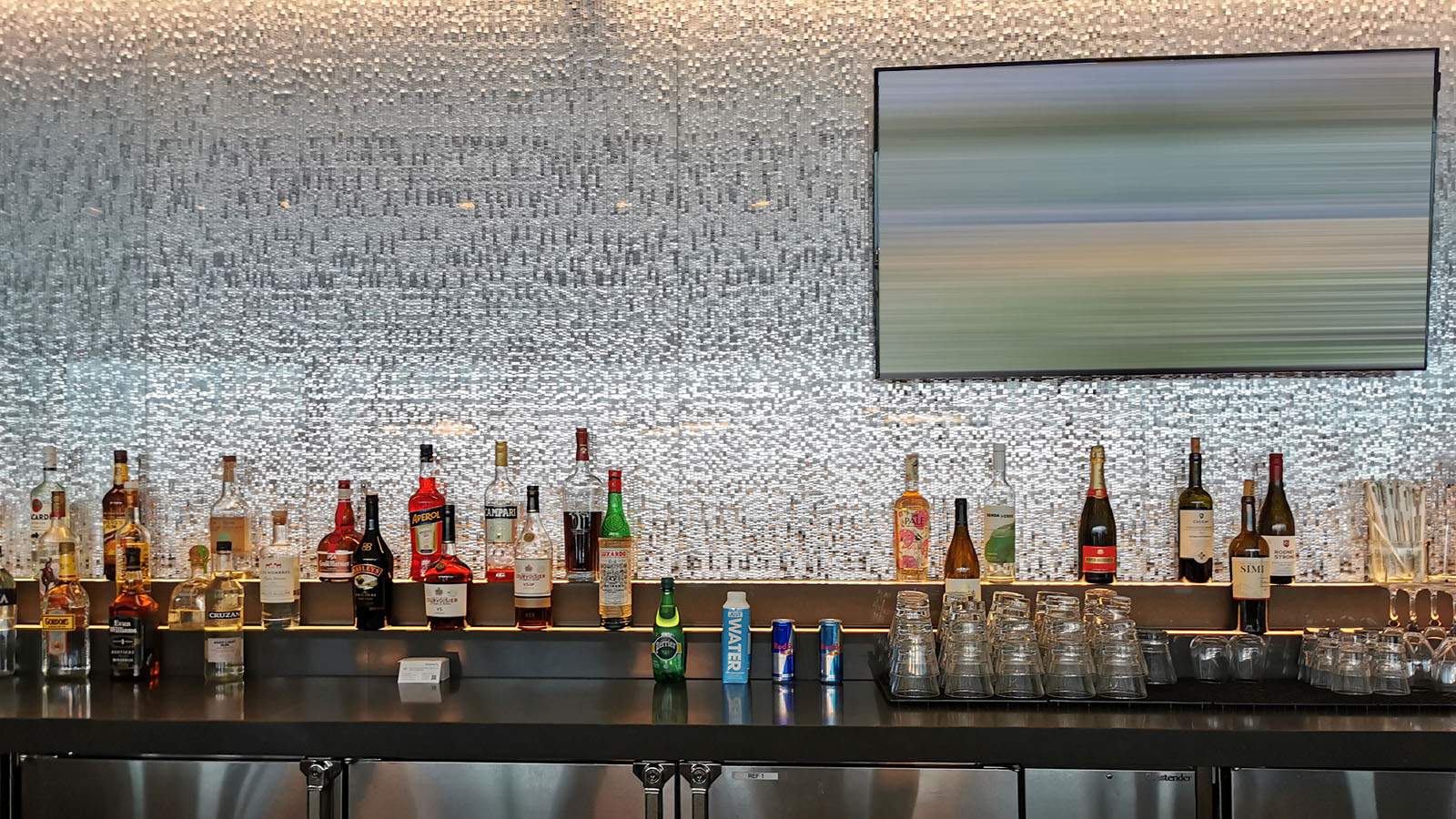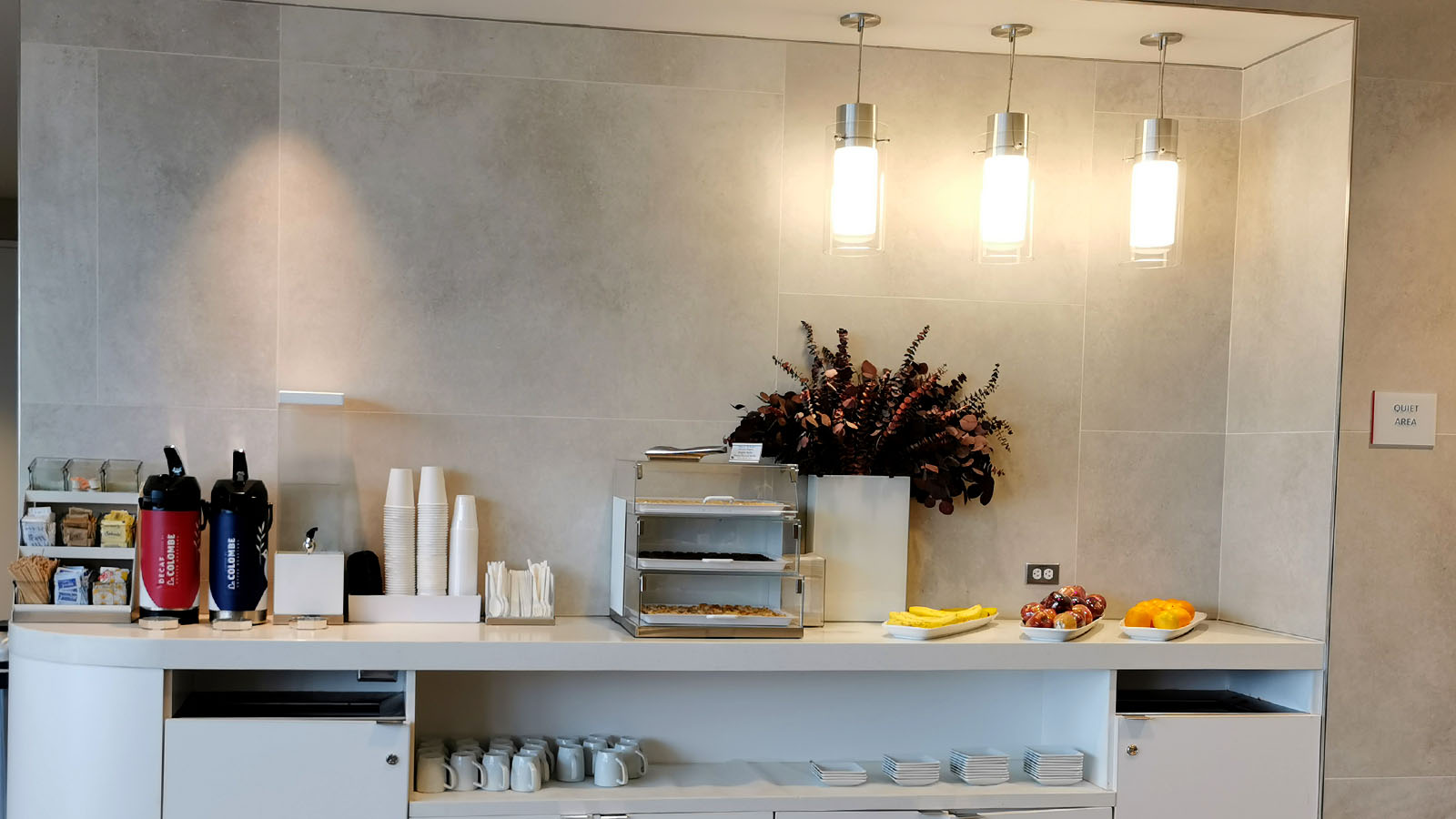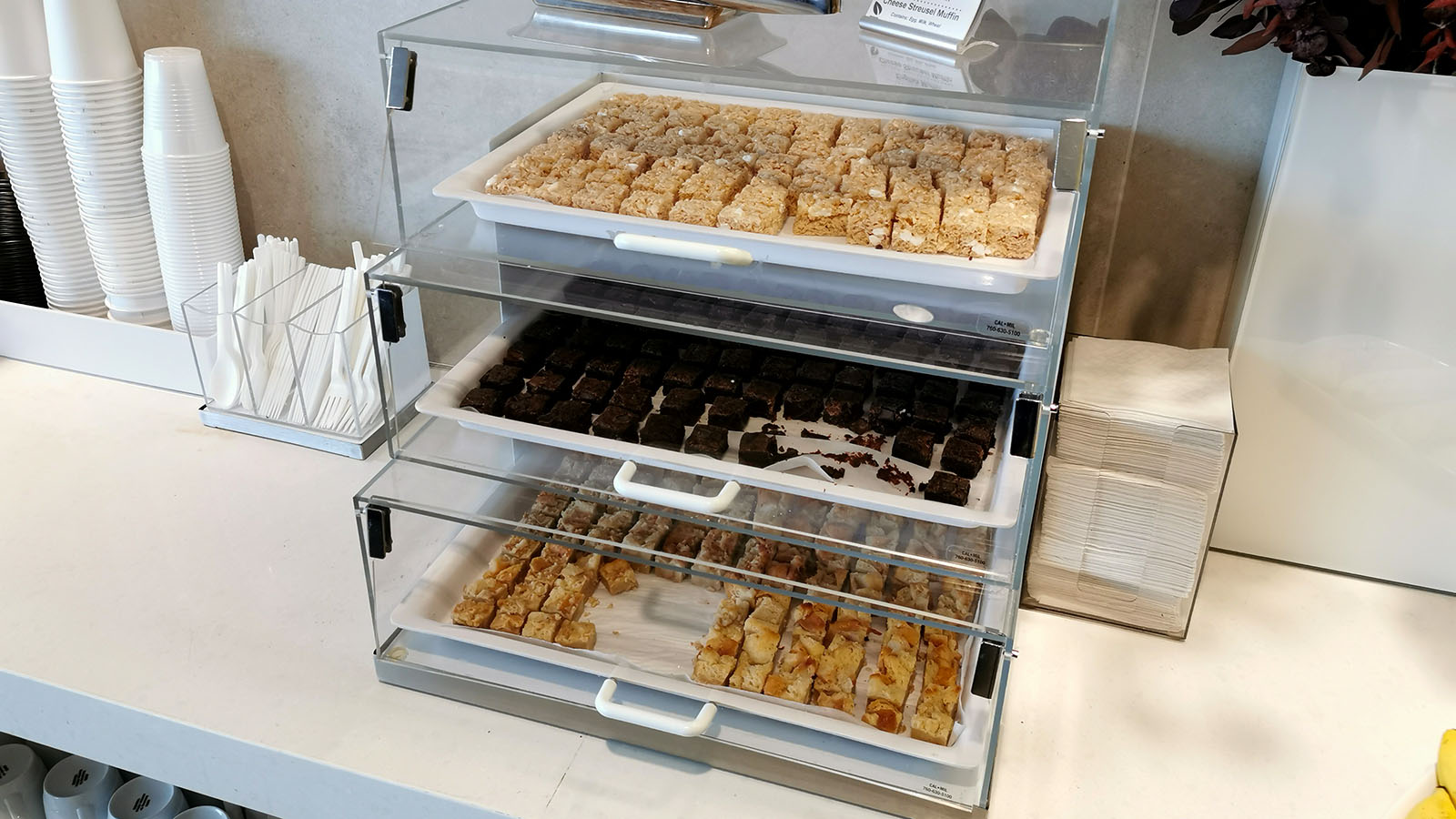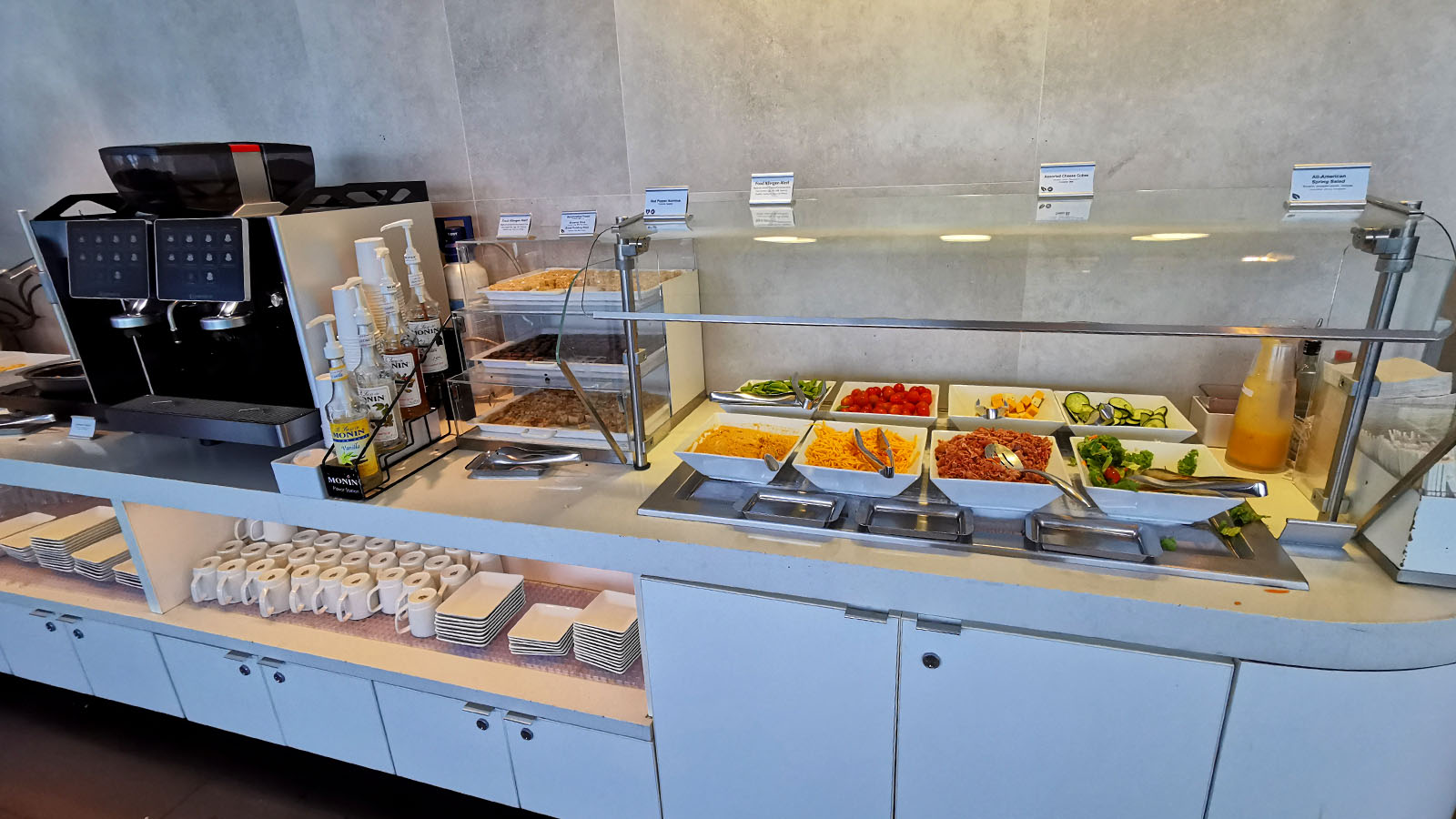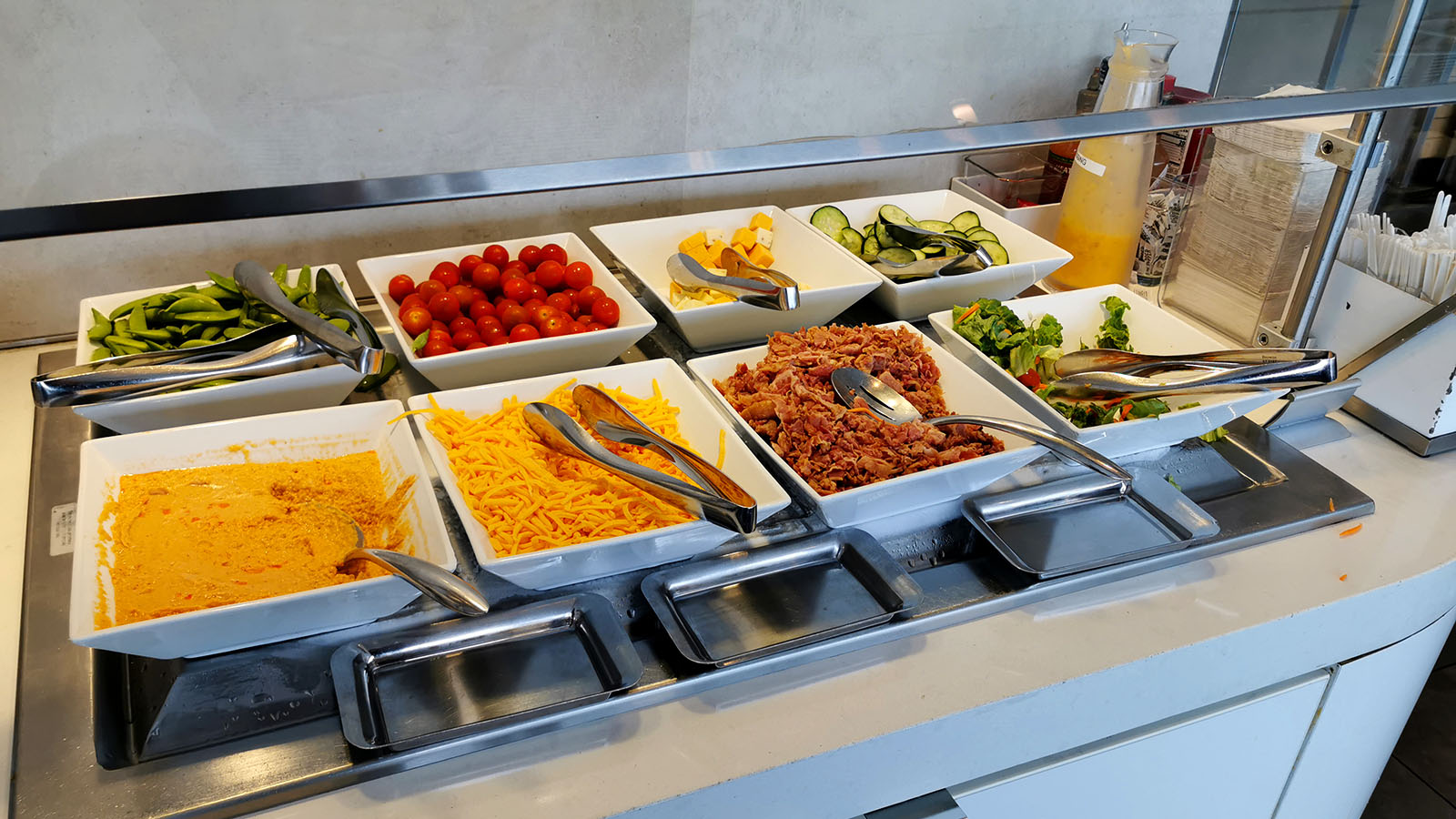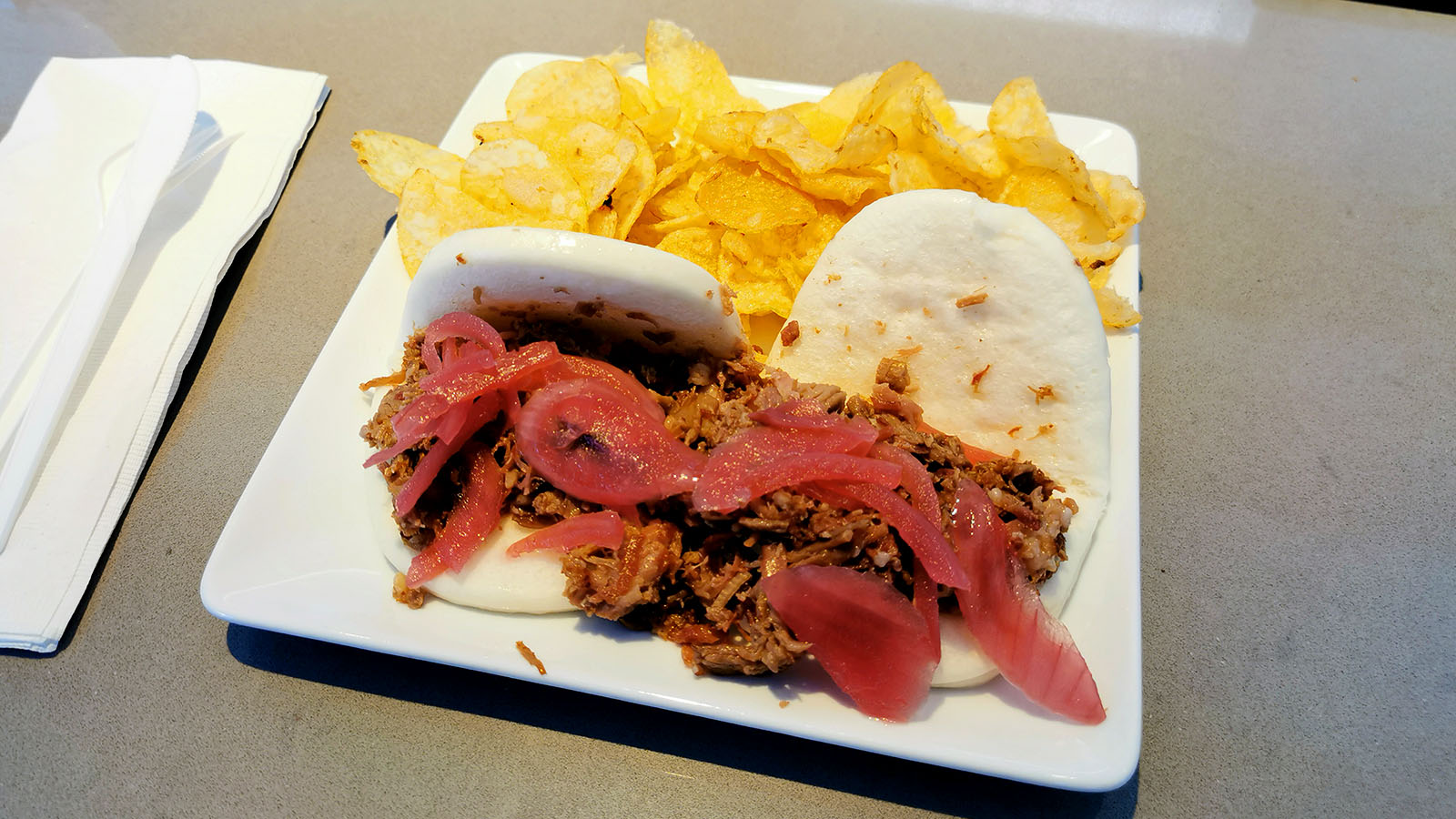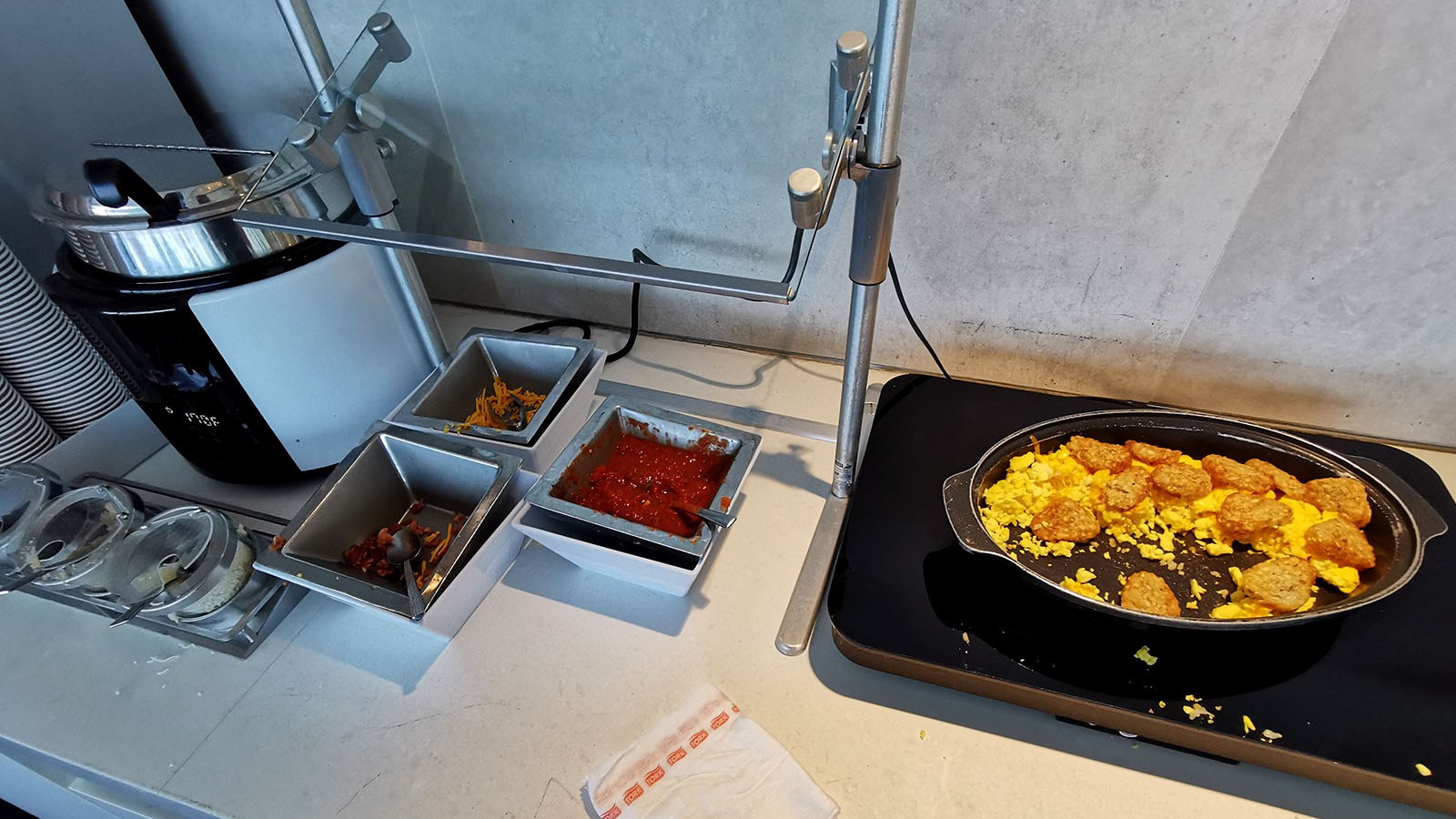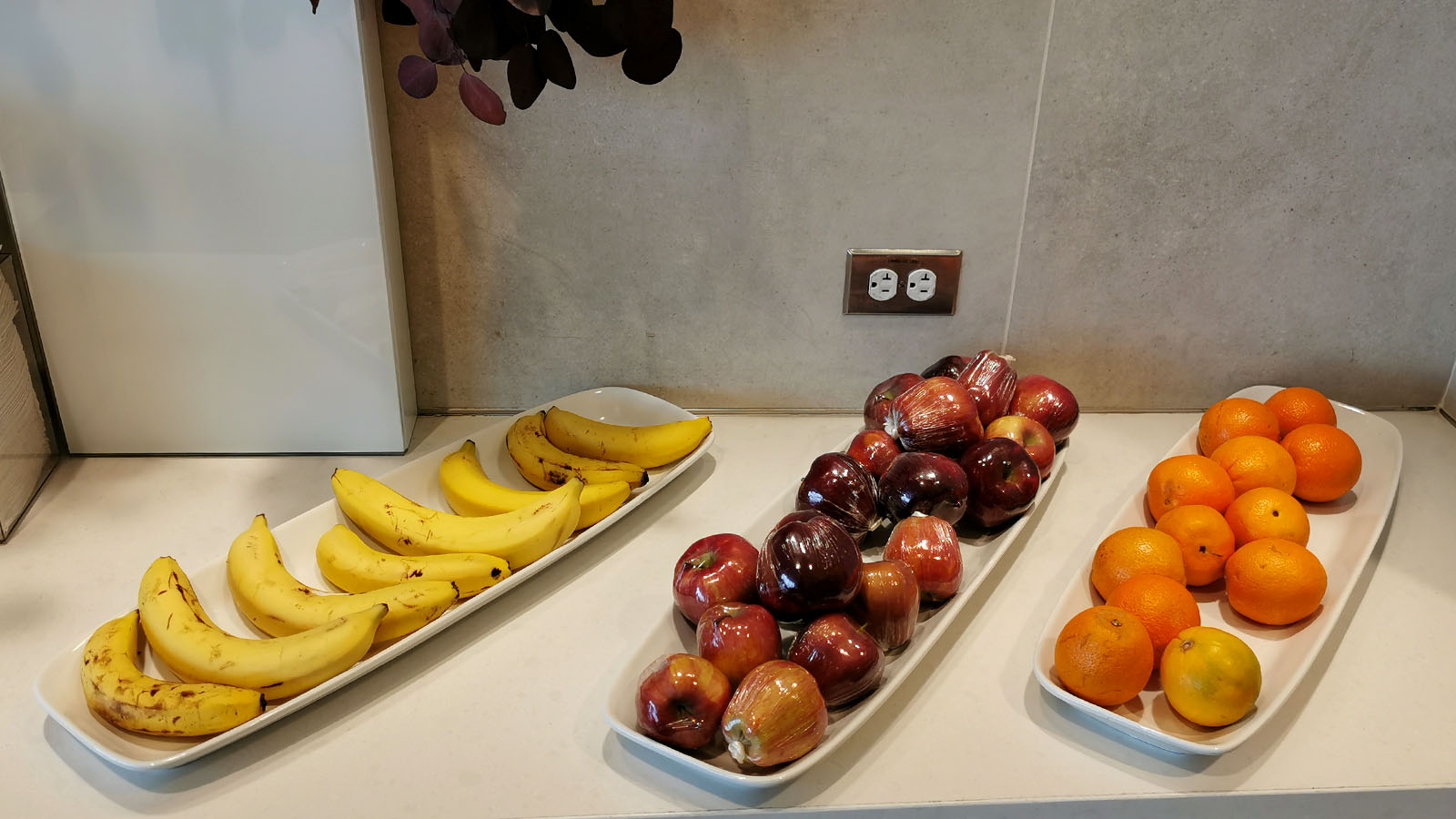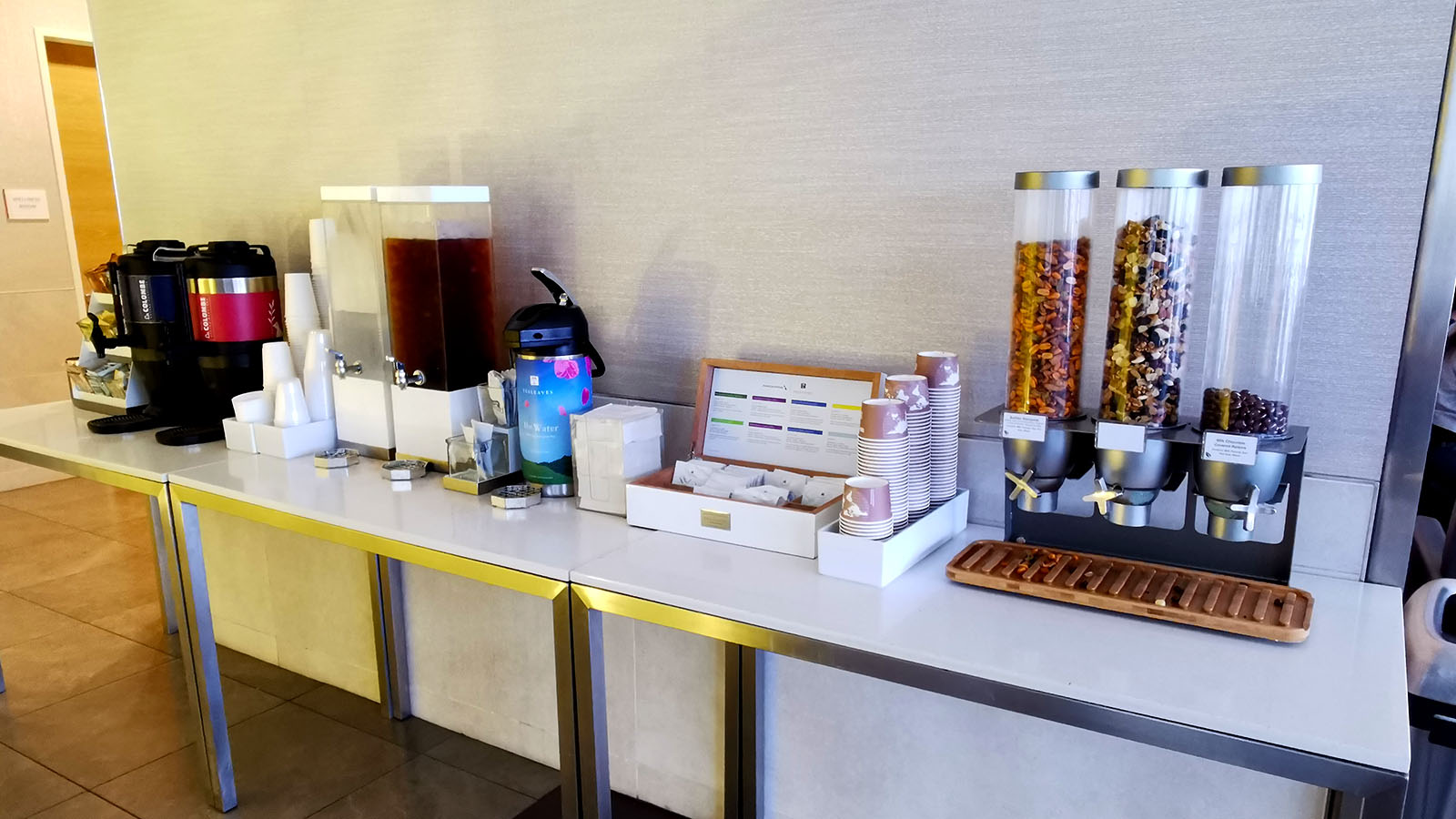 As far as beverages go, it's a similar concept where some are included and others are paid. For coffee, that's DIY on the automated espresso machine – and from the stations with filtered brews. Water, juices and soft drinks are covered as well. As for alcohol, some of the lead-in choices are gratis too, but most options are user-pays. Here's a look at the free menu available during this visit:
Wine: Glowing Day cabernet sauvignon-merlot and Glowing Day chardonnay-semillon.
Beer: Coors Light, and Athletic Brewing Co. Upside Dawn (gluten-removed beer).
Spirits: Svedka vodka, New Amsterdam gin, Cruzan rum and Evan Williams whiskey.
Other wine varietals, Champagne and alternative beers and spirits attract a charge. Expect to pay US$9-16 plus tax and tip for premium wines (a glass of Piper-Heidsieck NV hits the top of that range at US$16).
Accessing the American Airlines Admirals Club in Los Angeles
AA's lounge access policies aren't as straightforward as we'd expect in Australia. When it comes to entering the Los Angeles Admirals Club, the rules can vary from flight to flight. Status, destination, paid membership and even your overall travel itinerary can all play a part. AA also has a Flagship Lounge next door, which many premium travellers will visit instead.
With that in mind, allow us to simplify the rules. Here's a rundown of the travellers who'd call this lounge 'home' – who don't also qualify for that higher-tier Flagship Lounge.
By paid lounge membership:

Qantas Club (+1 guest, before American Airlines flights only).
Admirals Club (+2 guests, before and after American Airlines, oneworld and JetBlue flights). Access when flying JetBlue ceases after 31 January 2024.
Alaska Lounge+ (+2 guests, when departing or arriving on Alaska Airlines or American Airlines).

US military personnel: Must be travelling in uniform on a same-day AA flight (+2 guests).
Using a single-entry pass: Paid entry is available for US$79 or 7,900 AAdvantage miles. This can be pre-paid via the American Airlines website or purchased at the door.
Interestingly, travellers who qualify for American Airlines lounge access by status are all directed to the Flagship Lounge. This applies to Qantas Gold members (and above) taking any domestic or international AA flight, for instance. The quirk is in the name, too. The Admirals Club is a 'Club', to which users pay to belong – or for which they qualify based on a reciprocal partner membership, like Qantas Club. Flagship Lounge, on the other hand, is more of a reward that's provided, either by status or by travel class.
Even so though, I'm travelling today as a Qantas Platinum member aboard an AA domestic-only itinerary. While I can – and do – visit the nearby Flagship Lounge, staff have no issues allowing me to explore the Los Angeles Admirals Club too. In other airports with only an Admirals Club, it becomes the go-to space of all travellers eligible for lounge access.
Also read: What's the difference between American Airlines' Admirals Club and Flagship Lounge?
The verdict
Los Angeles is a very busy airport, and this American Airlines Admirals Club reflects that. It's interesting though to see how busy the lounge still is, despite the fact that elite frequent flyers and premium cabin passengers use the Flagship Lounge next door. At the same time of day, the Flagship Lounge has many seats available. But here in the Admirals Club, locating an open chair requires some hunting.
It's not one of those lounges that you'd arrive overly early to visit. Granted, I'm here many hours before my flight as I'm in transit from Australia – and planned as much, to complete some reviews. But by the same token, it's good to see that the buffet isn't merely stocked with snacking options to force a purchase. If I weren't ordering something to sample as part of this story, I'd have happily created a filling salad for lunch instead.
Still, it's a handy lounge to have – particularly for those with a Qantas Club membership or who don't mind paying for entry at the door. The ability to have a shower, a strong cup of coffee, a bite to eat and a place to do some work is a must for many travellers. And after a long flight from Australia, doubly so.
Also reviewed: American Express Centurion Lounge, Los Angeles
Feature image courtesy of American Airlines. Other photography by Chris Chamberlin, who accessed the Admirals Club courtesy of Qantas Frequent Flyer status while travelling at Point Hacks' expense.
---
Stay up to date with the latest news, reviews and guides by subscribing to Point Hacks' email newsletter.
American Airlines Admirals Club, Los Angeles (Terminal 4)
was last modified:
November 10th, 2023
by