On the lounge front, American Airlines is best known for its Admirals Clubs. But at five select airports across the United States, there's also something better tucked away. That's the carrier's Flagship Lounge – and you'll find one here at Dallas Fort Worth International Airport.
Serving not just AA passengers but also those aboard oneworld airlines such as Qantas, here's what to expect when jetting through the world's busiest oneworld hub.
Location
Once check-in is complete for my Qantas flight to Sydney, I'm straight through security – no long lines today! Here in Terminal D of Dallas Fort Worth International Airport, the Flagship Lounge resides near gate D22.
At first, I hadn't spotted the glaringly obvious 'Flagship Lounge' arrows. Instead, I'd wandered the opposite way after seeing an 'Admirals Club' sign. I figured the two lounges would be right next to each other, as they are in other airports. Nope, not here. But after a quick wander, I'm on the right track.
Interestingly, this Flagship Lounge is instead co-located with the Capital One Lounge – a space for eligible US credit card holders. The two lounges share a common lobby, as well as lifts to the upper level. Upstairs, the Flagship Lounge peels off to the right. After a quick scan of my Qantas boarding pass, I'm in.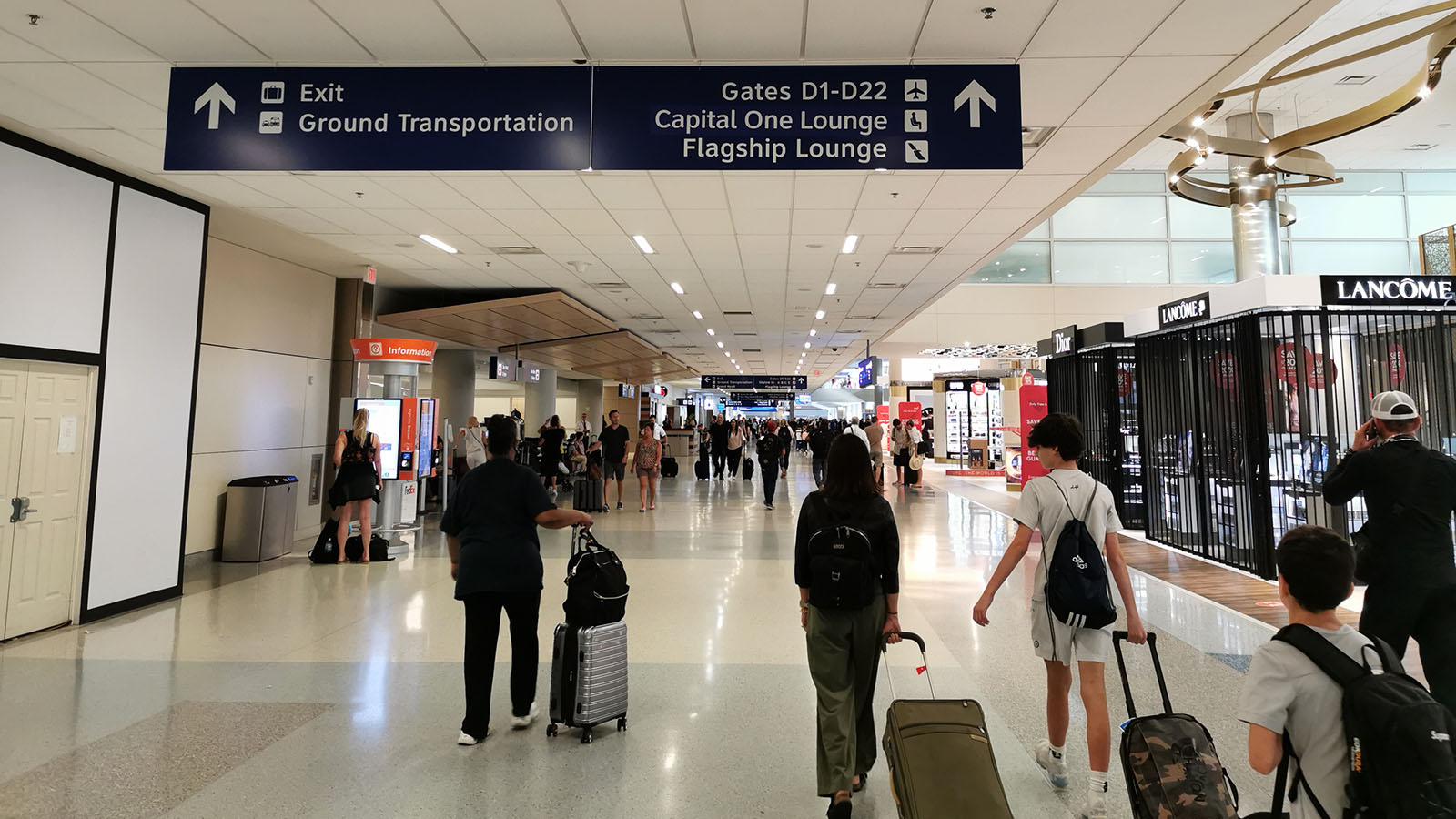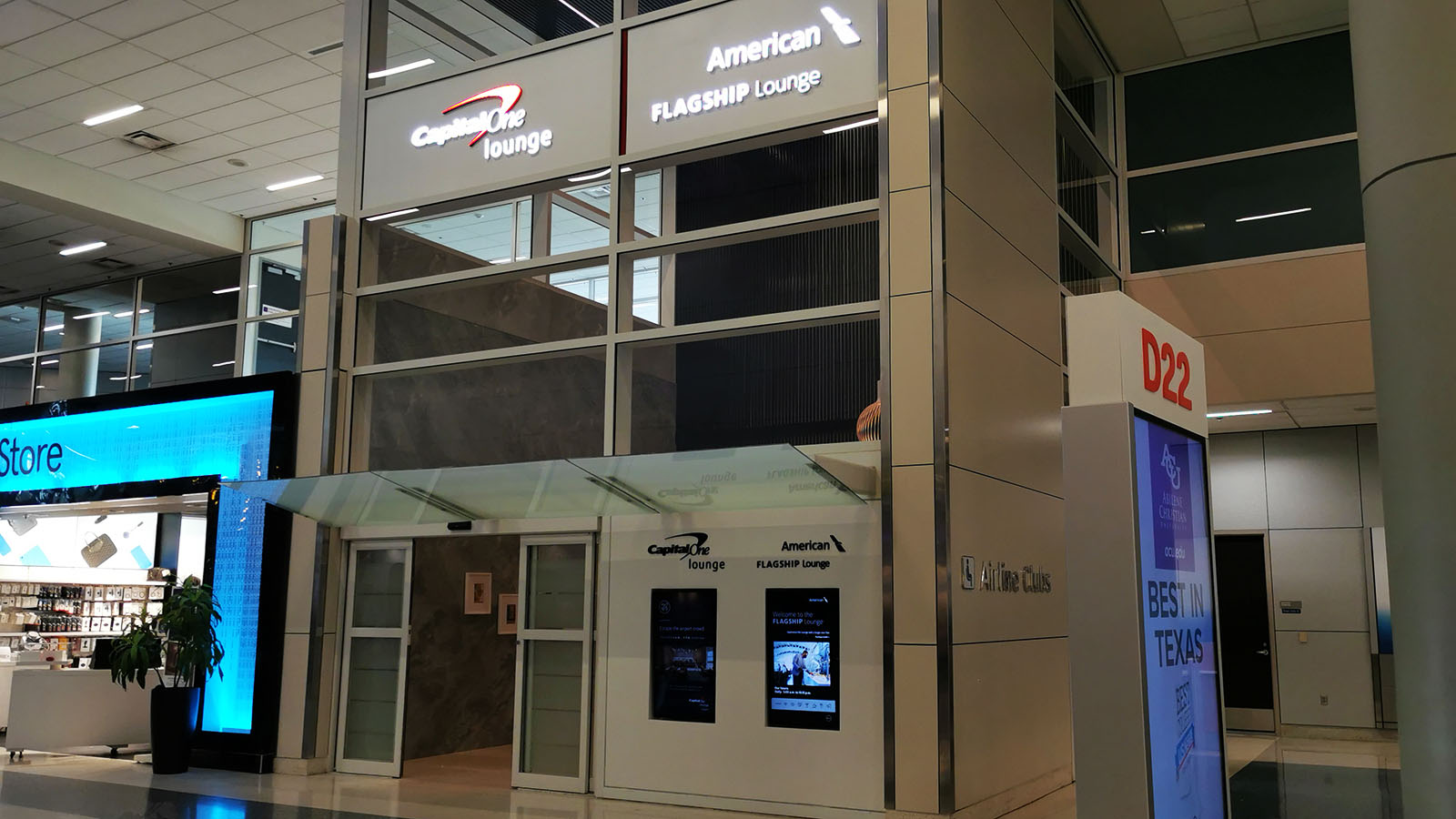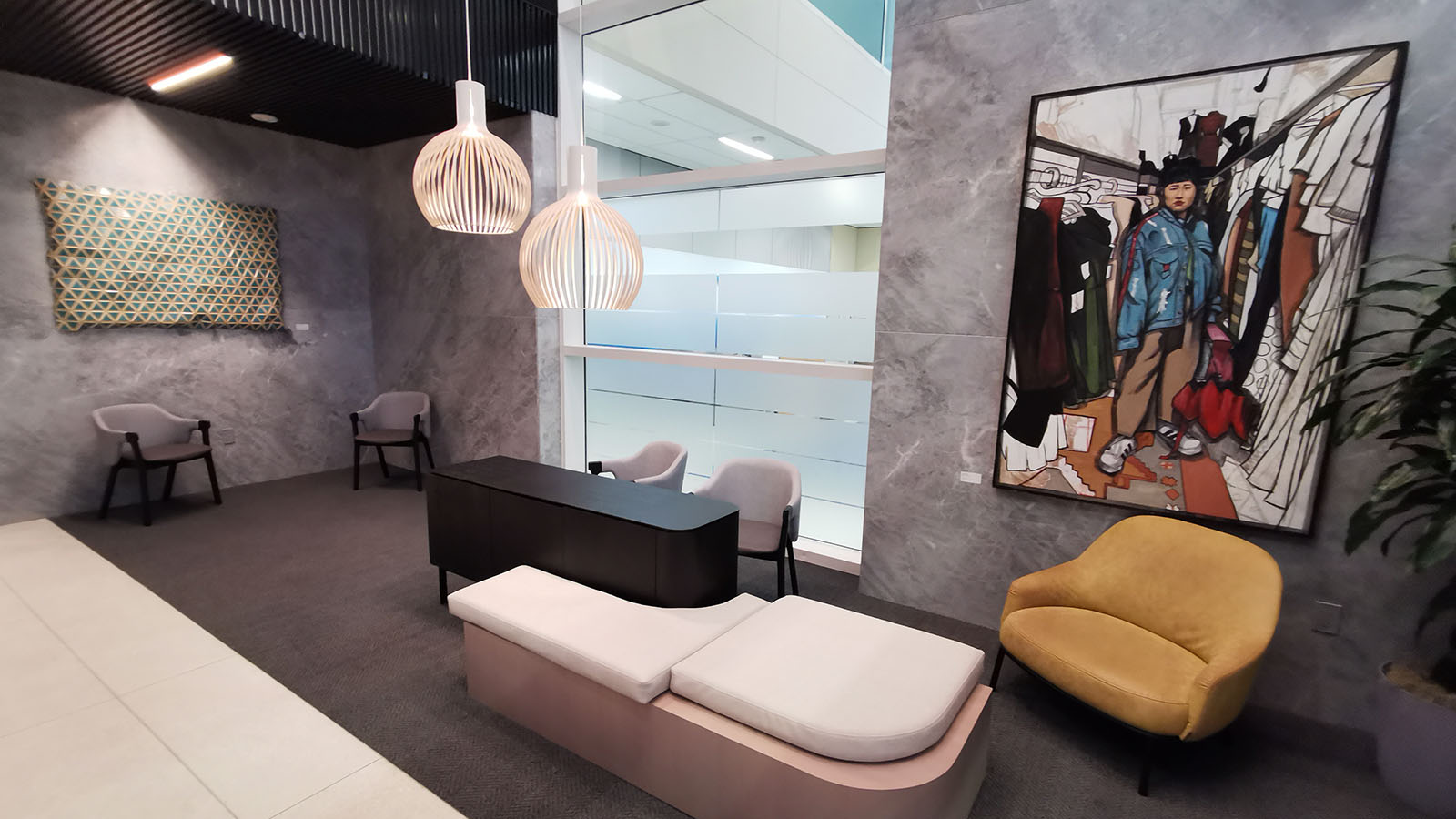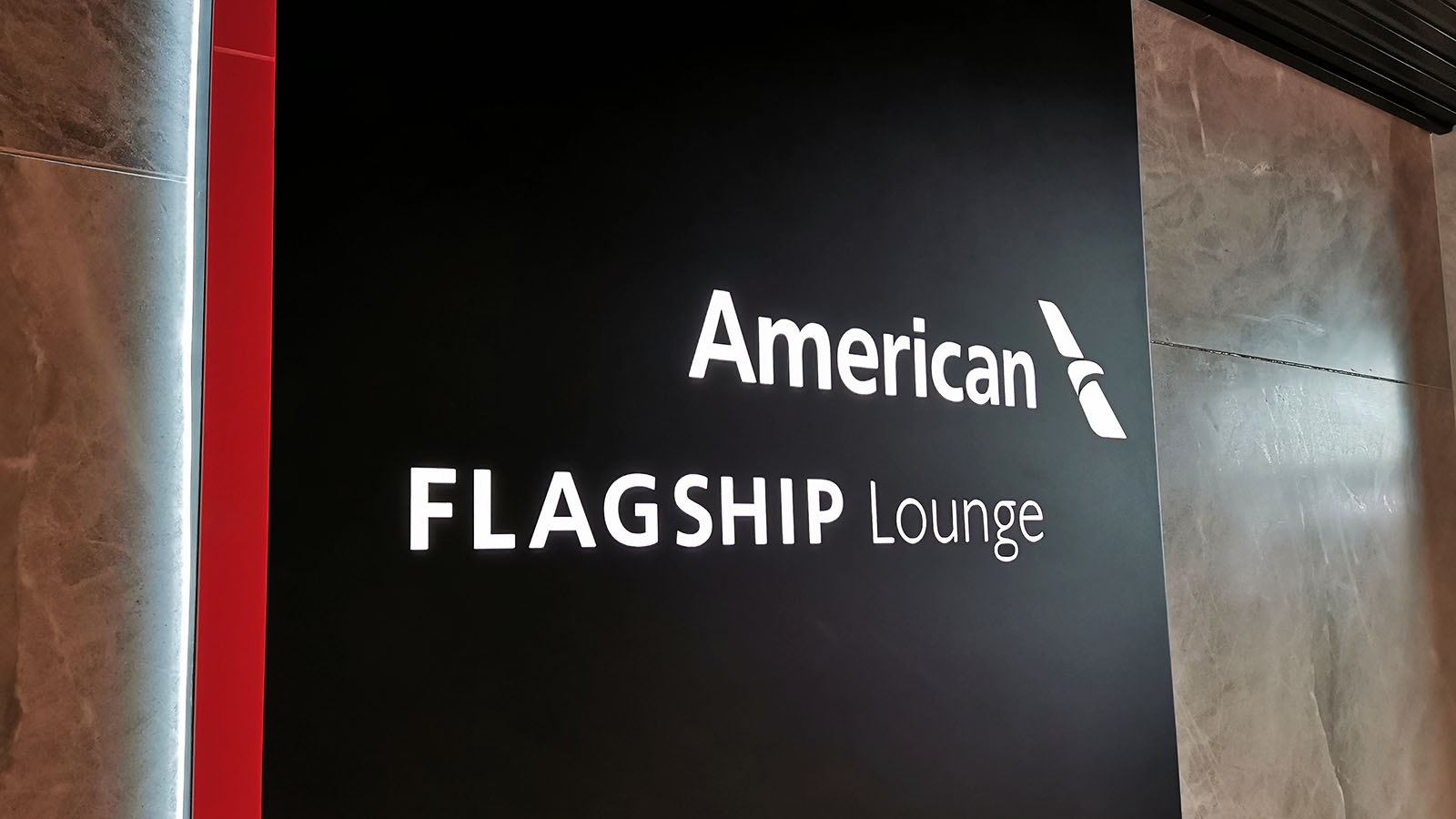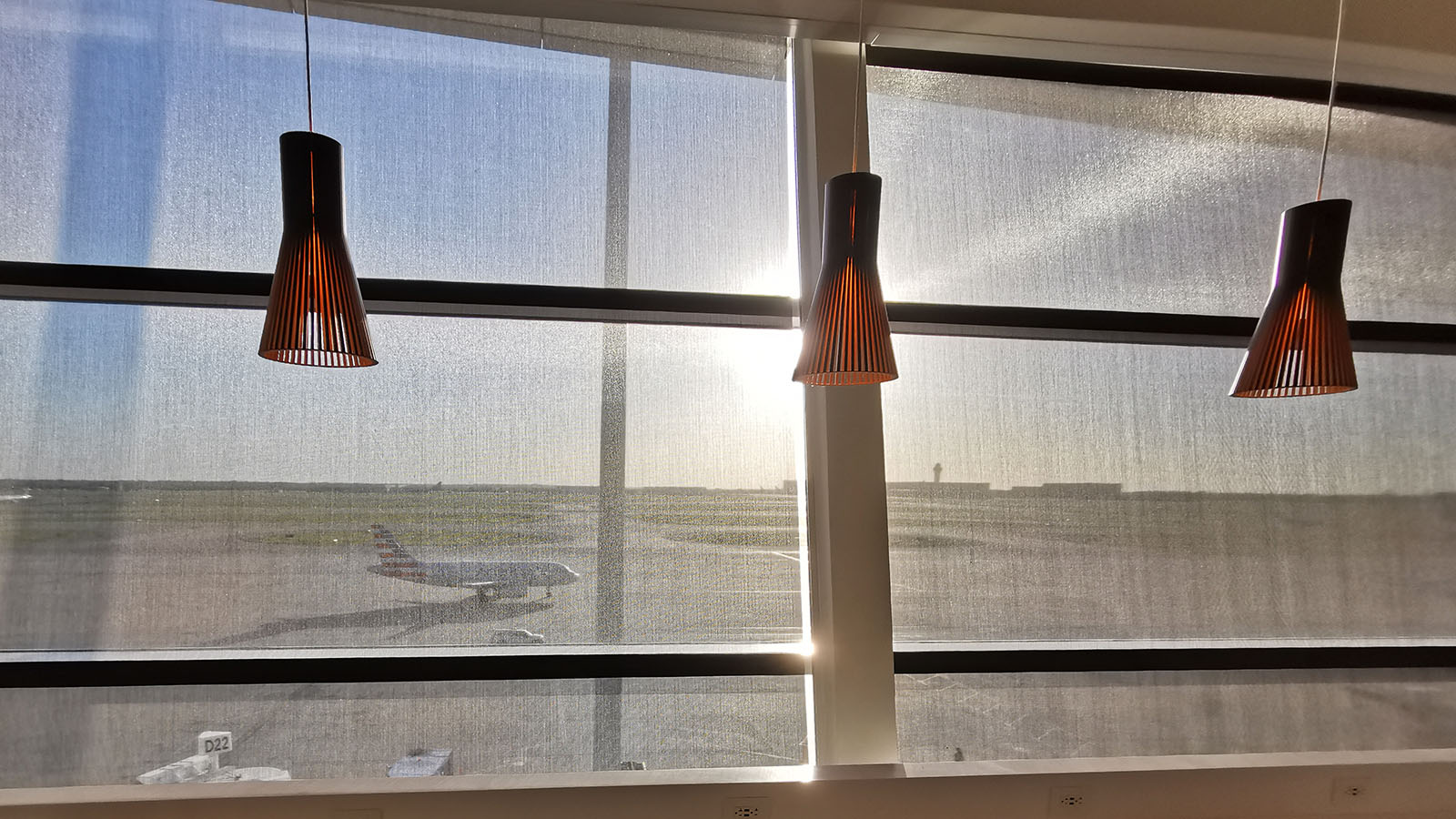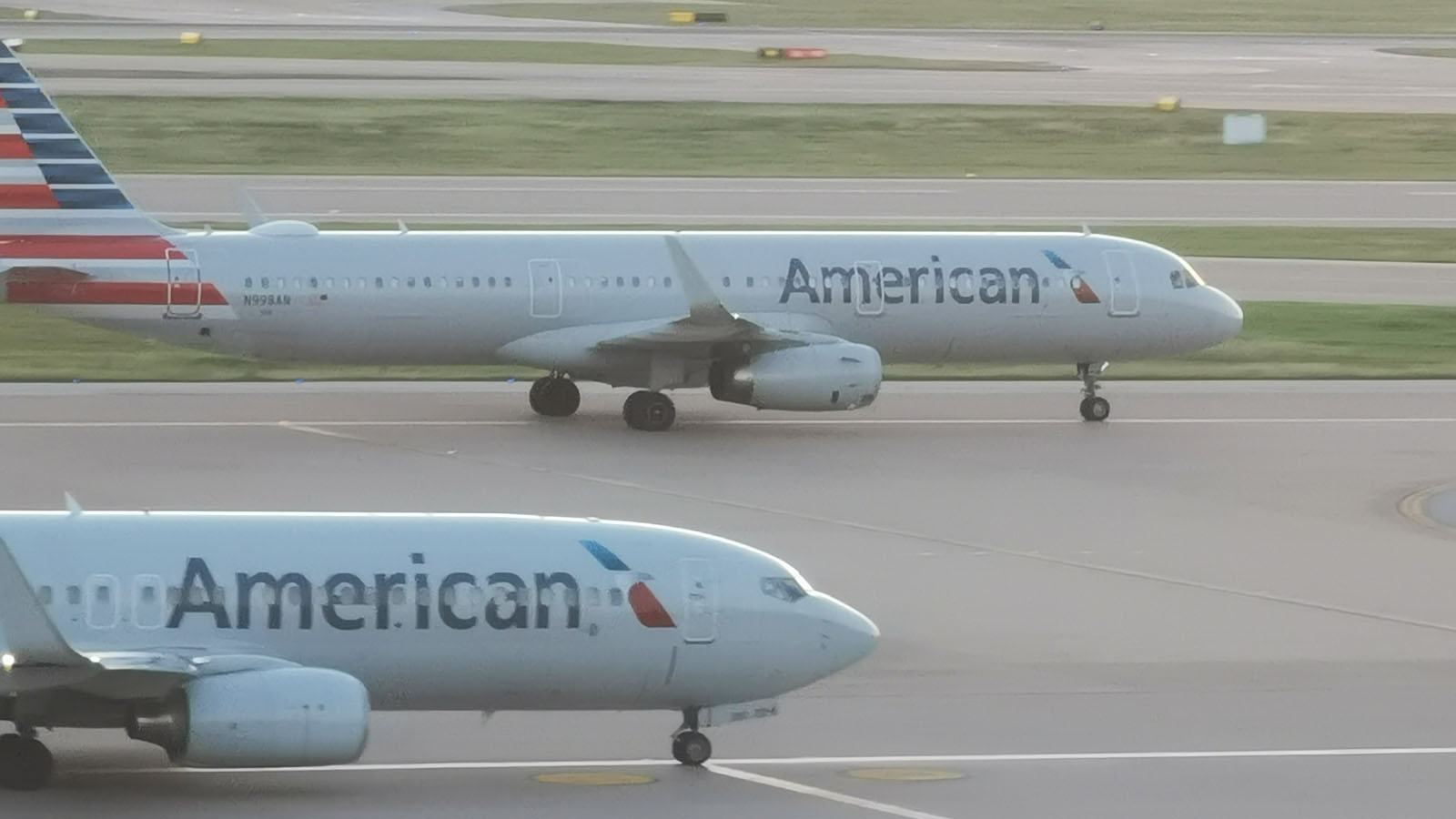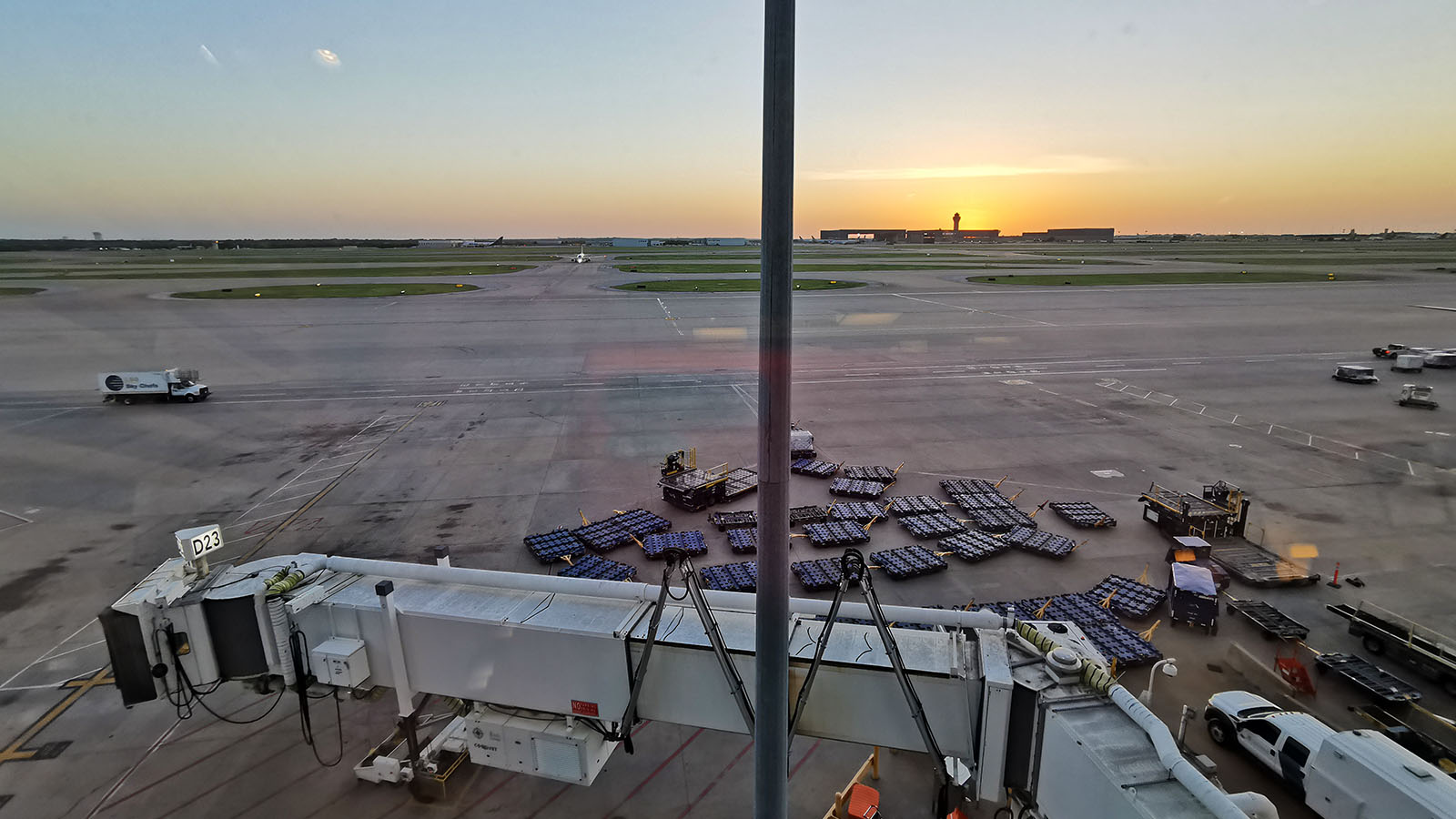 Arriving in plenty of time for my late evening flight, I catch the sun setting over the airfield. That's thanks to the floor-to-ceiling windows running from one side of the lounge to the other.
This Flagship Lounge in Dallas Fort Worth serves eligible passengers between 5 am and 10:15 pm daily. That's just late enough to cater for Qantas passengers bound for Sydney on QF8, with the lounge closing just as boarding is called.
Lounge layout and seating
Given its location along the windows, this space adopts a rectangular footprint. A corridor spans the length of the Flagship Lounge here at Dallas Fort Worth, with an entrance at each end. Having said that, only the left-hand entrance was open this time, near gate D22.
A corridor follows the windows, revealing different nooks and zones as you progress through the lounge. From the D22 entrance, a dining area greets you, along with the bar and buffet. As you meander through, each section seems to be quieter than the last.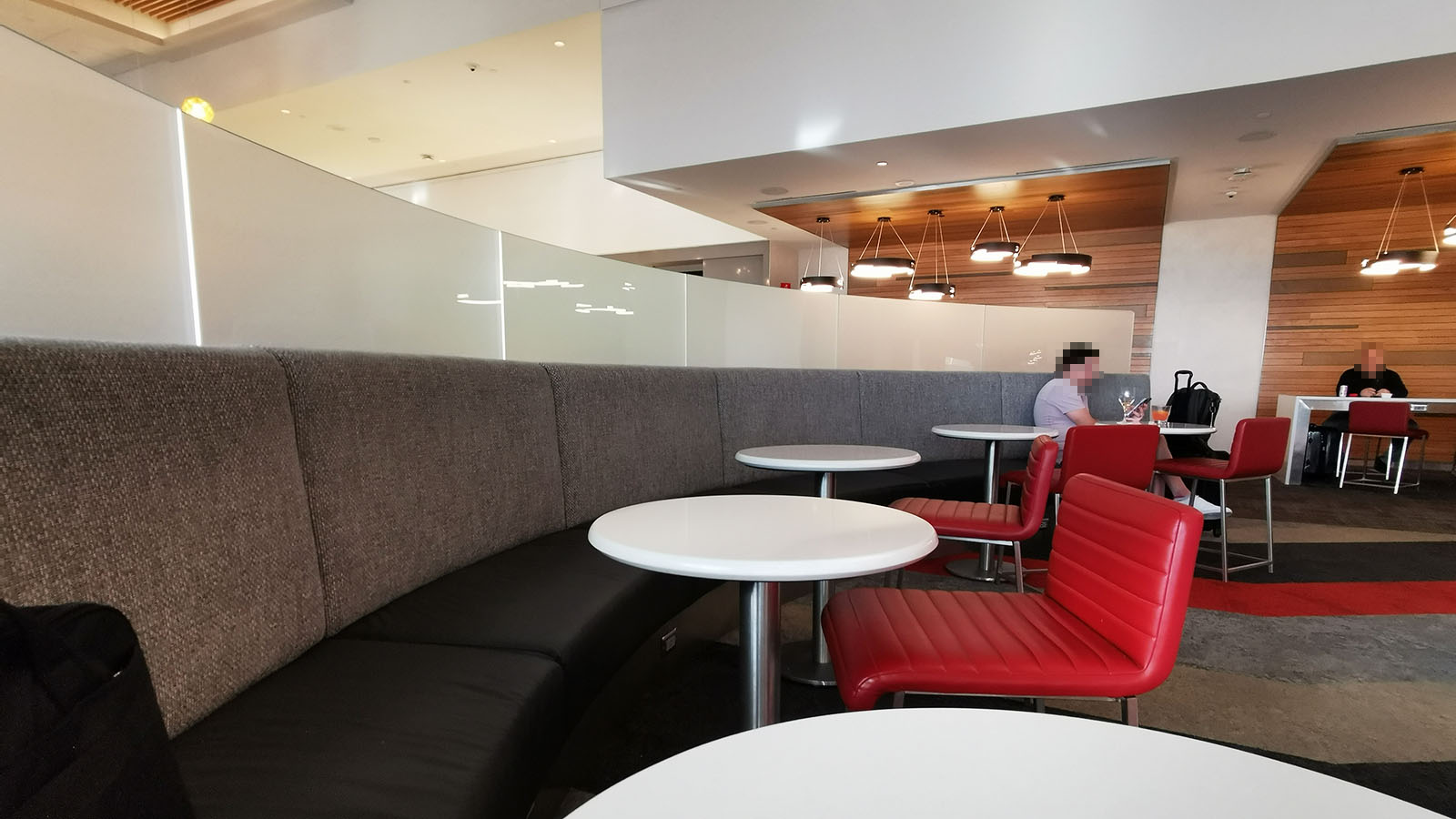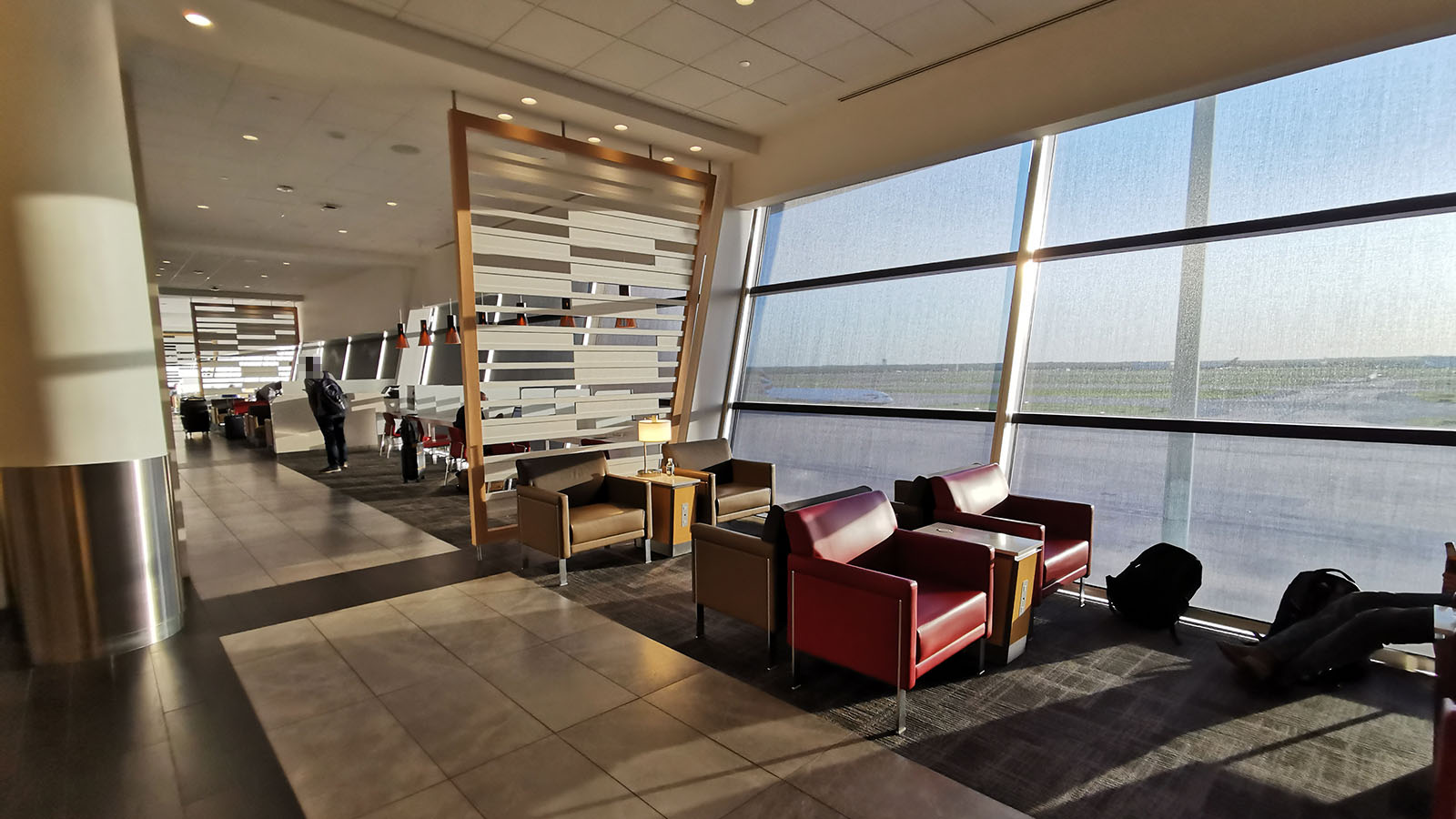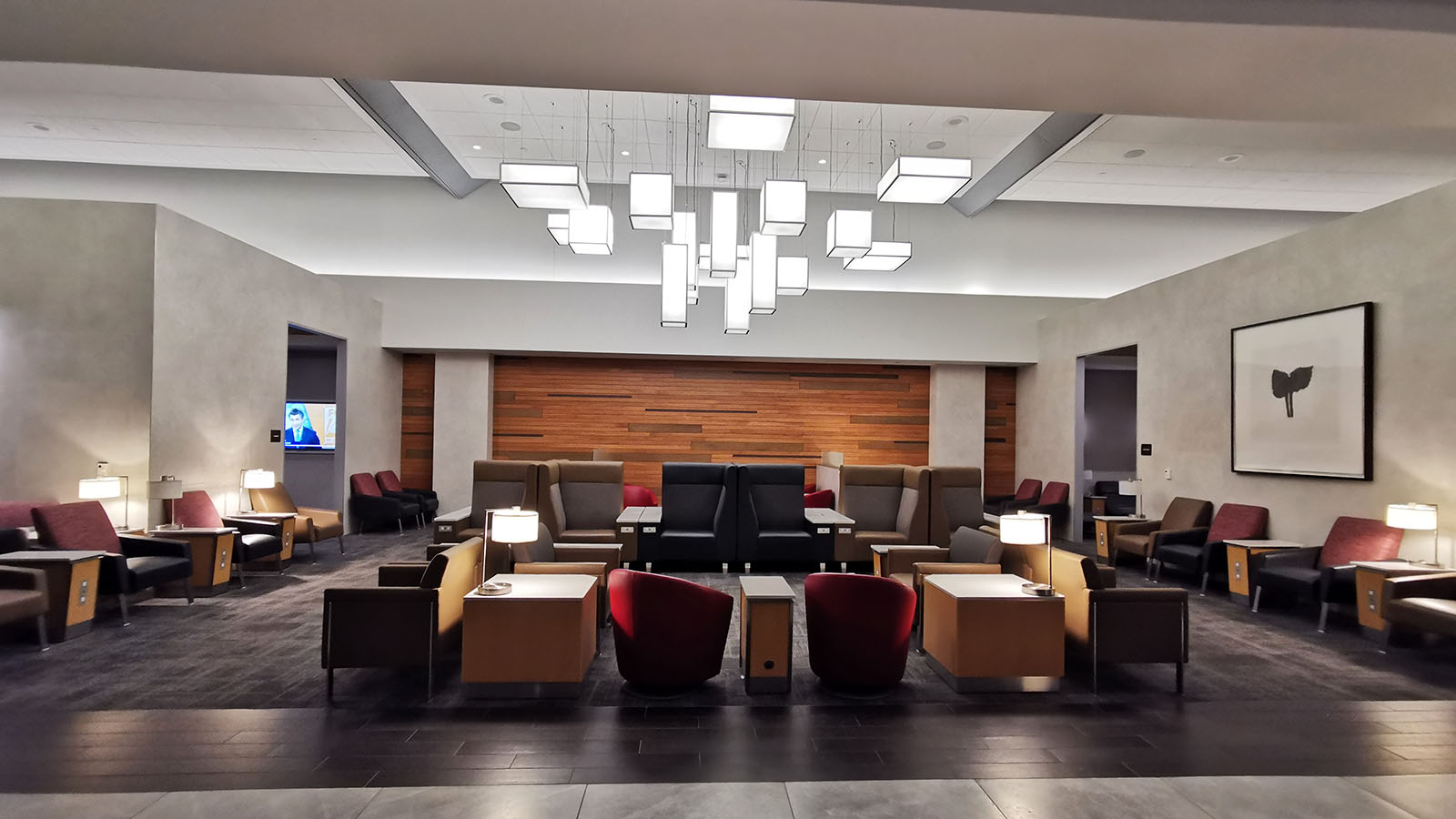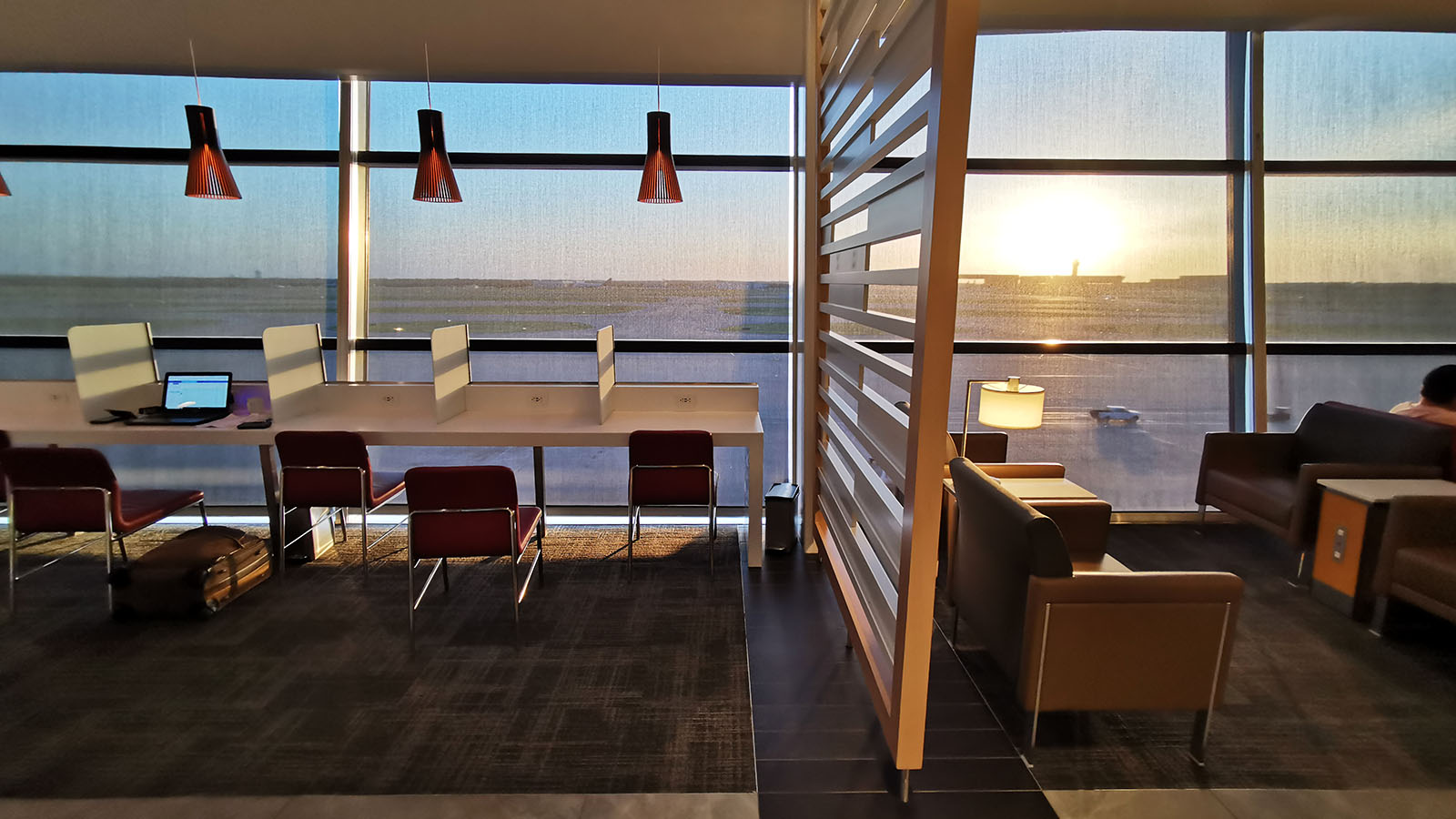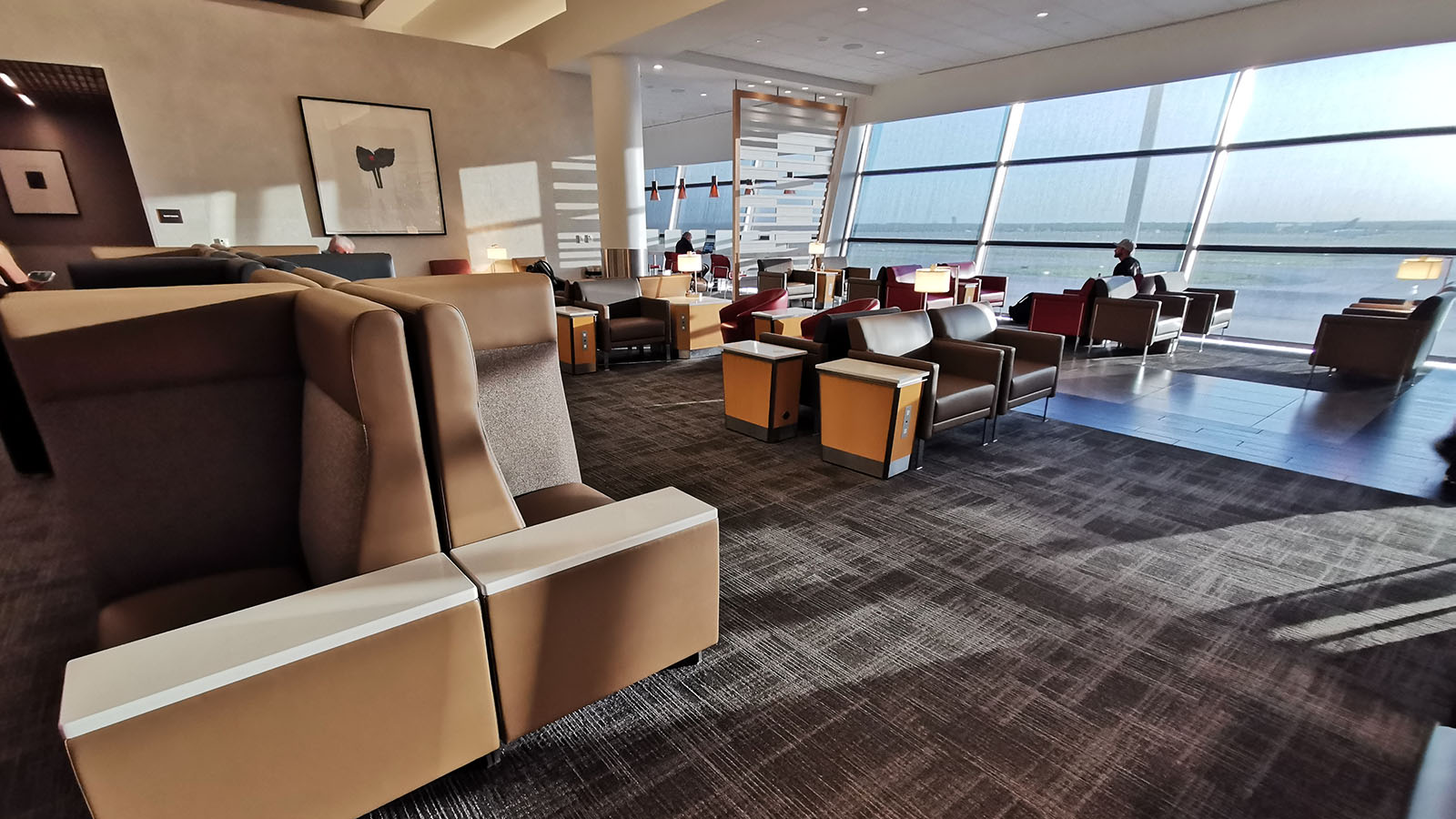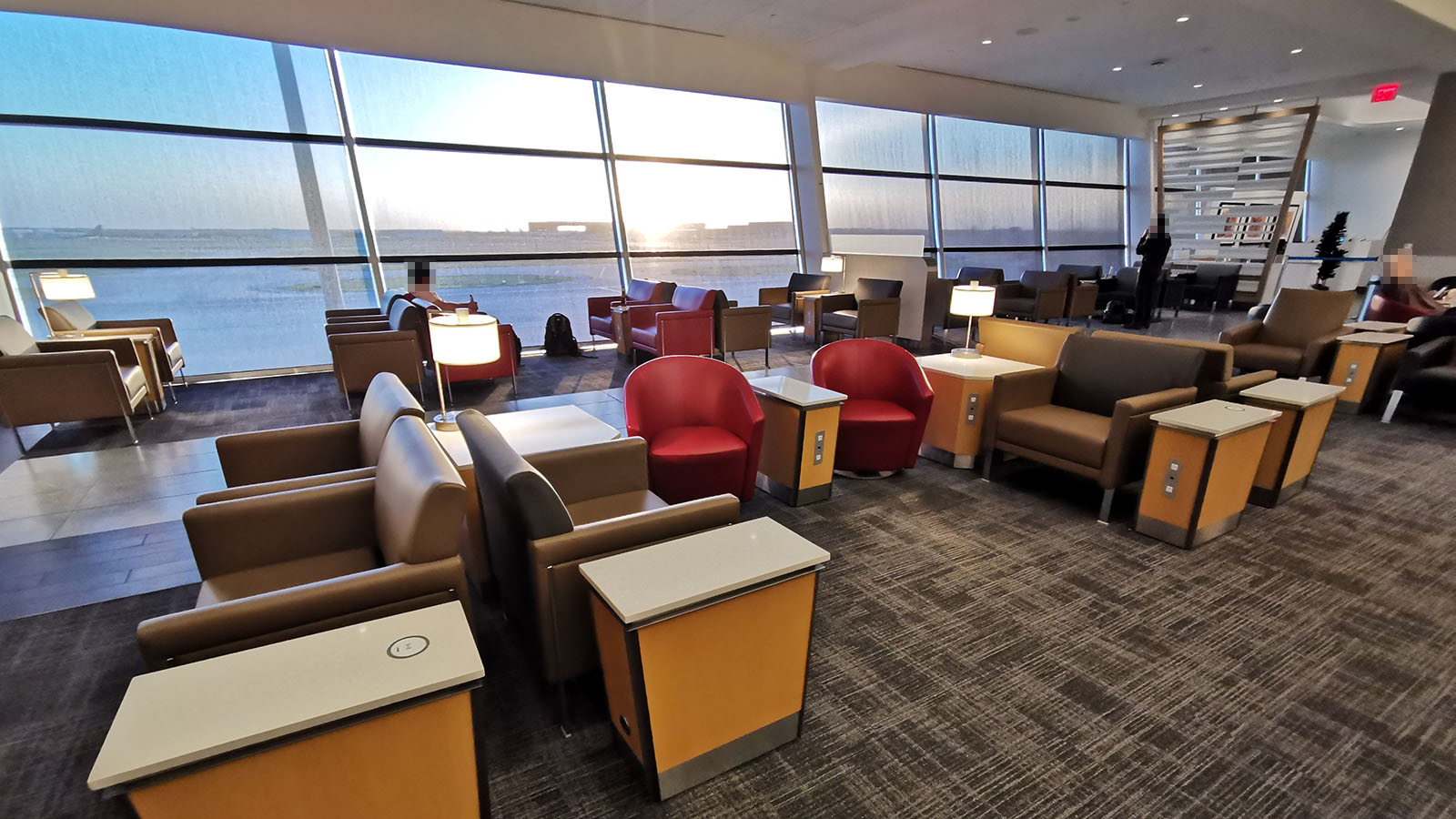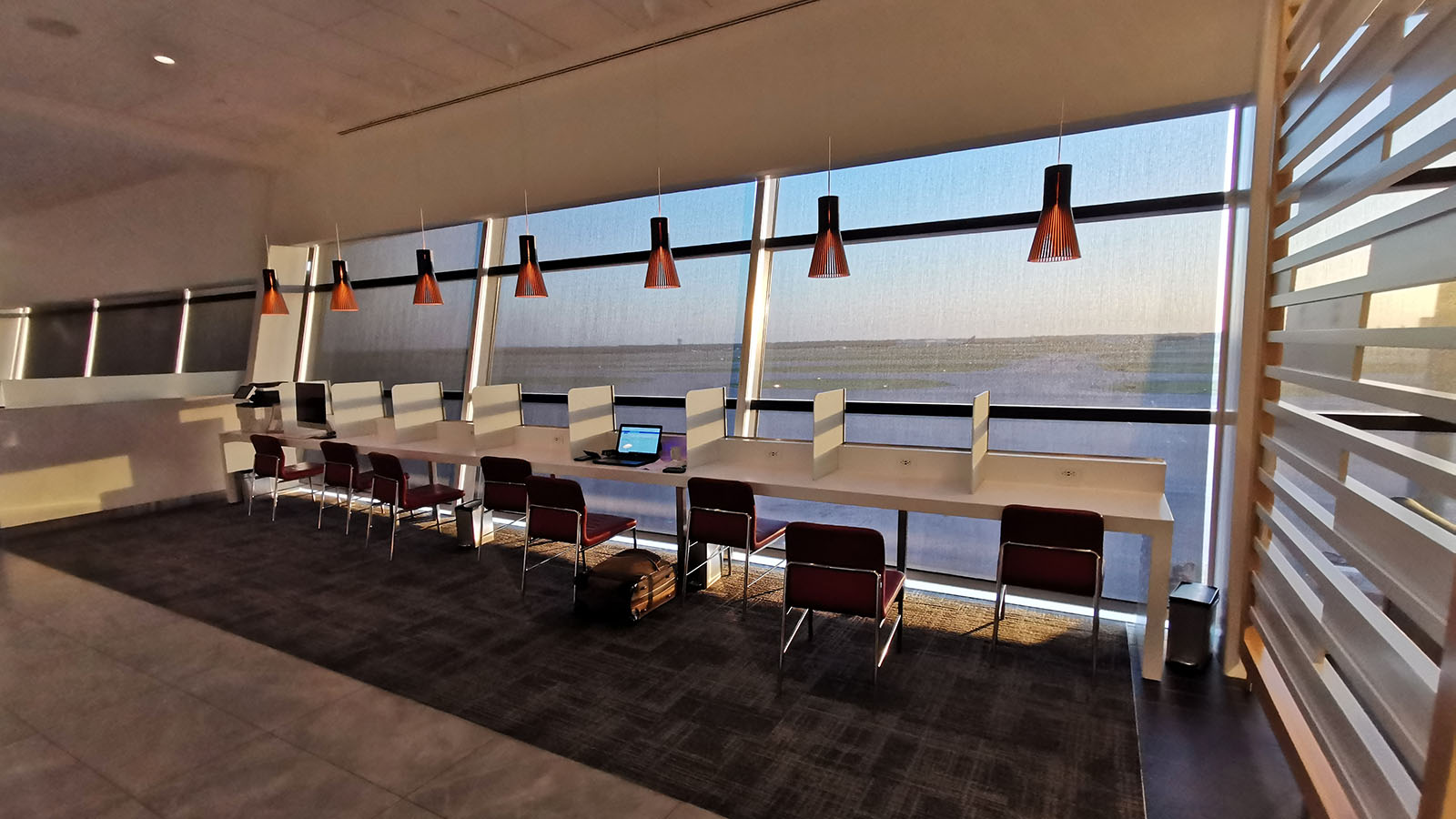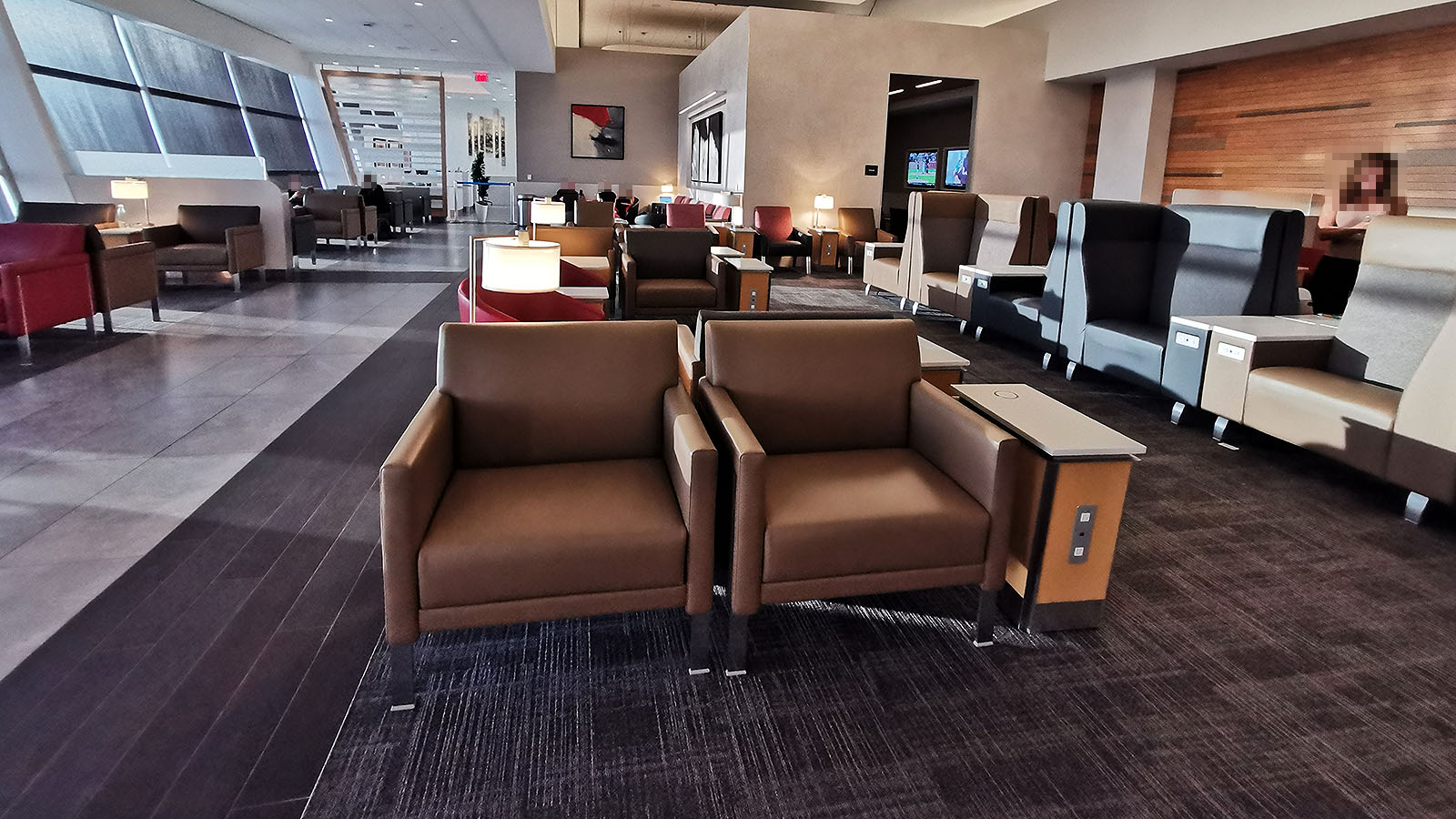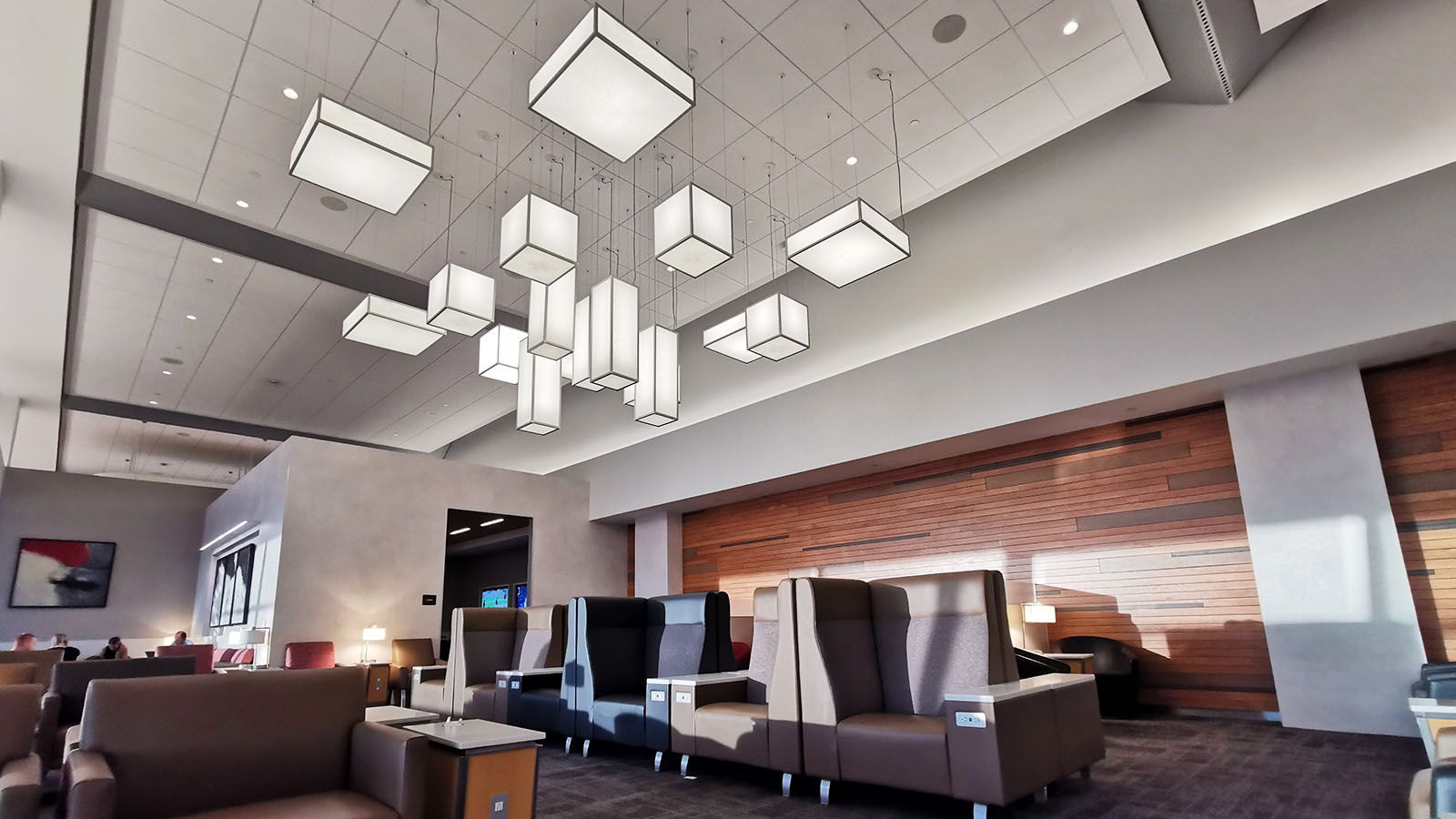 Dividers help to separate the lounge's various zones, without giving the feeling of being boxed in. Power points are abundant, but even though many outlets have USB ports, I always pack my US AC travel adaptor to be safe.
With the dining area quite popular on this Sunday evening visit, I quickly move to the opposite side of the lounge. It's much quieter here, and makes a great place for a quick spot of pre-flight work.
Food and beverage in the American Airlines Flagship Lounge, Dallas Fort Worth
Unlike a typical Admirals Club where drinks are ordered from a bartender, the Flagship Lounge at Dallas Fort Worth is self-serve. When you're departing the country – as I was – that's handy. Serving yourself means you then don't need any spare cash to tip, as is customary for bar service in the US.
On the drinks front, there's a solid selection. I begin with a glass of Champagne (Piper-Heidsieck) to toast a successful two weeks in the United States. I follow that with a gin, and there are many to choose from.
Always keen to try something new, I pour an Aviation Gin on the rocks. But after checking every fridge, soft drink dispenser and speaking with staff, I discover the tonic water is out of stock. Not wanting to waste good gin, I sip it as is. Hopefully the local supply of tonic is fixed soon.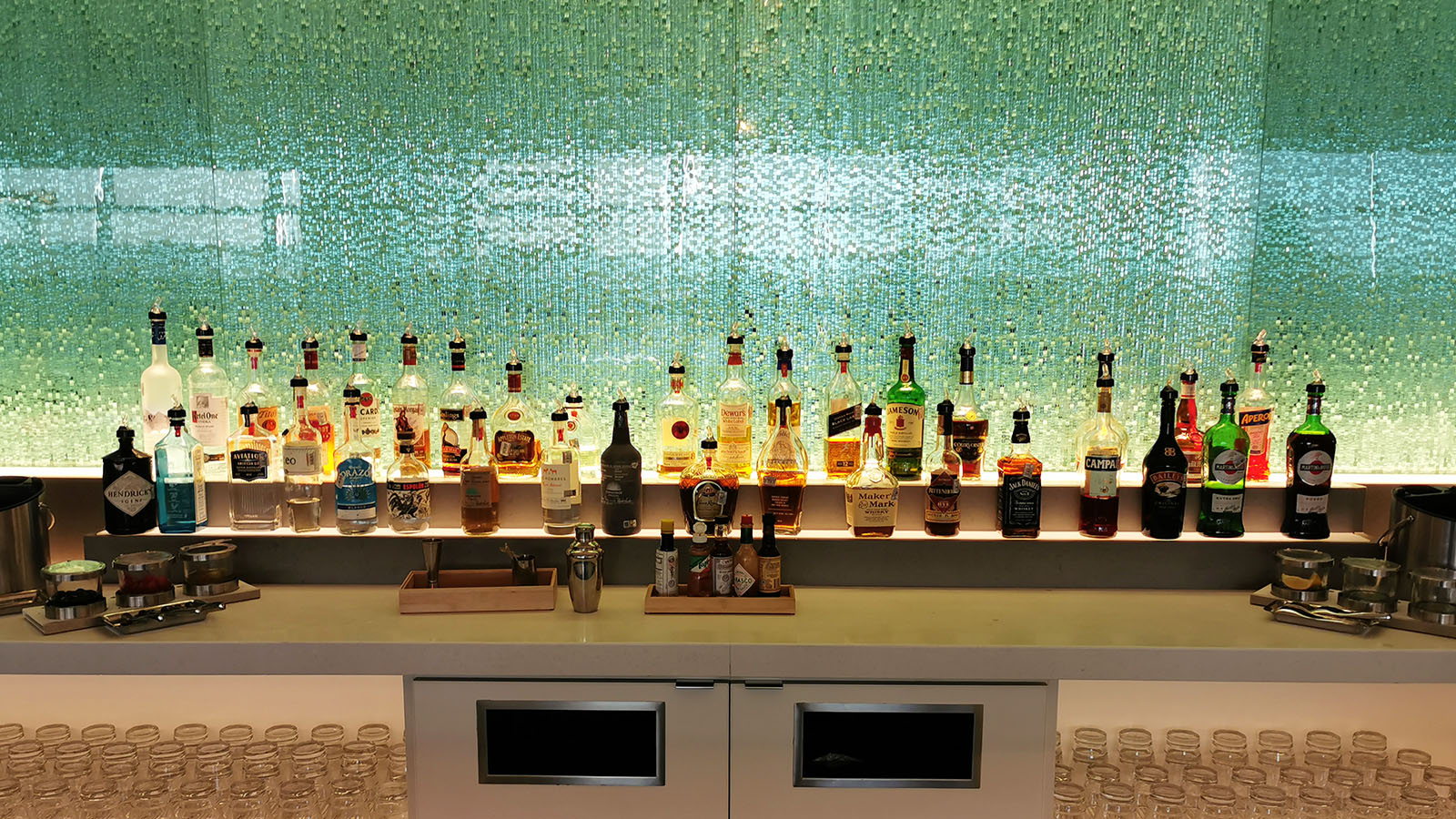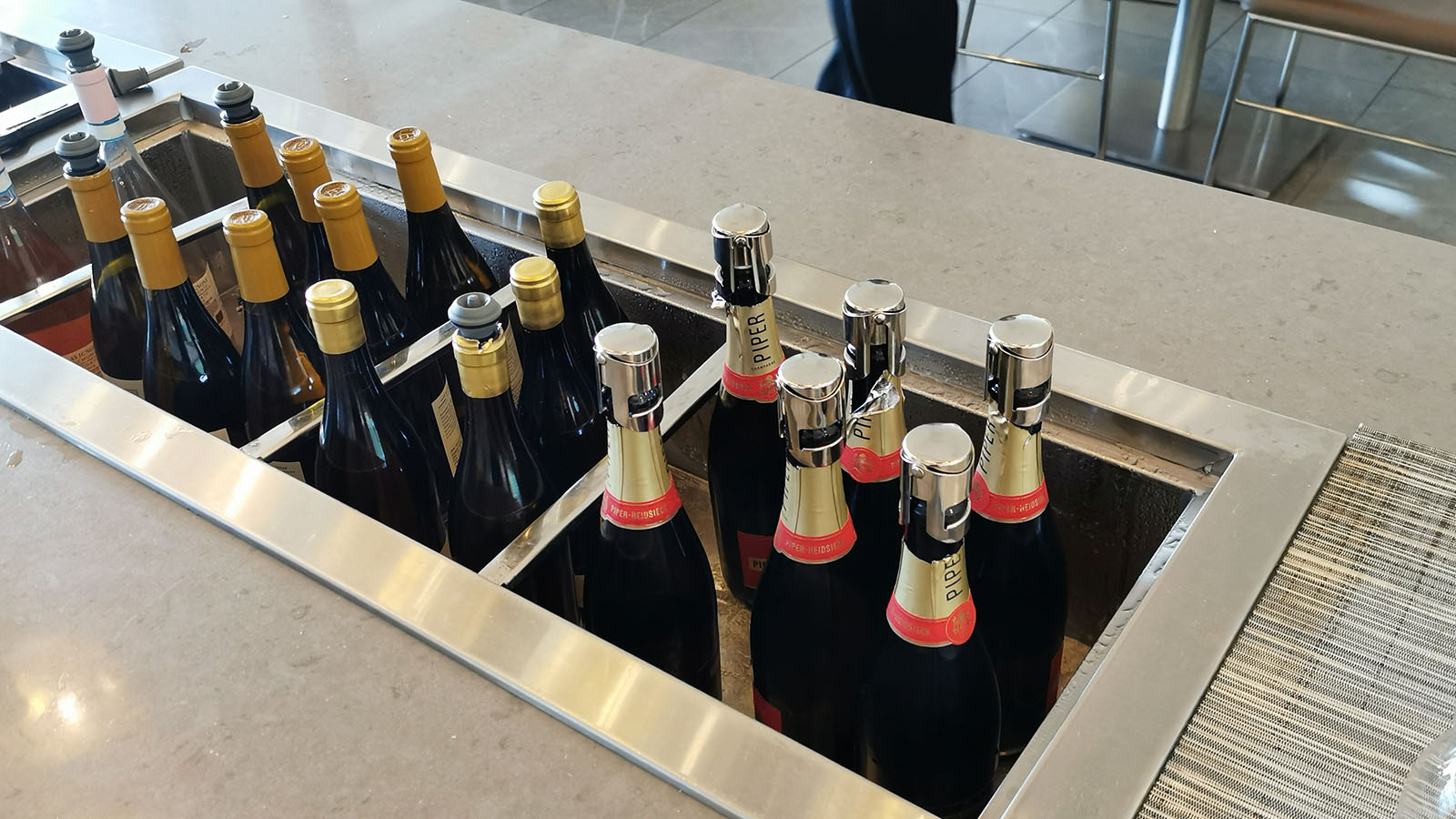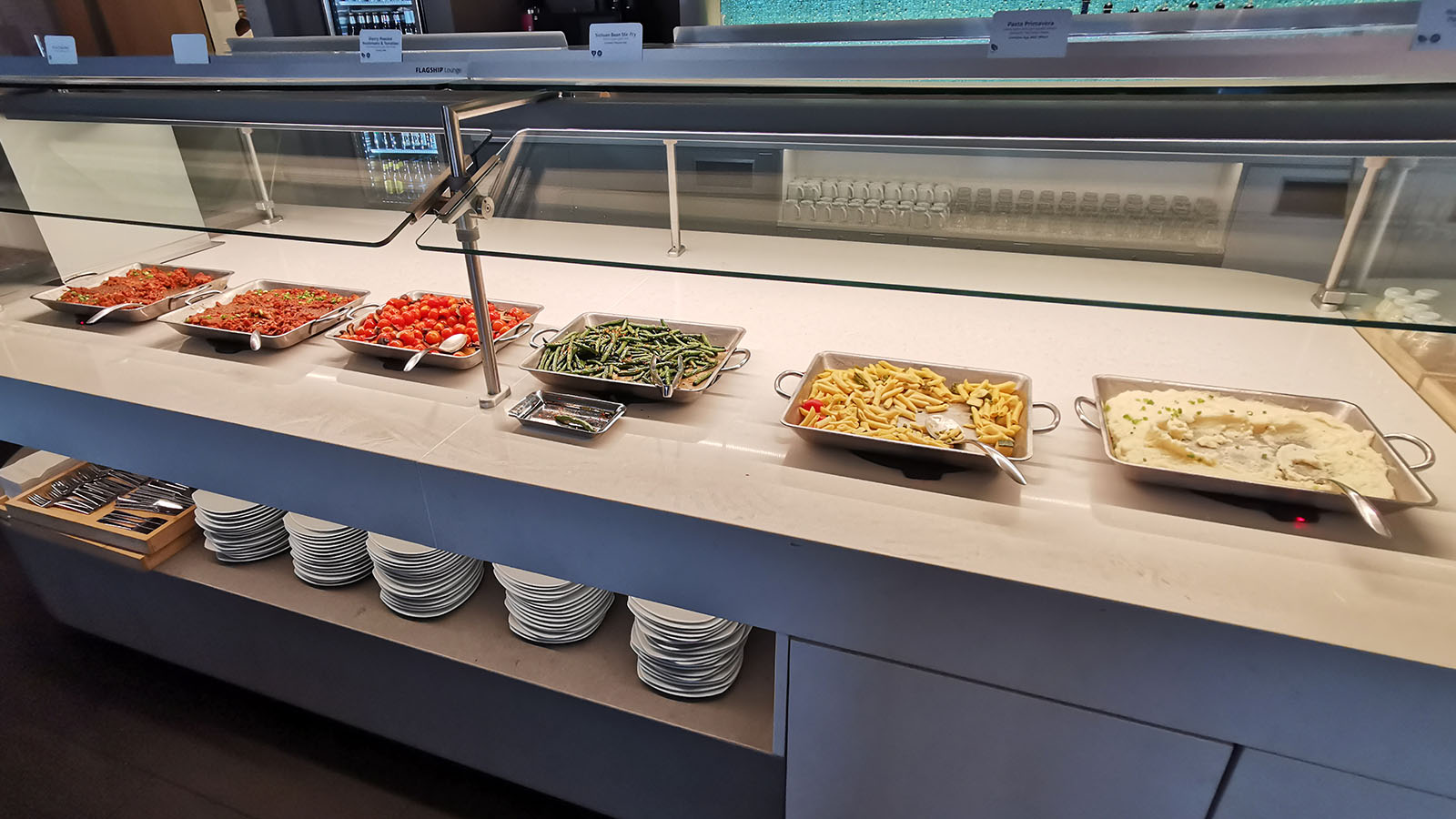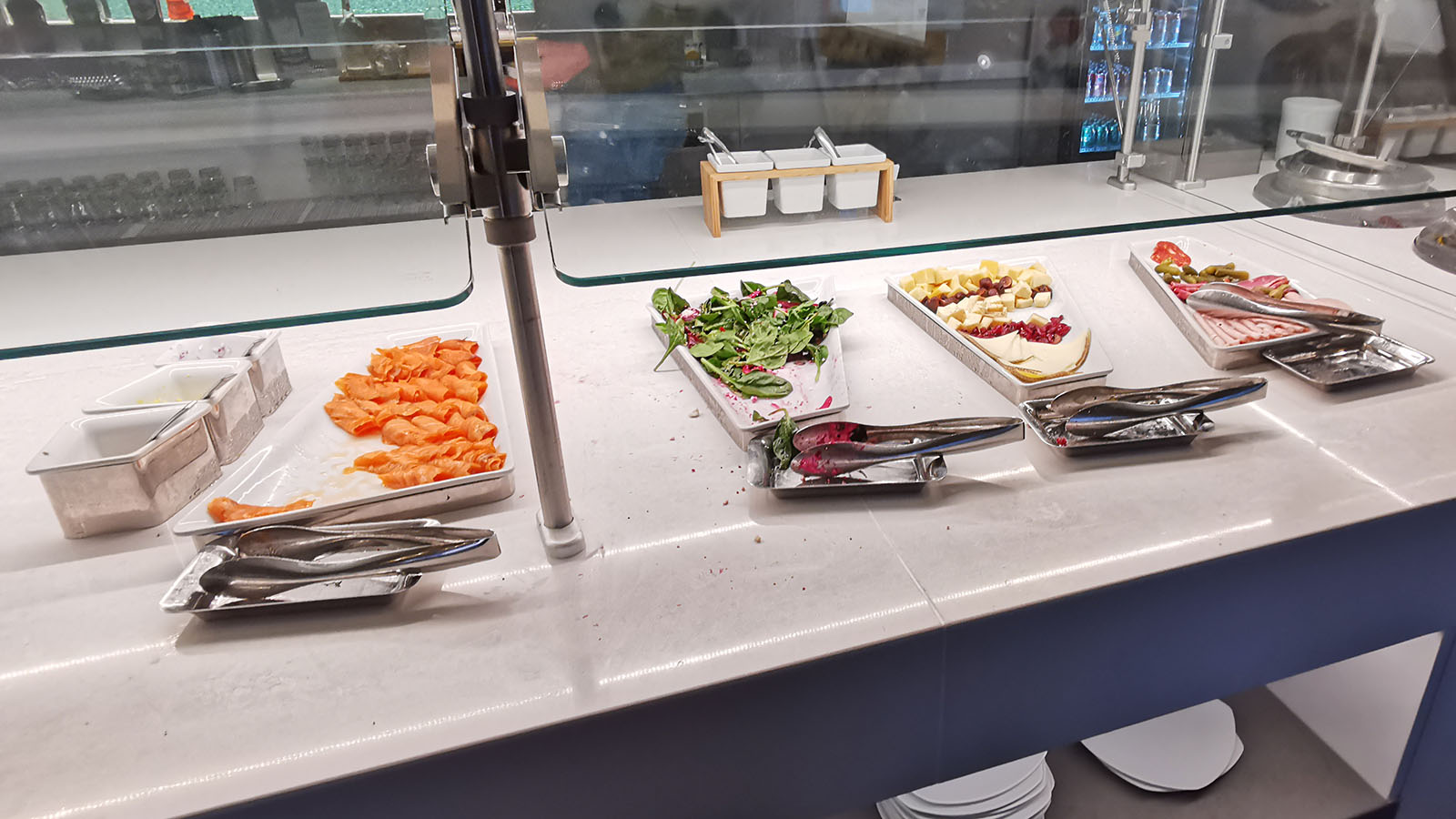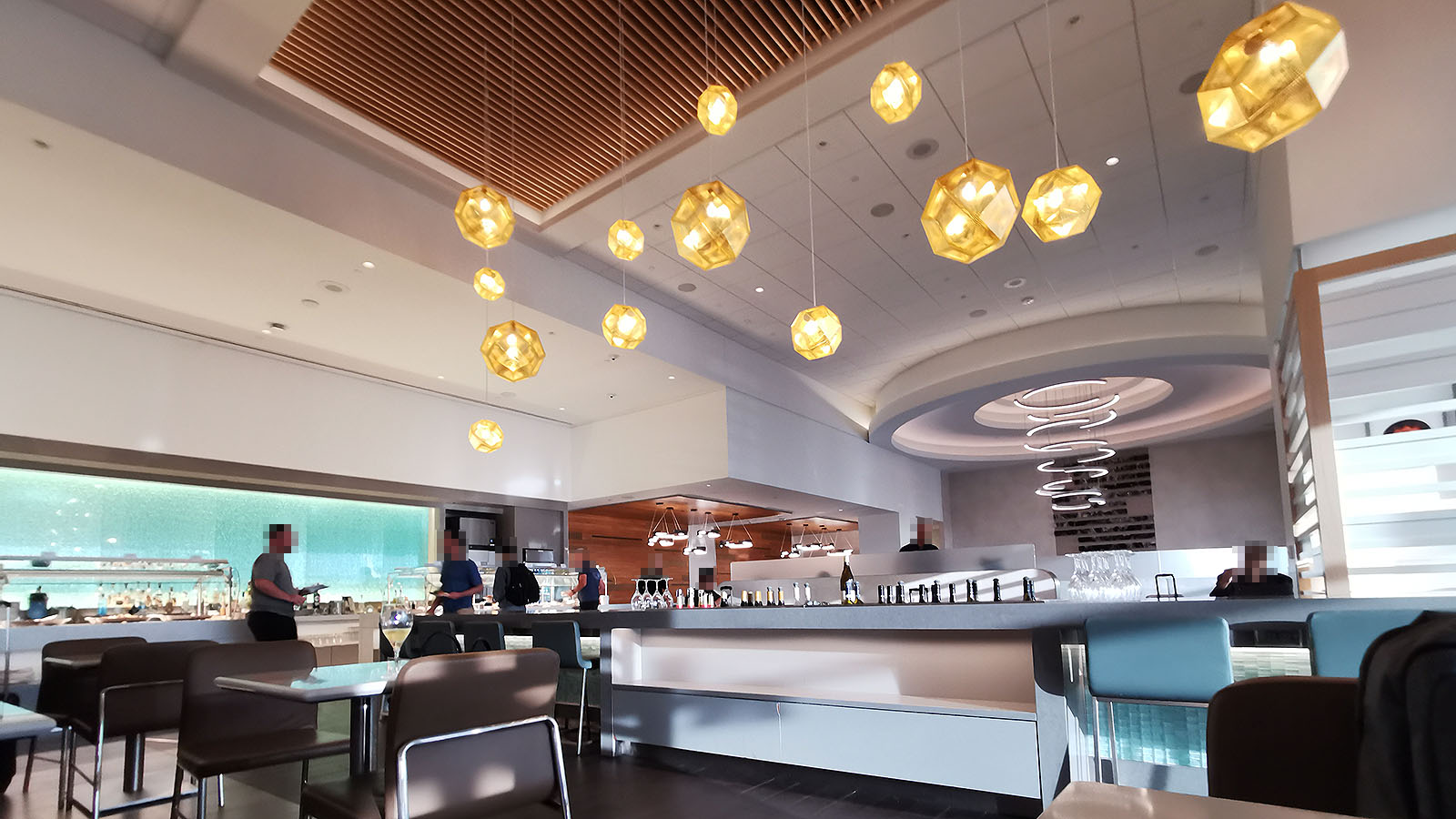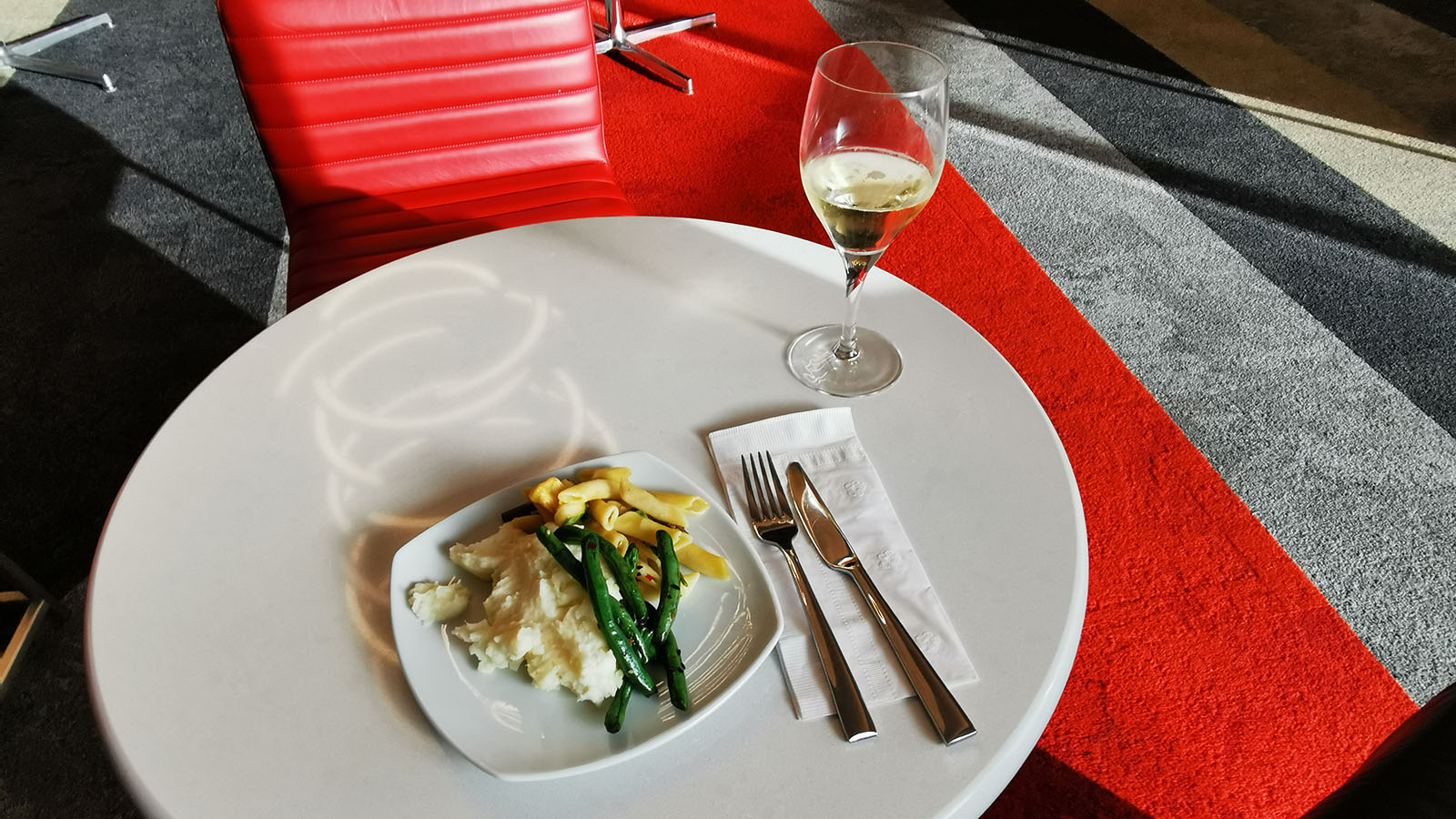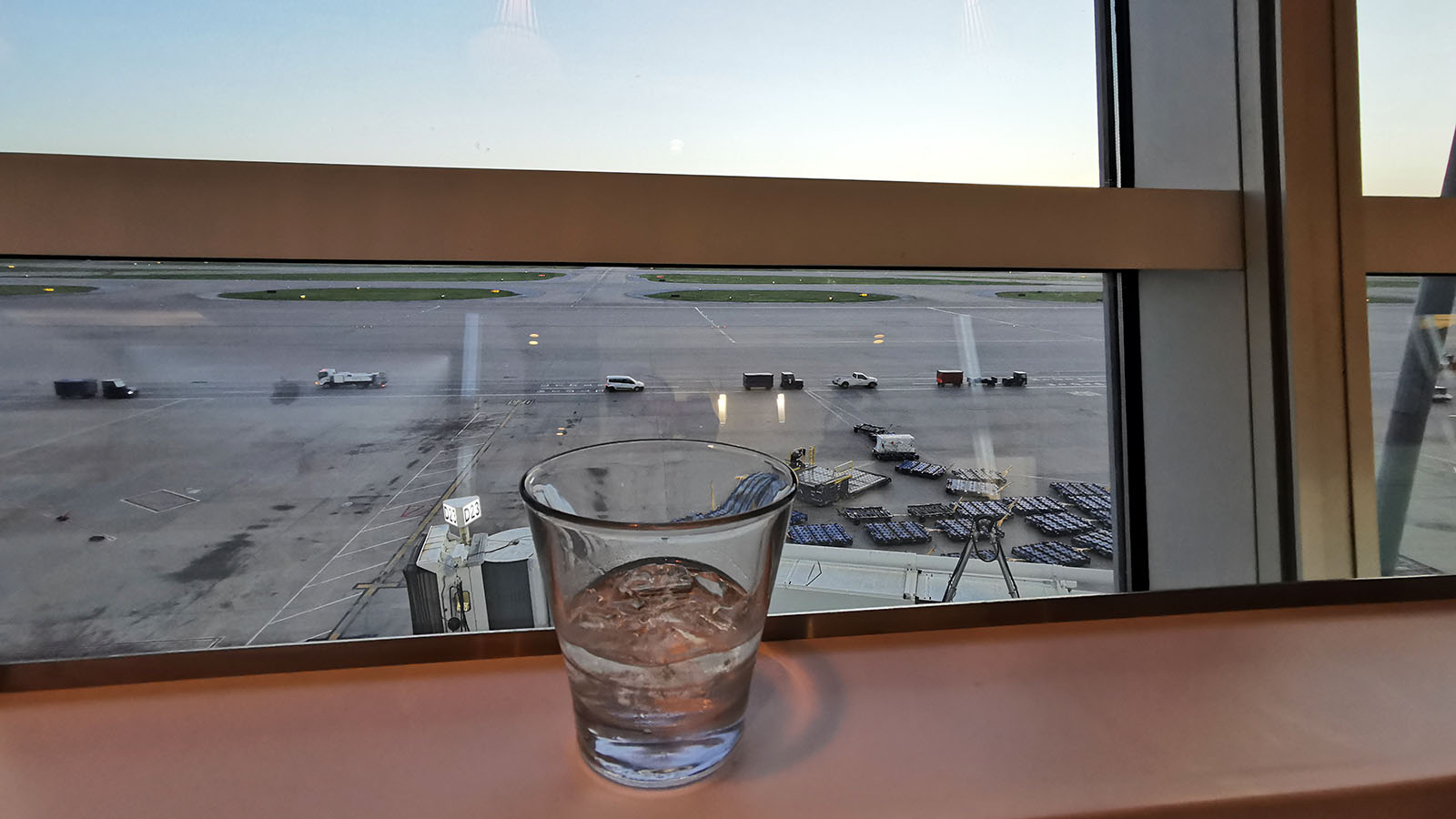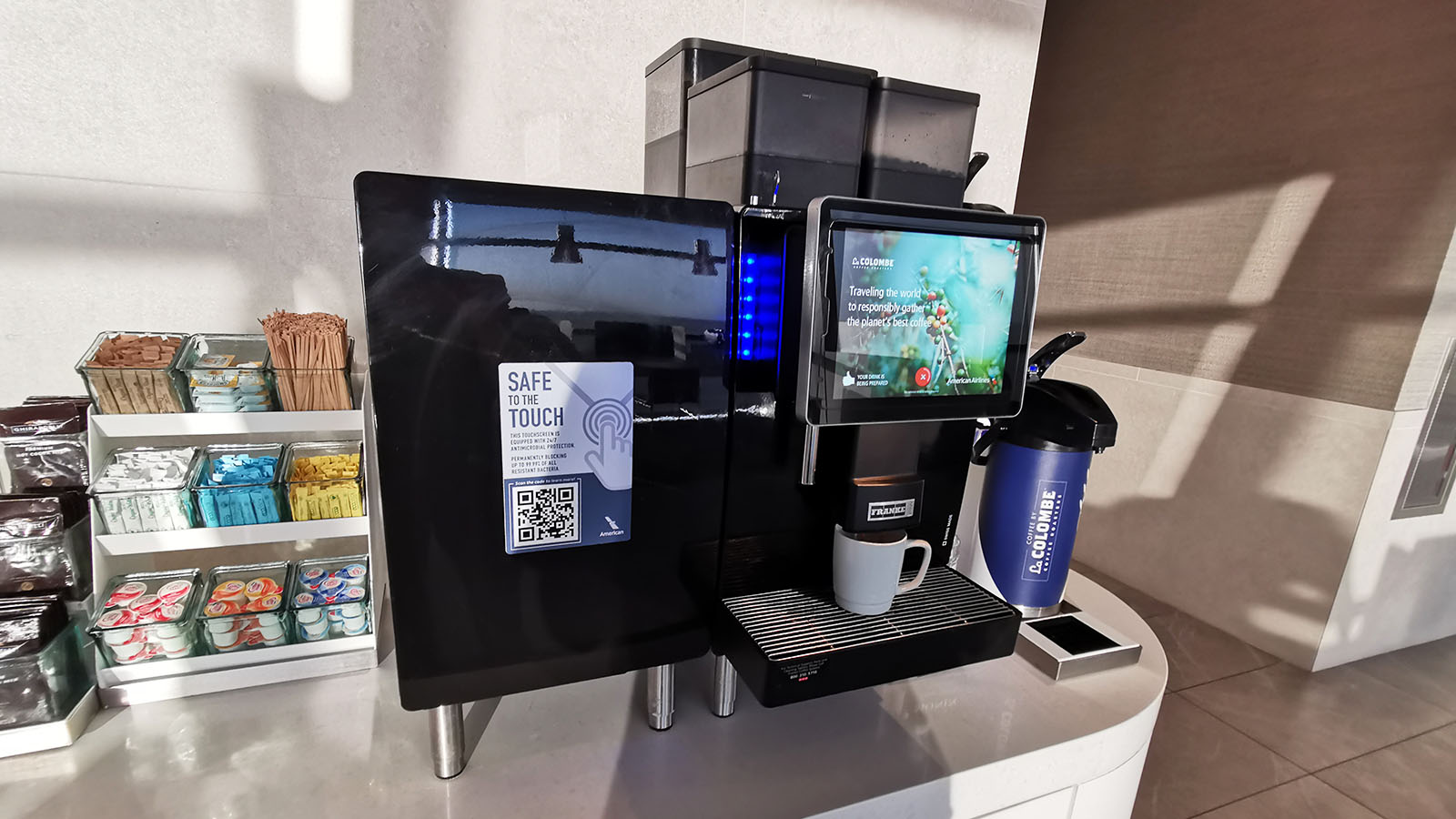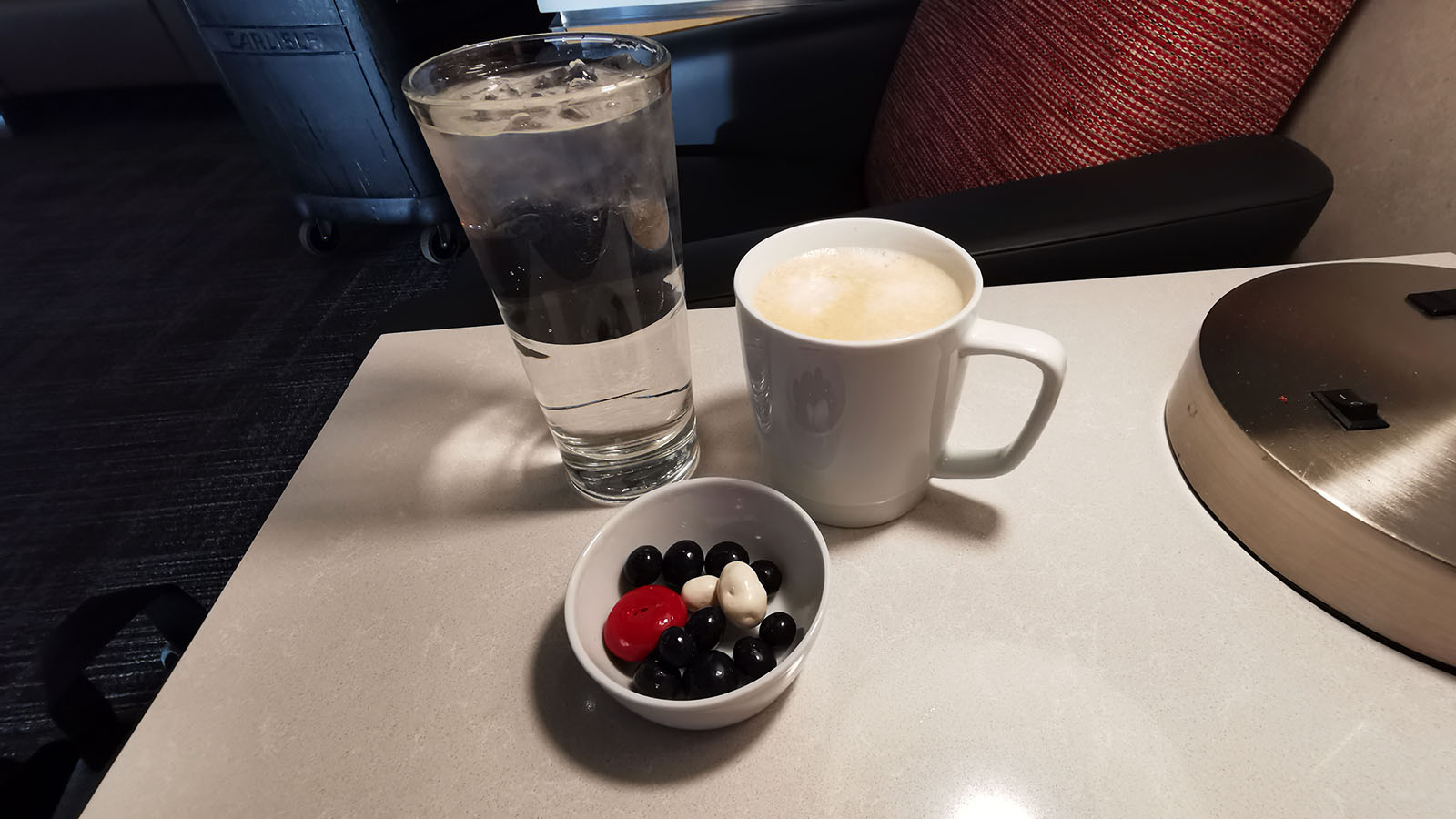 The other way the Flagship Lounge outranks an Admirals Club is on the food front. A solid selection of hot food greets my arrival, as does an array of salads. There's also charcuterie and cheese for a light dessert.
Planning to enjoy a late supper in Qantas Business, I pause for a light dinner on the ground. An eclectic combination of mashed potato, green beans and penne pasta hits the spot.
I've got hours to spare, and also know that I don't want to sleep straight after take-off. That sees me make a latte via the self-serve machine. I also find a collection of chocolate-covered fruits hiding in the corner. Yes please!
Lounge amenities
Separate to the main Flagship Lounge space, Dallas Fort Worth Airport is also home to a Flagship First Dining facility. Unfortunately, it's a perk reserved exclusively for American Airlines' own passengers. There isn't a Qantas boarding pass that can get you through the door.
Even then, the guest list is limited to those flying AA in Flagship First or Flagship Business Plus. From time to time, American's top-tier ConciergeKey frequent flyers are also granted passes to Flagship First Dining. It's effectively a lounge within a lounge – so not something we'll focus on here.
Elsewhere in Dallas Fort Worth's Flagship Lounge, there are two other distinct rooms.
On one side is a 'quiet room'. Walking past during a busy time finds several people napping – likely during a long layover. It's quieter when I return later. On the other side, a 'TV room'. It's more of a sports lounge, with three TVs going, each tuned to a different channel.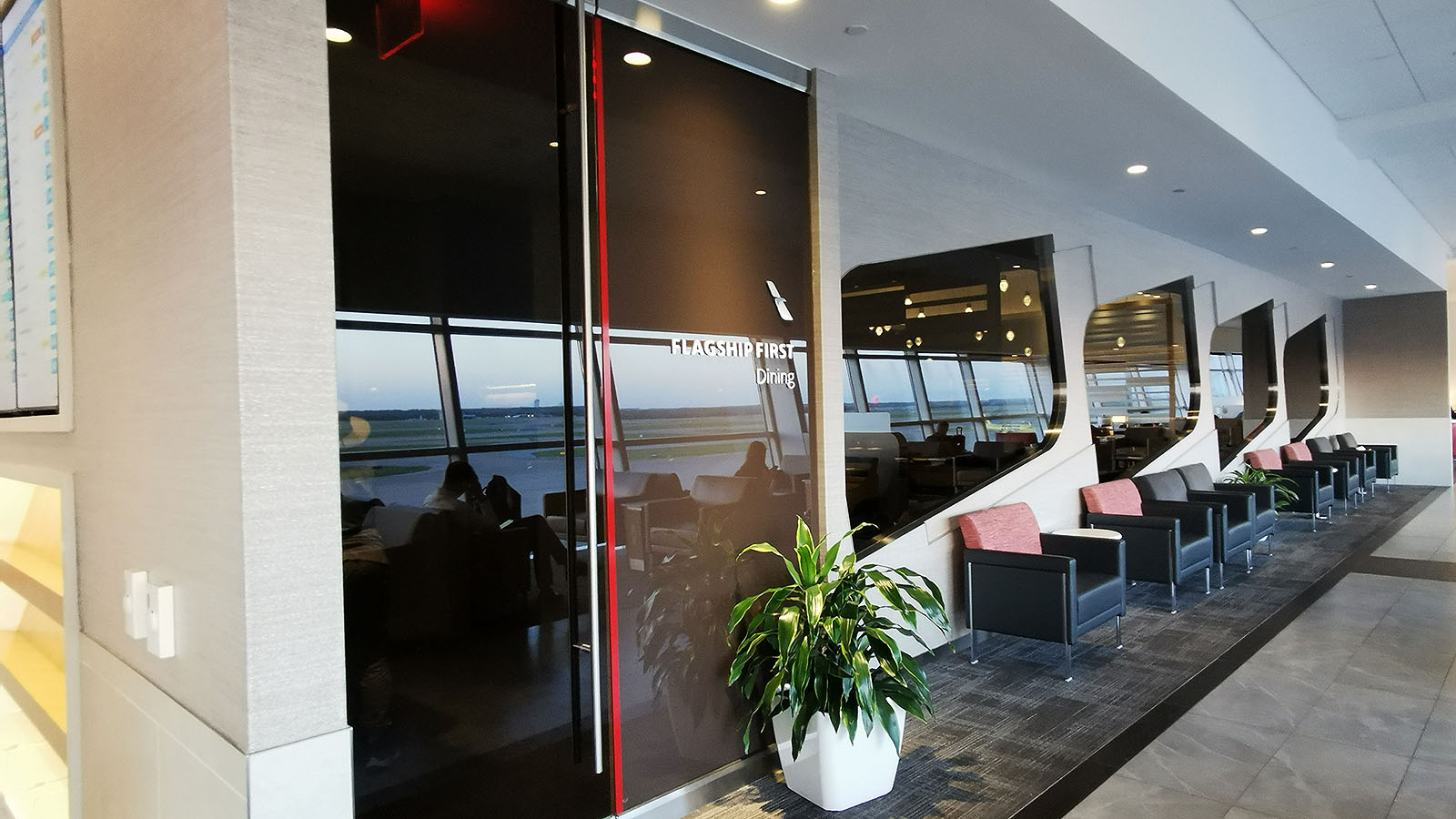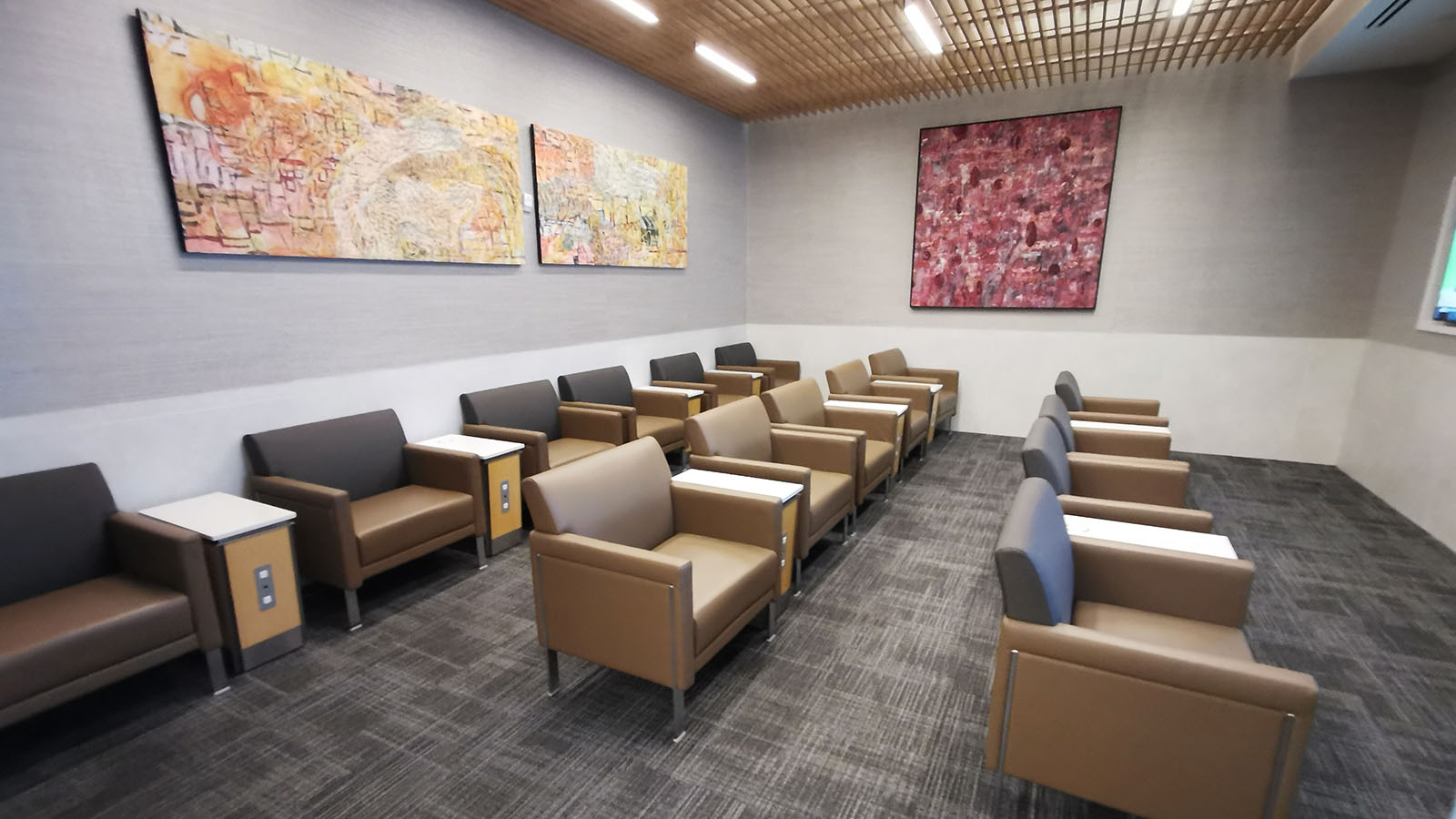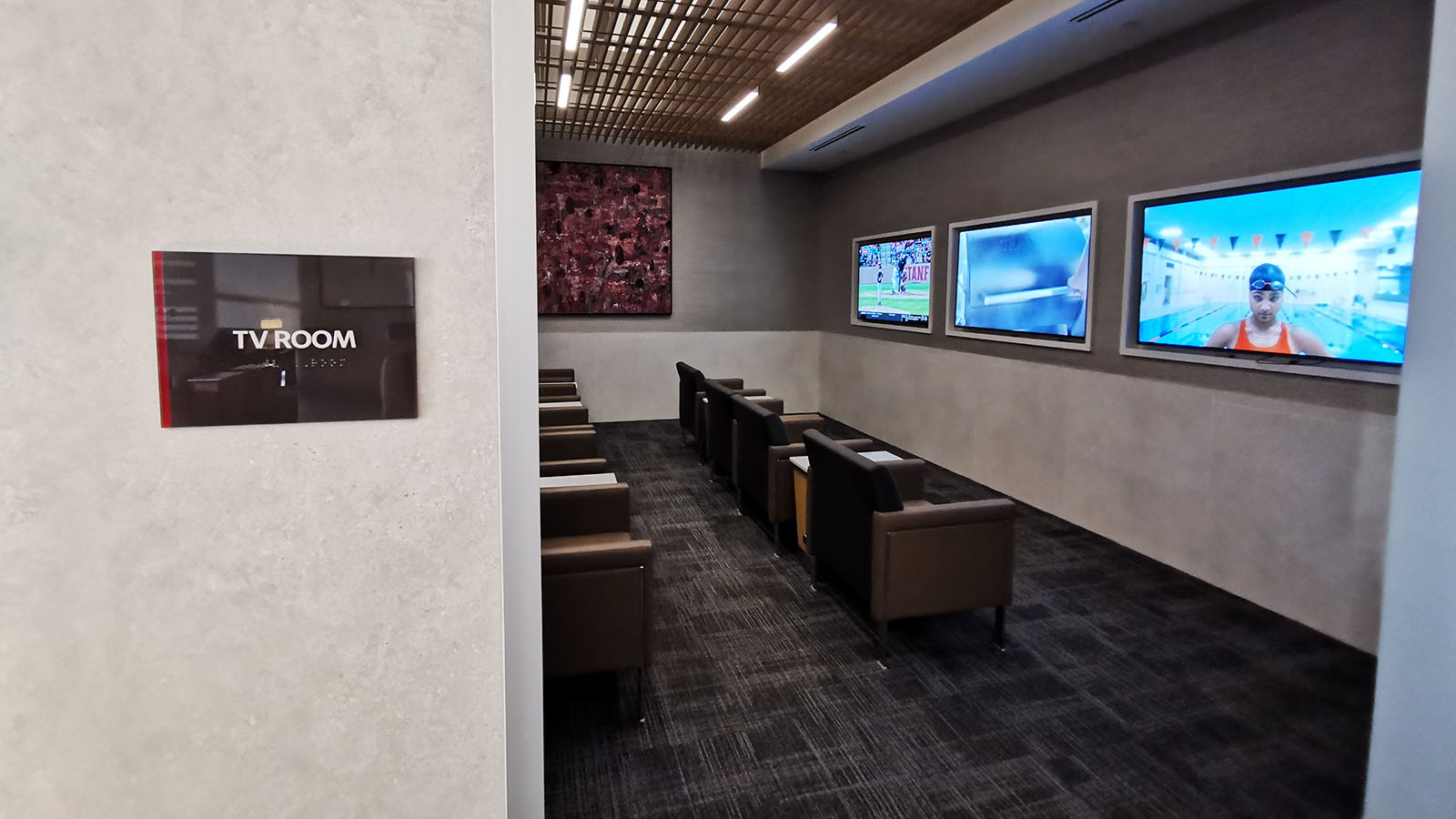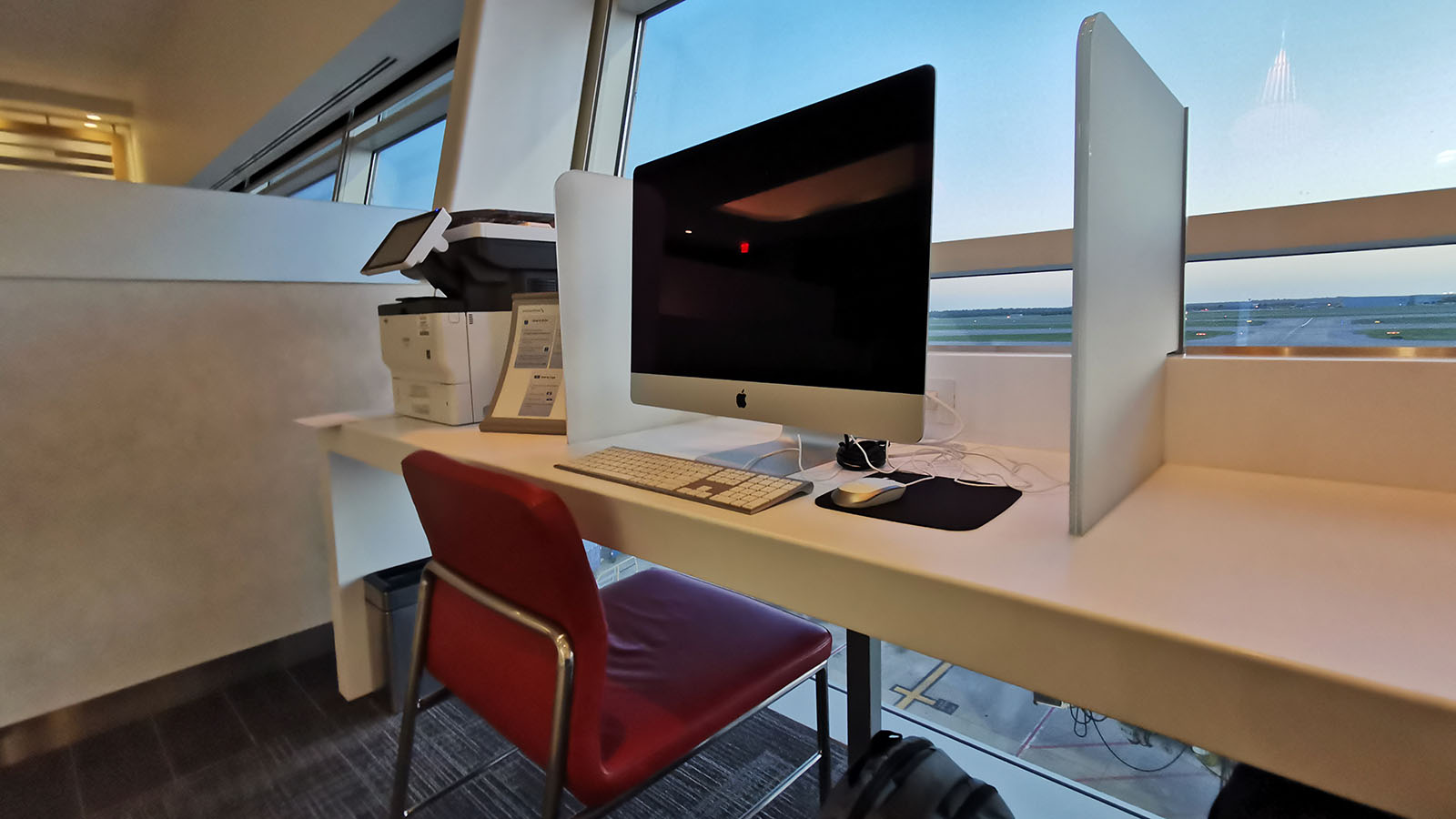 While computers have been retired from many lounges, they're still available here if you need them. That includes desktops and printing facilities. And of course, there are plenty of places to set up your own laptop.
Wi-Fi speeds are on the slower side here, even with the lounge not particularly full. My tests found downloads averaging 8.17Mbps with uploads at 10.1Mbps. That's fast enough for tasks like HD video streaming. But if you were downloading shows to watch on your flight, it's a slow ride ahead.
There's also a dedicated Qantas service desk in the lounge before QF8. If you've arrived on a connecting flight, head here to have your documents checked and boarding pass issued. This sure beats the 100-strong queue I saw at the gate, where those without lounge access were doing the same!
Finally, shower suites are available here too.
Accessing the American Airlines Flagship Lounge, Dallas Fort Worth
American Airlines' Flagship Lounges are more premium than the carrier's typical Admirals Clubs. This sees the guest list a little more restrictive than those lower-tier lounges.
Here's who makes the cut for the Flagship Lounge at Dallas Fort Worth International Airport:
By airline and cabin:

American Airlines' Flagship Business, Flagship Business Plus and Flagship First passengers (+1 guest for international Flagship First only).

Business Class and First Class passengers on a oneworld airline, such as Qantas (+1 guest for international First Class only).

Courtesy of airline frequent flyer status:

Qantas Gold, Platinum, Platinum One and Chairman's Lounge (+1 guest, prior to AA and other oneworld flights only, including on domestic itineraries).

American Airlines AAdvantage Platinum, Platinum Pro and Executive Platinum (+1 guest, when travelling on an eligible international itinerary with AA or a oneworld airline).

Alaska Airlines Mileage Plan MVP Gold and MVP Gold 75K (+1 guest, when travelling on an eligible international itinerary with AA, Alaska Airlines or another oneworld carrier).

American Airlines ConciergeKey (+2 guests, when travelling on any same-day American Airlines or oneworld flight).

Other oneworld Sapphire and Emerald members (+1 guest, including on domestic-only itineraries).

Buy a single visit pass: If you don't otherwise make the cut, one-off access can be purchased at the door for US$150 or 15,000 AAdvantage miles. This is subject to available capacity.
For example, flying Qantas Business to Sydney gets you through the door, regardless of status. The same is true if you've arrived at DFW in Qantas Business. Before a domestic AA connection on the same day, flash both your Qantas and AA boarding passes for access to this lounge.
Of course, a shiny Qantas Gold card (or higher) also gets you across the line, regardless of destination or itinerary. But if you're a Qantas Club member and don't qualify for Flagship Lounge access by cabin, make your way to one of DFW's many Admirals Club locations instead.
Summing up
American Airlines' Flagship Lounges have changed over the years. Previously, they were exclusively for eligible First Class flyers and oneworld Emerald cardholders – much like the guest list of a Qantas First Lounge.
But now, they've taken a different tilt. A broadened access list caters for more of the airline's premium travellers. Essentially, those flying long-haul Business Class are welcome here now too. So too are oneworld Sapphire cardholders, when that status comes from an airline outside of the United States.
It's a complex web of rules, but as a oneworld Sapphire frequent flyer travelling in oneworld Business Class, I certainly appreciated having access here. Under the old rules, I'd have been relegated to the Admirals Club. That wouldn't have been the most exciting way to begin the journey home to Australia.
Still, with the Flagship Lounge's premium slant, getting the basics right is important. The absence of tonic water when there's a literal line-up of gins at the bar would be a good place to start. But until then, there's (real) Champagne – and that's more than we can say of many Business Class lounges.
Also reviewed: Qantas Boeing 787 Business (Dallas Fort Worth – Sydney)
Photography by Chris Chamberlin, who accessed the Flagship Lounge when travelling on a oneworld Business Class flight at Point Hacks' expense.
---
Stay up to date with the latest news, reviews and guides by subscribing to Point Hacks' email newsletter.
American Airlines Flagship Lounge, Dallas Fort Worth
was last modified:
December 9th, 2022
by