Qantas recently introduced the Points Club, a unique program with two membership tiers for travellers who earn more points on the ground than in the air. Our introductory guide has all the basic information you need to know about Points Club.
With the right points-earning strategy, you could be gifted with lounge passes, a full Qantas Club membership, and even the ability to earn some Status Credits on Qantas reward flights! You need to earn 150,000 Qantas Points for Points Club and 350,000 Qantas Points for Points Club Plus, within your membership year.
Most points have to come from outside sources, such as credit cards, shopping and reward programs. Only 20,000 points a year from flying will be counted in Points Club qualification.
Unless you're able to spend hundreds of thousands of dollars through a rewards credit card each year, you'll probably have to rely on certain bonuses and promotions to reach the threshold. Read on for different ways to get to Points Club faster.
Credit Card sign-up bonuses
The most efficient way to accumulate Qantas Points is through credit card sign-up bonuses. It's easy to get more than 100,000 Qantas Points each time through this way, with an annual fee of a few hundred dollars on various Platinum, Signature and Black cards.
We have a guide to Qantas Frequent Flyer credit cards including sign-up bonuses or browse the Qantas Cards website to see if they have any good offers running.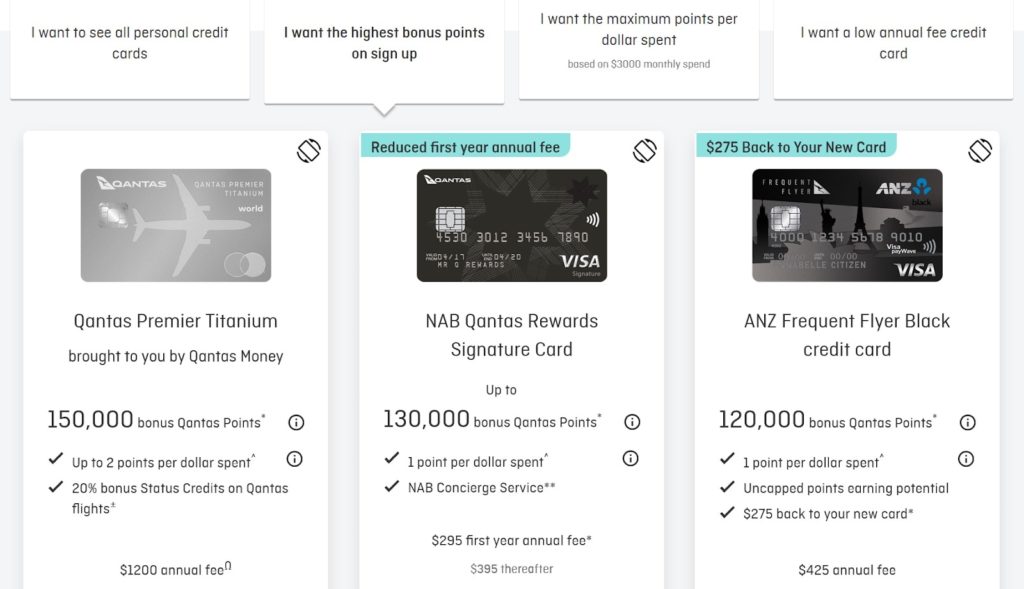 However, check when the bonus points will land in your account. For example, the recent (as of this writing) NAB Qantas Rewards Signature Card offer gives 100,000 Qantas Points in your first year and 30,000 points if you keep your card open in the second year. That second batch of points won't count to your current Qantas membership year when trying to get into Points Club.
Secondly, remember that there is a cap of 125,000 Qantas Points per eligible transaction. If you applied for the Qantas Premier Titanium Card with its 150,000 points sign-up bonus (as of this writing), only 125,000 points will count to Points Club.
Combined with the 20,000 points first-time cardholder bonus explained above, you could reach 145,000 Qantas Points with one application, just 5,000 points short of the first Points Club tier.
Qantas Wine
You can easily earn more than 10,000 Qantas Points in a single transaction through Qantas Wine. Just select the 'Bonus Points' option on the sidebar to see the current deals.
A case of six bottles of wine might cost between $300-$400, and gives bonus points of roughly 15,000 Qantas Points. These count towards Points Club and could help you bridge the gap after a credit card application and sign-up bonus.
Qantas Health Insurance
Qantas often has big bonus points promotions on its health insurance product, although premiums can be more expensive than other health funds and benefits may not be as good, so make sure to shop always shop around.
Qantas is currently offering up to 100,000 bonus points on new couples, single parents and family policies with top-level hospital and extras until 17 May 2020. Although the monthly premiums are quite high, you only need to hold the policy for 60 continuous days before the first batch of bonus points credit, so there is an earning potential there.
Transferring points from American Express
If you are a high-flyer with an American Express Platinum Charge, Centurion, or other similar metal card enrolled in the Ascent Premium program, then you can transfer your Amex Membership Rewards points to Qantas Frequent Flyer. At the current rates, 2 MR points equal 1 Qantas Point.
With the cap of 125,000 points per transaction counting towards Points Club, I would recommend transferring no more than 250,000 MR points at a time.
Ad – Scroll down to continue reading.Minimum spend, terms & conditions apply.
Buying top-up points from Qantas
If you're just short of a Points Club tier, consider buying some points directly from Qantas. All purchased points will count and there is no cap per transaction, so you could theoretically buy all the points needed in one go (we don't recommend doing this solely for Points Club though, as it will cost you many thousands of dollars for little benefit).
Topping up with Woolworths and BP
Although Qantas has many other retail partners that offer points, we are highlighting Woolworths and BP as two places where you might shop frequently. There are many points-earning opportunities available.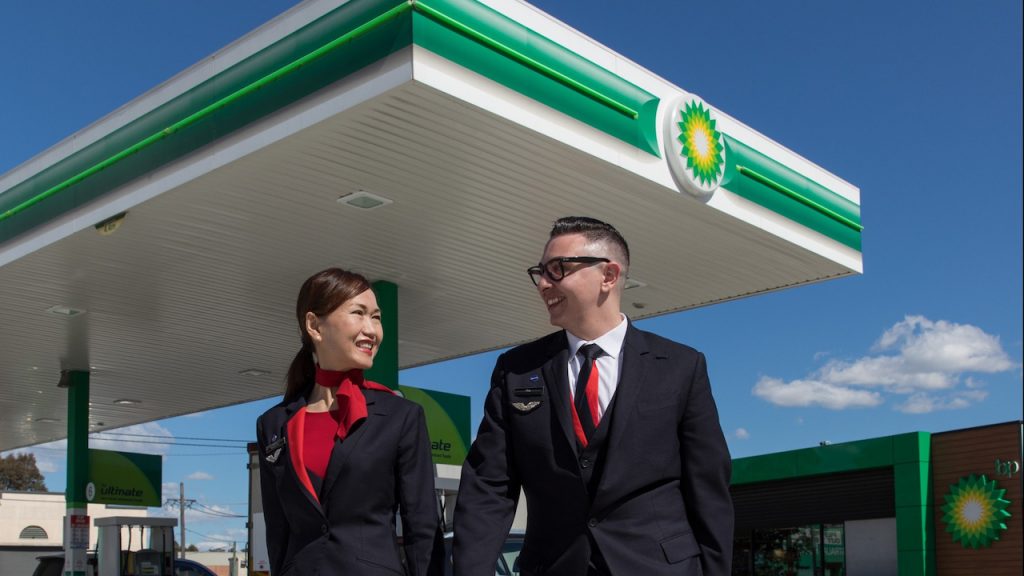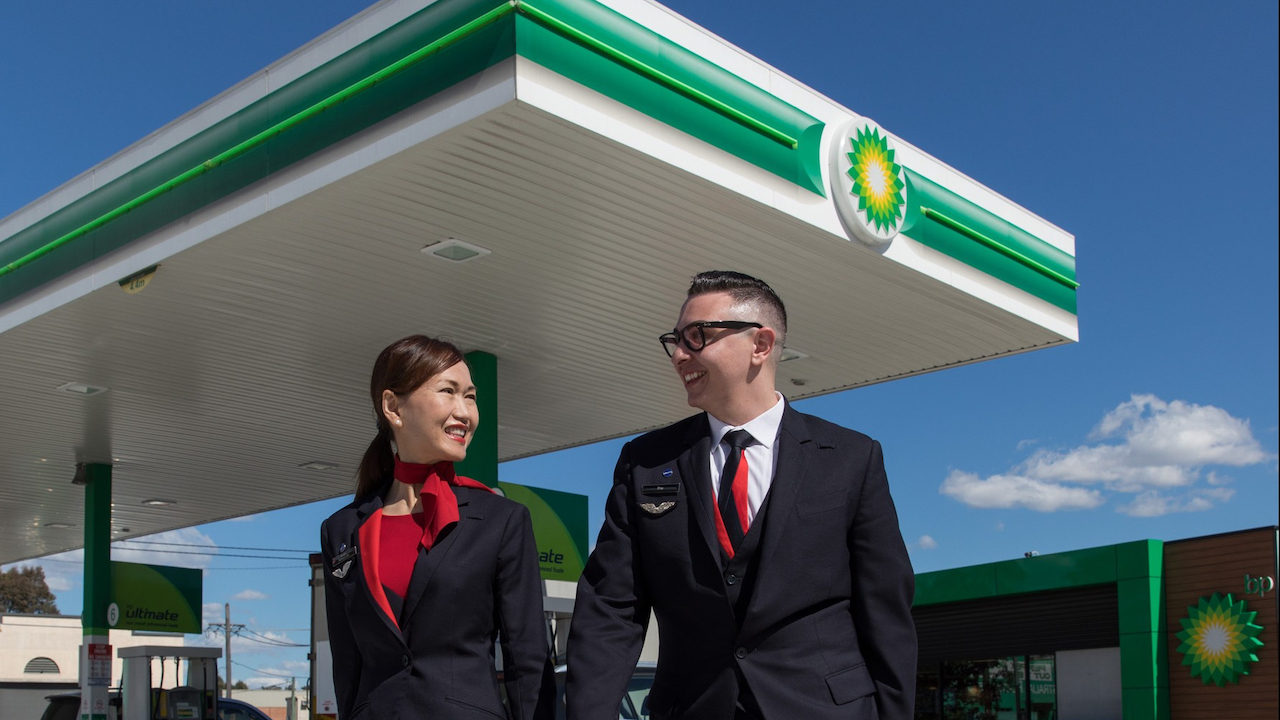 Woolworths often has promotions for bonus Rewards Points. For example, a popular offer is to spend a certain amount over three weeks to earn 6,000 Woolworths Rewards Points, equal to 3,000 Qantas Points. While these amounts are smaller than sign-up bonuses, they definitely will help reach Points Club tiers quicker.
Strategies for reaching Points Club
Now that you know the best ways to earn qualifying points for Qantas' Points Club tiers, here is our take on how to put it all together.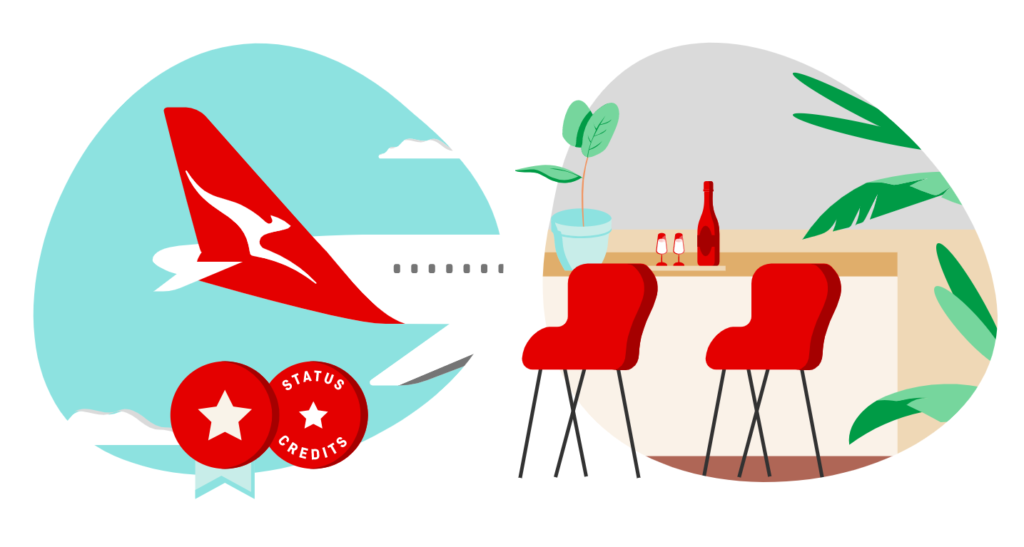 Check your membership year first
Before making any big commitments, check your Qantas membership year. This is a set 12-month window depending on when you signed up for Qantas Frequent Flyer. Only points earned within your membership year, not a calendar year, will count to Points Club.
You can check your membership year and Points Club progress here. In my example below, I only have three weeks left in my membership year, which resets on 30 April.
In general, it's best to defer big points-earning opportunities to the start of your new membership year if you are only a few weeks away from the old year expiring. This is because when you earn Points Club status, it's valid for the rest of your current membership year, plus all of the following year.
If I earned 125,000 eligible points on 28 April 2020, then my Points Club status would be valid for the rest of my current membership year (i.e. two more days), then all the way up to 30 April 2021.
Instead, if I earned the 125,000 eligible points from 1 May 2020 onwards, and later earned the remaining 25,000 points to reach Points Club tier, it would be valid for the rest of my membership year (i.e. until 30 April 2021), then another further year to 30 April 2022.
Ineligible points sources
You won't earn Points Club tiers from a range of sources, including Qantas Business Reward points transferred over. Unfortunately, that makes it a bit harder for small business owners to reach individual Points Club tiers.
Other ineligible sources include Family Transfers, cancelled and refunded bookings, loyalty bonuses, Platinum bonus reward and Platinum One bonuses.
Points Club tier: 150,000 Qantas Points

The most efficient way to earn this tier is through a big Qantas credit card sign-up. E.g. apply for and be approved for the ANZ Frequent Flyer Black Card and get 120,000 Qantas Points (as of this writing), plus the extra 20,000 Qantas Points if this is your first Qantas-earning card in the last 12 months.
That's 140,000 eligible points. Just earn 10,000 more through Qantas Wine, transferring from Amex, bonus offers from Woolworths, general spend, or even flying, and you'll reach Points Club easily.
Points Club Plus tier: 350,000 Qantas Points

This tier is harder to reach, and you'll probably need to have a high ongoing spend on credit cards and other Qantas products to reach it. An example strategy would be to do the credit card example above for 140,000 qualifying points.
Then consider another high-end credit card application down the track if your financial situation allows it, or hold top-level Qantas Health Insurance cover for two months, or perhaps both. Each one you do would net around 125,000 qualifying points, depending on the offer.
If you did all three of the above, you should now have Points Club Plus! If you did two, you'll be around 85,000 qualifying points short.
To finally reach Points Club Plus, you could get a few cases of wine, transfer large balances from Amex, keep up a regular general spend, shop at Woolworths and BP, and keep on flying (after the COVID-19 situation blows over, of course).
Is it worth aiming for a free Qantas Club membership with Points Club Plus?
If you're after the Qantas Club membership that's available for Points Club Plus members, I wouldn't suggest going out of your way to earning the 350,000 points needed to qualify, if you wouldn't normally earn close to that number in a year anyway.
Instead, consider looking at joining a corporate scheme somewhere for a discount, or wait for Qantas' (usually) annual 'up-to' 40% off sale to lock in a great rate. Here are the Australian-resident rates at the time of writing, for new members and including the one-off joining fee:
Qantas Club through Points Club Plus
One year free with Points Club Plus: Earn 350,000 points within a membership year
Qantas Club standard membership (and with 'up to' 40% off sale)
Standard membership 1 year: $939 AUD ($725.40 during the sale)
Standard membership 2 years: $1,379 AUD ($994 during the sale)
Standard membership 4 years: $2,249 AUD ($1,349.40 during the sale)
Qantas Club corporate scheme membership
Corporate scheme 1 year: ~$690 AUD for the first year
Corporate scheme 2 years: ~$1,051 AUD for the first two years
During the sale, getting four years of membership for $1,349, including the joining fee, is easily the best deal, coming to $337 a year. It's a lot easier than signing up for multiple credit cards and services just to get one year free with Points Club Plus.
Summing Up
Points Club is a great new initiative for high-buyers rather than high-flyers. It's relatively easy for most people to reach the first Points Club tier, although it is much trickier for Points Club Plus if you don't spend a lot of money each month.
Remember to keep an eye out for opportunities to earn bonus Qantas Points at a wide range of retailers and partners, as most of these will count. Our Qantas guide has more than 20 ways you could be earning extra points.
I personally don't feel like it's worth going too much out of your way to getting Points Club or Points Club Plus membership. It can be a lot of extra work to continuously earn big Qantas point sign-ups, especially where financial products like credit cards and health insurance are involved.
For the general consumer, I think it'll be quite easy to get the first level of Points Club. To reach Points Club Plus, it'll require lots of spending and/or going through multiple sign-up offers to reach, which might take a lot of extra effort for cost-conscious consumers.
Frequently Asked Questions
What is Qantas Points Club?
Points Club is a new way to reward people who earn lots of Qantas Points on the ground. There are two tiers, each offering a unique suite of benefits when flying with Qantas, including lounge membership, status credits on reward flights and discounts at various places.
How do I earn Points Club status?
Earn 150,000 qualifying points within your membership year to unlock Points Club. Make that 350,000 qualifying points within the same period to reach Points Club Plus. Most points earned from spending on the ground are included, but some exclusions apply.
How can I check if I'm close to unlocking Points Club?
That's easy, just visit this link and log in to see how close you are to making a Points Club tier.

Strategies for getting into the Qantas Points Club
was last modified:
May 9th, 2022
by