When it's time to go on a big family holiday, it's easiest to book the flights out of one account. Luckily, Qantas is one of the few airlines globally that allows free Family Transfers of Qantas Points, making it easy to combine smaller balances together, or to help someone out with an injection of points into their account. The only restriction is that you can only transfer points between eligible family members.
If you have at least 5,000 Qantas Points in your account, you can easily transfer them to other eligible family members (or vice versa), bringing you all closer to your next flight reward. Here's how it works.
How do I transfer Qantas Points?
Simply visit the Family Transfers page once you're logged into your frequent flyer account. If you have enough points and haven't reached the 12-monthly limit, you can transfer points.
Choose the number of points to transfer
Pick the family relationship of the recipient to yourself
Enter the recipient's last name and frequent flyer number
Accept the T&Cs and click 'Transfer' to complete the process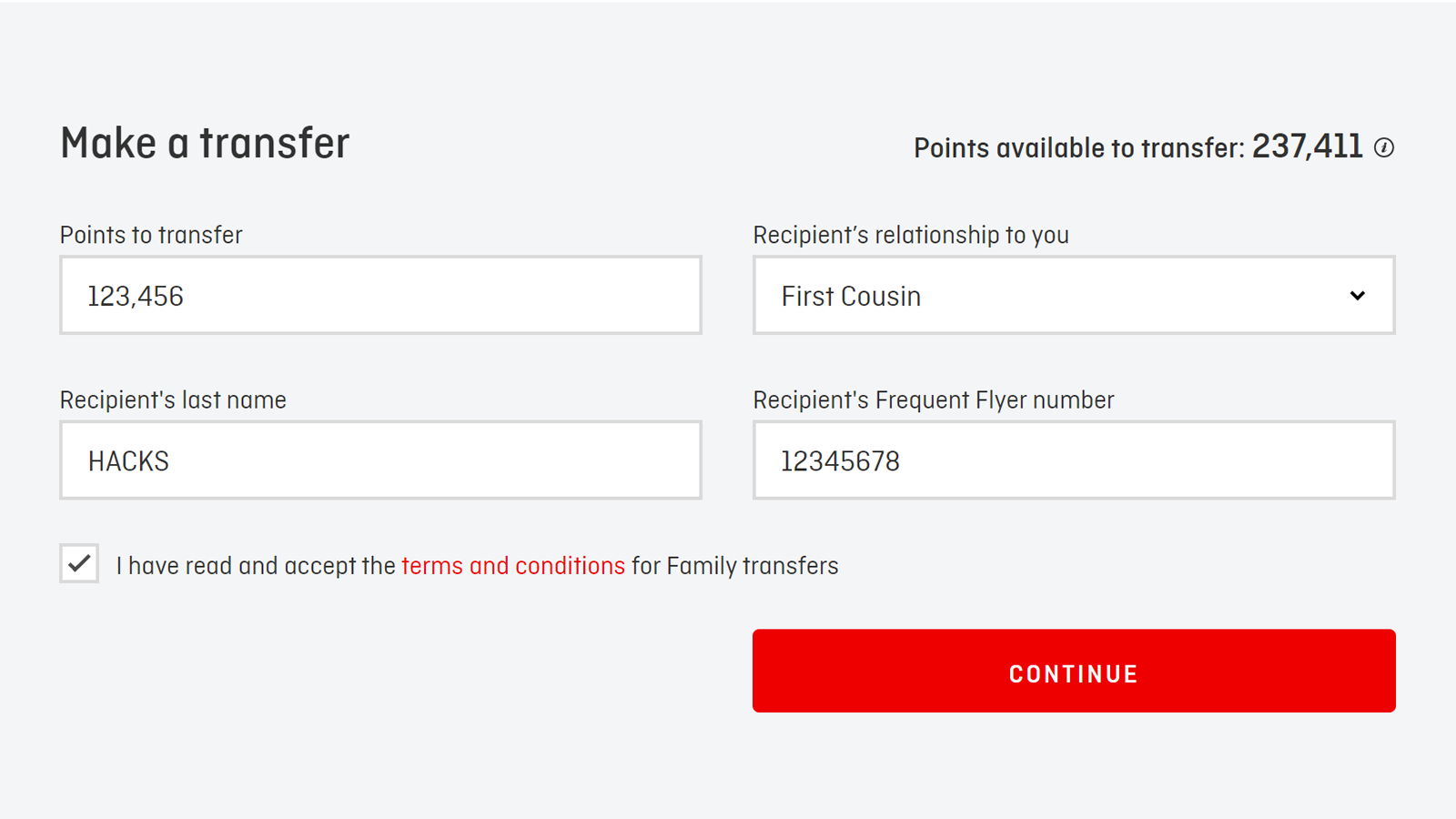 If all goes well, the recipient should receive the points instantaneously. They'll be able to make new bookings in no time. Note that you can't transfer Status Credits to a family member – only points. Velocity Frequent Flyer, by comparison, allows ongoing Family Pooling of both points and Status Credits, though one-off points transfers are still restricted to Velocity Points only.
Ad – Scroll down to continue reading.Minimum spend, terms & conditions apply.
What rules are there with transferring Qantas Points?
The rules are fairly simple with Family Transfers.
Unlimited number of transfers within any 12-month period
Minimum of 5,000 Qantas Points per transfer
Maximum of 600,000 Qantas Points transferred within any 12-month period
Transferred points do not count towards Points Club qualification
Transferred points do not extend the expiry of the recipient's points – instead, they take on the same expiry date
It's also only possible to transfer Qantas Points between eligible family members – defined in the T&Cs as:
Husband/Wife
Parent/Step-parent
Domestic Partner/De Facto
Child, including foster and step-child
Brother/Sister
Half Brother/Sister
Grandparent
Grandchild
Son/Daughter-in-law
Brother/Sister-in-law
Father/Mother-in-law
Uncle/Aunt
Nephew/Niece
First cousin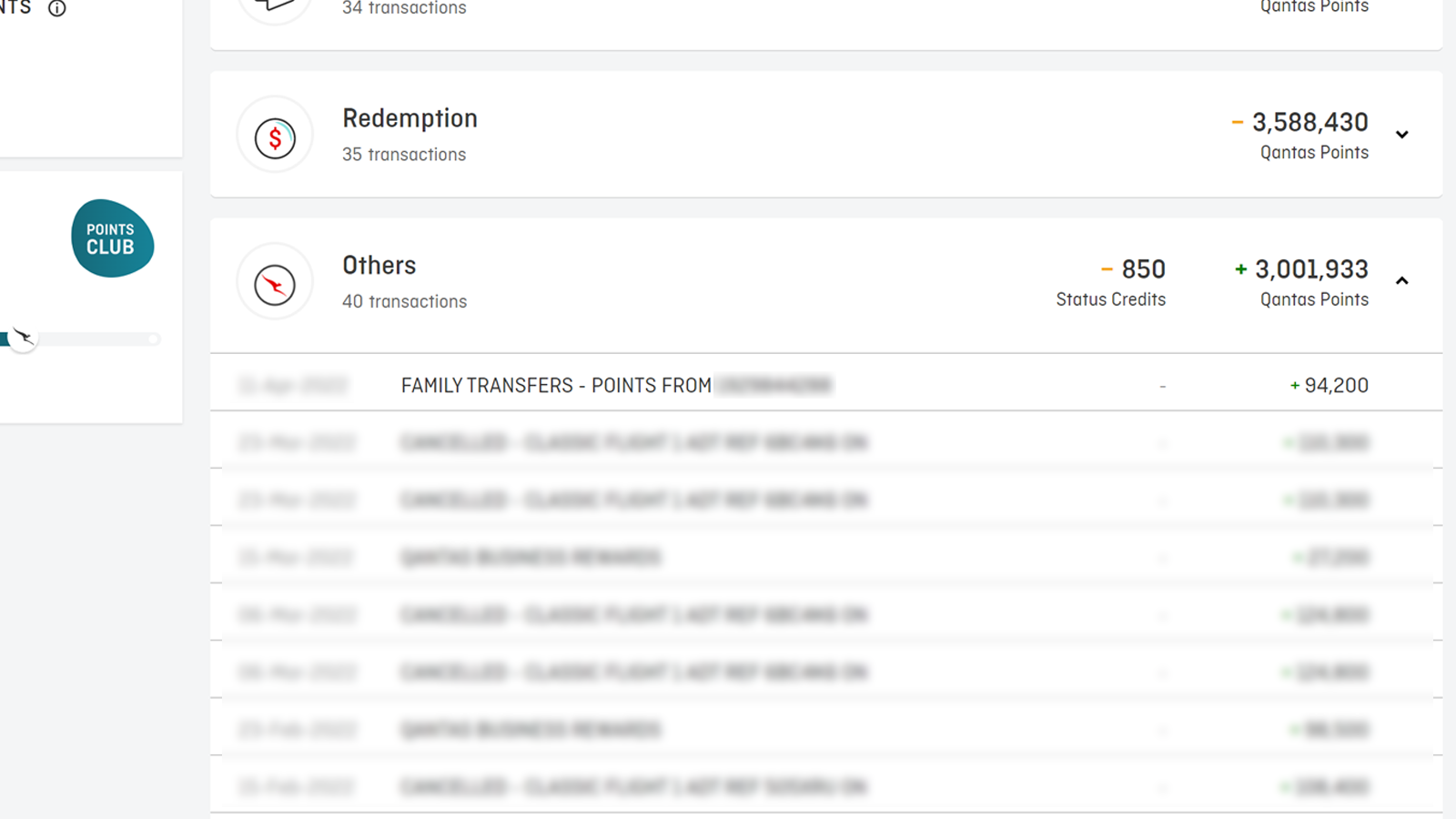 Tip: Combine smaller balances with Family Transfers
Do you have family member accounts with small balances? This is quite common, especially for families that go on a holiday with the kids and come back with a few thousand points in each account. But worry not, for there is a very easy method to combine all the points together – as long as one account has more than 5,000 Qantas Points already.
Let's say Parent #1 has 10,000 points in their account and Parent #2 has 3,000 points. Their two children have 2,900 Qantas Points, each. The family has 18,800 points between them, but the points aren't useful in separate accounts. By combining their points, they could start booking more reward flights.
Parent #1 would transfer 5,000 points to Parent #2, giving them 8,000 points in total.
Parent #2 would transfer 8,000 points to Child #1, giving them 10,900 points.
Child #1 would transfer 10,900 points to Child #2, giving them 13,800 points.
Child #2 finally transfers 13,800 points back to Parent #1, giving them 18,800 points in one account.
Each family member has made only one transfer, and each transfer is 5,000 points or more. Given this, the lead traveller now has 18,800 Qantas Points, which can be used for a return Economy or one-way Business reward seat on a short route (e.g Sydney-Melbourne).
Summing up
Family Transfers are a simple way to keep points balances consolidated between family members. You can do a lot more with a bigger stash of points in one account, rather than smaller chunks in separate accounts. If you're the most avid frequent flyer in your family, perhaps it's time to tap on the shoulders of some family members…
Frequently asked questions
Can I transfer Qantas Points to a non-family member?
No. Transferring Qantas Points to non-eligible members, as well as selling points privately, are breaches of the Qantas Frequent Flyer T&Cs. While you may be able to do it by falsely declaring a relationship, there have been known cases where both the giving and receiving frequent flyer accounts have been caught and shut down, and/or points and reward flights forfeited. Qantas do monitor transfers for unusual activity.
Can I transfer Qantas Points to reach Points Club?
No, both Family Transfers and Qantas Business Rewards transfers do not count towards Points Club or Points Club Plus qualification.
Does Family Transfer of points count as activity for resetting points expiry?
No, both Family Transfers and Qantas Business Rewards transfers do not count as activity in terms of extending your points balance. You must earn or use at least one point within 18 months through a different method to keep your account active.
---
Stay up to date with the latest news, reviews and guides by subscribing to Point Hacks' email newsletter.
How to transfer Qantas Points between accounts
was last modified:
March 31st, 2023
by