Singapore Airlines' SQ238 flight is one of the carrier's several daily flights from Melbourne to Singapore. Its daytime schedule is favourable for Aussies planning a delicious dinner in the Lion City, or those jumping on a connecting flight out of Changi Airport the same evening.
So if SQ238 is your preferred route to Singapore, here's what you can expect.
SQ238 flight time
Singapore Airlines' SQ238 flight has a scheduled departure time of 9:35 am from Terminal 2 of Melbourne's Tullamarine Airport. The total flight time is just under eight hours, with a scheduled arrival time of 3:25 pm local time in Singapore.
If there were ever an optimal 'travel time', this may just be it. A mid-morning departure means a tiny bit more of a sleep-in, plus enough time for a leisurely airport lounge breakfast should your ticket or status grant you entry. A mid-afternoon arrival means you can clear passport control (or whiz through if you're part of Singapore's Frequent Traveller Programme) and be selecting your hawker centre dish by dinnertime.
And of course, SQ238 is a daytime flight. Meaning? You won't have to worry about a cramped slumber down the back, and you can fully enjoy the perks of the pointy end. The latter includes Singapore Airlines' Book the Cook menu for lunch. Yum!
And if you're venturing beyond Singapore, there's plenty of time for a same-day connection after SQ238. For instance, SQ740 bound for Phuket departs at 6:30 pm. That's enough time to stretch your legs, explore Changi Airport or even pay a visit to Singapore Airlines' SilverKris Business Class Lounge. Or if you're Europe-bound, many of Singapore Airlines' flights to the region depart just after 11:00 pm – that includes to Amsterdam, Barcelona, Frankfurt and Munich.
You'll have ample hours up your sleeve to explore The Jewel or make a quick visit to Orchard Road for a spot of shopping. And don't forget if you're out and about, you can use the Kris+ app to pocket rewards on dining and shopping in Singapore.
Also read: Singapore Airlines Airbus A350 Business Class (Singapore – Bangkok)
SQ238 aircraft type and seating
SQ238 is serviced by an Airbus A350, offering three cabin classes. Unfortunately, this plane isn't fitted with a First Class cabin (you'll want to aim for SQ228 or SQ208's later departures) but you'll still be in for a comfy flight. Here's a rundown of the different cabins on offer.
Business Class on SQ238
If you want to lay flat en route to Singapore, you've got a total of 42 Business Class seats to choose from, all offering direct aisle access with a 1-2-1 layout. Business Class is split into two cabins, with the smaller of the pair housing just 16 seats behind the galley.
In terms of space, you can expect a 28-inch seat width and a 60-inch pitch when you're propped upright. For even more legroom, opt for a seat in rows 11 or 19 where the bulkheads are located. And when it's time for your midday snooze, the seat converts into a 78-inch long bed. Bliss.
Also read: Singapore Airlines Airbus A350 'long-haul' Business Class (Brisbane – Singapore)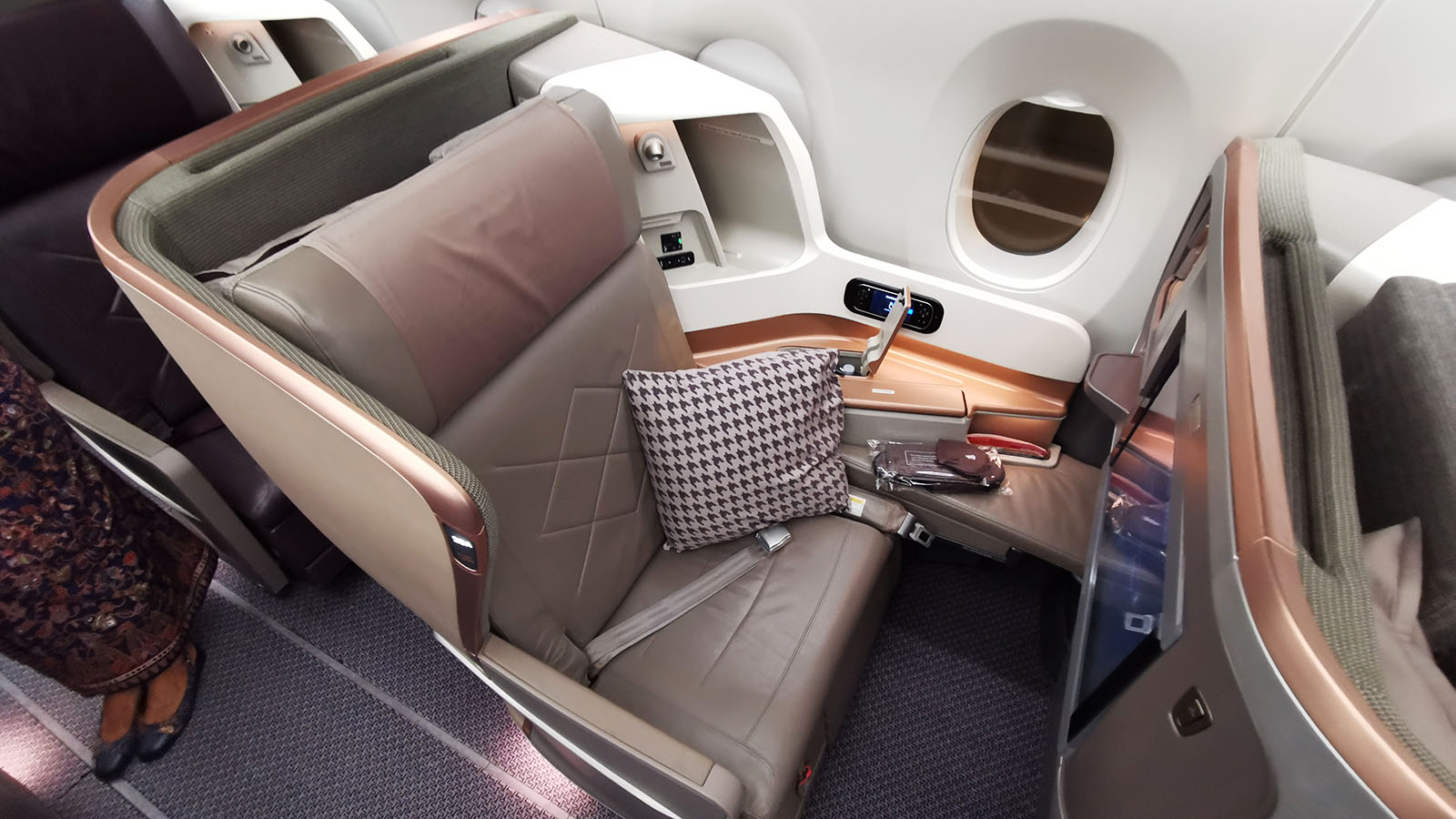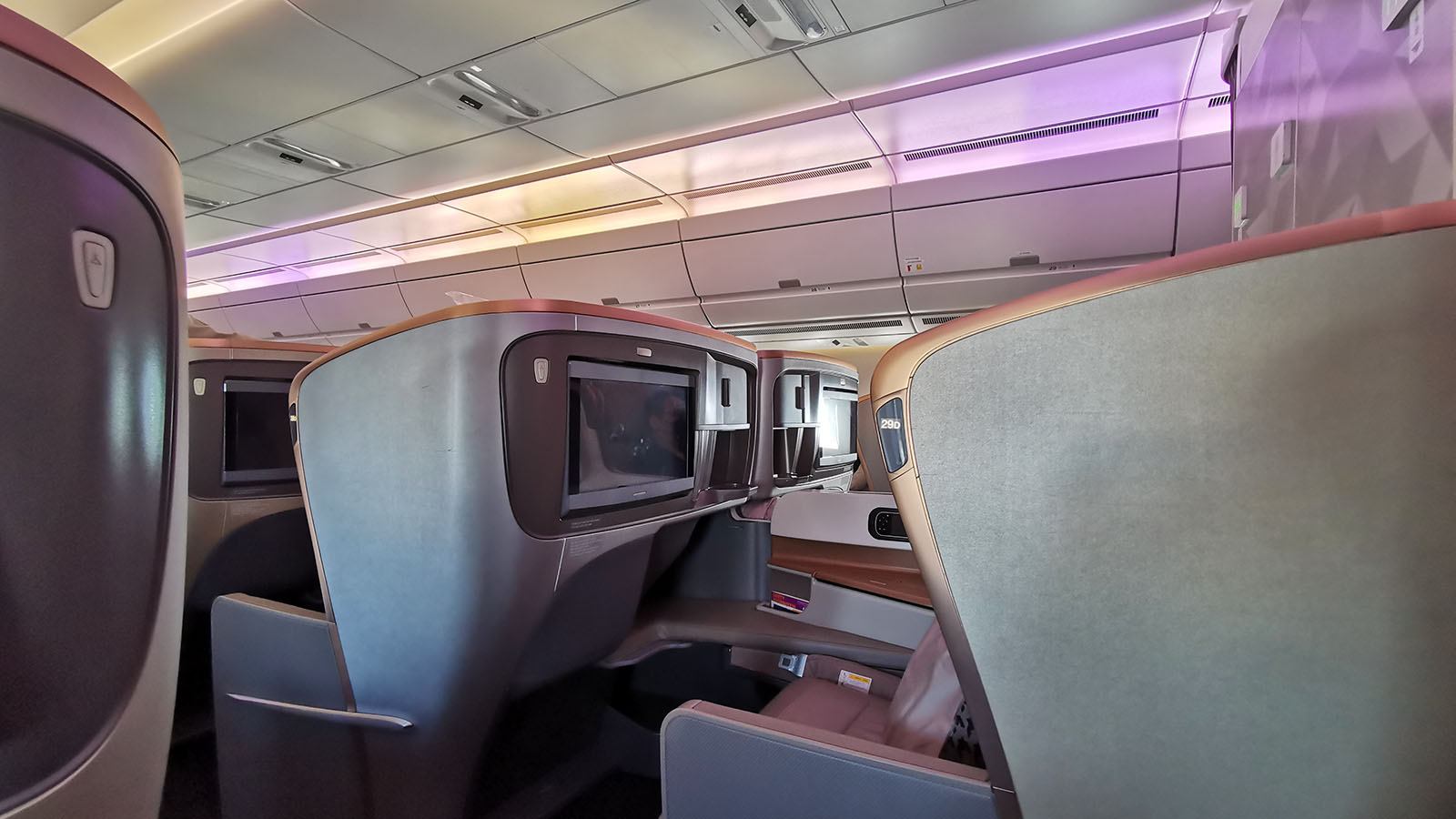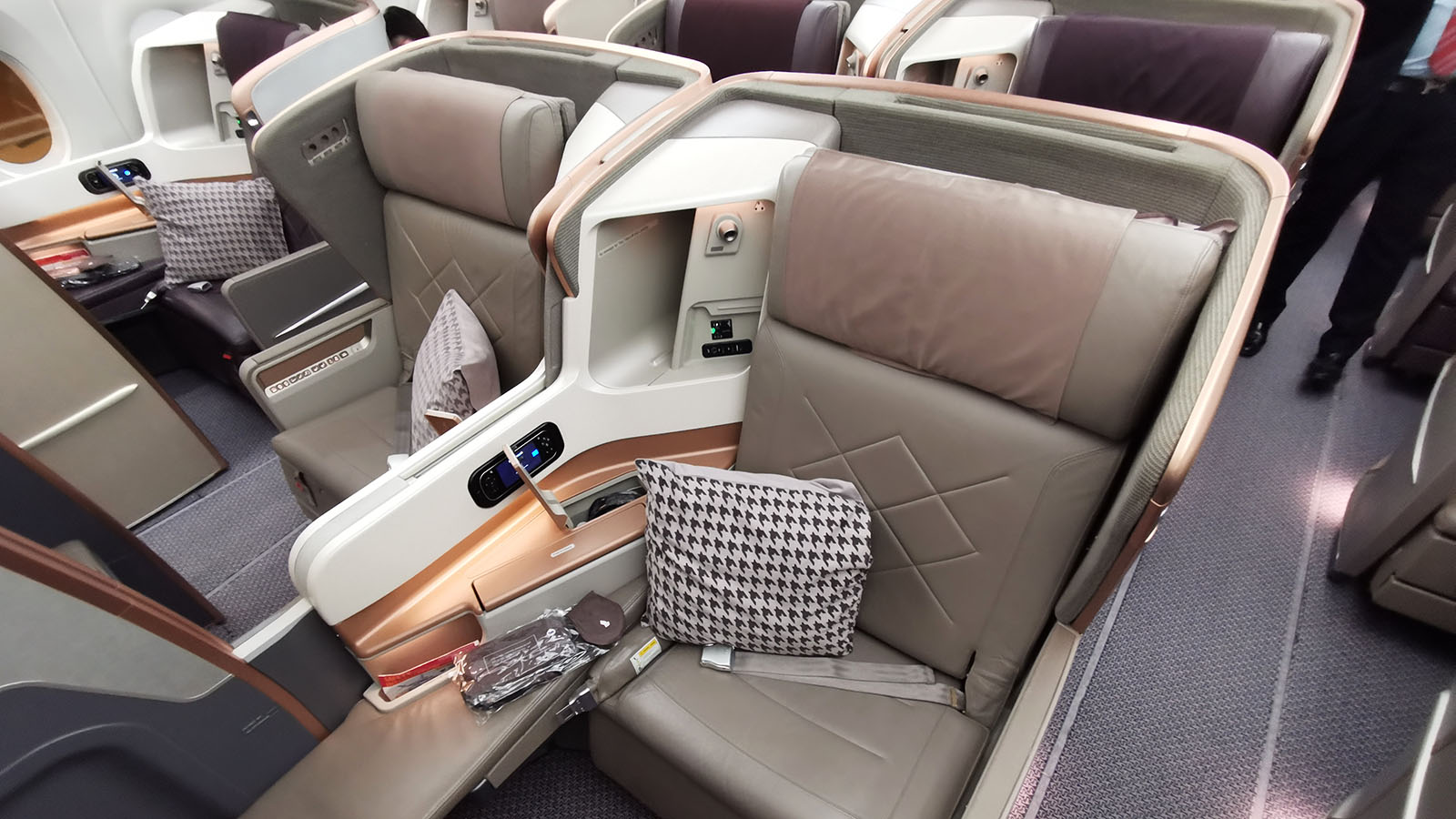 Premium Economy on SQ238
SQ238 offers 24 seats in Premium Economy, arranged in a 2-4-2 layout. The recliner seats are 19.5 inches wide and have a spacious 38-inch pitch. The Premium Economy cabin is located directly behind Business Class and immediately in front of Economy, with no toilets or galley, meaning less foot traffic during the flight. For extra legroom, opt for row 31. But note that the tray tables in this row are tucked into the armrests, so you may have slightly less room.
Economy Class on SQ238
There are 187 seats in Economy Class onboard SQ238, arranged in a 3-3-3 layout. Economy Class is split into two cabins with a block of toilets in between. The seats are 18 inches wide and have a pitch of 32 inches.
Row 41 is the start of the Economy cabin, and also offers additional legroom for passengers. You'll also enjoy extra legroom when booking seats 48A or 48K, or any seats in row 47. Rows 61 and 62 are the closest to the galley and the seats have a limited recline, so avoid these rows if you're hoping for a quiet cruise to Singapore.
Lounge access when flying SQ238
Singapore Airlines SilverKris Business Class Lounge
Singapore Airlines operates two lounges at Melbourne's Tullamarine Airport. The larger of the two – and the one that caters to the bulk of eligible flyers – is the SilverKris Business Class Lounge. Featuring a hot buffet, various seating spaces and showers, it is an ideal spot to relax before you jet off to Singapore. If you meet one of the below requirements, you'll be granted entry to this lounge:
Business Class passengers
Singapore Airlines KrisFlyer Gold and PPS Club members (+1 guest)
Other Star Alliance Gold frequent flyers (+1 guest)
Virgin Australia Velocity Gold, Platinum and Beyond members (+1 guest)
Virgin Atlantic Flying Club Gold members (+1 guest)
Members of Air Canada Maple Leaf Club and United Club (+1 guest)
Solitaire PPS Club members aren't mentioned above as they're also granted access to the ultra-luxe SilverKris First Class Lounge, which we highlight below.
Want to fast-track your way to Star Alliance Gold status to gain entry to this lounge – plus dozens of others throughout the globe? The HSBC Star Alliance Credit Card can help you get there.
Singapore Airlines SilverKris First Class Lounge
While there's no First Class cabin onboard SQ238, eligible passengers can access Singapore Airlines' stunning SilverKris First Class Lounge at Melbourne Airport before they fly. This cosy lounge features a seasonal à la carte menu, free-flowing Champagne and comfortable dining and seating areas
If you meet one of the requirements below, you can access this lounge before flying SQ238:
Singapore Airlines Solitaire PPS Club members (+1 guest)
Singapore Airlines Solitaire PPS Club Life members (+1 guest)
Booking SQ238 using points
You can book flights on Singapore Airlines, using the airline's points currency, KrisFlyer miles. Here's how many you'll need to fly from Melbourne to Singapore on SQ238.
| | | | |
| --- | --- | --- | --- |
| | Economy | Premium Economy | Business |
| Melbourne to Singapore | 30,500 | 51,000 | 68,500 |
KrisFlyer miles required are per person, one way. Taxes, fees and charges are also payable and vary by route.
Need to top up your KrisFlyer miles balance? Velocity Points can be transferred to KrisFlyer miles at a rate of 1.55:1. Or some bank rewards programs allow you to convert points to KrisFlyer miles. For example, the Citi Premier credit card allows you to earn Citi reward Points that can be transferred to KrisFlyer miles at a rate of 2.5:1.
Alternative flights
Want a different SQ experience on another aircraft or have other plans? Aside from SQ238, Singapore Airlines operates a number of direct daily flights from Melbourne to Singapore. Look for these flight numbers:
SQ248 on an Airbus A350, departing at 7:10 am (route commencing late 2023)
SQ228 on an Airbus A380 featuring First Class Suites, departing at 3:40 pm
SQ208 on a Boeing 777, departing at 6:25 pm
SQ218 on an Airbus A350, departing at 11:35 pm
Commencing your journey elsewhere in Australia? Singapore Airlines also operates a number of routes from various cities:
SQ278 – Adelaide to Singapore
SQ236, SQ246 and SQ256 – Brisbane to Singapore
SQ204 – Cairns to Singapore
SQ252 – Darwin to Singapore
SQ214, SQ216 and SQ224 – Perth to Singapore
SQ212, SQ222, SQ323 and SQ242 – Sydney to Singapore
Some of the cities above are also serviced by Singapore Airlines' budget carrier Scoot and may have an SQ codeshare. As a guide, codeshare flights with Scoot begin with SQ followed by four digits, while Singapore Airlines-operated flights have only three digits.
For more ways to fly to Singapore from Australia, have a read of our guide on how to hack your way to Singapore with points.
Cabin photography by Chris Chamberlin for Point Hacks. Featured image courtesy of Kenneth Koh/Unsplash.
FAQs
What type of plane is used for SQ238?
Singapore Airlines' SQ238 flight is serviced by an Airbus A350 that offers three cabin classes.
What time does SQ238 depart Melbourne?
SQ238 departs Melbourne daily at 9:35 am.
Does SQ238 have First Class?
No, SQ238 offers Economy, Premium Economy and Business Class only.
How often does SQ238 fly?
SQ238 flies daily from Melbourne to Singapore.
Singapore Airlines Flight SQ238 (Melbourne – Singapore)
was last modified:
October 10th, 2023
by