Following from our guide to Jewel at Changi Airport in Singapore, this guide takes you through the various facilities that Changi Airport's terminals have to offer.
Changi Airport Layout
Singapore's Changi Airport has four terminals. T1, T2 and T3 are all interconnected, which means you can go anywhere within those three terminals after immigration via walking or by the free Skytrains. This opens up opportunities to go shopping at more stores or go lounge-hopping.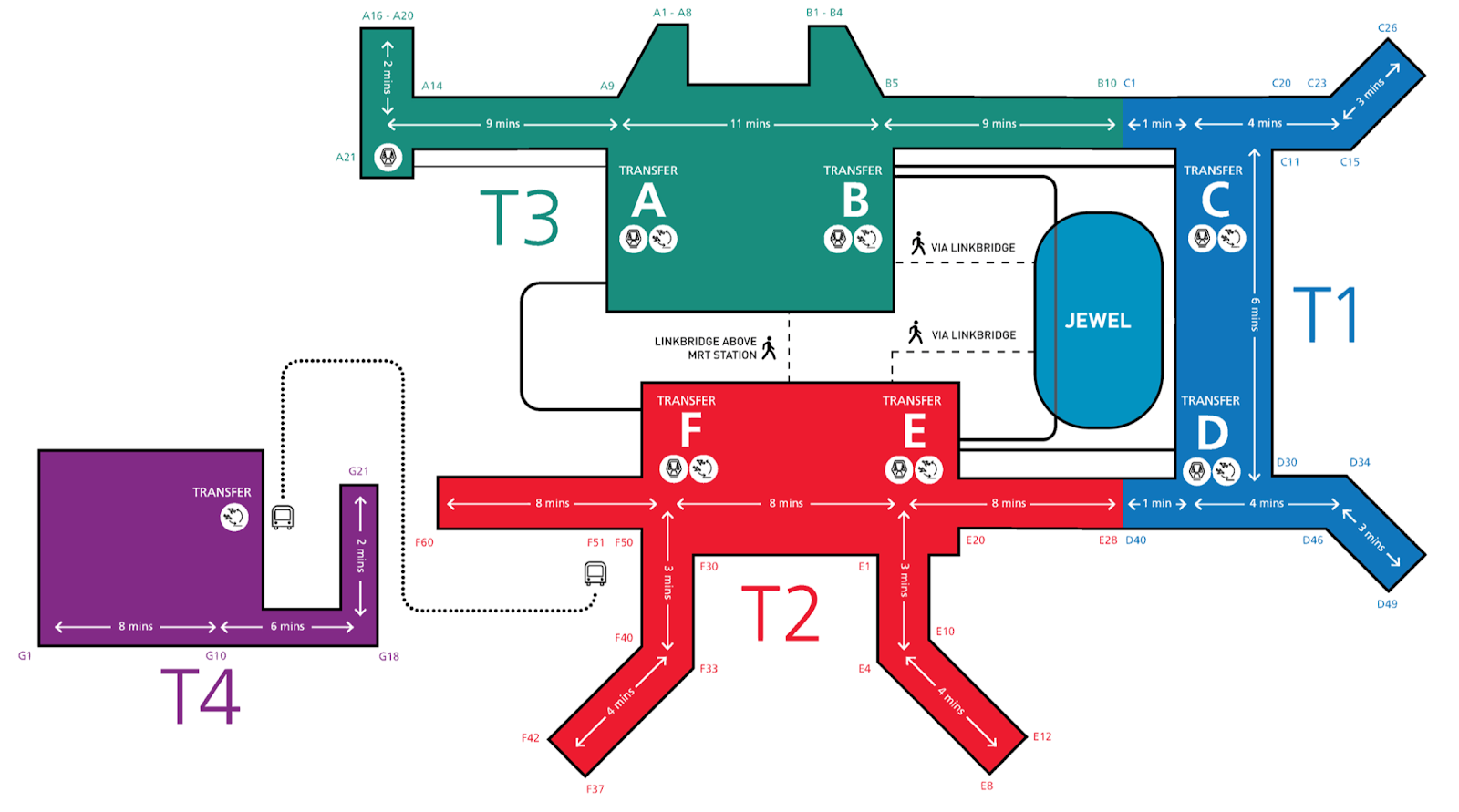 Australians will most likely use Terminal 3 for Singapore Airlines flights, or Terminal 1 for Qantas, Jetstar, Emirates and Scoot flights. Terminal 2 is generally more for regional Asian departures.
Terminal 4 is the newest and hosts Cathay Pacific and AirAsia as the main airlines. It is connected to T1/2/3 via a shuttle bus service from T2. However, only people with a boarding pass for T4 are allowed in that terminal, so Qantas passengers can't go to T4 to use the Cathay Pacific Lounge, for example.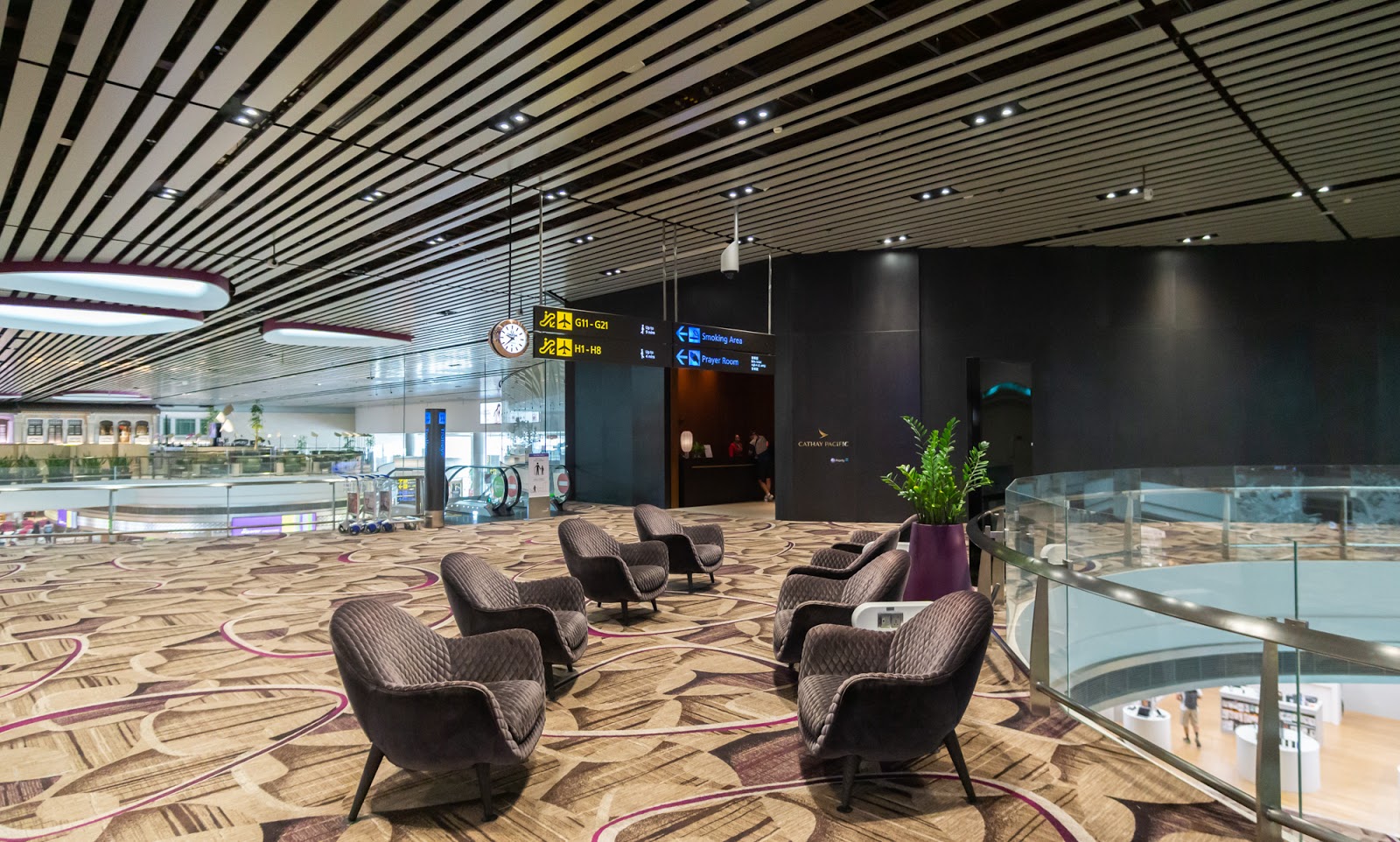 However, it might be possible the other way around. For example, a Cathay Pacific passenger with oneworld Emerald status could technically check-in at Jewel for the boarding pass, cross immigration at T1 to use the new Qantas First Lounge, then take the Skytrain to T2 and then the airside bus transfer to T4. This is a very long process though, so I wouldn't personally recommend it.
Point Hacks has reviewed most of the major lounges in Singapore Changi Airport, so read on for more information!
Terminal 1
Qantas, Emirates, Jetstar, Scoot and most other oneworld airlines depart from Terminal 1. Jewel is also directly connected with Terminal 1.
Behind the main counters are two separate areas for early check-in. On the right is the general early check-in lounge, for participating airlines such as Qantas.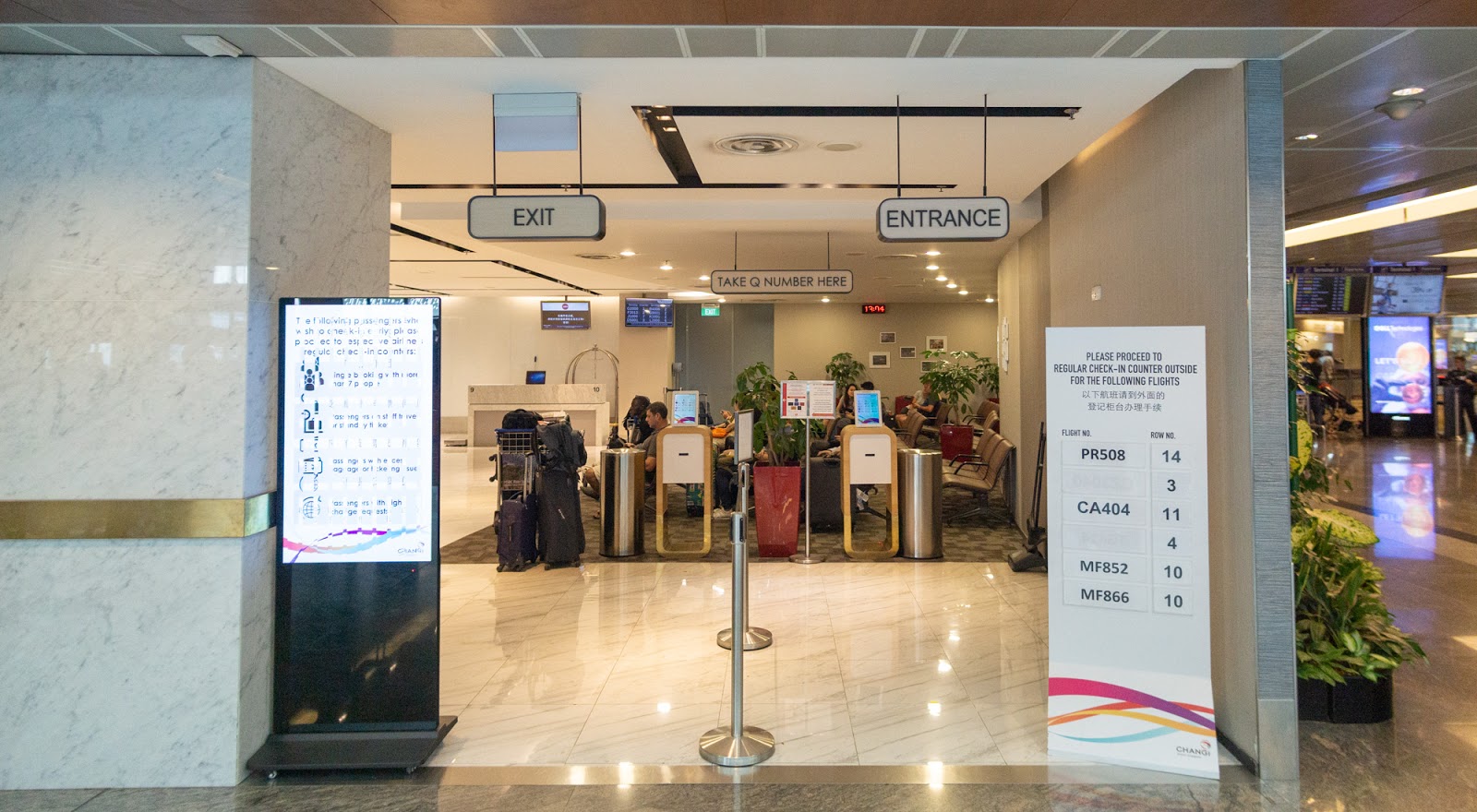 To the left is the SATS Premier Check-in Lounge, which serves Business Class and First Class passengers of participating airlines, plus some members with frequent flyer status (for Qantas, that's only for Platinum members and higher, not Gold).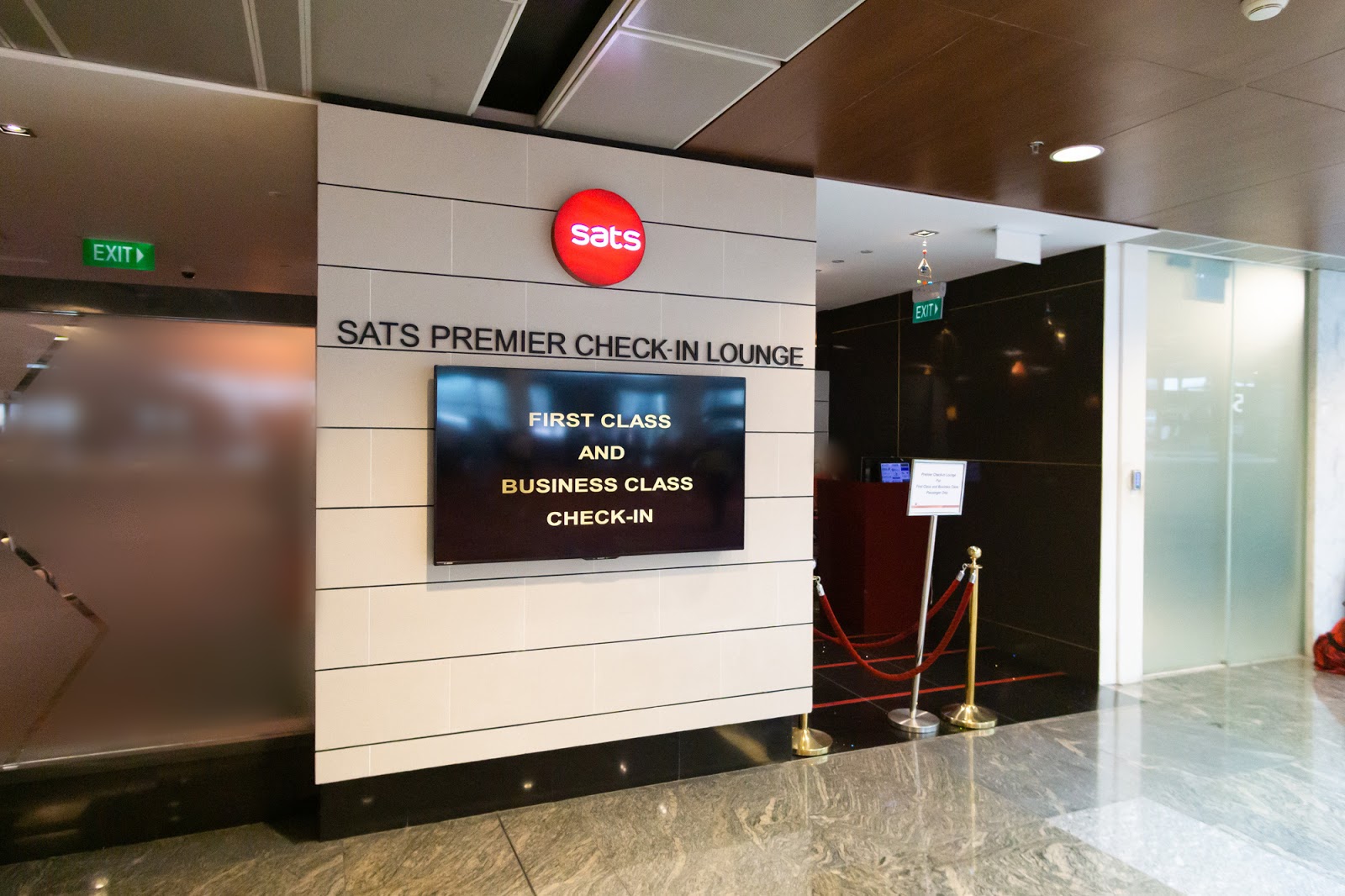 It's much fancier here, where you are invited to take a seat while waiting and being checked-in. There are simple refreshments and reading materials while you wait, and then a dedicated passage out to immigration.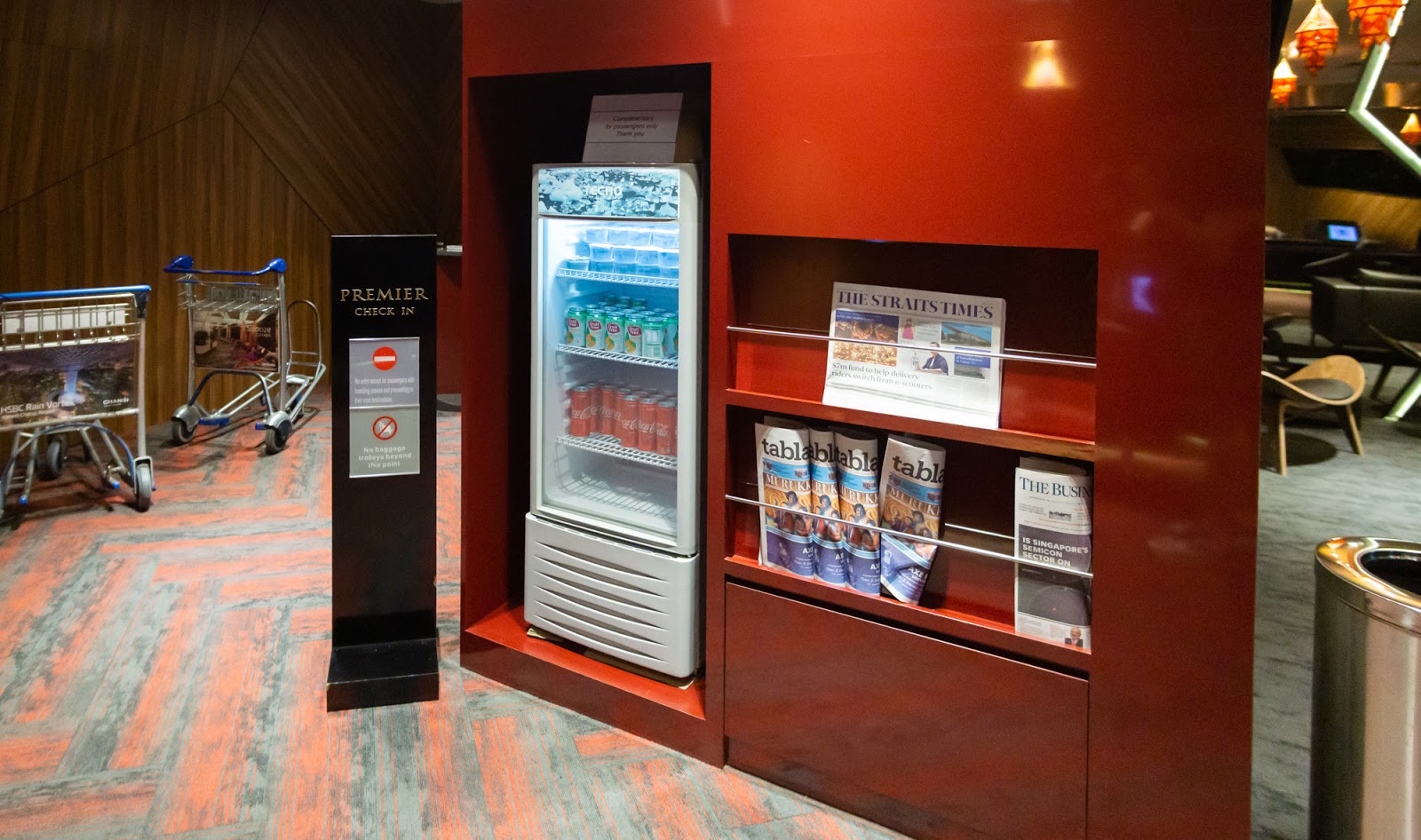 Immigration is done in the centre of the terminal. To the left is the C Gates and almost all the lounges mentioned below. To the right is the D Gates, where an Aerotel transit hotel and Qantas First Lounge are located.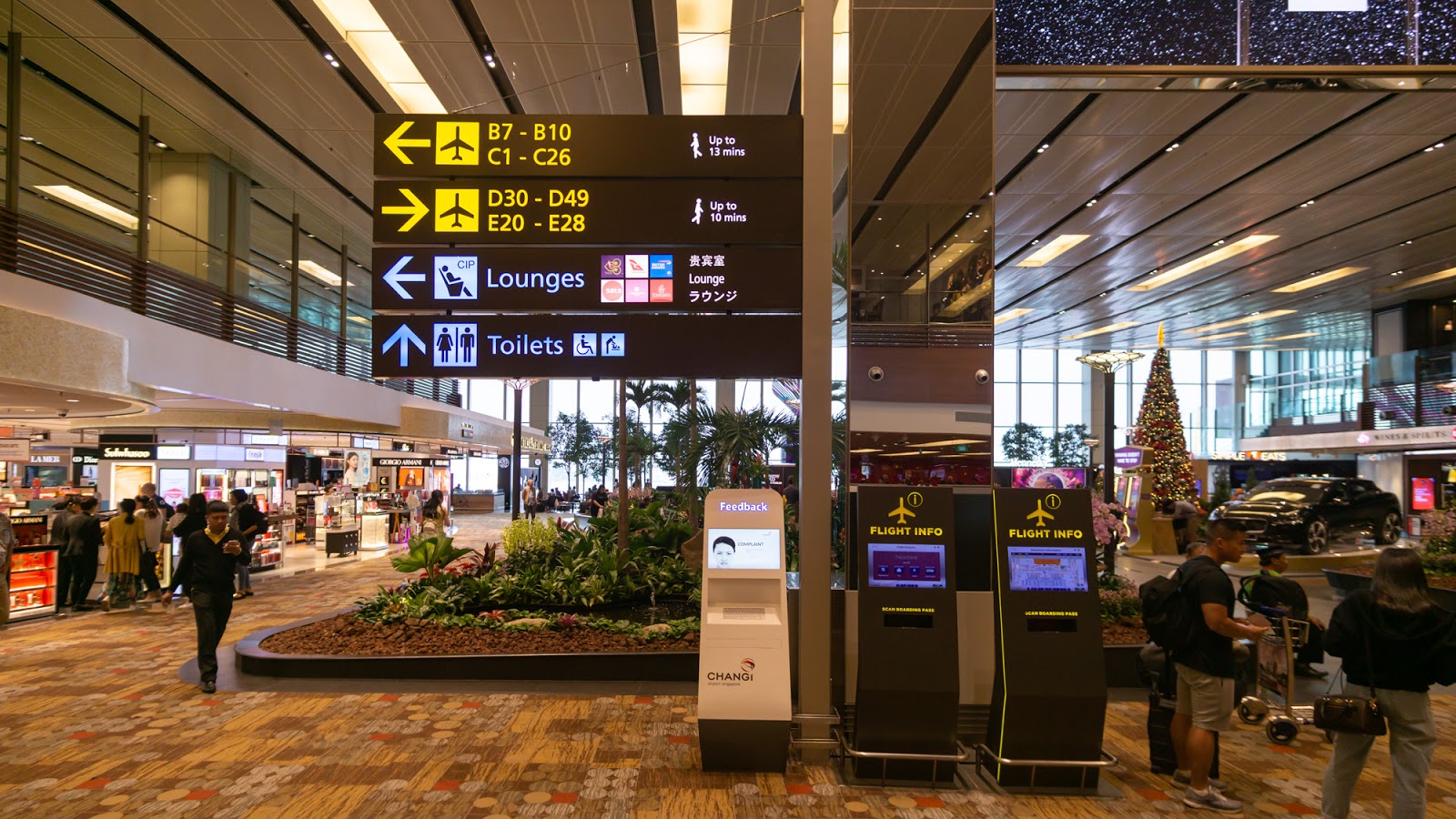 Notable Lounges and Hotels:
Qantas International First Lounge (review coming soon!)
British Airways Lounge (review coming soon!)
SATS Premier Lounge T1
Thai Airways Lounge
Aerotel Transit Hotel (after immigration)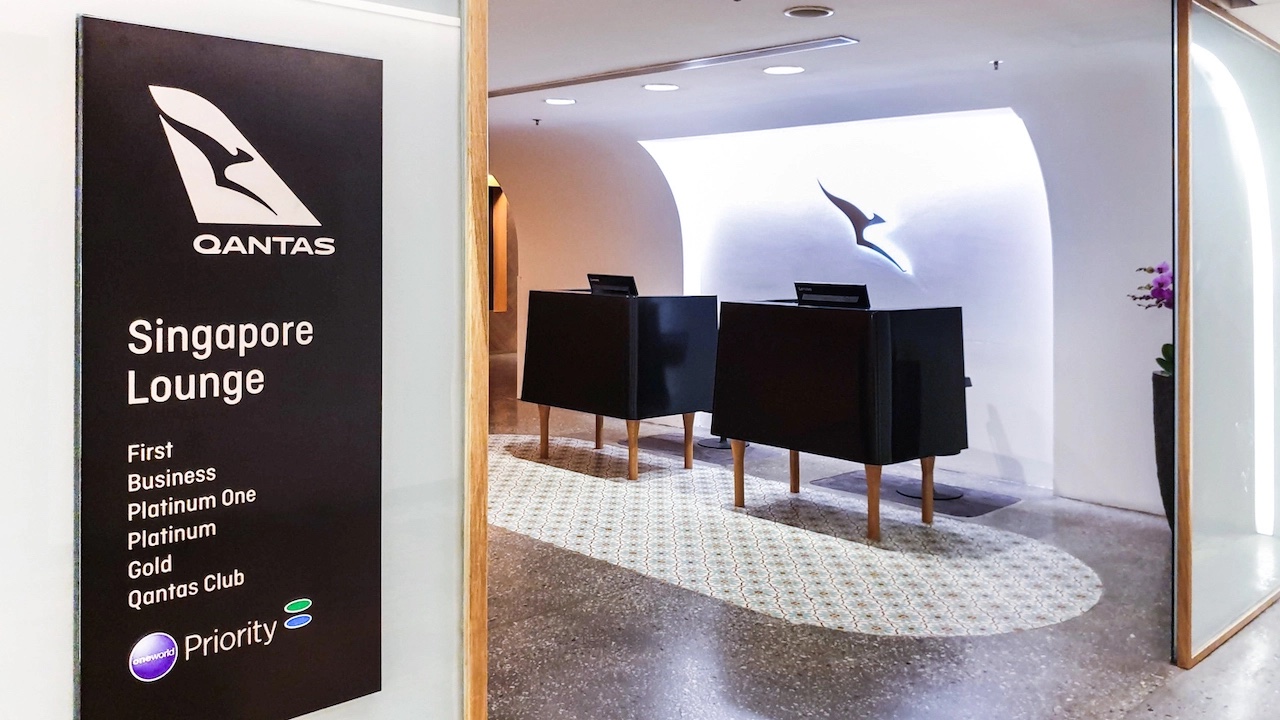 The Skytrains connect Terminal 1 to Terminal 3 near the C Gates, and Terminal 1 to Terminal 2 near the D Gates. Security screening is done at individual gates, so leave time for that before boarding.
Terminal 1 has the Aerotel which is an airside transit hotel with a swimming pool and fitness room. They charge from 6-hour blocks onwards, so it could be a great option for taking a break in transit, or you can buy access for just the pool and shower for a refresh.
Terminal 2
Terminal 2 serves Singapore Airlines regional flights mainly. As one of the original terminals, it does have an older and more cramped feel overall.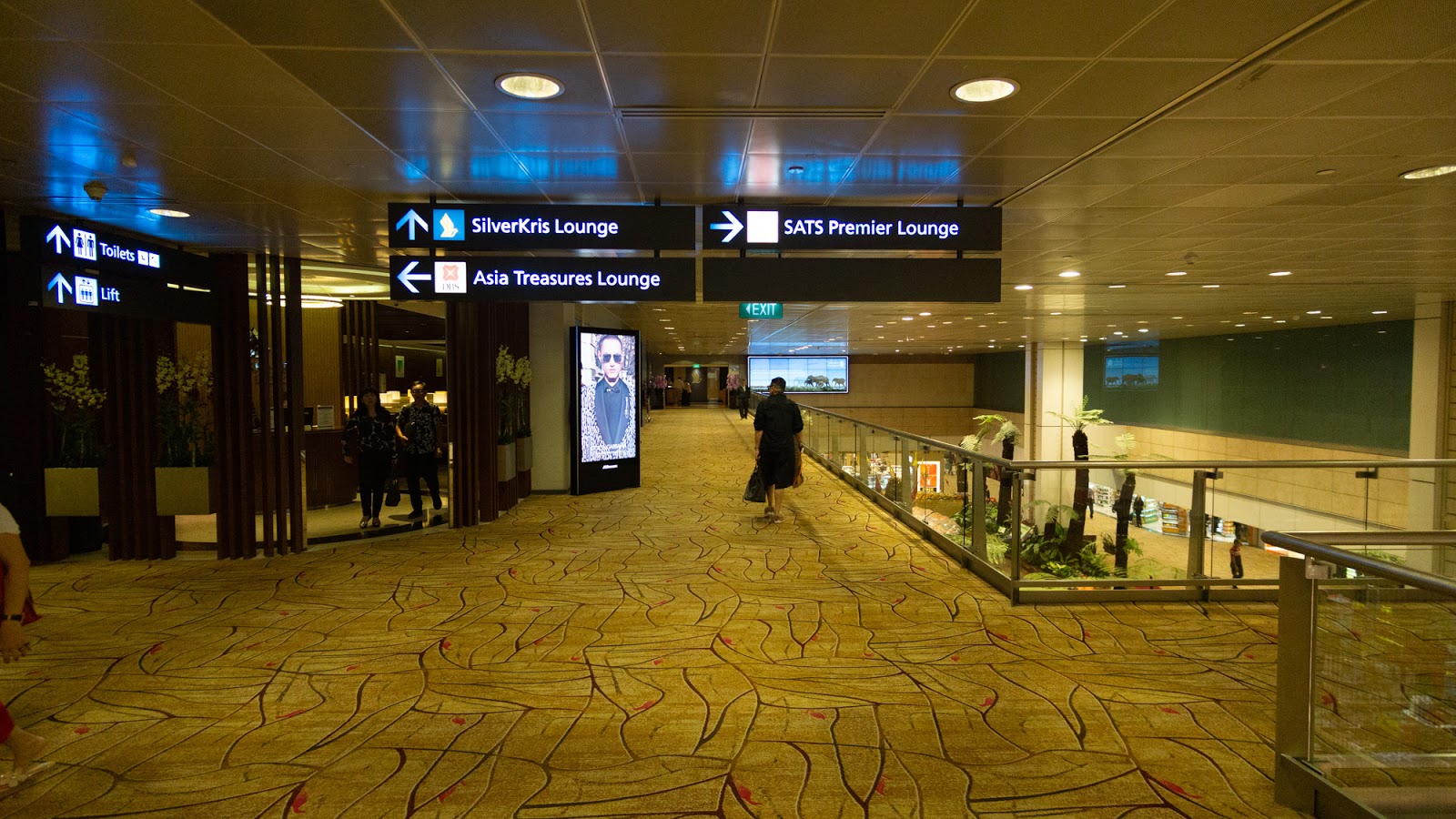 Notable Lounges and Hotels:
Ambassador Transit Lounge + Hotel
TGM (Priority Pass 'lounge' serving restaurant meals)
Singapore Airlines KrisFlyer Gold, SilverKris and First Class lounges
I'm a fan of TGM on the upper floor, which accepts Priority Pass visits in exchange for a Japanese or Korean meal. If you have an unlimited membership, it's basically a free feed which is often higher quality than basic lounge food.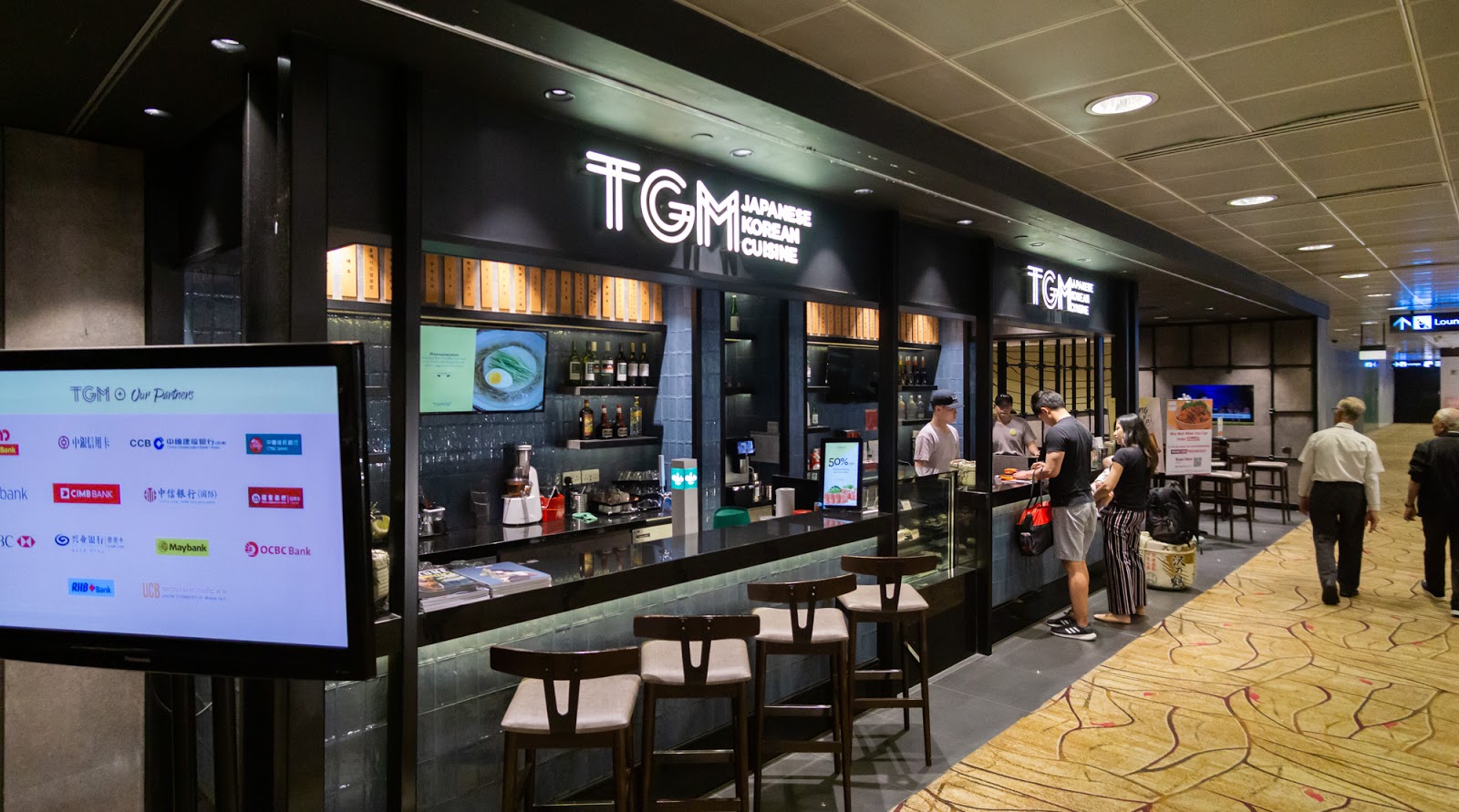 Terminal 2 has a central garden atrium with a koi pond, which is quite relaxing to watch. If you can brave the heat, outside there is a sunflower garden as well.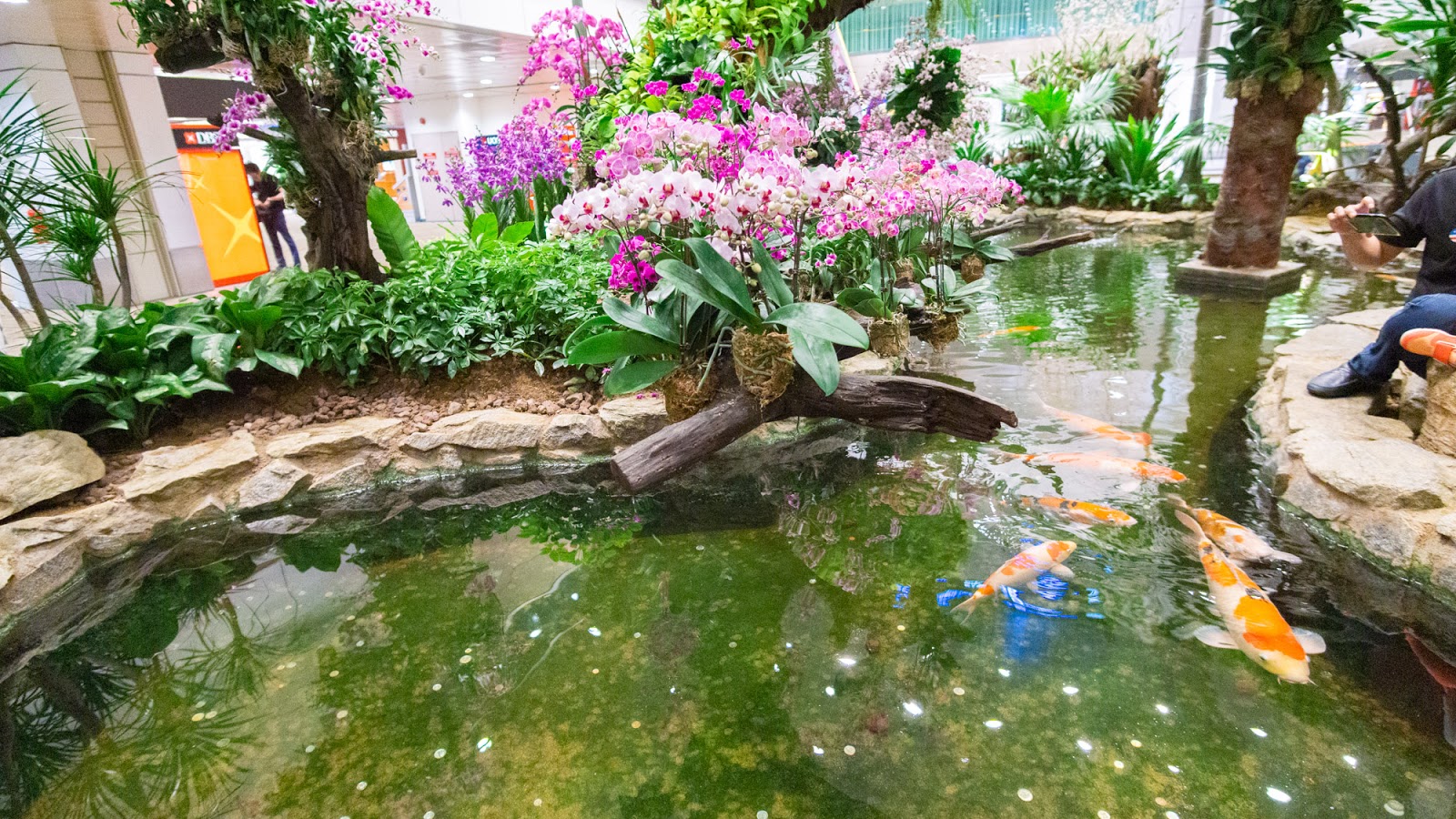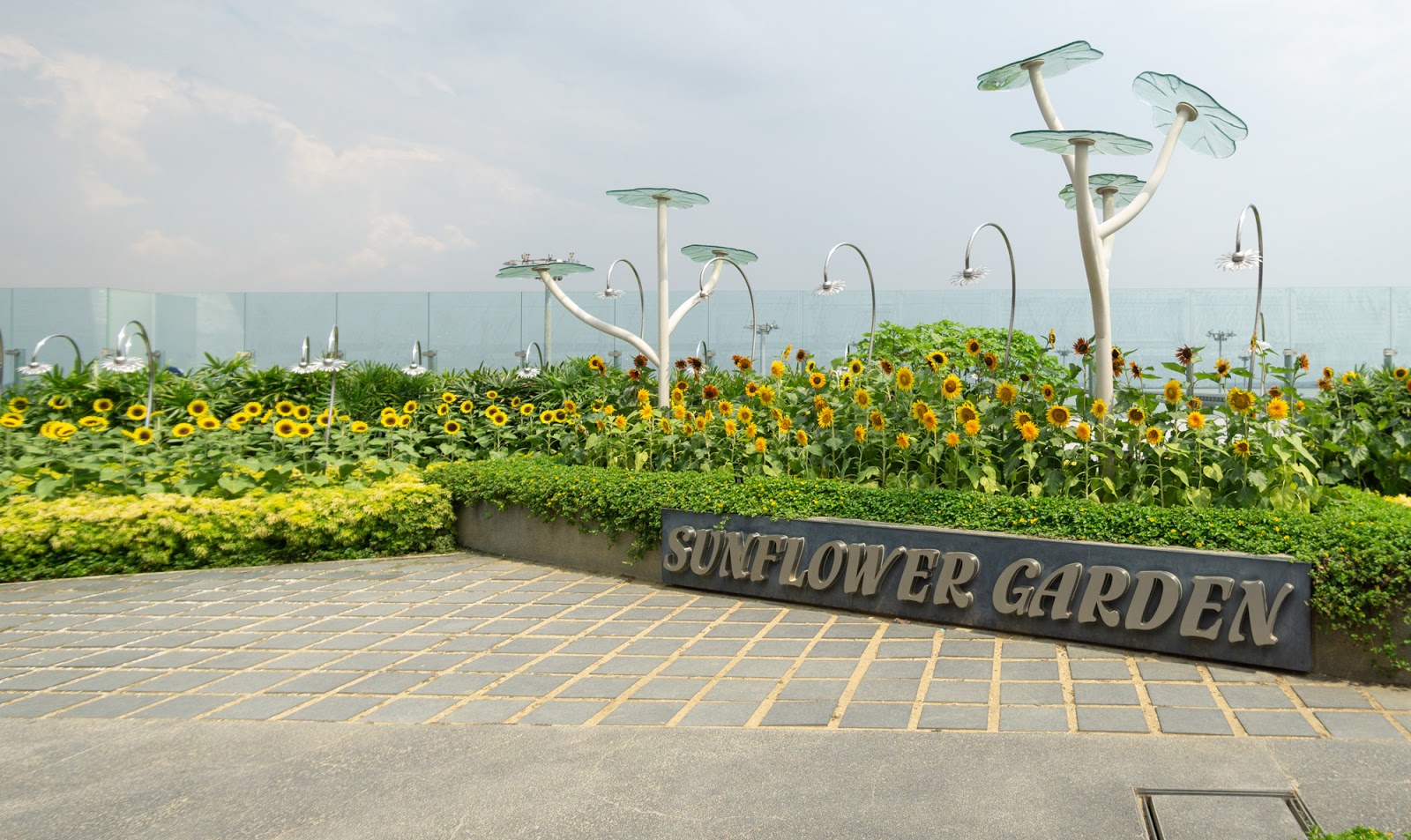 Both Terminals 2 and 3 have a small movie cinema, playing some of the latest DVD releases. It's completely free to use, and screenings run 24/7 except during designated cleaning hours. You can even view the screening schedule here.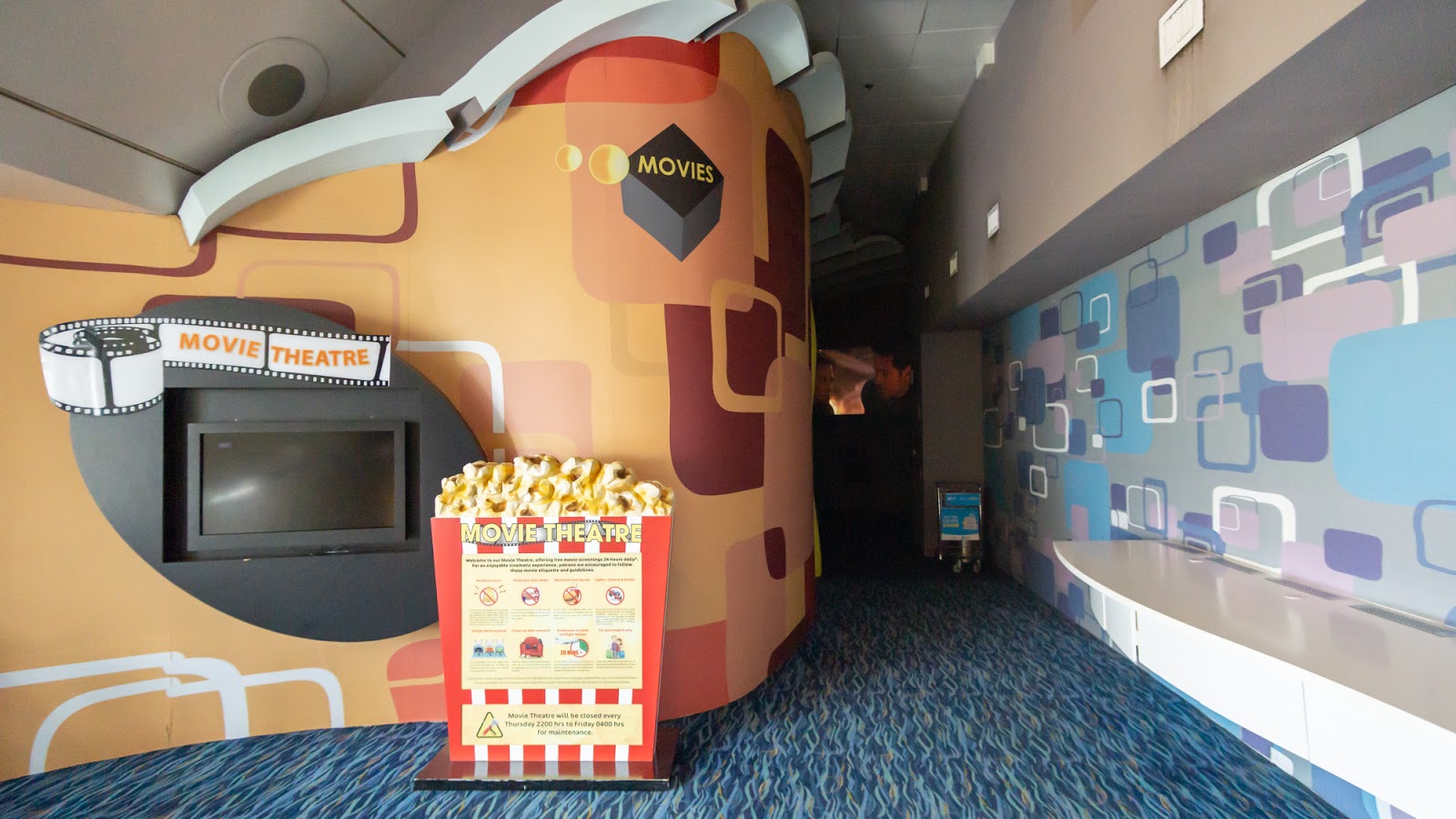 Terminal 2 is also home to some unique facilities such as an 'Xperience Zone' for kids, an 'Entertainment Zone' also for kids and a dedicated 'Family Zone' with baby facilities and a playground.
From Terminal 2, there are two Skytrains to T3 (one from the F-Gates and one from the E-Gates which goes through Jewel), and one Skytrain to T1 from the E-Gates. From the public side, there is a direct link bridge to Jewel as well.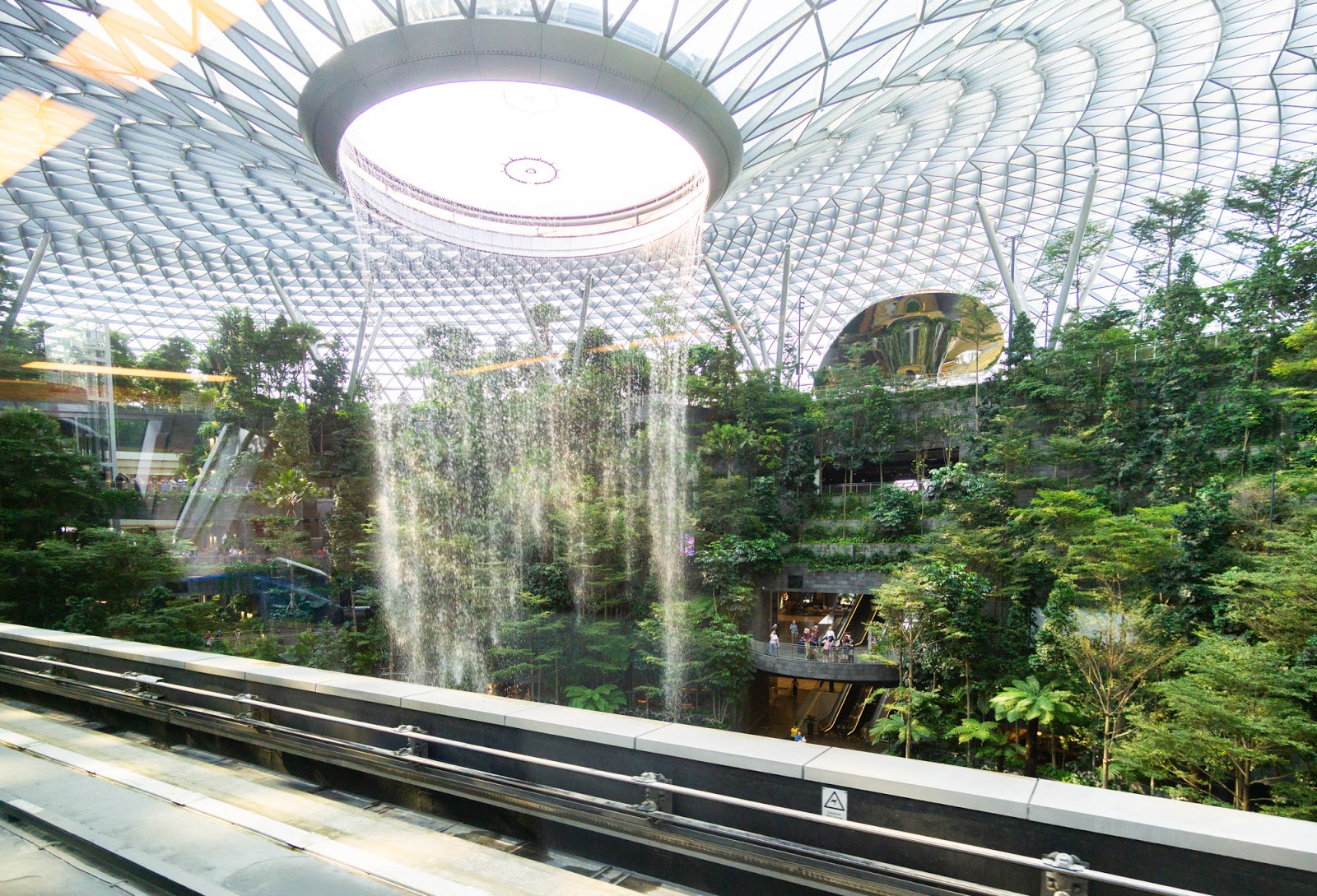 Finally, T2 is also the hub to transfer to the newer Terminal 4, which is located off-site. If you are in transit and have a valid boarding pass for Terminal 4, head to Gate F51 in Terminal 2 for security screening and the airside transit bus.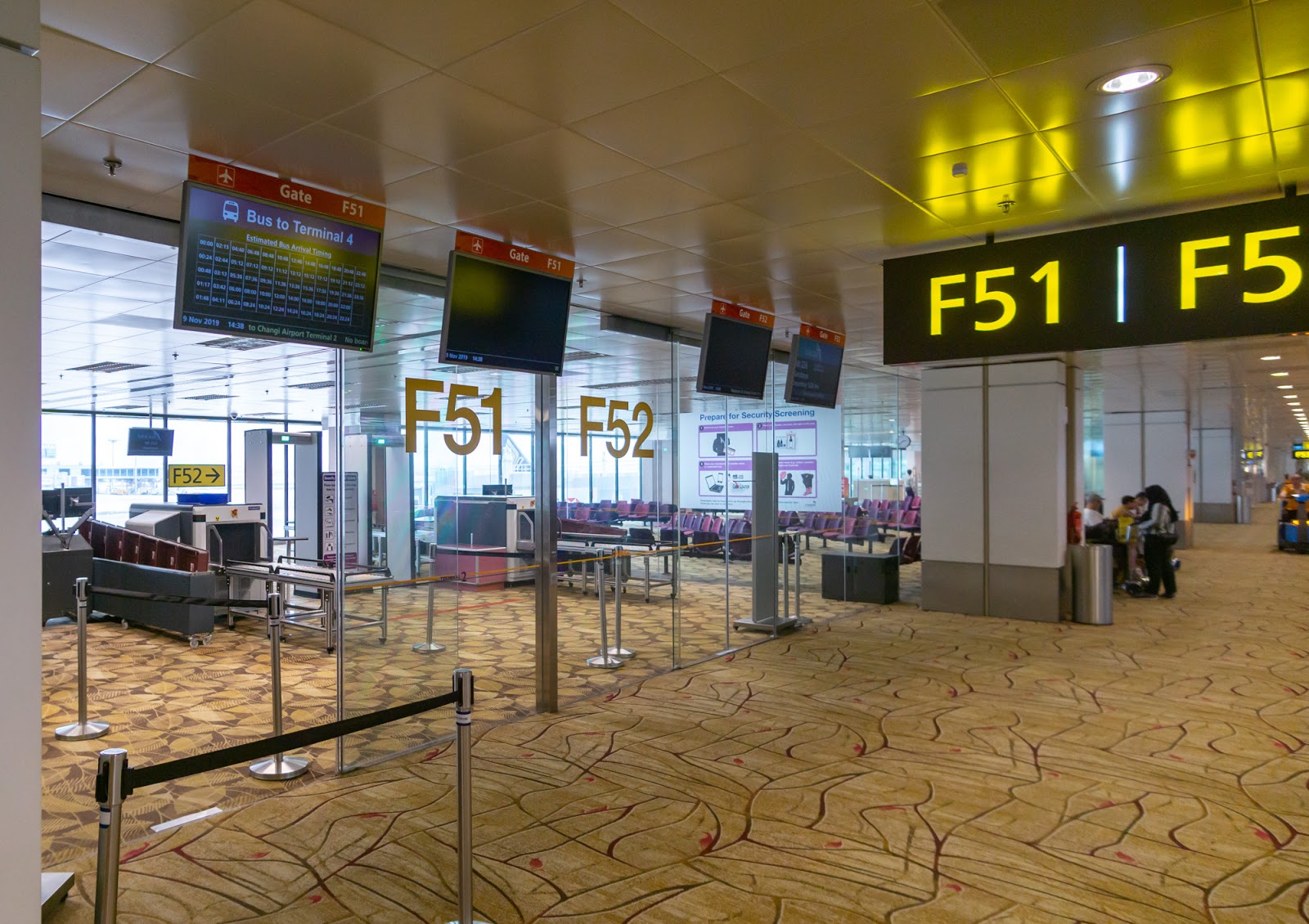 In my case, I was staying at the landside Crowne Plaza Changi hotel overnight near T3, before a flight to T4 the next day. As a landside passenger, I had to head to Terminal 2's arrival hall, where a free public shuttle bus would take me to Terminal 4.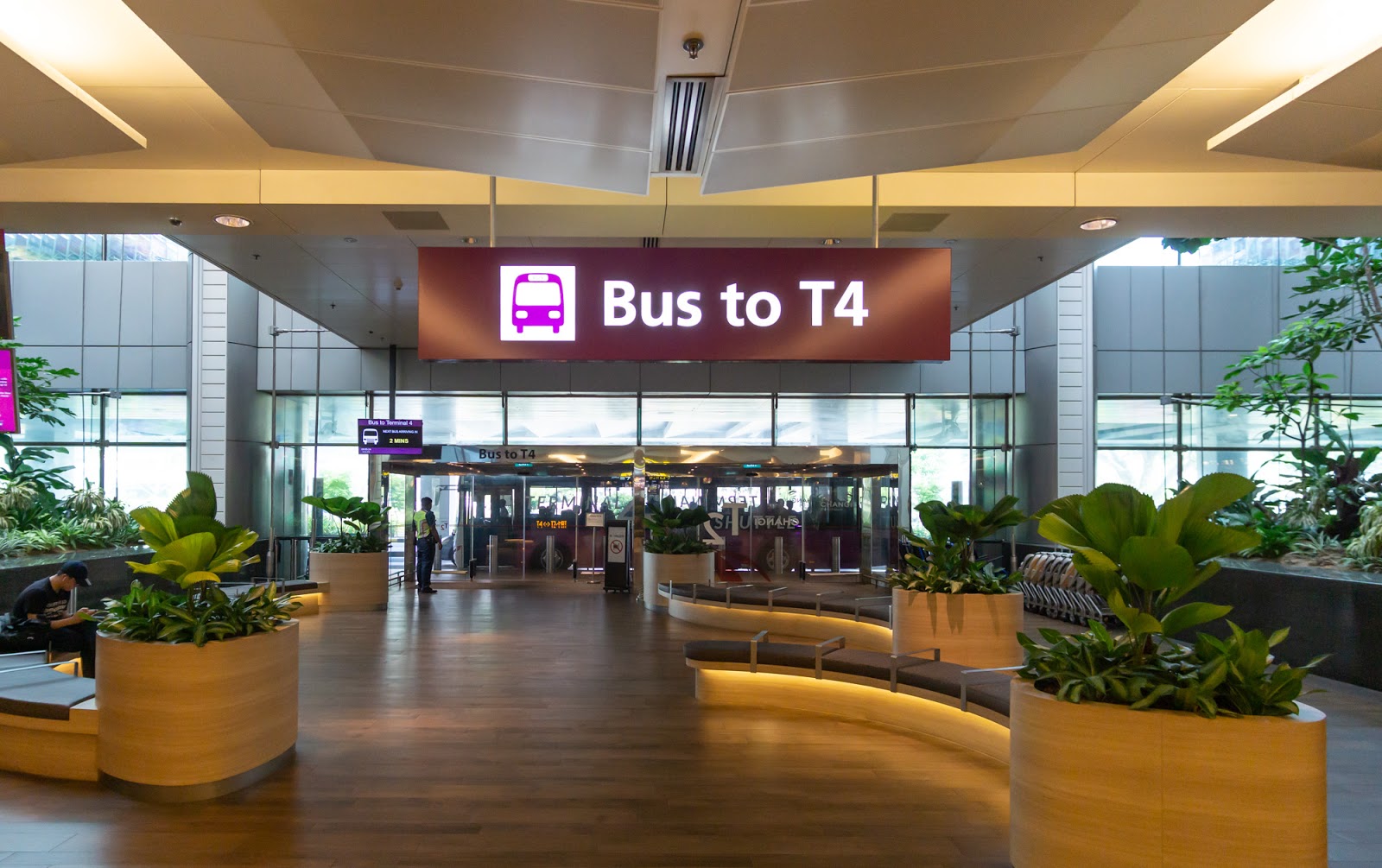 Terminal 3
Changi Terminal 3 is the one you'll most likely encounter if you are on Singapore Airlines' many flights to Australia and on to Europe and other faraway cities.
It's a newer terminal designed for Singapore Airlines with a private First Class kerbside check-in area and its unique The Private Room lounge for First Class passengers.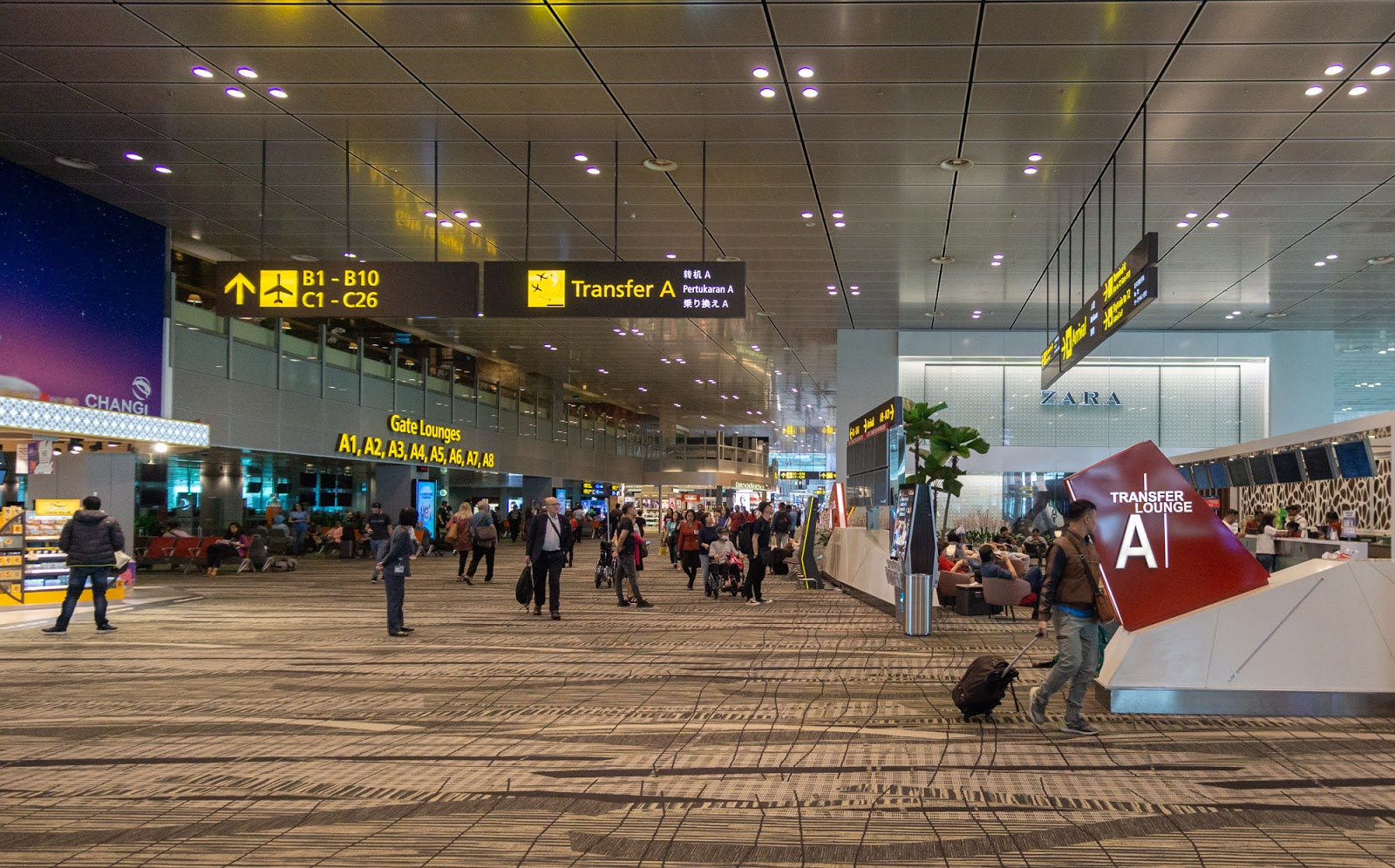 Notable Lounges and Hotels:
After immigration, you'll be front and centre in the shadow of Louis Vuitton's flagship store. For lounge passengers, the Singapore Airlines SilverKris lounges, The Private Room and SATS Premier Lounge are to your left, and the Marhaba Lounge is to your right.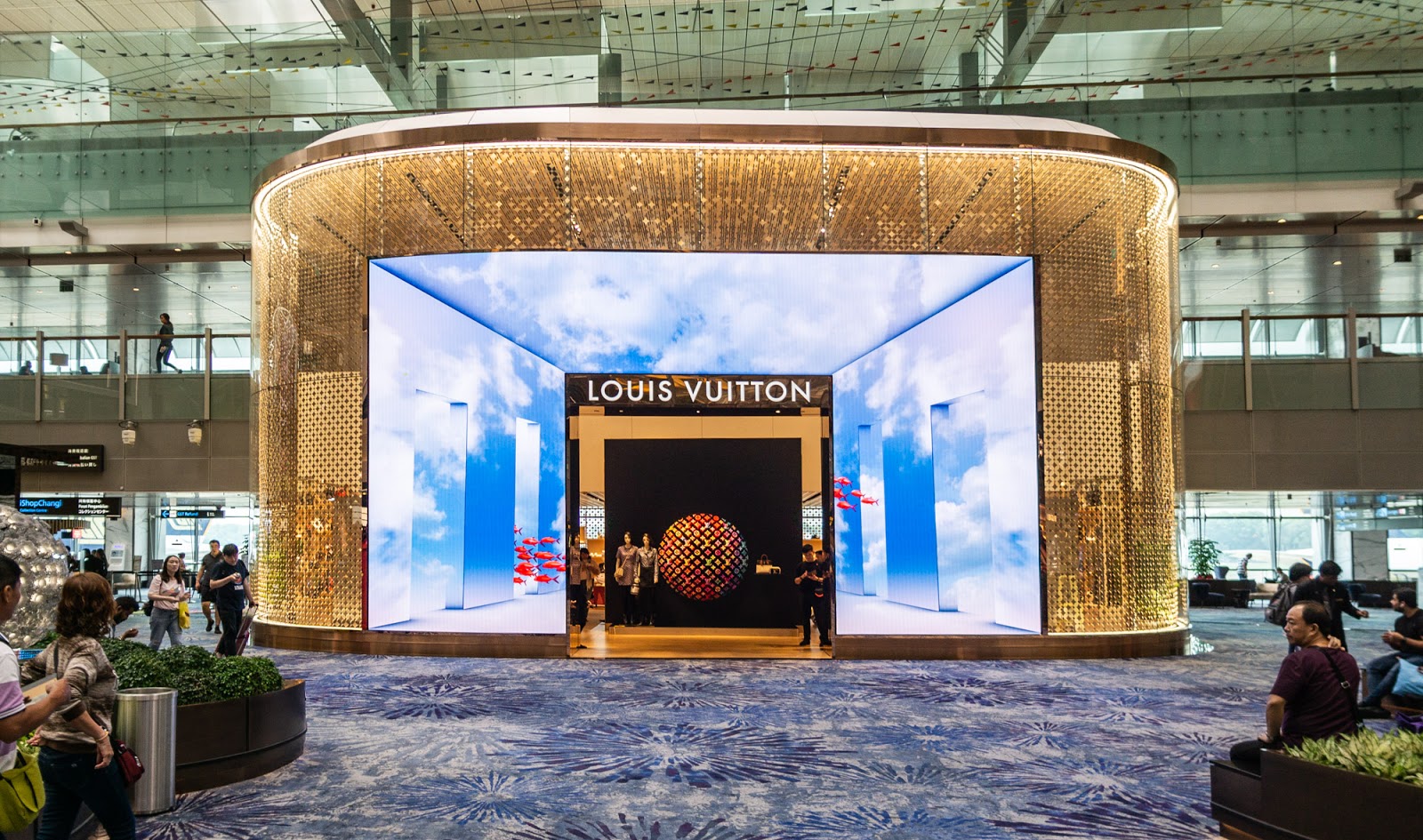 Lounges and Singapore Food Street are all located up one floor, just like the other terminals. In order to streamline security, there are quite a few gate areas that share one security checkpoint. This can result in long lines, although Singapore Airlines has priority screening lanes for Business and First Class.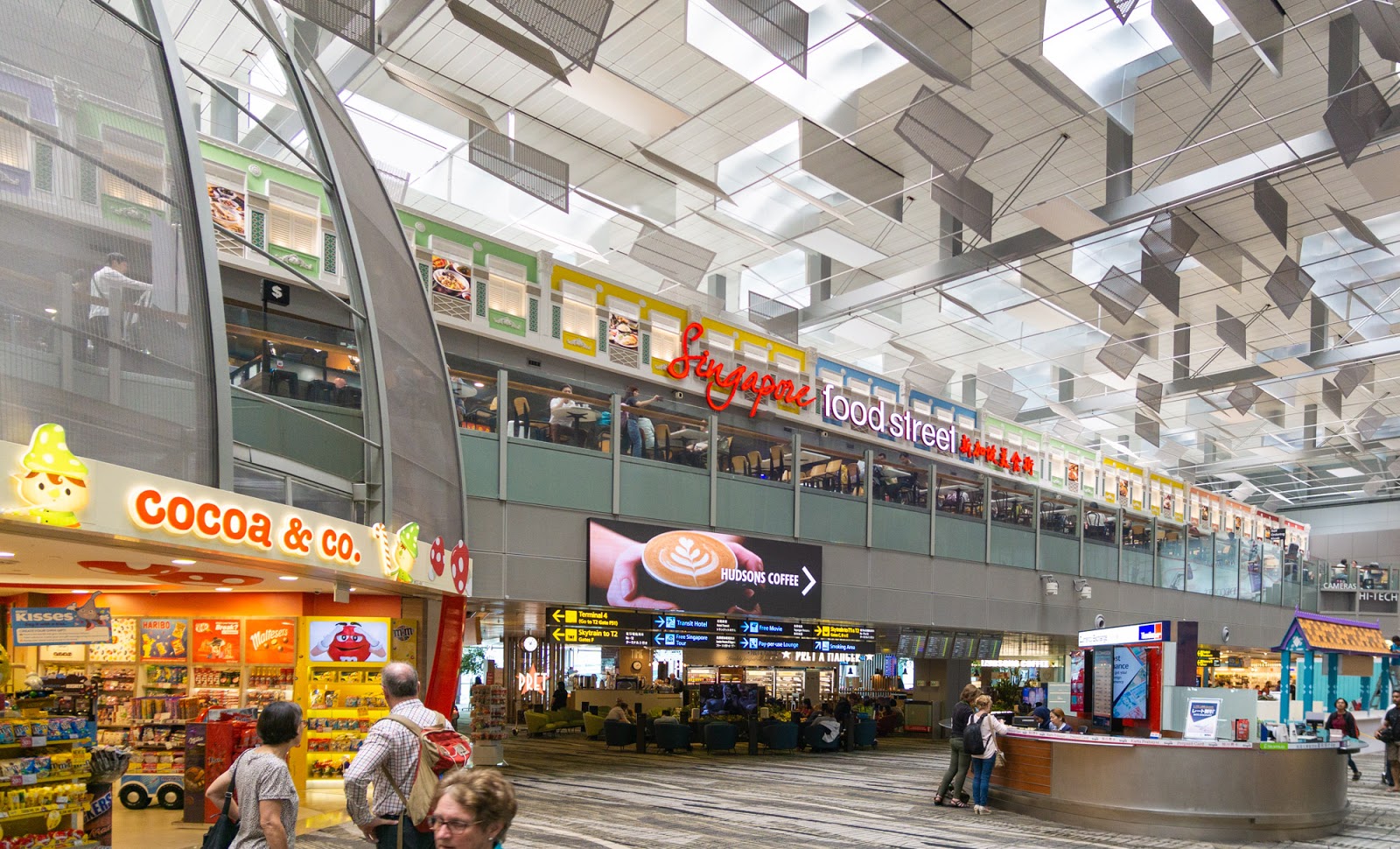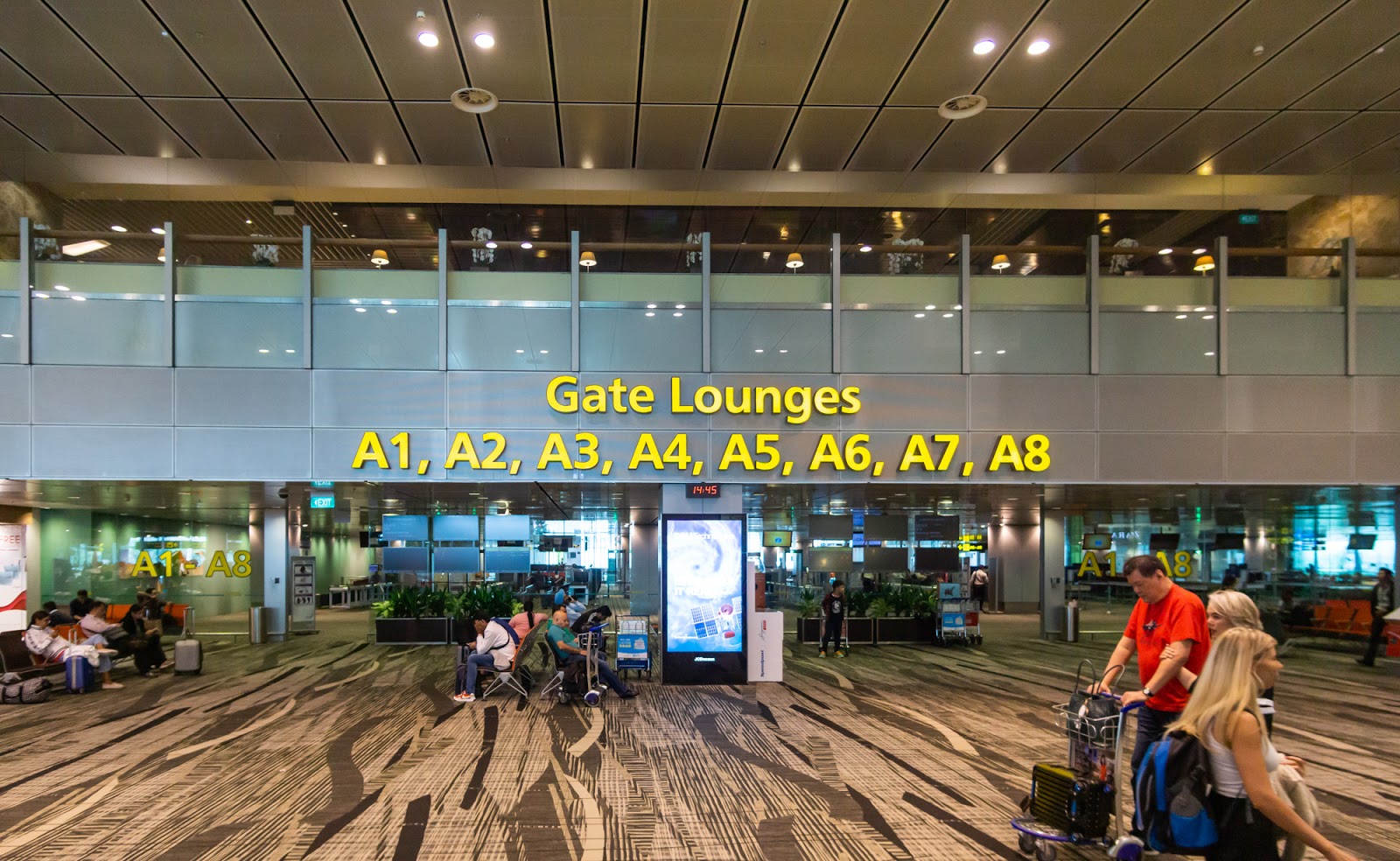 The Crowne Plaza Changi hotel is located near Terminal 3 landside (review coming soon), which is really convenient for overnight stays. Terminal 3 also has a movie theatre, a playground and a butterfly garden.
Terminal 4
Terminal 4 is the odd one out as such, since it's the newest terminal, but also separate from the Terminal 1/2/3 complex. Another change is centralised security screening after immigration which means a sterile airside area, whereas Terminals 1/2/3 is not sterile until the gates, where security screening takes place.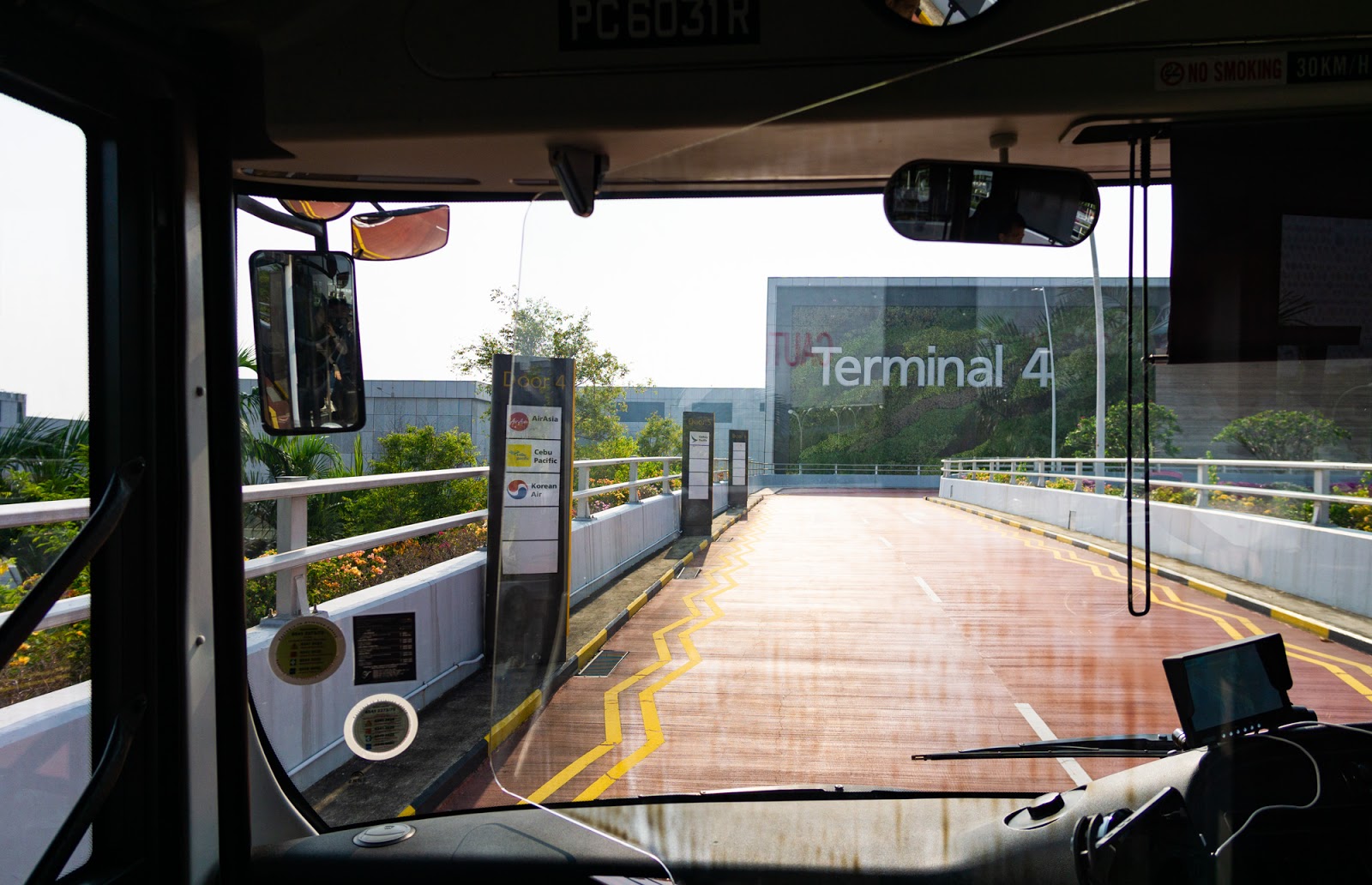 As a new terminal, it was built with automation in mind. The majority of check-in and bag drop is self serve, especially with major low-cost airline anchor Air Asia.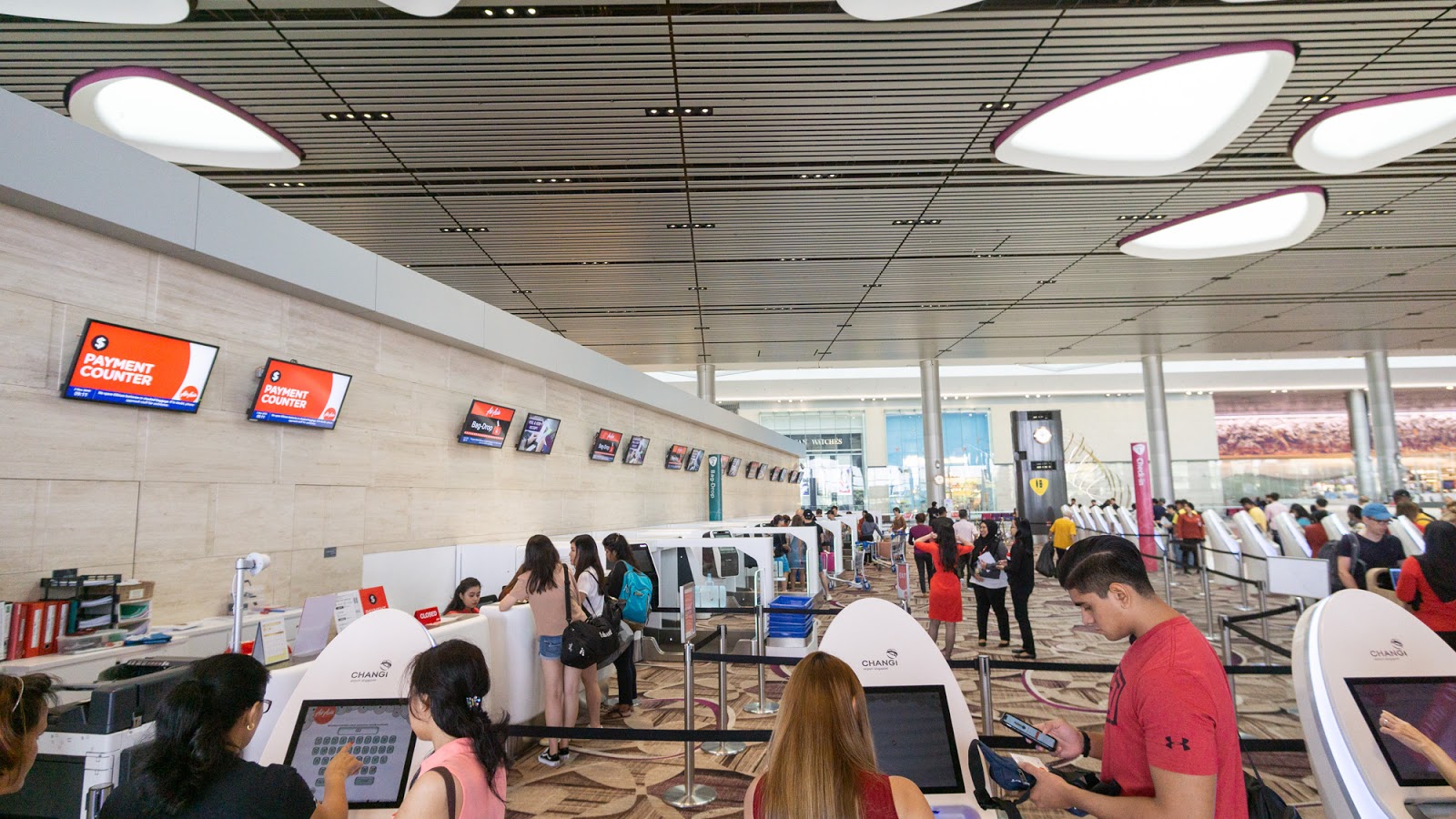 Immigration and boarding are also automated going out (but not coming in, unless you have access to the fast lanes). Facial recognition technology is used to capture your face at immigration, which is then used to open the boarding gate later on.
Terminal 4 also features CT scanning security equipment, which makes it a breeze. Laptops and other items did not need to be removed for screening, which helps a lot.
The terminal itself is cavernous. The top floor houses the Blossom – SATS and Plaza Premium Lounge and the Cathay Pacific lounge. These are the only two lounges in the terminal.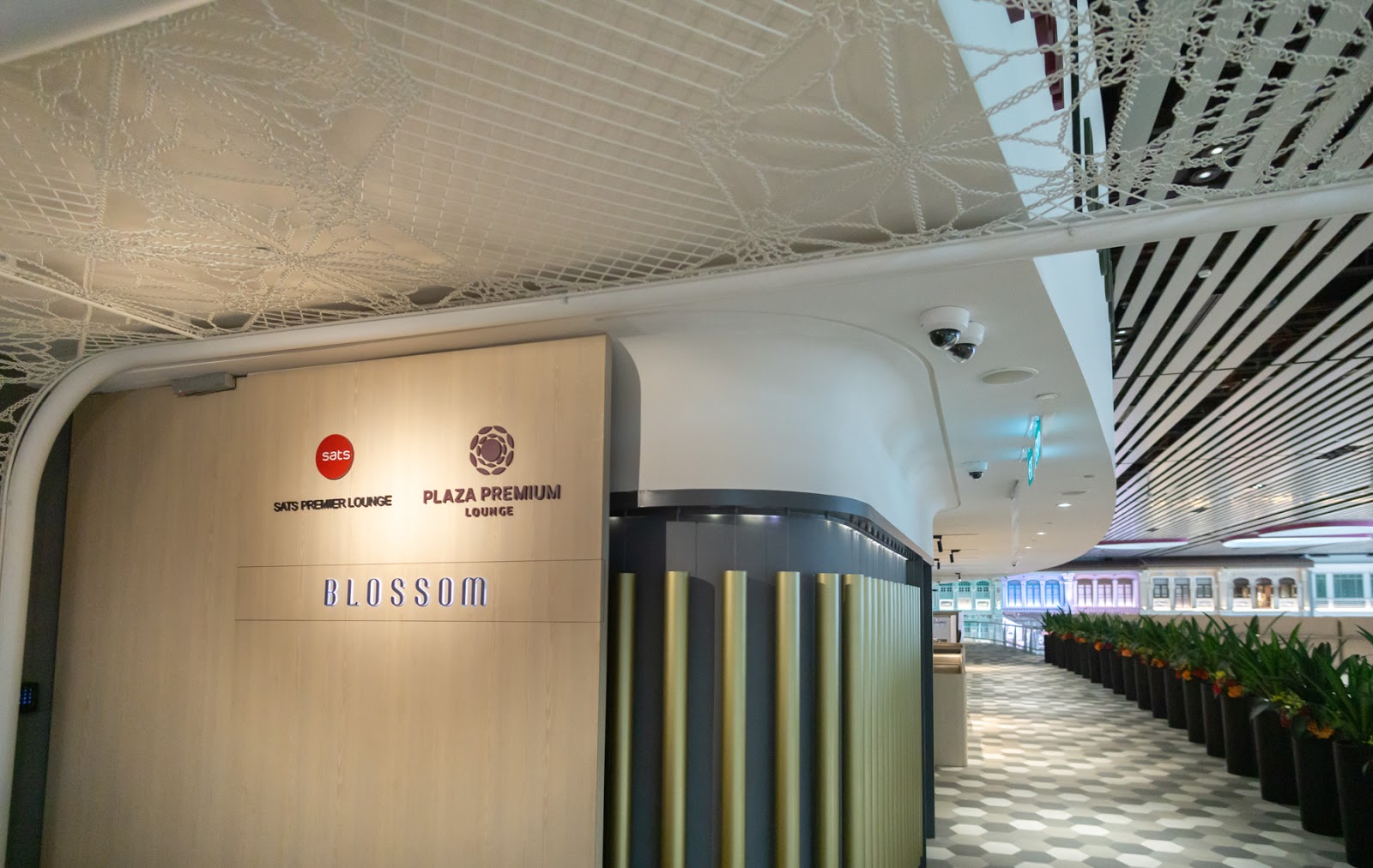 Unlike the other three bustling terminals, Terminal 4 has an air of peace and tranquillity. It's quiet because it doesn't serve many airlines yet, so it's not up to capacity.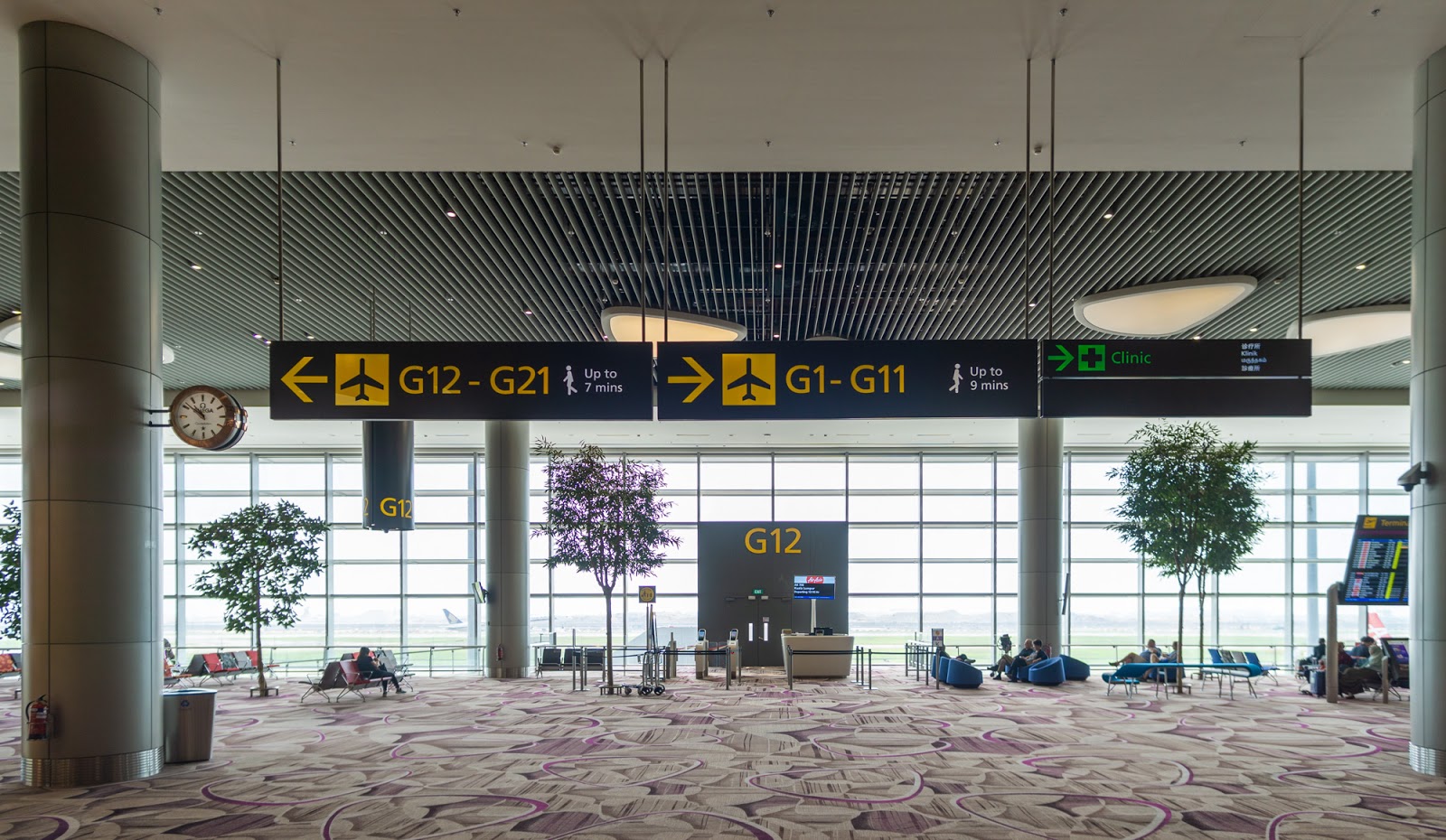 The downside of having security at each gate in Terminals 1/2/3 is that the spaces feel claustrophobic. In contrast here, the gate areas are very spacious and relaxing.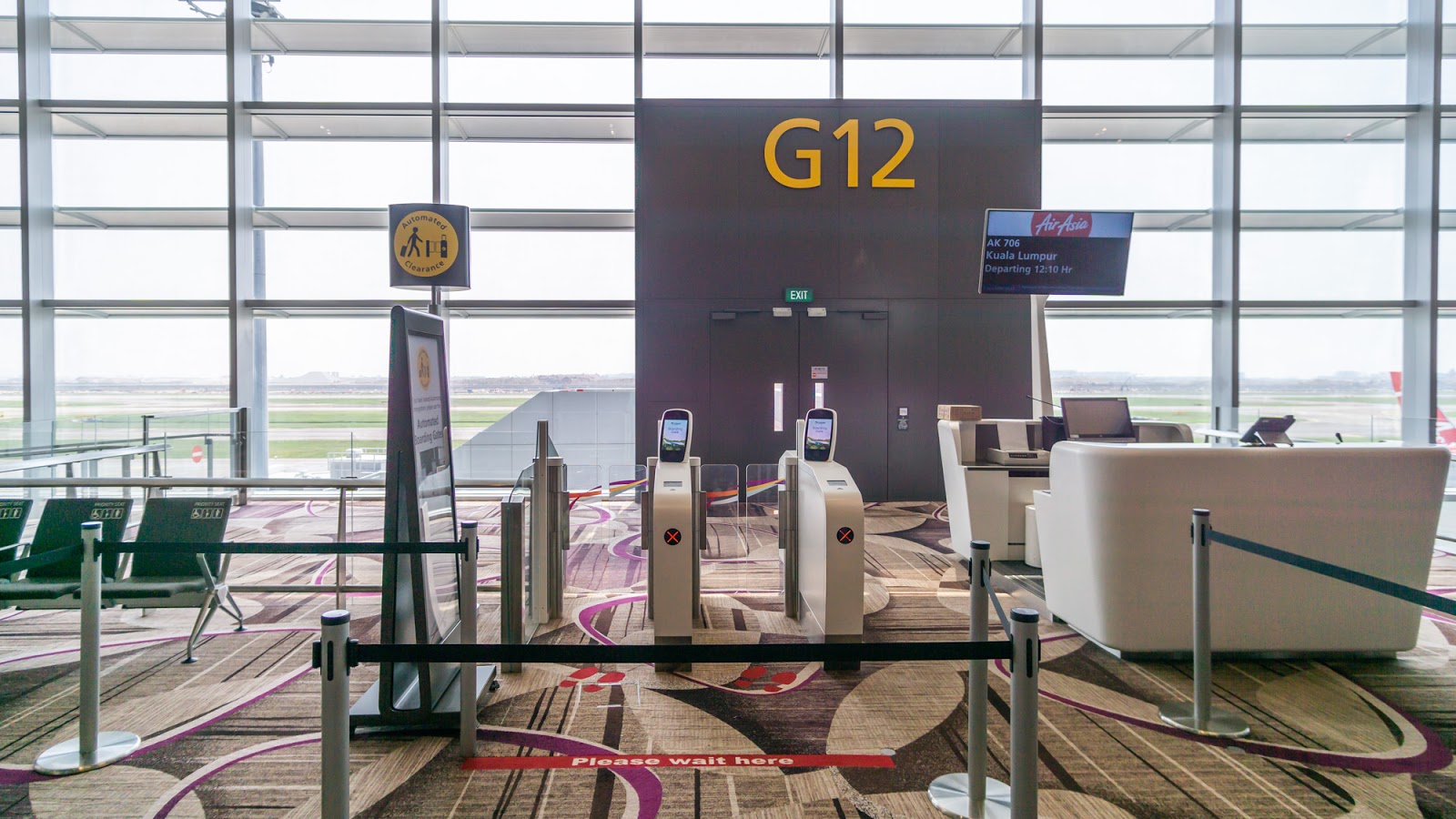 Ad – Scroll down to continue reading.Minimum spend, terms & conditions apply.
Immigration in Singapore Changi Airport
When landing at Singapore, you'll need to fill in an arrivals card unless you qualify for e-gate entry. If you don't have checked luggage and arriving into Terminals 1, 2 or 3, you can actually go to one of those other terminals and clear immigration there.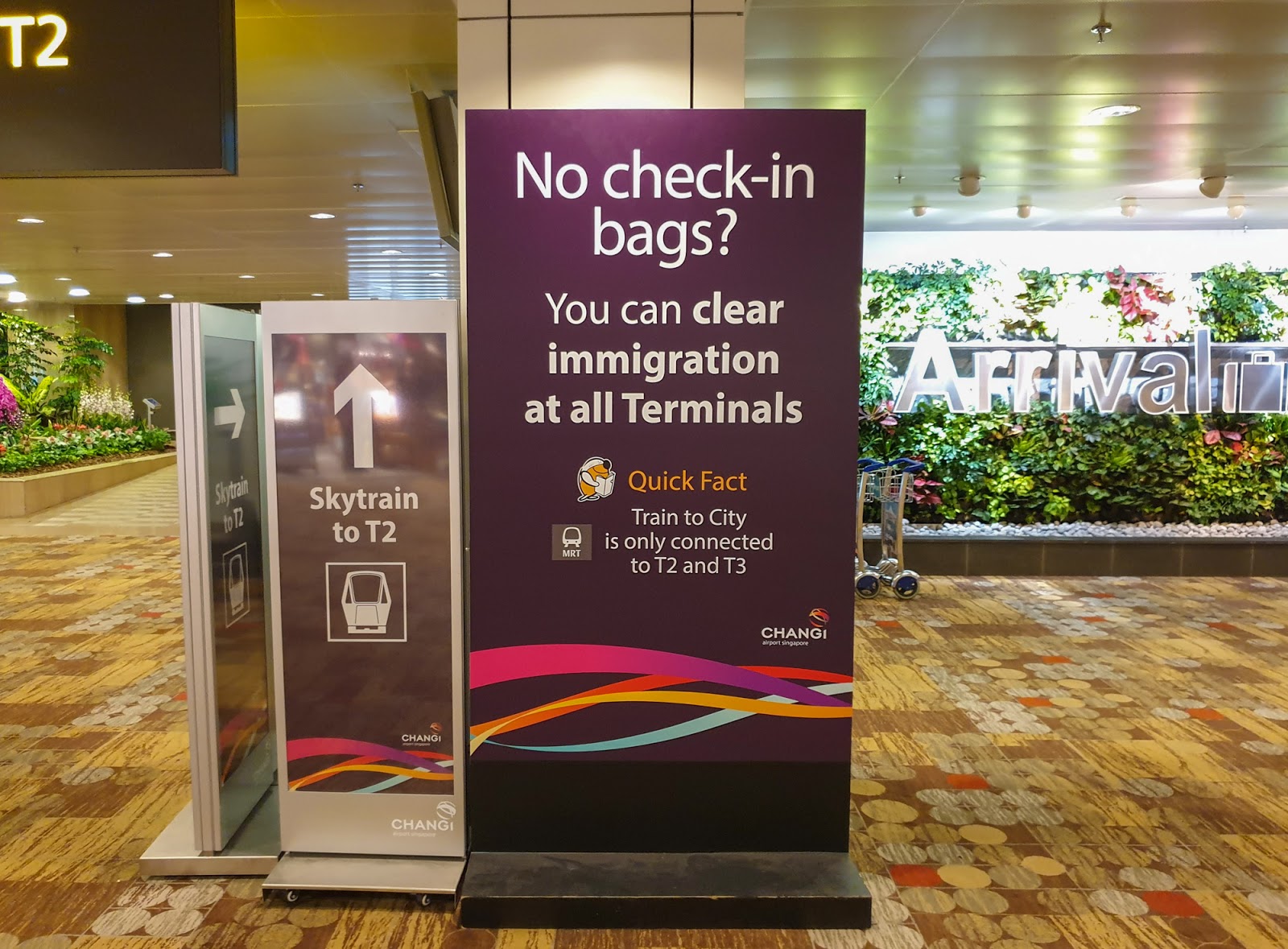 Why would you want to do that, you might ask? Each terminal has different waves of 'peak times', and it could be much quieter at a different terminal. It only takes minutes to ride the Skytrain to a quieter terminal, potentially saving quite a bit of time at processing (it is a bit of a gamble though).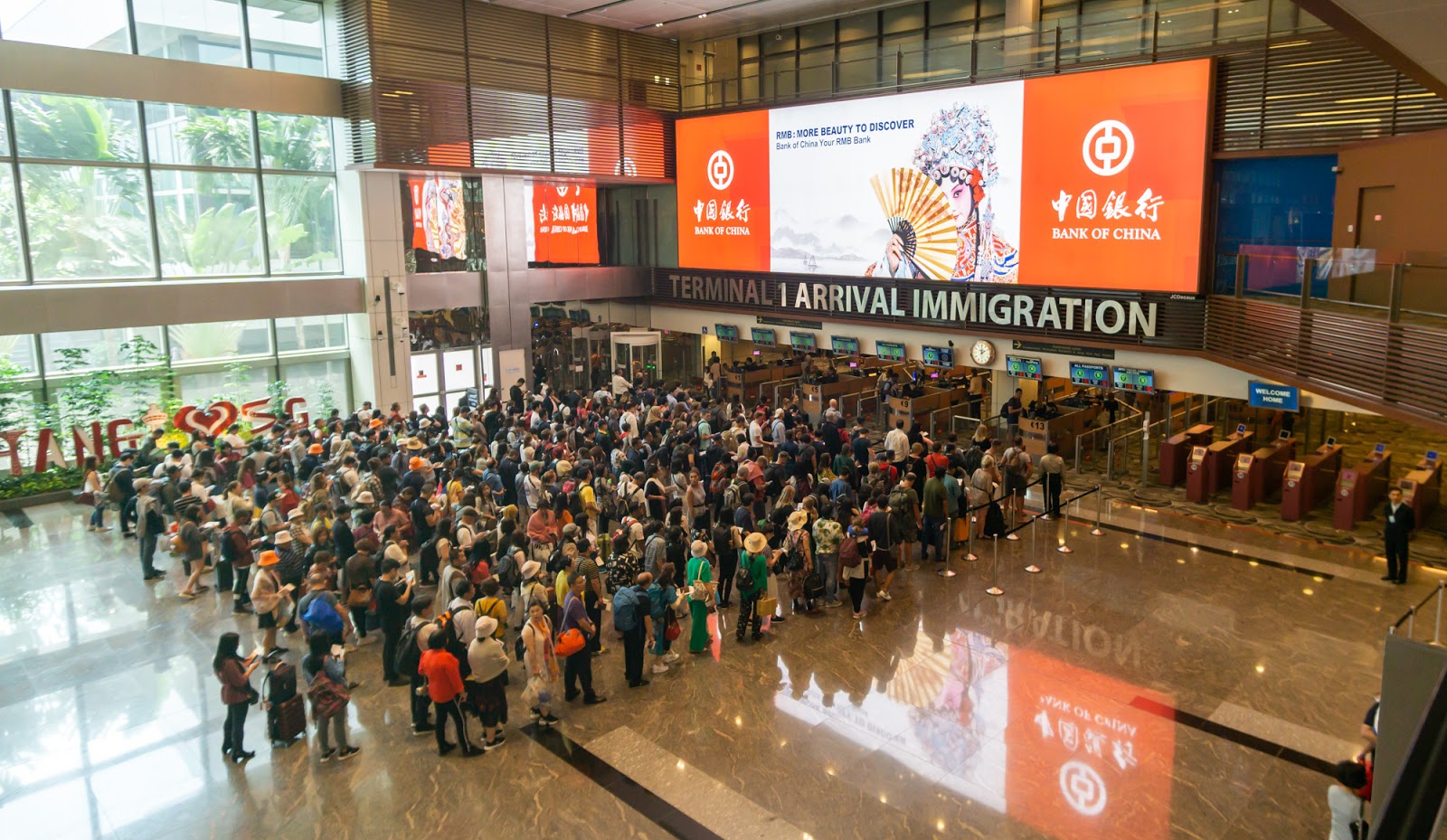 The free Singapore transit tour
Did you know that if you have a long layover at Singapore Changi Airport that doesn't involve going through immigration, you can actually get a free 2.5 hr tour of Singapore!
You'll need between 5.5 to 24 hours between flights, no more and no less. All the information can be found online here, but as a summary, you need to be eligible to enter Singapore and sign-up for the tour at T2 or 3's transit area. This means: do not exit through immigration before signing up for the tour.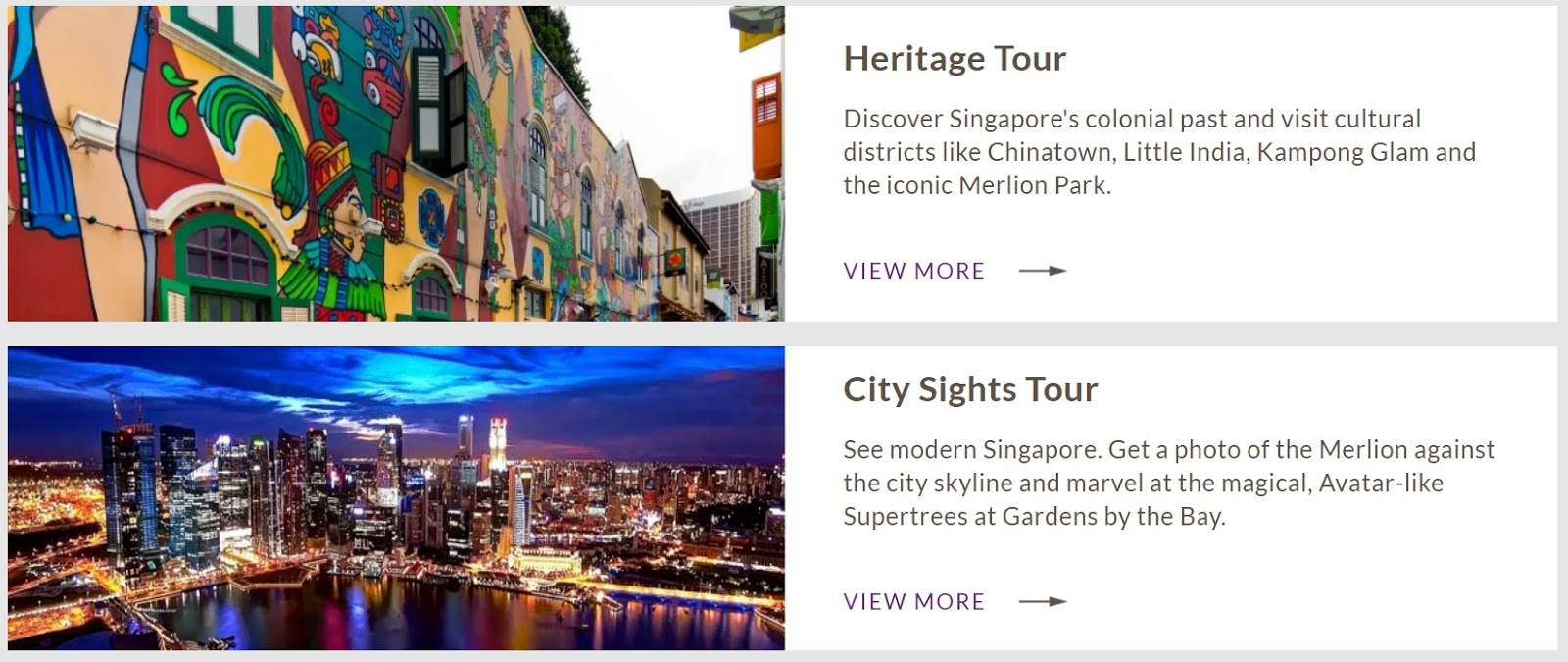 Getting to and from Singapore Changi Airport
In terms of public transport, you can catch buses to the city and there is also an airport MRT (subway) station in-between Terminals 2 and 3. There is no extra airport fee for the MRT.
Otherwise, taxis are plentiful and you can also rideshare through Grab, the local app (Uber no longer operates in Singapore). It's really easy to use and almost identical to Uber. Airport transfers can also be arranged by most upscale hotels in Singapore.
How to visit or transit through Singapore with points
There are many ways to visit Singapore using frequent flyer points, from the opulence of Singapore Airline's new Airbus A380 Suites to Qantas and Emirates' range of flights in Business and First Class.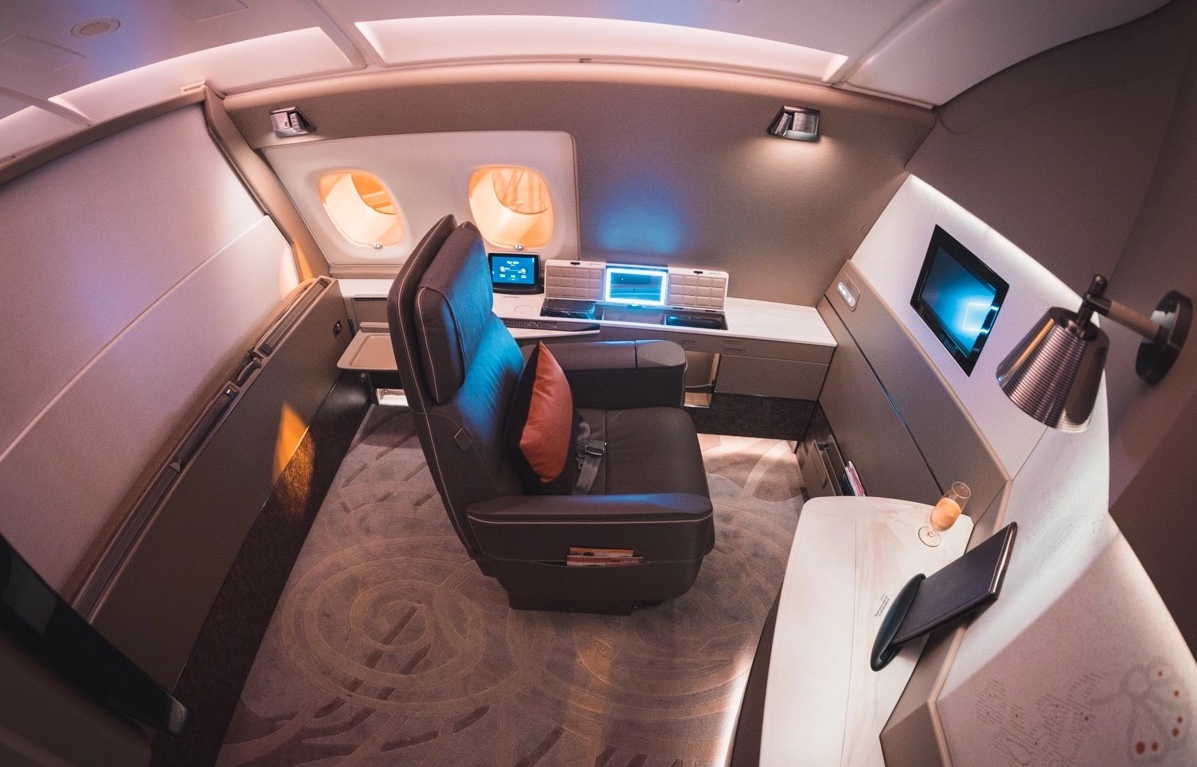 Summing Up
Changi Airport really has a wealth of features and amenities to keep kids and adults entertained alike. Due to keeping things concise, there were lots of other general facilities I wasn't able to cover, so I'll summarise them here.
All terminals have lots of duty-free shopping and assuming you can bring it to your next destination, liquids will be delivered to gate security in T1/2/3. There are, of course, plenty of restroom facilities all equipped with high-tech sensors, and for some of them, killer views!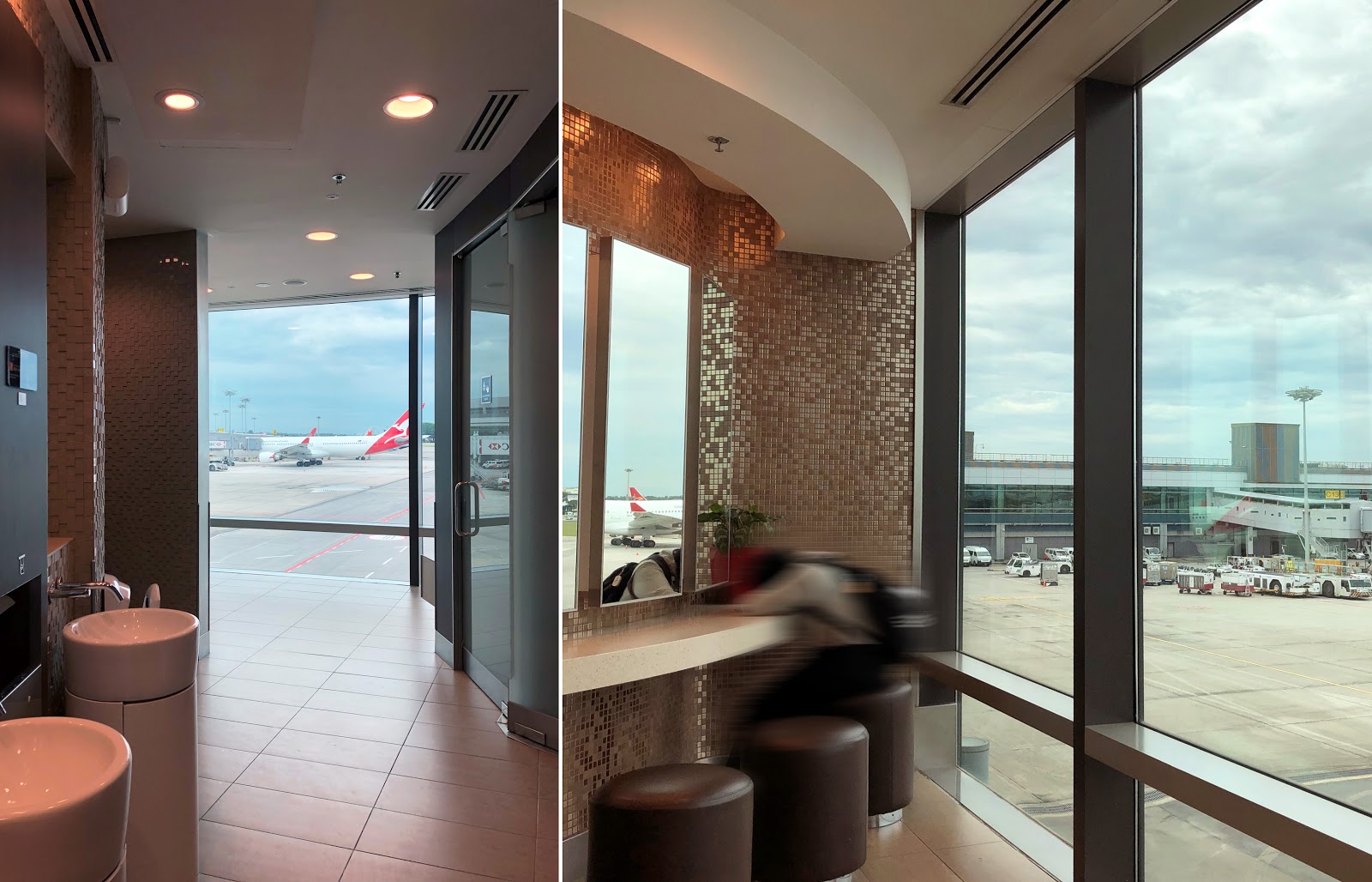 If you need a nap but don't want to use one of the many transit hotels, there are a few free sleeping lounges with semi-flat recliners. They are always in high demand though, so you might need to wait around for one to become available.
Free WiFi is offered throughout all terminals, as well as charging points with cables and computers with internet access, in case you didn't bring your own gear.
There are plenty more art installations and attractions that will wow adults and kids alike, such as Kinetic Rain (1,216 bronze rain droplets moving like water), and the world's tallest slide inside an airport (located in Terminal 3). Visit here for the full list of attractions.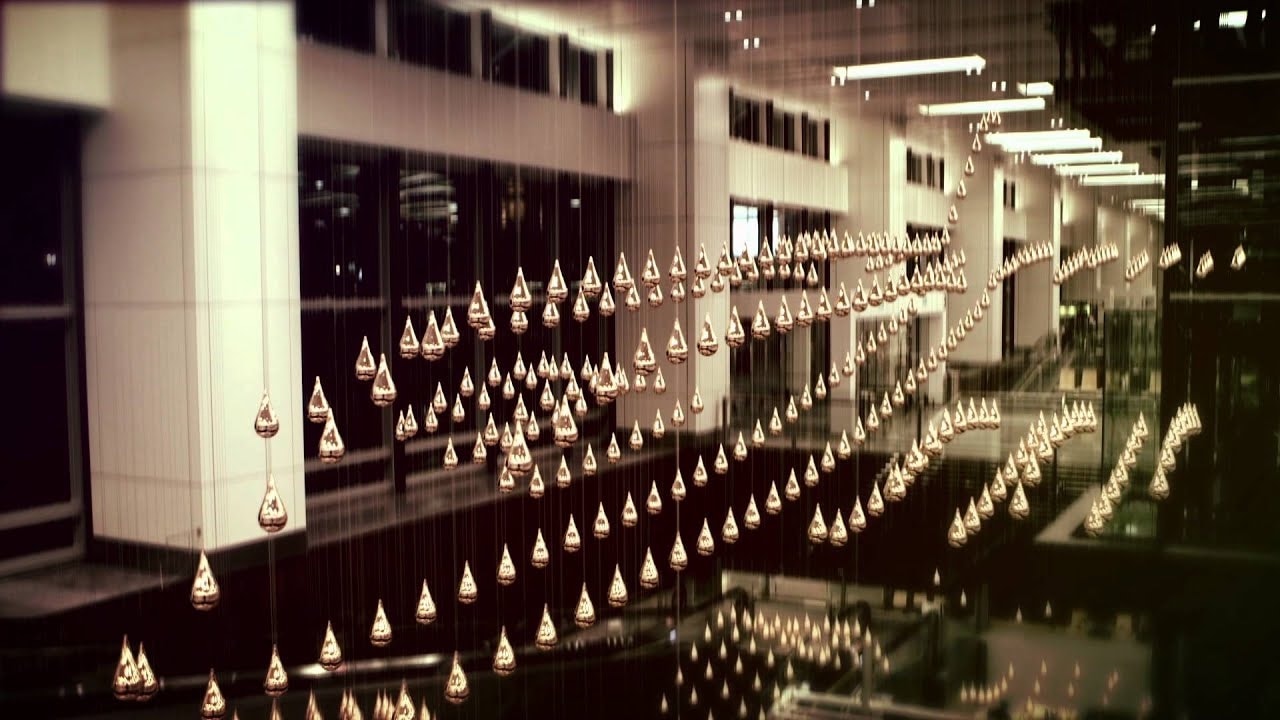 Overall, I'm a huge fan of Changi Airport and I think it deserves its 'best airport' recognition. It's not perfect of course, and my main criticism is having security at the gates in T1/2/3 which isn't something to look forward to after some lounge time. But I understand there are upsides to that arrangement as well, such as having access to the shops and facilities as an arriving passenger.
What's your favourite airport to transit through?
A detailed guide to Changi Airport in Singapore
was last modified:
May 31st, 2022
by