After flying in from Sydney onboard Singapore Airlines Airbus A380 Business Class, spending the night at the Aerotel transit hotel and catching up with a friend in town the next morning, I headed back to Changi Airport to catch my onward Airbus A350 flight to Bangkok. Talk about a whirlwind transit!
This flight would ordinarily cost 24,000 KrisFlyer miles + $69 on its own, but I paid only $12 in additional taxes by including it in my Singapore Airlines redemption from Sydney to Singapore.
That's a magnificent redemption because:
Sydney-Singapore is 68,500 miles + $92 in Business, but
Sydney-Singapore-Bangkok is 68,500 miles + $104 overall for Business.
It's a no-brainer to fly onwards to South East Asia for 'free' (paying a little in extra taxes) if your schedule allows – the transit between flights just needs to be under 24 hours. The same trick works on flights from Perth and Darwin to Singapore, which only cost 40,500 miles in Business.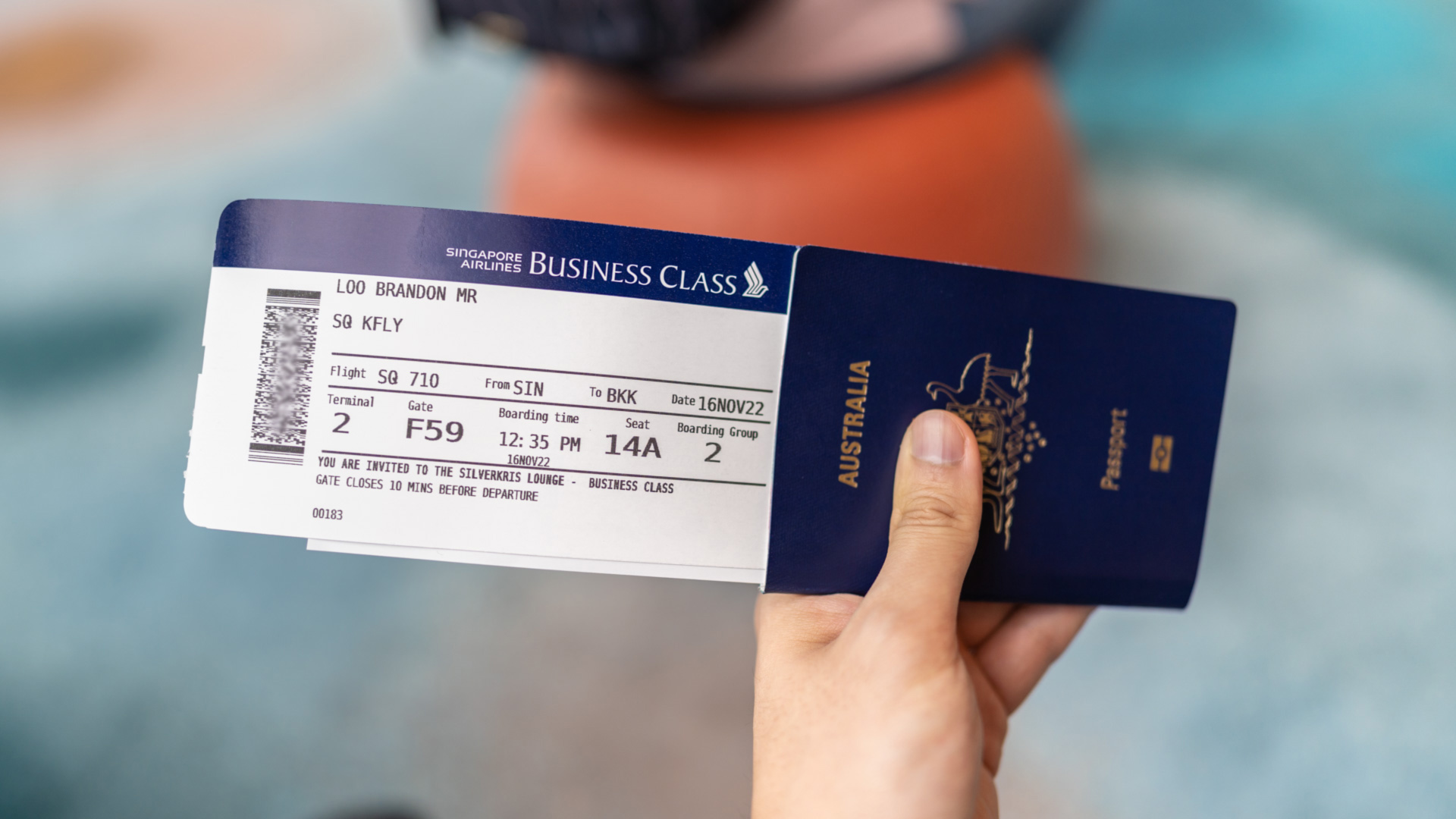 Like me, you can leverage this to enjoy an extended transit (a mini-stopover, if you will), where you can stay the night and see a bit of Singapore before heading back for your next flight. Refreshed, recharged and ready for more travel – that's the Point Hacks way.
Check-in, lounge and boarding
A note on changing flights
In my case, I was initially booked on SQ714 (the 5:10 pm departure). Luckily, Singapore Airlines will consider requests to change to an earlier flight if you ask at the check-in or transfer counters. After all, it's a win-win as they have a better chance of reselling the seat on the later flight.
I asked in Sydney and was unsuccessful because all the earlier flights were full. But by the following morning, a seat had opened up and I was able to switch to SQ710 (the 1:05 pm departure) by asking at the transfer counter at Singapore Changi Airport. Of course, for this to work mid-transit, it's best to not have checked luggage.
Check-in at Singapore Changi T2
As my Singapore-Bangkok flight was booked as part of a Sydney-Singapore-Bangkok itinerary, I'm already checked in for this flight. But either way, you should head to the renovated Terminal 2, as this is where most Singapore Airlines regional flights operate from.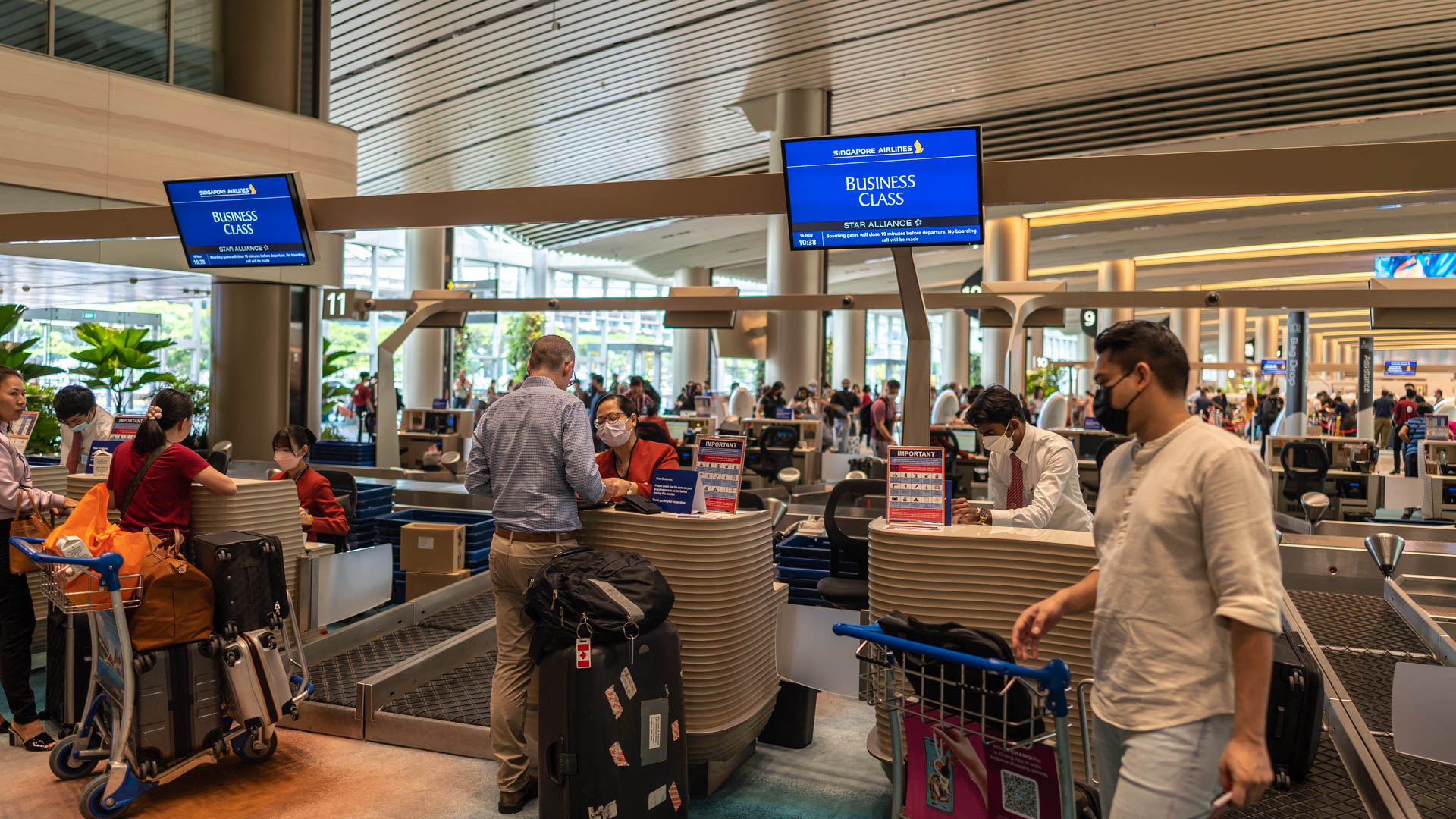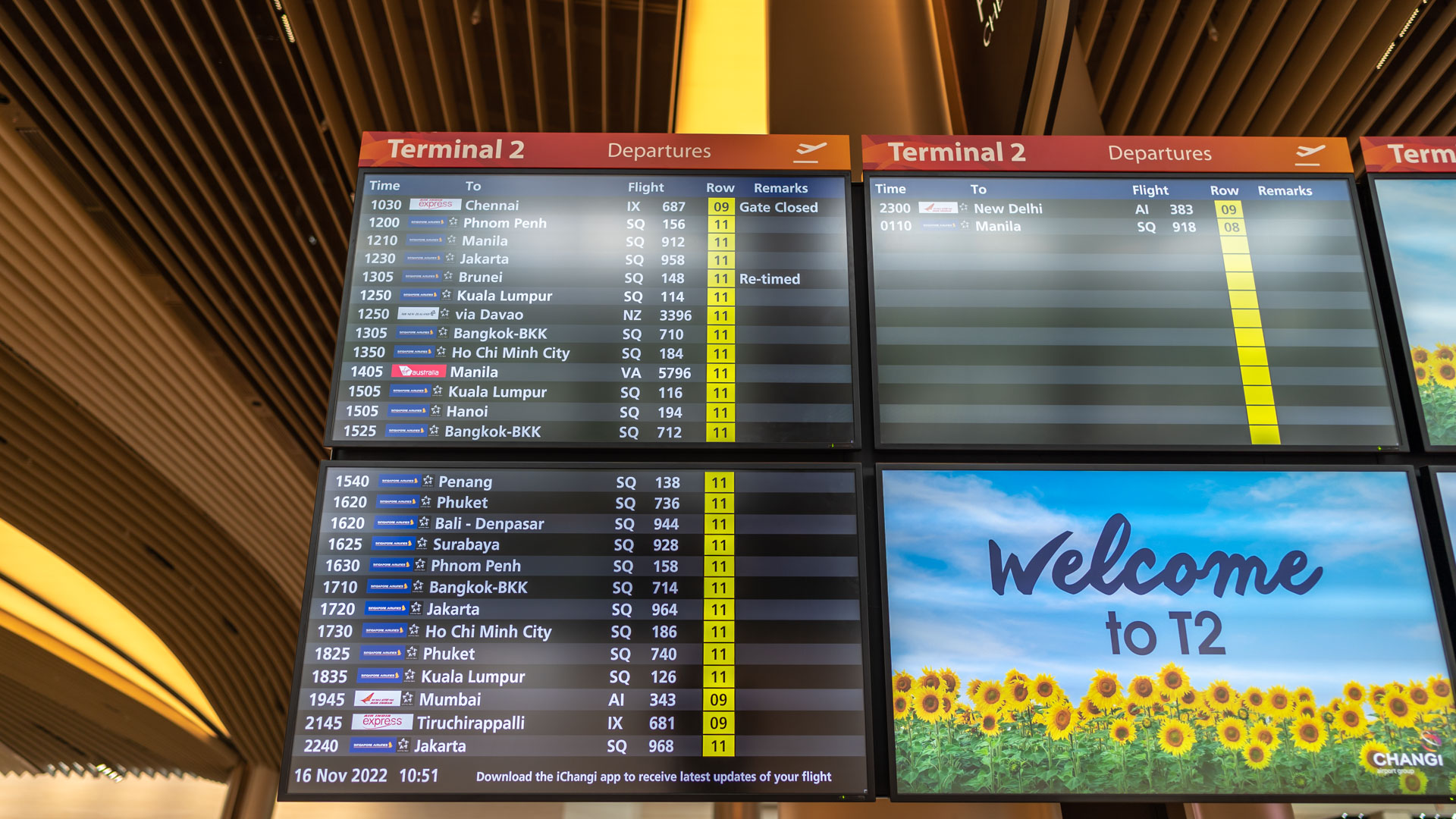 Visiting the SilverKris Business Lounge, T2
While the check-in area of T2 is shiny and new, the rest of the terminal itself is a confusing mess of hoardings – renovations are clearly still underway. Straight after immigration, you should spot some signs directing you upstairs to the T2 SilverKris Lounge.
It's still a reasonably decent place to hang out before the flight. Notably, Piper-Heidsieck Champagne, a laksa station and a basket of steamed dumplings are just what I need for a fancy early lunch.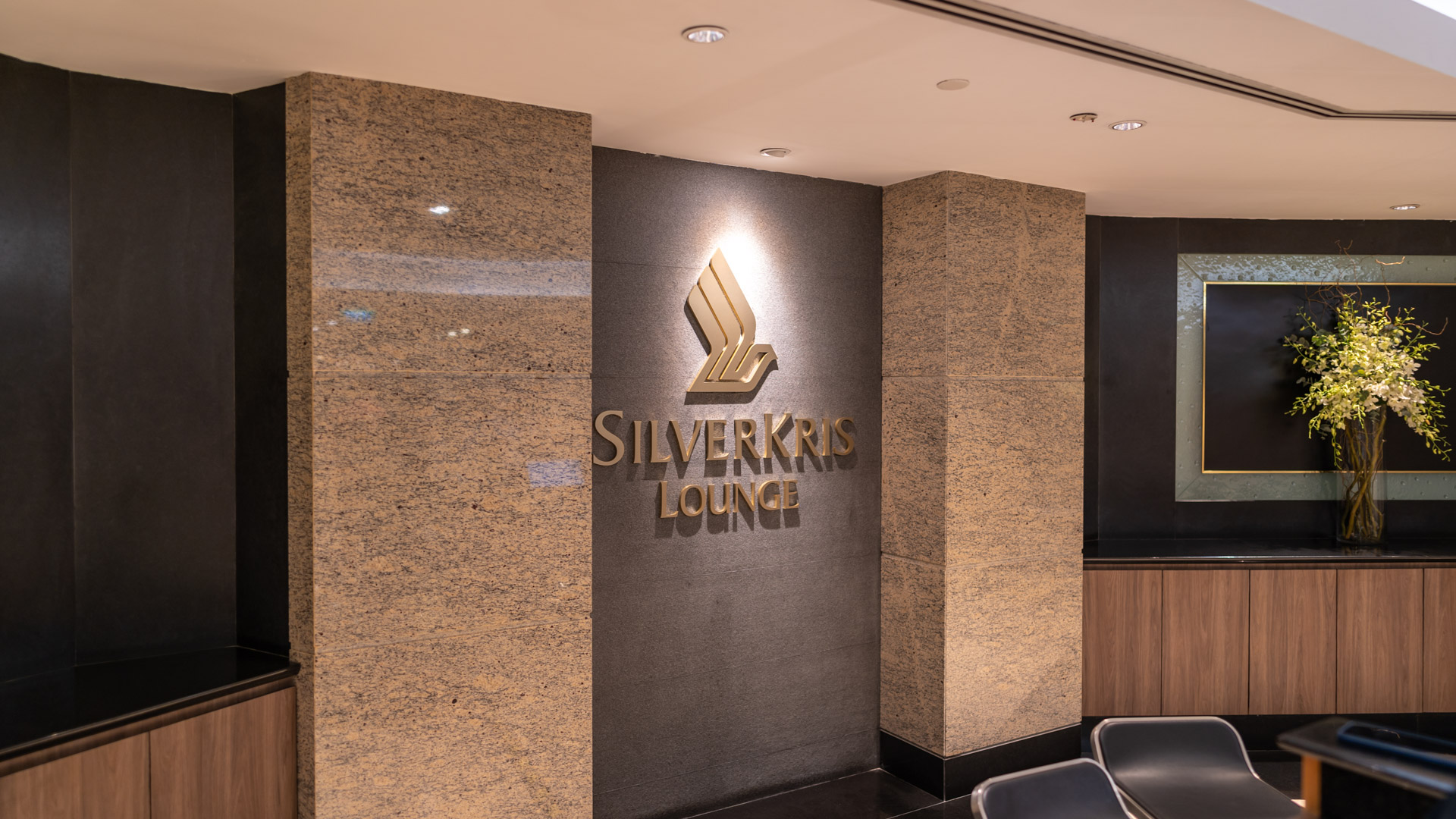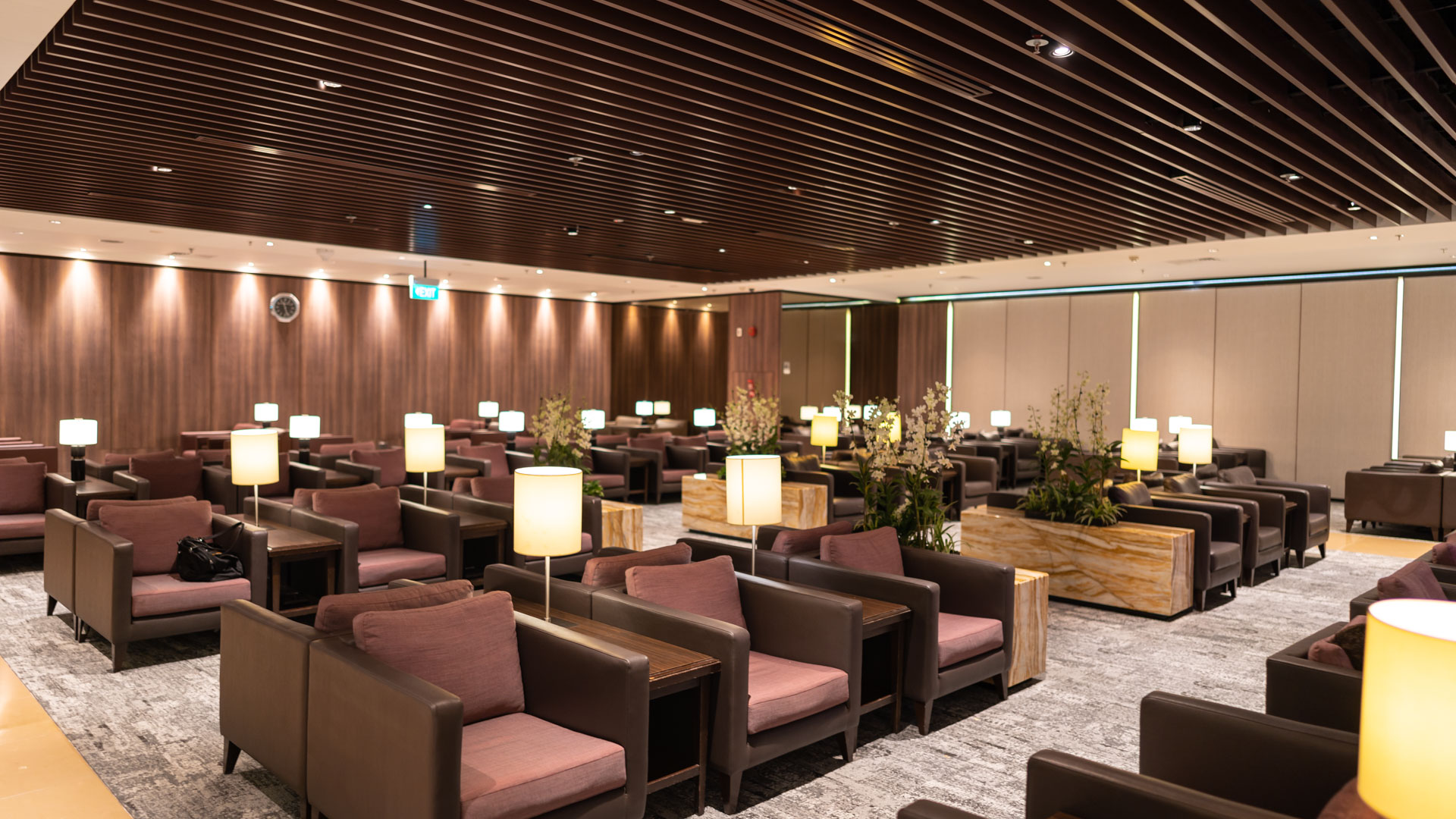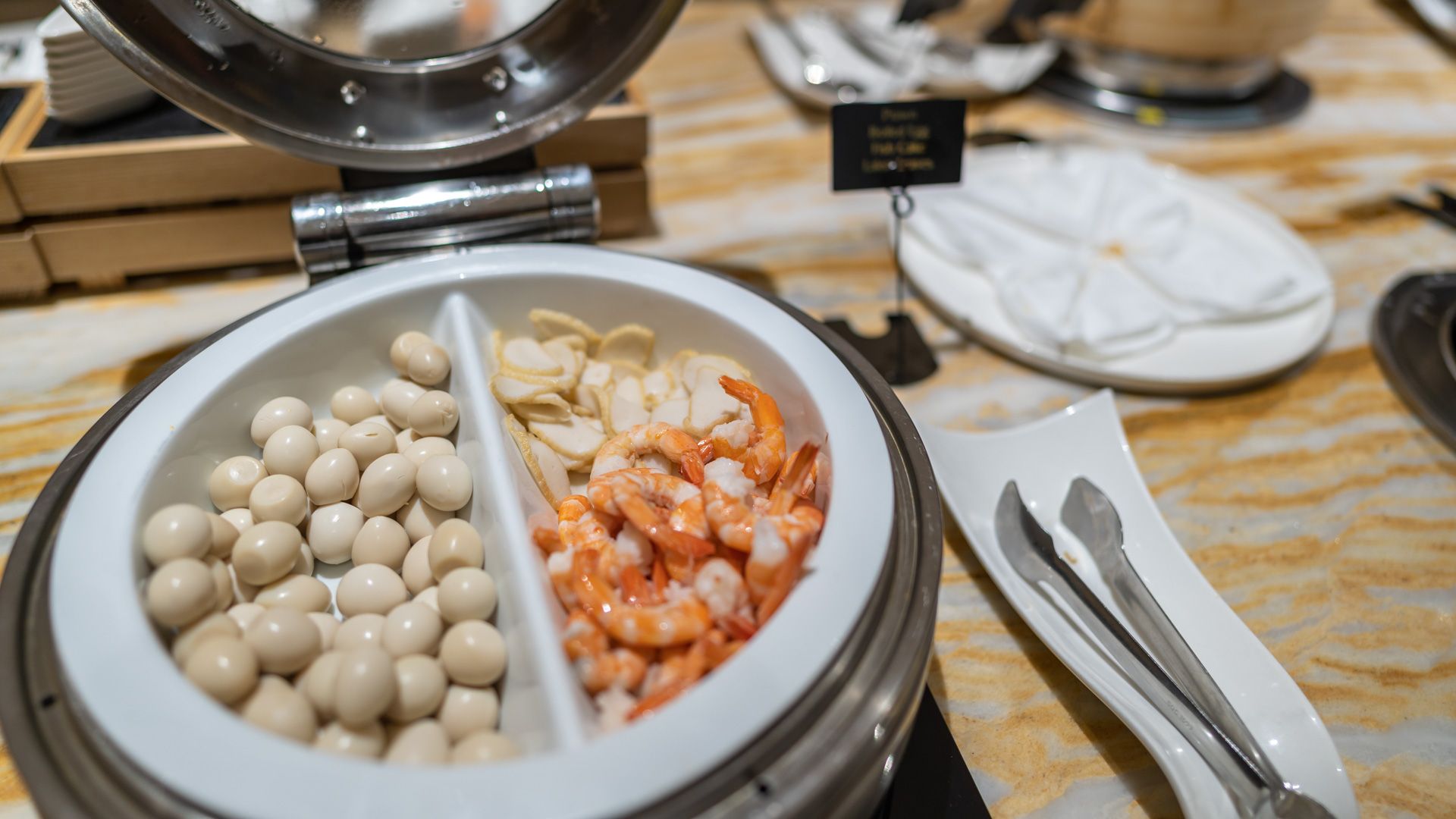 If you have more time, a visit to the gleaming new SilverKris Lounge in T3 could be on the cards. Just be mindful of the time needed to get back to Terminal 2 via the internal SkyTrain.
Boarding
Today's flight leaves from the furthest depths of the terminal at Gate F59, but that provides a good opportunity to stretch out the legs one final time. Business Class passengers have priority access through security screening at the gate, and priority boarding is called shortly after I get through.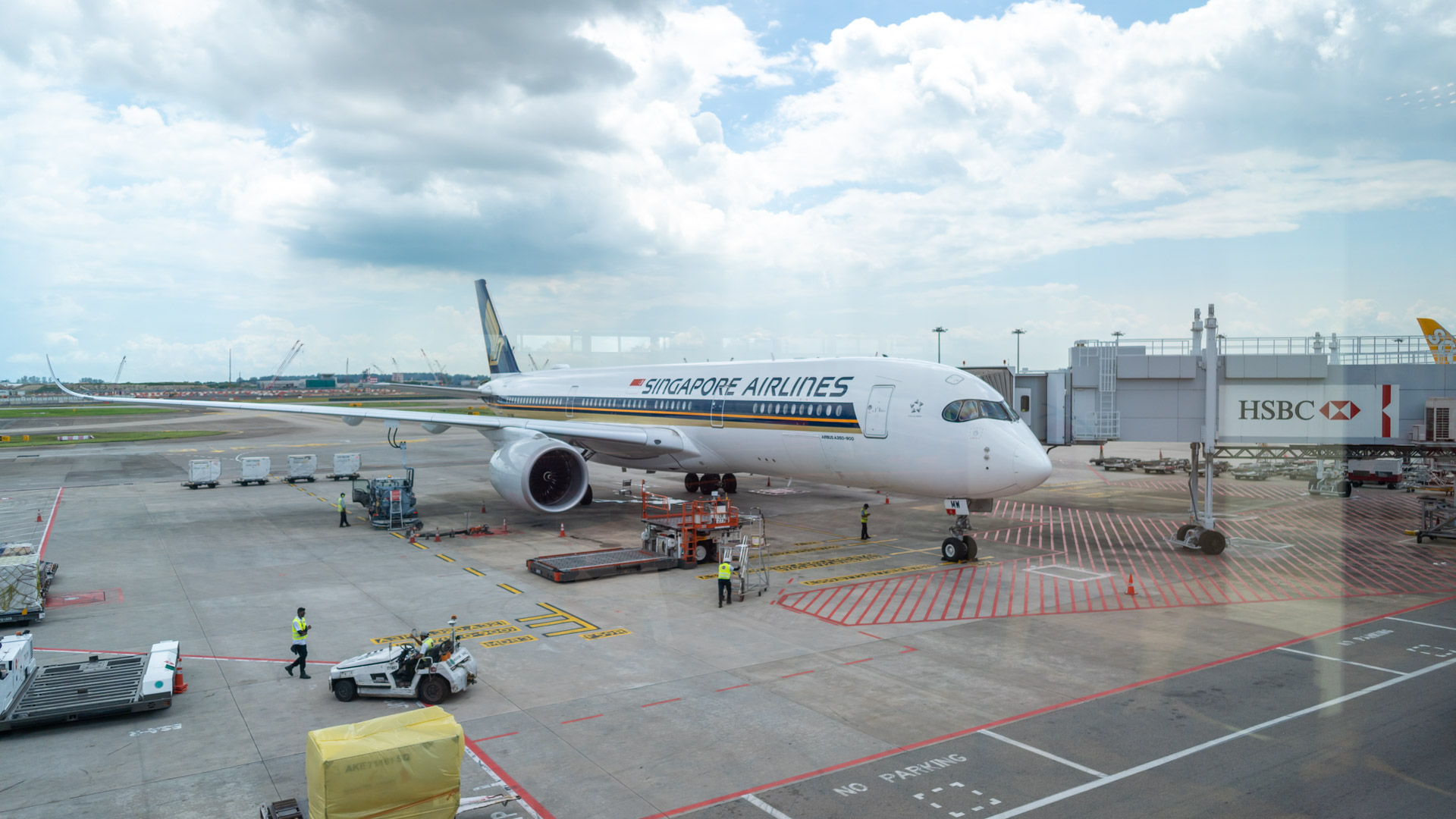 Singapore Airlines Airbus A350 Business seating
Business Class cabin overview
Singapore Airlines operates a few different variants of the Airbus A350. The two types you'll see on the Bangkok route are the ones with 'regional' Business Class (more common) and jets with 'long haul' Business Class (less common).
In a stroke of luck, I've managed to book myself on a 'long haul' variant Airbus A350 for this flight. This means an older but wider Business Class seat at the front. Premium Economy isn't offered on these flights, but savvy Economy passengers can also book the Premium Economy seats for a fee (or for free if any seats remain at online check-in, 48 hours before departure).
Also read: A comprehensive guide to Singapore Airlines' many Business and First Class seats and suites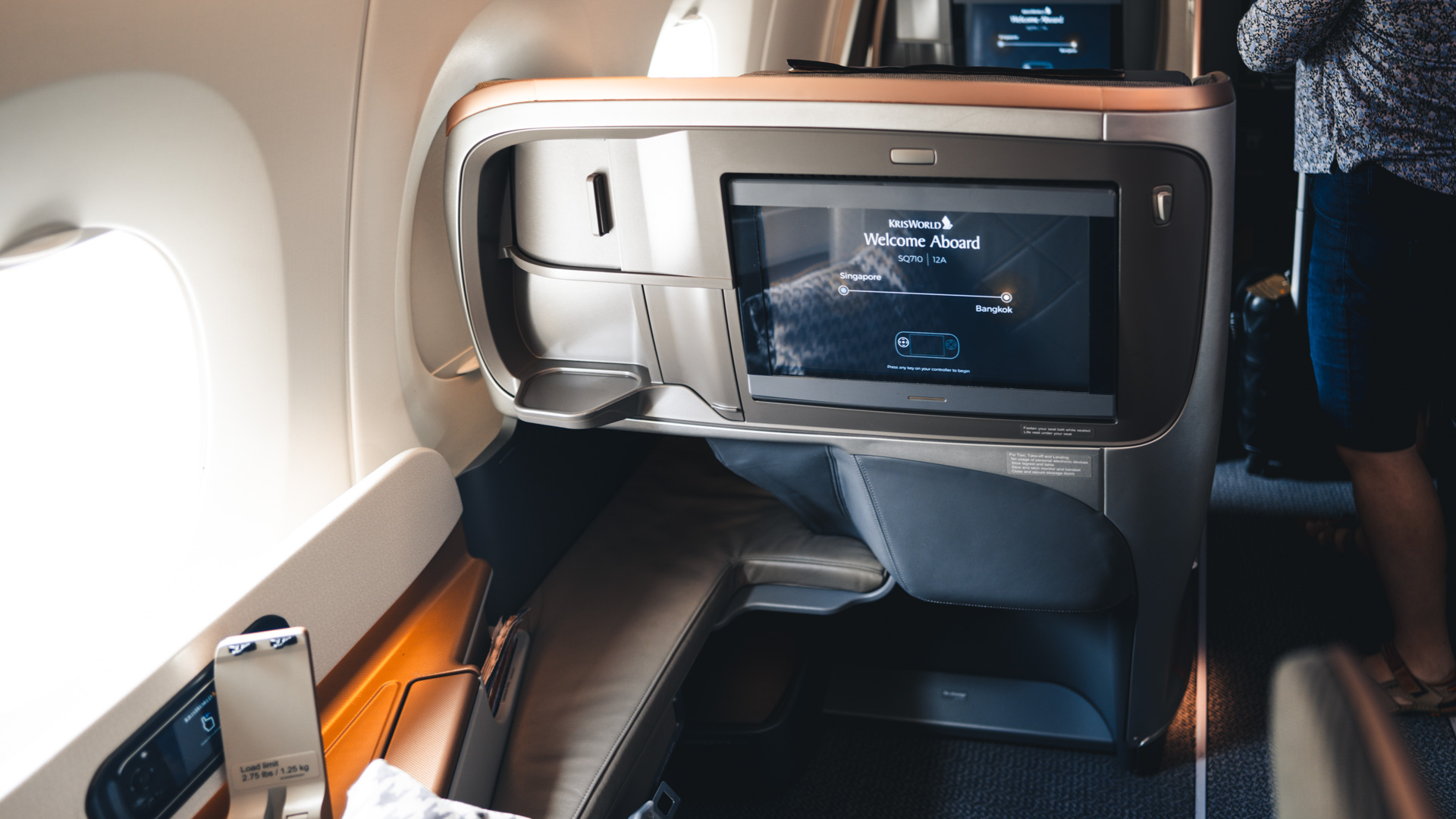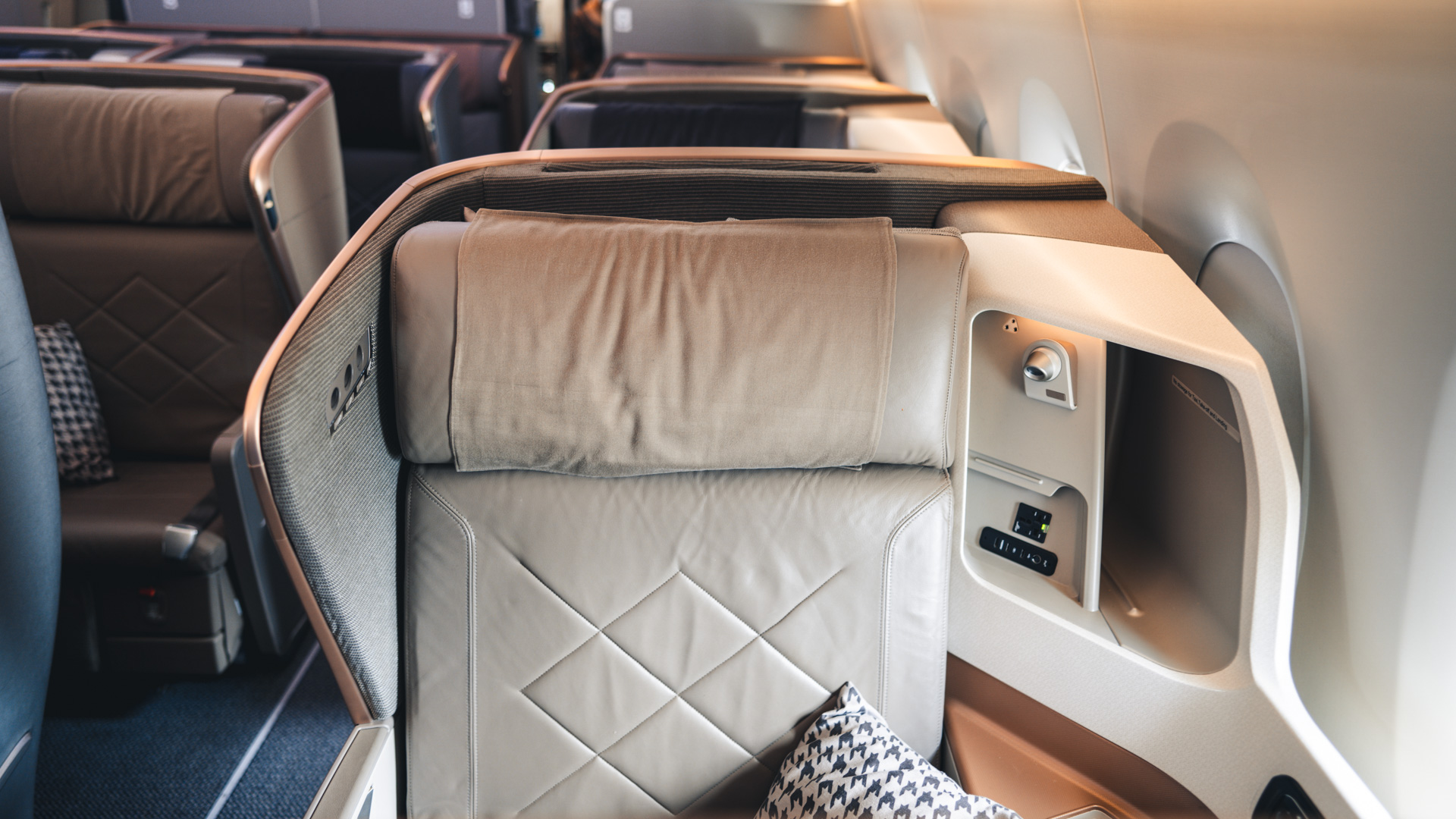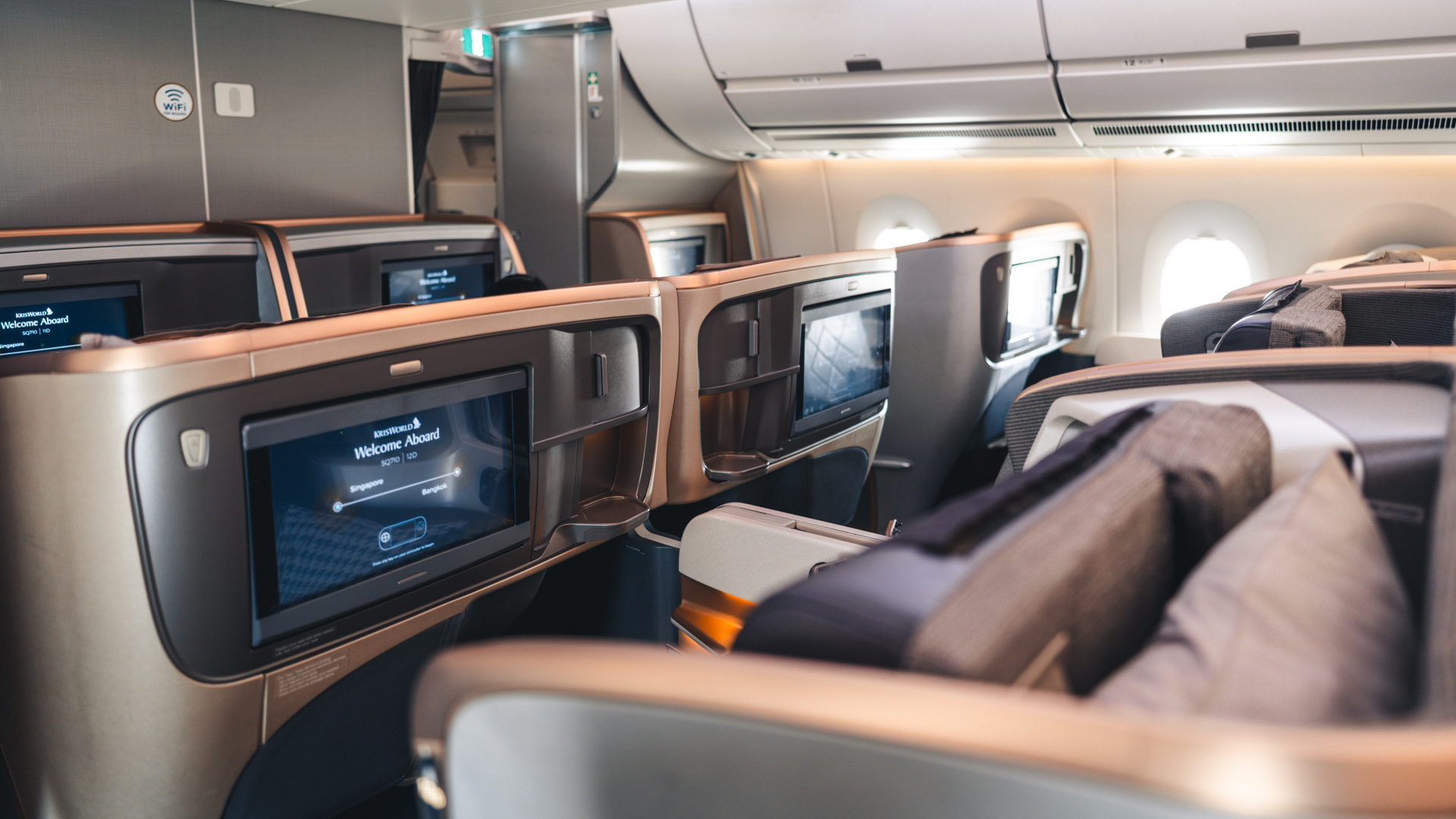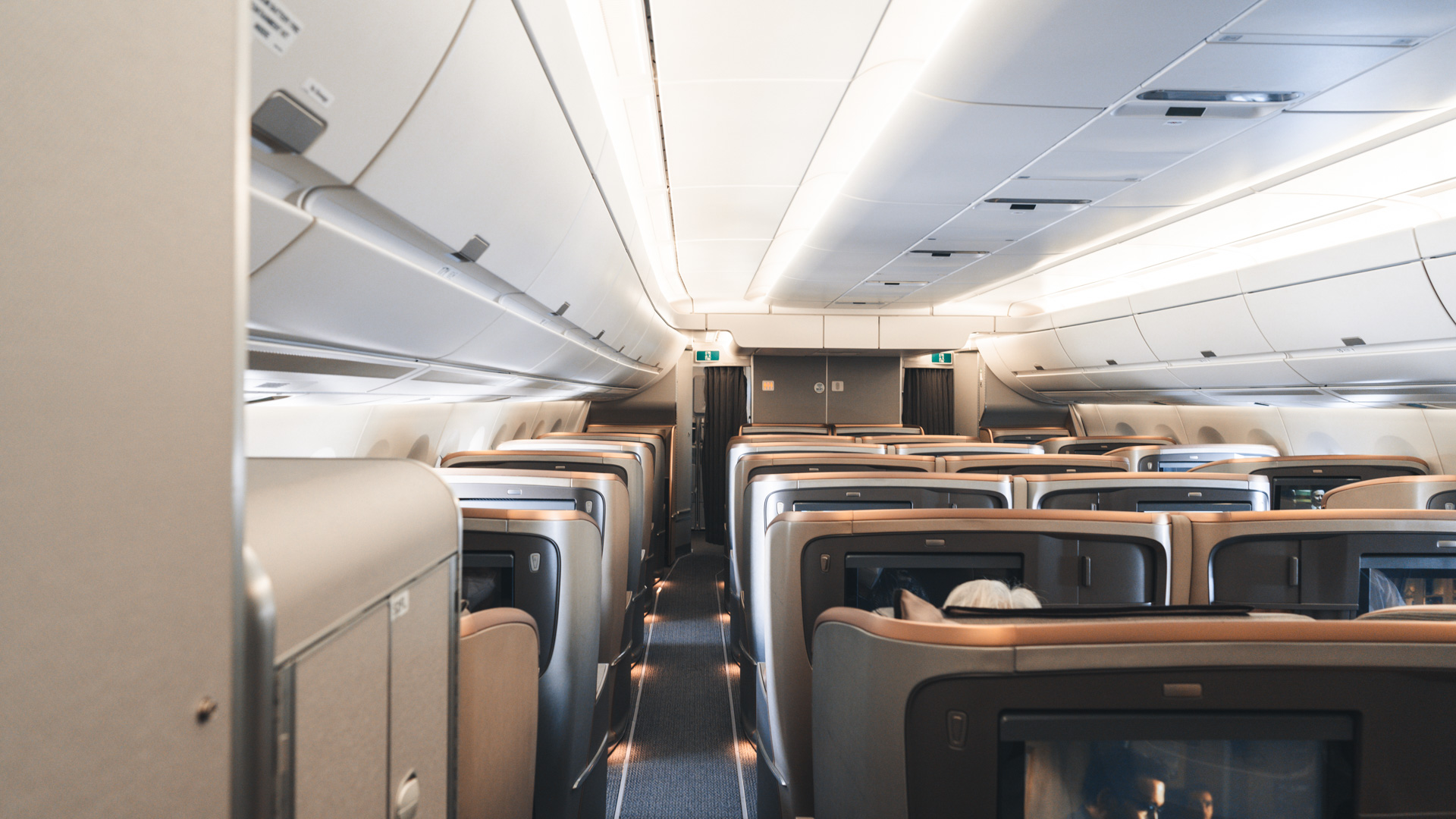 Business Class seat features
The Airbus A350 'long haul' Business Class seat has been covered extensively in our review of Singapore Airlines Business Class from Brisbane to Singapore. It's a bespoke and elegant design with plenty of storage space. Buttons on the side will adjust the seat and lighting to your liking – but you'll need to flip the seat down to turn it into a bed. I don't do it for this flight, though.
A cool feature of this seat is the ability for two people to sit together and watch a movie. It's wide enough to do so and if you peruse the photos below, you'll spot a headphone socket on each side.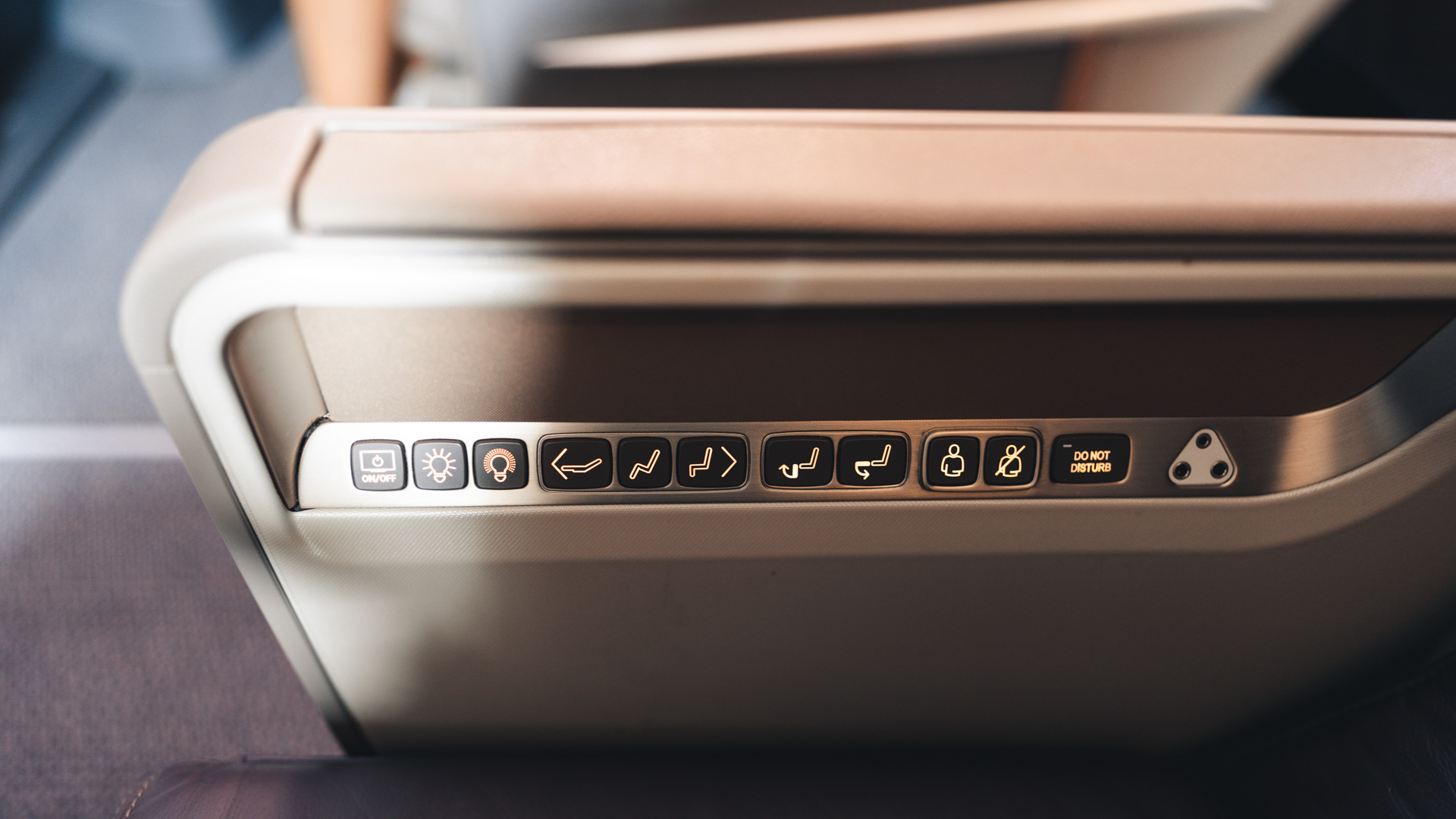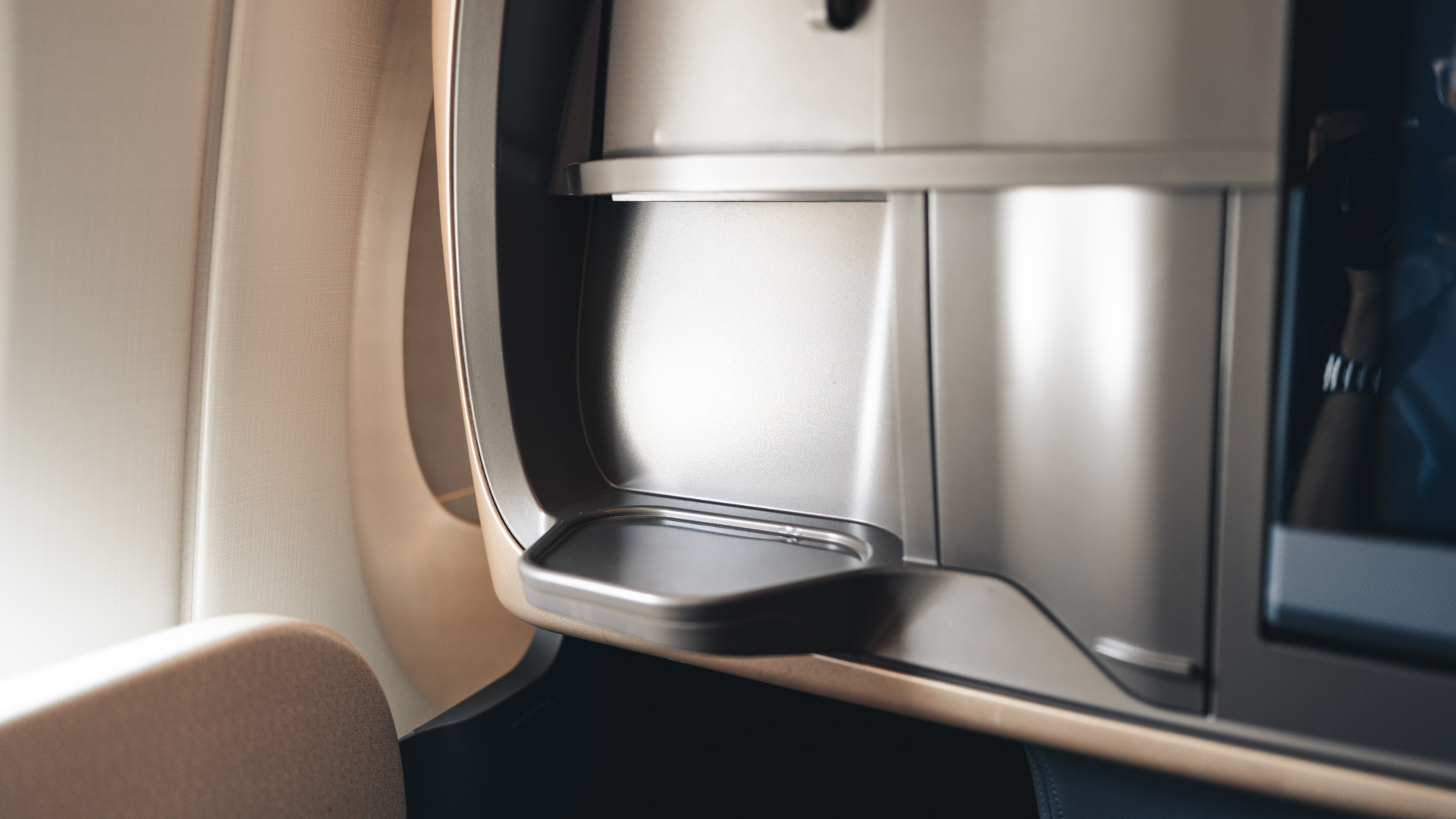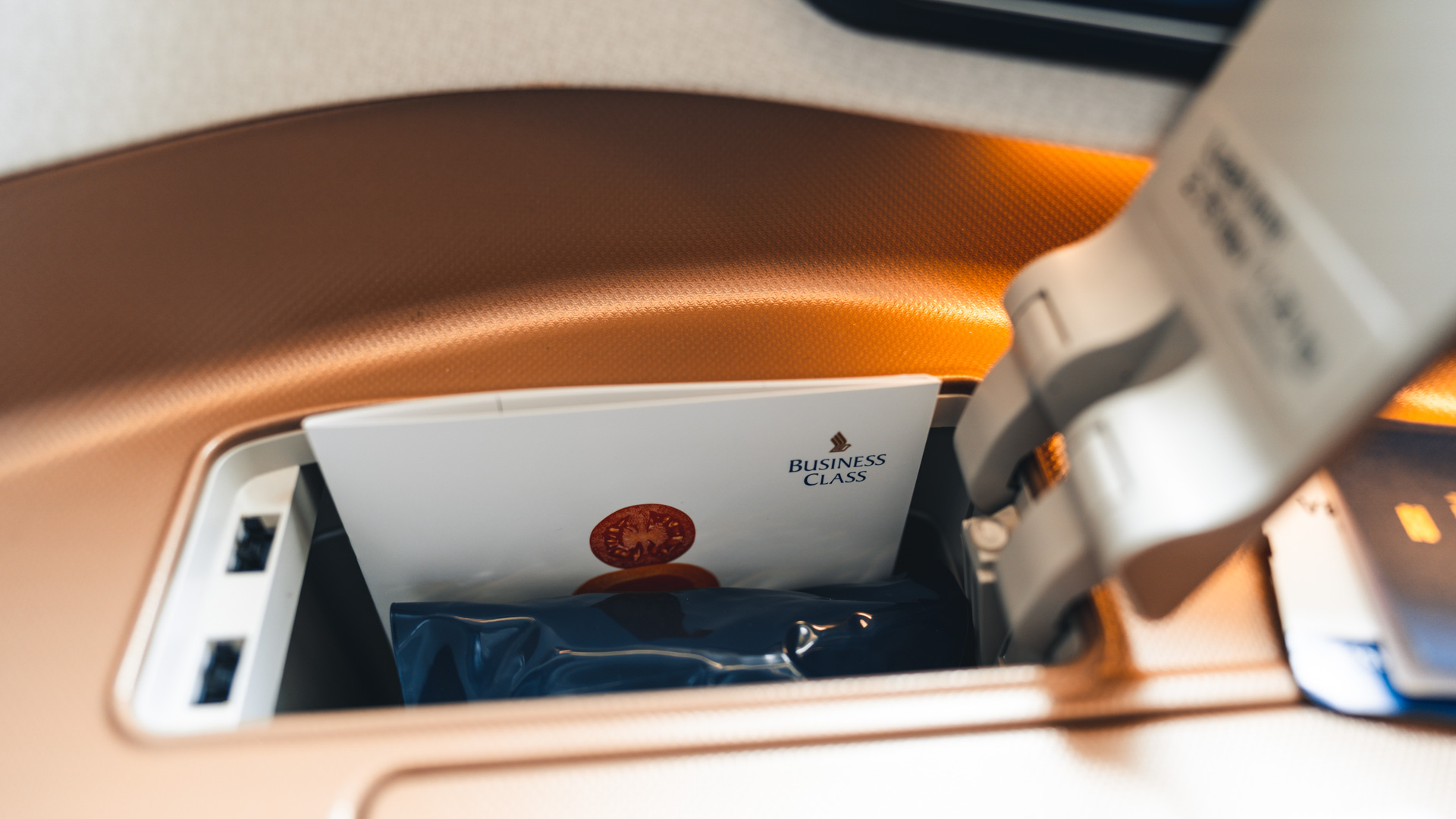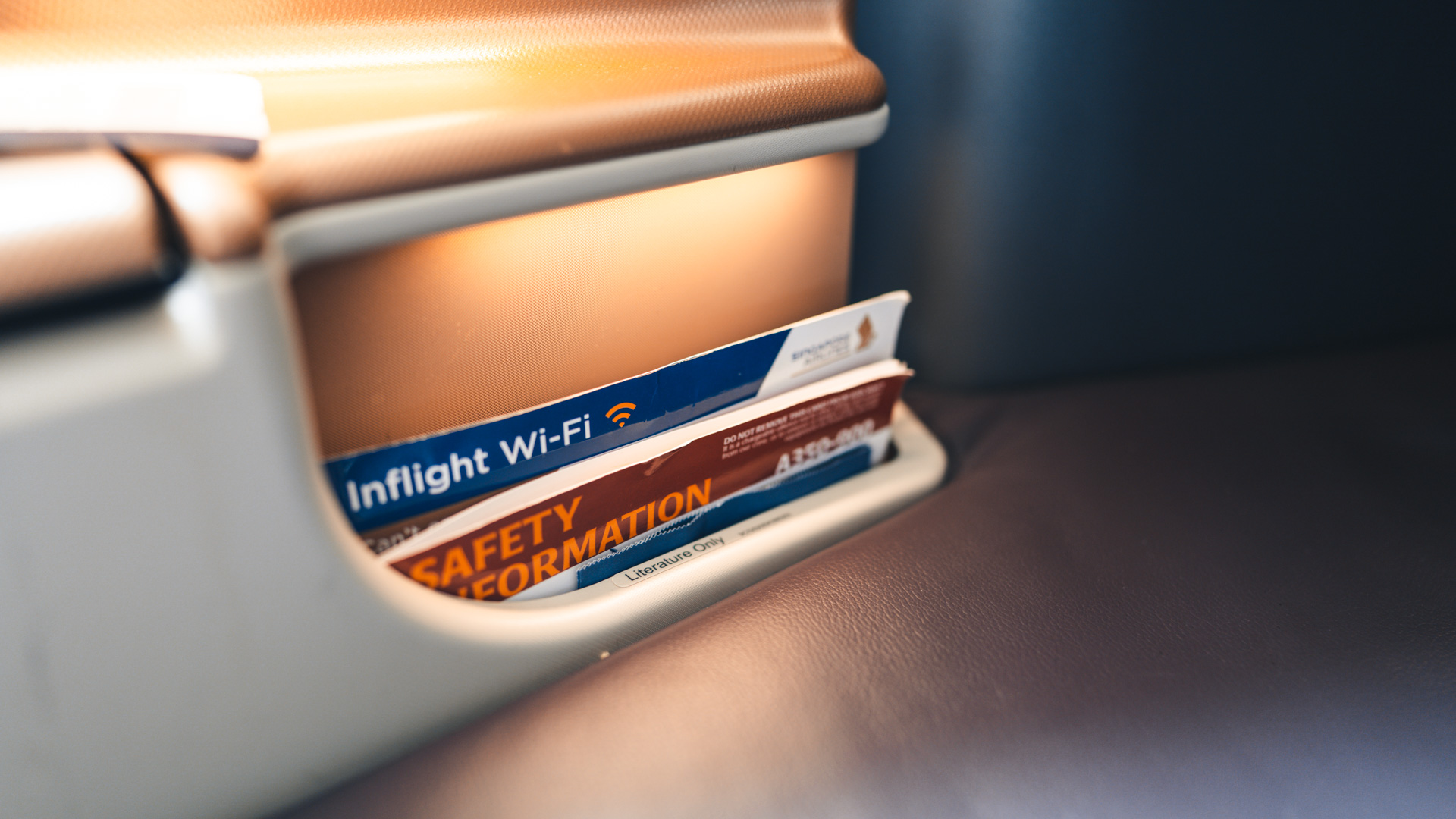 A minor pain point for some frequent flyers is having the smaller footwell off to the side and sleeping on an angle. On a two-hour flight, this isn't much of an issue. But it might become more apparent on a flight where sleep is the priority.
Singapore Airlines Airbus A350 Business food and beverage
Pre-departure and beverages
Singapore Airlines' service on this two-hour regional hop puts most other airlines to shame – especially compared to Australian domestic, US domestic and European regional flights. Before take-off, Business Class customers are treated to a glass of Champagne, orange juice or water.
Defying all expectations, I switch it up and choose the… Just kidding, I opt for my usual Champagne. At the time of travel, it was the lovely Charles Heidsieck Brut NV. But since early 2023, Singapore Airlines now serves the Henriot Brut Souverain NV on most regional flights. This new fizz is unknown to me, but online reviews seem decent and it's still in the region of $90 a bottle.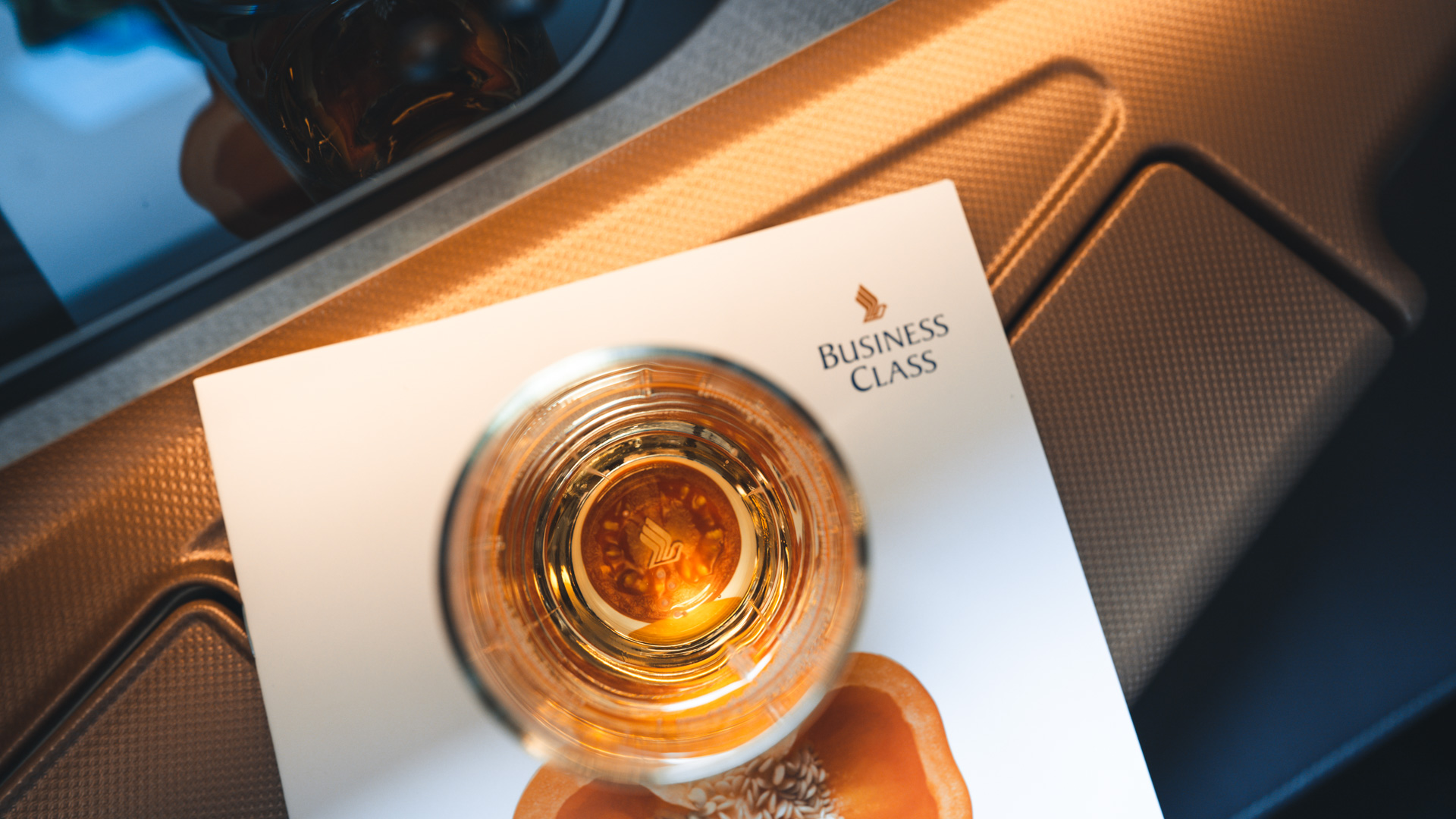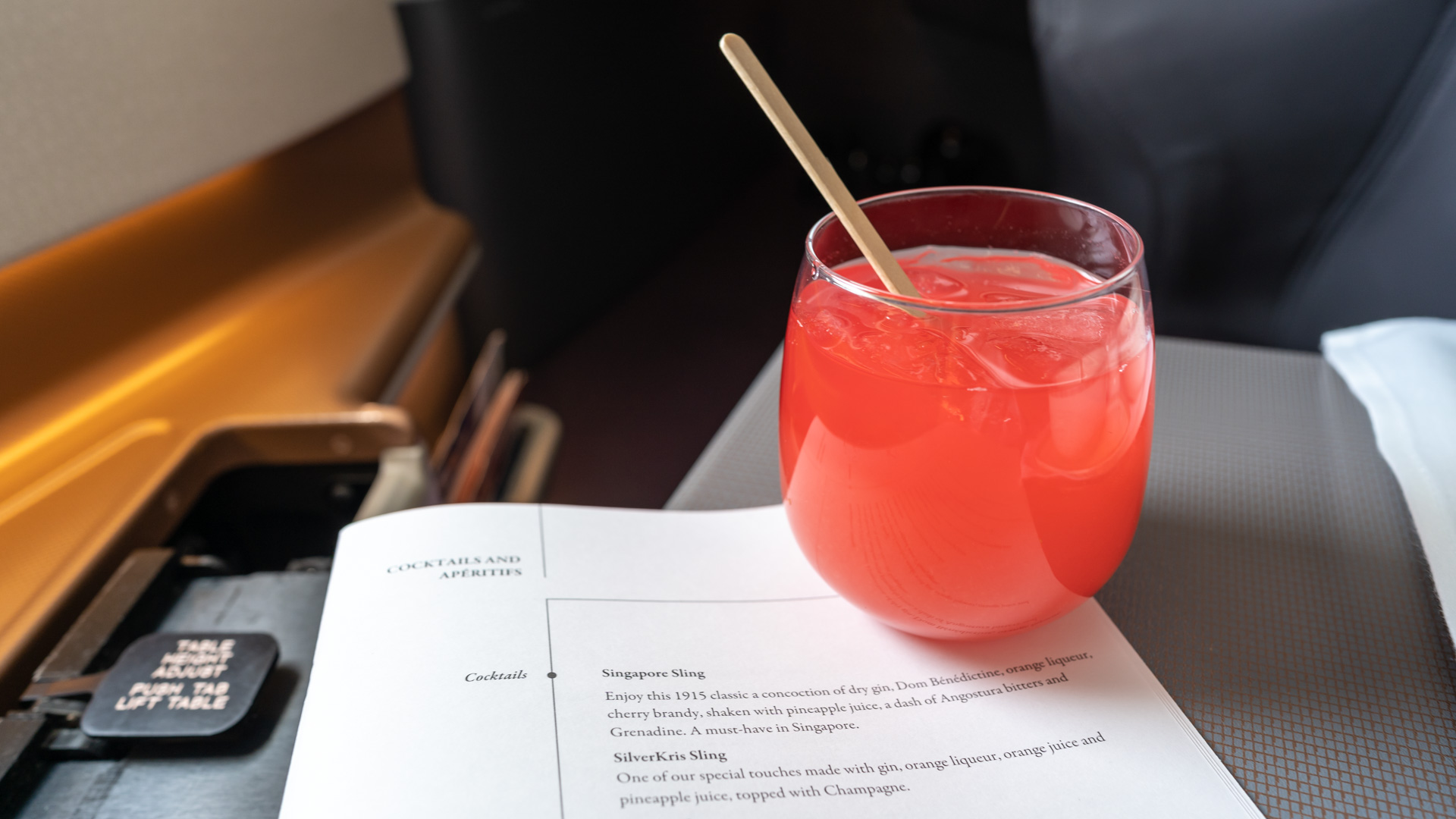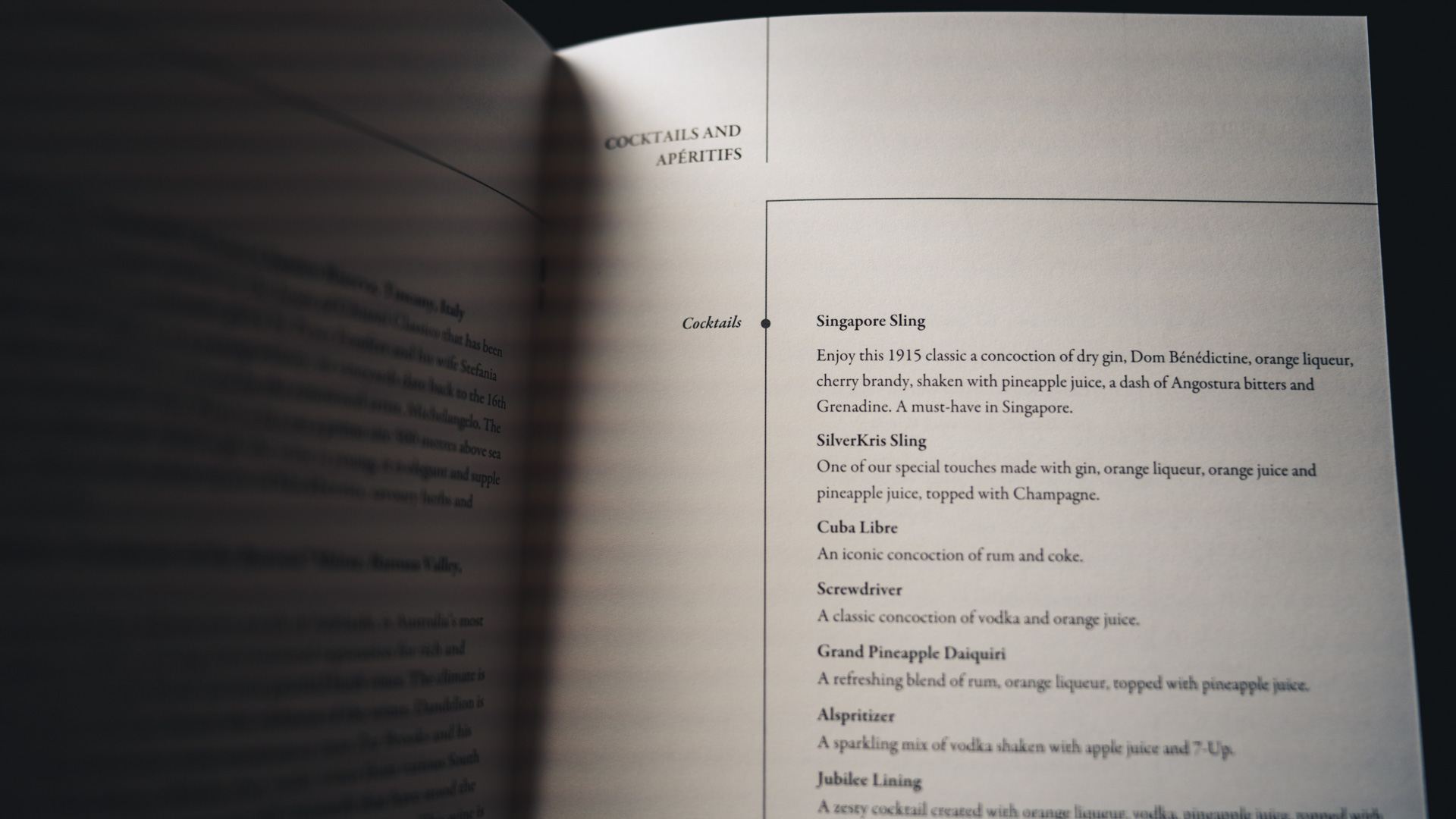 Light lunch
Straight after the seatbelt sign turns off, the crew springs into action to deliver a light lunch. All three courses are served on one tray and trolleys are used in the aisles, but these concessions are necessary to serve the whole cabin before descent.
I pre-ordered the beef cheeks from the 'Book the Cook' menu. It's worth noting that some options, such as the famed lobster thermidor, are not available for these shorter regional flights. I fully expected my choice to be lost when I changed flights, but to my surprise, it carried over.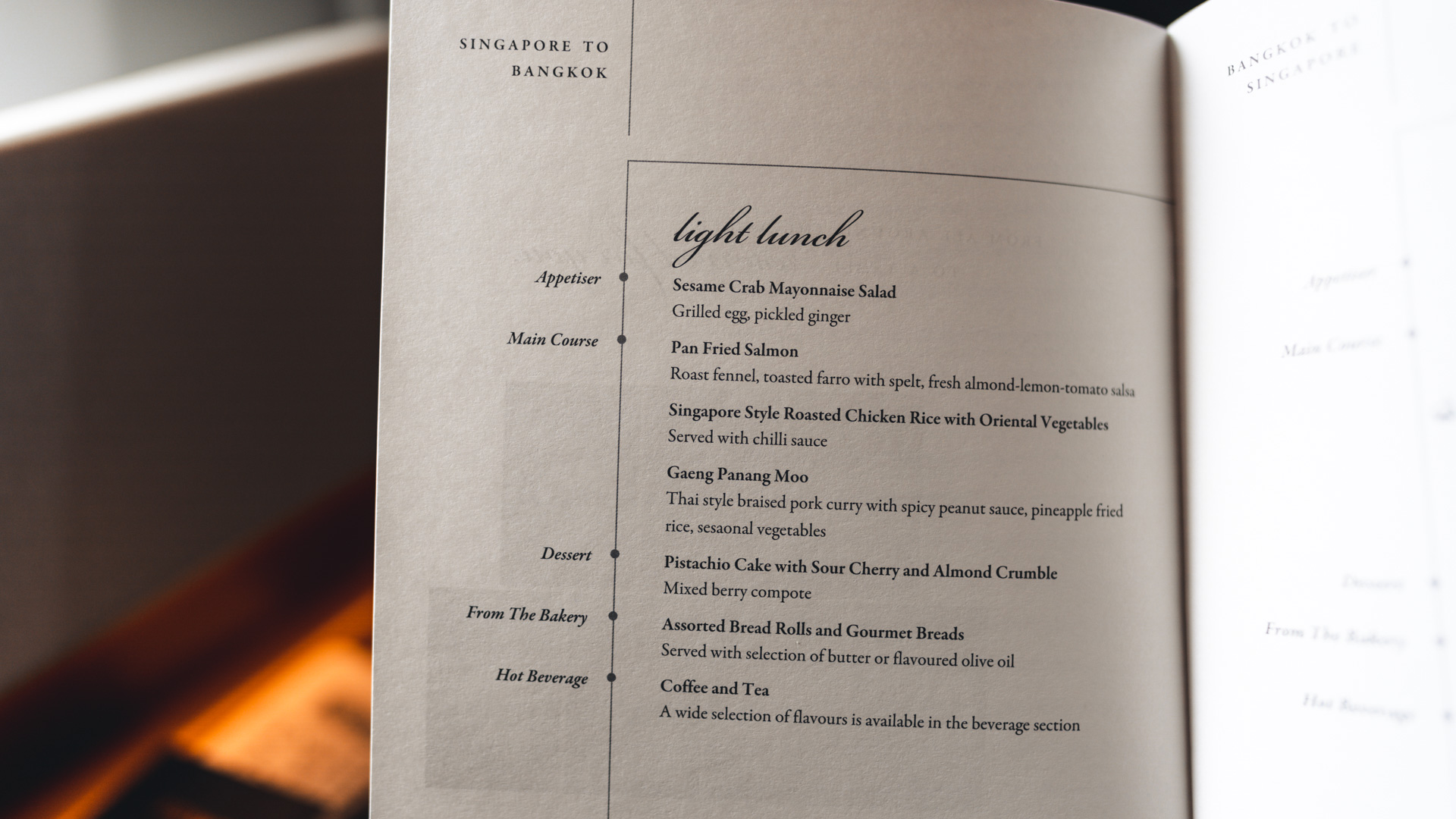 That's the good news. The bad news is the beef cheeks and asparagus are a bit dry and need every dollop of sauce to rescue them. The appetiser is a crab salad with grilled egg (very good), while the dessert is a pistachio cake with berry compôte (also delicious).
In hindsight, I should have pre-ordered a different dish such as confit duck leg from 'Book the Cook', or the braised pork curry and fried rice from the menu. But as inflight lunches go, this one is still decent.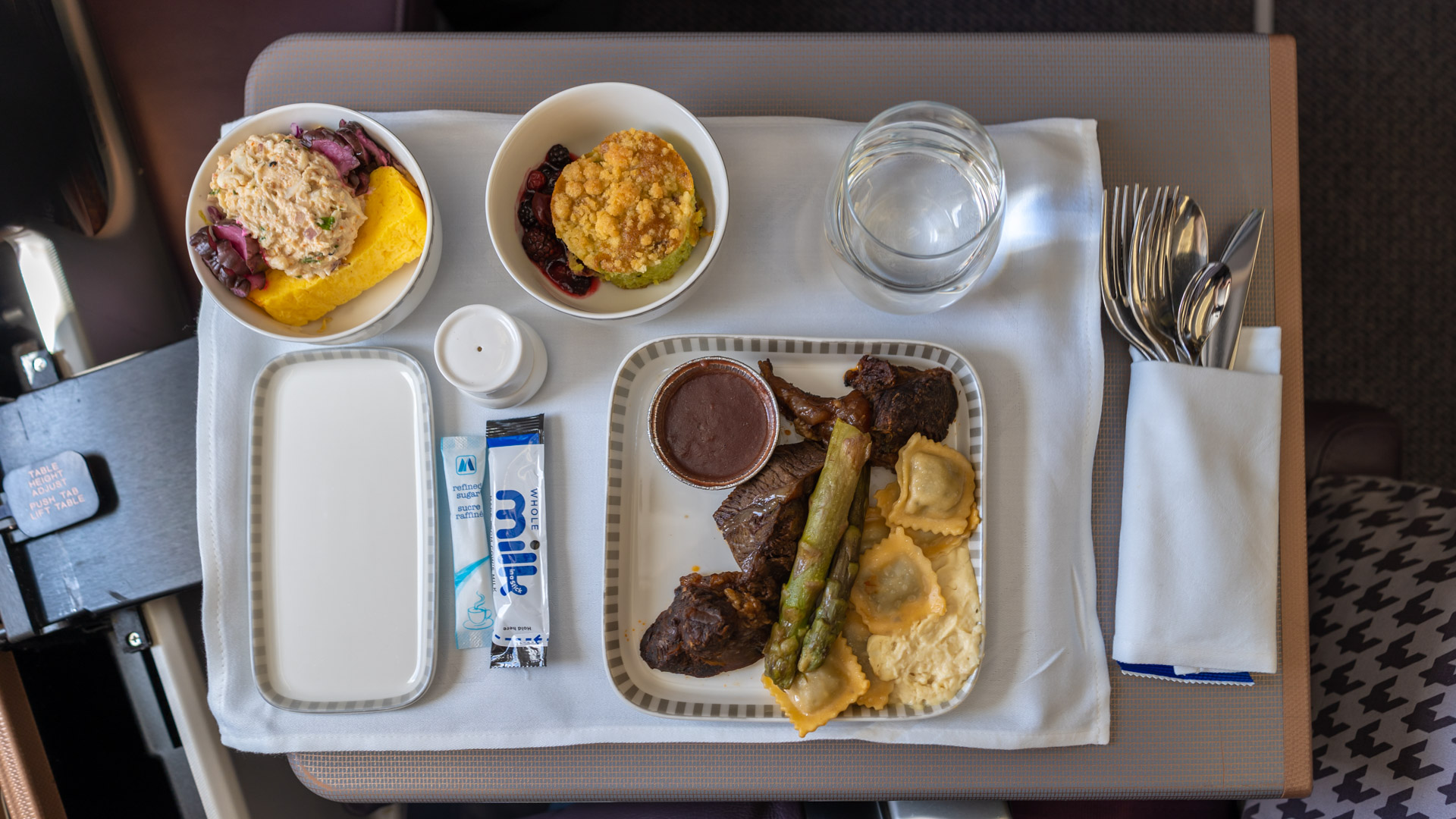 Singapore Airlines A350 Business Class amenities
Inflight entertainment
Like the Airbus A380 Business Class, these Airbus A350 seats have an 18″ (45.7 cm) screen. But these are NOT touchscreen, so don't ruin your viewing experience with fingerprints. Instead, use the touchscreen remote in the side console to make your picks.
Want a sneak peek at what content is onboard? Simply check out the KrisWorld website. New movies coming in February 2023 include Ticket to Paradise and Black Panther Wakanda Forever.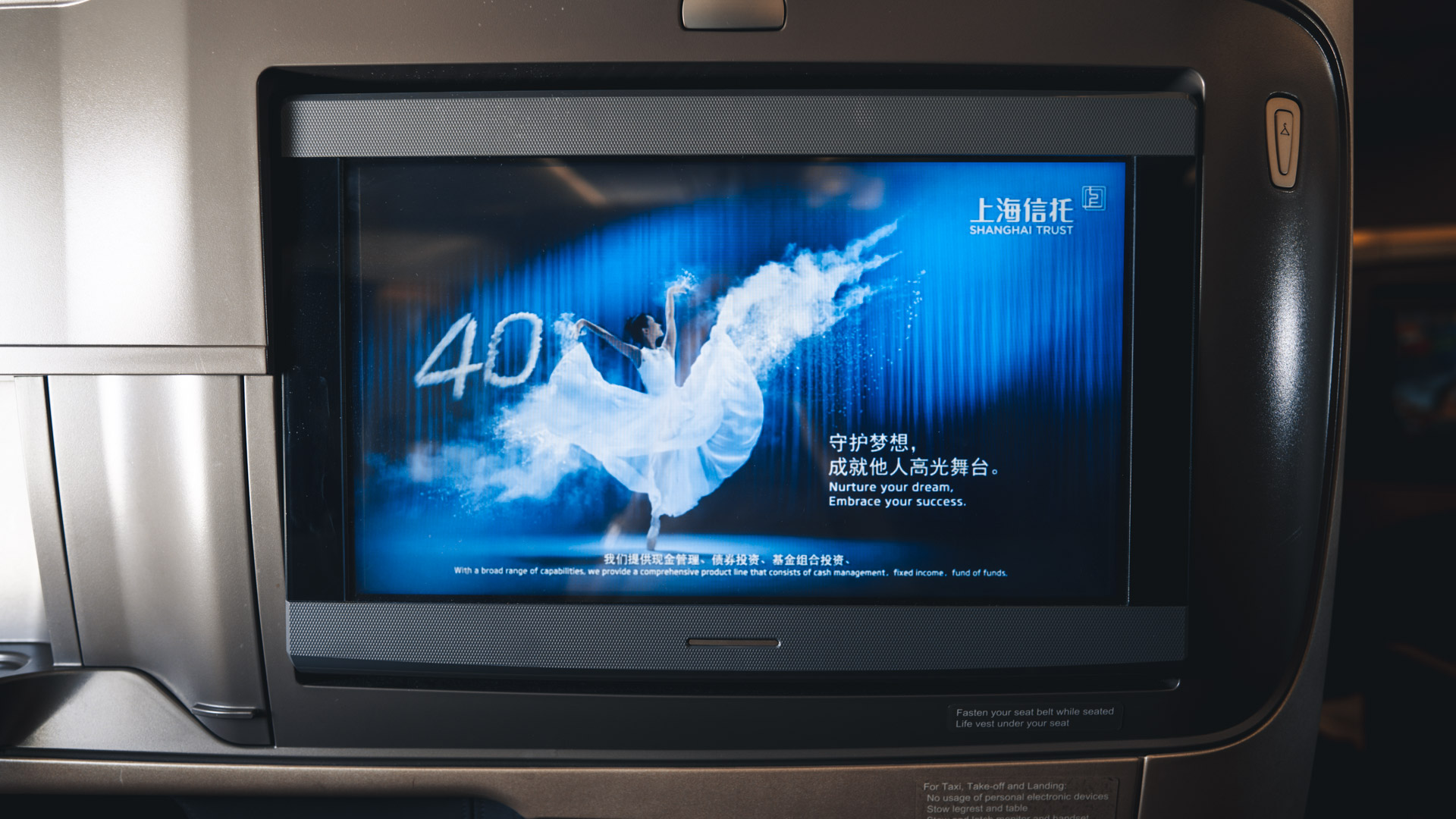 Noise-cancelling headphones are located inside one of the side consoles if you haven't brought your own.
Inflight Wi-Fi
Singapore Airlines now offers unlimited inflight Wi-Fi for Business Class passengers. Speeds on this Panasonic Avionics system are not too bad – 3.71 Mbps down and 2.70 Mbps up.
To access the unlimited free plan, you just need to sign in with your email, last name and seat number. Paid plans range from US$3.99 for one hour to US$15.99 for a full flight pass. I also have a Boingo account with unlimited Wi-Fi, and it works flawlessly on this flight.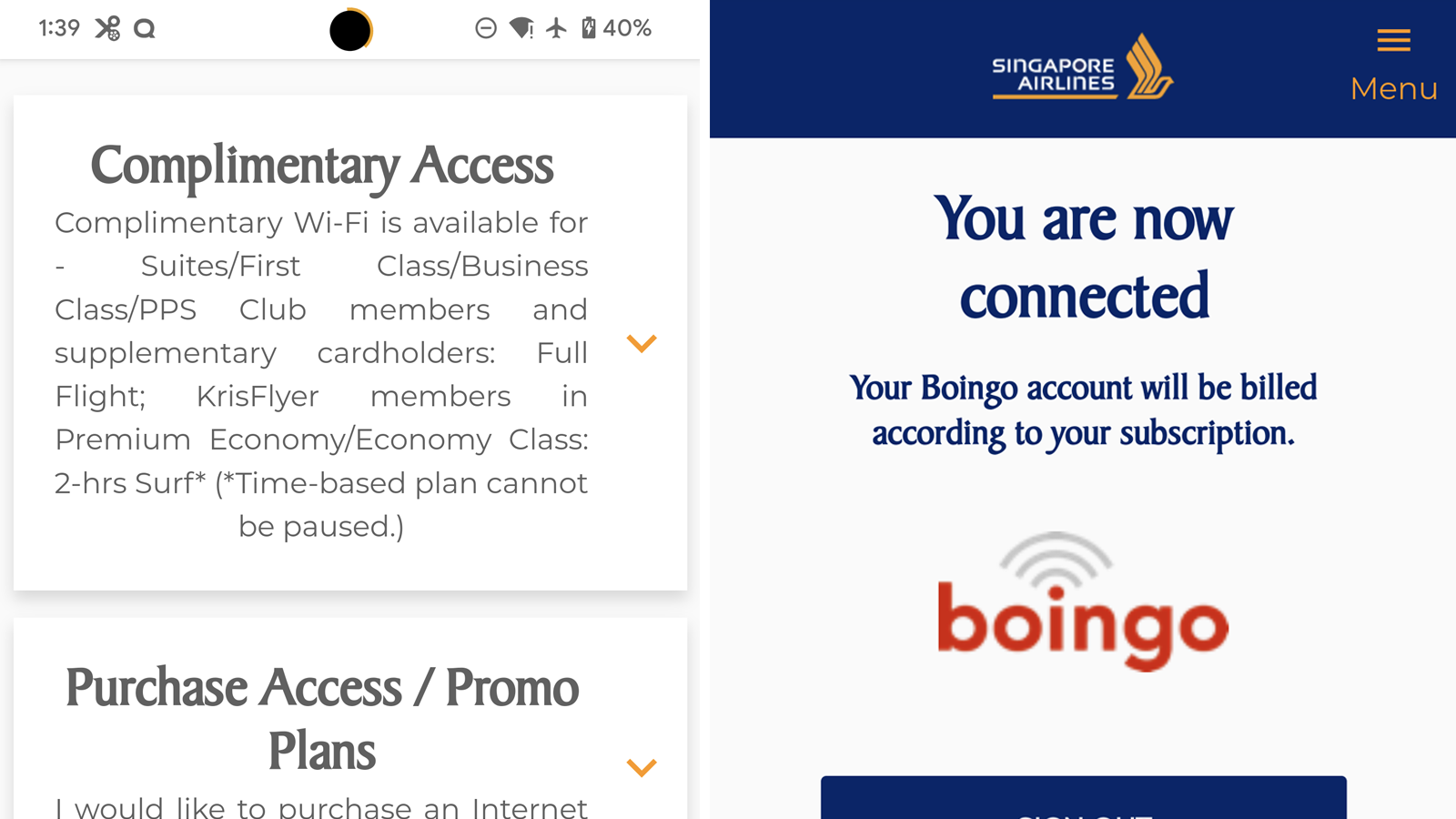 Summing up
With free and fast Wi-Fi, a wide Business Class seat and comprehensive catering, there's not much more I can ask for on this two-hour regional Business Class journey. Apart from the dry beef cheek, this flight is more or less flawless – helped by the excellent and efficient service from the cabin crew.
Of course, the value proposition is even better when you secure this flight for just $12 more by pairing it with an Australia-Singapore redemption with KrisFlyer miles. As far as sweet spots go, Singapore Airlines KrisFlyer has one of the best out there for Australian-based travellers.
Also read: Five nights in Bangkok + Business Class flights for under $1,100 with KrisFlyer miles and Qantas Points →
---
Stay up to date with the latest news, reviews and guides by subscribing to Point Hacks' email newsletter.
All photography by Brandon Loo, who travelled at Point Hacks' expense.
Singapore Airlines Airbus A350 Business Class (Singapore – Bangkok)
was last modified:
February 7th, 2023
by