While not everyone's ready to swap the Zoom calls for the boardroom just yet, it has certainly become easier to start travelling around Australia again in recent months. Flexibility is certainly very important now, as well as high-tech touches such as in-flight WiFi and charging.
We've taken a comprehensive look at Qantas, Rex and Virgin Australia to provide you with this summary on the best overall airline for road warriors travelling in Business Class in 2021.
(If you usually fly Economy within Australia for work or leisure, then keep an eye out for our upcoming guide comparing the airlines on that front, instead.)
1. Airline ticket costs
It goes without saying that airline ticket prices are rarely static, so we've taken a cross-section of fares across a range of dates. We include Economy fares for comparison as Qantas and Virgin allow upgrades. Here are the cheapest fares available from Sydney to Melbourne in September 2021.
| | | | |
| --- | --- | --- | --- |
| | Sale Economy | Flexible Economy | Business |
| Qantas | $99 | $522 | $716 |
| Virgin Australia | $78 | $299 | $299 |
| Rex | $79 | $299 | $299 |
Going transcontinental excludes Rex, for now, but here are the going rates from Perth to Melbourne in September 2021.
| | | | |
| --- | --- | --- | --- |
| | Sale Economy | Flexible Economy | Business |
| Qantas | $249 | $781 | $1,634 |
| Virgin Australia | $219 | $449 | $999 |
Virgin Australia and Rex are neck-to-neck in the mid-market segment, with near-identical fares on the Sydney-Melbourne route. Interestingly, both airlines price Business Class from $299, which is also the same as its flexible Economy pricing.
Qantas commands a premium for its services, and this is shown with the flight pricing. While its sale fare prices are closer to Virgin/Rex levels, the Red Roo's flexible Economy and Business prices are significantly higher.
2. Flight flexibility
COVID-19 flexibility
Snap lockdowns and border closures are not fun, so airlines have introduced additional ticket flexibility to help. This generally applies even to the cheapest sale tickets.
Qantas: Fly Flexible with unlimited fee-free date changes on flights booked up to 31 July 2021, for travel up to 28 February 2022
Virgin: Unlimited fee-free changes of dates or destinations, or fee-free cancellation to travel credit, for travel up to 31 January 2022.
Rex: Full refund for any COVID-related cancellations, even if the flight still goes ahead.
Qantas and Virgin have similar policies regarding changes and cancellations, though Virgin's is more lenient around cancellations. However, it's Rex that boasts the best policy overall, with a full refund offered with COVID-19 related disruptions.
Same-day change flexibility
Business doesn't always finish when you expect it to. Perhaps you're done early and want to get back home. Some airlines offer the published benefit to change to an earlier flight at the airport, subject to availability.
Qantas: Platinum One members are able to request to change to an earlier flight that day.
Virgin: Velocity Gold and Platinum passengers can request to change to an earlier flight that day.
Rex: Business Class passengers can standby for an earlier flight at no extra charge.
Once again, Rex wins on flexibility as any Business Class ticketholder can request a same-day flight change.
3. Baggage allowance
Whether you're off on a quick day trip or staying a few nights for that conference, the baggage allowance is very important. Here is what you can take on in Business Class.
Carry-on
Checked
Qantas
2 pieces with one up to 10kg
14kg total max weight
2x 32kg each
Virgin Australia
1 standard or 2 small pieces
14kg total max weight
2x 32kg each
Rex
1 piece + 1 personal item
10kg total max weight
32kg
Broadly speaking, Qantas and Virgin have similar allowances, both of which are slightly more than Rex's inclusions.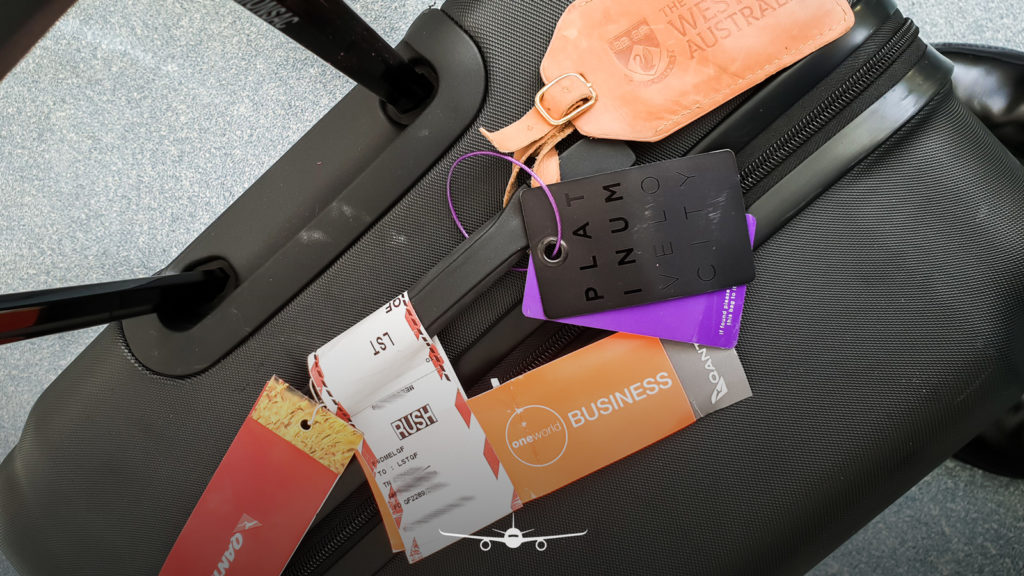 4. Lounges
Qantas is the undisputed champion with its sprawling domestic lounge network, including five Domestic Business Lounges with elevated service for Business Class passengers.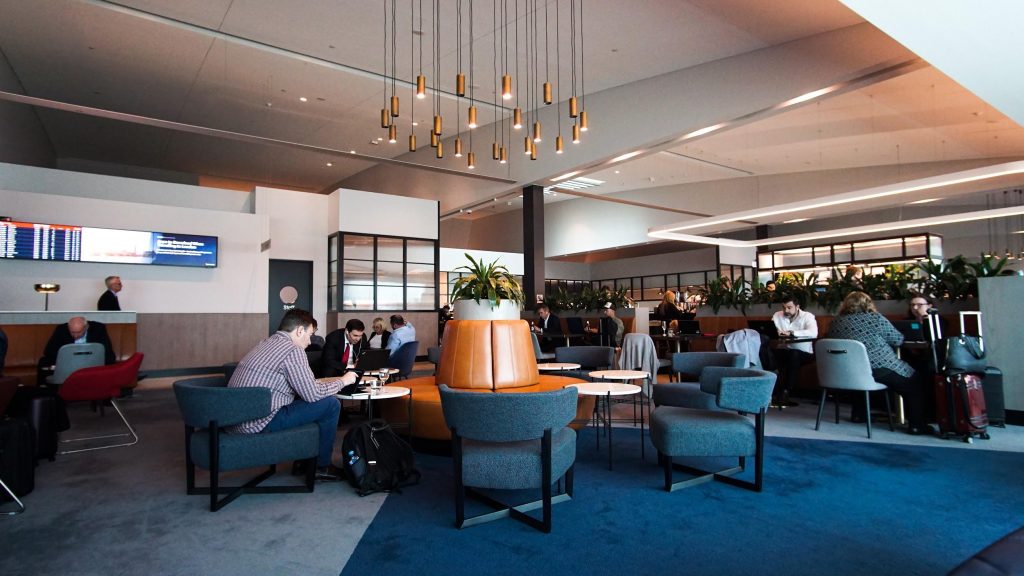 Ad – Scroll down to continue reading.Minimum spend, terms & conditions apply.
5. Business Class cabin and WiFi
Qantas: Airbus A330s and Boeing 787s feature lie-flat suites in a 1-2-1 arrangement. Boeing 737 and 717 jets have standard reclining seats, plus streaming entertainment. Some Boeing 737s have in-seat entertainment and charging. WiFi is enabled on most Boeing 737s and Airbus A330-200s.
Virgin: Its Boeing 737s have recliner seats and wireless entertainment. Some jets have in-seat charging. WiFi is installed across the fleet, but not currently active.
Rex: Its ex-Virgin Boeing 737s have recliner seats, but no in-seat charging. Wireless entertainment and WiFi is installed, but not currently active.
If you can nab a Qantas Airbus A330 (or Boeing 787) on a domestic route, you'll get the best Business Class experience overall. Otherwise, it's a close call between the Boeing 737 Business Class (or Qantas Boeing 717 Business Class), which sees similar recliners across all three airlines.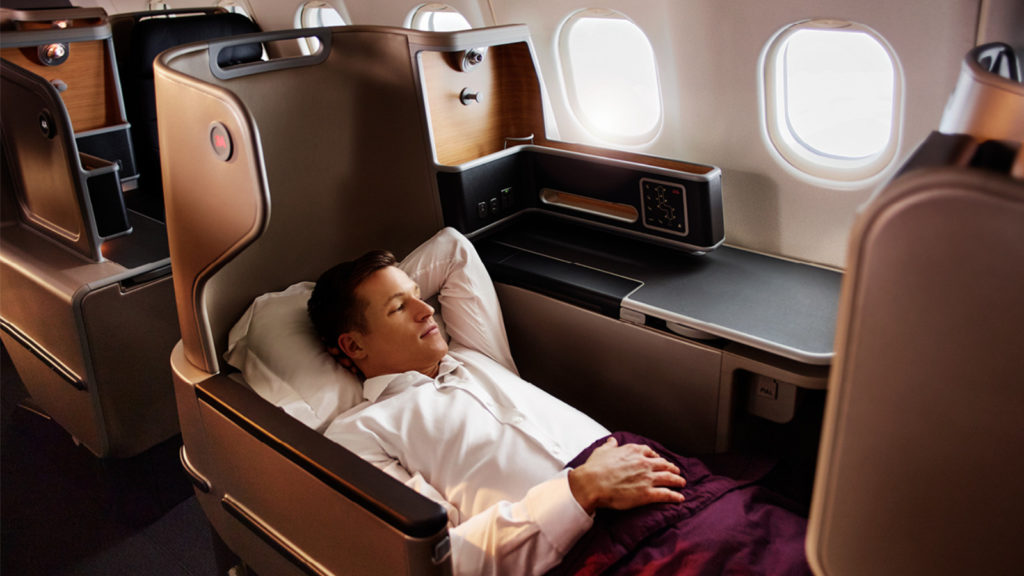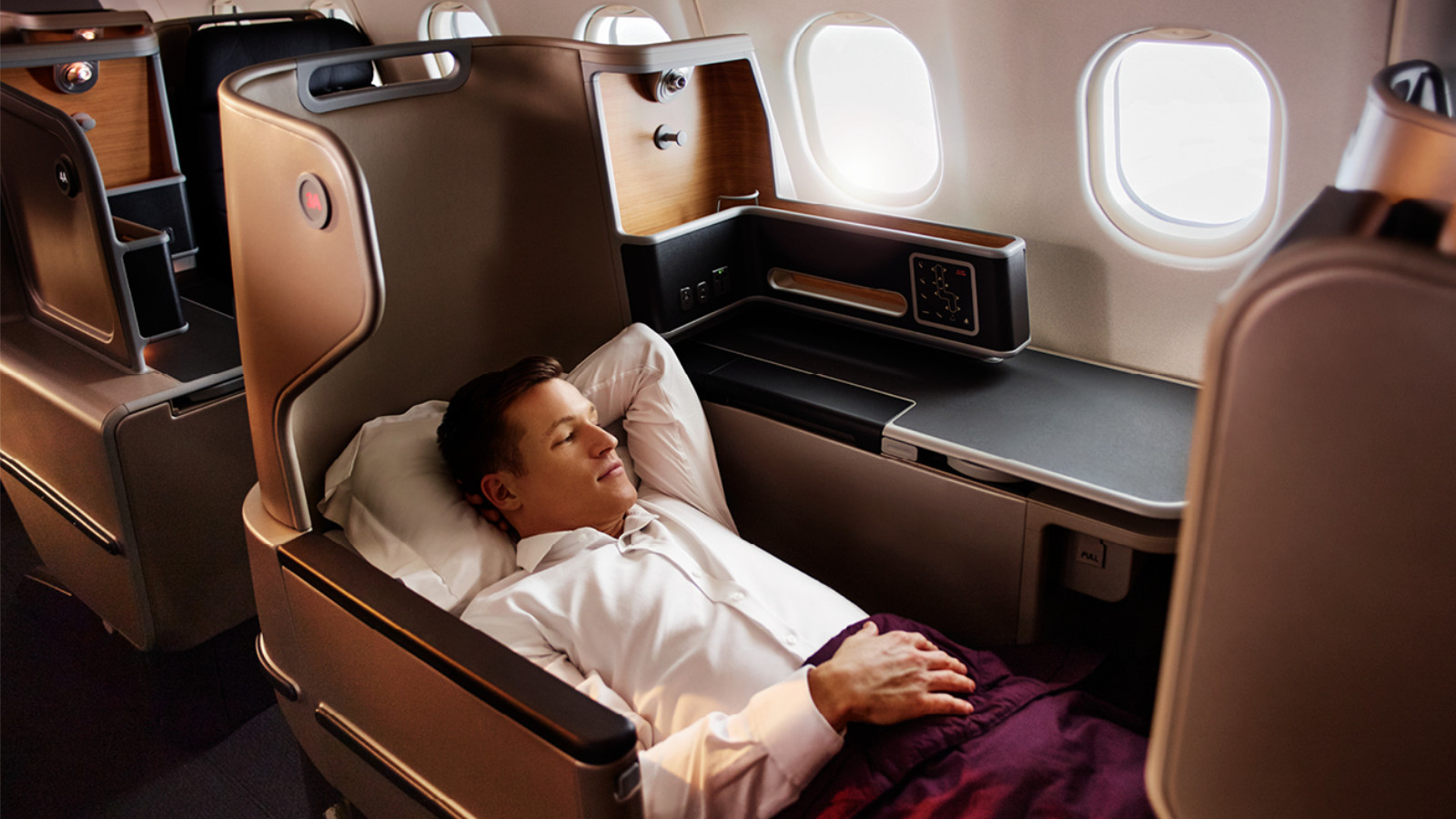 In terms of WiFi, Qantas is the only airline to have it active on most flights as of April 2021 – approximately 85 of its 93 Boeing 737s and Airbus A330-200s are kitted out with the tech. Conversely, most of Virgin and Rex's fleet has WiFi installed, but the service hasn't been switched back on yet.
6. Dining
Business Class dining is more refined than in Economy Class, but don't expect fine dining in the air on domestic routes! Qantas comes the closest to restaurant-style service on selected trans-continental and trans-Tasman flights, though this is currently pared-down due to 'COVID-19 reasons'.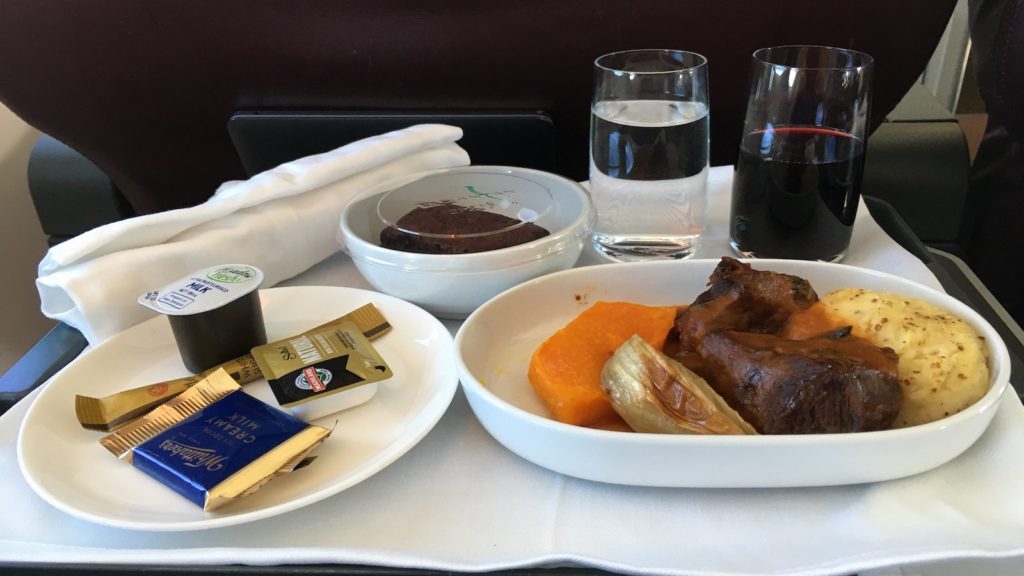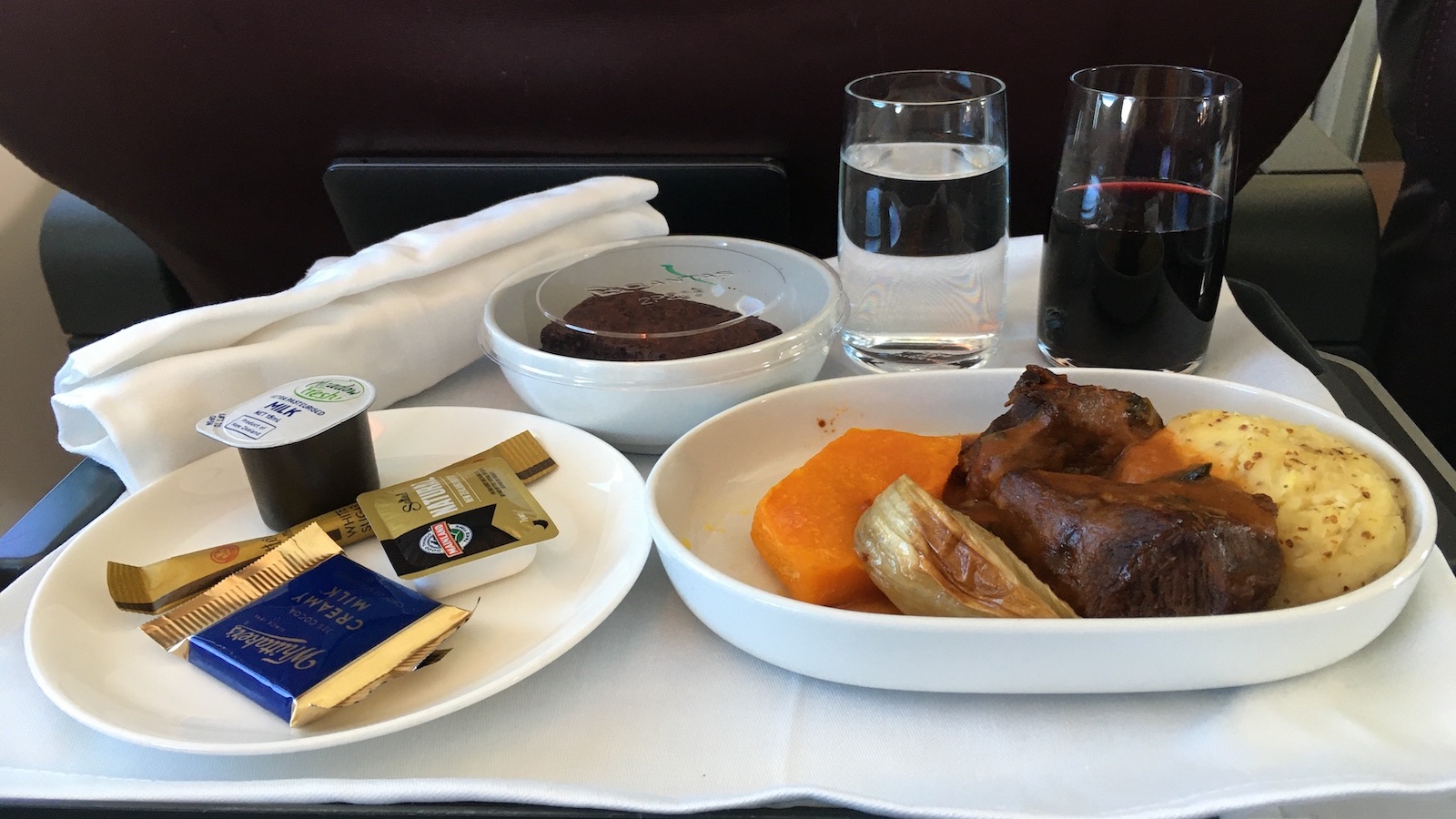 Virgin Australia is next with a rebooted selection of cafe-style options across its network, along with some extra side dishes and desserts depending on the length of the flight.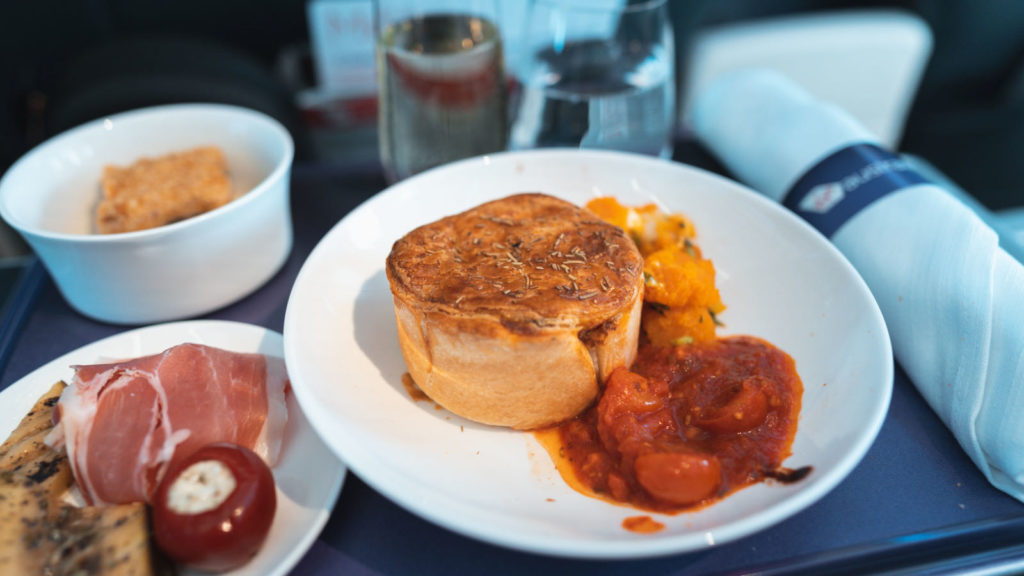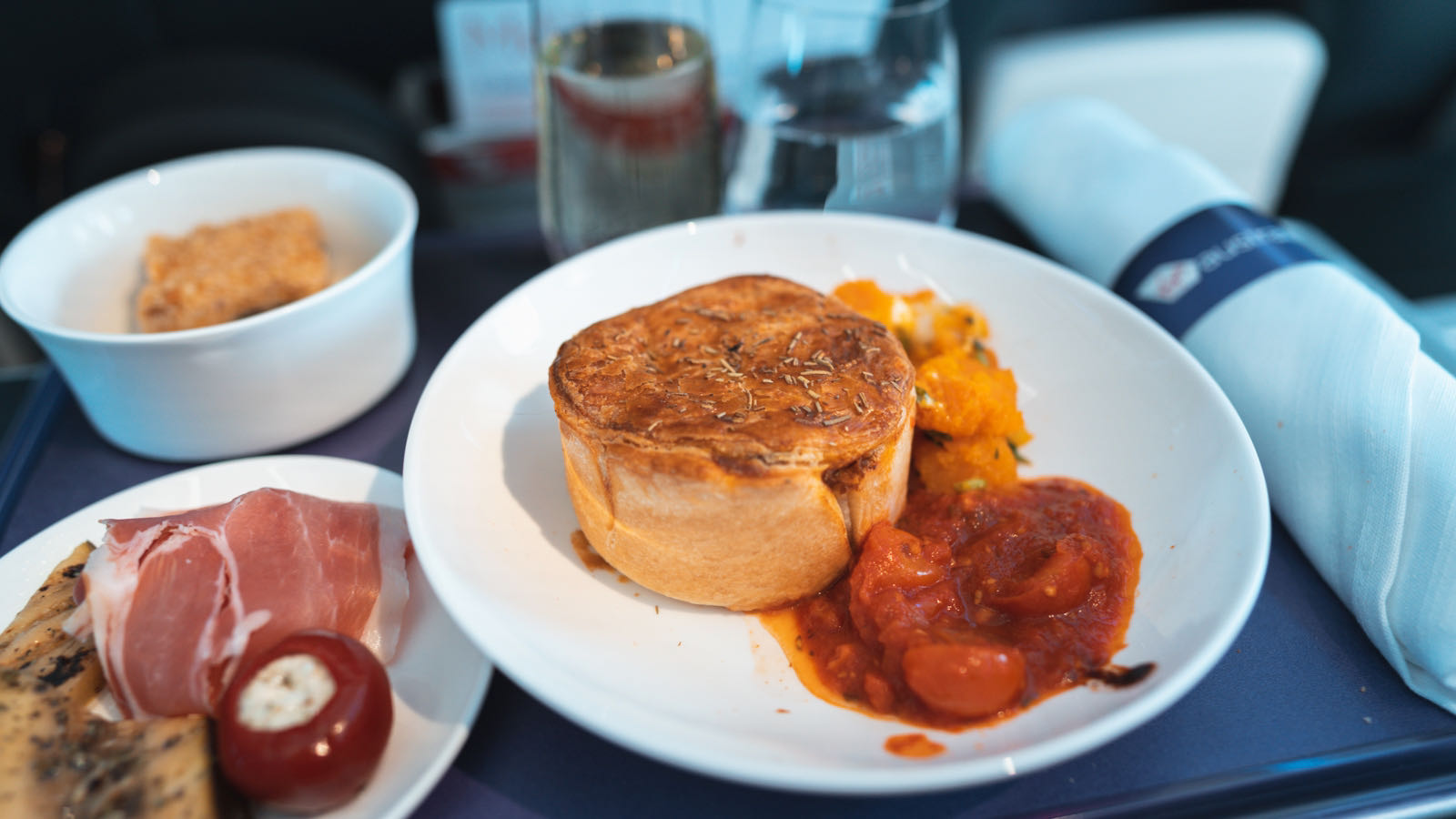 Finally, Rex offers country-style hot dishes served on 'environmentally friendly' single-use items, rather than the upmarket crockery and glassware that Qantas and Virgin both opt for.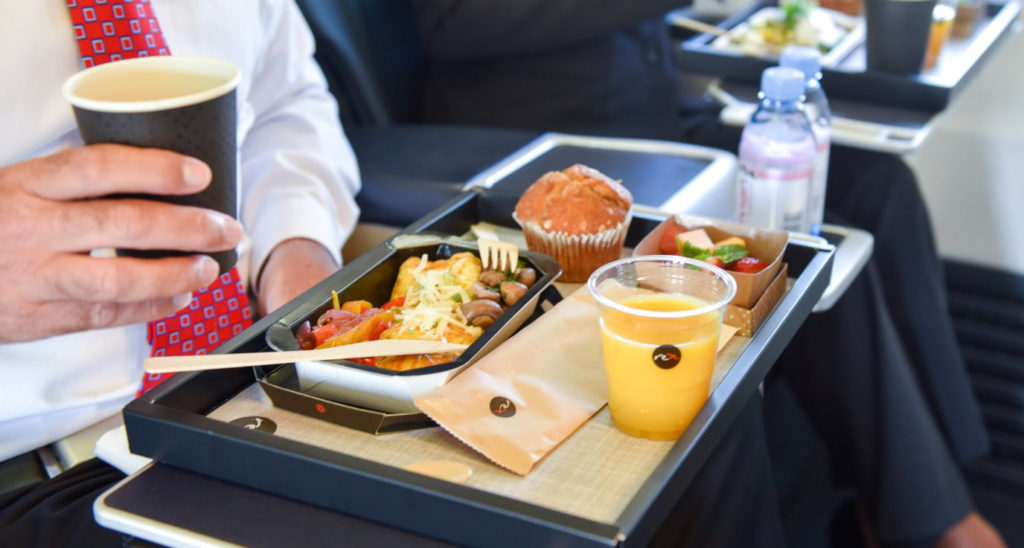 7. Priority perks
Finally, if you like skipping queues, Qantas and Virgin have established priority check-in and screening facilities at major airports, which will definitely help during peak periods.
Qantas: Business Class counter check-in, priority boarding, security at some airports, and priority-tagged baggage. Premium Entry available at Brisbane.
Virgin: Priority check-in counters, security lanes at some airports, boarding and baggage. Premium Entry available at Brisbane and Sydney (though currently closed).
Rex: No advertised priority processing.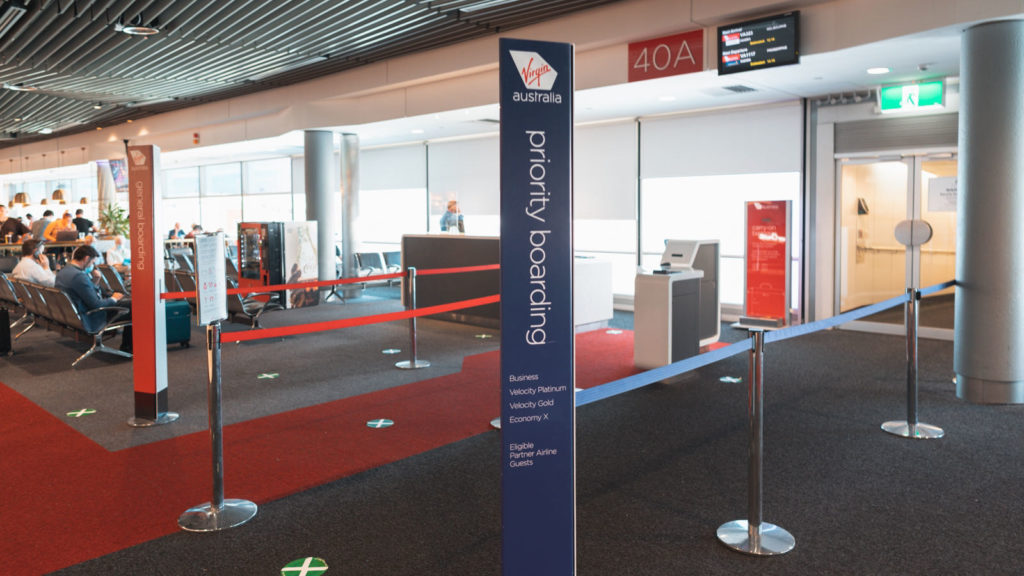 8. Fleet and flight frequency
Here are the number of jets with Business Class that each airline typically uses for domestic flights, as of April 2021.
Qantas: 75 Boeing 737s, 18 Airbus A330-200s (though not all Airbus A330s are back in use), and 20 Boeing 717-200s (12 of which has Business Class seating).
Virgin: 59 Boeing 737s, with 10 more due
Rex: 6 Boeing 737s, with more due
Unsurprisingly, Qantas has the greatest number of destinations and flight frequency, followed closely by Virgin. With just a handful of jets at present, Rex is still seeking to grow over time.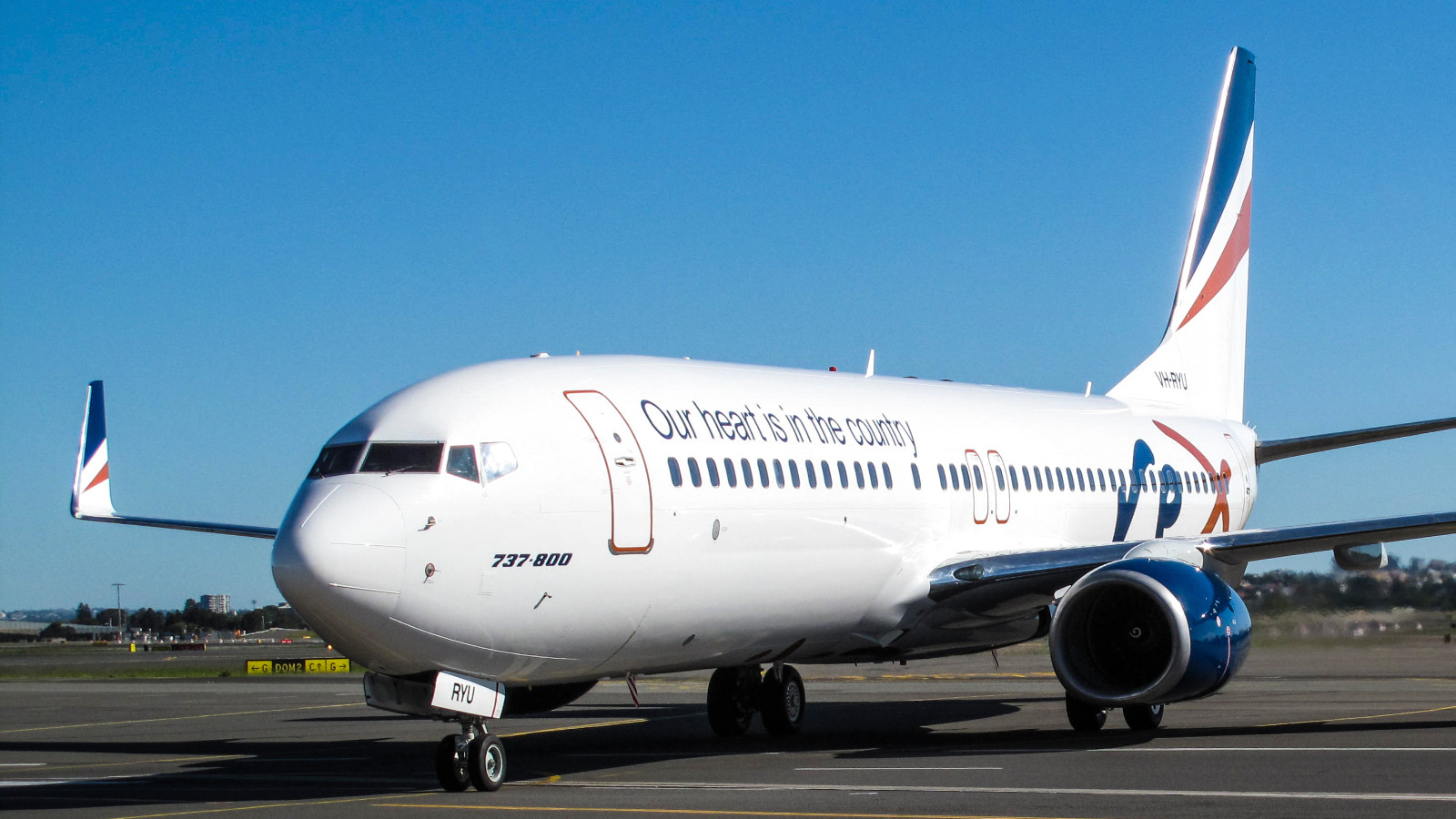 Summing up
So what's the best airline for domestic Business Class? Well, that certainly depends on your needs.
Qantas offers the best overall experience, hands down. It has the widest range of destinations and lounges, as well as being the only carrier to offer lie-flat suites and WiFi on certain flights. However, Qantas fares usually carry a significant premium.
If you are more price-conscious or travel on a 'best fare of the day' policy, then Virgin Australia might hit the spot. Its low fares are especially appealing, and the airline recently reintroduced Business Class dining and a new lounge menu.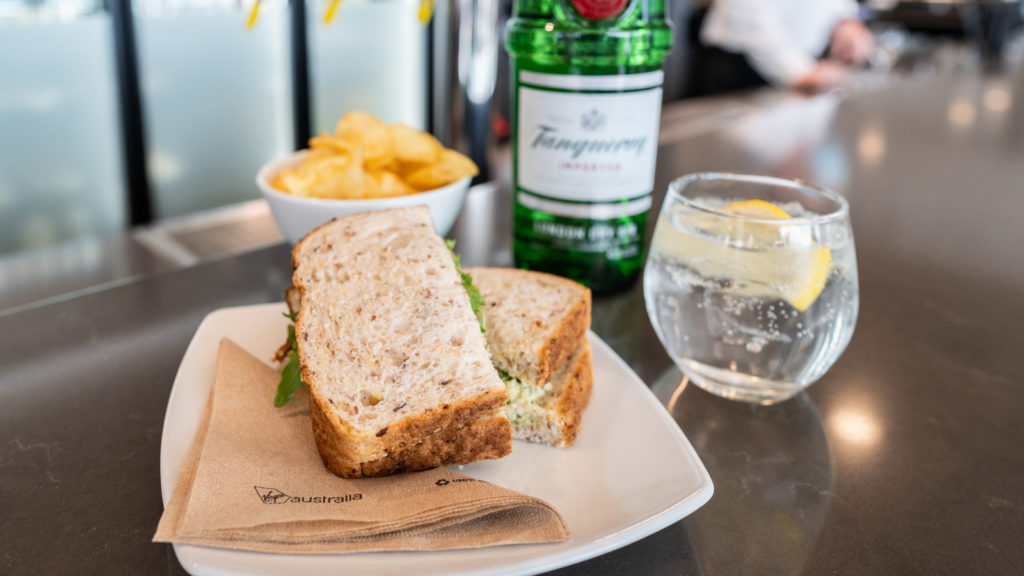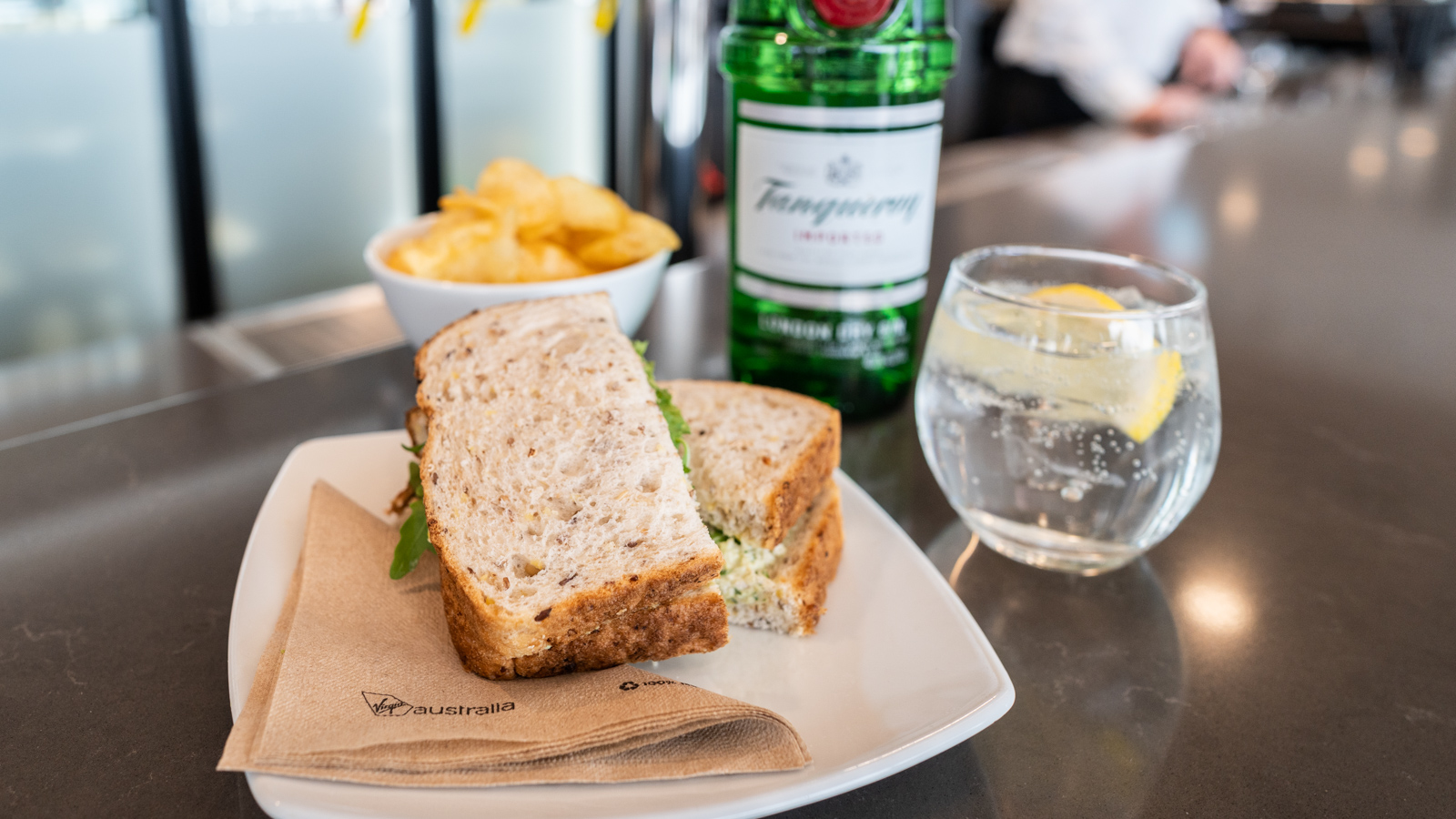 Rex pulls up in third, but it's still a very solid offering for the price. The airline is mainly hampered by its small fleet and limited destinations. Rex does arguably have the best change policies and having standby flexibility included in the ticket is great.
But the lack of a frequent flyer program means most travellers will still probably choose between Qantas and Virgin Australia, particularly if they hold elite status with that program.
Using frequent flyer points as an alternative
Don't forget that you can use your points to book or upgrade Qantas and Virgin Australia flights. For self-funded flyers, this is definitely easier on the wallet and both airlines are currently offering free changes and cancellations to reward seat bookings until early 2022.
If work is paying and you're stuck in Economy, then your points could be the ticket for an easy upgrade. Both airlines allow immediate confirmed upgrades on domestic flights if there are Business reward seats available.
---
Turbocharge your points balance with a hefty sign-up bonus, and enjoy your next journey in Business Class sooner.
---
What's the best airline for domestic business travel?
was last modified:
May 5th, 2021
by