Is it getting hot here? It's not just the heatwave that's rolling along the East Coast, but also a new-look supersized Rex that's heating up the domestic capital city competition with Business Class, sale fares, and a sleek website.
Here's what we know so far from the glimpse of Rex 2.0, from Business Class inclusions to the hint of a revamped 'Rex Flyer' loyalty program coming back once more.
Rex takes on Business Class, new inclusive Economy fares
As Rex is taking the keys of some ex-Virgin Australia Boeing 737s, the regional airline's new jets will already feature Virgin's previous 8-seat Business Class cabin, albeit with refreshed upholstery.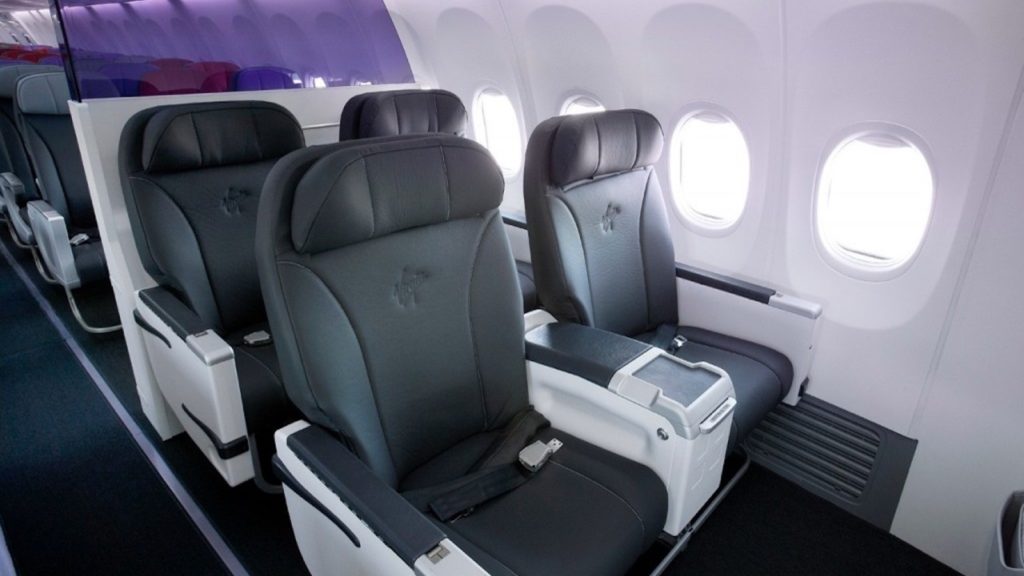 With today's website launch, Rex is selling fares on the Sydney-Melbourne route from $99 in Economy and $299 in Business, one-way.
Rex Economy fare inclusions
Economy 'Promo' fares include at a minimum:
Snack, water, tea and coffee
23kg baggage allowance for capital city routes
7kg of cabin luggage allowance
Seat selection from $6 per person
Flight changes from $33 per person
Same-day airport standby on earlier flights from $55 per person
You also have the option to upgrade to 'Saver' and 'Flex' fares for additional fare flexibility and perks, such as:
Purchase lounge access from $33 for two hours
Free standard (Saver) or front row (Flex) seat selection
No change fees, fare difference still applies
Ability to cancel for a fee to Travel Bank (Saver) or refund (Flex)
Cheaper (Saver) or free (Flex) moves to an earlier flight that day
10kg cabin baggage allowance (Flex only)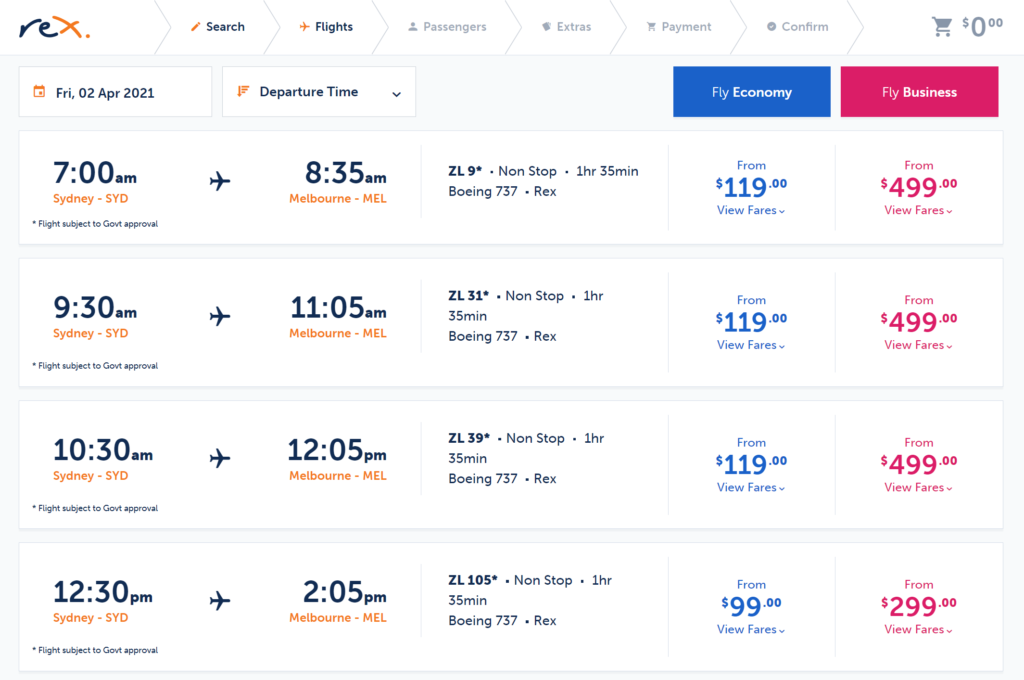 Rex Business Class fare inclusions
Enjoying life at the pointy end of the plane? Your 'Biz Saver' ticket includes:
Food + standard alcoholic beverages
Lounge access
32kg checked baggage allowance
10kg cabin baggage allowance
Free flight changes
$33 fee for refunds to Travel Bank or cash
$33 fee for no-shows to Travel Bank, or $99 to the original form of payment
Free swap to an earlier flight that day
$55 fee for name changes
That's a pretty impressive package for a lead-in fare of $299! If you're wanting to pay more for flexibility, there's also 'Biz' and 'Biz Plus' fares to choose from:
15kg cabin baggage allowance (1 piece not more than 10kg)
Free cancellation to Travel Bank (or $33 for refund)
No fee for no-show credit to Travel Bank (or $99 back to original form of payment)
Free name changes (Biz Plus only)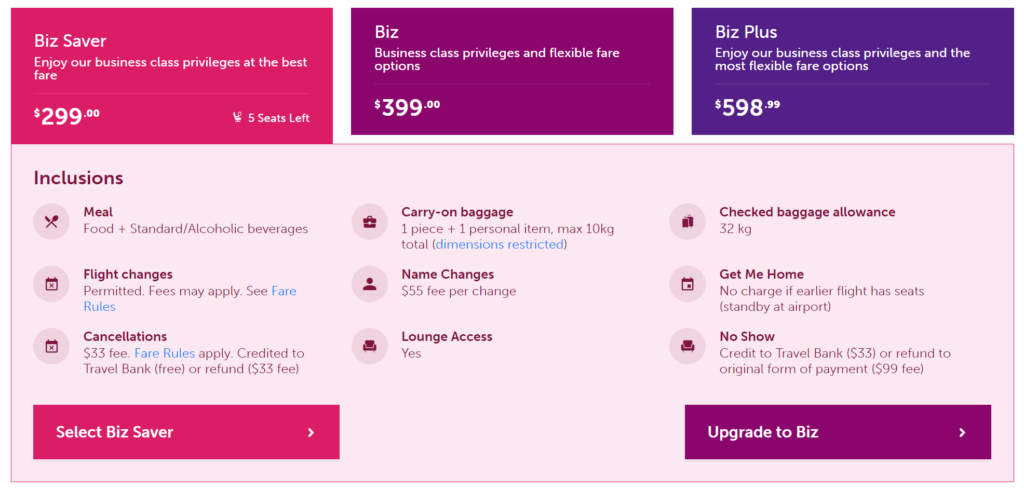 Want to check it out in more detail? View Rex's fare rules here.
Rex Flyer loyalty program to make a return?
Although Rex hasn't formally announced a new consumer frequent flyer program yet, the carrier's updated website points to the Rex Flyer program making a return in 2021.

Previously, the Rex Flyer program was simple in nature: take nine paid flights and get one for free. It's unclear whether the revamped Rex Flyer program will return to its roots, or relaunch as a points-based program such as Qantas and Velocity Frequent Flyer.
Currently, Rex only has its Business Flyer program which is targeted at business travellers. It similarly offers two free flights once a business has flown 18 eligible sectors.
Read our Editor's View: Can Australia sustain three frequent flyer programs?
Summing up
Rex is coming out with all guns blazing, so it'll be interesting to see how Qantas and Virgin Australia respond. Qantas is relatively safe in its premium corporate market, as it has an extension premium lounge network and a fleet of widebody jets at its disposal.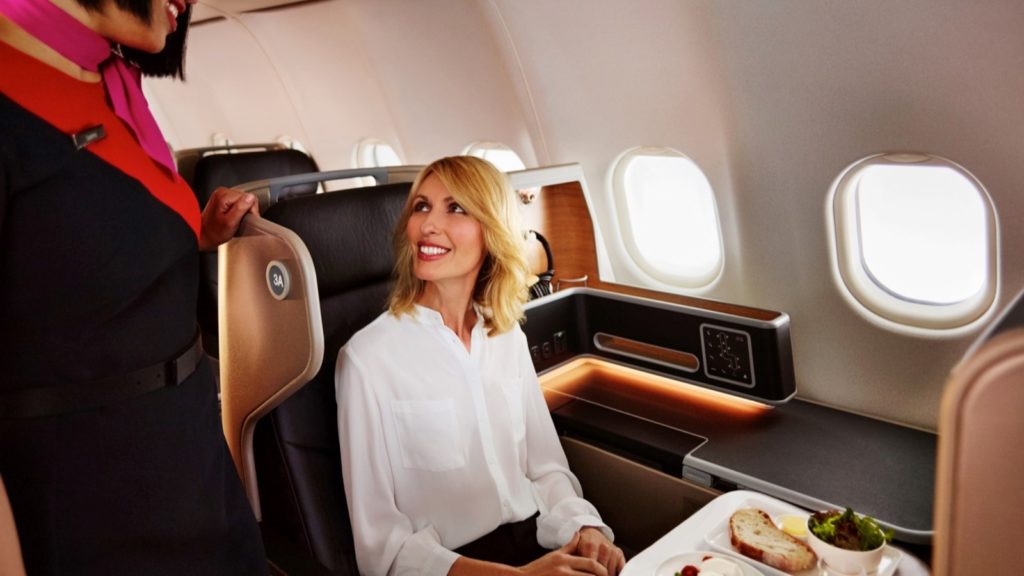 Virgin, however, is directly in the crossfire and will need to compete fiercely given Rex has all of Virgin's old trimmings in its Boeing 737s and is offering the same (if not slightly better) service at a comparable price. The old trimmings include Virgin's Business Class cabin along with the five rows of extra-legroom Economy X.
Though Rex excels in price, it lacks a decent lounge network and a frequent flyer program. Undoubtedly, Rex is aware of this though and there are plans to address both points.
Rex is also seeking an aggressive expansion, with plans to start flying between most capital cities around Australia next year. But for now, we wait with bated breath to see how Rex will change the playing field when its Sydney-Melbourne flights launch on 1 March 2021.
Rex launches $299 Business Class fares; brings back 'Rex Flyer' loyalty program
was last modified:
December 2nd, 2020
by