This trip was taken in December 2009. I'd had the Sydney to Frankfurt leg booked for ages as a reward flight – there was no reward availability through to London as it was so close to Christmas, and I tacked on the BA Frankfurt to London leg to get me to London.
These were two separate bookings which I figured might make life slightly awkward, but nothing particularly out of the ordinary. The BA leg was not originally intended to be in Business Class – it had originally been booked in Economy via ba.com, however I was targeted for a discounted upgrade thanks to BA's site and I figured for the lounge access (showers, food, comfort), priority baggage, the cooked breakfast on board and the 40 status credits awarded, it was worth it.
The BA cabin crew strike ruckus hit. I was pretty sure it was going to take place and impact on me, so I was looking into alternative travel options from Frankfurt. I booked a refundable train ticked to London, and then on reading some details on ba.com about the strike realised that BA Cityflyer flights to/from London City airport over in East London wouldn't be affected. BA agreed to change my flight to a later flight from FRA to LCY and I'd deal with the change in arrival plans in London.
Then the strike was called off, and I left my booking as is – but I was reminded on the day I left that I could actually change my ticket back to my original FRA-LHR flight and arrive several hours earlier, so just a few hours before checking in for QF5 I called BA and got that sorted, ultimately meaning that BA didn't have time to email me a revised ticket to print and take to the airport with me.
In the week before departure Qantas allow you to select seats for your flight (in Business). After a bit of research on seatguru and some advice from the AFF forum, I discovered that QF5 was a two class only 747 – i.e. no first or premium economy. That was fairly uncommon, so I figured I should sit in the nose – this is usually used for First Class (which there's no way I'll be flying in in the near future). A nose seat would be a bit of an extra experience on top of being in 'regular' Business Class, and is probably the first and last time I might turn left on entering a 747. Seat 4E it was.
I arrived at Sydney airport at about 1.30pm for the 4.55pm departure of QF5. This was the first time I have flown long-haul Business Class on QF so it took me a few minutes to find the right check-in desk. There was no queue, so I rocked up to the desk and explained about my bookings. The staff at the desk were pretty unimpressed I didn't have any paperwork for my BA flight, and made me wander off to the BA booking desk to get some. I was pretty surprised – given how computerised everything is now, and that BA/QF are pretty tight partners I would have thought she would have been able to see my booking somewhere. Anyway, the BA guy gave me a scrap of paper with my ticket details on and I wandered back to the QF check-in.
At first they couldn't find any reference to my booking and scared me shitless when she announced, "Well, I can't seem to find you on this flight". I didn't say anything. 20 seconds later – "It's OK, I was looking on the wrong date". I breathed out. Then all went smoothly – boarding pass, departure card and express card for security were handed over, bags were checked through and I went to look for the lounge.
Qantas Business Lounge – International Terminal, Sydney
Passing through immigration and security with an express card was insanely fast. There was probably a 20 minute queue for both; with the express card I jumped both lines. A superb time-saver. I want a permanent one, if they exist!
A quick trip to Travelex and the newsagent and I was ready for the wonders of the Qantas Club… and I was a bit underwhelmed. It was pretty busy – maybe two thirds of the seats were taken. The food was OK – nothing to write home about. I guess I was hoping there might have been a bit more of a selection than just bread, cold meats and a few cakes. I quickly went onto the champagne and a coffee to perk me back up, and settled down to read my book for the remaining hour. Enough time passed, so I went to the gate to board and get settled on the plane.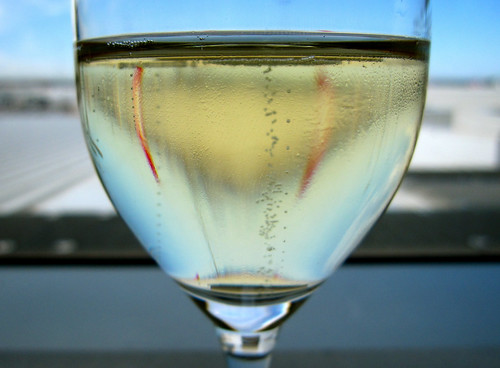 Sydney – Frankfurt QF5 – SYD-SIN-FRA
The magnitude of the number of passengers hit me as I approached the gate – the flight was going to be full, and some. I think it seemed worse due to the two class plane as I mentioned before, meaning that QF can squeeze more people on. Boarding was slightly delayed due to catering issues, and everyone was hovering around awaiting the call to go through. Eventually it came, I fought through the crowd to get into the Business Class line and wandered down the gantry… and yes, it did feel pretty special turning left on entering the plane.
No crowds of people wandering passed your seat, enough room to stand around, read the paper and drink champagne once you've stowed your baggage. I was offered an amenity kit and after a couple of minutes the nose cabin was full, I'd knocked back a couple of glasses, had my feet up (and I didn't have my knees touching the seat in front of me) – all seemed VERY well with the world.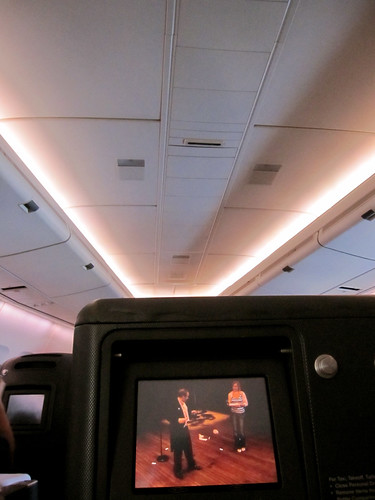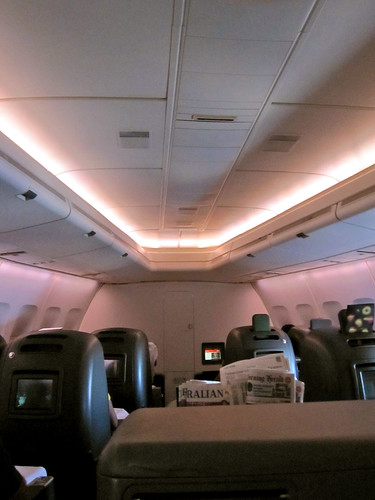 After the landing gear retracted it was immediately noticeable how much quieter this end of the plane would be for the rest of the flight – I guess having those 4 huge engines behind you instead of more or less alongside/in front when seated in Y really makes a difference.
Once the seatbelt sign had been switched off, one of the FA's came and personally greeted the passenger next to me as they were WP, and travelling with family to SIN. They were thanked effusively for choosing Qantas – it was a bit over the top, but I guess it's nice to feel special.
I got stuck into some TV on my laptop – the movie selection was pretty much the same as a recent trip to the US in November – and worked out what I wanted from the menu for dinner. The entree soon arrived – I traded the prawns on offer for a spicy Tomato Soup, as something about seafood on a plane just doesn't work for me – and it was really good. That completely disappeared, followed by the beef fillet with roast vegetables and a couple too many bread rolls – my own fault. Next up was ice cream with a Mango coulis, again very tasty.
The rest of the flight to SIN passed uneventfully – the guy next to me snored like crazy all the way there – I watched a couple of Mad Men episodes, and I tried to grab a nap, but no sleep was forthcoming.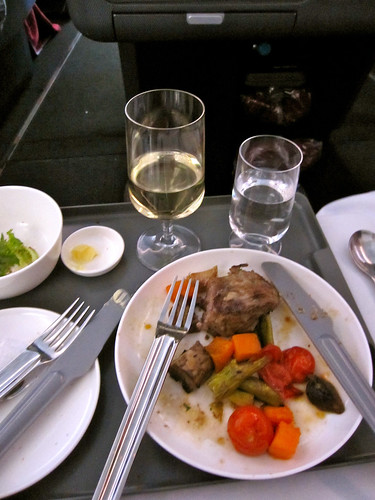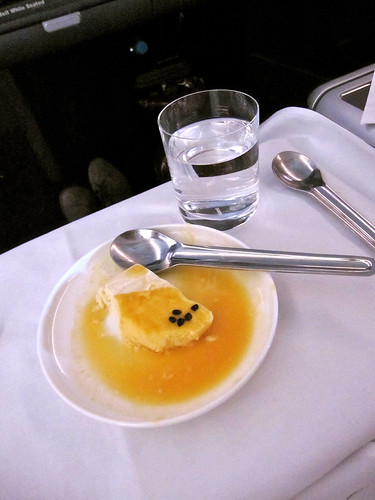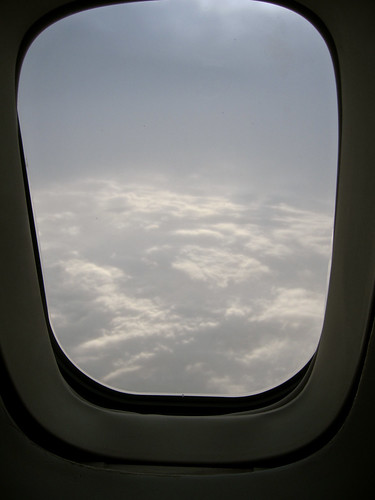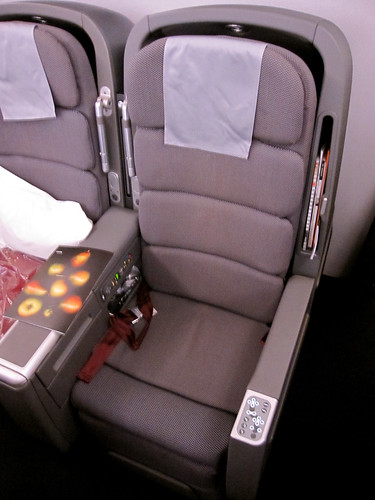 Arrival into SIN was pretty textbook and I made a beeline for the lounge for a shower, drink and laptop charge. All up there was only an hour free before it was necessary to head back to the plane for the SIN-FRA leg. The lounge at SIN was vast – way bigger than at SYD, and with more food and drink on offer. Shame I didn't have a touch more time to enjoy it.
By now my body clock is telling me 2am, 11pm local time in SIN. I was tired, but still enjoying the experience on re-boarding. The new purser on board the flight to FRA was extremely good – super welcoming and friendly without being over the top. I was quite late to reboard, and noticed first that were only 3 others seated in the nose (out of 18 seats), and no passengers at all between the nose and the stairs. I didn't get a chance to look upstairs, but only noticed one other passenger heading up there when boarding. This flight was going to be ridiculously empty – I could change seats if I wanted, so sampled the window seat (4A) for takeoff, and moved back to 4E after when I realised that 4E is a bit roomier and with some extra storage. In the end the nose ended up with 4 of us and the main cabin was completely empty. No wonder I managed to grab a reward booking on this flight.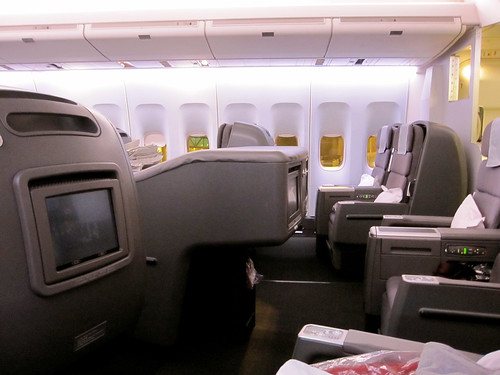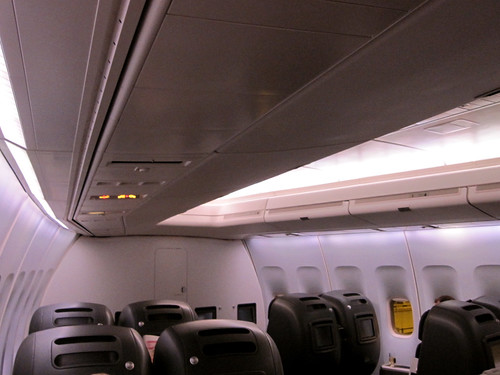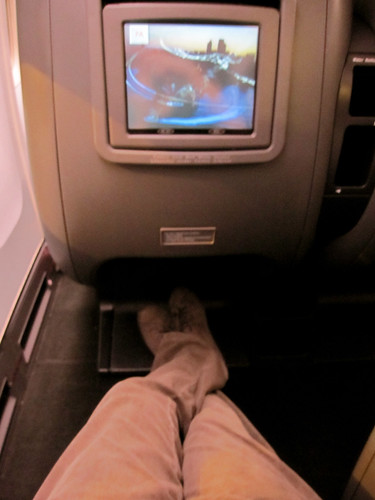 I was a bit undecided about whether it was a wise idea to have another dinner service, considering it was now about 3am for me, 12am Singapore time. But, when in Rome (or Business Class)… I figured I might as well. No seperate entree/main this time; just more great bread, a chicken breast, asparagus and almond sauce combo and fruit salad for desert. By the time the service was over I was pretty beat and feeling very full, so I attempted to get some sleep and changed into the Qantas pyjamas. Felt kind of weird, but considering the cabin was basically completely empty, I wasn't feeling so precious.
An hour or so after closing my eyes I was nursing a combo of indigestion, exhaustion and thirst – which kept me up for another few hours before finally drifting off for another 5 hours of fairly restless sleep. Consider it lesson learnt – regardless of what's on offer, you're better off listening to your body and eating when appropriate to you (which is, after all, one of the selling points of Business).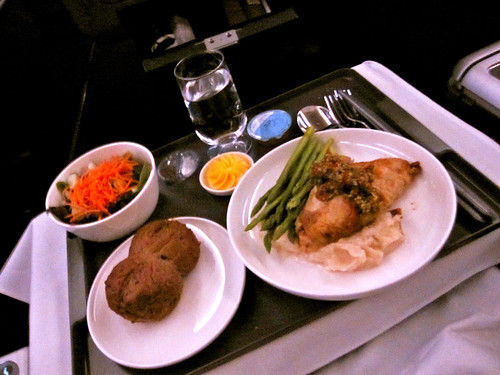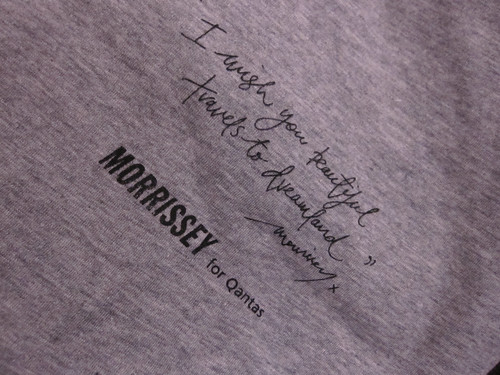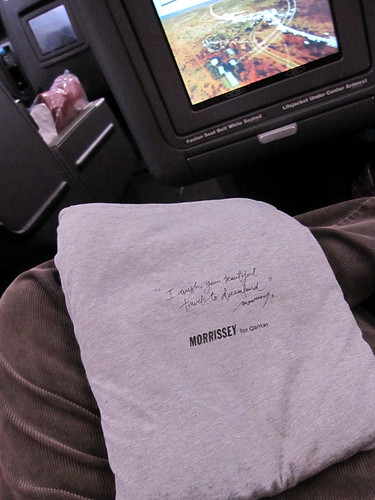 I woke with about 3.5 hours left of flight remaining, somewhere east of Moscow. Breakfast came with around 1.5/2 hours left (a tasty fruit salad and toast for me) and with an hour left I changed out of the pyjamas and got my stuff together for arrival. Landing was uneventful at around 5.15am local time, and a long taxi to the gate. I was 2nd off the plane.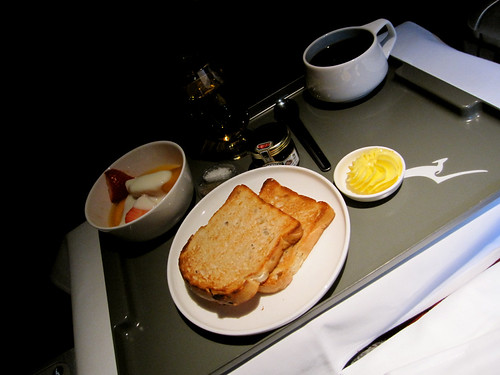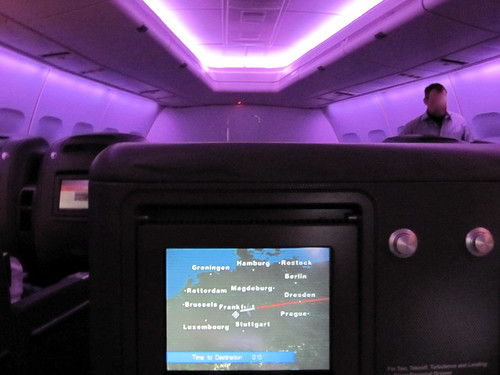 The crew on the SIN-FRA sector were great – not that SYD-SIN was poor, but this service was really friendly and personable without being over-familiar. They were all going to be staying in Germany over Christmas and there was a nice team vibe between them on board.
Conclusion
My biggest issue with flying in Economy is the legroom. I'm 6'2″ with long thighs, meaning my knees hit the seat in front of me in any seat with 31″ or less pitch (pretty much every economy class seat other than maybe the A380). It kills any hope of me sleeping, and along with it feeling normal for the first 2 days of any long trip. In that respect, Business Class was another world…the level of seat adjustability, space and service was all amazing and far more conducive to a relaxing, special experience than in Economy – as you'd expect.
Having said that, when I did try the window seat (4A) it amazed me that my feet actually didn't fit in the space reserved for them in the cavity of the seat in front – my long legs pushed them too far into the space and it felt kind of constrictive. Also, the skybeds have a large flap which folds out from the bottom of the seat, and gives you a platform to rest your feet on. When not extended the flap dug into my calves, and when extended it shortened the seat/bed for me so that I had to bend my legs or wrap my feet around it. I ended up putting a spare pillow between my feet and the rest to make myself comfy. Next time (if/when!) I would try and be a bit more creative about putting blankets/pillows in strategic spots to soften the hard spots and sort the foot issue out.
All in all though, a great experience, comfort only hampered by my own greed and lack of foresight around eating more rich food than I would usually inflight; and my long legs and their incompatibility with almost every airline seat I've come across to date.
JAL Sakura Lounge – International Terminal 2 – Frankfurt
After walking up from the gantry and a few twists and turns, I was greeted by a fairly empty Frankfurt airport. I'd only been landside here once before, and first impressions were that it was a large, airy space with a fair amount of walking available, but with loads of amenities (all of which were shut). I missed the JAL lounge (the OW lounge in FRA) on my first pass but came back and settled in. When I arrived at around 5.30 there were a handful of other people in here. It was really quiet and peaceful, with a nice range of food (including instant ramen!) for breakfast. Disappointingly the showers were not in use- maybe because the lounge is so new. With 2 hours to kill I settled into some Mad Men on the laptop and more breakfast. All of the internet connections in the lounge are wired ethernet and weren't working, even though the staff were happy to hand out cables. I guess my only point of criticism would be that it felt kind of full of furniture (nice furniture though) and it was a bit hard to navigate with luggage.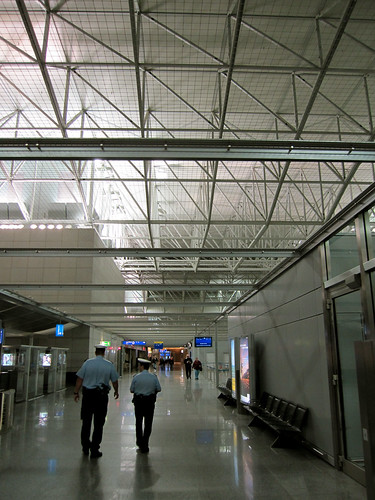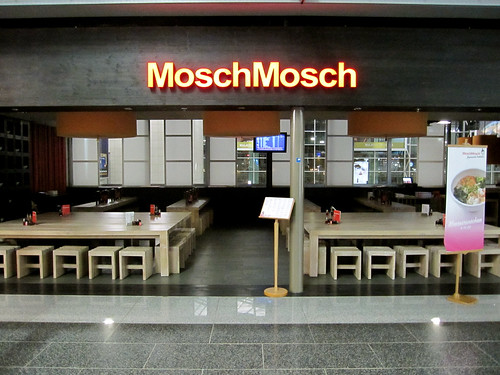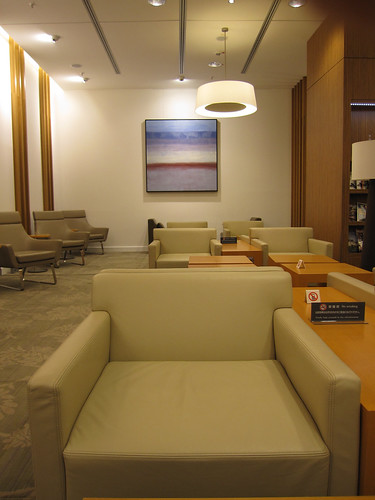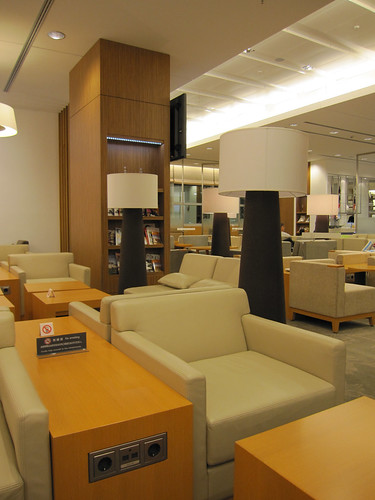 I walked to the gate before being called as I didn't have a boarding pass – the lounge couldn't issue me one and I wanted to get mine in good time. On rocking up at the gate, there were no BA staff manning the desks so myself, 2 lufthansa crew and a Cathay Pilot (or First Officer) were hanging around.
I'm guessing the staff were trying to reposition or get home for Christmas. Someone showed after a couple of minutes but was unable to print any normal passes, so I ended up with a nice piece of paper which thoroughly confused the other BA gate staff and FA's when boarding . I ended up with seat 4F.
BA8733 FRA-LHR
I settled down into row 4E, looking out into the bleak weather at Frankfurt. Dawn had since arrived and the snowy surrounds were made clear, along with driving rain. Welcome to Europe in December. The Lufthansa crew were put toward the back, the Cathay pilot in the first row. There was another handful of people occupying the first four rows of this slightly aging Airbus A319, but ultimately I ended up with a whole empty row again, meaning I could sit window for takeoff and middle for eating and stretching out. The legroom on BA's short haul services is no different in J to Y, but you do get an extra seat to spread out in… I'd prefer the extra legroom thanks, but I understand why they do it (to allow the flexibility of changing the number of rows available for J).
The upholstery and fit out seemed a bit tired, but this is BA so still comfortable enough. After takeoff the impact of the latest snow really hit – mile after mile of whiteness. I was quickly offered a drink, followed by an acceptable cooked breakfast while Y had to make do with a snack pack.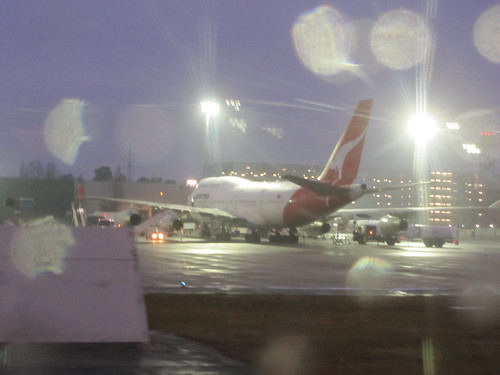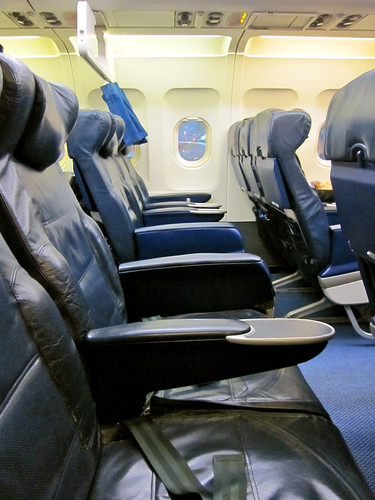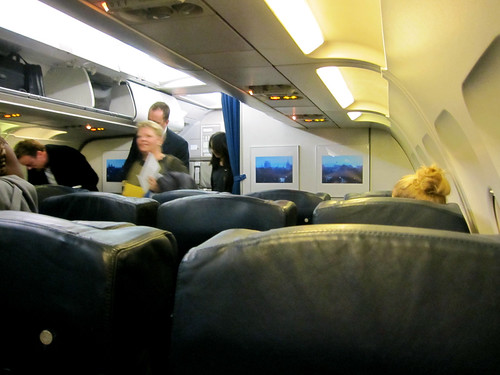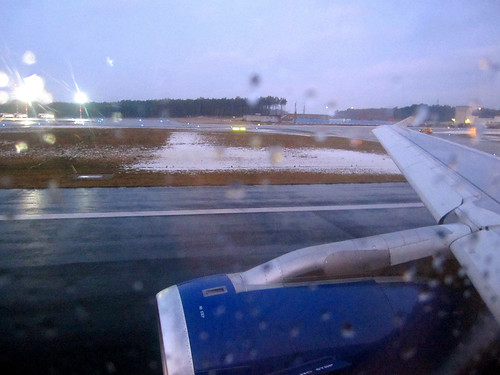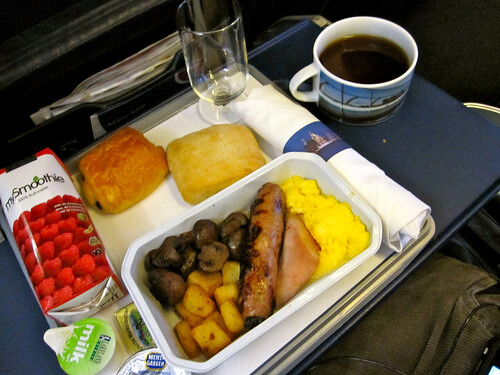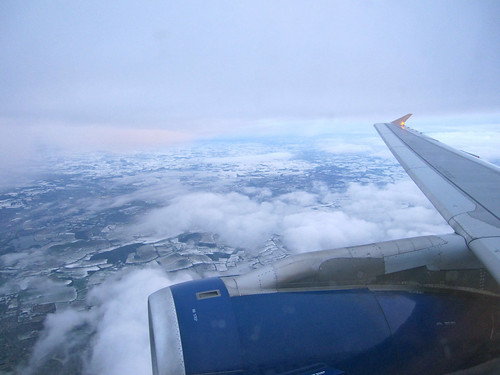 The flight passed quickly, we touched down at Heathrow, taxied to T5 and disembarked by bus. Sigh. I wandered off to collect my bag, waited for 1/2 hour along with 3 other long haul travellers on this flight to find it had come out on a different carousel. Finding it was quite impressive – I went to the BA Luggage desk (for Business, of course) where they scanned my luggage barcode receipt. He instantly said, I'm sorry, that bag got mixed up slightly in transfer and has been going around on carousel 8, not 4, for the last 9 minutes. I wasn't expecting a positive result – fully thinking that I'd be asked to wait another 1/2 hour or something until all the Frankfurt bags had definitely been unloaded, but no, my bag had made it from SYD and was, as he said, on carousel 8.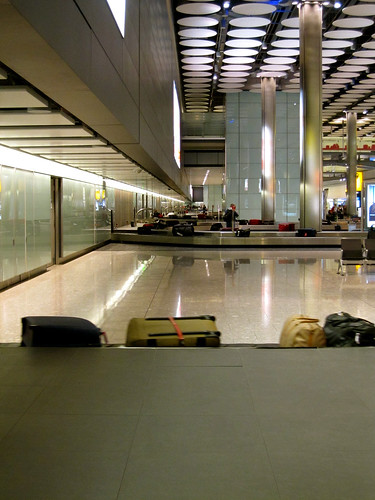 All up – 23.5 hours of flying plus 6 hours in 3 lounges and an hour getting bags and queuing for immigration. Not too bad. And then I spent another 5 hours in a car, which was not so fun.
You can read our guide on how to choose the best seat for your flight here.
Qantas 747 Business Class review – QF5 Sydney to Frankfurt
was last modified:
March 30th, 2022
by