The Star Alliance carrier's second-best premium product is a highly-sought-after award redemption, and travellers in Australia are lucky to count Sydney and Melbourne as two airports it is available from, with onward connections to a range of destinations in Asia, Europe and the US.
Using KrisFlyer miles or Velocity Points are the two best ways to get onboard one of these flights.
Upcoming changes to A380 aircraft
This product is due for an upgrade from December 2017.
Fleet & Routes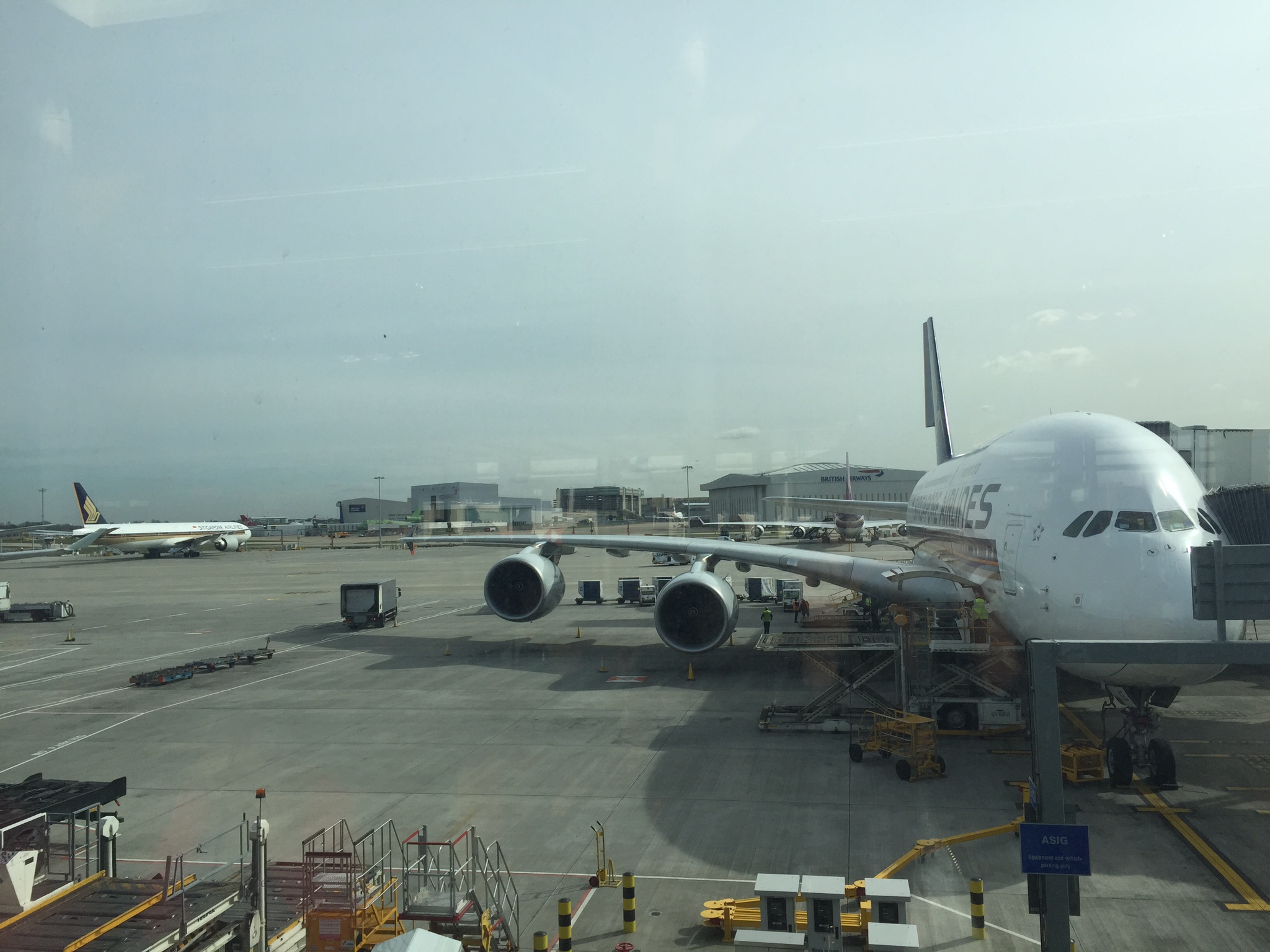 You can find the A380 on the following routes, between the airline's hub in Singapore and:
Sydney (reliably at least one daily flight, if not two)
Melbourne (seasonal)
Auckland (seasonal)
Hong Kong
Beijing
Shanghai
Mumbai
Delhi
London
Paris
Zurich
Frankfurt and onto New York JFK (this fifth freedom route can be booked separately)
Singapore Airlines A380 routes as of August 2017
Although Singapore also serves Brisbane, Perth, Adelaide and Canberra, there is no First Class offered on these routes.
The cabin: seats & seatmap
The First Class cabin on Singapore's A380 aircraft feature 12 closed suites located at the front of the lower deck of the aircraft, each with 81 inches of pitch and 35 inches of width.
There are four versions of the A380 but they all feature the same configuration in First Class, with four solo suites along each window, and two sets of couples suites in the middle: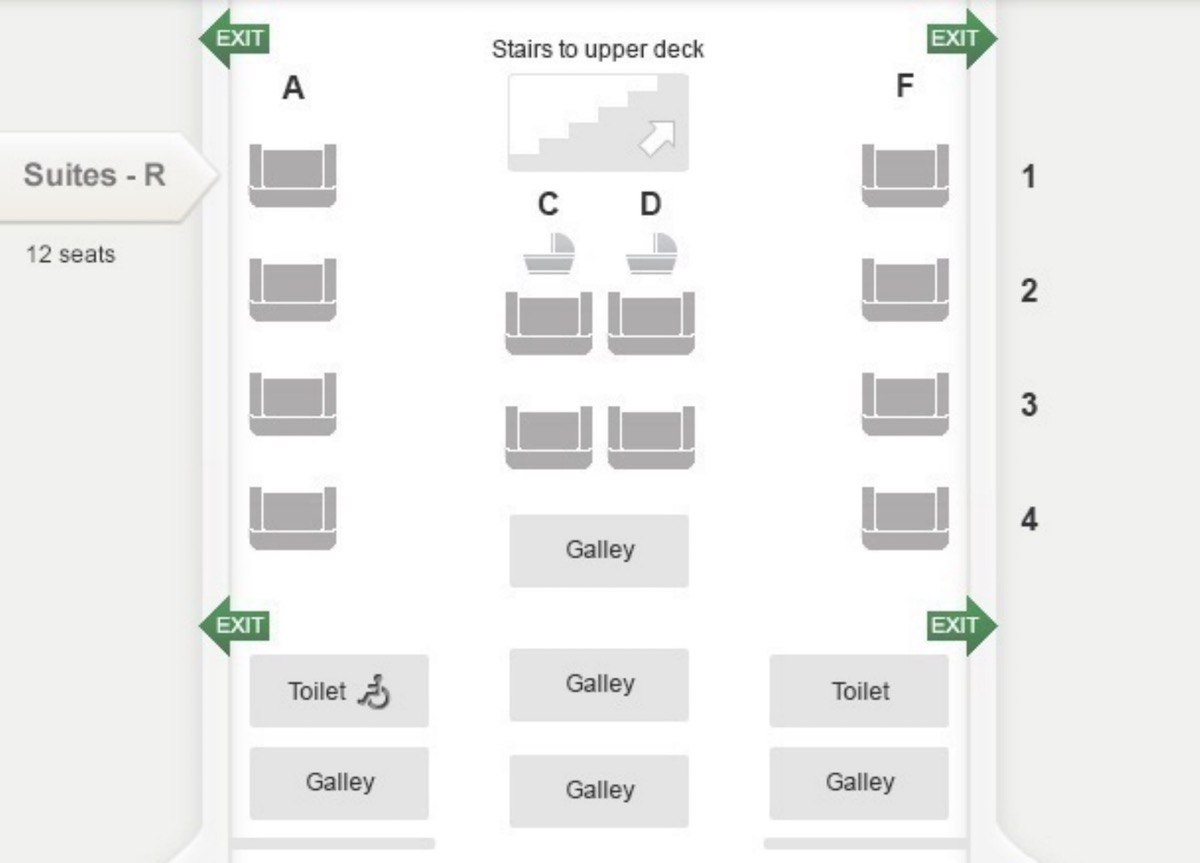 There are two lavatories located at the back of this cabin, meaning that you may want to minimise noise by avoiding selecting a seat in the last row.
Considering this product was introduced almost ten years ago, it showed minimal signs of wear and tear and the cabin was spotless on my flight.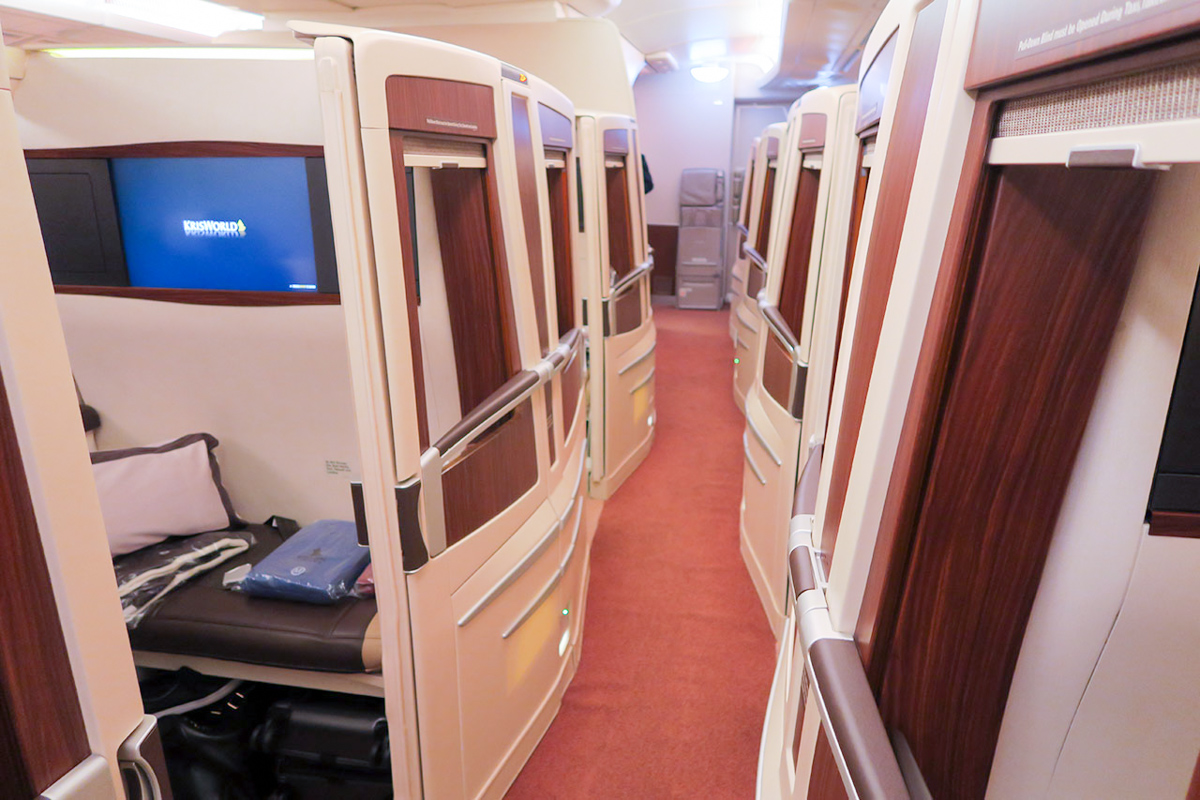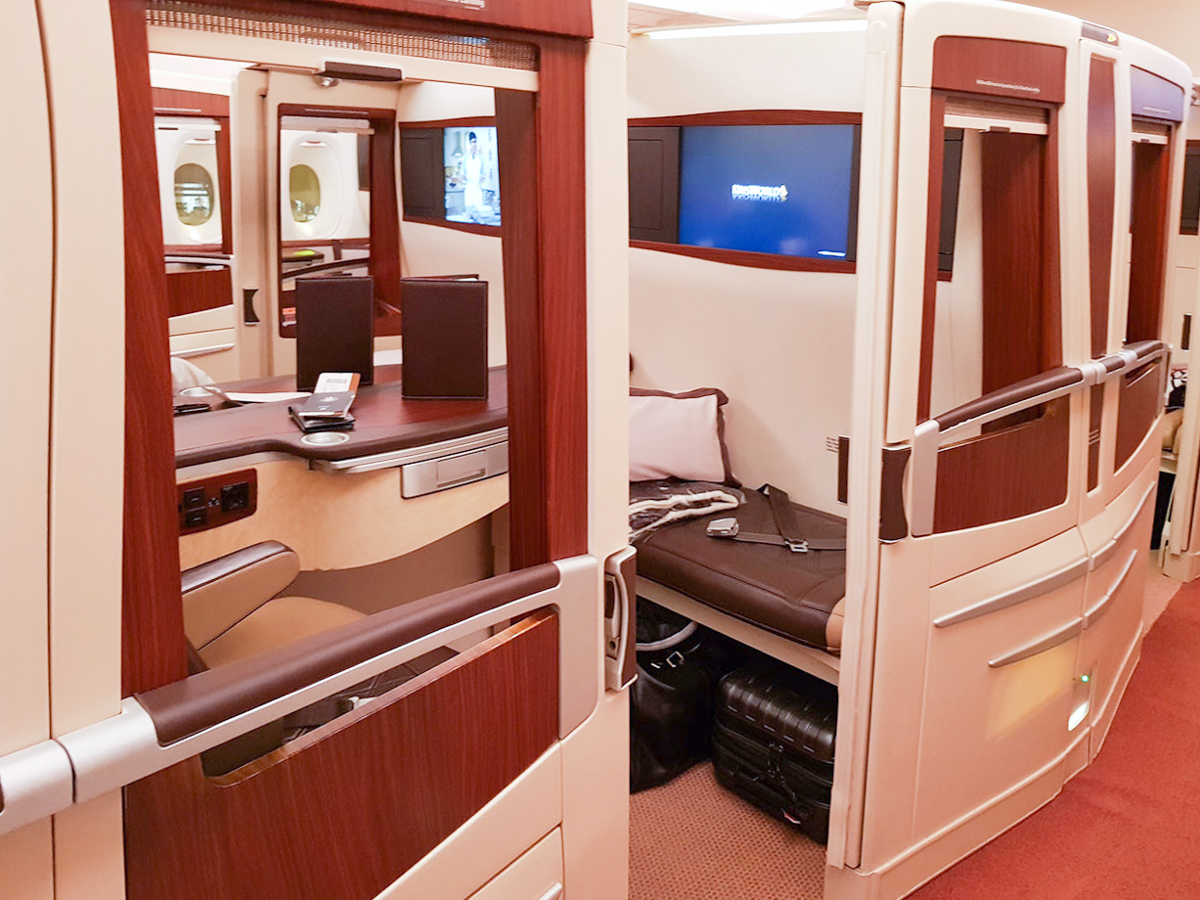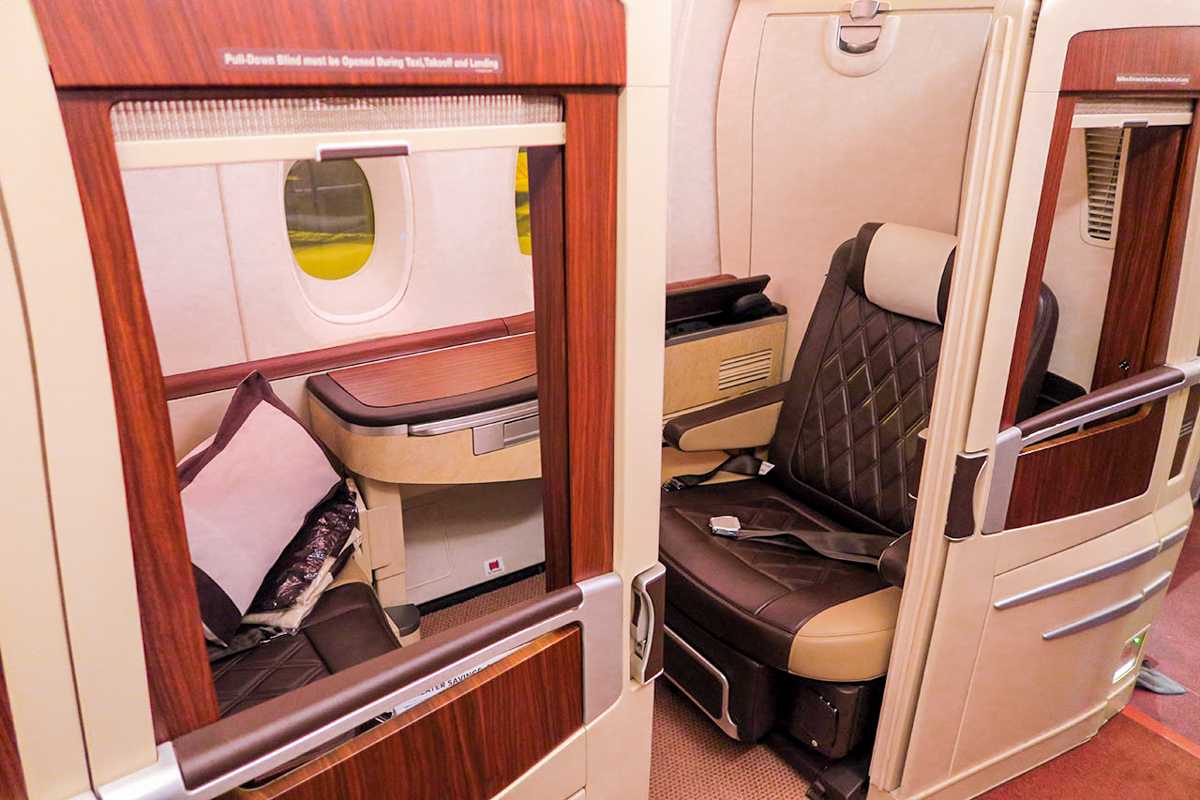 The seat is wide, comfortable and upholstered with soft leather. My only criticism is the limited recline as it is not mechanical – the cabin crew has to manually flip the seat forward to make the bed.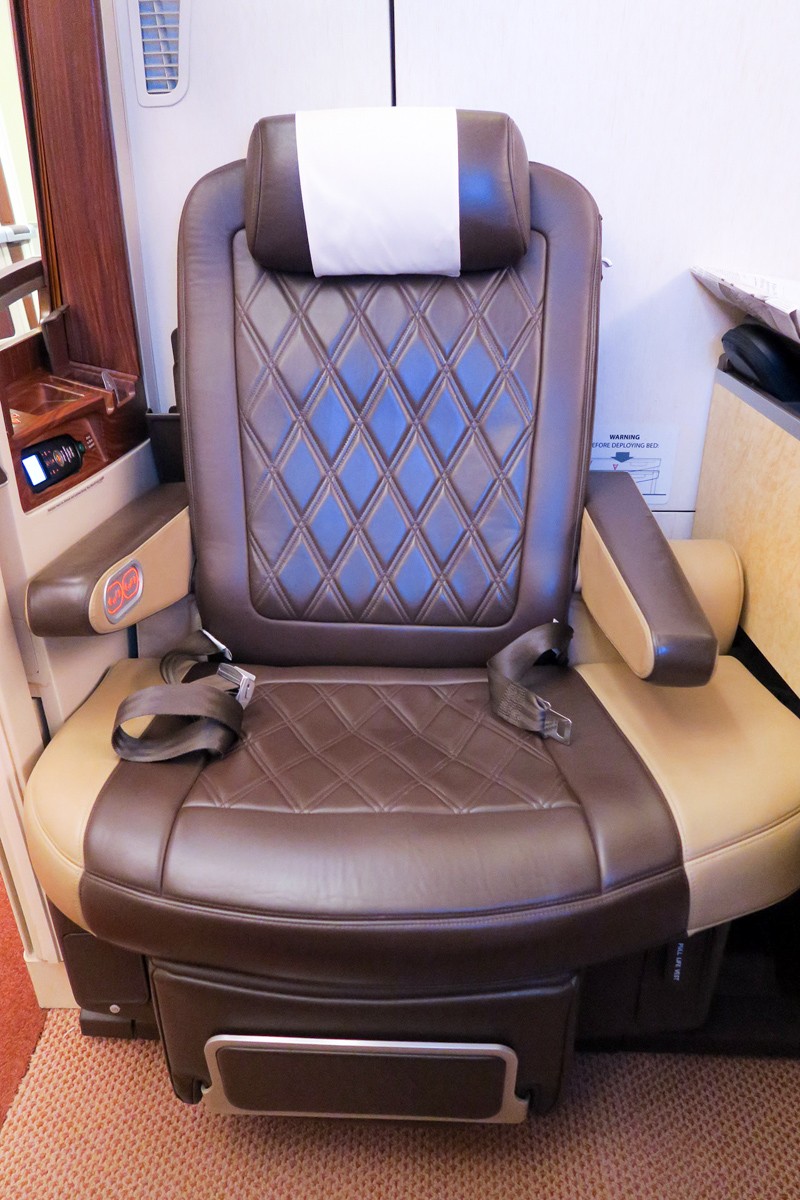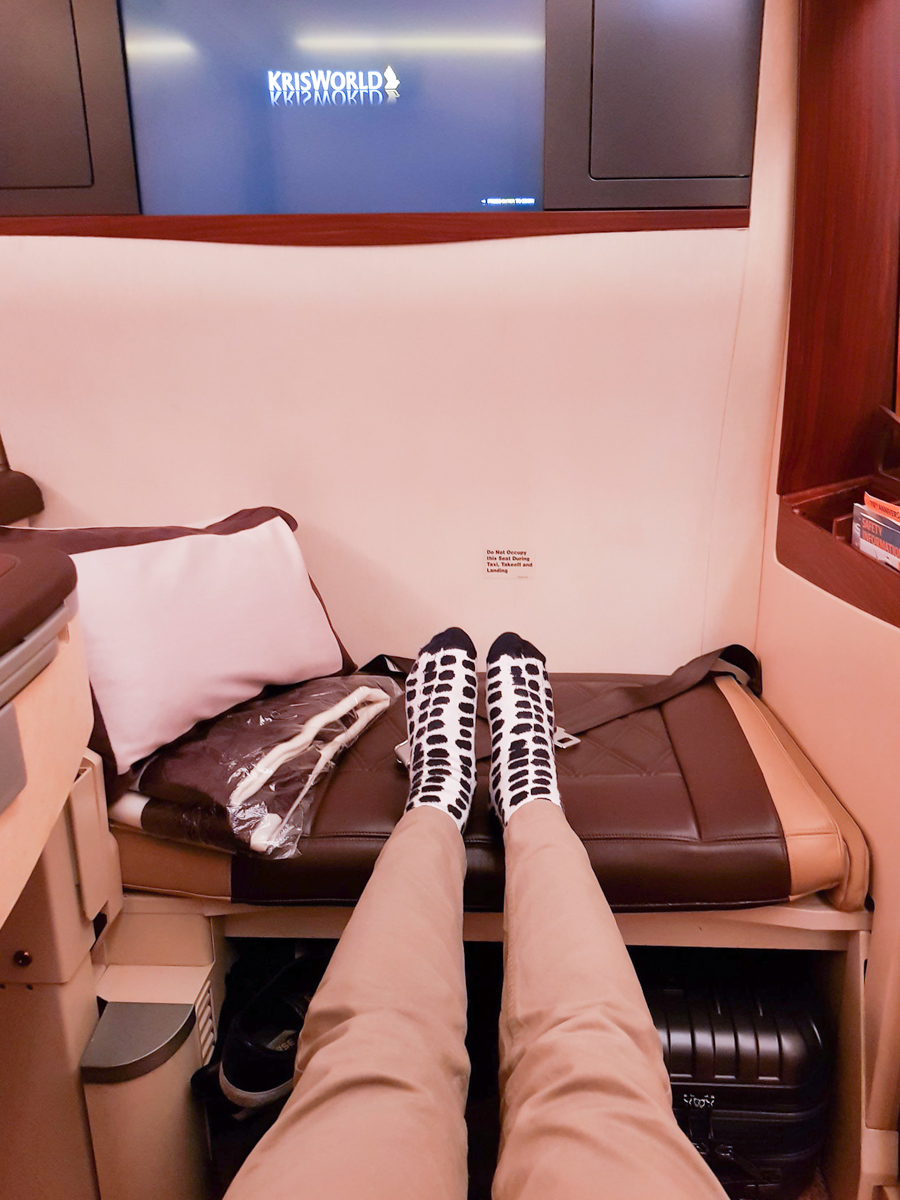 Here is some of the storage available: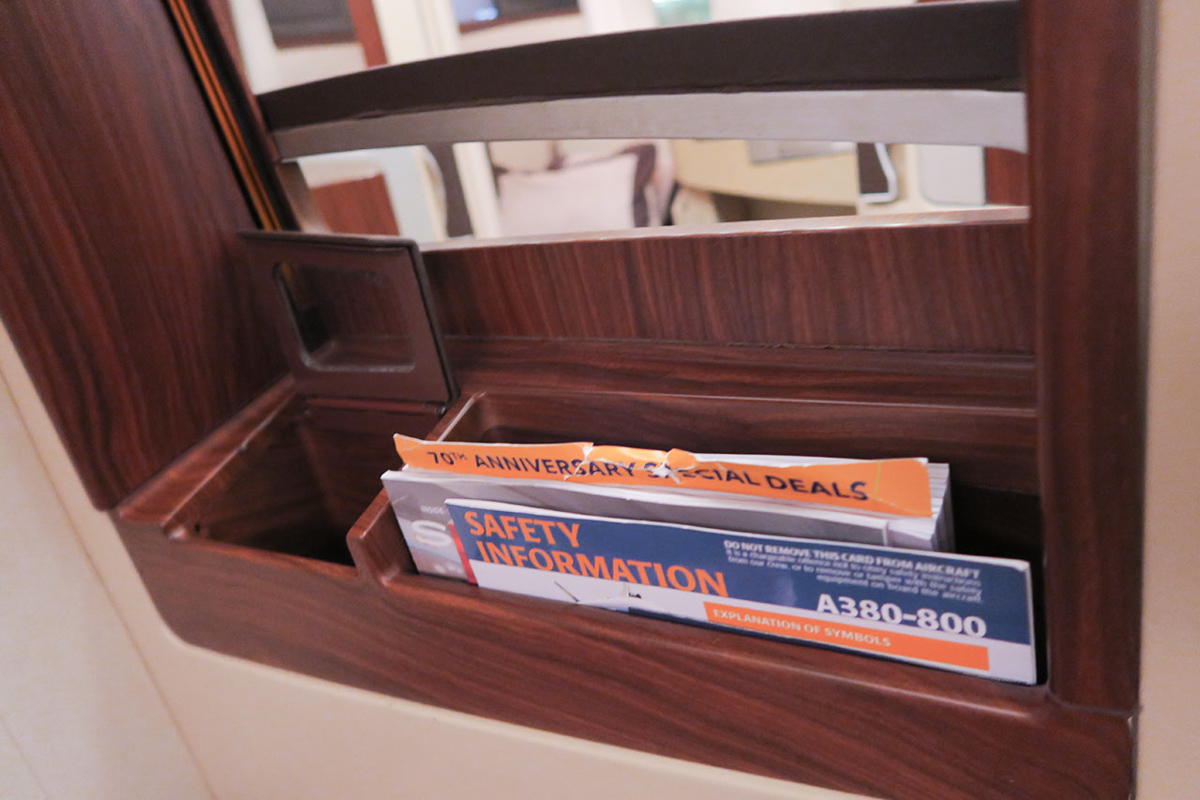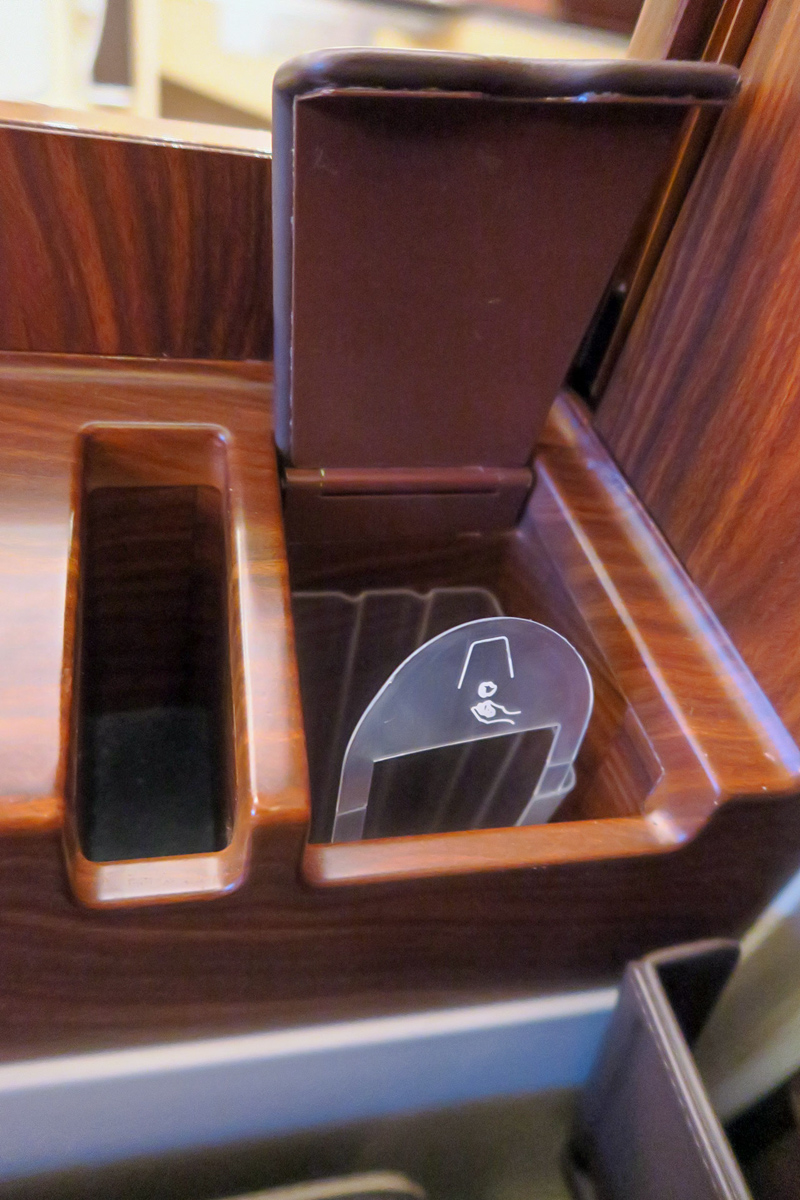 and the electronics and seat controls: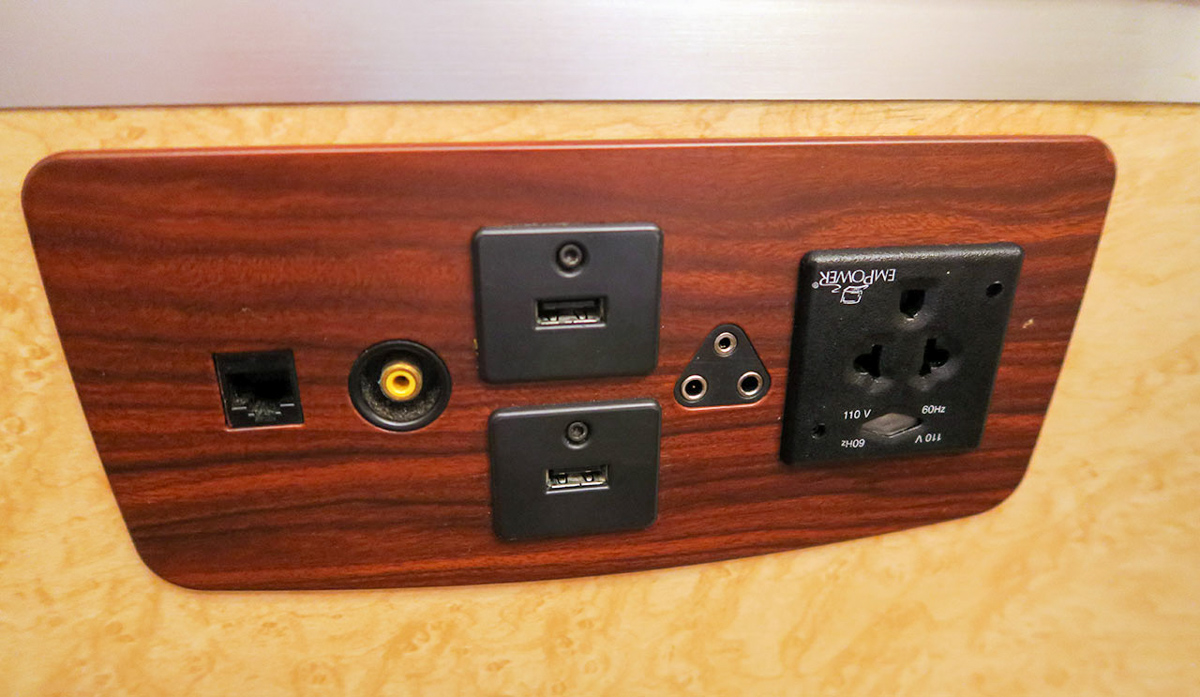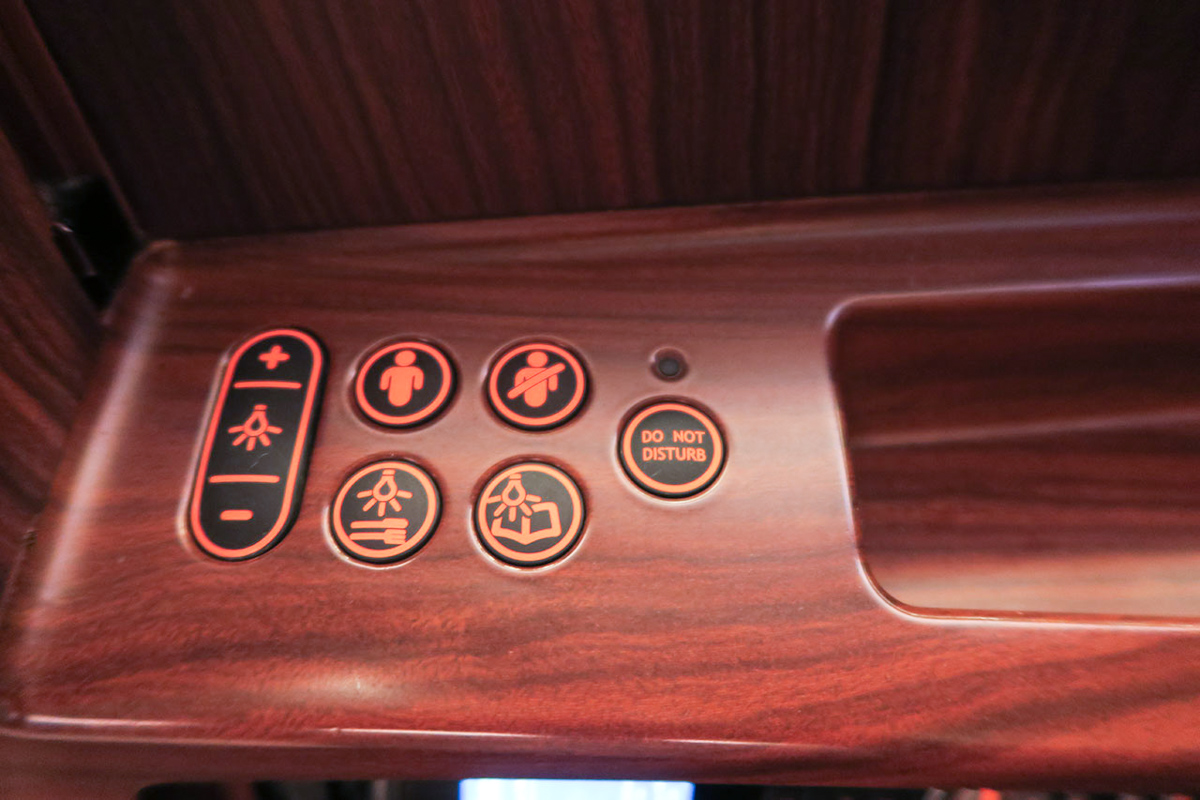 If you are seated in one of the couples' suites in the middle (or if it is a particularly empty flight), you can ask the cabin crew to make up a 'double bed' for you.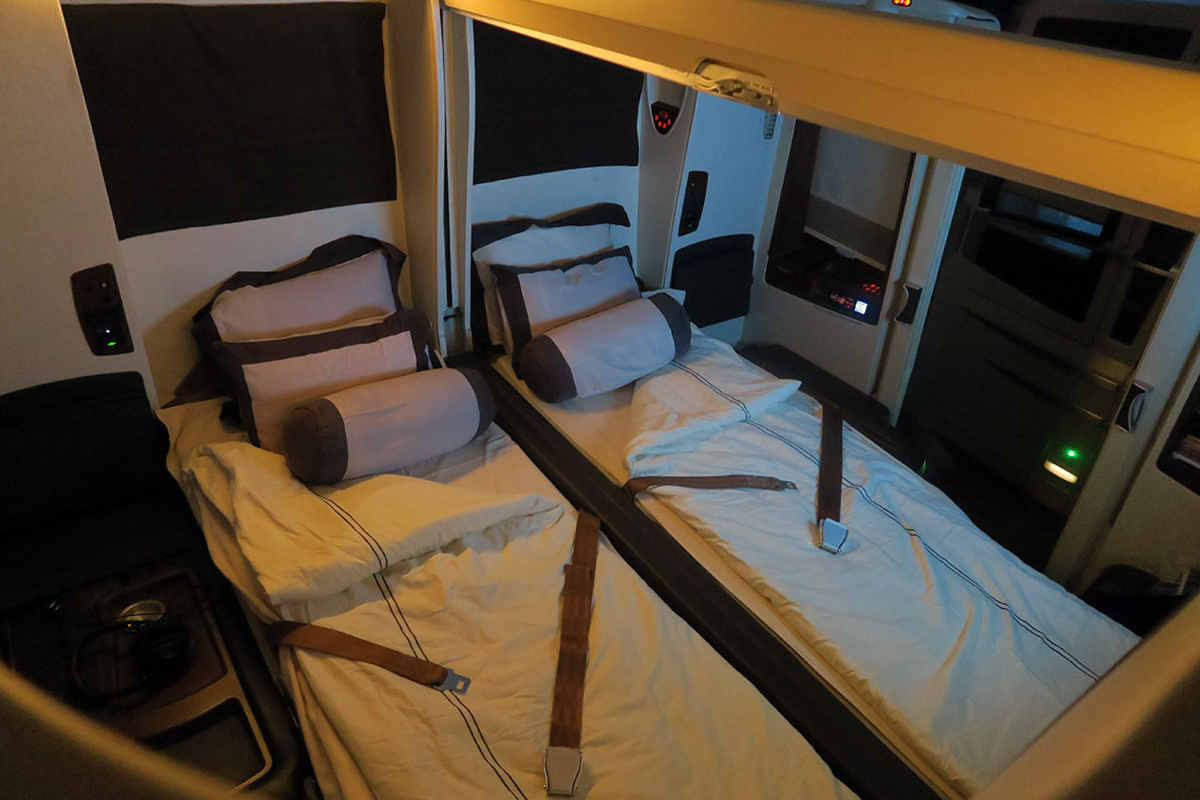 Just note that it is not really a double bed as there is a solid divider in the middle, so I would not recommend sleeping across it. Having said that, this is the closest thing to a double bed in the sky!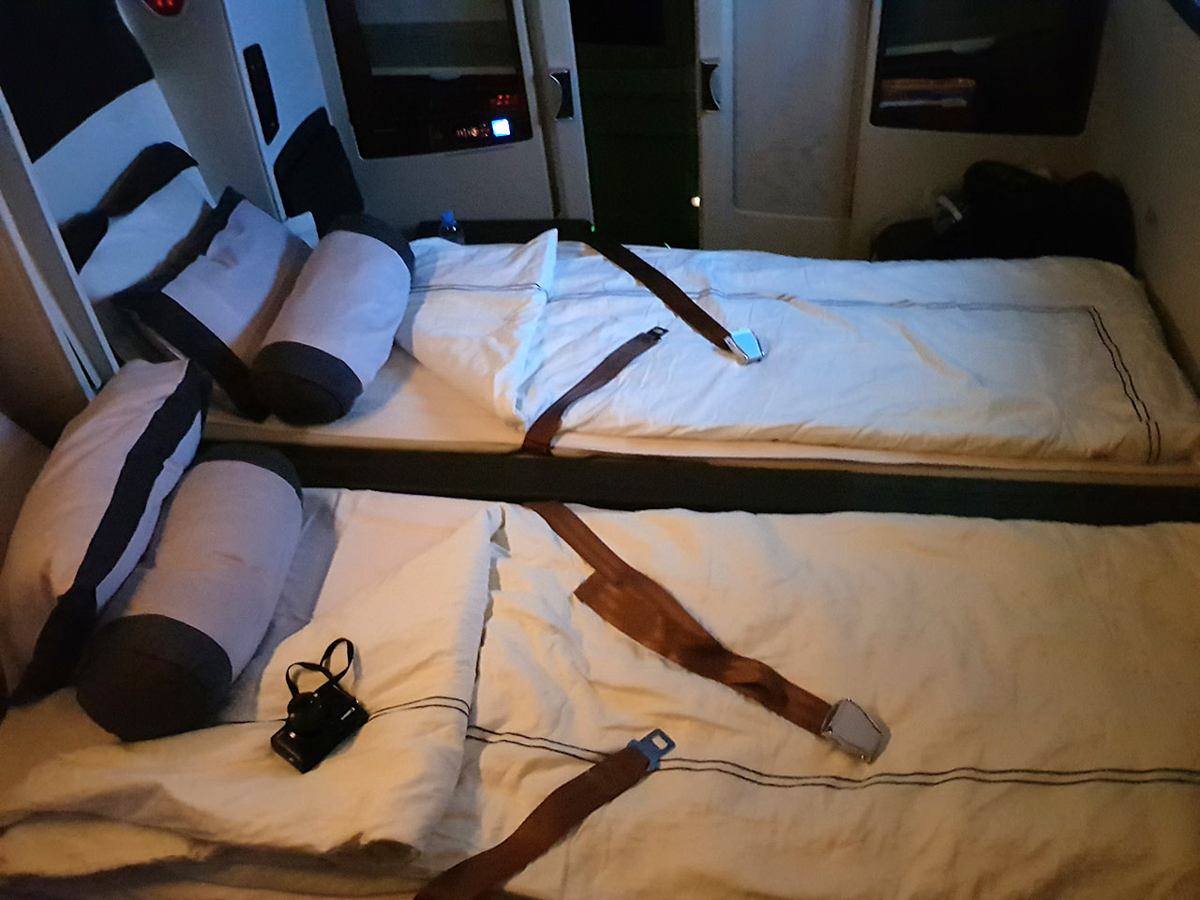 With the privacy blinds pulled down and doors closed, it feels truly private and spacious – I had to pinch myself!
The bed was really comfortable and I found myself drifting asleep, however, as with many Asian carriers, the cabin temperature is kept quite warm, so combined with the thick pyjamas, bedding and blanket provided to you, you may want to kick off the blanket to prevent sweating. With your suite door closed, your privacy is still respected.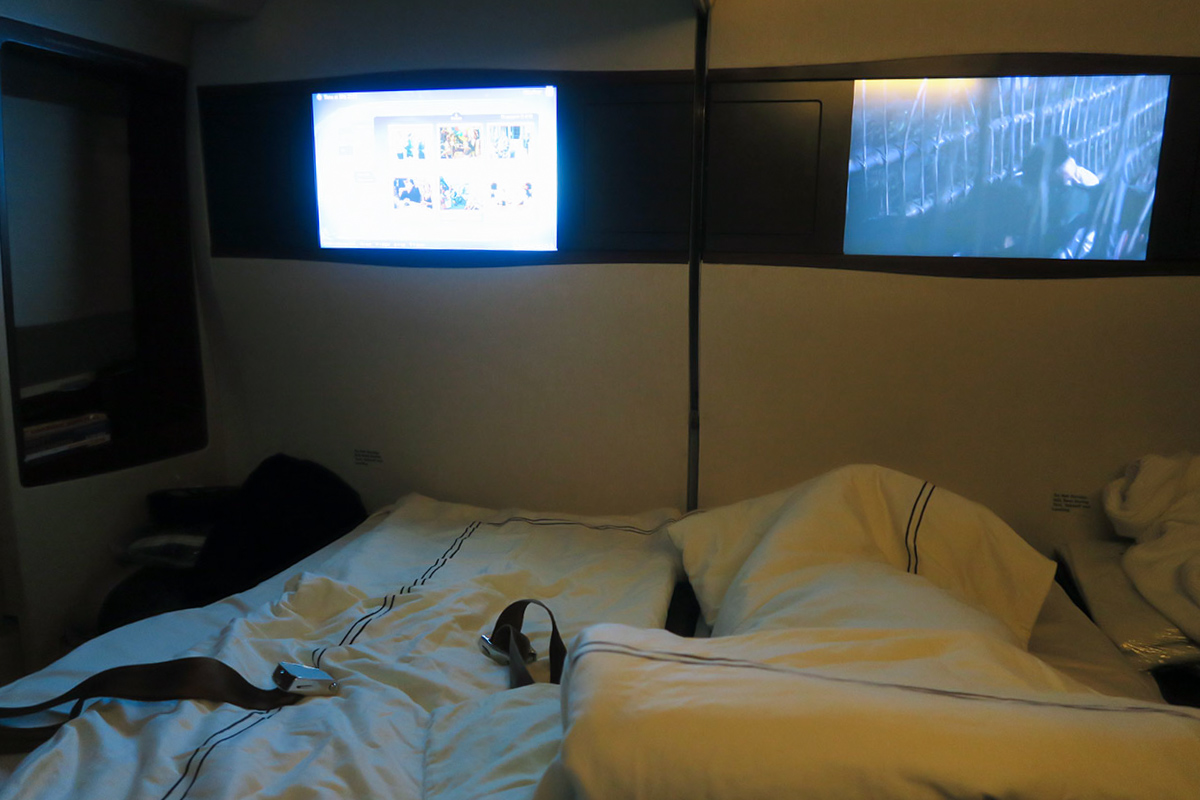 Service: Food & Drink
The cabin crew seemed rushed and not quite as polished as I had hoped, which is strange given my flight had five empty First Class Suites.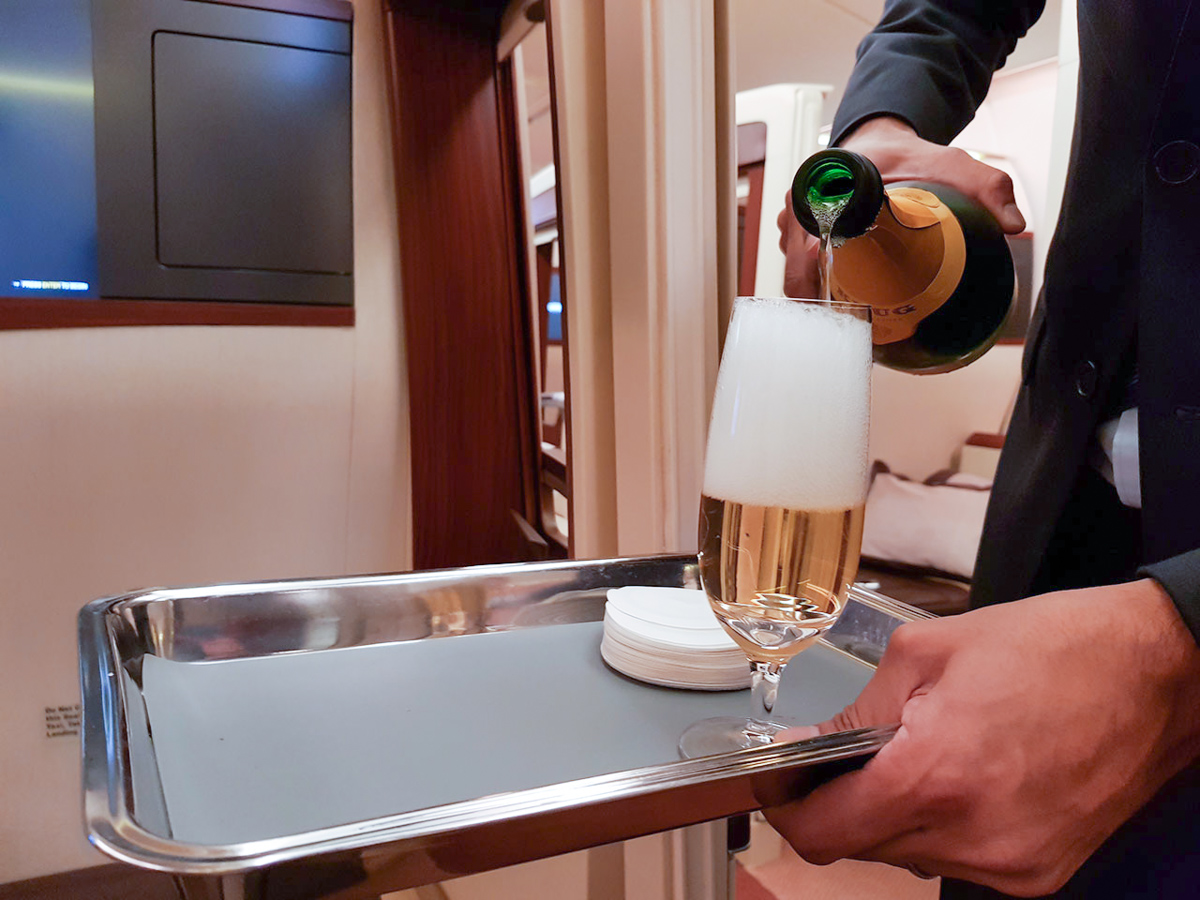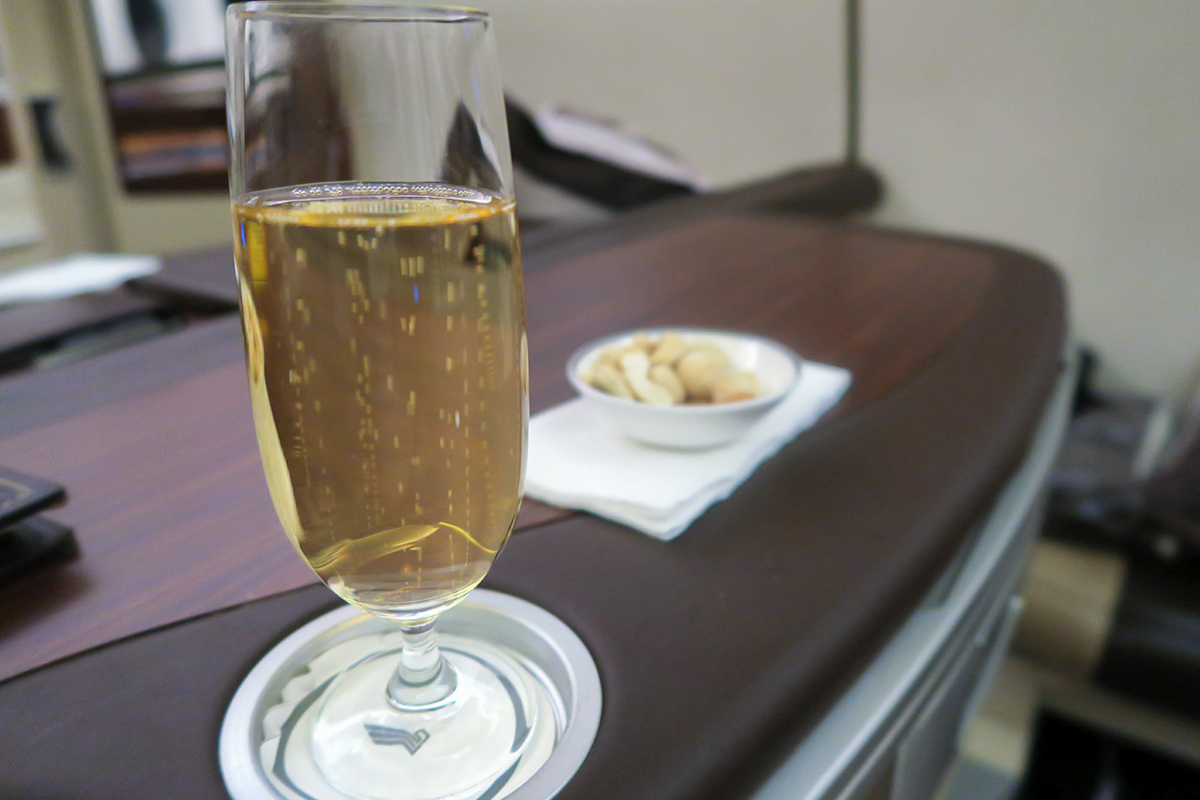 Singapore Airlines offers a Book The Cook service for Suites, regular First, Business and Premium Economy Class flights departing Singapore, meaning you can pre-select a custom meal.
I love Japanese food and I was really looking forward to the Kyo Kaiseki that I had selected; compared to the same dish I had in Japan Airlines First Class, it did not stack up.
As you can see, the presentation of the food was beautiful but I found most dishes missed the mark.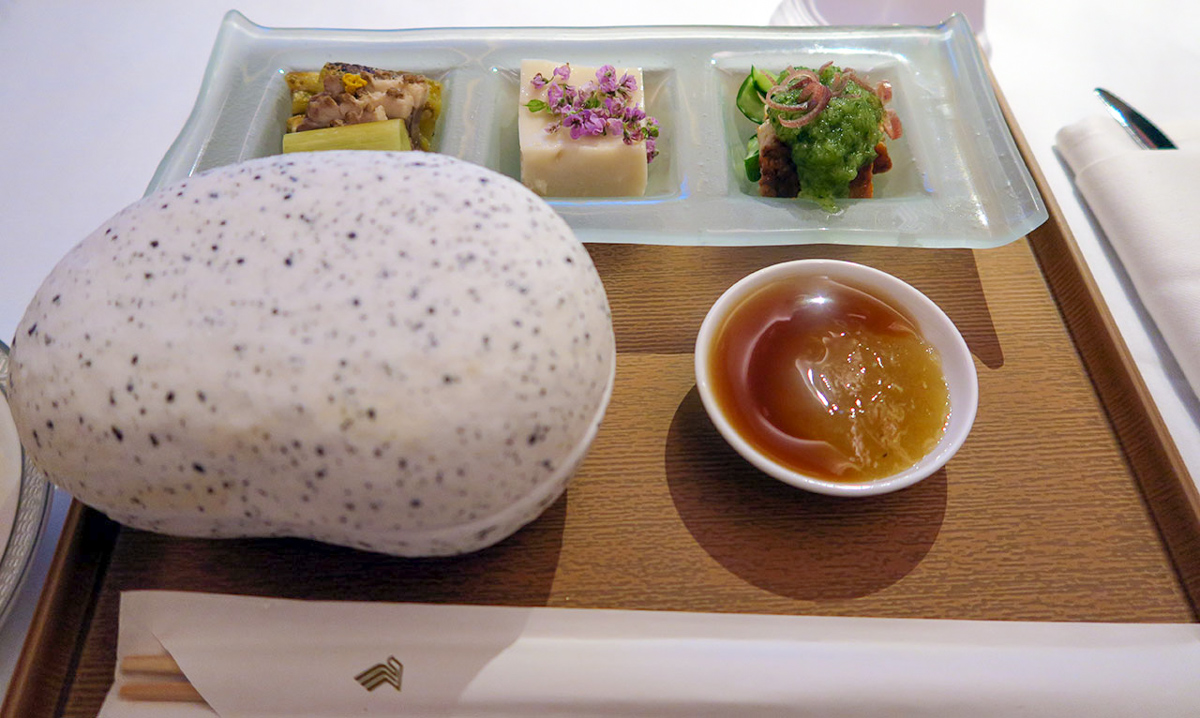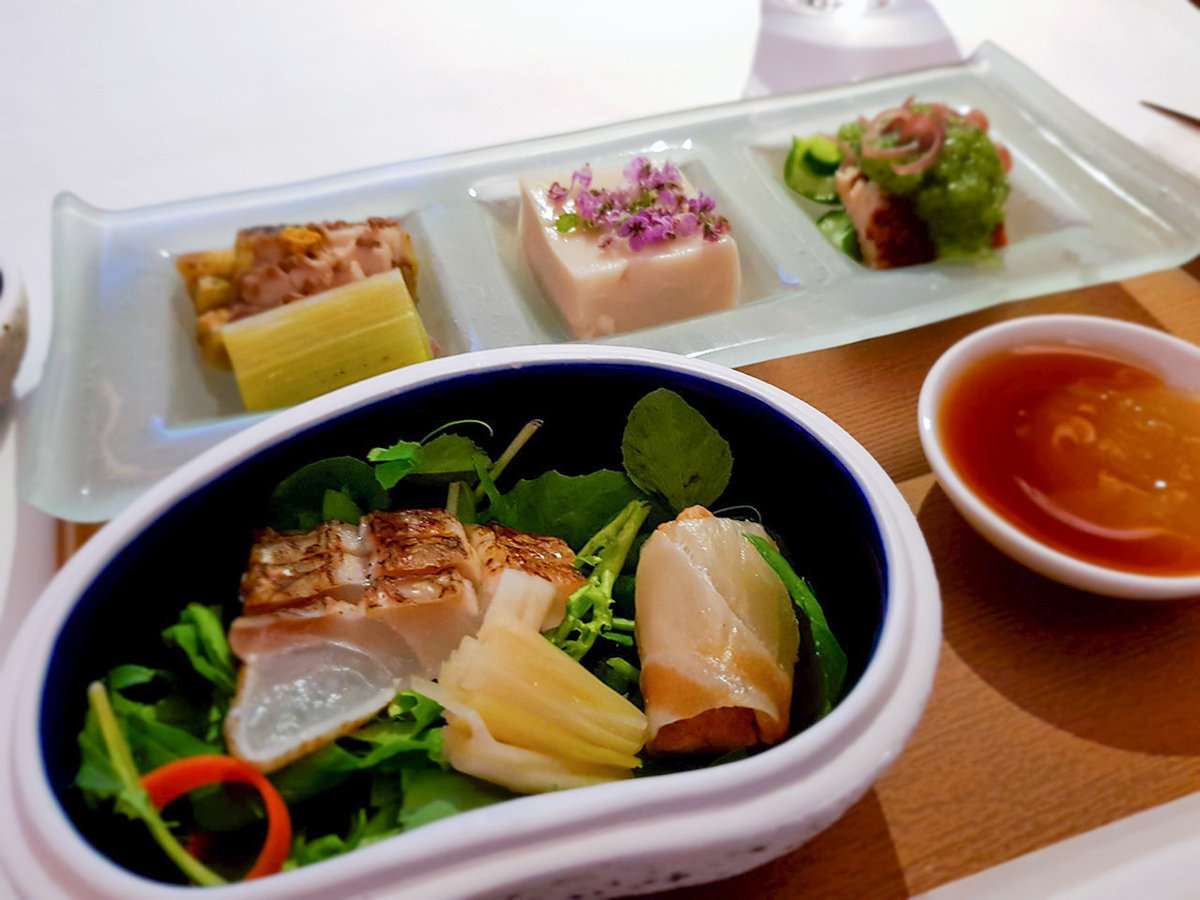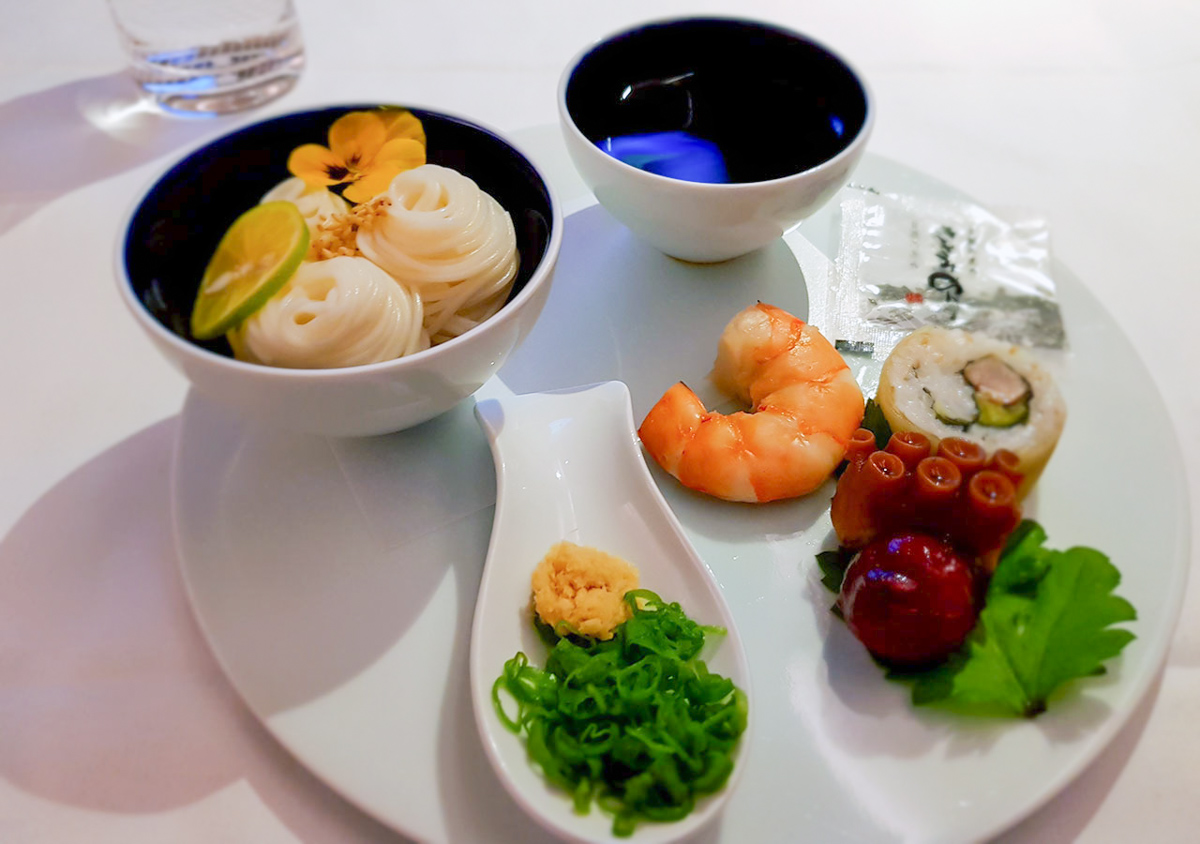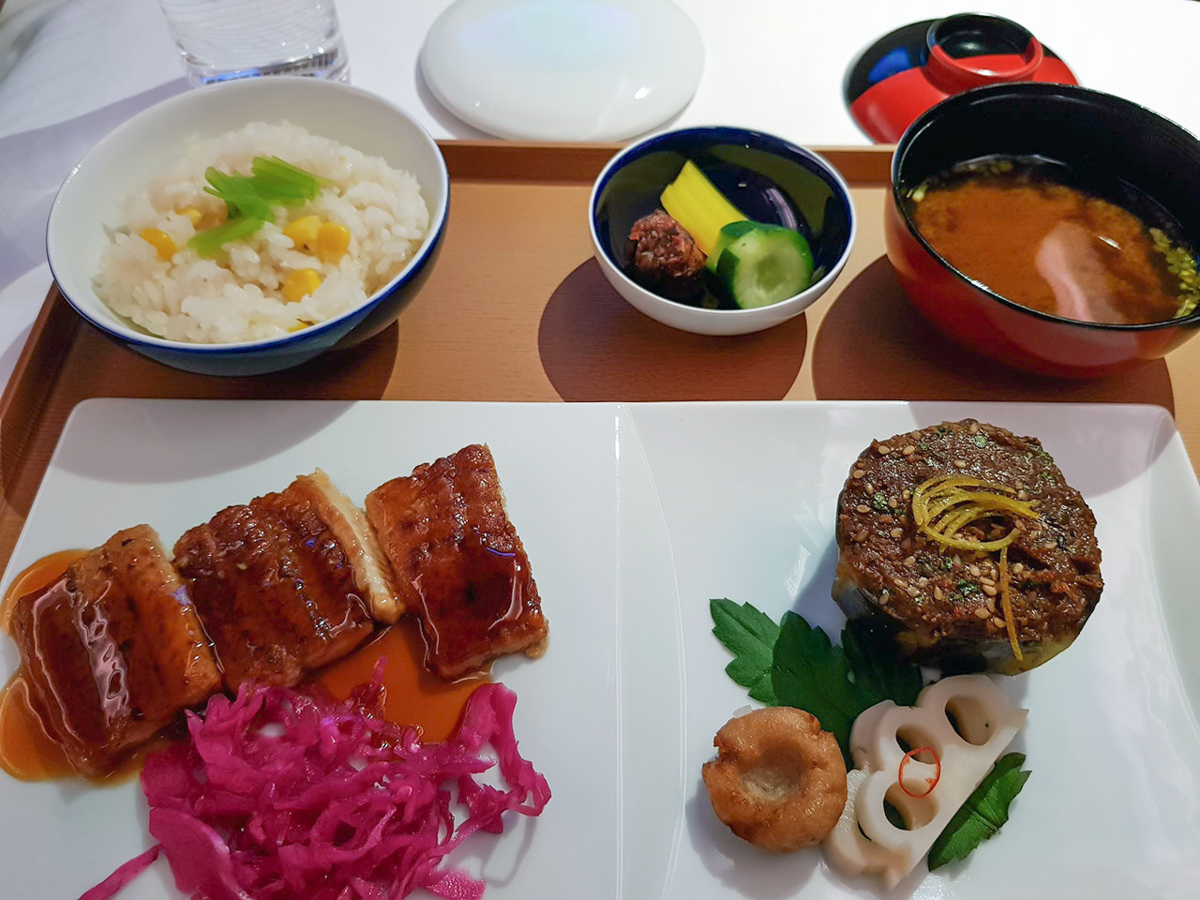 Luckily the dessert was a standout. Coconut ice cream served on top of sweet fermented beans, coconut and matcha pearls, with slices of melon – delicious!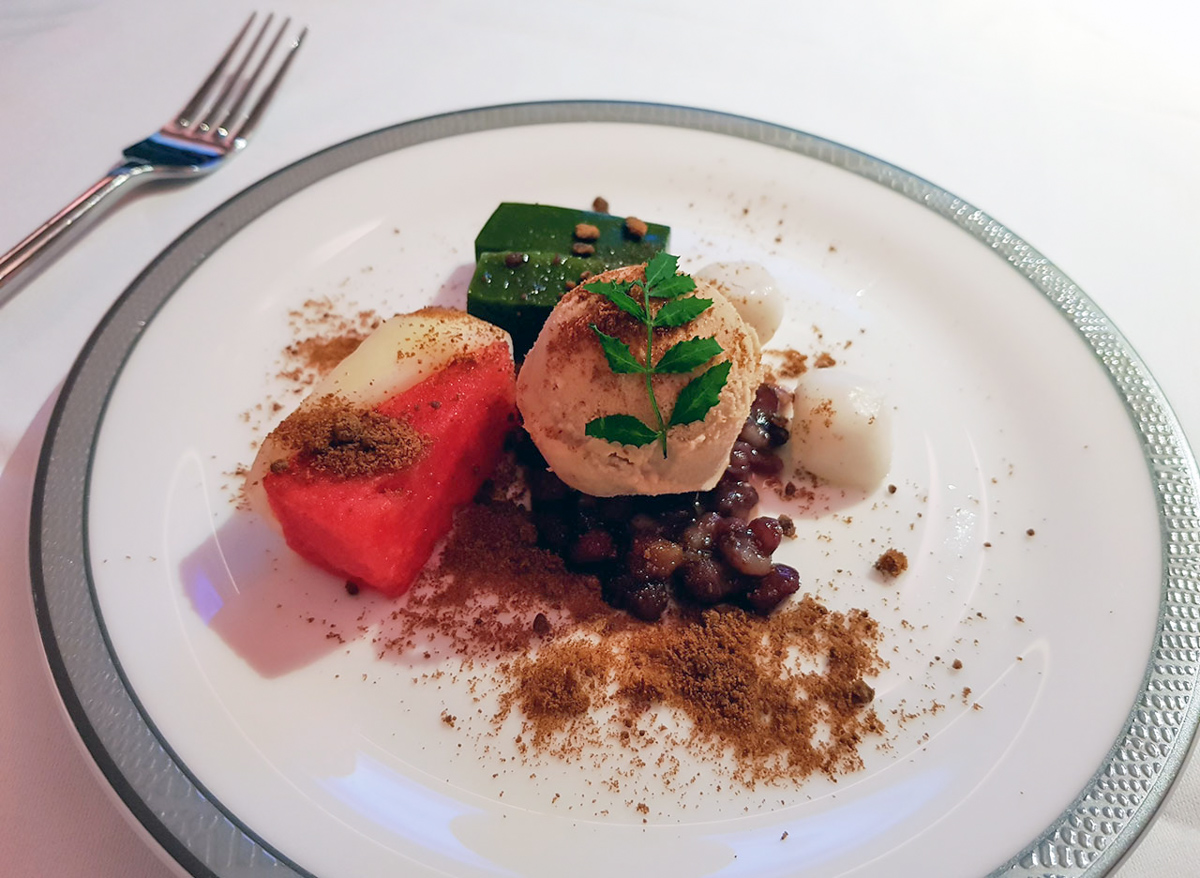 Due to turbulence, the meal service did not start until 90 minutes into my flight, which was not ideal, given that this was a red-eye flight and the average passenger would want to maximise their sleep.
I was somewhat disappointed that I was not offered the caviar service, but I guess I should have asked for it.
Here are the food and drink menus from my flight:
Inflight entertainment
Singapore Airlines' inflight entertainment system on the generous 23-inch screen has a huge catalogue of movies, TV shows, documentaries and music – certainly plenty of content to keep you occupied.
The screen resolution is crisp and bright: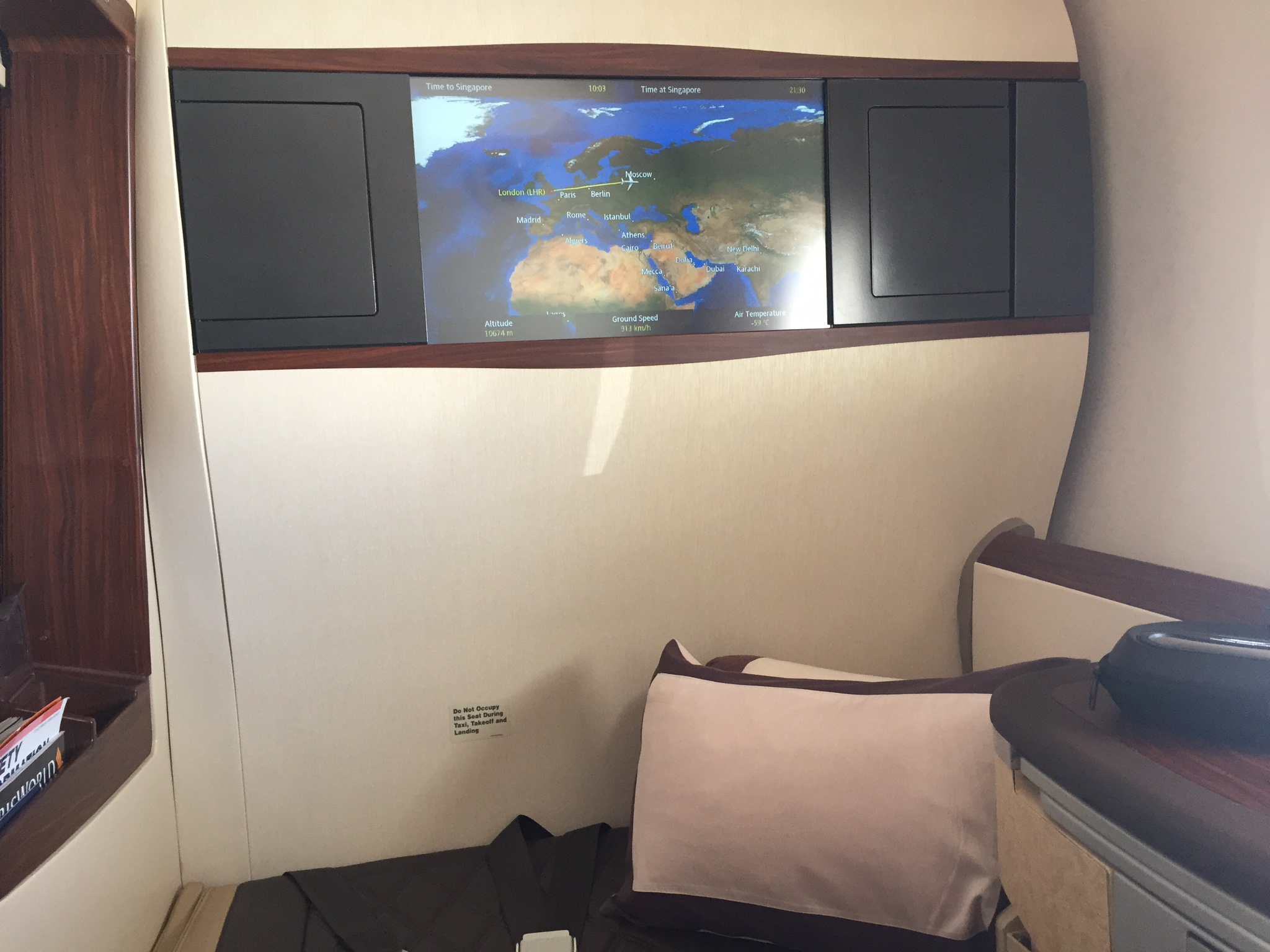 The remote control is pretty standard and could be found in a Business Class seat.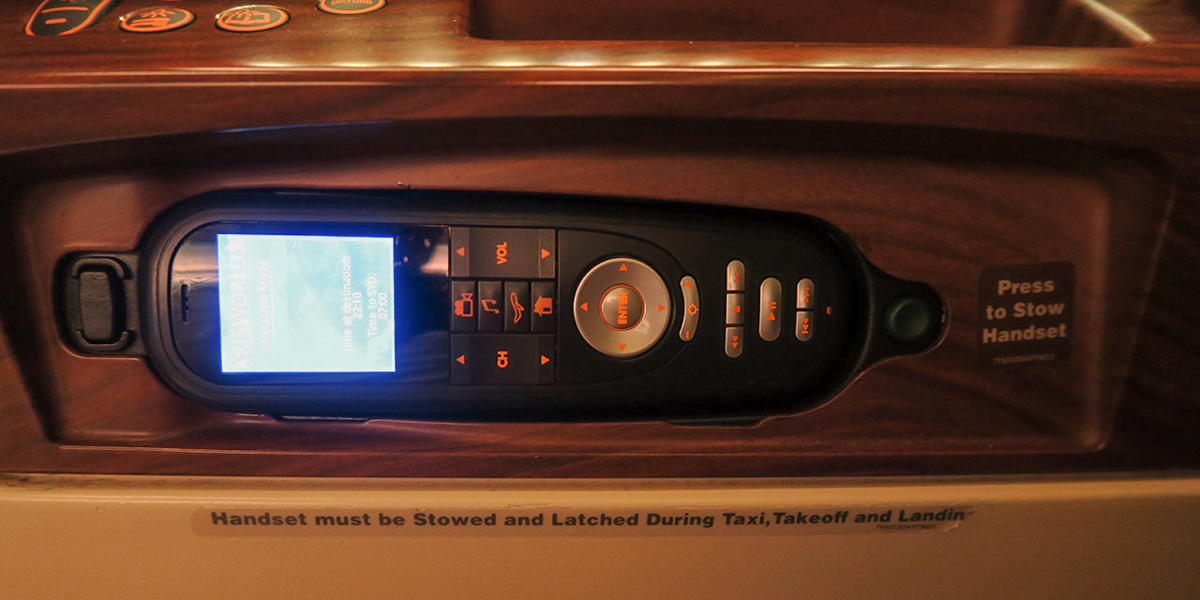 Wifi is available on Singapore's Airbus A350, A380 and Boeing 777-300ER aircraft, with a complimentary 100MB data allowance for First/Suites Class passengers and 30MB for passengers in Business Class. Paid data plans are available after the complimentary data allowance has been used.
You can use the same wifi pass across multiple devices but you do need to log out of one to use the other.
If you purchase a plan on one segment, e.g. Australia to Singapore, it will not be valid on subsequent segments, e.g. Singapore to Europe.
You can read more about wifi plans on the Singapore Airlines website.
How to book this flight
Retail fares for the eight-hour flight between Sydney/Melbourne and Singapore start at $4,000.
Read our guide here to using points to book First/Suites Class or also check out the different seat types on Singapore Airlines.
You may consider organising stopover if using KrisFlyer miles to book your redemption.
Lounge access
Guests travelling departing Singapore Airlines in First Class or arriving on a First Class flight and connecting to a Business Class flight are invited to use The Private Room in Changi's Terminal 3.
In Sydney and Melbourne, you'll get access to the First Class section of the SilverKris Lounge.
Our other Singapore Airlines reviews
Summing up
This Singapore Airlines premium product is definitely ahead of a lot of comparable offerings, with relatively professional and attentive service and a high level of comfort.
However, the quality of the food lets it down and given the last ten years has seen an improvement in First Class offerings like the onboard shower in Emirates' A380 First Class cabin, more space in Etihad's A380 First Apartments and an onboard bar on Qatar's A380 aircraft, I am looking forward to seeing what improvements are made to this product in the near future.
Singapore Airlines A380 (old) First Class Suites overview
was last modified:
May 9th, 2022
by