Dom Pérignon. Caviar. A hotel room in the sky. Singapore Airlines' Suites – available exclusively on Airbus A380 flights – is simply one of the most aspirational experiences in the skies.
And starting 1 December 2021, Singapore Airlines' Airbus A380s will grace our skies once more, beginning with Singapore-Sydney flights. Singapore-London A380 flights also resume from mid-December. Excellent news for the luxury lovers among us!
Sales for the new Sydney A380 flights will start shortly, and extra reward seats are expected to be released on Saturday 23 October 2021.
Read on for our guide on how to book Singapore Airlines' exclusive Airbus A380 Suites with miles.
What is Singapore Airlines Suites and First Class?
Just six of these precious, private Suites adorn the upper deck of the airline's newer Airbus A380s. But even if you end up on Singapore Airlines' lower-spec Boeing 777-300ER First Class, rest assured – you'll still have an amazing time in the air.
As Singapore starts to open its Vaccinated Travel Lanes (VTLs) across the globe, and as Australia begins opening its own borders from 1 November, the time is ripe to start planning an incredible trip overseas. Australia isn't part of the VTL just yet, but should be included once our international border policies are finalised.
In this guide, we take a look at the differences between the three luxury products, and how to book a reward seat using frequent flyer points.
1. Singapore Airlines new A380 Suites
This is the crème de la crème of the Singapore Airlines offering, with six individual suites in a 1-1 configuration. You actually get a couple of square metres to yourself. On a plane! The Poltrona Frau-upholstered armchair swivels to suit your needs, and a comfortable full-length bed is set up by the crew when it's time to hit the hay.
Two pairs of Suites share a retractable privacy divider that lets a couple enjoy a full double bed across both cabins. That's the epitome of luxury, in our view.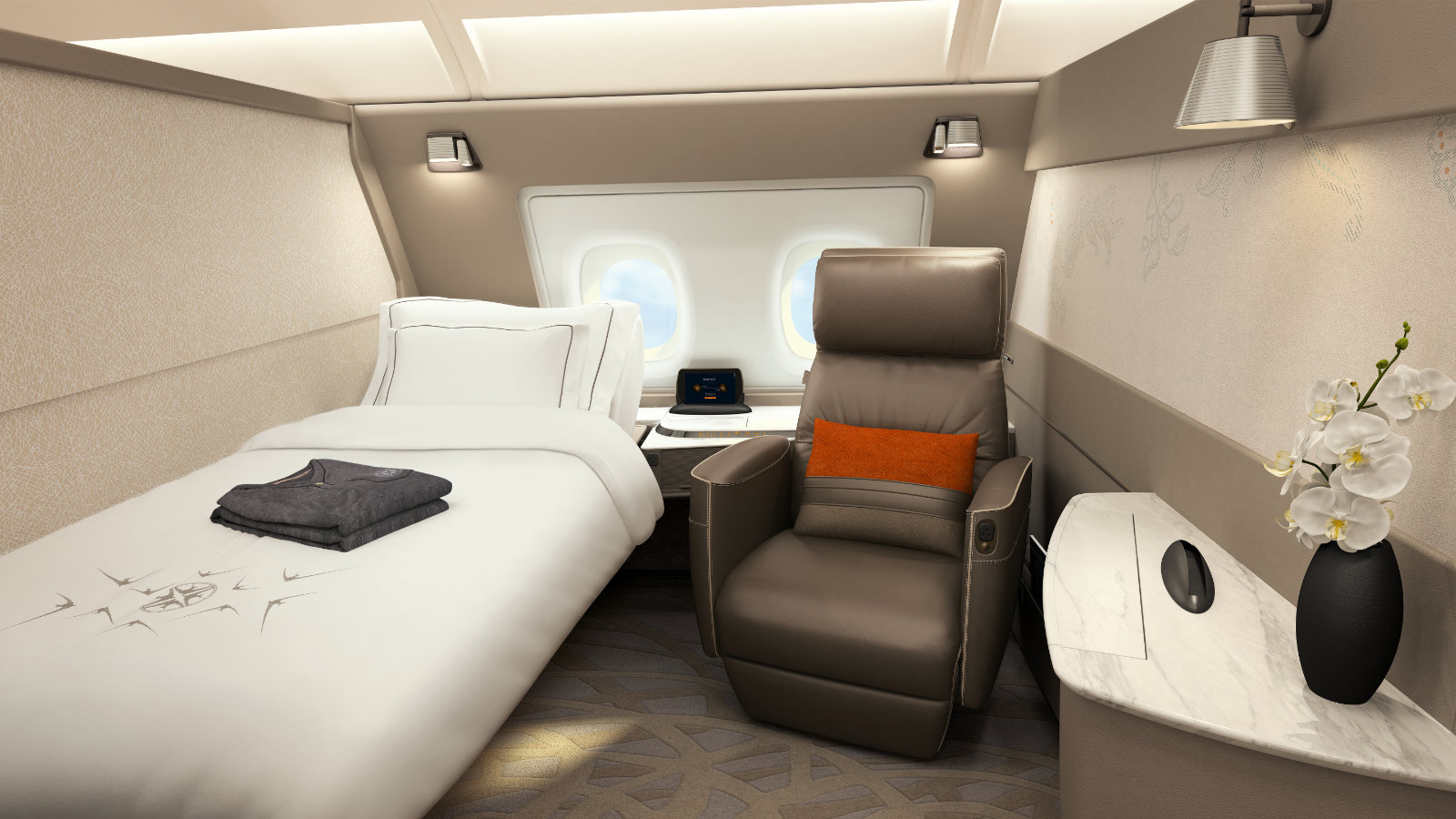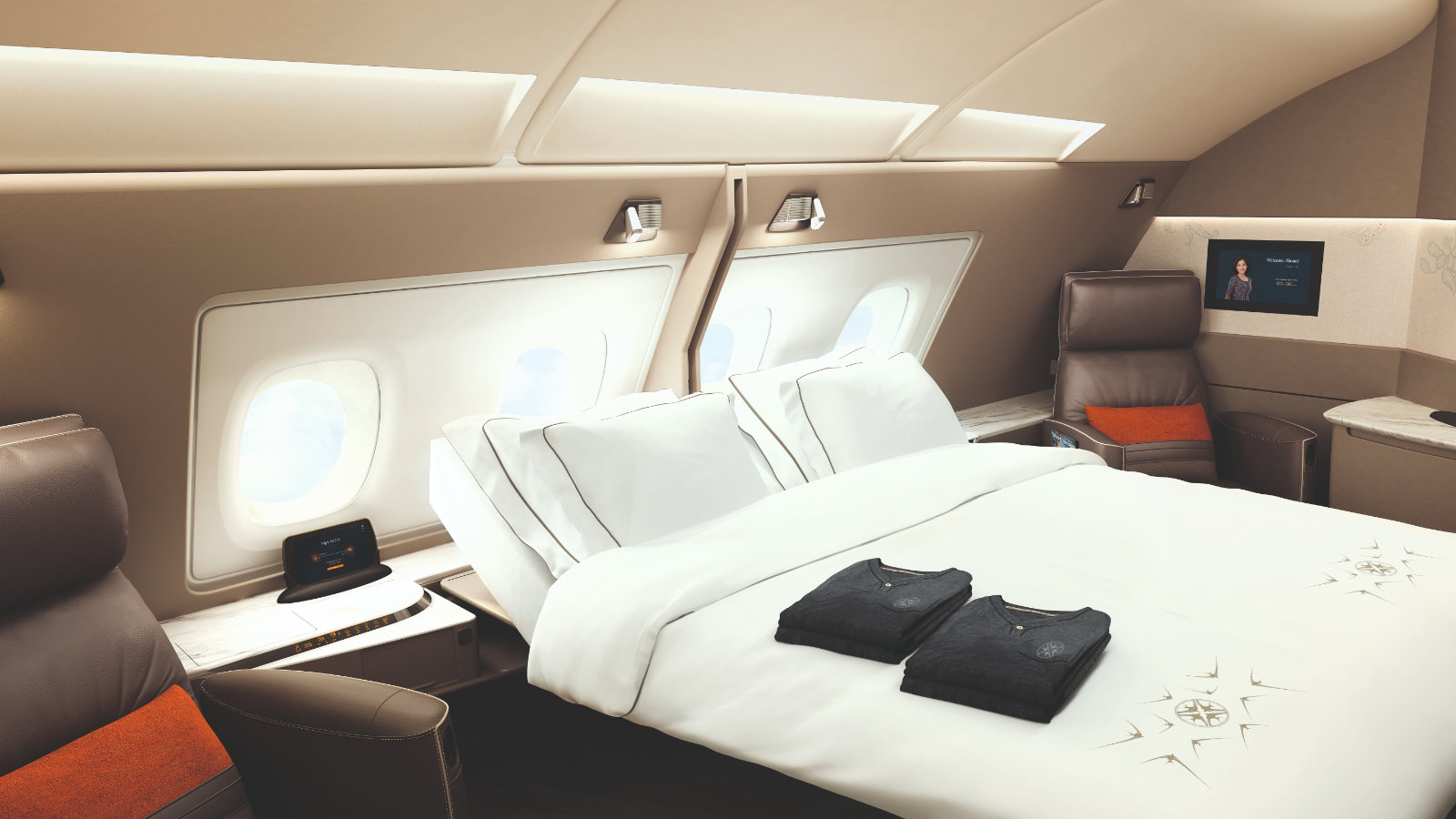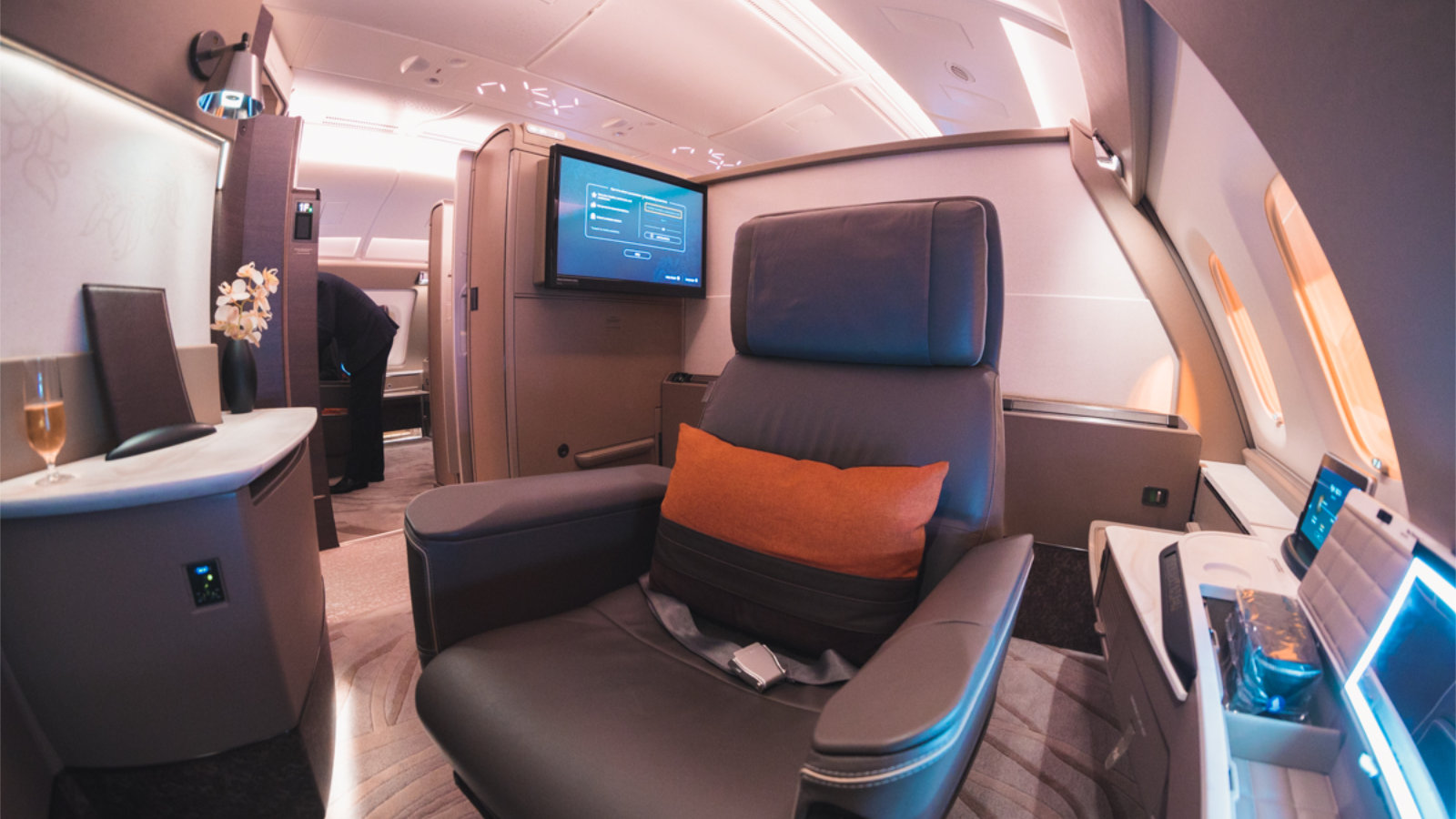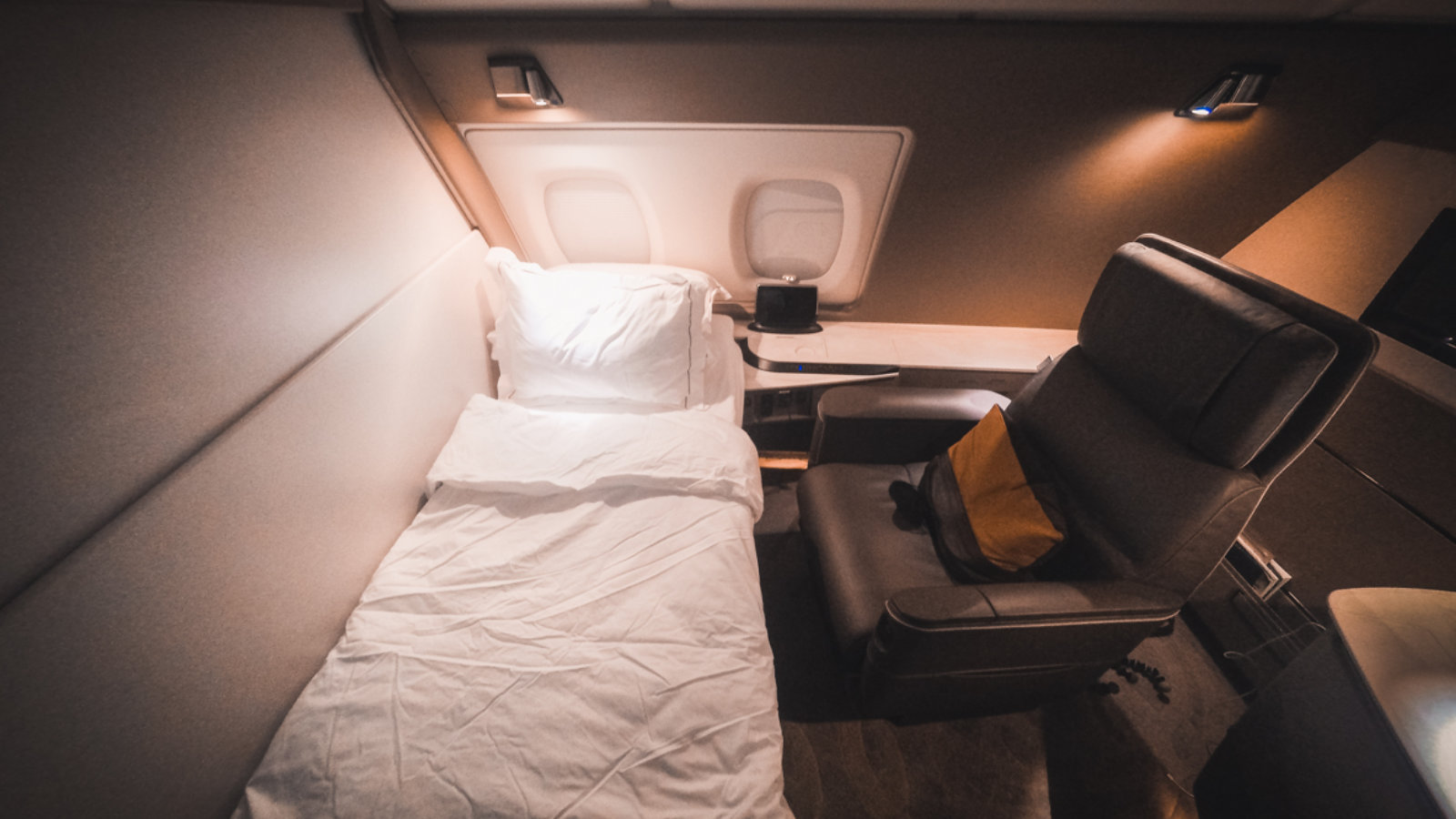 Watch Toby's experience here:
Honourable mention: Singapore Airlines older A380 Suites
This previously-groundbreaking Suite is now more than a decade old. We still rate it ahead of a lot of comparable offerings, with relatively professional and attentive service and a high level of comfort. However, it lacks the sophistication and modernity of the newer Suite.
Never mind. Because you won't see these older Suites anymore, as all of Singapore Airlines' Airbus A380s will be retrofitted with the new Suites product before re-entering service. It certainly had a good run!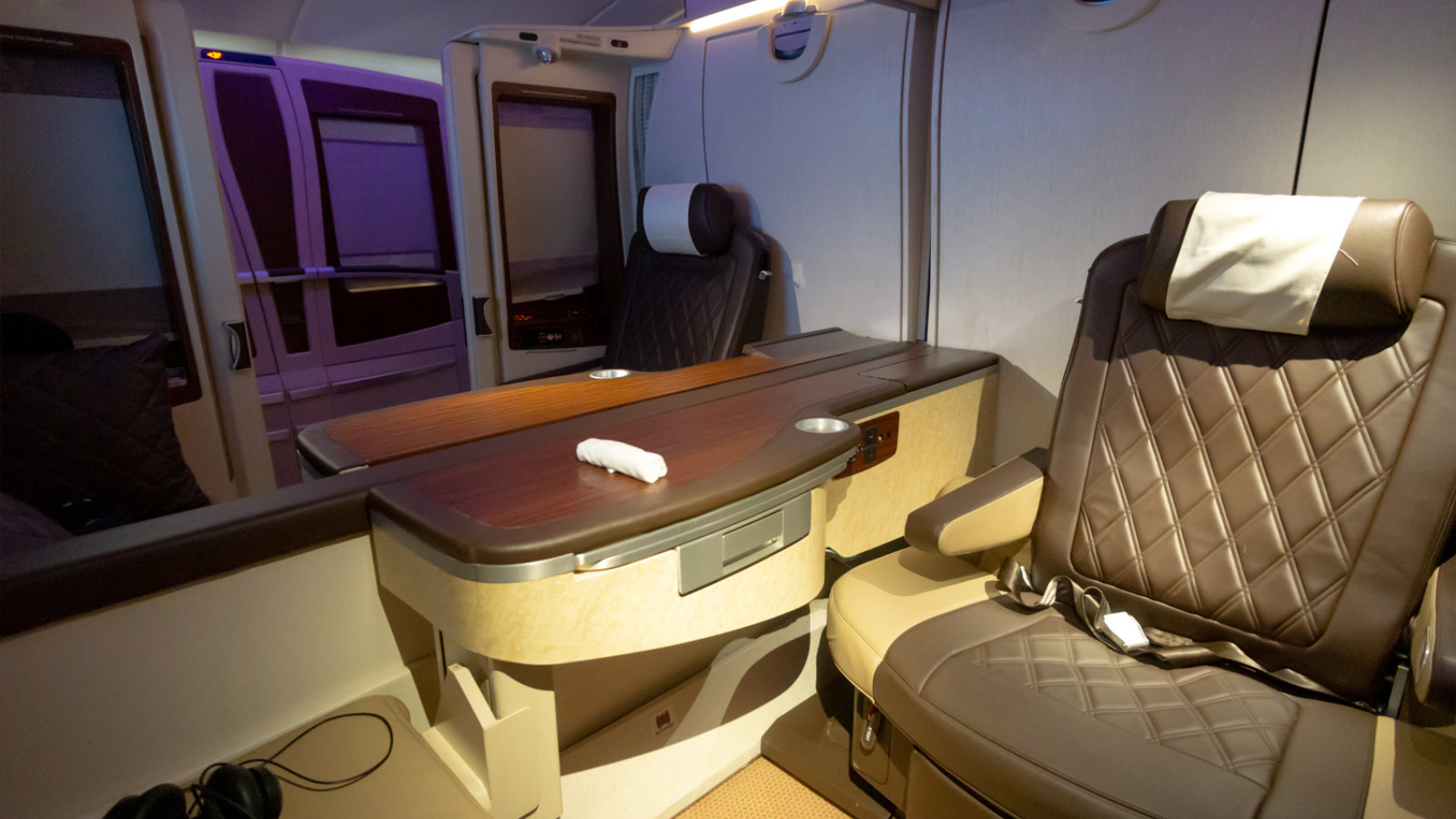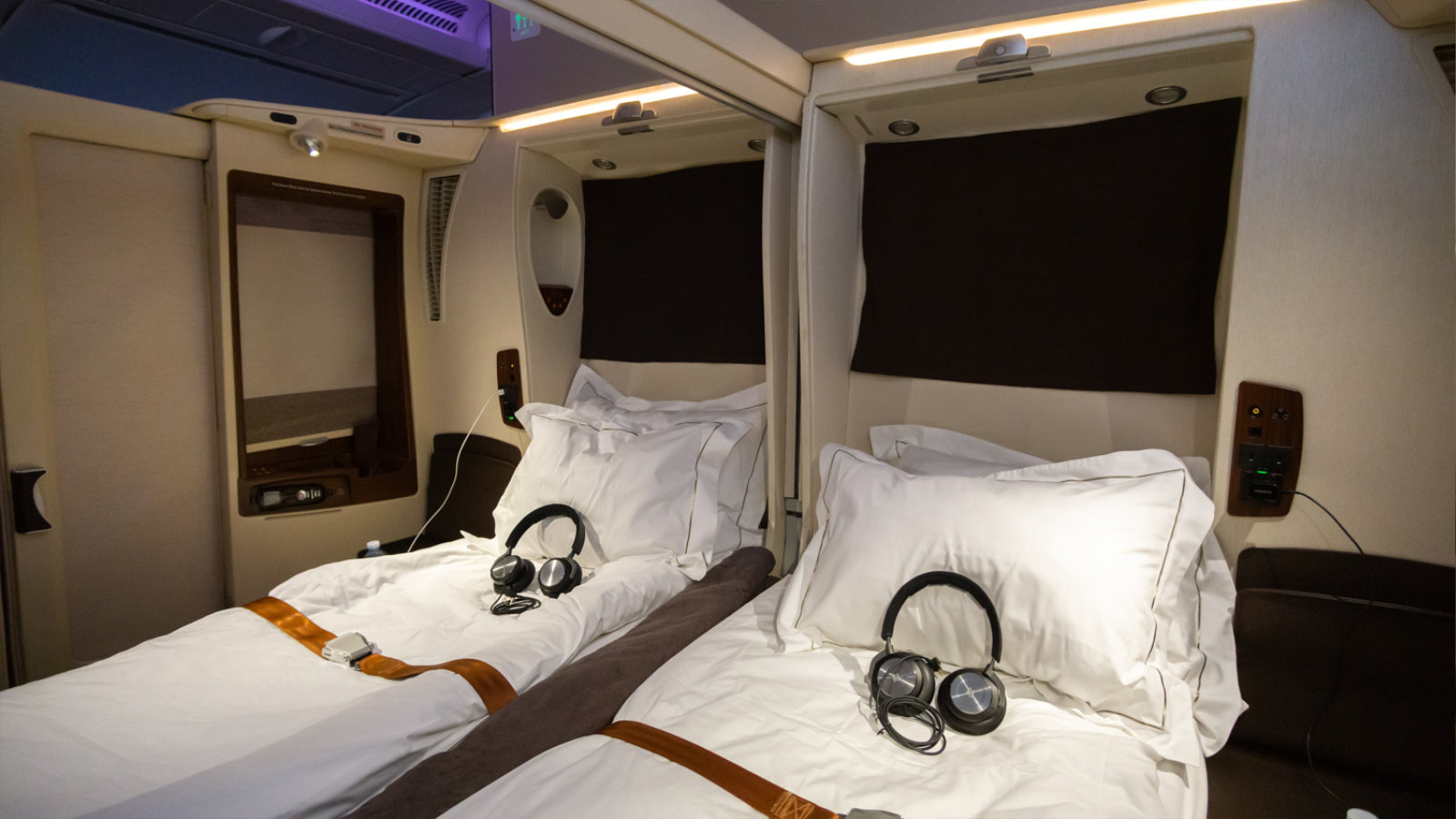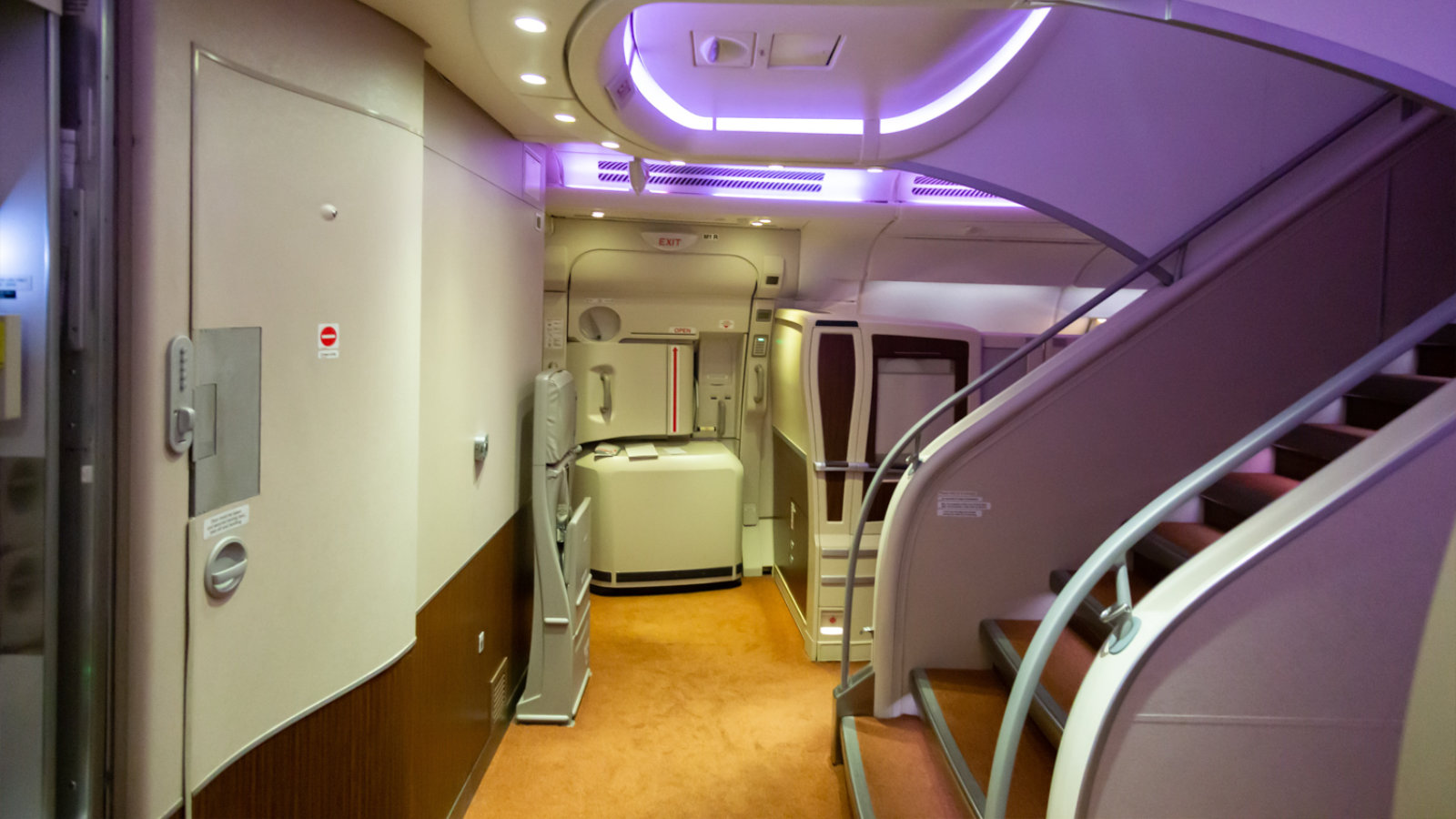 2. Singapore Airlines Boeing 777-300ER First Class
Singapore Airlines' regular First Class product on Boeing 777-300ER jets is also pleasingly luxurious, but a step down from the A380 offering. There are just four private berths in a 1-2-1 arrangement. You'll still enjoy plenty of space and the top-notch Singapore Airlines service that comes with First Class.
Indeed, it's possible to combine both Singapore Airlines Suites and First Class on one reward booking – particularly if you're connecting from an Airbus A380 flight to a Boeing 777 or vice versa.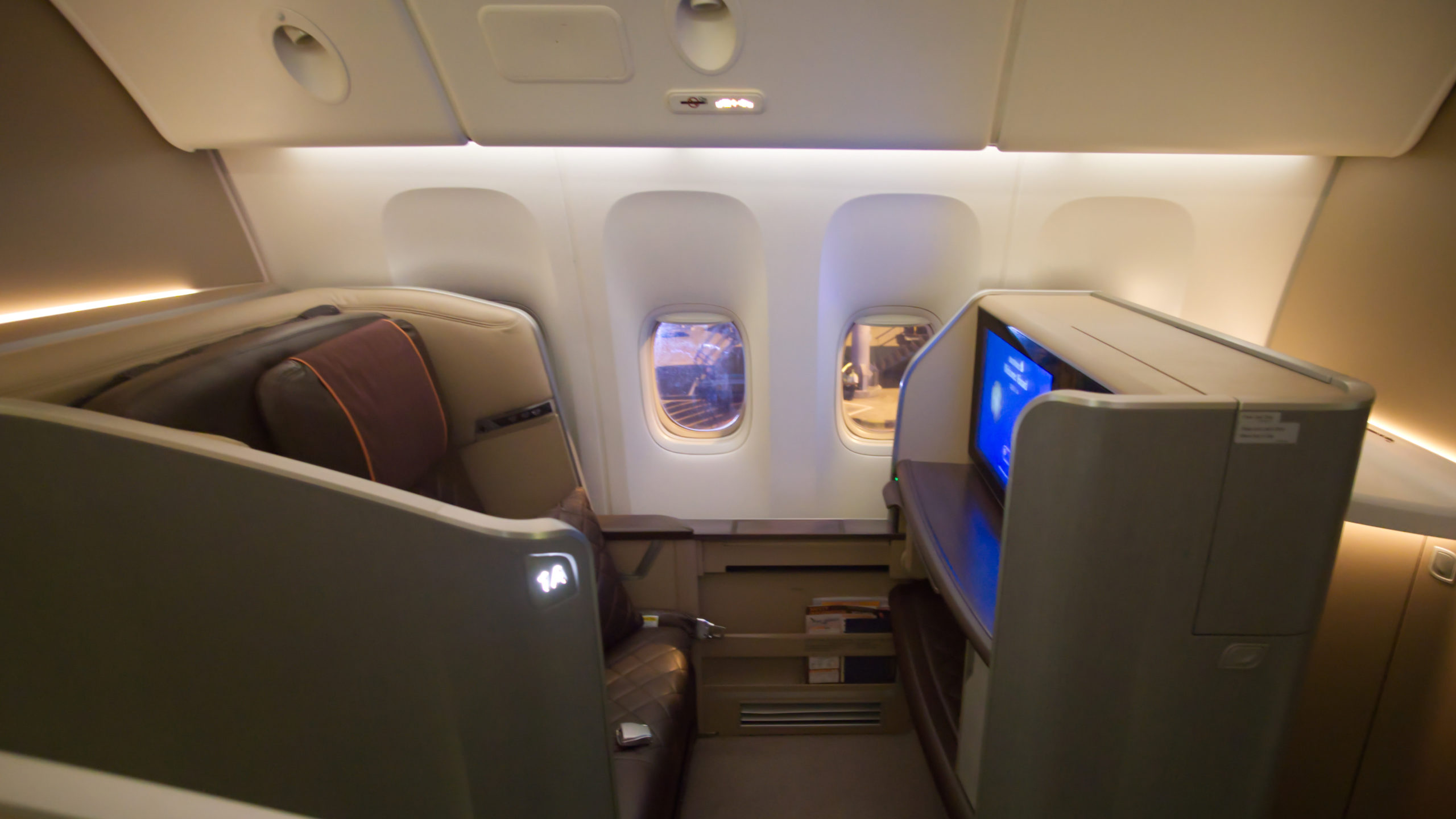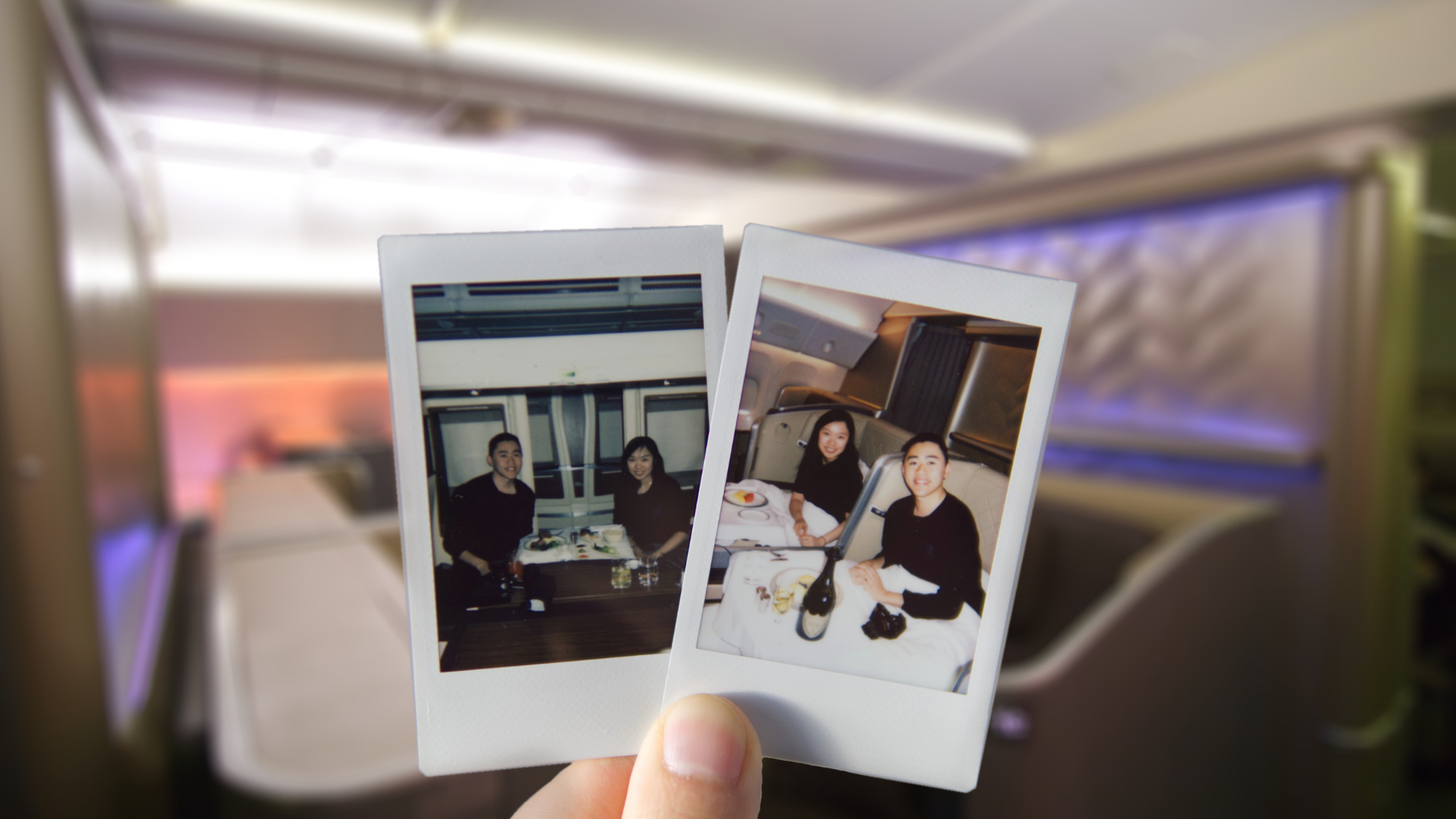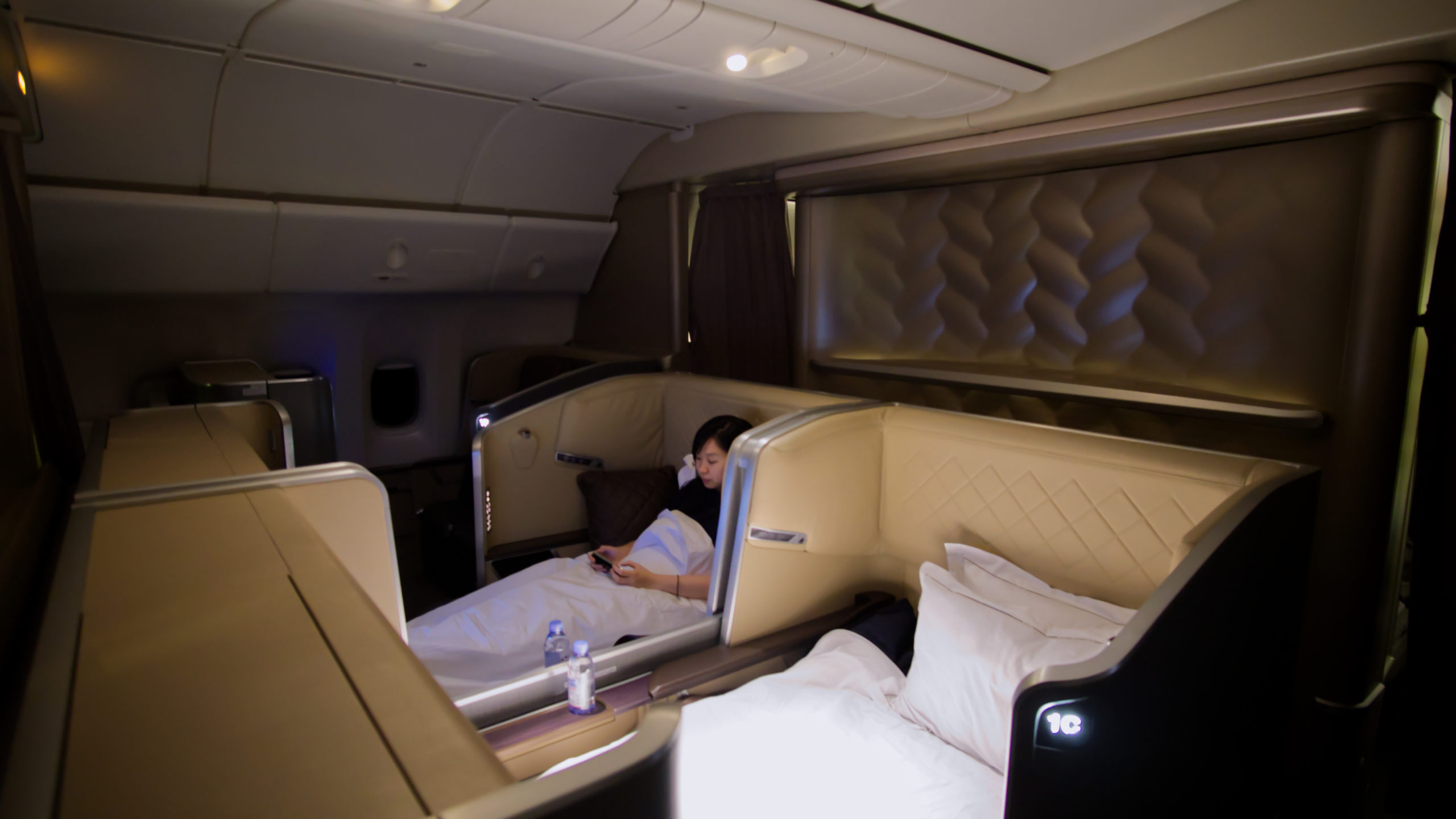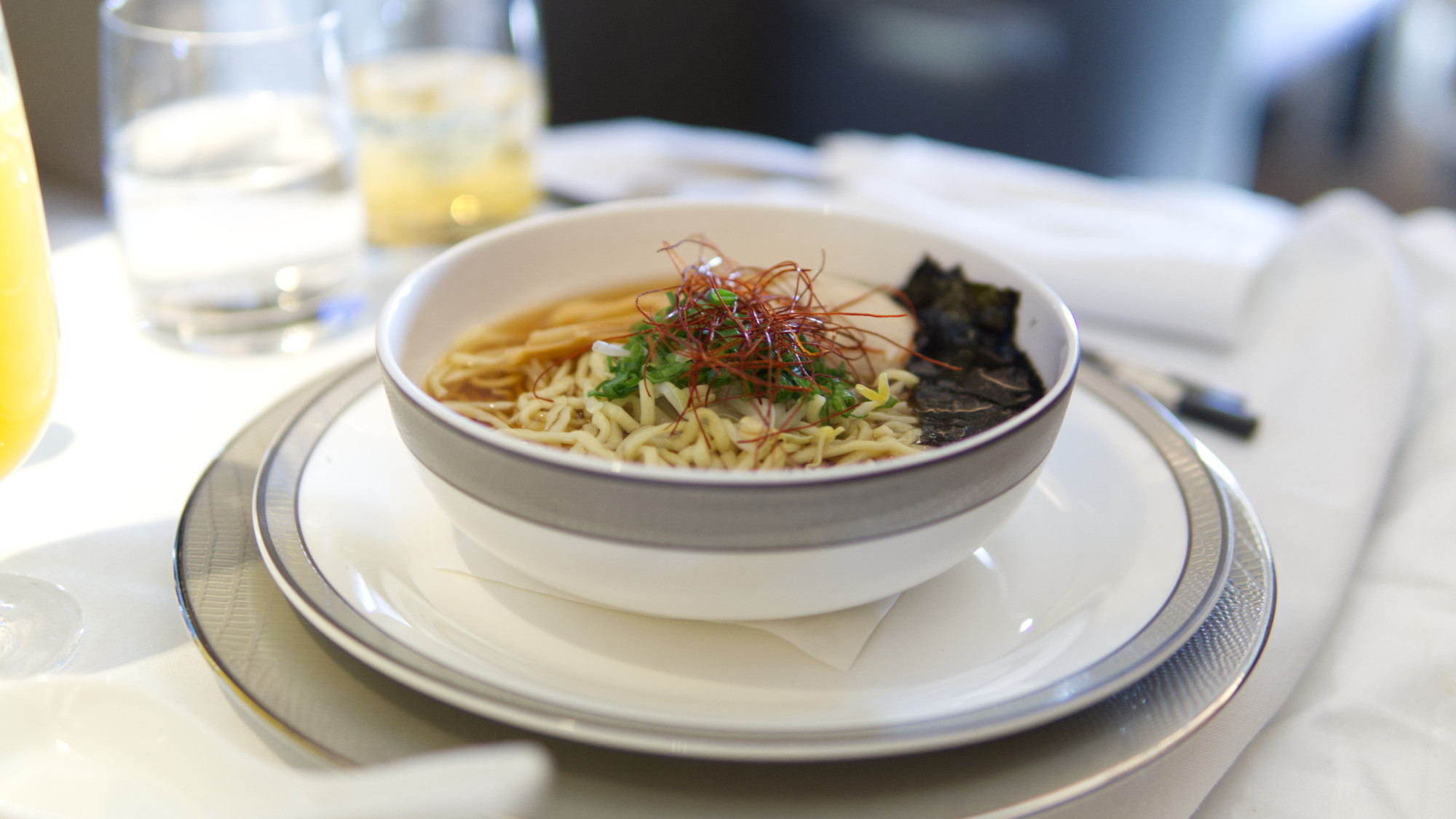 Ad – Scroll down to continue reading.Minimum spend, terms & conditions apply.
What's the difference between Singapore Airlines Suites and First Class?
In broad terms, both the Airbus A380 Suites and the Boeing 777-300ER First Class are regarded as 'First Class' products. The catering, lounge access, amenity kits, PJs and so on, are all identical. If you're using points or miles to book, both also cost the same.
However, Suites is regarded as a step higher than First Class on Singapore Airlines in terms of the 'hard product', or the seat specifically. Because of this, you should definitely aim for Suites where possible. But if Boeing 777 First Class is your only option, don't let us deter you – it's still incredible!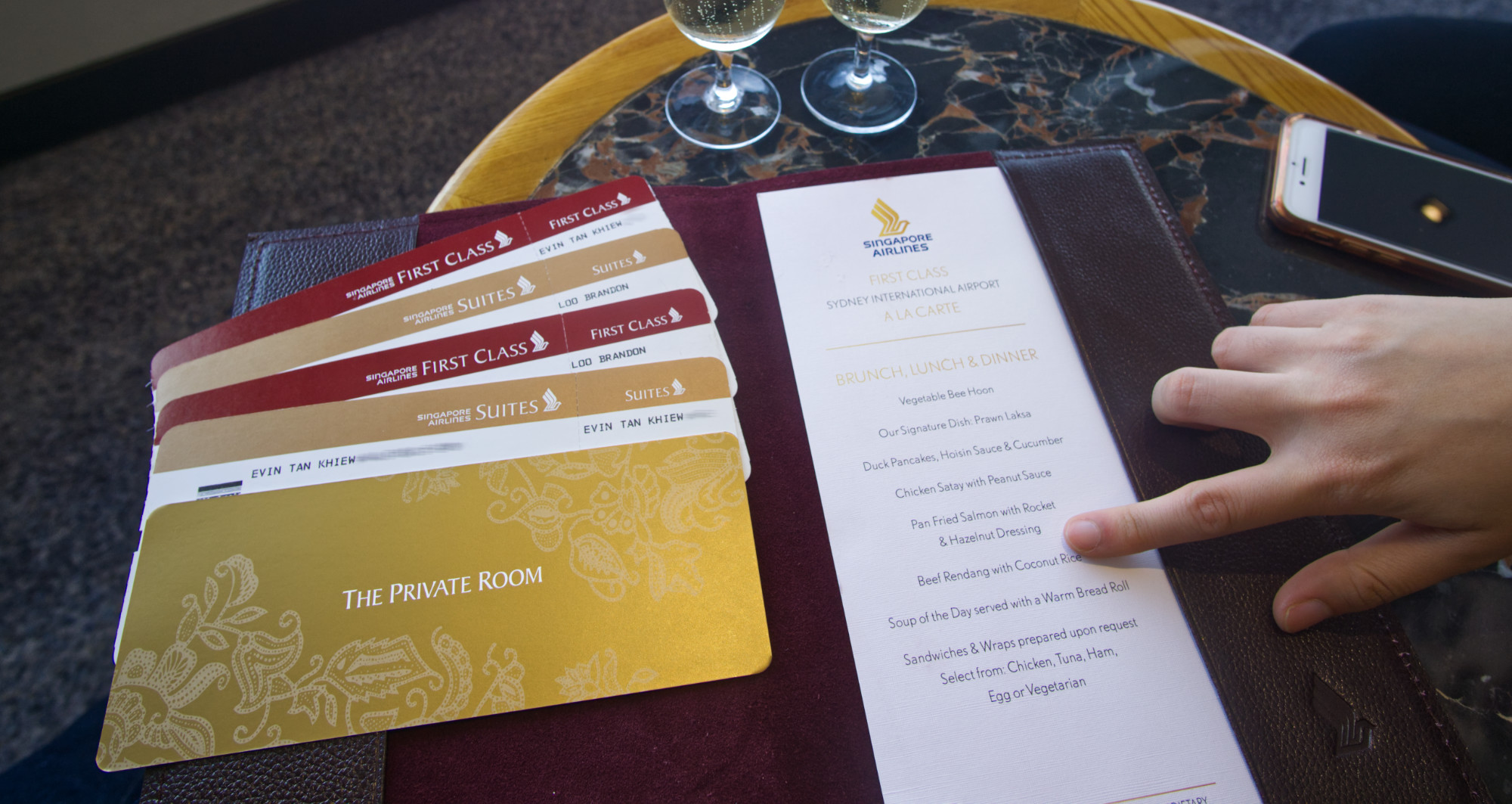 Which routes is Singapore Airlines Suites and First Class available on?
Prior to COVID, you could find Singapore Airlines First Class and Suites flying between the carrier's Singapore hub and destinations such as (but not limited to):
Sydney
Melbourne
Beijing
Hong Kong
Shanghai
Tokyo
Frankfurt
London
Paris
New York
Zurich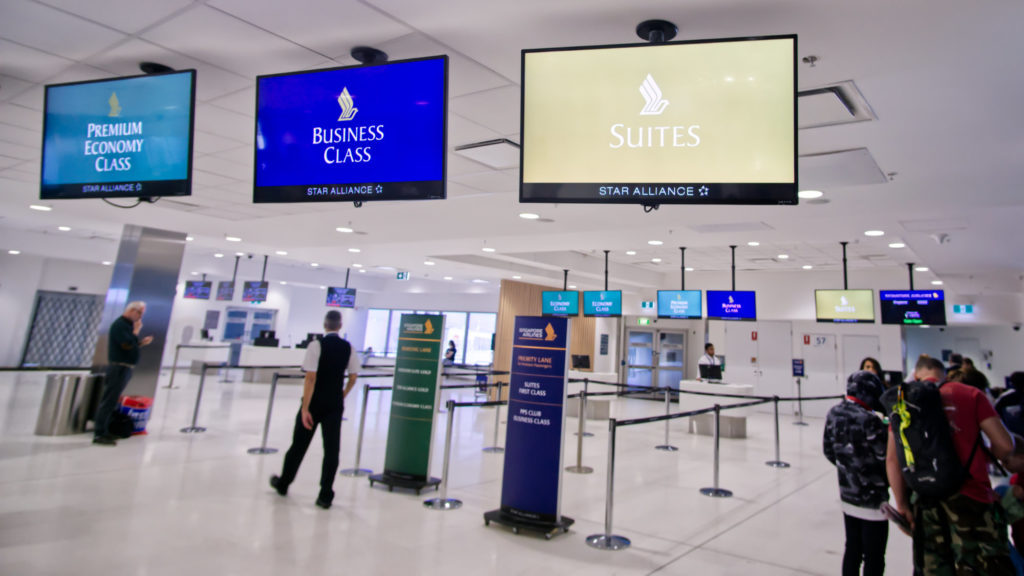 As for post-COVID, it all depends how the dust settles in regards to international borders. Singapore Airlines will still have 12 refreshed Airbus A380s in the fleet. And we expect that Sydney and Melbourne will see some of the double-decker jets once travel demand picks up – perhaps towards the tail end of 2022.
How can I book a reward seat in First Class or Suites?
Before COVID, you had two options when using points to book reward seats in Singapore Airlines First Class:
Right now, as of 22 October 2021, you can only book through KrisFlyer. Velocity Frequent Flyer still hasn't opened up access to international partner reward seats, though we expect this to change soon. You could also previously transfer Velocity Points to KrisFlyer miles at a 1.55 to 1 ratio. But that hasn't returned yet, either.
A one-way First Class ticket between Sydney/Melbourne and Singapore will theoretically set you back 85,000 KrisFlyer miles or 95,000 Velocity Points at the lowest level. Taxes are roughly $115 per person out of Australia, and $90 per person back from Singapore.
Snagging First Class/Suites at a price: Saver vs Advantage
We say 'theoretically' because you will find that availability is non-existent at the cheaper 'Saver' level with KrisFlyer for the new Suites Class. There are only six Suites on the newer Airbus A380s, compared to 12 previously. Competition for these seats means availability is scarce at the best of times.
If you're determined to fly Singapore Airlines First Class, you have better chances of securing a seat at the more expensive 'Advantage' price. For the Sydney/Melbourne – Singapore example above, you'll need to pay 155,000 KrisFlyer miles (~82% more expensive than Saver). The taxes stay the same.
At 'Advantage' pricing, we found plenty of Suites reward seats out of Sydney throughout 2022. You may also choose to waitlist a flight at the Saver or Advantage level. Reward seats from Singapore-Sydney and between Melbourne-Singapore in either direction are not yet available at the time of writing.
How do I book Suites or First Class reward seats on Singapore Airlines?
Check how many KrisFlyer miles are required for your desired route.
Book online or over the phone (USD$25 phone booking fee) with KrisFlyer.
Summing up
Singapore Airlines has an enviable reputation for attentive customer service and excellent premium cabin products. The new Suites Class is definitely one of the best commercial First Class seats you can try. However, because there are only six Suites on each Airbus A380, you'll need to be very flexible to nab these coveted reward seats.
To increase your chances:
book as far in advance as you can.
waitlist at the Saver or Advantage level if confirmed seats aren't available.
---
Craving a sweet top-up of Singapore Airlines KrisFlyer miles? Transfer two Membership Rewards Points to one KrisFlyer mile with this American Express card sign-up.
---
Do you have any other tips to help readers book a reward seat in Suites or First Class?
This article was previously written by Matt Moffit.
Singapore Airlines brings A380 back to Sydney
was last modified:
November 20th, 2023
by