There are very few moments in life that compare to the sheer awe of seeing an ancient wonder seemingly materialise in front of you. I'm approaching the historic Nabatean city of Petra, in Jordan. As I wander down the Siq – a dim, narrow gorge that marks the main entrance to Petra – I suddenly catch a glimpse of a magnificent structure through a cleft in the rocks.
As one of the most elaborate and iconic temples in Petra, Al Khazneh (better known to us as 'The Treasury') is a formidable sight. It towers 40 metres high and has graced our planet for more than 2,000 years. The rest of Petra is no less inspiring. From imposing mountains to royal tombs, it's easy to see why UNESCO has added the site to its World Heritage List.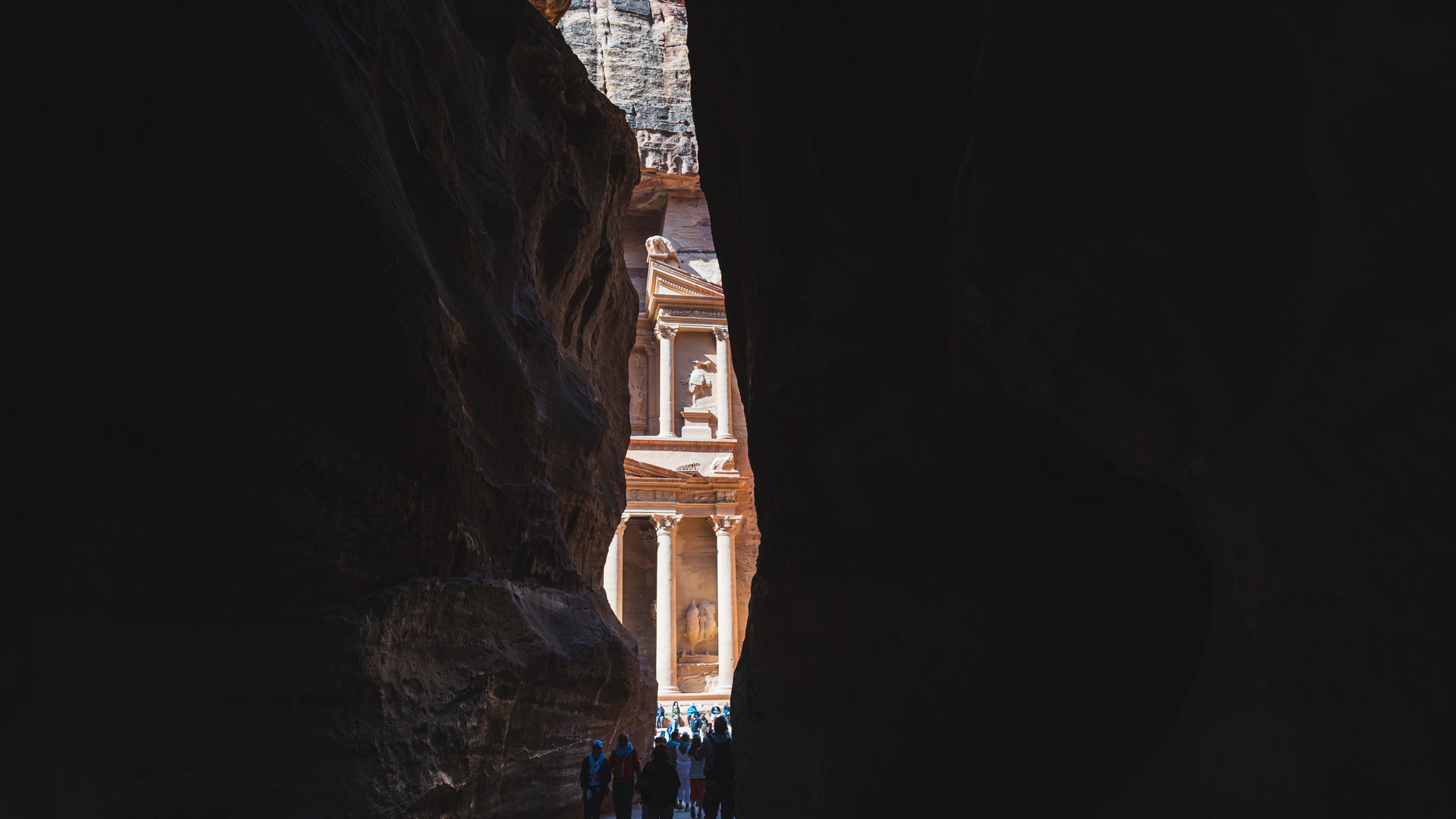 As for getting here, it's easier than you might think. With Velocity Points, I'm just one stop away from Jordan with Qatar Airways. In fact, I fly Economy there, but I make up for it by snagging a First Class reward back! It's all about balance, right? Visiting one of the New Seven Wonders of the World and flying back in First Class is a trip I'll never, ever forget.
Fly high in Qatar Airways First Class with points
Like all good meals, let's start with the sweet ending. What could be better than discovering the delights of Jordan over a few days? The anticipation of soaring home in the luxurious surrounds of Qatar Airways First Class. With points, I fly from Amman to Doha in Qatar Airways regional First Class and spend the night in Doha, before returning to the airport for the start of the true Airbus A380 First Class experience.
The Qatar Airways First Class ground experience is simply decadent. From the moment I set foot in the private check-in hall, I'm ushered to a private booth and my luggage is whisked away without a worry. A private security channel leads directly into the opulent Al Safwa First Lounge, where I'm treated to multi-course restaurant dining, a soak in the jacuzzi and – if that's not enough – a private hotel-style room for a few hours.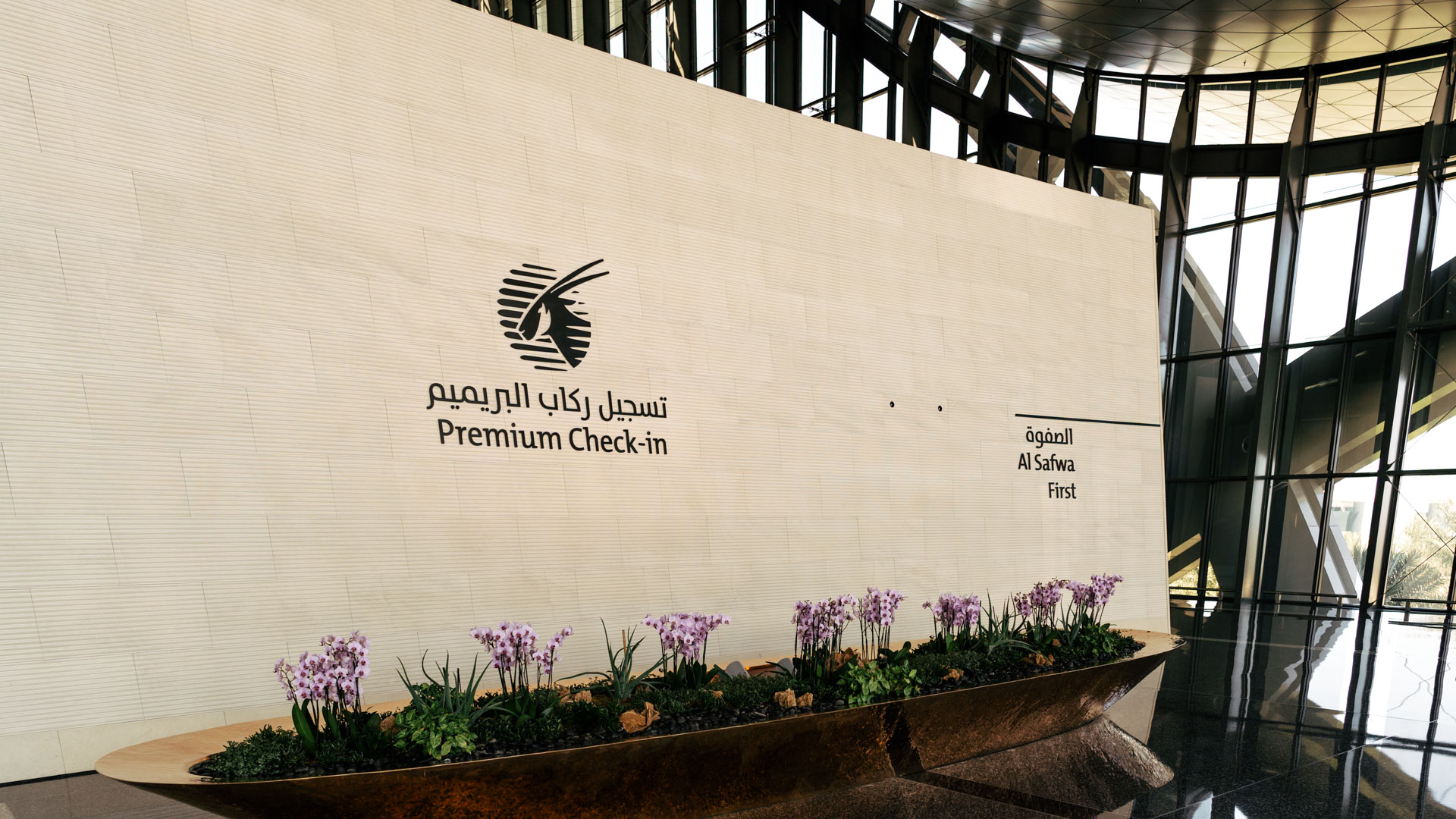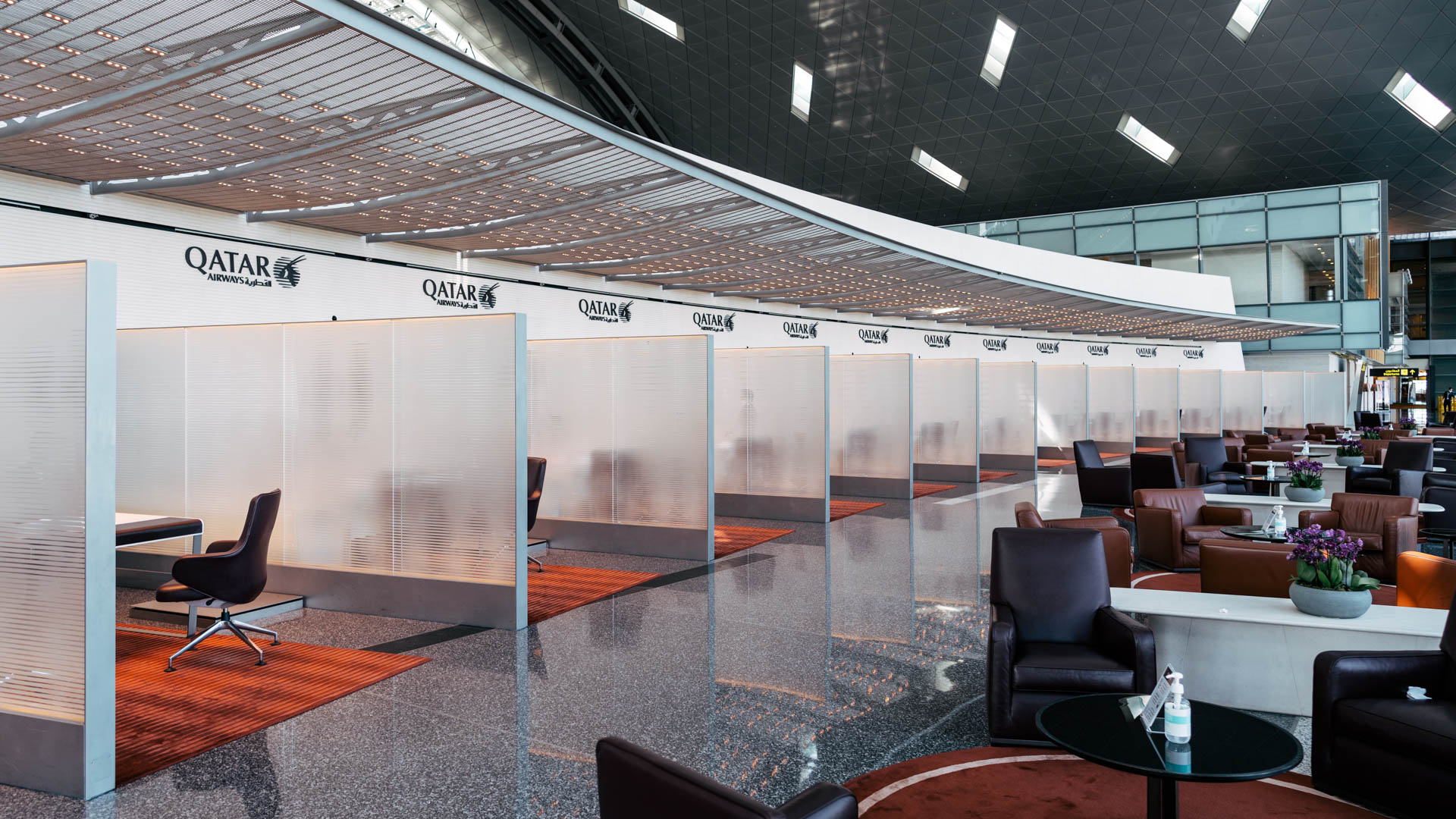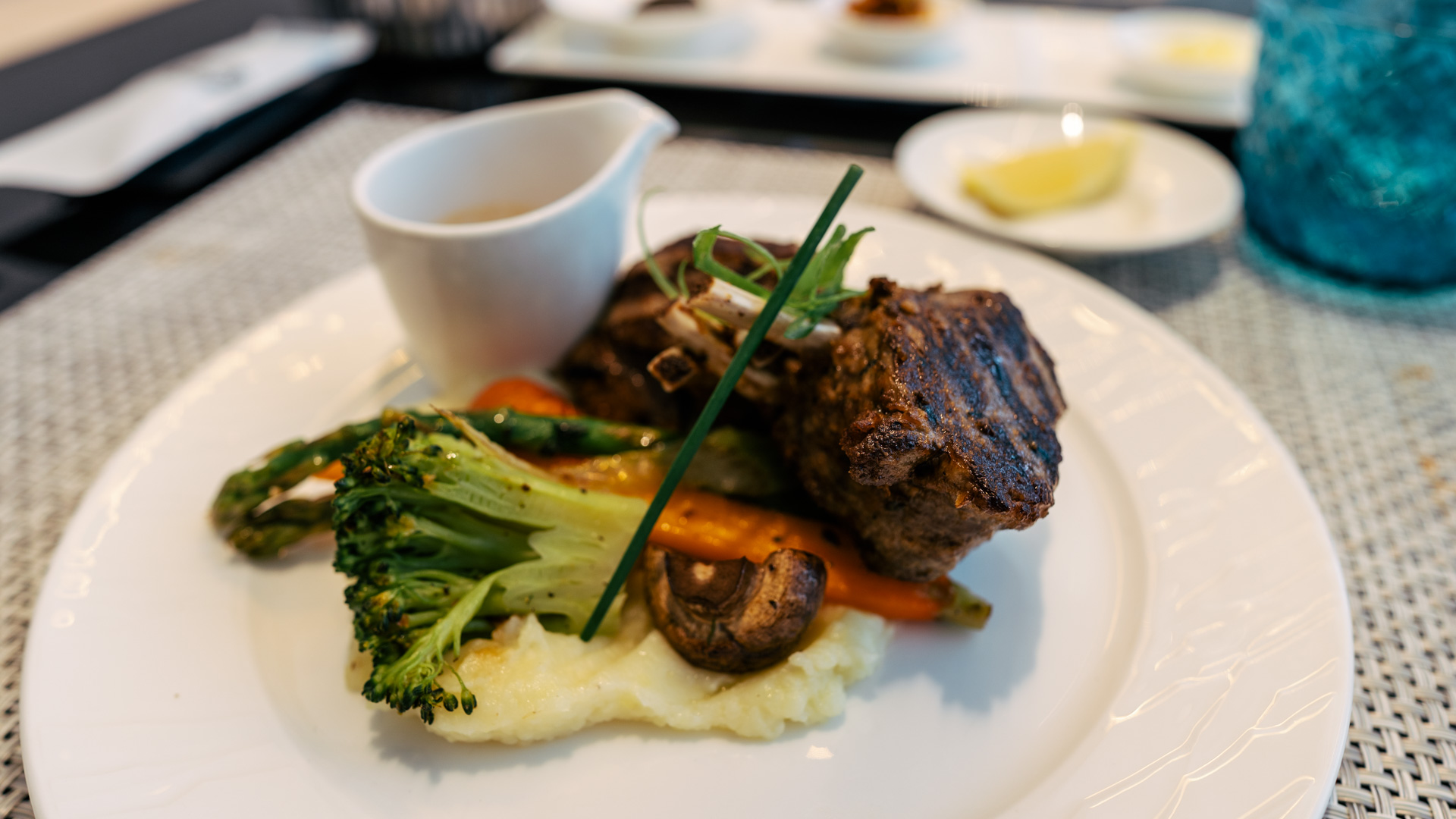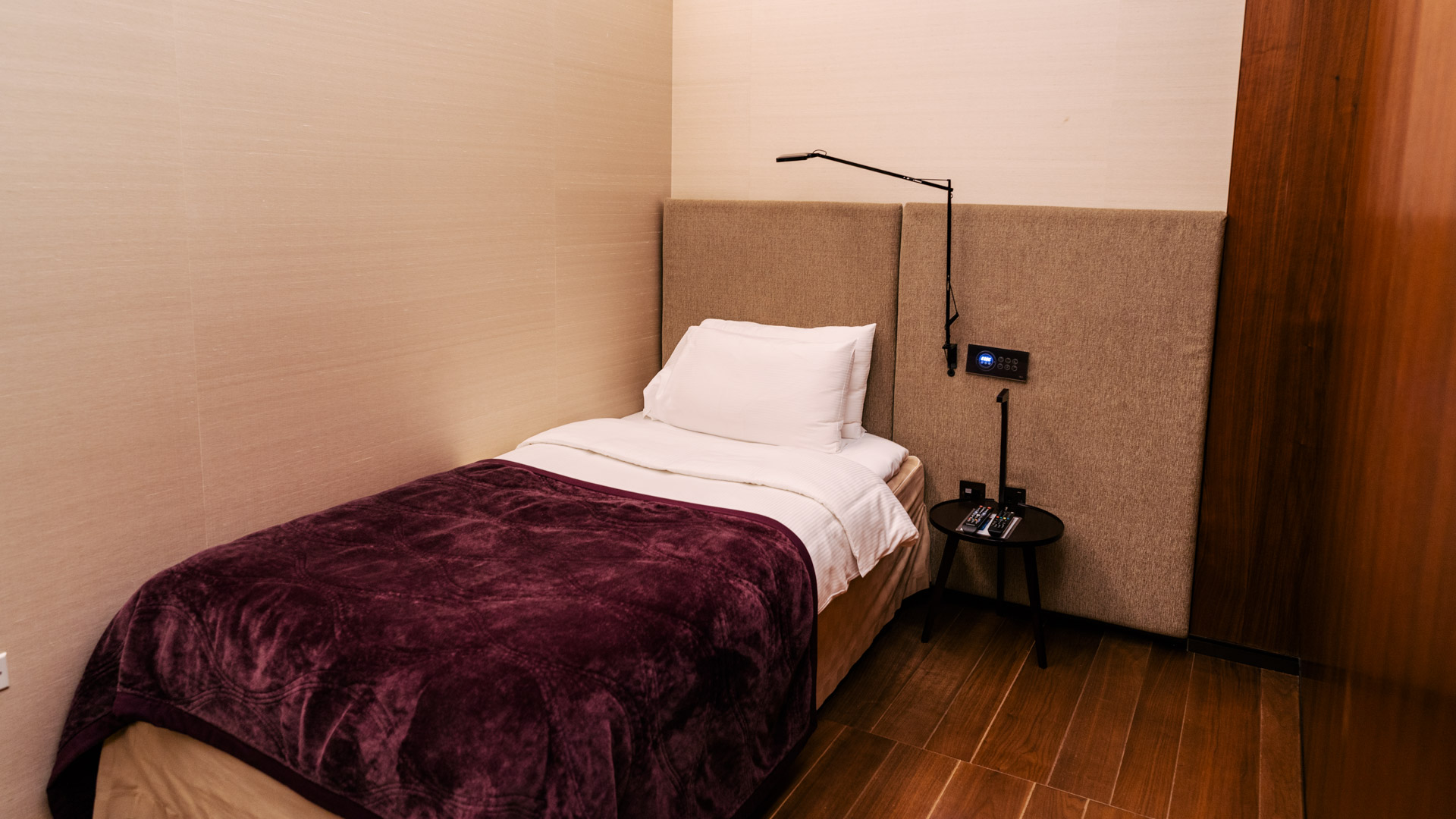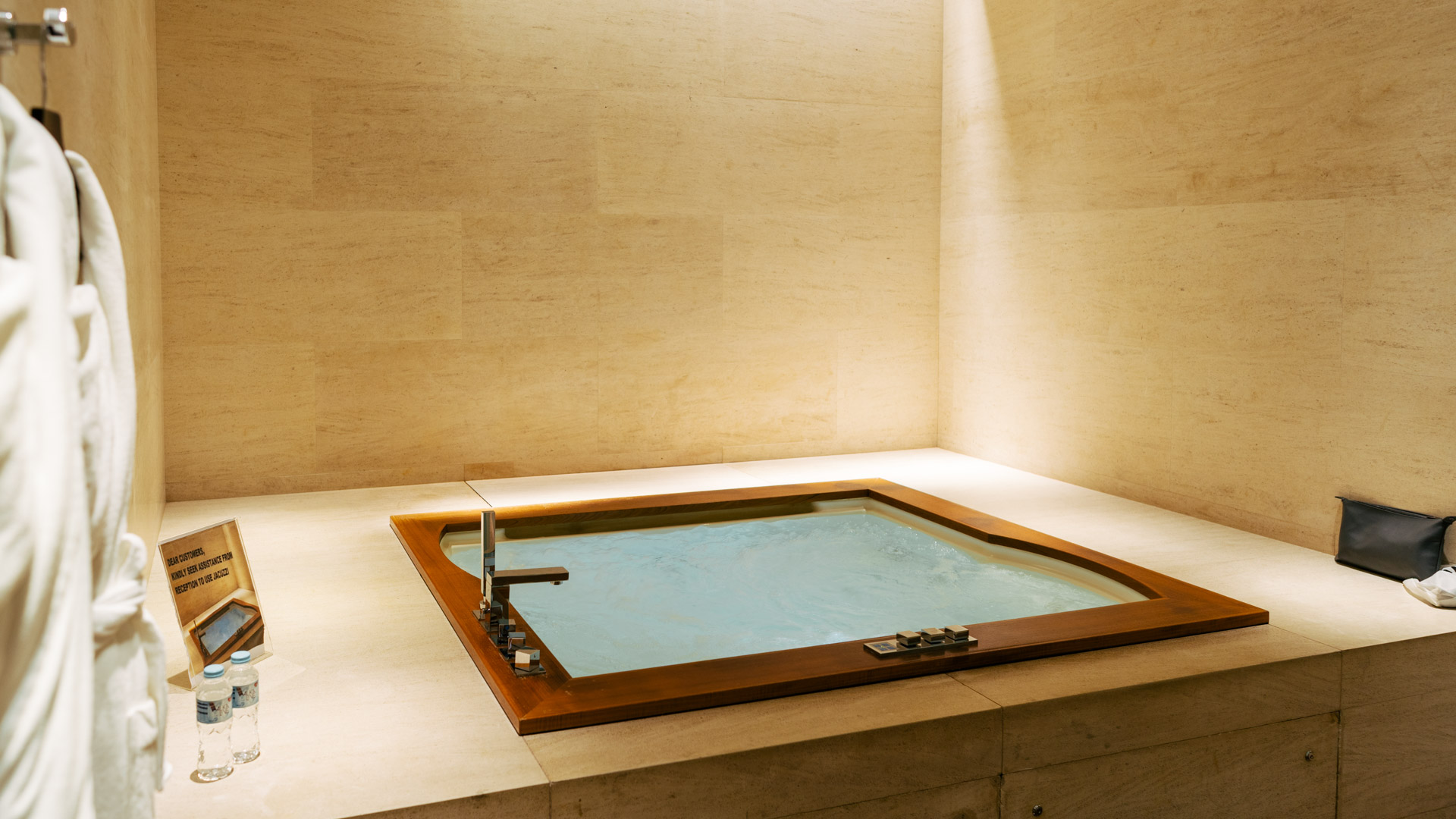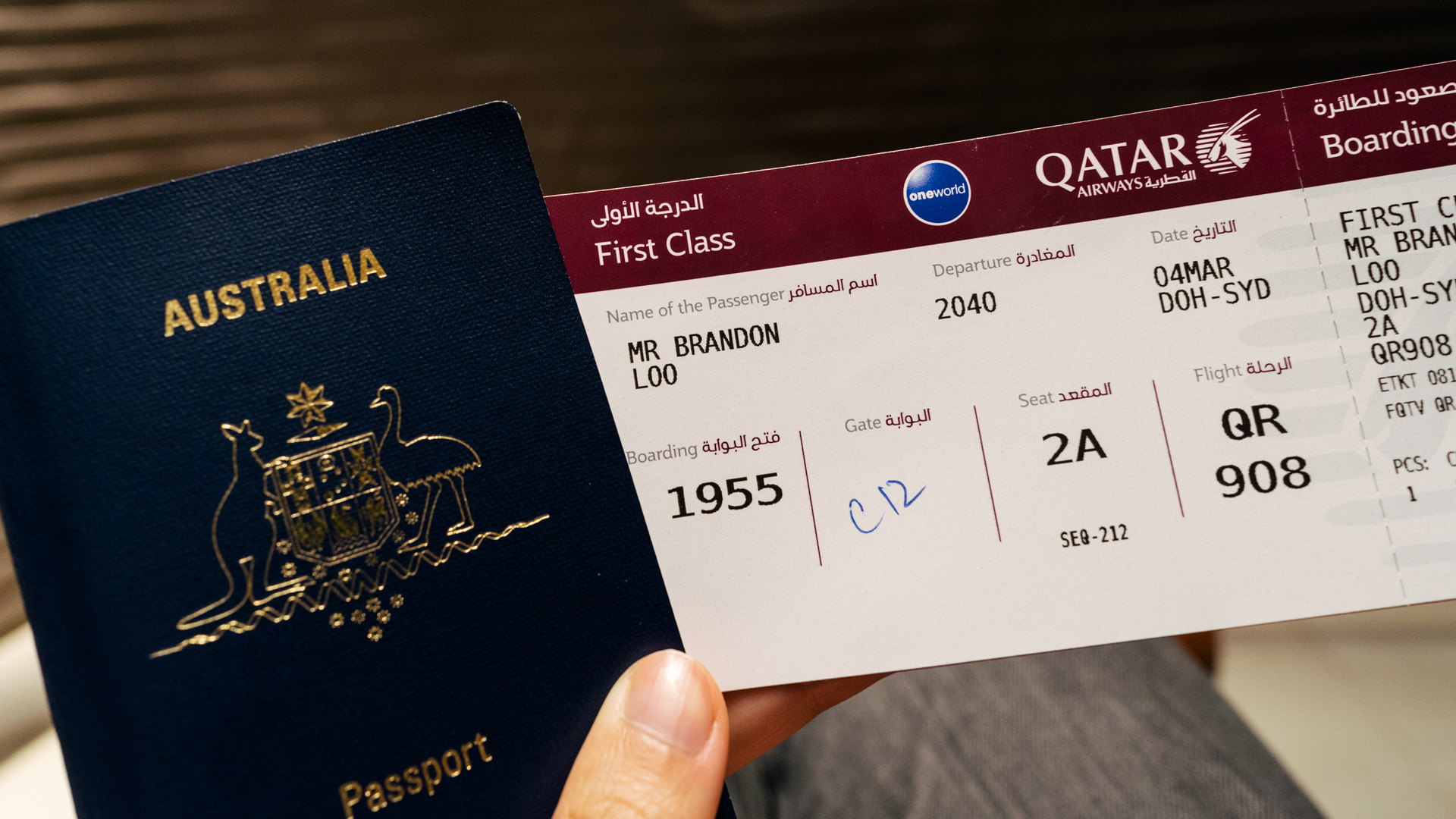 A flight with all the trimmings
My Airbus A380 First Class flight to Australia is just pure bliss. Even before take-off, the crew ply me with Champagne (Rare Millésime 2006 vintage, no less), Arabic coffee and canapés. But the real magic starts after take-off.
The limitless Champagne segues into a rich caviar course and a lobster roll for supper before I change into my loungewear (fancypants word for PJs) and slumber for over six hours on the plush bedding. Business Class lie-flat beds are good, but gosh, First Class beds are just next level.
Thanks to dine-on-demand, I treat myself to a proper afternoon tea in the clouds after waking up. And I don't even entertain the thought of saying no to a three-course dinner before landing. The crew serve up chilled Wagyu beef salad, grilled king prawns and a dessert plated so elegantly that it's a shame to devour it.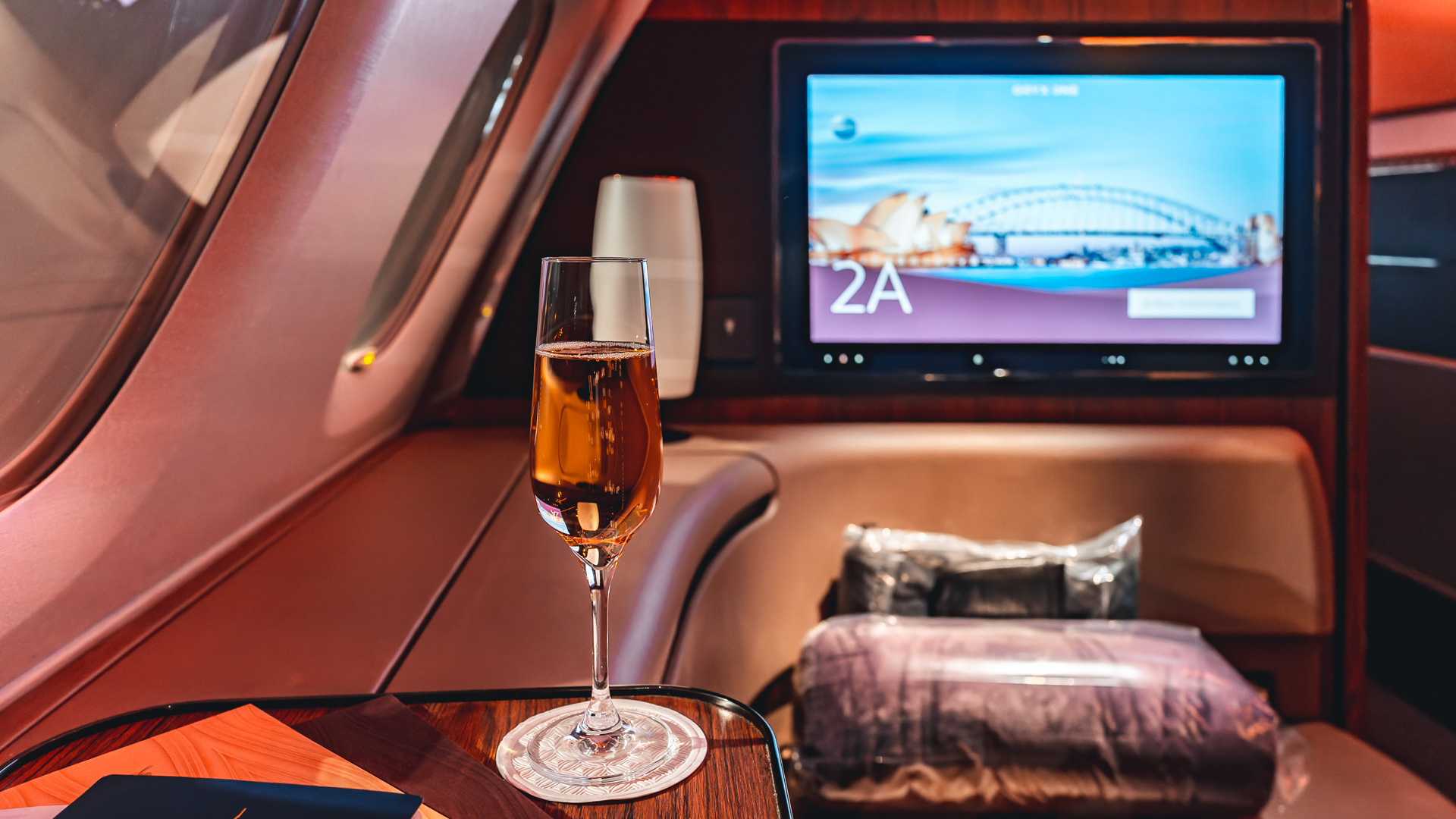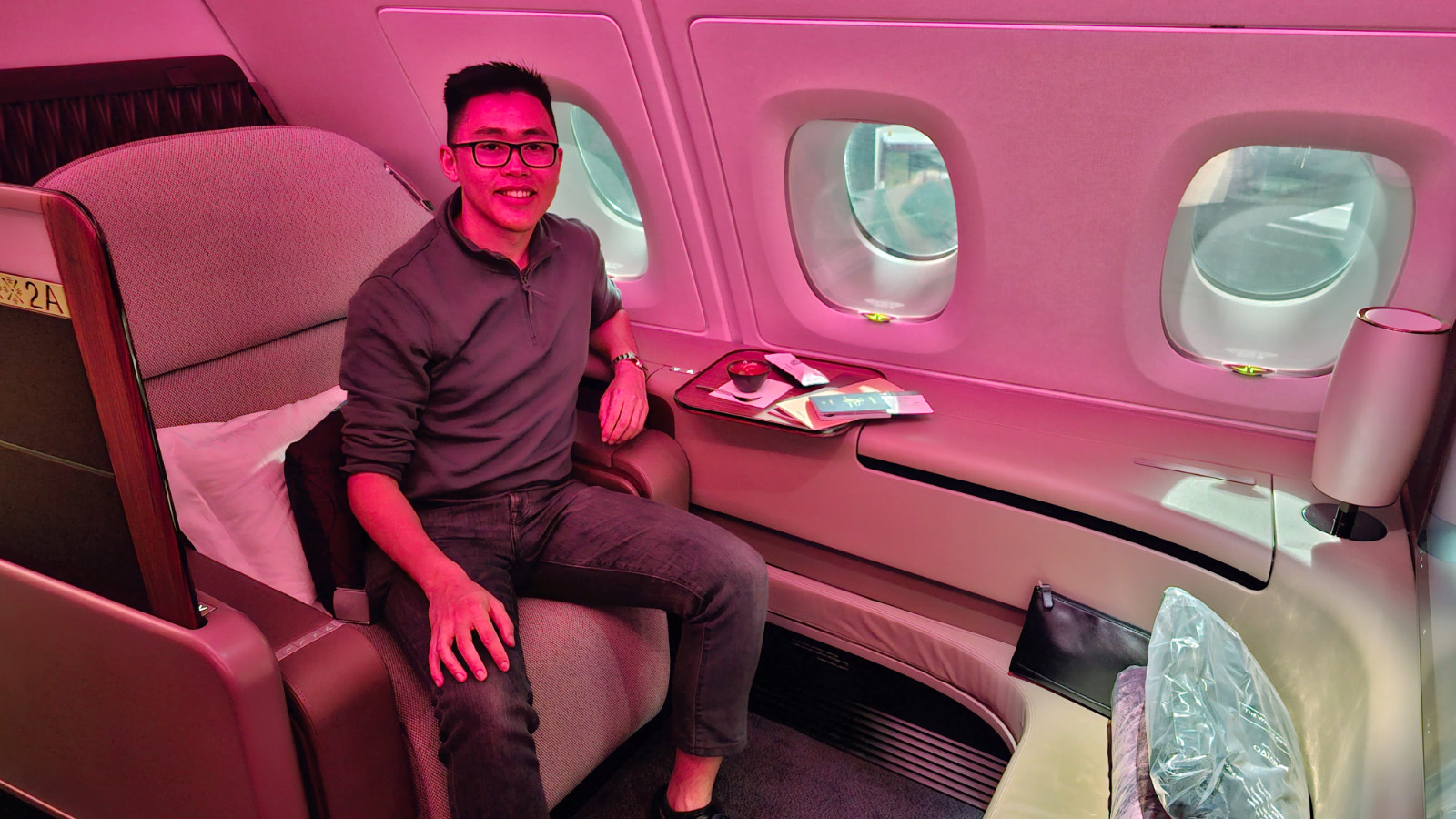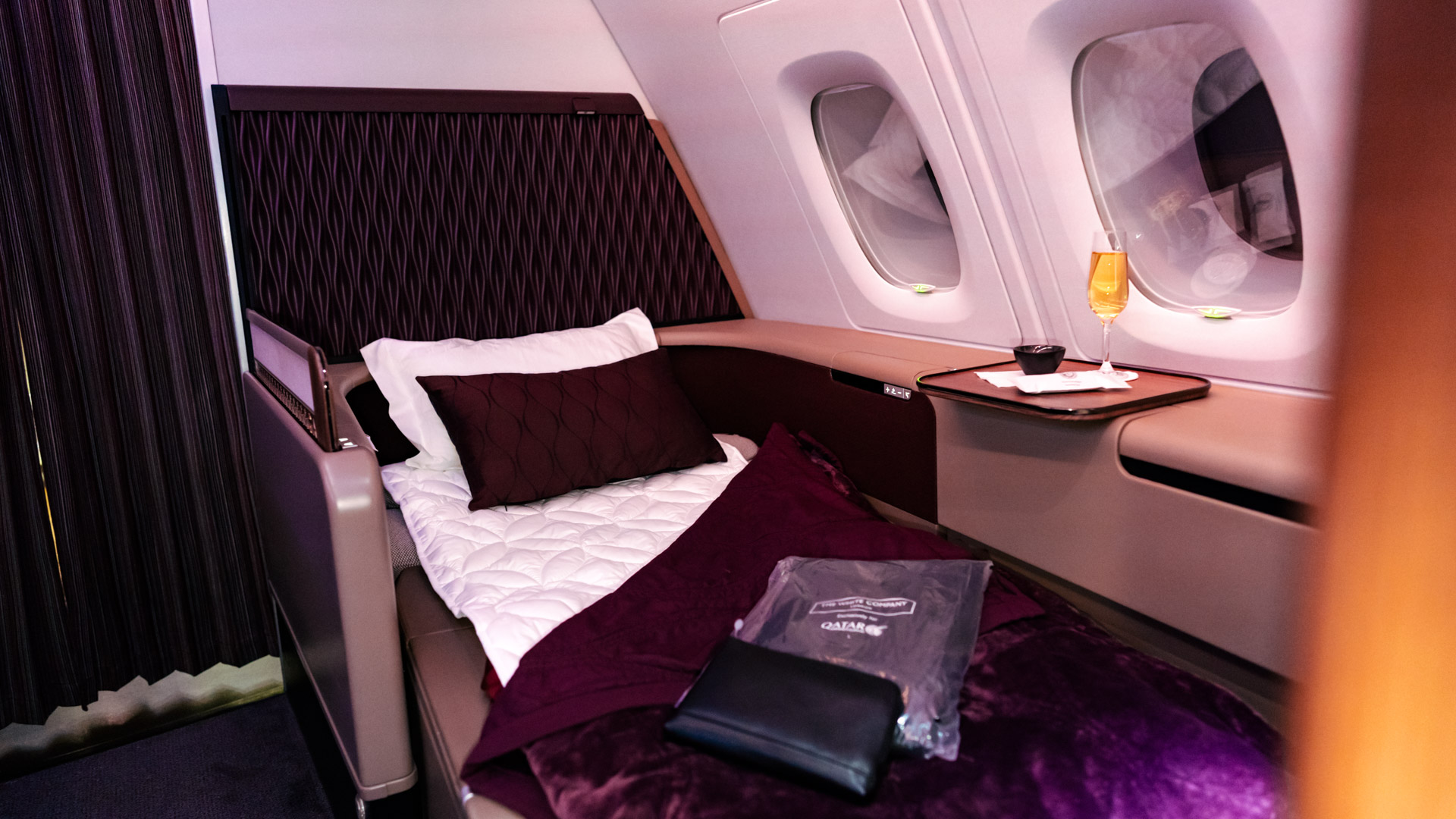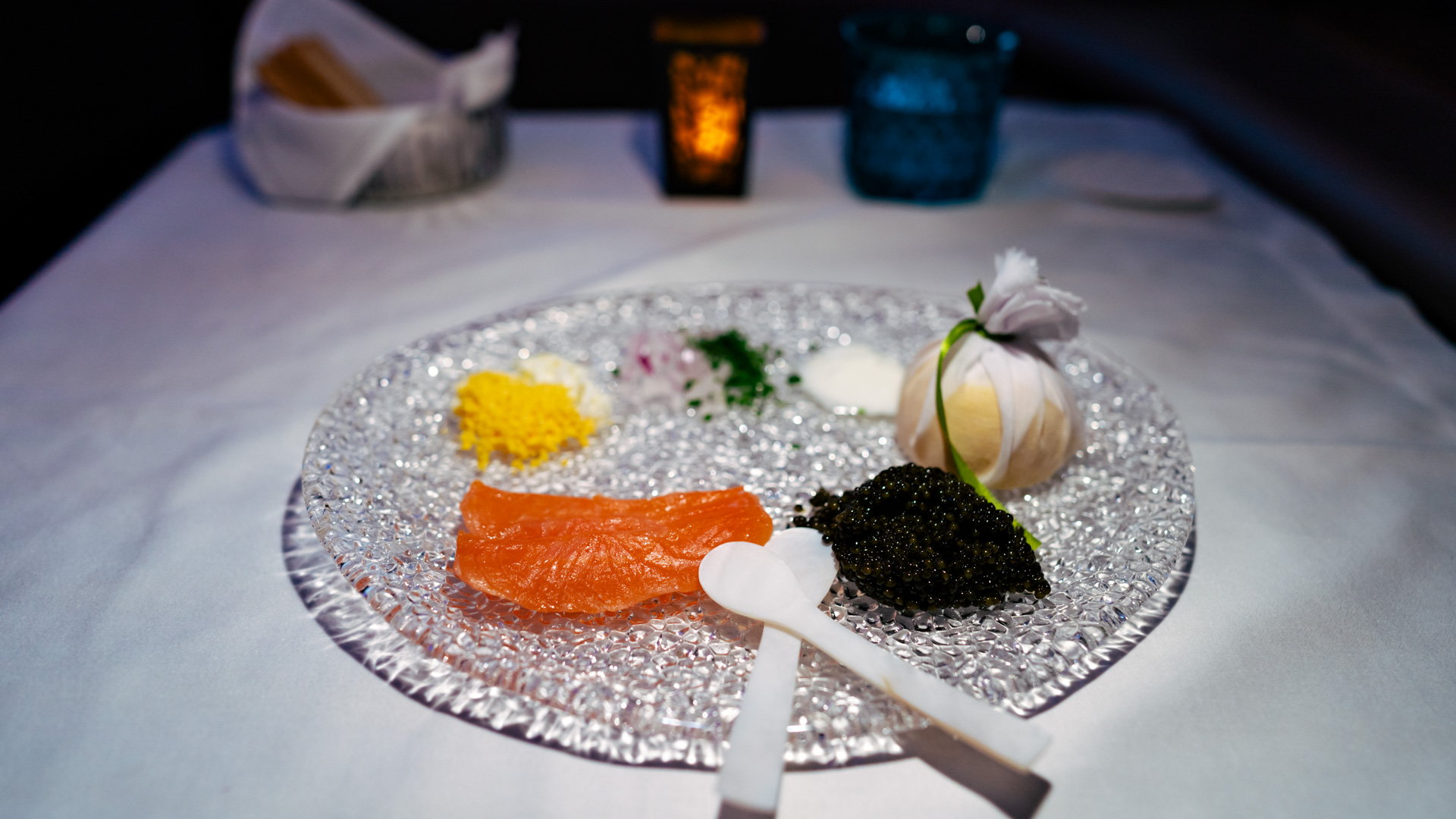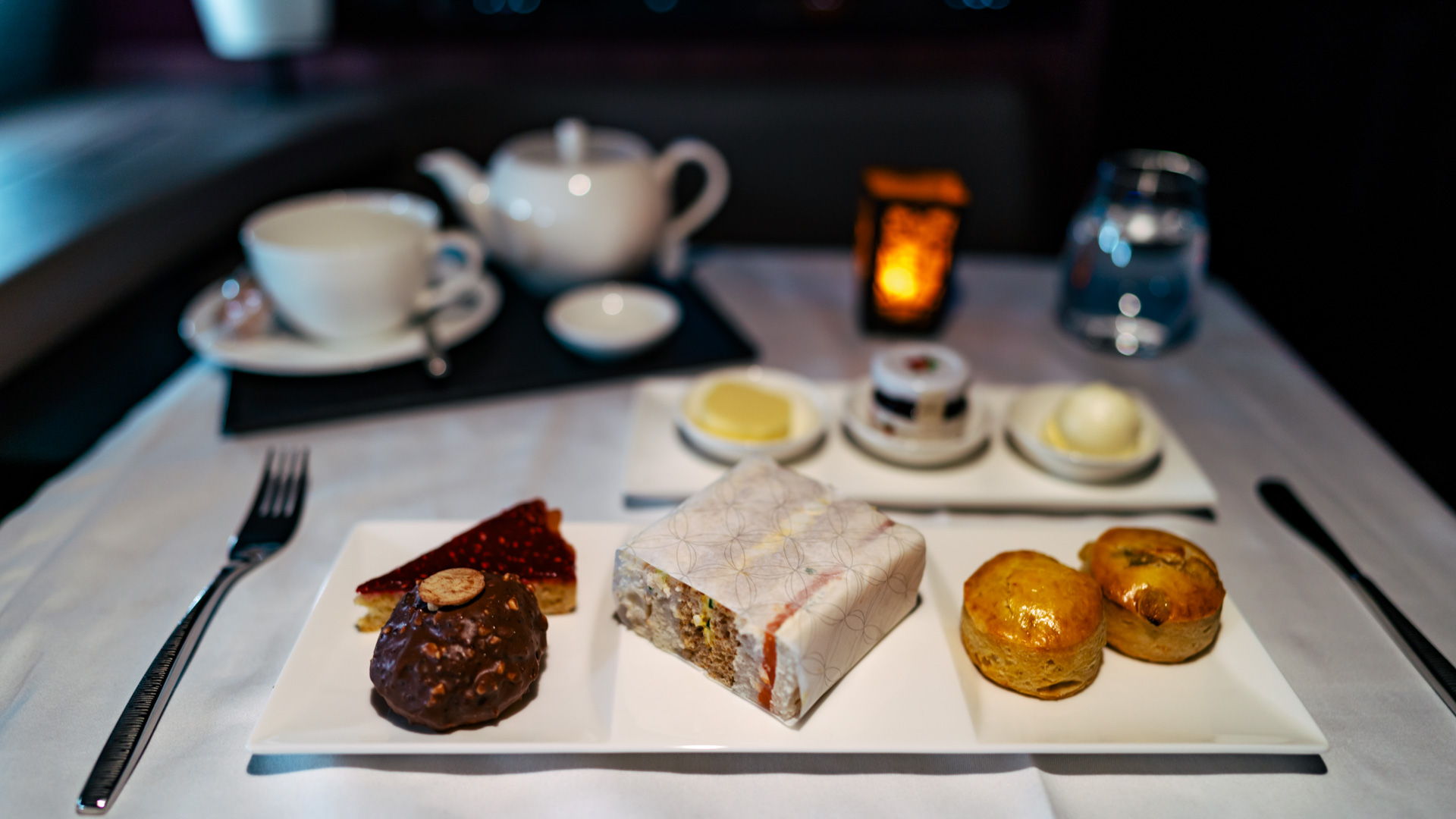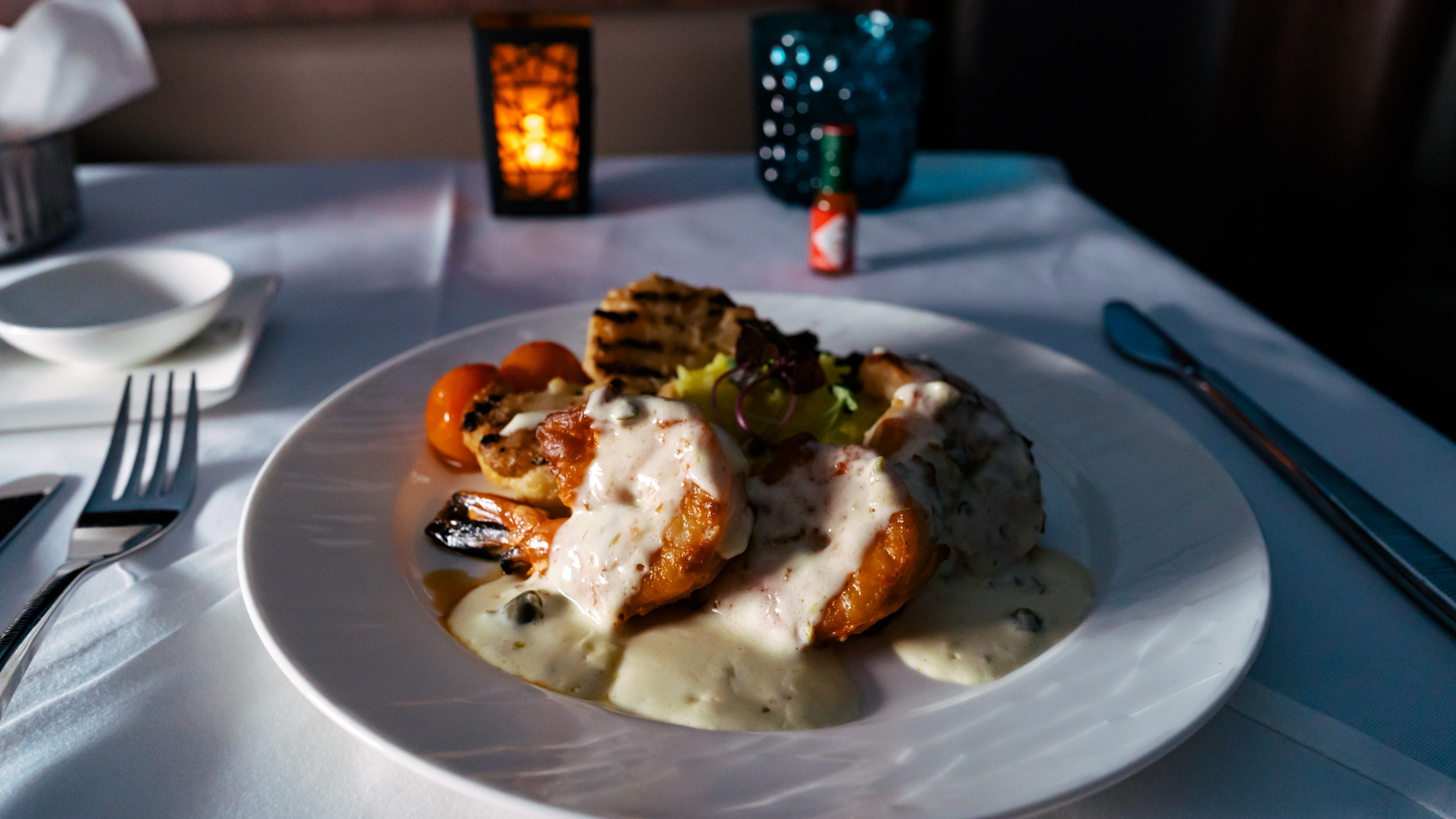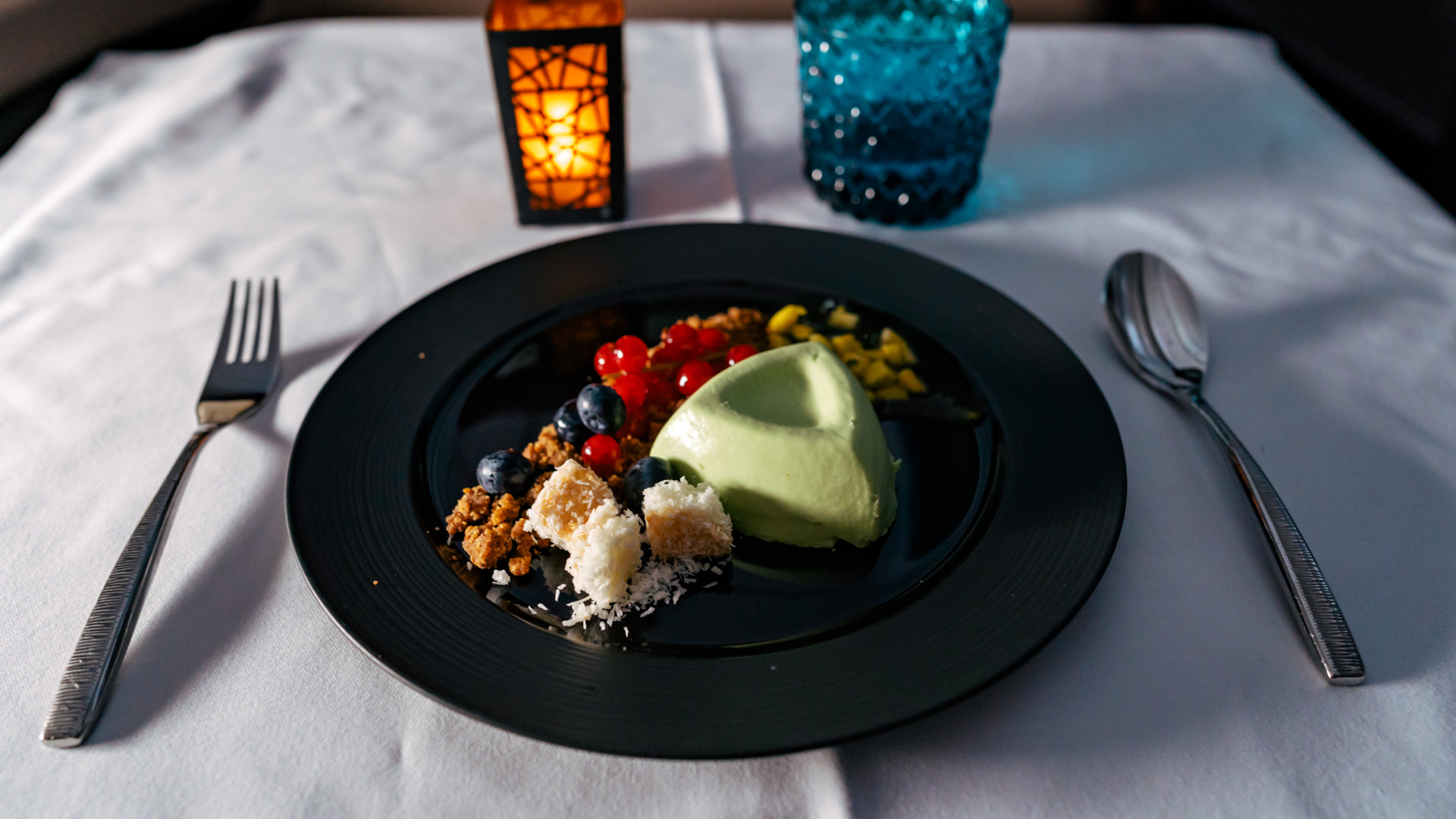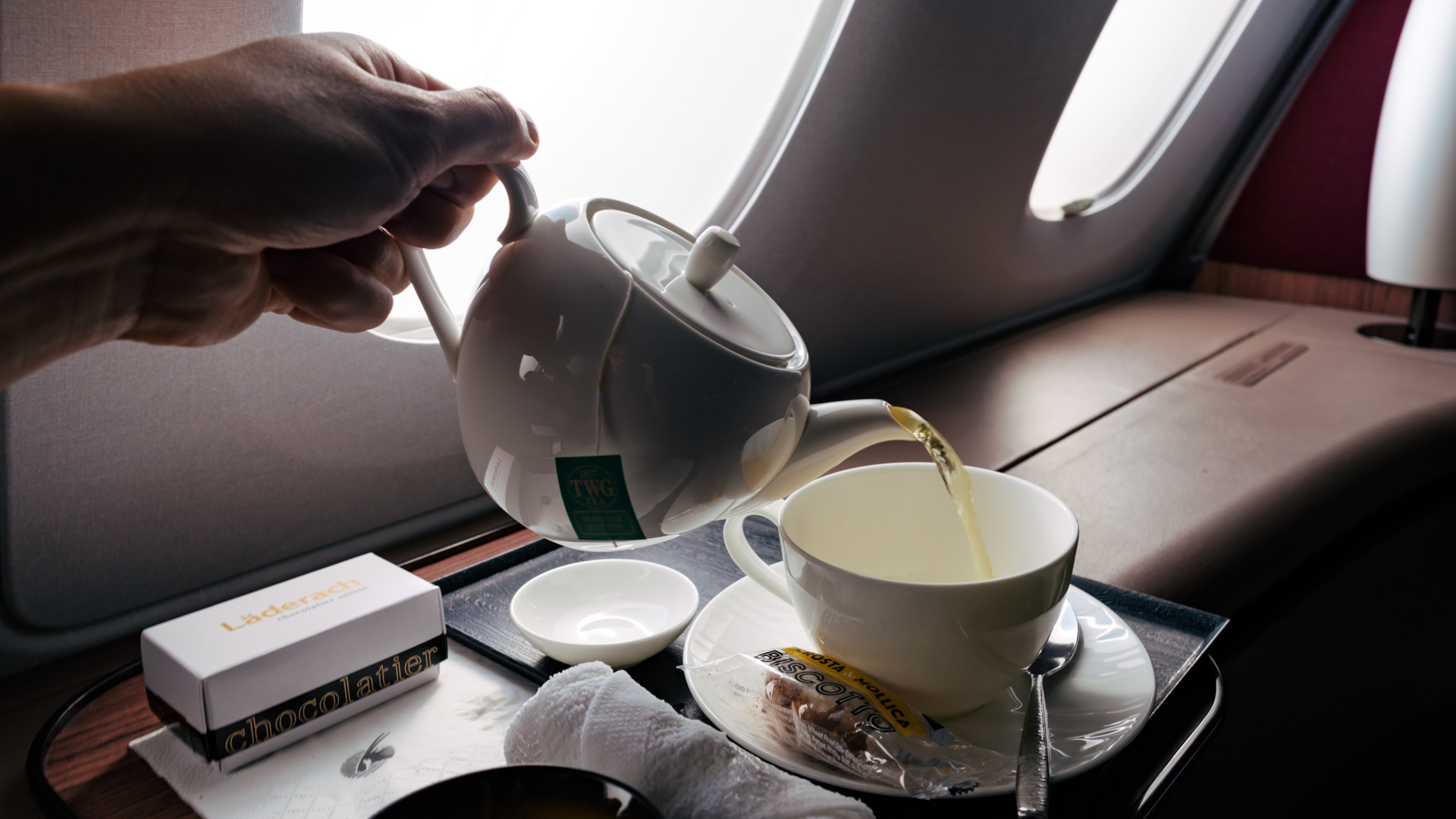 Qatar Airways already does Business Class so well – especially in the famed Qsuite. But the First Class experience is just that small step higher. Plus, reward seat availability in First is often better than in Business!
Want to get straight to booking your seat in the lap of luxury? Jump ahead to the end of this article to learn how you can fly all the way to (or from) Amman in Qatar Airways First Class starting from 134,000 Velocity Points + taxes, each way and per person. But if you're craving some adventure first, join me as we discover all the wonders that await us in Jordan.
Explore Amman, Jordan
My first stop is Amman, the capital of Jordan. As my cheerful taxi driver takes me downtown, I spot a curious landscape with thousands of limestone-white houses dotted across the hills. It's no surprise that Amman is known as the 'White City'.
Amman has its fair share of historic ruins – I'm humbled by the Amman Citadel, perched on one of the city's seven hills. The Roman Theatre is a steeply-raked structure that seats 6,000 and still occasionally hosts concerts to this day. A stroll through the souqs (markets) is also a must – it's a vibrant assault of smells, tastes and colours.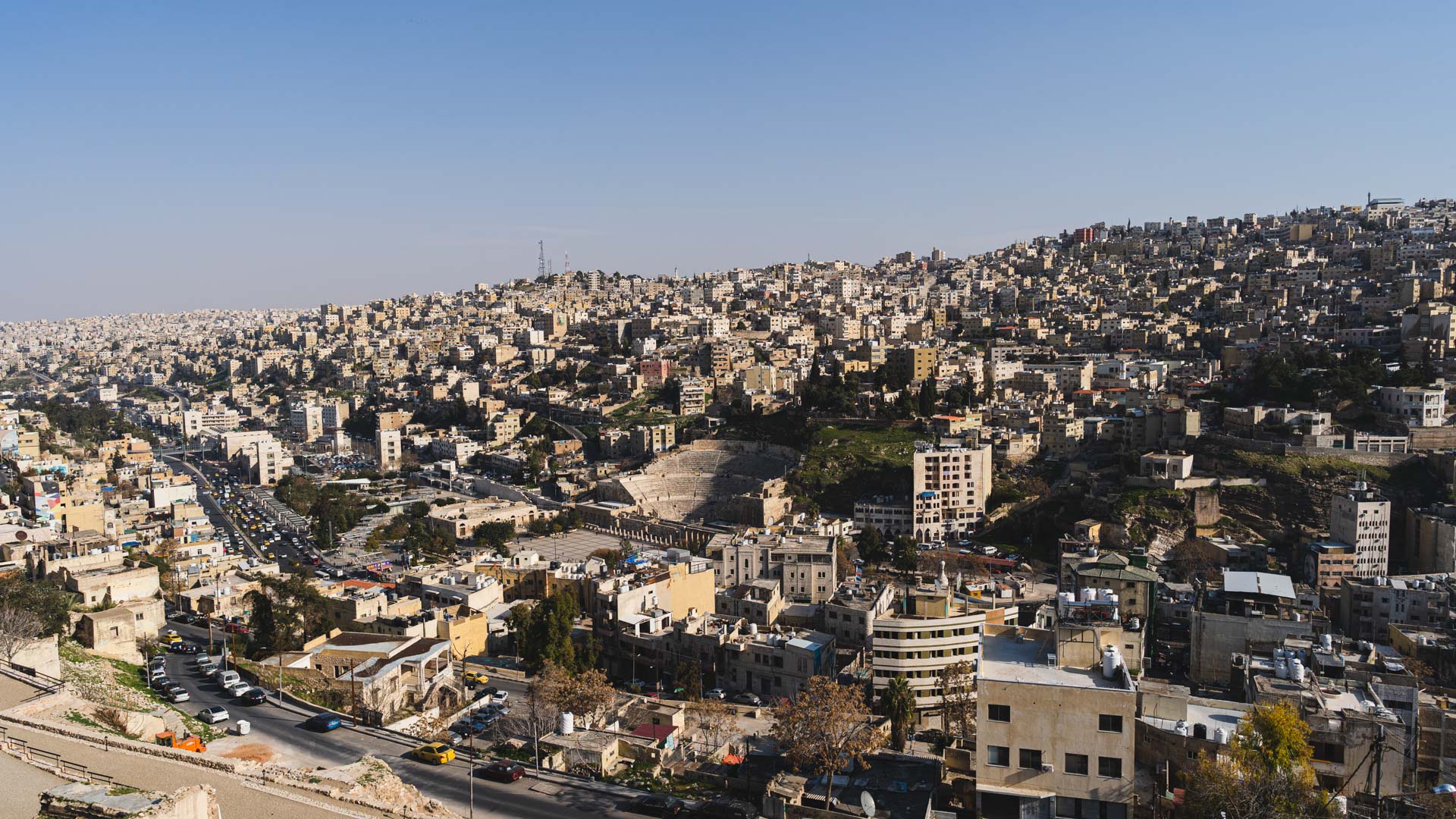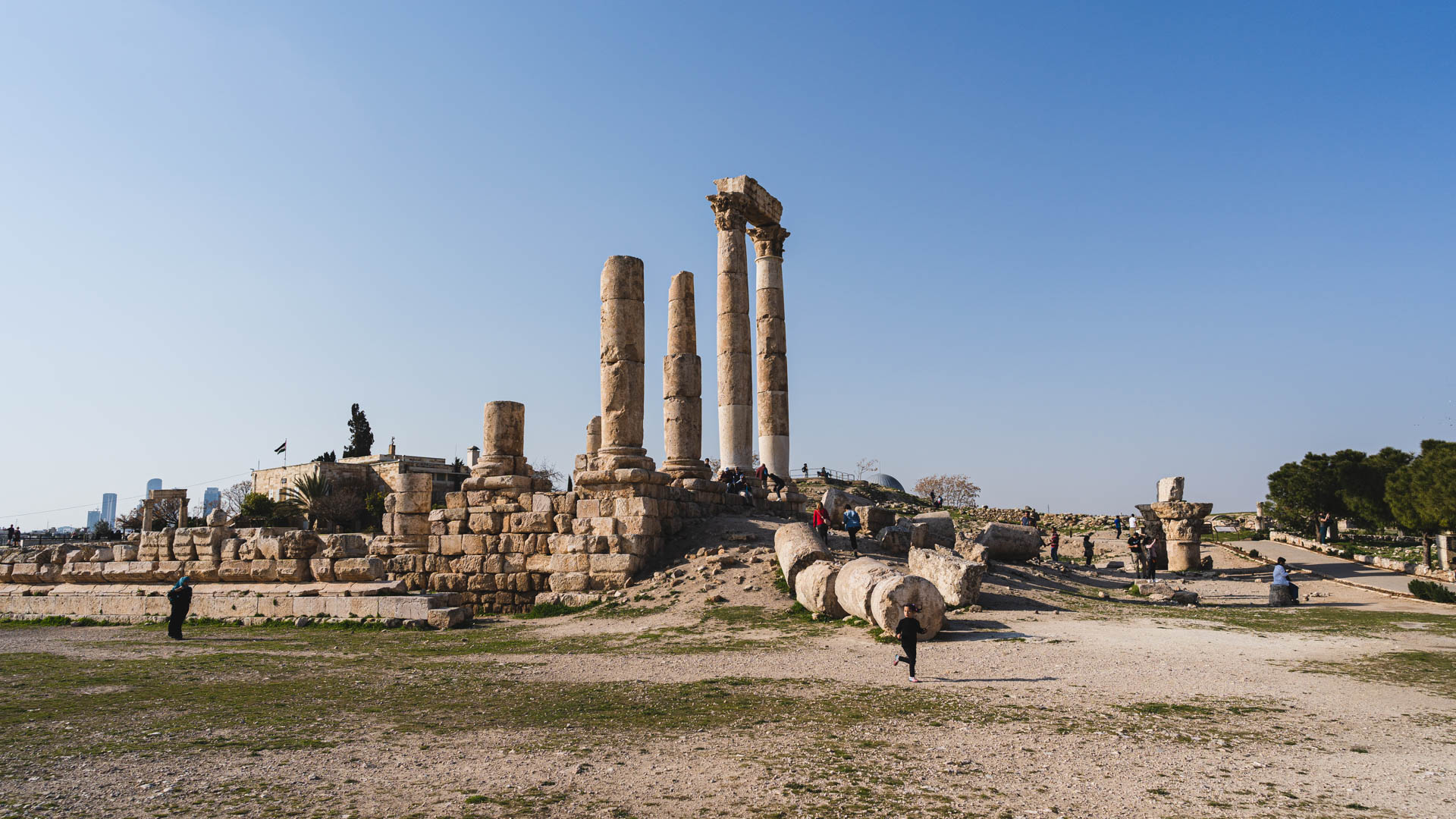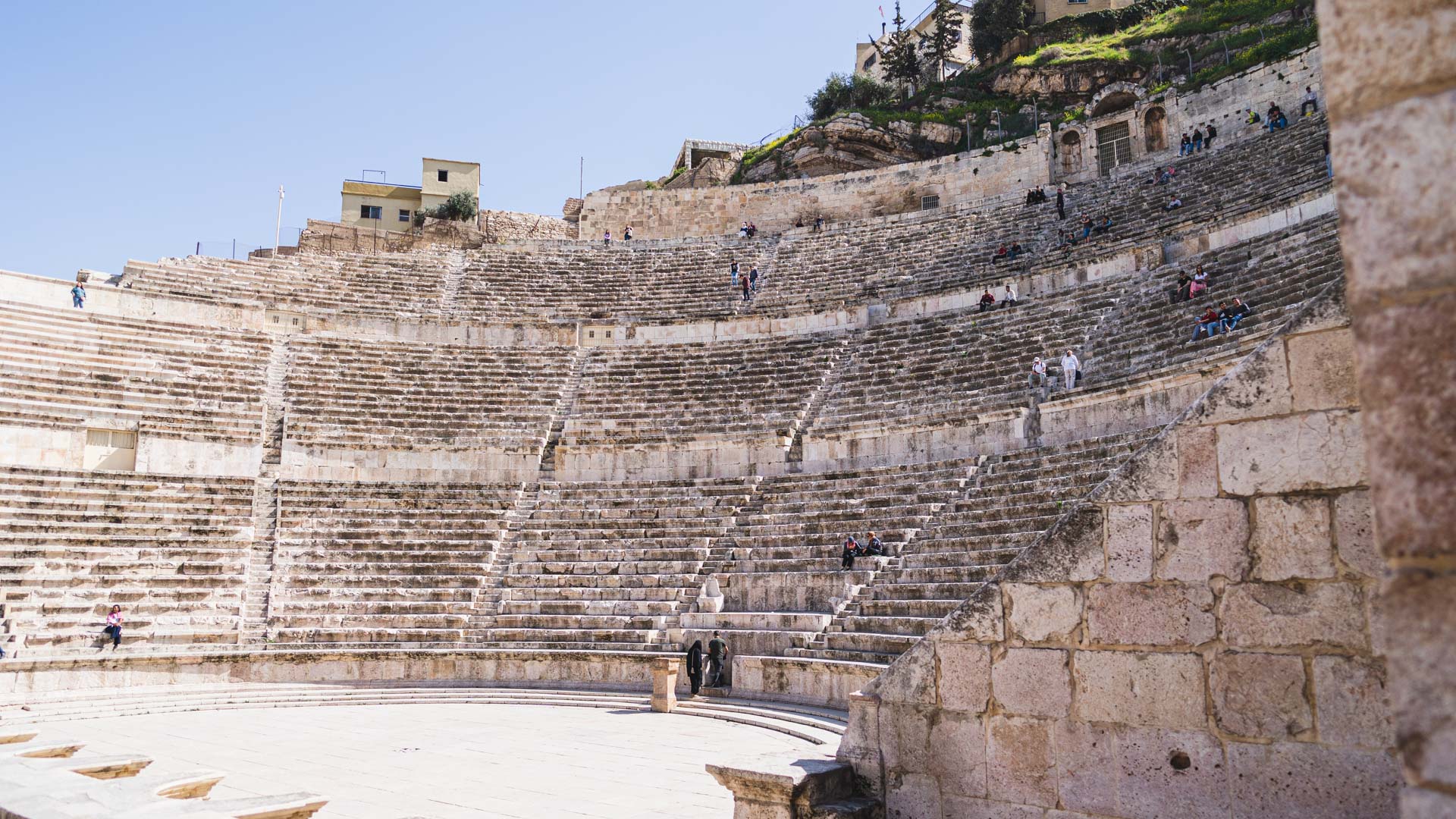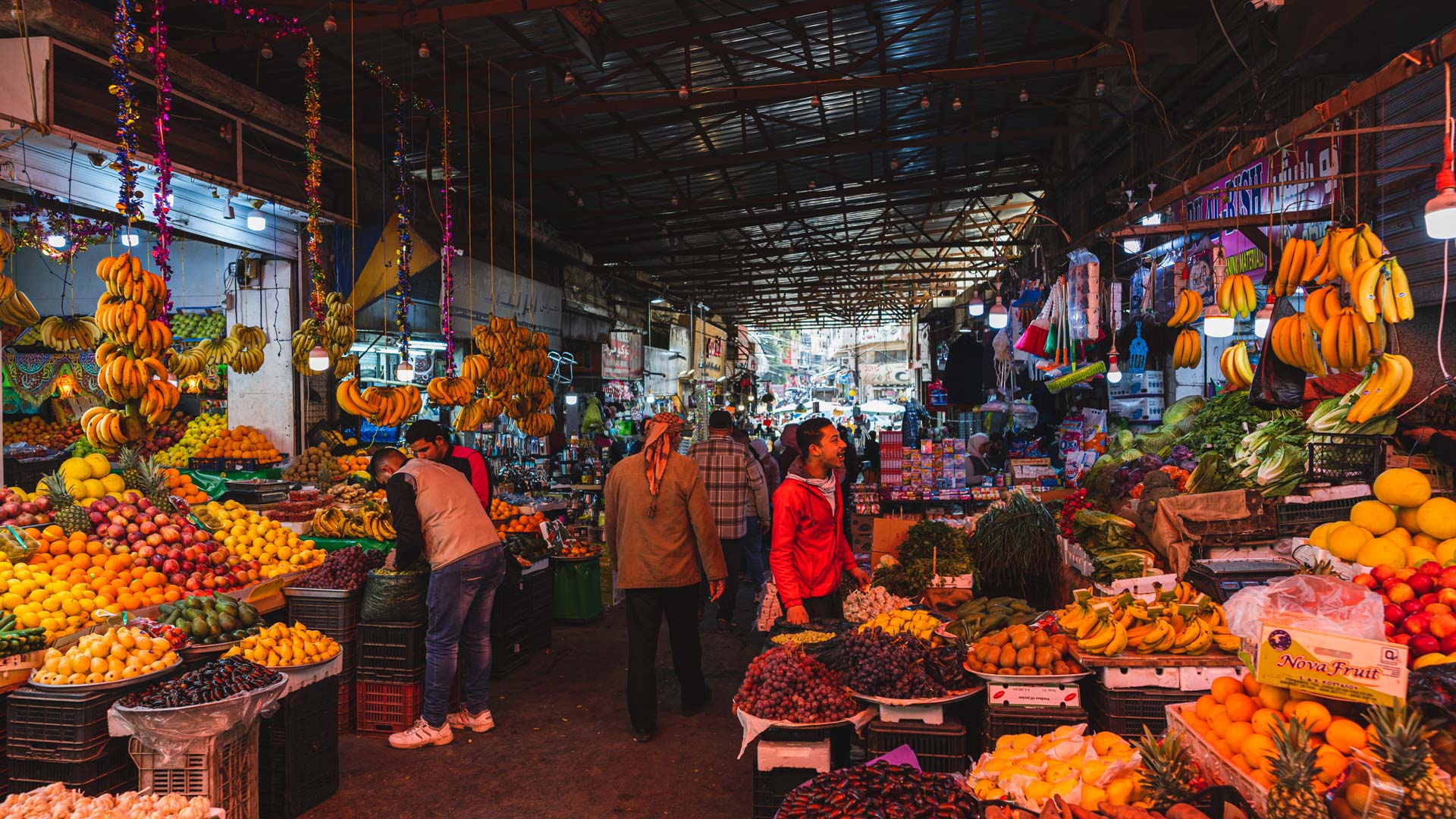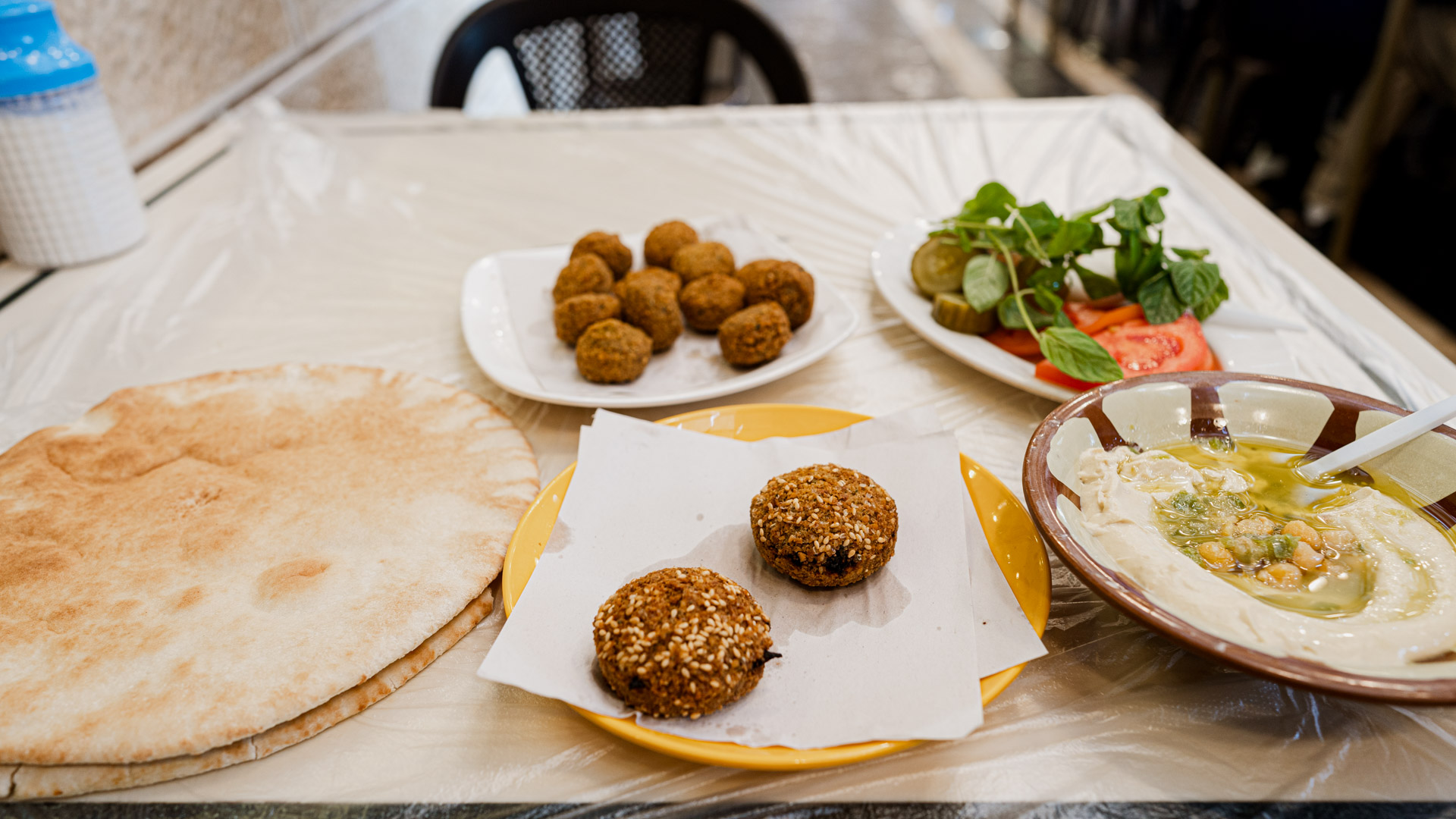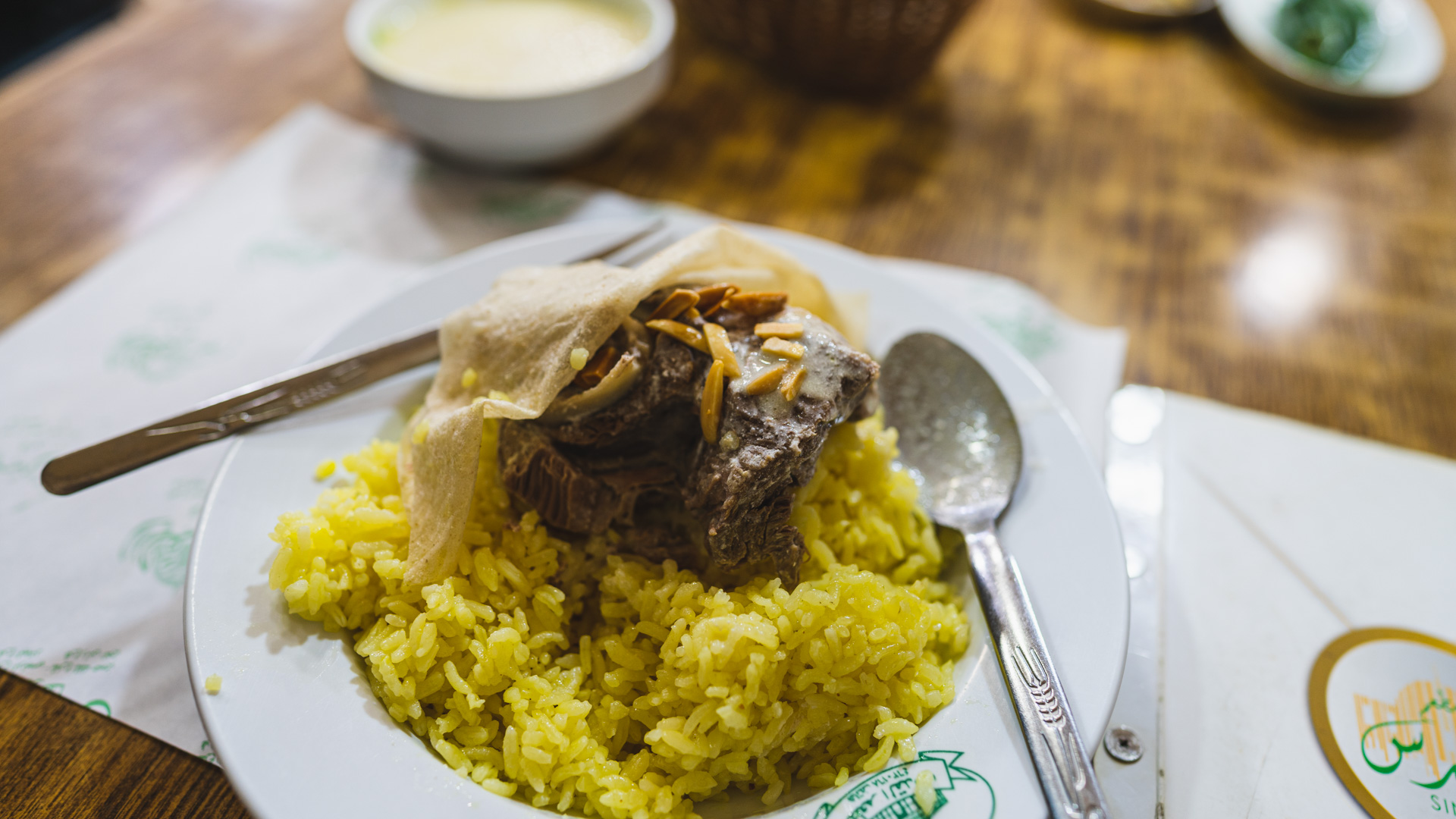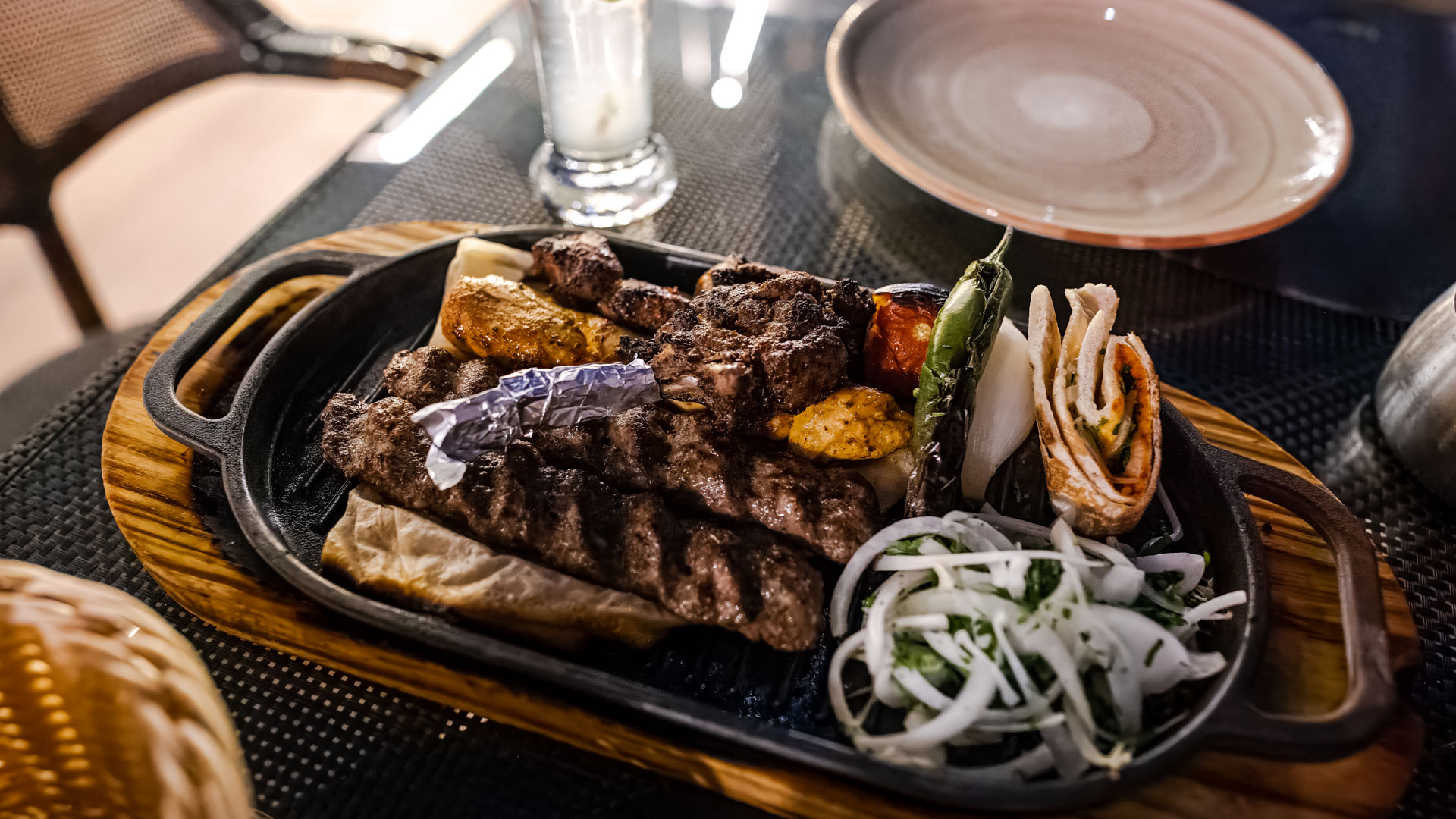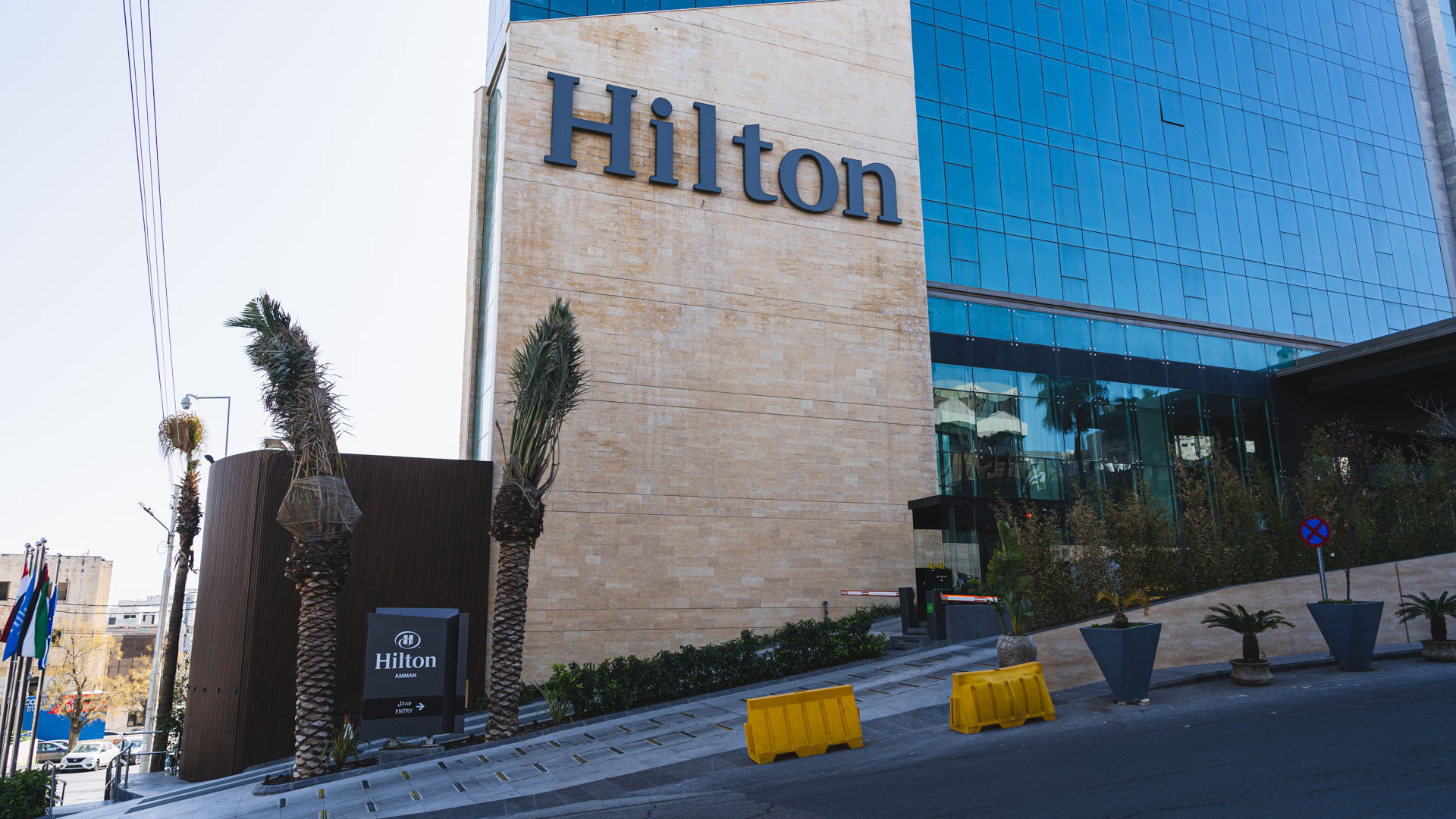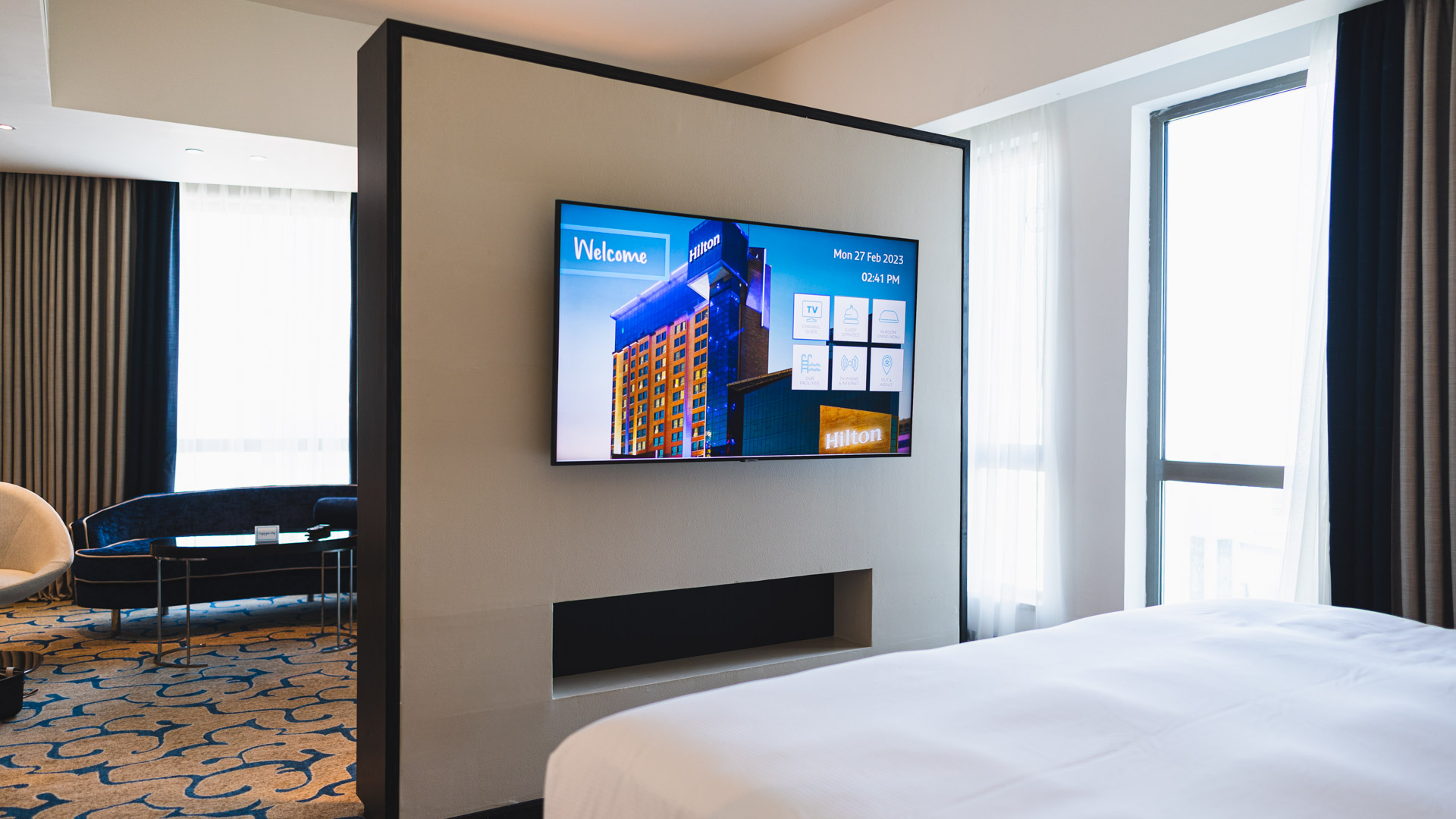 All this exploring makes me hungry, but I needn't worry. For merely a few dollars, I'm tucking into a range of crunchy fresh falafel and smooth hummus at Hashem Restaurant – likely the best I'll ever taste. I also can't miss the national dish of mansaf (rice, lamb and dry yoghurt) at Al Quds.
For a change of pace, I spend my final evening in the city at Jubran, Amman's #1 restaurant on Tripadvisor. It's still very affordable and the mixed grill plate (AU$26.20) has me salivating.
Ad – Scroll down to continue reading.Minimum spend, terms & conditions apply.
Be dazzled by Petra and Wadi Rum
Amman is my base for a thrilling (and jam-packed) two-day, one-night tour of Petra, Wadi Rum and the Dead Sea. For the adventurous and the time-pressed, this tour is highly recommended by most who experience it. Take it from me – it's worth paying a bit more for a Deluxe Tent at the Bedouin camp overnight stay, which adds air conditioning and a private bathroom to your glamping experience.
We arrive at Petra mid-morning and the next few hours seemingly pass by in a blur as I wander through the ruins, marvelling at the city founded many millennia ago.
Some of the more adventurous members of our group set their sights on reaching al-Deir (The Monastery), another beautiful ruin with a challenging climb of over 850 natural steps. Instead, I escape the crowds and spot a vantage point overlooking The Treasury. For a negotiated 5 JOD (AU$10.30), a local takes me up to the perch and snaps a few photos and videos that I couldn't hope to do myself. It's a view to remember.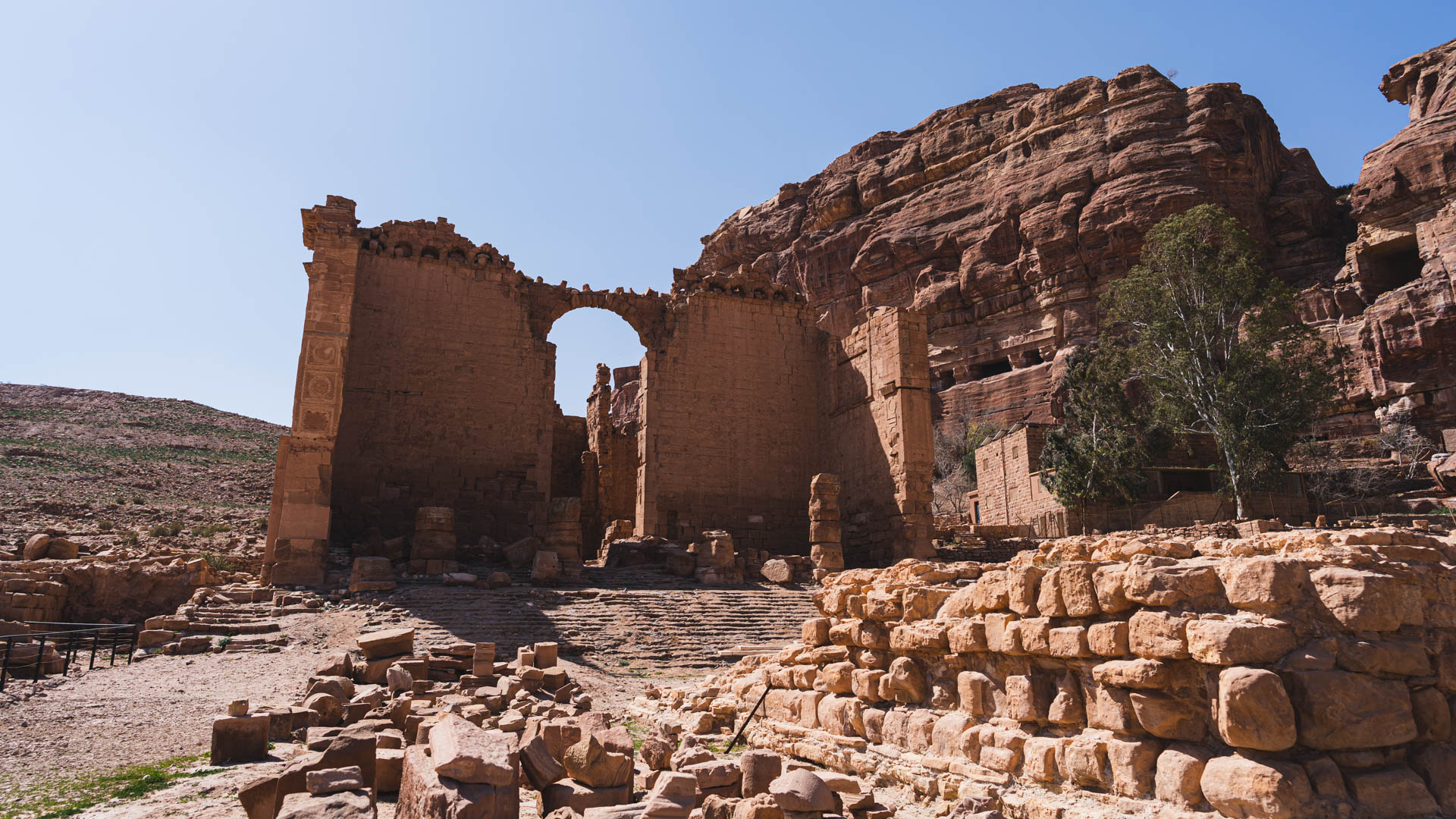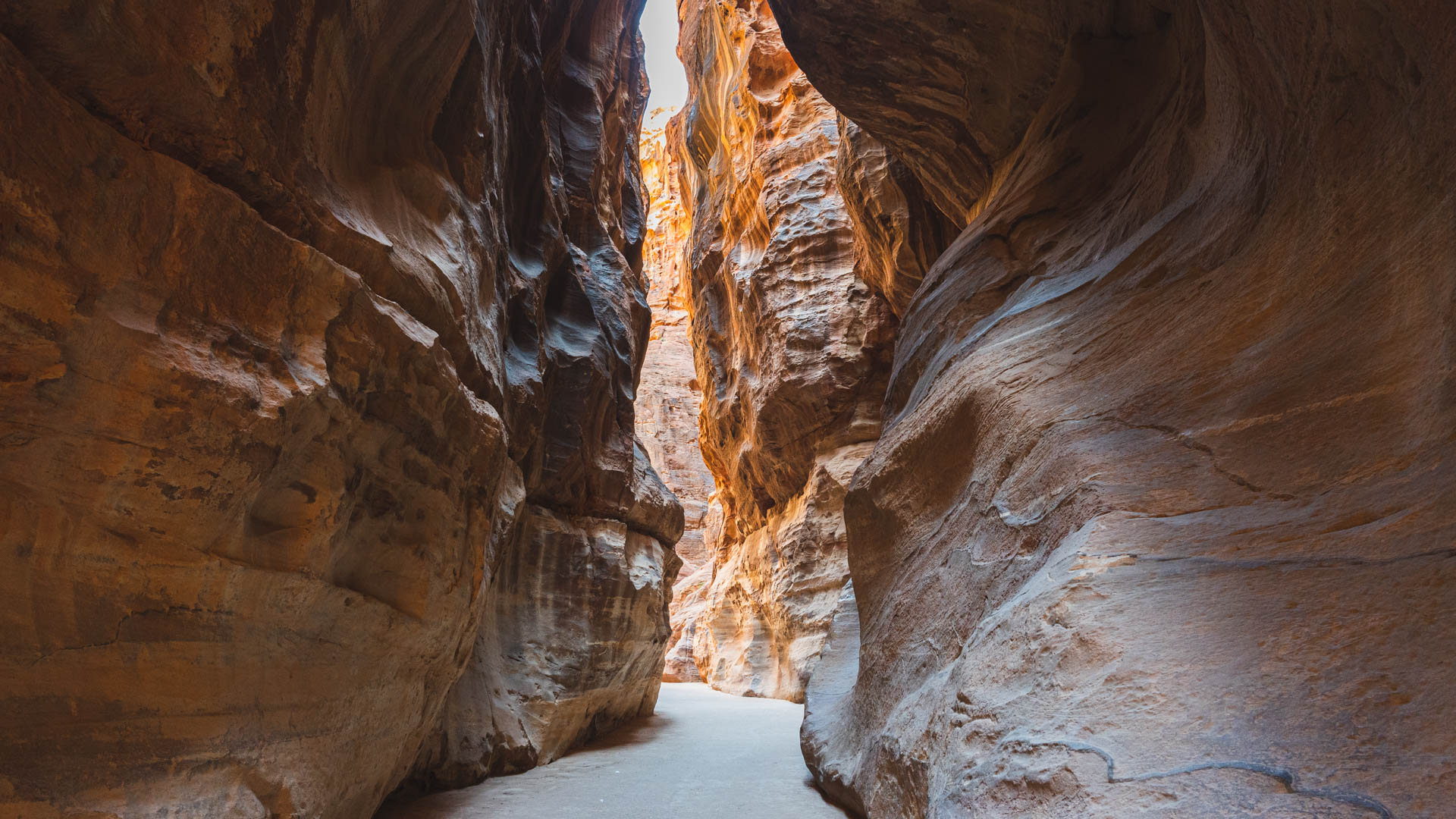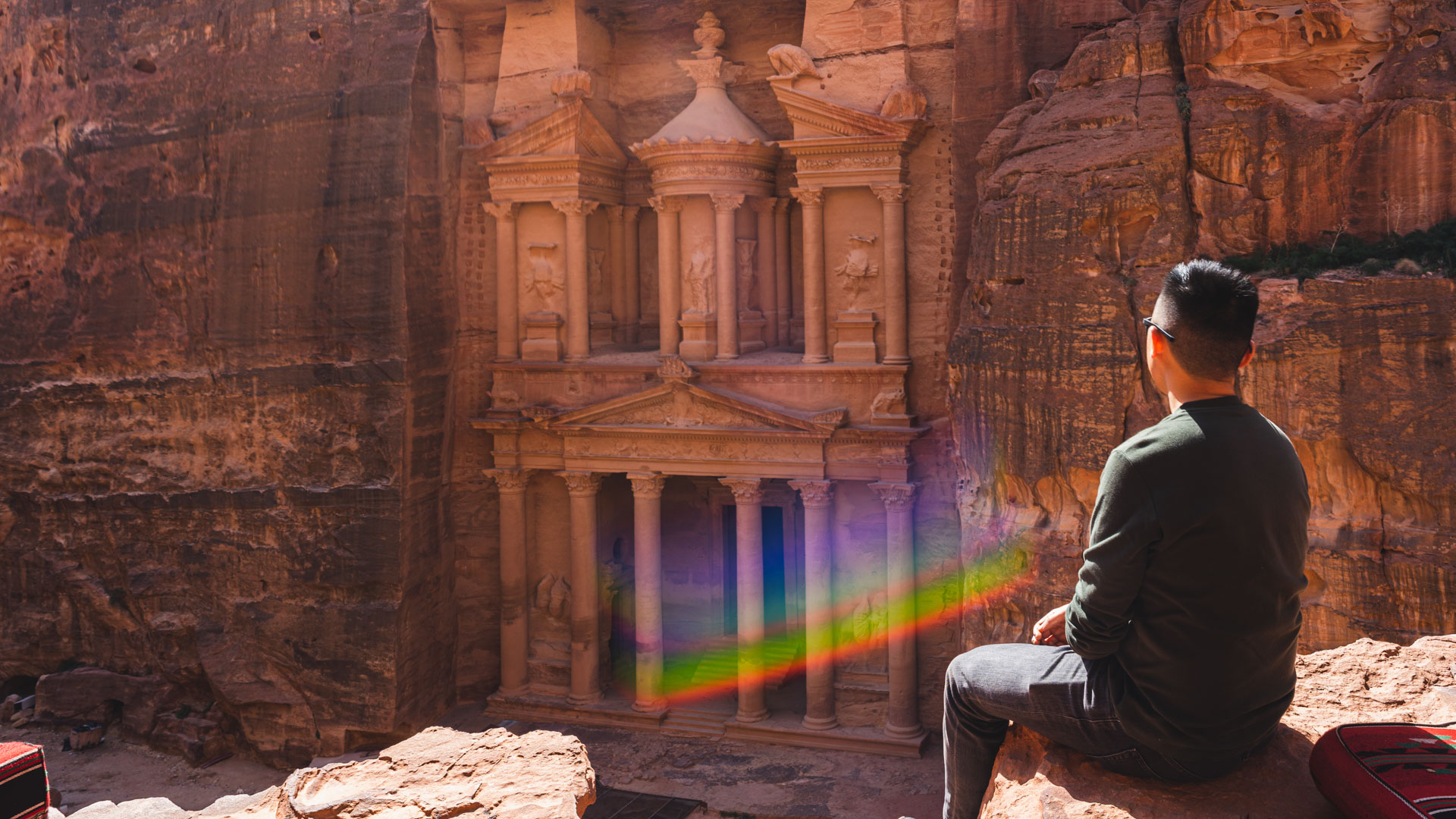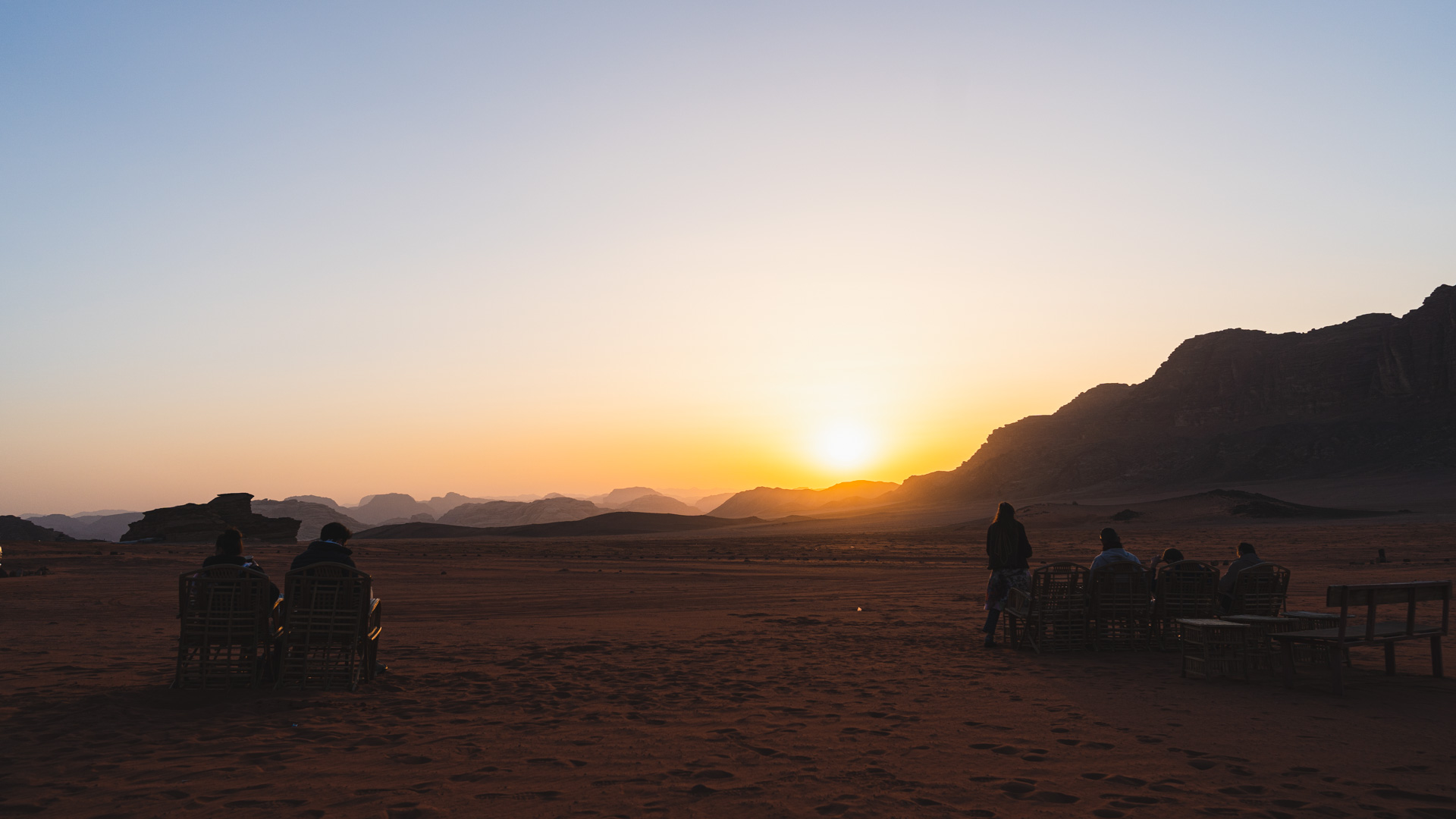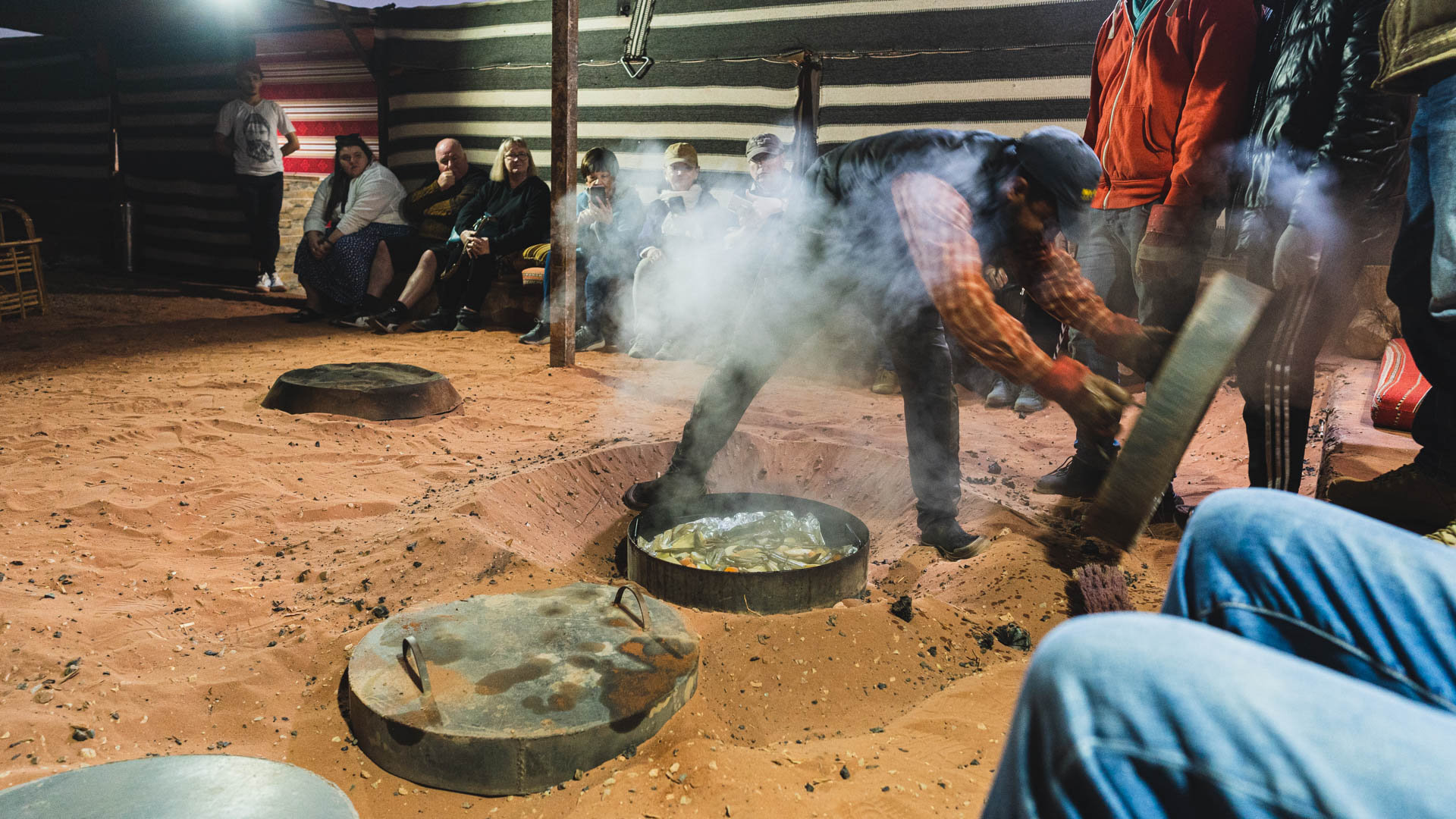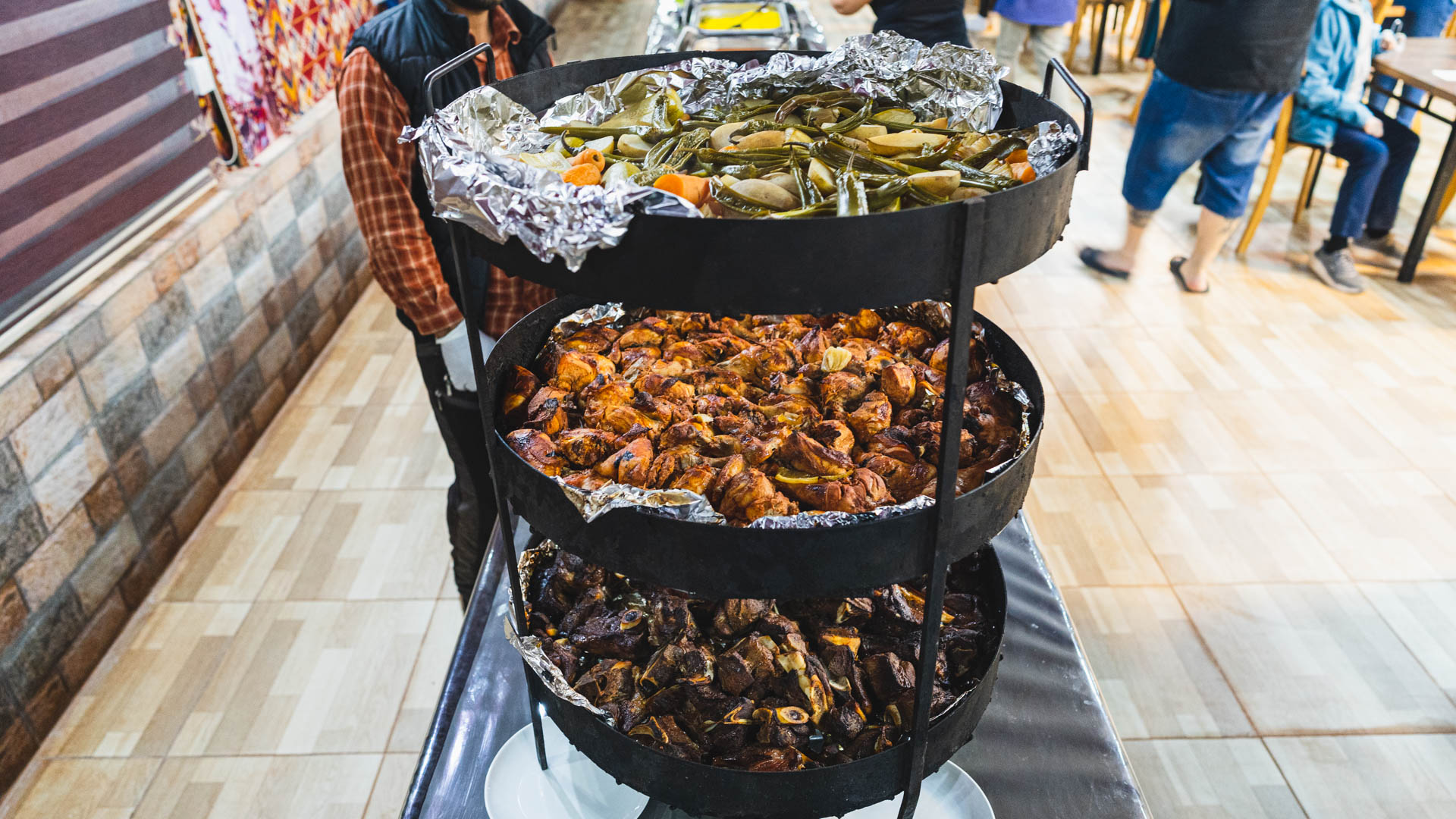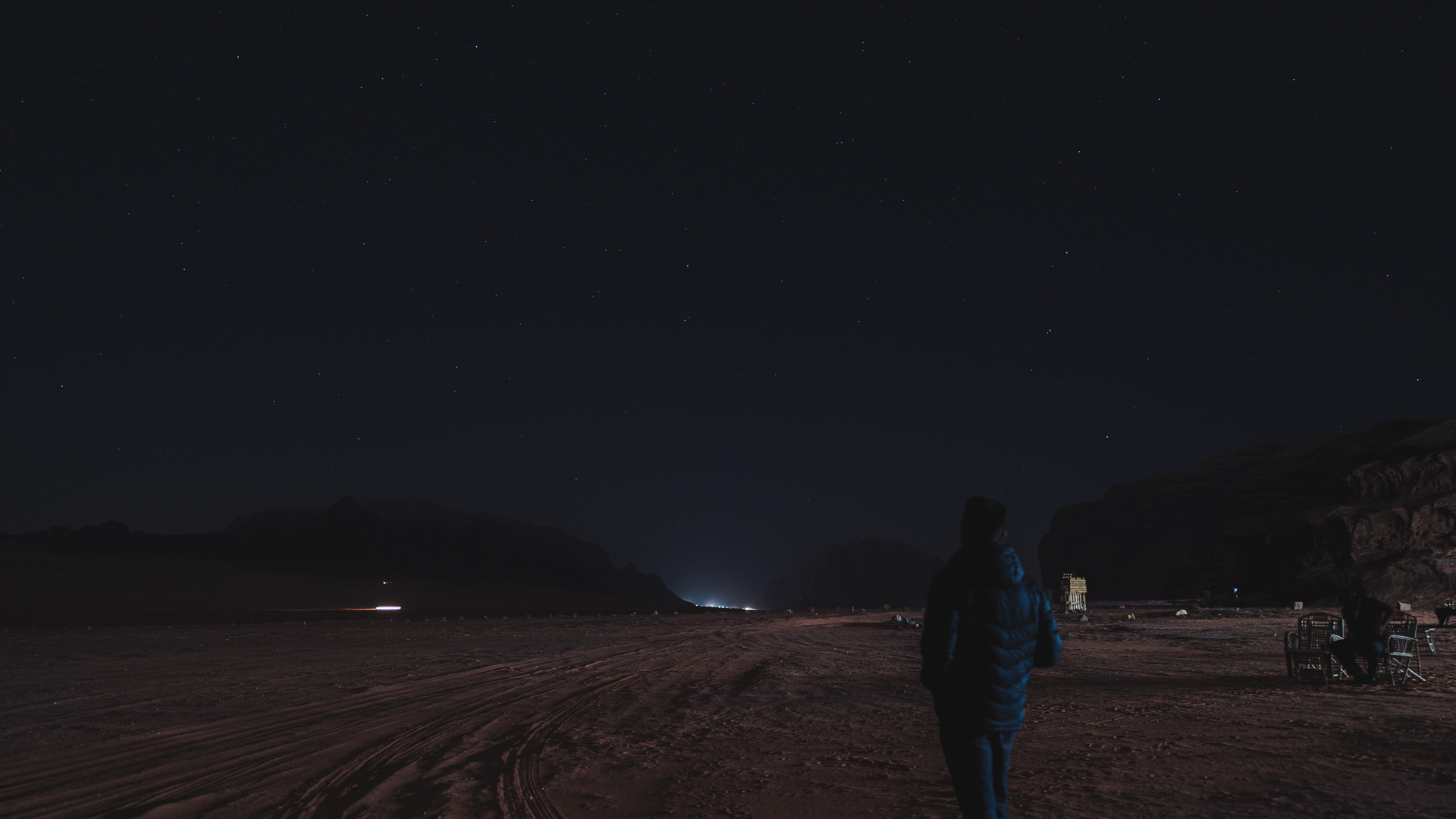 In the afternoon, we leave the 'rose-red city half as old as time' (John William Burgon, 1845) and ramp up the adrenaline for a ride through the Wadi Rum desert on the back of an open-air 4WD. This is one of my life moments that will be forever etched in my memory. The exhilarating rush of air, the golden glow as sunset approaches, the vastness of the desert opening up in front of me. It's surreal.
The next day, as the sun casts its golden glow across the sandy plains, my tour group and I ready ourselves for another morning of cruising through the desert and exploring caves and gorges. It has taken nature (and water, specifically) millions of years to shape Wadi Rum into the distinctive landscape it is today.
Looks familiar? You might have seen Wadi Rum featured in movies such as Lawrence of Arabia (1962), Aladdin (2019) and Star Wars: The Rise of Skywalker (2019).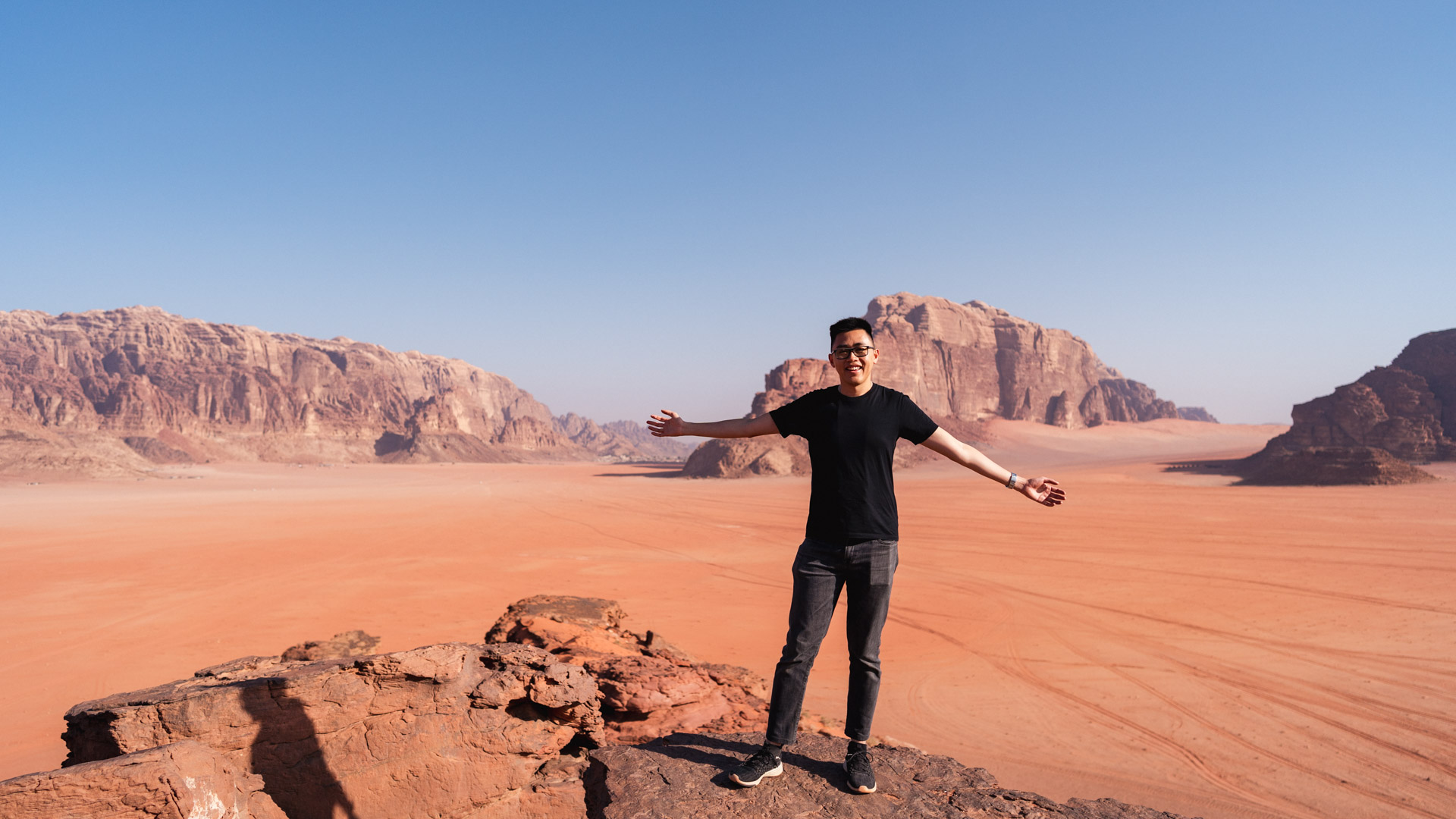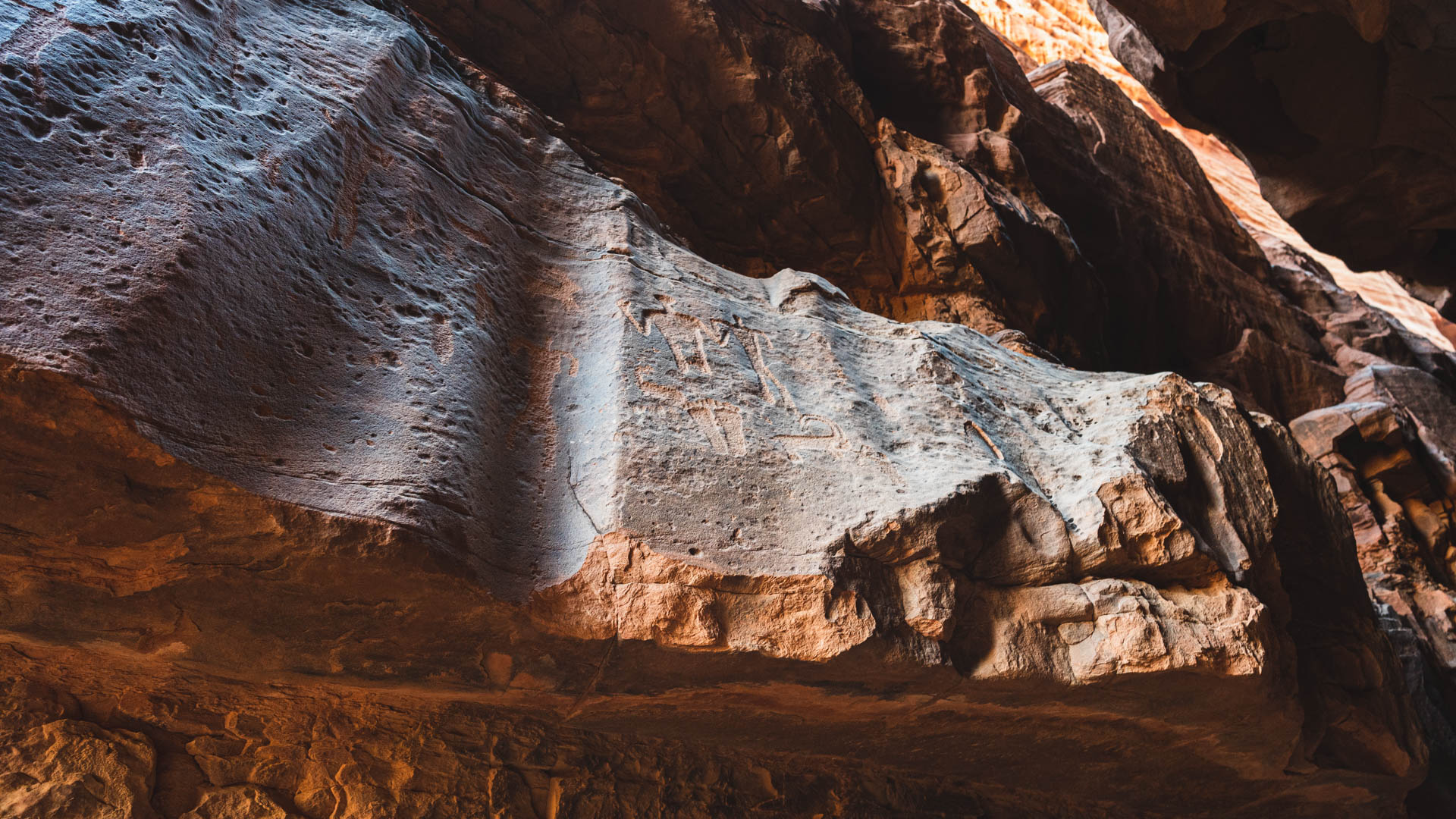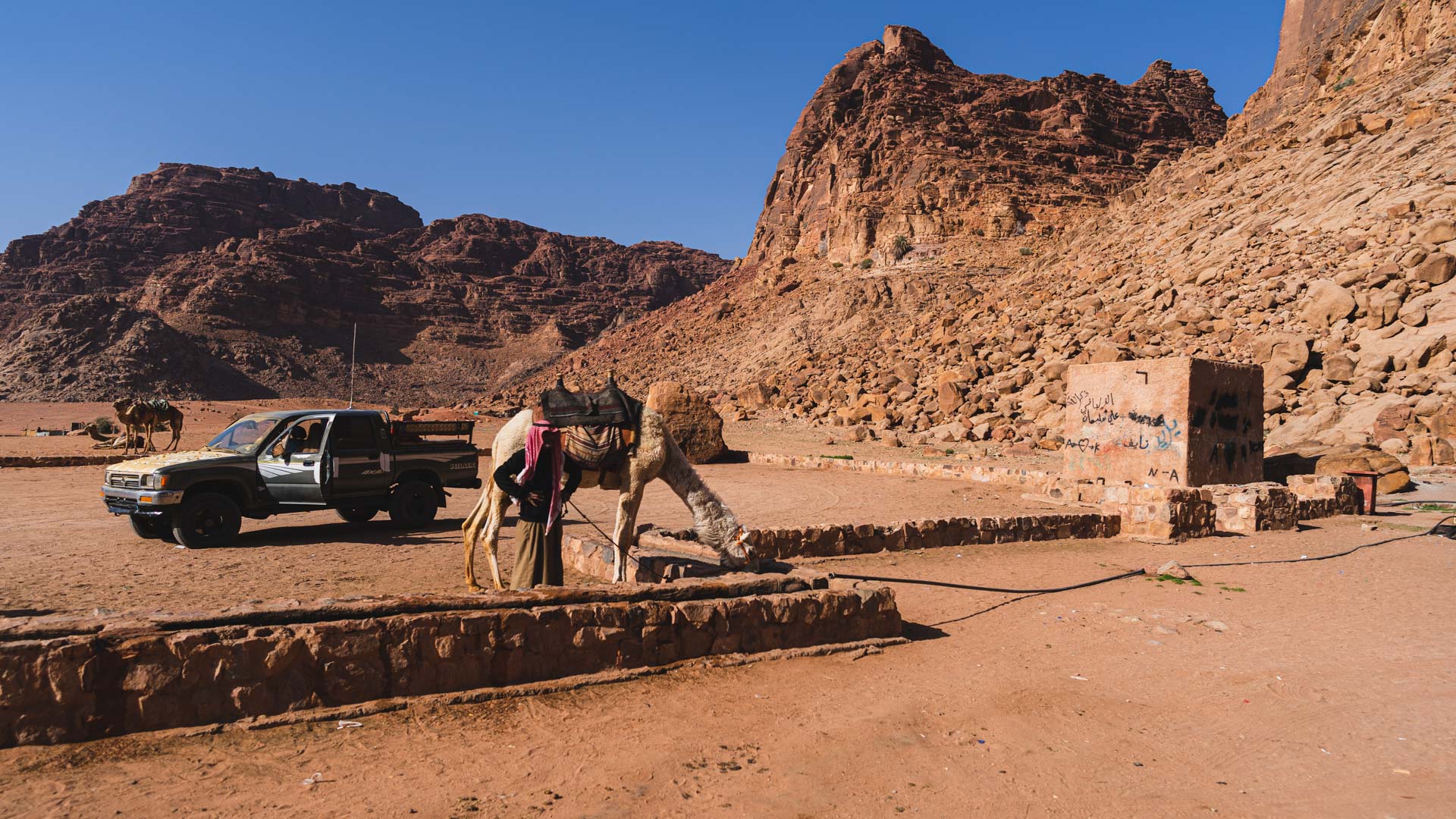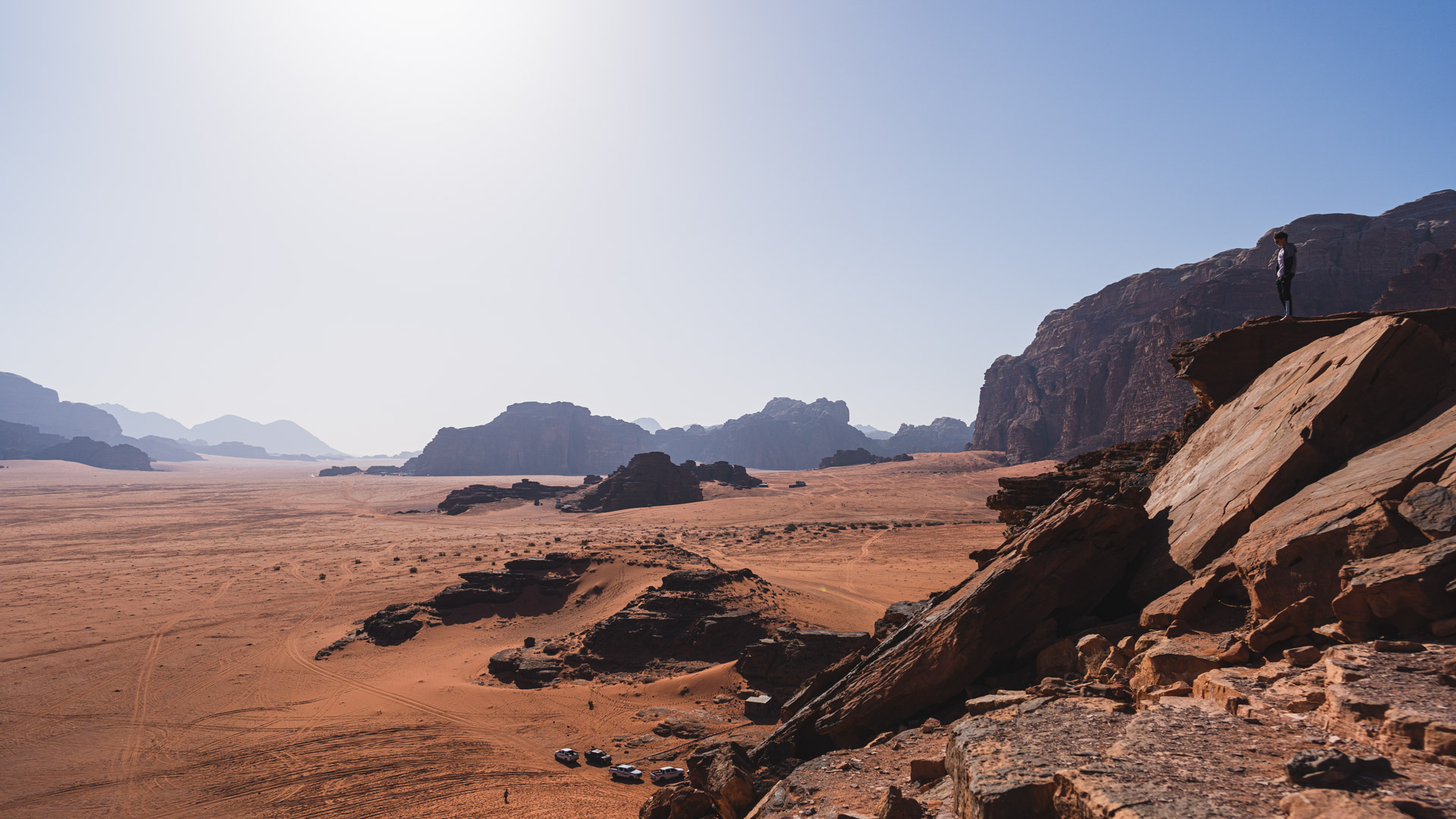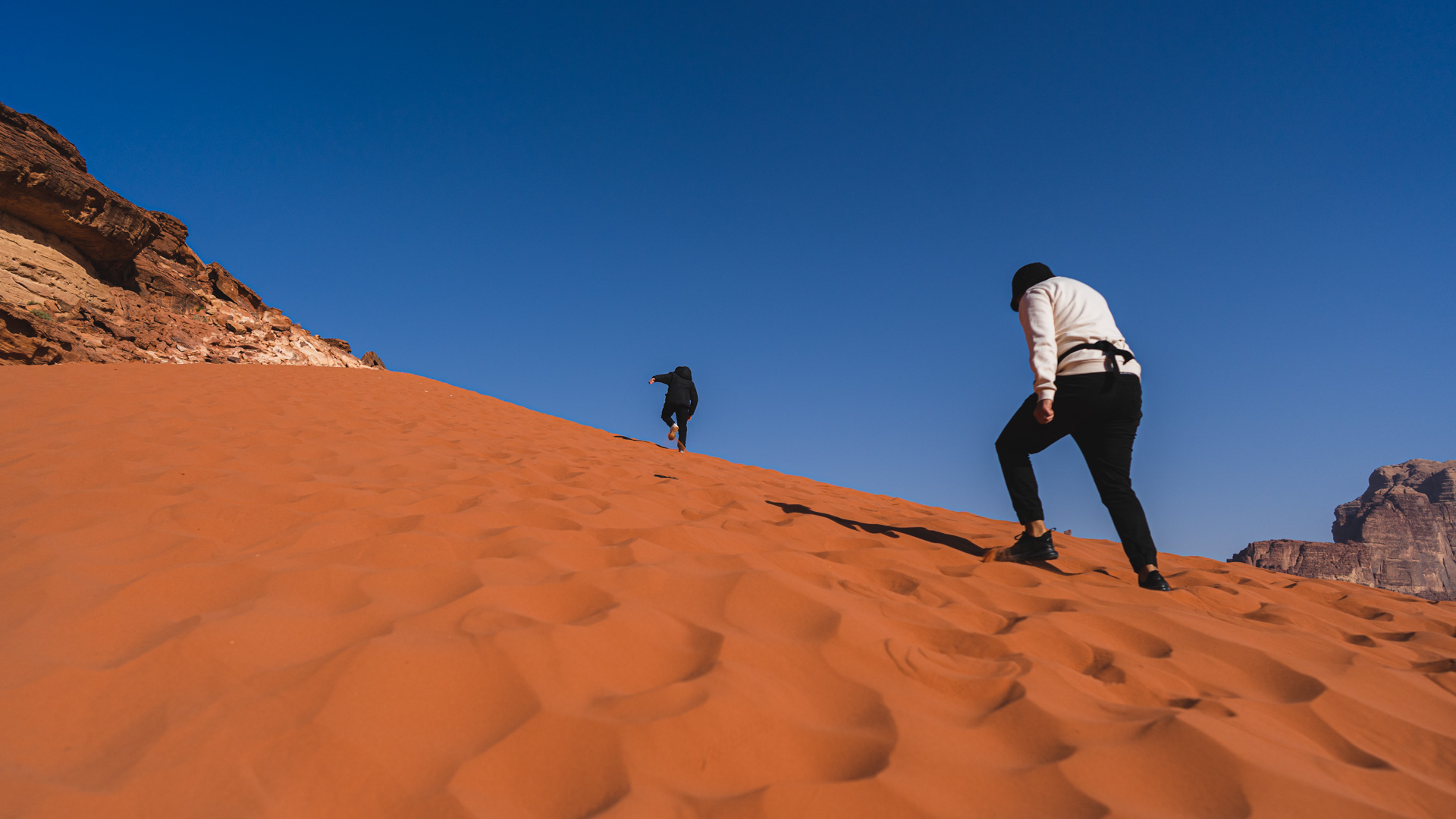 Take a dip in the Dead Sea
By the afternoon, we're back on the road and headed for the Dead Sea – the lowest point on Earth. The Dead Sea is a salt-rich lake that spans between Jordan and Israel. But as you might know, due to the high salinity, it's impossible not to float! The experience is completely surreal and my greatest challenge is trying to stand up and get out of the water.
Dead Sea mud is highly-sought after (and can be expensive to buy) because it's packed with minerals. But here, on the shores of the Dead Sea, the mud is free and in unlimited supply. It's open slather – literally! We alternate between taking a dip and relaxing under the shaded umbrellas for a few hours. But before long, it's time to shower and head back to Amman, where I bid farewell to my tour friends and stay a couple more nights, soaking up the sights of the city.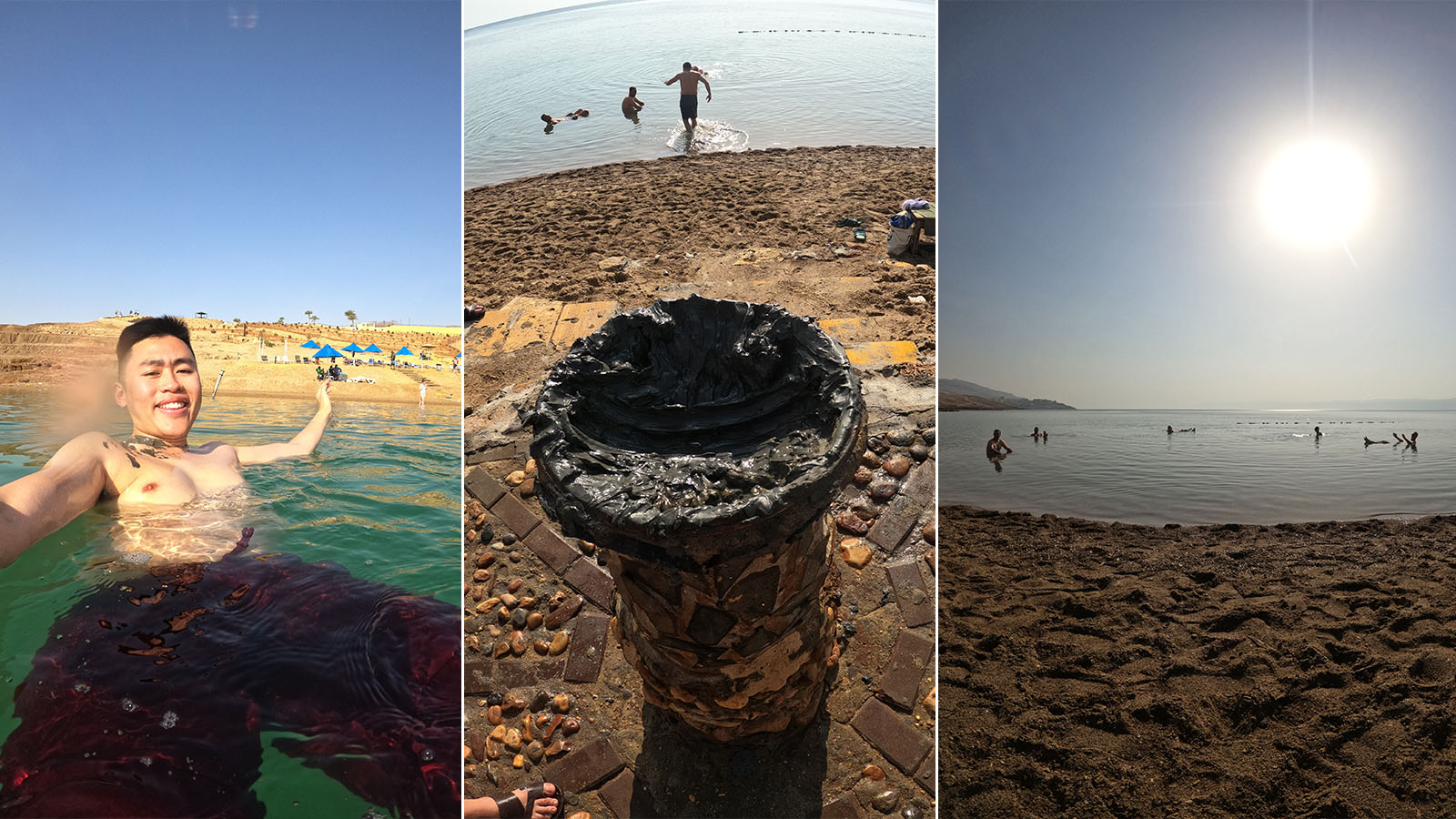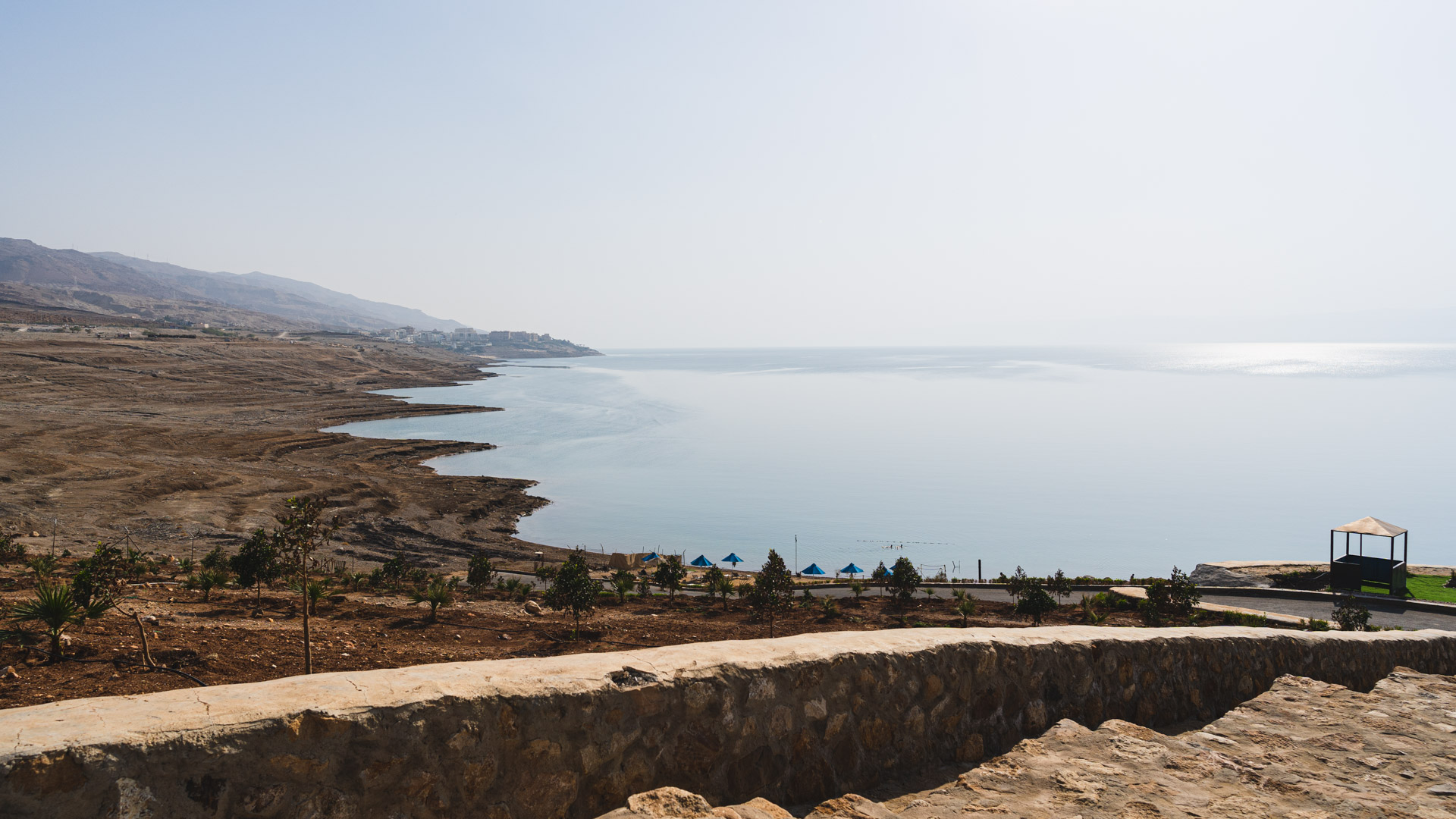 Plan your trip to Jordan with points
Full disclosure: we booked my trip with Qantas Points in mid-2022 when it was simple to do so. But the goalposts have shifted since. Qatar Airways and Virgin Australia are now partners, so it's much easier to book this trip with Velocity Points. I also flew First Class back to Sydney as Perth wasn't an option at the time of booking. But since then, Qatar Airways now flies First Class to Perth, so we're using a Perth mixed-cabin return as the benchmark pricing.
Qatar Airways flies to Sydney, Melbourne, Brisbane, Adelaide and Perth. With such good connectivity, many of you will just be one stop away from Amman via Doha. We're not going to bore you with numbers here but see our dedicated guide on how to fly to Jordan with points for the nitty-gritty detail.
Our sample budget for this itinerary
The beauty of reward seats is that it's easy to mix and match routes and cabin classes. For example, our mixed-cabin sample itinerary is based on flying:
Perth to Amman in Qatar Airways Economy for 50,000 Velocity Points + AU$335
Amman to Perth in Qatar Airways First Class for 134,000 Velocity Points + AU$1,010
Add on three nights at the Hilton Amman for $600 twin-share ($300 pp) and the amazing Petra/Wadi Rum/Dead Sea two-day one-night tour for $886 twin-share ($443 pp), and you reach our sample itinerary cost of 184,000 Velocity Points + AU$2,088 for Economy and First Class flights, accommodation and a headline activity.
Your Velocity Points could be worth up to 4.28 cents each for the flights in this itinerary, which is excellent value!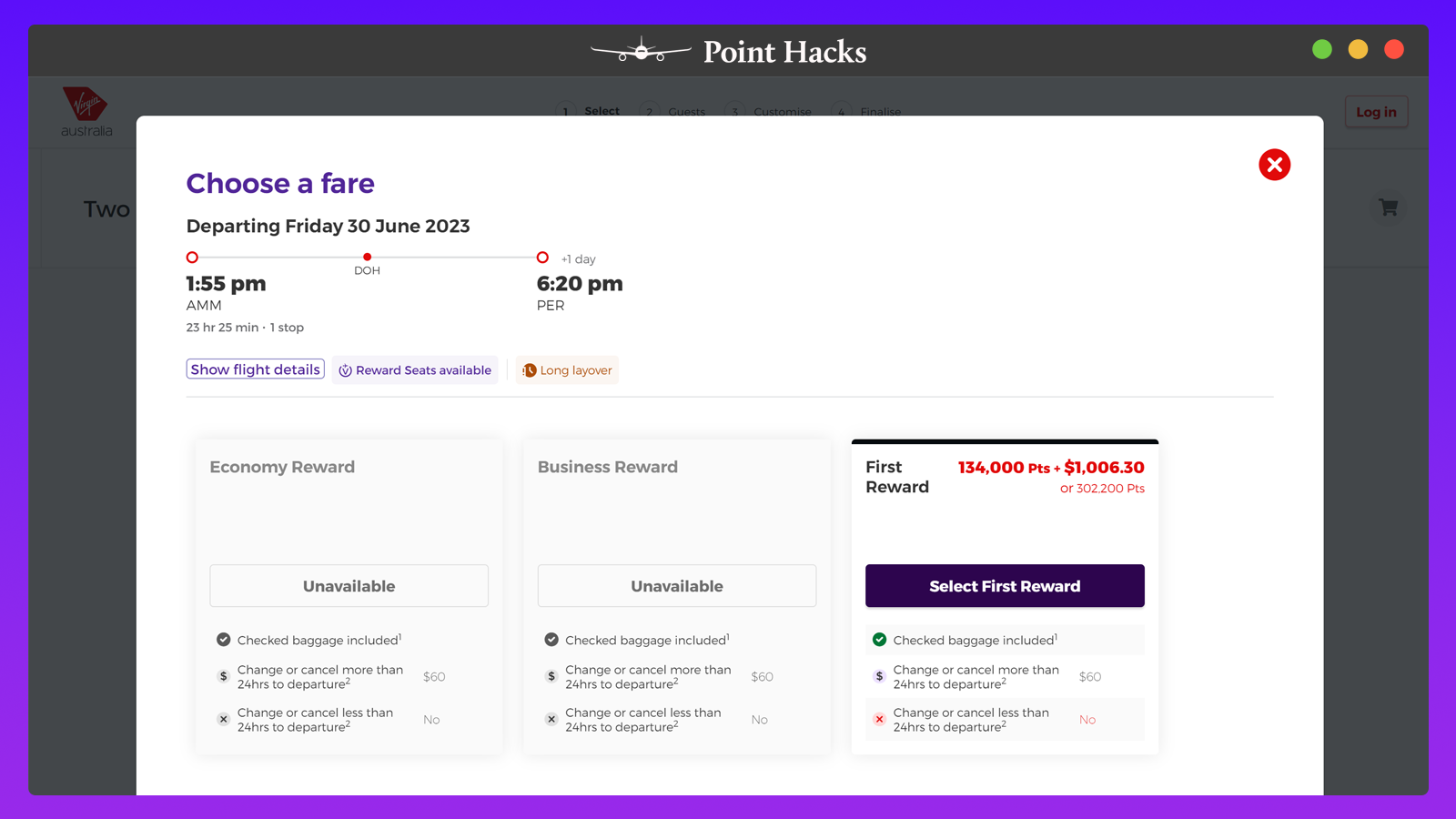 Experience the beauty of Jordan's sights and sounds
Jordan might not be high on everyone's hitlist, but I thoroughly recommend taking the time to travel to Amman and explore the surrounding regions. It's a remarkable country with beautiful sights and equally friendly people. Don't get me started on the street food either – I can almost taste that fresh falafel and hummus again.
With Velocity Points, you have the freedom to fly Qatar Airways out of five Australian ports, and with the choice of three cabin classes. It's a relatively easy transit in Doha with a connecting morning flight to Amman. Don't have enough Velocity Points? Check out our latest credit card sign-up bonuses.
Remember, our itinerary and sample pricing are just that – an example. Tweak it to your budget as you see fit since Jordan isn't a particularly expensive country to get around or stay in.
Use your points to fly to Amman and then enjoy the holiday of a lifetime on the ground! These are the moments that make travelling worth it.
Photography by Brandon Loo, who travelled to and journeyed throughout Jordan at Point Hack's expense.
Featured deals
Unearth the majesty of Petra with Qatar Airways First Class flair
was last modified:
October 10th, 2023
by