With the United States welcoming tourists back to its shores, flying to Los Angeles is once again on the agenda. Hoorah! And as Australia's travel restrictions also come down, airlines are ramping up flights to take you there.
Sure, there's a little bit of paperwork to complete. But tick those boxes and you'll soon be jetting across the Pacific in style.
Paperwork and pre-flight COVID testing
Ahead of your US-bound flight, you'll need to take a COVID test within three calendar days of your departure from Australia. Expect to pay in the region of $100-$150 for a test that includes a formal, printable result. You'll need this for airline check-in – forget this crucial step and you won't get far!
Fortunately, travellers who are fully vaccinated no longer need an 'exemption' to depart Australia. This means the obligatory COVID test is your main pre-flight formality. You'll also need to complete a USA Passenger Attestation Form, which you can do at home to save time at the airport, or when you reach the check-in desk.
Don't forget about America's usual entry requirements, too. This includes the need to obtain approval before you fly, even as a visa-waiver passenger. These clearances are issued through the Electronic System for Travel Authorisation, or ESTA.
Valid for two years at a time, it's likely that any ESTA you held pre-COVID has now expired. ESTAs remain current for multiple trips, so consider applying for a fresh ESTA sooner rather than later.
Returning to Australia from the United States
If it's been a while since you jetted abroad, you may not be aware of the new Australia Travel Declaration. It's an online form that everybody needs to complete. This includes returning Australian citizens.
You'll need to have this form filed at least 72 hours before your flight home. It asks questions about your journey and vaccination status. That's because passengers who are unvaccinated remain subject to Australia's strict arrivals caps. It's therefore much easier to return home if you're fully vaccinated.
Australia also requires a negative COVID test, taken within 72 hours of your flight's scheduled departure time. In the United States, expect to pay US$199 (AU$272.50) and upwards for a test that provides a formal result. As providers and fees vary, consider speaking with your hotel's concierge team to find the best options near you.
Flying to Los Angeles with Qantas
With the boxes ticked, you'll be ready to fly – and so is Qantas!
By April 2022, Qantas will be the only airline offering three non-stop routes from Australia to Los Angeles. In fact, for Brisbane travellers, it'll be the only option not requiring a connection.
Route
Aircraft type(s)
Cabins
Sydney-Los Angeles
Airbus A380-800
Boeing 787-9
First, Business, Premium Economy, Economy
Business, Premium Economy, Economy
Melbourne-Los Angeles
Boeing 787-9
Business, Premium Economy, Economy
Brisbane-Los Angeles
Airbus A330-200
Business, Economy
Qantas' lounges in Australia, Los Angeles
Your journey to Hollywood begins with access to a Qantas lounge – provided you're eligible. And the same is true when returning to Australia.
In Sydney, Melbourne and Los Angeles, look forward to the fabulous Qantas First lounges. These serve up restaurant-style meals, bartender-mixed drinks and all-day coffee. If luck is on your side, you may even be able to snag a complimentary day spa appointment! These are available in Sydney and Melbourne – and for most passengers, operate on a first-in, best-dressed policy.
You'll have access to the Qantas First lounges if holding a boarding pass in Qantas First. Qantas Platinum, Platinum One and Chairmans Lounge members are also welcome. Other oneworld Emerald cardholders qualify for access as well.
Alternatively, relax in the Qantas Business lounges. These are found in Sydney, Melbourne, Brisbane and Los Angeles. Even without à la carte dining, you can still look forward to barista coffee, bartender service and buffet meals. Access is normally granted with a Qantas Business boarding pass. Doors are also open to Qantas Gold, Qantas Club and oneworld Sapphire frequent flyers.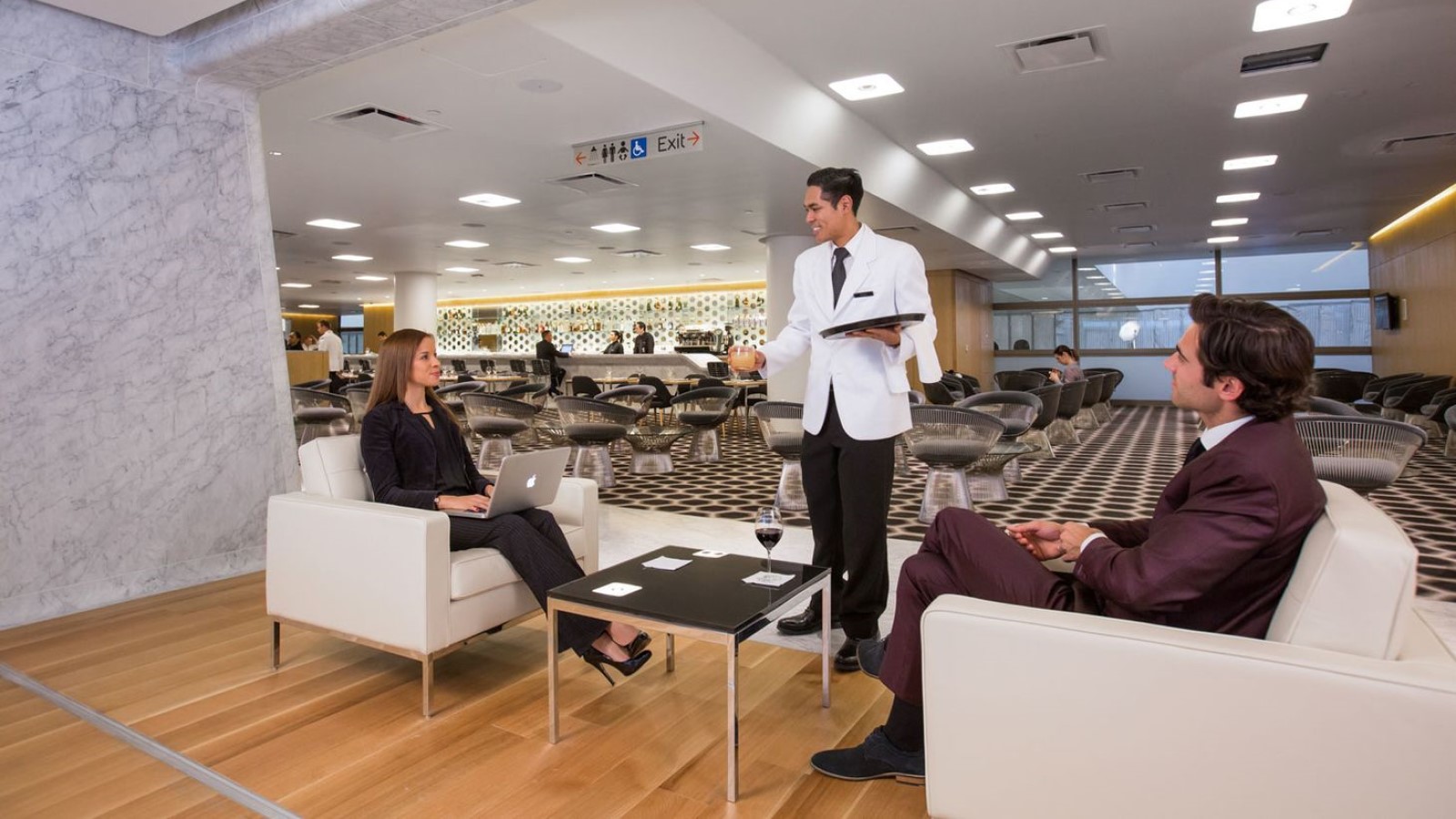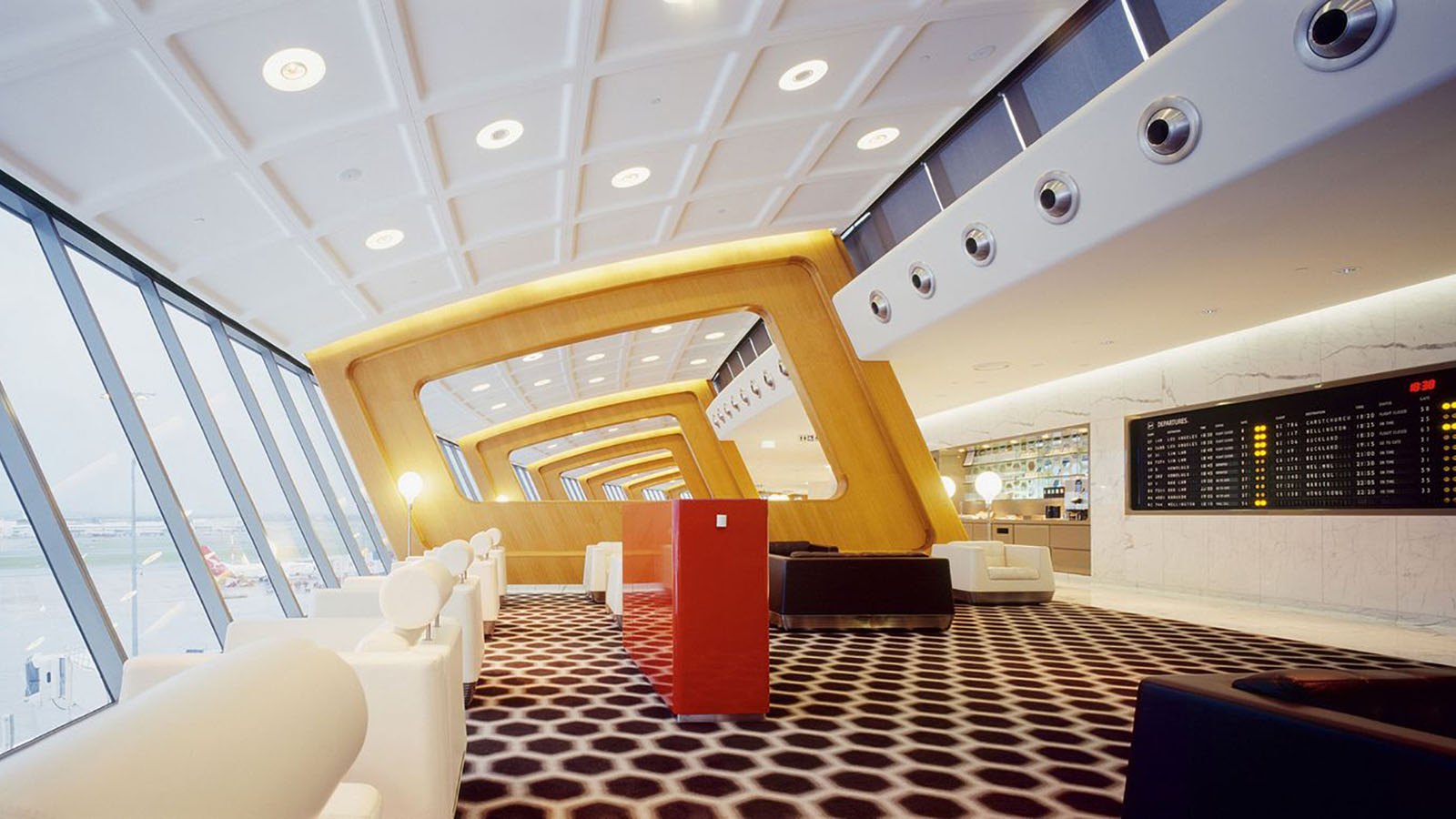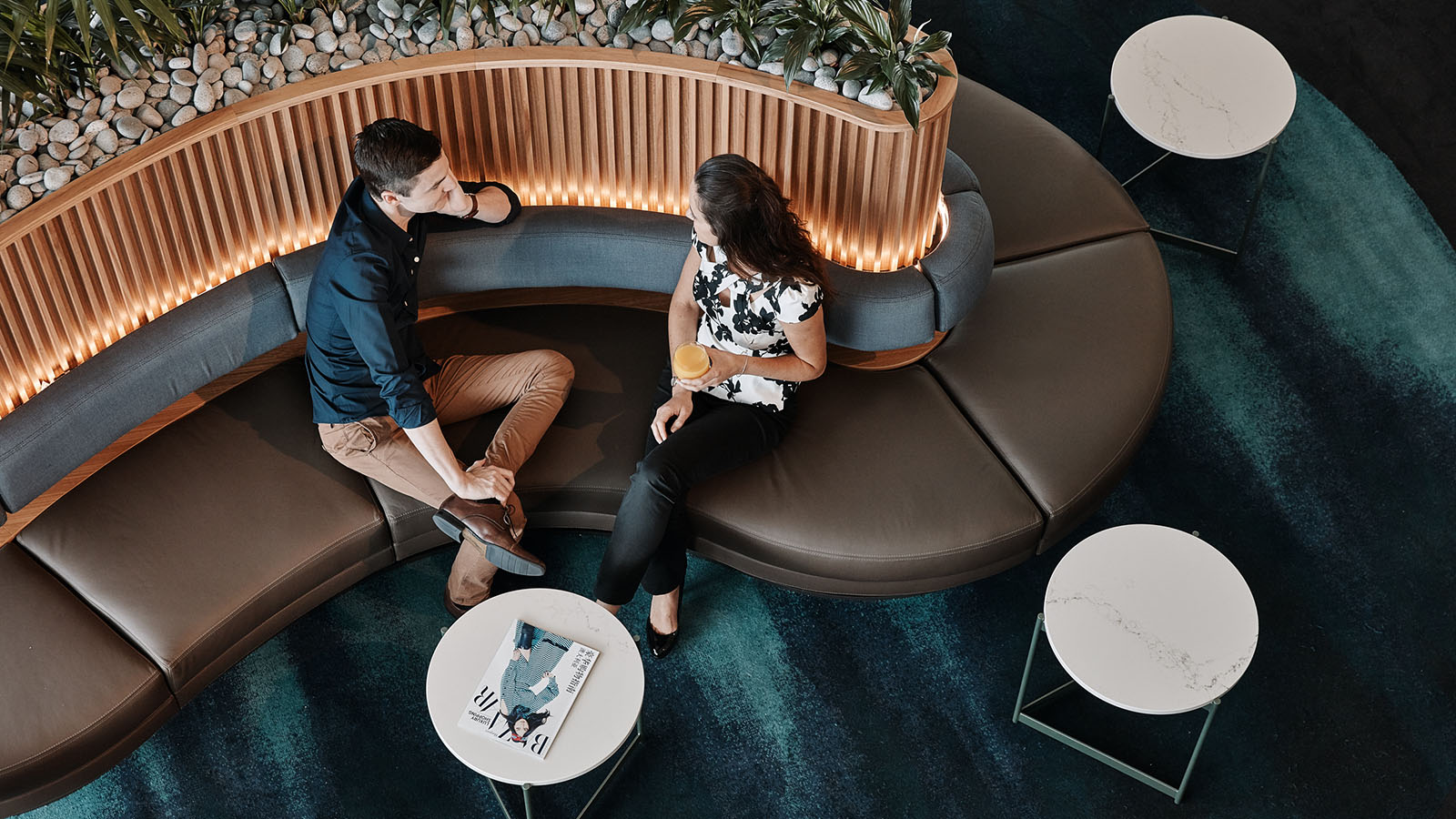 In the short term, you may arrive to find the Qantas Business lounge closed. If this happens, you'll instead be welcome at the Qantas First lounge, even if you wouldn't normally make the cut. That's right: Qantas Club members flying Economy may find themselves invited to the Qantas First lounge! How's that for a stroke of luck.
The Qantas inflight experience
Although Qantas is using three different planes for its Los Angeles flights, the experience onboard is very consistent.
Every flight offers Business, with the airline's flagship seats on every LA route. Turn your seat into a fully-flat bed, and enjoy the convenience of direct aisle access. And don't worry about packing pyjamas – Qantas has you covered!
Premium Economy is instead available on every flight from Sydney and Melbourne. On Airbus A380 services, it's a sizeable 60-seat cabin at the rear of the upper deck. Aboard the Boeing 787, it's a cosier four-row section nestled behind Business. Expect wider seats, more legroom, nicer meals and better service than regular Economy. Think of it like Qantas' domestic Business, but on a long-haul flight.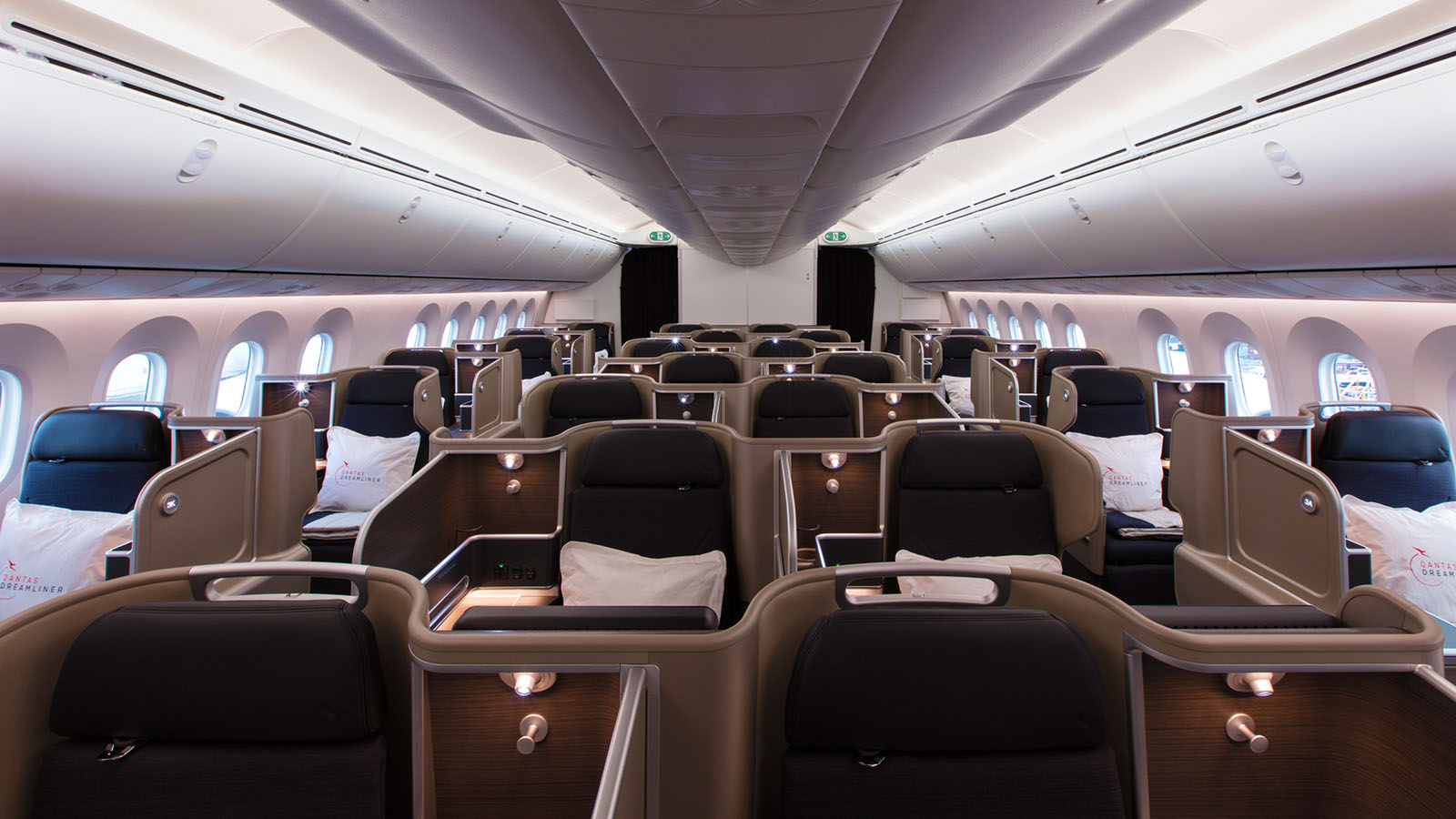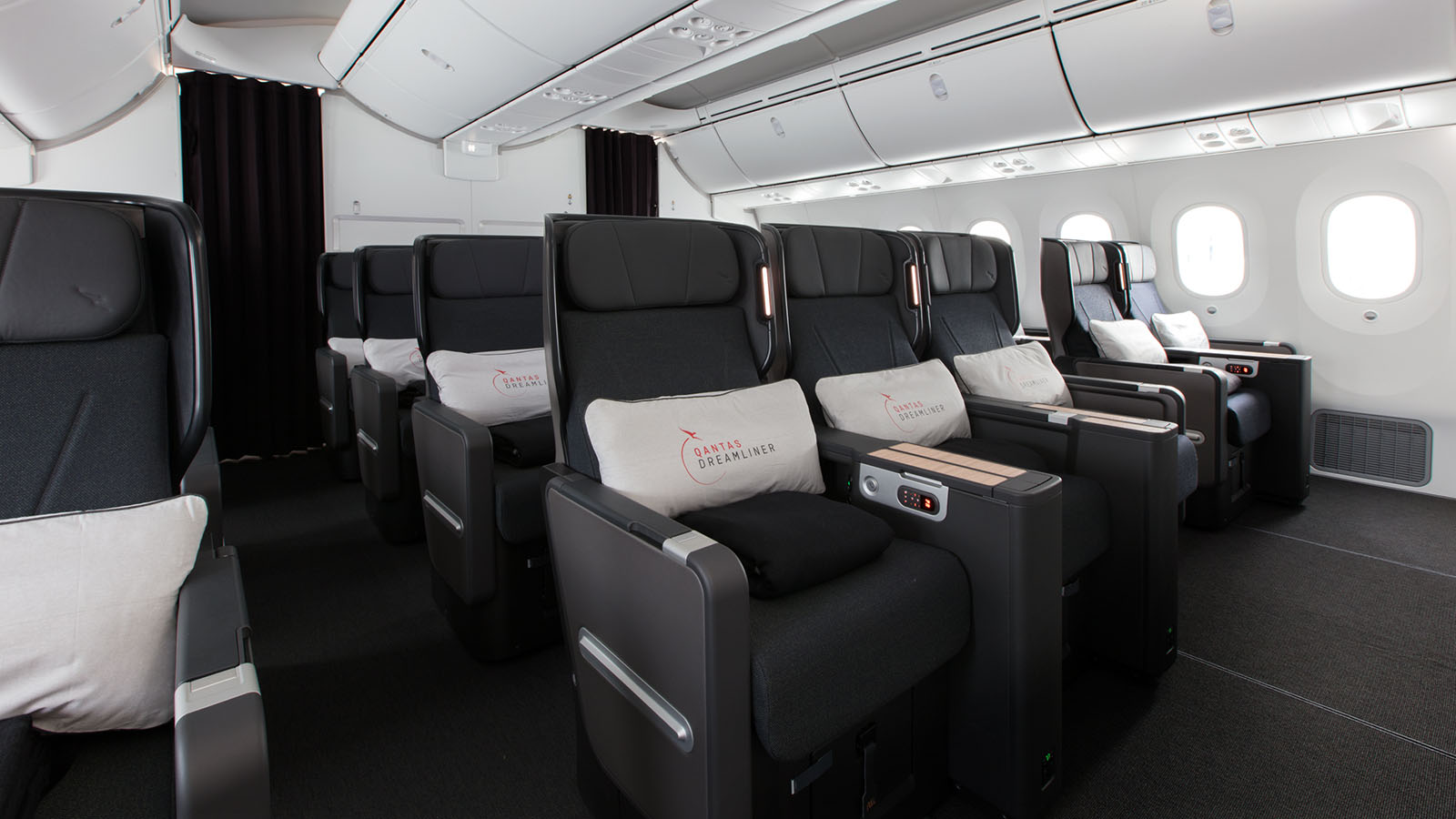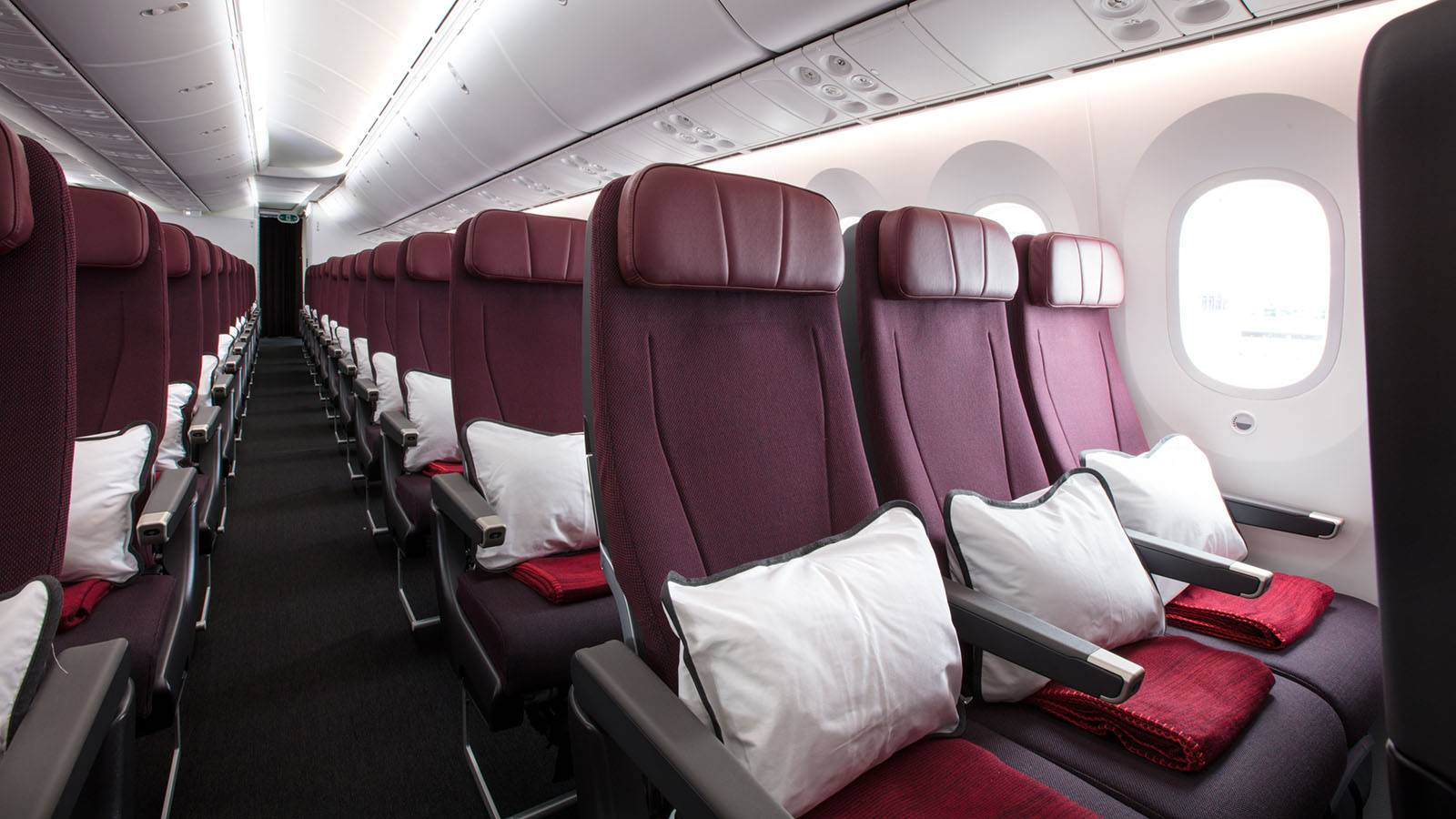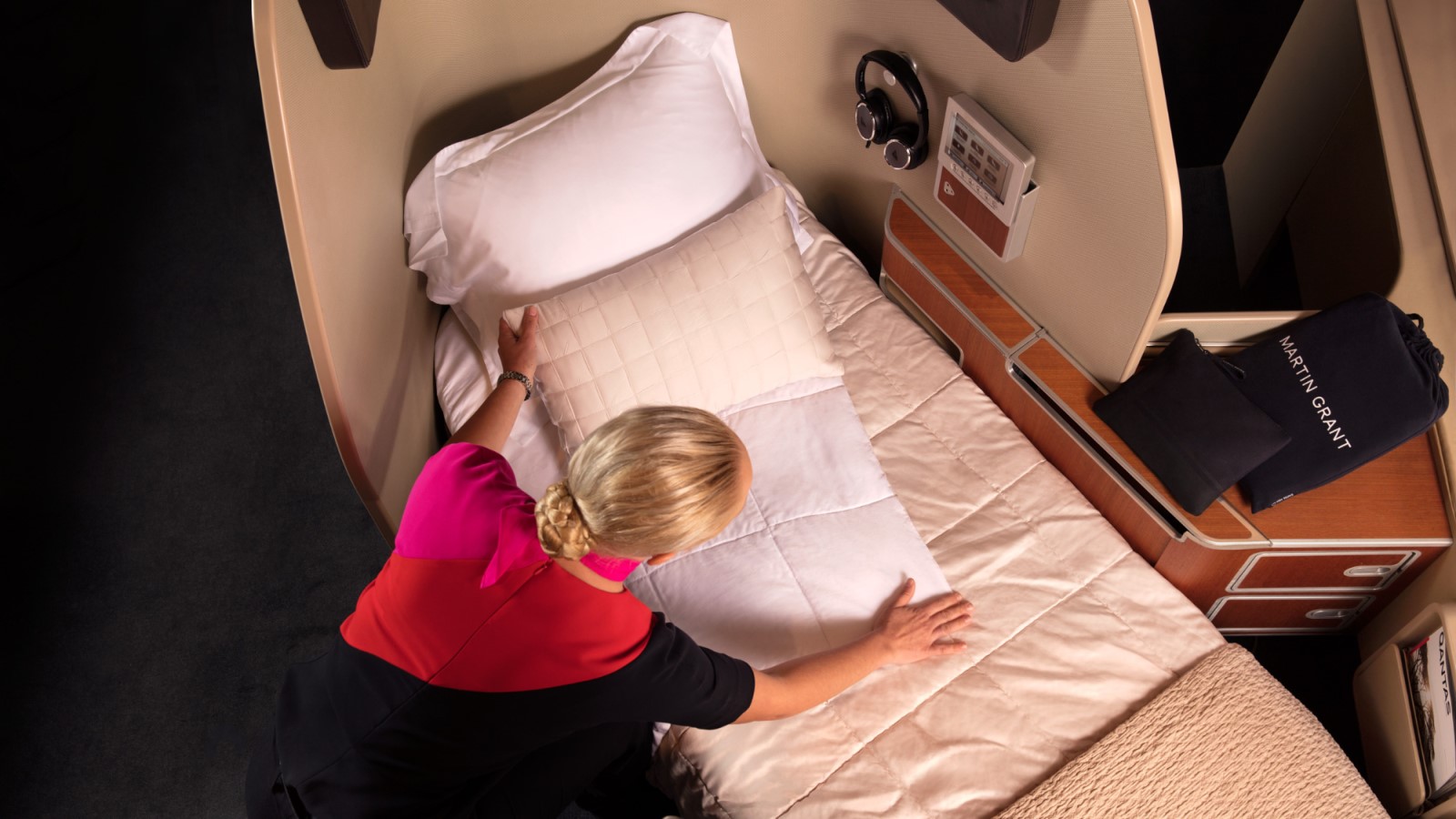 In Economy, you won't need to reach for your wallet onboard. But keep in mind, the aircraft you choose can have a big impact on your journey. For couples travelling together, you can't beat the Airbus A330 from Brisbane. A 2-4-2 seating layout means you can pair up by the windows, without a third person. Otherwise, it's 3-3-3 on the Boeing 787, and 3-4-3 on the Airbus A380.
But did somebody say First Class? Teasingly located right in front of Economy, Qantas First is found only on the Airbus A380s. Zipping between Sydney and Los Angeles, you can settle back in one of the 14 refurbished suites. Sample the delectable tasting menu, or catch up on some much-needed sleep. After all, you've earned it!
Flying to Los Angeles with American Airlines
Oneworld Alliance member American Airlines can also take you straight to Los Angeles.
As a close partner of Qantas, AA's flights can also be booked on QF codeshare flight numbers. When you're paying cash for a ticket, this means earning Qantas Points and Status Credits as though you were flying Qantas itself.
| | | |
| --- | --- | --- |
| Route | Aircraft type(s) | Cabins |
| Sydney-Los Angeles | Boeing 787-9 | Business Class, Premium Economy Class, Economy Class |
American Airlines' lounges in Sydney, Los Angeles
In Sydney, American Airlines' passengers can visit Qantas lounges, as above. The same access rules apply for frequent flyers and Business Class guests. Qantas Club members, however, would normally need to book the QF codeshare flight number for lounge access – not the AA code. Otherwise, access is covered if booking AA Business Class.
In Los Angeles, lounge access is a little different. That's because American Airlines normally flies out of Terminal 4, not the Tom Bradley International Terminal used by Qantas. The two are within walking distance and are connected beyond security. But lounging in T4 itself will be most convenient when flying AA.
When things are in full swing, most eligible travellers can visit the American Airlines Flagship Lounge. It's open to AA Business Class, plus oneworld Sapphire and Emerald frequent flyers like Qantas Gold and Platinum. You're more than covered for Champagne, with Bollinger begging to be savoured. On the food front, there's everything from made-to-order pho to fresh salads and other bites.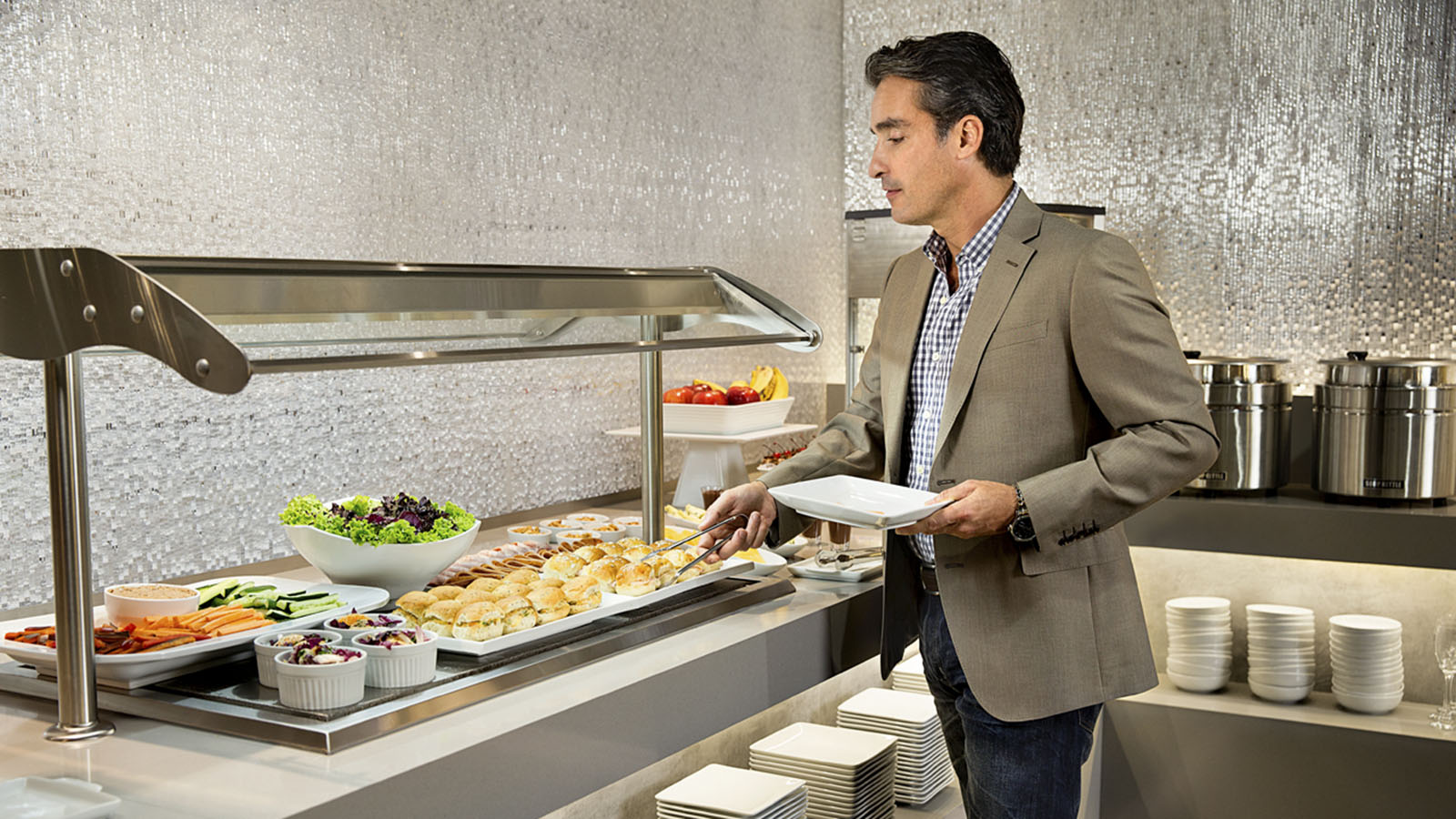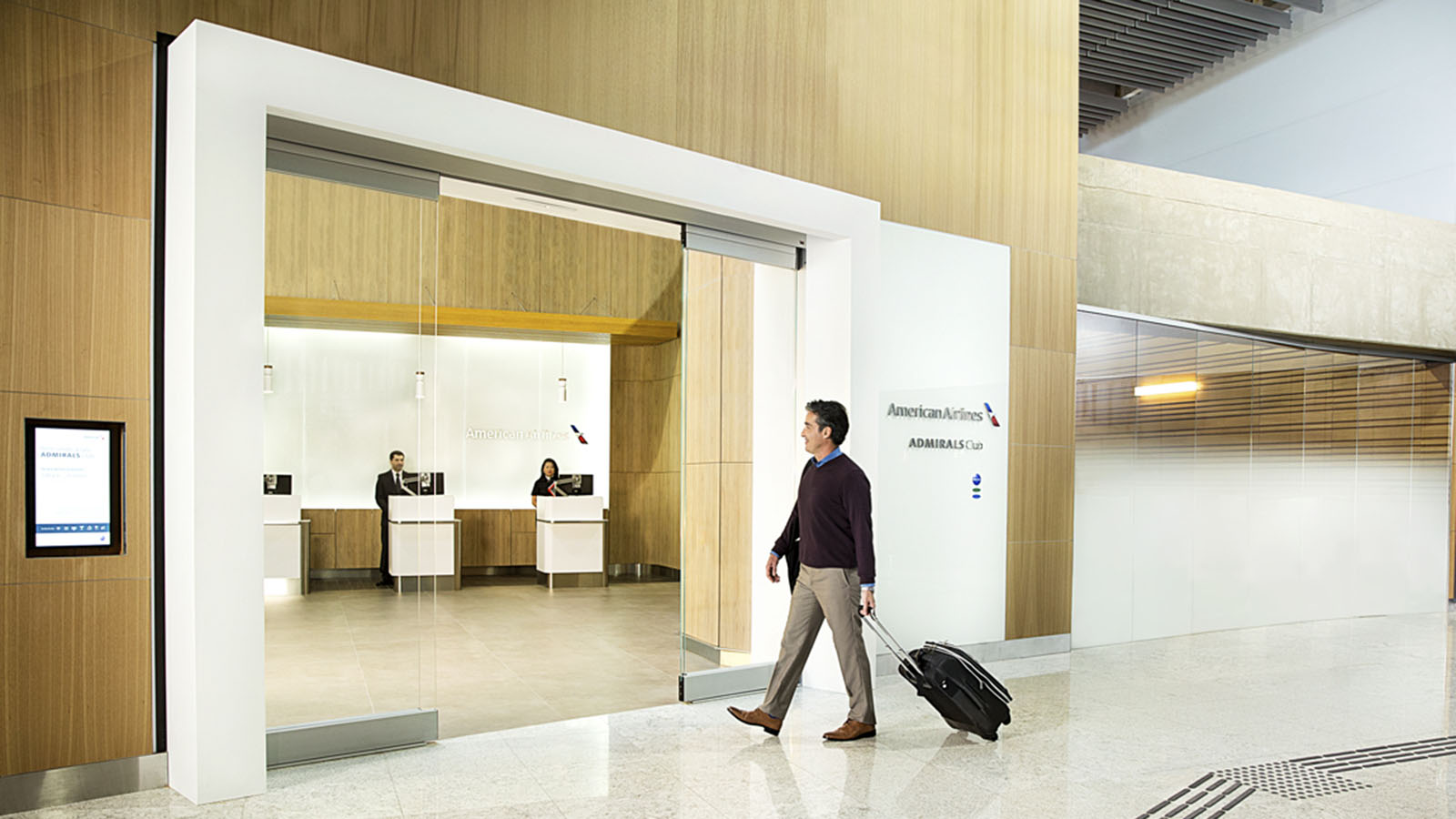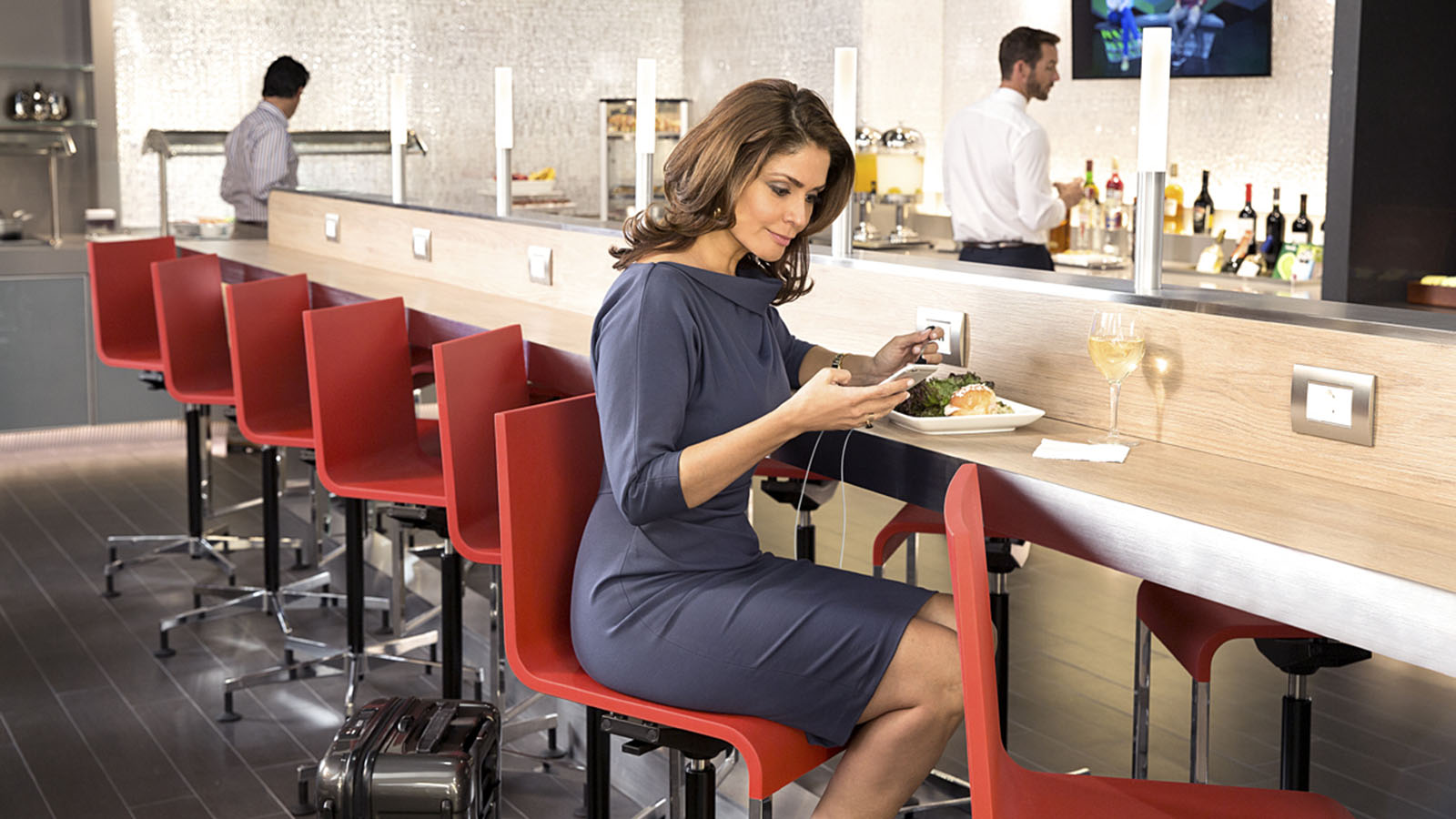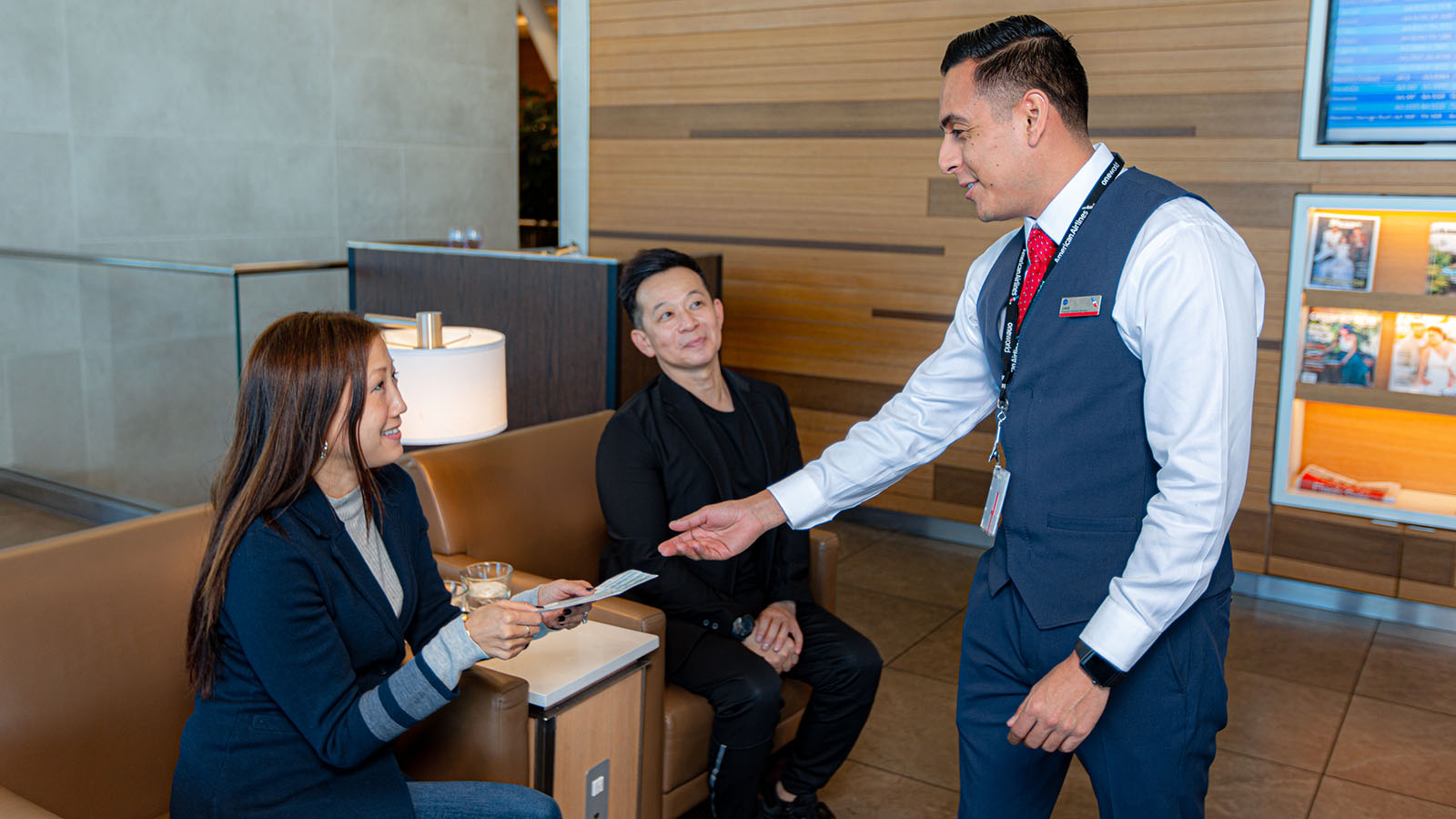 For Qantas Club and Admirals Club cardholders not flying Business Class, the Admirals Club lounge awaits instead. It still ticks the basic boxes, but without the premium touch of the Flagship Lounge. Think of it as similar to the Qantas Club, compared to the more luxe Qantas Domestic Business lounges.
The American Airlines inflight experience
As some of the newest jets in American Airlines' fleet, the Boeing 787s come well-equipped.
Upfront in Business Class, 30 lie-flat seats take pride of place. These are based on the same design as Virgin Australia's now-retired 'The Business' cabins, so will be familiar for many. Just behind that sits three rows of Premium Economy Class. At 48cm (19 inches) wide, they're your best choice if a Business Class bed is out of reach.
The regular Economy Class service is then split into two categories: Main Cabin, and Main Cabin Extra. As the name suggests, Main Cabin Extra provides more legroom – an extra four inches, to be precise. The seats here are also a tad wider than some found in Main Cabin. You can upgrade yourself to Main Cabin Extra by booking your flight in Economy Class. Then select a spot in Main Cabin Extra during the seat selection process, and pay the asking price.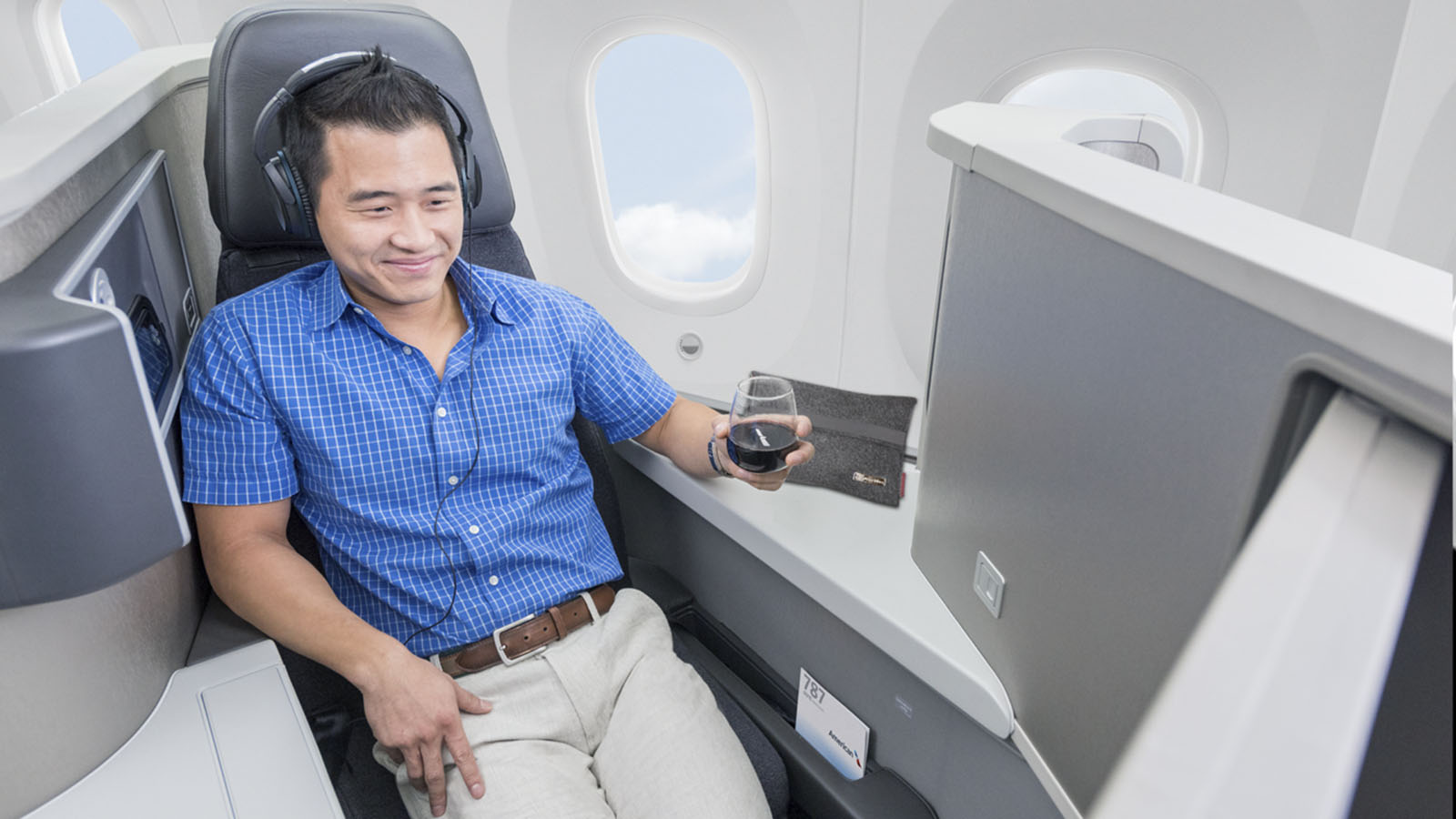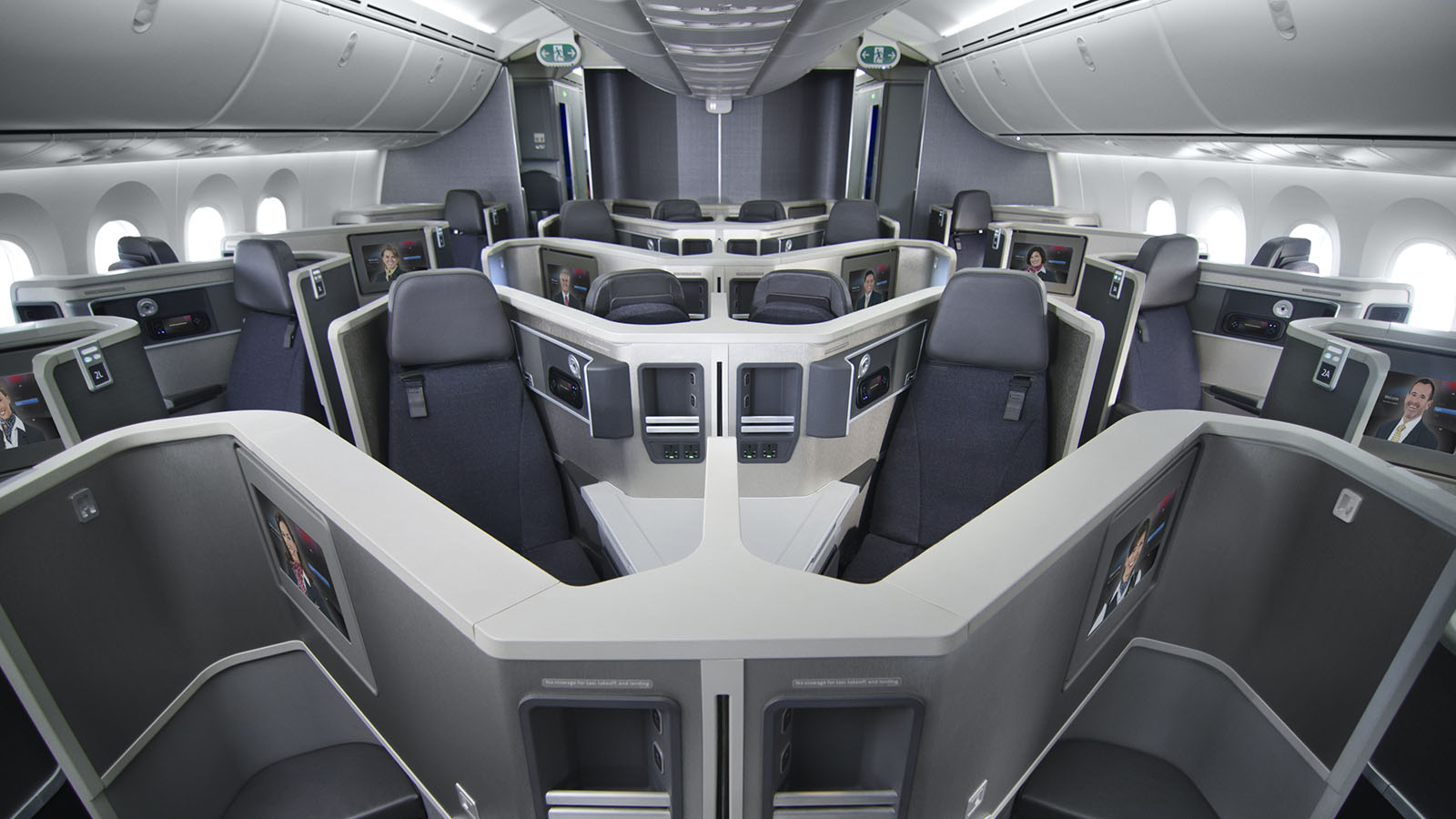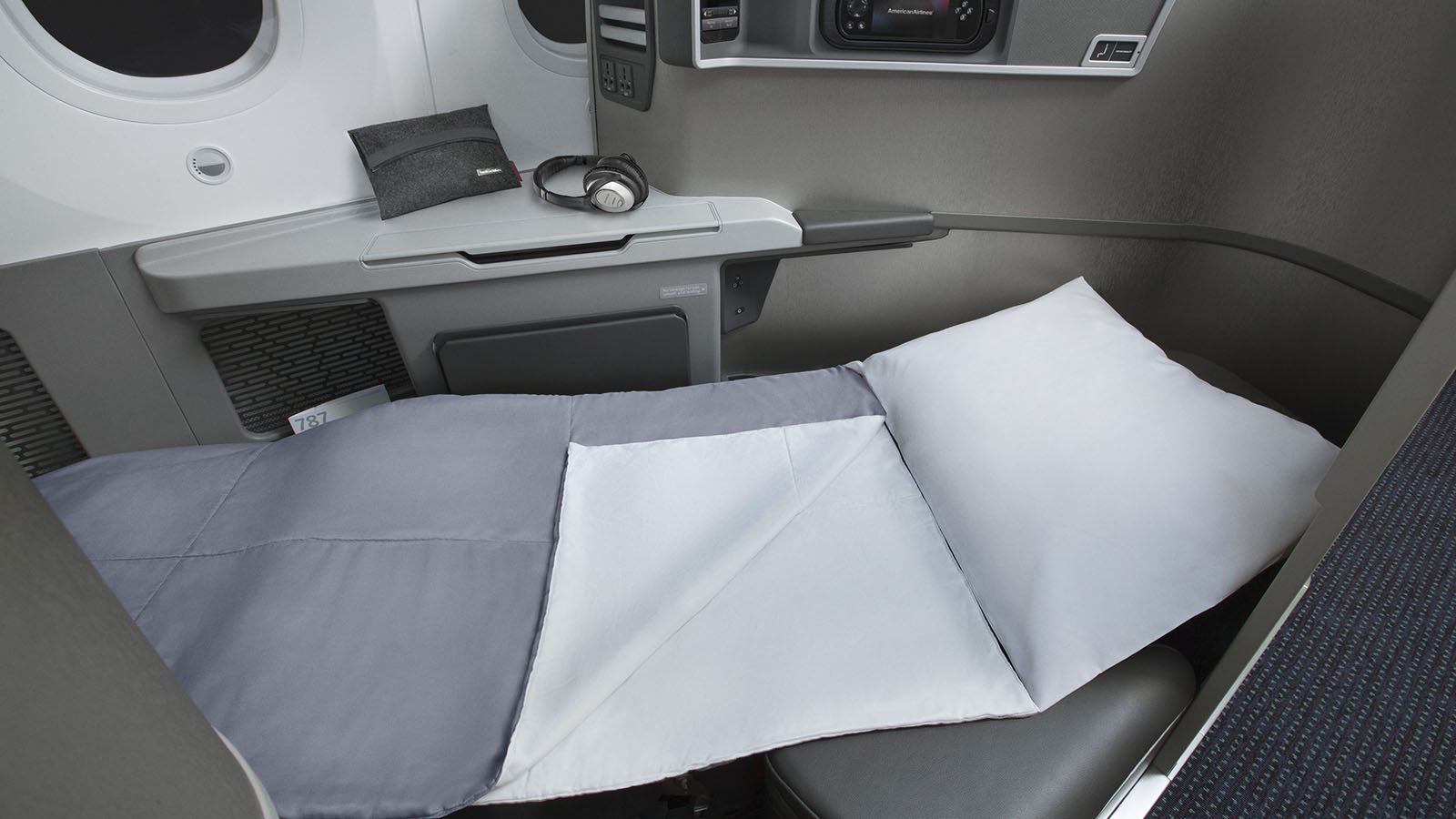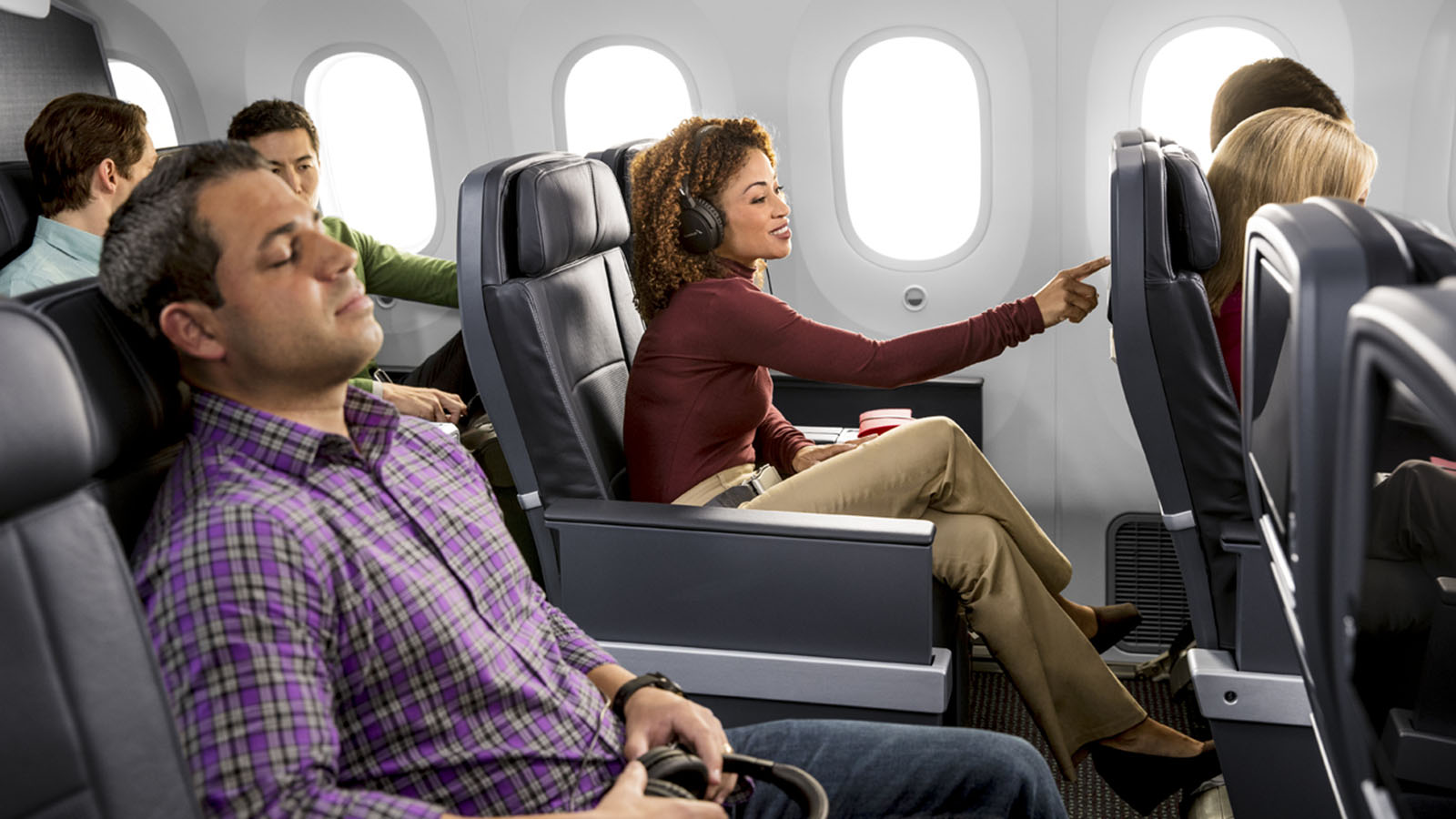 Main Cabin Extra used to be complimentary for Qantas Gold and Platinum frequent flyers. However, it's now only free if you hold status with American Airlines, or its close partners British Airways, Iberia, Finnair and Japan Airlines.
Ad – Scroll down to continue reading.Minimum spend, terms & conditions apply.
Flying to Los Angeles with Delta Air Lines
With Virgin Australia no longer flying to Los Angeles, Delta Air Lines is the next-best bet for Velocity frequent flyers.
| | | |
| --- | --- | --- |
| Route | Aircraft type(s) | Cabins |
| Sydney-Los Angeles | Airbus A350-900 | Delta One, Delta Premium Select, Delta Comfort+, Economy Class |
Delta Air Lines' lounges in Sydney, Los Angeles
As a member of SkyTeam, Delta sends its eligible passengers to the SkyTeam Lounge at Sydney Airport. Nibble on a pre-flight buffet spread, freshen up in a shower suite or pour yourself a glass of wine. Need to recharge? The lounge is designed with productivity in mind, so you'll find power points near many of the seats.
In Los Angeles, the Delta Sky Club awaits. Much improved over years past, today's Sky Club is a modern space that showcases the best of Delta. Dine on a premium buffet, work in the dedicated business zone, or relax and enjoy the artwork.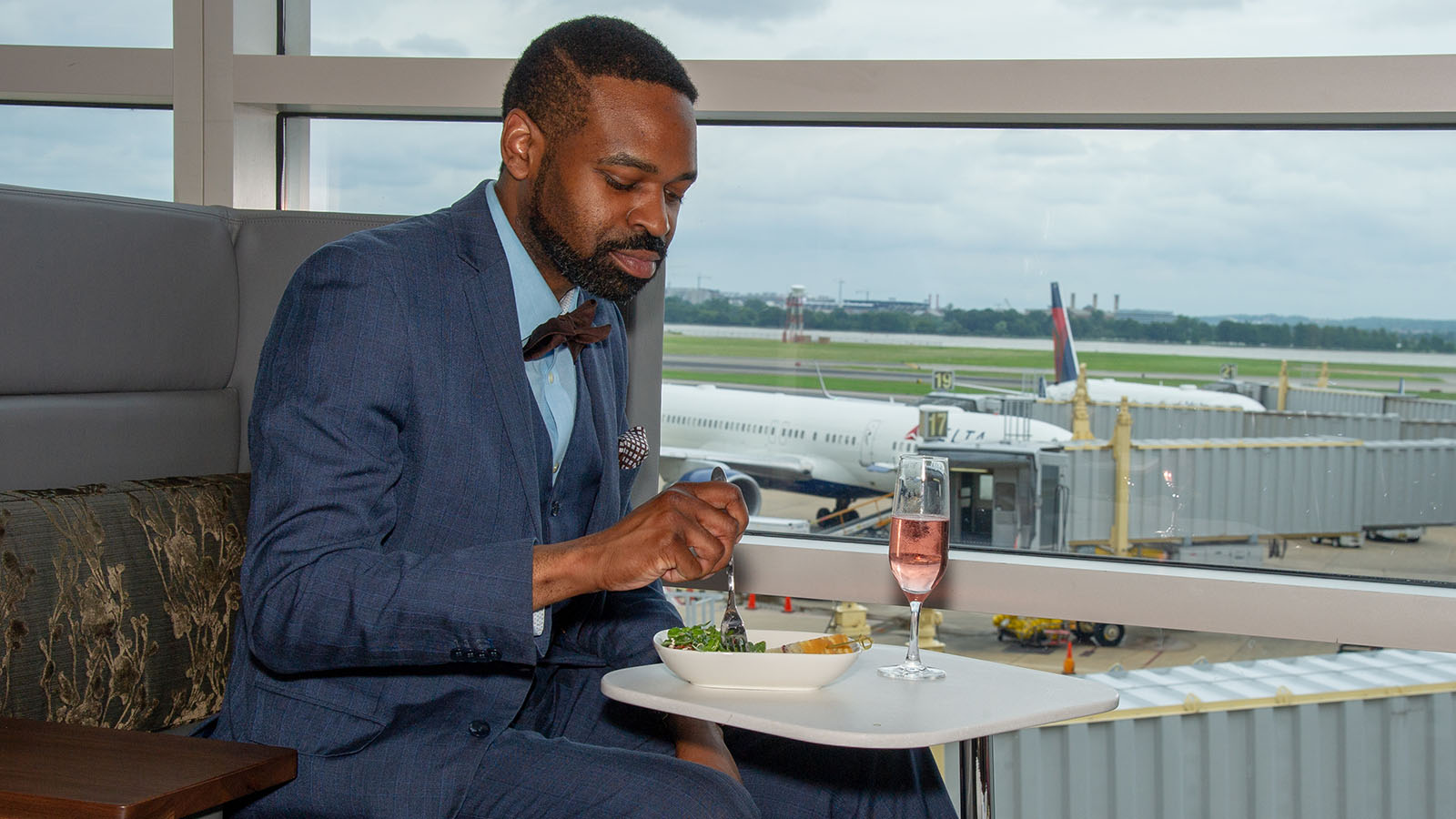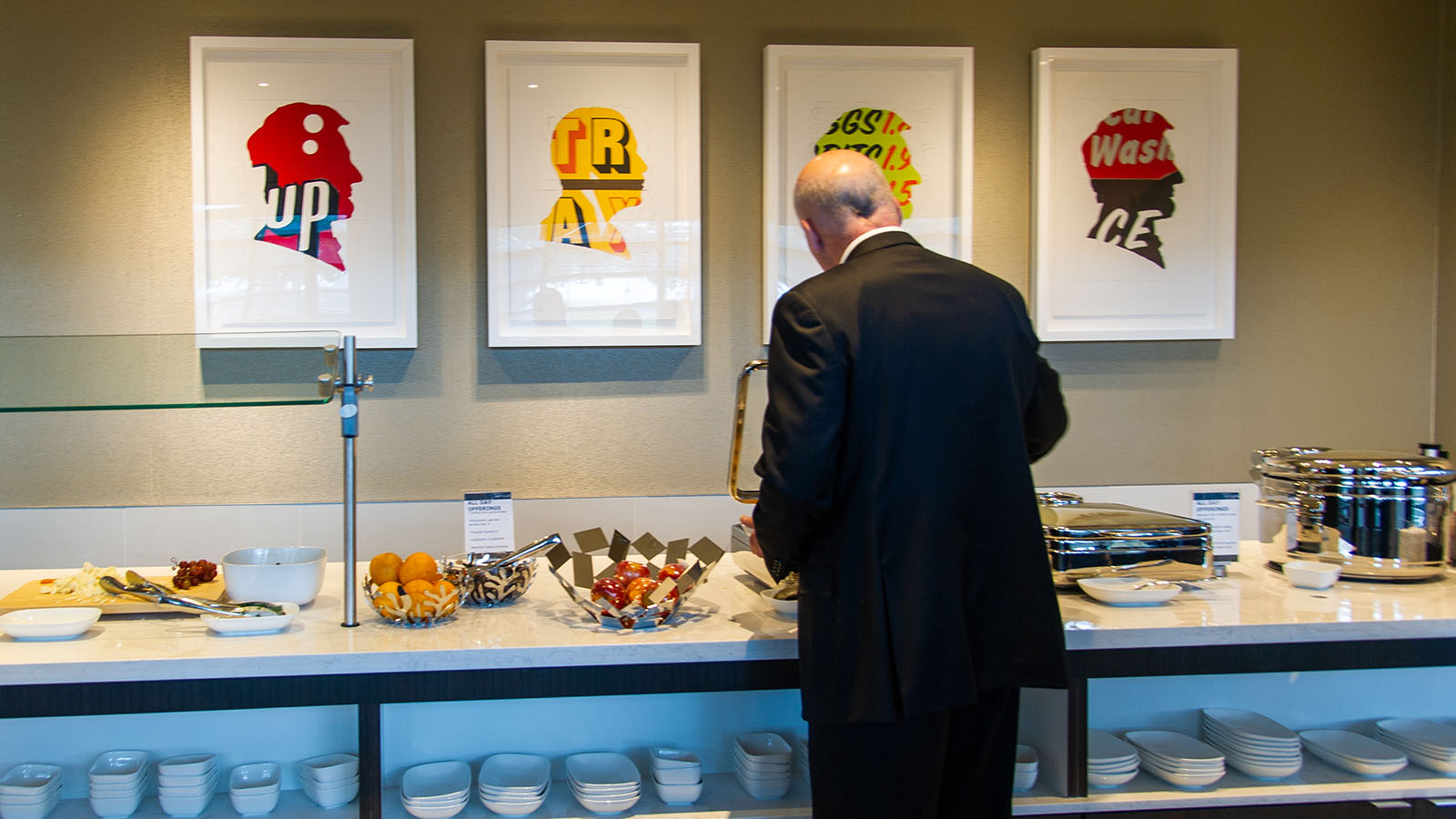 Here's a tip if you don't qualify for Delta Sky Club access by way of your boarding pass or status. If you hold the American Express Platinum Card, you can simply present that card at reception for complimentary access. This includes Amex Platinum Cards issued in Australia. Easy!
The Delta Air Lines inflight experience
The Airbus A350 brings Delta's flagship Business Class product – Delta One – to Australia. Having taken this very flight myself, I can report that the Delta One seat has to be one of the best in the Business Class skies. With a closing door for privacy, it's much closer to First Class. With a modern seat and top-notch service, Delta Business is a fantastic way to spend your Velocity Points.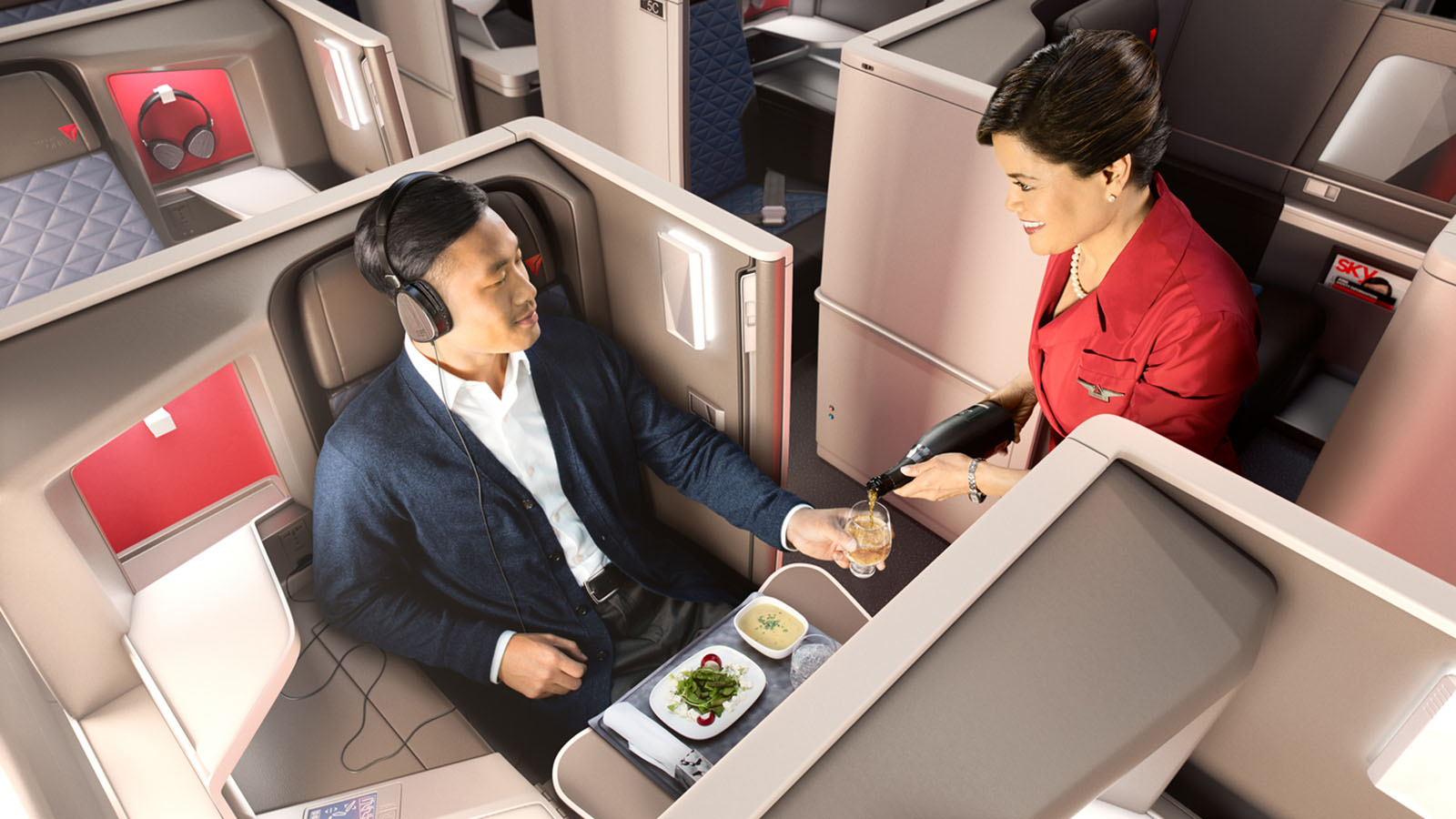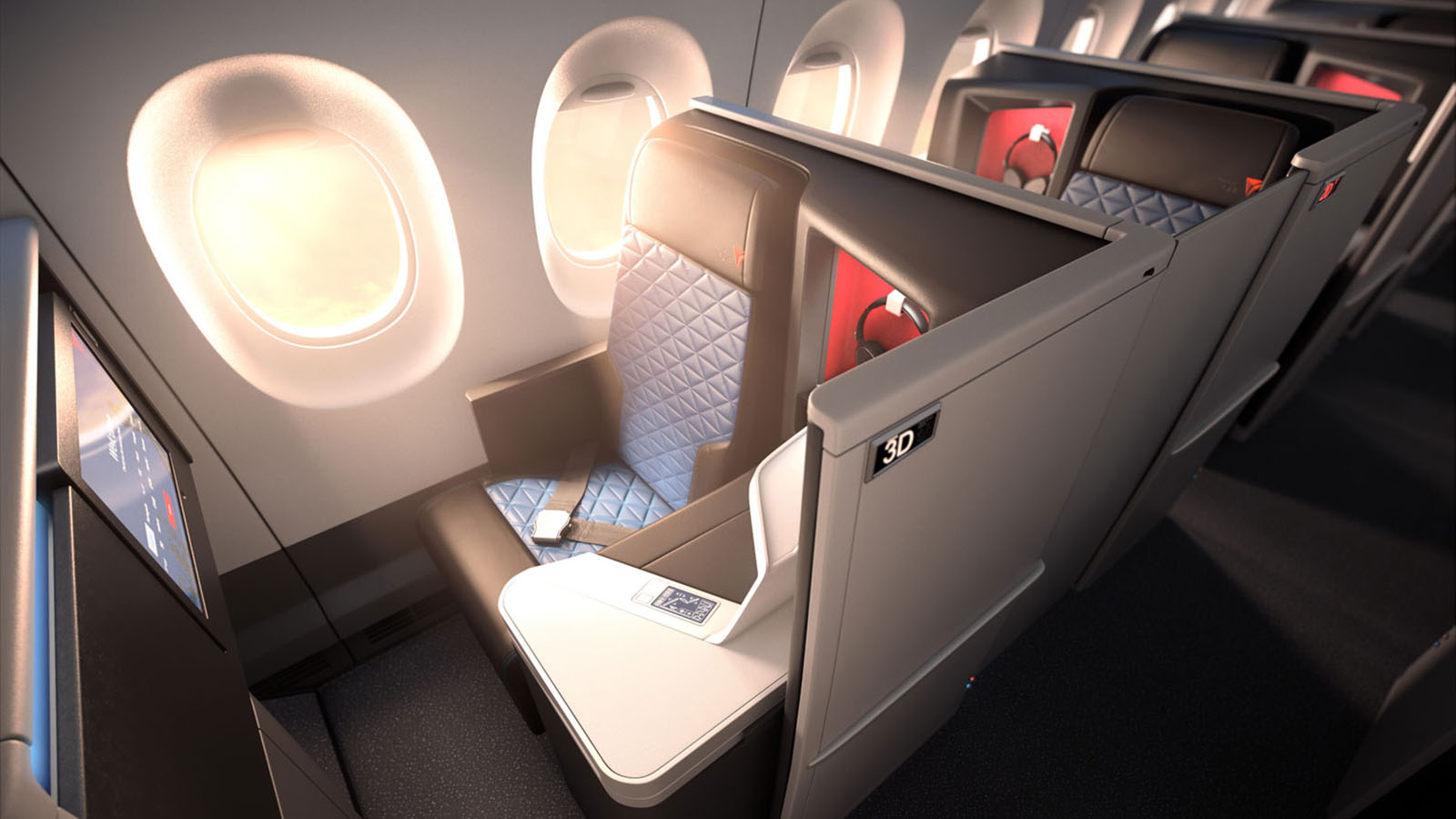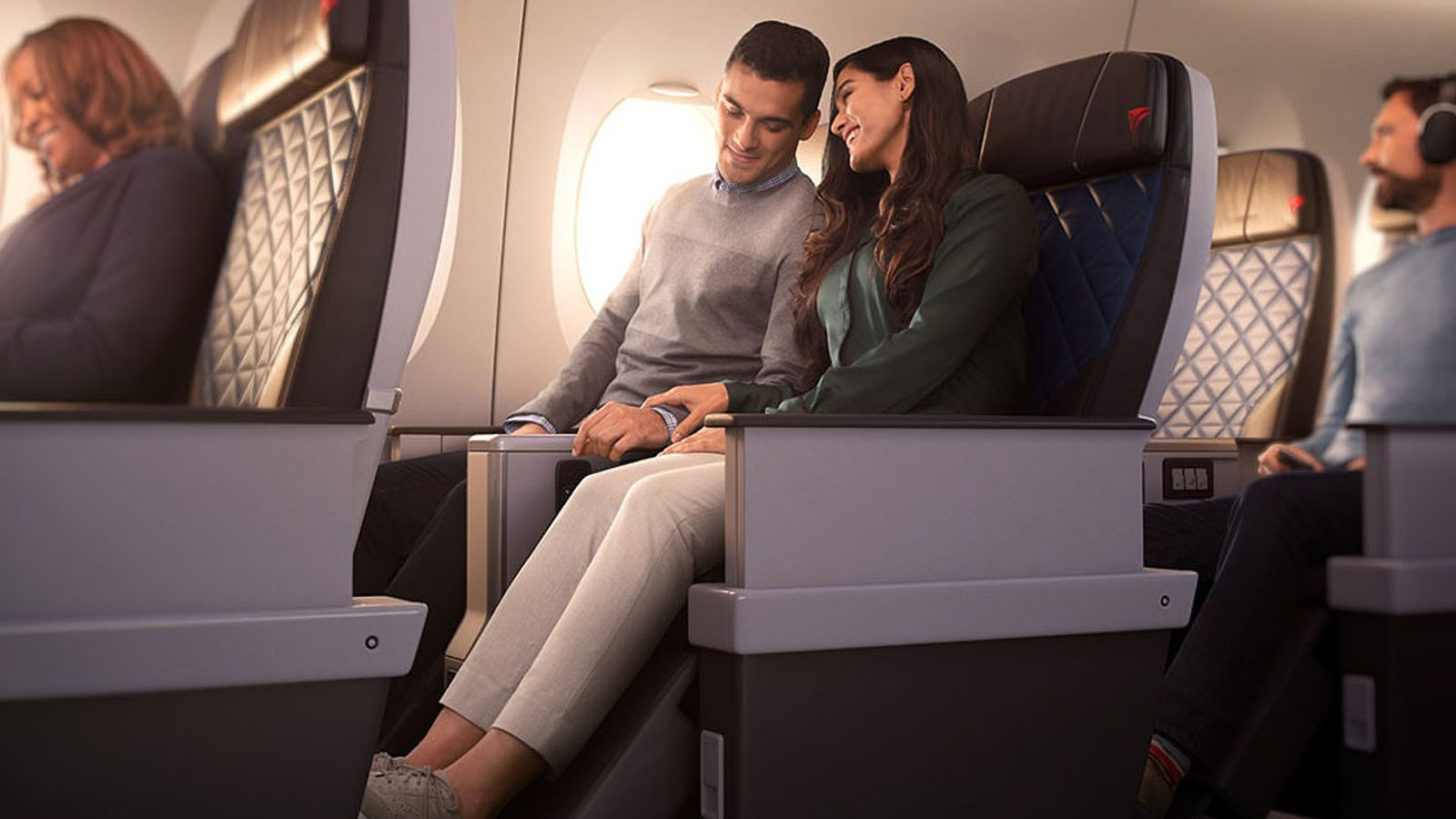 There's also Delta Premium Select – that's Delta speak for Premium Economy Class. These reclining seats also stack up solidly for Premium Economy Class flyers. With a generous recline and a customisable leg rest, getting some sleep is an easy feat.
Like American Airlines, Delta also splits Economy Class into 'regular' and 'better'. Delta Comfort+ offers several inches of additional legroom compared to Main Cabin (Economy Class). Particularly as the US-Australia leg clocks in at 15 hours, you're sure to appreciate the extra space!
Flying to Los Angeles with United Airlines
United Airlines isn't partnered with Qantas or Virgin Australia. However, as a Star Alliance carrier, United flights are one of the many ways you can spend miles from programs like Singapore Airlines KrisFlyer and Avianca LifeMiles.
For Melbourne-based flyers, United is also the only alternative to Qantas for non-stop flights to Los Angeles.
| | | |
| --- | --- | --- |
| Route | Aircraft type(s) | Cabins |
| Sydney-Los Angeles | Boeing 787-9 | Polaris, Economy Plus, Economy Class |
| Melbourne-Los Angeles | Boeing 787-9 | Polaris, Economy Plus, Economy Class |
United Airlines' lounges in Australia, Los Angeles
In Sydney and Melbourne, United relies on the lounges of its partner airlines. This means you can access either the Air New Zealand or Singapore Airlines lounges here. United previously ran its own-brand lounge in Melbourne, but this facility closed some years back.
Exactly which of these two lounges you can visit may depend on flight schedules, operating hours and capacity. But it's hard to go wrong with either choice. Air New Zealand's lounges have a more funky, modern vibe at these two airports. Singapore Airlines' spaces are instead more 'traditional luxury'. Take your pick!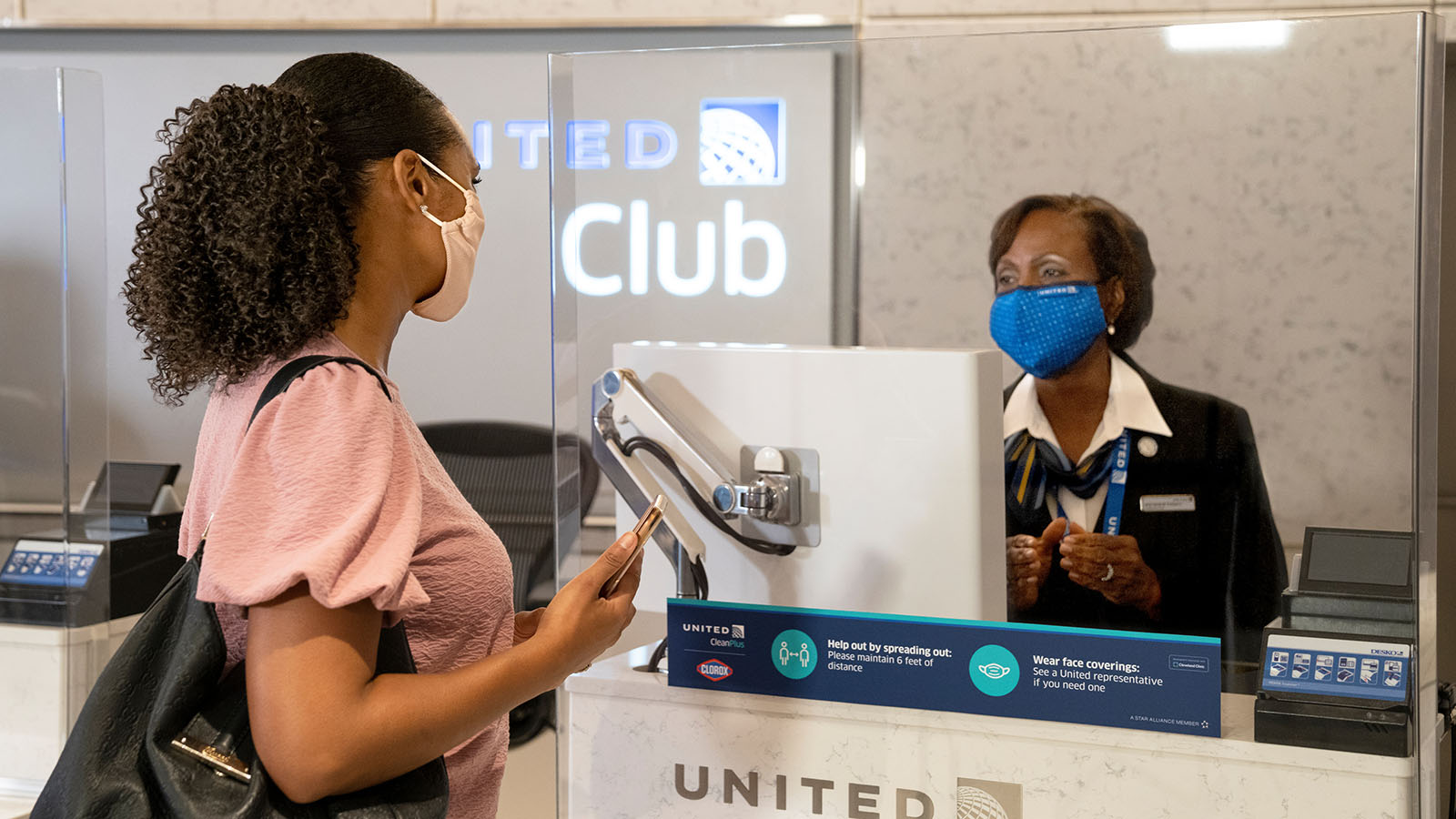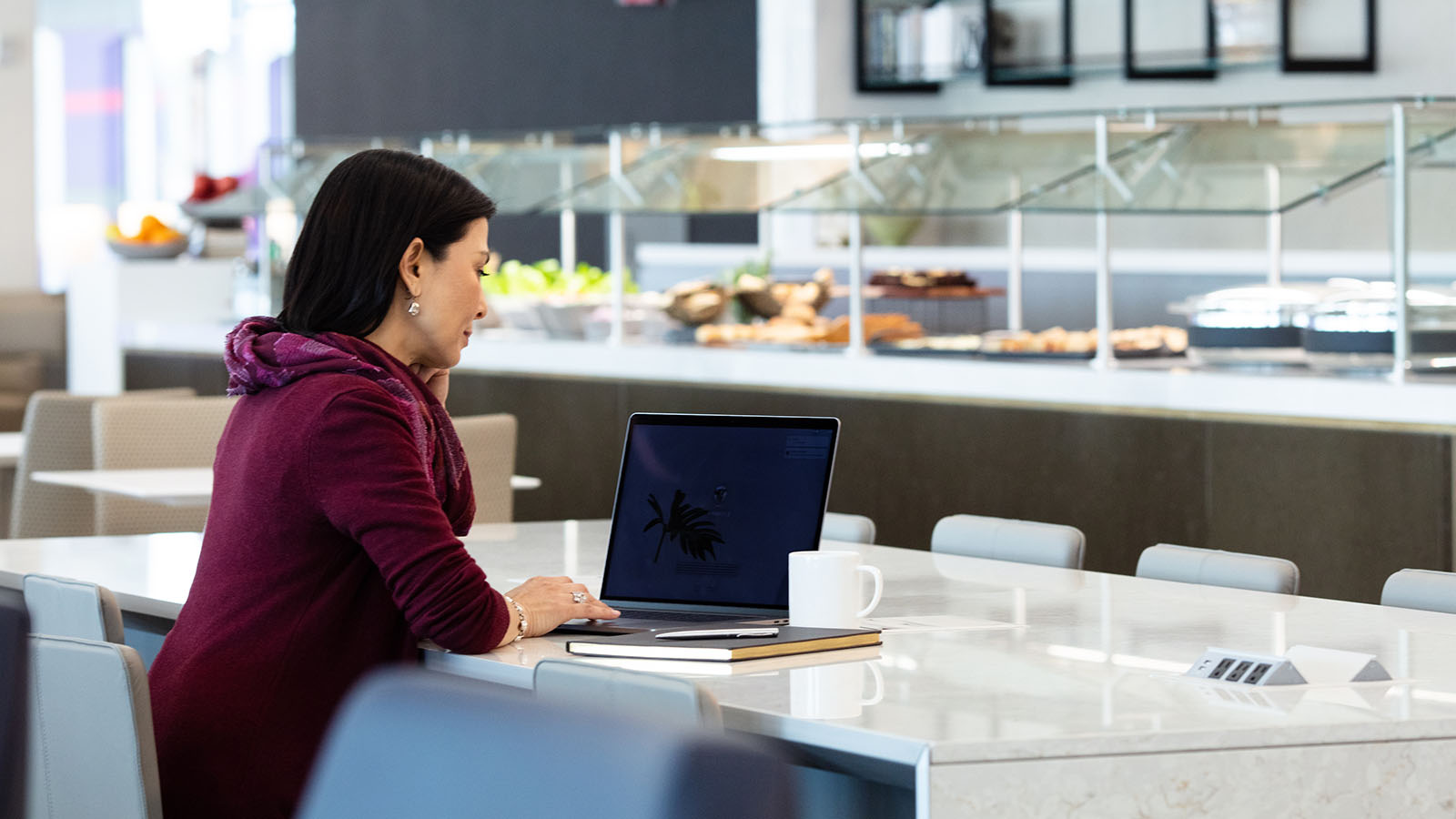 Out of Los Angeles, United is currently inviting all eligible guests into its standard United Club lounge. This facility offers a full-service bar and light snacks, but unfortunately no shower suites. These are normally found in the separate United Polaris Lounge for Business Class customers, but that space remains closed for now.
The United Airlines inflight experience
United's long-haul Business Class is branded 'Polaris'. However, that name can bring some confusion. That's because the term was originally reserved only for the airline's very best Business Class. Now, it refers to all long-haul Business Class, both new and old.
On the Boeing 787s currently scheduled for Sydney and Melbourne into next year, Business Class is of the older kind. That means six seats to a row, with only four of these six having direct aisle access. Those by the windows must instead step over their seatmate, or be excused every time they pass.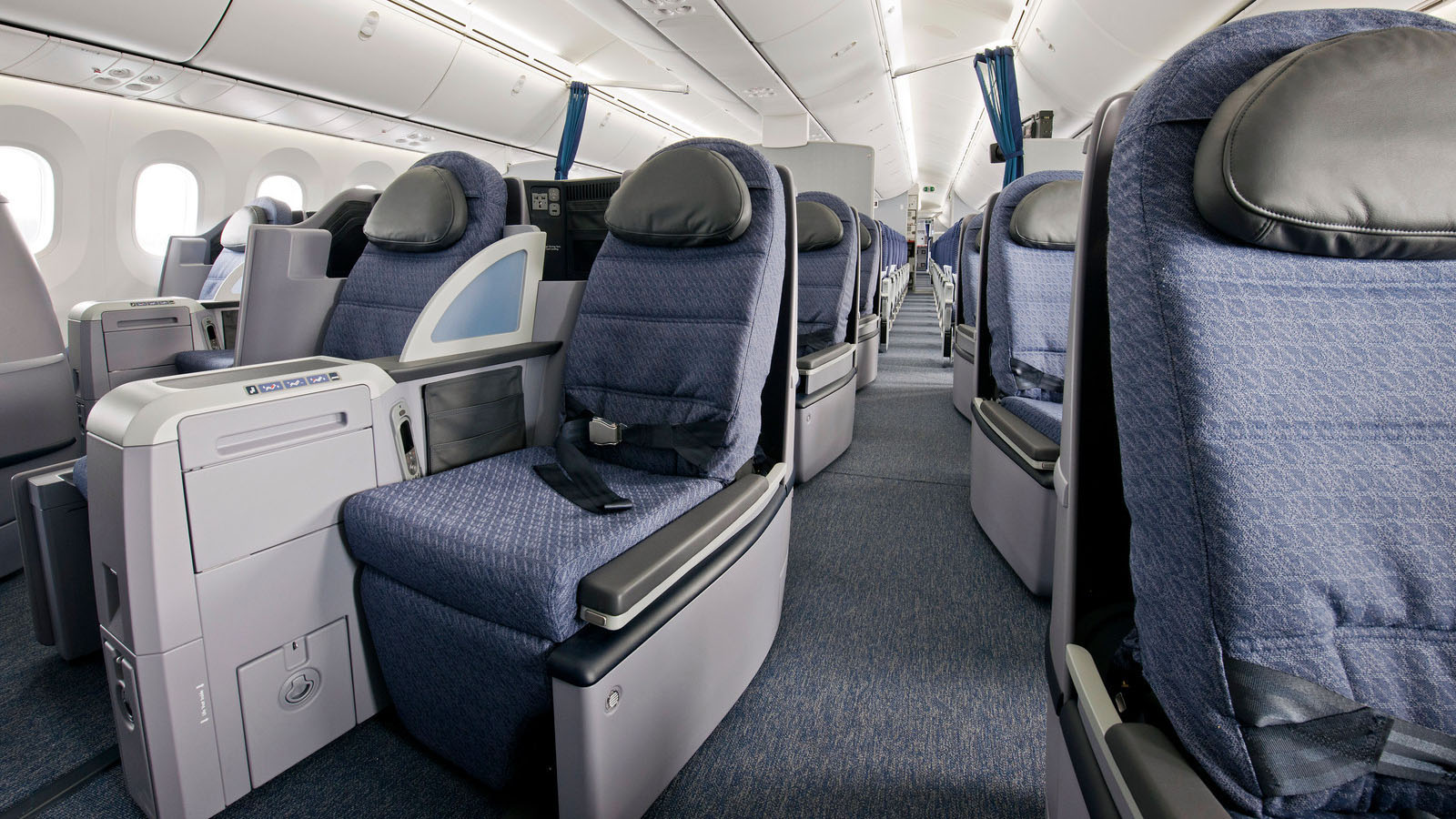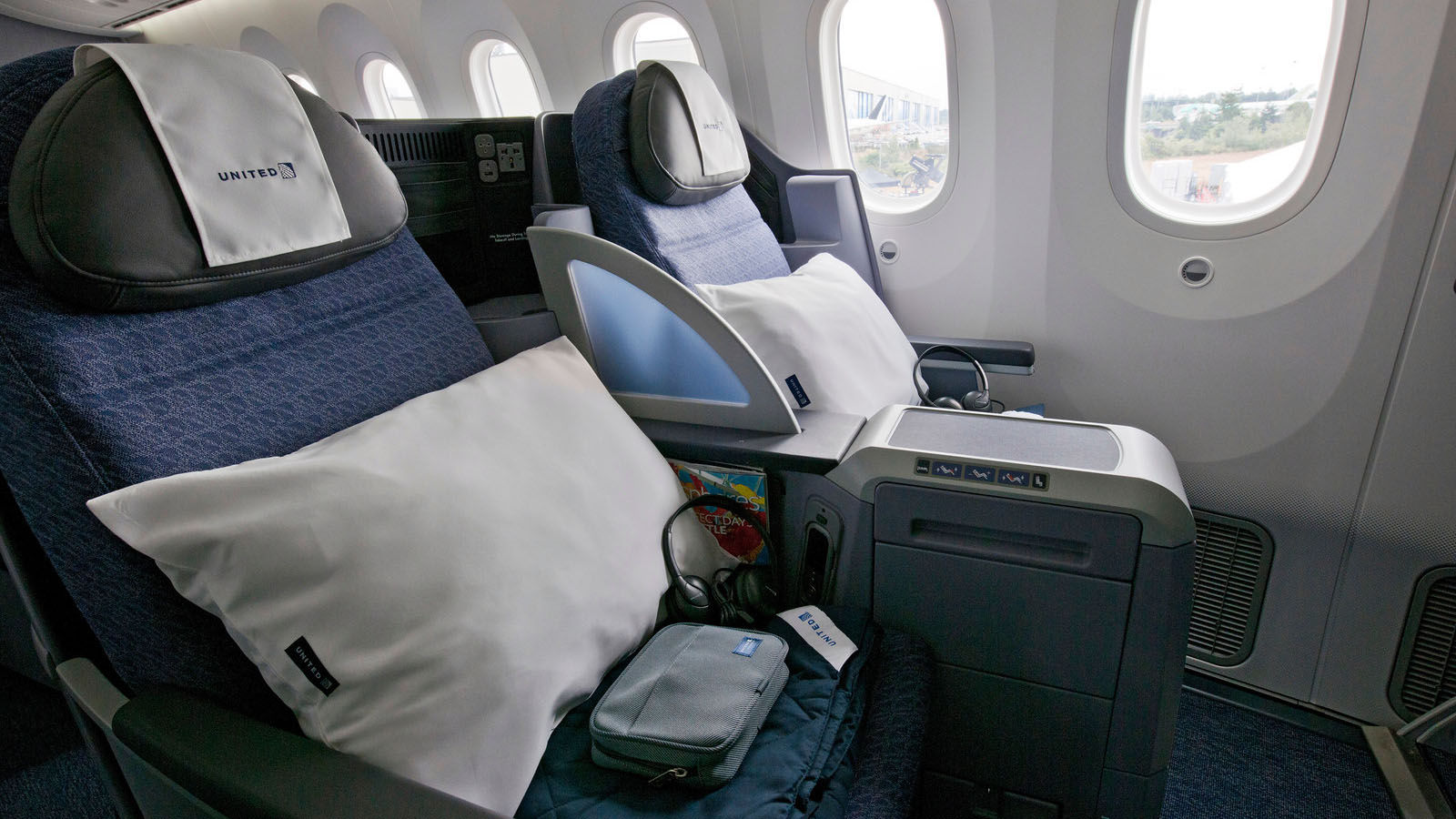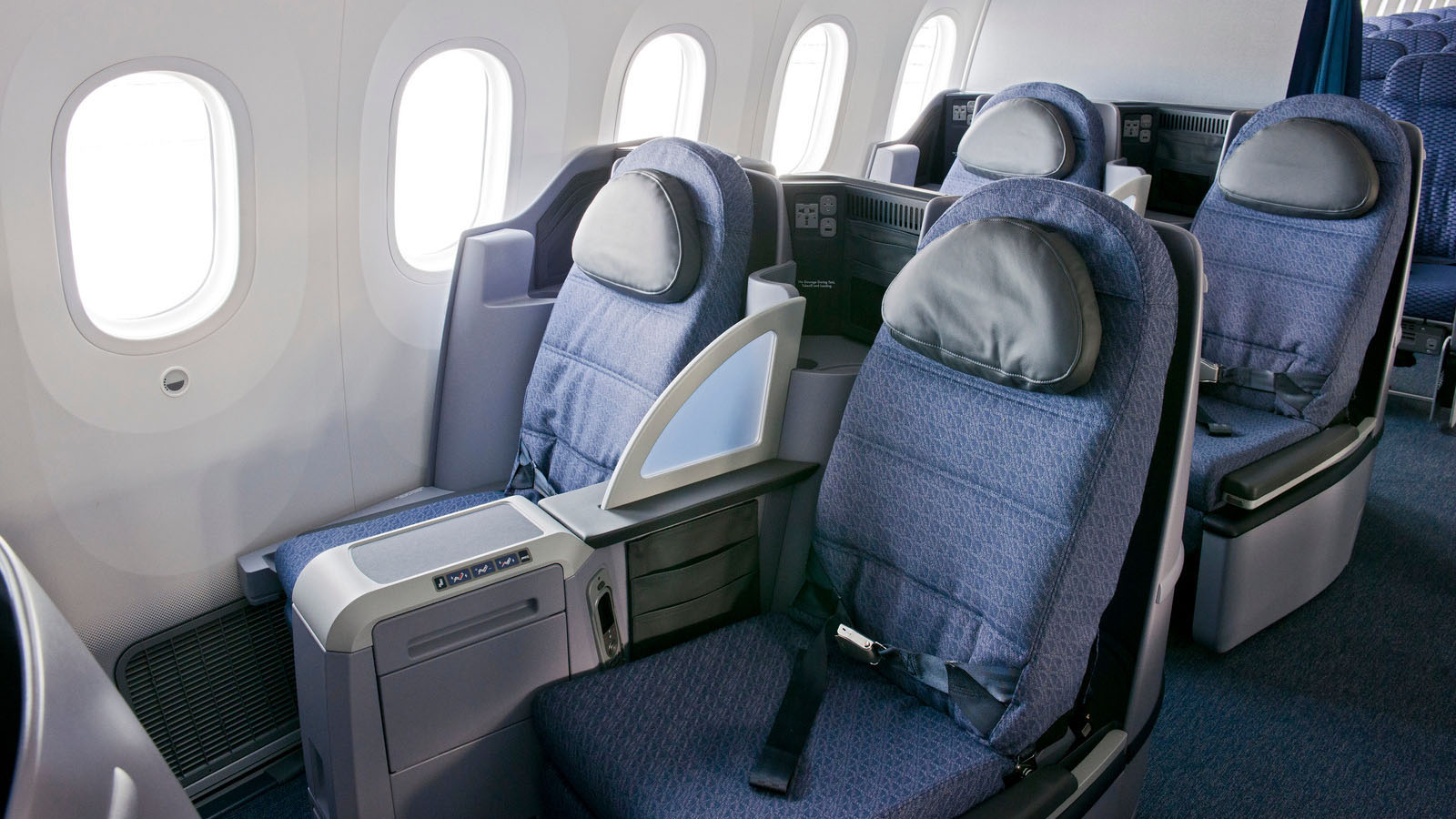 While not ideal, the 2-2-2 cabin layout has an upside. When you're travelling as a pair, you can sit together – not just near each other. If you're a solo flyer, try to choose one of the seats in the centre. This gives you direct aisle access without somebody stepping past you, as your neighbour has their own aisle.
There's no Premium Economy Class on the planes with this layout. Though roughly half the Economy Class cabin is zoned as 'Economy Plus'. While the service is the same, Economy Plus delivers three inches of additional legroom. Add to that, an extra inch of seat recline, and seats up to one inch wider than those found in standard Economy Class.
Flying to Los Angeles with Cathay Pacific
For travellers based in Adelaide and Perth, flying to Los Angeles via Asia can be a practical option. It's certainly possible from the east coast as well, but most travellers would lean towards the other direct flights available.
Key routes for connections
Aircraft type(s)
Cabins
Perth-Hong Kong
Airbus A350-900
Business Class, Premium Economy Class, Economy Class
Adelaide-Hong Kong
Airbus A350-900
Business Class, Premium Economy Class, Economy Class
-> Hong Kong-Los Angeles
Airbus A350-900
Boeing 777-300ER
Business Class, Premium Economy Class, Economy Class
First Class, Business Class, Premium Economy Class, Economy Class
Cathay Pacific's lounges in Australia, Hong Kong, Los Angeles
Cathay Pacific regularly relies on the lounges of its oneworld Alliance partner Qantas.
In Adelaide, the domestic Qantas Club Lounge awaits. As it's located before passport control, do allow extra time to reach your gate before boarding. Over in Perth, you can stop by the Qantas International Lounge in Terminal 1. While it's styled to match many of Qantas' domestic lounges, shower suites here are usually easy to secure.
During your transit in Hong Kong, head to one of Cathay Pacific's many home hub lounges. Your options may change depending on local policies and restrictions. For example, Cathay Pacific had been using The Wing Lounges for all passengers as a temporary measure. But that's set to change again soon, so check with the airline for its latest policies.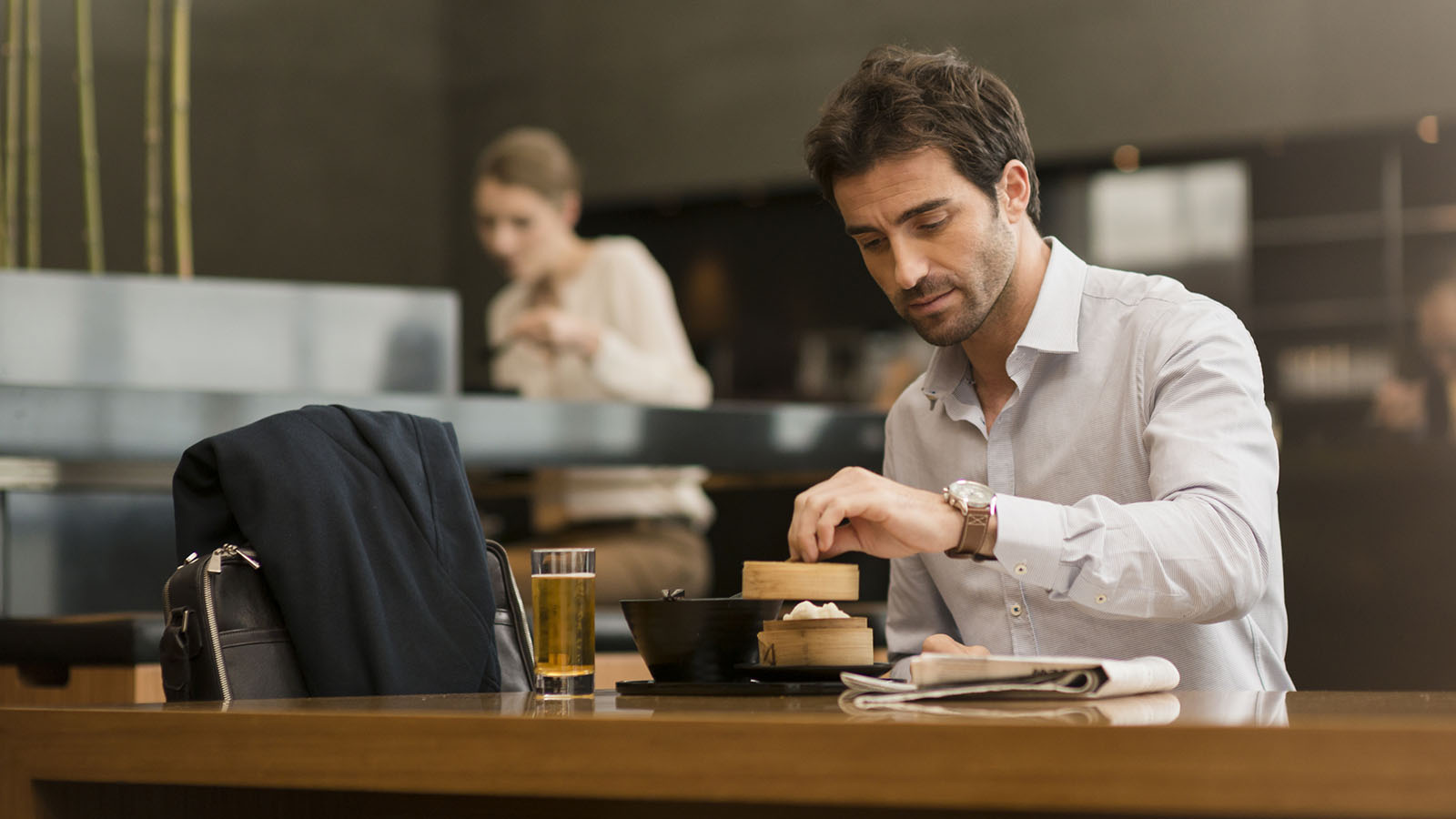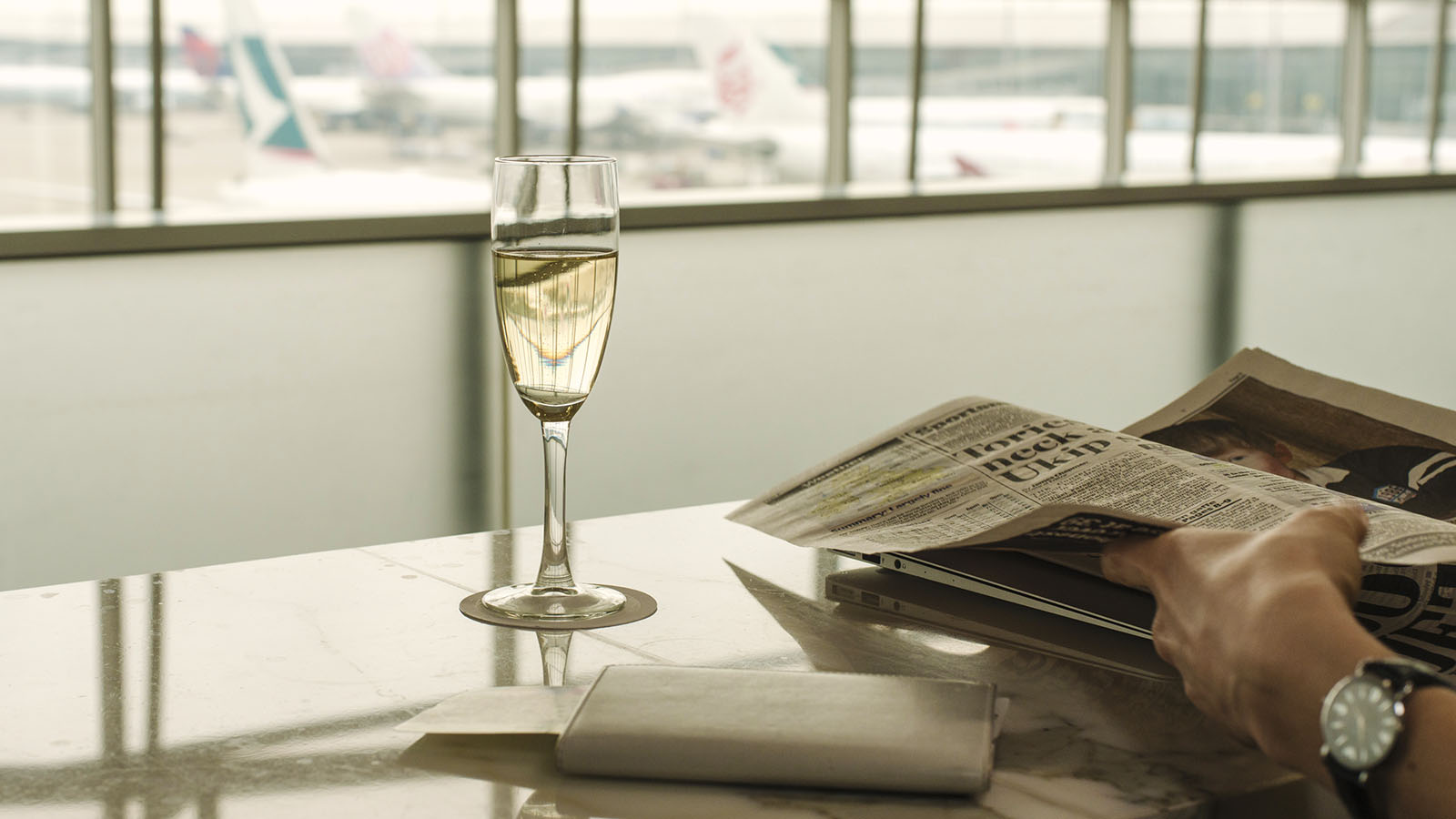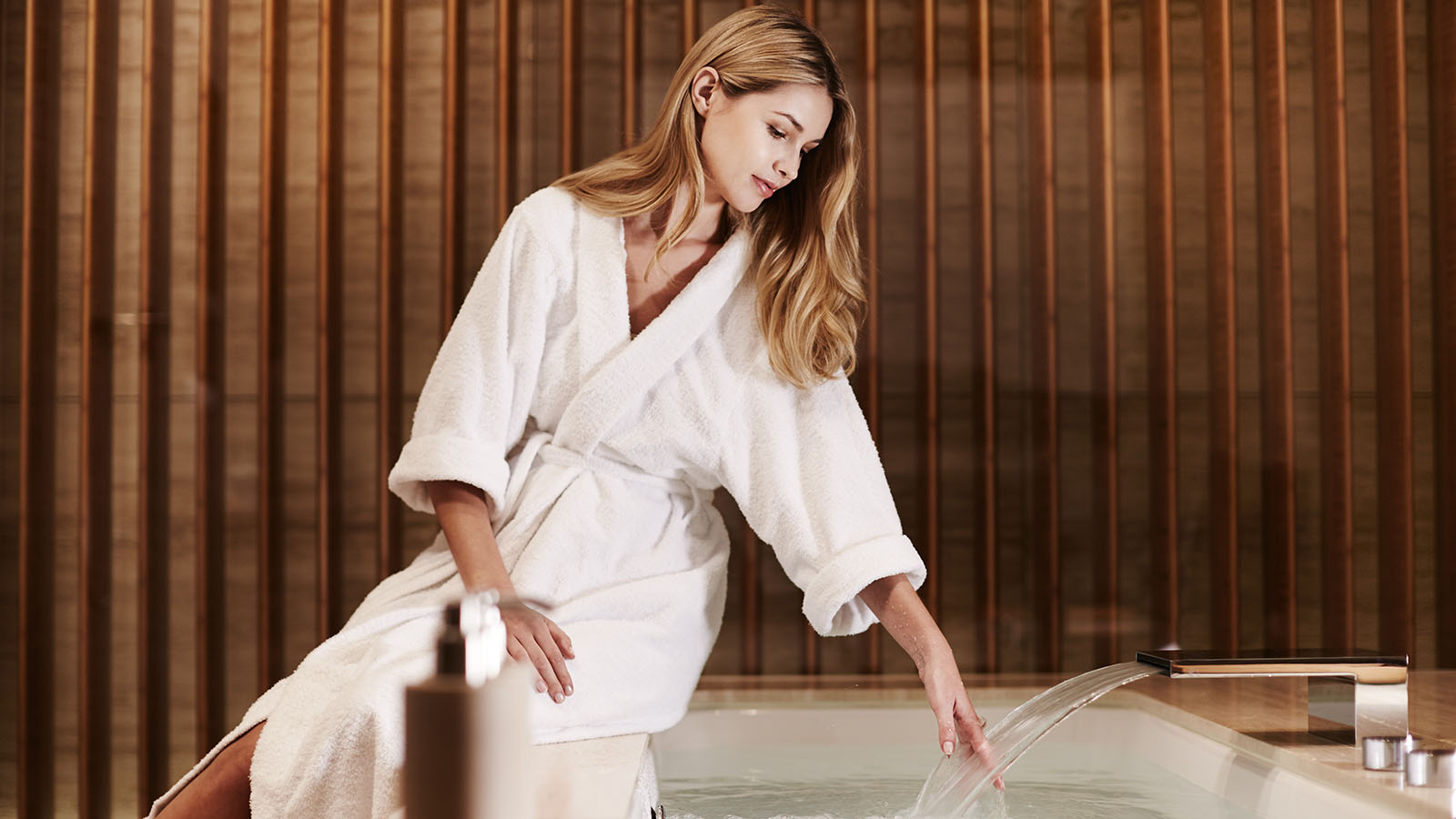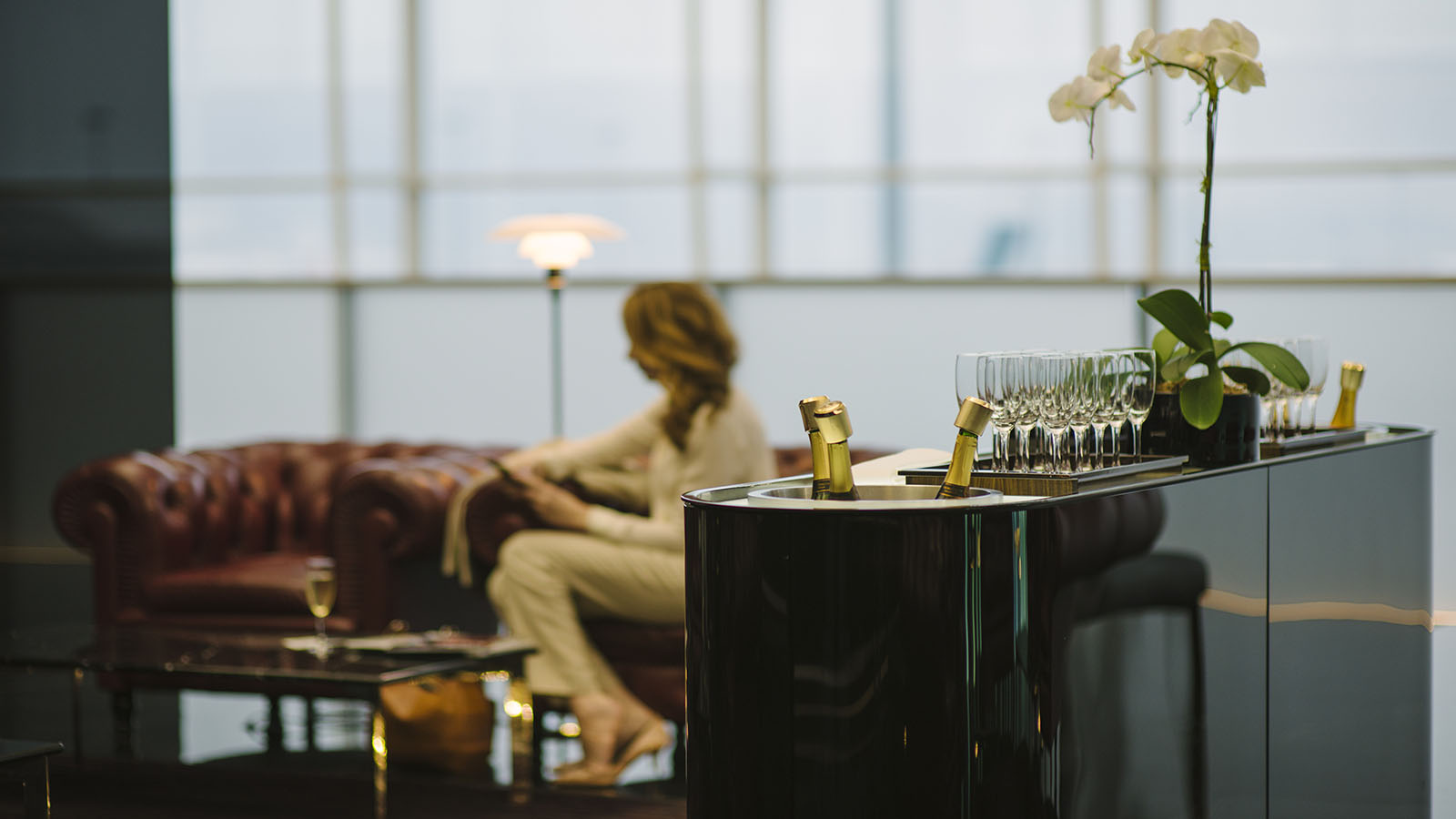 Out of Los Angeles, Cathay Pacific again shares lounges with Qantas. This finds a Business Lounge available to most eligible flyers. The separate Qantas First Lounge welcomes Cathay Pacific First Class and Emerald-tier frequent flyers.
The Cathay Pacific inflight experience
On these routes, you're guaranteed a fully-flat bed in Business Class, regardless of which plane you've booked. On the Airbus A350, the seats are slightly more modern with refinements by Porsche Design. But on the Boeing 777, you'll still have plenty of space, with sleeping a breeze.
Premium Economy Class offers reclining seats, which are again quite comfortable on long flights. Economy Class is available on all Cathay Pacific services, too.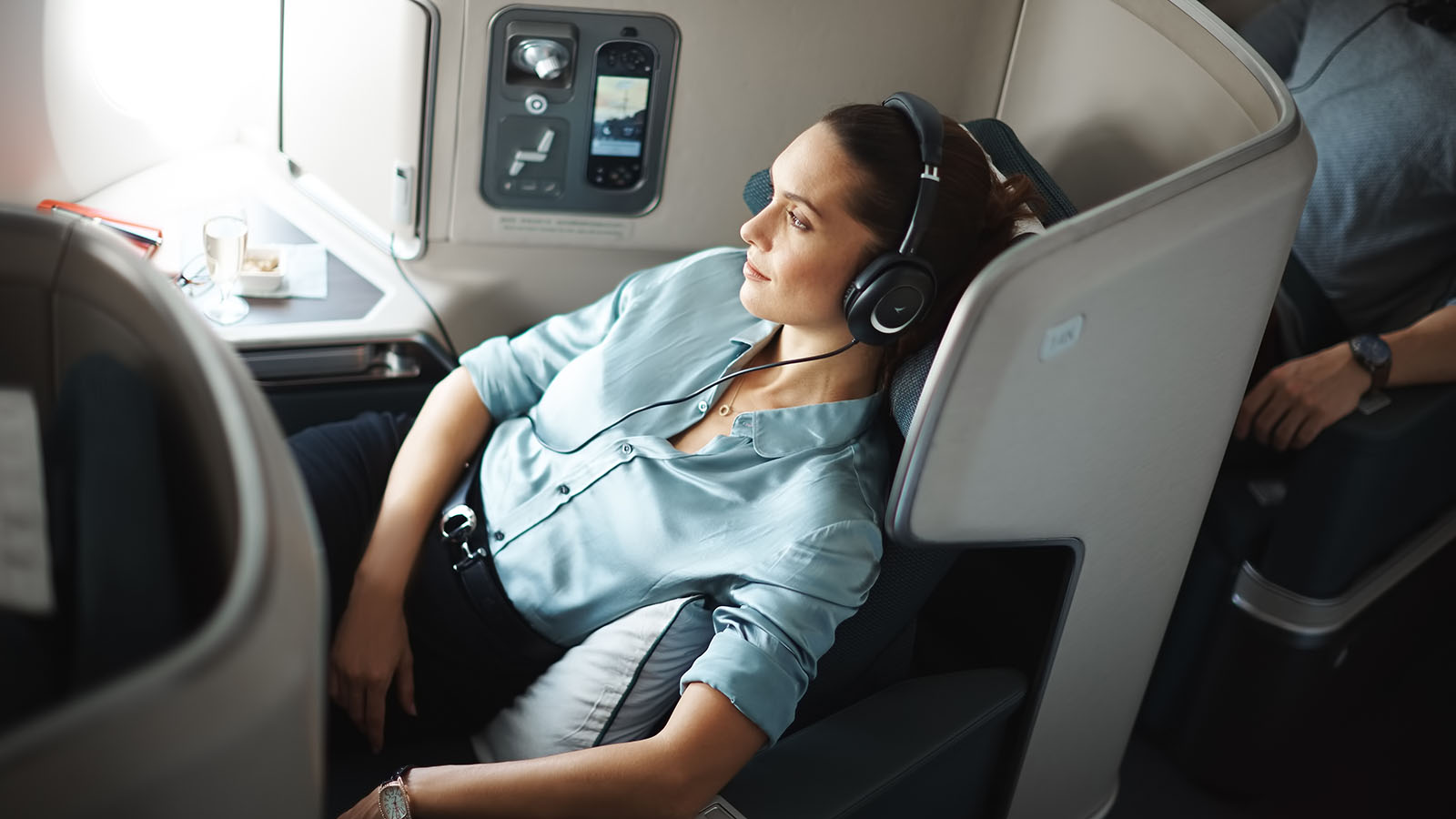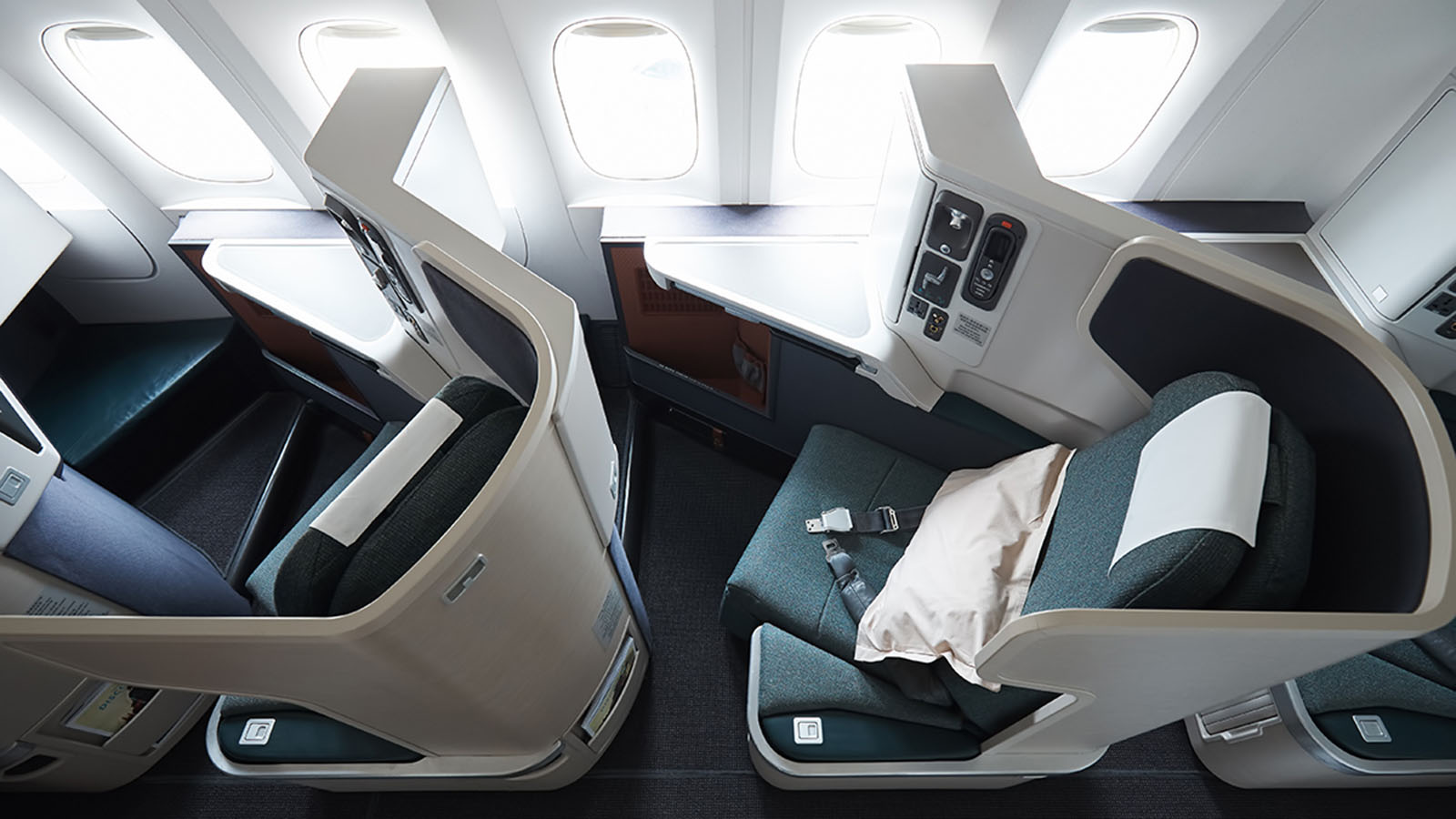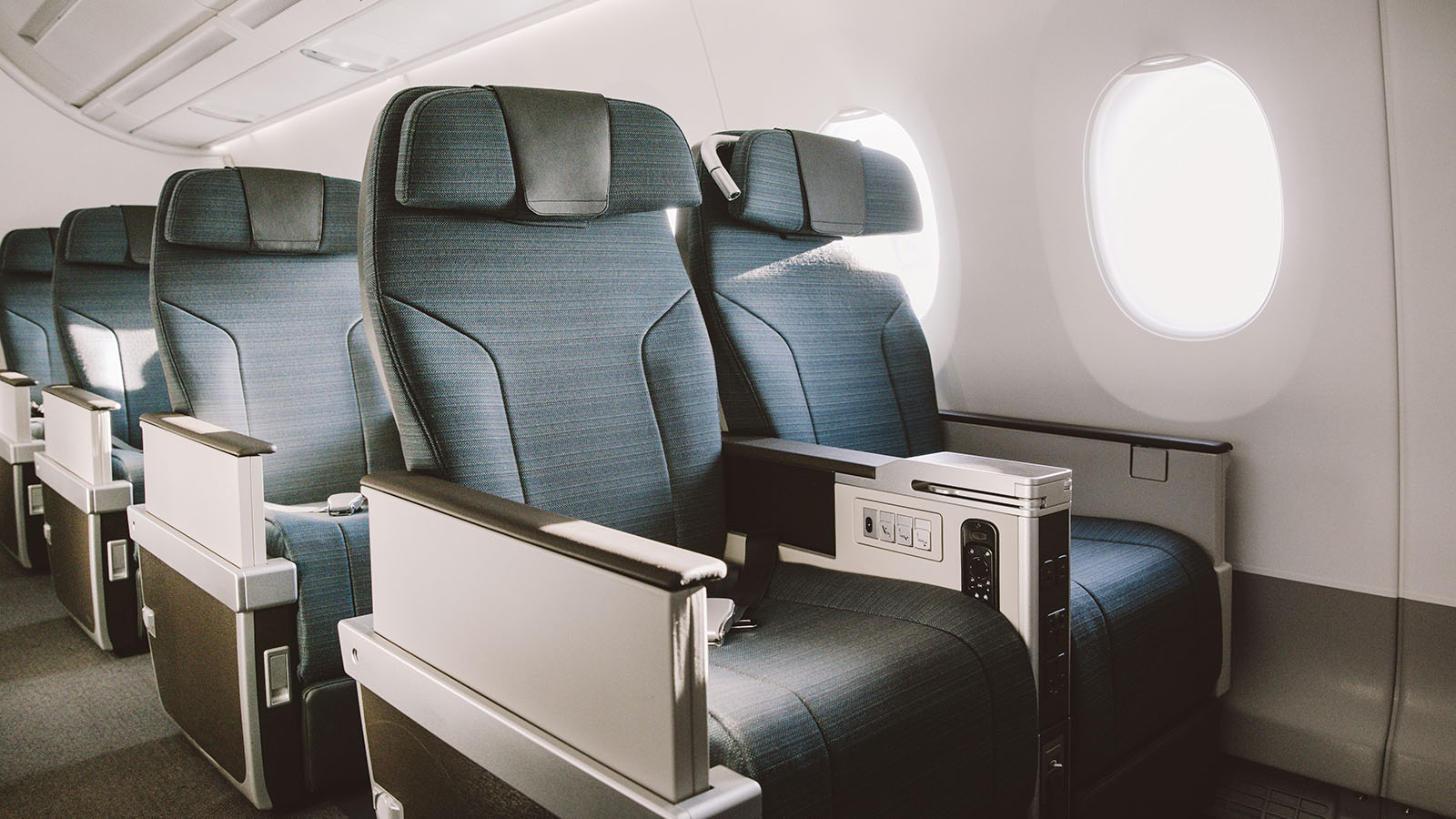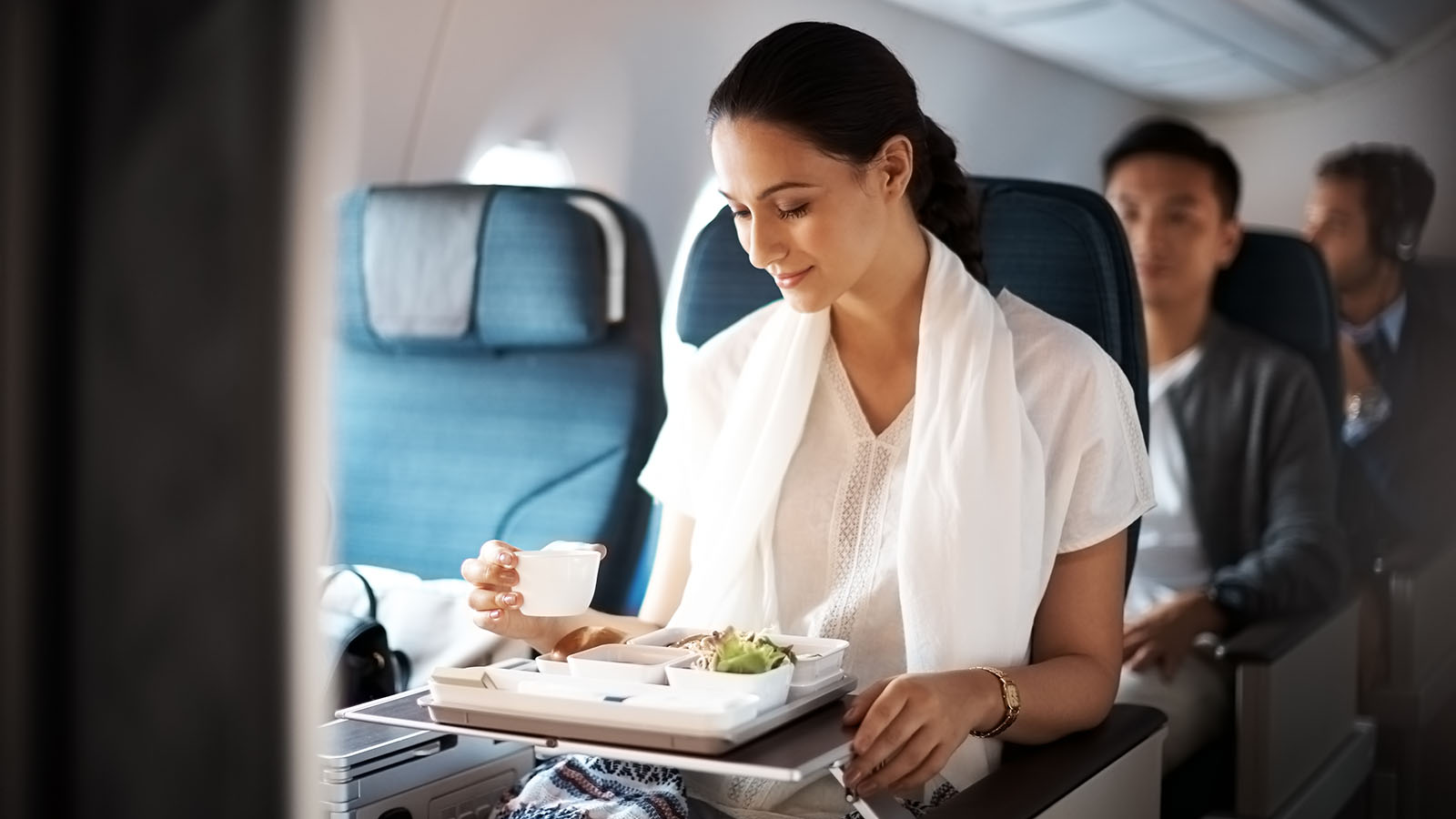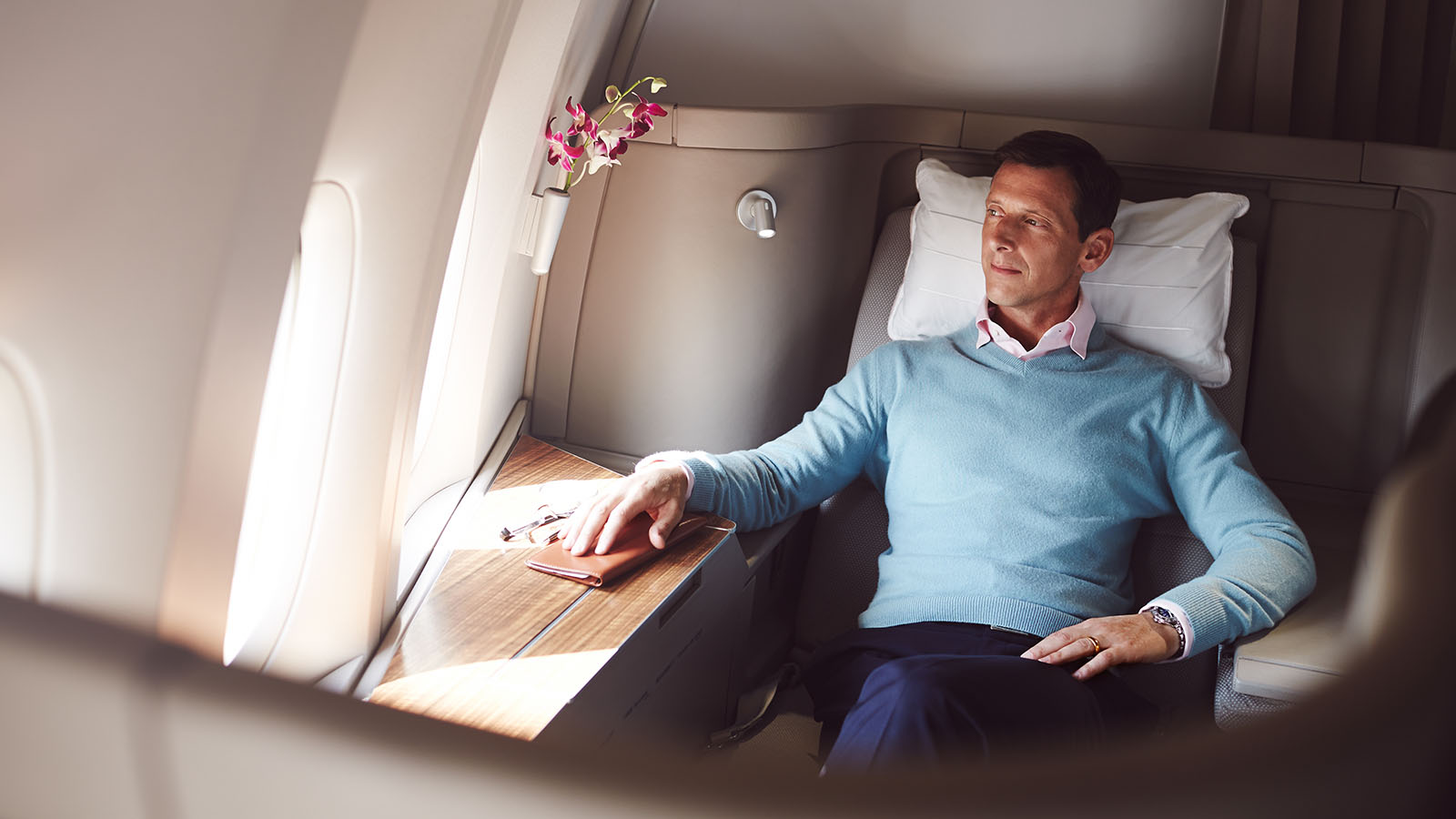 While not available from Australia, First Class is offered on the airline's Boeing 777 flights between Hong Kong and Los Angeles. If you have extra points to spend, it's a great way to fly – but you may find Business Class easier to book.
Flying to Los Angeles with Singapore Airlines
Another popular route to Los Angeles via Asia is through Singapore, with Singapore Airlines. This path is most useful for travellers based in Perth, Adelaide, Darwin and Cairns. It's also possible – but much less practical – for those on the east coast.
When planning your trip, do note that some of the airline's 'Singapore to Los Angeles' flights aren't non-stop. Many divert through Tokyo in each direction, so keep your eyes peeled for the direct Airbus A350 flights.
| | | |
| --- | --- | --- |
| Key routes for connections | Aircraft type(s) | Cabins |
| Perth-Singapore | Airbus A350-900, Boeing 787-10 | Business Class, Economy Class |
| Adelaide-Singapore | Airbus A350-900 | Business Class, Economy Class |
| Darwin-Singapore | Boeing 737-800 | Business Class (recliner), Economy Class |
| Cairns-Singapore | Boeing 737-800 | Business Class (recliner), Economy Class |
| -> Singapore-Los Angeles | Airbus A350-900 | Business Class, Premium Economy Class, Economy Class |
Singapore Airlines' lounges in Australia, Singapore, Los Angeles
The lounge experience across the routes above is quite a mixed bag. In Perth, Singapore Airlines operates its own SilverKris Lounge. Over in Adelaide, the domestic Virgin Australia Lounge is the go-to instead.
At the Top End, the usual Catalina Lounge is temporarily unavailable while Qantas occupies the space. In Cairns, the independent Reef Lounge awaits, but it's not usually one that's worth arriving early for.
With no First Class on the non-stop routes above, you'll likely be relaxing in one of two lounges at Changi Airport. In Business Class or as a PPS Club member, the SilverKris Business Class Lounge is for you. On the Champagne front, Charles Heidsieck is abundant here, so enjoy!
If you're not flying Business Class but have frequent flyer status, the KrisFlyer Gold Lounge awaits instead. That's where you'll venture as a Star Alliance Gold or Velocity Gold or Platinum frequent flyer. This space was less than ideal in previous years, but has been recently refurbished.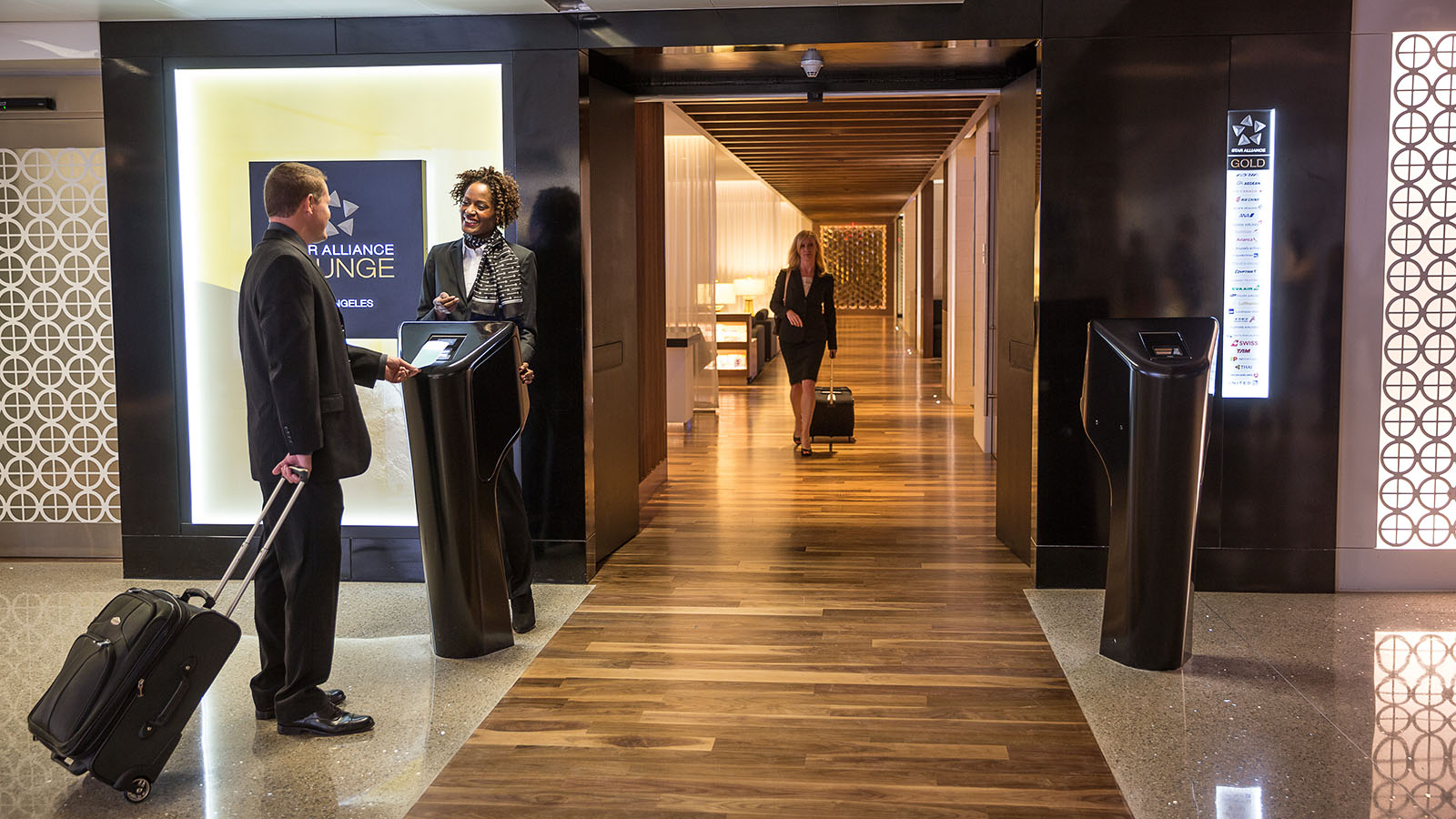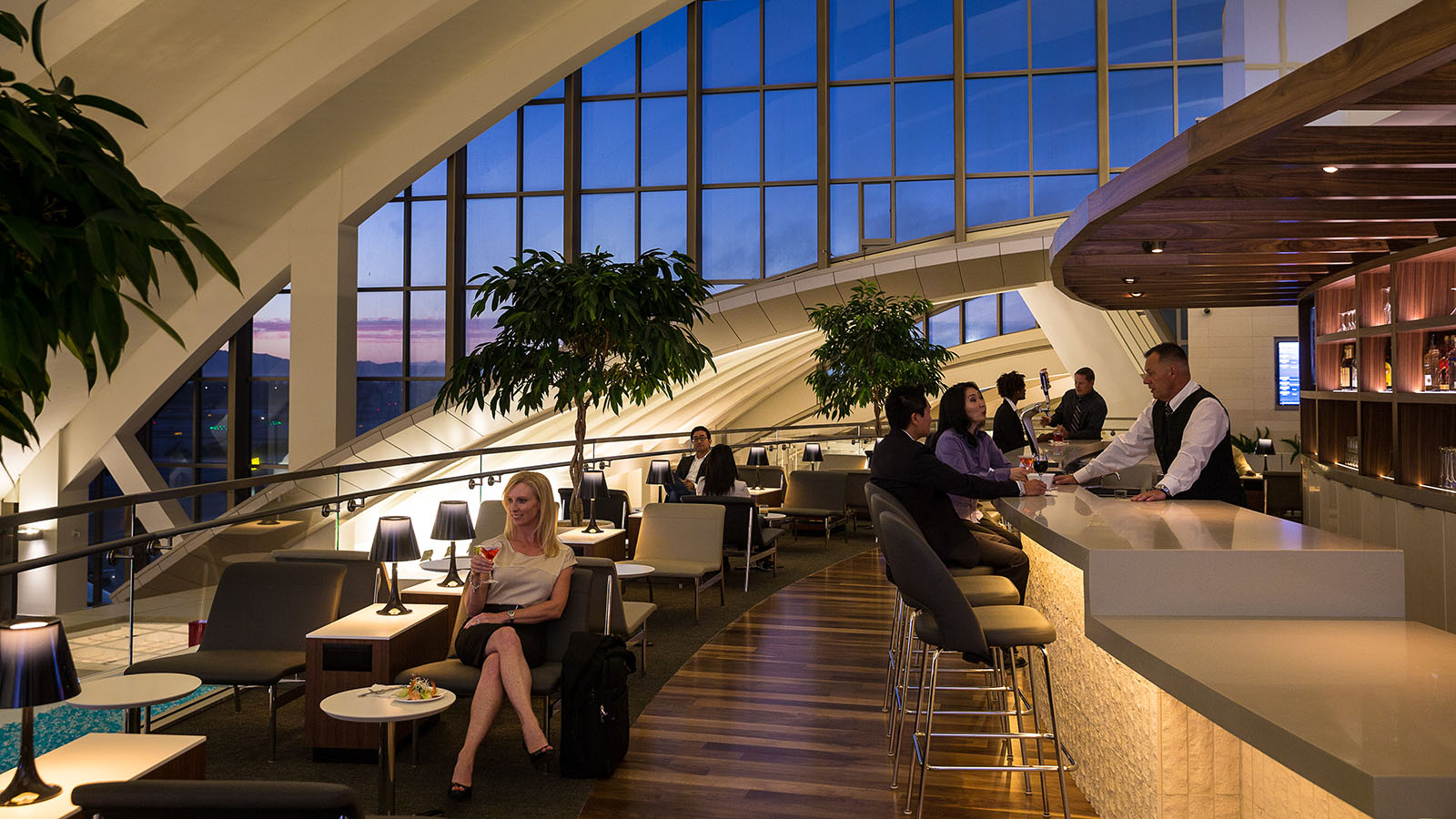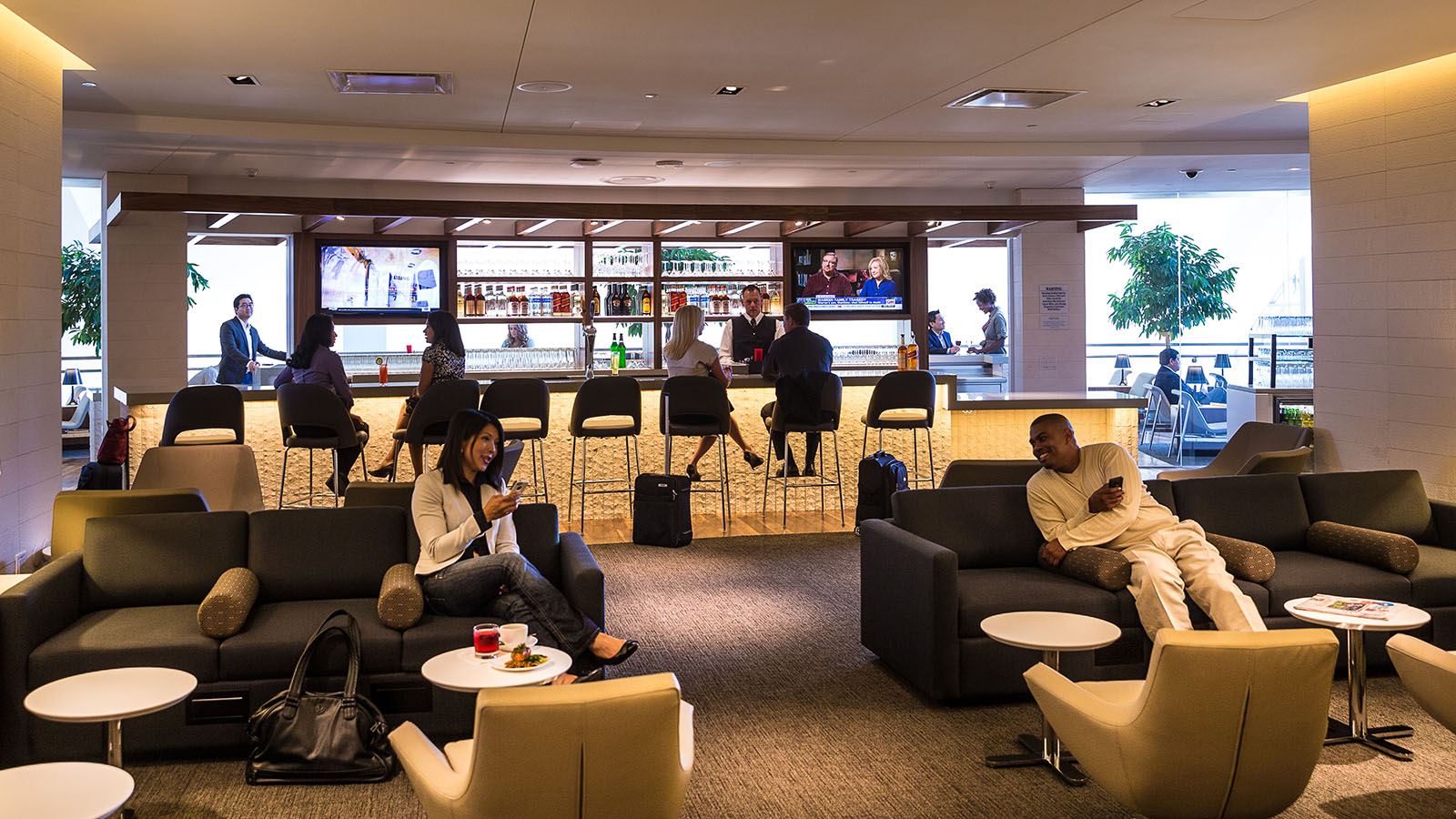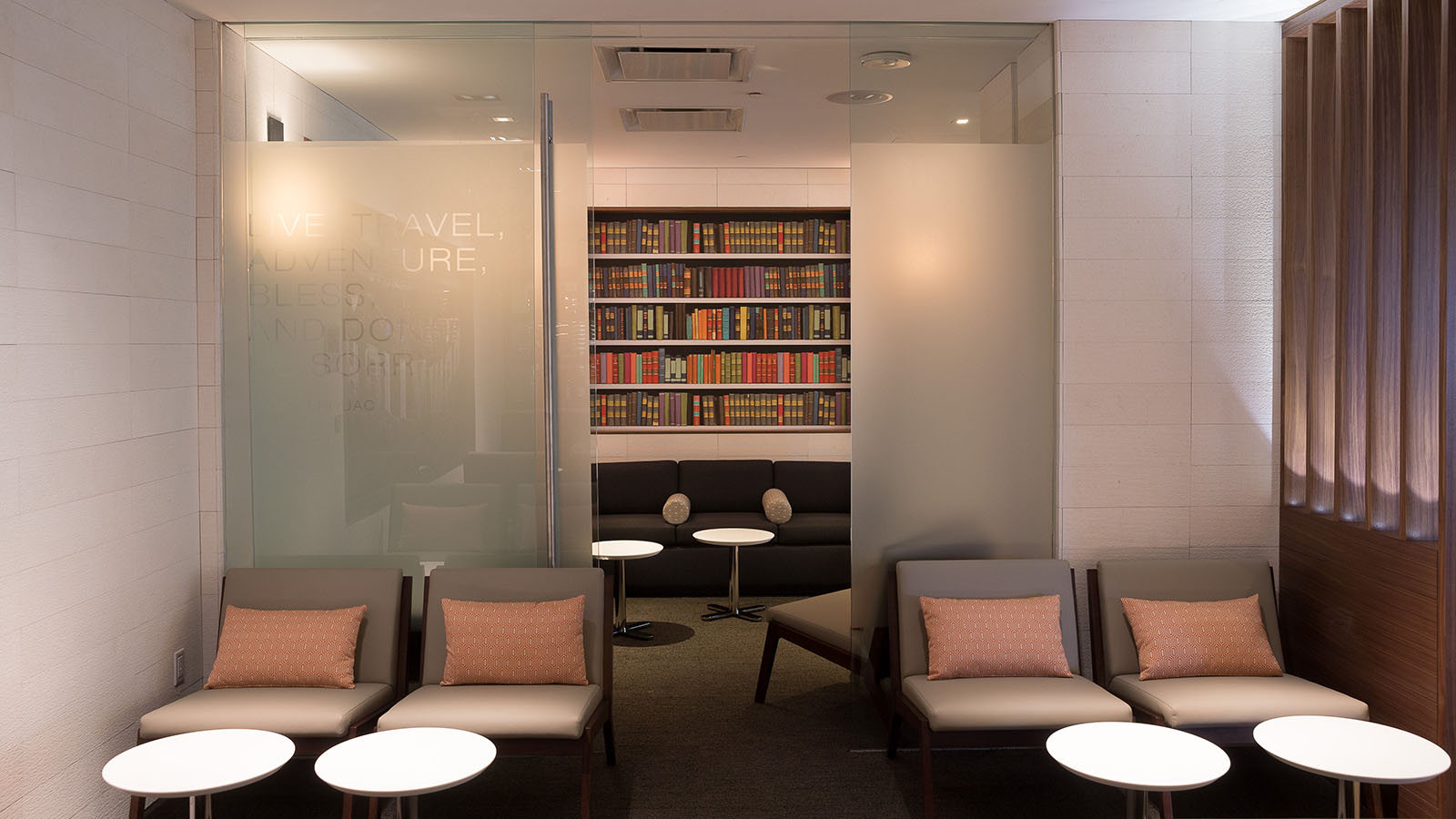 From Los Angeles, the Star Alliance Lounge is home to Singapore Airlines in the Tom Bradley International Terminal. Make time to explore the terrace with a drink in hand!
The Singapore Airlines inflight experience
Although Premium Economy Class is available between Singapore and Los Angeles, it's not found on the connecting flights above. That means you'll likely jet to the home of Hollywood in either Business Class or Economy Class.
Up front, Business Class brings fully-flat beds. From Perth and Adelaide, these are the airline's 'regional' or 'medium-haul' seats. They're a little narrower than the 'long-haul' seats on your connecting flight. But you'll still enjoy direct aisle access, and the usual Singapore Airlines signature service.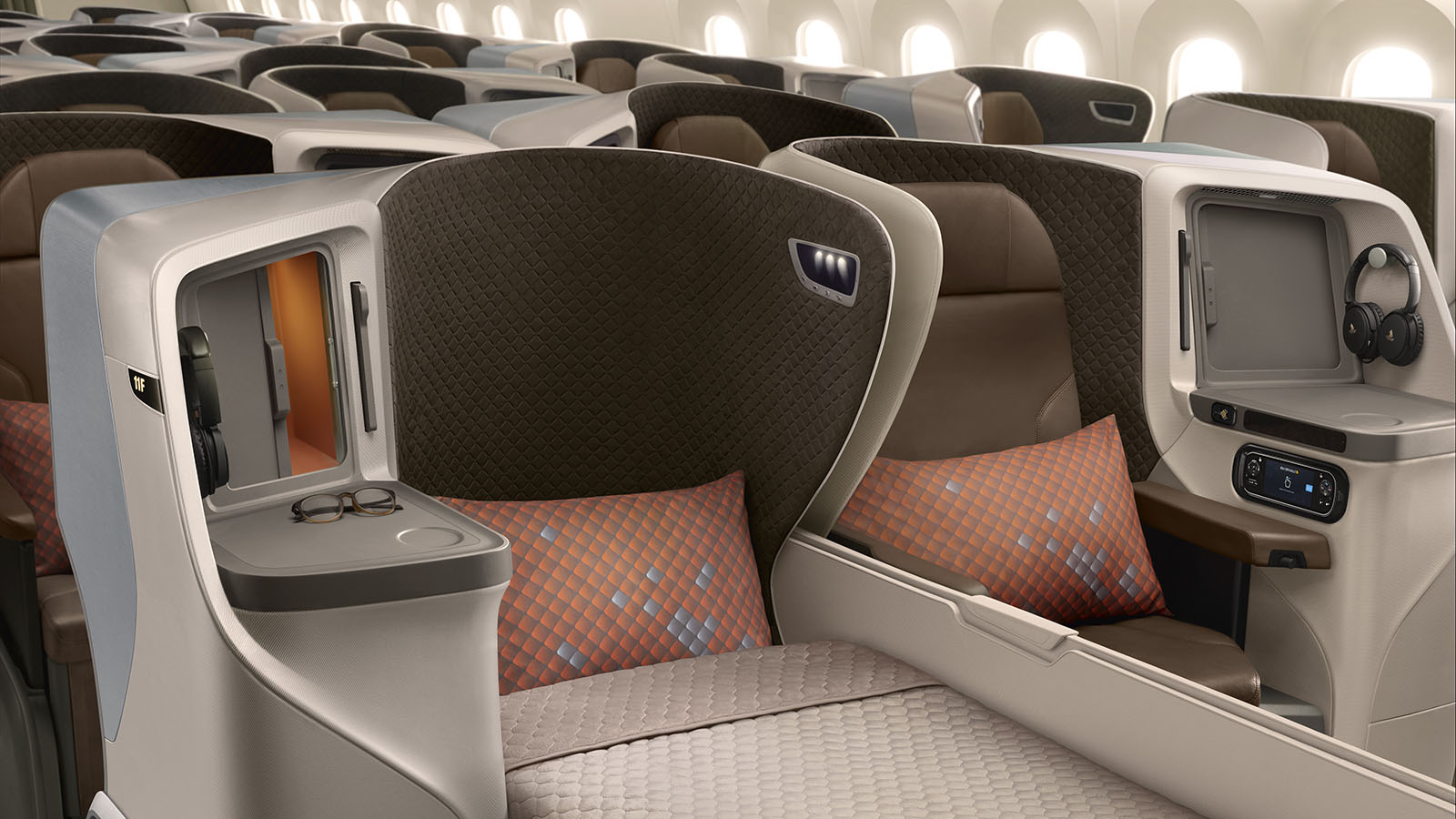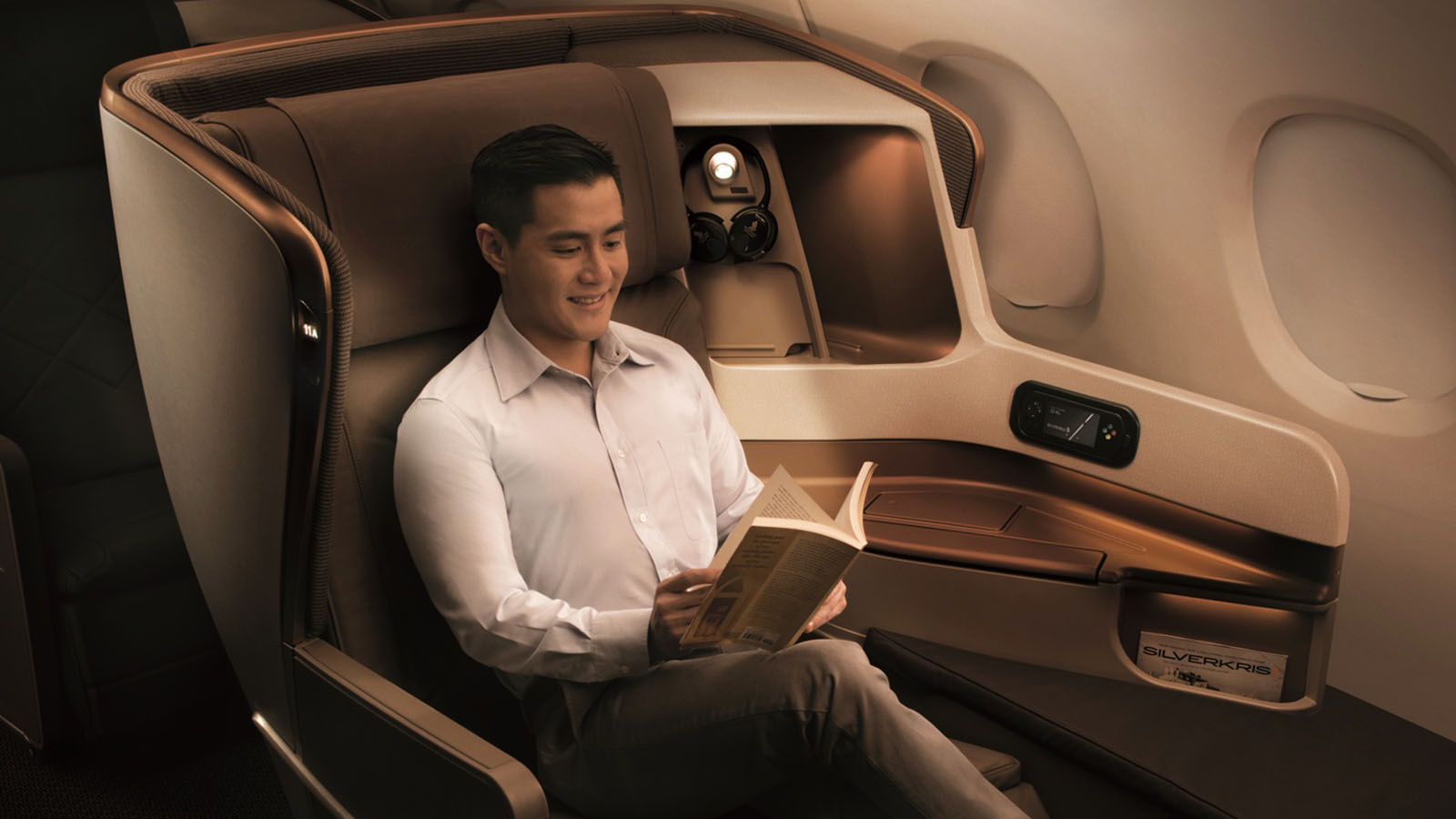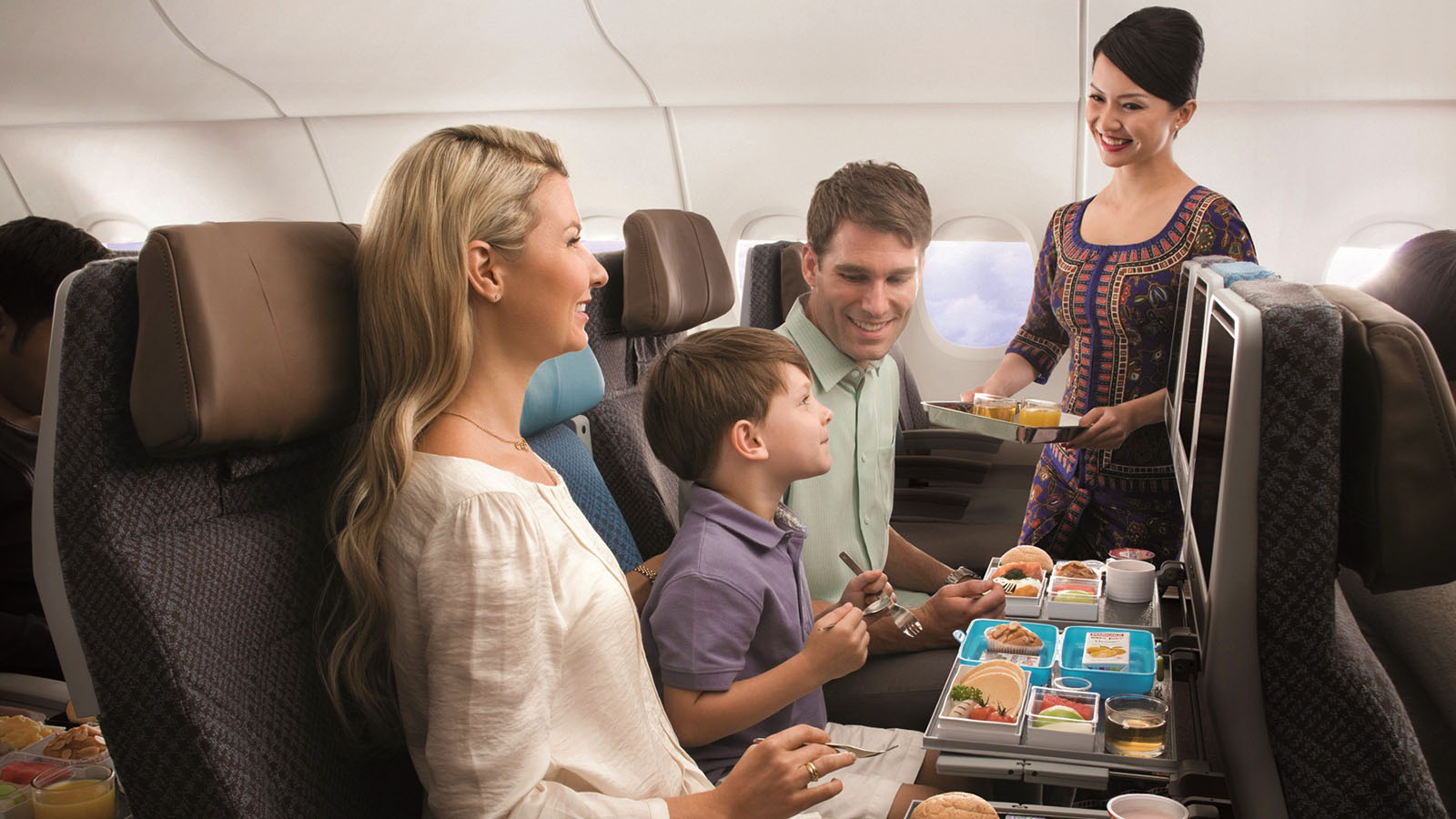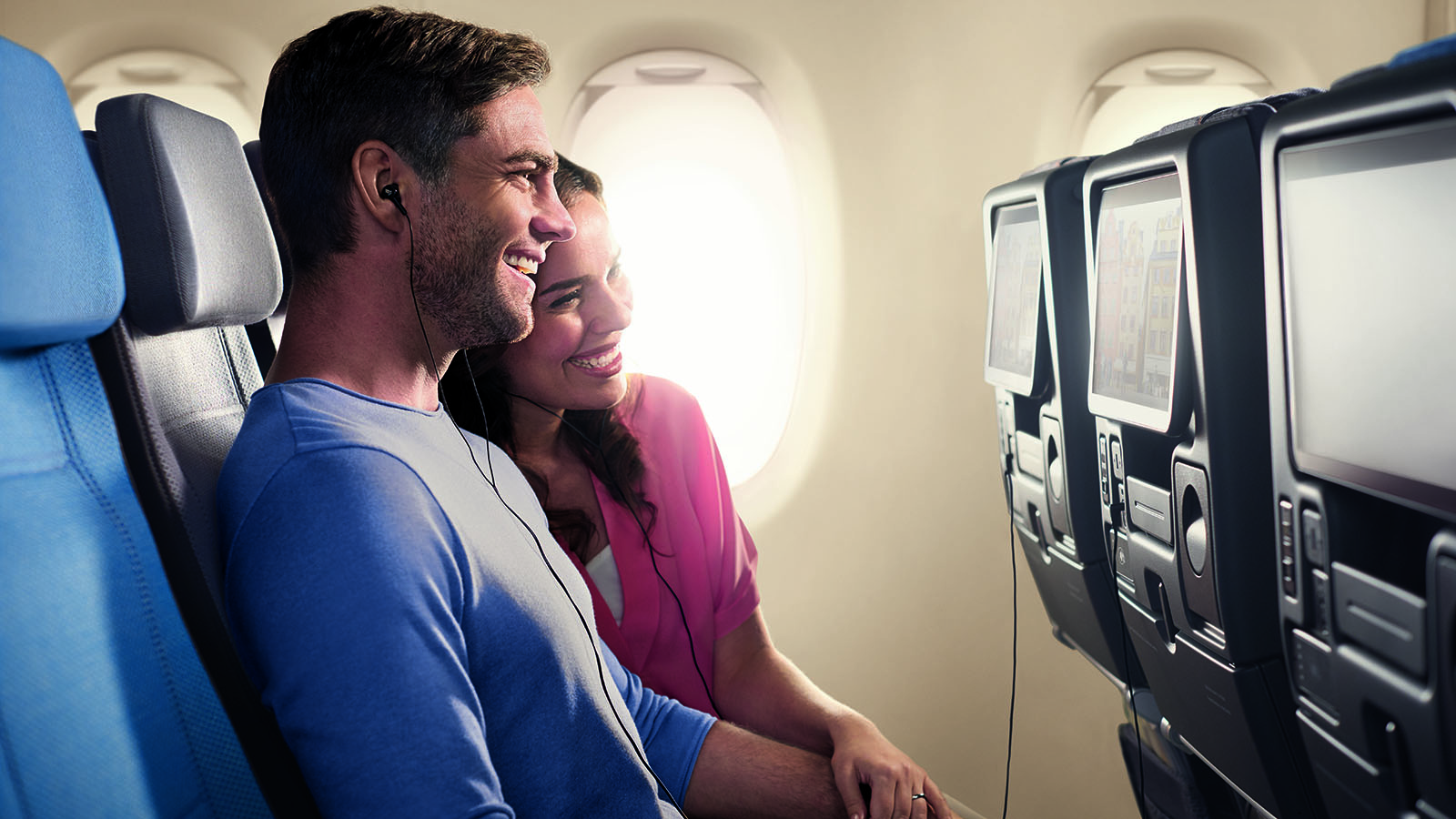 From Darwin and Cairns, however, Business Class means a reclining seat on your first leg. That's because Singapore Airlines flies smaller planes to these cities, which are also closer to Singapore, so the flight is shorter. You can still look forward to a bed between Singapore and LA.
Across routes in Economy Class, all meals are included. The same is true of alcohol and inflight entertainment. So tuck in!
Summing up
Australians are spoiled for choice when flying to Los Angeles. The corridor is well covered, with options across oneworld, Star Alliance and SkyTeam. This gives you many opportunities to fly on points – when you can find a seat, of course.
Beyond those listed above, many other airlines can also take you to Los Angeles in just one stop. But you'll typically spend far more time getting there than if flying direct. It's great to have a backup plan. But if you can land right where you need to be, even better!
What to expect when flying to Los Angeles
was last modified:
December 9th, 2022
by