While Singapore Airlines operates SilverKris lounges around the world which accept both guests in premium cabins and guests with Gold status, things are a little different in their home port.
Due to the large numbers of KrisFlyer Gold, Star Alliance Gold and Velocity Gold frequent flyers going through Changi, they created a separate type of lounge—the KrisFlyer Gold lounge—to cater for these status passengers travelling in Economy or Premium Economy.
This review focuses on the Terminal 3 KrisFlyer Gold lounge, which is used by the majority of Australia-bound passengers holding Gold status and flying in one of the two lower cabins.
Update: this lounge is due to be renovated between August 2019 and mid-2021 (exact dates unknown). Passengers may be redirected to temporary lounges during this period.
Lounge Location & Details
The lounges are all located after immigration (but before security as that is done at the gate). Just look for the signage pointing you towards the Gate A area and head up the escalators.

However, do not get confused with the SilverKris lounge at the top—that is the lounge for Business passengers only (those travelling in First Class can access The Private Room). Instead, head right from the SilverKris lounge until you come across the KrisFlyer lounge entrance.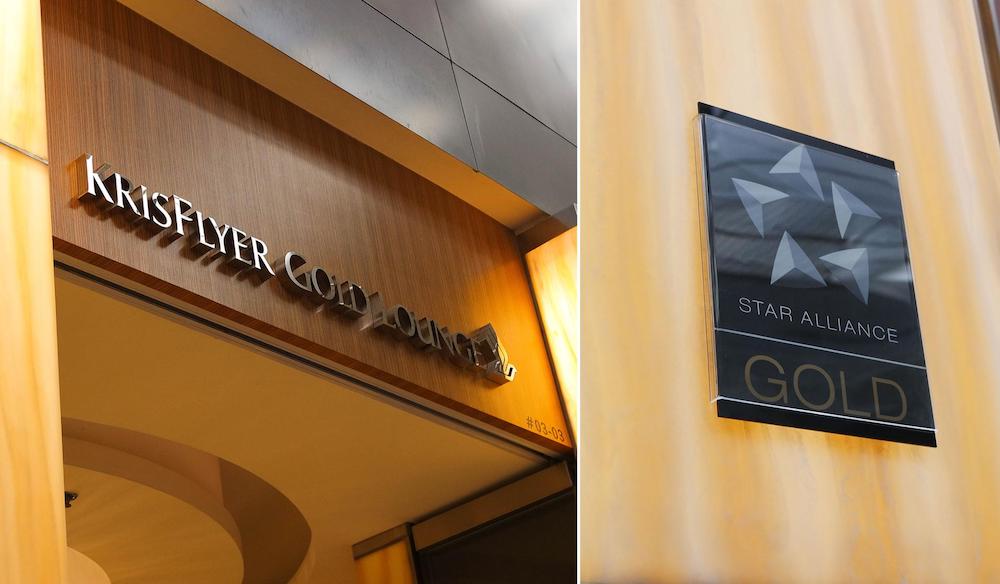 Lounge Layout
From the reception, the food and beverage area is to your immediate left. The main seating is to the right, and additional seating on the outdoor terrace is directly forward.
The food and beverage area has high bar stools which feature universal power plugs, as well more conventional dining tables.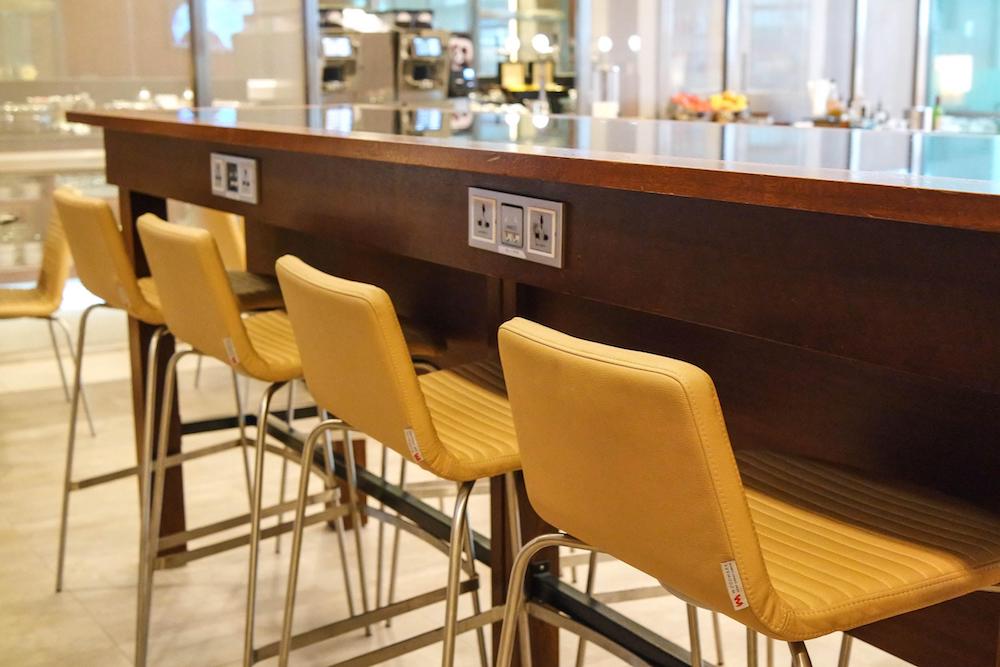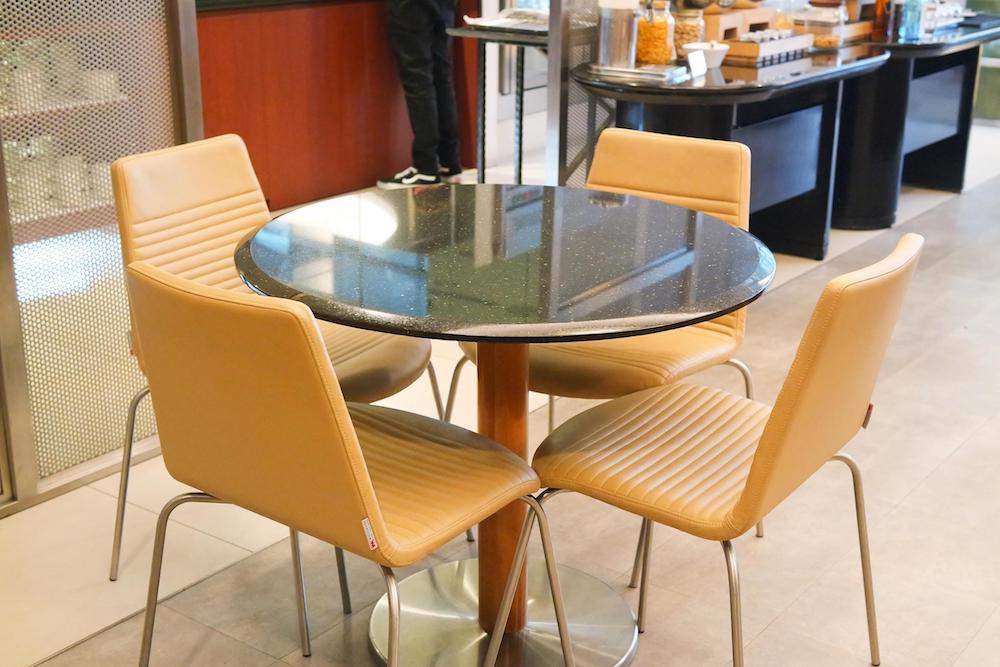 The main seating area is filled with plush armchairs which look a bit dated but are still comfortable. There is limited power charging in this area.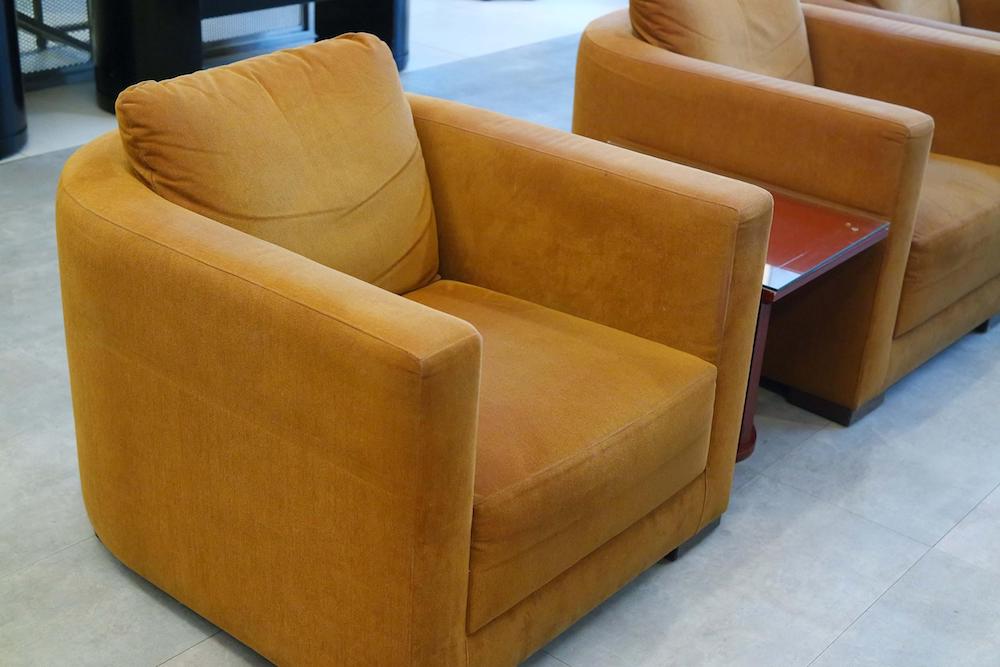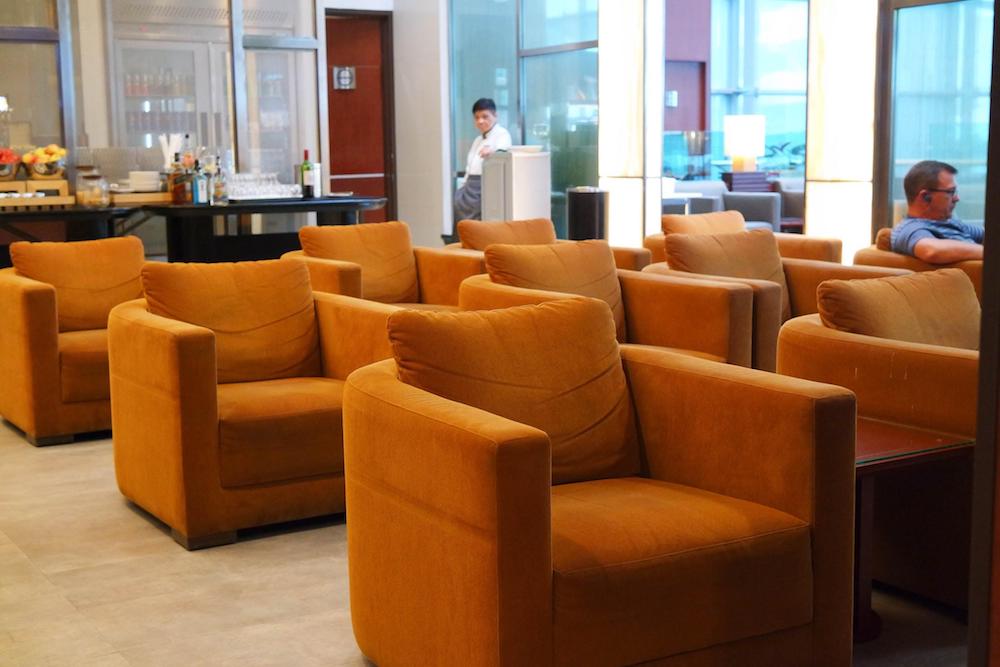 The outdoor terrace is a more pleasant area to relax, with leather armchairs, some greenery and, of course, the all-important tarmac views. There is also a newspaper/magazine rack here.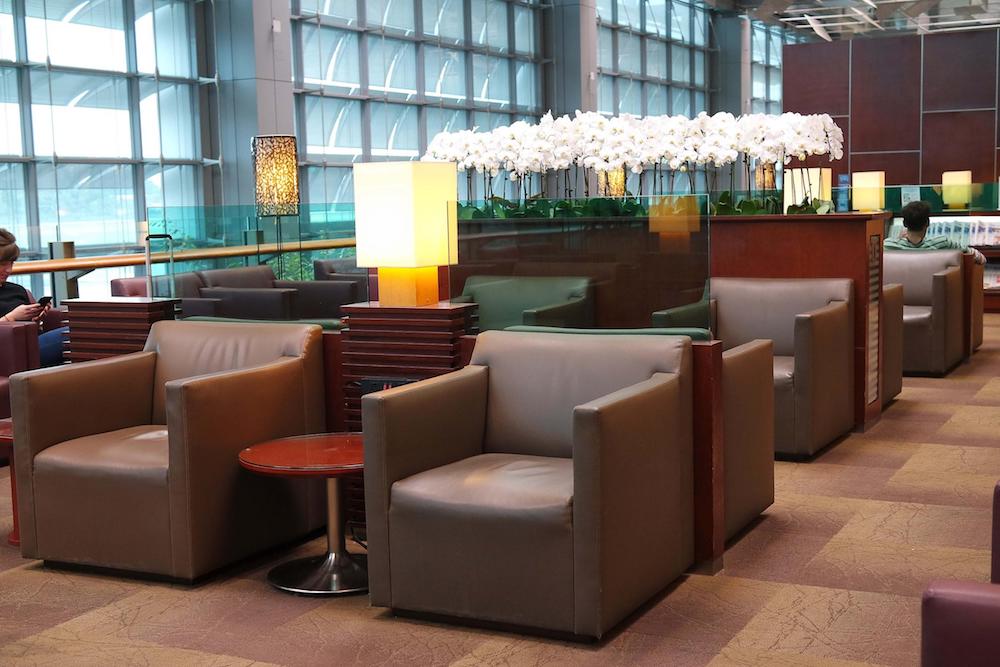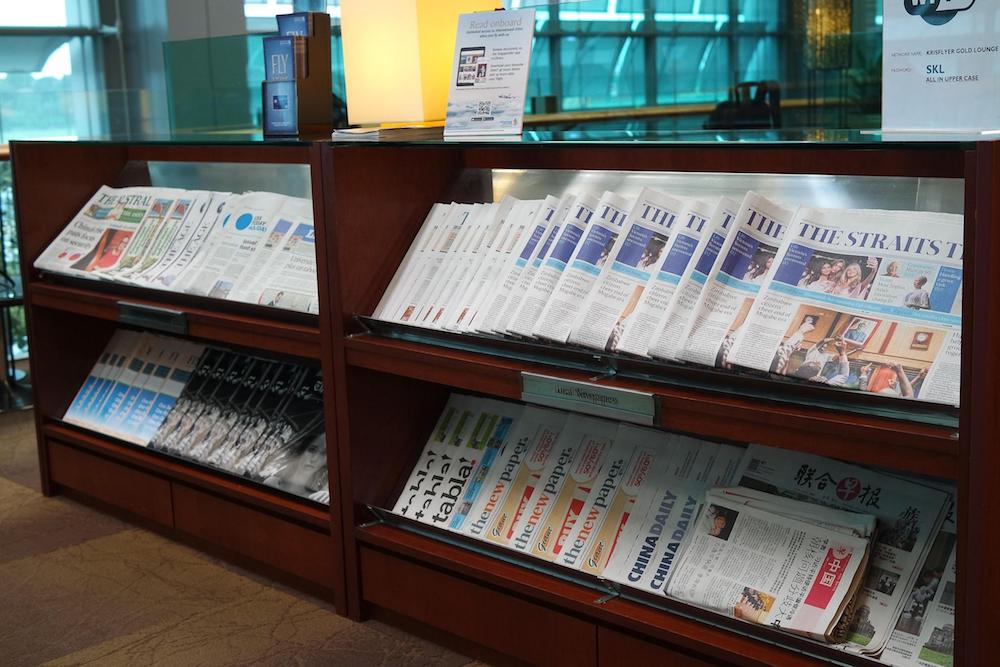 Charging ports are found in-between some of the sofas.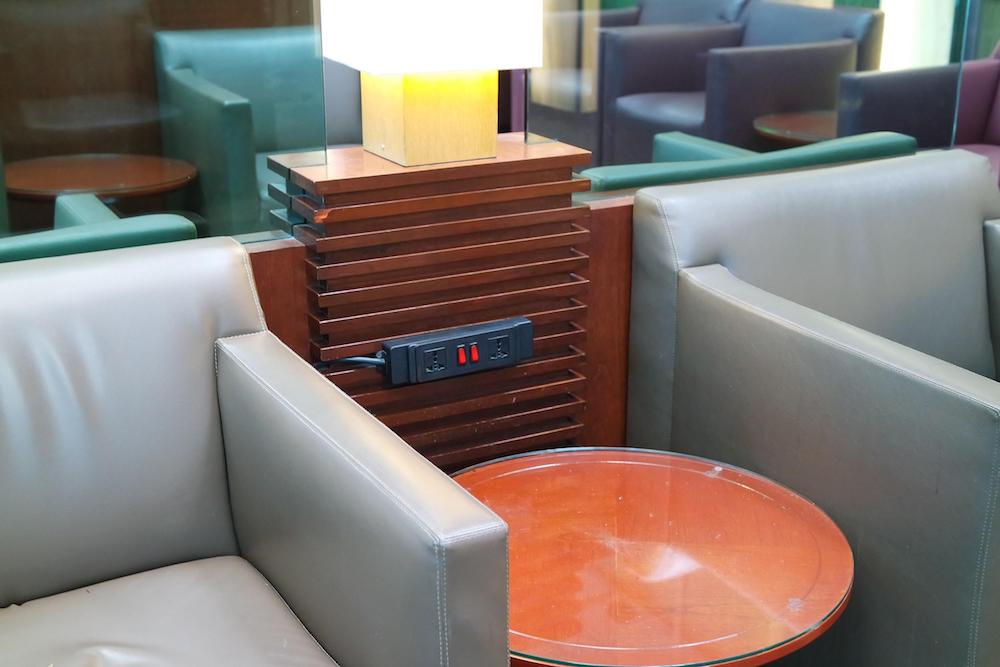 Heading back inside the lounge, some single chairs line the dividing wall.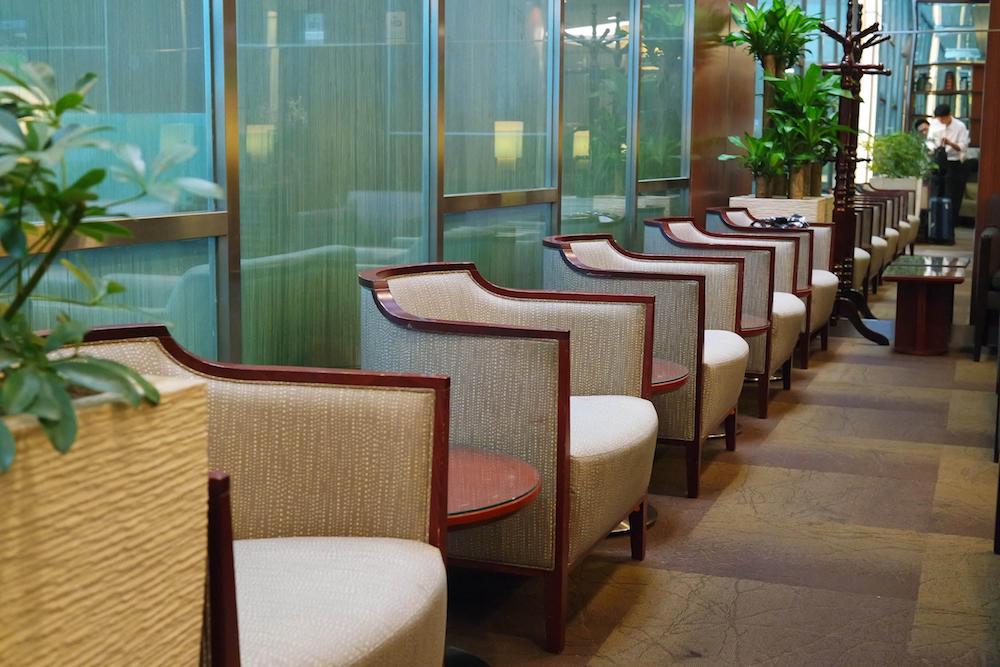 Food & Drink
During our visit, we found the food and drink offerings to be acceptable.
Hot food options included noodles, braised chicken with chestnut, and a vegetarian curry.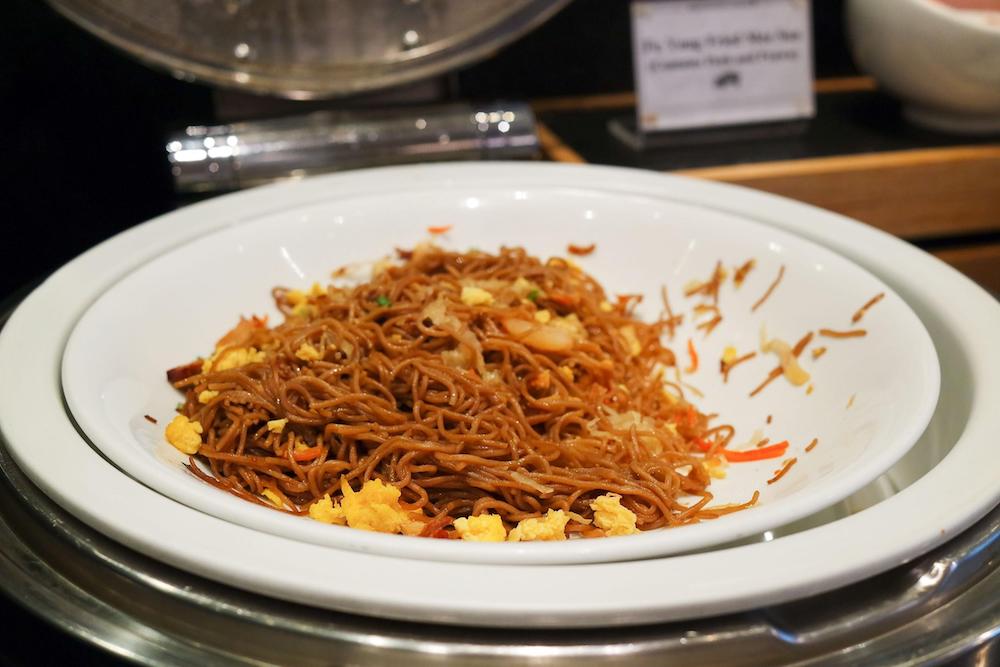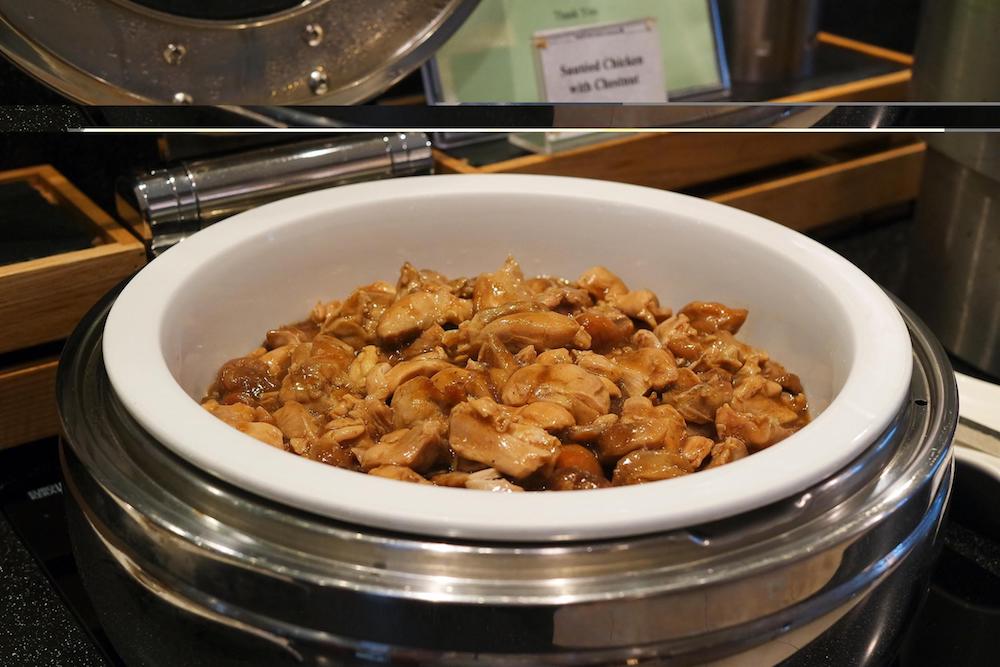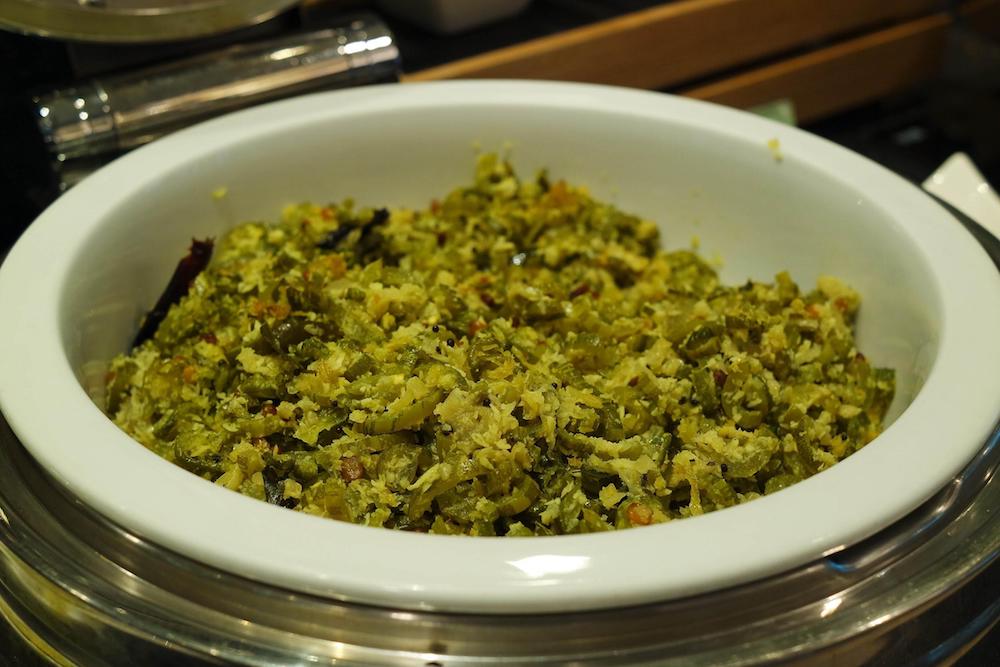 Soup and sandwiches were available as quick options. The sandwiches can be taken from the lounge as a mid-flight snack later.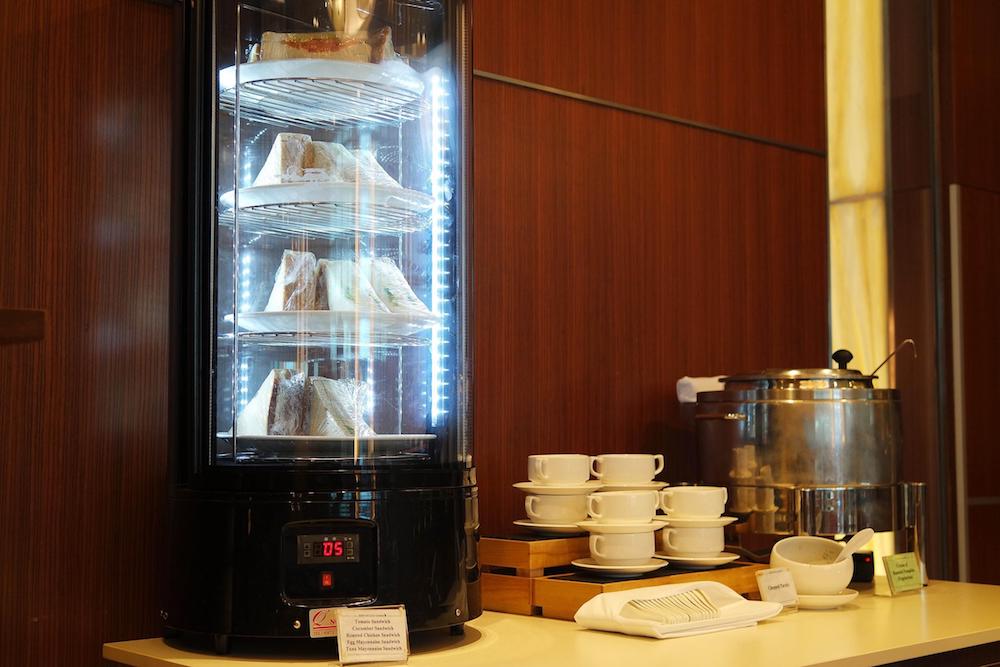 Some sweet options included scones with strawberry and cream, as well as breakfast cereals—it is always 5am somewhere in the world!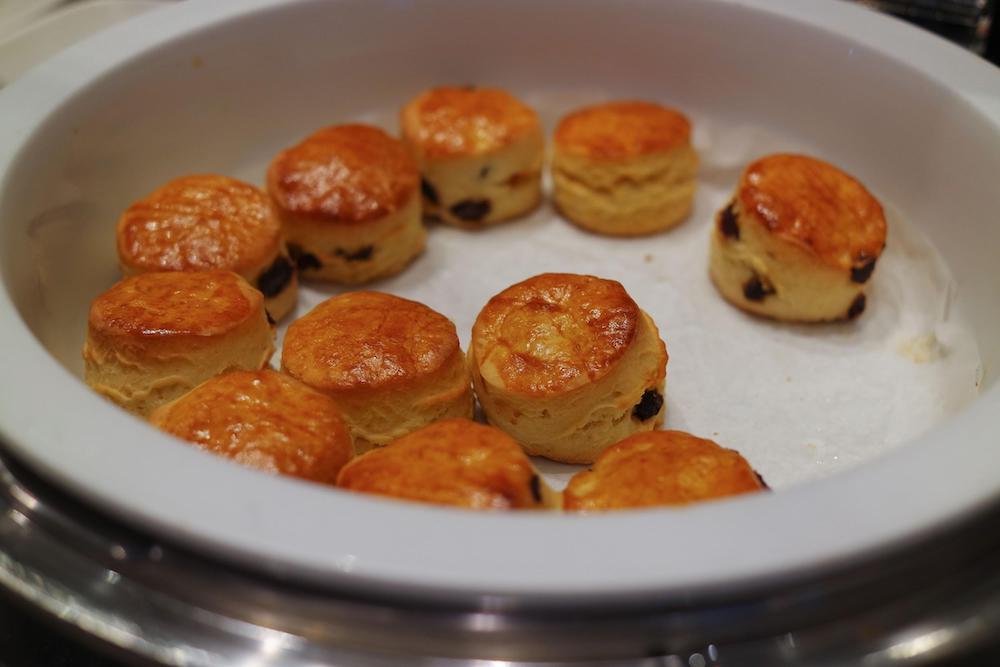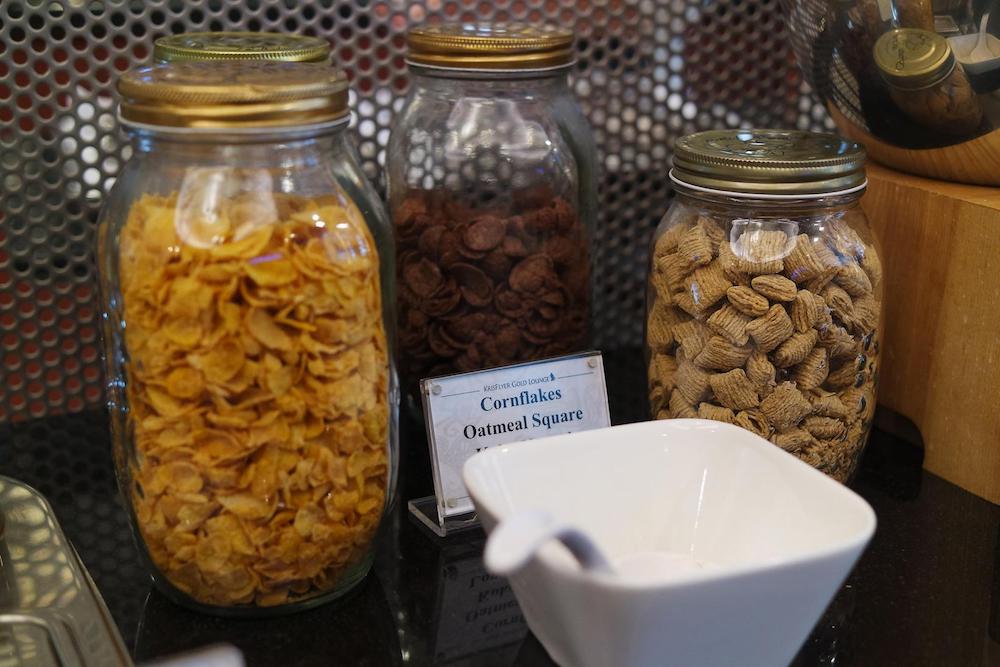 An assortment of snacks rounded up the food options.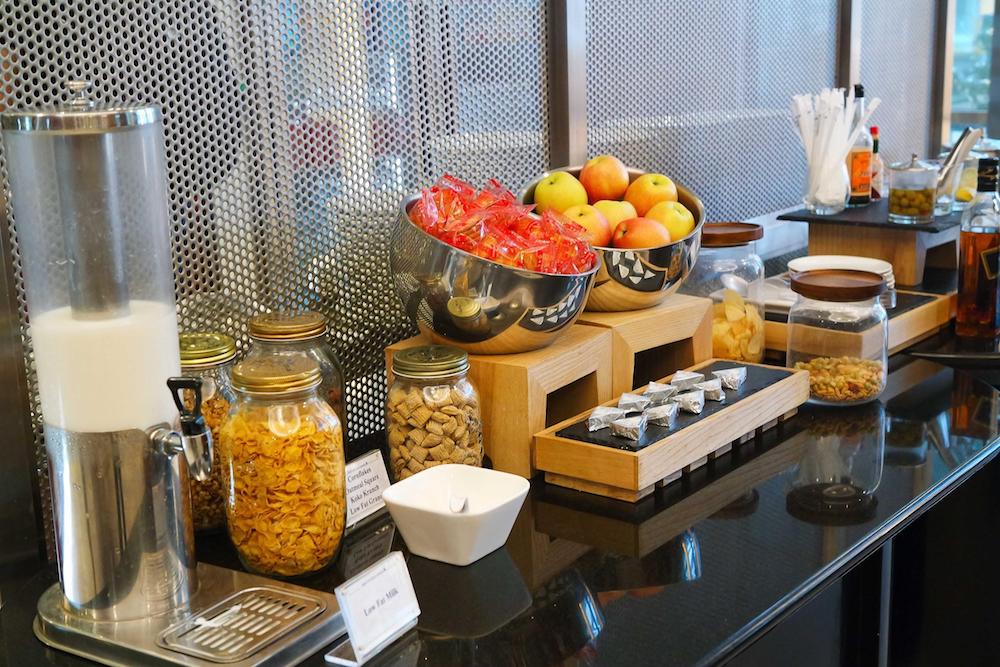 A TWG tea is always a great choice when lounging before a Singapore Airlines flight.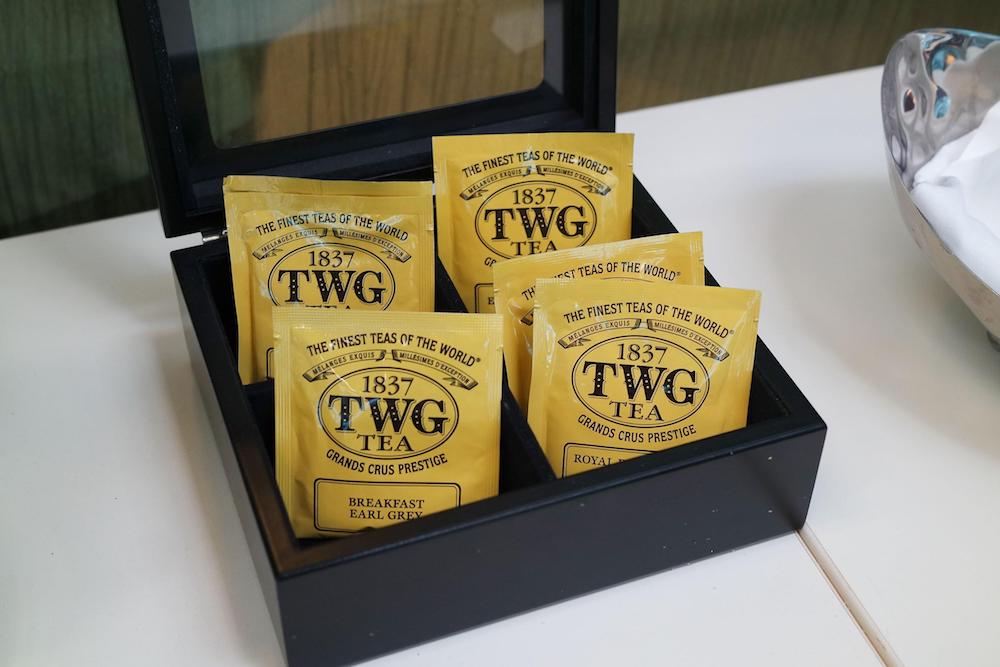 Coffee and hot chocolate can be made at the automatic machines—there is no barista service, as expected.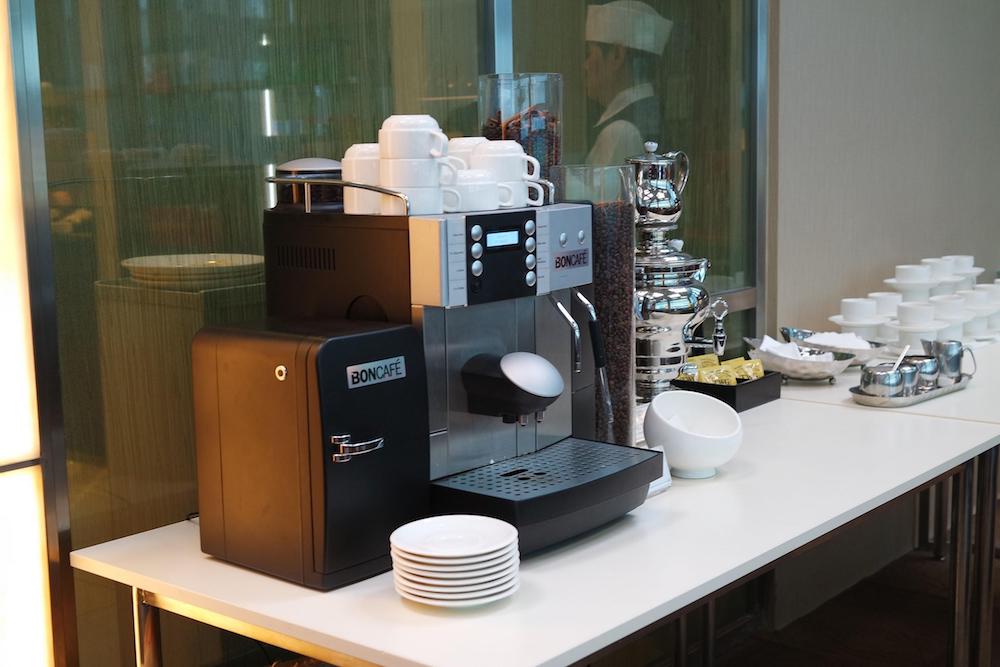 Soft drinks are available in the fridge, either to enjoy on their own or to mix into one of the spirits on offer. Lemon slices and olives are available to mix as well.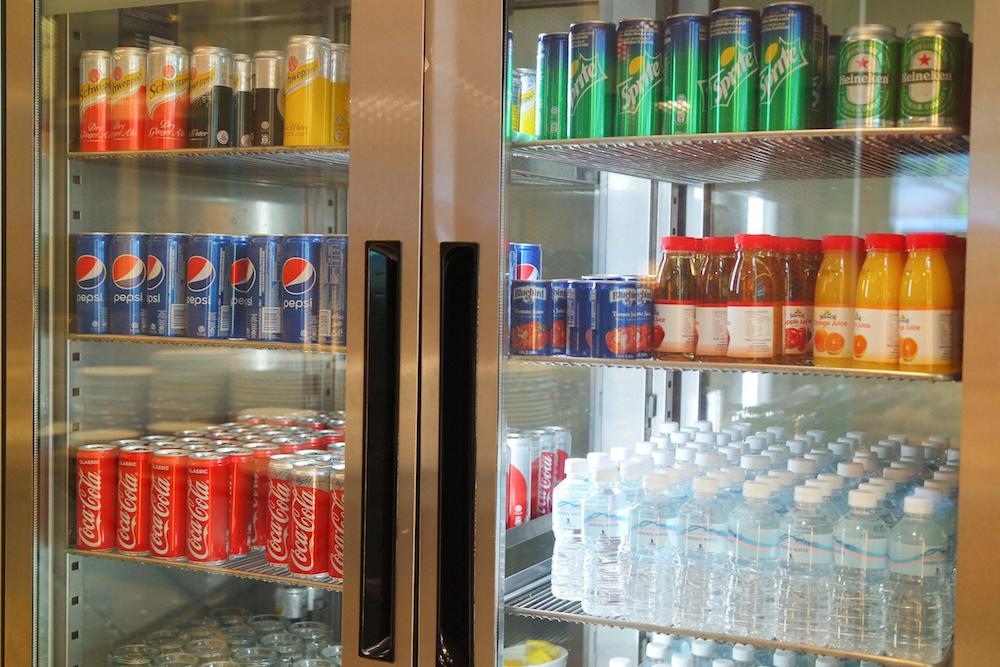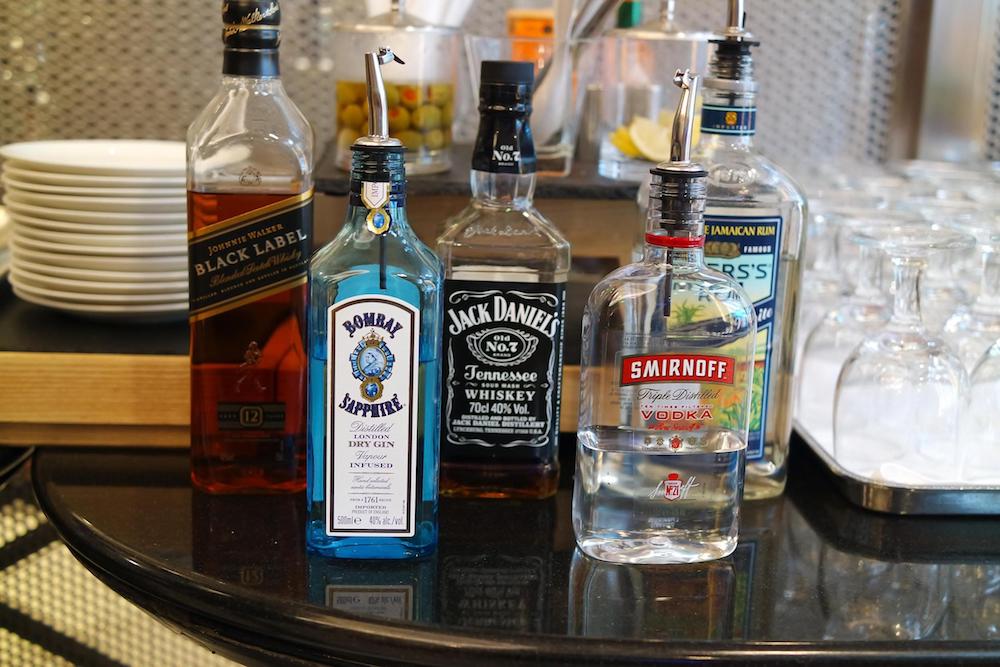 Some wines round out the untended bar.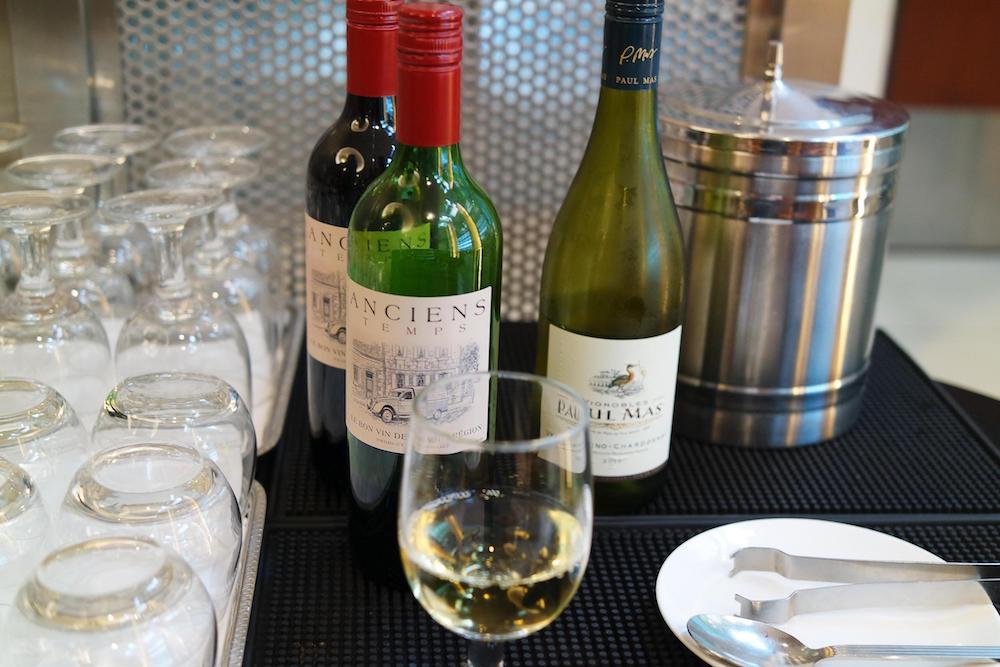 Shower and Bathroom Amenities
There are no shower or bathroom facilities within the lounge itself, which is probably the biggest pitfall of the KrisFlyer lounges, as many international travellers connect to and from long-haul flights.
The nearest bathrooms are directly opposite the SilverKris lounge entrance.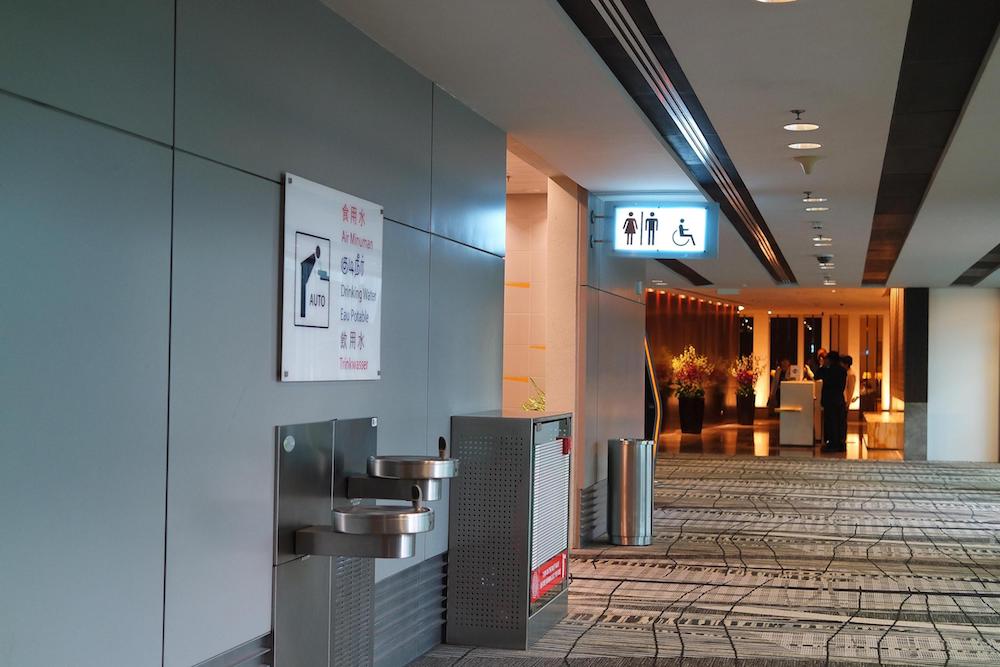 There do not appear to be free shower facilities within Changi Airport, so check out the paid shower options if you really need one.
Lounge Access Options
These lounges are for eligible Economy passengers with status, most commonly for us, Velocity Gold/Platinum or KrisFlyer Gold.
By airline frequent flyer status: Singapore Airlines KrisFlyer Gold
By airline partner frequent flyer status: Virgin Australia Gold/Platinum and other selected partners
By alliance frequent flyer status: Star Alliance Gold
In most cases, you'll be able to bring one guest who needs to be travelling on an eligible flight.
If you are travelling in Business Class or higher, or have Singapore Airlines PPS/Solitaire PPS, go directly to the SilverKris lounge instead.
My take
I found this lounge to be acceptable in most areas but it should be noted that the lounge was very quiet during our visit in the late afternoon, whereas many of the complaints online mention inadequate space during busier periods.
The food, beverage, seating and ambience are fine, although of course, we do feel Singapore Airlines could do a lot better, given that this is a lounge at their home airport.
As expected, the lack of bathrooms is a major oversight given Singapore's position as an international hub airport. If this was addressed, then the KrisFlyer Gold lounge would be far more useful.
Its T2 sibling is arguably worse as it shares the same downfalls of the T3 lounge but also does not have much natural light, giving it a dark and dingy feeling.
We hope that Singapore Airlines will bring this brand of lounges up to par in the future.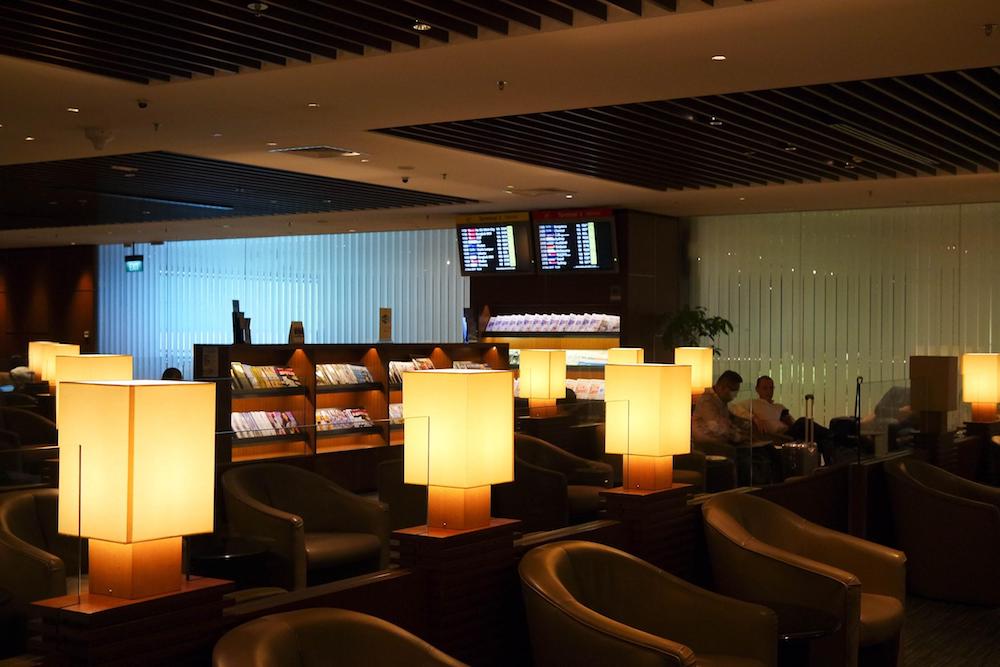 The lounge in T2 for comparison purposes
Singapore Airlines KrisFlyer Gold Lounge Changi Airport T3 overview
was last modified:
November 17th, 2021
by