The release of Apple's new suite of iPhones provides a great opportunity to highlight the different ways you can earn frequent flyer points when you go to purchase one.
Remember, it is worth shopping around different retailers for the best price. Apple is currently advertising the iPhone XS and XS Max for a Recommended Retail Price (RRP) starting from $1629 and $1799 respectively. The XR model has a RRP starting from $1229.
How many points or miles can you earn?
All four major online shopping portals offer points on purchases from Apple Australia. These include:
Qantas Online Mall
You can earn 2 Qantas points per AUD spent directly with Apple Australia through the Qantas Online Mall.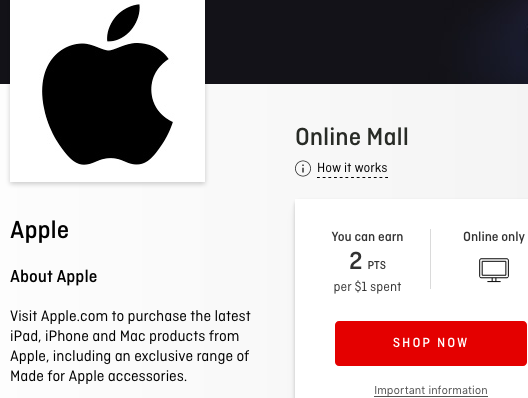 Velocity eStore
You can earn 2 Velocity points per AUD spent directly with Apple Australia through the Velocity eStore.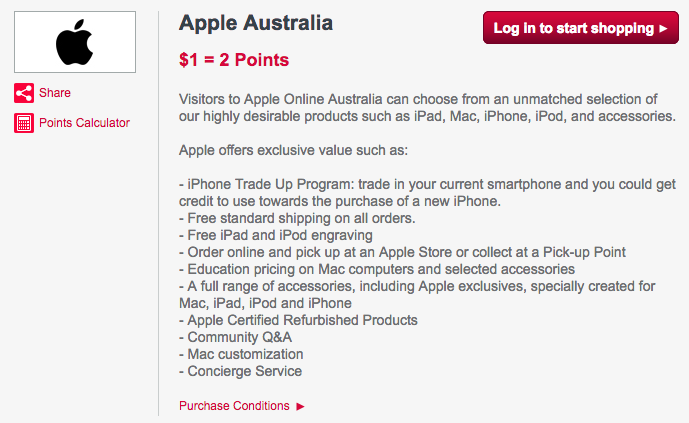 Asia Miles iShop
You can earn 1.5 Asia Mile per USD spent through the Asia Miles iShop.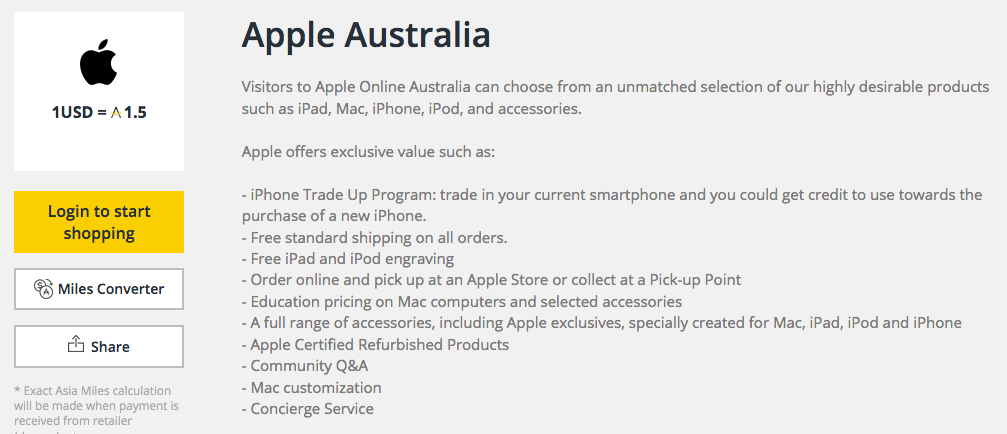 KrisFlyer Spree
You earn 15 KrisFlyer miles per 10 USD spent directly with Apple through KrisFlyer Spree.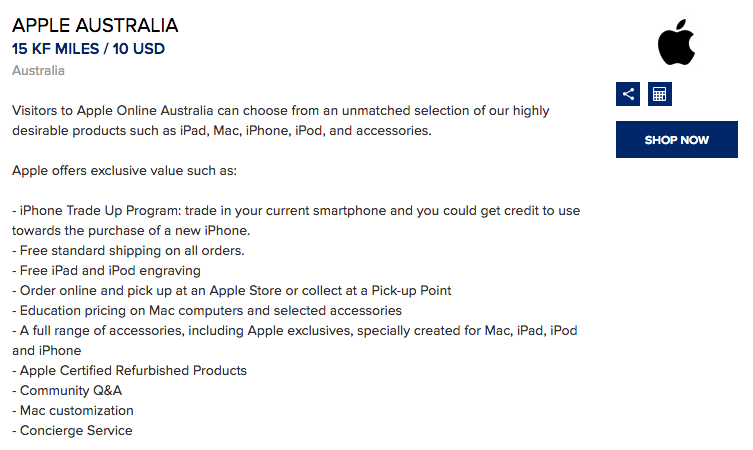 ANZ Bonus Points Mall
All cardholders of credit cards linked to ANZ Rewards are eligible to use the ANZ Bonus Points Mall, which will award you with 3 ANZ Rewards points per dollar spent for all purchases with Apple. On the iPhone XS at RRP, you would earn 4887 ANZ Rewards points.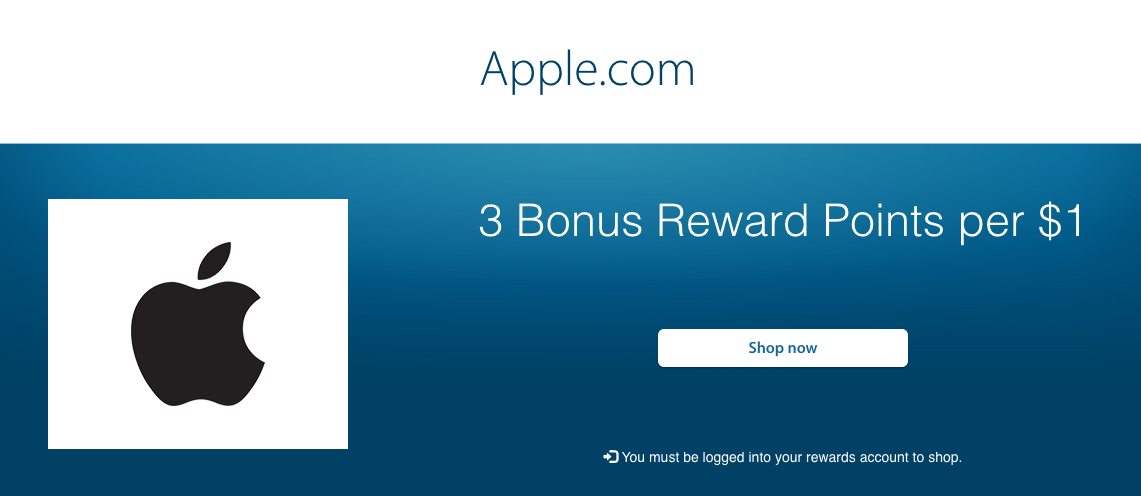 So if you were to purchase an iPhone XS from one of the above stores, you could collect the following points or miles based on the RRP:
3258 Qantas or Velocity Points
1756 Asia Miles or KrisFlyer miles
4887 ANZ Rewards points
Note that KrisFlyer Miles and Asia Miles are calculated based on the AUD:USD exchange rate as at 13 September.
Purchasing through Qantas Online Mall or Velocity eStore will yield the most points, which Point Hacks value as being worth approximately $65. However, remember that the number of points you can earn is not necessarily the sole consideration in terms of which points currency you choose to earn points on for your online mall purchases. Other factors such as how often you fly a particular program's airline or how easily you can redeem your points for your intended travels should also be considered.
Also be aware that the online malls periodically run bonus points promotions for specific retailers, so keep an eye on their pages and/or emails. It could be, for example, double Qantas or Velocity Points on Apple purchases for a week only in the lead up to Christmas.
At the time of writing this article, it is too early to tell whether third-party sellers such as Kogan.com, which offer Qantas Points on all purchases, will offer these new iPhone models at a discounted price to the Apple Store, however, if pricing of earlier iPhone is any indication, this is likely, so it is well worth doing your research before purchasing.
Make sure you have cookies turned on so that the frequent flyer program can track your purchase in order to award the points.
Earn cashback
Cashrewards is free to join and offers 1.4% cashback on purchases made with Apple Australia when clicking through their site, worth $22.80 in the case of the iPhone XS and $25.19 for the iPhone XS Max.
Stack with a high points-earning credit card
No matter which avenue you take, it is best to use a high points-earning credit card, with highlights for this purchase being the:
Get complimentary smartphone screen insurance with the right American Express card
If you hold either an American Express Explorer, Essential or Platinum card, you will get complimentary smartphone screen insurance for your new iPhone.
To activate the insurance, you must purchase your iPhone outright in a single transaction and put the cost of the phone onto the American Express card. Alternatively, coverage is also offered for a phone purchased on a monthly contract using the card.
If you obtain this card part way through your smartphone contract, you are still eligible for coverage as long as you change your monthly payments to one of the eligible cards and wait 30 days from the date of the first monthly payment to be covered.
Further information can be found in our guide to smartphone screen insurance with American Express.
Buy a gift card
You can purchase a gift card for Big W (at Woolworths only) or JB Hi-Fi (at either Coles or Woolworths) and use that gift card towards your new iPhone.
If you use a credit card that earns bonus points at supermarkets, then that will apply to your gift card purchase. For example, the American Express Platinum Edge card will earn you 4887 (XS), 5397 (XS Max) or 3687 (XR) American Express Membership Rewards points on this purchase.
Savvy points collectors may ponder that they can pick up bonus Qantas/flybuys points at Woolworths/Coles but that does not apply to gift cards, unfortunately.
Summing up
When you are looking to make a large purchase, especially for electronics, it is worth having a look to see if your preferred frequent flyer program's online shopping portal will offer you bonus points for clicking through their site. Then using a high points-earning credit card can maximise your points earn.
For example, if you clicked through Qantas' online shopping portal or Velocity eStore and completed your purchase with the American Express Explorer card, you would amass 3258 Qantas or Velocity Points in addition to 3258 American Express points when buying the iPhone XS, with little extra effort.
Other avenues include clicking through Cashrewards or buying a gift card at a supermarket to use at a store that sells the product you are after.
And then how to use those points? Here are some ideas.
Are you planning on buying an iPhone XS, XS Max or XR (or another Apple product) in the near future? How do you intend to maximise your points earn on this purchase?
Supplementary images courtesy Apple.
You can now earn frequent flyer points on the new iPhone XS and XS Max
was last modified:
May 28th, 2019
by