Note: KrisFlyer Spree has been discontinued as of 1st September 2022 and is no longer available.
KrisFlyer Spree is Singapore Airlines' online mall, allowing members to earn KrisFlyer miles for purchases made online after signing in and clicking through to a range of retailers.
In this guide, we cover off the key online retailers for Australian online shoppers to help you earn more KrisFlyer miles.
What is Singapore Airlines KrisFlyer Spree?
KrisFlyer Spree is an online mall which allows you to earn KrisFlyer miles on purchases. Online malls work by ensuring you log in with your frequent flyer program credentials before then being referred out (with a click) once logged in to make a transaction over on the retailer's website.
The shopping portal gets paid a commission for initiating the purchase, which they then share with you in the form of KrisFlyer miles.
Most of the included retailers are located within Asia, however, there is still a significant number that is relevant to Australia-based travellers on krisflyerspree.com.
KrisFlyer Spree sits alongside the Qantas Online Mall, Velocity e-Store, Asia Miles iShop and Cashrewards as key ways to earn points or cash back from online purchases.
How do I earn KrisFlyer miles with KrisFlyer Spree?
The main way to enter the shopping portal is to head to the KrisFlyer Spree website on a desktop, laptop or tablet.
The KrisFlyer Spree online mall works by tracking the purchases you make at participating retailers, so it can credit you with KrisFlyer miles for each dollar you spend.
To start, head to the KrisFlyer Spree home page and log in to KrisFlyer account
Change the region locator at the top of the page to 'Australia and New Zealand', or the applicable region you are currently in.
Click on the retailer you wish to shop at. The page will tell you how many KrisFlyer miles you can earn per US$10 spent.
Complete your purchase on the retailer's website. Do not visit other websites during this time, or your purchase might not track
When you have checked out, that's it! Sit tight and wait a few weeks (or months) for the KrisFlyer miles to credit.
Ad – Scroll down to continue reading.Minimum spend, terms & conditions apply.
How do I search on KrisFlyer spree?
The search functionality is quite robust — it allows a free text search, which is handy if you know the specific retailer that you are after. You can also sort by retailer categories and regions.
For example, a search for iTunes can be done by inputting the retailer name in the free text search box with the following results appearing:
You can also search for retailers based on geographic location by heading to the locator icon on the menu bar and selecting the desired region: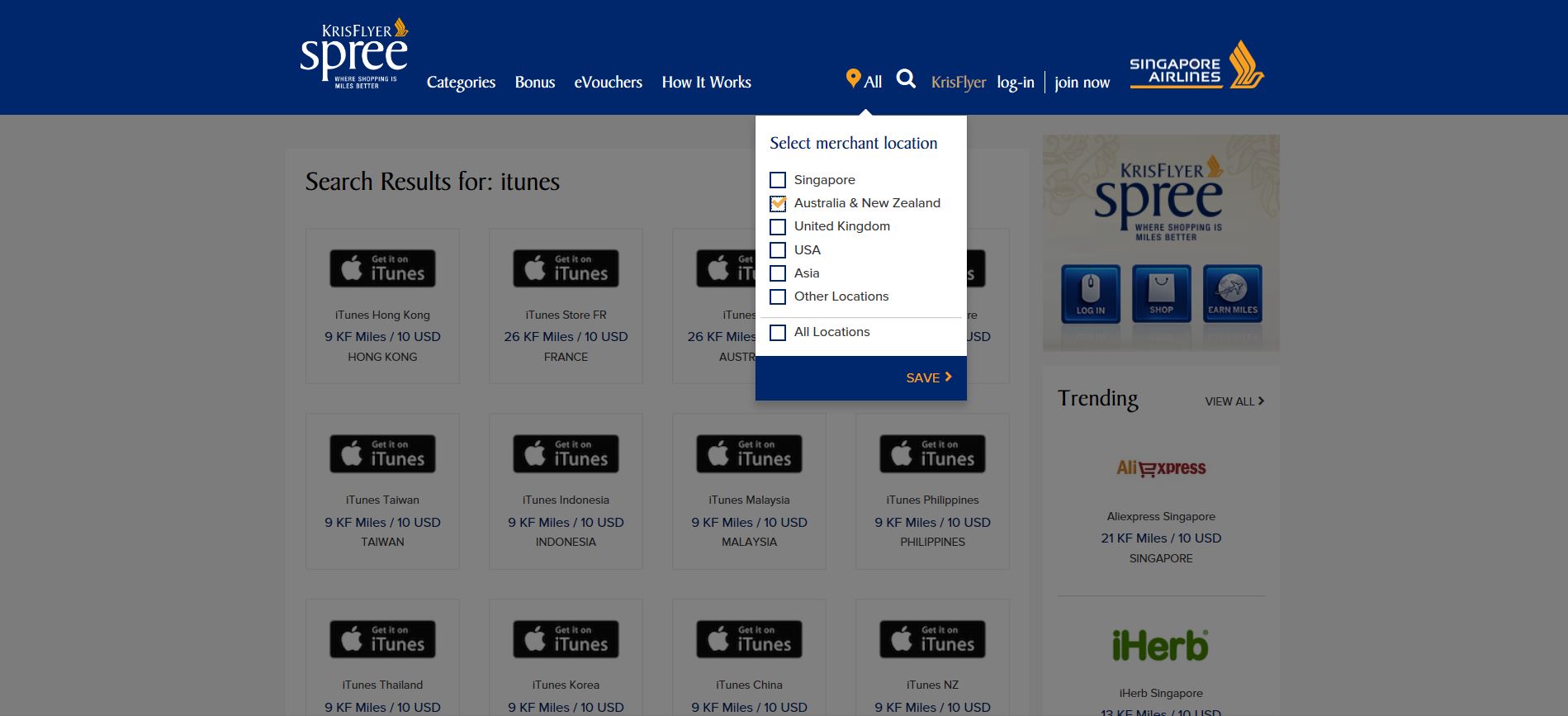 This initially takes you back to a geographic-specific landing page. You then select the desired category for a retailer within that region. For example, clothes & fashion retailers located within Australia and New Zealand brings up the following retailers: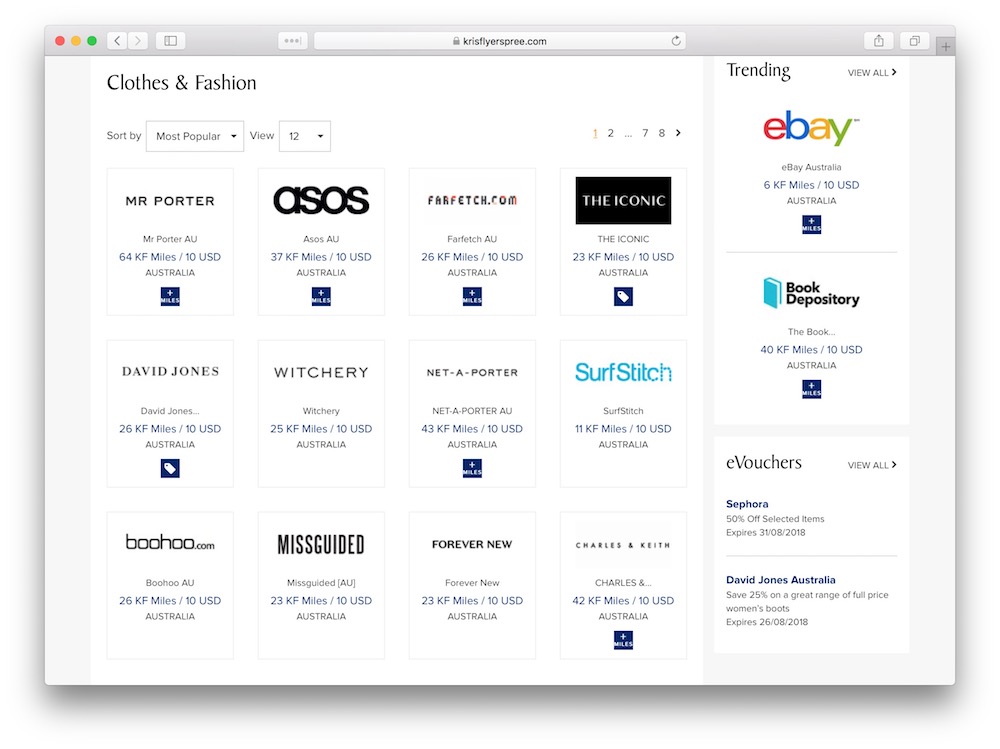 What Australian retailers are partners with KrisFlyer Spree?
Here's the full list of retailers as of 22 August 2022 with their KrisFlyer miles earn rate per $1 spent:
KrisFlyer Spree also includes global brands based in other regions that deliver to Australia including Macy's and Marks & Spencer, which will appeal to Australians members who utilise overseas online retailers.
You can look through all of their partners in the following categories:
In total, there are ~180 retailers for our region available at the KrisFlyer Spree right now, which is quite a bit short of the Velocity e-Store offering, which is Australia's most established frequent flyer program-linked online mall.
What do I need to know when using KrisFlyer Spree?
To ensure that you receive your KrisFlyer miles, you'll need to make sure that:
You log into the KrisFlyer Spree website with your KrisFlyer account before you check out from the retailer (you should be prompted if you haven't already logged in)
You should note the transaction details and follow up with a missing miles request if you don't get the miles, especially for big-ticket purchases
As with all online malls, it is imperative to ensure that your cookies are activated for the site to be able to track your purchases. Krisflyer Spree provides details on activating cookies here.
Even following the above, earning miles through online merchants can sometimes be hit and miss, so make sure you take Step 2 above seriously.
Summing up
Because KrisFlyer Spree earns on a per US$10 basis (usually) and the currency conversion that used is not transparent, it makes it hard to compare between retailers. In most cases, the earn rates are usually comparable on a like-for-like basis to programs like Velocity.
Point Hacks has a 'Bonus Points Earn Finder' tool which is updated every few months with the latest earn rates from a range of online malls.
Frequently asked questions
What is KrisFlyer Spree?
KrisFlyer Spree is the online shopping mall for Singapore Airlines' KrisFlyer program, offering miles on purchases.
Do you have to pay to join KrisFlyer?
No, KrisFlyer membership is free. Once signed up, you can shop on KrisFlyer Spree.
Do KrisFlyer points expire?
Yes, KrisFlyer miles typically have a hard expiry of three years after being earned. See the KrisFlyer page for any updates on whether COVID-19 has resulted in extensions to KrisFlyer mile expiry.
How to earn KrisFlyer miles on purchases through KrisFlyer Spree [Discontinued]
was last modified:
January 31st, 2023
by