For many readers, Business Class is the epitome of luxury travel. A lie-flat bed, a personalised suite, extra legroom and better meals. What greater travel perks could possibly be on offer? Well, take my word for it when I say there's more luxury to be had. Plenty more, in fact.
Returning from my trip to Singapore earlier this year, I was lucky to snag a First Class reward seat from Singapore to Melbourne for 93,500 KrisFlyer miles and $79 in fees and taxes. Not bad for a ticket that would normally cost $3,409 in cash!
So if you'd like to know why First Class is definitely worth considering and how you can book this amazing experience yourself, then make sure to read on.
Ad – Scroll down to continue reading.Minimum spend, terms & conditions apply.
A restful night's sleep awaits
My flight departs at 12:25 am from Singapore – what I'd normally call the dreaded red-eye. Except in the luxurious environs of Singapore Airlines First Class, there's not an ounce of dread in sight. Sure, the usual First Class bling is somewhat pared back given that most of the trip is spent sleeping. But pared back doesn't mean less luxurious.
As I enter the elegant cabin, I get my customary goosebumps knowing I'm heading towards Suite 1A. There's flying up the pointy end, and then there's this. My suite, not to be confused with Singapore Airlines' Suites only found in the A380, is the very definition of First Class. There's not a single person in front of me.
The first thing that strikes me is the level of space – even more spacious than the roomy seat found in Singapore Airlines Business Class. For comparison, think walking two to three steps from one end of the suite to the other instead of spinning around in a loop on the spot.
But the thing I'm most excited about? The quality of sleep I'm about to have. I love nothing more than sleeping at 38,000 feet in the air. And when it comes to quality shut-eye, First Class is in a league of its own.
So just what does a First Class snooze entail? I'm offered a thick mattress and duvet, plus plush pillows that are noticeably larger than in Business Class. Even better, my super-wide seat converts into a large bed. There's ample room to find my perfect sleeping position, without feeling inhibited by a narrow seat configuration or cramped footwell.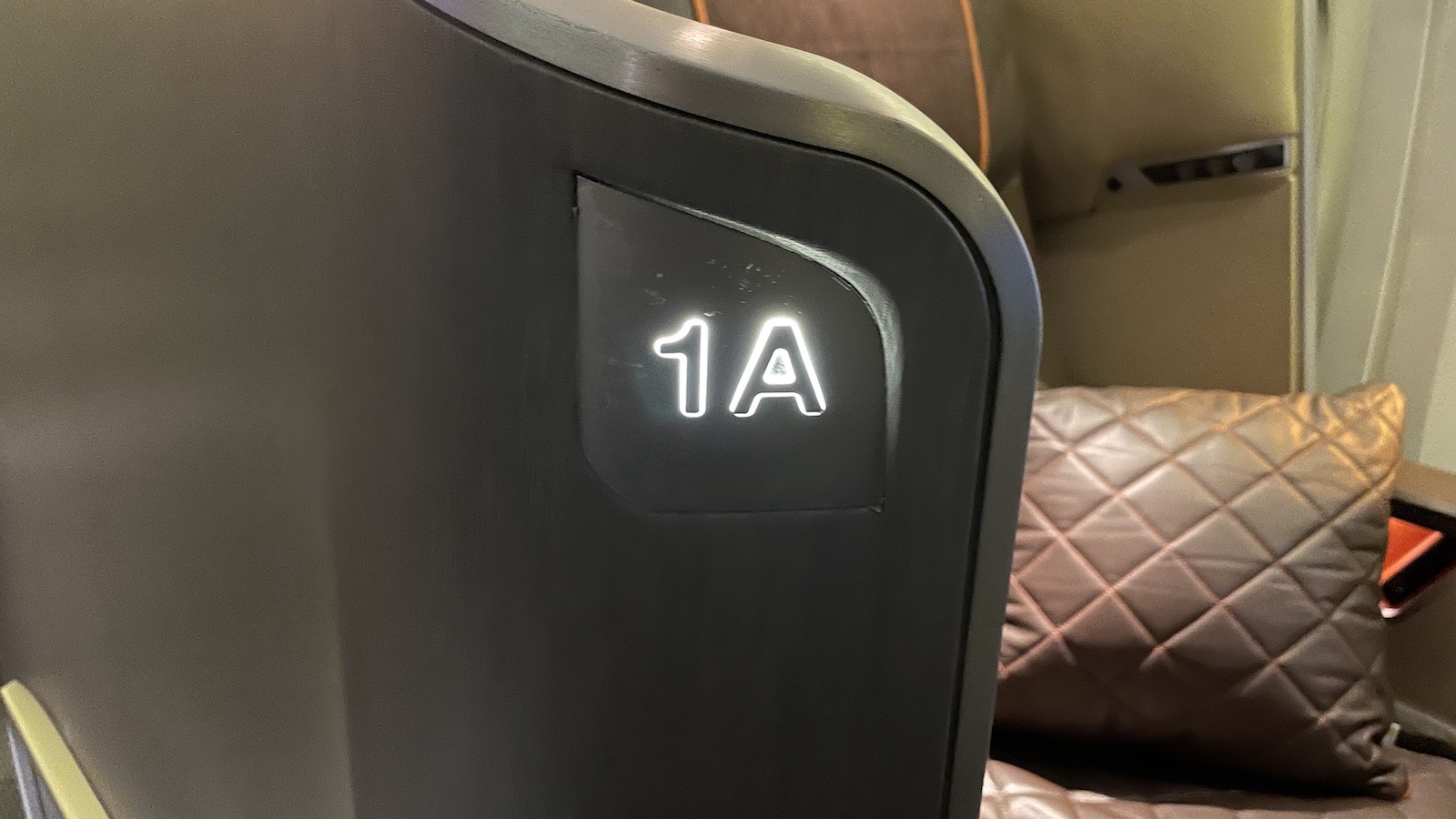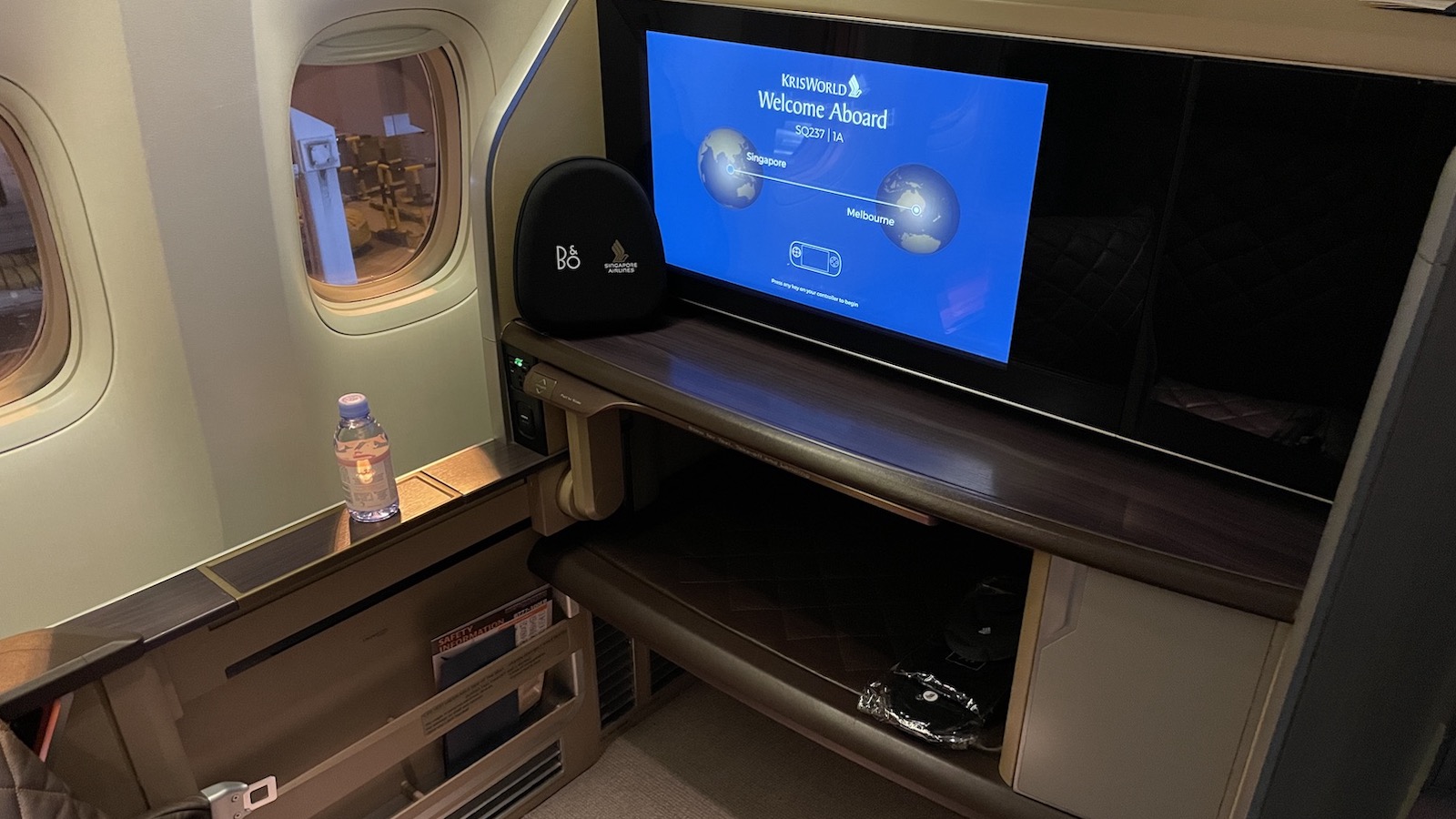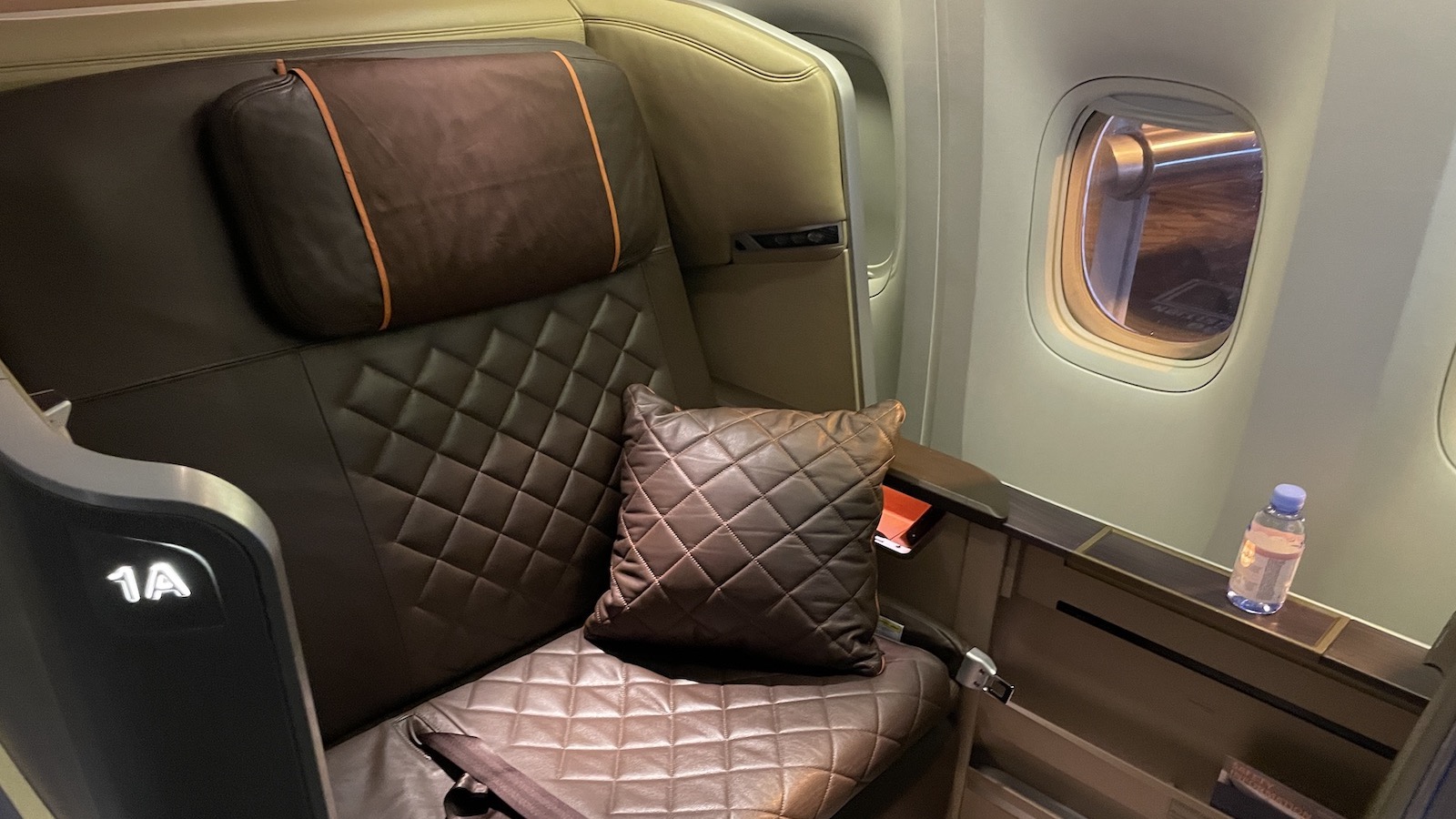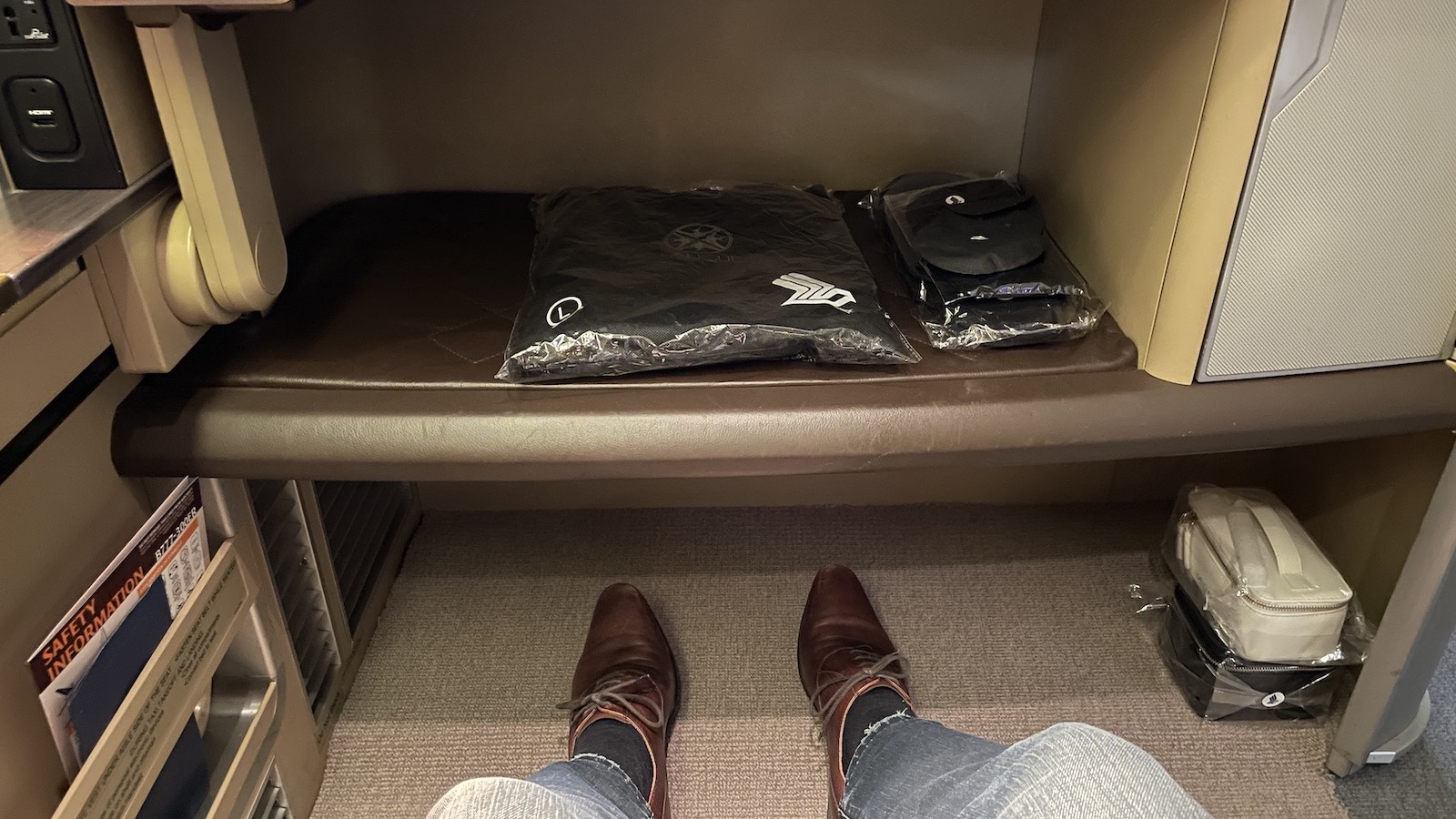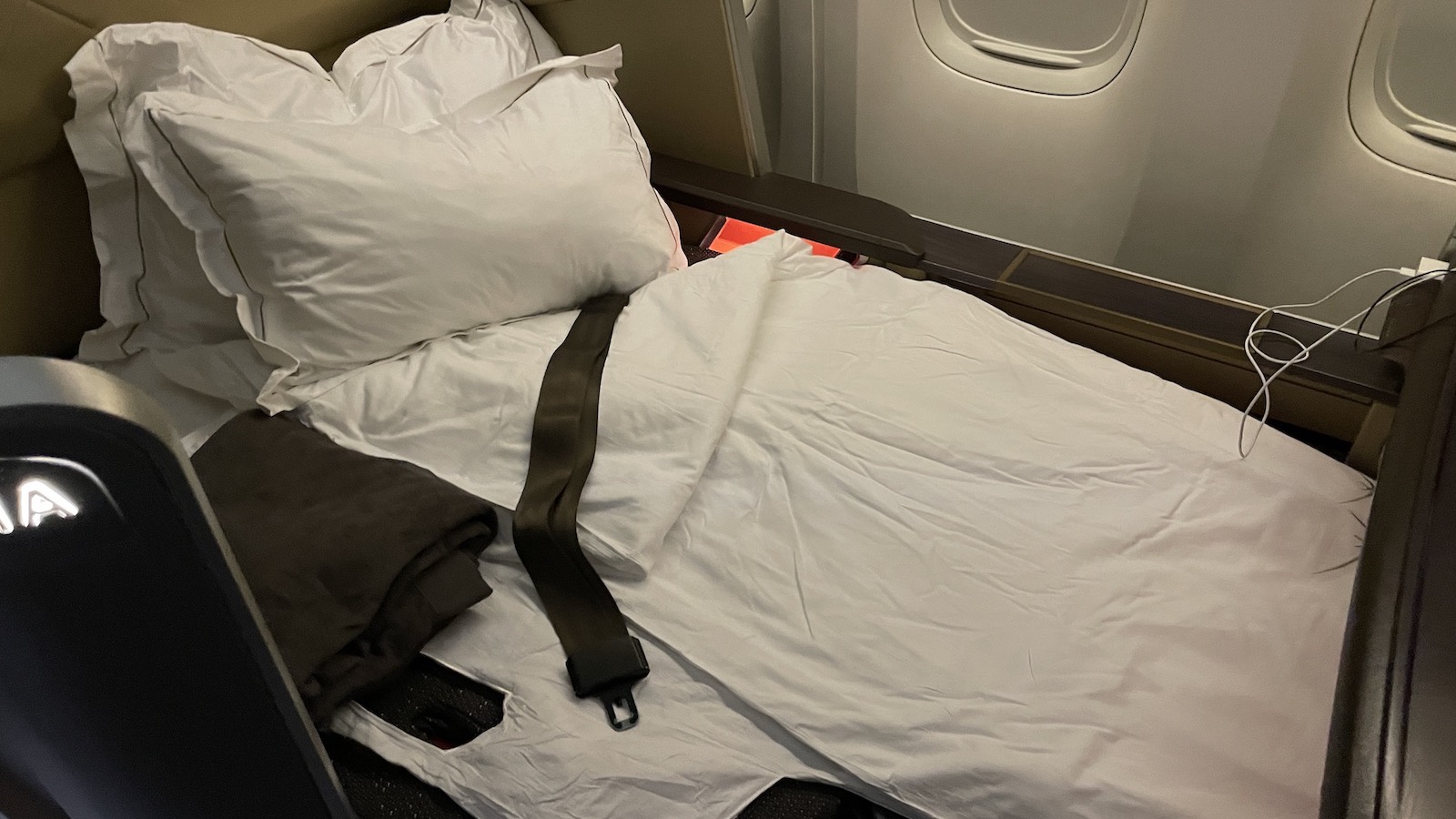 A lovely cabin crew member quickly approaches as I settle into my seat, with a bottle of $363 Krug Grand Cuvée Champagne in hand. Not one to pass up an opportunity to sip Champagne – midnight or not – I enthusiastically accept a glass. As always with Krug, it goes down beautifully. And the assortment of heated nuts is the cherry on top.
I take advantage of Singapore Airlines' excellent Book the Cook service before my flight. My choice? The famed lobster thermidor with fondant potato and buttered seasonal vegetables. Given the flight's late departure, I make sure not to eat dinner beforehand so I can savour the lobster fully.
And it's a decision I definitely don't regret. The lobster is cooked in a rich cream sauce enhanced by Cognac and Dijon mustard, and lightly covered with melted cheddar cheese. It's beautifully flavoursome without feeling heavy – something I very much appreciate just before sleep. A seasonal fruit platter tops off the meal service, another light option that suits the flight perfectly.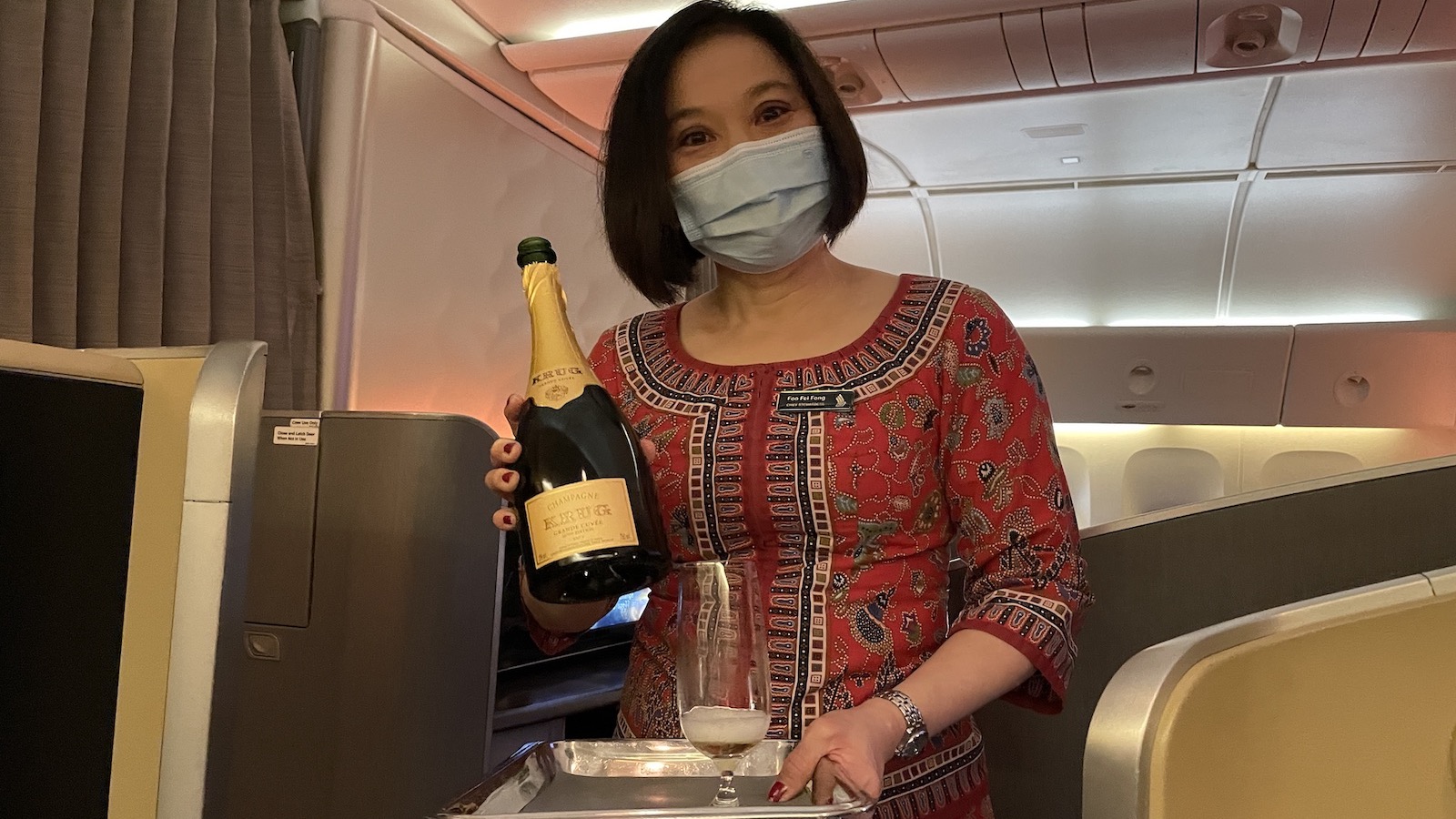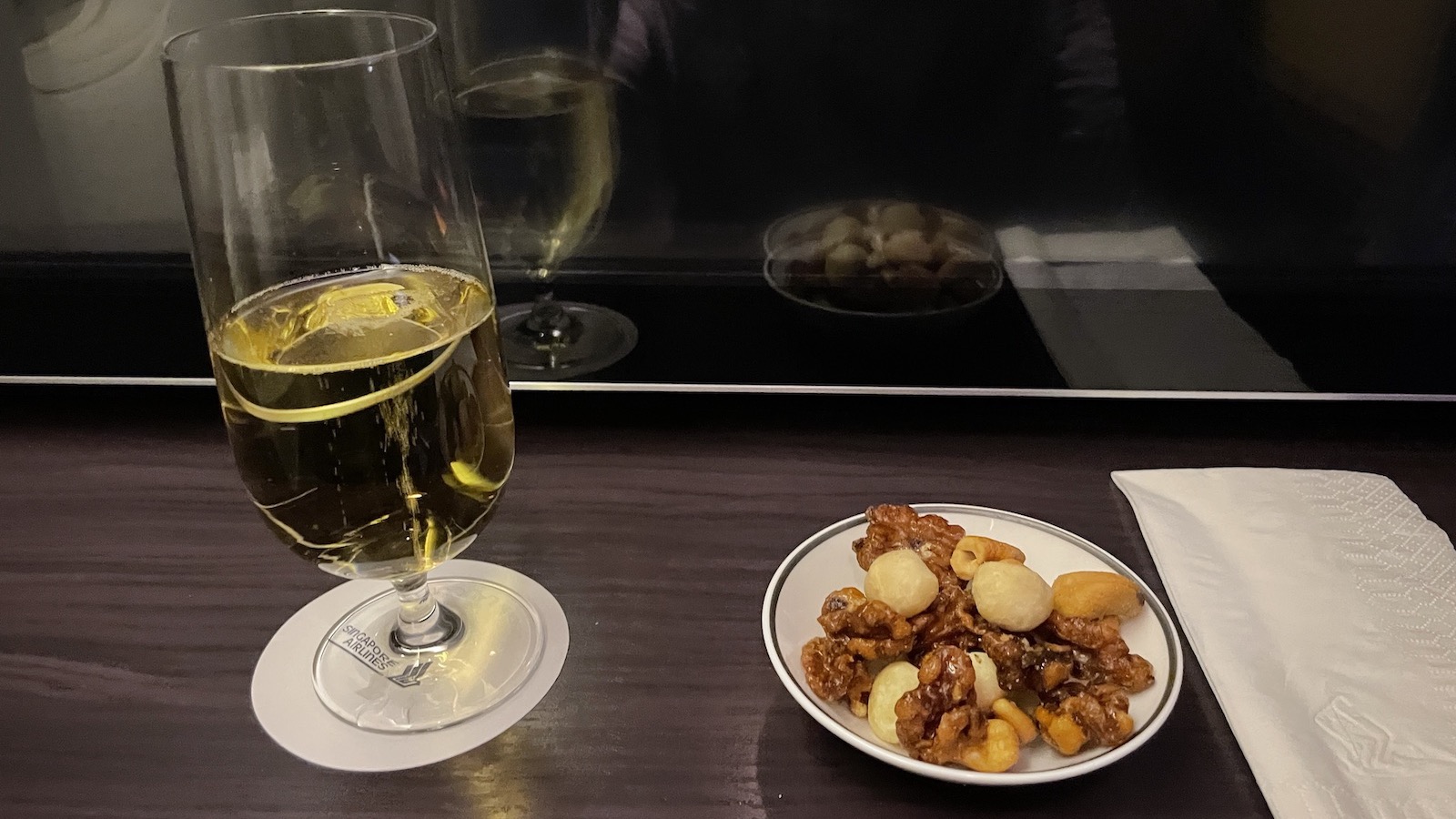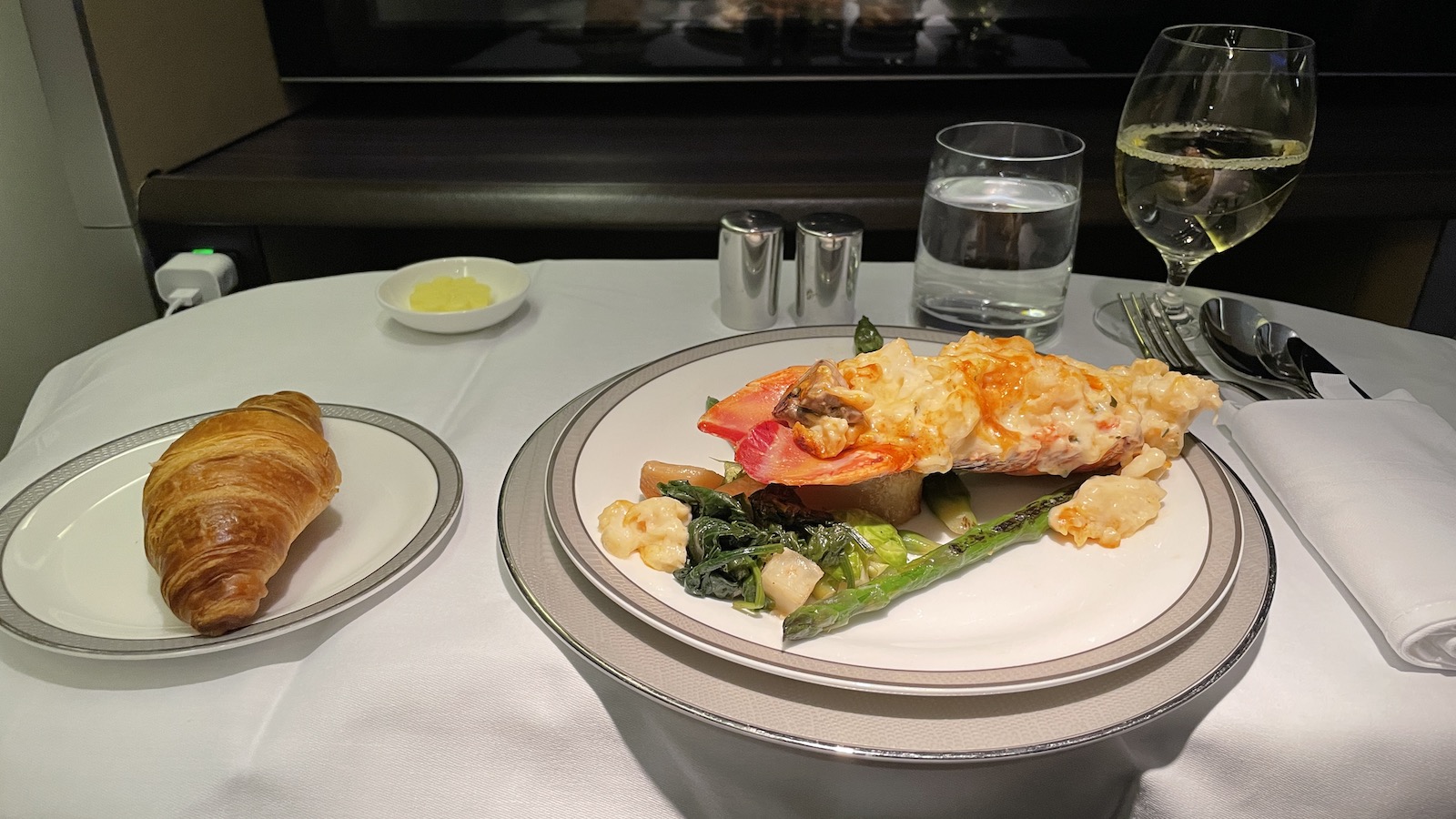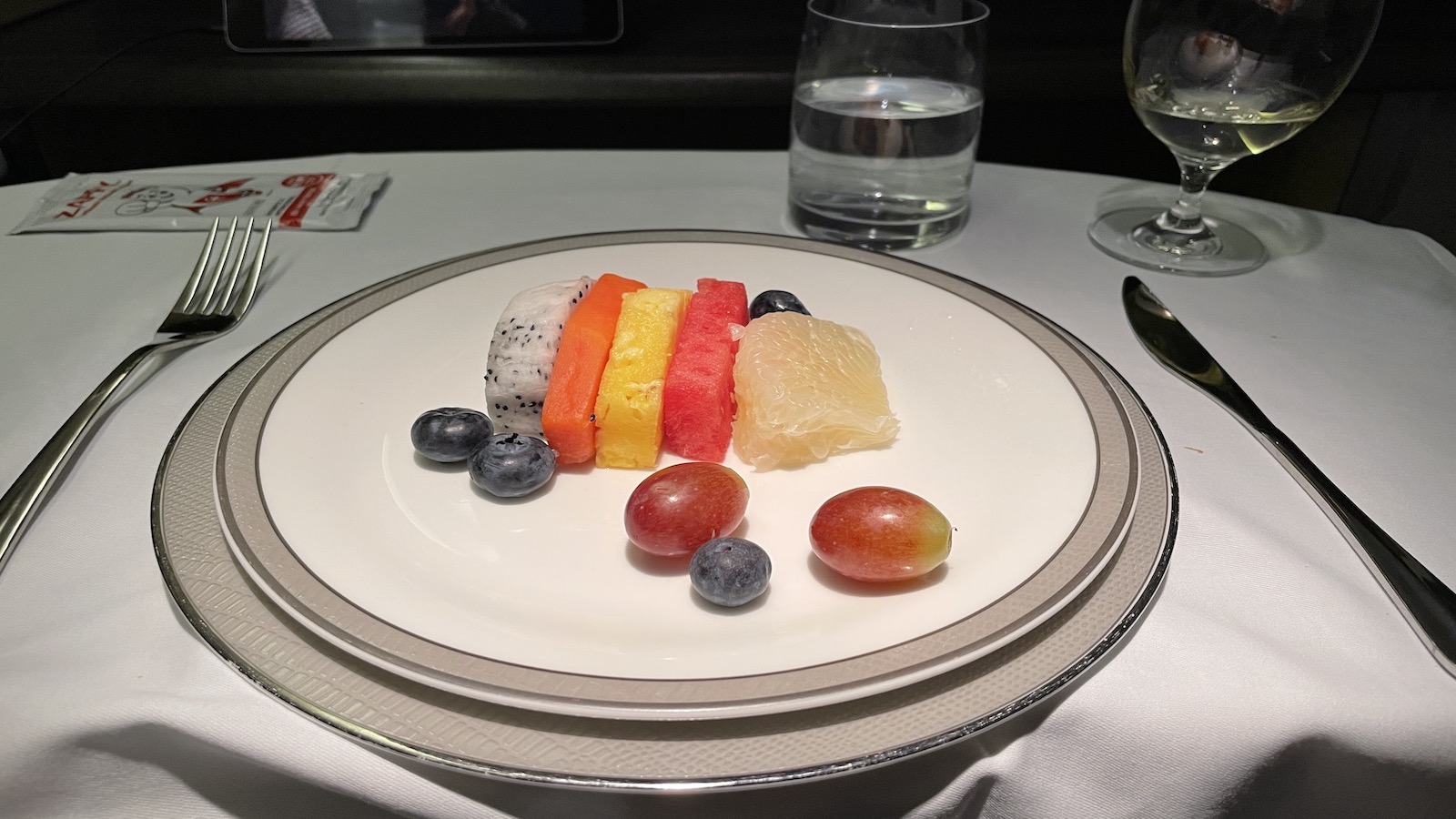 If lobster thermidor isn't your thing, there's a comprehensive First Class in-flight dining menu to choose from. The service offered on this flight is known as a 'Sleeper Service', tailored specifically to the overnight nature of the trip. Main course options also include fresh eggs, beef rendang, the original white bee hoon, coconut pancakes or a traditional continental breakfast.
Deliciously sated, my mind turns to sleep. The cabin crew member converts my seat into a fully lie-flat bed. The mattress is admirably thick, and I have two large plush pillows that comfortably support my head without being too firm or soft. The last thing I remember is my head hitting the pillow and not waking up again until just before landing.
And that's where the value of First Class shines through on an overnight flight. I land feeling as refreshed as if I had slept in my own bed. As I walk towards immigration and customs, I gaze at my fellow travellers, many of whom look like sleep-deprived zombies.
And while they contemplate how they'll make it through the day without falling asleep, I appreciate the beauty of frequent flyer points. The very points (or miles) that have allowed me to sip Champagne, eat lobster and fall asleep on a comfortable lie-flat bed. And all for the price of an Uber trip! What else could I ask for from a flight?
How to experience First Class for yourself
First Class travel doesn't need to remain a permanent fixture on your bucket list. Though unless you're one of the privileged few rolling in cash, purchasing a First Class fare outright isn't a viable option. But you know what is viable? Earning enough KrisFlyer miles to book a First Class award seat, just like I did on this flight.
The most lucrative way to earn miles is through credit card sign-on bonuses, where you can earn a large stash of points all in one hit. Bonus points promotions of over 80,000 frequent flyer points or miles are not uncommon.
While there has traditionally been the option to use both KrisFlyer miles and Velocity Points to book First Class/Suites, at present, you can only book premium award seats through KrisFlyer. The good news? You'll be able to use Velocity Points for Singapore Airlines First Class/Suites award bookings soon.
To view our current KrisFlyer credit card offers, just click on this link: KrisFlyer credit cards.
And if Velocity Points are more of interest, then check out these credit card offers: Velocity credit cards.
Using KrisFlyer miles to book
First Class from Australia is only available for flights from Sydney and Melbourne. But the airline has many First Class destinations ex Singapore. This includes Auckland, Delhi, Frankfurt, Hong Kong, Jakarta, London, Los Angeles, Mumbai, New York, Paris, Shanghai, Tokyo (Narita) and Zurich.
If you're looking to use KrisFlyer miles for First Class flights from Australia, you'll need 93,500 miles per person, in addition to any taxes and charges.
| | |
| --- | --- |
| (one-way to Singapore, First Class) | using KrisFlyer miles (per person) |
| Sydney & Melbourne | 93,500 miles + taxes |
You can easily earn KrisFlyer miles by converting points from a number of credit card reward programs. Some of the main programs (with the conversion rates in brackets) include:
Other reward programs also include Suncorp Rewards (2.5:1), St George/Bank of Melbourne/Bank SA Amplify Reward (2:1), Citibank Rewards (2.5:1) and HSBC Rewards Plus (2.5:1).
If you take out a credit card sign-up offer, make sure to convert your old credit card reward points to your KrisFlyer account and confirm that the miles have been credited before closing your credit card. Some people have learned this lesson the hard way and missed out on earning miles!
Also, keep in mind that KrisFlyer miles expire three years after they have been credited to your account, so make sure to strategically transfer your credit card reward points to your KrisFlyer account. Meaning? Only convert your reward points into KrisFlyer miles when you're ready to book a trip!
Using Velocity Points to book
As shown above, First Class is only available via Sydney and Melbourne, so the ability to use Velocity Points once you're able to redeem them again is also limited to these two Australian cities.
You will need 95,000 Velocity Points plus the payment of any taxes and charges – slightly more than what you'll need for KrisFlyer. Also note the recent addition of a Velocity carrier charge for all Singapore Airlines reward redemptions.
| | |
| --- | --- |
| (one-way to Singapore, First Class) | using Velocity Points (per person) |
| Sydney and Melbourne | 95,000 points + taxes |
If you don't have enough KrisFlyer miles or Velocity Points to book First Class, you may wish to consider redeeming for Business Class. This is also an excellent product – one I was lucky enough to experience on my Business Class trip from Brisbane to Singapore.
So should you go ahead with booking a First Class redemption? Absolutely! Whether you're on an overnight flight like myself or kicking back on a daytime jaunt, the upgrade from practical luxury that you'd find in Business Class to pure opulence found in First Class is too compelling to pass up.
On the overnight flight, your sleep quality is second to none. And if you're more focussed on the First Class product itself, then you won't be disappointed with the quality of food, personalised service and of course the enormous suite itself.
But if you're looking to maximise the First Class dining and drinks experience, then make sure to aim for a daytime flight instead.
Keen to read more of these incredible experiences? Then don't forget to sign up for our email newsletter. And if you're wondering how to nab a premium reward seat, then have a listen to our exclusive podcast.
Featured deals
Experience Singapore Airlines First Class for just $79 with KrisFlyer miles
was last modified:
October 11th, 2023
by