Business Class travellers are spoiled for choice between Brisbane and Auckland. Not only does Qantas fly its Airbus A330s and Boeing 737s between the cities, but Taiwan's China Airlines also runs its own luxe Airbus A350s across the Tasman. And then, there's Air New Zealand: putting its best foot forward with Business Premier on selected flights.
As it turns out, Air NZ is quite a pleasant way to venture across to Auckland. And better yet, with Air New Zealand being a Star Alliance airline, its flights can also be booked using miles through programs like Singapore Airlines KrisFlyer. In fact, that's exactly how I've booked my journey.
By spending 34,500 KrisFlyer miles (one-way), I secure a seat in the best cabin aboard the largest plane in Air New Zealand's fleet. And all it costs me in 'real dollars' is AU$154.04 – the amount I've paid alongside those miles to cover the taxes, fees and charges.
An international Business Class flight, for the same cash cost as an Australian domestic economy hop. All thanks to the power of points (okay, 'miles'). I've done this flight before, and there's no doubt, I'll do it again.
Check-in, lounge and boarding
It's been a while since I've visited Air New Zealand's lounge in Brisbane, so I arrive for my Business Premier flight in plenty of time. Given the cold weather in Auckland, I find it easiest to bring along a checked bag this time – rather than try and squeeze multiple coats into my carry-on.
There's a dedicated check-in lane for Business Premier flyers, but a few other travellers are already in the queue. As it happens though, there's also a staffed assistance counter tucked behind the usual self-serve kiosks. I'm called over – the agent promptly tags my bag and issues my boarding pass.
It's then as easy as wheeling my suitcase over to the self-serve bag drop and bidding it adieu. All while those queued for the regular counter are still in line, waiting to be processed. Speedy stuff.
With the main formality sorted, it's time to head through to departures. After its multi-year closure, Brisbane Airport's Express Path security channel is finally back open. A quick flash of my boarding pass and I'm in the fast lane once again. After a few minutes, it's lounge time.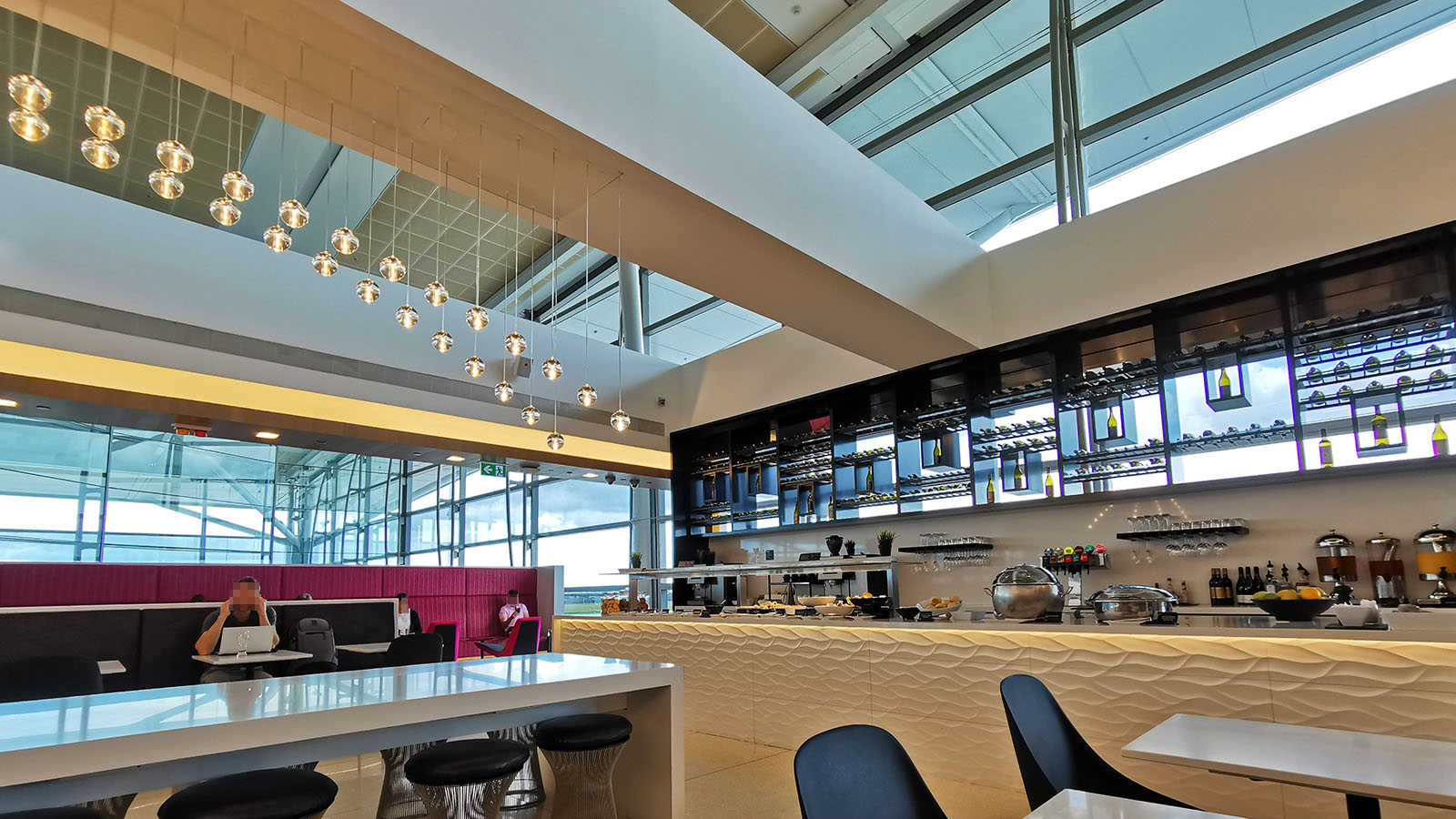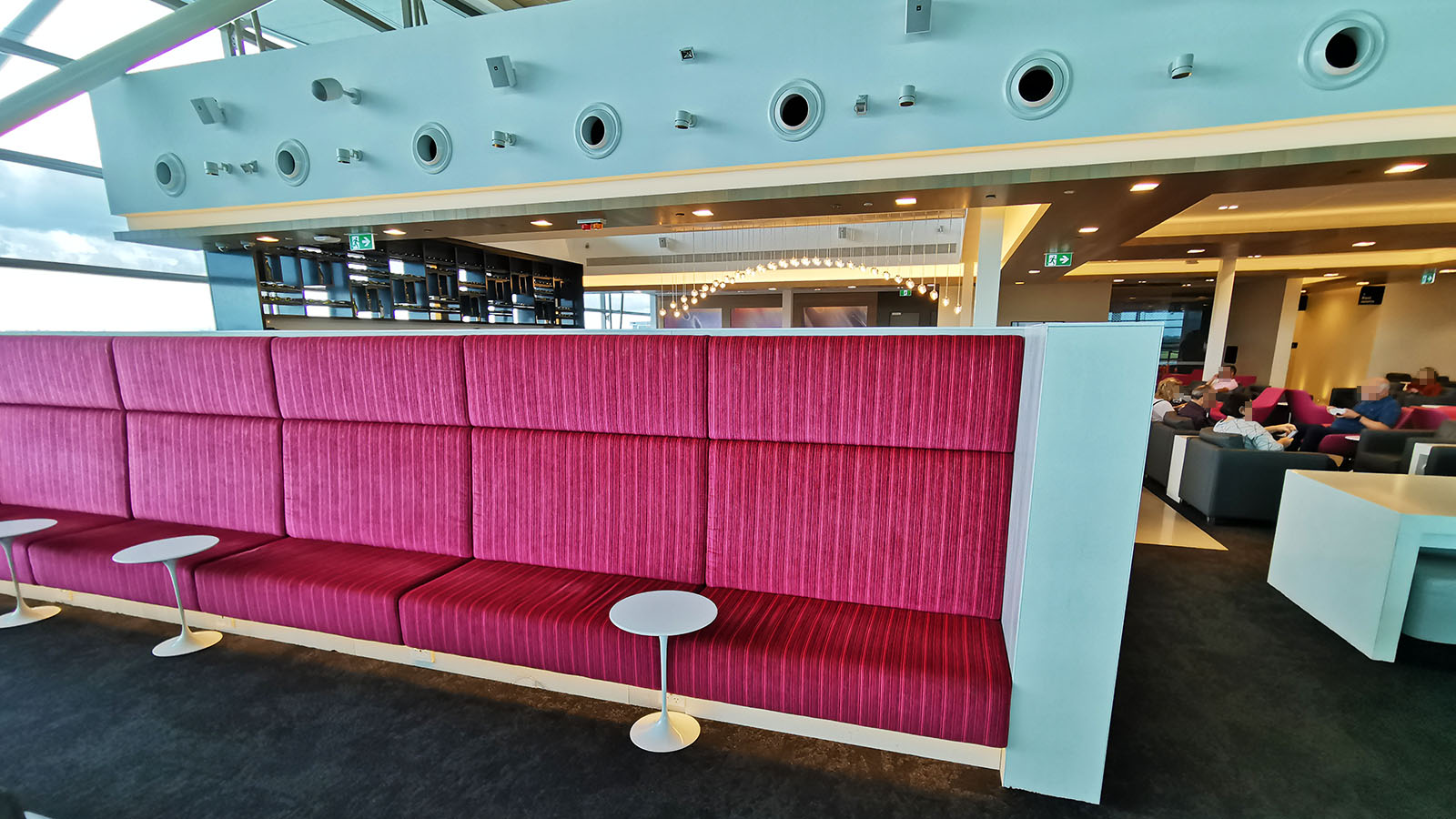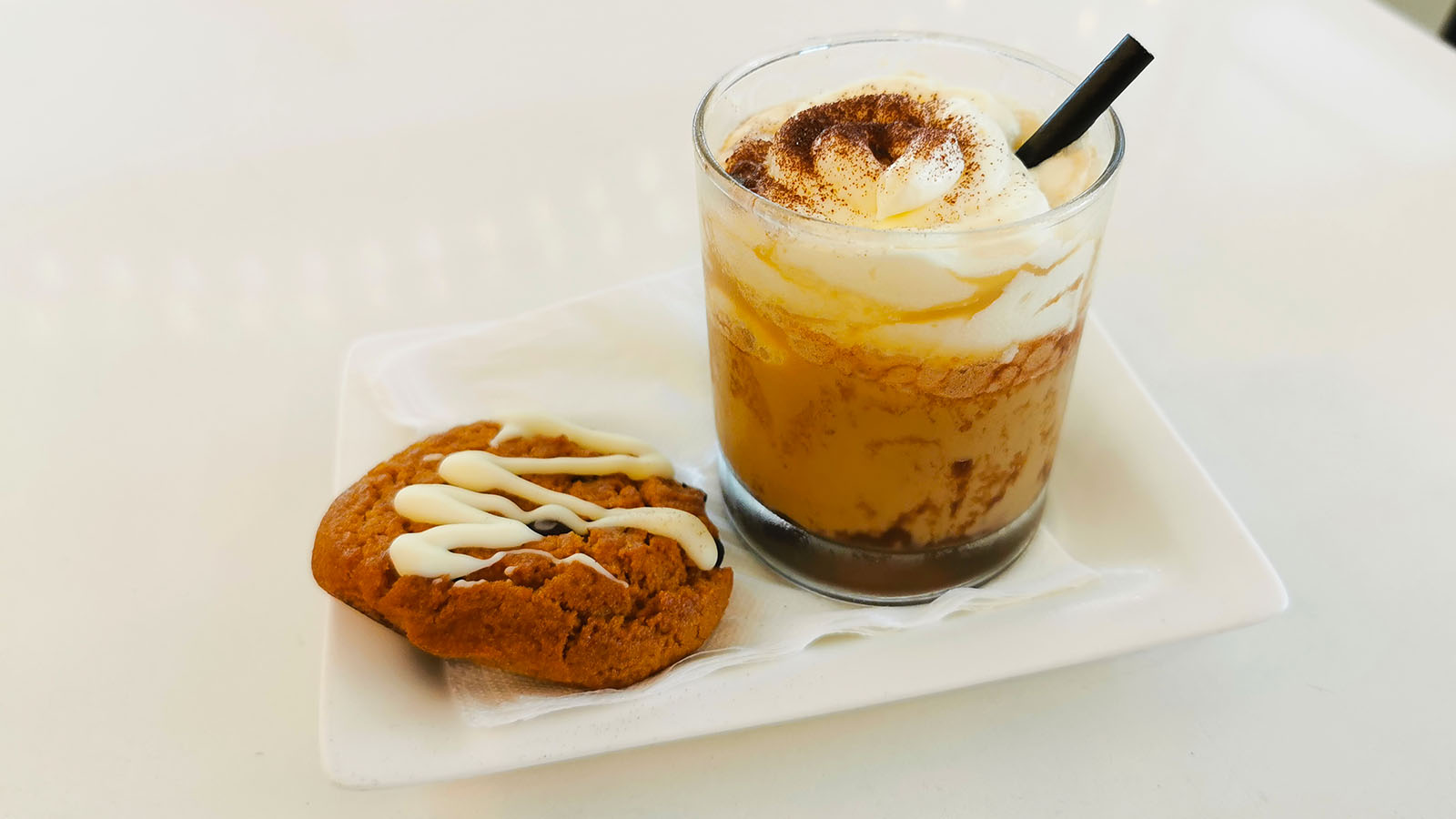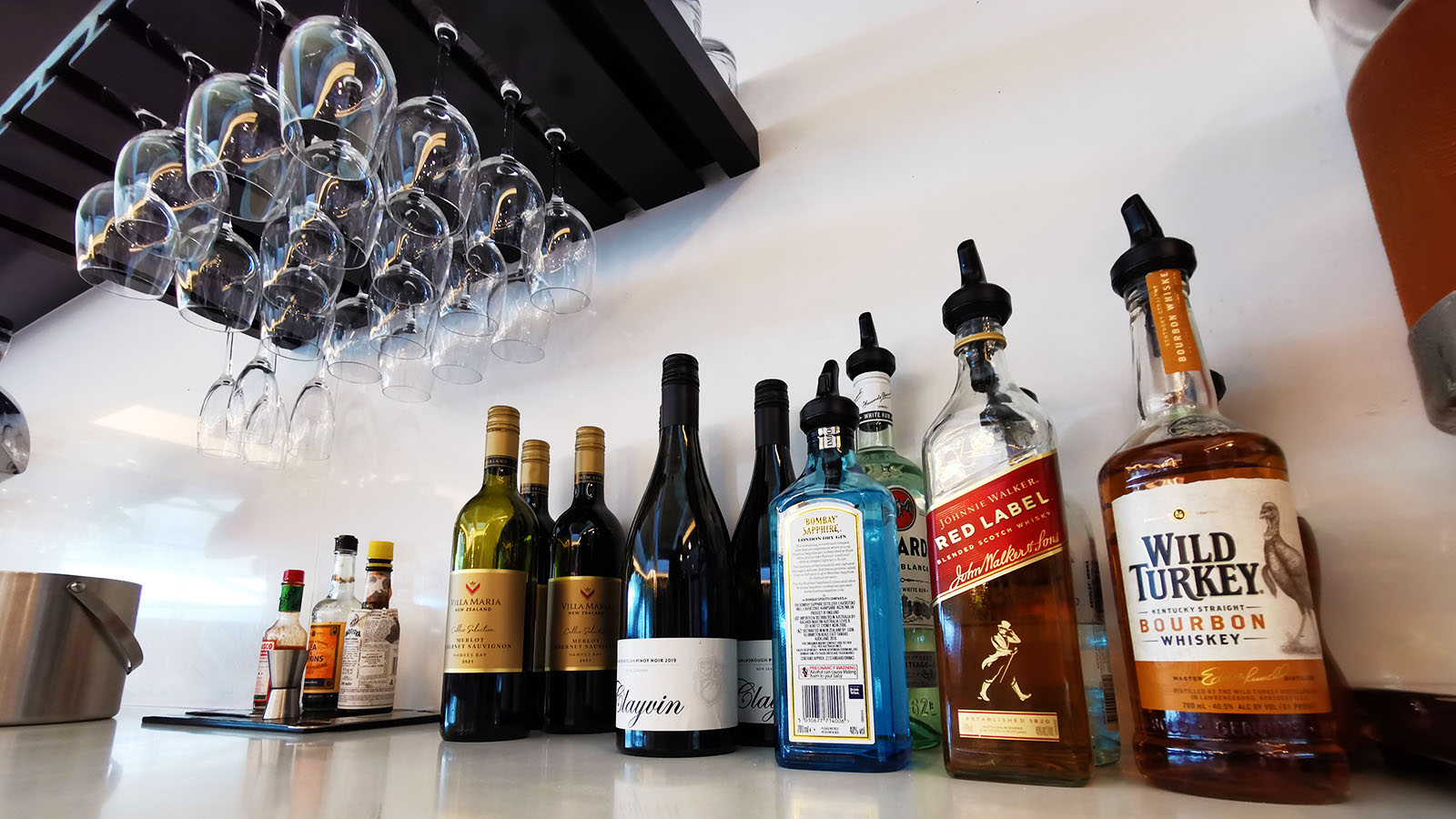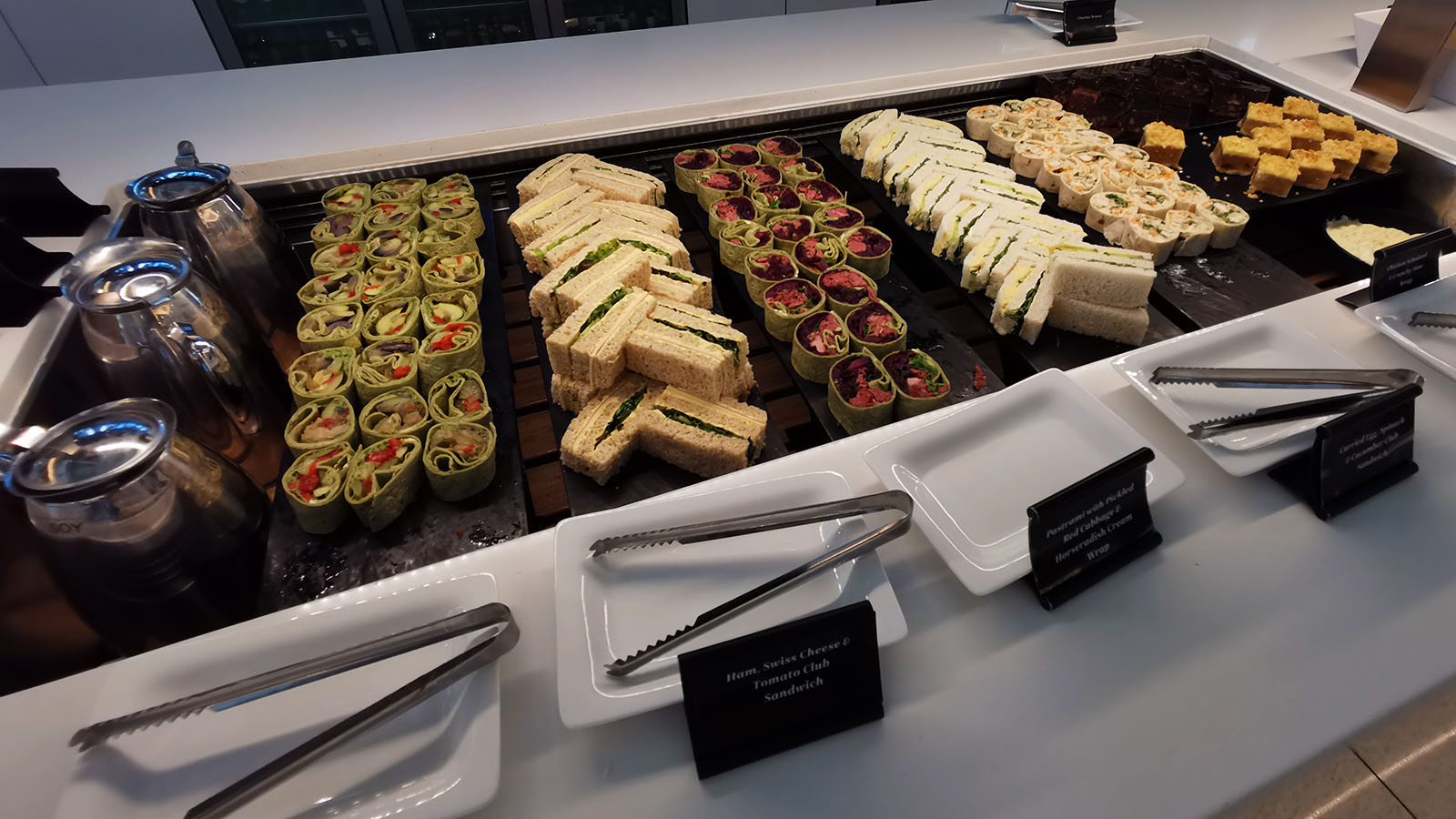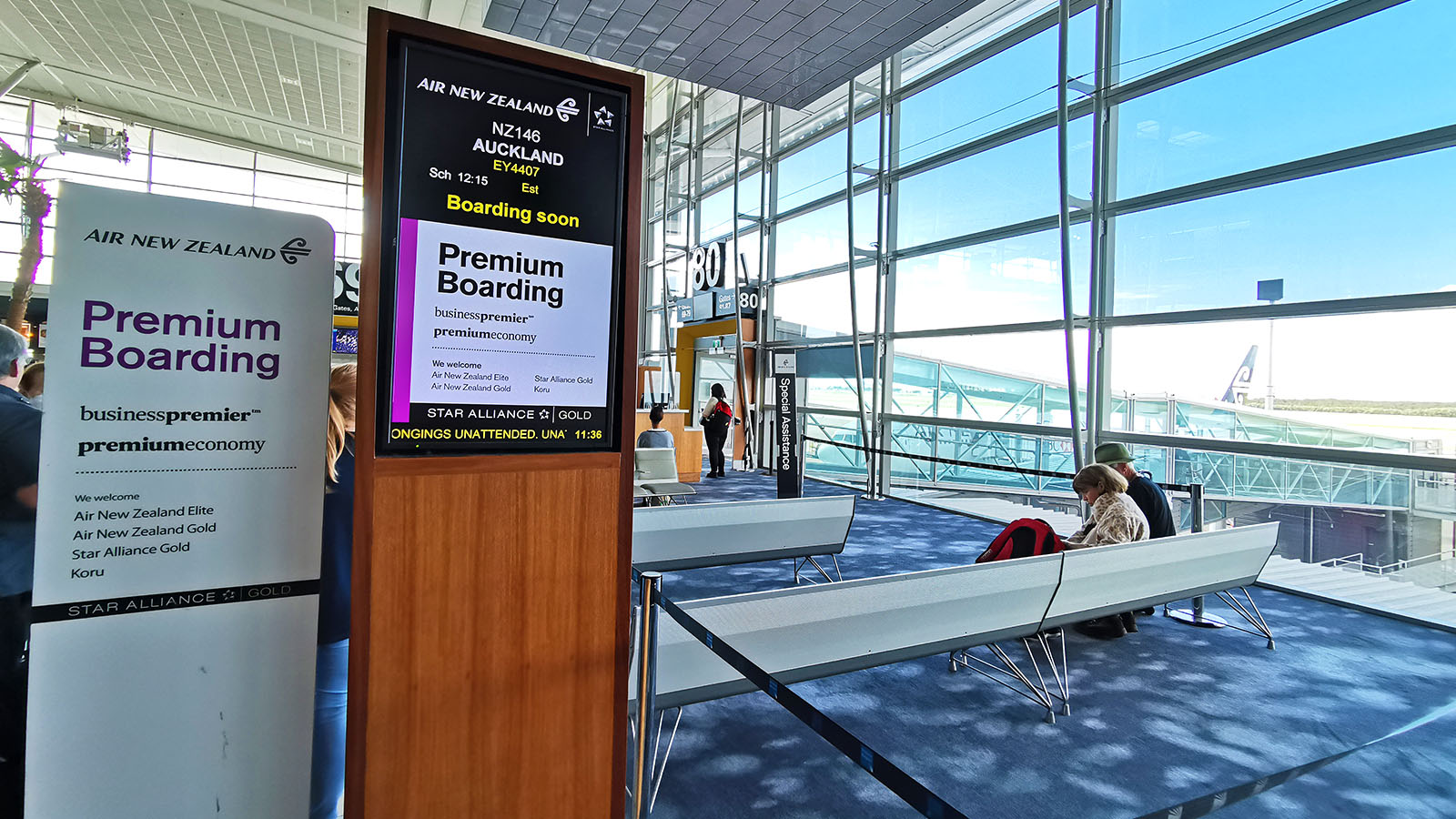 A boarding pass in Business Premier is just the ticket needed for Air New Zealand's lounge. The redeveloped space in Brisbane features high ceilings, city views and colourful furniture. It's a bright and modern lounge – but with a couple of noticeable setbacks for this morning departure.
Unlike Air NZ's Sydney lounge, Brisbane doesn't offer barista-made coffee. There's instead a self-serve machine, but like most push-button brews, it's rather average. It's an odd omission too, as barista coffee is served in just about every other lounge in Brisbane. This includes the Singapore Airlines SilverKris Lounge, the Plaza Premium Lounge next door, the Qantas International Business Lounge and the new Aspire Lounge.
Fast-forward to the gate, and there's a separate priority boarding lane for premium travellers. Gate staff call for Business Premier passengers first, and I head on through.
Air New Zealand Boeing 777 Business Premier seating
I'm experiencing Air New Zealand's Boeing 777 Business Premier on a daytime flight. After all, there aren't any overnight legs between Brisbane and Auckland. And for this three-hour lunchtime hop, the cabin's 1-2-1 seating layout gets the job done.
First thing's first. Many frequent flyers criticise these seats as offering very little privacy. That's true, given each passenger faces towards the opposing aisle. And unlike Air NZ's slenderer Boeing 787s – on which, similar seats come in a 1-1-1 configuration – on the Boeing 777, there's always a seat opposite you.
On longer flights or when trying to sleep, that's not ideal. But this isn't one of those days. By the time you've settled in and enjoyed a multi-course lunch, it's practically time to pack up and land. So for daytime travellers, how do things stack up?
There's no doubt, this is a better experience than flying in a narrowbody like an Airbus A320 or a Boeing 737. Rather than having a direct neighbour, every passenger is still free to access the aisle, unencumbered. You can take off and land with your feet up, and if you do plan to nap, the seat flips forward into a bed. There are many worse ways to fly.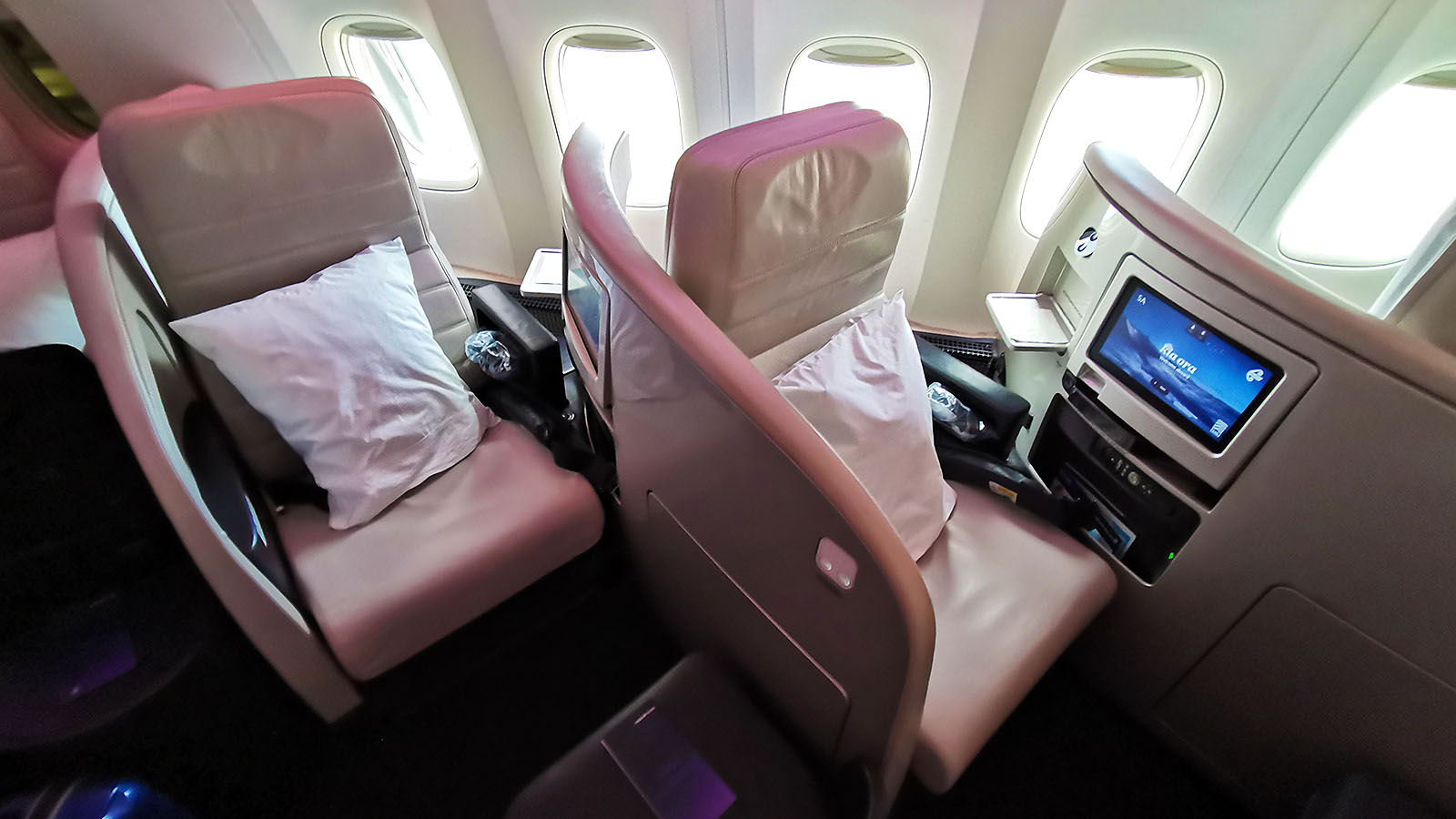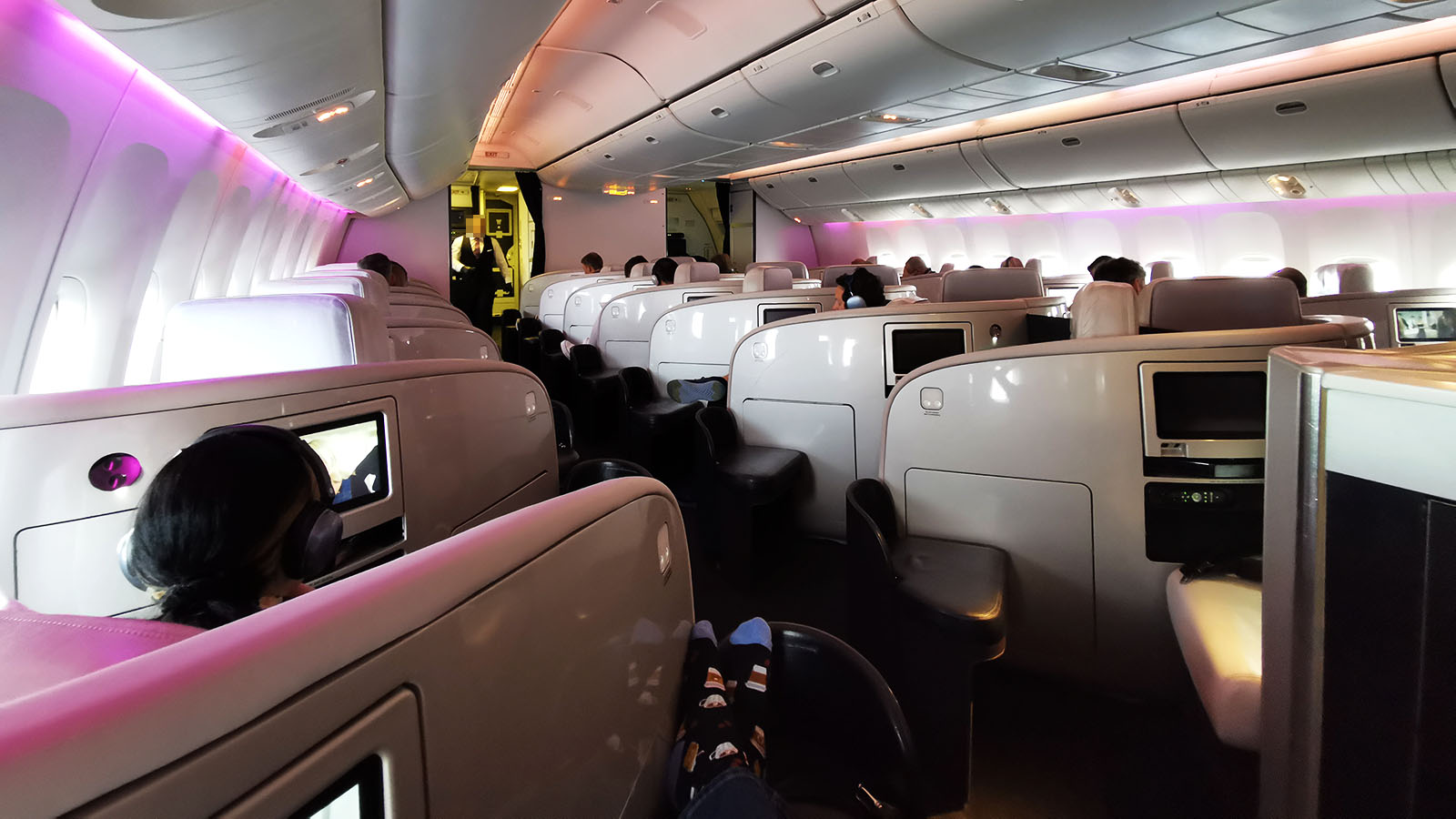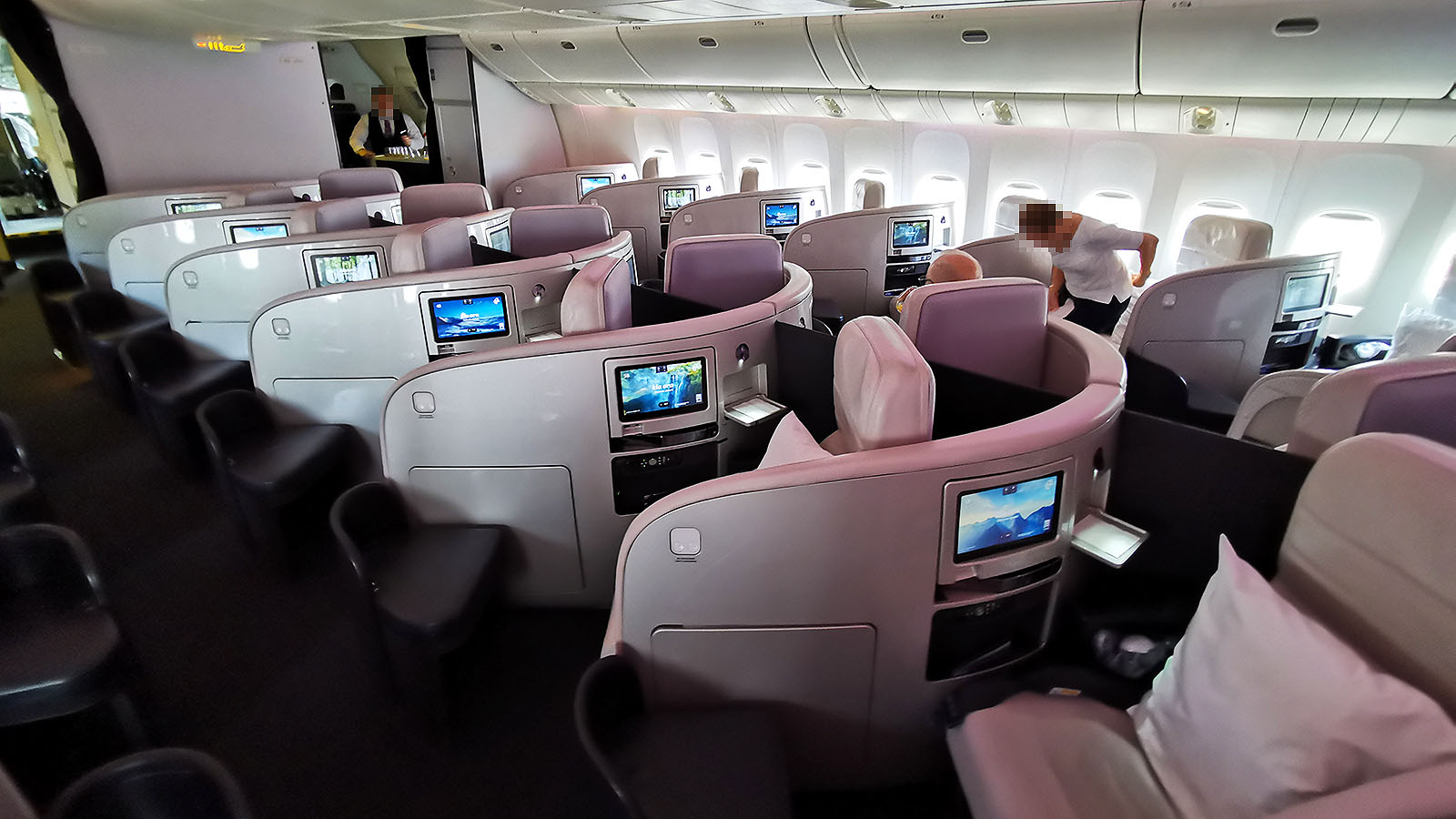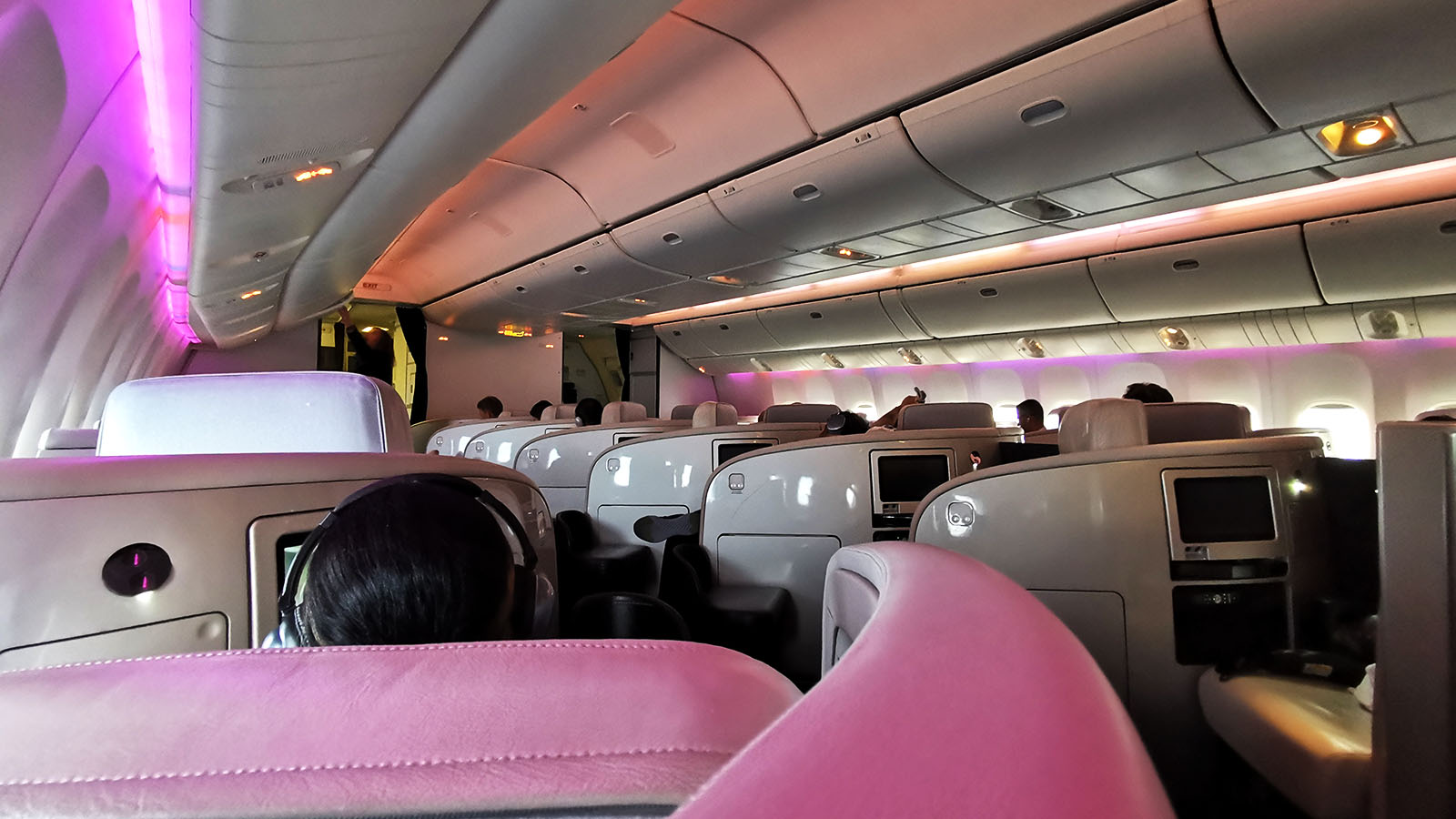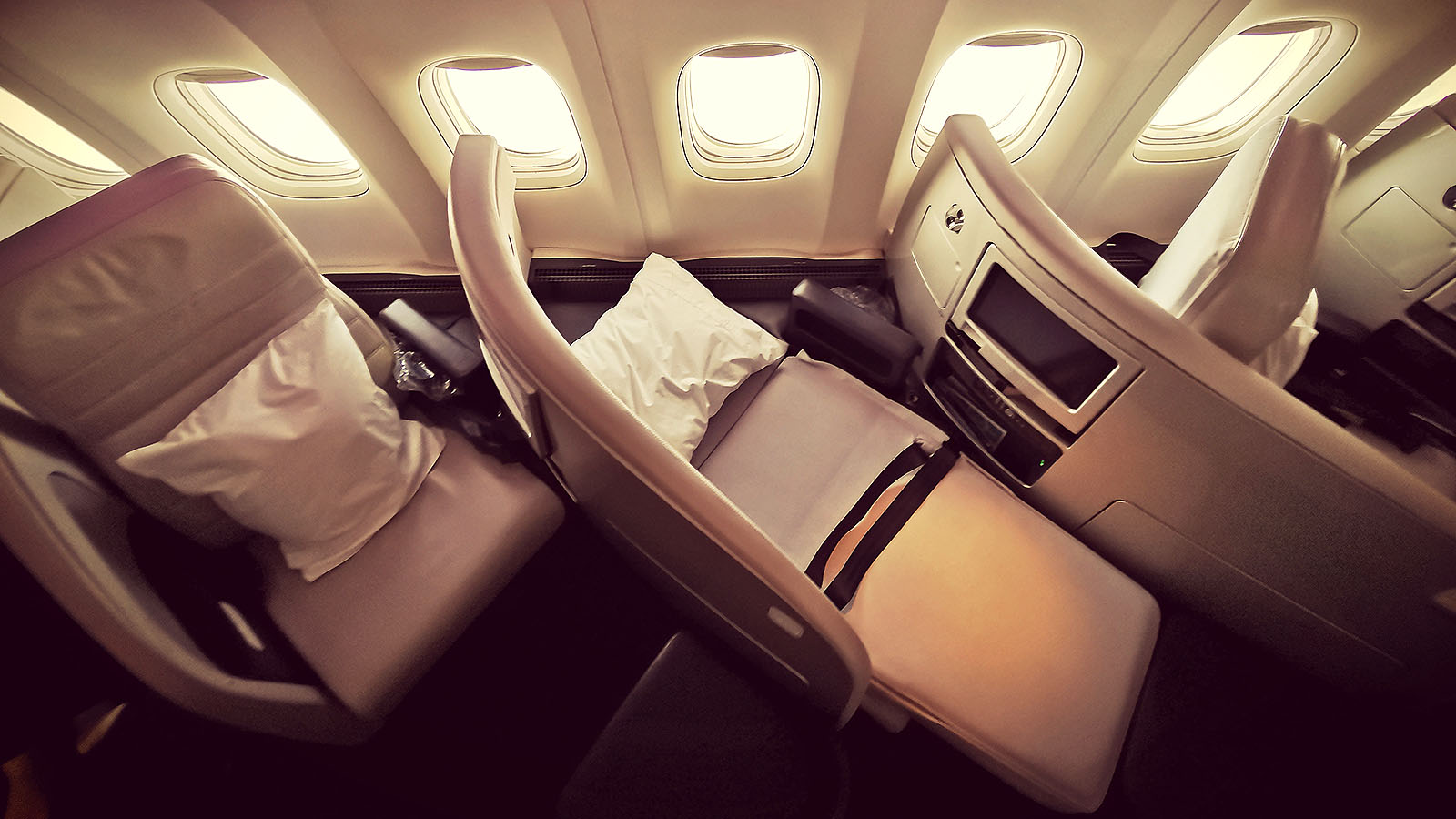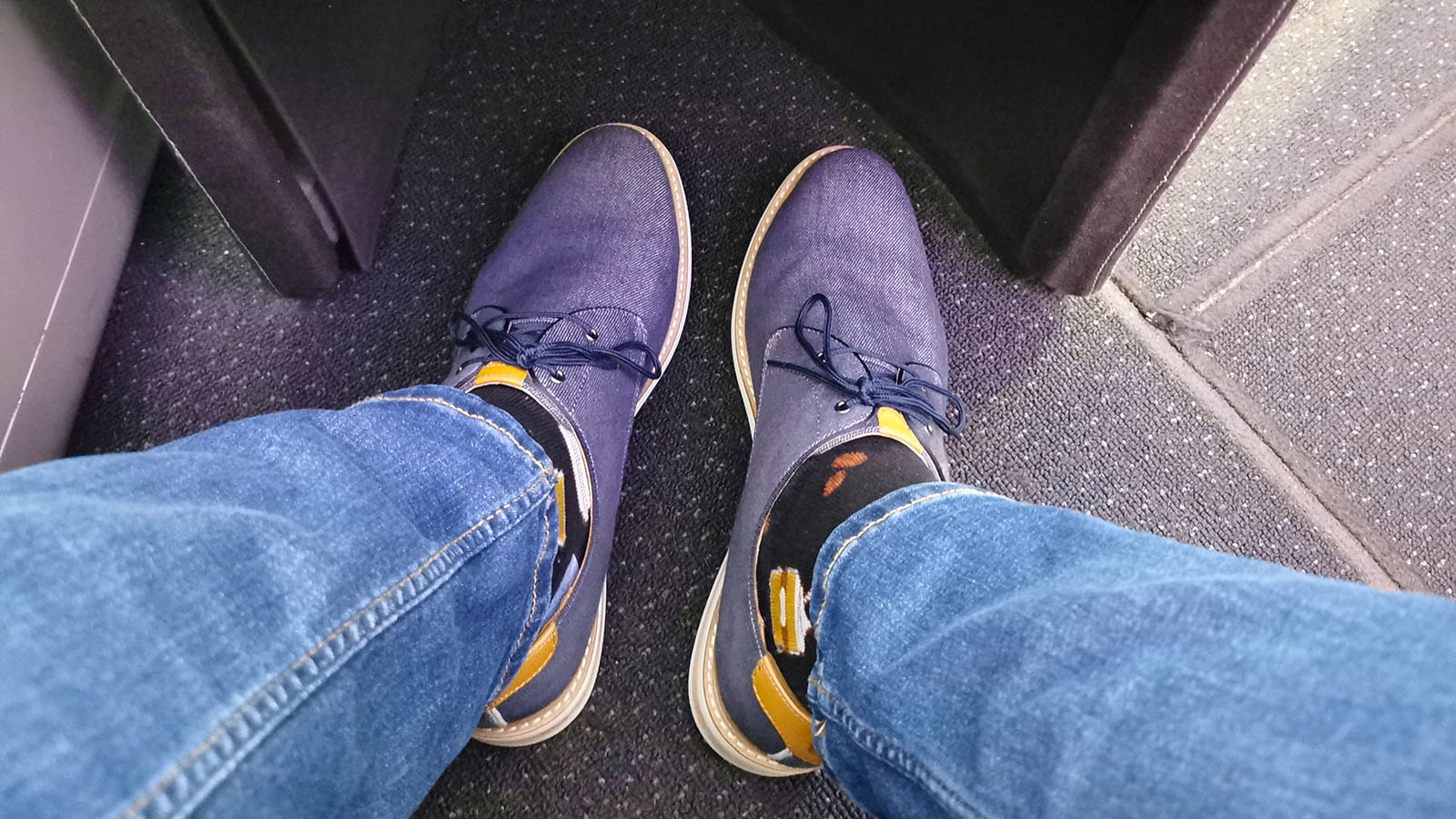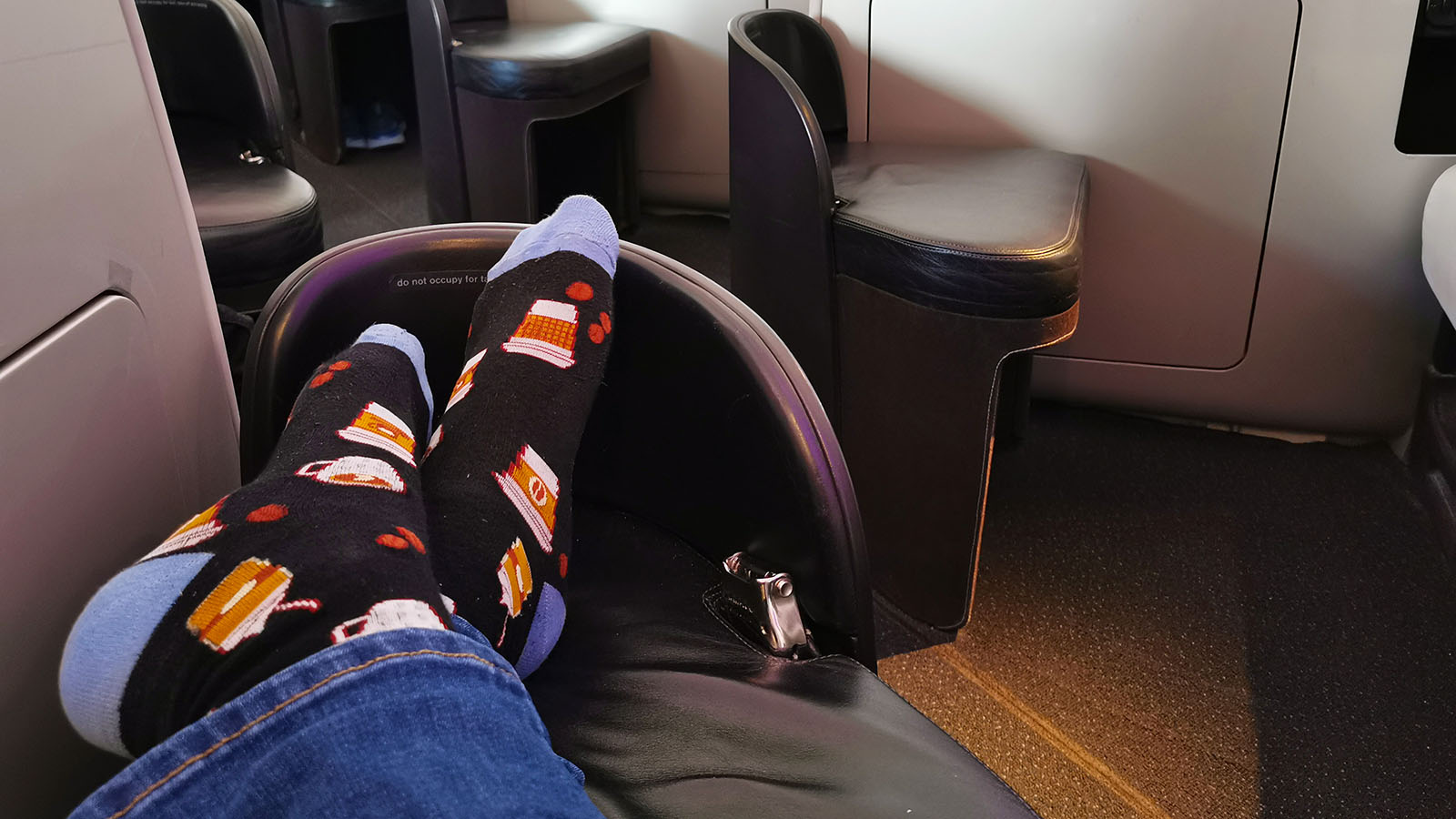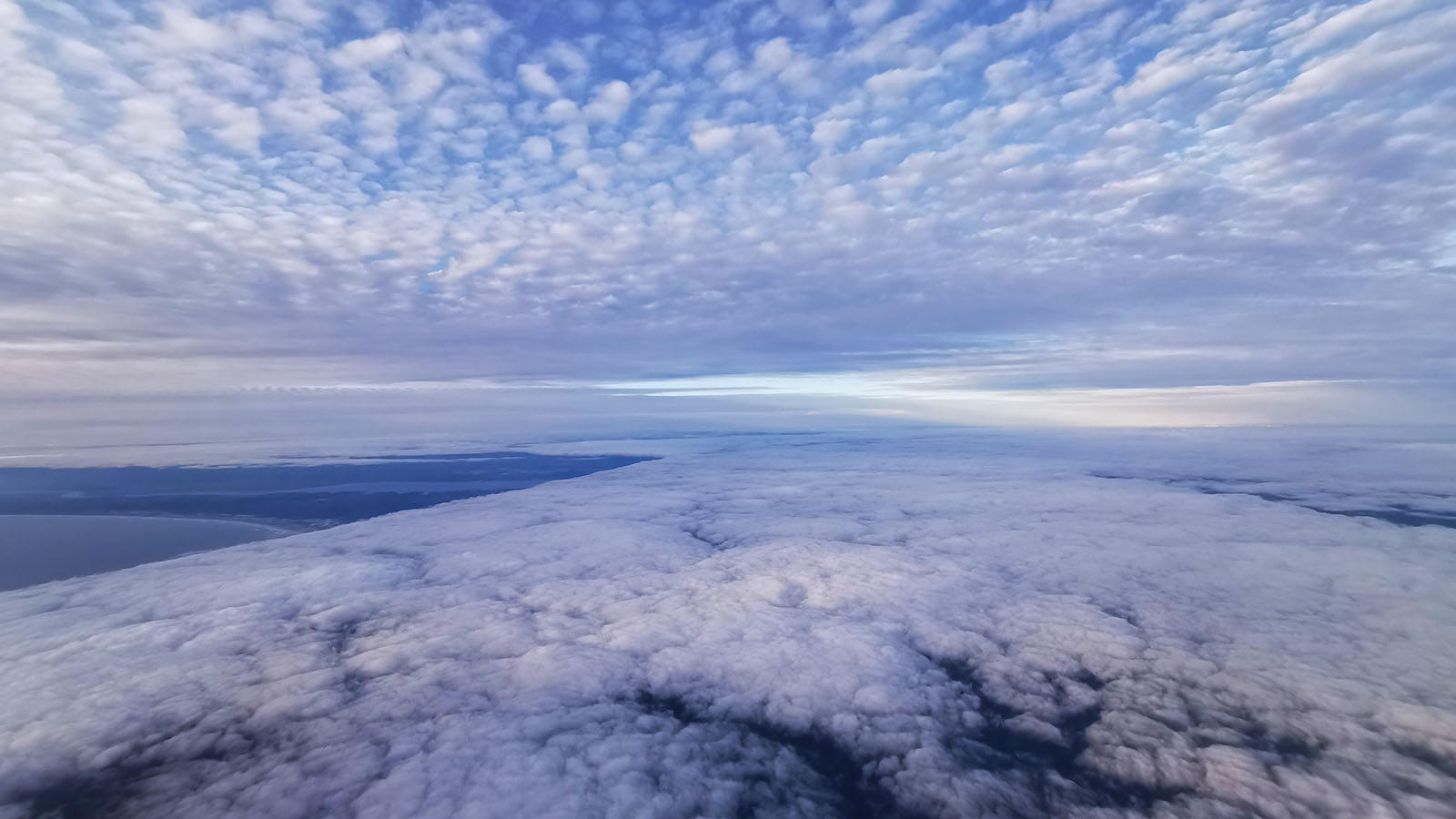 Still, the experience comes with a few trade-offs. The seat feels a little narrow compared to Qantas Airbus A330 Business, which also appears on this route. Even if you choose a 'window' seat, you'll be facing away from it. It remains possible to enjoy the view – you just really need to twist yourself around, which isn't the most comfortable.
On the plus side though, you can dine with a companion. The footrest doubles as a seat, but it's a tight squeeze. Given the cozy space, playing footsie is inevitable. Naturally, I had to try it – but more on that later…
Food and beverage in Air New Zealand Boeing 777 Business Premier
When it comes to inflight dining, Air New Zealand Business Premier stands out. You aren't simply served your meal on a tray. The table itself is lined with linen, and dishes are delivered course by course.
Service starts strong with an offer of Laurent-Perrier Champagne while we're still on the ground. It's been a busy week, so I kick things off with a simpler orange juice – but it still does the trick. Then, I peruse the menu for what's coming up. I do like having this level of detail to prepare for the flight ahead.
The service begins with a beef tenderloin amuse-bouche. It's a tasty bite as I await the arrival of my garlic bread and the next course. The menu gives a choice of appetiser, but there's a third dish that's not on the menu – chicken and pasta with cherry tomatoes. It's a flavourful choice, and a good amount of food given I hadn't eaten much in the lounge.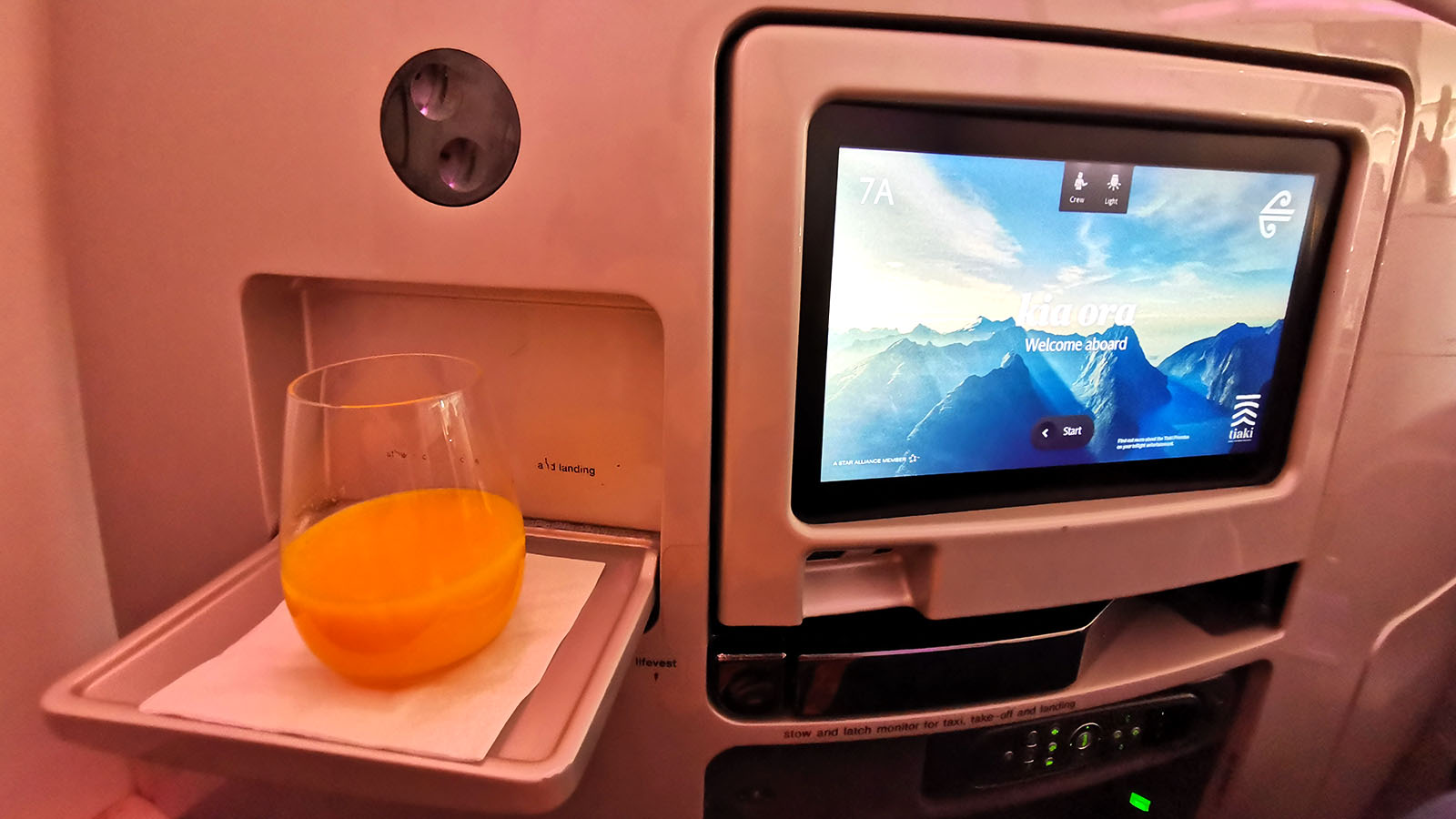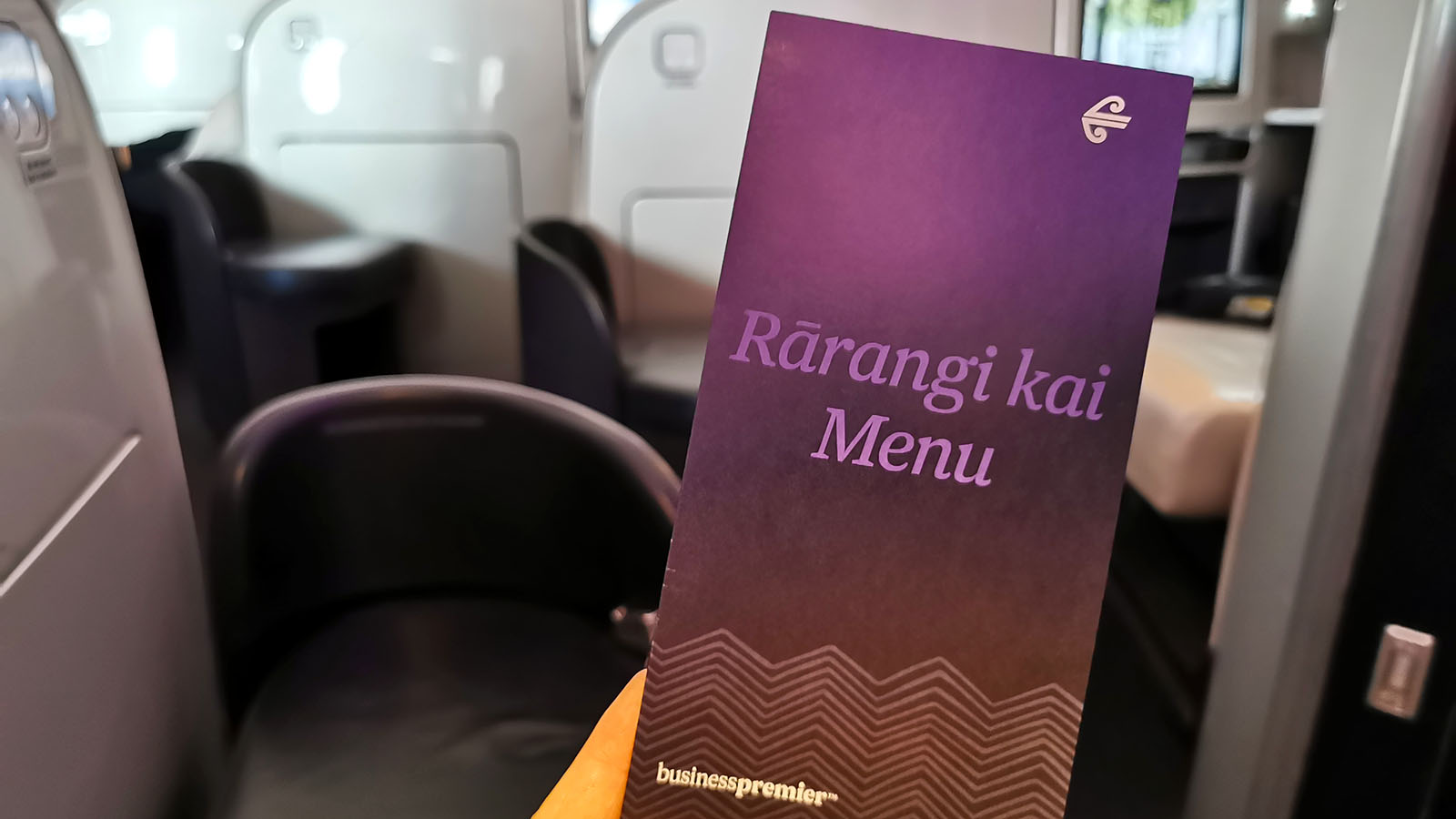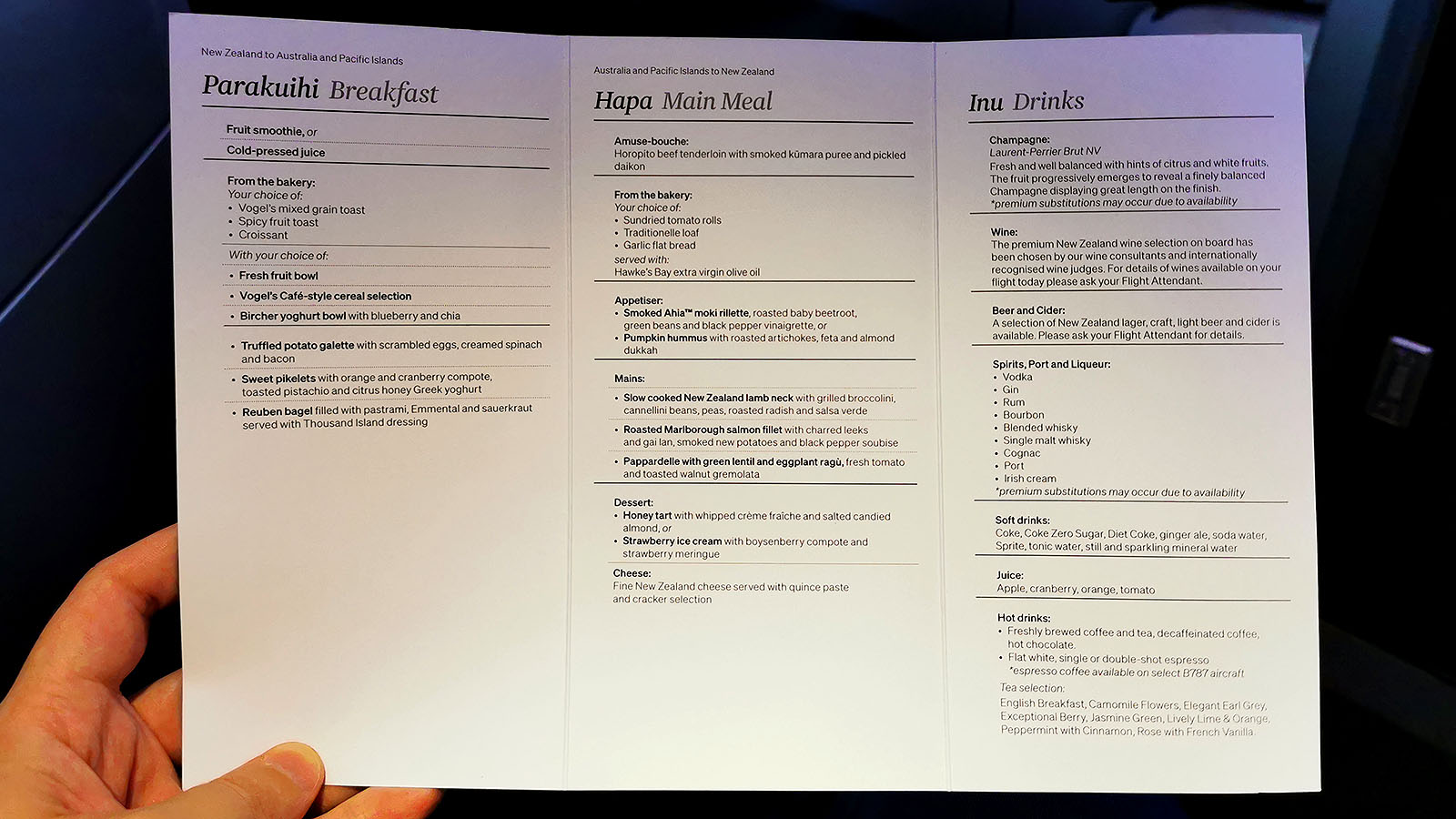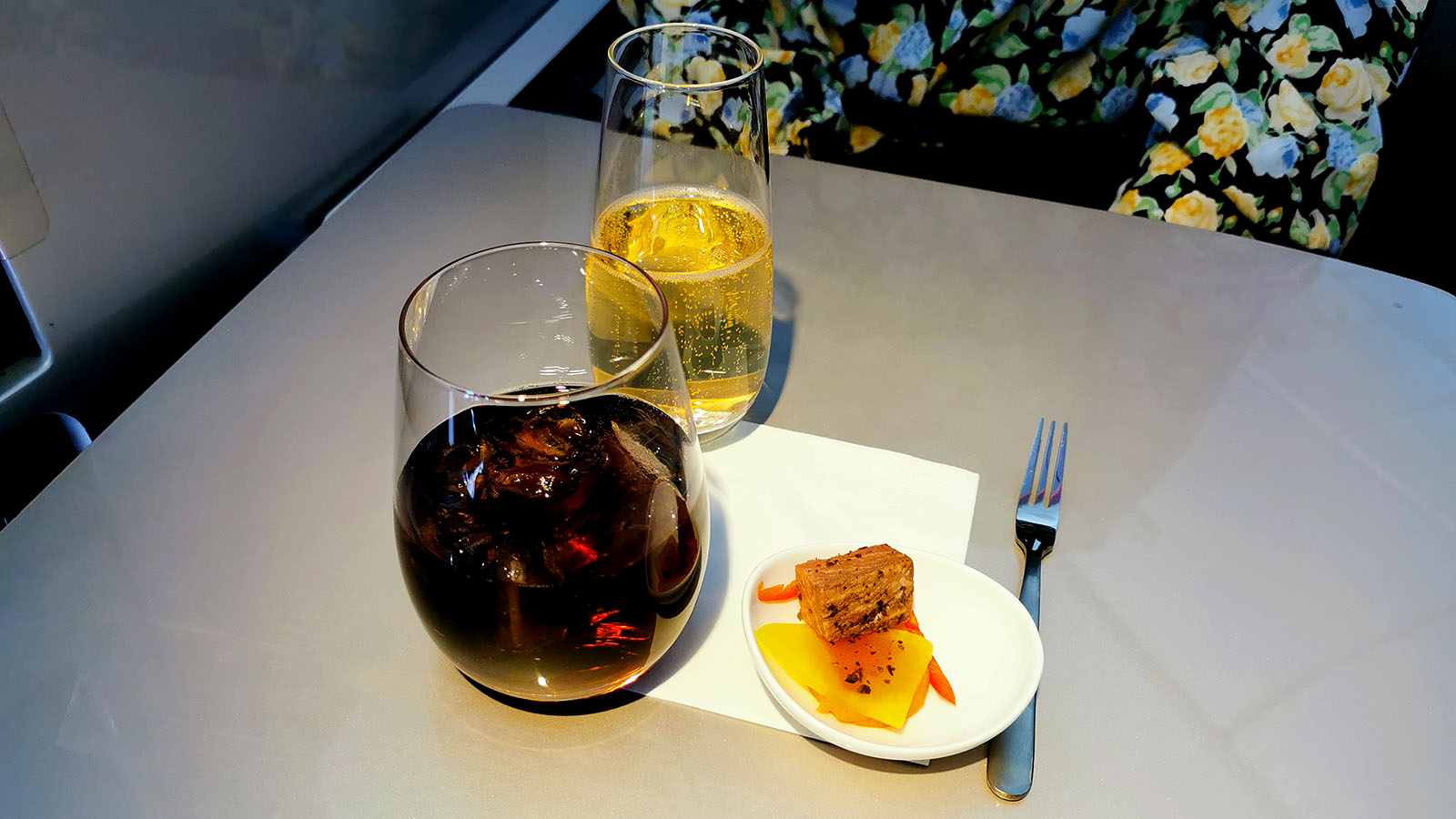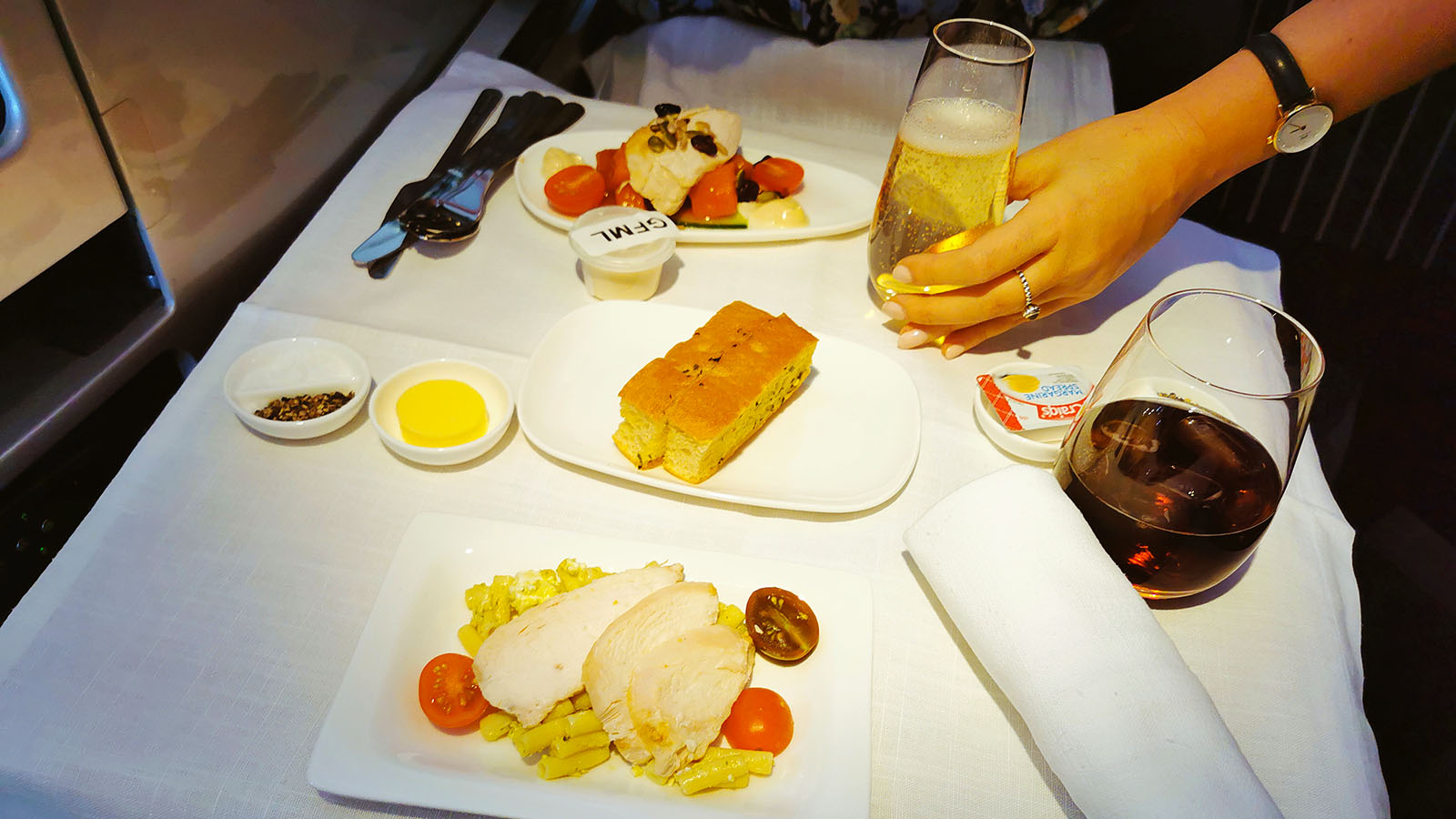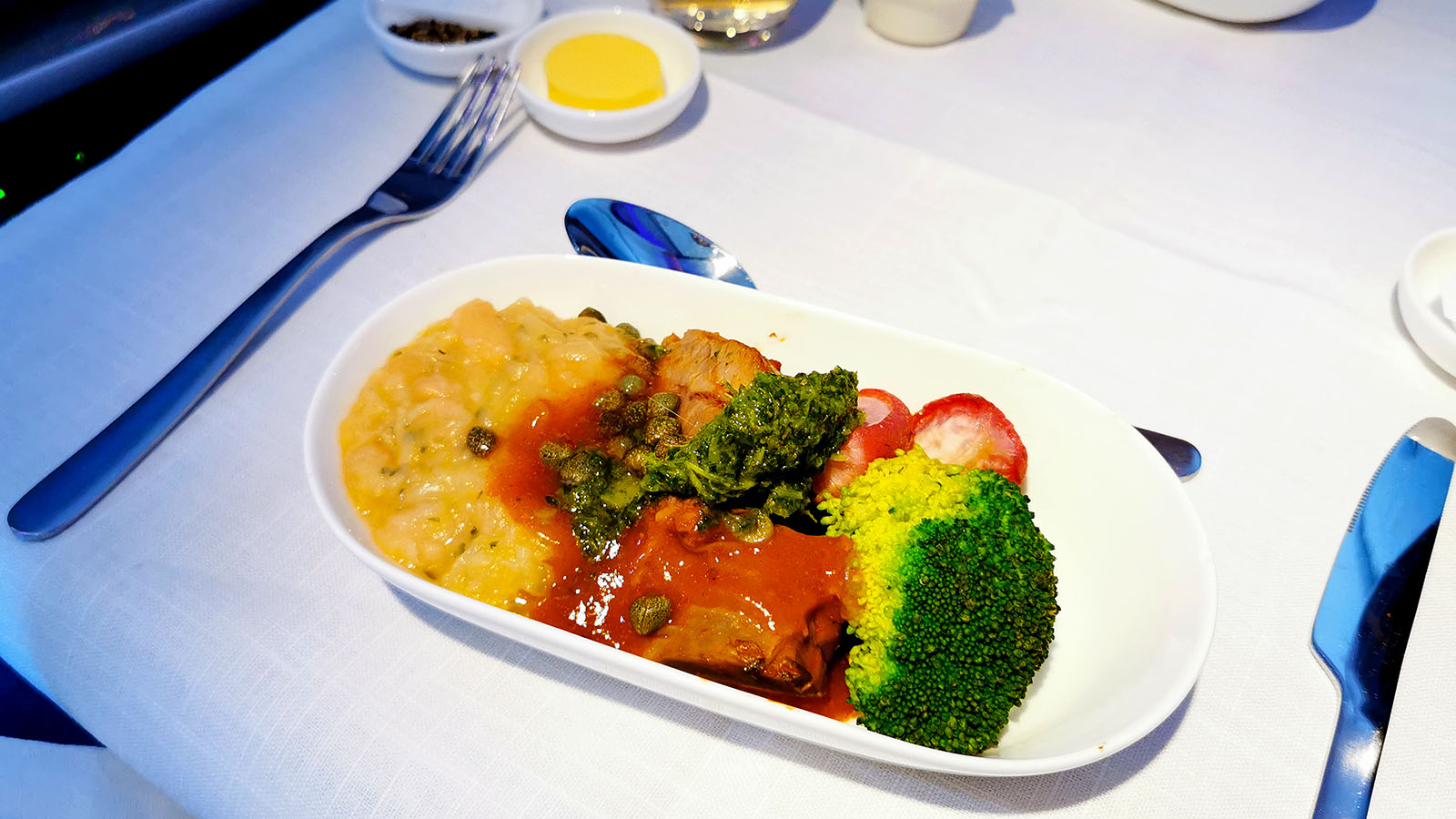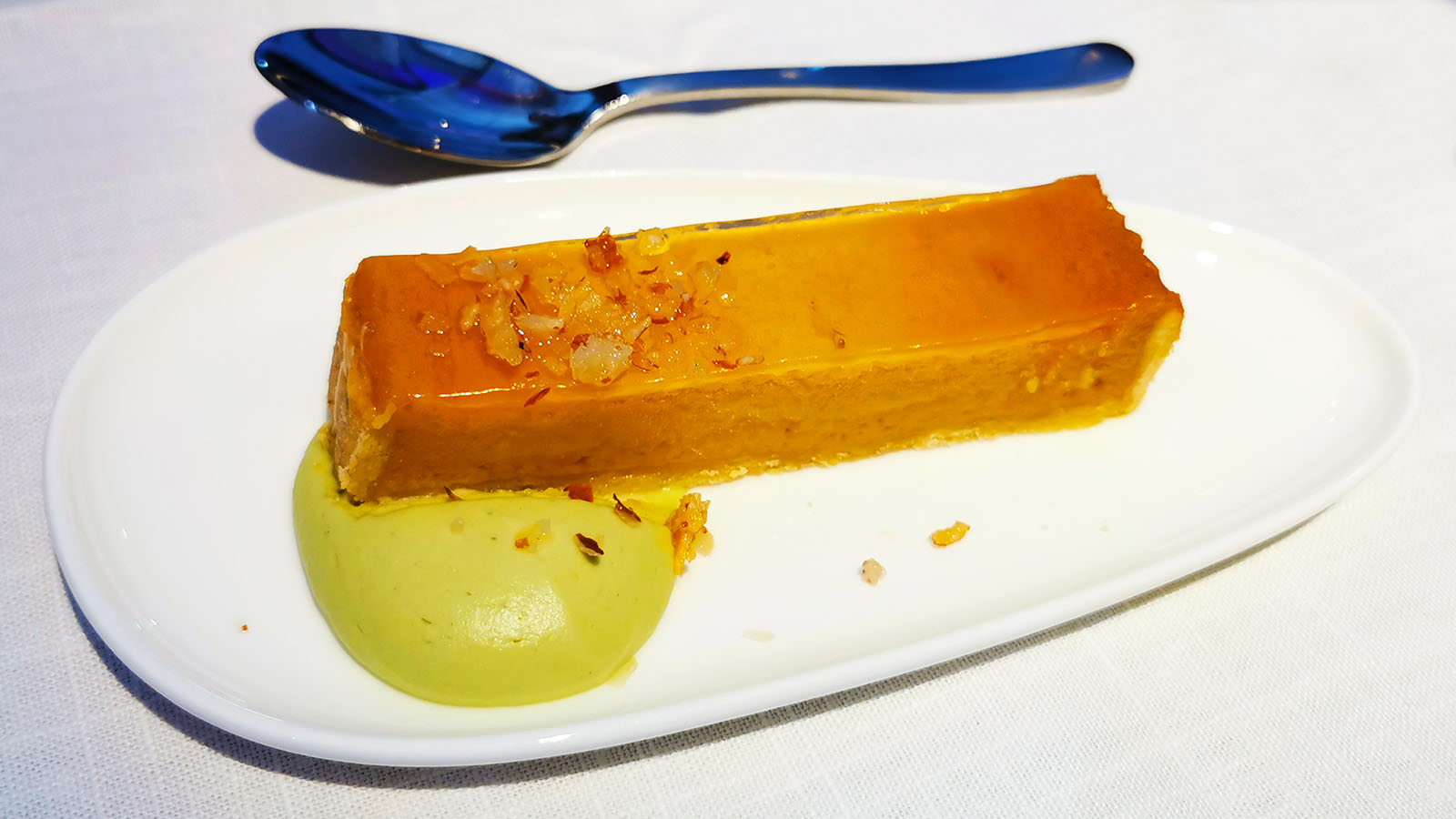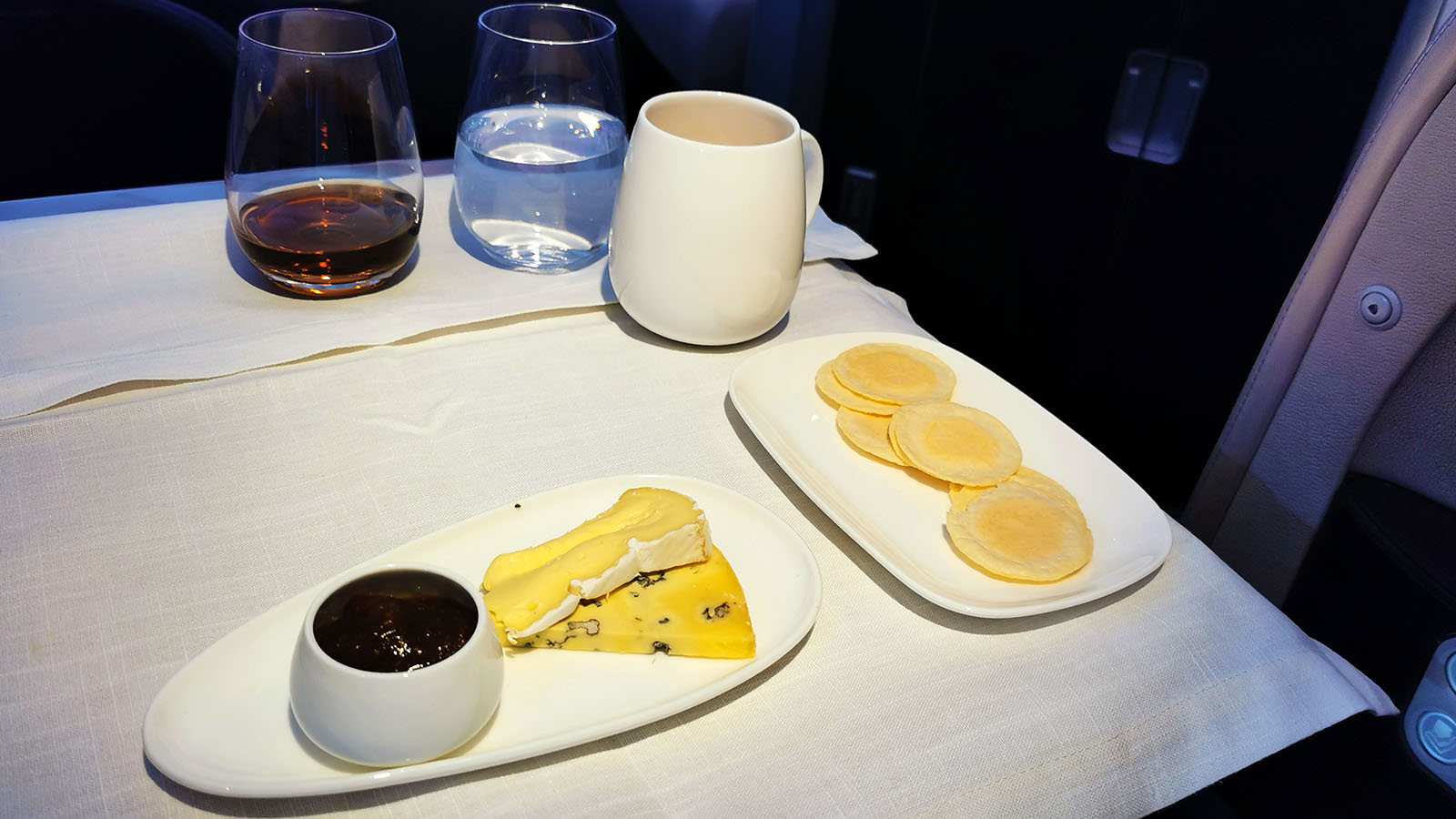 For the main, I continue with the slow-cooked New Zealand lamb neck. It's rather tender and something I don't usually have at home – a good selection all around. Then there's time for dessert, where it's impossible to resist the honey tart. As if that weren't enough for a mere three-hour flight, service continues with a separate cheese course. Yum, yum, yum.
I wrap things up with a coffee. Had this been a Boeing 787 flight, that could have been an espresso. But Air New Zealand doesn't have the same coffee machine on its Boeing 777s, so it's a standard 'coffee' – with milk, for good measure.
It's worth noting that Brisbane-Auckland seems to toggle between both planes. In fact, when I booked, the flight was loaded as a Boeing 777. Then it switched to a Boeing 787 soon after, before reverting to a Boeing 777 in the week of travel.
Air New Zealand Boeing 777 Business Premier service and entertainment
One thing I've always enjoyed about flying with Air New Zealand is the airline's apparent service philosophy. On every Air NZ flight I've taken over the years – whether up the front or down the back – cabin crew are always relaxed and friendly, but still professional. This journey proves no exception.
Once seated, it starts with a friendly greeting and handshake from the purser, Briar. They welcome each guest with a slightly different flair – and in one way or another, every passenger ends up smiling. Throughout the flight, several on-screen messages sent by crew also echo that personality. It's a warm touch that just makes the journey nice.
Then, there's a cheeky 'ooh la la' uttered when my seatmate joins me for lunch. She'd also pre-ordered a special dietary meal. Even with the temporary seat swap, every course is rerouted effortlessly – and the correct plate always lands where it should.
After lunch, Briar also takes the chance to chat about Air New Zealand's new 'Business Premier Luxe' experience set to launch in 2024. In short, the first row of Business on the airline's new Boeing 787s will be better suited to shared dining, offering more space. They certainly know their customer…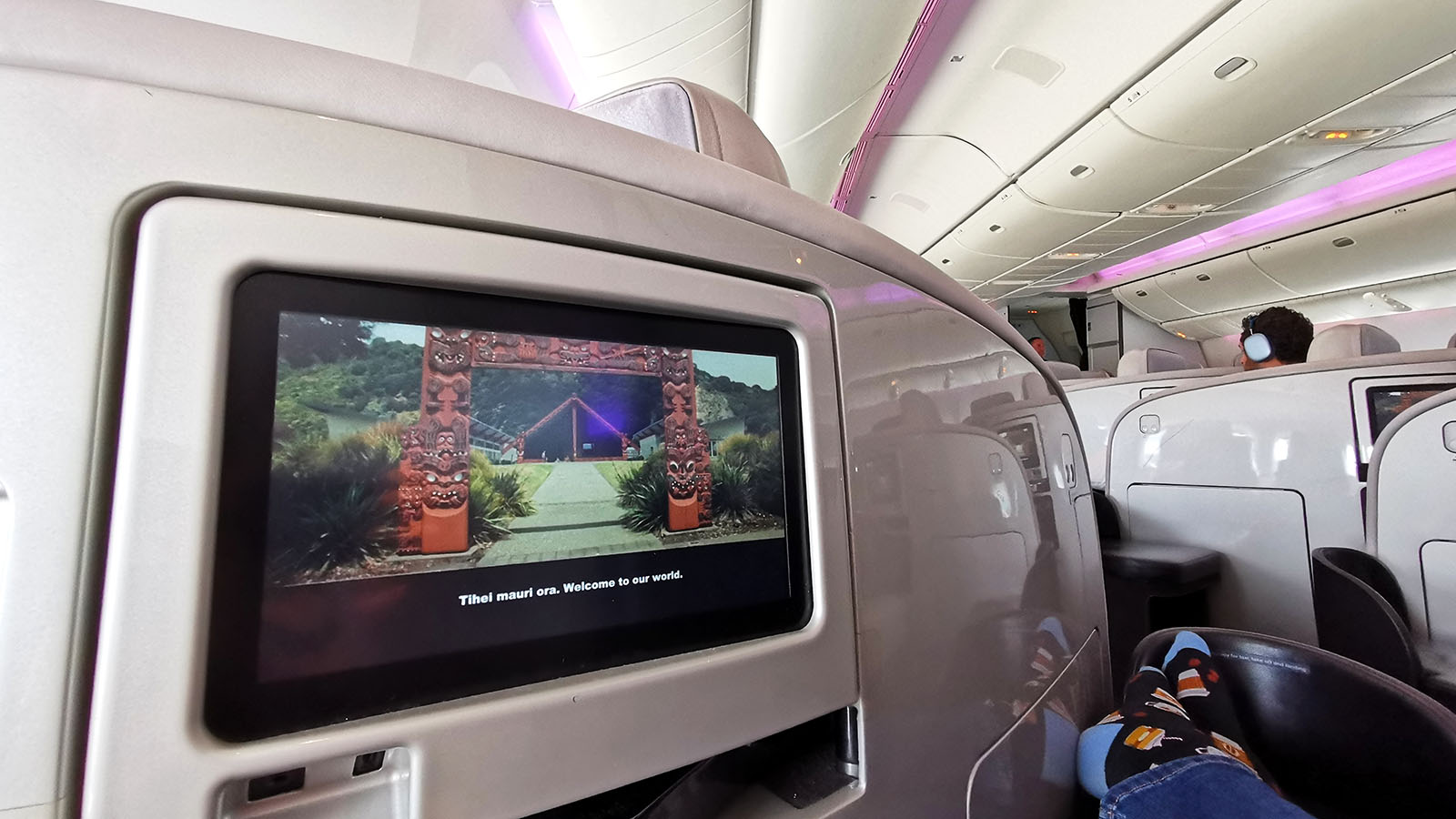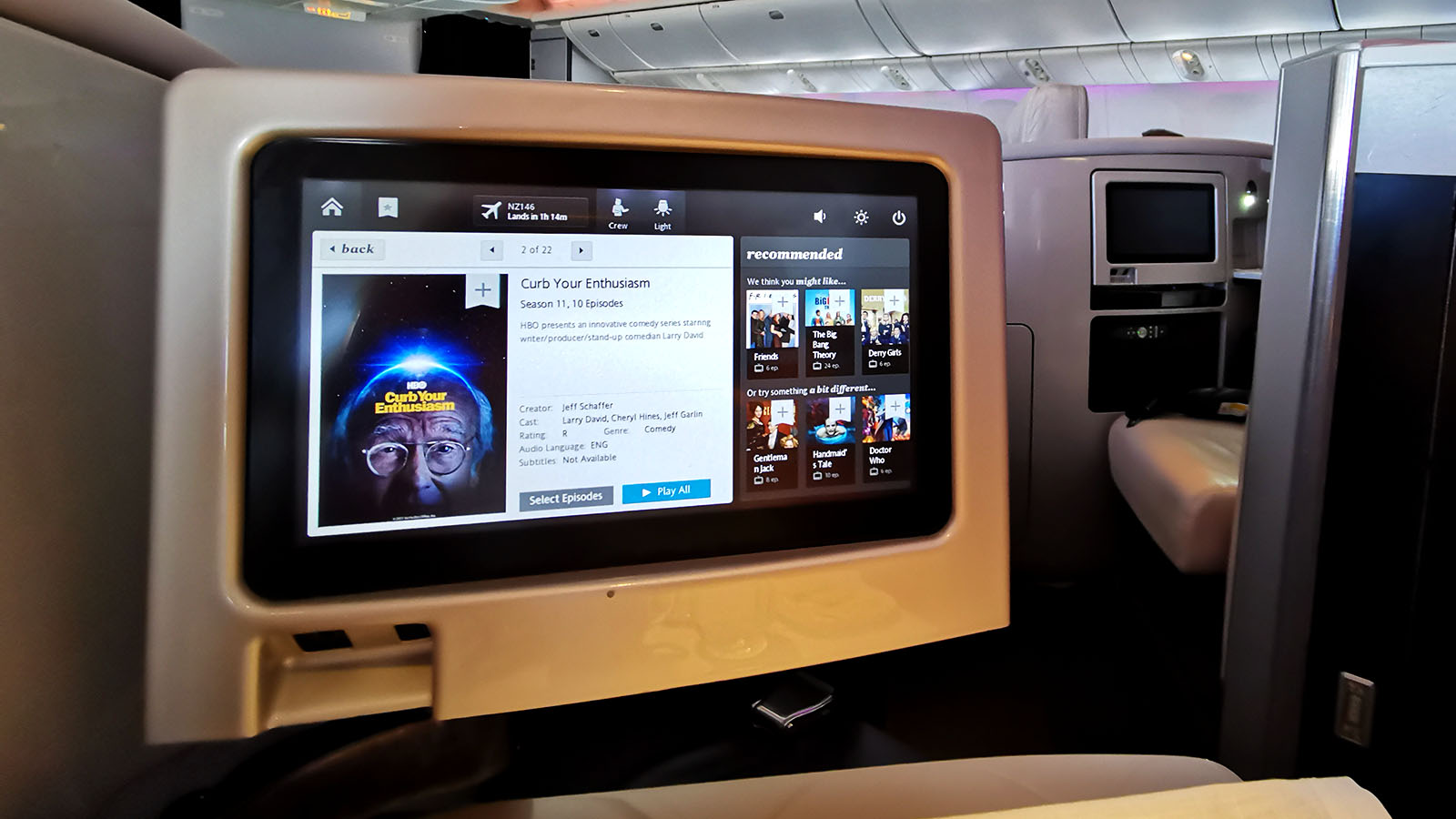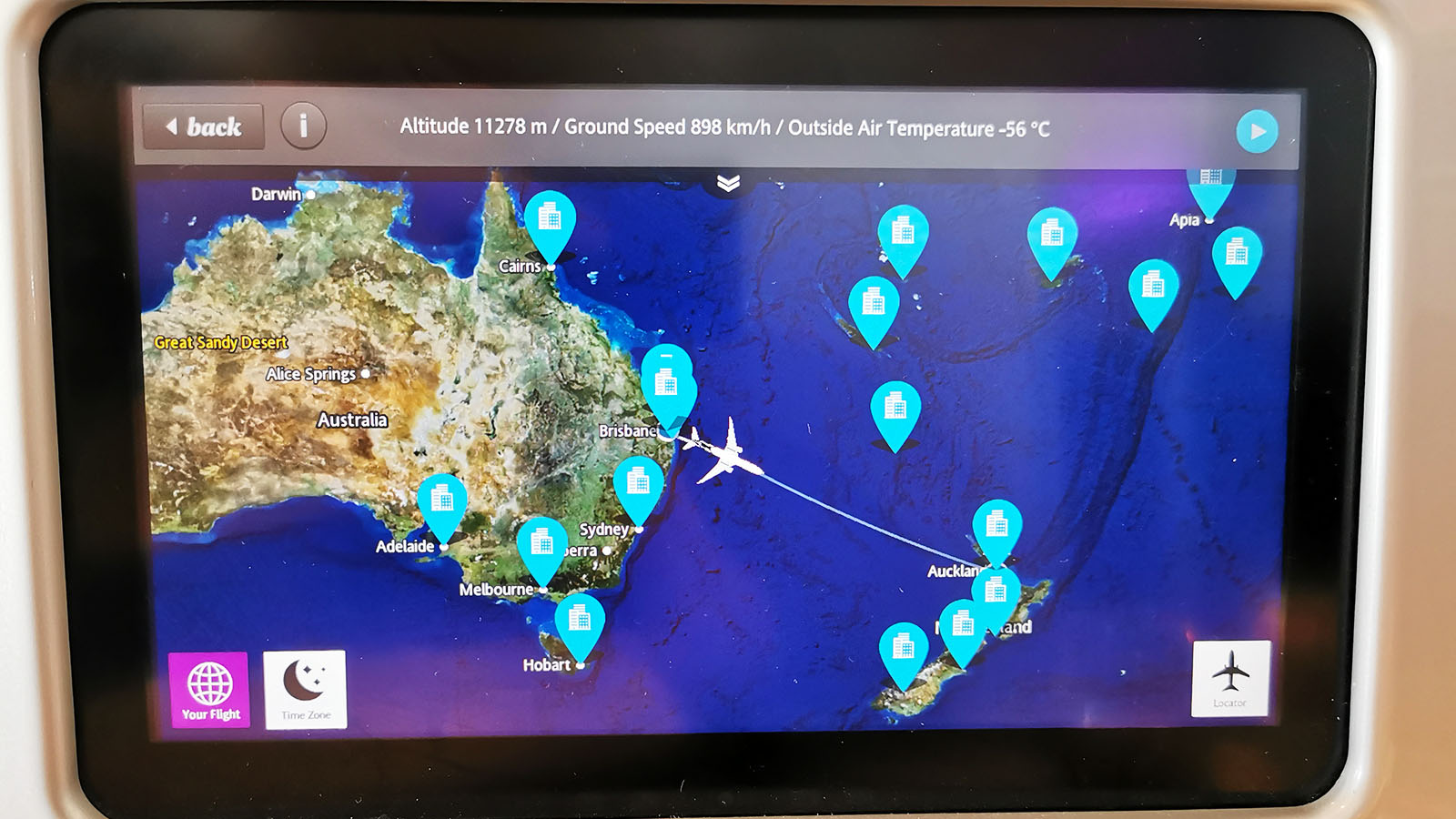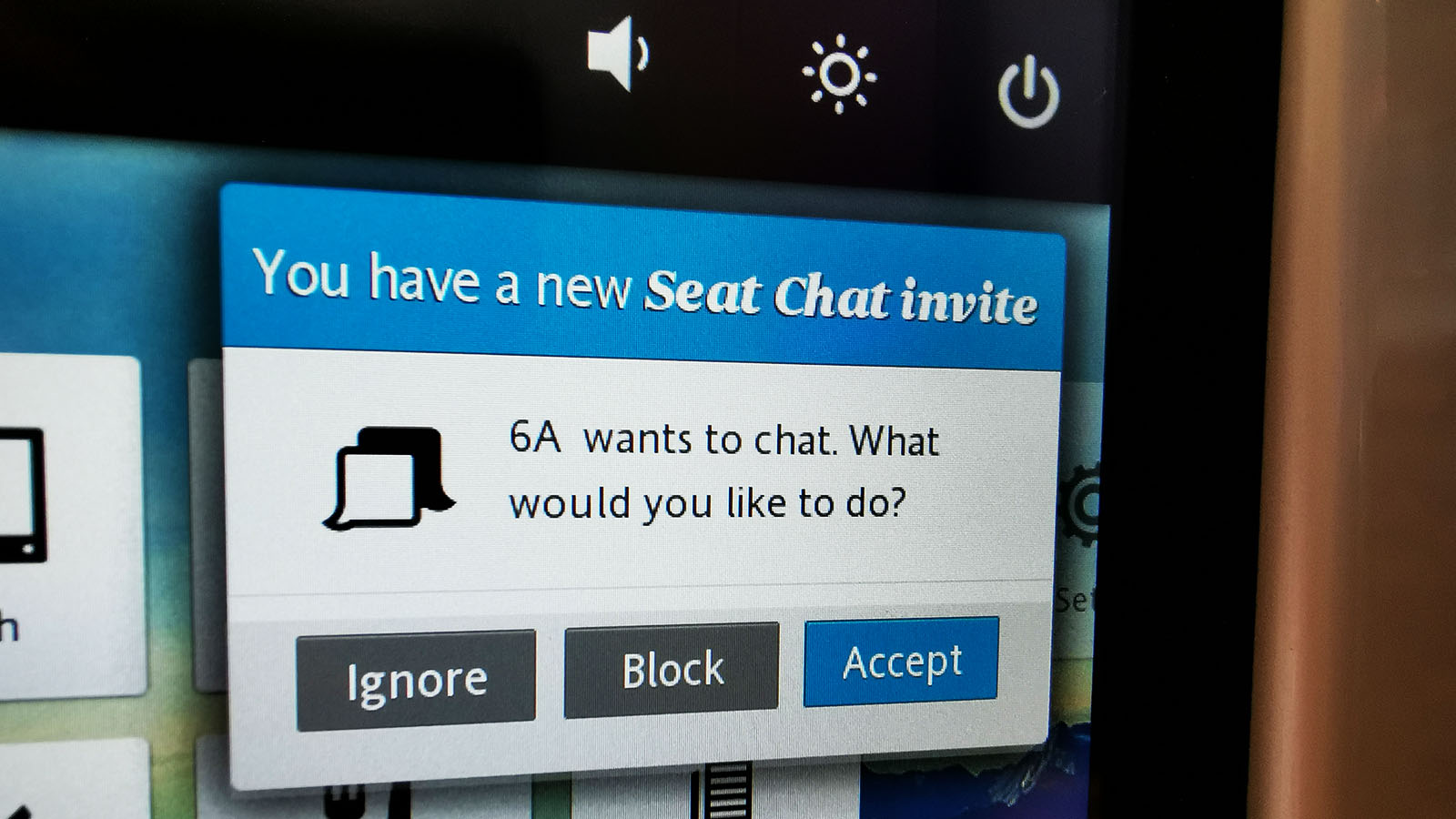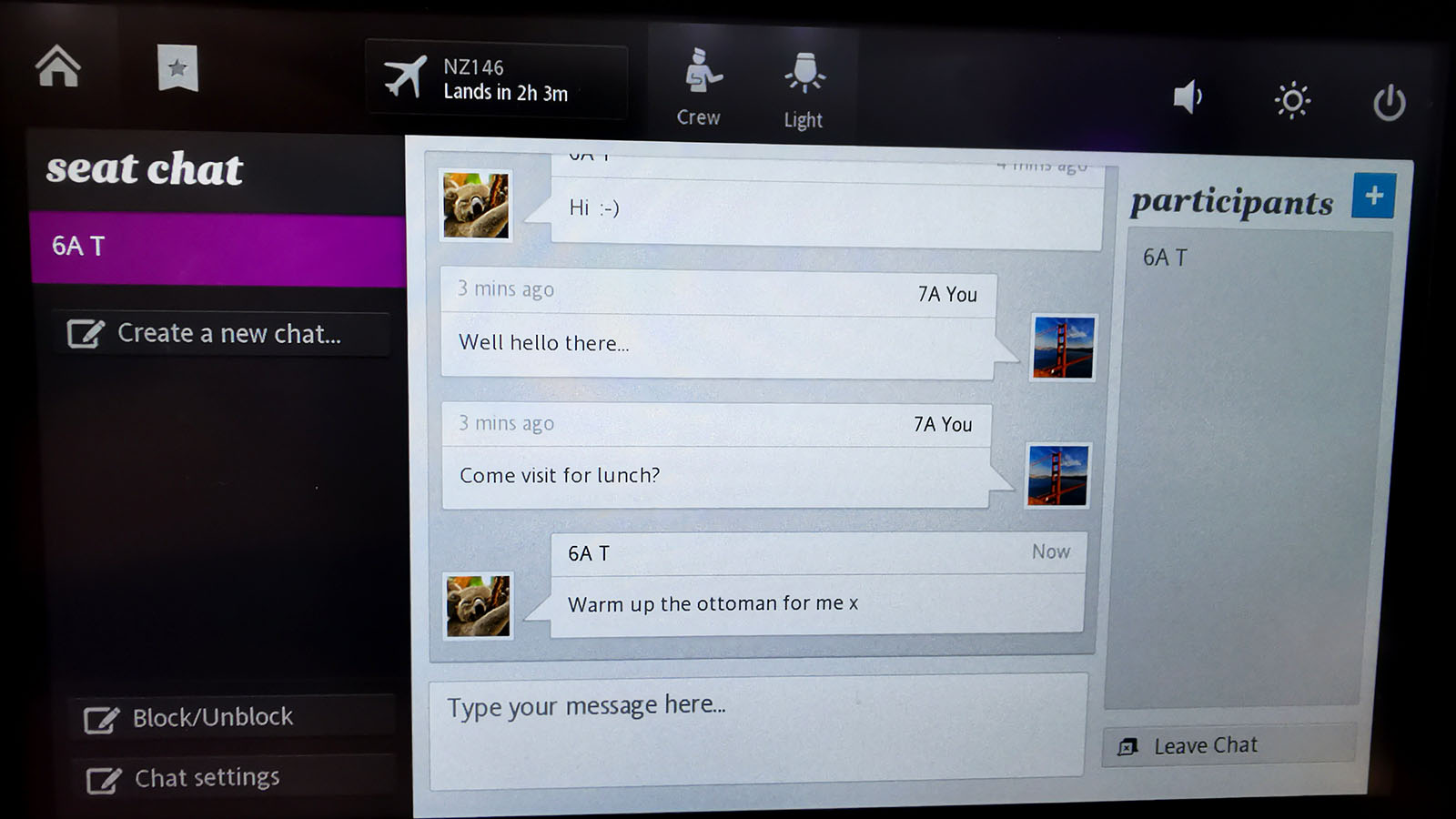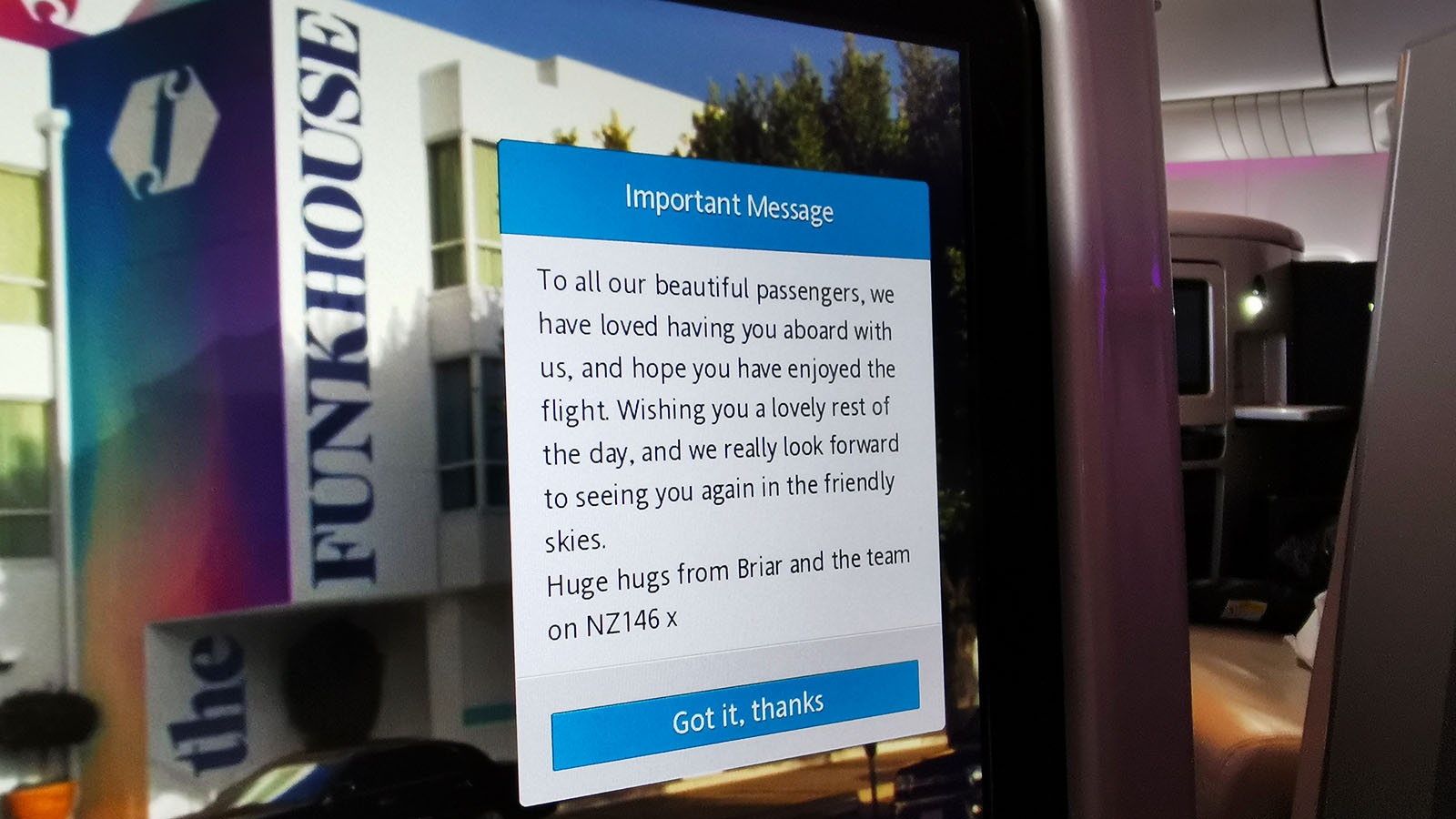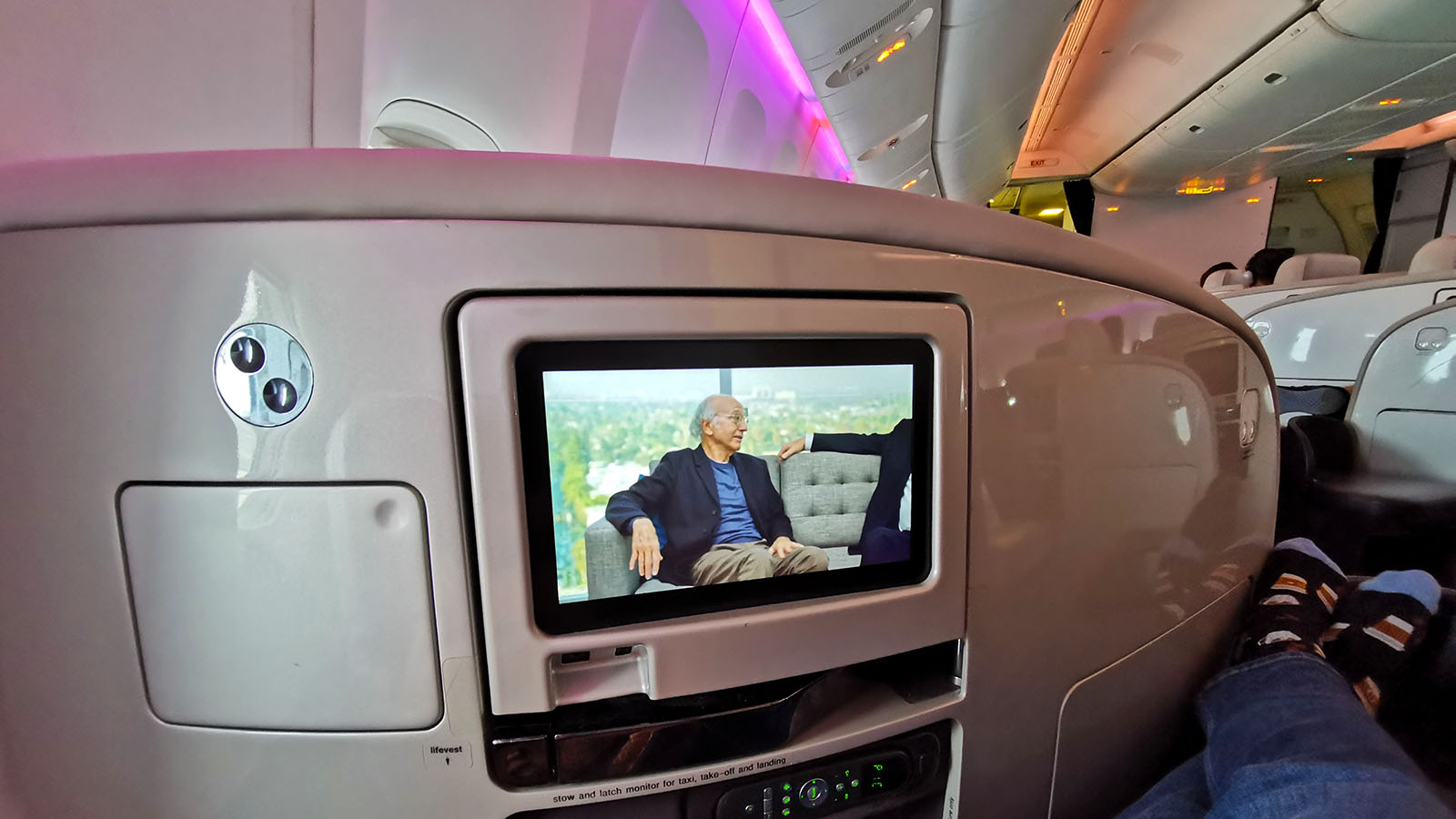 On this flight, I'm not glued to the entertainment screen. But I will say, 'seat chat' is a very welcome feature… ahem.
Given the design of the seat, the TV needs to be folded away for take-off and landing. It's still possible to watch something from gate to gate, but you have to sit at an angle during those times – almost like lying on your side. Throughout the flight, the screen can sit in front of you: and if dining solo, behind your meal tray to multitask.
There's more than enough to watch on a quick hop like this. An episode of Curb Your Enthusiasm keeps me entertained as we come in to land. And before you know it, we're already there.
Summing up
Sure, some travellers love to complain about this seat – often for the reasons I covered earlier. But most of those gripes stem from flying overnight aboard the same. Things like limited privacy are important, sure – but on a daytime flight where lunch is the main focus, I place much greater weight on the food and service.
On both of those fronts, Air New Zealand's Boeing 777 Business Premier experience rather excels. I like the restaurant-style approach to dining where each plate is delivered separately. And hey, being able to dine with a guest at your seat certainly adds to the fun.
Mix in some friendly banter with the crew along the way, and the journey across the Tasman becomes an adventure in itself. And for that matter, an excellent use of KrisFlyer miles.
As for what awaits in Auckland, well… by now, it's no secret that I'm up for adventure. On my last visit, I gladly harnessed up and jumped off the city's Sky Tower. This time, I set my sights on the Auckland Harbour Bridge instead. Spoiler alert: there's a bungy platform underneath, and I didn't hold back. Okay, you get one photo…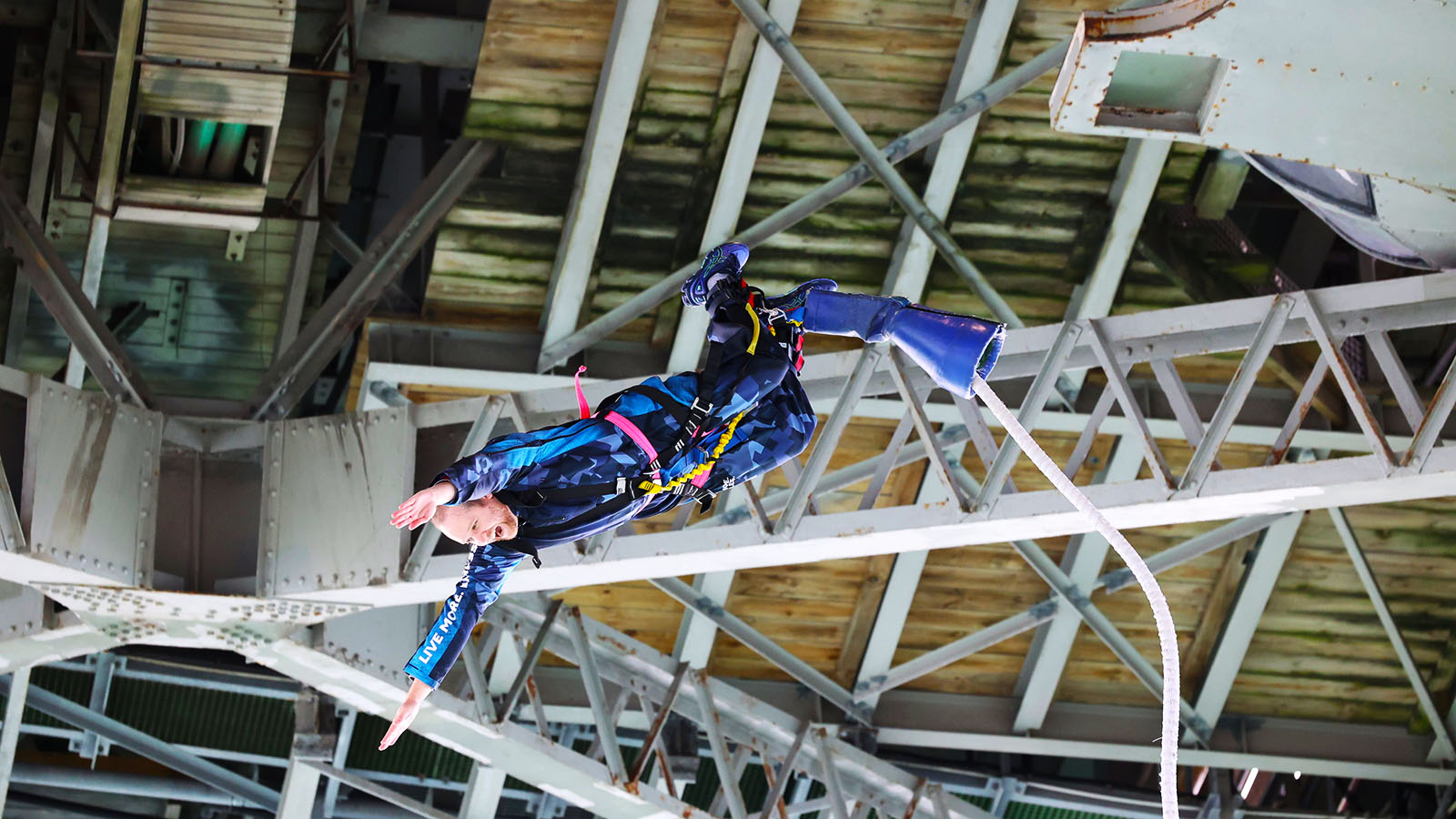 As for the journey that brings me to Auckland, I'd gladly book with Air New Zealand again. We finish on a high note, where my priority-tagged bag is one of the first to arrive on the belt. I'm glad to see it emerge. After all, it had the shoes I needed for my jump the very next morning. Kia ora, Air NZ – until next time.
Also read: Auckland is calling! Jet there in style on points
Feature image courtesy of Air New Zealand. Other photography by Chris Chamberlin, who travelled using KrisFlyer miles.
---
Stay up to date with the latest news, reviews and guides by subscribing to Point Hacks' email newsletter.
Air New Zealand Boeing 777 Business Premier (Brisbane – Auckland)
was last modified:
July 6th, 2023
by