Singapore Changi Terminal 4, the newest addition to this major aviation hub, is a modern space with a very calming atmosphere compared to the crowds and buzz in the older Terminals 1, 2, and 3. Not many airlines fly out of T4 yet, which might be a contributing factor to this.
The two biggest airlines currently using Terminal 4 are Cathay Pacific and AirAsia. There are also only two lounges – the Cathay Pacific Lounge and the pay-per-entry Blossom (SATS and Plaza Premium Lounge) which is co-managed by the two aforementioned groups.
Both these companies have their own separate branded lounges in T1-3, so it's interesting to see them working together on the Blossom Lounge in T4. We have also reviewed the Plaza Premium Lounge (T1), the SATS Premier Lounge (T3) and the Marhaba Lounge Singapore if you want to compare those later.
On a recent AirAsia flight from Singapore to Malaysia, I took the opportunity to stop by the Blossom Lounge with my Priority Pass membership.
Lounge Location and Details
The Blossom Lounge is found after immigration and security in Changi Terminal 4 (there is centralised security here, rather than at the gate). Throughout the main retail area of the airport (Level 2), look for escalators taking you up to the lounges on Level 2M.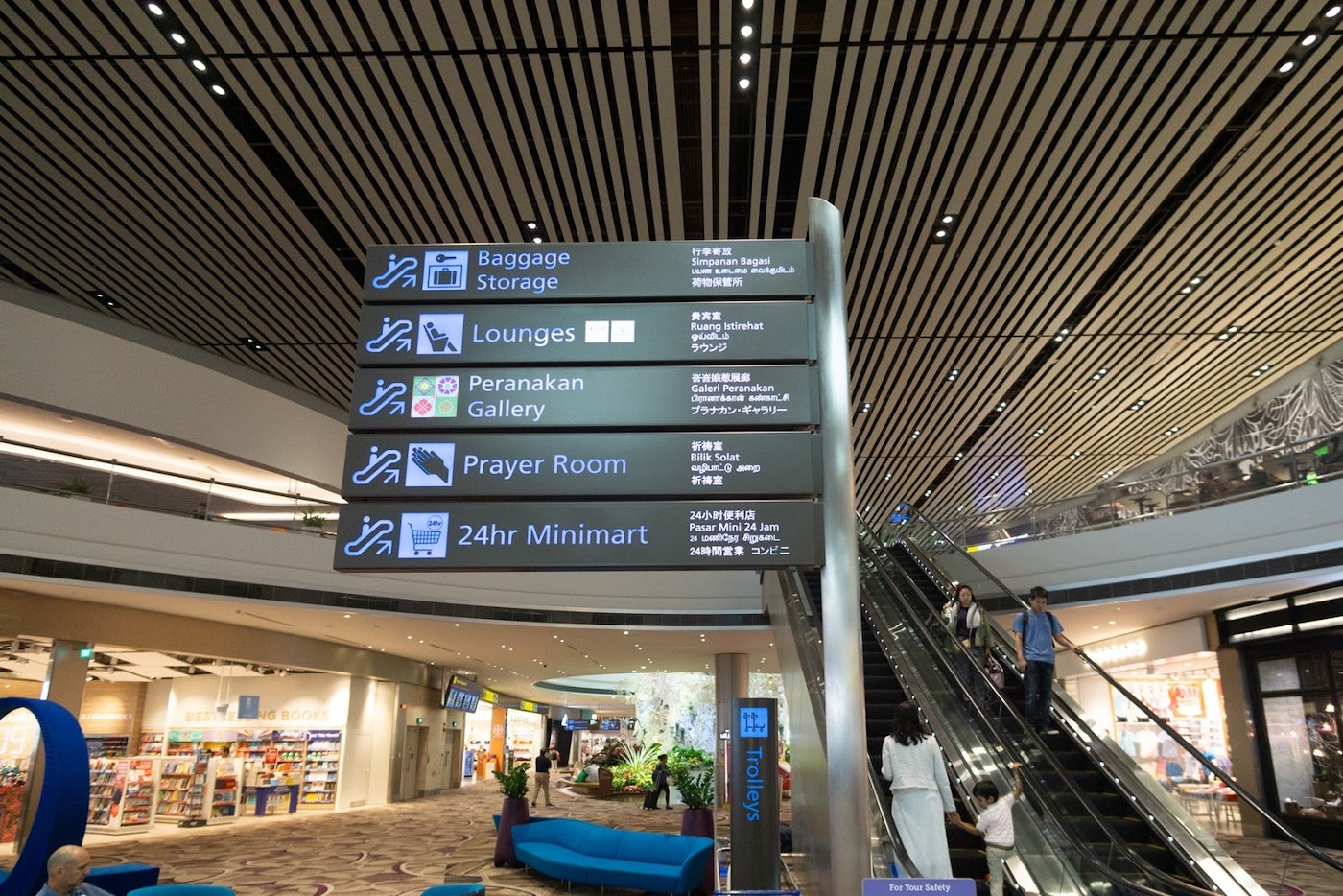 The mezzanine floor is fairly quiet. With the Cathay Pacific Lounge and the G-numbered gates on your right, look forward towards the colourful window panels. The Blossom Lounge is just ahead.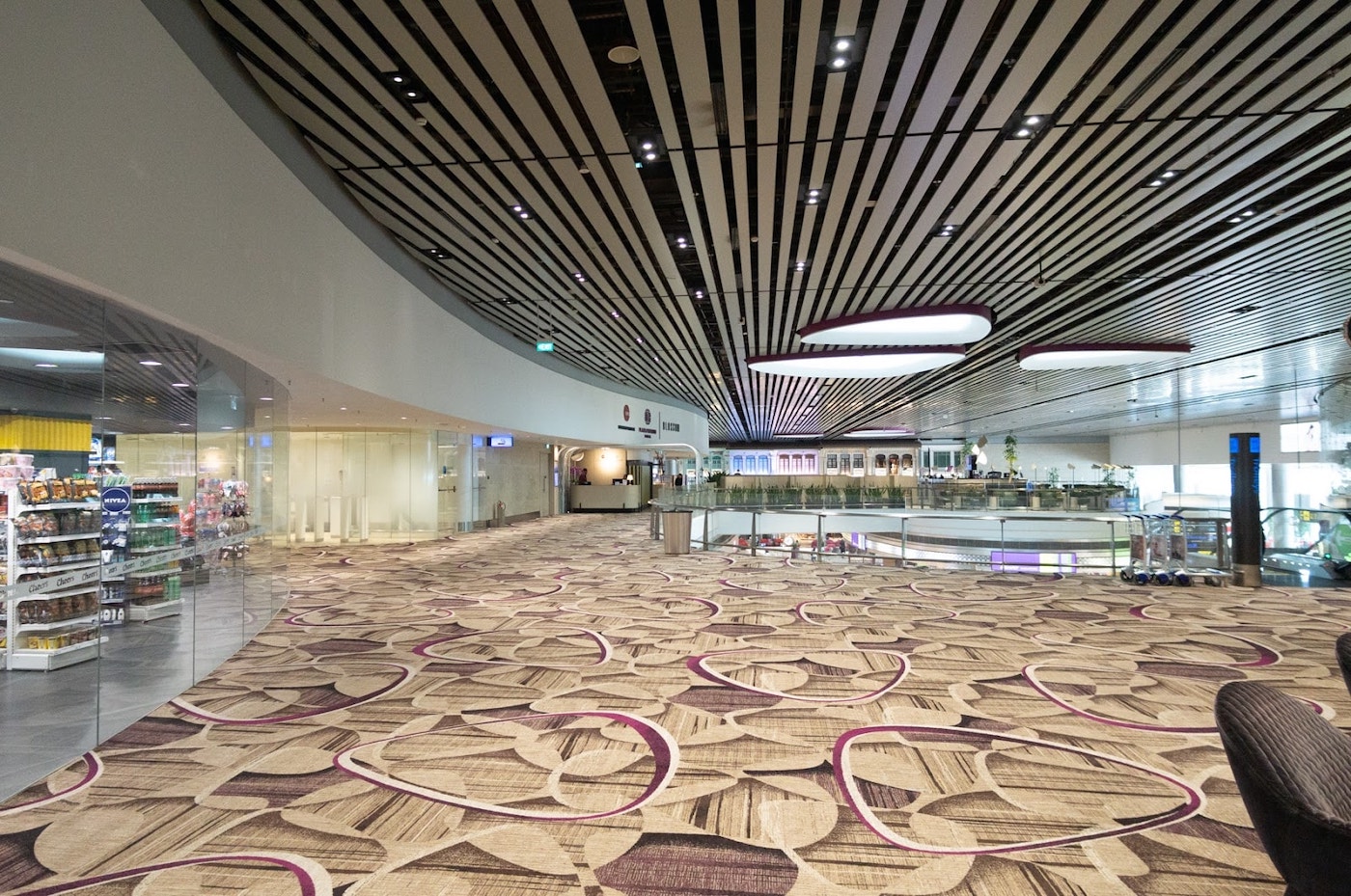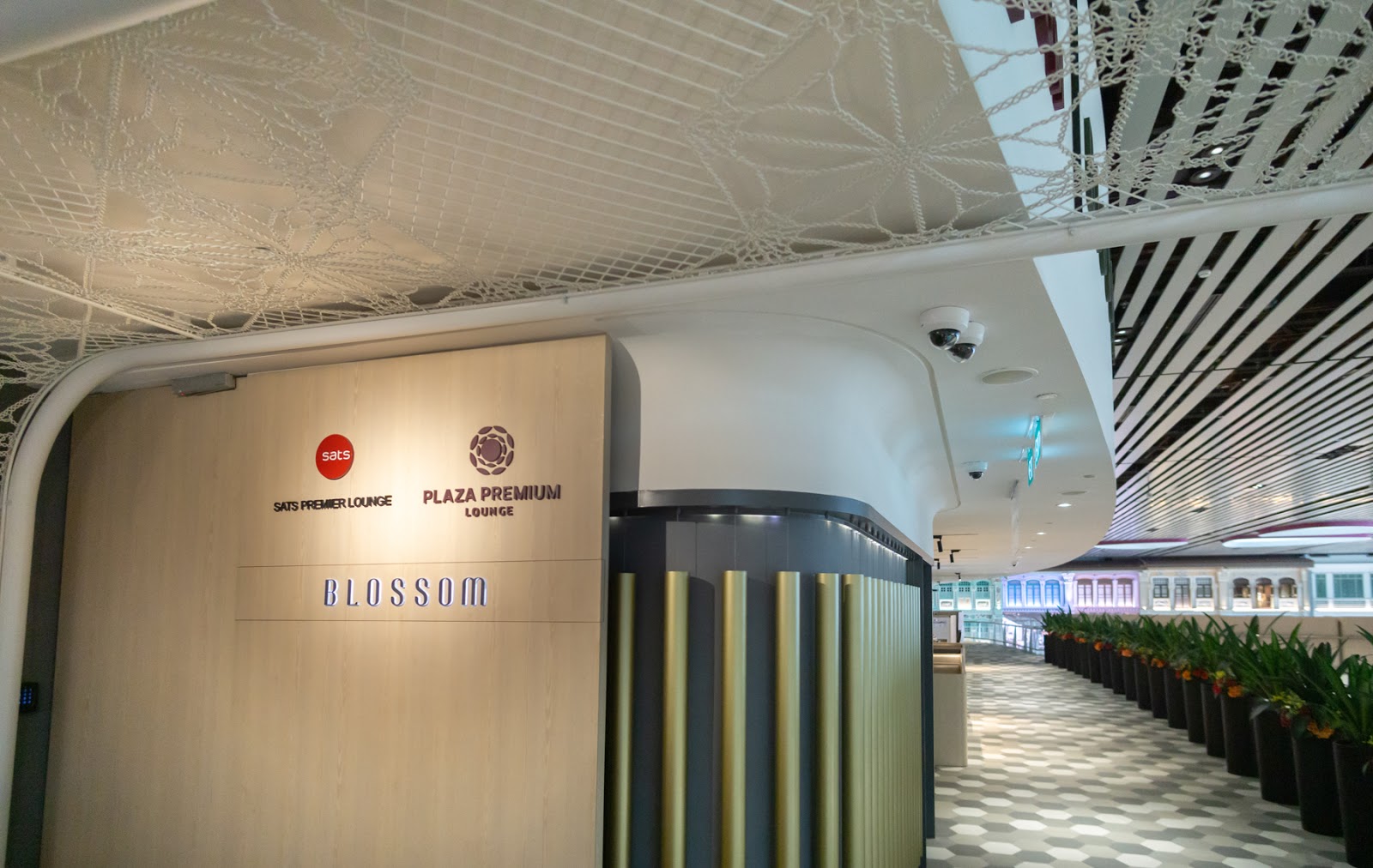 This lounge is open 24/7 to cater for all departures from Terminal 4.

Lounge layout and seating
The layout of the Blossom Lounge is quite interesting. You start off on the main area, but there are two link bridges to a 'satellite' island which has a bar and more open seating areas. The map from Plaza Premium shows this most effectively.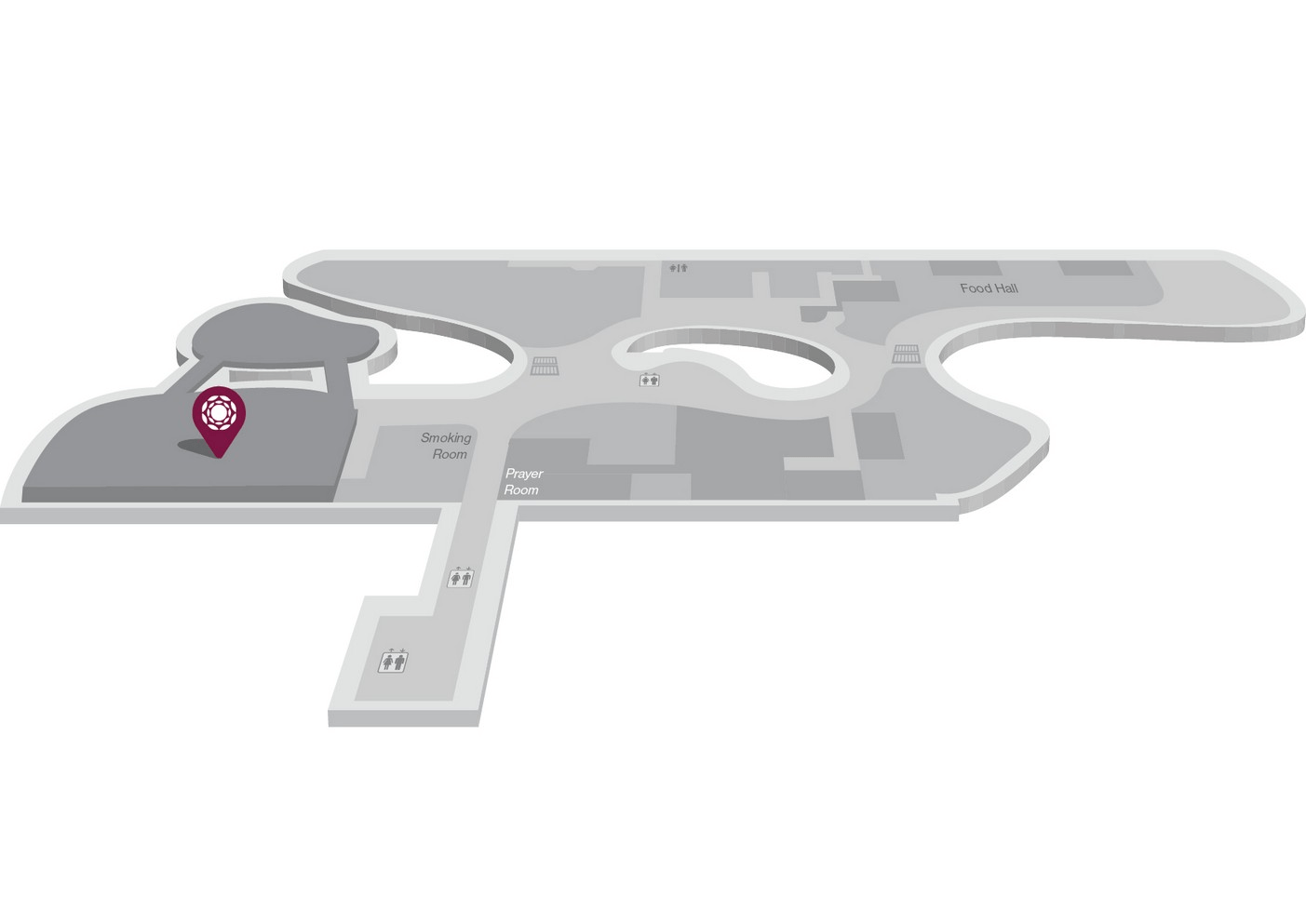 Immediately to your left, as you enter, is the dining hall. There is a mix of tables and booth seating. Most locations have power ports, but the ones on the long shared tables are most visible.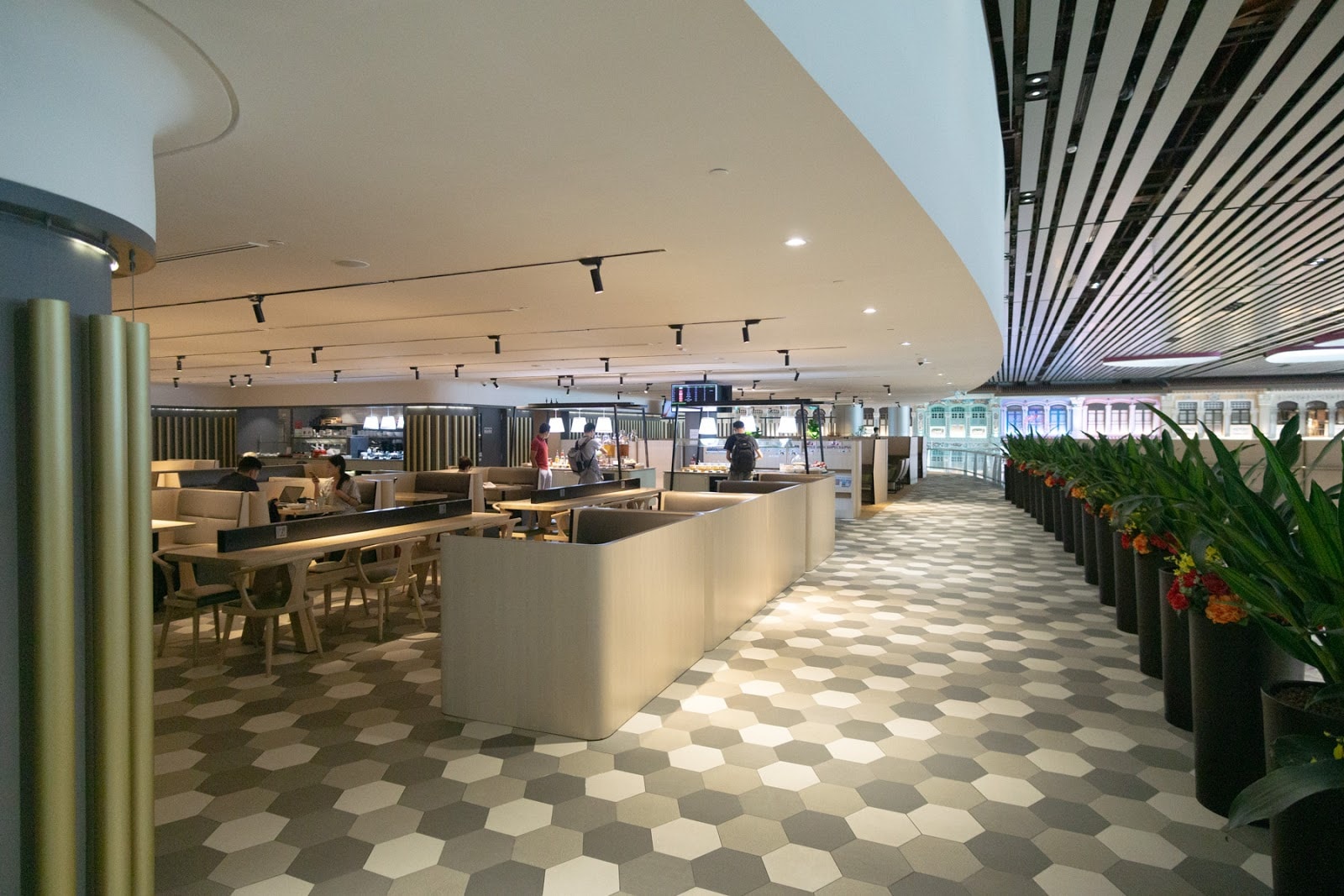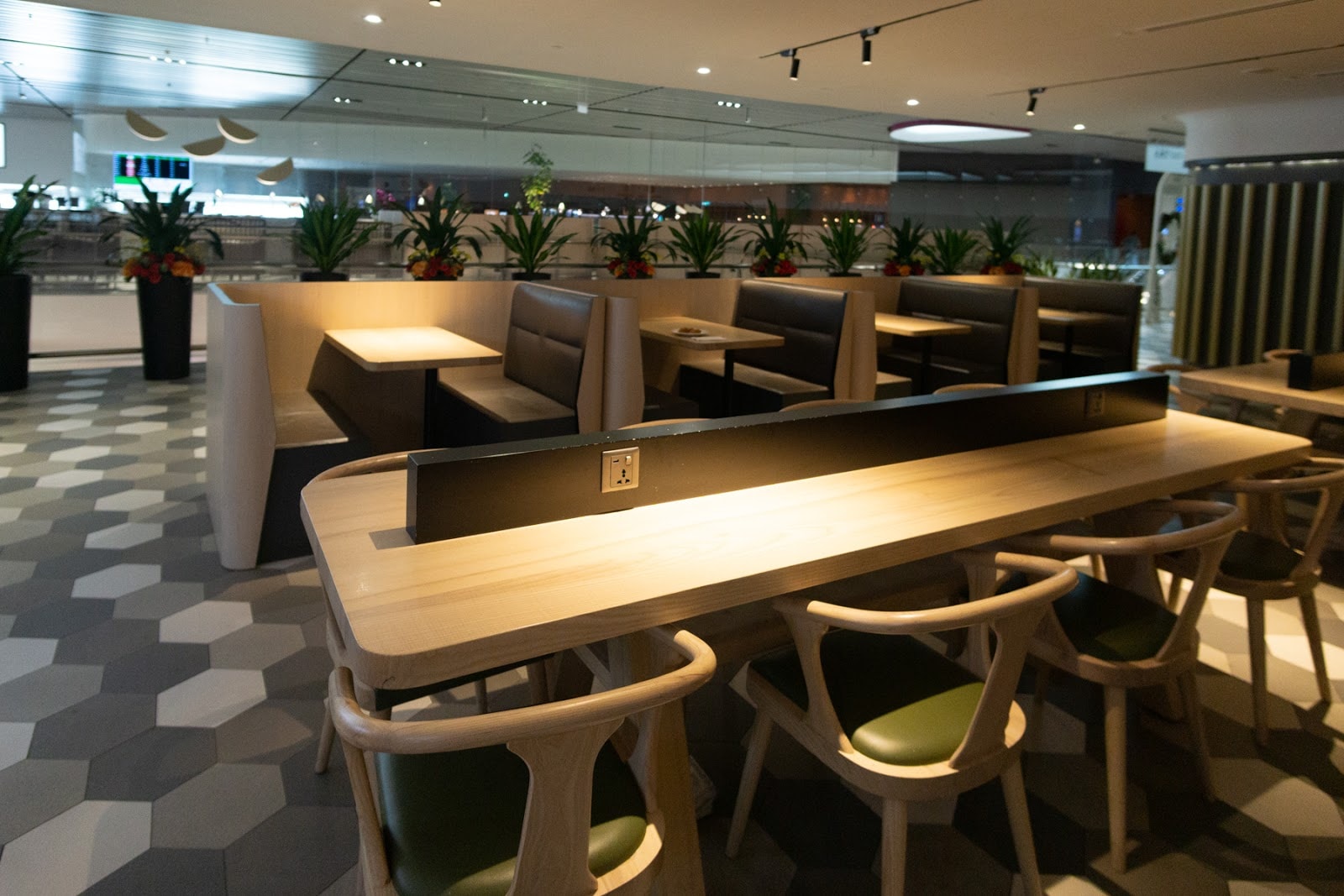 The lounge seating caters for both privacy and groups. Beyond the dining hall, this particular seating area is best for solo travellers, with individual work stations. This area also features the lounge bathrooms and shower rooms.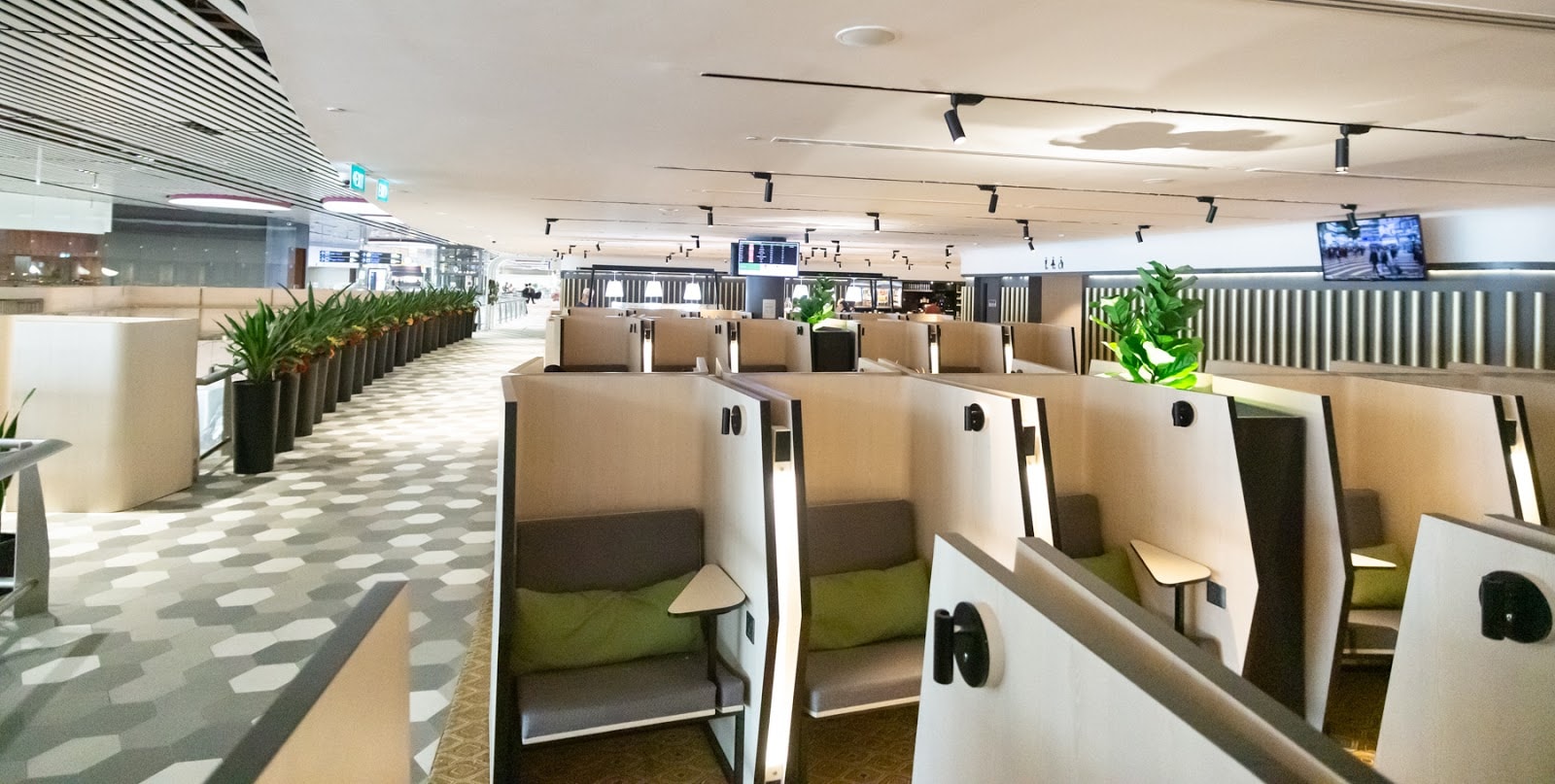 Along the link bridge to the 'satellite island', there are some wider pods, which I imagine are designed either for a companion or to put your feet up.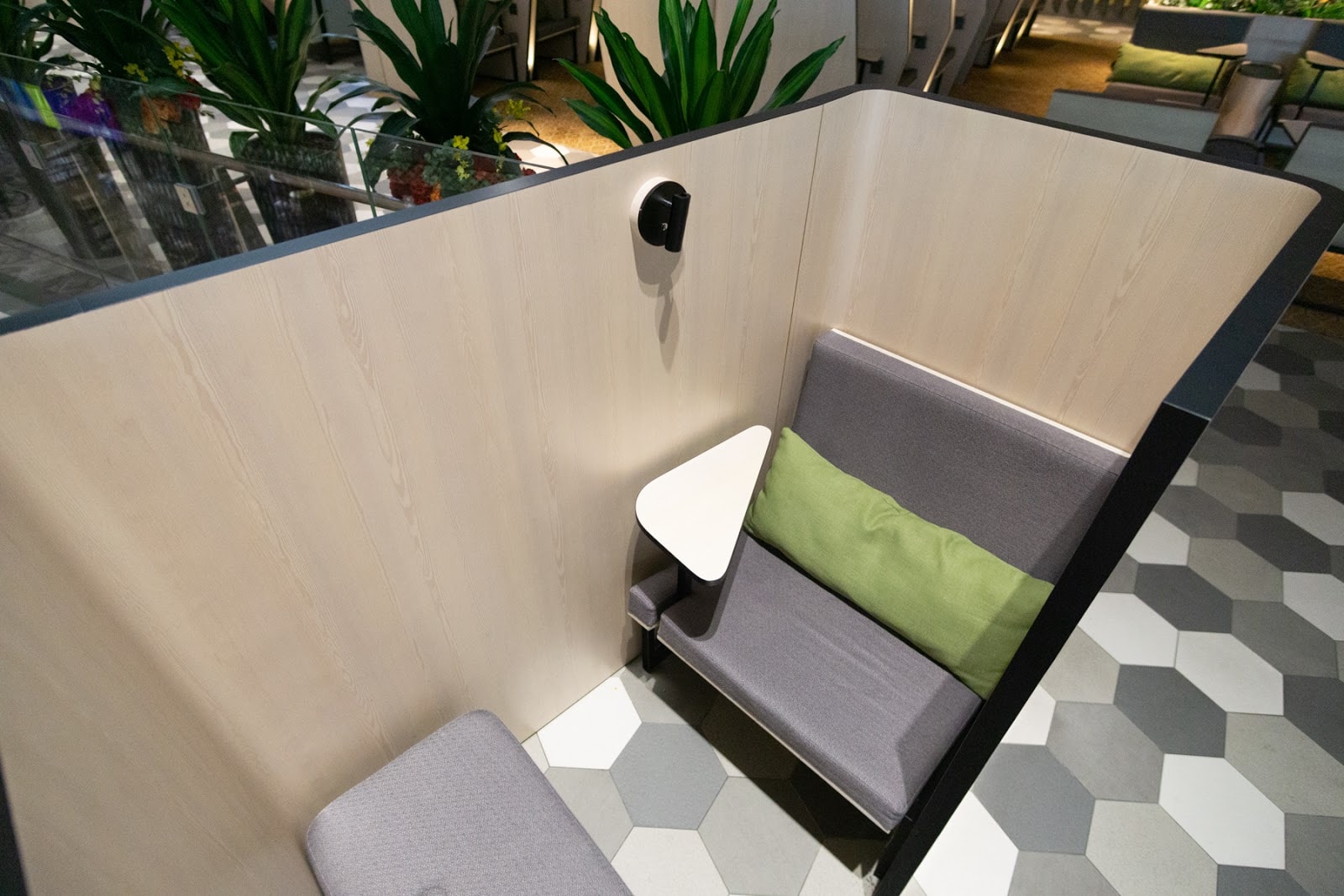 The island itself was completely empty when I first arrived at 10am. The focal points are these central islands (very similar to the Qantas Domestic Business Lounge Melbourne), while more solo seating are present along the edges.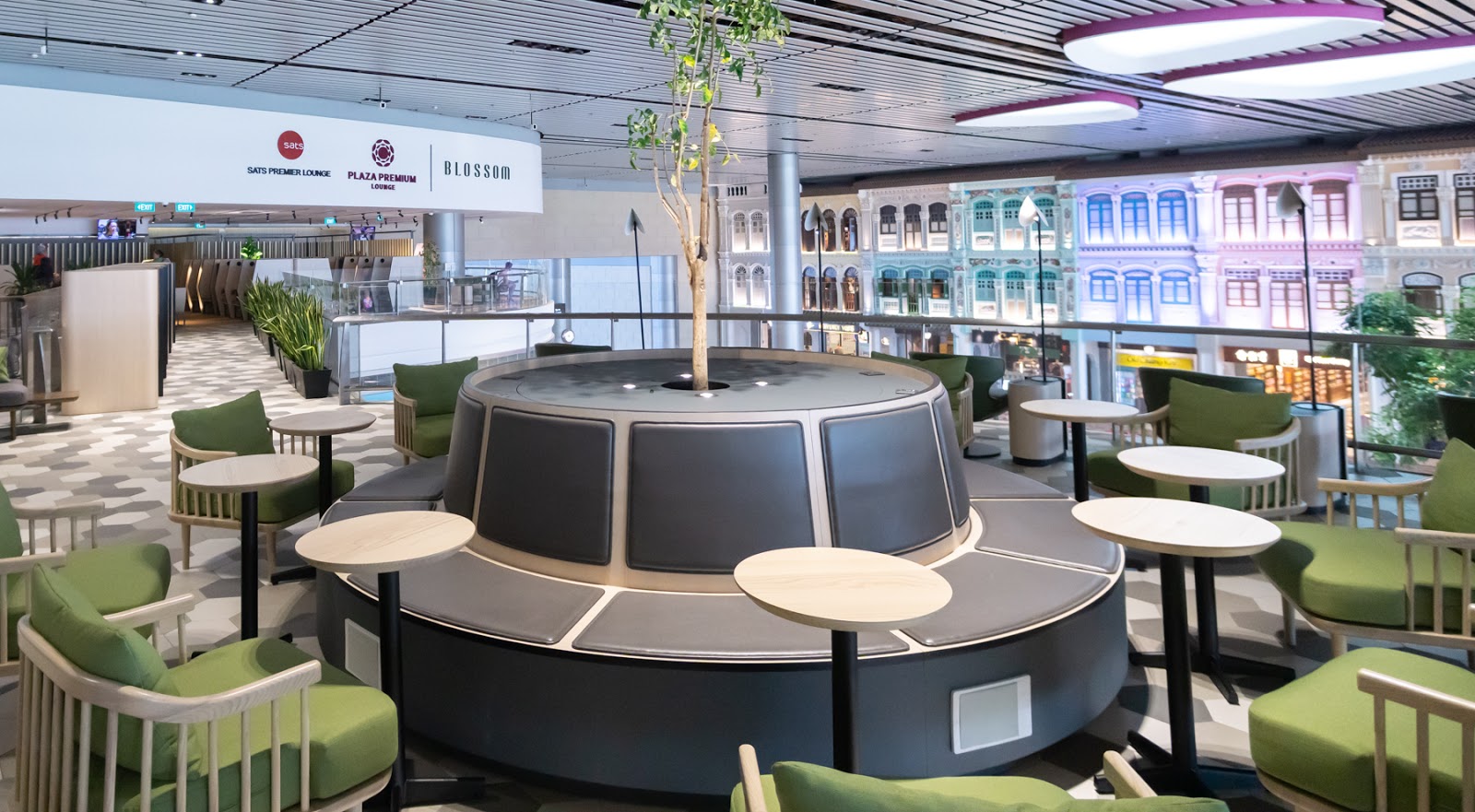 From this balcony, you will have great views of the 'Peranakan Love Story', which plays out on a huge screen designed to blend into the surrounding background (see the blue and pink shop fronts).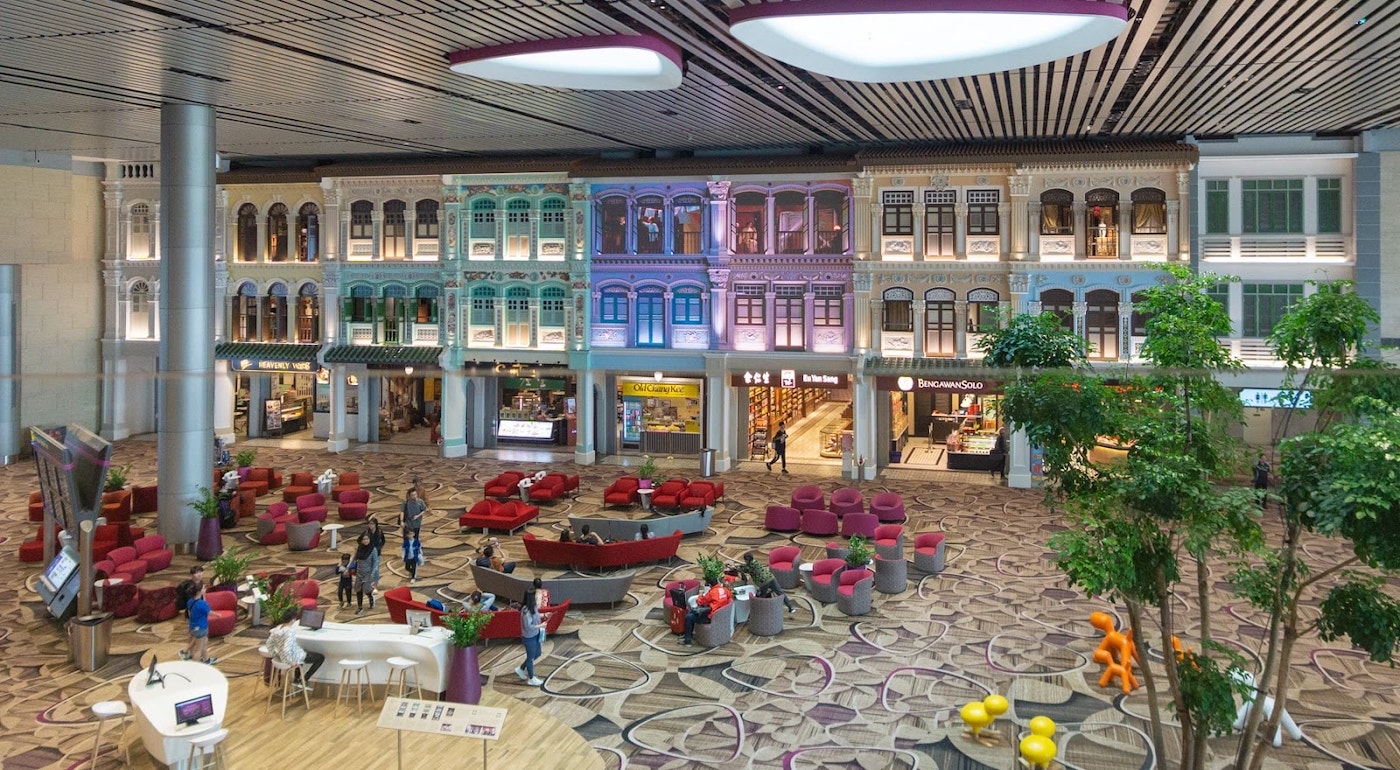 The solo chairs all have their own power ports, but none of them were working on my visit, even though the lamp lights were on. Very strange, indeed.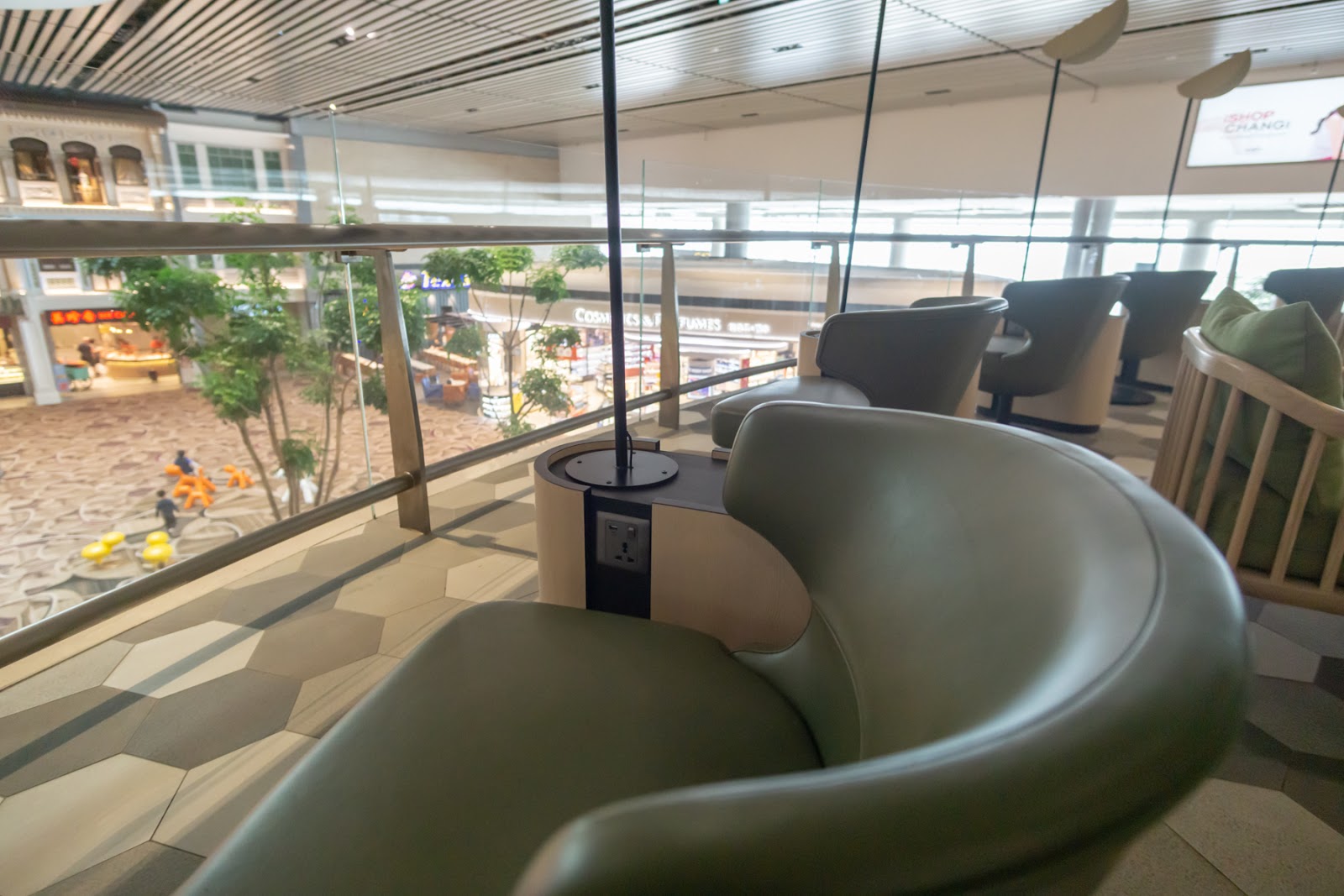 The centre of the island has a bar which can be manned, but wasn't during the morning. A passing staff member did offer me a Tiger Beer pour from the bar, which I declined.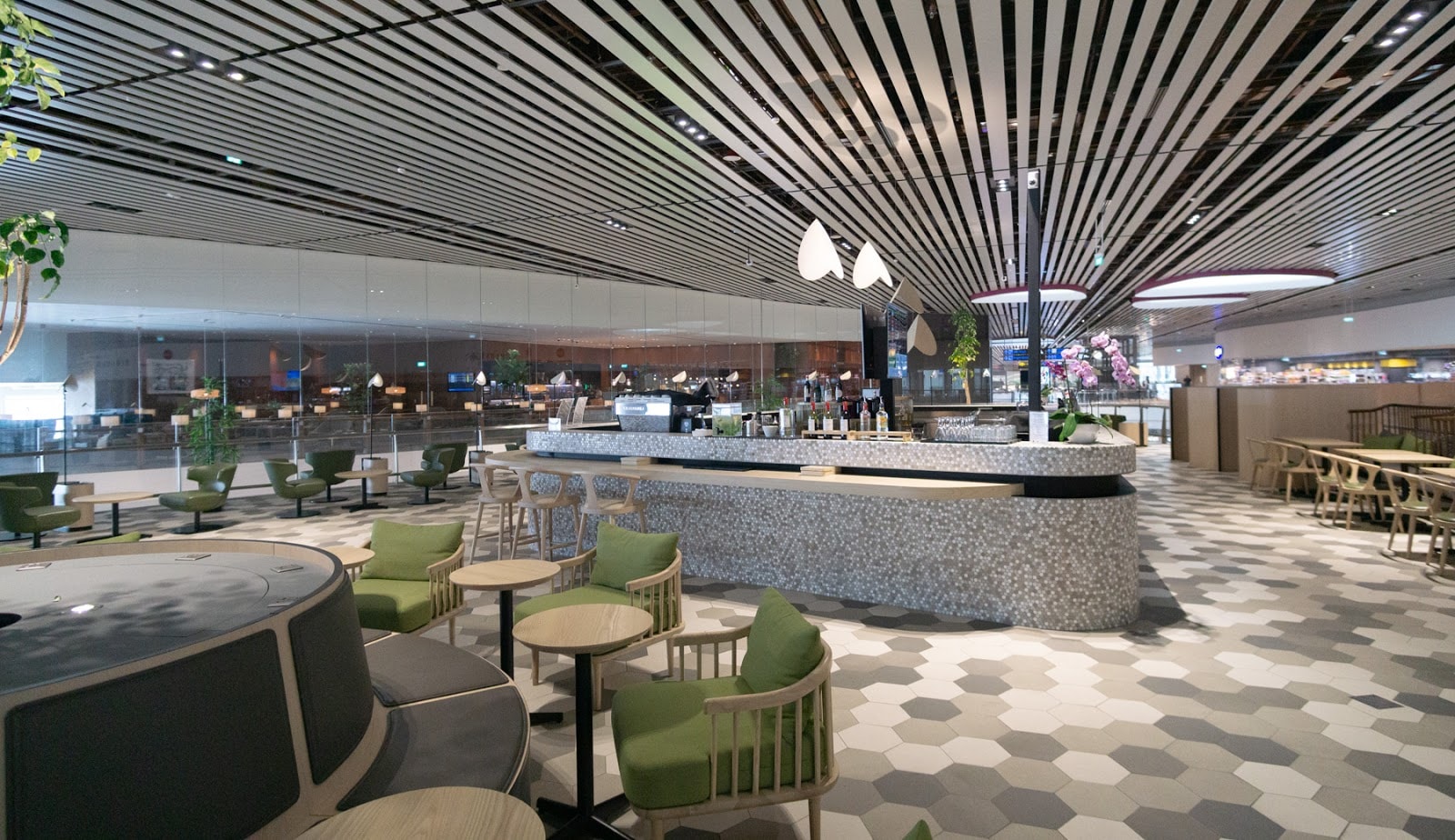 Food and Drink
At 10am, I was in an awkward period between breakfast and lunch. Unfortunately, the breakfast items were still out by the time I left at 11am. The hot breakfast buffet consists of the usual suspects like sausages and baked beans.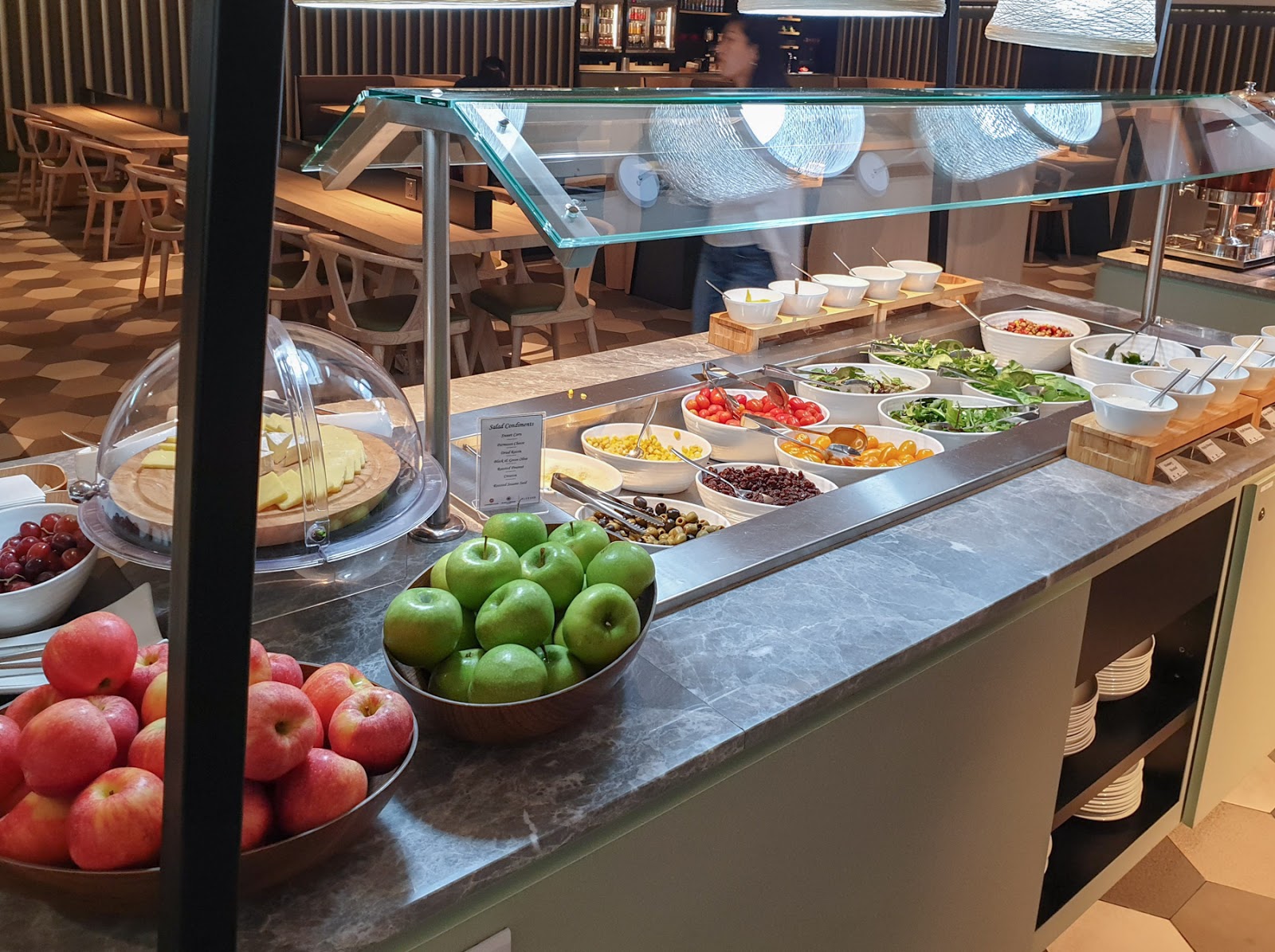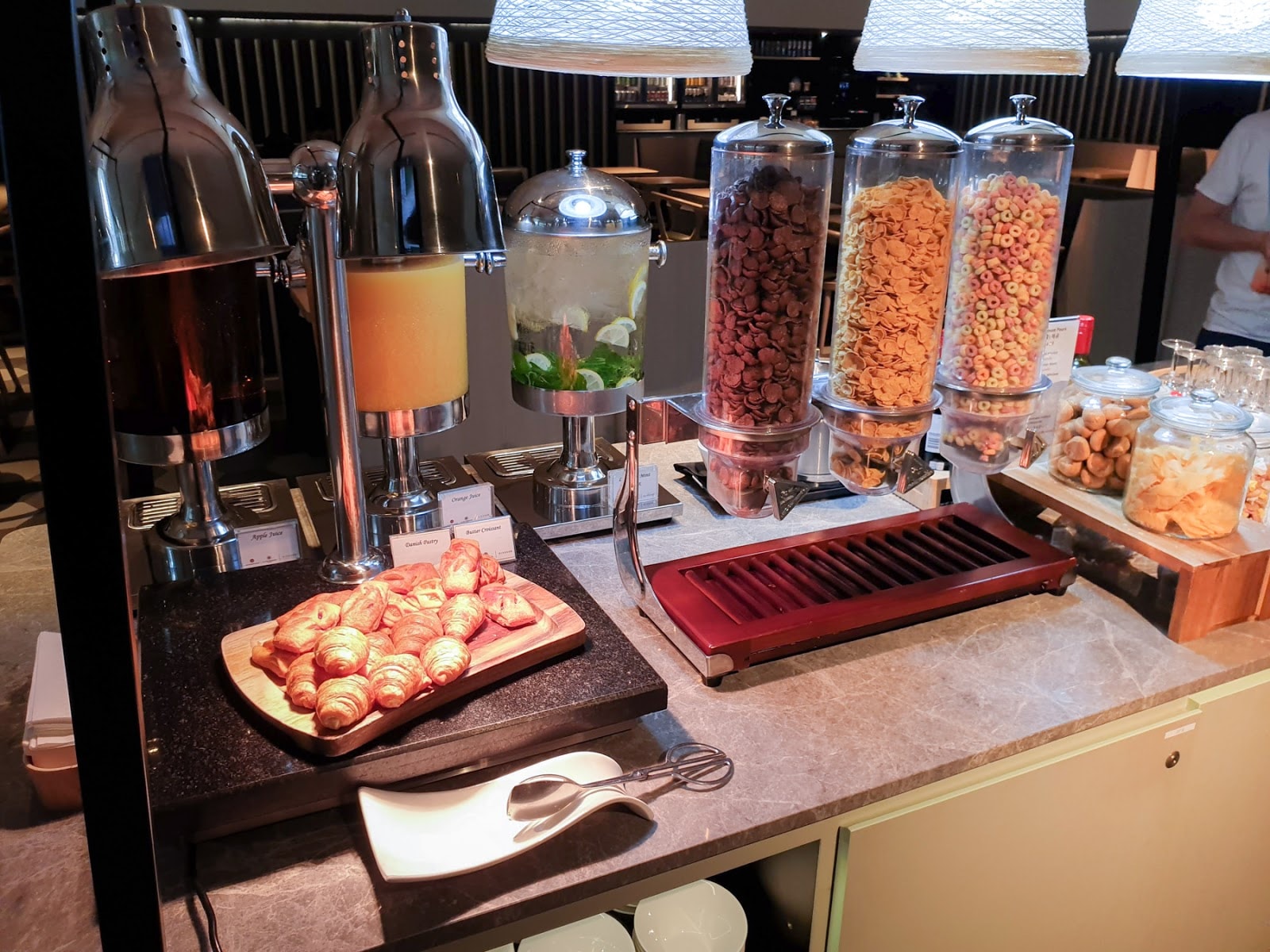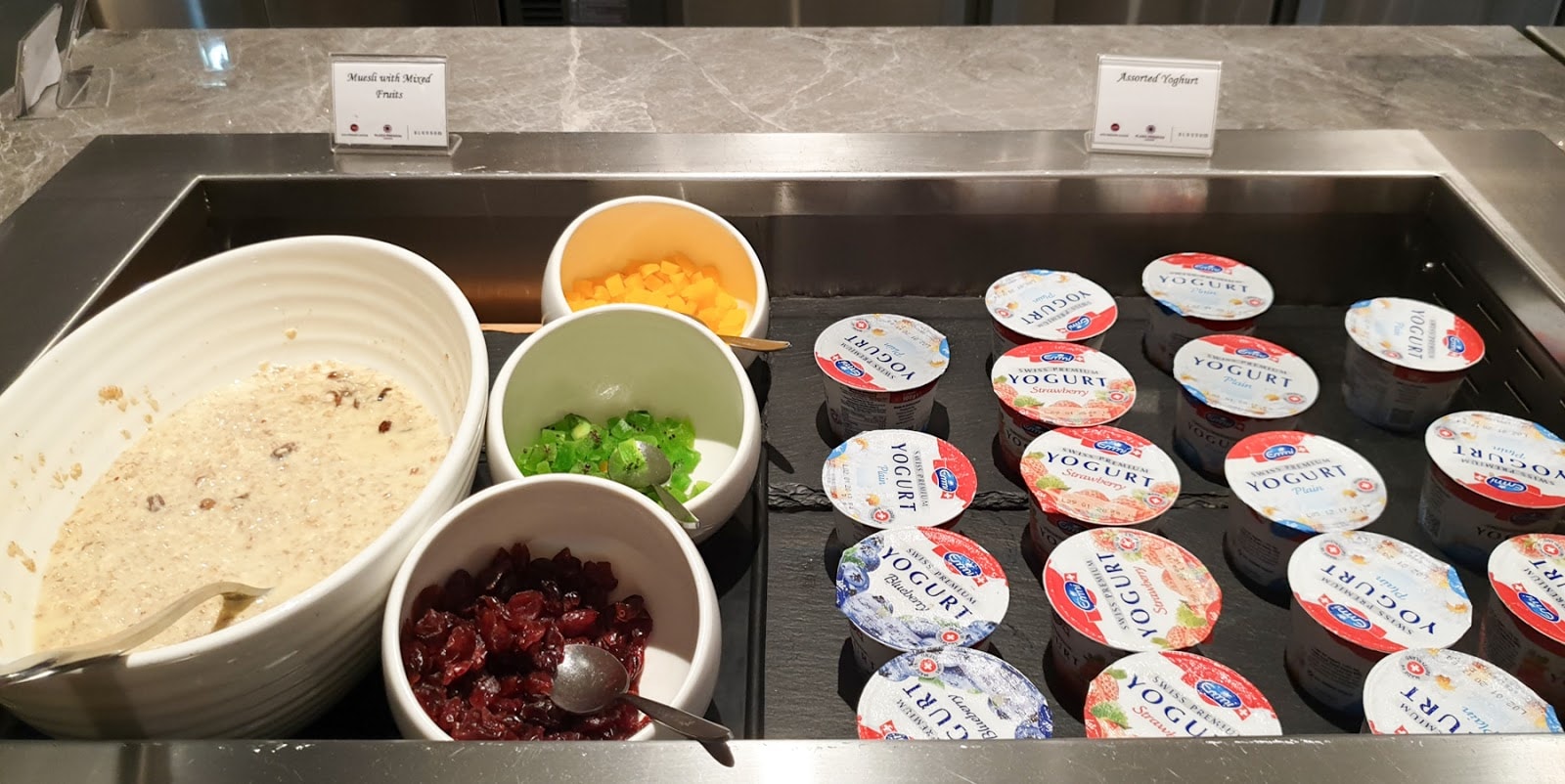 There were also two hot options I could order a-la-carte from the kitchen. Needing a spice hit, I chose the Singapore Laksa which was served mild, but very enjoyable.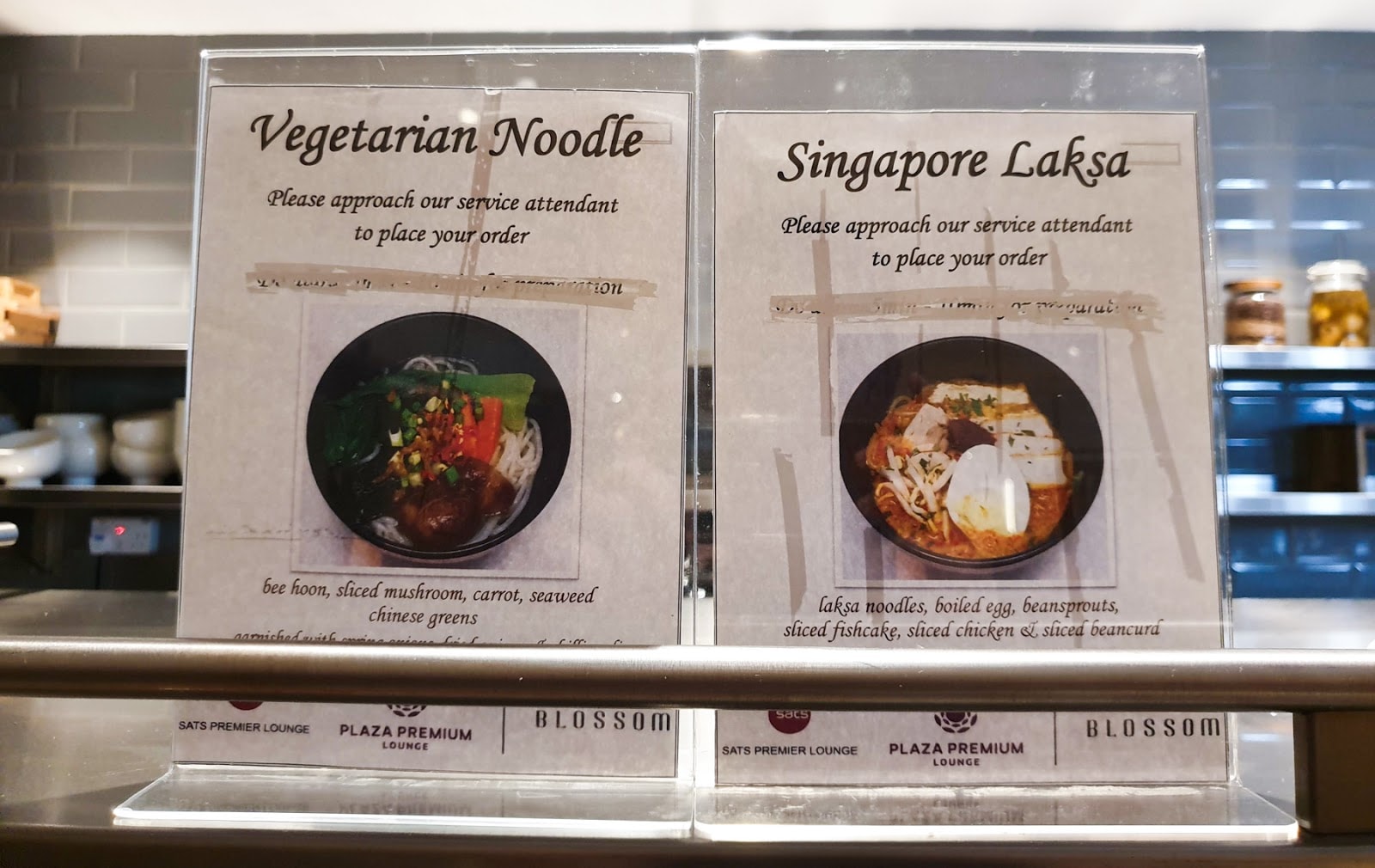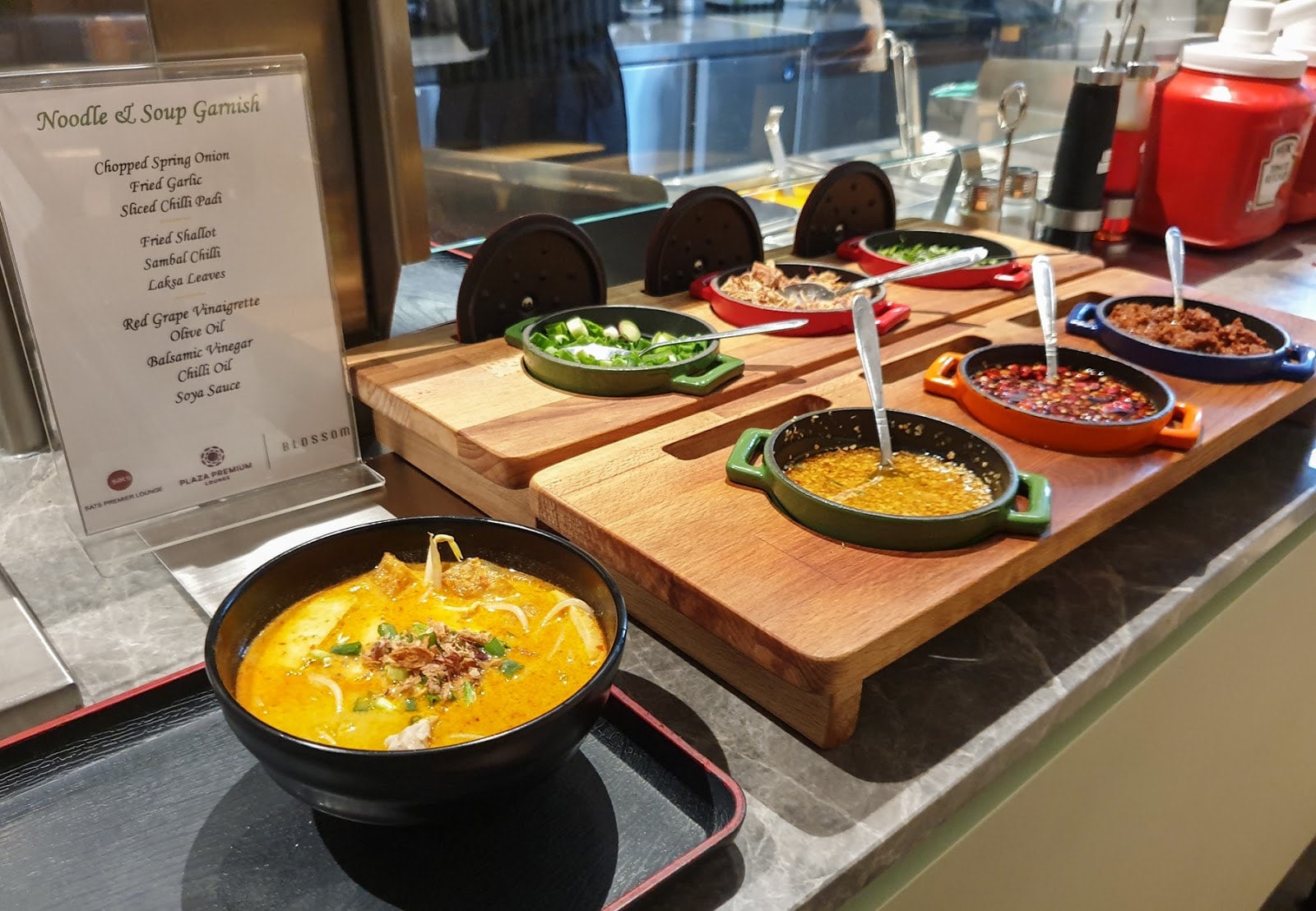 The drink selections are better than most other Plaza Premium lounges, where alcohol is usually chargeable apart from a token complimentary Tiger Beer. Included in this lounge was an Australian red and white wine, and three mid-level spirits.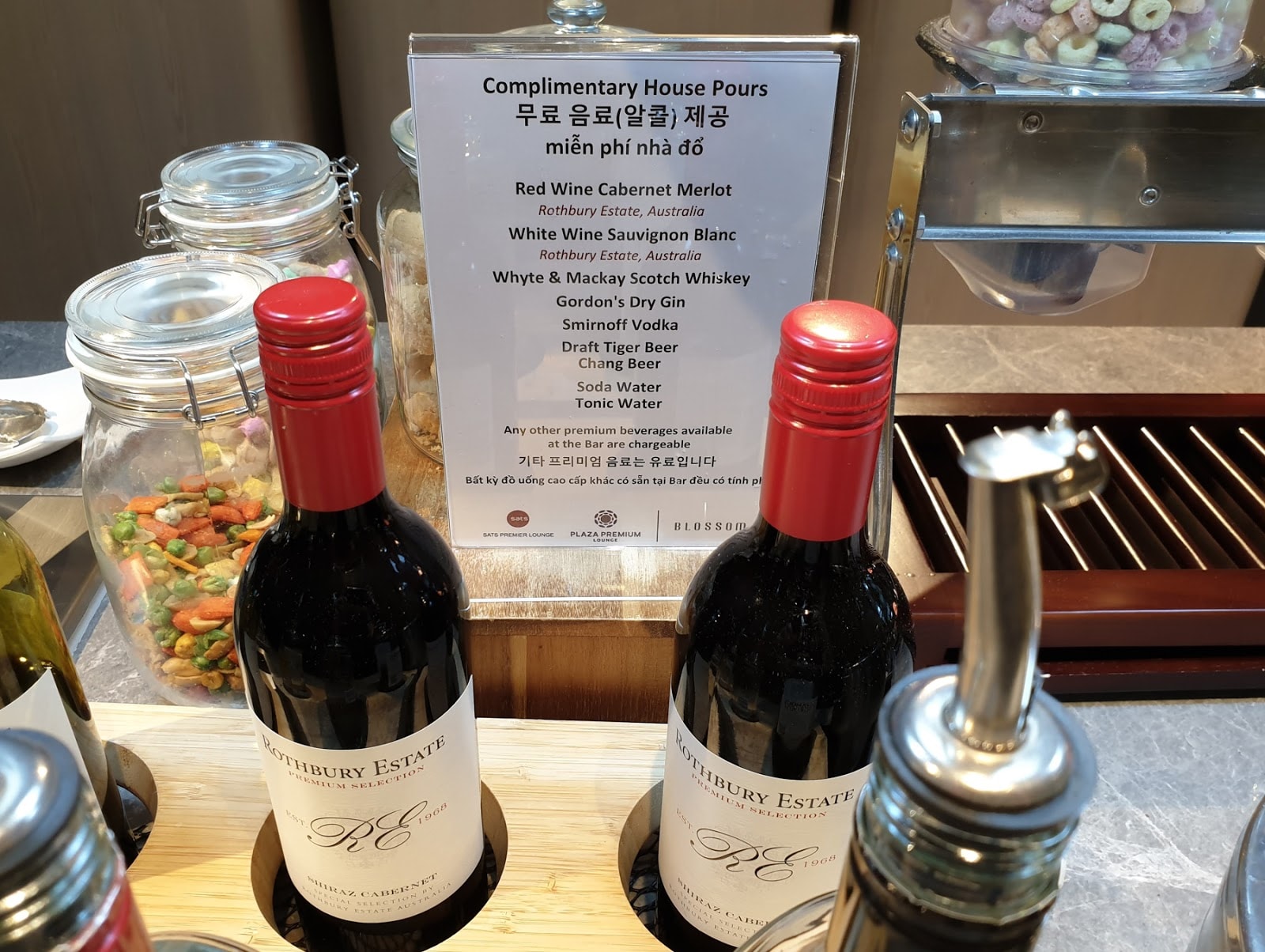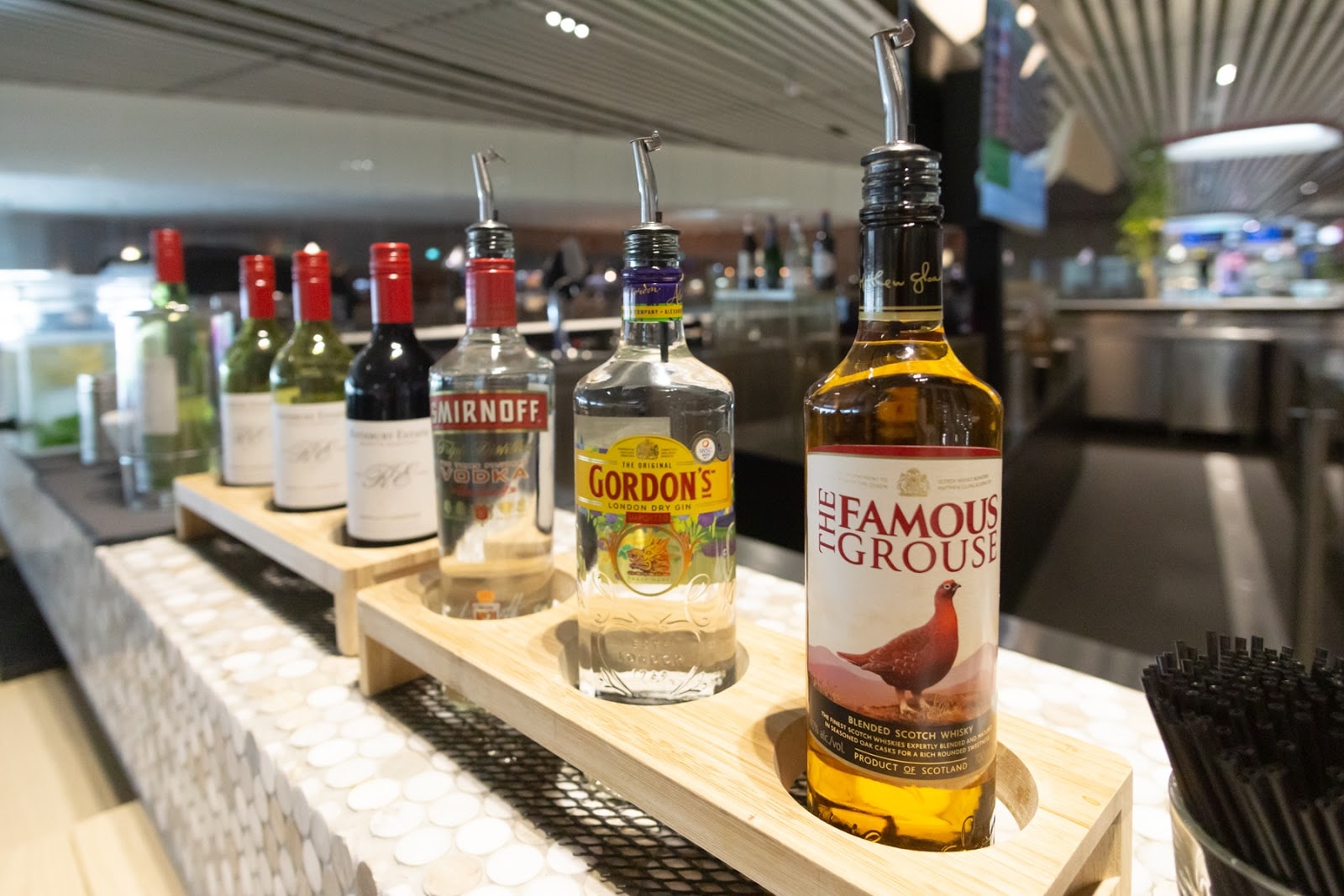 If you want something fancier, there are paid options. Barista-made coffee and specialty teas are SGD $6, cocktails are SGD $14 and premium spirits are SGD $15. All prices are ++, which means add on 10% GST and 7% service charge (FYI, a major pet peeve of mine!).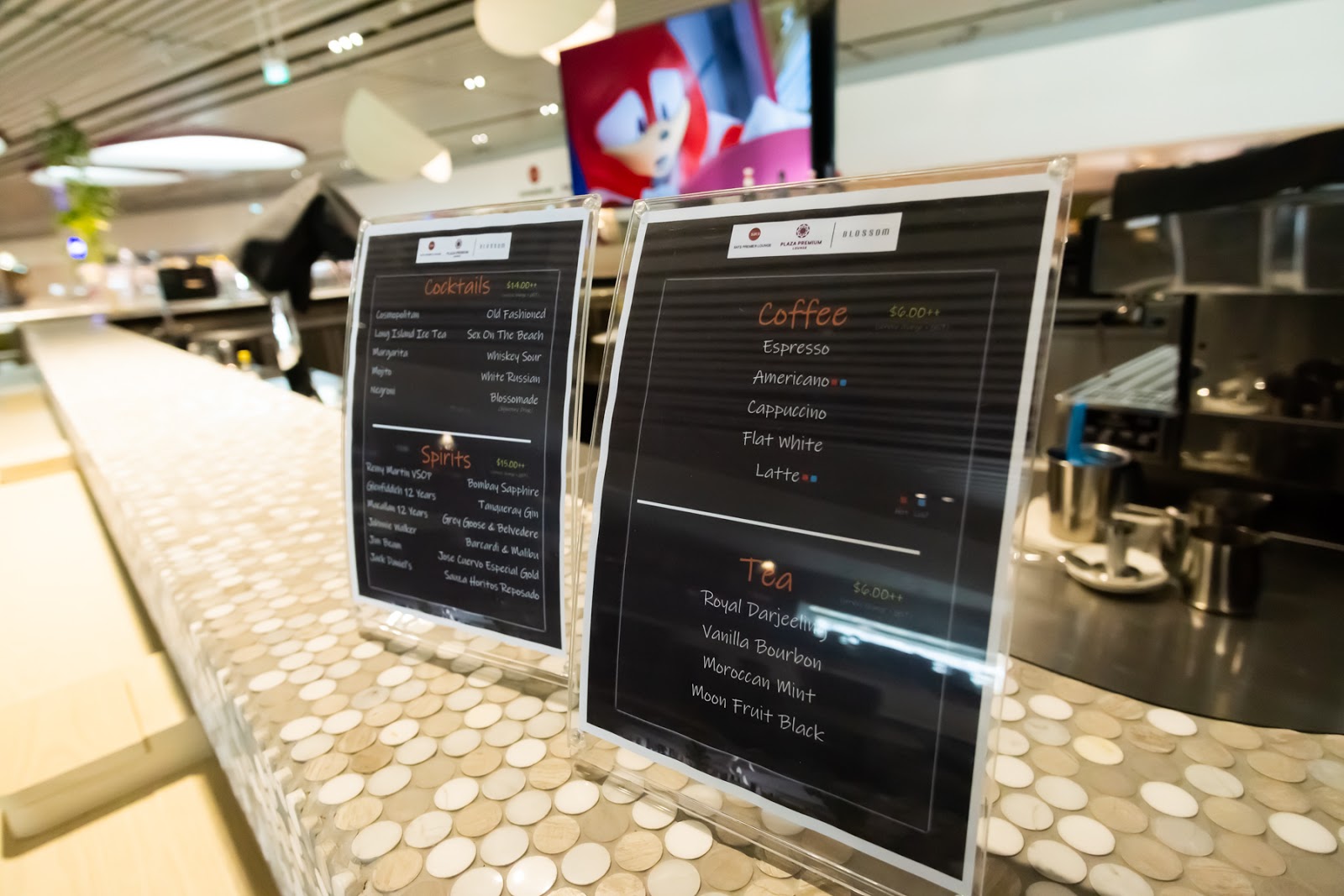 Back in the main dining area, machine-brewed coffees, Dilmah teas and post-mix soft drinks are all free.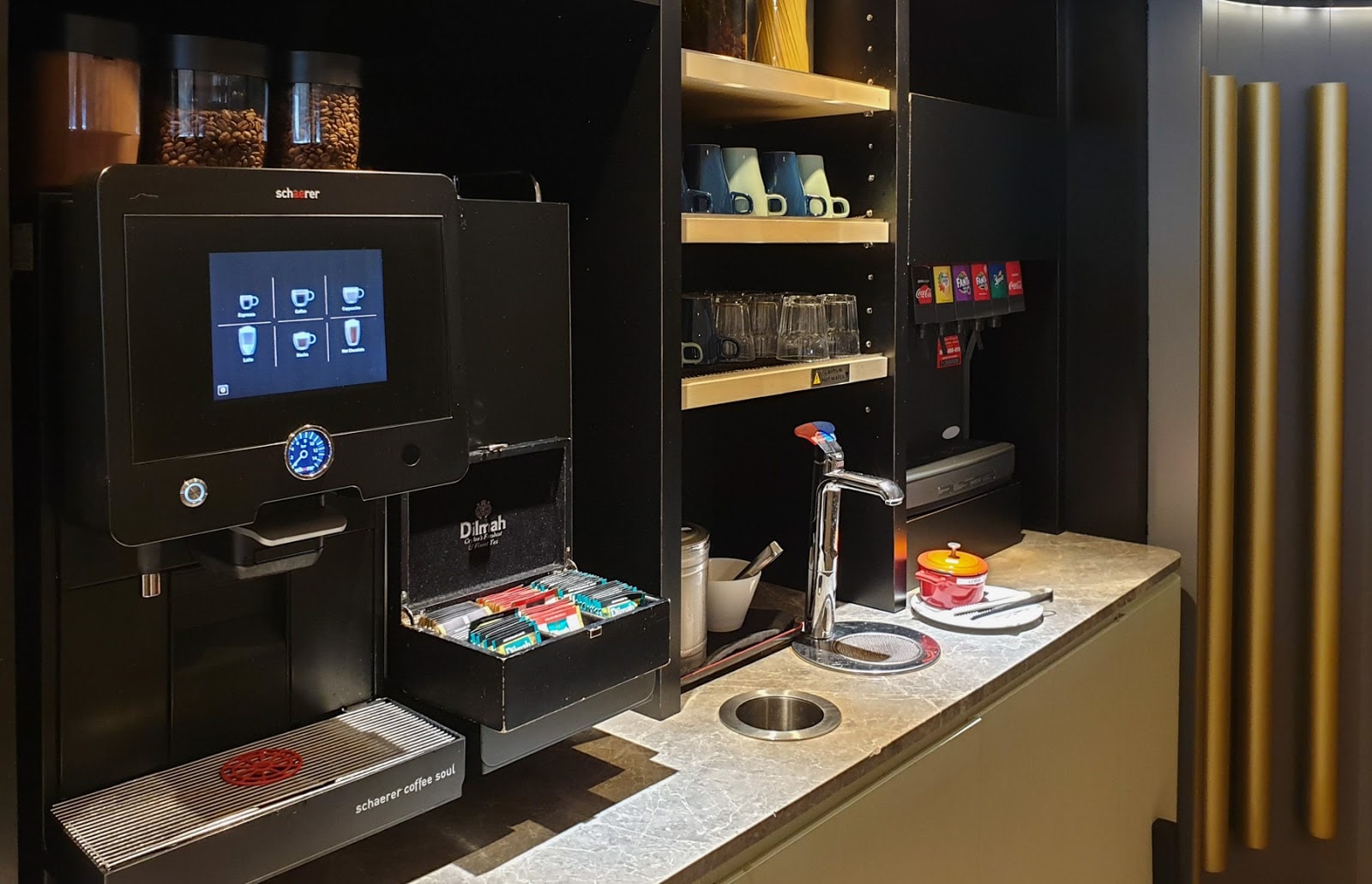 The fridges also stock Chang Beer, soft drink mixers and a selection of Asian canned drinks.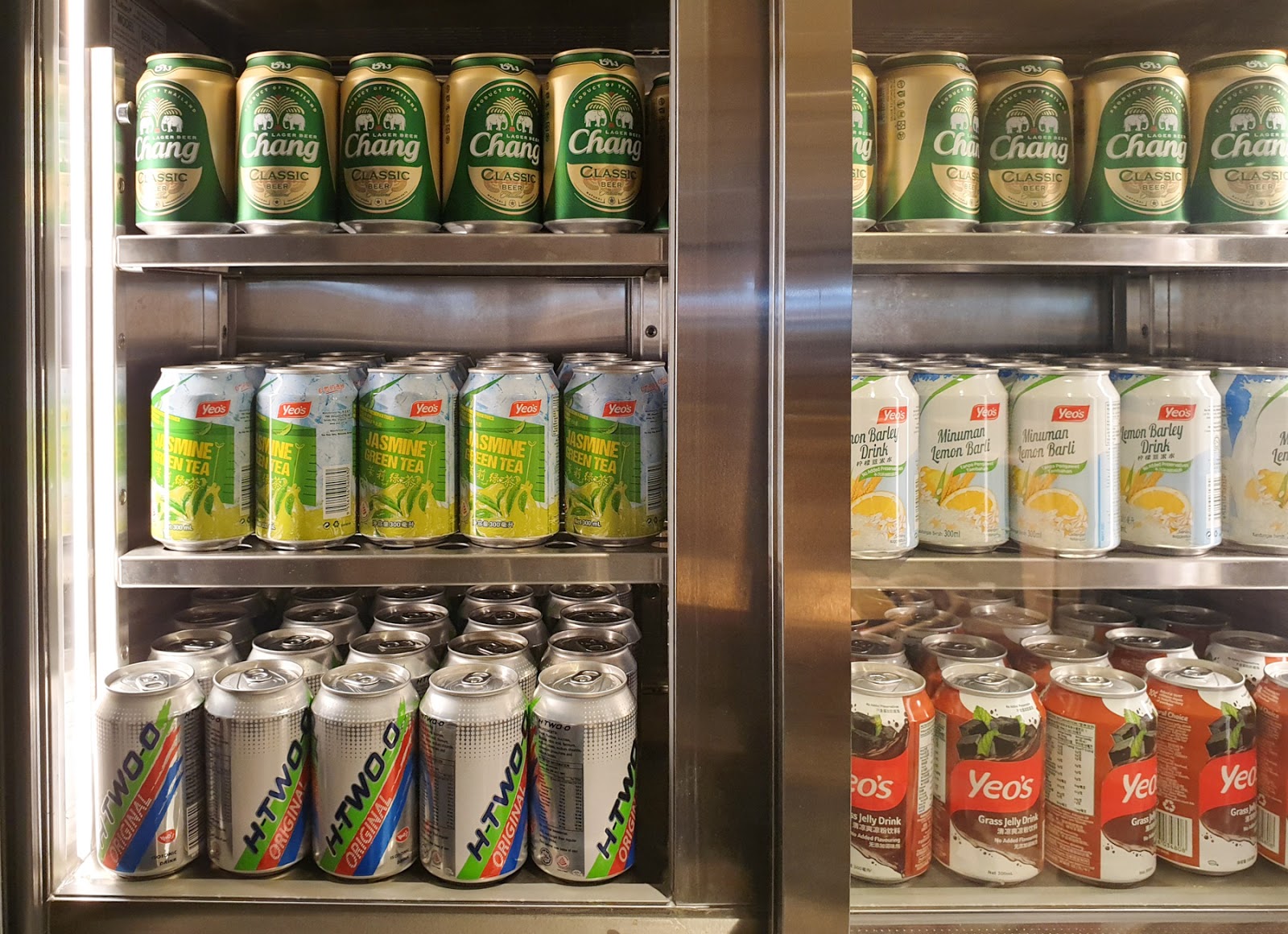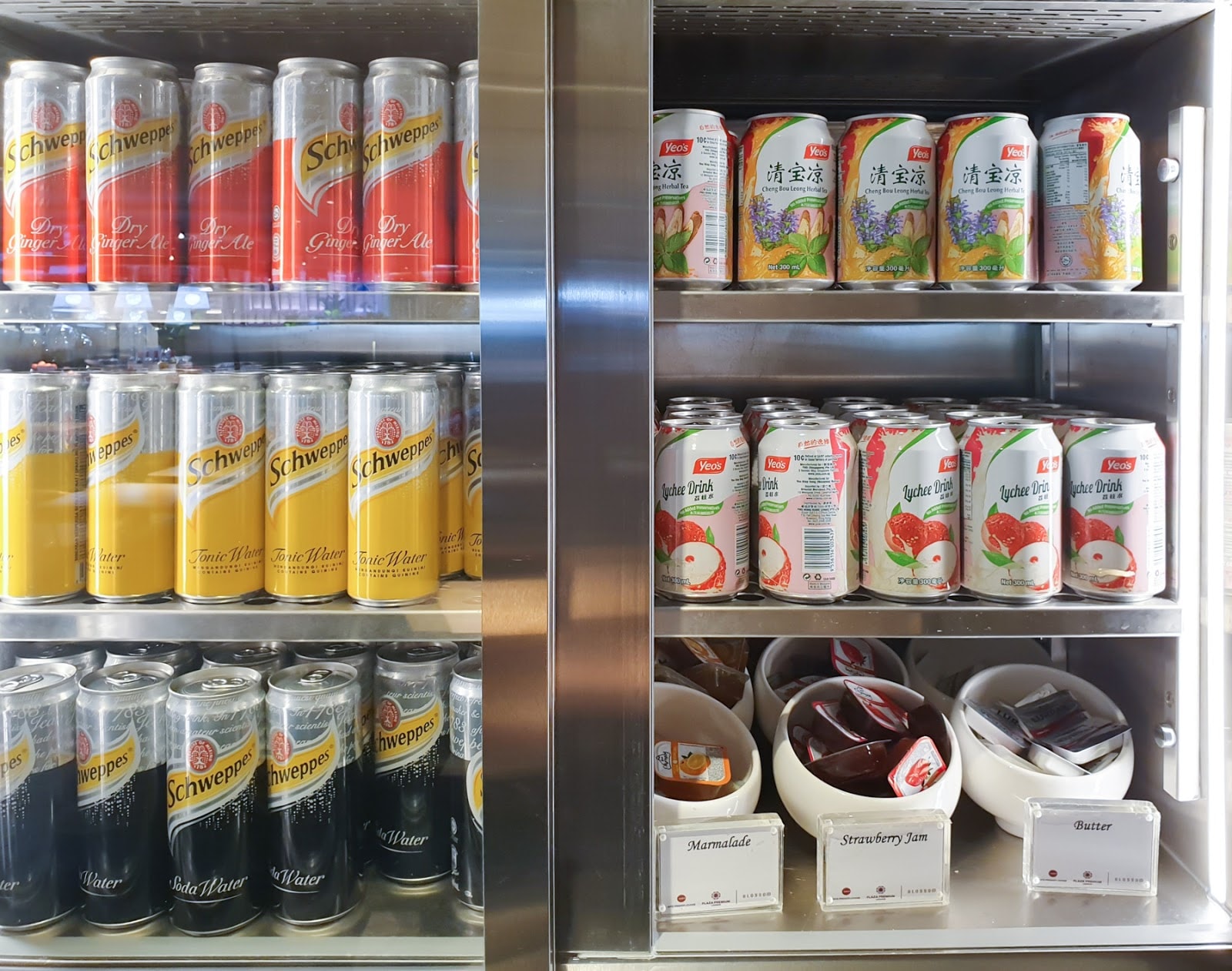 Amenities
There are two shower suites and access is included with lounge entry. You need to register at reception and get a key. You're allocated 20 minutes which might be a bit tight for some people. They're small and clean, and you're given all the basic amenities.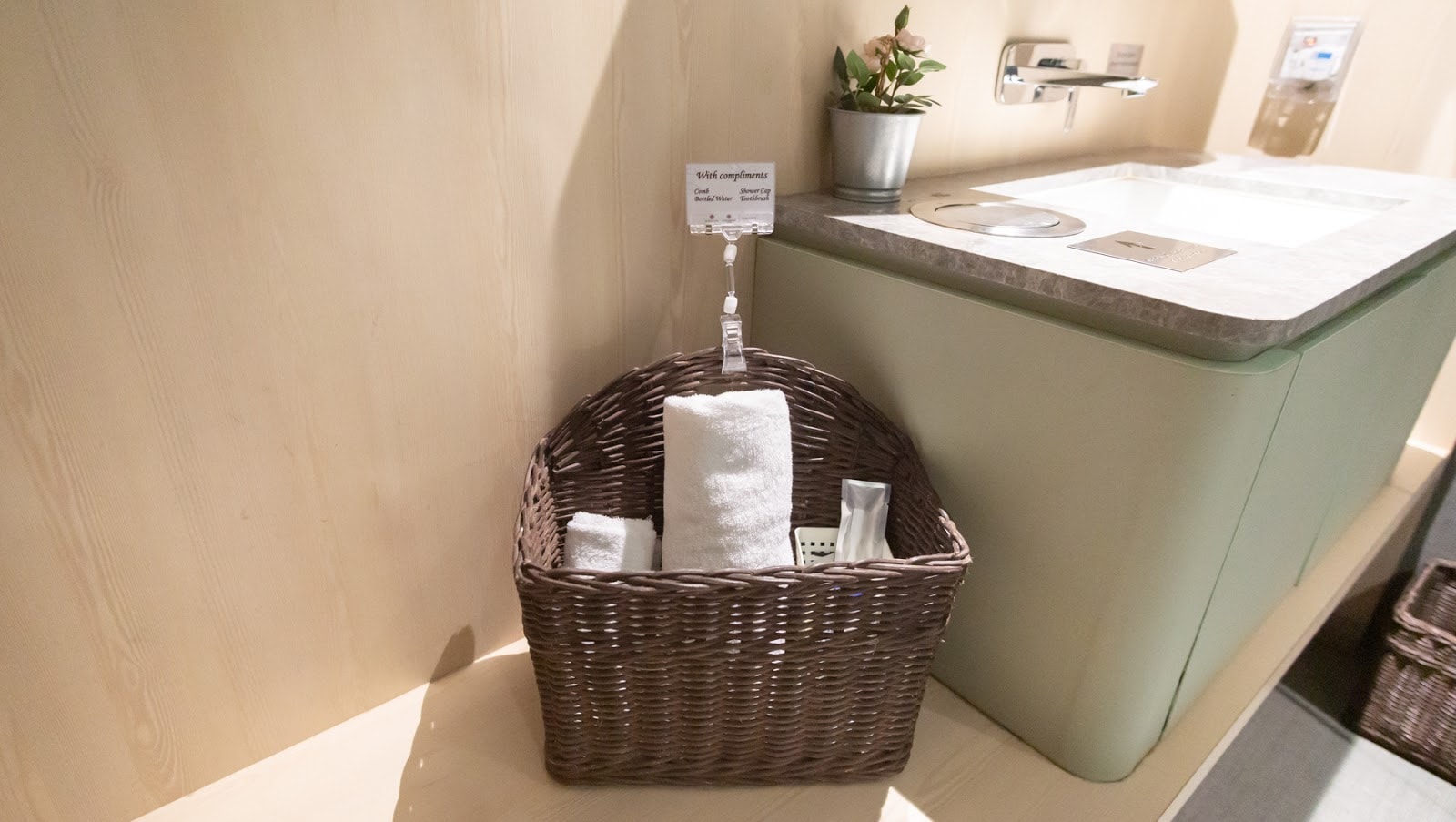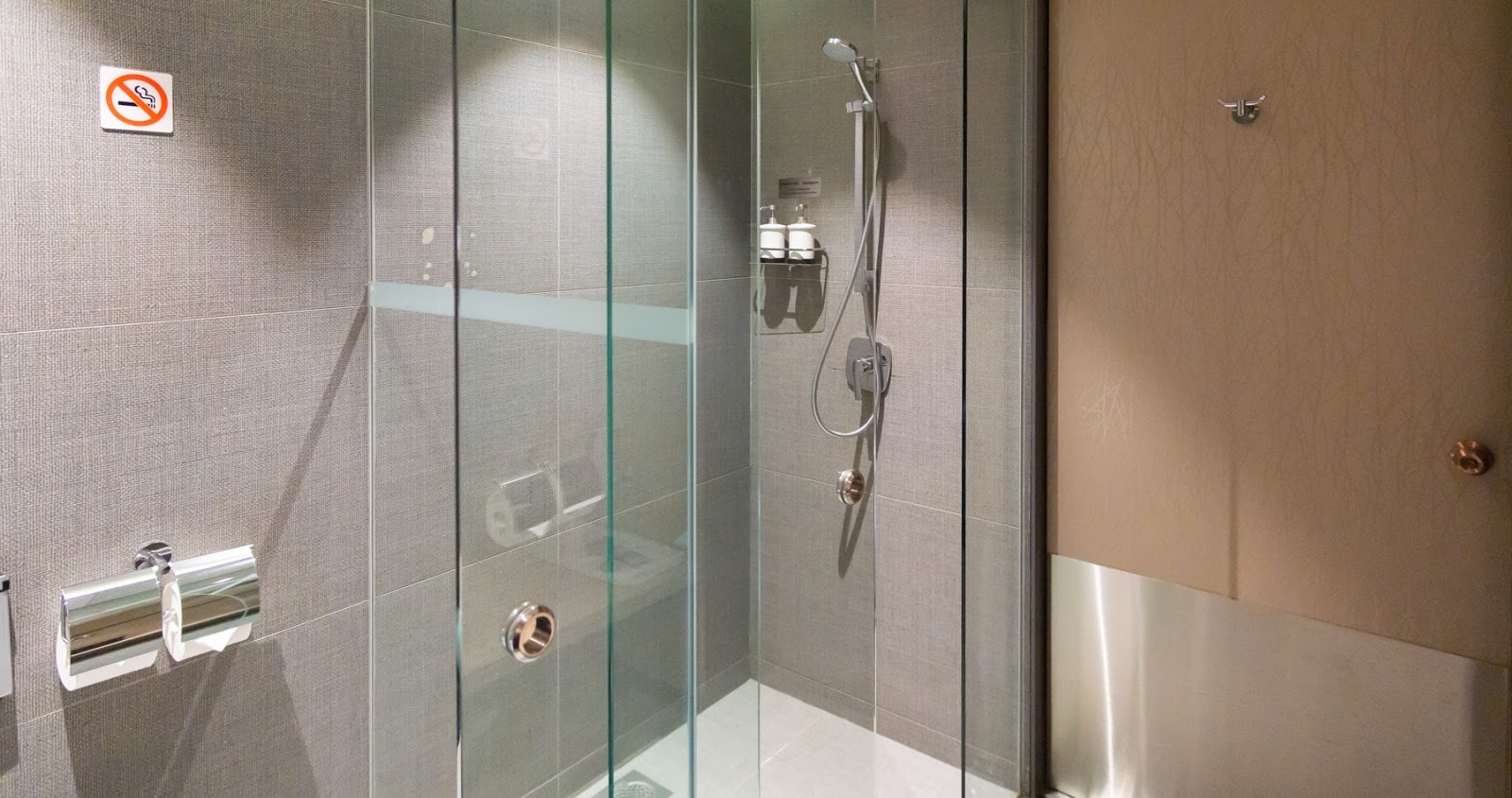 Unfortunately, as is very common in the hot parts of Asia, the shower rooms can get quite warm and humid, which may leave you feeling sticky again right after towelling off.
Light reading material can be found near the dining area with a selection of newspapers and magazines commonly found in these lounges.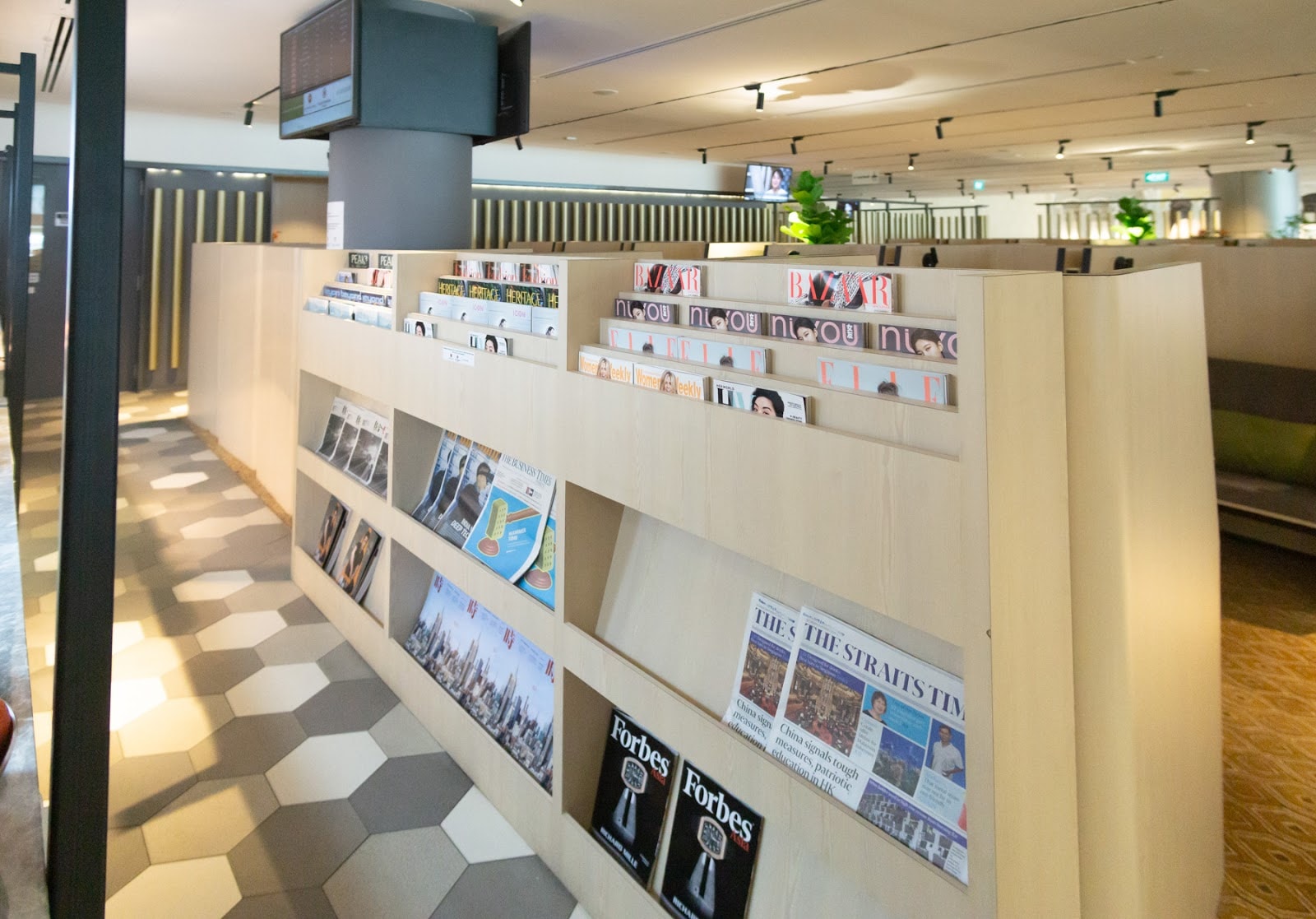 Near the reception is also a relaxation area, which I was told has a few pods with reclining chairs, and are designed for passengers to have a nap. These can be booked at reception for an added cost.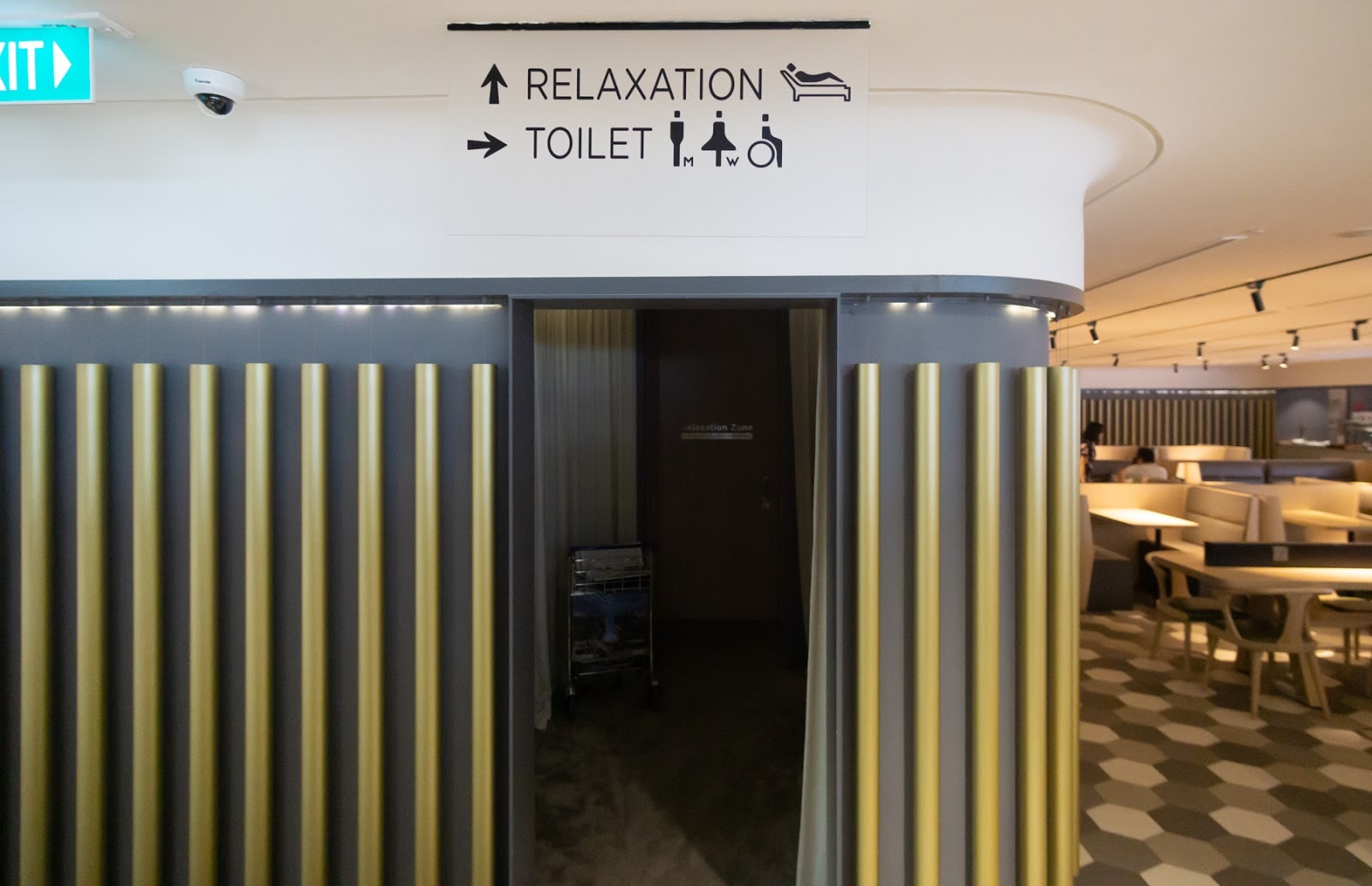 No boarding calls are made here, so make sure to check the screen for your flight information. Finally, WiFi is average at roughly 5-6 Mbps both ways.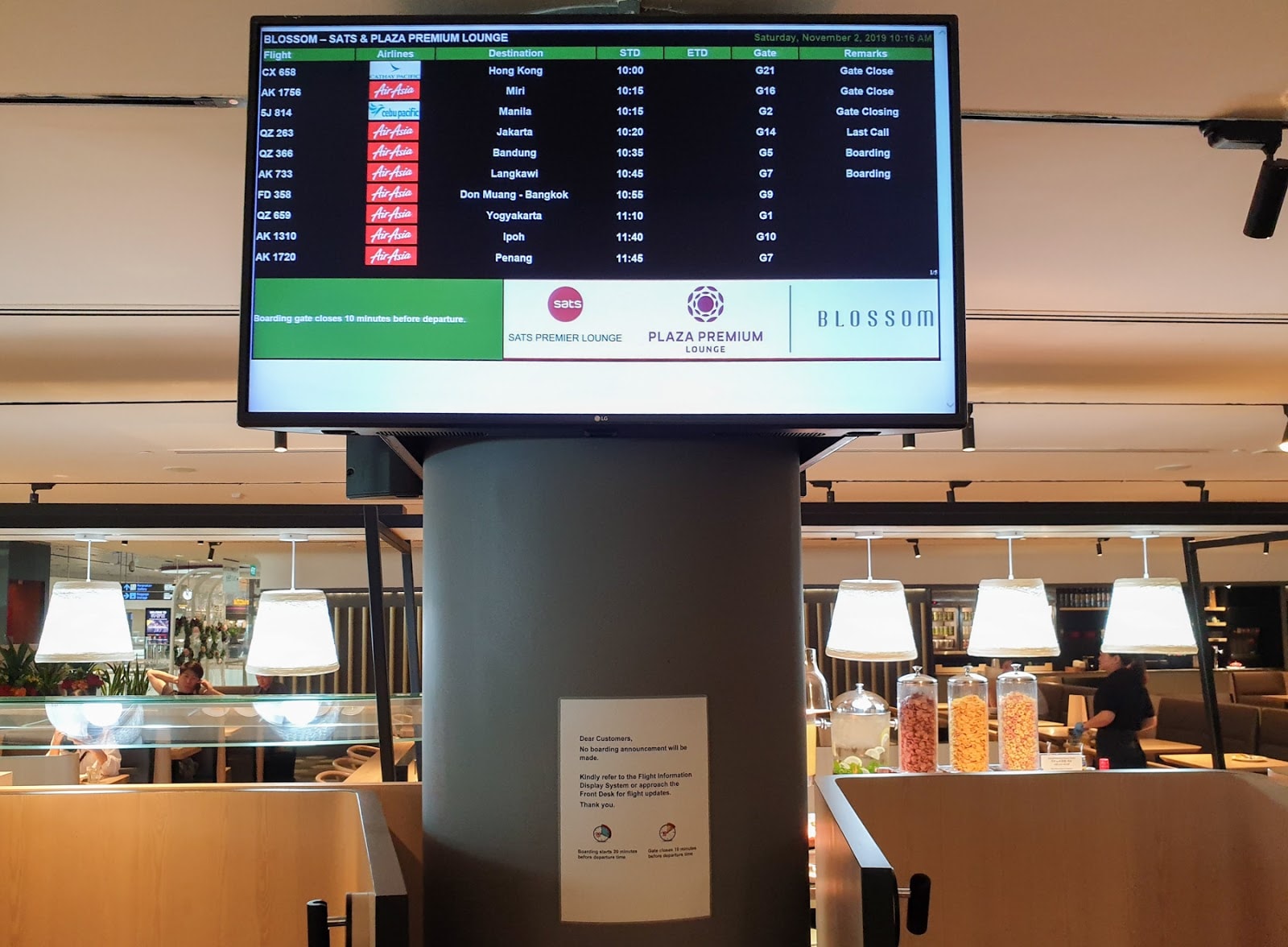 Lounge Access Options
Our Take
As the sole pay-per-entry lounge in Singapore Terminal 4, the Blossom – SATS and Plaza Premium Lounge is a fairly decent option overall. It has all the amenities you would expect from a lounge. It's' strong point is the space and variety of seating options.
In my experience, the greatest letdown was the limited buffet food selection, although the a-la-carte Singaporean Laksa was very good indeed. I also liked how there was a greater selection of complimentary alcoholic beverages for guests.

What was great
Location, space and atmosphere
Plenty of charging outlets
Two noodle dishes made fresh on demand
Greater beverage selections than other comparable lounges
What was not great
Limited buffet food in the mornings
Some power ports not working
WiFi speeds a bit on the slower side
Blossom – SATS and Plaza Premium Lounge Singapore Changi T4 Overview
was last modified:
October 5th, 2021
by